Ever wondered how to tell if potatoes are bad? Maybe you are like me and have found some potatoes in the pantry that look like an alien- growing new roots, or even worse finding a mushy moldy lump.
Well even though the mushy mold lump is one I wouldn't question throwing out- what about the ones that have sprouted new roots?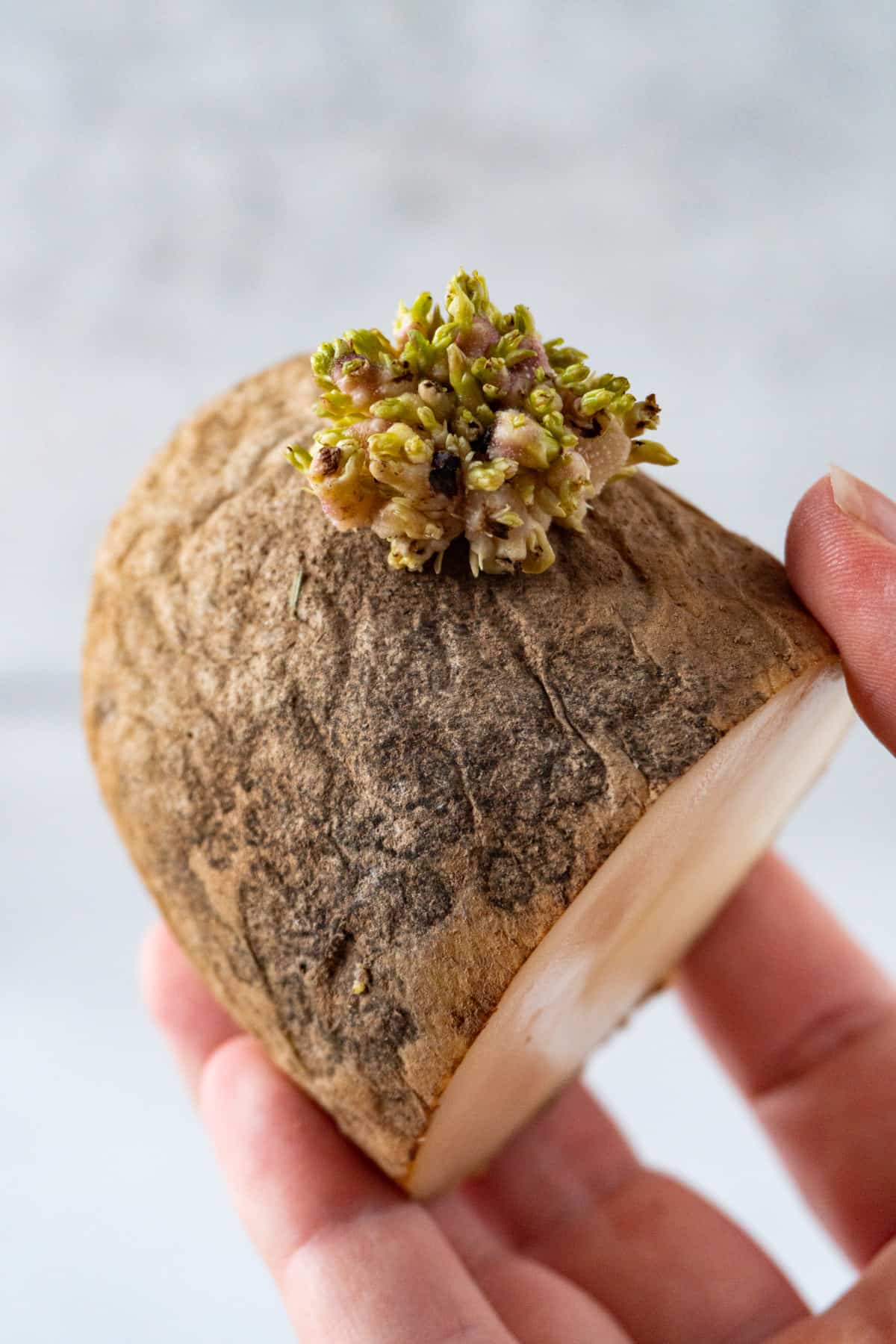 What if there are dark spots or they are smelly? I get it- you have a tasty stew or some fries you want to cook up but are the potatoes still good?
How to tell if potatoes are bad?
The general rule for knowing if uncooked potatoes have spoiled include a soft/mushy texture, the potato has a bad smell, or there are dark spots on the skin.
What do fresh raw potatoes look like?
Raw potatoes should be blemish free, firm to the touch, and tight skin. They will smell earthy but not moldy.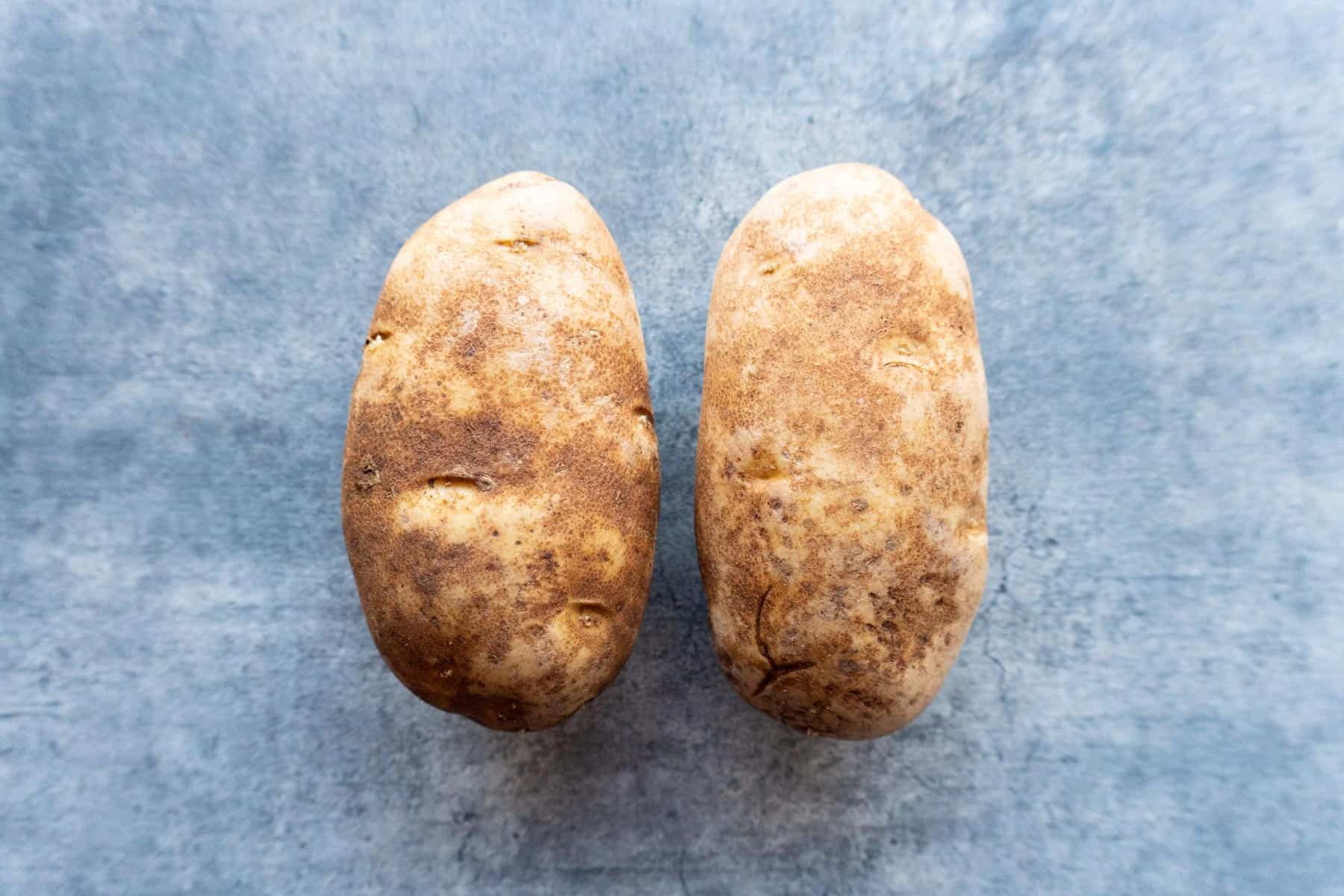 Are sprouted potatoes okay to eat?
Yes, if they are recently sprouted. No, if they have grown long.
If the potatoes are recently sprouted with very short sprouts, then simply remove the sprouts and cook the potato as per usual.
In order to grow, sprouts take nutrients and sugars from the potato, cause them to shrivel up. So, the longer the sprouts the less nutrients your potato has.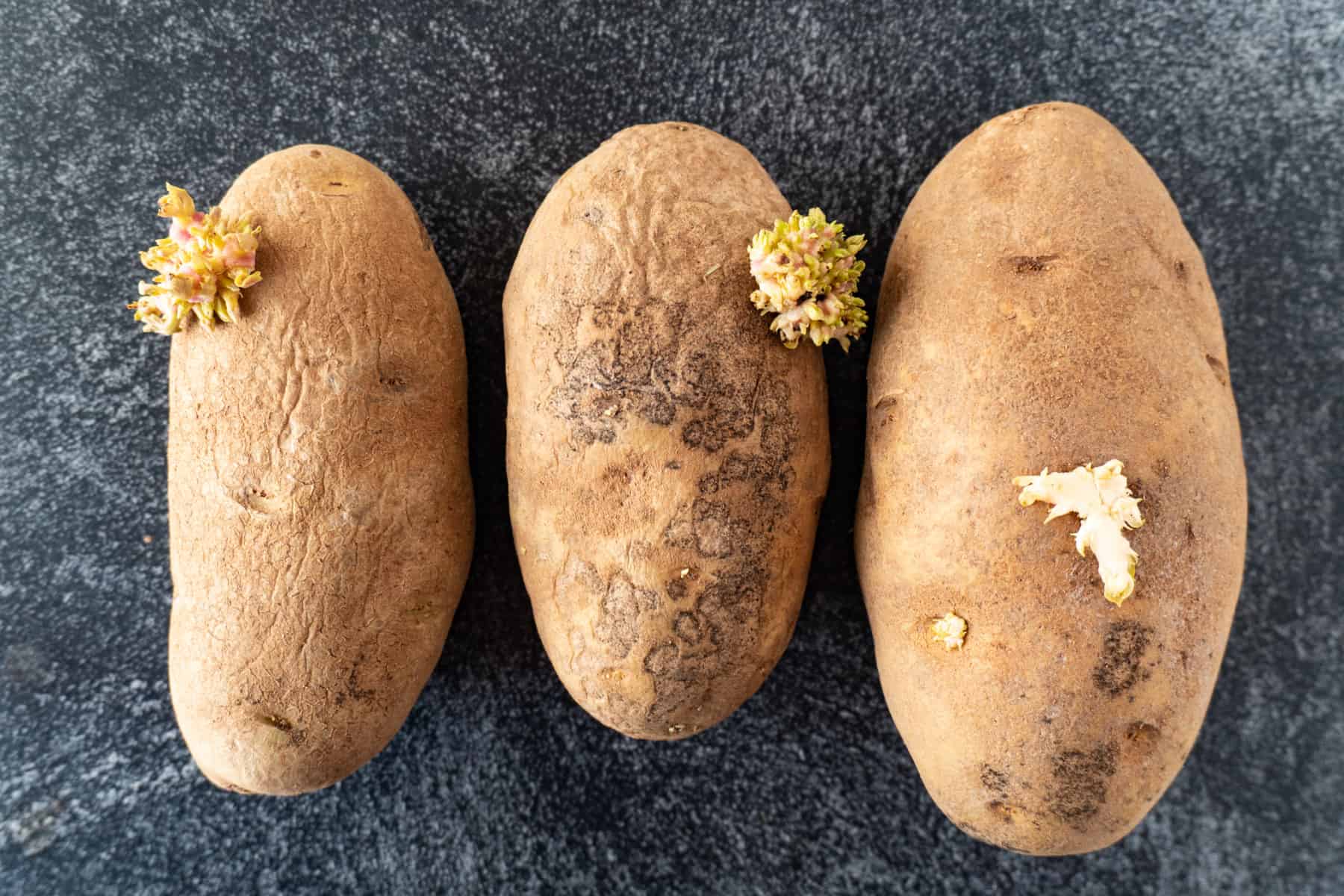 Can you eat potato sprouts?
No. The sprouts contain high levels of toxic chemicals like solanine.
Why are my potatoes green?
If potatoes aren't stored properly and have been exposed to light then they will often turn green due to the production of chlorophyll.
If they are green this will also be an indicator of an increase of toxins, like solanine, in the potato. These toxins are typically concentrated in the sprouts, peel, or just beneath the peel.
Can I eat a green potato?
Yes, but it's best if you peel the potato, since this will remove the majority of any built-up toxins. If the potato is bitter after peeling and cooking then it's best to not eat it.

If only part of the potato is green you can cut that portion away, but if the entire potatoes is green it is best to not use it.
What happens if you eat bad potatoes?
Bad potatoes contain high levels of solanine and can cause solanine poisoning. Symptoms include nausea, diarrhea, stomach cramps, vomiting, headache, dizziness, among other things.
Mild solanine poisoning should only last around 24 hours- but definitely seek medical help if you need it!
According to Science Direct "consumption of up to 5 g of green potato per kg of body weight per day does not appear to cause acute illness." So, if you do eat some you will probably be ok.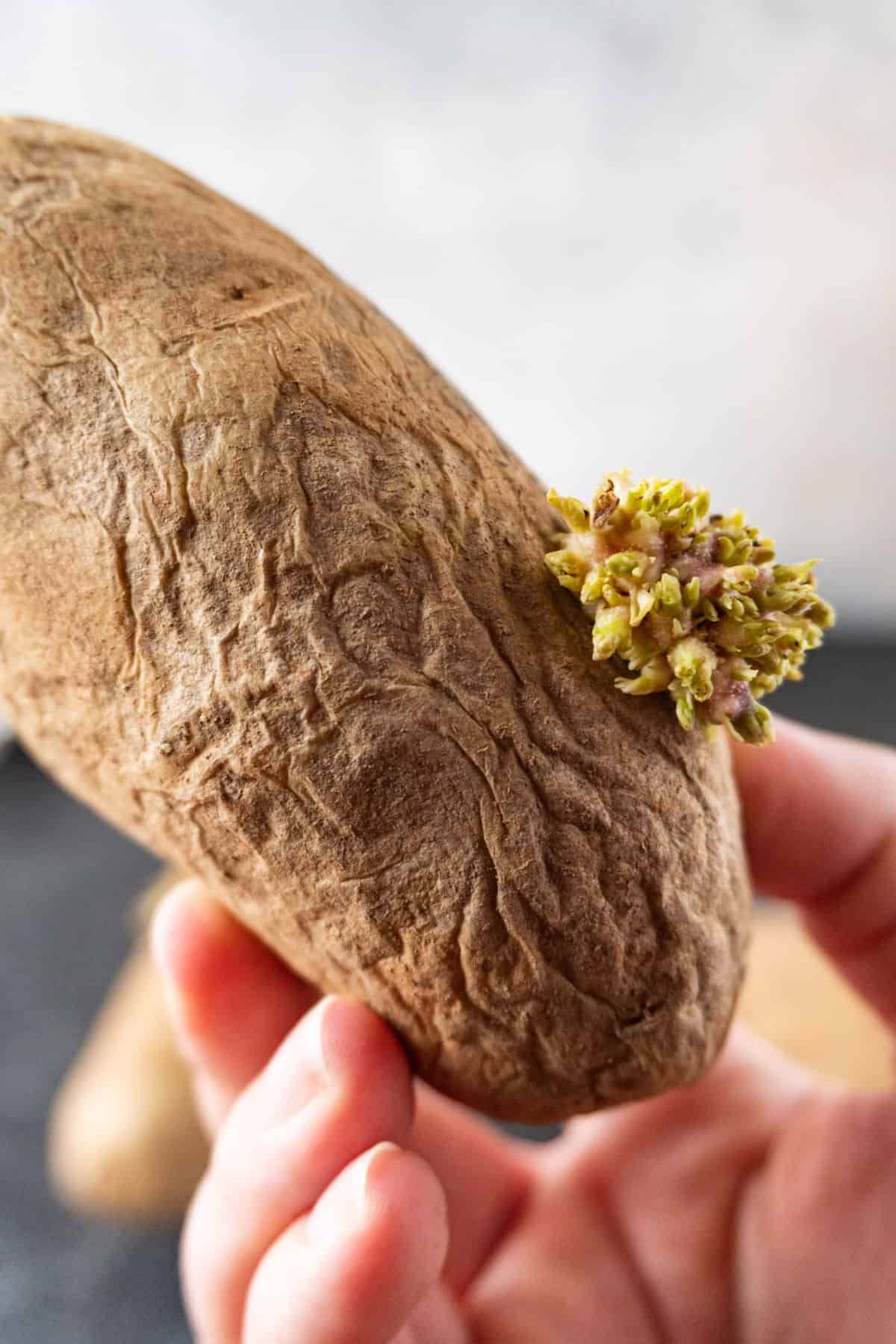 How to tell if red potatoes are bad?
Red potatoes are bad if they are soft, mushy, smell moldy, and have shriveled or have long sprouts.
How to tell if sweet potatoes are bad?
Bad sweet potatoes typically start to turn soft/mushy, and have discoloration throughout. Sprouting is also an indication of a sweet potato starting to go bad.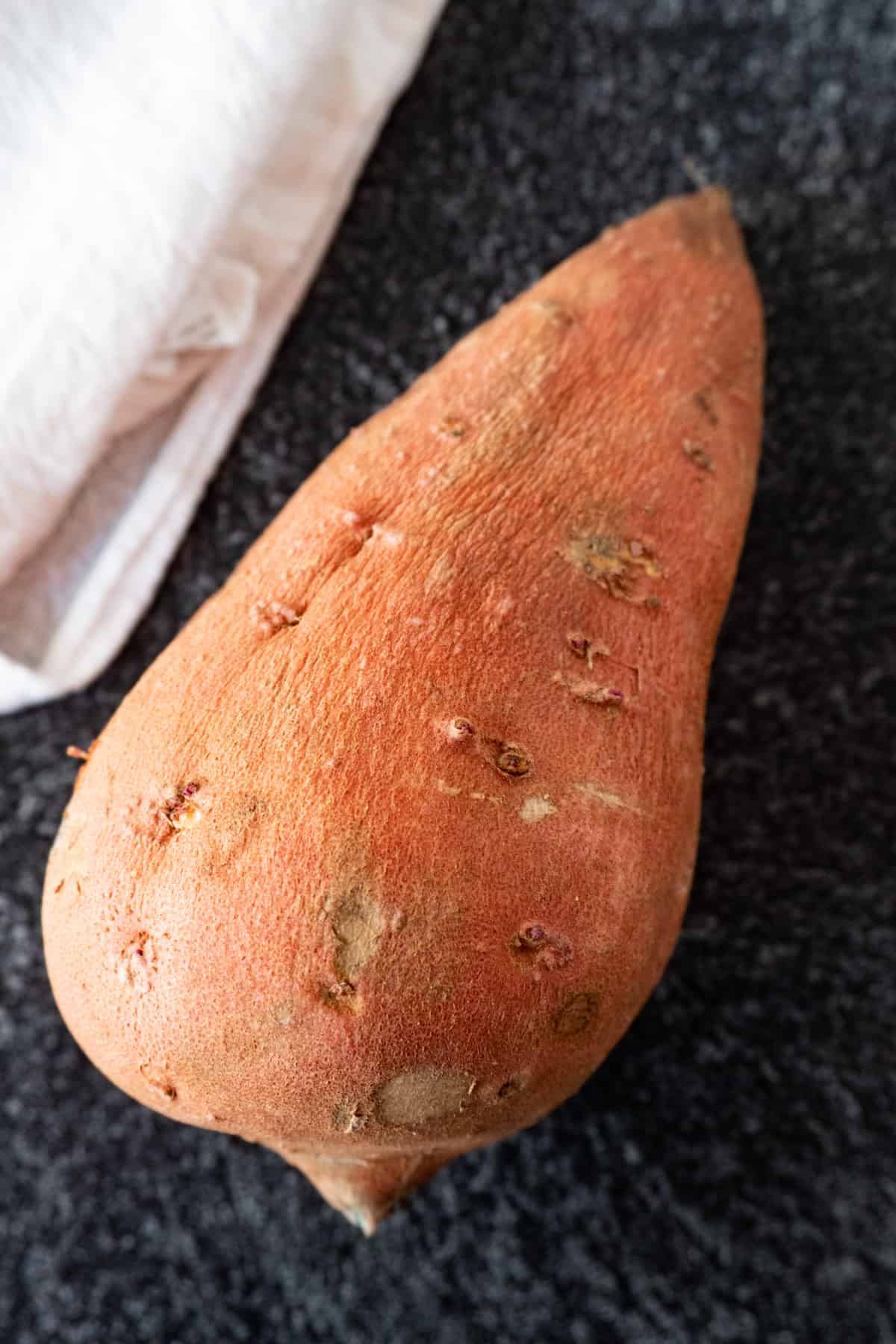 Sweet potatoes are so versatile- when fresh they can be used to make sweet cupcakes or a tasty savory breakfast!
How to tell if russet potatoes are bad?
Russet potatoes, like all other potatoes, are bad if they are soft, mushy, smell moldy, are shriveled/wrinkled, or have long sprouts.
Can you eat raw potatoes?
Yes, however they may be harder for your body to digest. They are higher in vitamin C and starch, both of which is slightly diminished when a potato is cooked.
Raw sweet potatoes can be eaten, but some types of yams should not be eaten raw.
Dogs should not consume raw potatoes.
How long are potatoes good for?
Raw potatoes will typically stay fresh for at room temperature for 1-2 weeks, or refrigerated for 2-3 months.
The type of potato (fingerling, russet, etc) will also affect how long the potatoes stay good.
Cooked potatoes typically last 3-4 days in the refrigerator. This is great for making things like my make-ahead mashed potatoes!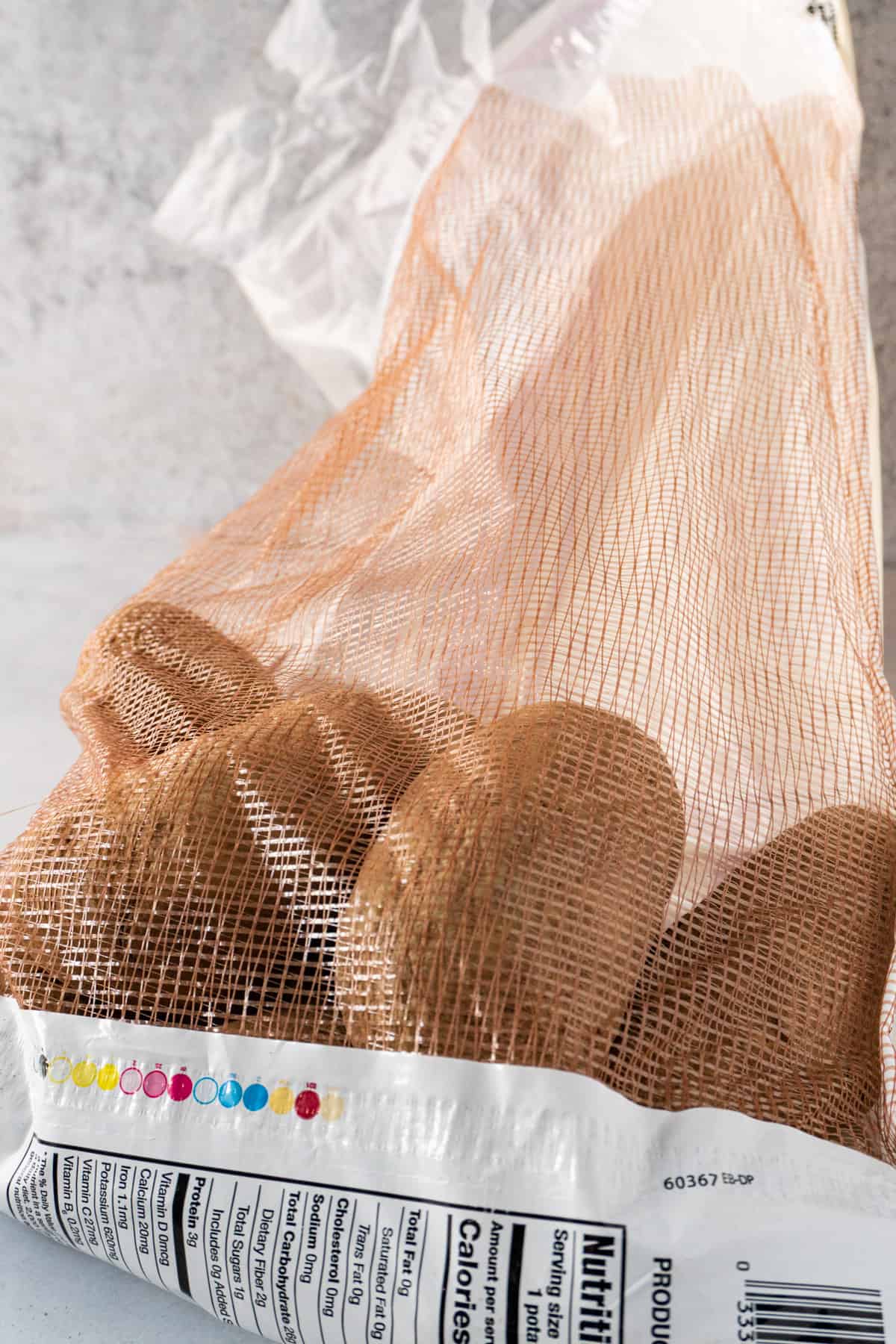 How to store potatoes?
Store potatoes in a cool, dark, dry place. In order to prevent moisture which leads to spoiled potatoes, it's best to keep them in an open bowl, or bag, which will allow air flow. Don't store in a sealed container or bag.
You will notice the bags potatoes come in when you buy 5-10 lbs are usually mesh or have holes in them. This is so they have air flow.
Do you have any more questions about potatoes? Let me know in the comments below!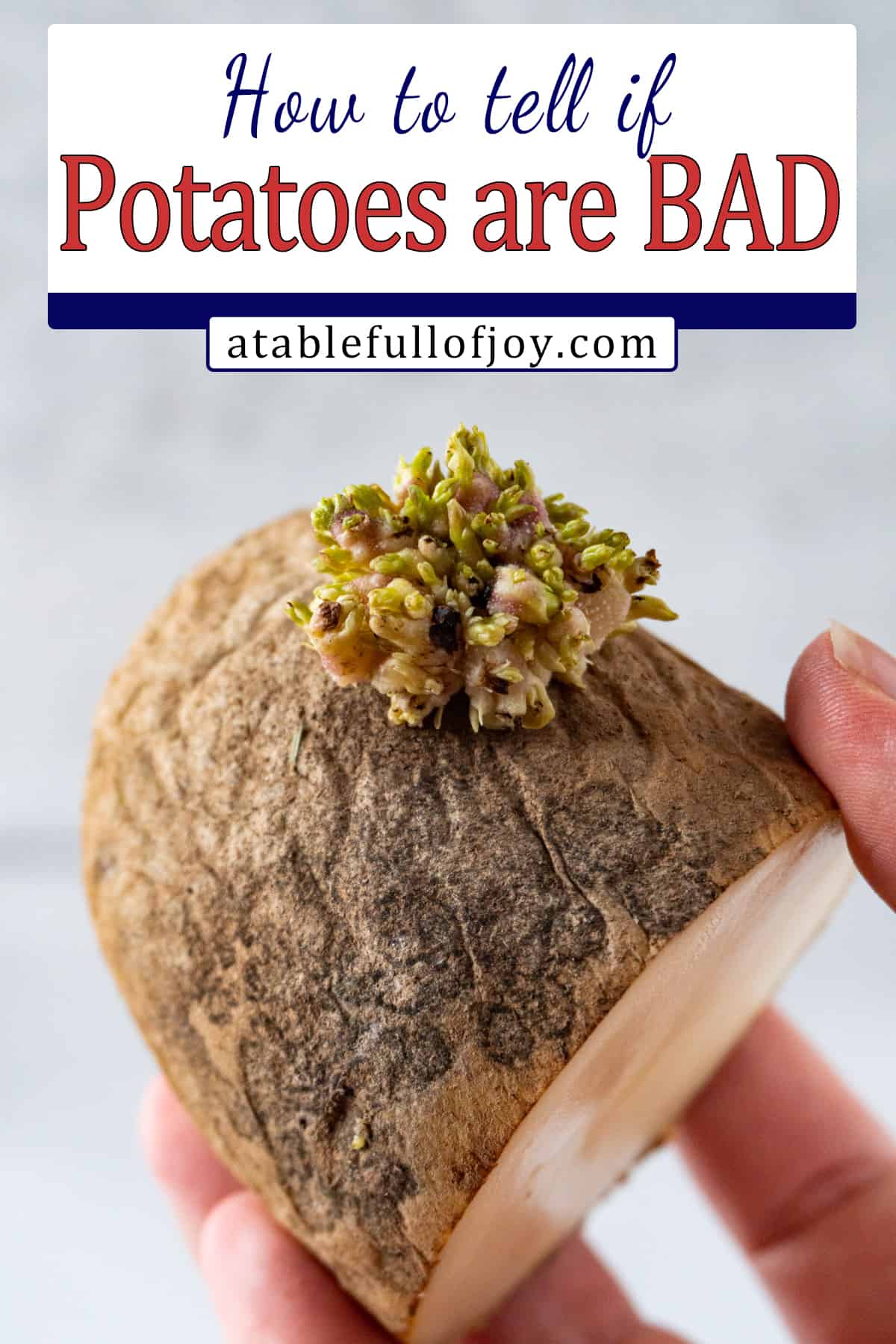 Want more? Subscribe to my newsletter and follow along on Facebook, Pinterest and Instagram for all of the latest updates.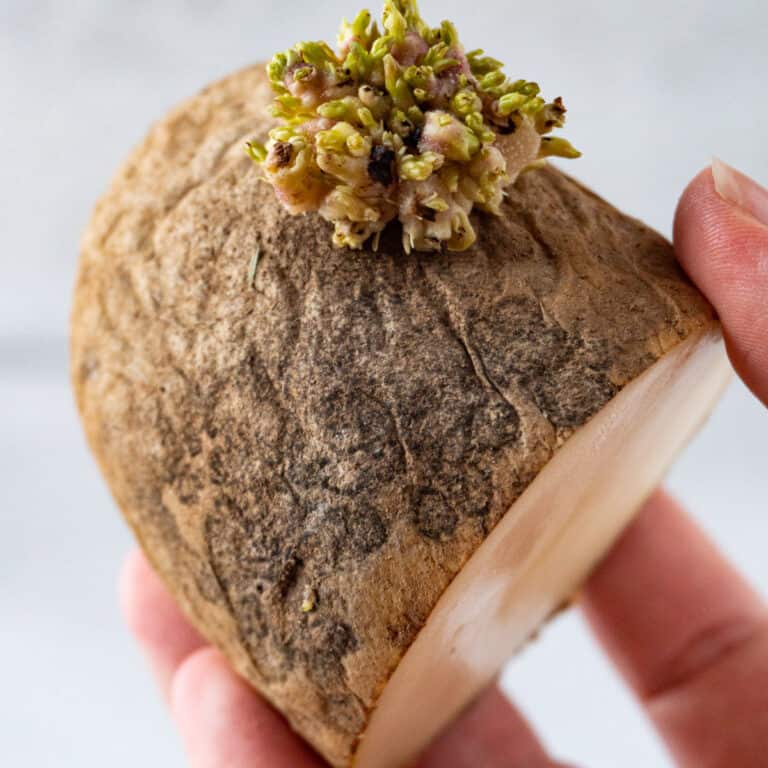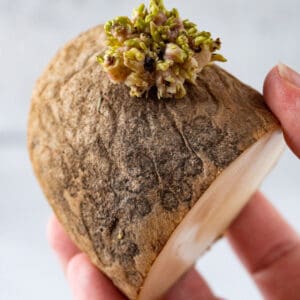 How to Tell if Potatoes are Bad
Make sure to check your potatoes for freshness and be able to tell when they are going bad!
Instructions
Rinse potatoes under water making sure to scrub away any dirt.

Check for soft spots, dark spots, sprouts, or green color.

If the potato has little sprouts remove them, then prep potato for your dish. If there is a little green cut that off. If the potato has long spouts, is soft, wrinkled, or has lots of dark spots get rid of it.

Cook your good potatoes anyway you like and enjoy!
Notes
Good potatoes should be free of blemishes, firm, tight skin, and no sprouts, or green coloring. 
Nutrition
Calories:
164
kcal
Carbohydrates:
37
g
Protein:
4
g
Fat:
1
g
Saturated Fat:
1
g
Polyunsaturated Fat:
1
g
Sodium:
13
mg
Potassium:
897
mg
Fiber:
5
g
Sugar:
2
g
Vitamin A:
4
IU
Vitamin C:
42
mg
Calcium:
26
mg
Iron:
2
mg
More Side Dish
Reader Interactions