Ever wonder how to tell if a sweet potato is bad? If it's been sitting on your counter for a while, starting to get wrinkly or even growing a few sprouts, is it safe to eat?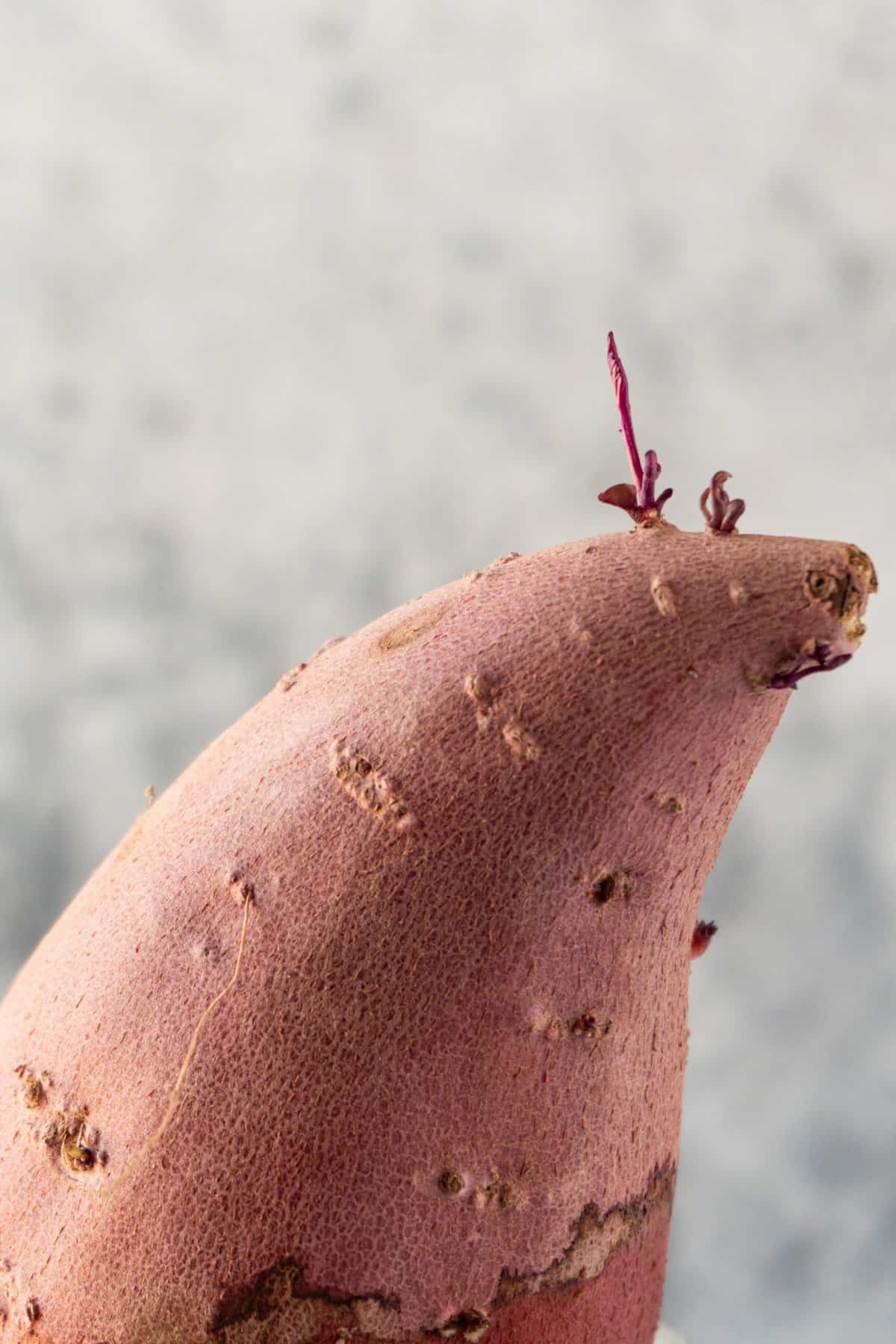 Maybe you found a sweet potato in your pantry and wondered if it's still good. Maybe it's still firm and looks ok but how do you know for sure?
If you are looking for how to tell if regular non-sweet potatoes are bad check out my full article here!
How to tell if a sweet potato is bad?
If your sweet potato is oozing, soft and squishy, discolored, smelly, or have a bunch of sprouts, it's time to toss. If there are only a few sprouts and the sweet potato is still firm you can cut the sprouted portion off, cook and eat right away, or you can plant it!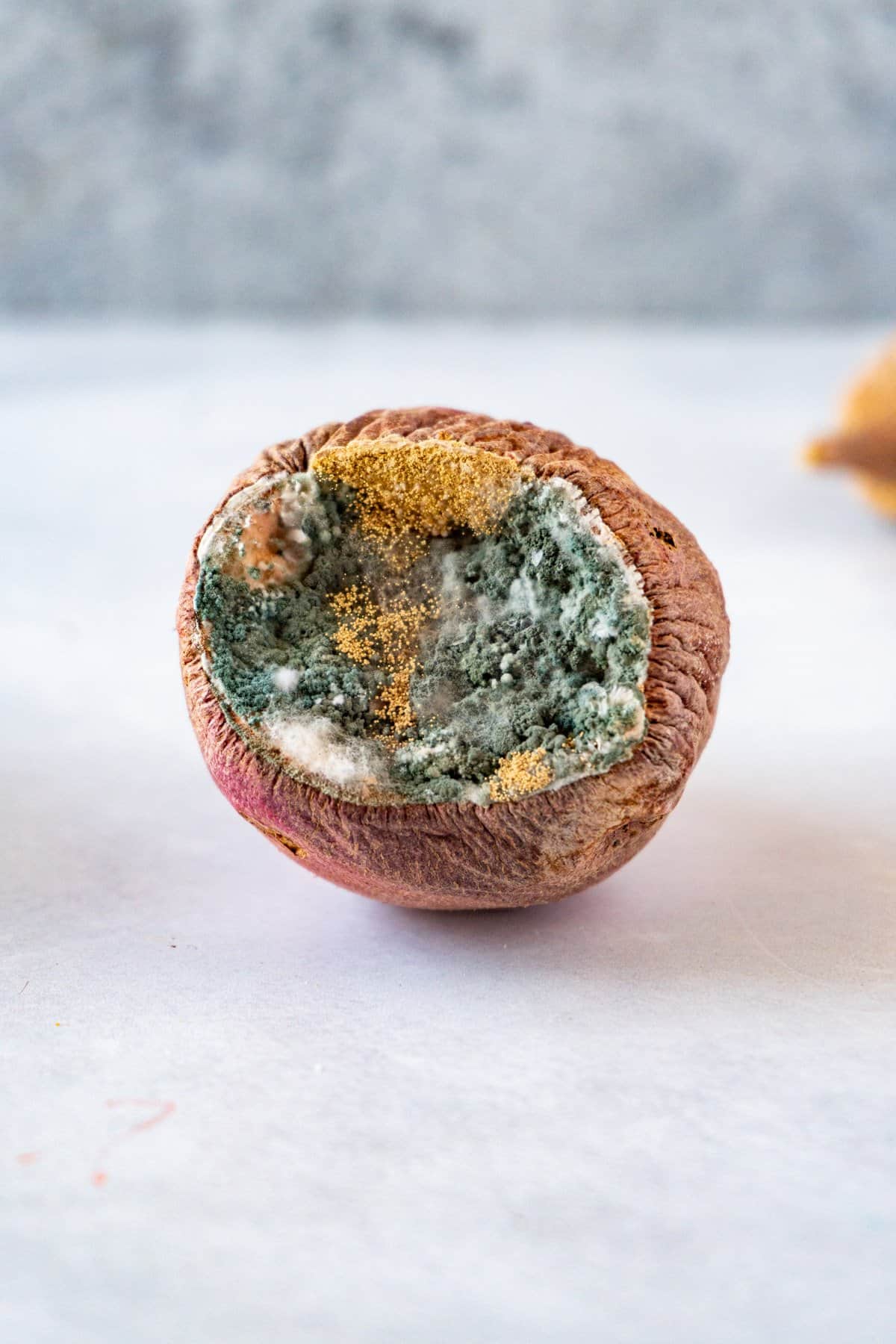 Sometimes store-bought sweet potatoes will have little bits of mold on them even if most of the potato is firm, like pictured below. Make sure to wash them thoroughly, and cut off any shriveled parts before you cook them!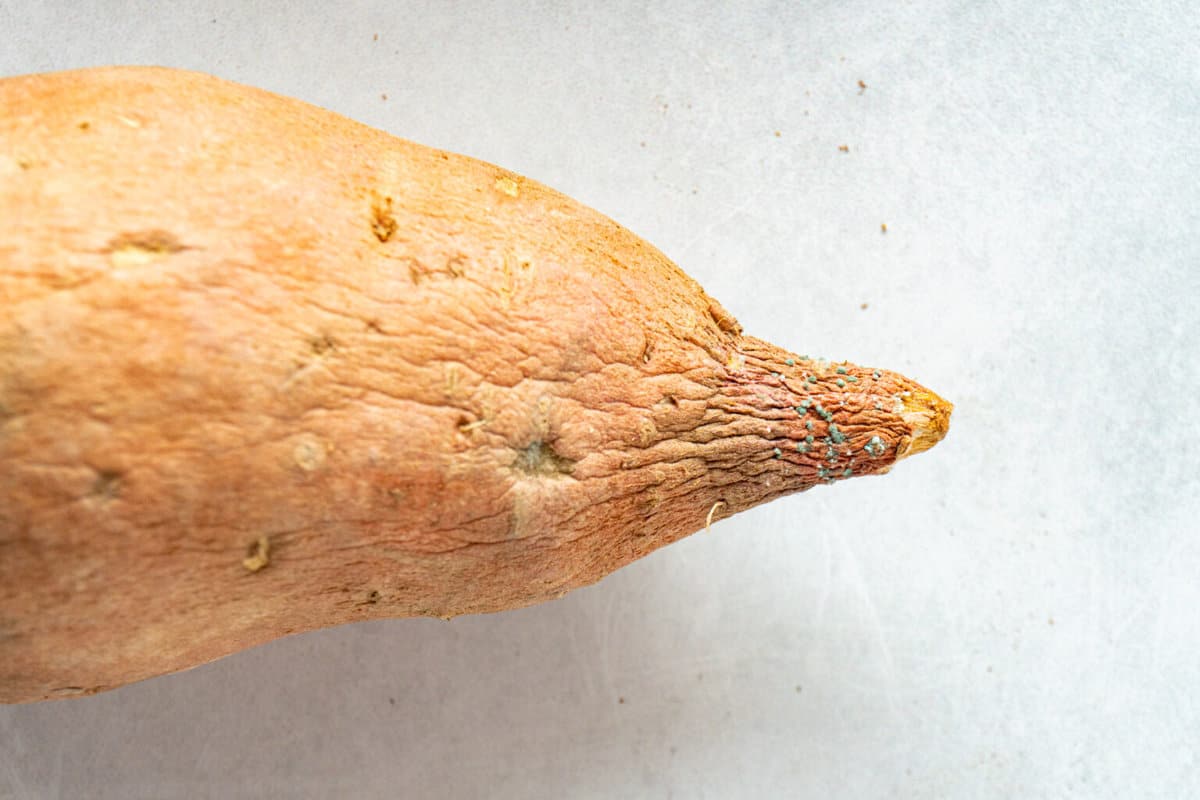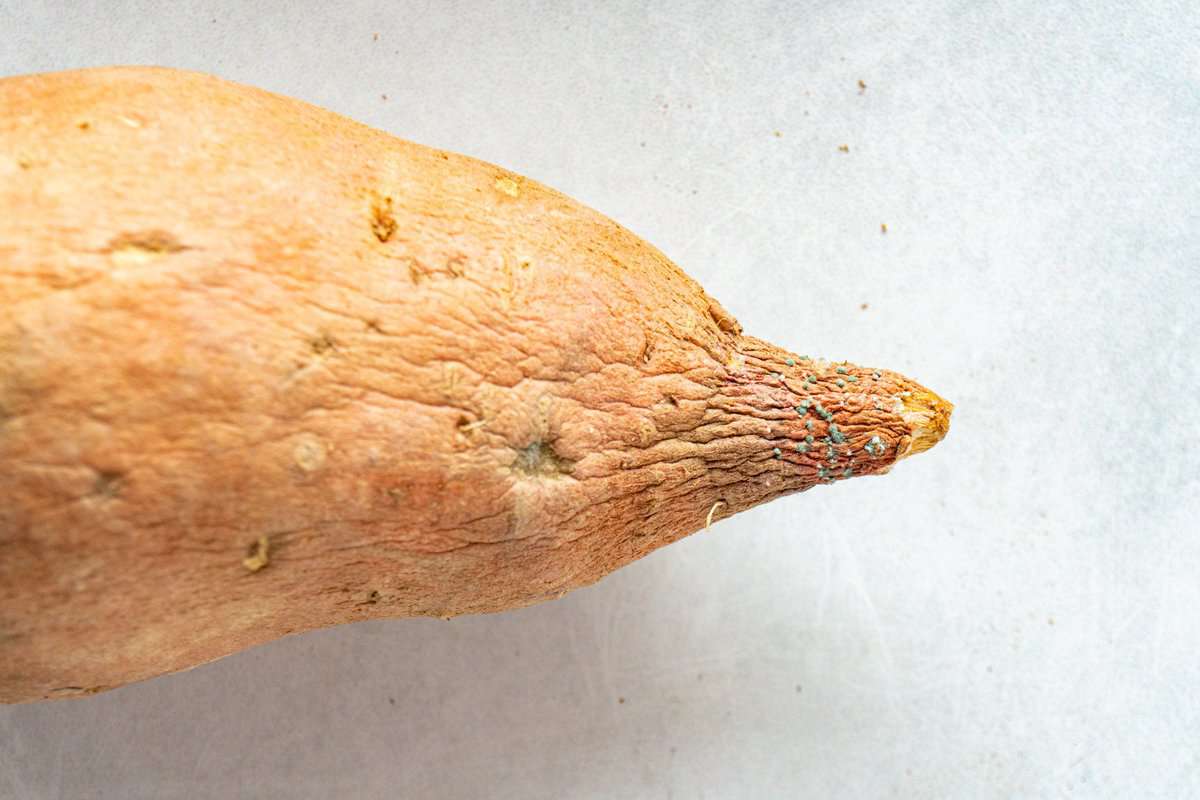 How to tell if sweet potato is bad inside?
Typically, a sweet potato that is bad on the inside will show a few signs on the outside first. Like being wrinkled and soft.
However, the inside of a bad sweet potato will look drier than a good one, and will become oxidized and discolored much quicker than a good sweet potato.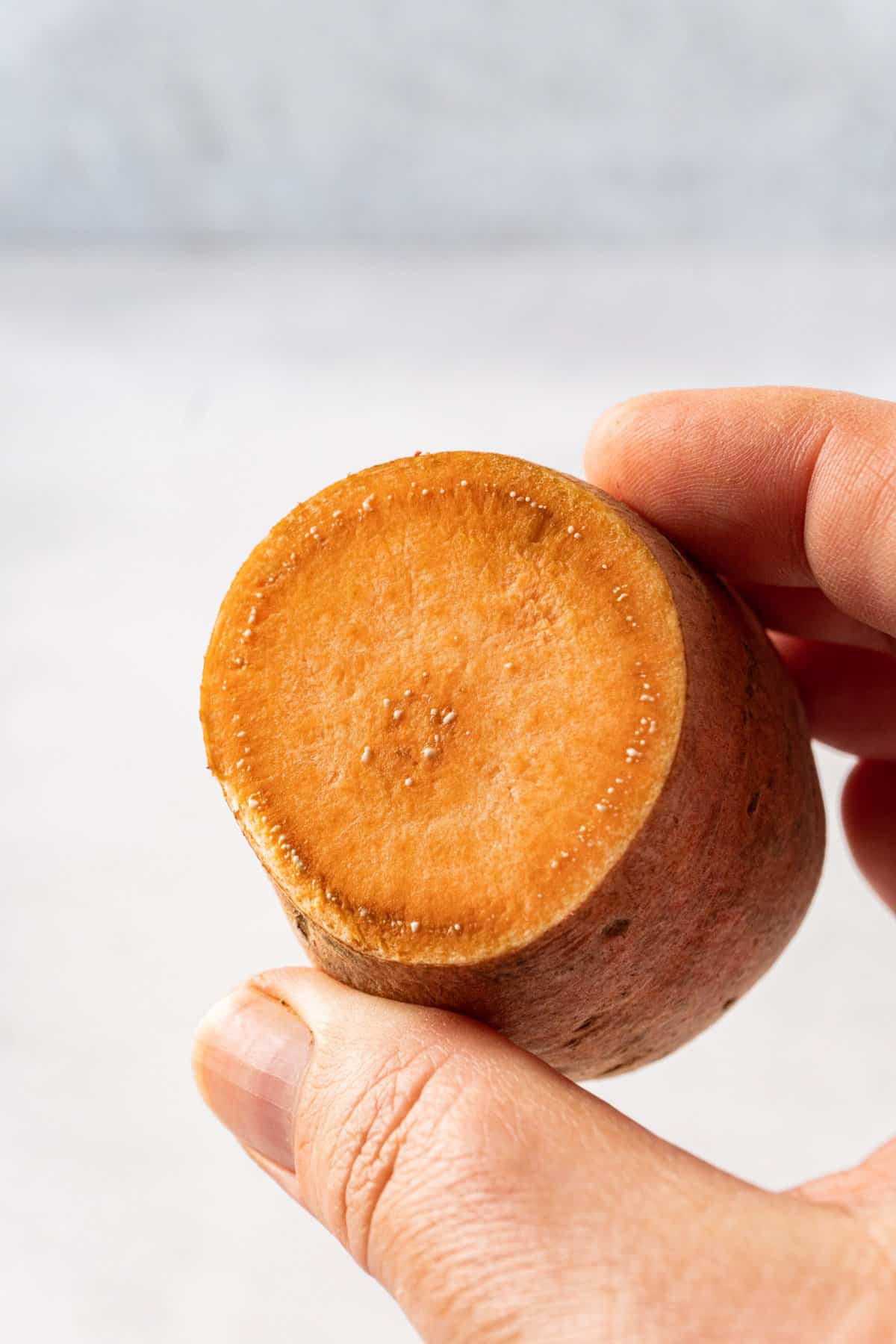 What about dark spots on sweet potatoes?
Sometimes the sweet potato will have a bad spot. This is usually dark on the outside of the sweet potato and when cut into is a dark spot inside the sweet potato.
If the bad spot is a small area and the rest of the sweet potato is firm and healthy, just cut that dark spot out of the potato and cook as normal.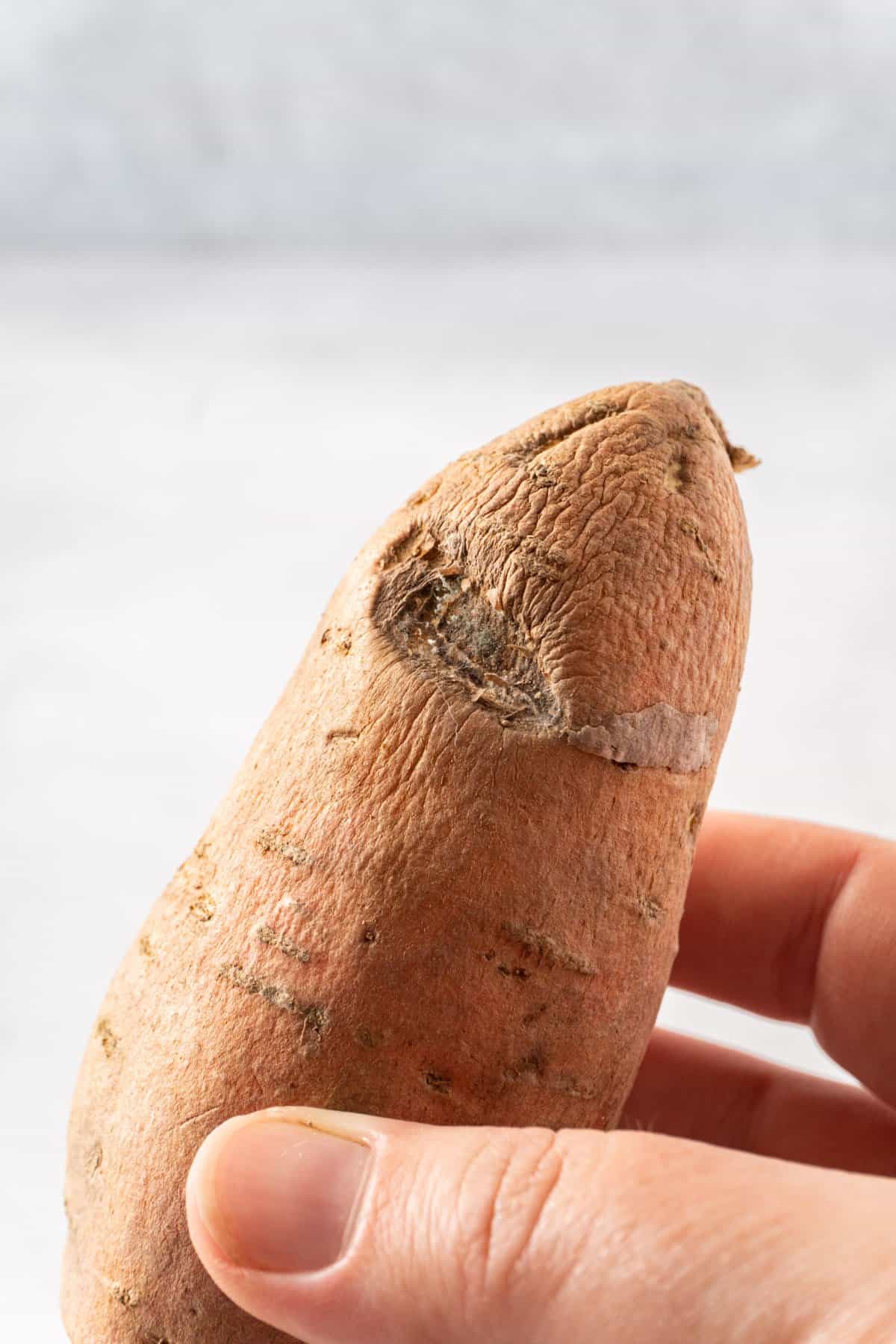 What is the white stuff when you cut into a sweet potato?
Sometimes when you cut into a sweet potato you will have some milky white liquid start to come out. This is normal and fine to eat.
The liquid is starch and sugar and completely normal in sweet potatoes! I've found that the more fresh sweet potatoes have more of this milky starch compared to older ones.
In the picture below you can see the older cut sweet potato (on top) has hardly any of the milky white starch substance.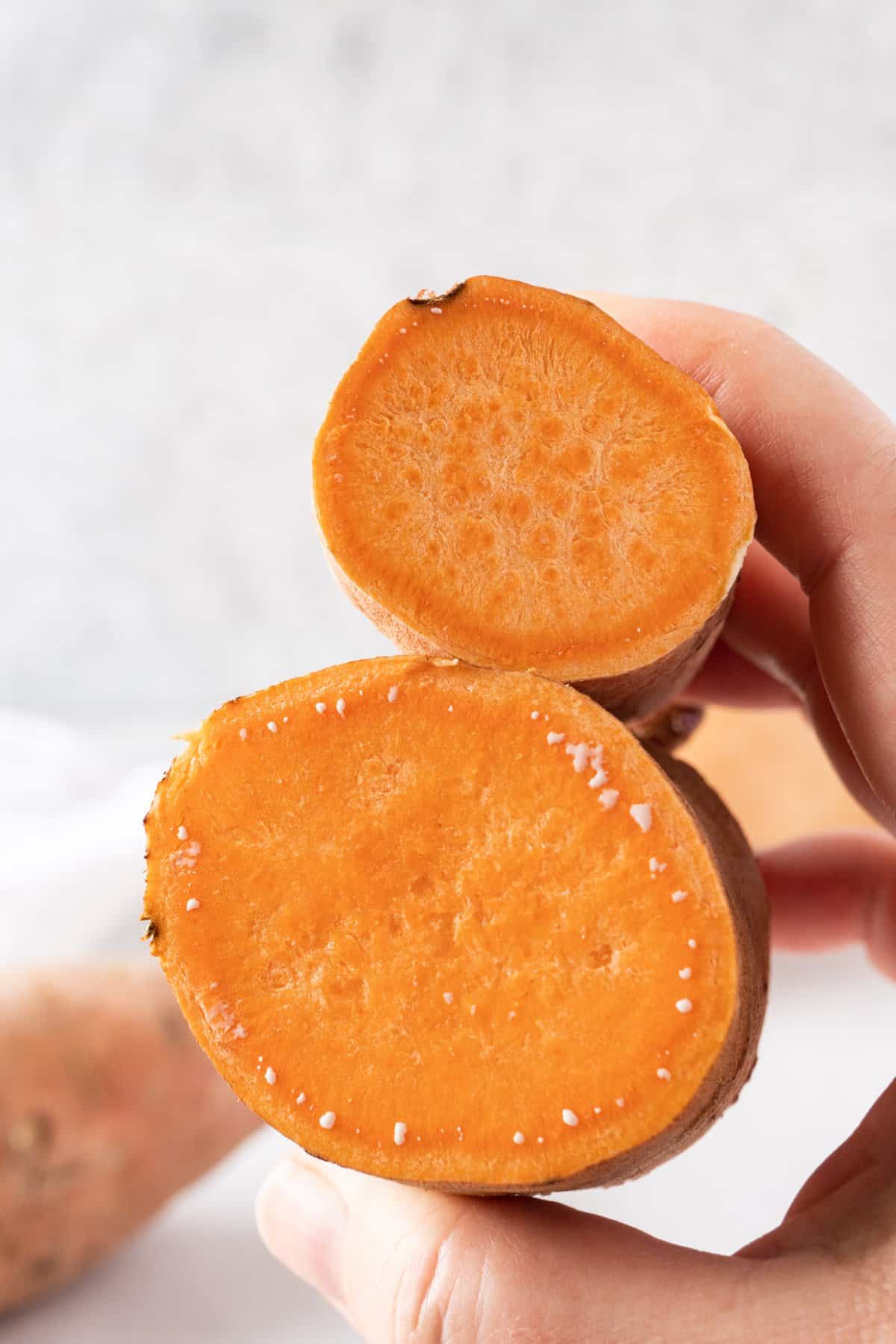 How long do sweet potatoes last?
If kept in a cool, dark place, sweet potatoes can last up to six months.  If the sweet potato is kept on the counter, typically try to use within 3 weeks.
How to tell if purple sweet potato is bad?
Purple sweet potatoes are bad if they are mushy, moldy, or are very wrinkled. Although the darker color can make it a little more difficult to see some of these signs, you can typically still feel if it's softer or wrinkled.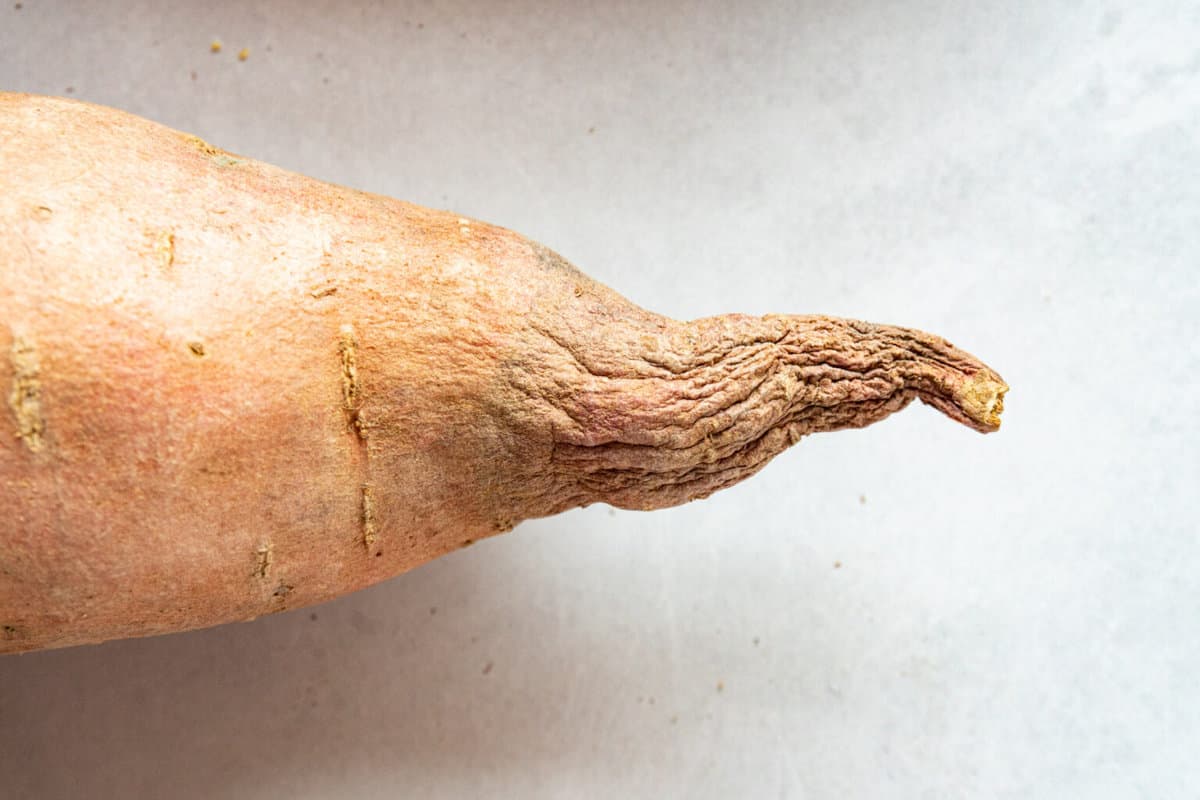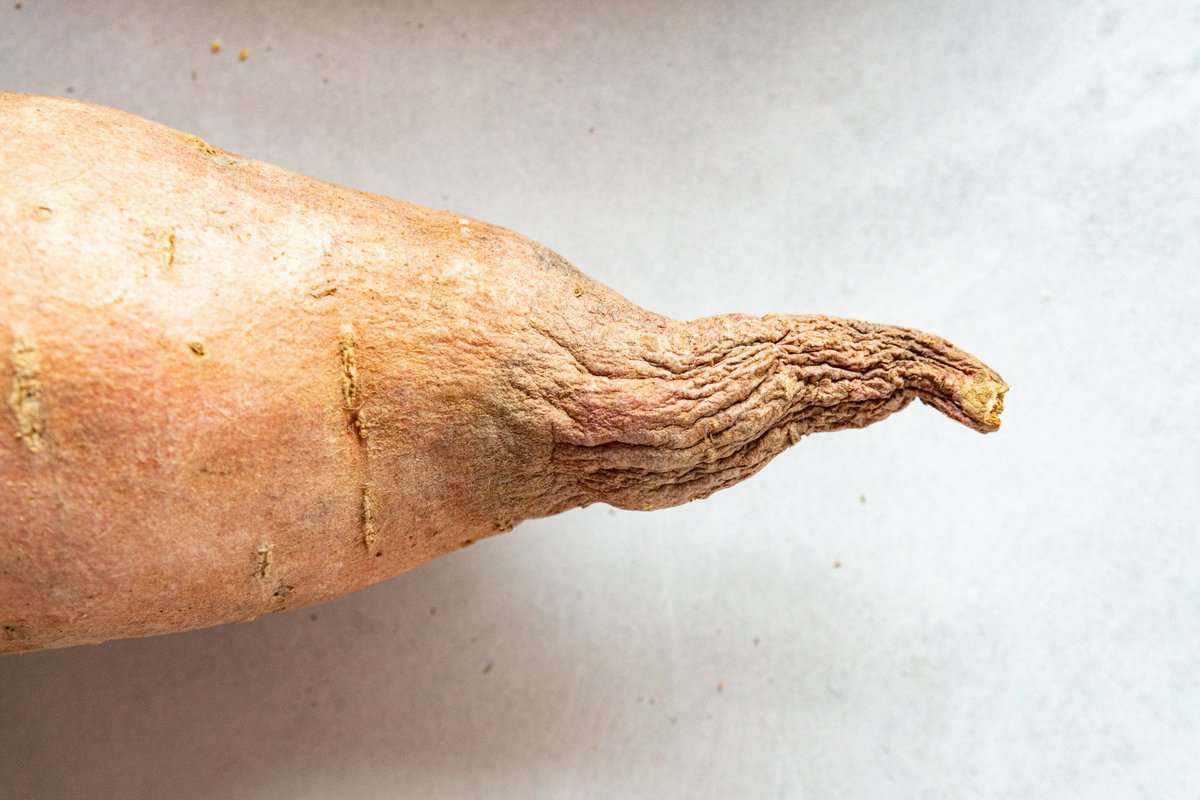 How long do sweet potatoes last in the fridge?
Whole raw sweet potatoes should not be refrigerated since this can make them taste weird and have a hard center. Raw, cut, sweet potatoes should be submerged in water and refrigerated, and will last about a day.
How long do cooked sweet potatoes last?
Cooked sweet potatoes will last 3-5 days in the refrigerator, stored in an air tight container. If left out at room temperature, cooked potatoes will last only a few hours before spoiling.
How long do sweet potatoes last in the pantry?
If your pantry is kept cool and with little light you can store sweet potatoes for up to 6 months. I recommend checking on your sweet potatoes every month or so to pull out any that end up going bad, typically due to a previous bad spot before you stored them.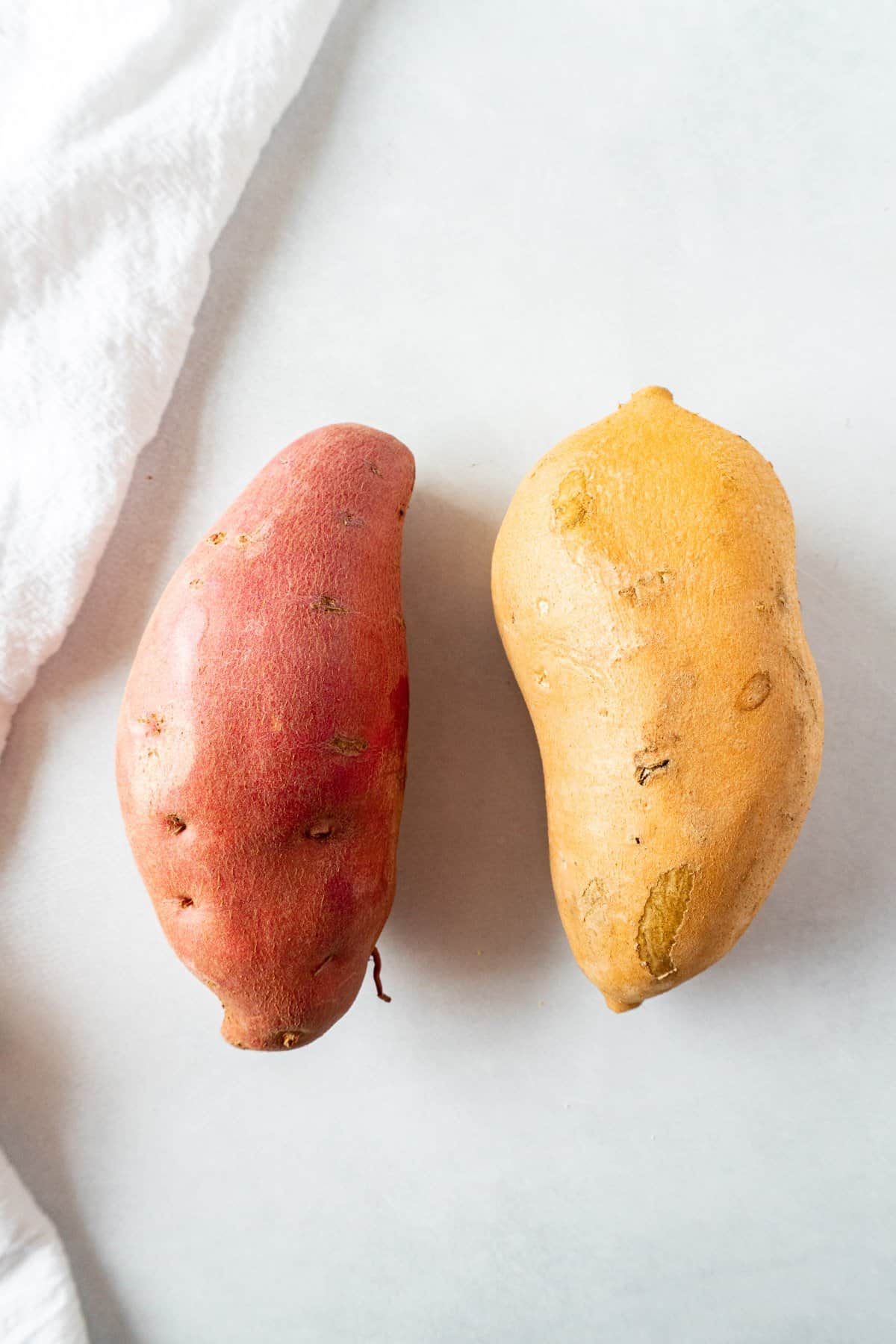 How to store sweet potatoes?
It's best to store raw, uncooked, sweet potatoes in a cool, dark, dry place.
Don't wash your potatoes until you are ready to eat them. This will help them last longer.
Store sweet potatoes away from other fruits and veggies, because they can actually make other food ripen faster.
What to do with sprouted sweet potatoes?
Sprouted potatoes are trying to grow into new plants. This means they are putting their energy and nutrients into new sprouts (also called eyes) and roots.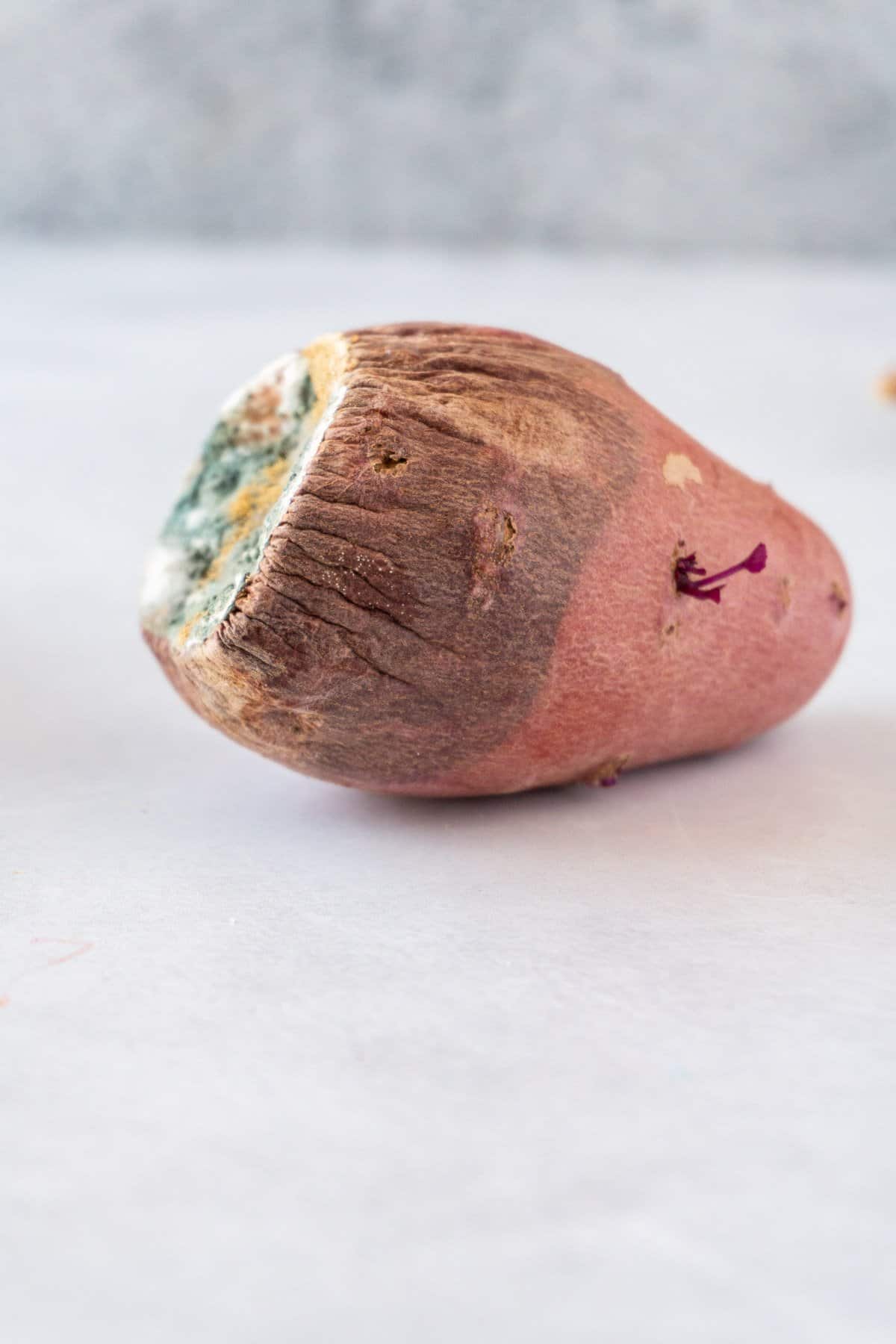 If the sprouts are small and there are only a few, you can remove them and then I recommend cooking the sweet potato right away. Sometimes you will even find them with tiny sprouts on them at the store.
If the sprouts are big, you can either toss, compost, or plant your sweet potato!
See the my instructions below on how to sprout and grow your own sweet potato plant!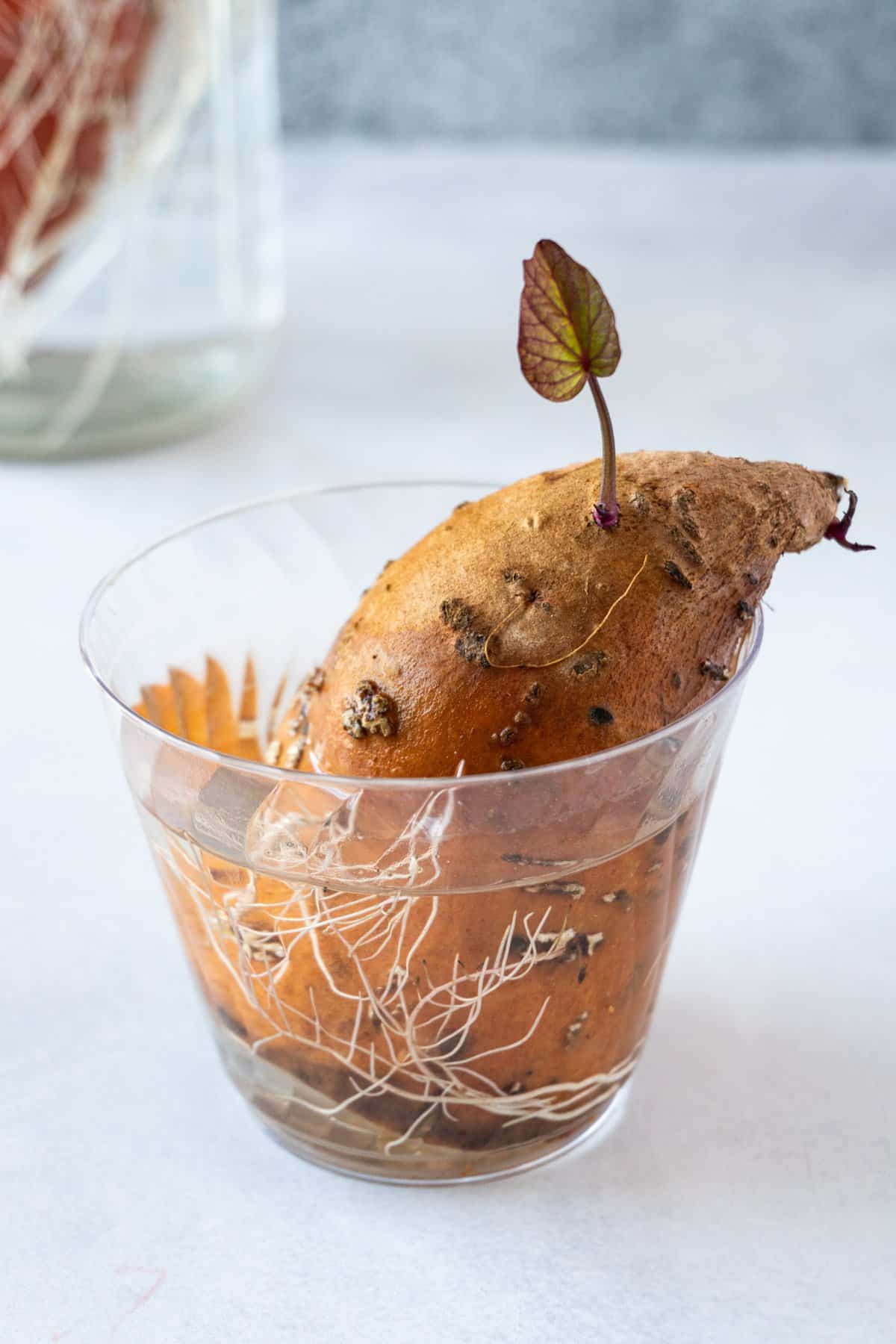 Can you freeze sweet potatoes?
Yes, but it is best if they are cooked first. Like my sweet potato pudding can be made ahead of time, frozen, then reheated when needed.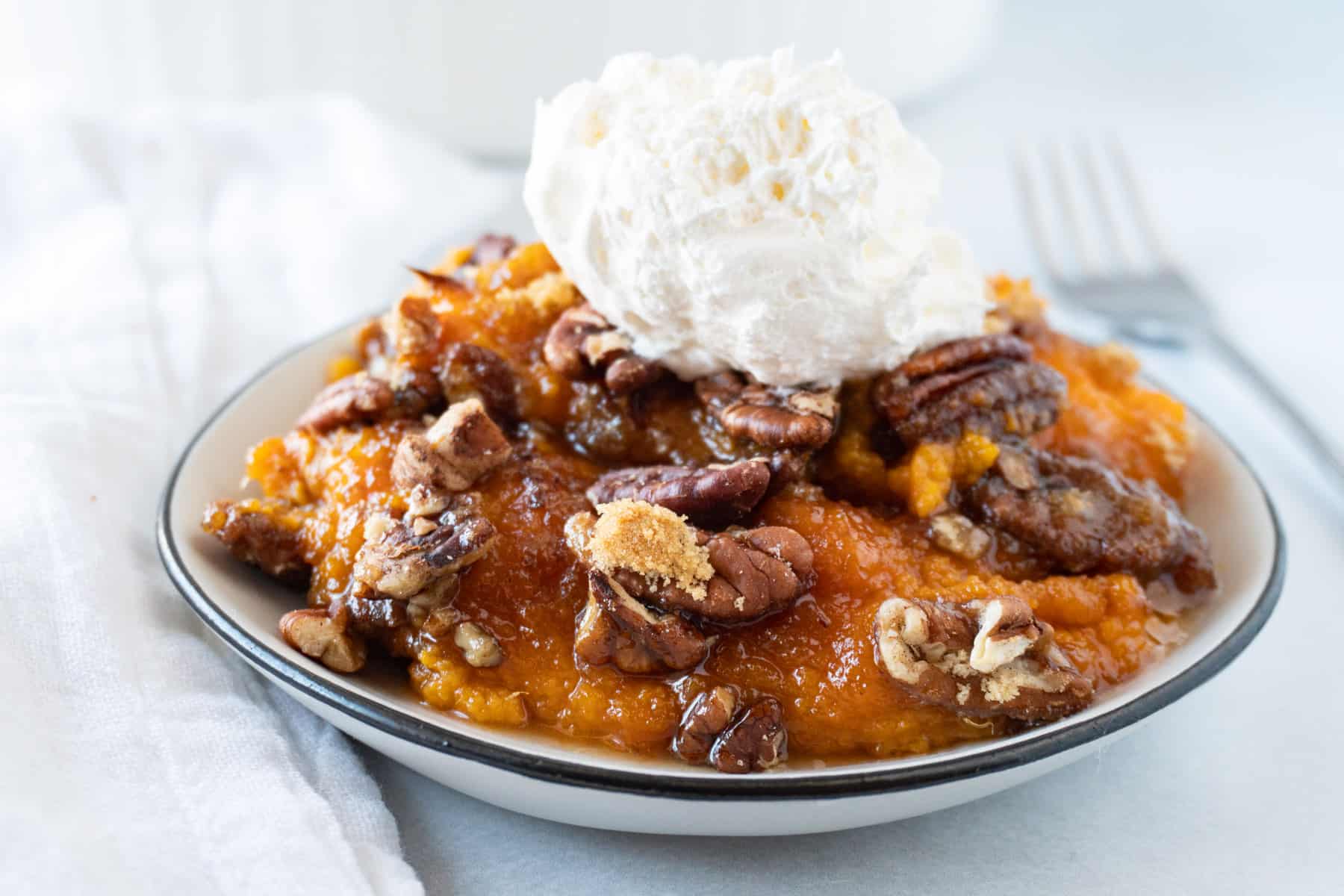 You can cook up the sweet potato, slice or mash it, then store in an air tight freezer safe container. These should last up to six months!
Freezing raw sweet potatoes will actually make them have a shorter shelf life. So, cook them up and then freeze them!
How to use up sweet potatoes?
I love using sweet potatoes for biscuits, rolls, pies, cupcakes and fries!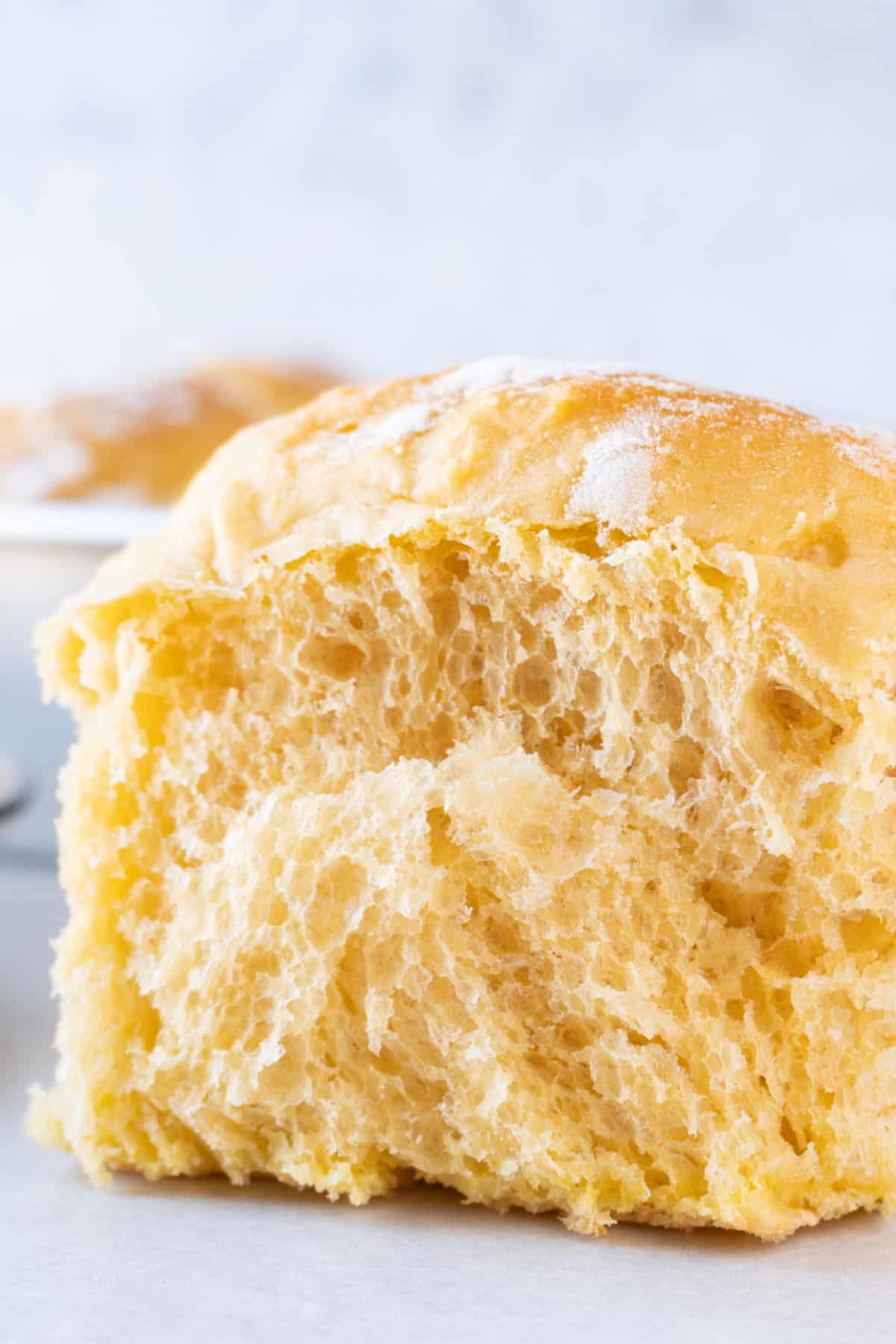 Make sure to check out some of my other articles like: How to cut parsley, cantaloupe, and cilantro, how to toast bread in the oven, and how to tell if buttermilk or broccoli is bad!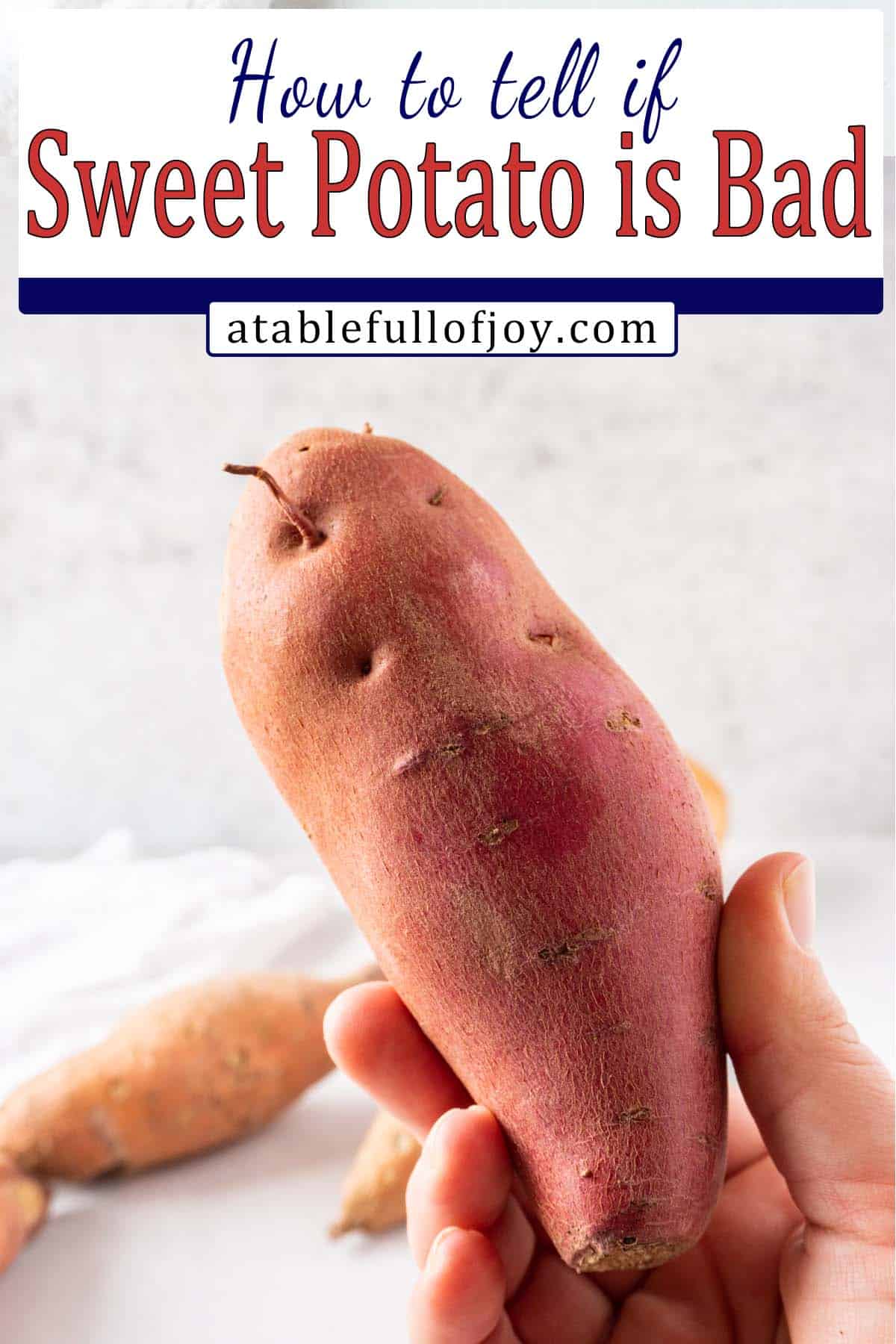 How to Sprout Sweet Potatoes
If you have a sweet potato that is starting to sprout or you want to sprout your own follow these steps to grow your own sweet potato plant!
Equipment
1 cup with water
Instructions
If you have a sweet potato that is going bad on one side but has a few sprouts and is still firm on the other, cut off the bad end, then continue on with the following steps.

If you have a sweet potato with a few little sprouts/leaves stick it in a cup and add water until it is ¼- ½ way up the side of the sweet potato. Make sure any leaves sprouting are on top of the potato and not in water.

If there aren't any sprouts forming, I like to stick toothpicks in the side of the sweet potato so they rest on the edge of a cup or jar, then fill with water about ½ up the sweet potato.

Change water once a week and watch as roots begin to form. This can take 2-3 weeks. Once you have roots, plant in well-draining garden soil and water 2-3x a week.

Harvest sweet potatoes when the ends of the vine start to turn yellow or just before the first frost, this is typically around 100 days after planting.
Notes
Tips and Tricks
I have also successfully just planted sweet potatoes that had sprouted from sitting on my table, straight into soil, without developing roots in water first.
This is by no means a full guide on growing sweet potatoes and is just a fun experiment to do if you have some sweet potatoes going bad or sprouting.