Witches Fingers, a super easy and fun Halloween treat for your next party!
Lately I've been having so much fun sharing all my easy Halloween treats with you guys and I have one more to share! These Halloween Witches Fingers are perfect for a party and to make with kids!
More Halloween Treats Here:

These Witches Fingers are so easy to make and really take your spooky treats to the level. Plus, who doesn't love salty pretzel dipped in sweet chocolates?!
How to make Witches Fingers:
"Paint" your almonds with black frosting
Melt your candy melts
Break your pretzel rods in half then dip in the melted candy melts
Allow the candy melts to set up slightly then place a black almond on the tip of each dipped rod
Use a toothpick to create finger lines
Refrigerate to finish hardening the candy melts
Enjoy!
Black frosting? From scratch vs store bought.
I've used both. They both work well and taste fine. If you make black frosting from scratch simply make my chocolate frosting and add black food gel to it. It will make way more than you need though- so use the leftover for some Halloween Cupcakes decorated with sprinkles!
Store bought black frosting is the easiest option. It can be found in the baking isle or the cake decorating isle and comes in a tube.
Since you are using the frosting for coloring the almonds rather than frosting a cake and the fact that you only need a small amount, I like to just buy it from the store.
Can I use black gel?
Yes, but black gel has a tendency to not dry, be very messy, and stain your fingers so I prefer frosting.
What type of brush to use for painting on the frosting?
Make sure to use a food safe paint brush. These can be bought in the cake decorating isle of most grocery/hobby stores.
Alternatively, you can dip the almonds in the frosting and try to smooth it out with something.
How to melt candy melts:
Place candy melts in a microwave safe bowl with 2 tablespoon refined coconut oil or shortening. Microwave for 30 seconds on 50% power, stir and repeat until melted. Add in more coconut oil 1 tbs at a time until you get the consistency you want.
Some times I've added 4 or 6 tablespoons to get the candy melts liquid enough. I've noticed different brands and even different microwaves can melt the candies differently.
There is a point where you've microwaved the melts too much and they burn and become crumbly and are past the point of use, that's why I recommend only microwaving in 30 second interval.
Witches Fingers Pretzel Rods- what kind of pretzel?
I like to use the thick pretzel rods. These are typically found either in the chip aisle or near the beef jerky/snacks isle.
The saltiness from the pretzels combined with the sweet candy coating are such a tasty combo- plus these are such a great way to make your Halloween snack spread more fun!
I find that breaking each rod in half makes the perfect finger length.
These are such a fun and tasty treat for any Halloween Party! Let me know your favorite treat in the comments below!
Don't miss these fun Halloween Cocktails!
Watch how to make this recipe!
Want more? Subscribe to my newsletter and follow along on Facebook, Pinterest and Instagram for all of the latest updates.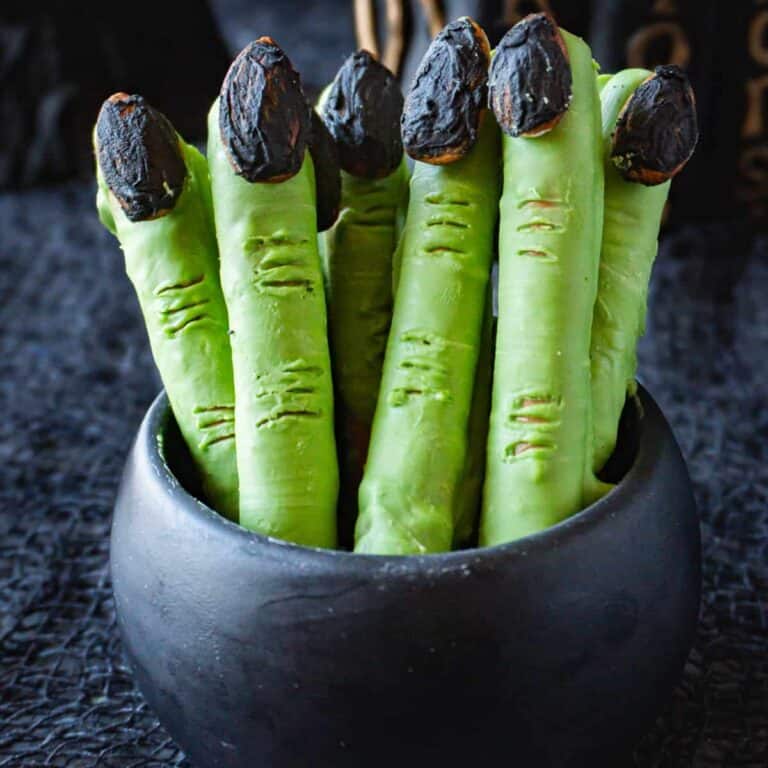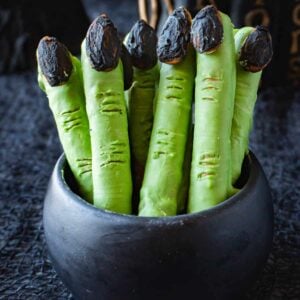 Witches Fingers
Witches Fingers, a super easy and fun Halloween Treat for your next party!
Ingredients
¼

cup

Black Frosting

24

Blanched almonds

12

large/long pretzel rods

12

oz

Bright green candy melts

2-5

tbs

refined coconut oil or shortening
Instructions
Line two baking sheets with parchment or wax paper.

Dip or brush the almonds with the black frosting then place on one of the prepared baking sheets and allow to dry. If you use a brush make sure it is food safe quality.

Combine green candy melts and 2 tbs coconut oil (or shortening) in a microwave safe bowl. I recommend heating for 30 seconds in the microwave on 50% power, stirring, and repeat until melted. You can even take it out of the microwave when there are still a few lumps and let is sit for about a minute then stir. The residual heat should melt the remaining candy melts. If the candy melts are still too thick stir in more coconut oil 1 tbs at a time until your reach your desired consistency. You don't want to overheat the candy melts and cause it to burn and get clumpy.

Break pretzel rods in half if they are really long. Dip the pretzel rods into the melted candy melts and place on the 2nd prepared baking sheet.

Allow to dry for a few minutes. You want the candy melts to be soft but slightly set up then place an almond onto the tip of the pretzel rod, into the green candy melt and repeat with the rest of the pretzel rods.

Before the pretzels and candy melts are done drying, using a toothpick, gently press lines perpendicular to the pretzel into the candy melts to create the knuckle and upper finger lines. Usually 2 sets of three lines looks good.

Once all the fingers are made refrigerate the tray for 10-15 minutes or until the fingers are completely hardened. Enjoy!
Notes
Tips and Tricks
For melting the candy melts:
I've noticed different brands and even different microwaves can melt the candies differently.
You can use refined or unrefined coconut oil for the candy melts but refined does not leave a coconut taste- which is what I prefer. ALternatively, you can use shortening too.
Black Frosting:
You can make your own from scratch using my chocolate buttercream recipe and adding black food gel or buy a tube of premade black frosting from the store (for this recipe I prefer to buy it since I only need a small amount).
Nutrition
Calories:
21
kcal
Carbohydrates:
1
g
Protein:
1
g
Fat:
2
g
Saturated Fat:
1
g
Sodium:
8
mg
Potassium:
8
mg
Fiber:
1
g
Sugar:
1
g
Calcium:
2
mg
Iron:
1
mg
Post updated on 10/1/2020
More Halloween Treats
Reader Interactions