This Cauldron Cocktail is the perfect Halloween Drink! It's hauntingly fun, tasty, and easy to make.
Halloween is such a fun holiday. I love to make all the treats!
I've shared my easy Witches Brew Cocktail with you before but I knew I wanted to make something extra fun and new with this drink. So here you have my Cauldron Cocktail!
I thought it would be great to have the crisp taste of Sprite mixed with some yummy Bacardi Rum and a little cranberry juice. It turned out delicious!
The only thing it needed was more of a Halloween look. All I did was add a little black gel food coloring and some dried ice and voila- the perfect Cauldron Cocktail!
This easy Halloween cocktail recipe comes together quick and is definitely something I can't wait to enjoy every Halloween.
How to make a sugar rimmed glass?
Sugar rimmed glasses are so easy and fun to make. Simply swipe the rim of your glass with a sugary liquid. A little bit of the Sprite works great or a simple syrup (sugar water) works too.
I like to get a little of the inside and outside of the glass sticky in order to get a nice sugar rim.
Place colored sugar crystal or sprinkles on a plate and gently spin the glass rim around in them. It's that easy!
Sometimes I like to make up a bunch of glasses with sugared rims ahead of time for my guest, but it's also fun to lay out a variety of different colors and let them make their own.
How to make Cauldron Cocktail Halloween Drink?
Make a sugar rimmed glass
Combine Bacardi Rum with cranberry juice, sprite, and a tiny drop of black food gel (a little goes a long way!).
Add a little dried ice and enjoy!
How do you make smokey Halloween Drinks?
Simply place a little dry ice in you cup! Or add to a punch bowl.
Use tongs or gloves to handle it- otherwise it will burn you.
If your glass is really full and you add too big of a chunk, it can cause your drink to overflow. Trust me I've done it before!
Is it safe to put dry ice in a drink?
Yes, but DO NOT CONSUME ANY OF THE DRY ICE. What do I mean?
Either allow the dry ice to evaporate all the way before drinking or sip the drink being careful not to let any chunks of the dry ice get near your mouth. It will burn your mouth and throat if you swallow it.
Dry ice will typically sink to the bottom of the cup so it's not too hard to avoid, but sometimes when the dry ice is small it will rise to the top of the drink.
Make sure you tell your guests not to burn themselves and always drink responsibly.
Halloween drinks that smoke are extra fun that really take your Halloween party to the next level.
What's your favorite part of Halloween? Do you make lots of treats and have a party?
Make sure to check out these other Halloween treats!
Watch how to make this recipe!
Want more? Subscribe to my newsletter and follow along on Facebook, Pinterest and Instagram for all of the latest updates.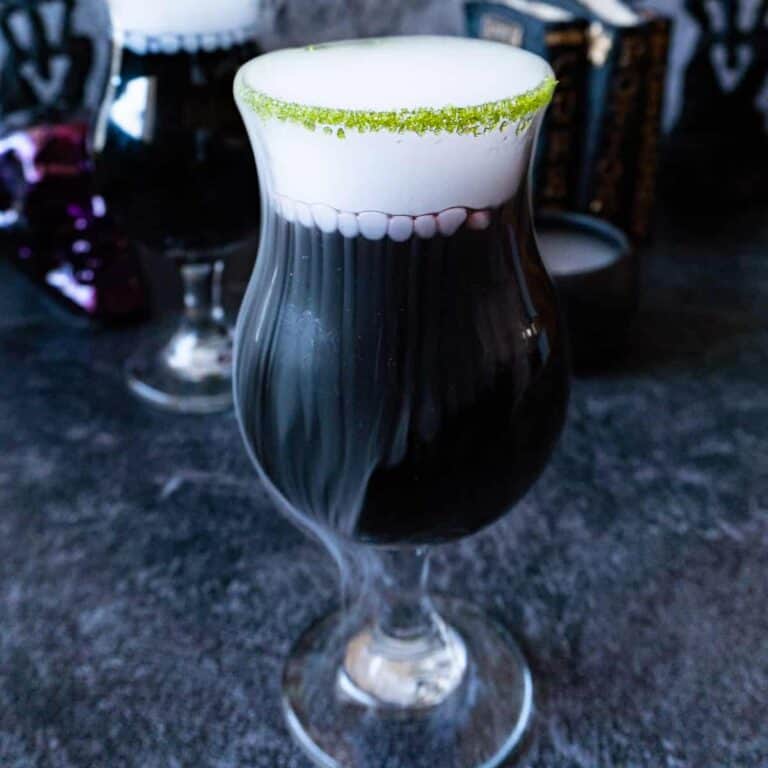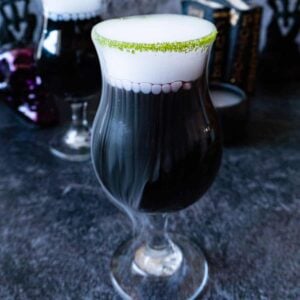 Cauldron Cocktail Halloween Drink
This Cauldron Cocktail is the perfect Halloween Drink! It's hauntingly fun, tasty, and easy to make.
Ingredients
2

oz

Bacardi Rum

1

Sprite Mini Can (7.5 oz)

3

oz

cranberry juice

Black Food Gel

Dry Ice*

Sugar Sprinkles
Instructions
Swipe the rim of your glass with a little Sprite.

Dip rim of glass into sprinkles. I find it easy if you place the sprinkles on a plate and then spin the glass rim in the sprinkles.

In sugar rimmed cup add rum, cranberry juice, Sprite,and a little black food gel. Stir.

Using tongs place a small piece of dry ice in the glass.

Enjoy!
Notes
Tips and Tricks
*It is very important that you wait until the dry ice has completely dissolved before you drink your cocktail. You do not want to ingest the dry ice. Dry ice will burn you so either use gloves or tongs to place it in your drink.
Nutrition
Calories:
257
kcal
Carbohydrates:
33
g
Protein:
1
g
Fat:
1
g
Saturated Fat:
1
g
Sodium:
24
mg
Potassium:
65
mg
Sugar:
32
g
Vitamin C:
8
mg
Iron:
1
mg
This post was originally a sponsored post compensated by Collective Bias, Inc. and The Coca-Cola Company. It is intended for an audience of adults age 21 and older. All opinions are mine alone.
Post updated on 10/2/2020
More Halloween Treats
Reader Interactions