Ever wondered how to tell if broccoli is bad? Find out everything you need to see if your broccoli is still okay to eat!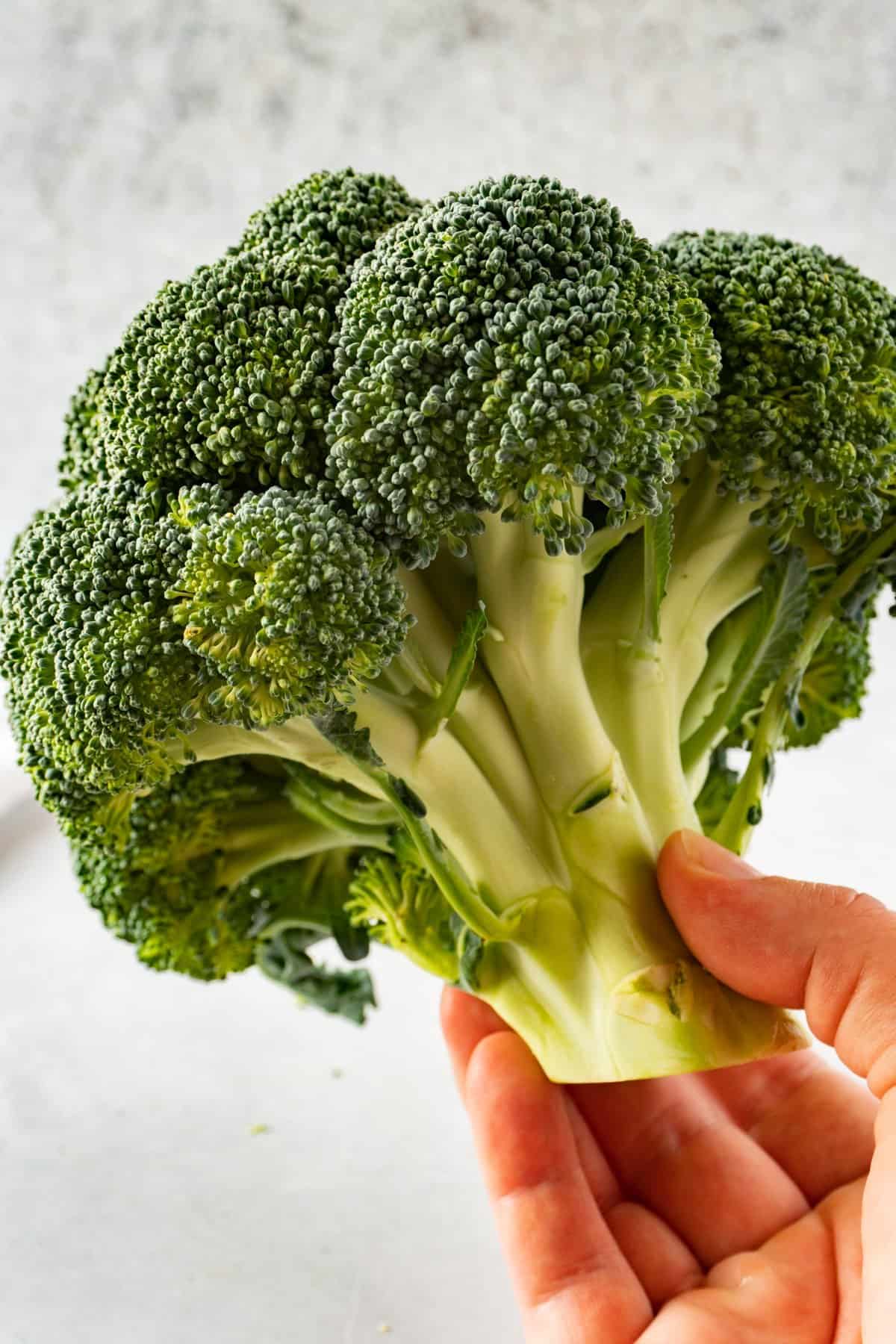 If you are anything like me you may have forgotten about that head of broccoli in your refrigerator, only to pull it out days or weeks later and wonder if it's still edible. Well, if need to know how to tell if broccoli is bad or good you are in the right place!
What does good broccoli look like?
Fresh broccoli is firm and bright/dark green.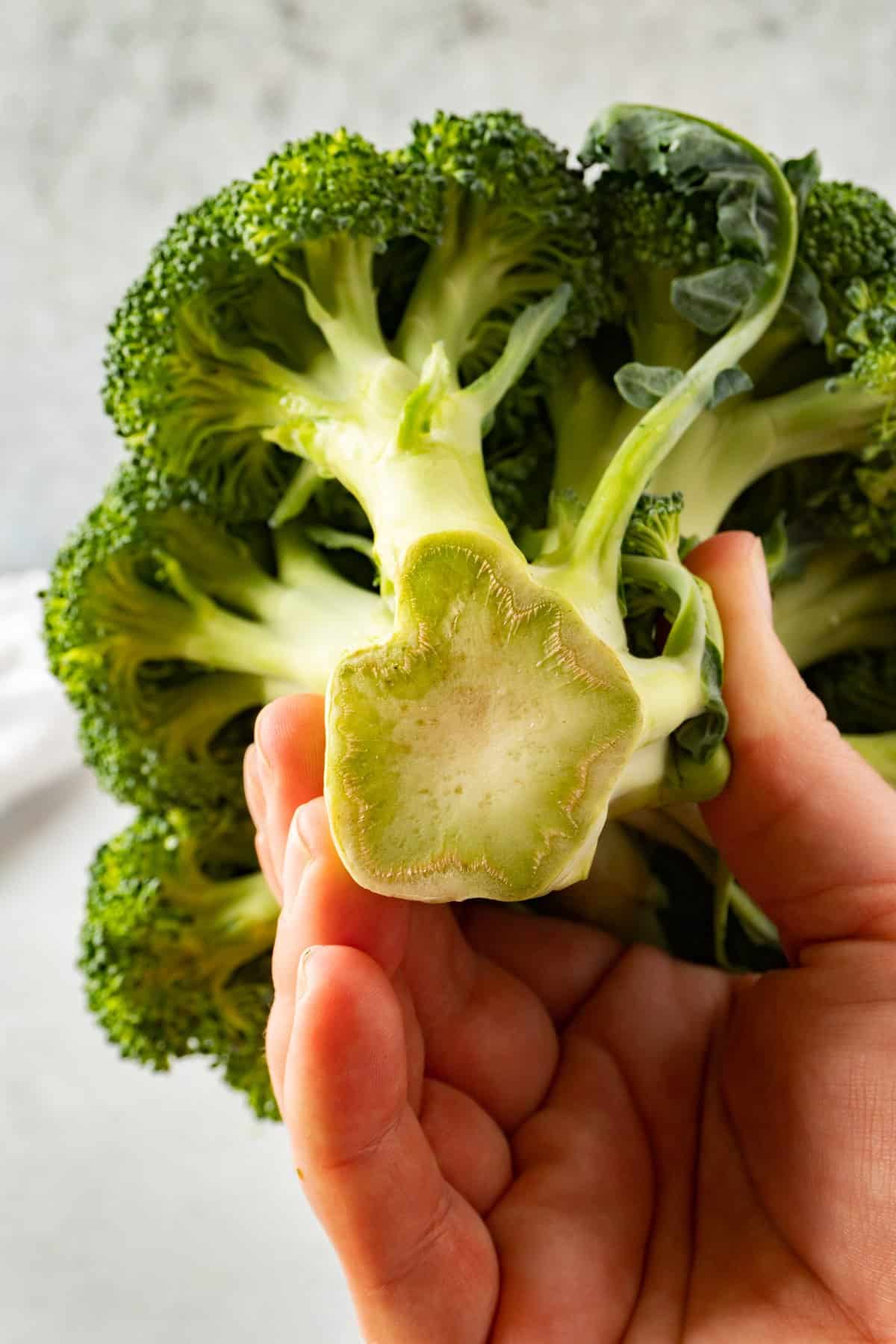 How to tell if broccoli is bad?
There are several key signs to tell you if your broccoli is bad: Smell, Color, Texture, and Mold.
Smell: The first sign is typically an off smell that intensifies with time.
Color: If your broccoli head is starting to turn yellow from its normal green color it is starting to go bad. If there are just small bits of yellow you can still eat the broccoli but I recommend eating it cooked and not raw.
If you are going to eat broccoli that has some yellow spots cut those portions off before cooking.
When the broccoli head/crown turns mostly yellow or is brown it's past the point of being edible and should be thrown out or composted.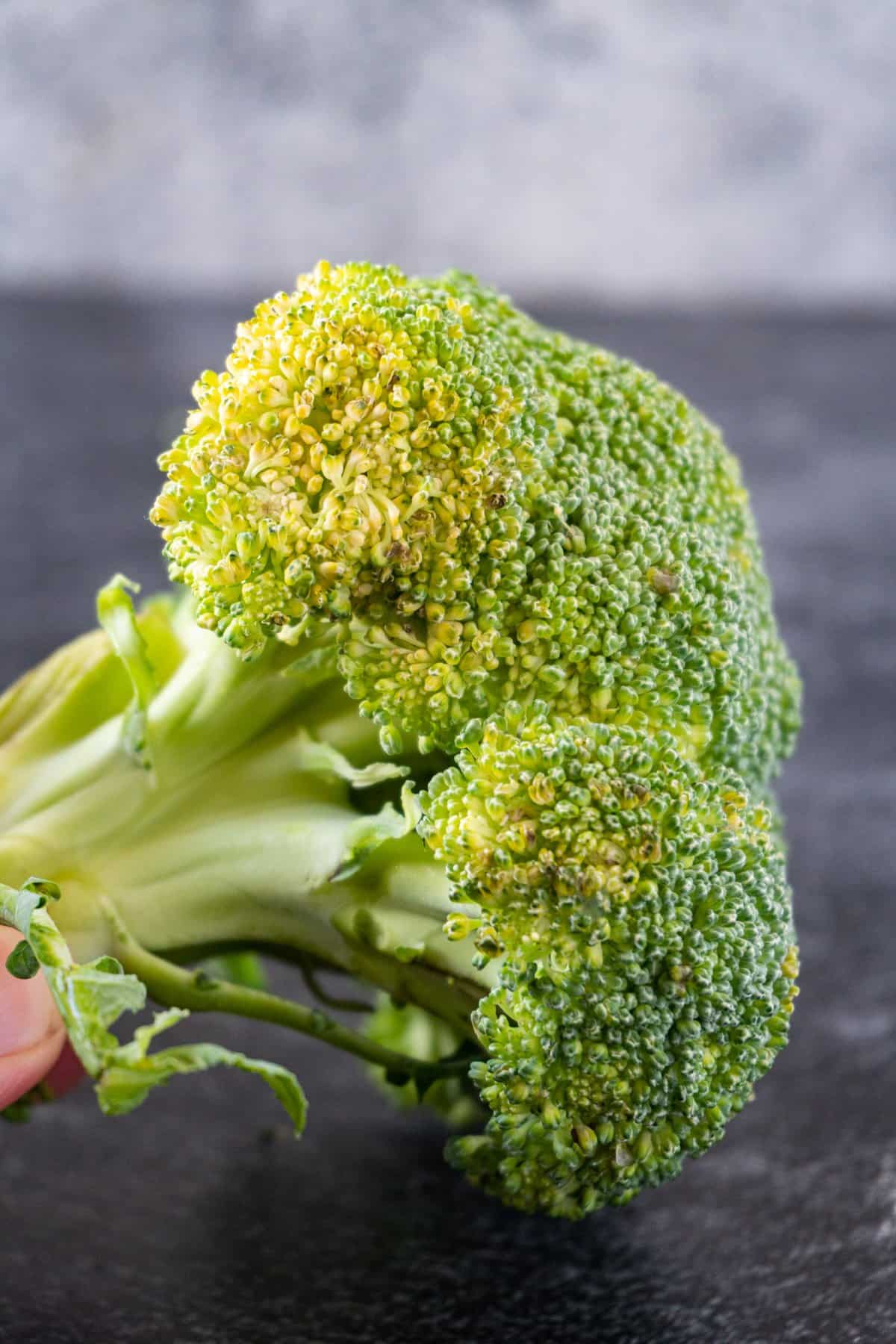 Texture: If the broccoli stem or leaves start to get soft or wither it's time to toss.
Mold:  Mold will look like little brown or black dots on the broccoli head. If those appear it's best to get rid of the broccoli since there's often more mold than you can see.
The broccoli in the picture below has a very soft stem that I can easily squish between two fingers.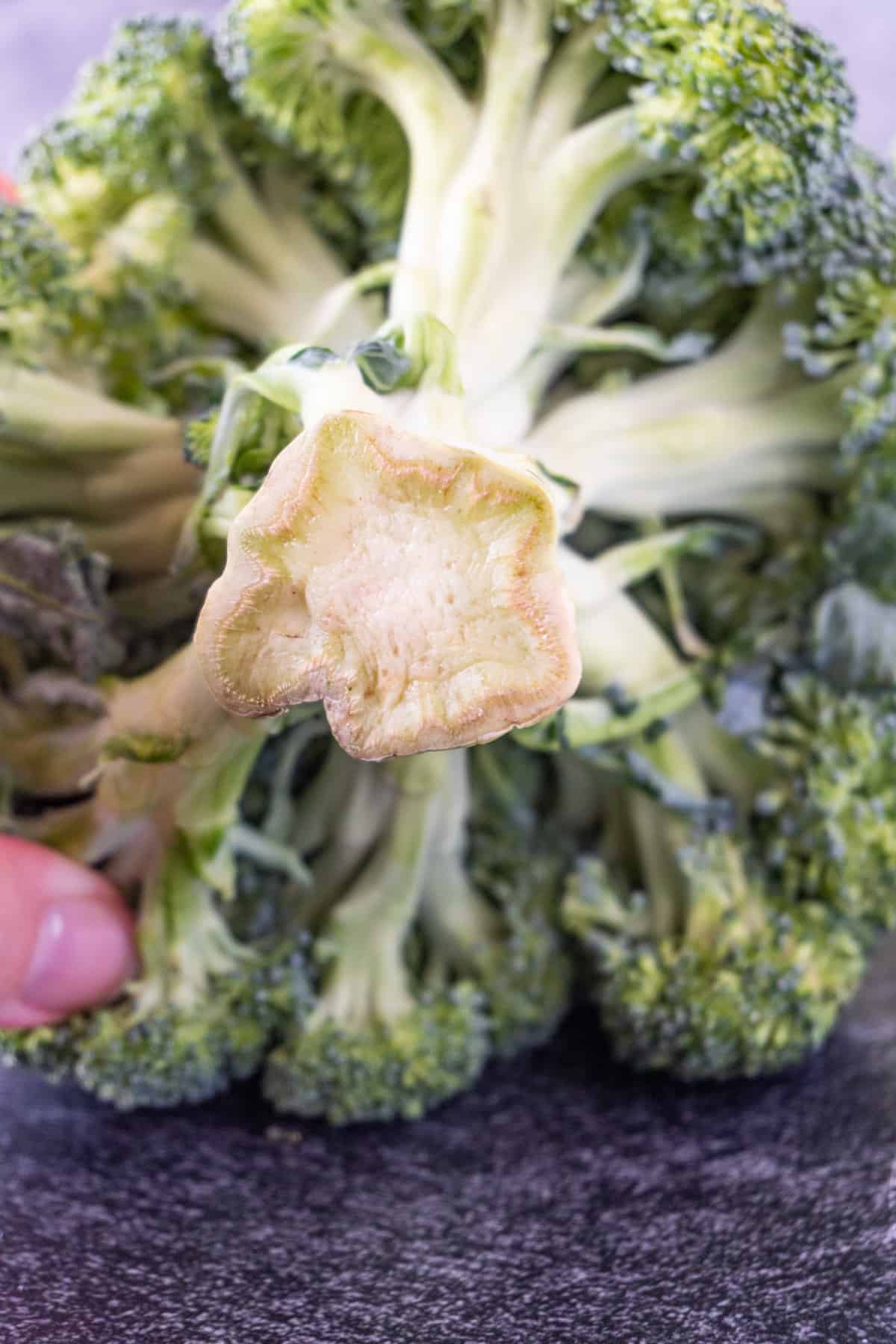 Is broccoli good for you?
Yes! Broccoli has lots of great nutrients including: Vitamin C, Vitamin K, Iron, lots of fiber and more!
How long does broccoli last in the fridge?
A whole head broccoli will stay good 7-10 days in the refrigerator. If cooked the shelf life shrinks to 2-3 days.
Try to use of leftover broccoli in dishes like broccoli slaw or cheesy broccoli!
How to store broccoli?
Store broccoli in your refrigerator whole or cut in to florets for anywhere between 3-10 days. Whole heads of broccoli will last closer to 10 days whereas florets will perish faster. You can freeze broccoli for up to several months!
How to tell if frozen broccoli is bad?
If the broccoli has freezer burn, lots of ice built up inside the container, it will need to be tossed. If the color of the broccoli has lost its bright green color, it is typically a sign that it is losing its moisture due to a storage issue, and will need to be tossed too.
Learn all about how to freeze broccoli here!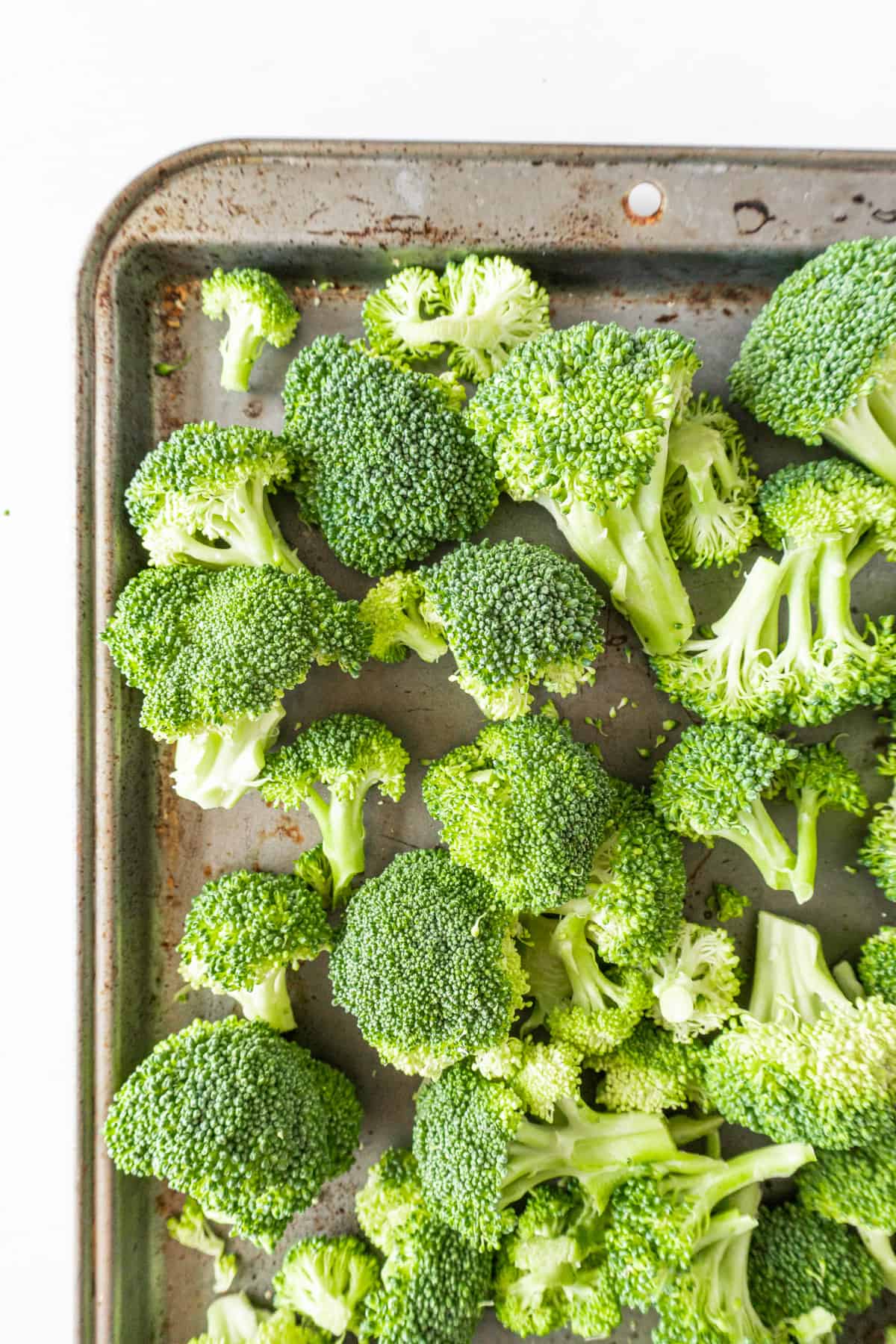 How to tell if cooked broccoli is bad?
Leftover cooked broccoli can be stored in the refrigerator for 2-3 days. It will start to break down and become watery, smelly, and maybe even have a whitish liquid or mold form if its left in the refrigerator too long.
How to tell if raw broccoli is bad?
Raw broccoli will be soft, discolored to yellow or brown, extra smelly, and may even have mold on it.
Hopefully all these tips will help you figure out how to tell if broccoli is bad or still good! Let me know if you have any more questions in the comments below!
Make sure to check out my other articles like how to tell if potatoes are bad, how to cut cantaloupe, and how to toast bread in the oven!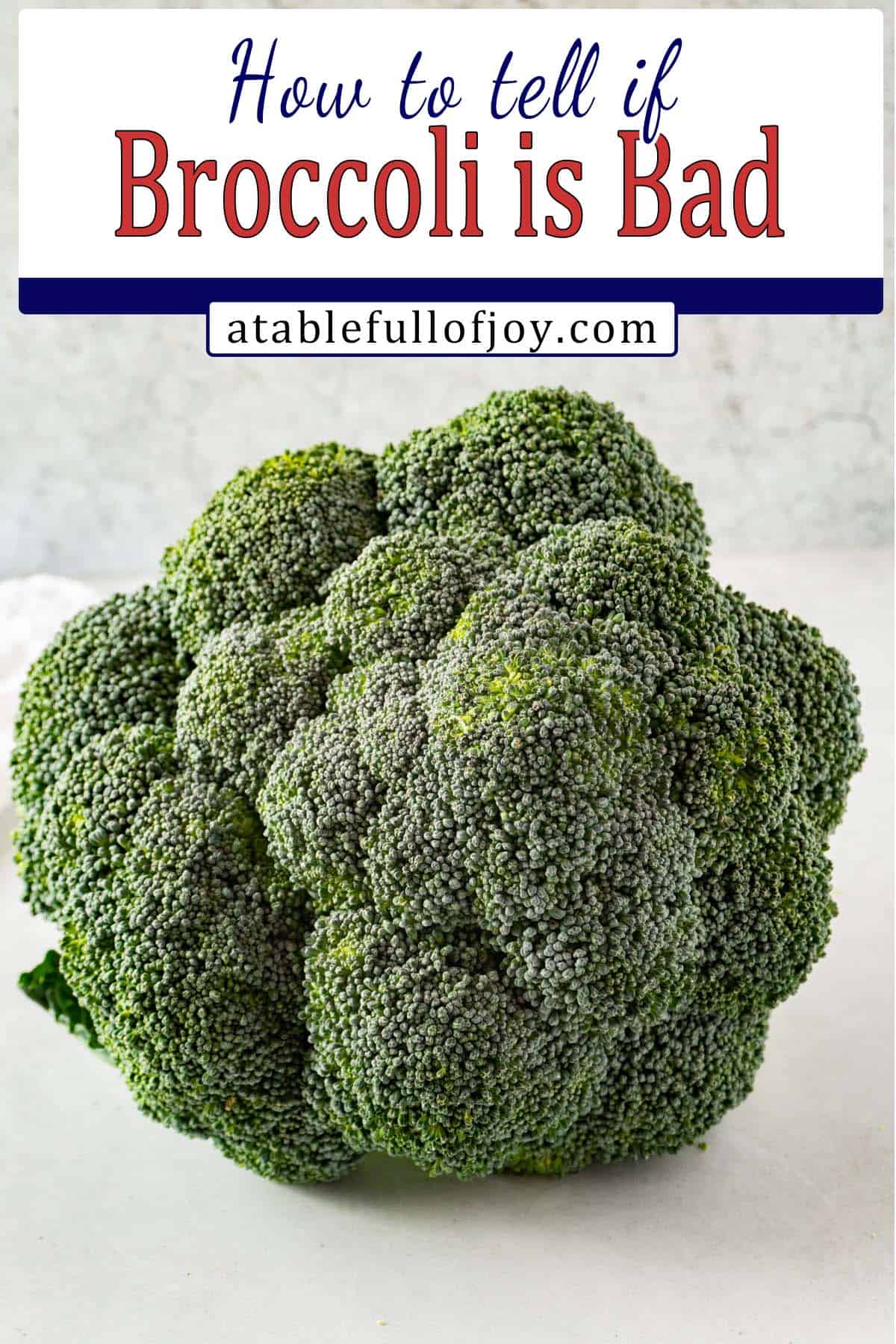 Want more? Subscribe to my newsletter and follow along on Facebook, Pinterest and Instagram for all of the latest updates.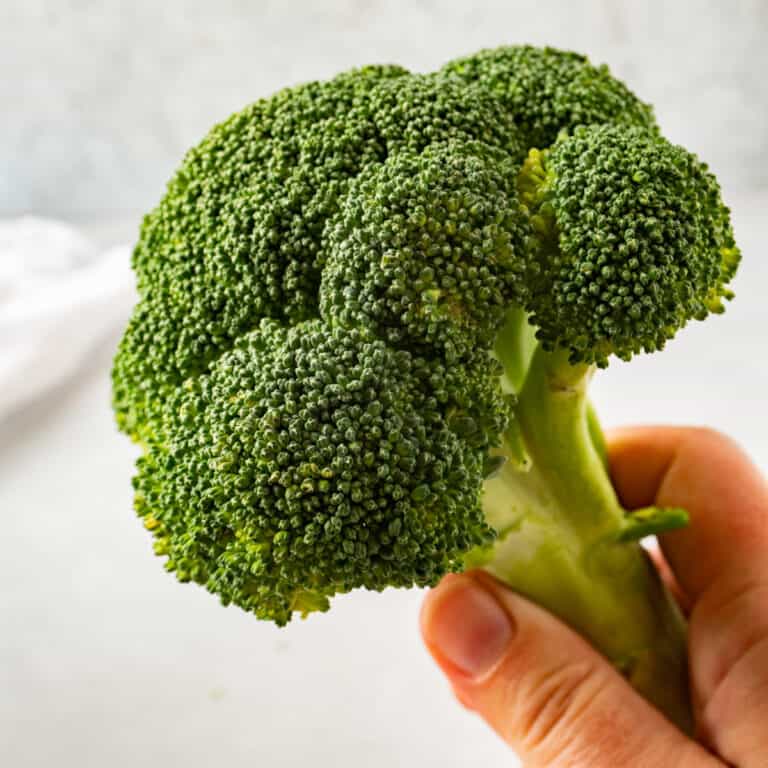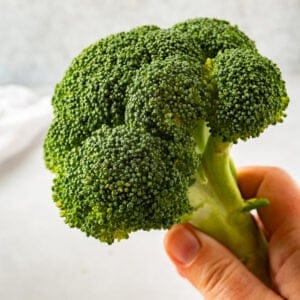 How to steam broccoli?
Steaming broccoli is a great way to eat it up before it goes bad!
Instructions
Cut head of broccoli into florets and rinse.

Fill pot with 1-2 inches of water and heat over high until boiling.

Place florets in boiling water, cover with a lid and cook for 3-4 minutes.

After 3-4 minutes broccoli will be bright green and slightly less firm. Rinse broccoli in a colander under cold water.

Serve immediately.
Nutrition
Calories:
46
kcal
Carbohydrates:
9
g
Protein:
4
g
Fat:
1
g
Saturated Fat:
0.2
g
Polyunsaturated Fat:
0.2
g
Monounsaturated Fat:
0.04
g
Sodium:
45
mg
Potassium:
431
mg
Fiber:
4
g
Sugar:
2
g
Vitamin A:
850
IU
Vitamin C:
122
mg
Calcium:
64
mg
Iron:
1
mg
Reader Interactions