S'mores Bars, easy to make and extra delicious! Perfect for evening when you need a delicious Smore but don't have a campfire! These S'mores Bars tasty and just what you need to make ASAP!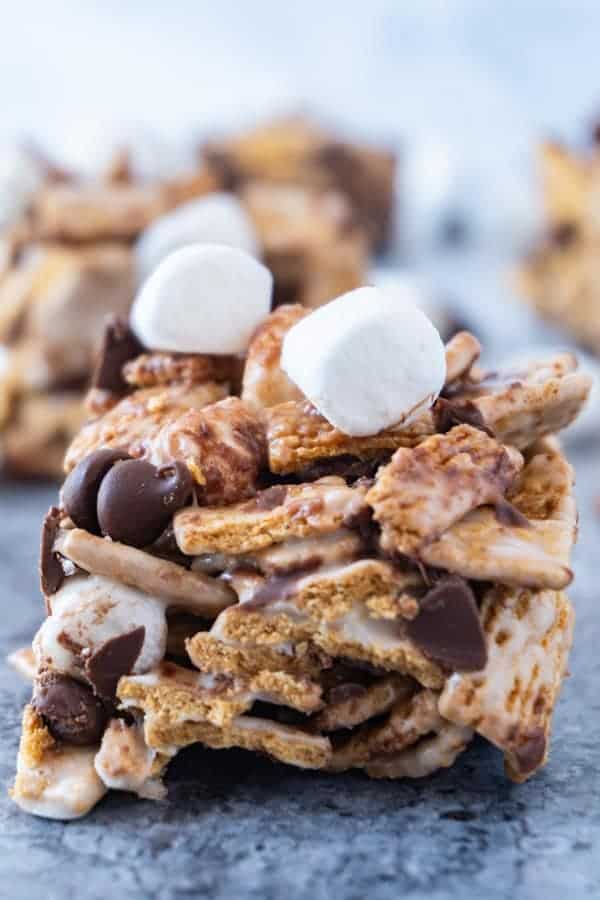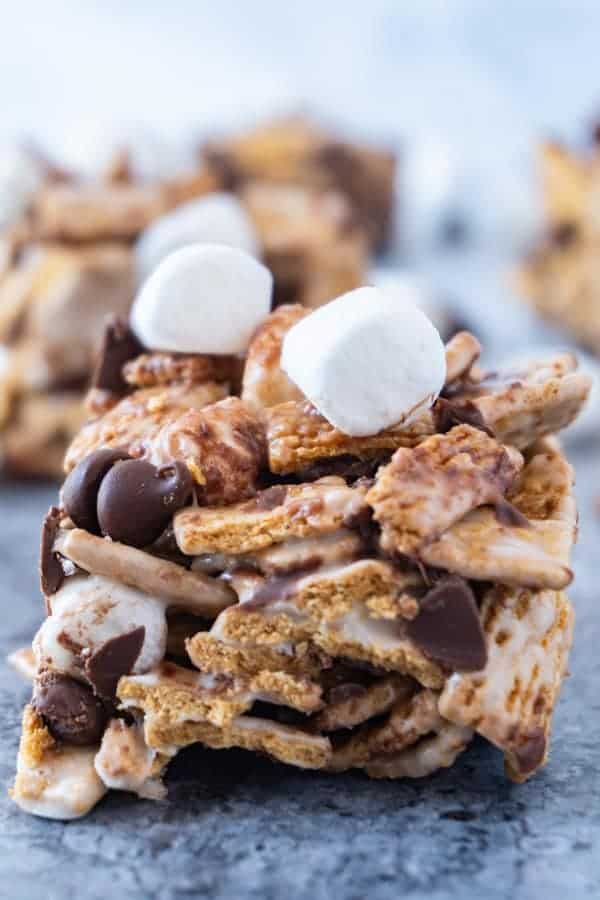 S'mores Bars
You guys I totally thought I was done with sharing all my go to cereal bar recipes- but then I made these I knew I you had to have them in your life too.
Check out my other cereal bars:
These S'mores Bars uses Golden Graham Cereal in lieu of graham crackers and let me just say they are perfect.
When my husband tried them for the first time, he said they were BETTER than S'mores! I was shocked and very pleased he loved them so much!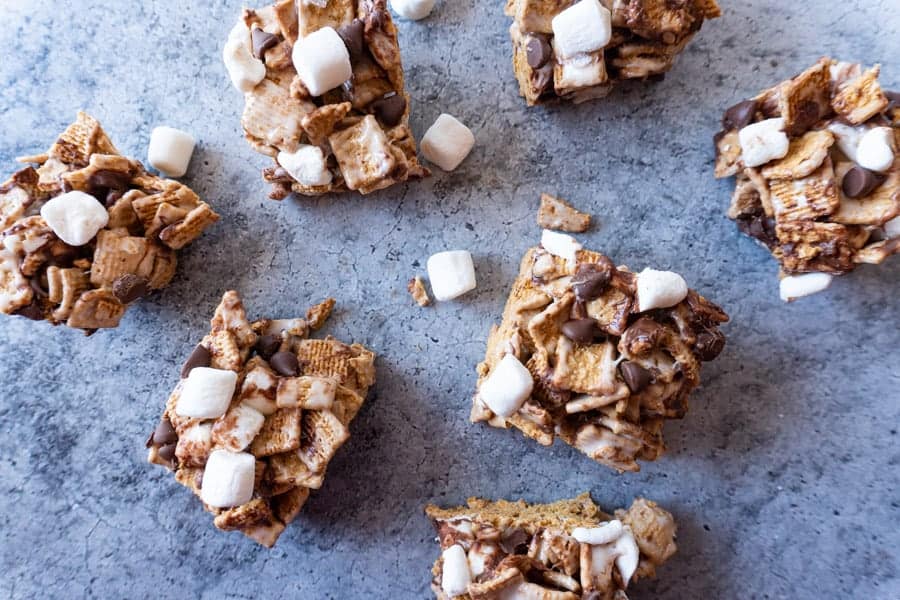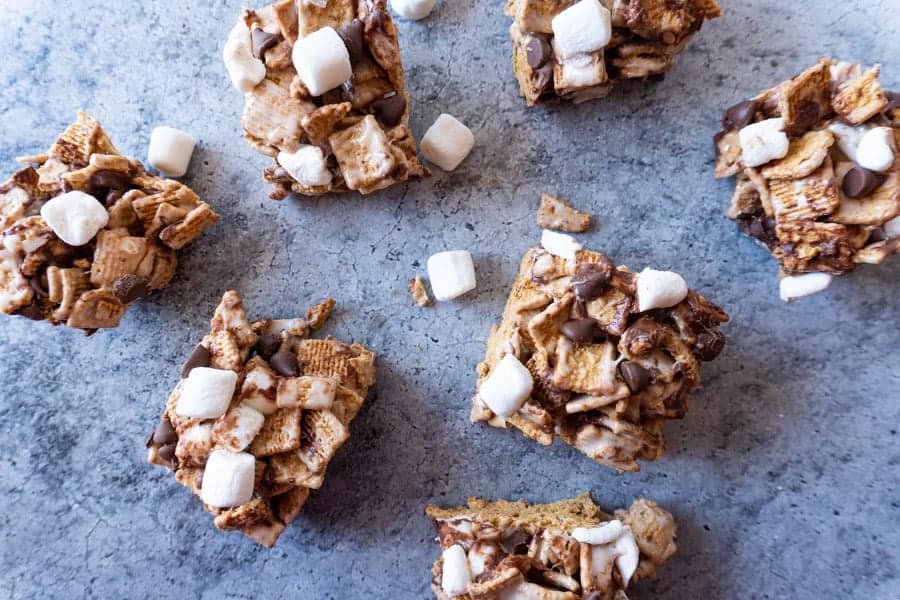 No more microwaved S'mores with soggy graham crackers and a giant mess. These Golden Graham S'mores Bars are perfect!
Easy to make and delicious!


How to make S'mores Bars:
Spray a 9×13 baking dish with non-stick cooking spray.
In a large stock pot melt the butter and marshmallows on low heat.
Once melted remove from heat and stir in the Golden Graham cereal until evenly coated.
Then stir in the Chocolate Chips and more marshmallows.
Press the mixture into the prepared baking sheet and gently press extra chocolate chips and marshmallows on top.
Allow to cool and then enjoy!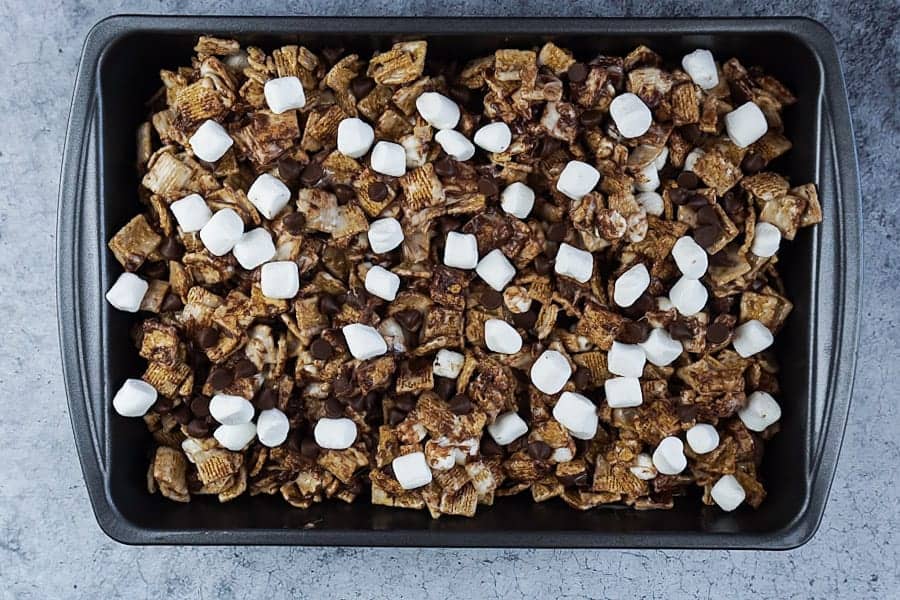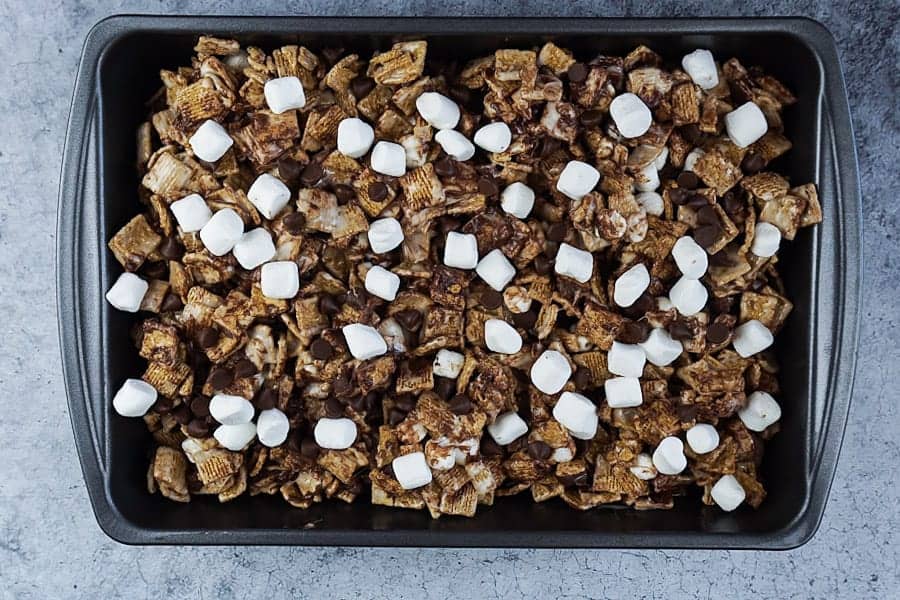 How to store S'mores Bars? How long do they last?
I recommend eat these within two to three days of making (which won't be hard since they are so good!)
Store in an air tight container.
Any longer the 2-3 days and they can become stale and the golden grahams can get a little soggy.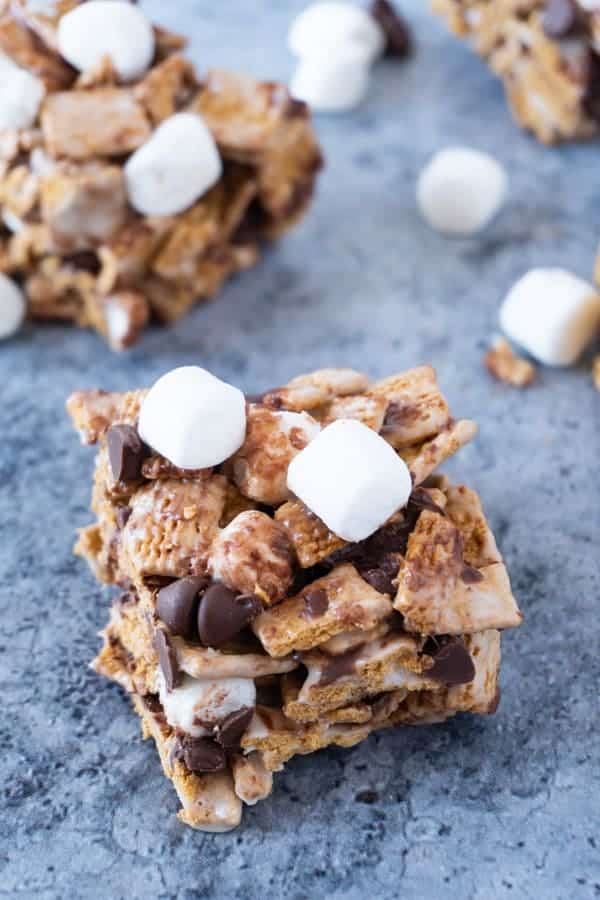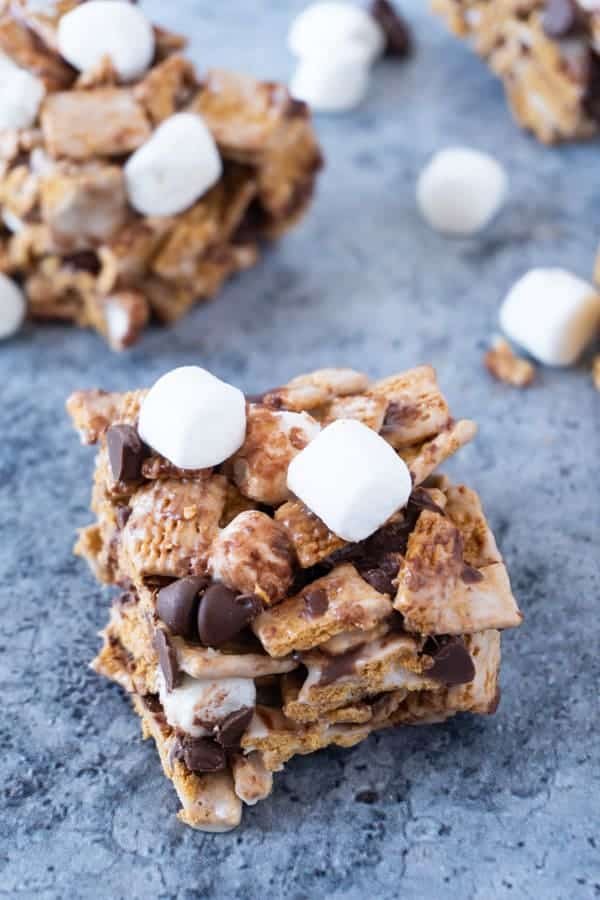 Why do I add marshmallows and chocolate chips at two different times while making these?
I add them after mixing the golden grahams in because I figure that the mixture is cool enough to not melt the chocolate and newly added marshmallows- even if it did melt them the bars would still be delicious- but not as pretty.
I press on extra marshmallows and chocolate chips because it makes them look that much more appetizing and who doesn't love more marshmallows and chocolate!
What do you think? Will you give these S'mores bars a try? Let me know in the comments below!
Also make sure to check out these other tasty recipes: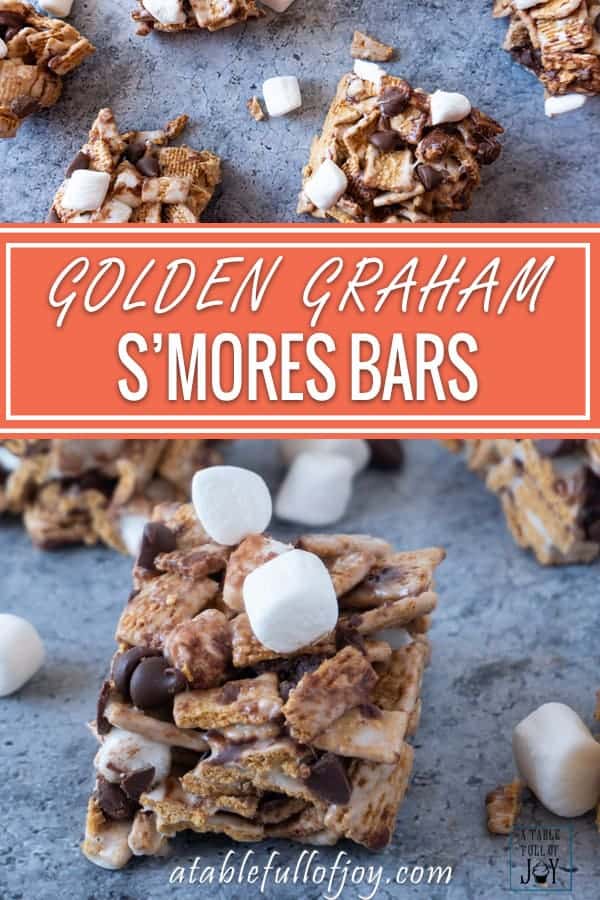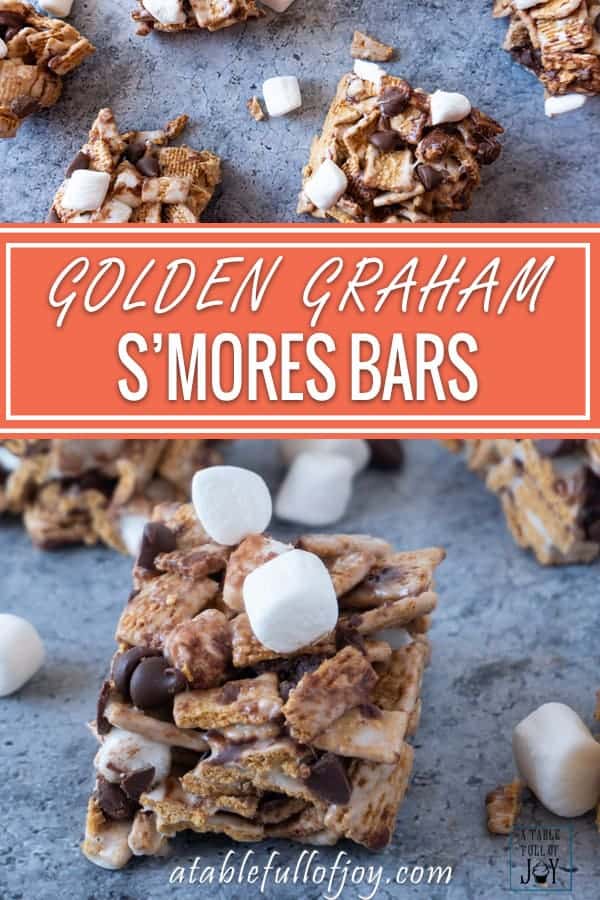 Watch how to make this recipe!
Want more? Subscribe to my newsletter and follow along on Facebook, Pinterest and Instagram for all of the latest updates.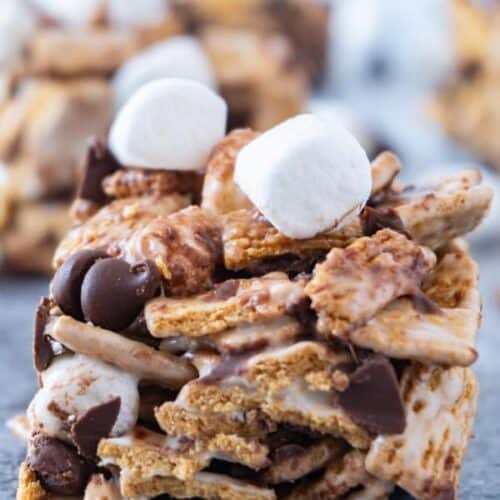 S'mores Bars
S'mores Bars, easy to make and extra delicious! Perfect for evening when you need a delicious Smore but don't have a campfire!
Ingredients
8

cups

mini marshmallows

divided (10 oz marshmallows)

5

tbs

butter

8

cups

golden graham cereal

about ¾ large box

1

cup

milk chocolate chips

Extra chocolate chips and marshmallows for pressing on top.
Instructions
Spray a 9x13 pan with nonstick cooking spray. Set aside.

In a medium sized pot over medium low heat add your marshmallows and butter, reserving 1 cup of marshmallows. (7 cups mini marshmallows, 5 tbs butter)

Stirring constantly, allow butter and marshmallows to melt completely. Remove from heat once melted.

Stir in the golden graham cereal. Once that's completely stirred in add in the chocolate chips and reserved marshmallows. Stirring to get them evenly distributed. (8 cups golden grahams, 1 cup chocolate chips, 1 cup mini marshmallows)

Pour mixture into prepared baking dish, pressing down to get a nice compact bar. Sprinkle and gently press in the extra marshmallows and chocolate chips onto the top.

Allow to harden for several hours.

Enjoy!

Store in an air tight container- I've found if you don't they will get soggy/stale pretty fast!
Nutrition
Calories:
232
kcal
Carbohydrates:
44
g
Protein:
3
g
Fat:
7
g
Saturated Fat:
4
g
Cholesterol:
11
mg
Sodium:
179
mg
Potassium:
113
mg
Fiber:
4
g
Sugar:
25
g
Vitamin A:
636
IU
Vitamin C:
1
mg
Calcium:
26
mg
Iron:
6
mg
Reader Interactions