Witches Brew Recipe, a fun and tasty cocktail for Halloween! Enjoy this delicious Sprite and Rum cocktail at your next Halloween party!
Msg for 21+ Drink Responsibly
I love making fun Halloween Treats- especially these tasty drinks! Last Halloween I shared my Cauldron Cocktail and I just had to come up with another fun cocktail this year!
This year I am sharing a fun shimmery green Witches Brew Cocktail!
For more Halloween Recipes check out:
This cocktail features Sprite, White Rum, and Crème de Menthe. Similar to last year's drink but with a refreshing minty twist! This drink gets its fun shimmery look from using luster dust and will leave your guests feeling the Halloween Spirit!
How to make a sugar rimmed glass?
Simply wipe the rim of your glass with the simple syrup or soda. You want it to be sticky from the sugar but not have large droplets of liquid on the rim. Large droplets will cause clumping and it won't look as nice.
Then dip your glass into sprinkles/colored sugar. The easiest way I've found to do this is to pour the sprinkles on a flat surface then gently spin the rim of the glass in the sprinkles.
Sometimes, I like to make up a bunch of glasses with sugared rims ahead of time for my guest, but it's also fun to lay out a variety of different colors and let them make their own.
How to make Witches Brew Cocktail:
Combine Rum, Crème De Menthe in glass

Top off with Sprite

Stir in Luster Dust

Enjoy!
Luster Dust Tips and Tricks
Luster Dust is an edible, non-toxic, decorating powder used on cakes, cookies, and as in this instance, drinks.

I used a combination of green and gold to get the light green color I wanted- what I imagine a witch's brew to look like. That being said you can use any color luster dust and it will make a pretty shimmery colored drink.

If your Luster Dust clumps try mixing the luster dust in with the alcohol before adding the Sprite. The alcohol will help distribute the dust.

Make sure when you buy Luster Dust it says non-toxic/edible on it. You can find luster dust in the cake decorating aisle of your local grocery or hobby store.

Make the drinks right before serving or if you have them sitting out give them a little stir before handing them off to your guests. The luster dust will eventually settle to the bottom so stirring the drinks will bring the color and shimmer back to the drink.
What is Crème de Menthe?
For this recipe you will need to make Crème de Menthe or buy it from the store.
Crème de Menthe is essentially just a mint simple syrup. Meaning sugar, water, and mint extract. Store bought has a tendency to have alcohol already in it so just be aware of that.
Mint is a very strong flavor so a little goes a long way. I recommend only using 1 tbs of Crème de Menthe per drink.
What to do with extra Crème de Menthe?
Your leftover Crème de Menthe can be used to flavor sweet tea and lemonade or use it in making Mint Juleps!
How do you make smokey Halloween Drinks?
Simply place a little dry ice in you cup! Or add to a punch bowl.
Use tongs or gloves to handle it- otherwise it will burn you.
If your glass is really full and you add too big of a chunk, it can cause your drink to overflow. Trust me I've done it before!
If you don't want to put the dry ice in each glass but still want the spooky effect simply place bowls or extra cups around your decorations, add dry ice and a little water and let it get everything all misty.
Is it safe to put dry ice in a drink?
Yes, but DO NOT CONSUME ANY OF THE DRY ICE. What do I mean?
Either allow the dry ice to evaporate all the way before drinking or sip the drink being careful not to let any chunks of the dry ice get near your mouth. It will burn your mouth and throat if you swallow it.
Dry ice will typically sink to the bottom of the cup so it's not too hard to avoid, but sometimes when the dry ice is small it will rise to the top of the drink.
Are you ready for Halloween?! Are you dressing up and trick-or-treating or handing out candy? Let me know in the comments below!
Watch how to make this recipe!
Want more? Subscribe to my newsletter and follow along on Facebook, Pinterest and Instagram for all of the latest updates.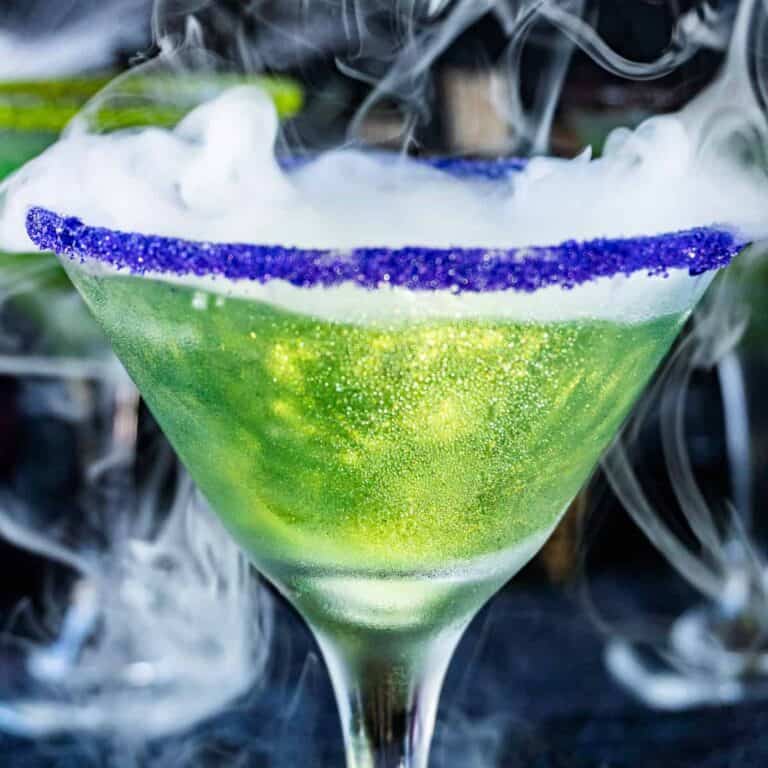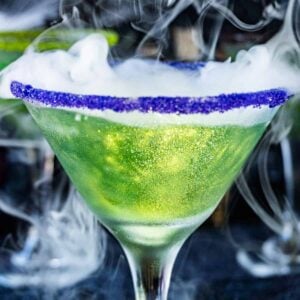 Witches Brew Halloween Cocktail
Witches Brew Recipe, a fun and tasty cocktail for Halloween! This is a fun alcoholic drink for your next Halloween Party!
Ingredients
Crème de Menthe Simple Syrup
1

cup

water

1

cup

sugar

1

teaspoon

peppermint extract
Witches Brew Cocktail
1

tbs

Crème de Menthe Simple Syrup*

2

oz

white rum

1

can Sprite [12 oz. mini can]

Pinch

Green Luster Dust- non-toxic/edible

Pinch

Gold Luster Dust- non-toxic/edible

optional

Colored Sugar Sprinkles

optional

Dry Ice

optional
Instructions
Crème de Menthe Simple Syrup
In a small pot mix together the sugar and water. Bring to a boil and then pour into a mason jar or another heat resistant container and allow to cool. You can stick it in the refrigerator to speed up the cooling process up.

Once cool add in the peppermint extract.
How to make Witch's Brew Cocktail
Wipe the rim of your drinking glasses with simple syrup or a little soda. Dip into sprinkles.

Pour white rum and Crème de Menthe into glass. Add in luster dust. Start with a pinch of each color and then add more if it needs more color.

Top glass off with Sprite.

Enjoy!
Notes
Tips and Tricks
A little Crème de Menthe goes a long way. Start with 1tbs per drink (so 3tbs total) and make the cocktail. If you want more mint flavor then simply add another teaspoon to your individual drink.

Use leftover Crème de Menthe in lemonade, tea, or make Mint Juleps!

If using dry ice and luster dust, please see my post tips above!

*Do not ingest or swallow dry ice. Make sure the drink stops bubbling and smoking before you drink it. Always use gloves or tongs when handling dry ice. Dry ice will burn you.
Nutrition
Calories:
187
kcal
Carbohydrates:
6
g
Fat:
1
g
Saturated Fat:
1
g
Sodium:
1
mg
Sugar:
6
g
Post updated on 10/6/2020
Post was originally sponsored by The Coca-Cola® Company and SheSpeaks.
More Halloween Treats
Reader Interactions