How to tell if Bacon is Bad- all the signs you need to know to if your bacon is still okay to eat! From smell, texture, color and more, learn everything you need to know about good and bad bacon!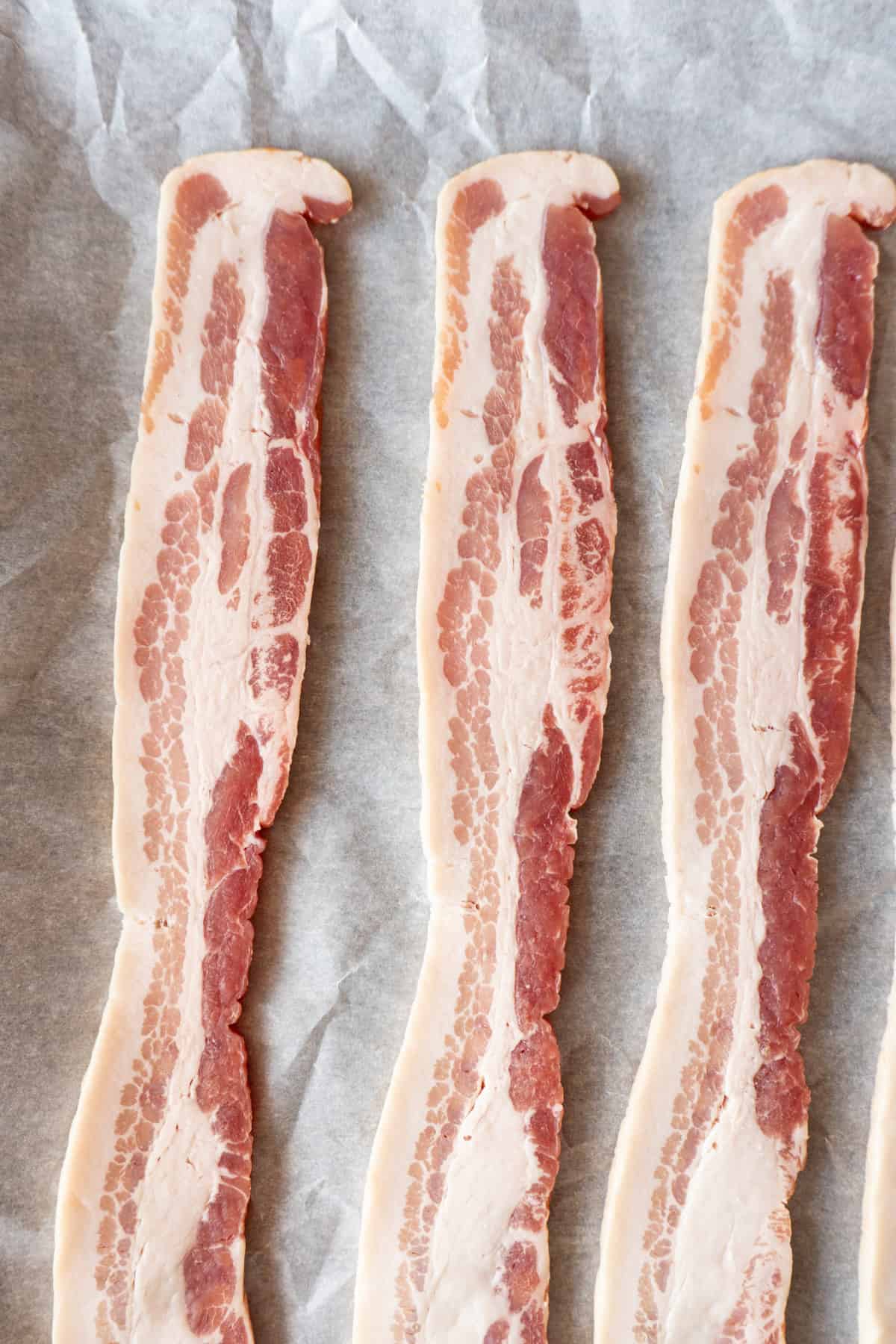 Sometimes you have leftover uncooked bacon sitting in your fridge and it can be hard to tell if it's still okay to cook and eat. Or you cooked up a whole package of bacon but now you have leftover- how long does it last?
Jump to:
I've shared a few helpful articles previously on how to tell if potatoes, sweet potatoes, brussel sprouts, broccoli, and even buttermilk are bad- and today I wanted to talk about bacon.
There are several key factors to understanding if your bacon is bad or not.
Packaging
First check the use or sell by date. This is a good starting point for freshness.
If your package has a five-digit number on it that looks like XX-XXX, the first two numbers are the year and the last three are the day of the year (out of 365). For example: March 1, 2023 would be 23-059.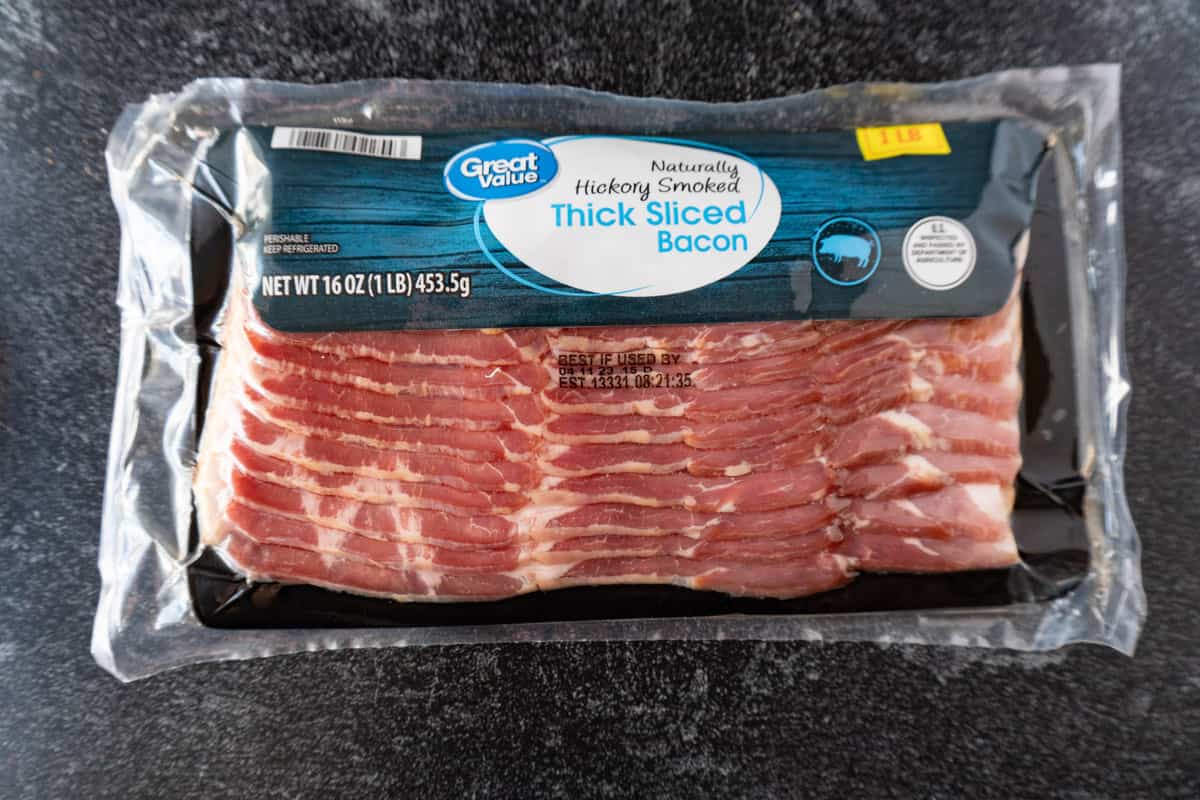 Sell By vs Use By Dates:
The Sell By date helps the store to move inventory along. If that is the only date on your package use the product within 1 week of the sell by date.
The Use By date is when the product reaches its peak quality and the USDA recommends throwing the bacon away if it's after the use by date.
Good Seal
Your bacon should be vacuumed sealed. If the packaging has come away and is loose/ballooned out from the bacon that indicates a bad seal and shouldn't be eaten.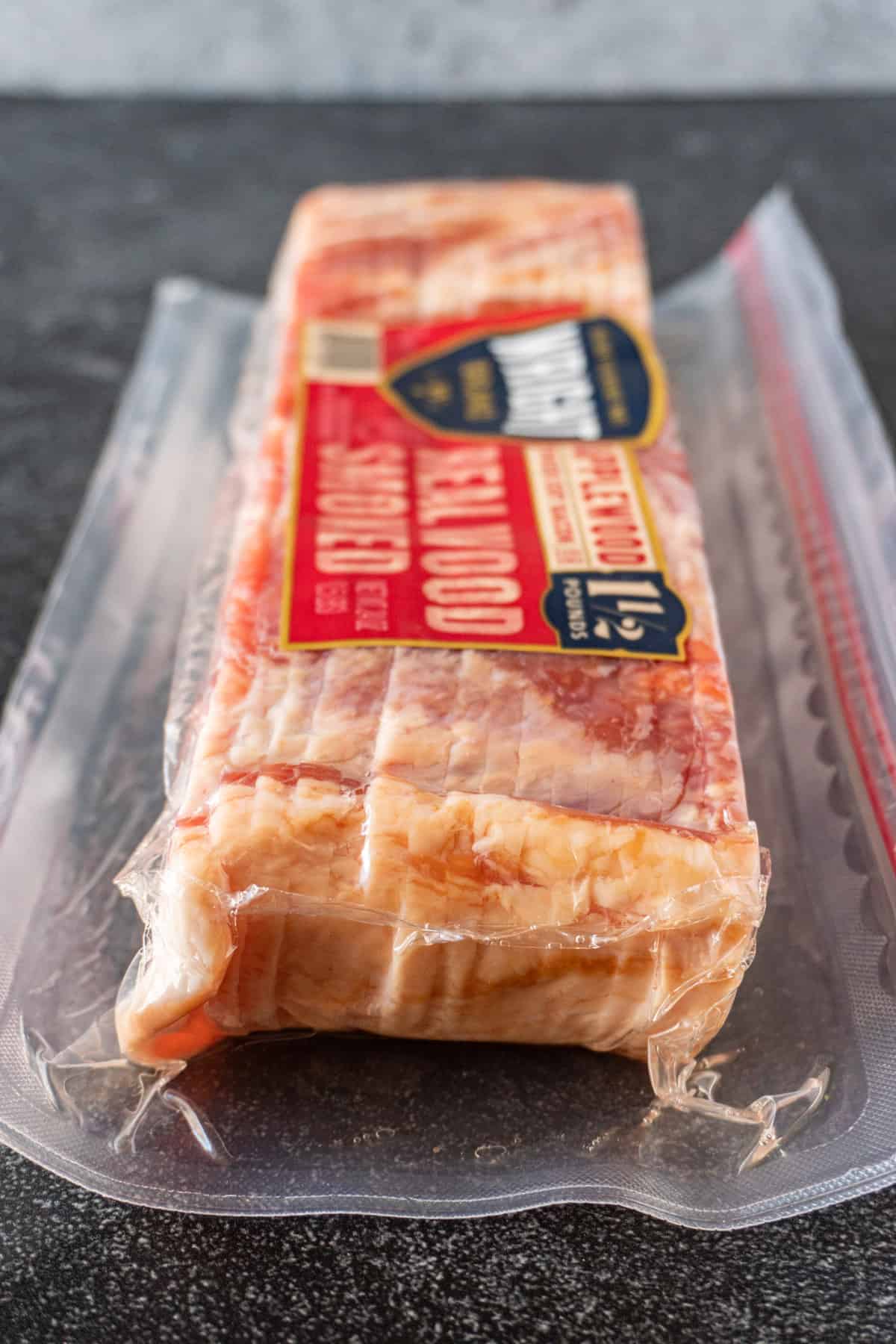 A bad seal allows oxygen into the package which beings the spoiling process and it can go bad even before the "use by" date has passed.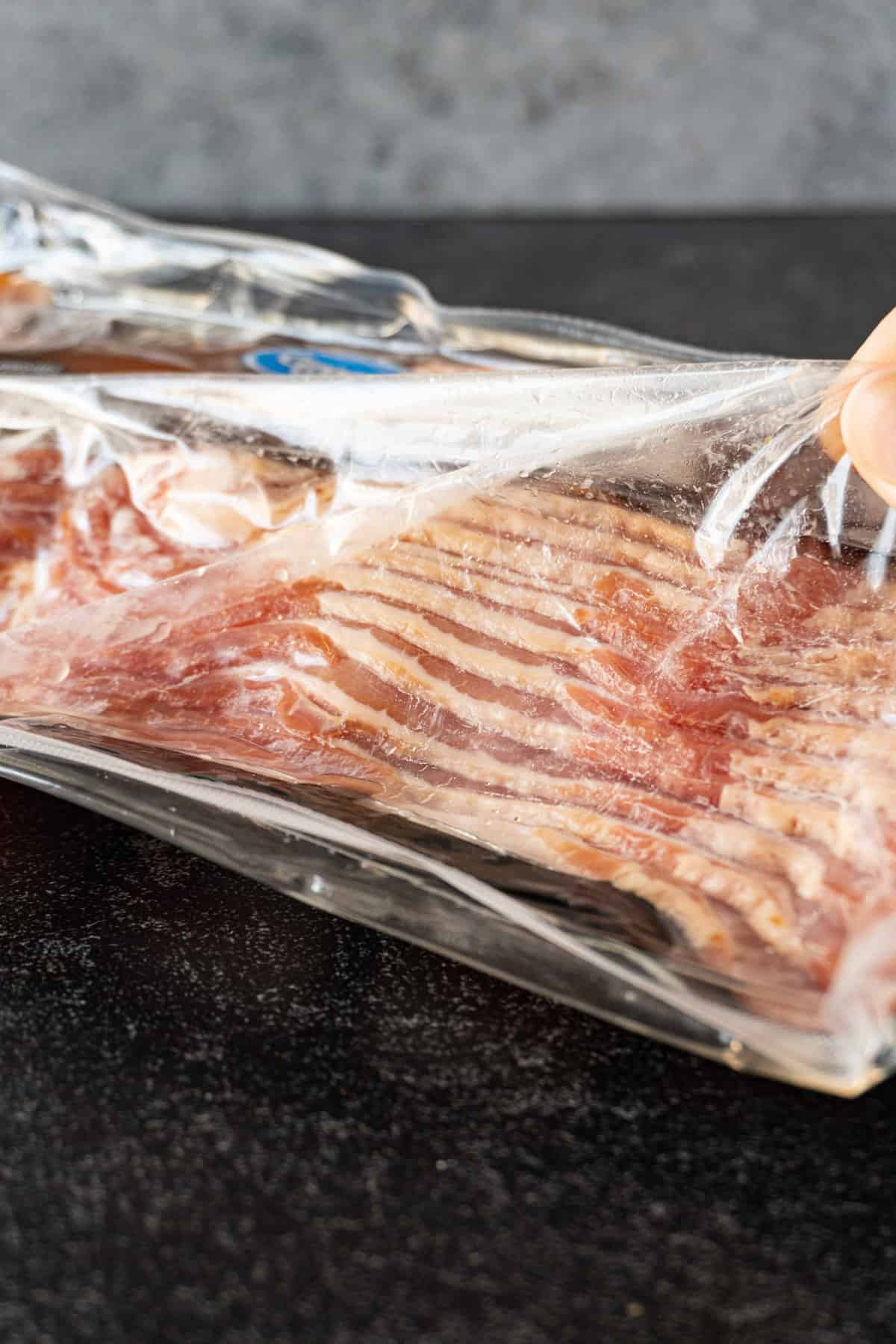 How to tell if Opened Bacon is Bad?
Sometimes we cook half a package of bacon and save the rest to be cooked for later. But how long can it sit refrigerated without being cooked and how can you tell if it's bad?
Bad Smell
Good bacon shouldn't have much of a scent and if it does it will smell slightly smoky due to the curing process
Bad bacon will have a sour sulfur smell due to the bacteria producing odor as they multiply.
Pro Tip: Sometimes the smoky scent can obscure a bad smell though so make sure to check for additional signs of spoilage.
Feels Slimy
Good bacon is soft and moist, maybe a little watery (a few drops in the package watery).
Bad bacon can be slimy. The slime is caused by bacteria starting to break down the meat. This is an indication it needs to be thrown out.
Coloring
Good bacon is pink and red marbled with white fat. Bacon that has turned greenish grey or orangish/brown has been oxidized and there are bad bacteria present. It should be tossed.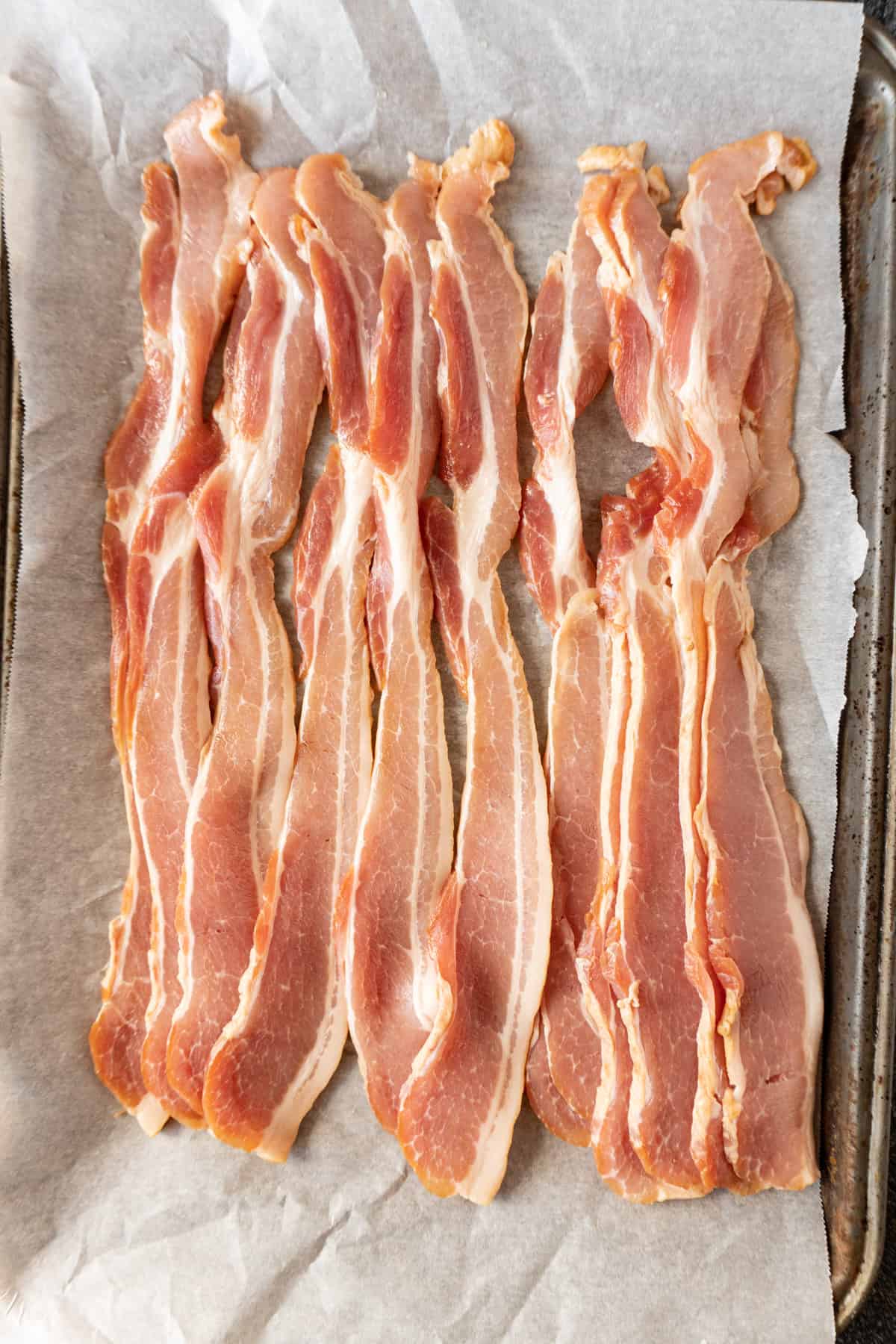 Mold
If your bacon has been sitting for a while or there was cross contamination with other food, it could also start to grow mold.
If your bacon has mold, odds are it is also slimy, smelly, and discolored. Even if mold is the only sign of spoilage present it should be tossed.
Do not cut off the mold and assume the rest of the bacon is fine. Often times the bacteria can be throughout the meat and not just where the mold was.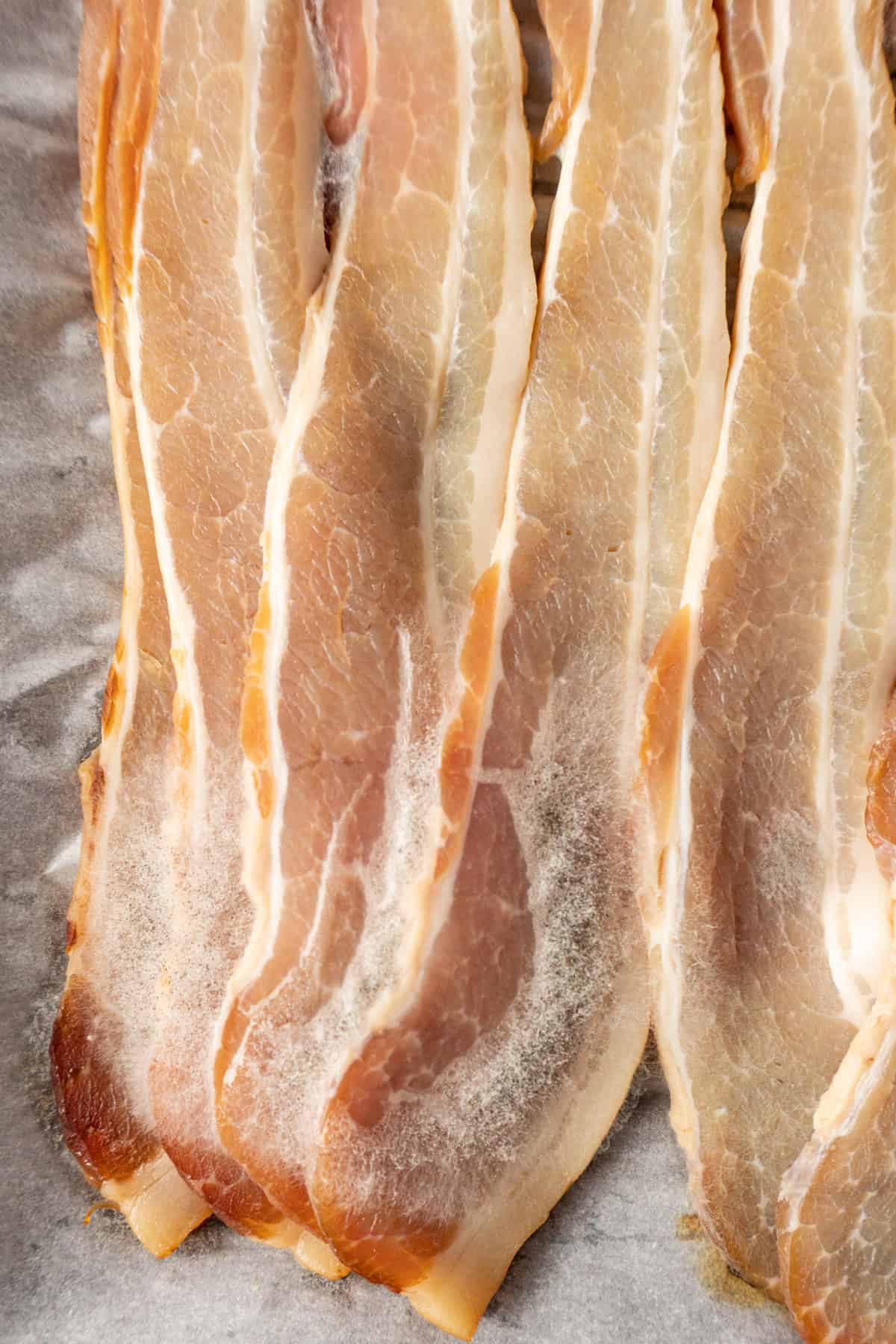 How to tell if bacon is bad?
The best by date is passed.
The packaging is loosed or unsealed.
It has a sour sulfuric smell.
The meat is slimy.
It color is no longer pink/red and white but grey, green, or brown.
There is mold present.
How long does bacon last in the fridge?
Opened uncooked bacon will last 1 week in the fridge. As soon as bacon is opened it is exposed to oxygen and all the bacteria in the surrounding environment which means it will start to breakdown asap.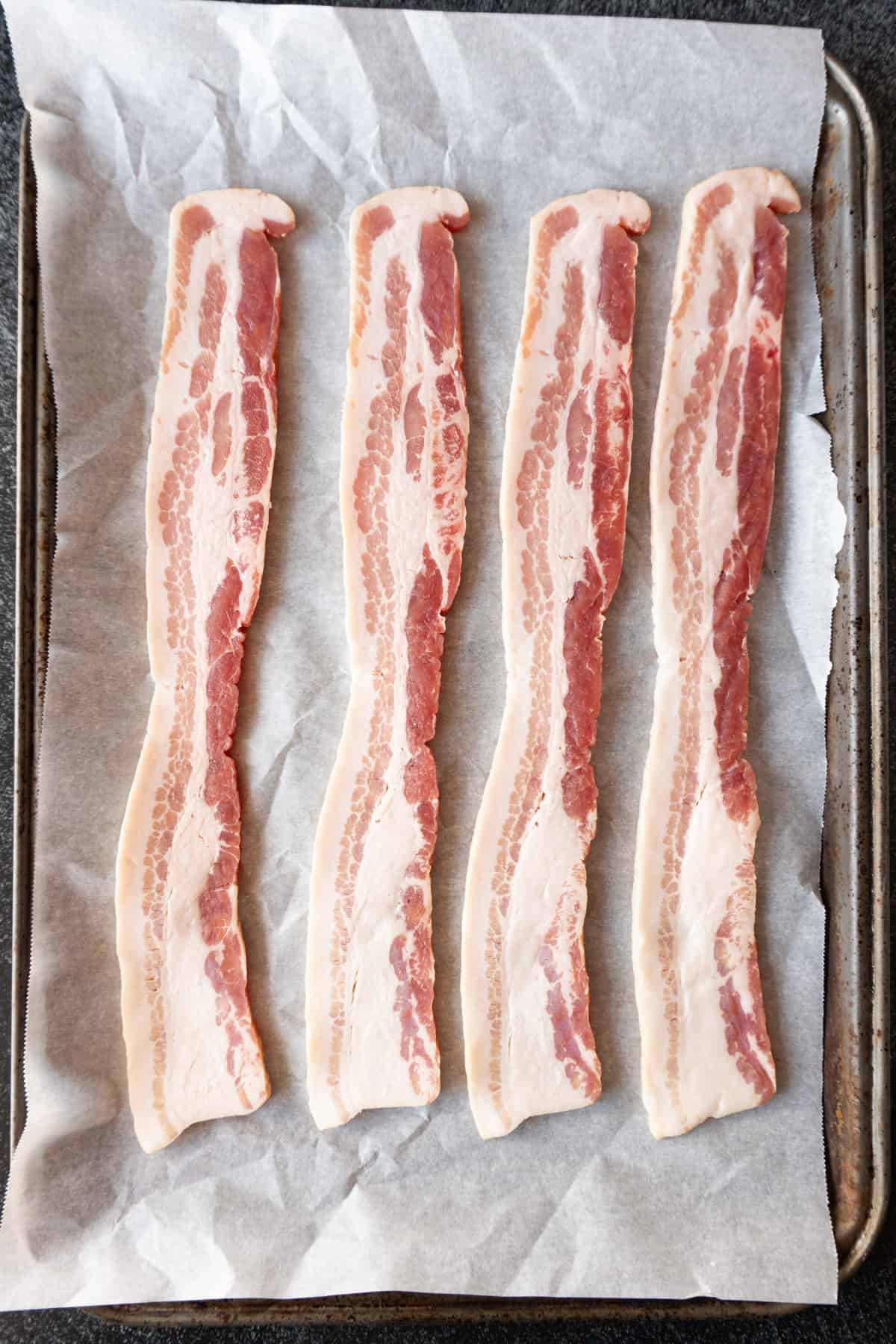 How to store uncooked bacon in the refrigerator?
Store uncooked bacon in an airtight container and refrigerate for a week or freeze.
Can you freeze bacon?
Yes!  Frozen bacon can last many months in the freezer but it starts to loose it's great taste and texture when it's been frozen longer than a month.
How long does cooked bacon last in the fridge?
Cooked bacon should be stored in an airtight container to retain freshness and will last between 5-7 days.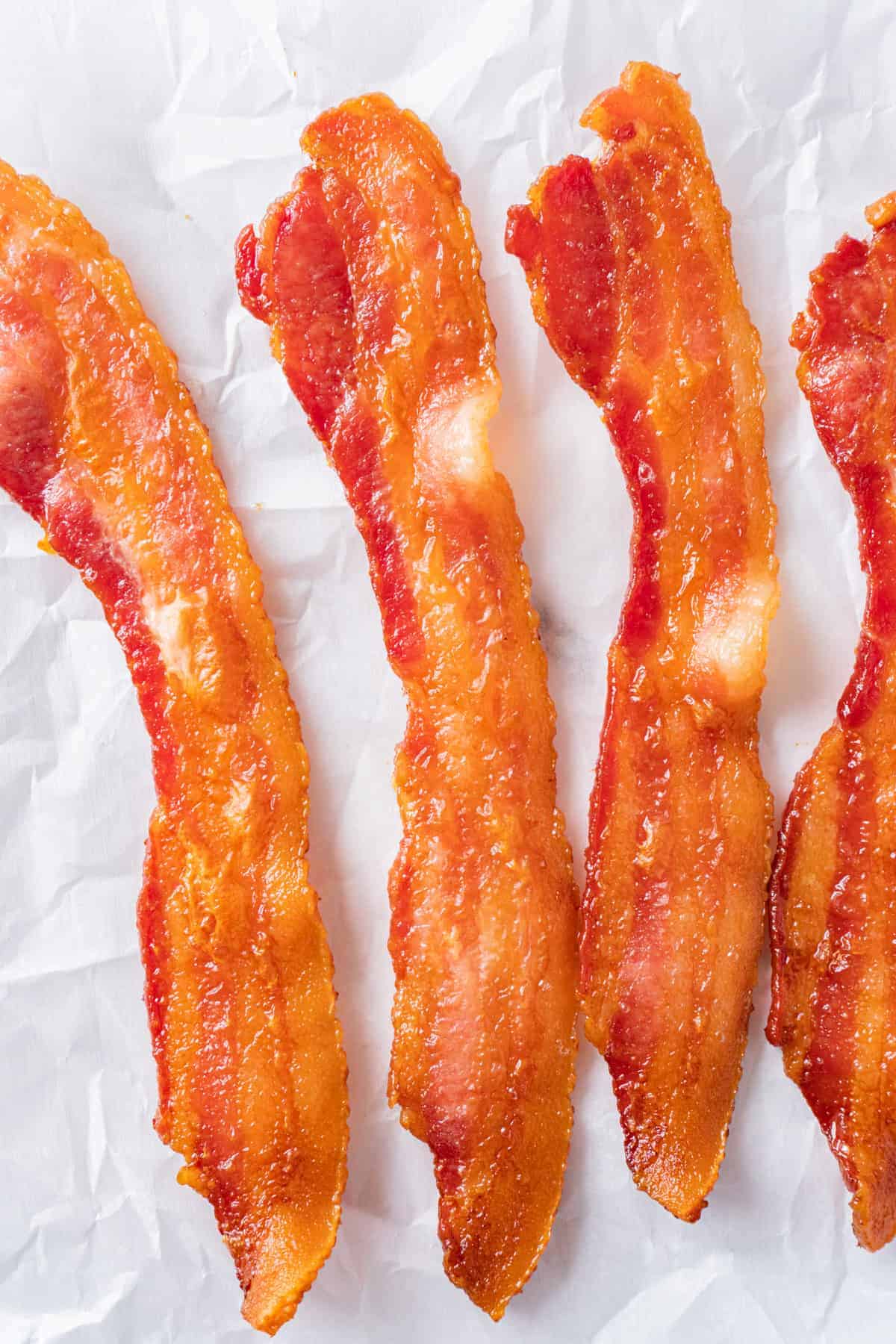 How to tell if cooked bacon is bad?
It can be difficult to tell if cooked bacon is bad and so it's wise to toss it out after 5-7 days after it's been cooked. However, if it is discolored, smelly, or slimy (not just fatty) then those are signs to toss as well.
Pro Tip: Try baking bacon for a less messy and more delicious bacon experience!
If you have a hard time using up your bacon, try adding it to burgers, breakfast burritos, sandwiches, salads, dips, or tacos!
What happens if you eat bad bacon?
If you eat spoiled bacon, you are consuming large amounts of bad bacteria (including salmonella, e. coli, and staphylococcus). These bacteria are heat resistant and so cooking the bacon won't kill them.
This can lead to food poisoning which ranges in symptoms from upset stomach, diarrhea, fever, and even more serious long-term illness like kidney and nerve damage.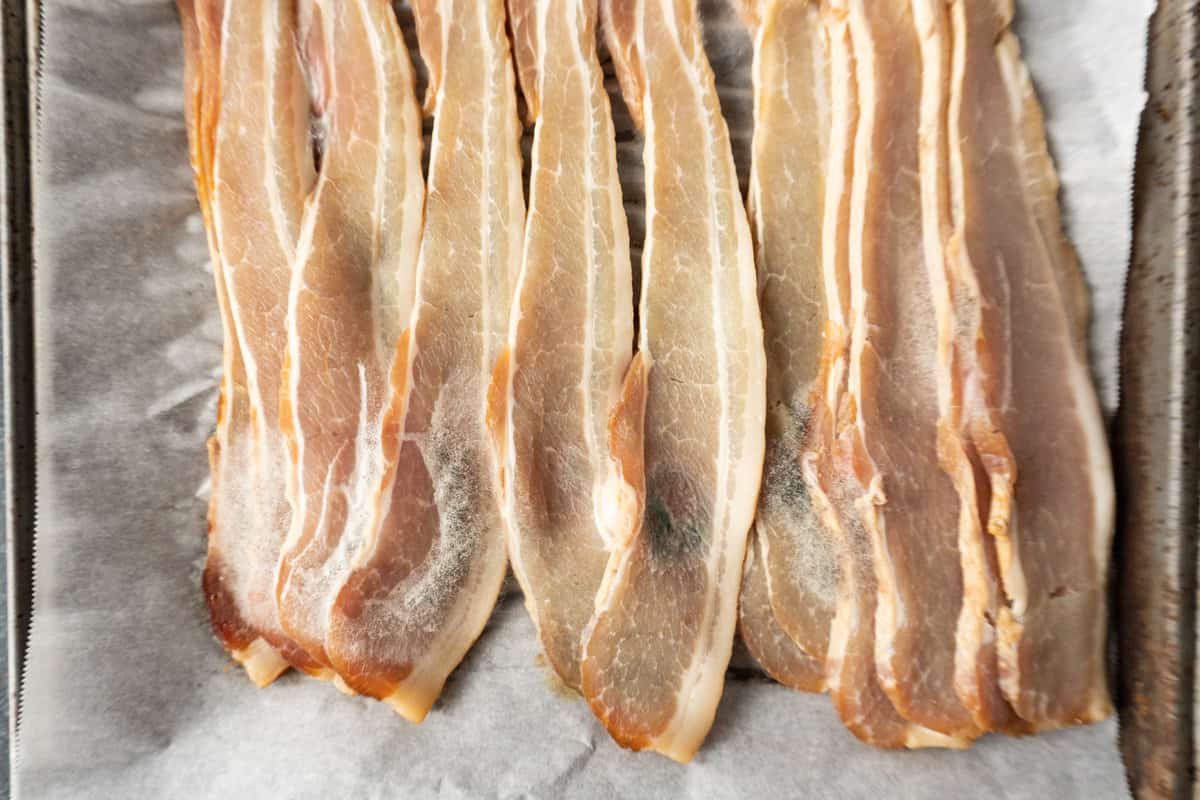 Signs of food poisoning can occur within a few hours or take a few days to manifest. Read more on food poising on the cdc website.
As with all my articles on how to tell if something is bad- it's better to be safe than sorry and when in doubt toss it out.
Hope you found this article helpful and make sure to check out some good recipes like Toll House Cookie Pie, Mandarin Orange Salad, Cowboy Candy, or this article on Ribeye vs NY Strip!