The BEST Nugget Ice Machine- NewAir 44lb Countertop Nugget Ice Maker for Home
Recently I was gifted a nugget ice machine from NewAir. The Newair 44 lb Countertop Nugget Ice Maker for home is absolutely amazing.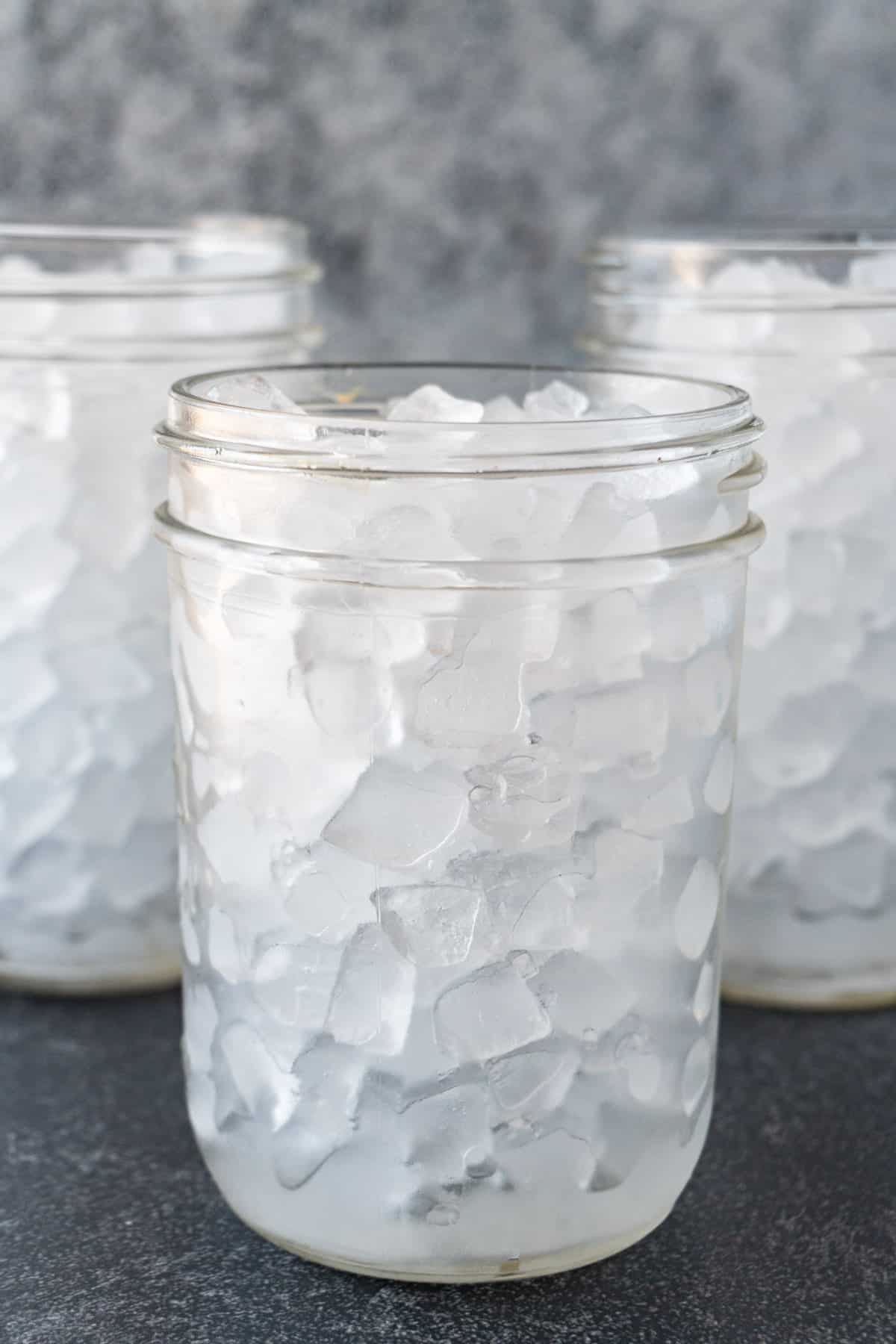 My exact model is the NIM044BS00 and I highly recommend it.
For the longest time I've been eyeing nugget ice machines because my husband and I love the nugget ice we get from certain Sonic.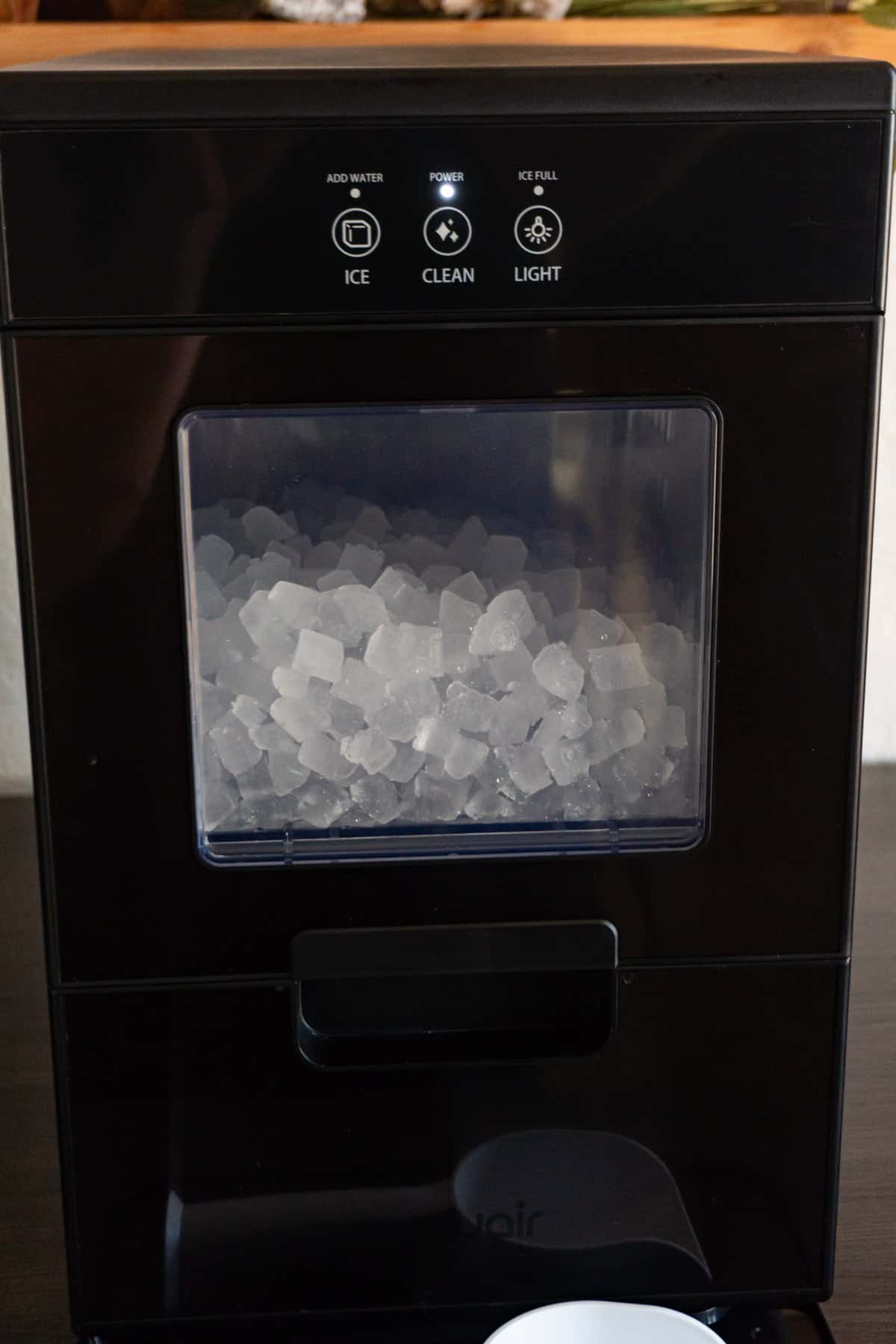 Honestly, I wanted to get one more for my husband because he was always talking about how nugget ice makes drinks so much better. To me, ice was ice, and if it helped make your drink cold then it accomplished the job.
Ironically, since getting our nugget ice maker, I use the ice more than him! I mean, I do work form home so I have more opportunity, but still!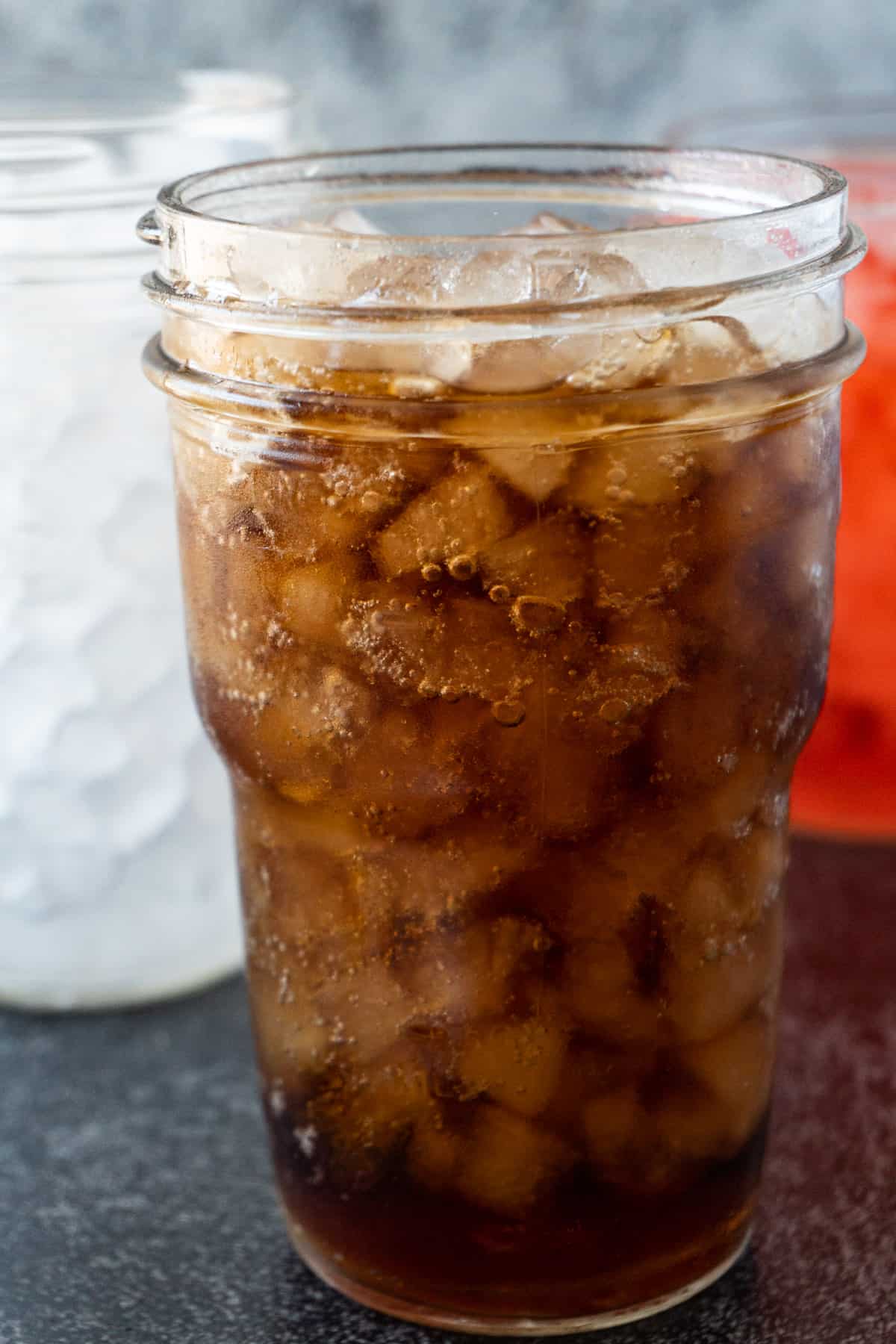 What is the best nugget ice maker?
There are a few options out there when it comes to nugget ice makers and they are all pretty similar. Newair's Nugget Ice Maker stands out primarily to me for several reasons.
1. The first is the price.
Consistently this nugget ice machine is less than other name brand competitors without compromising on quality. Whether bought directly from their site or off amazon or another retailer, you can regularly find it $50 to $150 lower than other brands.
2. Another reason I love this ice maker is how easy it is to use and clean.
The user manual that comes with it is very simple and helps you get started right away.
Oh, and did I mention it makes 44lbs of ice PER DAY! This machine is a work horse.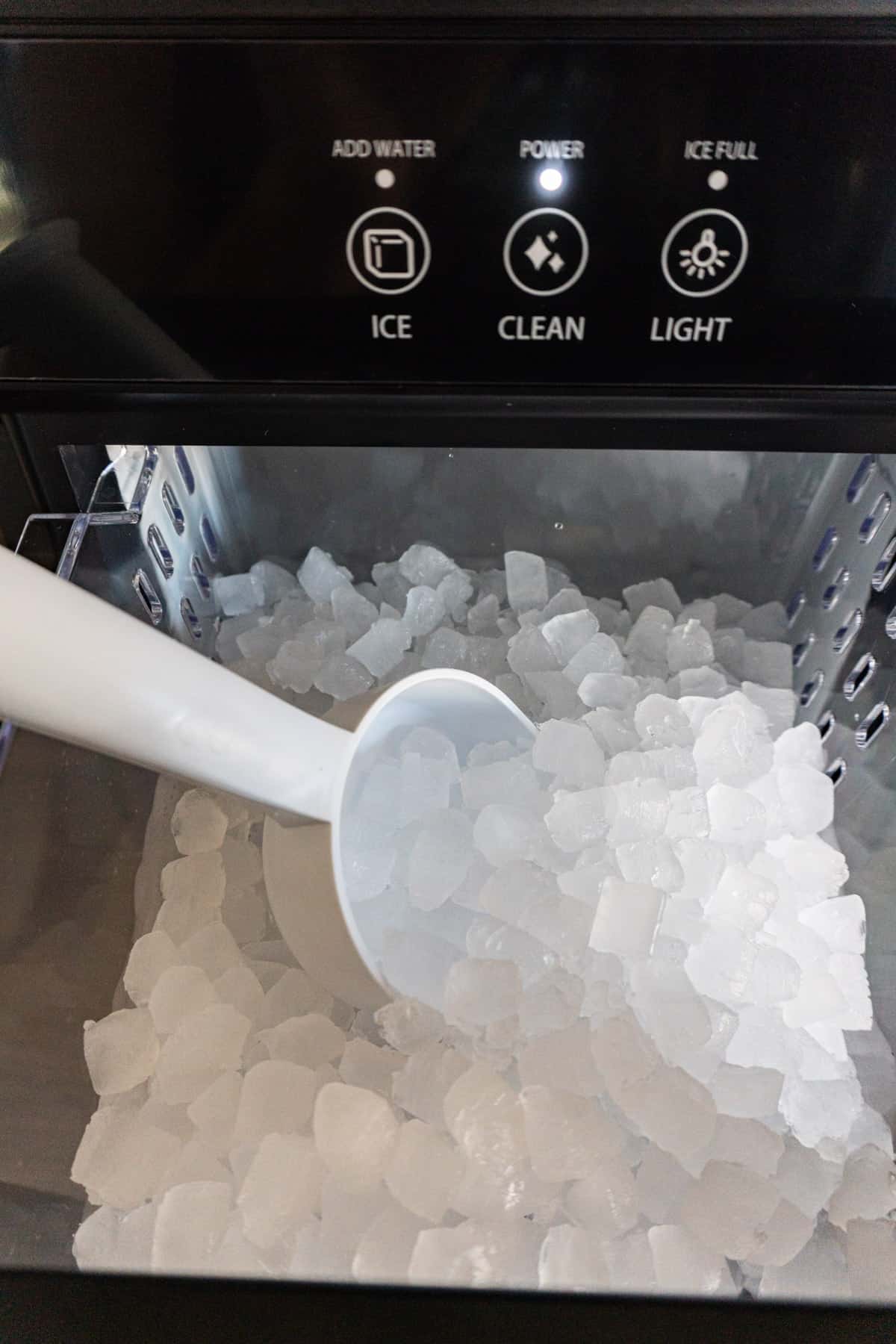 Where to get a NewAir Nugget Ice Maker?
You can check out my affiliate link here and get an extra 10% off with my code ATFOJ10 at checkout. This code works for all NewAir products too just so you know!
My Experience with the NewAir Nugget Ice Maker
Straight from the package it is a sturdy and nice-looking unit. You need to remove a few pieces of tape that hold the drawer in place and then remove the scoop and drip tray from inside the ice drawer.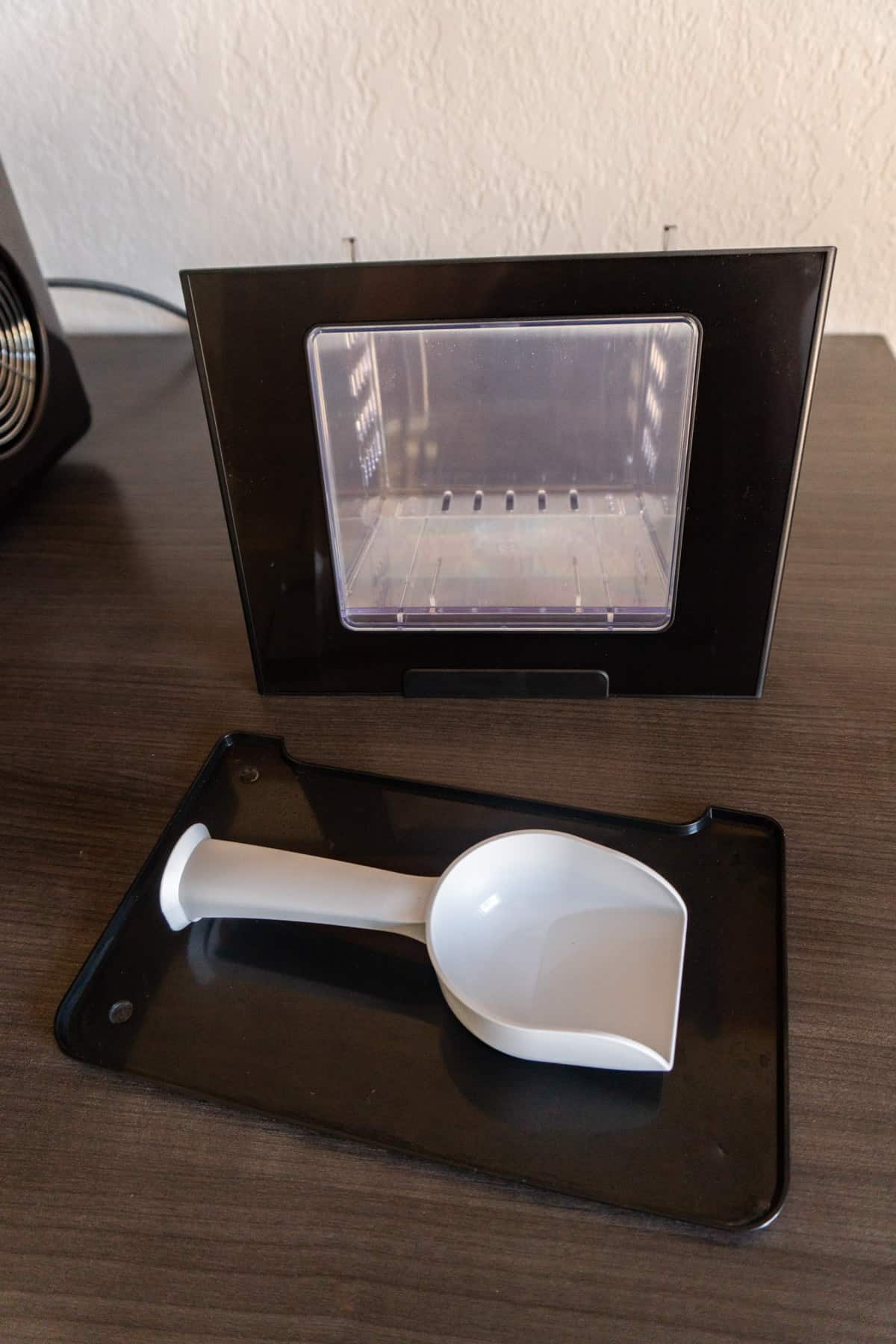 I followed the directions to wipe with a soft cloth and run a clean cycle with warm water, then made my first batch of ice.
It started producing ice right away and everything looked great. The first batch however tasted a bit like plastic and honestly, I would've been greatly surprised if it hadn't, being that it's a new appliance.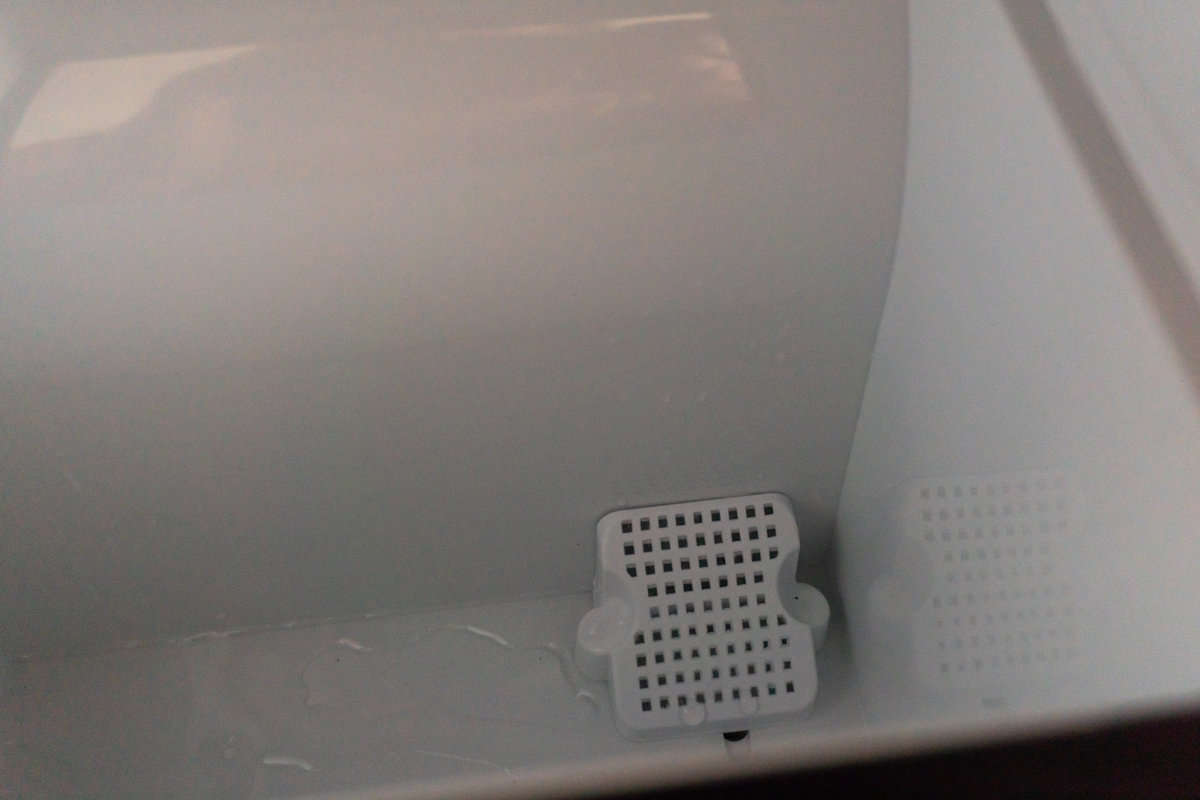 A quick google on how to get rid of the plastic taste in ice led me straight back to NewAir's website- that's pretty cool.
How to get rid of plastic taste in a new ice maker?
Add ¼ cup of vinegar to the ice make, then fill the rest of the ice maker to max water line with warm water. Run the clean cycle.
I decided to run the clean cycle twice for good measure since I the water and vinegar solution were in the machine anyways.
Once the vinegar solution cycle is done drain the ice machine then fill the ice maker to the max water line with warm water only (no vinegar this time). Run the clean cycle once or twice to clean out the vinegar, then drain.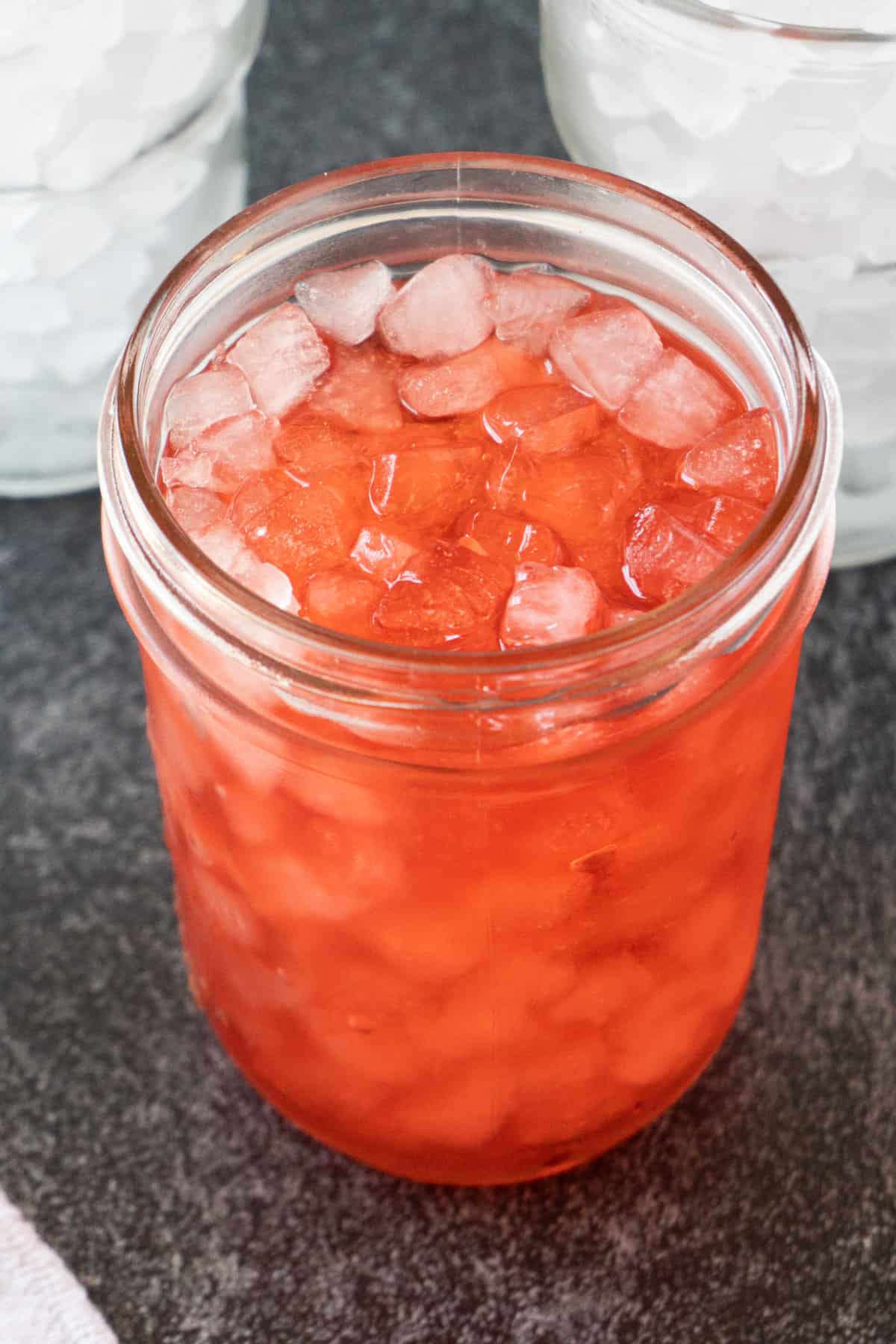 I will probably do the vinegar rinse on a weekly or every other week cycle because our water is super hard and literally eats through metal. I definitely want to keep this machine in tip-top shape!
Now you are ready to make the best tasting nugget ice at home!
How to make nugget ice?
To make nugget ice, remove the ice drawer and fill unit with water up to the Max Fill line.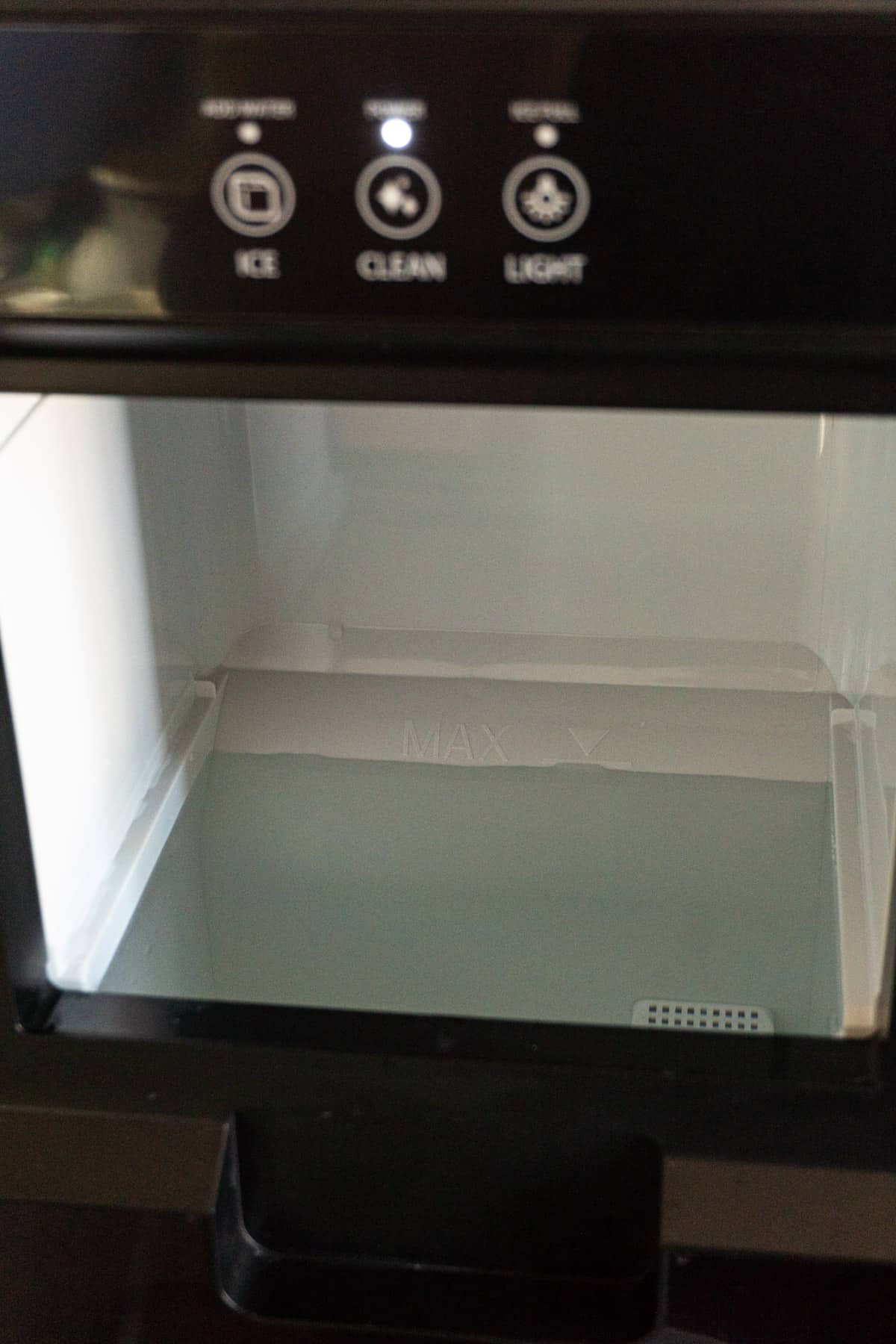 Place the drawer back in place then hit Ice. Then all you have to do is sit back and relax as the nugget ice is made!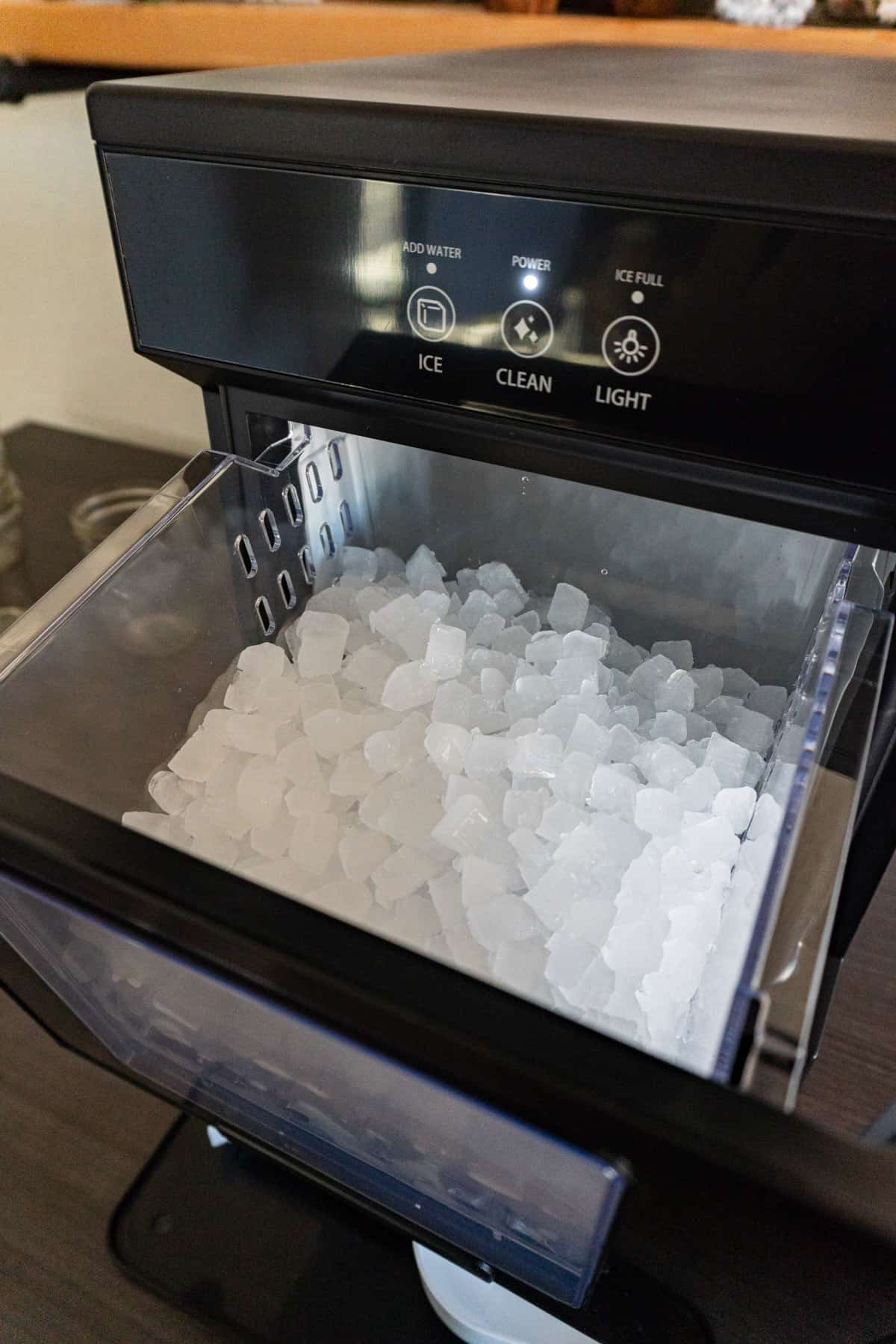 What to use nugget ice for?
Obviously, we all want nugget ice for our taste soft drinks but if you are in the mood for some iced tea, lemonade, or limeade check out my tasty recipes! This would also be great in a mint julep or a margarita!
How to drain nugget ice maker?
Draining the ice maker after cleaning or if you are going to not use it for a few days is really simple.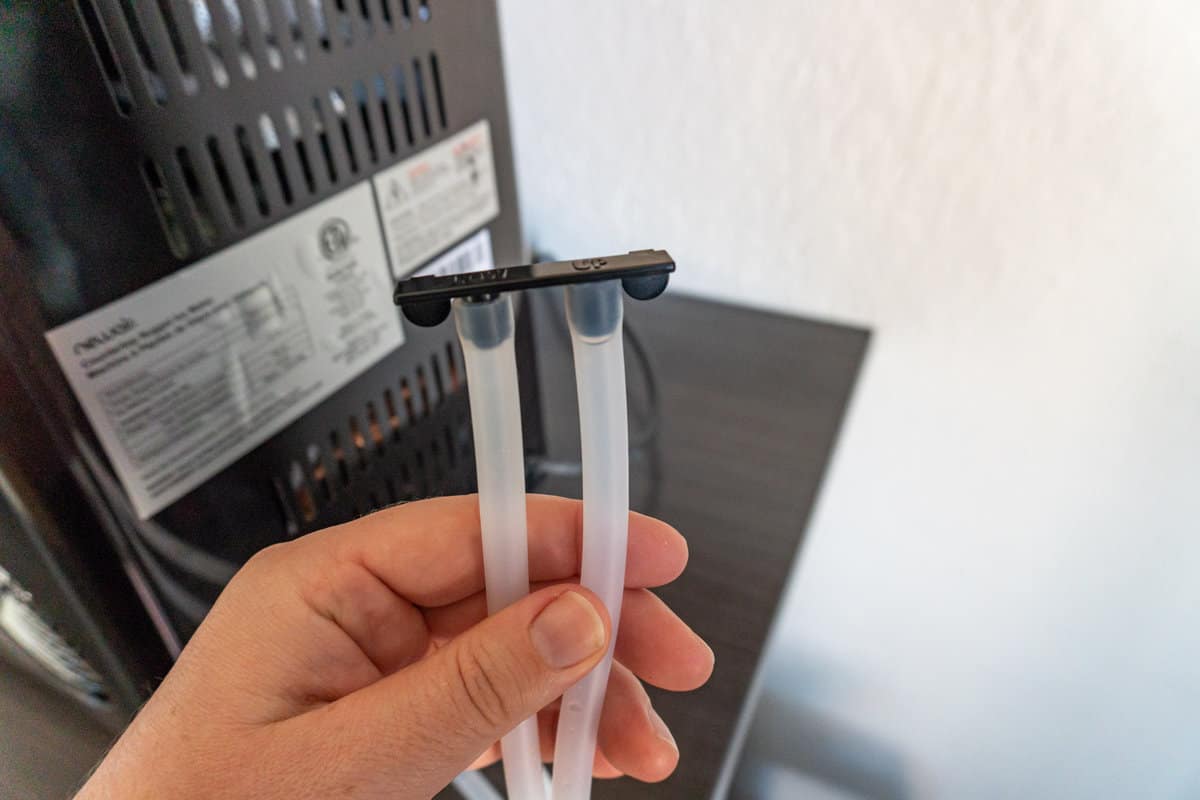 On the back of the machine are two tubes attached to a stopper/plug hanging in a little catch in the back panel. Unhook the plug/stopper then pop off the tubes.
Just make sure you have a large bowl ready because the water comes out right away!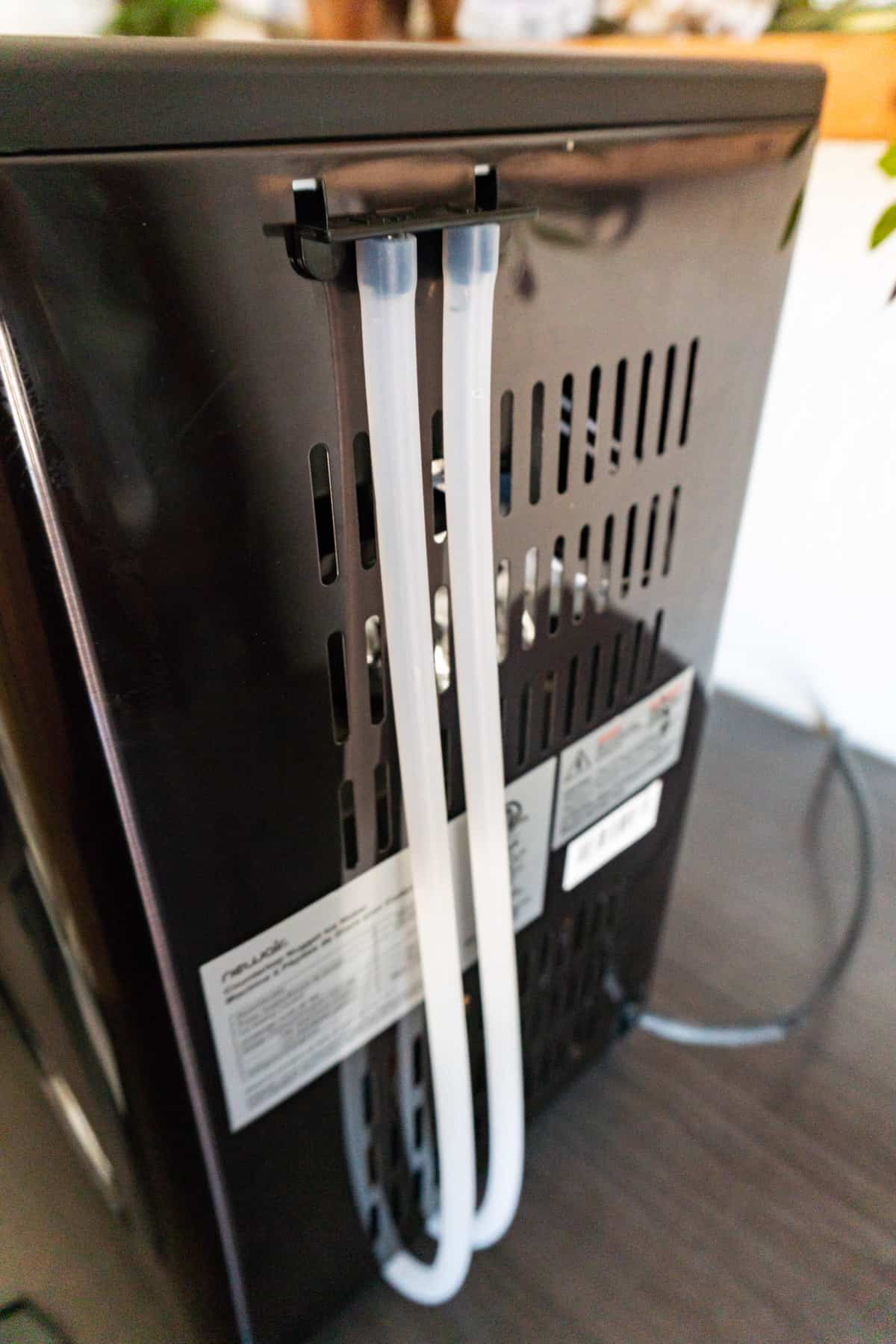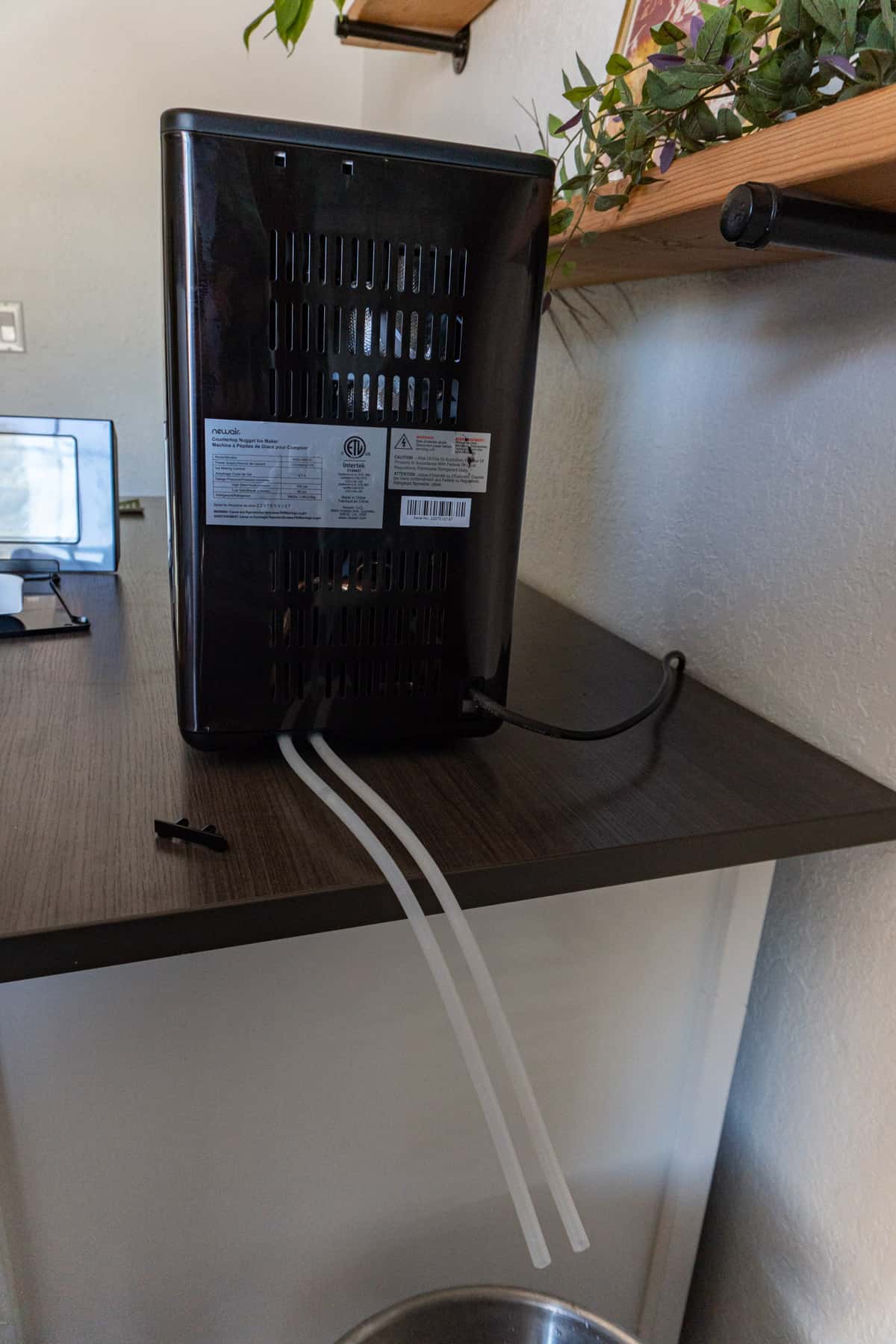 Is the ice maker loud?
When the ice maker is running all I notice is a low hum, nothing that is distracting. Honestly, I regularly forget it's on and running and just think it's a fan on in that room.
How is nugget ice made?
My best understanding of nugget ice is that as the ice is formed it gets packed together in a way that forms a soft, porous nugget that we all love so much.
How to clean countertop nugget ice maker?
Simply fill the ice maker with warm water and run the clean cycle. I recommend running a clean cycle if there has been any melted ice water sitting the machine for a day or more, or if you are running it after having it put away for several days without use.
The clean cycle takes no time at all!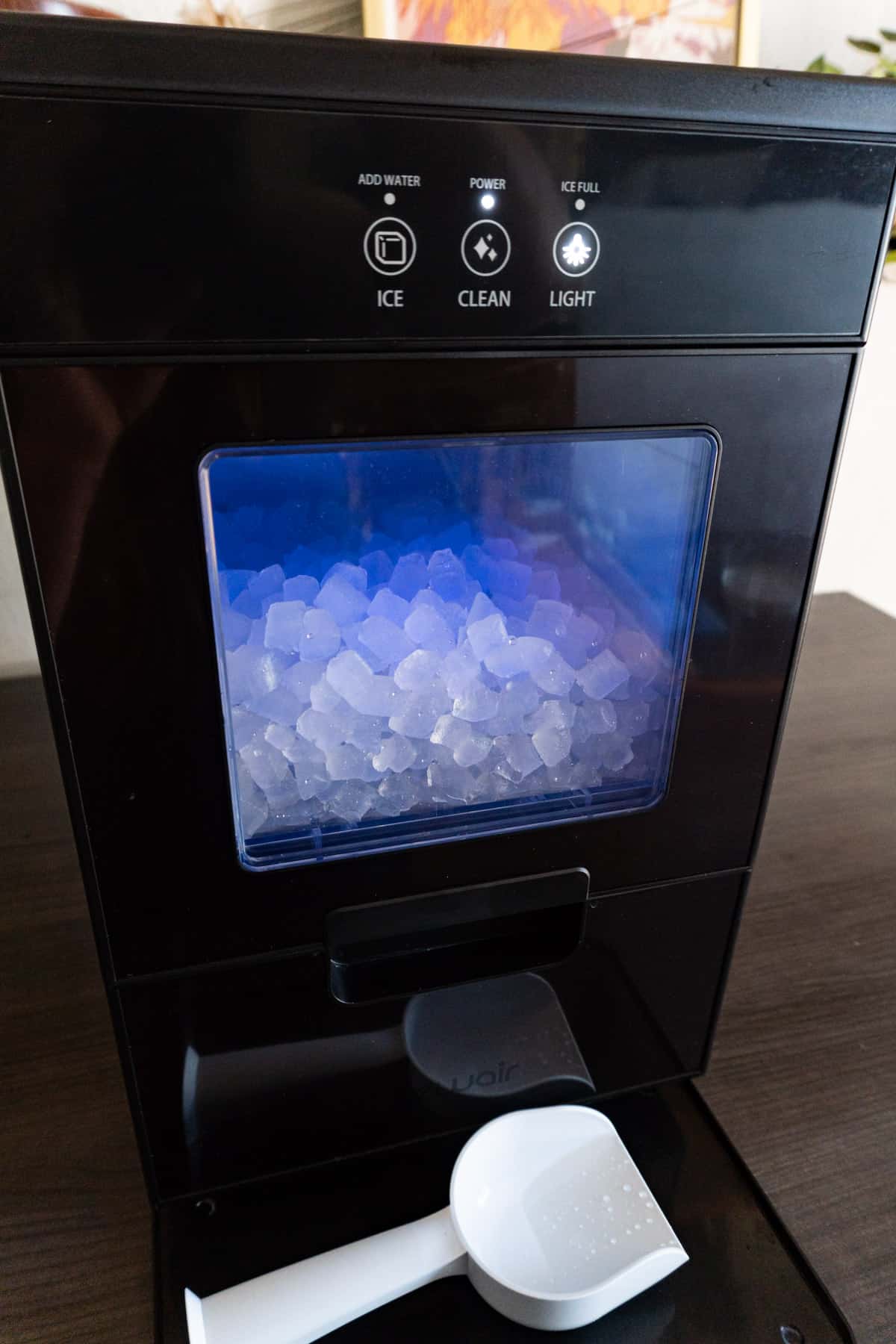 I am so impressed with this ice machine, the company as a whole, and just how great the ice is that I 10/10 recommend this product if it is something you are in the market for.
Because I enjoy it so much, I did become an affiliate for the company and now I can get you guys an extra 10% with my code ATFOJ10 at checkout.
Don't forget to check out some tasty recipes while you are here! I have everything from smoked chicken, to lemon meringue pie, and everything in-between!