The most creamy and delicious homemade pumpkin pie you have ever tasted! Forget the old dense pumpkin pies you are used to- this homemade pumpkin pie recipe is the best there is!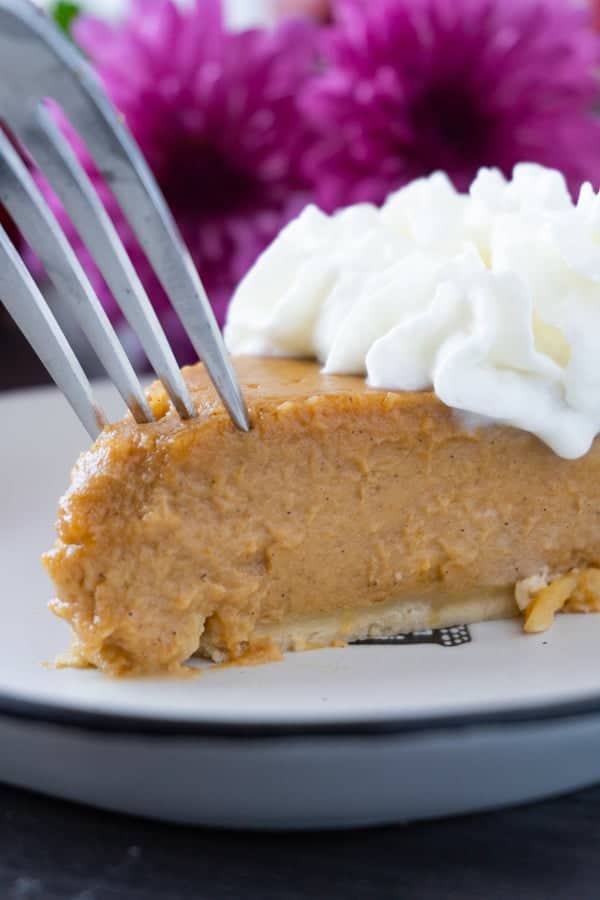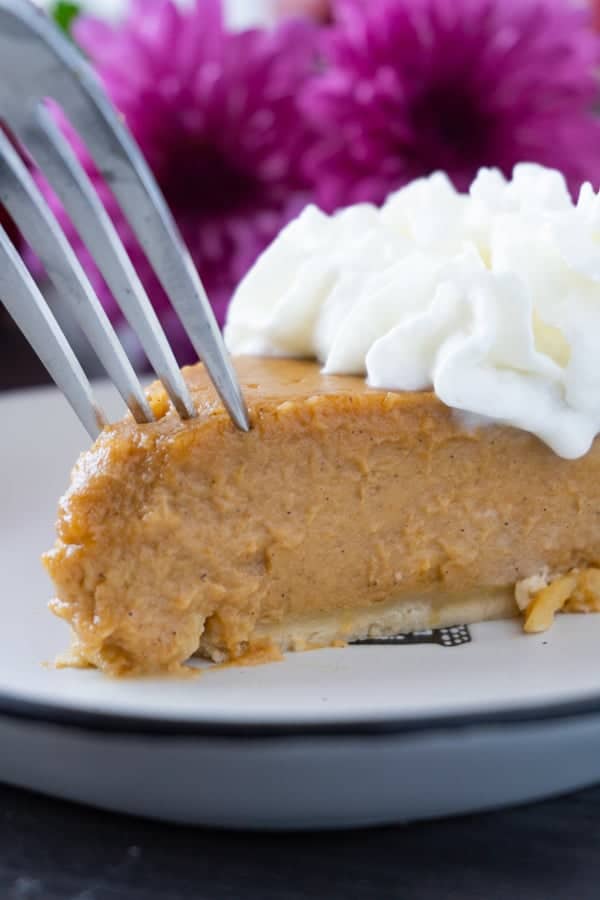 This homemade pumpkin pie is so creamy and delicious you won't ever want to go back to any other pumpkin pie!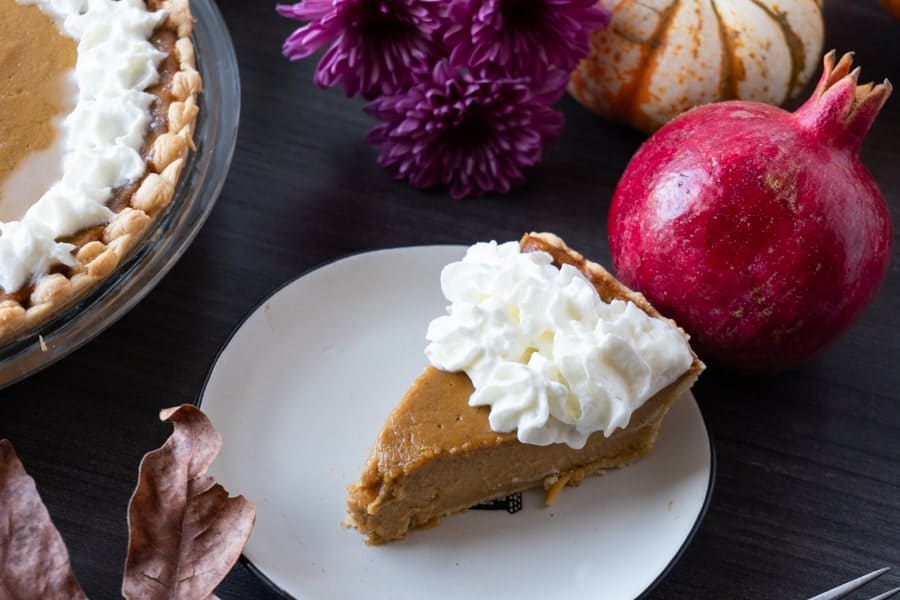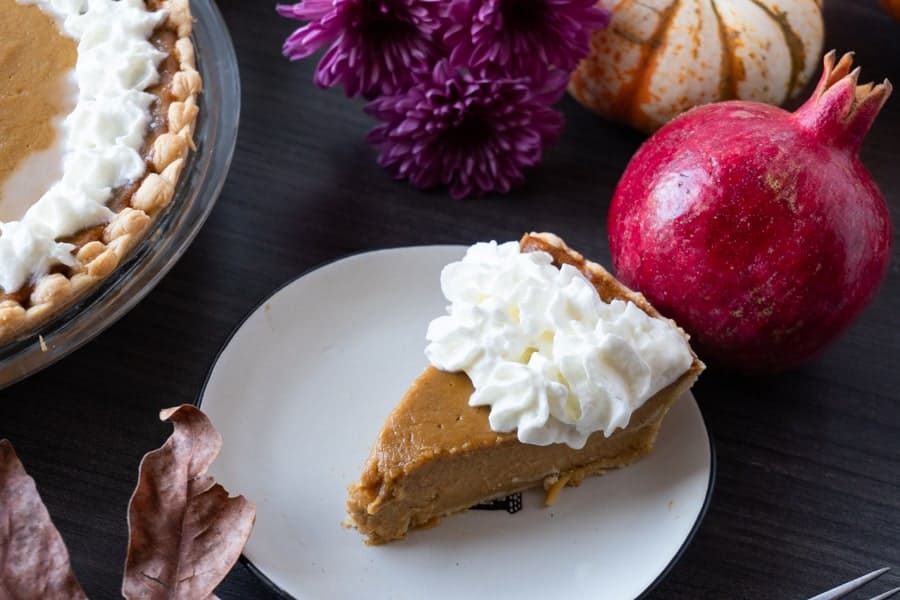 How do you make the best pumpkin pie?
You will want to use a combo of pumpkin puree and candied yams – trust me the flavor combo of these will make your pumpkin pies dreams come true
You will want to strain the pumpkin pie filling- it makes it so beautifully smooth you might even cry (okay probably not cry- but just do it!) The first time I strained my pie filling I was amazed at how much stuff it strained out!
Pour the warm filling into the warm pre-baked crust- this will help prevent a soggy crust (and no one likes a soggy crust!)
Bake your pie on a baking sheet for ease of removing it from the oven
Use a glass or metal pie pan- not ceramic. Ceramic heats up differently and we don't want to complicate things
Bake pie on the lowest rack in the oven
Bake until the edges of the pie are set and the center slightly jiggly- it will continue to cook when you take it out of the oven and the middle will set up nicely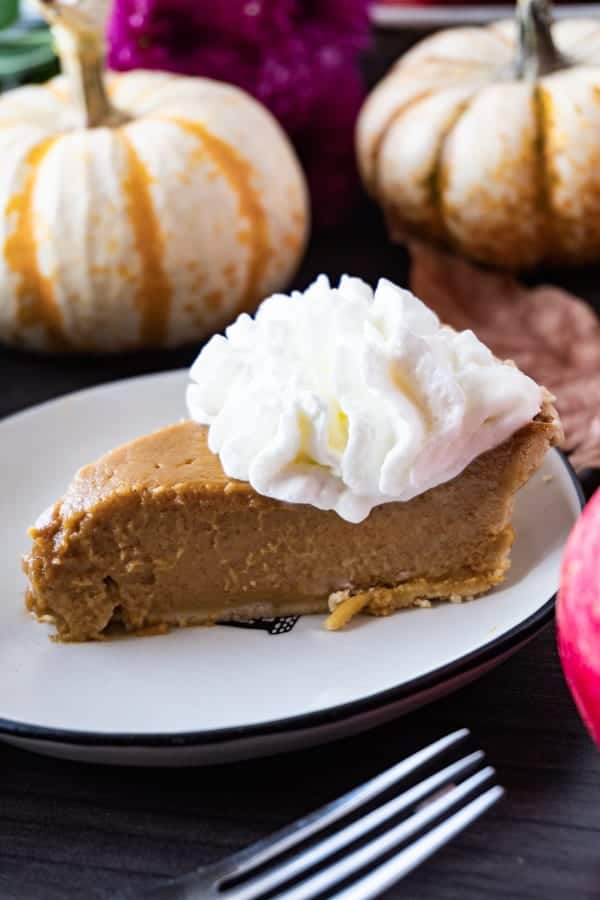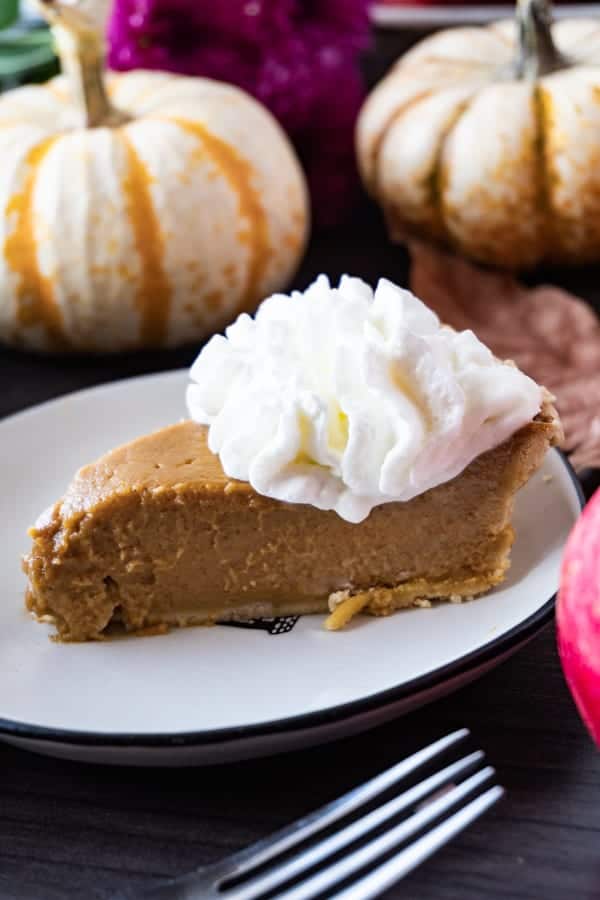 I grew up with either a Libby pumpkin pie or a store bought. Both type were okay- but I thought why have pumpkin when you could have chocolate pie? But now I don't think that anymore!
I've always been on the fence when it comes to pumpkin pie. It always was dense and seemed like just an excuse to eat lots of whipped cream.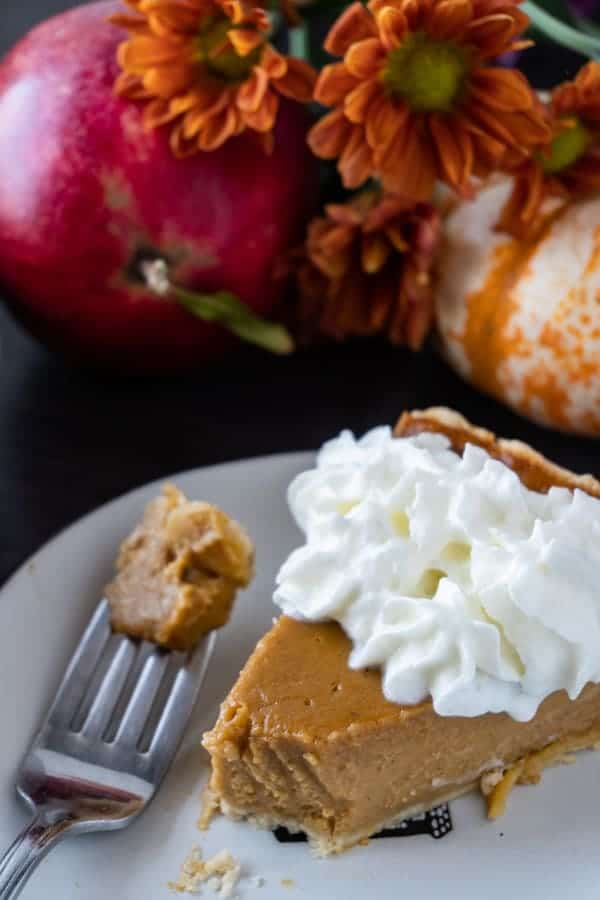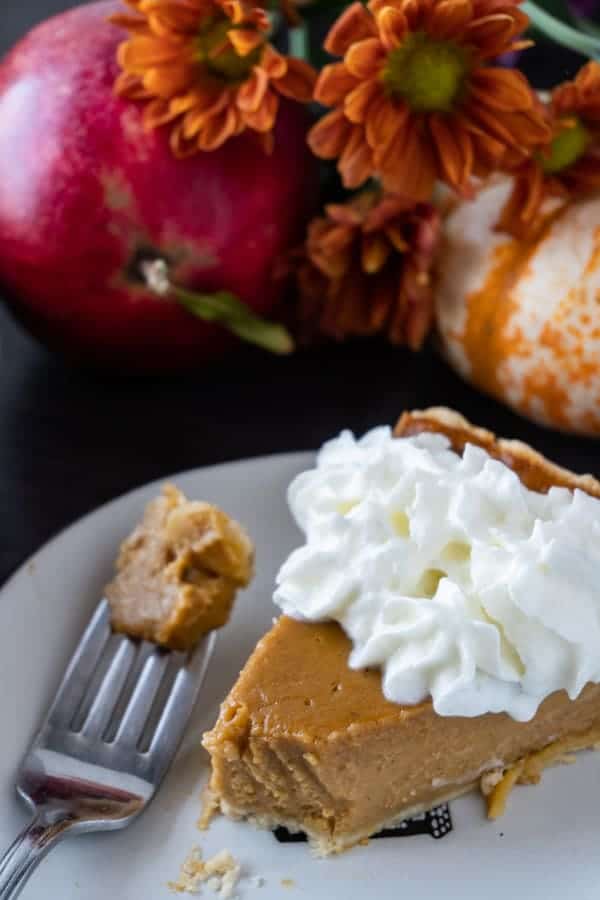 This homemade pumpkin pie recipe has changed all that. It is so creamy and delicious- it reminds me more of a custard pie than one of those super heavy pumpkin pies I tried to eat every year.
Although this isn't a complete from scratch pumpkin pie- it still beats any pumpkin pie hands down, that being said….
How do you make pumpkin pie from a fresh pumpkin?
Cut open a sugar pumpkin (the small ones) and discard the stem and seeds. Place face down in a glass dish and add water until it the pumpkin is sitting in about 1 inch.
Cover then microwave for about 16 minutes or until the pumpkin is cooked and very easy to pierce with a fork.
Alternatively, you can bake the pumpkin at 375°F from about 1 ½ hrs.
Scoop out the flesh and mash it or stick it in a food processor and puree it. Then use the puree in place of any canned pumpkin in the recipe.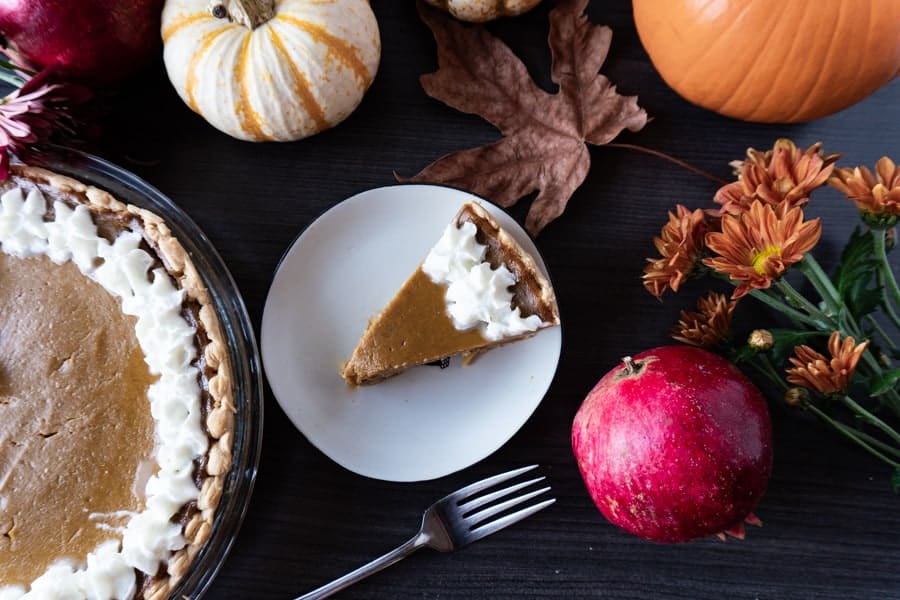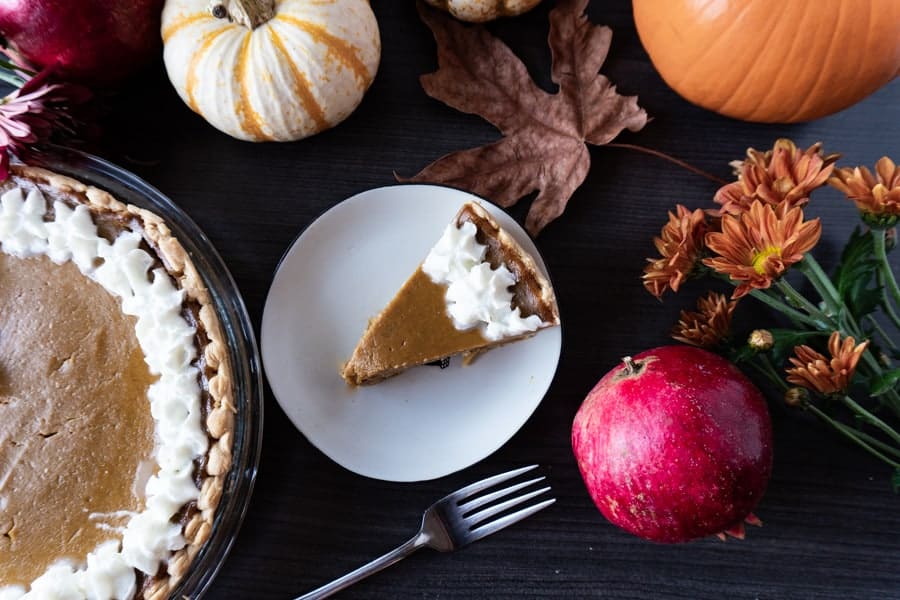 Do you bake the crust first for pumpkin pie?
Yes! If the crust is warm when you put the warm filling in it will help prevent a soggy crust!
Why did my pumpkin pie crack? 2 reasons…
You cooked it slightly too long
Or it cooled way to fast (which is a problem for me because my house is always super cold!)
Either way just add a little whipped cream to cover it and no one will know the difference!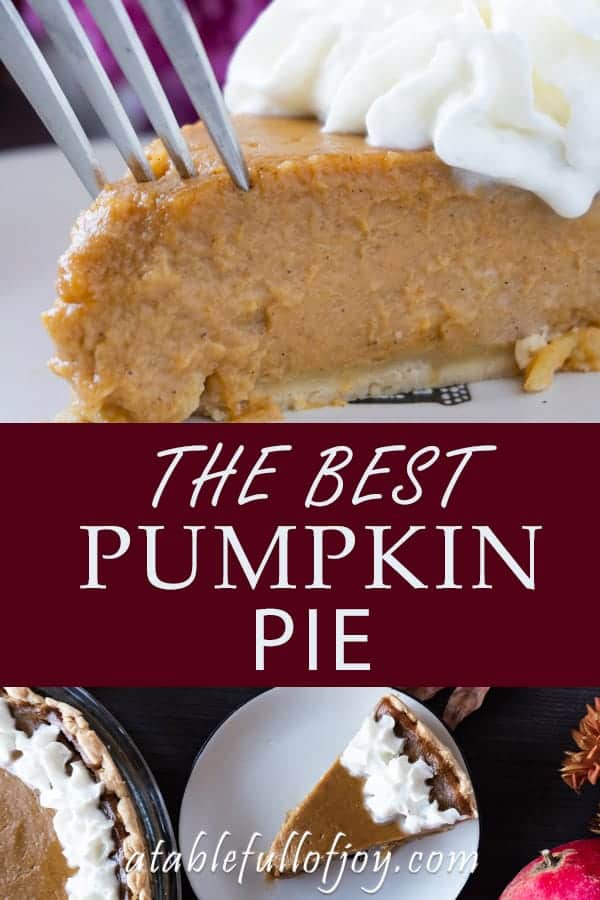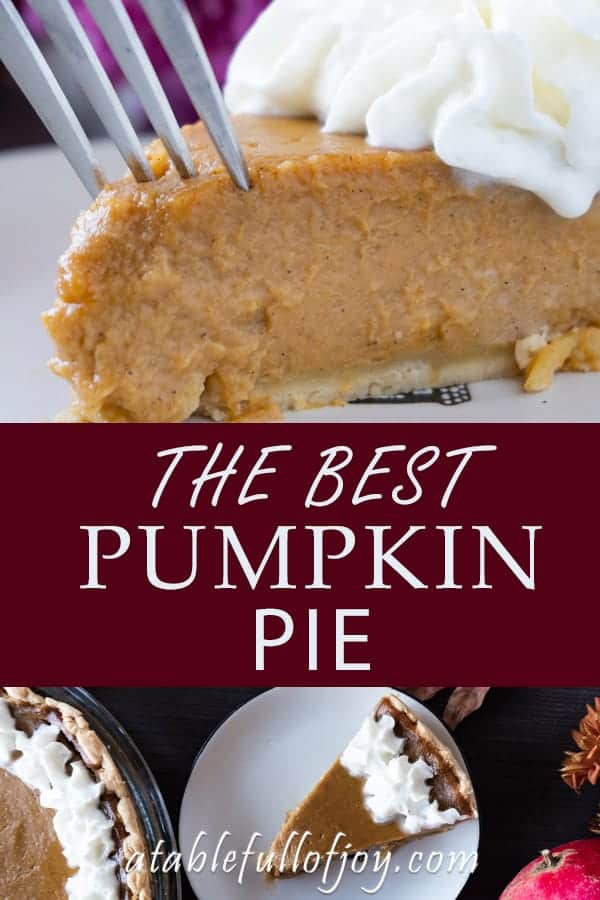 So now that you know how to make pumpkin pie- like the BEST pumpkin pie- you won't want anything else!  Sorry-not-sorry!
If you like this recipe make sure to check out my other delicious pie recipes like my homemade mini apple pies and my caramel pear pie (so.dang.good.).
---
BE SURE TO FOLLOW ME ON FACEBOOK, INSTAGRAM, PINTEREST, & SIGN UP FOR MY EMAIL NEWSLETTER!
---
Homemade Pumpkin Pie
The most creamy and delicious Homemade Pumpkin Pie you have ever tasted! Forget the old dense pumpkin pies you are used to- this homemade pumpkin pie recipe is the best there is!
Ingredients
1

cup

heavy cream

1

cup

whole milk

3

large eggs plus 2 large yolks

1

tsp

vanilla

1 15

oz

canned pumpkin puree

1

cup

candied yams

drained or sweet potato puree

¾

cup

sugar

½

cup

packed dark brown sugar

¼

cup

maple syrup

2

tsp

pumpkin pie spice

1/2

tsp

cinnamon

1

tsp

salt

1

store-bought pie crust
Instructions
How to make pumpkin pie
Prebake your crust. For the pie in the pictures I used a store-bought crust, poked with a fork, and baked at 400°F for 11-14 minutes (until golden-brown).

While baking crust, whisk heavy cream, milk, eggs and yolks, and vanilla together until well combined.

In a large sauce pan over medium heat combine pumpkin, yams, white sugar, brown sugar maple syrup, pumpkin pie spice, cinnamon, and salt to a simmer. This will take 15-20 minutes and you will have to really mash the yams and pumpkin together to create a nice thick mixture.

After mixture is well combined remove from heat and whisk in the heavy cream mixture. Once that is fully incorporated strain the mixture through a fine mesh strainer. This step isn't a must, but it really does make for a very smooth pie filling. I totally recommend it. Use a spatula or large spoon to press the solids through the strainer.

Place your pie pan (with cooked crust) on a baking sheet and then pour the warm filling in the warm pie crust. If both are warm it will prevent the crust from getting soggy.

Adjust the oven rack to the lowest position. Place the baking sheet with the pie in the oven.* Bake for 10 minutes at 400° then reduce oven temperature to 300° and bake for 25-30 more minutes. You want the edges of the pie to be set and the center to be slightly jiggly.

Once done remove from oven and let cool at room temperature (approx 2 hrs).
Notes
*This helps to move the pie in and out of the oven- trust me- you'll thank me later. Recipe slightly adapted from The Science of Good Cooking Cookbook.