The best sweet potato pumpkin pie recipe ever! Rich, creamy, and delicious- this will become your new holiday tradition!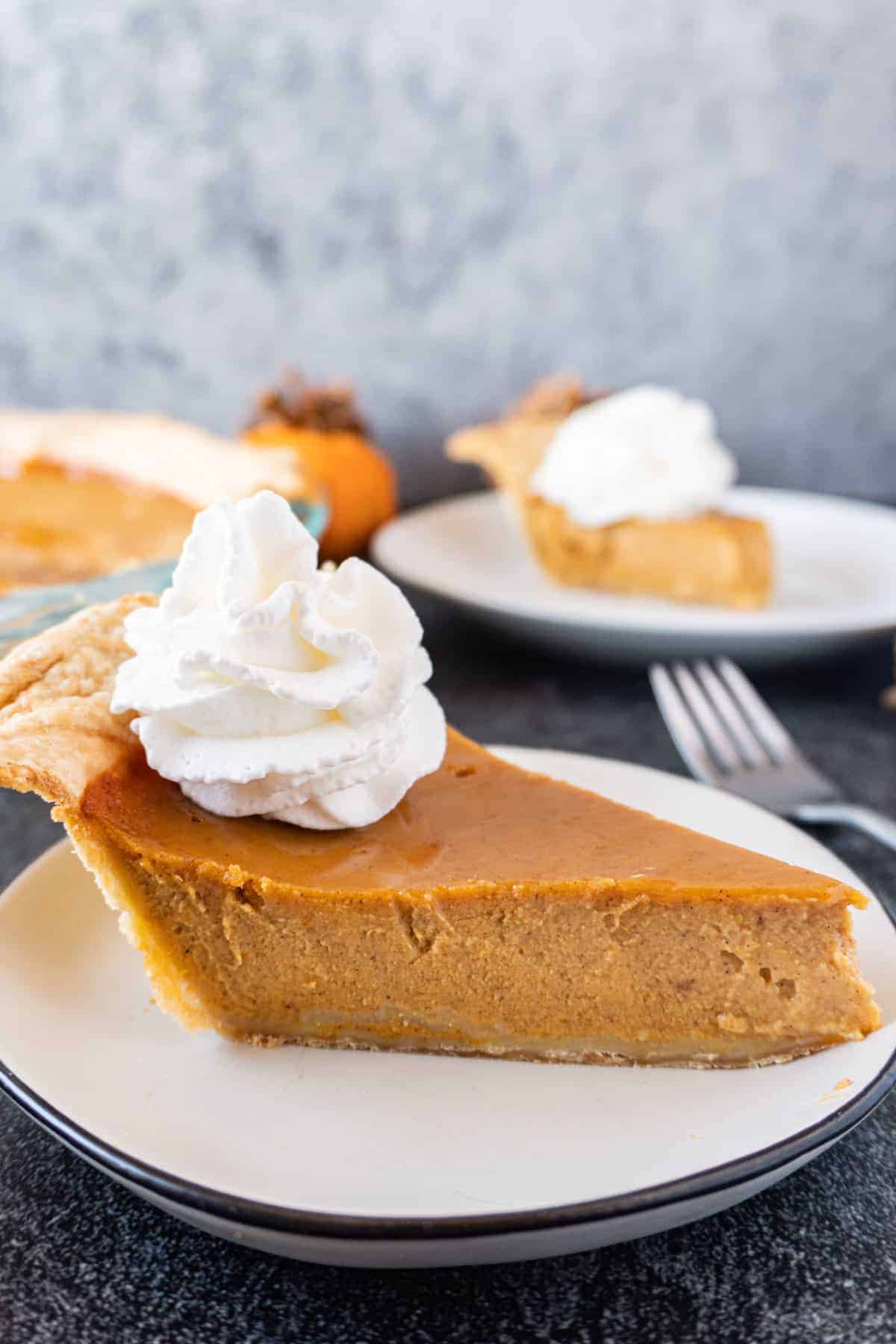 I grew up with either a Libby pumpkin pie or a store-bought pie every Thanksgiving. Both types were okay- but I never really got the hype, until now that is.
I recently shared my homemade chocolate pumpkin pie and I just had to share this creamy pumpkin pie recipe with you too.
Don't miss these other tasty pies:
This recipe is so creamy and delicious- the filling comes out more like a custard- light and creamy- it really is the best sweet potato pumpkin pie recipe.
What type of crust should I use for this pie?
You can use a store-bought pie crust or make my super delicious flakey pie crust. If you prefer graham cracker crust you can follow this recipe!
How to make flaky pie crust:
Combine flour, sugar and salt.
Toss large chunks of butter in the flour and then smash each chunk with your thumb and index finger.
Add water and stir to form a dough- while still keeping the butter as chunky as possible.
Chill for 10 minutes
Roll dough out into a rectangle, fold the short sides in to the center, then the long sides together to form a book. Cut in half and refrigerate for another 10 minutes.
Roll one half of the dough into a circle, lay in your pie dish and gently push the dough into the corners, cover and refrigerate for at least 2 hrs, the other half can be kept in the freezer for a future pie!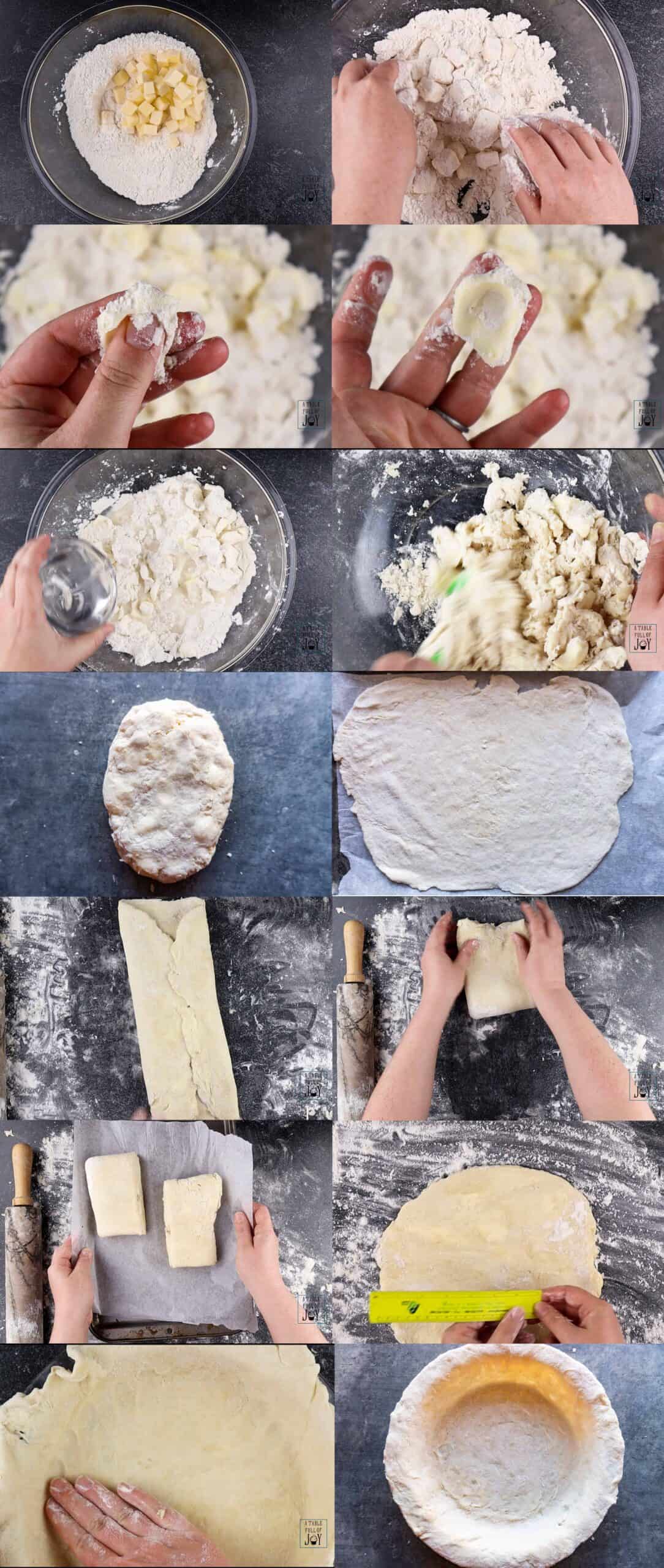 Watch how to make the crust on Youtube!
Do you bake the crust first for pumpkin sweet potato pie?
Yes! Prebaking helps keep the crust from getting soggy.
How to prebake a pie crust?
Pierce the bottom and sides of the pie dough with a fork- this keeps bubble from forming while baking
Place a piece of parchment over the pie dough- large enough so that there is extra hanging over the edge
Fill the pie dough- pouring onto the parchment paper- with pie weights. You can use store bought pie weights or fill the pie with rice or sugar.
Bake the pie dough for 11 minutes, then remove the parchment and pie weights (I like to grab all four corners of the parchment and lift all the rice out all at once. The return the pie crust to the oven and bake for another 10 minutes – the crust will start to brown.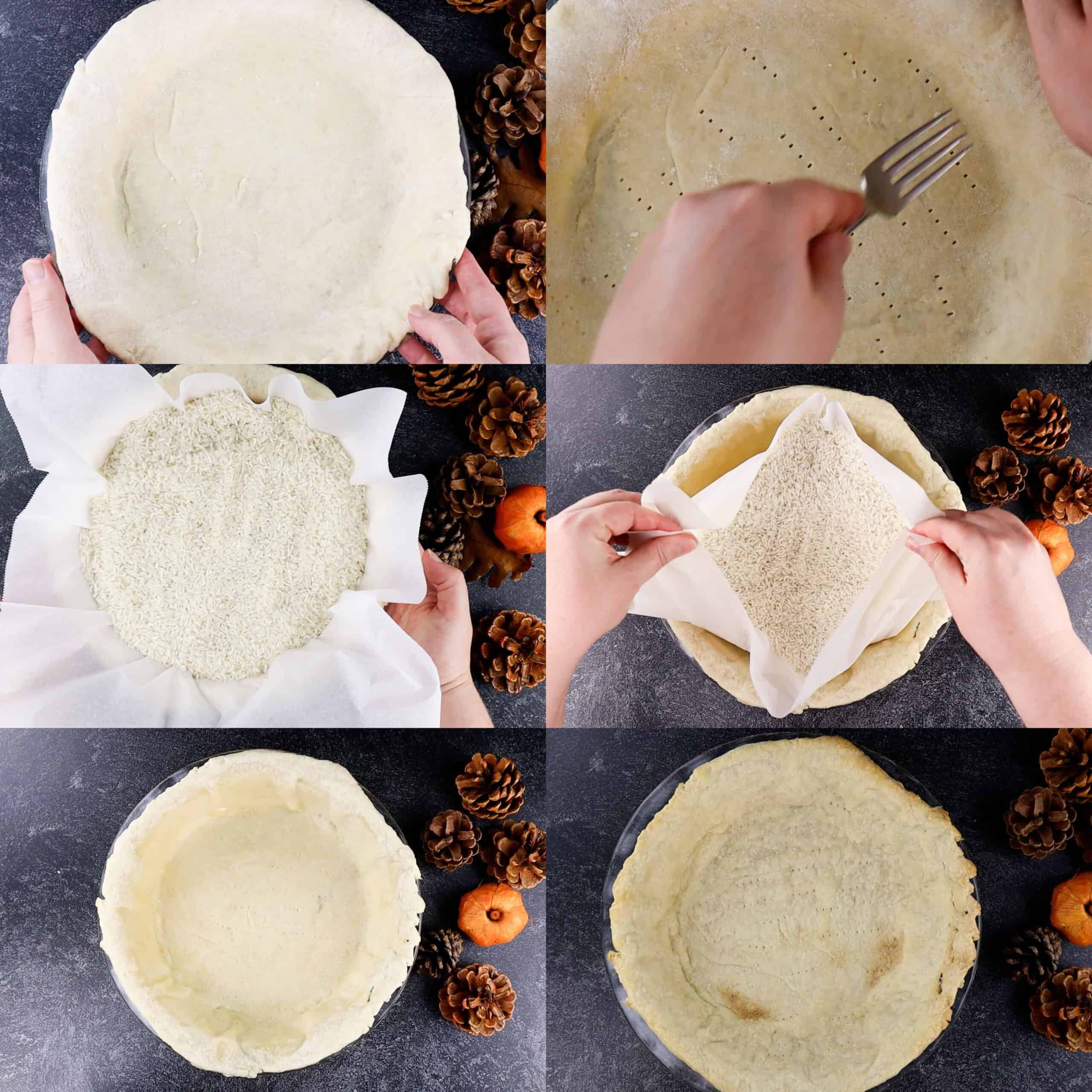 How do you make the best homemade sweet potato pumpkin pie?
Combine heavy cream, eggs, yolks, and vanilla.
Over medium heat combine pumpkin, yams, sugars, maple syrup, salt, and spices
Then remove from heat and whisk in heavy cream mixture
Strain the filling (optional but recommended)
Pour the filling into prebaked crust and bake
How long does pumpkin pie last?
I recommend eating within 5 days of making.
Can you freeze pumpkin pie?
Absolutely. Bake pie in a disposable aluminum pan. Allow to cool fully then wrap tightly in plastic wrap or foil and place in a freezer safe storage container/zip lock bag.
It will last in the freezer for up to 3 months.
Just allow it to thaw in the fridge for a 12 hours/overnight before serving and whip up the whipped cream topping when you are ready to serve!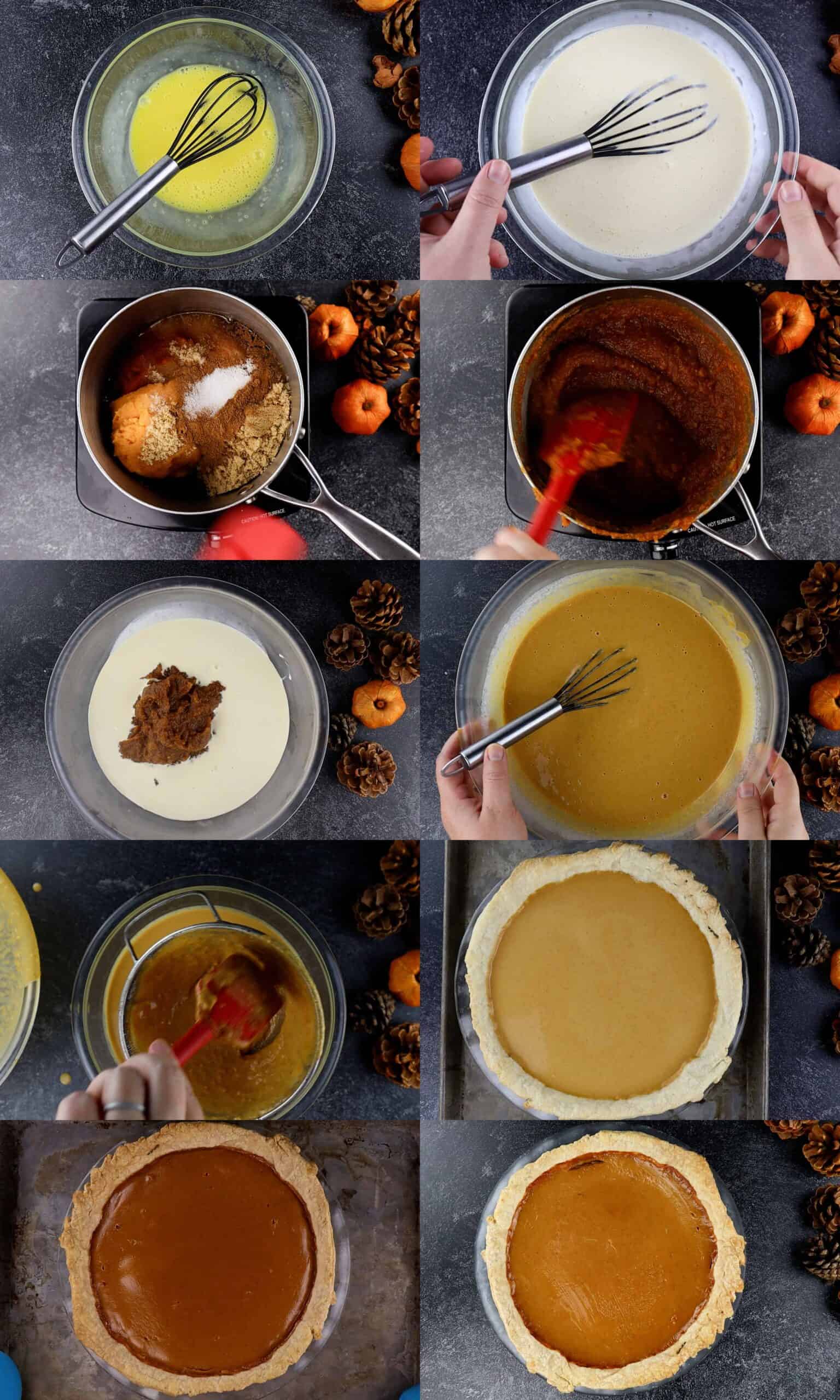 Don't miss these tips for the best pie!
You will want to use a combo of pumpkin puree and candied yams/sweet potato – trust me the flavor combo of these will make your pumpkin pies dreams come true.
You will want to strain the pumpkin/sweet potato pie filling before baking- it makes it so beautifully smooth.
Bake your pie on a baking sheet for ease of removing it from the oven.
Use a glass or metal pie pan- not ceramic. Ceramic heats up differently and we don't want to complicate things.
Bake pie on the lowest rack in the oven.
Bake until the edges of the pie are set and the center still jiggles slightly- it will continue to bake when you take it out of the oven and the middle will set up nicely.
This recipe fills a 9.5 inch pie dish perfectly, if you use a store bought 9 inch crust you will have a little pie filling leftover
Why did the top of the pie crack or split?
This typically has to do with the pie cooling too fast. If your house is pretty cold try letting the pie come to room temperature in the oven. Leave the oven door open or cracked. This way the pie will come to room temperature a little slower.
Although this isn't a complete from scratch pumpkin pie- it still beats any pumpkin pie hands down, that being said….
How do you make pumpkin pie from a fresh pumpkin?
Cut open a sugar pumpkin and discard the stem and seeds. Place face down in a glass dish and add water until it the pumpkin is sitting in about 1 inch.
Cover then microwave for about 16 minutes or until the pumpkin is cooked and very easy to pierce with a fork.
Alternatively, you can bake the pumpkin at 375°F for about 1 ½ hrs.
Scoop out the flesh and mash it or stick it in a food processor and puree it. Then use the puree in place of any canned pumpkin in the recipe.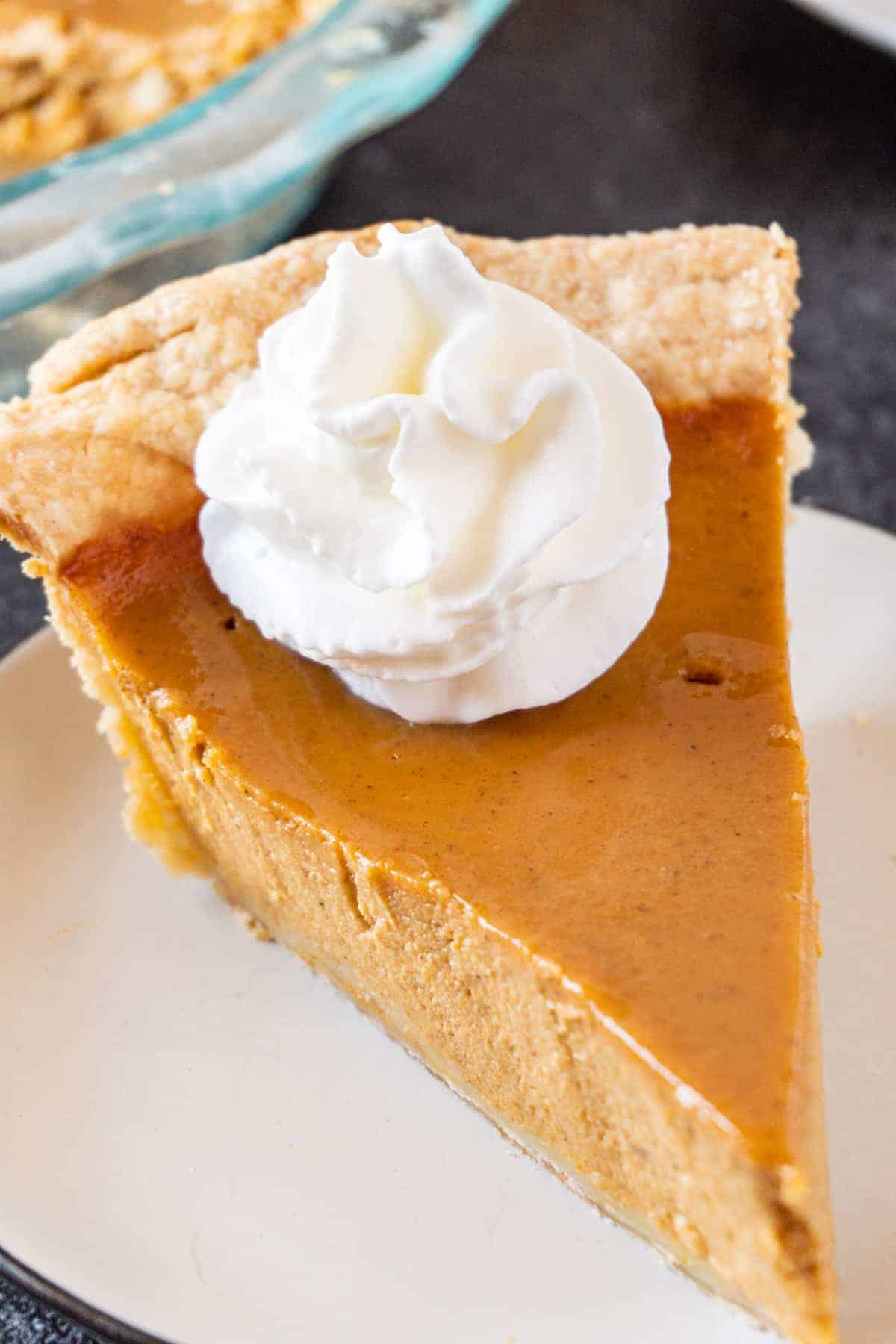 Which type of pumpkin is best for pie?
A sugar pumpkin is best for making pies- they are smaller pumpkins and are typically labeled as sugar pumpkins or baking pumpkins.
What is the difference between pumpkin pie mix and canned pumpkin?
Canned pumpkin is just pureed pumpkin, pumpkin pie mix is canned pumpkin with spices like cinnamon, cloves, ginger etc.
I recommend using plain canned pumpkin, because then you can control how much of each spice you put in.
How to make pumpkin pie spice?
To make your own combine 4 teaspoon ground cinnamon, 2 teaspoon ground ginger, 1 teaspoon ground cloves, and ½ teaspoon ground nutmeg. Then use 2tsp of this mixture for this pie and save the remaining spice mix in a sealed jar for other recipes (like pumpkin pie, pumpkin cupcakes, and sweet potato pie).
So now that you know how to make pumpkin pie- the BEST pumpkin pie ever- you won't want anything else!

Don't miss these other fall favorites:
Holiday Menu Tips
---
Holiday Menu Tips- when to make everything!
Trying to get all the dishes made during the Holidays can be a bit hectic. However, planning out what you will make, what ingredients you need, and when everything should be in the oven or on the stove helps a lot.
If you can make some dishes things ahead of time that is even better. Here are a few of my favorite holiday recipes that can be made a day or two or three in advance and either reheated or just set out on the table when ready to eat!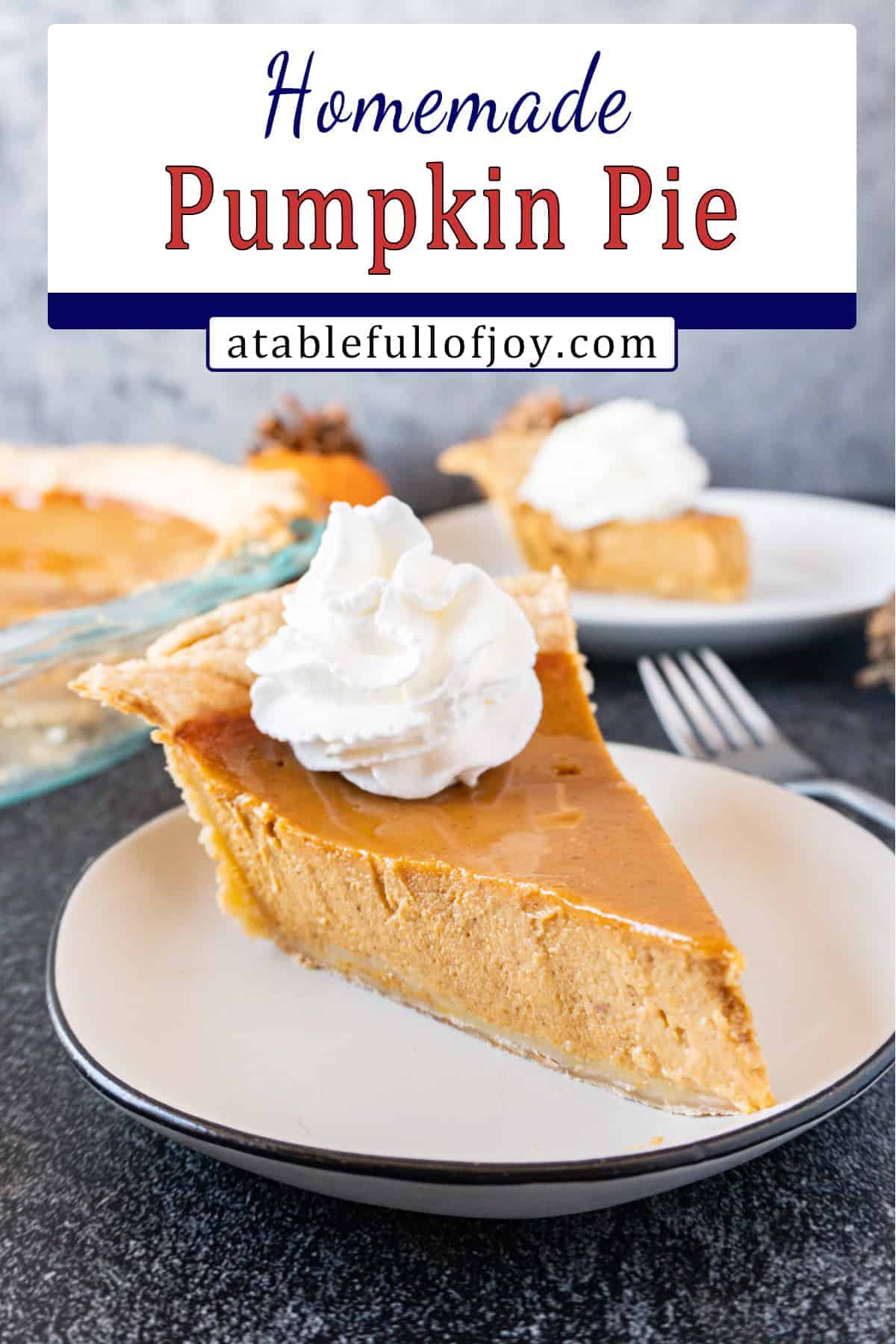 Watch how to make this recipe!
Want more? Subscribe to my newsletter and follow along on Facebook, Pinterest and Instagram for all of the latest updates.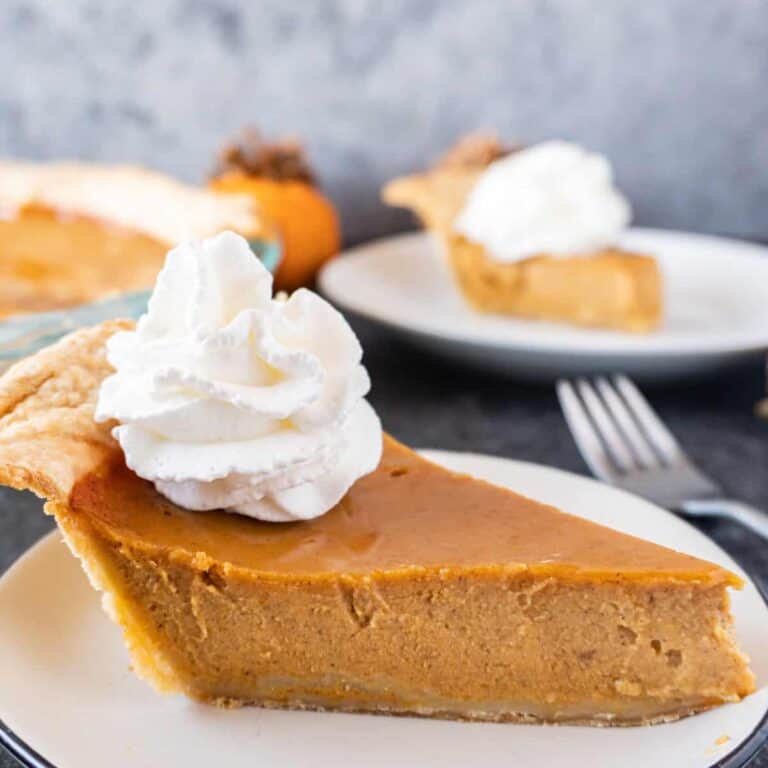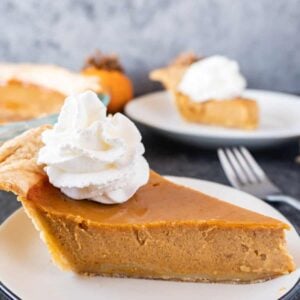 Sweet Potato Pumpkin Pie Recipe
The most creamy and delicious Sweet Potato Pumpkin Pie you have ever tasted! Forget the old dense pumpkin pies you are used to- this pie recipe is the best there is!
Ingredients
Flakey pie crust*
1 ⅔

cups

flour – plus more for dusting

½

teaspoon

salt

1

tbs

sugar

1

cup

unsalted butter

½

cup

cold water
Pumpkin Pie
1

cup

heavy cream

1

cup

whole milk

3

large eggs

2

large egg yolks

1

teaspoon

vanilla extract

1

can pumpkin puree

15 oz

1

cup

sweet potato puree*

¾

cup

granulated sugar

½

cup

packed brown sugar

¼

cup

maple syrup

2

teaspoon

pumpkin pie spice*

½

teaspoon

cinnamon
Instructions
Make Homemade Pie Crust
Whisk together flour, sugar, and salt.

1 ⅔ cups flour – plus more for dusting,

½ teaspoon salt,

1 tbs sugar

Cut butter into large cubes. Emphasis on large. I recommend cutting each stick into four chunks and then each chunk into four more chunks. Then place the butter chunks in the flour mixture and toss to coat with flour.

Once tossed, smash each chunk of butter between your fingertips. Smash each flat, then move on to the next chunk. You don't need to cutting the butter in or anything else because you want the butter to stay in large chunks.

Once each chunk is smashed, using a spatula stir in the water. Stir the dough until it forms a sticky ball. You will need to use the side of the bowl to bring the dough together.

Turn the dough out onto a floured surface and knead a few more times to finish bringing the dough together. Place the dough back into the bowl and refrigerate for 10 minutes- you want to keep the dough cold and the butter from melting.

Roll out the dough on the floured surface (adding more when needed), into a large rectangle (roughly12x10 inches). Make sure to flip the dough, add more flour if sticking and don't hesitate to put it back in the fridge if the butter starts melting and sticking.

Fold the 10-inch sides to the center of the rectangle then fold the other ends together like closing a book. Cut in half and then refrigerate both halves for 10 minutes.

Bring out one piece of dough and roll into a circle large enough to fit your pie plate. Place in your pie plate, pressing into the corners, and then cut the extra dough that hangs over the edge using scissors.

Cover with plastic wrap and allow the dough to relax for at least 2 hours in the fridge or overnight.

The second half of pie dough can either be frozen and used later or used immediately for a second pie. If freezing, place in a freezer bag and freeze for 2 months. To use just allow it to thaw in the refrigerator then follow the instructions from step 8. If using the second piece right away simply repeat what you did with the first half.
Prebake the crust- If using a store-bought crust, follow the package instructions for prebaking, if using my crust recipe follow the instructions below.
Preheat oven to 400°F and pierce pie crust bottom and sides with a fork.

Lay a piece of parchment paper on top of the piecrust then fill the pie crust with rice, sugar, or pie weights. Bake for 11 minutes,then remove the rice/sugar and parchment and continue bake for another 10 minutes. The crust will start to brown.

Set aside until ready to fill.
How to make pumpkin pie filling
While baking the crust, whisk heavy cream, milk, eggs and yolks, and vanilla together until well combined.

1 cup heavy cream,

1 cup whole milk,

3 large eggs,

2 large egg yolks,

1 teaspoon vanilla extract

In a large sauce pan over medium heat combine pumpkin, sweet potato puree, granulated sugar, brown sugar maple syrup, pumpkin pie spice, cinnamon, and salt to a simmer. This will take 5-10 minutes.

1 can pumpkin puree,

1 cup sweet potato puree*,

¾ cup granulated sugar,

½ cup packed brown sugar,

¼ cup maple syrup,

2 teaspoon pumpkin pie spice*,

½ teaspoon cinnamon

After mixture is well combined remove from heat and whisk in the heavy cream mixture. Once that is fully incorporated strain the mixture through a fine mesh strainer. This step isn't a must, but it really does make for a very smooth pie filling. Use a spatula or large spoon to press the solids through the strainer.

Place your pie pan (with prebaked crust) on a baking sheet* and then pour the filling in the pie crust.

Adjust the oven rack to the lowest position. Place the baking sheet with the pie in the oven. Bake for 10 minutes at 400° then reduce oven temperature to 300° and bake for 35-40 more minutes. You want the edges of the pie to be set and the center to be slightly jiggly.

Once done remove from oven* and let cool at room temperature.

Serve with whipped cream if desired and enjoy!
Notes
Tips and Tricks
*If you are making homemade pie crust give yourself several extra hours to make everything since the pie dough needs 2 hrs to chill in the refrigerator.
*If you mash or puree a 15oz can of yams/sweet potato chunks it is ~1 cup.
*If you don't have pumpkin pie spice just make your own! To make your own combine 4 teaspoon ground cinnamon, 2 teaspoon ground ginger, 1 teaspoon ground cloves, and ½ teaspoon ground nutmeg. Then use 2 teaspoon of this mixture for the pie filling. Save the remaining spice mix in a sealed jar for other recipes (like pumpkin pie, pumpkin cupcakes, and sweet potato pie).
*This helps to move the pie in and out of the oven- trust me- you'll thank me later.
*If your house is cold leave the pie in the oven with the door open or cracked and the oven turned off. This will help prevent cracks from forming as the pie cools.
Nutrition
Calories:
351
kcal
Carbohydrates:
44
g
Protein:
5
g
Fat:
18
g
Saturated Fat:
10
g
Cholesterol:
123
mg
Sodium:
95
mg
Potassium:
213
mg
Fiber:
1
g
Sugar:
29
g
Vitamin A:
5161
IU
Vitamin C:
5
mg
Calcium:
77
mg
Iron:
1
mg
Post updated on12/21/2021
Reader Interactions