Halloween is coming and I am so excited to share these Halloween Rice Krispie Treats with you all!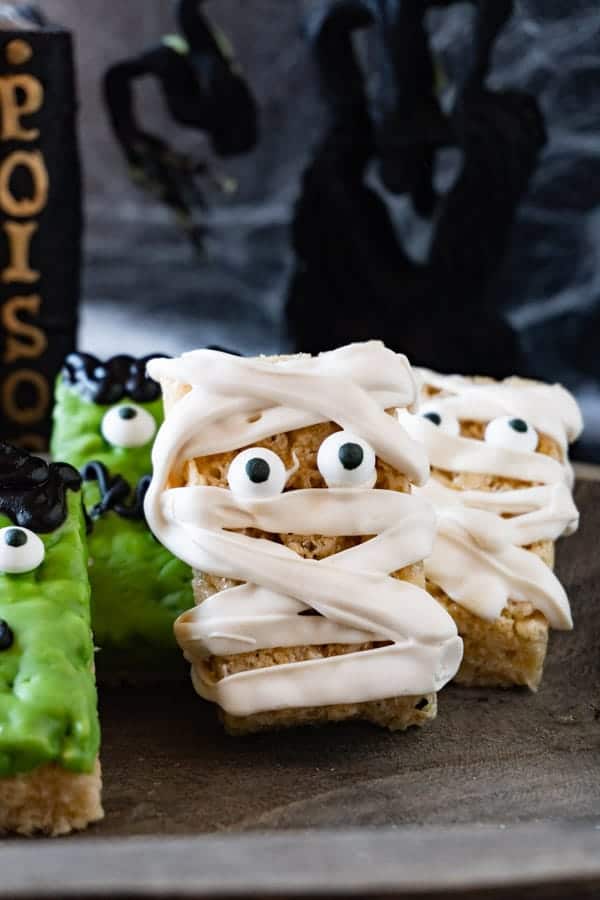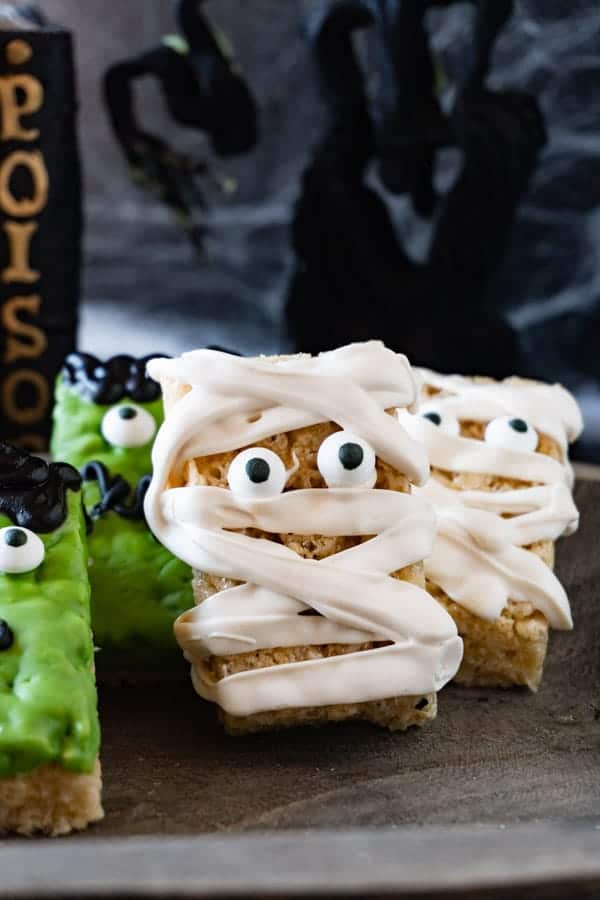 I've been having so much fun making Halloween treats this year! I started with the Binx Black Cat cookies, then made Halloween Popcorn Balls, Monster Cookies, Spooky Spider Cookies and now these fun Frankenstein and Mummy treats!
The hardest part of making rice crispy treats is waiting for them to cool! But at least you can lick the stirring spoon and the big pot you stirred everything in- but just be careful and don't burn yourself!
I love rice crispy treats and how easy it is to shape them into fun treats (Remember my Kaboom Bot Rice Crispy Treats?!). I knew I had to use them to make something for Halloween- and here you have it: Halloween Rice Crispy Treats!
An easy and fun Halloween rice krispie treat!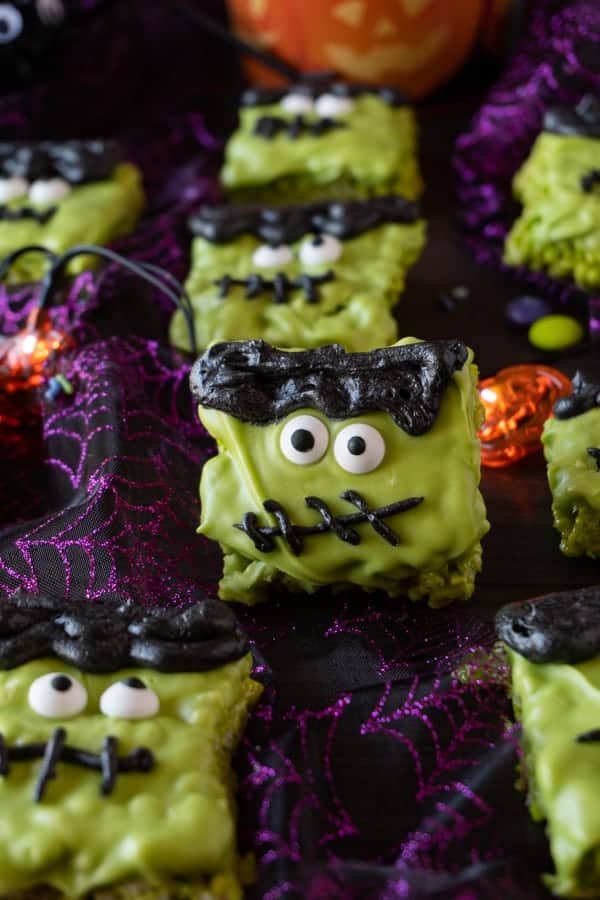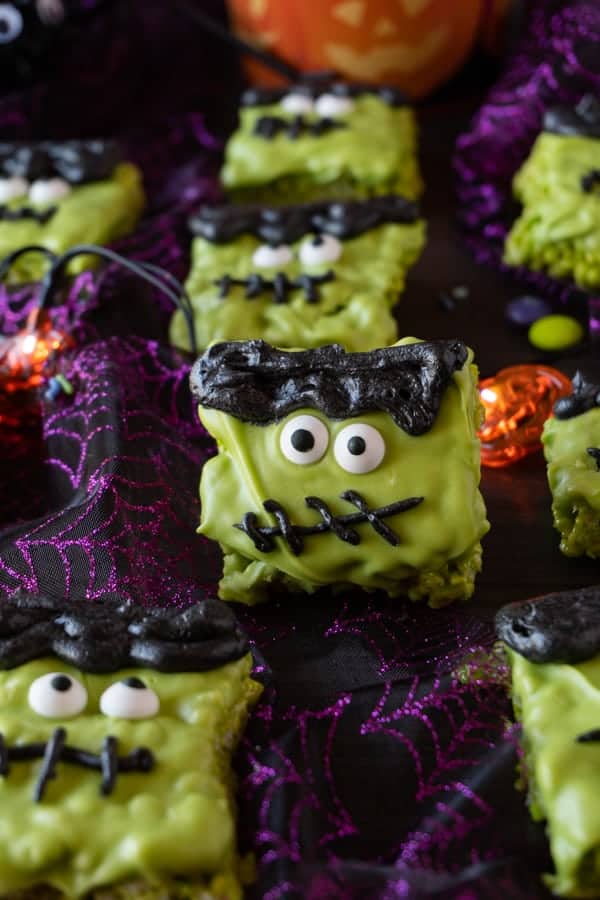 How to make Frankenstein Halloween rice krispie treats:
Make your rice crispy treats like you would normally, but add in green food coloring.
Cut into squares and dip in green candy melts for the treats.
Gently place the eyes onto the dipped treats before the green candy melts set up.
Using a piping bag with a tip pipe on the hair and stitches.




How to make Mummy  rice krispie treats:
Make your rice crispy treats like you would normally a cut them  into squares.
Melt your bright white candy melts and then place in a piping bag with a tip.
Put a little bit of candy melt  on the back of each eye and press onto the rice crispy treat.
Then pipe lines over the treat to mimic mummy wrappings.


What are the piping tip sizes that I use?
Size 8 writing tip for the Frankenstein Hair
Size 3 writing tip for the Frankenstein stitches
Size 104 petal tip for the Mummy wrappings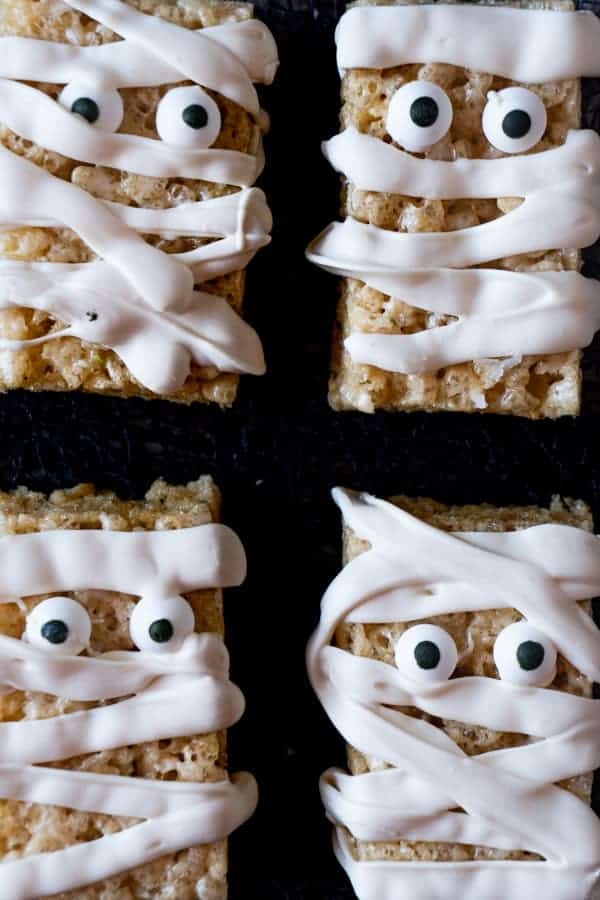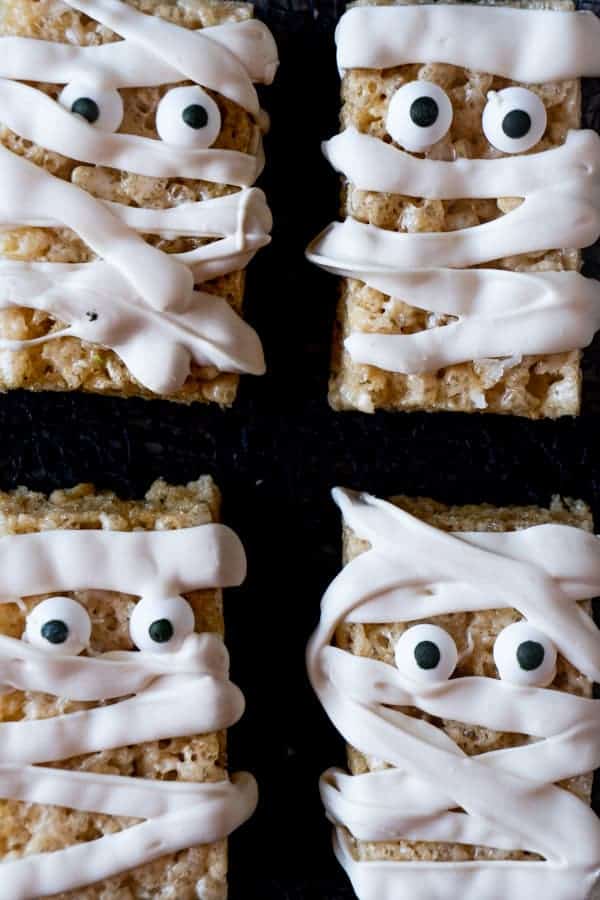 How to melt candy melts:
Place candy melts in a microwave safe bowl with 2 tablespoons refined coconut oil.  Microwave for 30 seconds, stir and repeat until melted.
By melted I mean kind of stiff and hard to stir- probably not smooth and runny. Then add in more coconut oil 1 tbs at a time until you get the consistency you want.
Some times I've added 4 or 6 tablespoons to get the candy melts liquid enough. There is a point where you've microwaved the melts too much and they burn and become crumbly and are past the point of use, that's why I  recommend only microwaving inf 30 second interval.
I've noticed different brands and even different microwaves can melt the candies differently.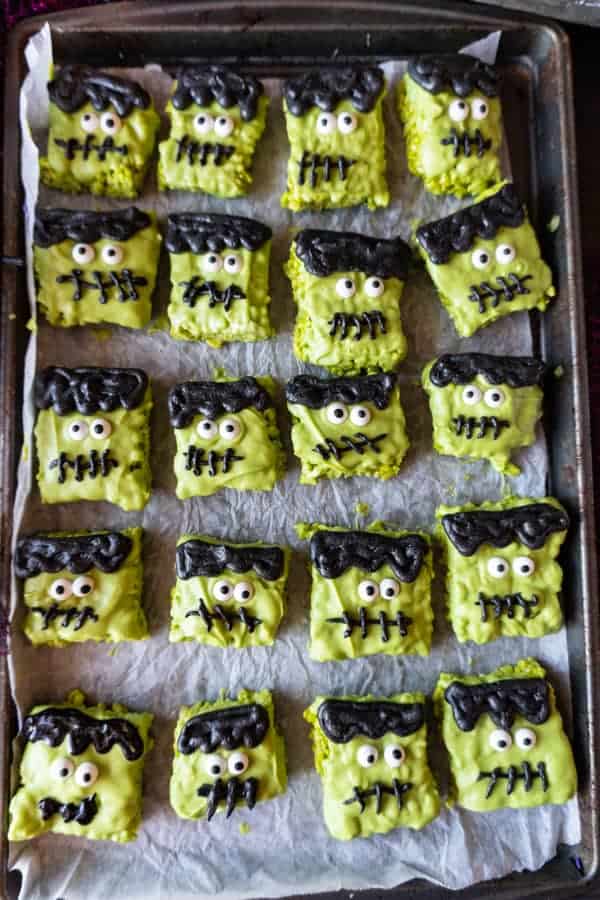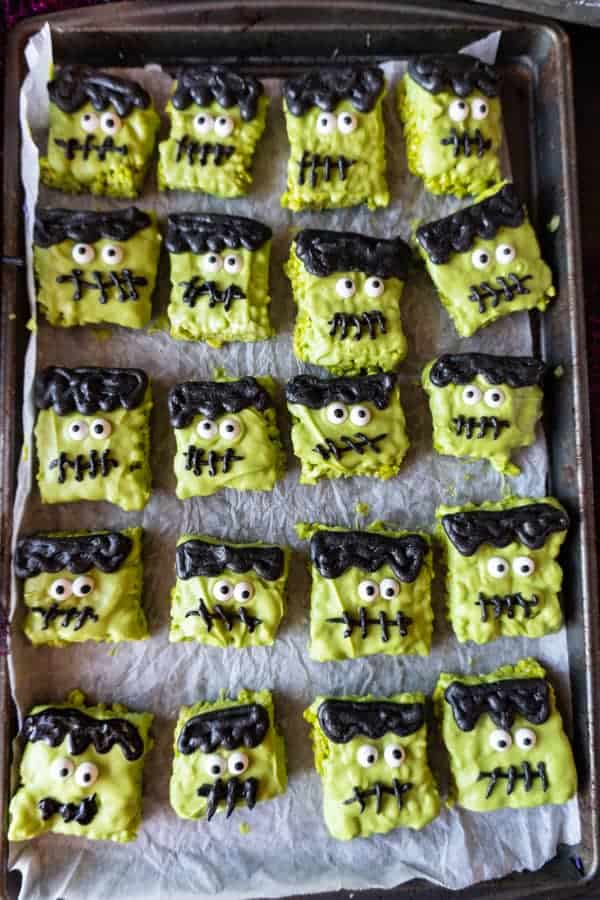 Black frosting? From scratch vs store bought.
I've used both. They both work well and taste fine. If you make black frosting from scratch simply make my chocolate frosting and add black food gel to it. It will make way more than you need though- so use the leftover for some Halloween Cupcakes decorated with sprinkles, or my Vampire Donuts.
Store bought black frosting can be found in the baking isle or the cake decorating isle and comes in a tube. You will probably need several tubes to decorate these.
You can also use some black food gel (found in the same place as the black frosting) for the stitches but just remember the edible gel doesn't harden making it have the potential for more mess.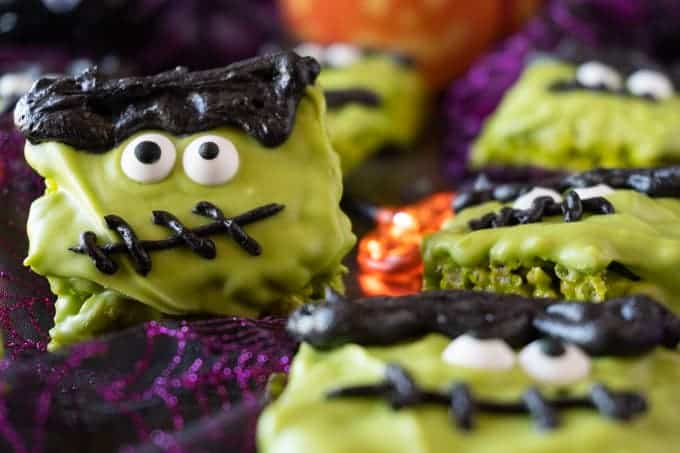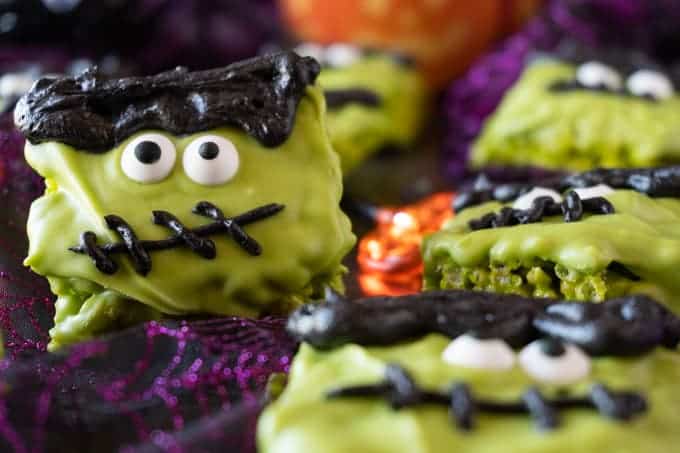 Do I have to make rice crispy treats from scratch?
Nope. You can easily use premade store bought rice crispy treats and then just decorate them. That's what I did in the video below.
Homemade just tastes WAY better, but store bought is so easy. You're choice!
Fun Halloween treats for everyone!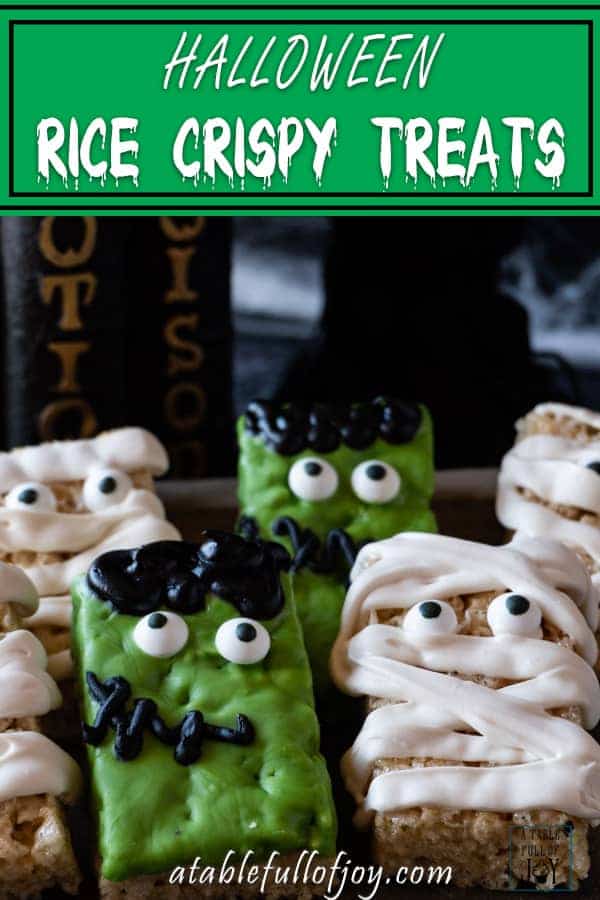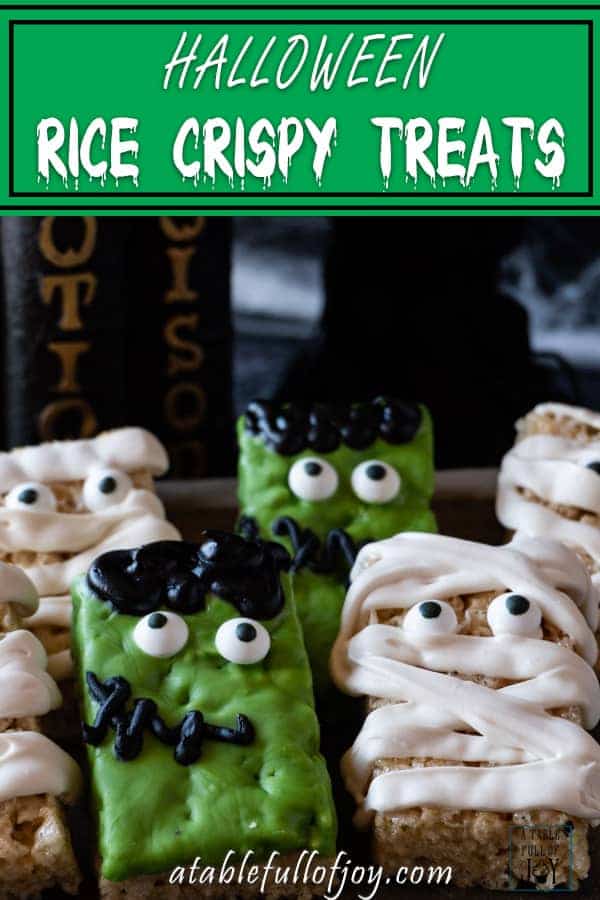 If you like this recipe make sure to check out my other Halloween recipes like my Monster Oreos, Spider Sugar Cookies, and my Halloween Popcorn Balls!
---
BE SURE TO FOLLOW ME ON FACEBOOK, INSTAGRAM, PINTEREST, TWITTER & SIGN UP FOR MY EMAIL NEWSLETTER!
---
Want more? Subscribe to my newsletter and follow along on Facebook, Pinterest and Instagram for all of the latest updates.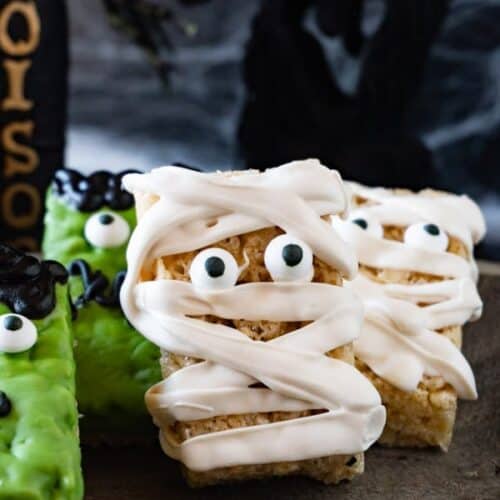 Halloween Rice Krispie Treats
These Frankenstein Halloween Rice Krispie Treats are fun, easy to make, and spookly delicious!
Ingredients
3

Tbs

butter plus more for hands

10

oz

marshamallows

6

cups

puffed rice cereal

neon green food coloring gel

1 12

oz

bag bright green candy melts

1-2

tbs

refined coconut oil

candy eyes

black buttercream frosting*

see notes on how to make or substitutions
Instructions
How to make Frankenstein Rice Krispie Treats:

Butter or spray with non stick cooking spray a 9x13 baking dish- set aside. In a medium pan over medium low heat melt butter.

Add in marshmallows and neon green food coloring. Stir until fully melted.

Once fully melted, remove from heat and stir in the puffed rice cereal. After thoroughly mixing, if your mixture isn't completely green add a little more food gel and stir well.

Press the rice crispies into prepared 9x13 baking dish and let cool.

Once the rice crispies are cooled and have set up cut them into 24 squares.

Line a baking sheet with parchment paper- set aside.

Melt the green candy melts in the microwave. Heat for 30 seconds, stir and repeat until candy melts have completely melted. If the mixture is too thick (which I find it to be most of the time) add in 1 tbs of coconut oil, stir thoroughly and test the thickness. If still too thick add more coconut oil, 1 tsp at a time until it is your desired thickness. The candy melts should be fairly smooth and liquidy.

Dip one of the broad sides of the rice crispy squares into the green candy melts and set on the parchment lined baking sheet to harden. Right after dipping the rice crispy treats place the eyes on the them.

While the candy melts are setting up whip up a half batch up the easy black buttercream (see notes for instructions).

10. Cut the corner off of two ziplock baggies. You want a medium sized hole and a small hole. Fill the bags with the black buttercream and pipe on the scars and hair.

11. Enjoy!
Notes
* To make black buttercream simply whip up a half batch of my easy buttercream frosting with the following alterations: after adding the heavy whipping cream add in ¼ cup of cocoa powder and several drops of black gel food coloring. You want the buttercream to be a dark grey color. Then let it sett for 10 minutes or so and the color will darken to more of a black. Alternatively, you could buy black frosting from the store and use that.
Reader Interactions