It's time to indulge in spooky delights and explore the bewitching world of Halloween Cookies! Whether you're planning a spooktacular party or simply want to enjoy a festive treat, these cookies are guaranteed to add a dash of magic and merriment to your Halloween celebrations.
Make sure to check out my Halloween Brownies, Halloween Shots, Halloween Treats, and Hocus Pocus Round Ups for more awesome ideas!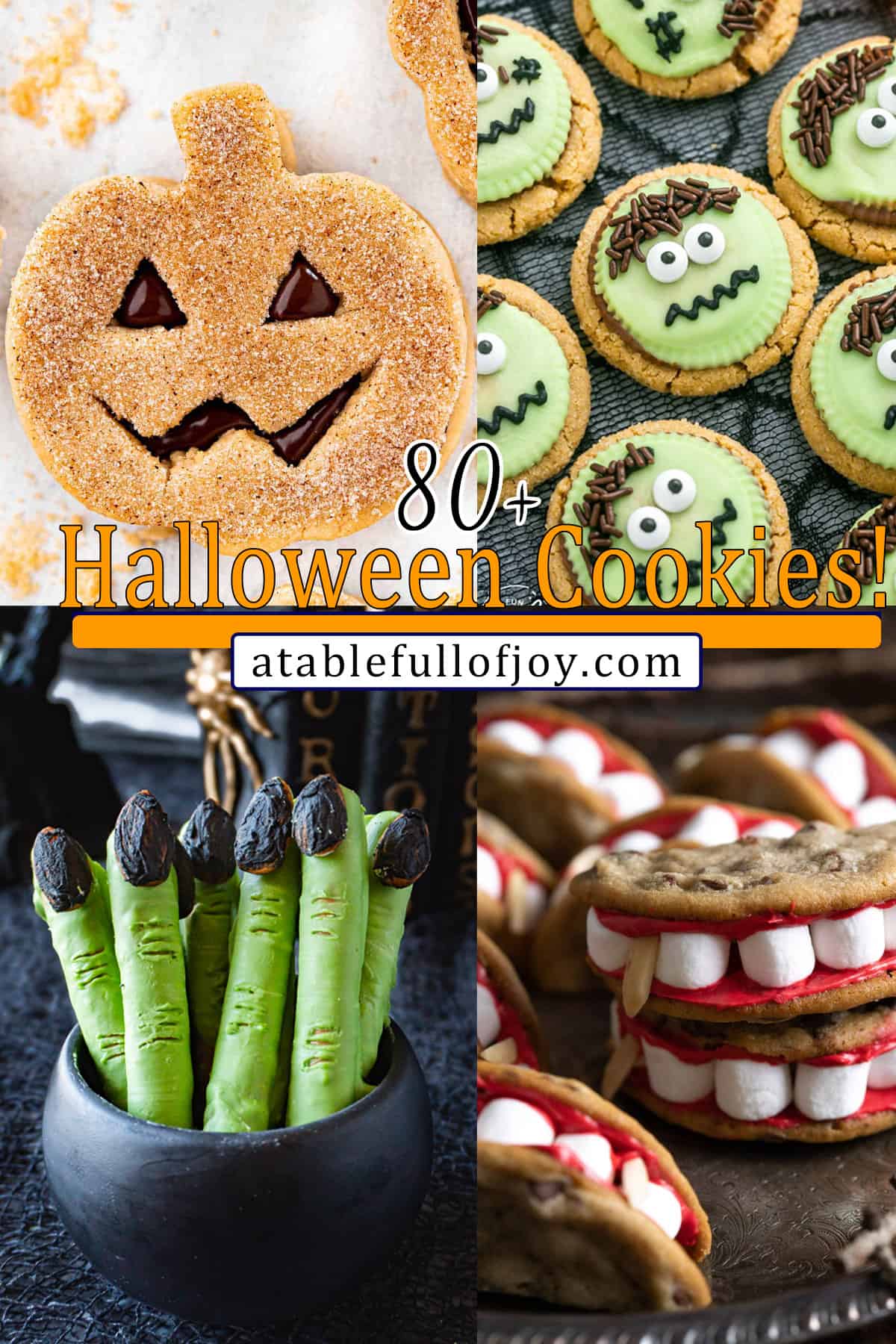 As the crisp autumn air sets in and the moon casts an eerie glow, it can only mean one thing – Halloween is approaching! It's that magical time of the year when we embrace the mysterious and celebrate the spooky. And what better way to awaken our taste buds to the spirit of this enchanting holiday than with a delectable assortment of Halloween cookies?
Jump to: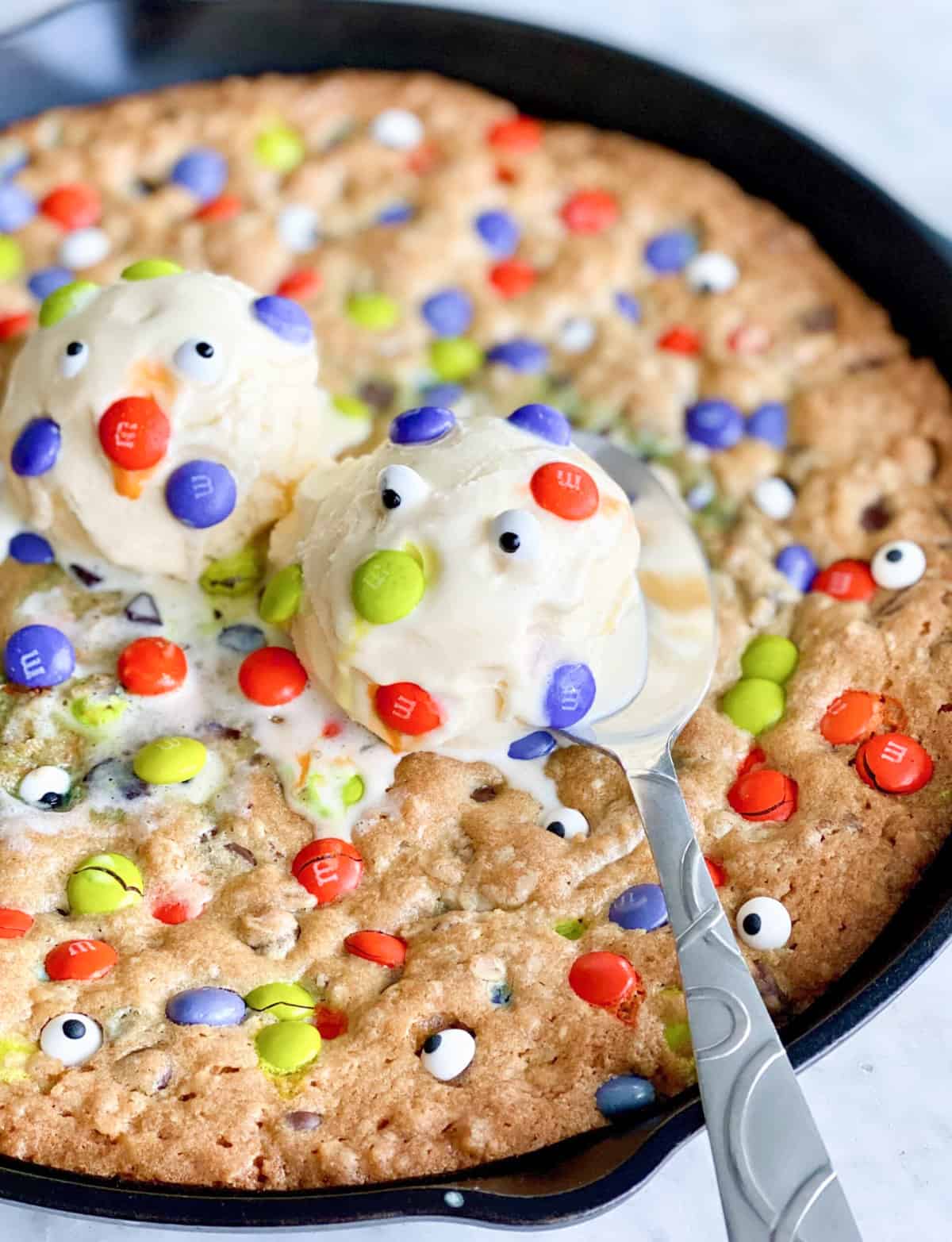 Halloween cookies not only satisfy our sweet tooth but also serve as edible works of art, capturing the essence of this bewitching season. From adorable and whimsical designs to spine-chilling creations that send shivers down your spine, the variety of Halloween-themed cookies is as vast as the creativity of those who bake them.
First things first we will look at different types of Monster Cookies!
Spider Cookies
1. Halloween Spider Cookies are easy, fun, and great for Halloween get togethers! These chocolate sugar cookies are topped with delicious buttercream and a Lindor truffle spider!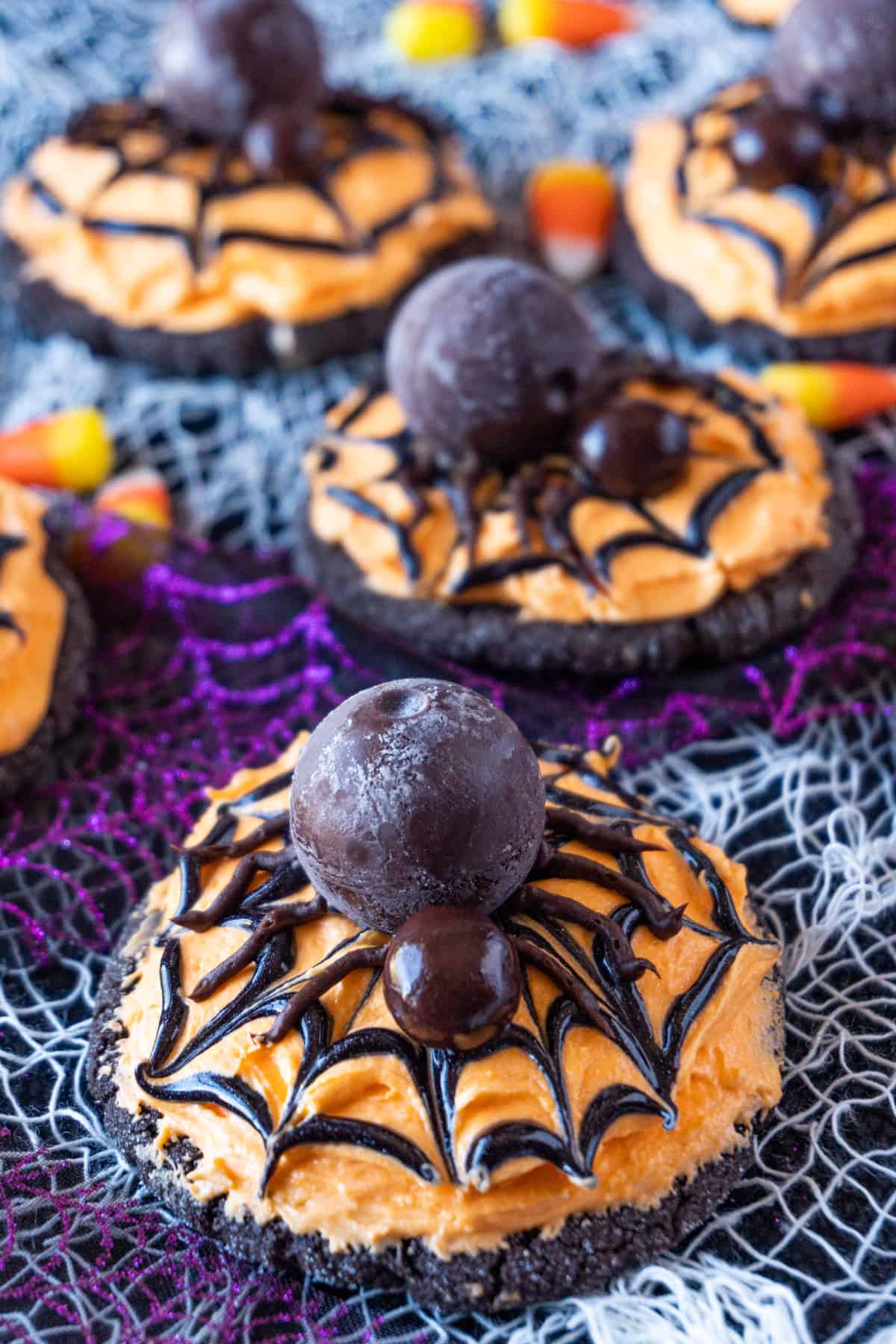 2. These Halloween Peanut Butter Spider Cookies are oaty, satisfying and just as delicious as they are spooky.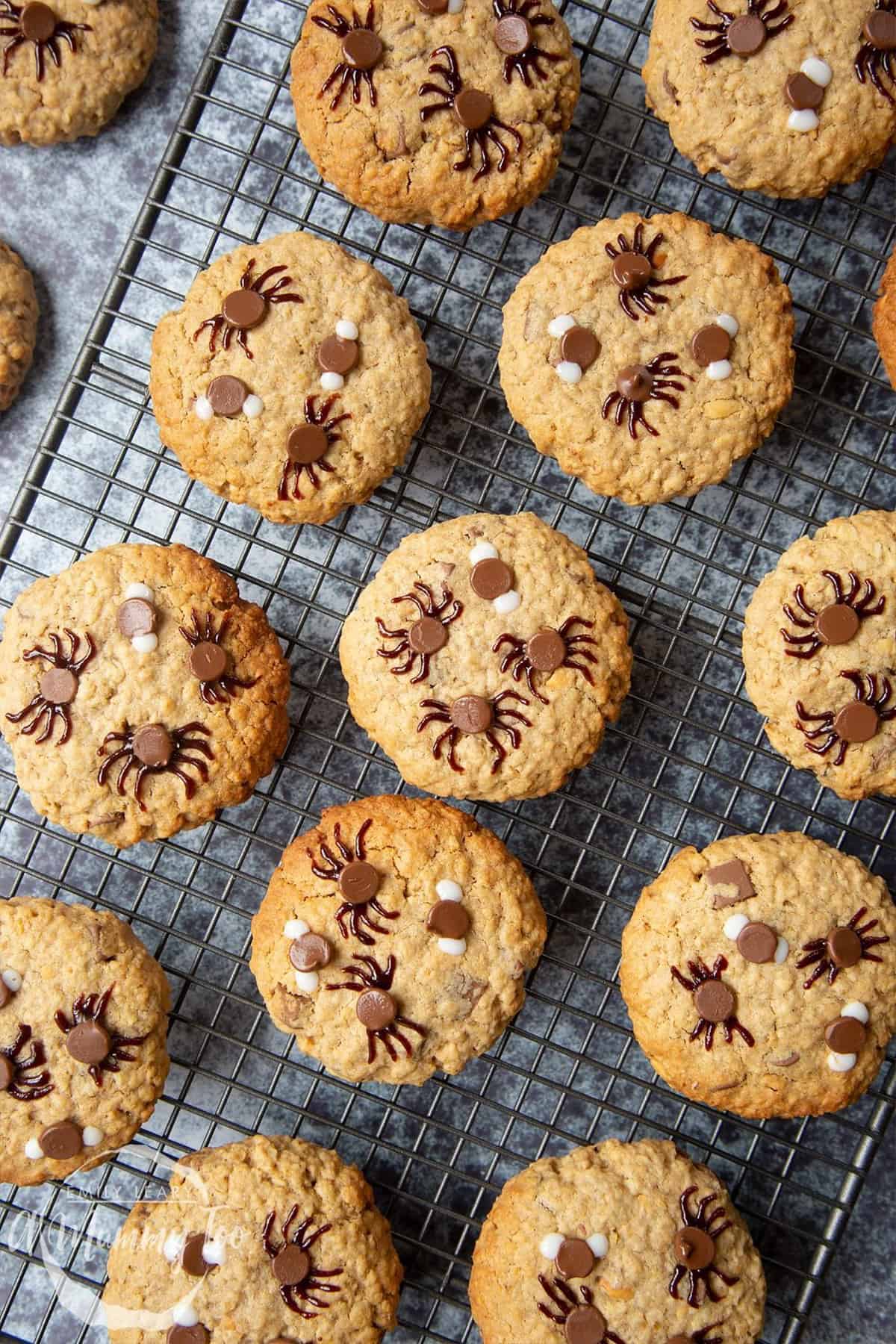 3. These Big Spider Cookies are chewy peanut butter cookies that topped with candy to look like a spider. They're the perfect Halloween cookies and make such a fun Halloween treat for the entire family.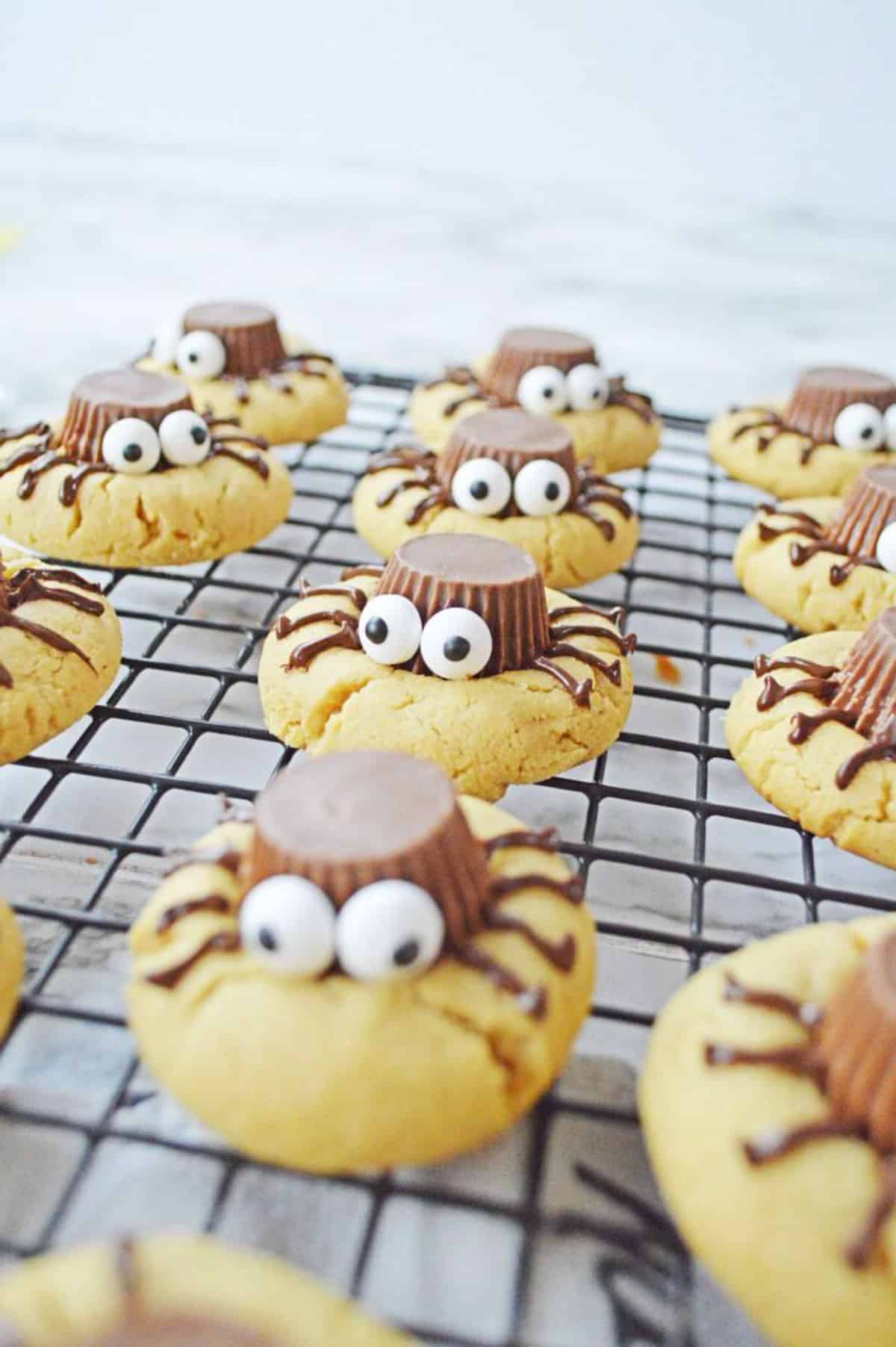 4. These Spider Web Cake Mix Cookies are made with cake mix and a yummy chocolate ganache! Super cute Halloween cookies to make with your kids this year! Not unlike these spiderweb brownies!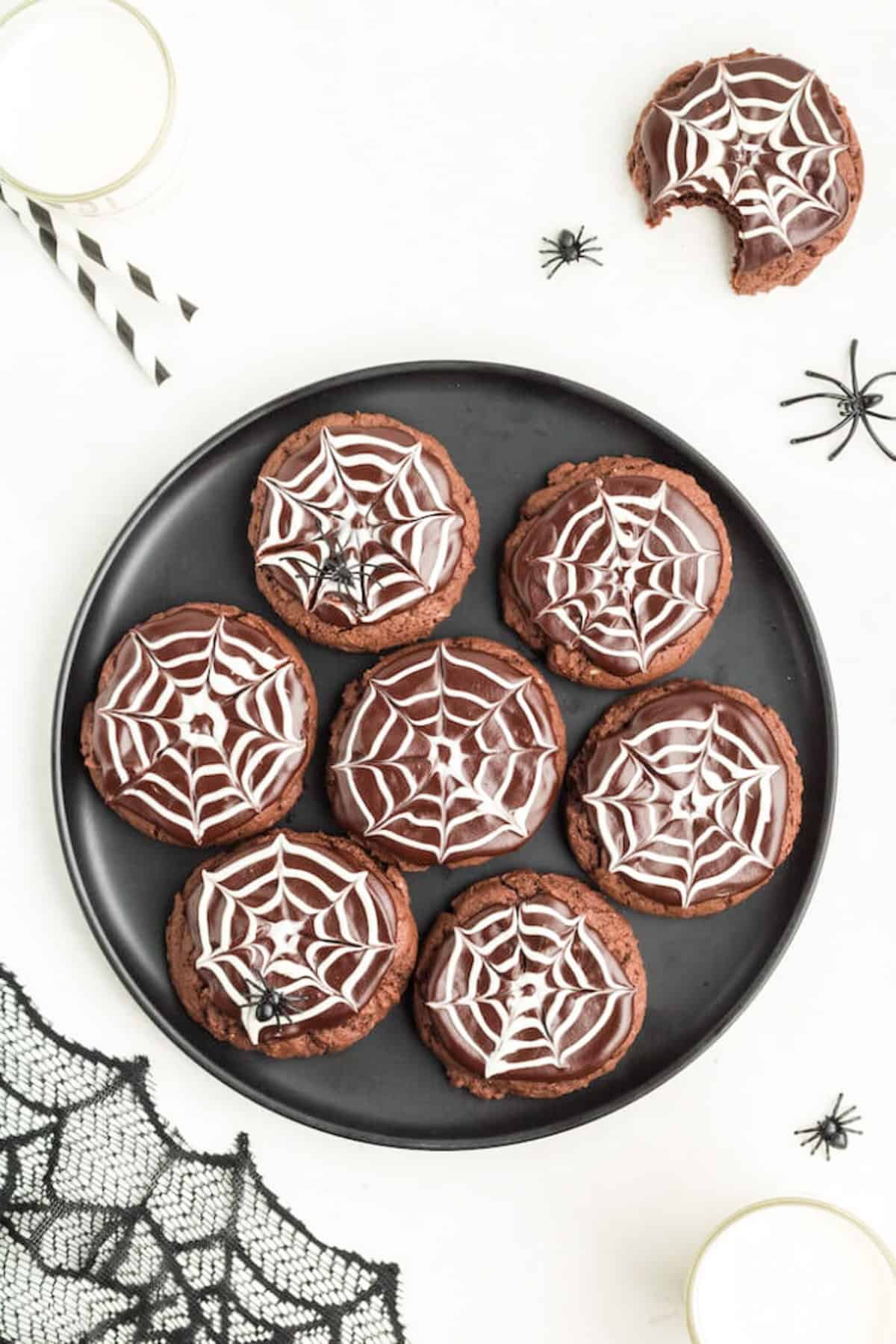 5. Spiderweb Biscuits are chocolate empire biscuits, with a Nutella filling, and a spooky Halloween-inspired icing.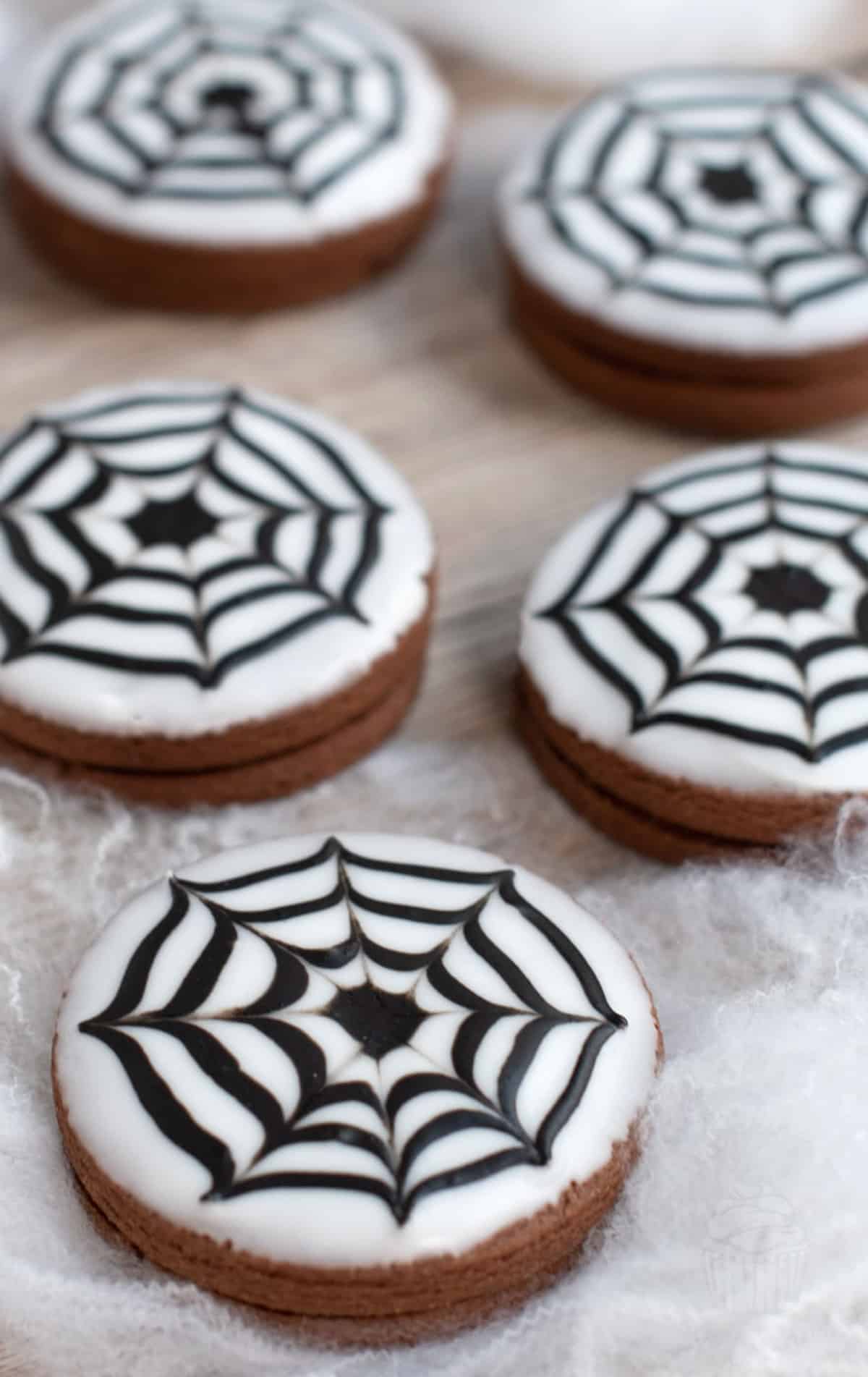 6. These Spiderweb Cookies are super fun. Using Peanut Butter Crackers and a little chocolate you can make these tasty treats!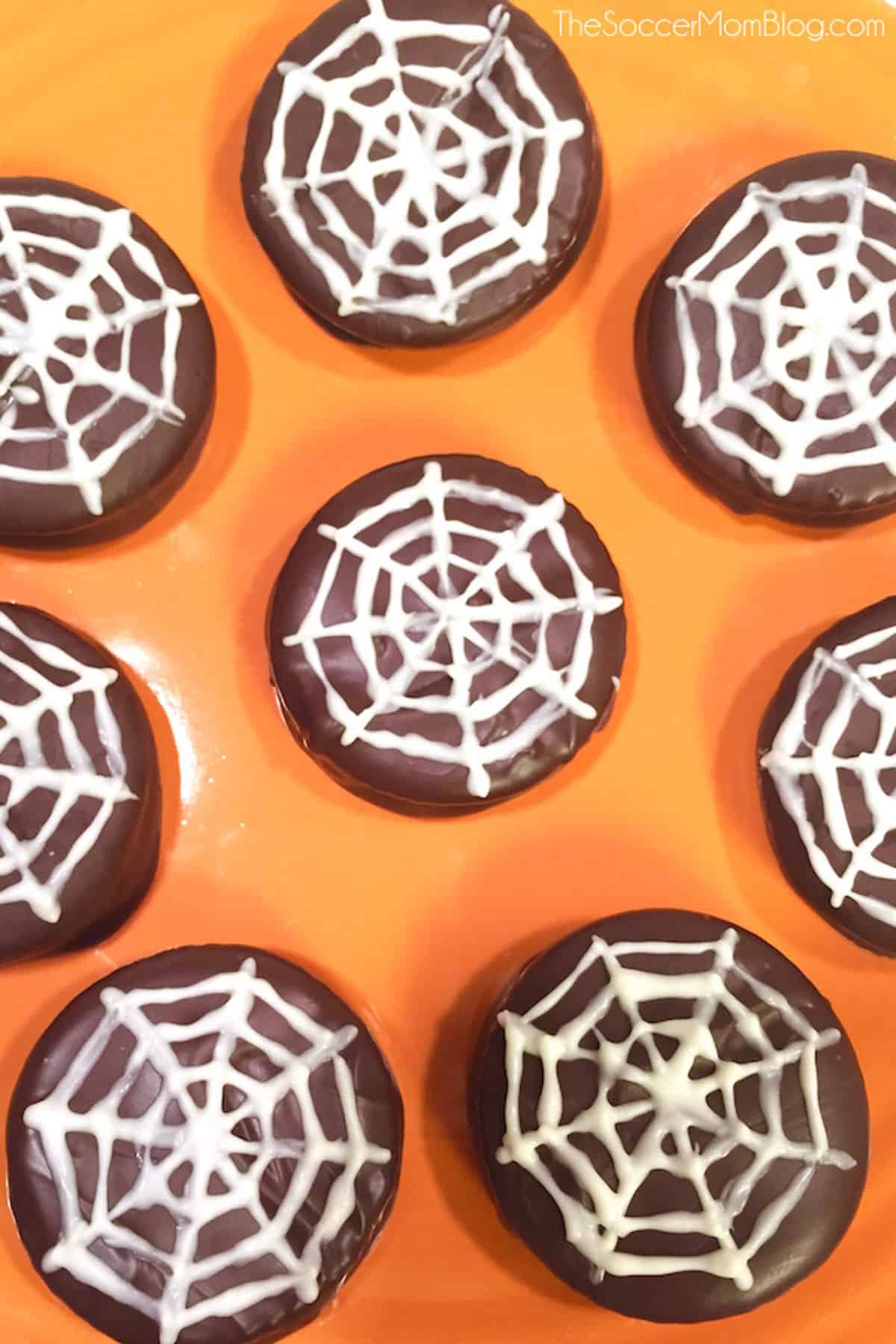 7. Red Velvet Spider Cookies- If you're looking for a fun Halloween treat, these easy Halloween spider cookies are the best! Homemade Red Velvet Cookies with a creepy crawly twist!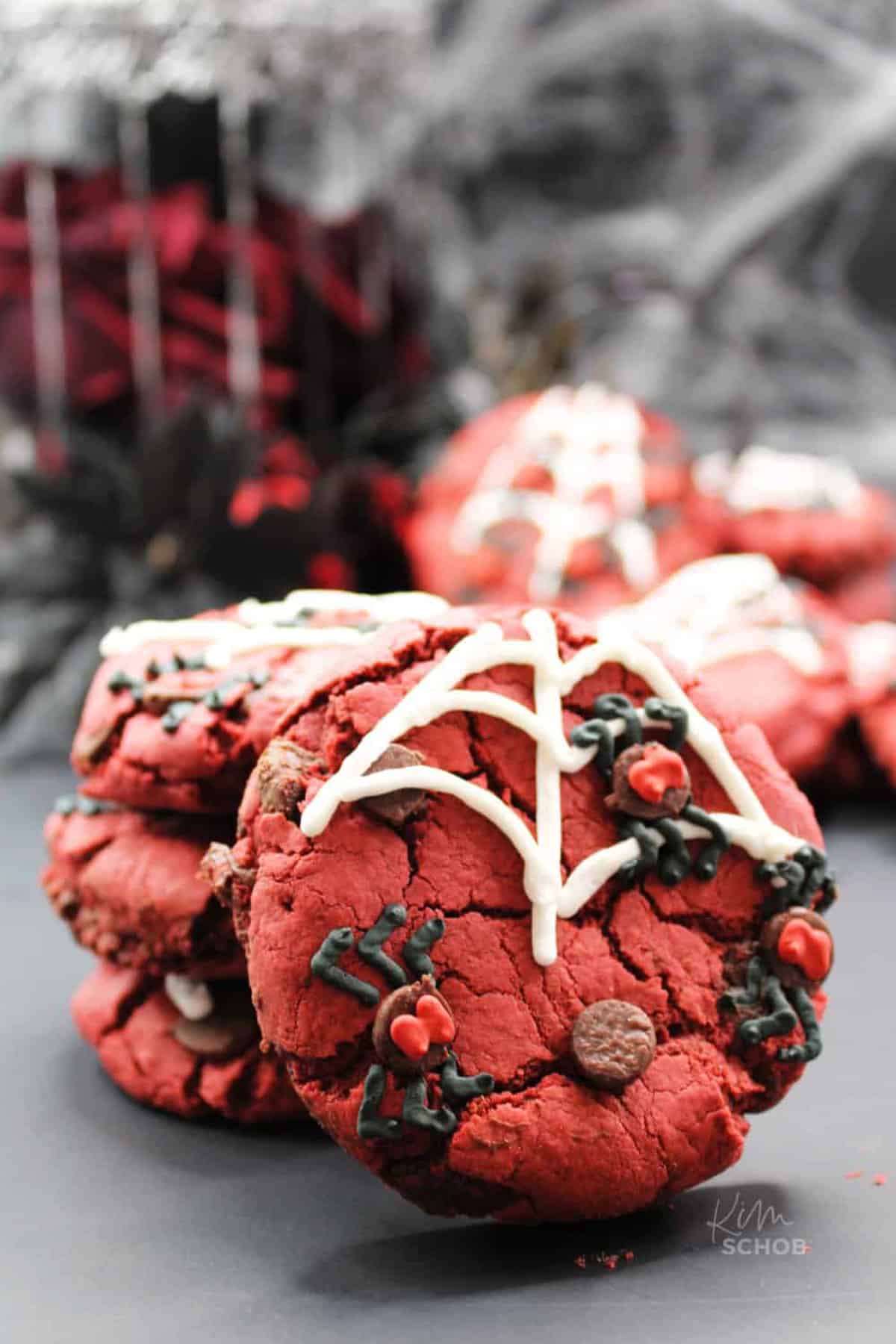 8. A cute spider-web heart cocoa cookie that makes Halloween a little less scary and a little more delicious!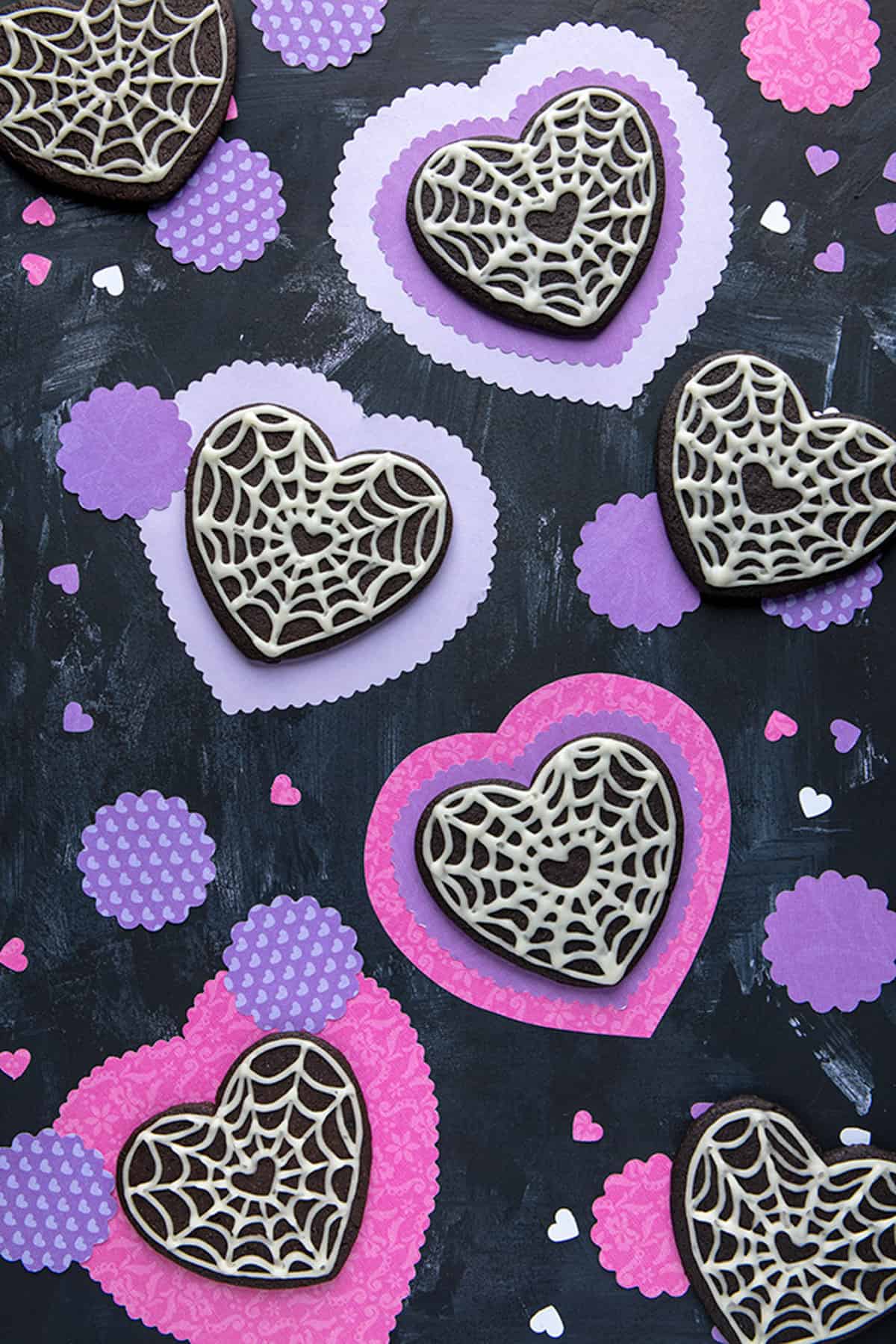 Frankenstein's Monster
Although I've shared the rice crispy treat version of Frankenstein's monster- I love a fun green monster cookie!
1. Who can resist these super cute and tasty Frankenstein Peanut Butter Cookies made with Reese's Franken cups?!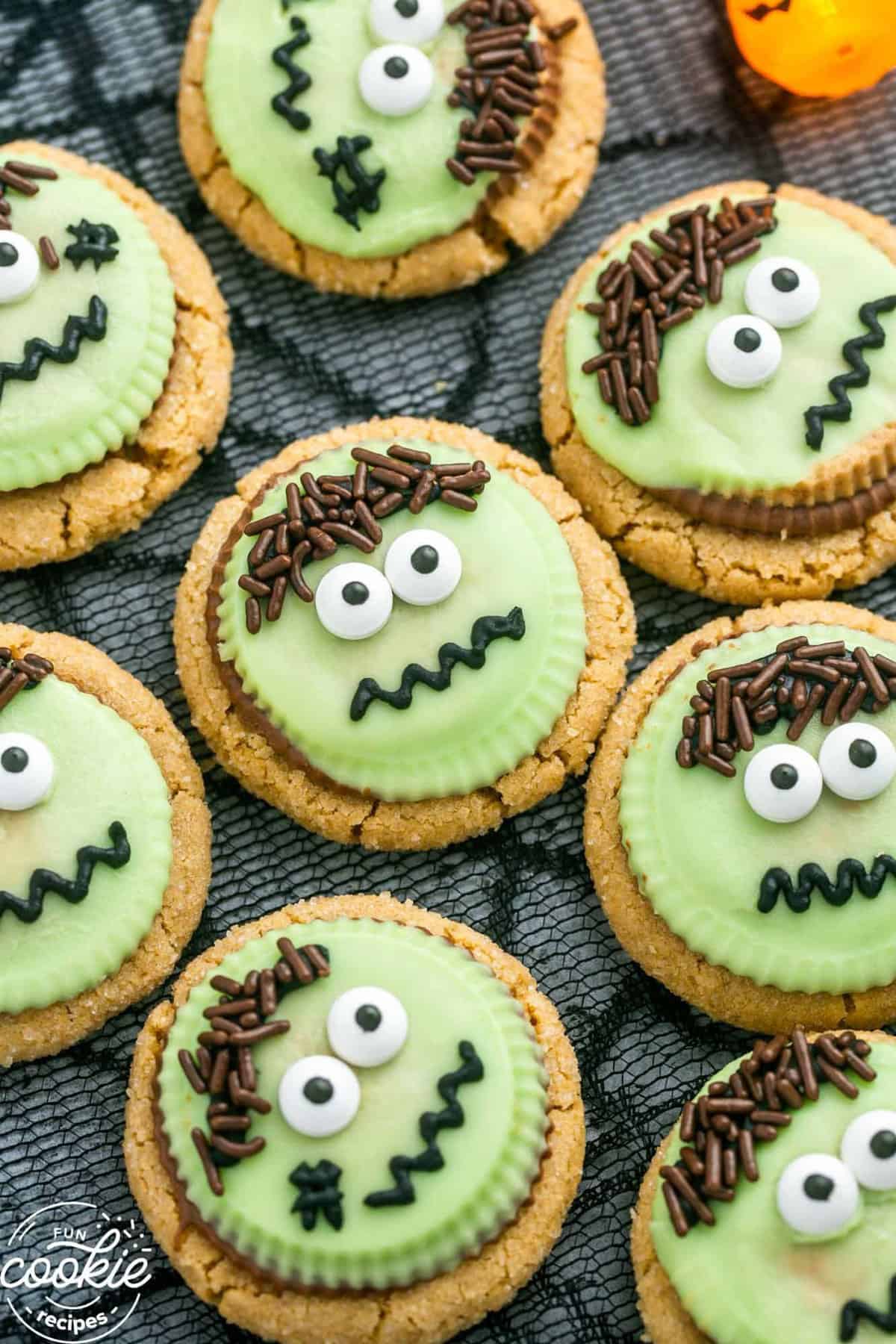 2. Frankenstein's Monster Wafer Cookies are super cute and easy to make!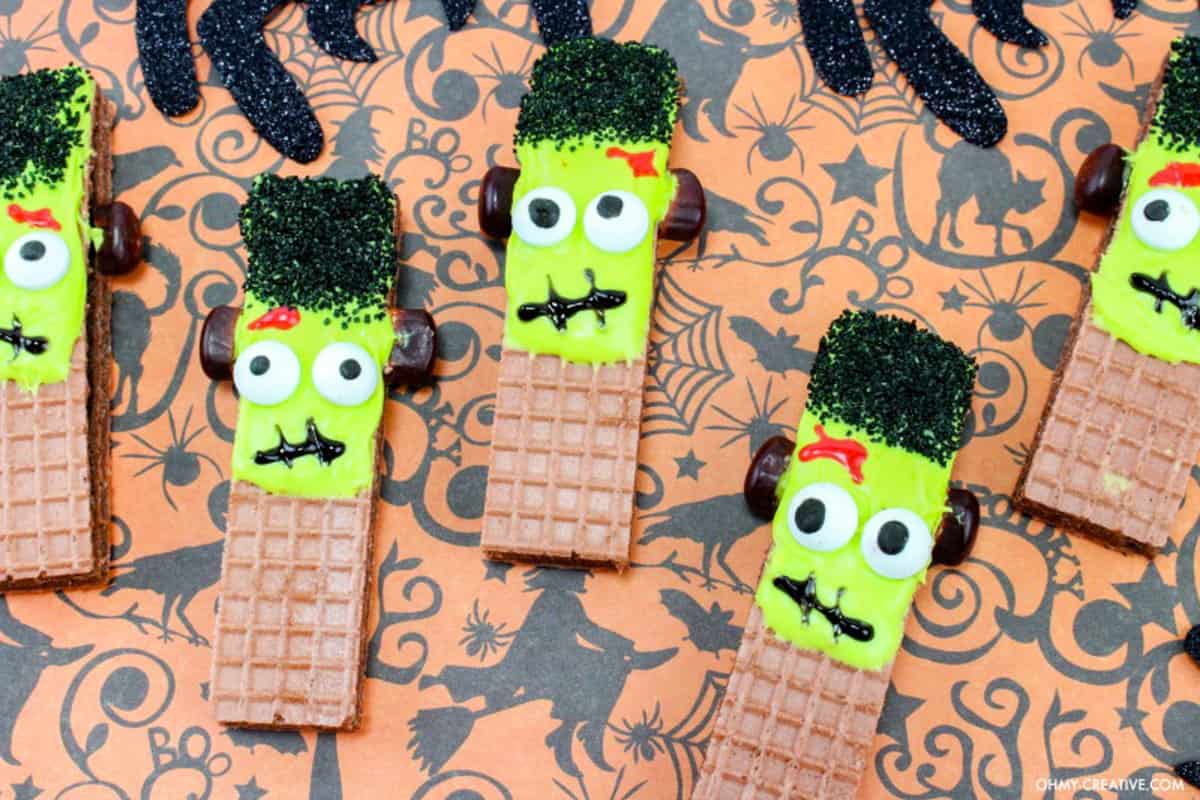 3. These Frankenstein's Monster Cookies made with Oreo's are another of our really easy Halloween Fun Foods to Make with kids.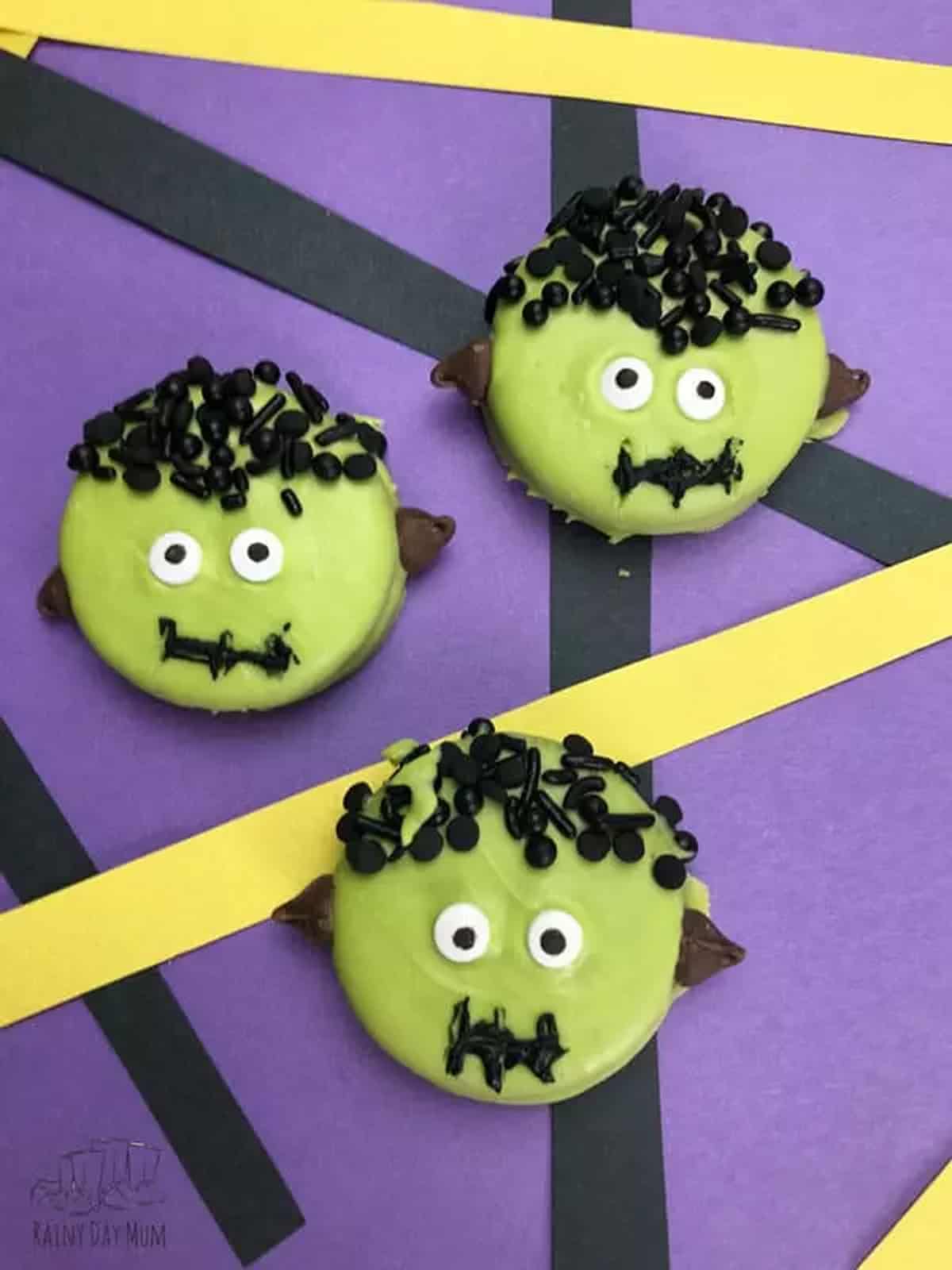 Ghost Cookies
2. These Halloween Ghost Sandwich Cookies have a ghostly white chocolate complexion and are filled with the spookiest black cocoa buttercream!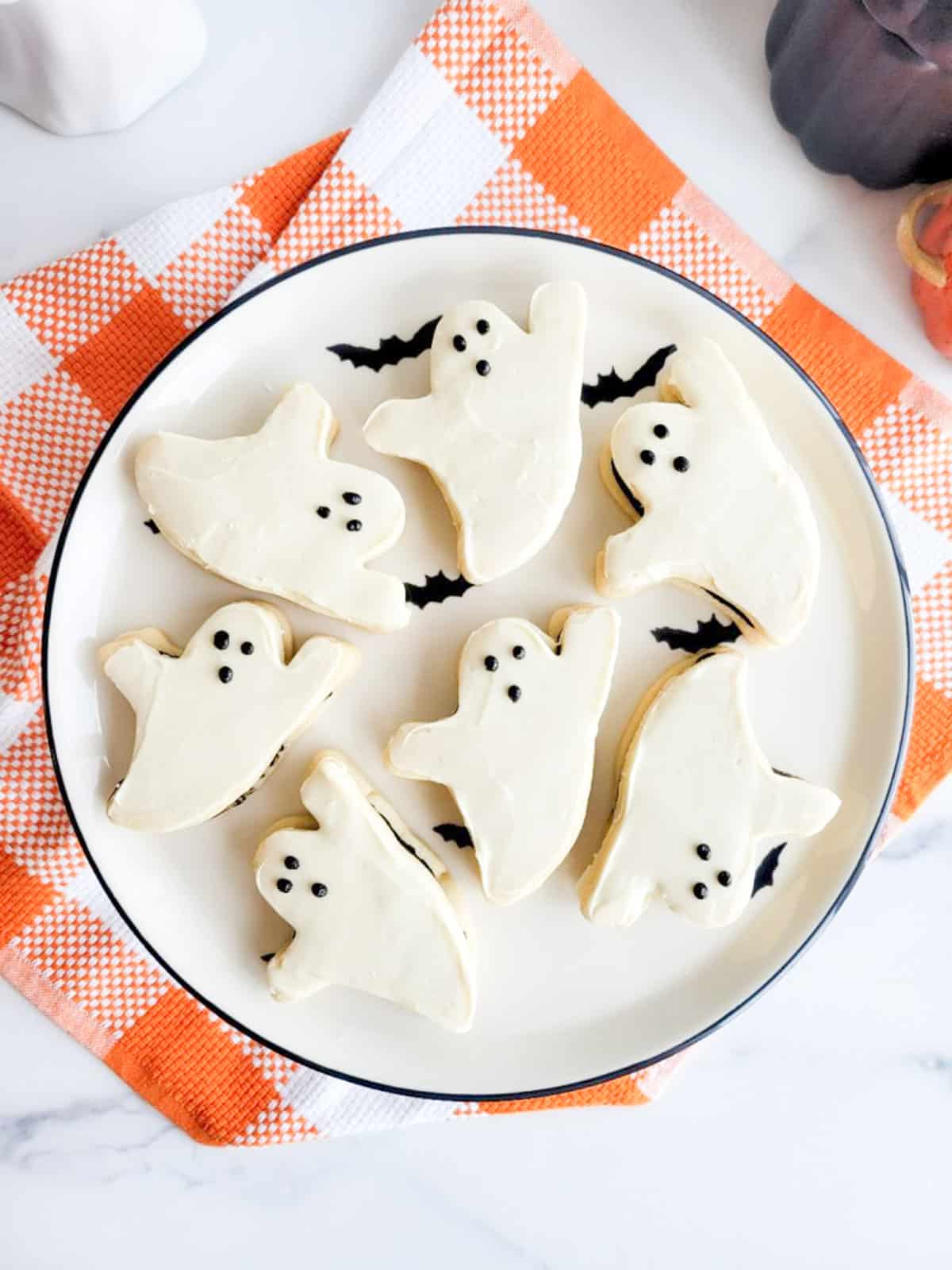 3. These little Meringue Ghosts are lighter than air with the perfect crunch and, not to forget, adorable! Perfect Halloween treats, this recipe is easy and only requires 3 ingredients.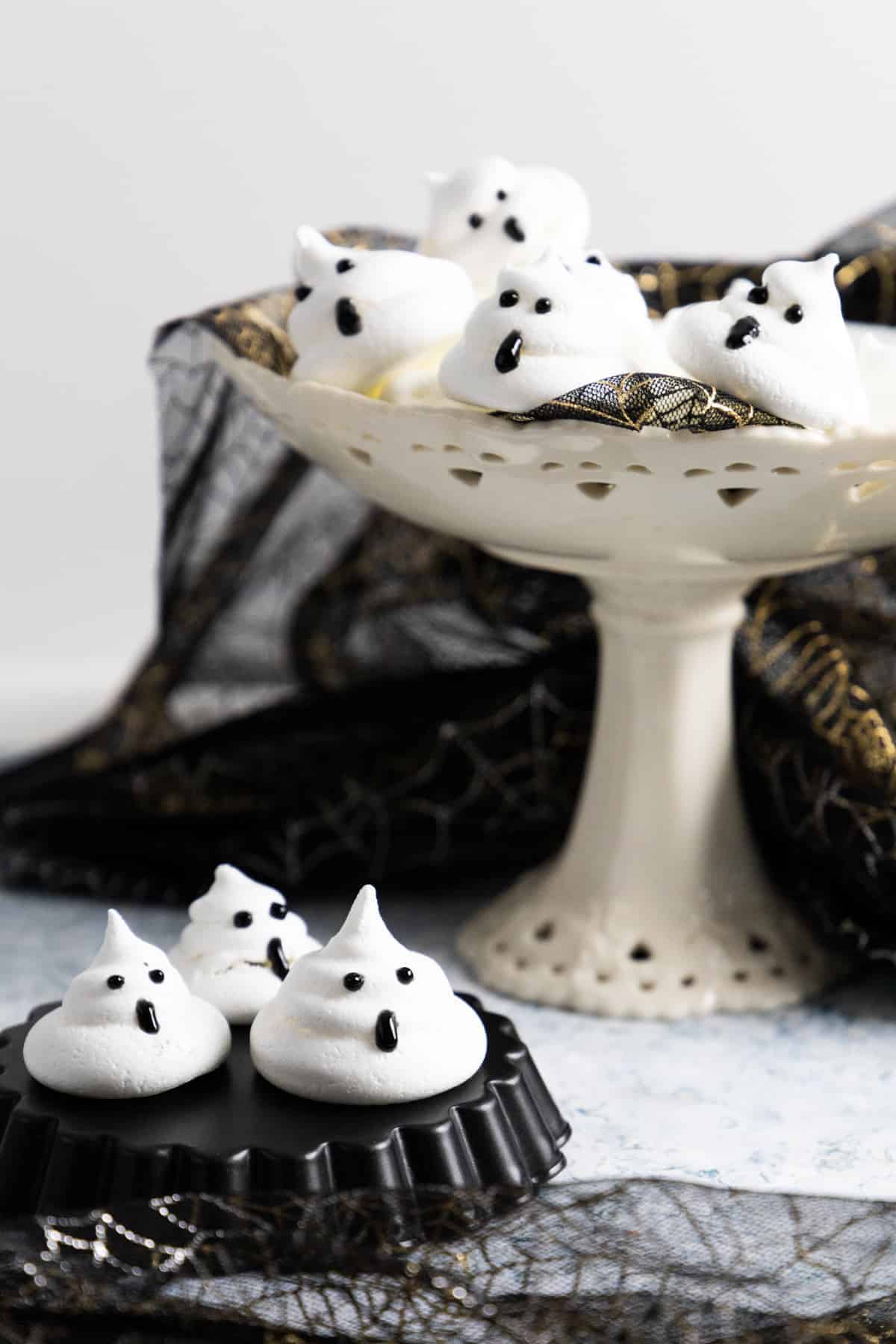 4. If you are looking for an easy Halloween treat these easy Ghost cookies! Simple ingredients and fun to make with kids!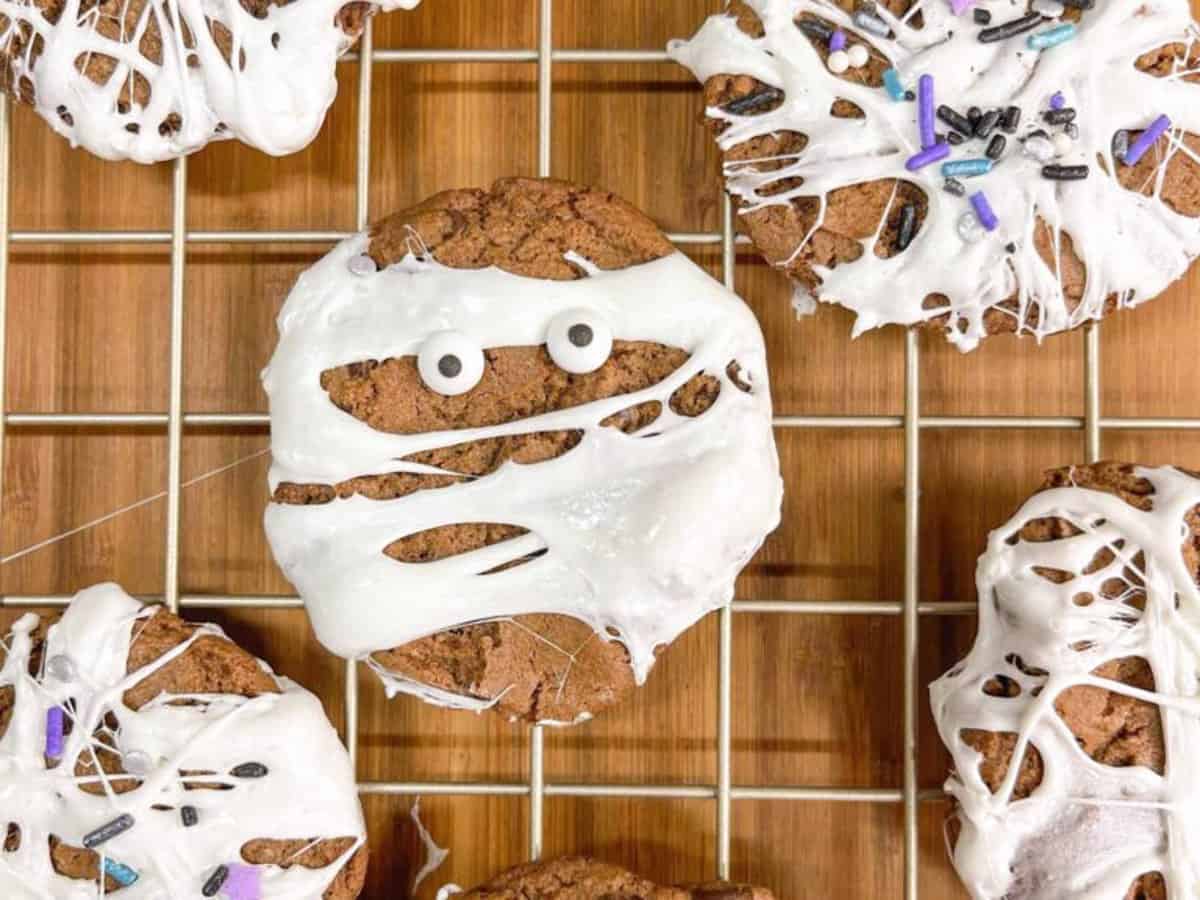 5. These Halloween Cookies for Kids are the perfect Halloween activity and treat to make with kids of all ages!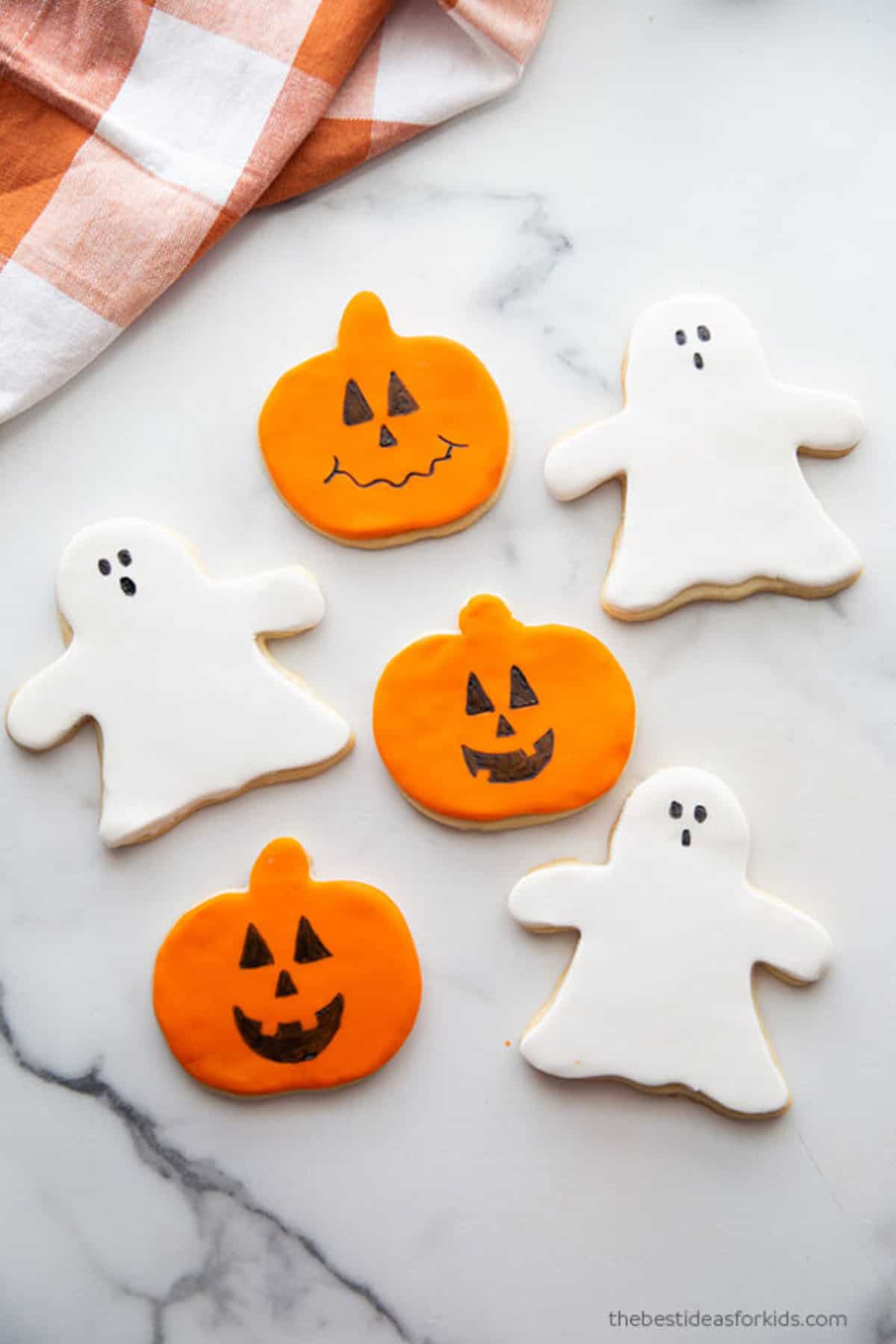 Jack-O-Lantern Cookies
1. Jack-O'-Lantern Halloween Cookies are sure to put a smile on your face! Chewy cookies layered with milk chocolate and topped with cinnamon sugar, they're the perfect tasty treats for spooky season.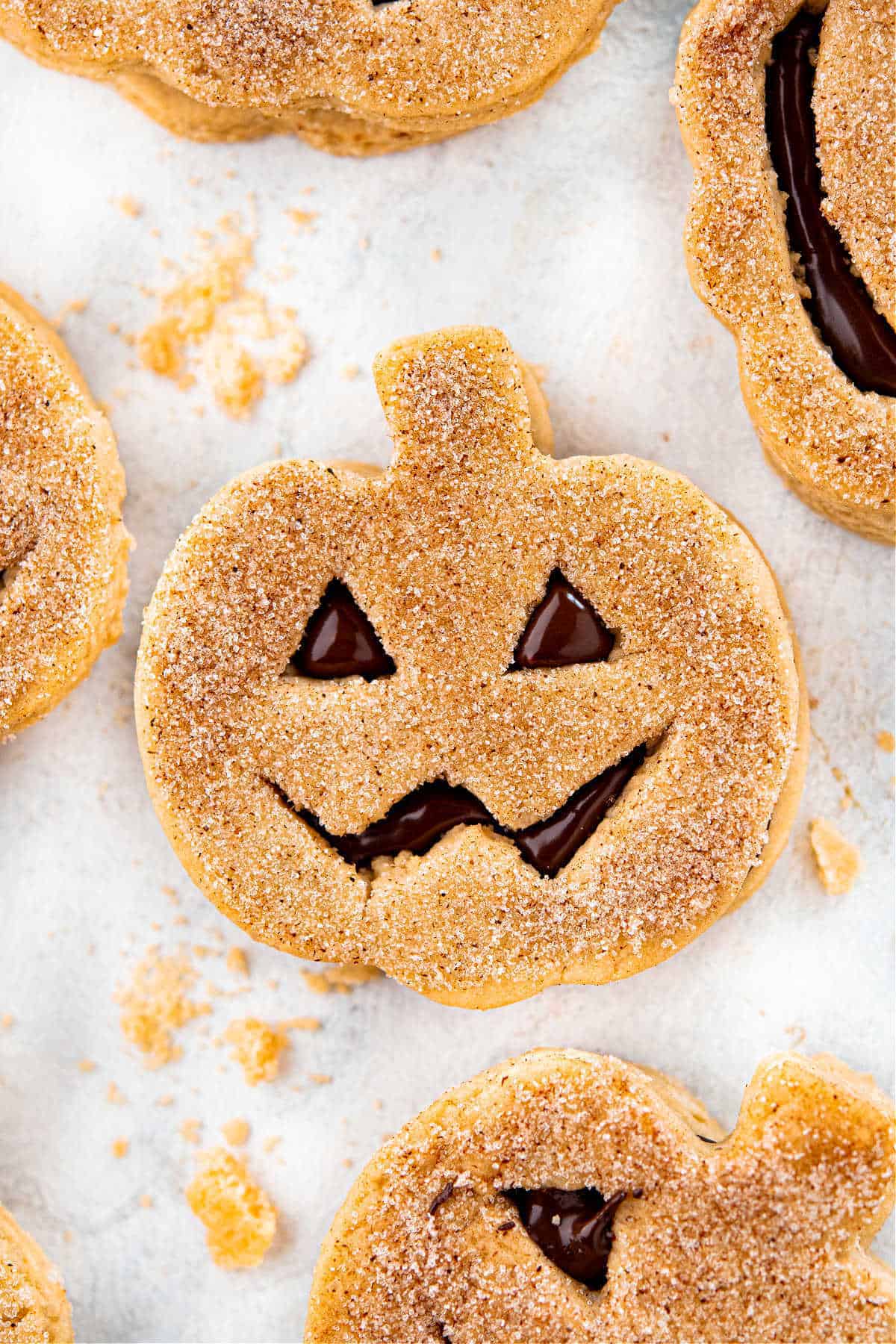 2. A terrifyingly easy to make pumpkin sugar cookie that's not too sweet, a little crunchy, and requires NO refrigeration time, filled with the best-ever spiced pumpkin butter that's made in one pot.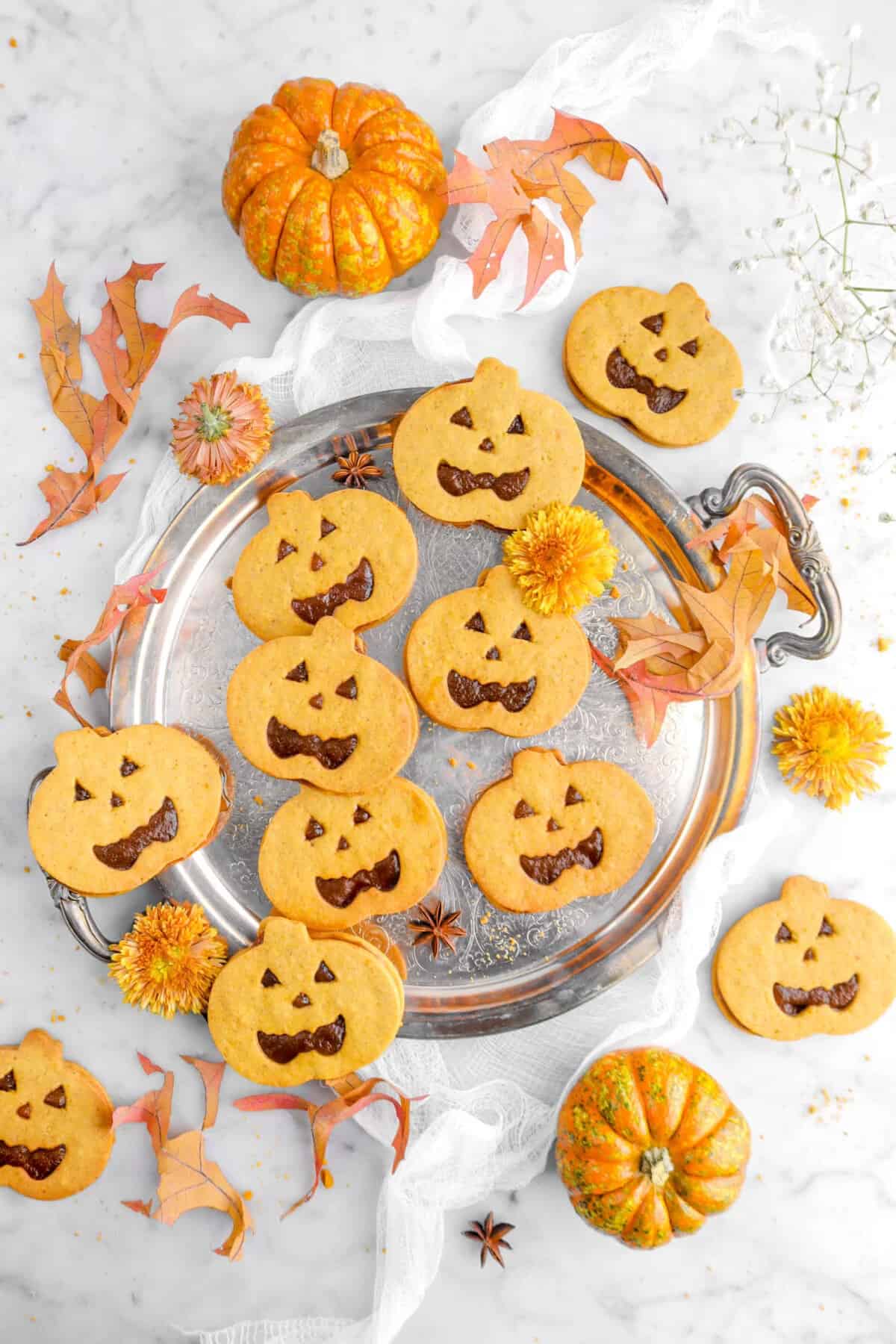 3. These Halloween pumpkin cookies are perfect for serving as a treat this spooky season. They're simple sugar cookies, iced with rolled fondant and decorated with an icing pen.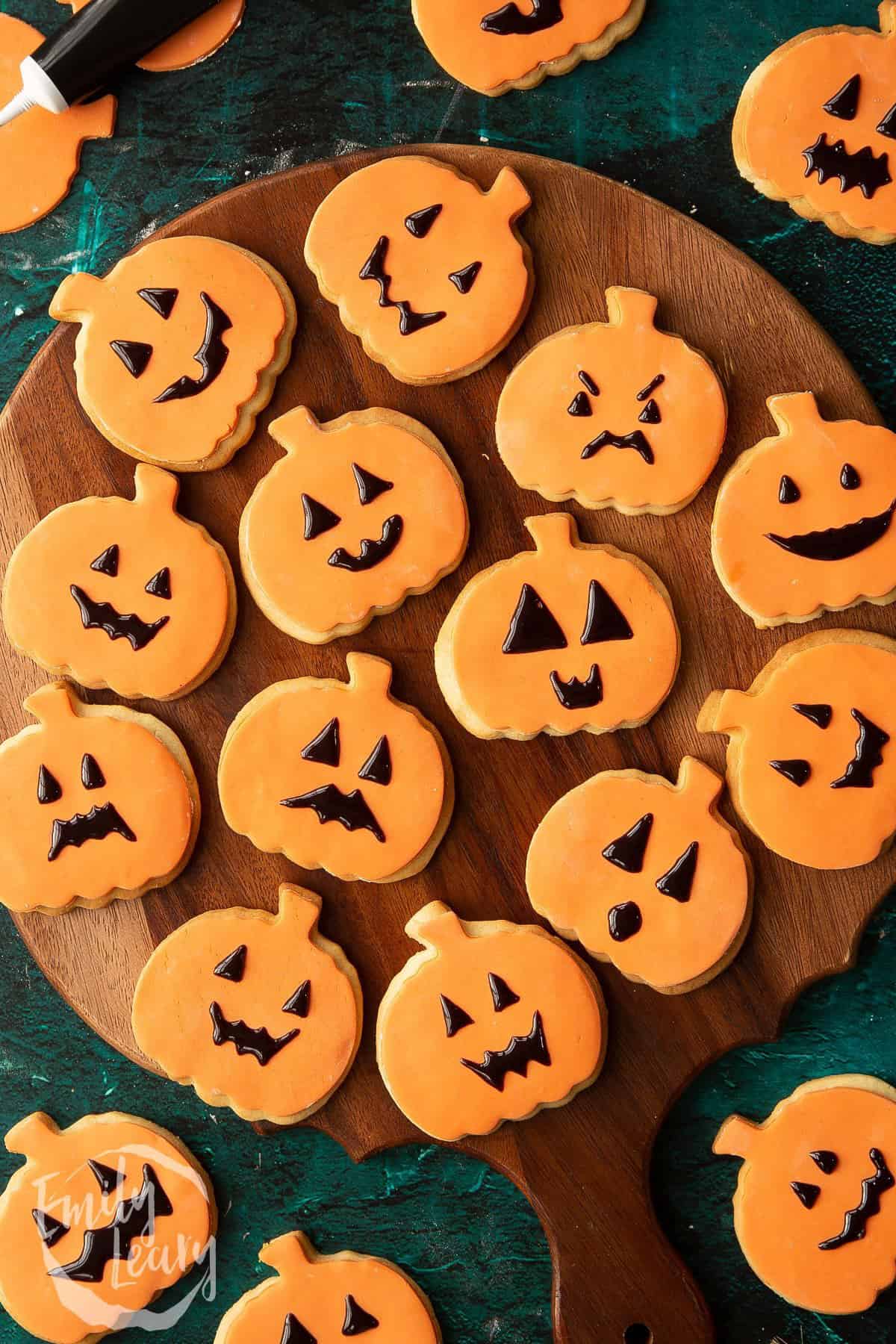 4. Using a simple candy corn cookie cutter, a foolproof sugar cookie and royal icing recipe, and step-by-step photos, this recipe is sure to have you cranking out jack-o-lantern treat bucket cookies in no time.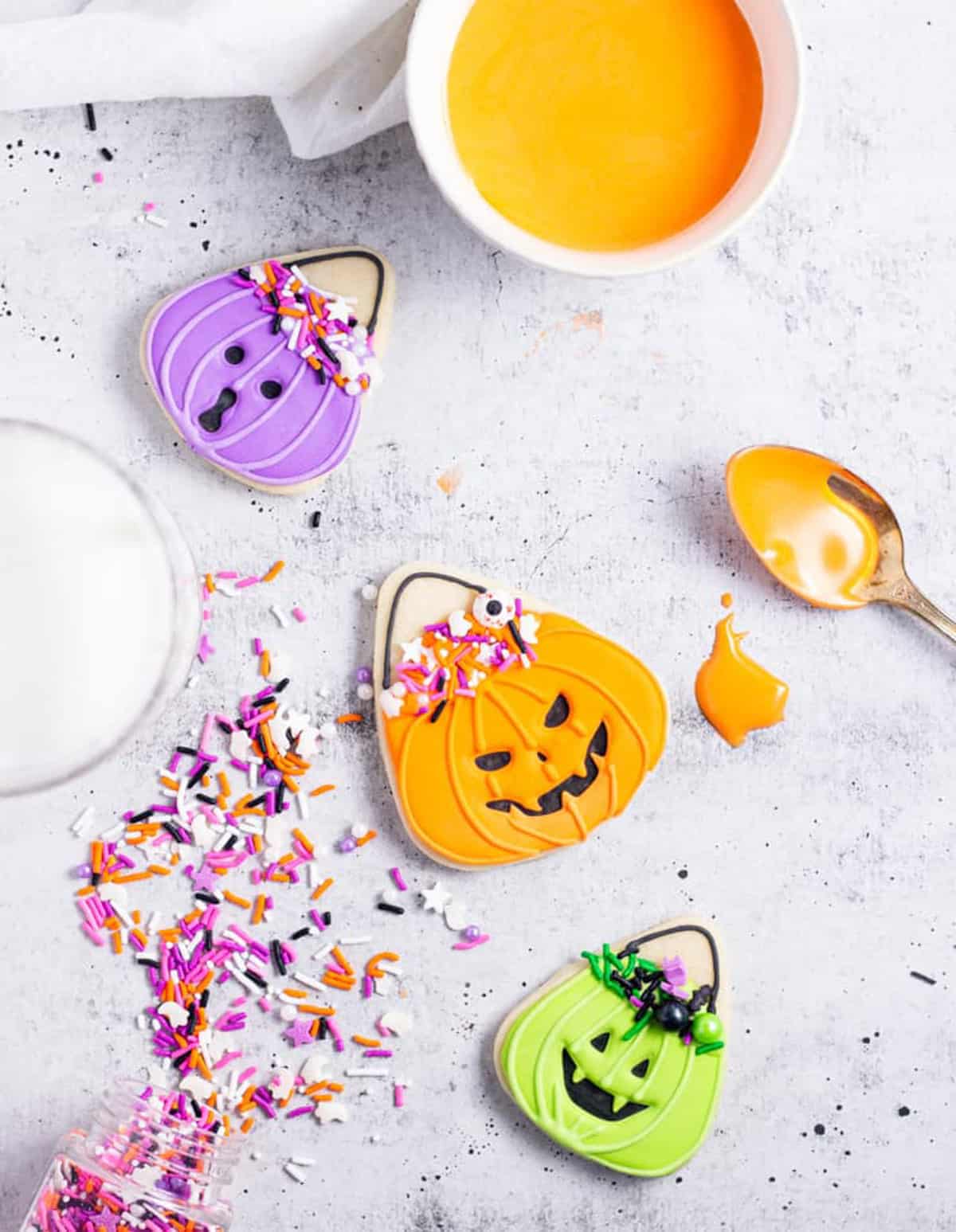 5. How cute are these tasty pumpkin biscuits sandwich cookies! Easy to make and extra tasty!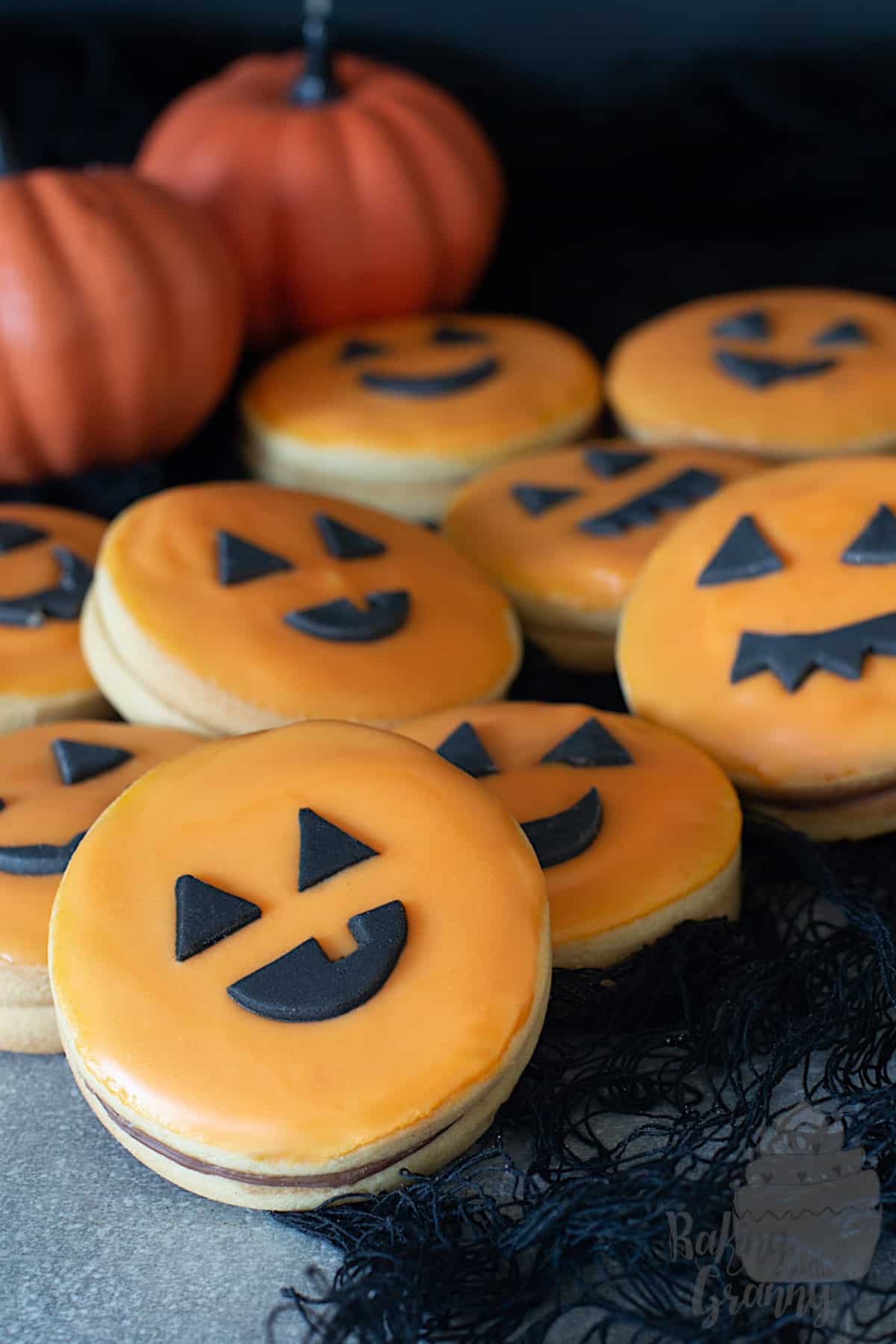 6. These Pumpkin Spice Macarons are almond flour-based meringue cookies with a pumpkin spiced creamy filling, and Jack-o-lantern faces, making them the perfect Halloween macarons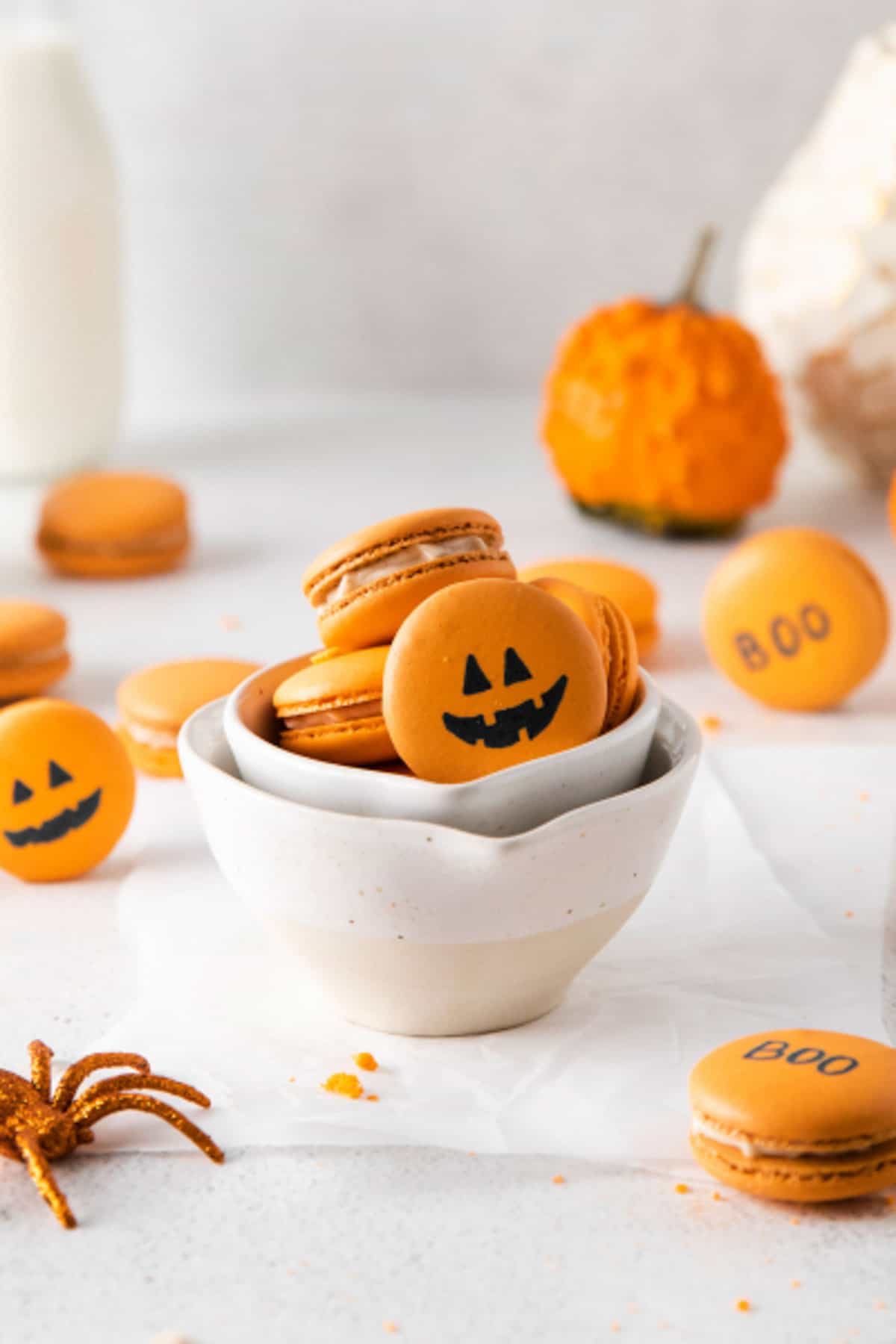 Mummy Cookies
1. Mummy Nutter Butter cookies sweet, chocolaty and are an adorable Halloween treat. Perfect for parties, this easy no bake treat looks adorable on party trays!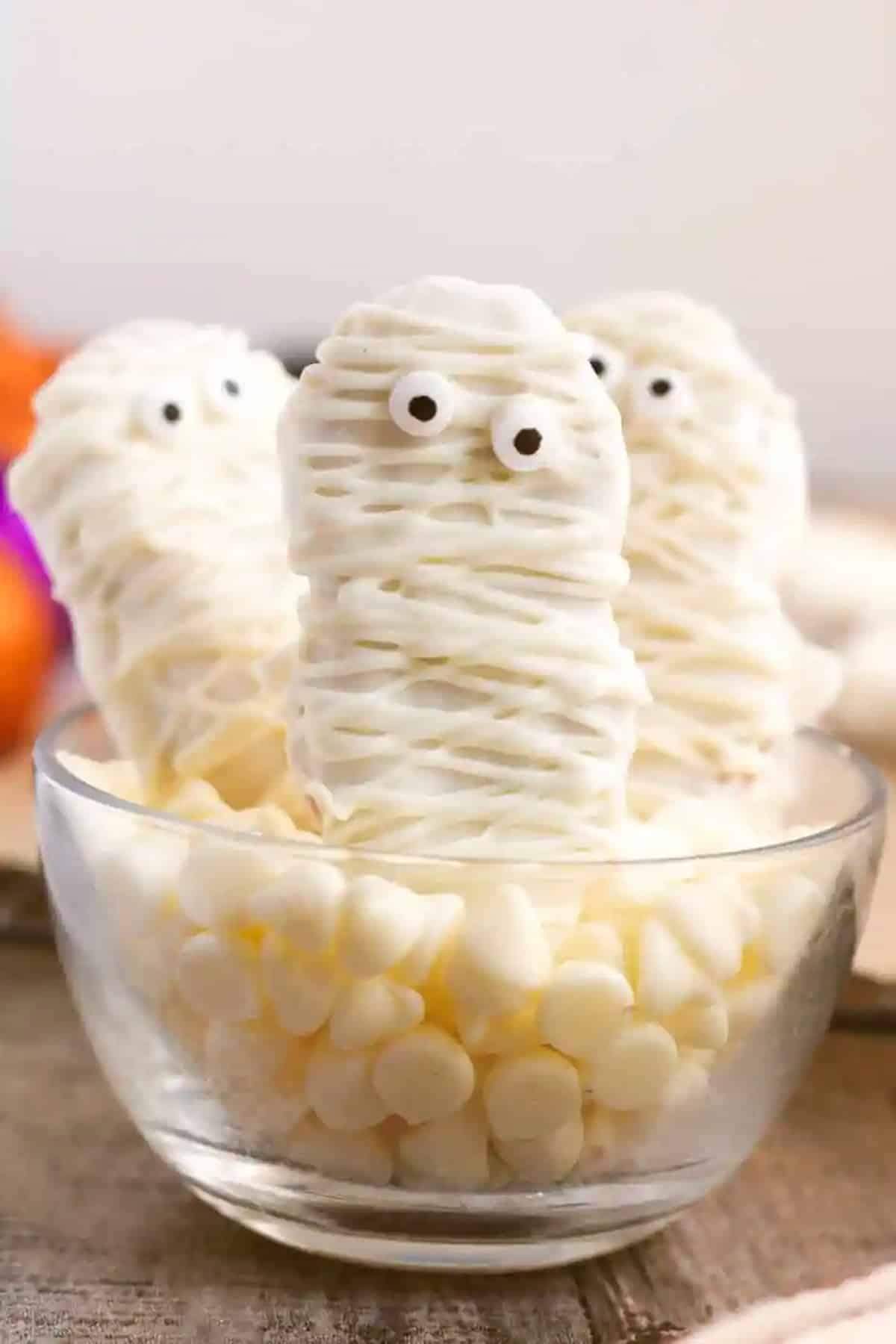 2. These spooky Mummy Halloween Buckeyes turn the traditional chocolate-covered peanut butter calls into a fun and festive treat by turning them into candy mummies.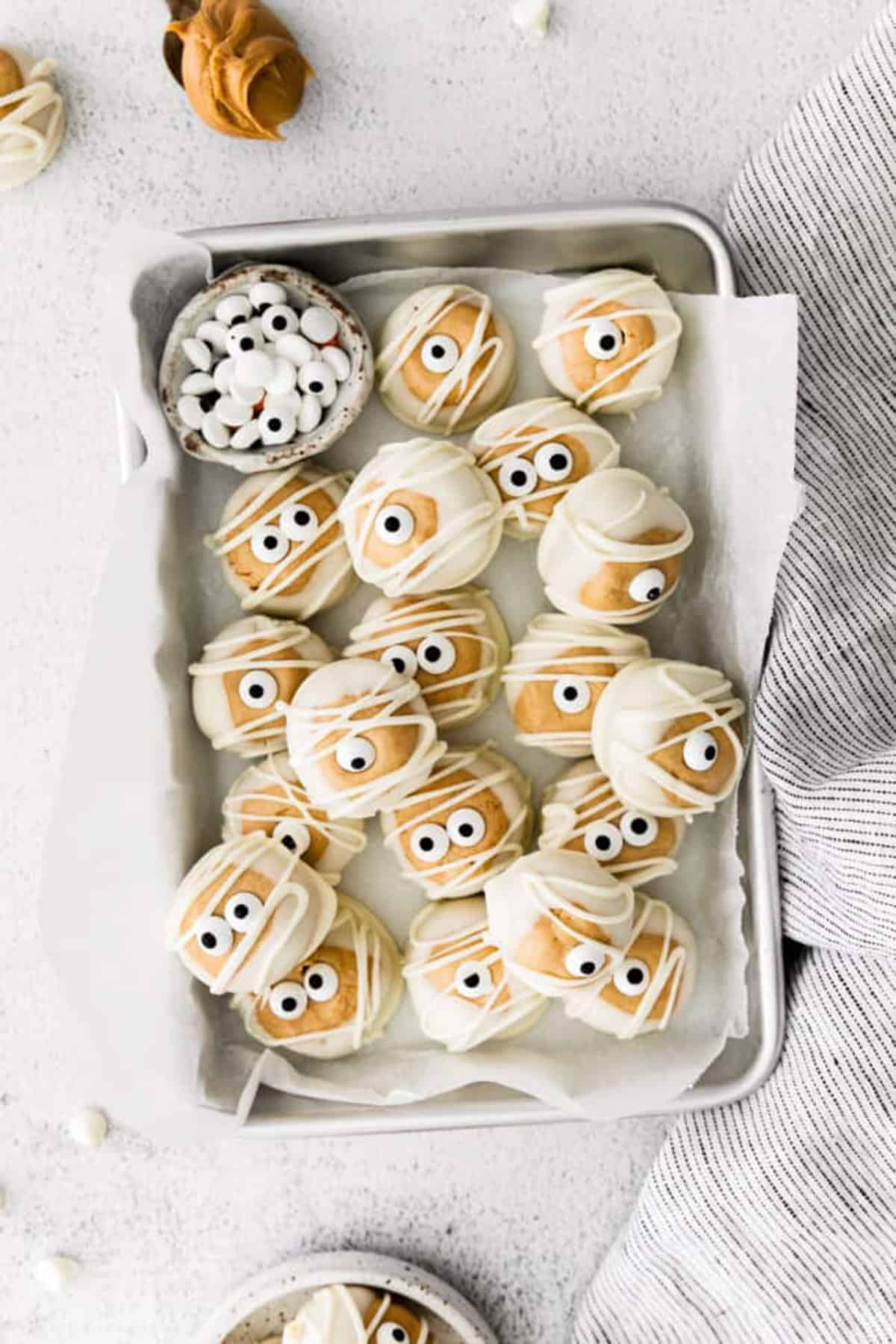 3. Quick, easy, and a touch spooky, these mummy cookies come together with only 4 ingredients to make a cute Halloween party dessert.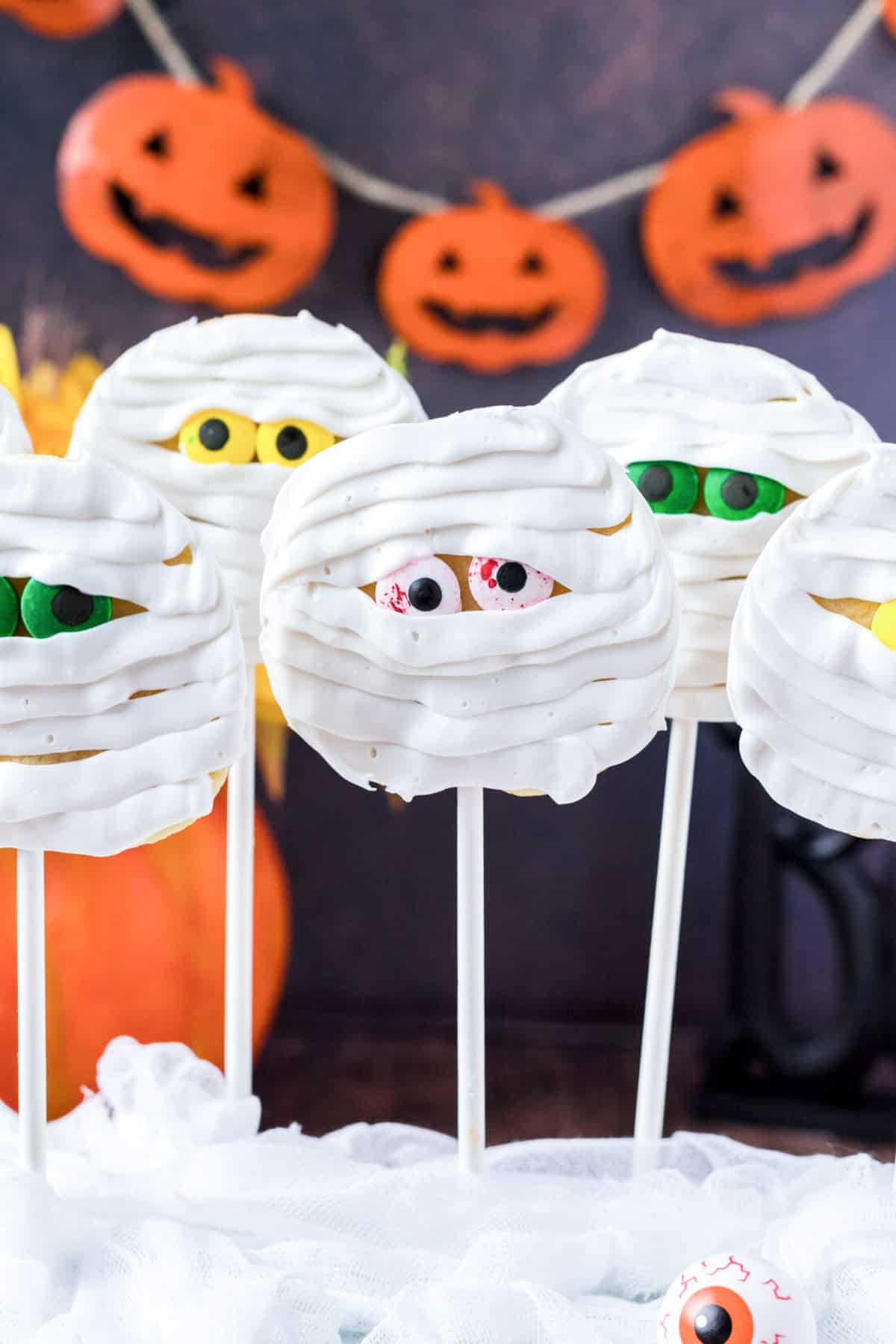 4. Maple Cinnamon Mummy Cookies are a festive and fun treat for Halloween. These sweet sugar cookies are made with maple syrup, cinnamon and a deliciously creamy frosting.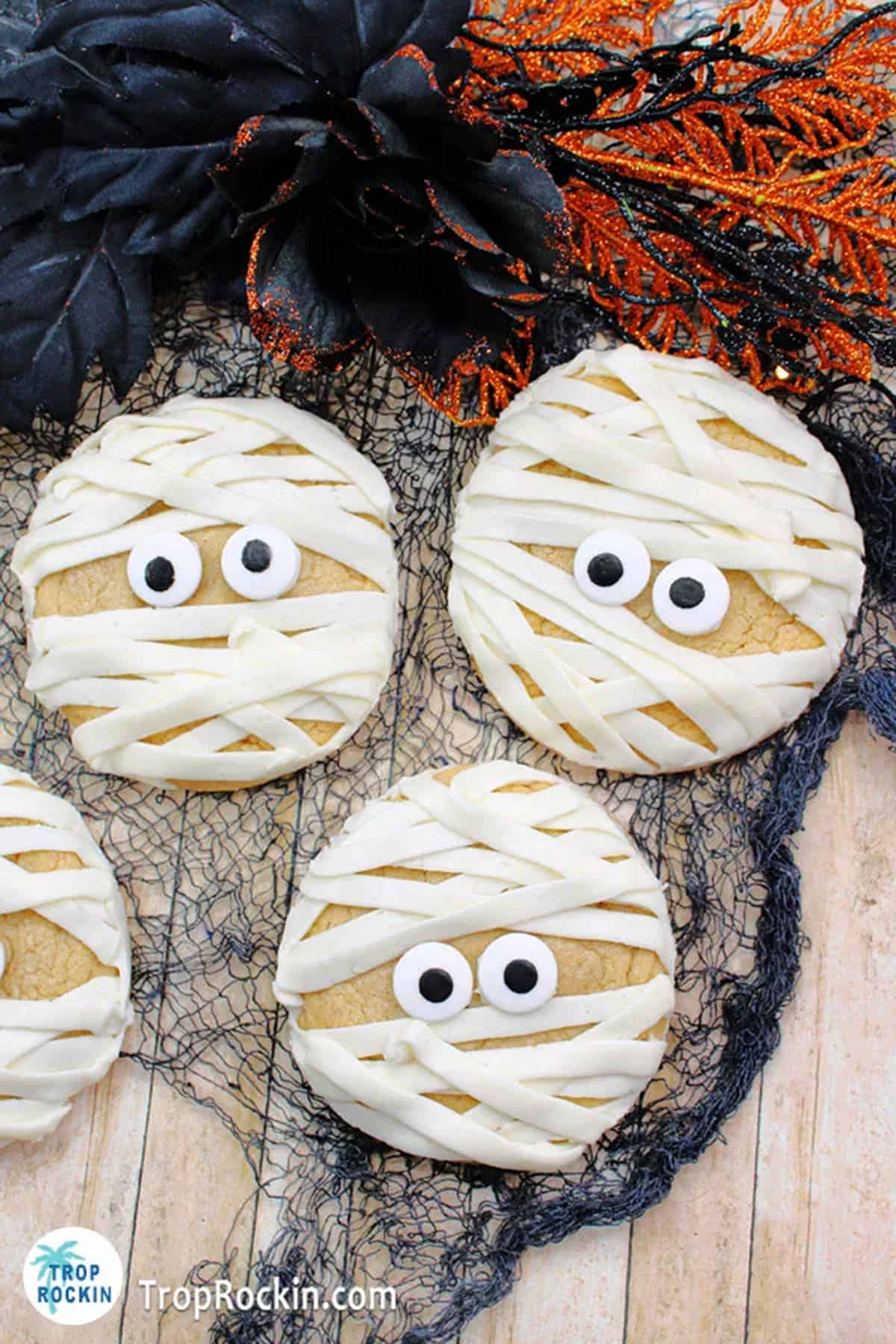 5. These fun mummy Oreo balls are the perfect spooky dessert for Halloween. They only have four ingredients and are easy to make in advance for an upcoming spooky party.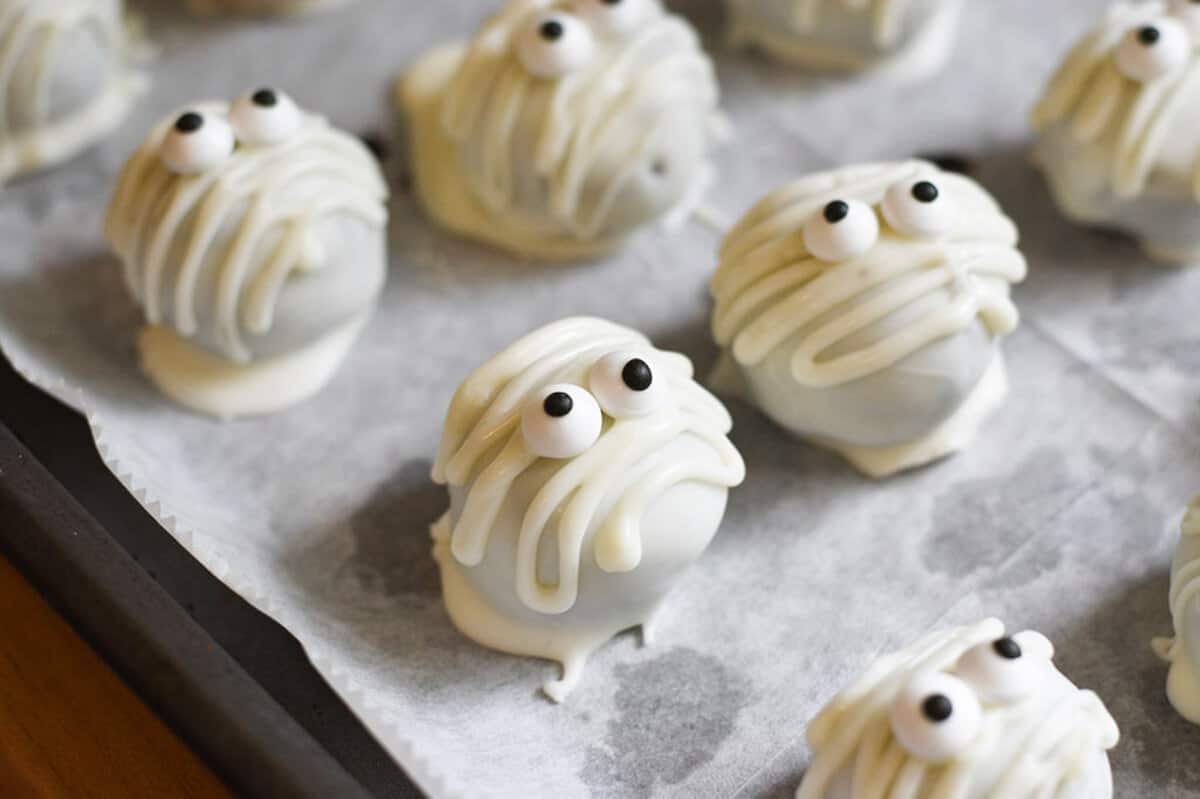 6. These easy and fun Mummy Halloween Cookies are a delicious Halloween treat recipe! Whether for a party or just a surprise for the holiday, you'll love how simple they are to make!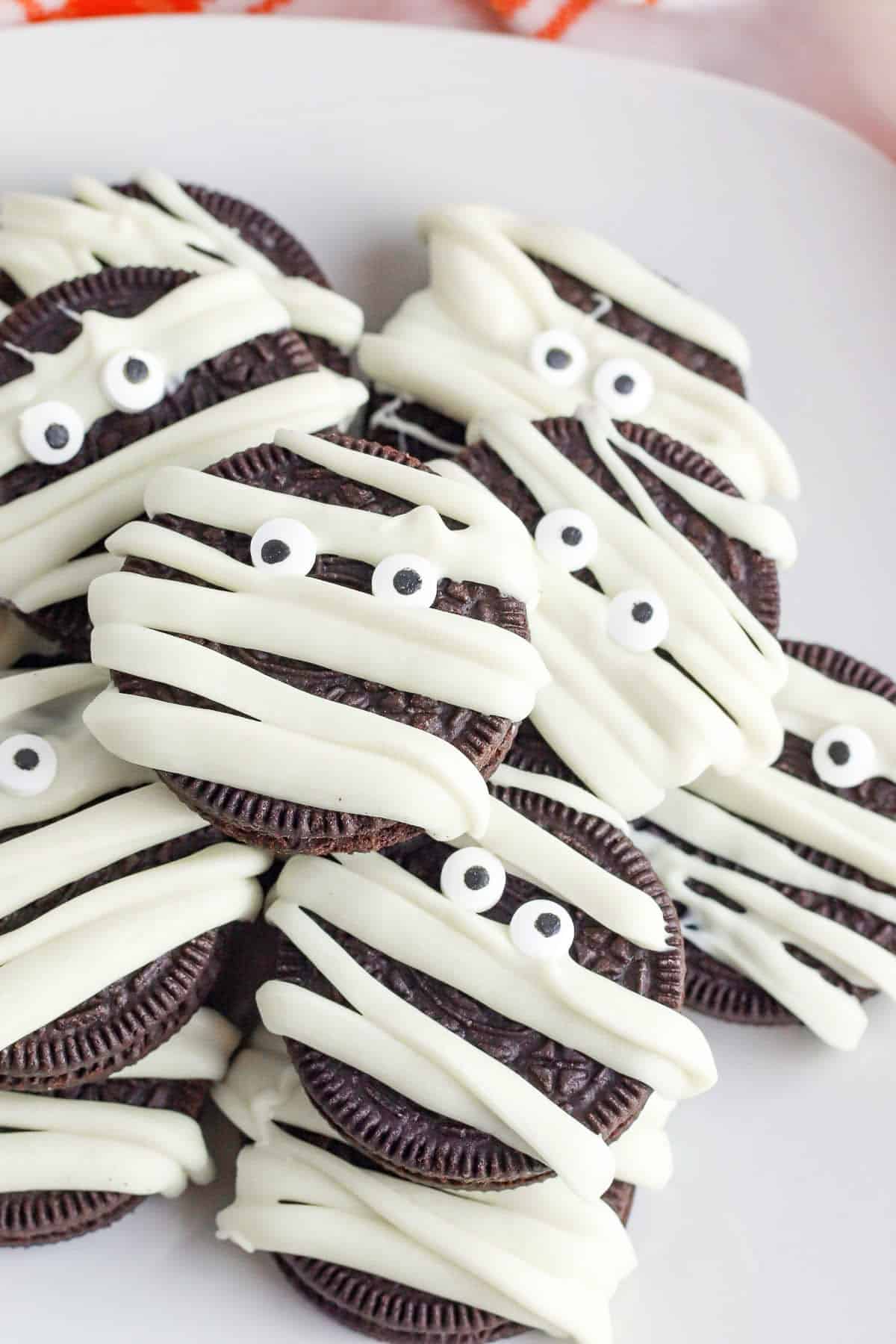 7. Mummy sugar cookies are soft homemade vanilla sugar cookies topped with royal icing and candy eyes. These easy Halloween cookies make a festive Halloween treat or dessert.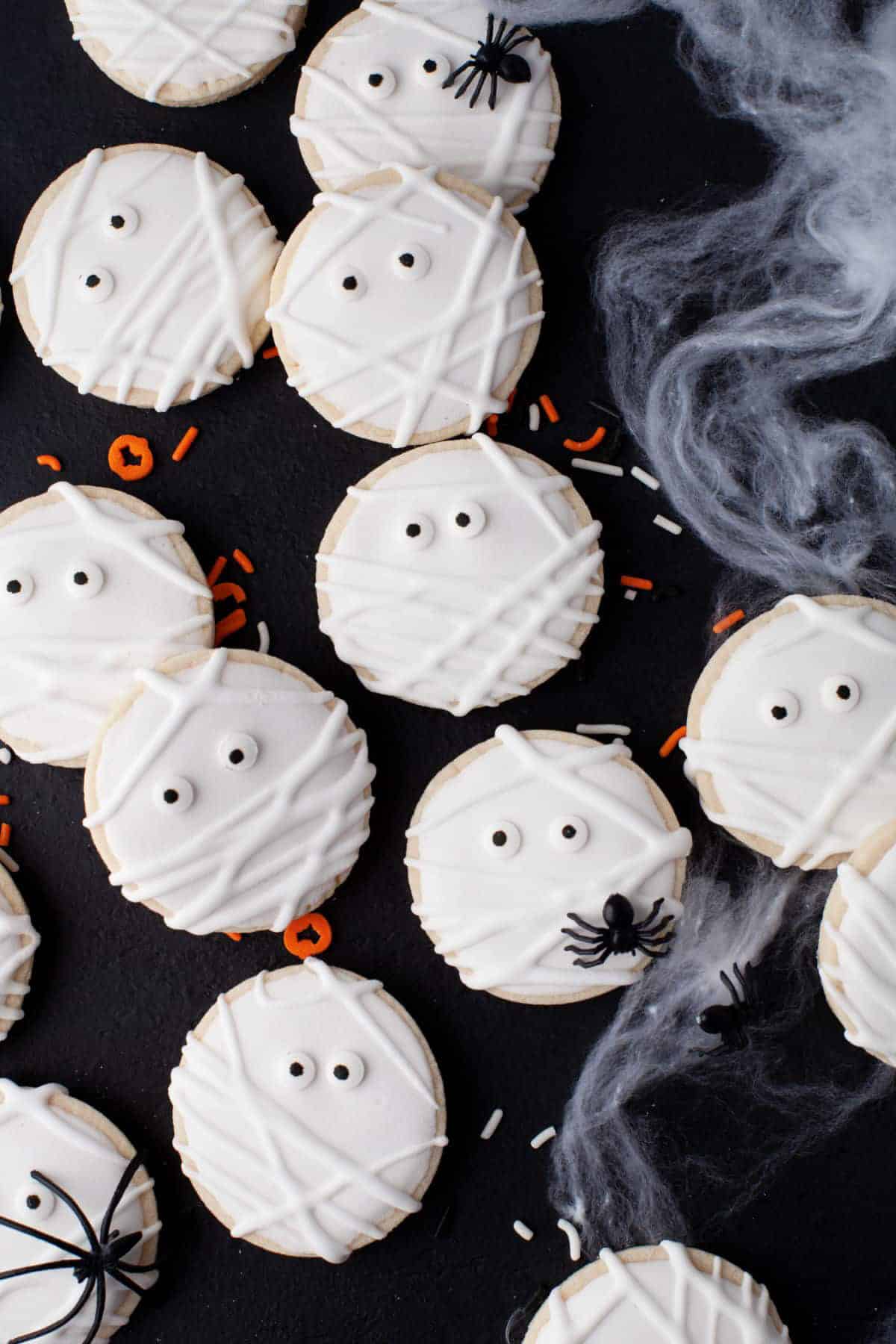 8. These adorable Mummy Cookies are a spooktacular Halloween treat! Great for Halloween parties, lunch boxes, dessert or an afternoon treat, your entire family will enjoy these tasty cookies!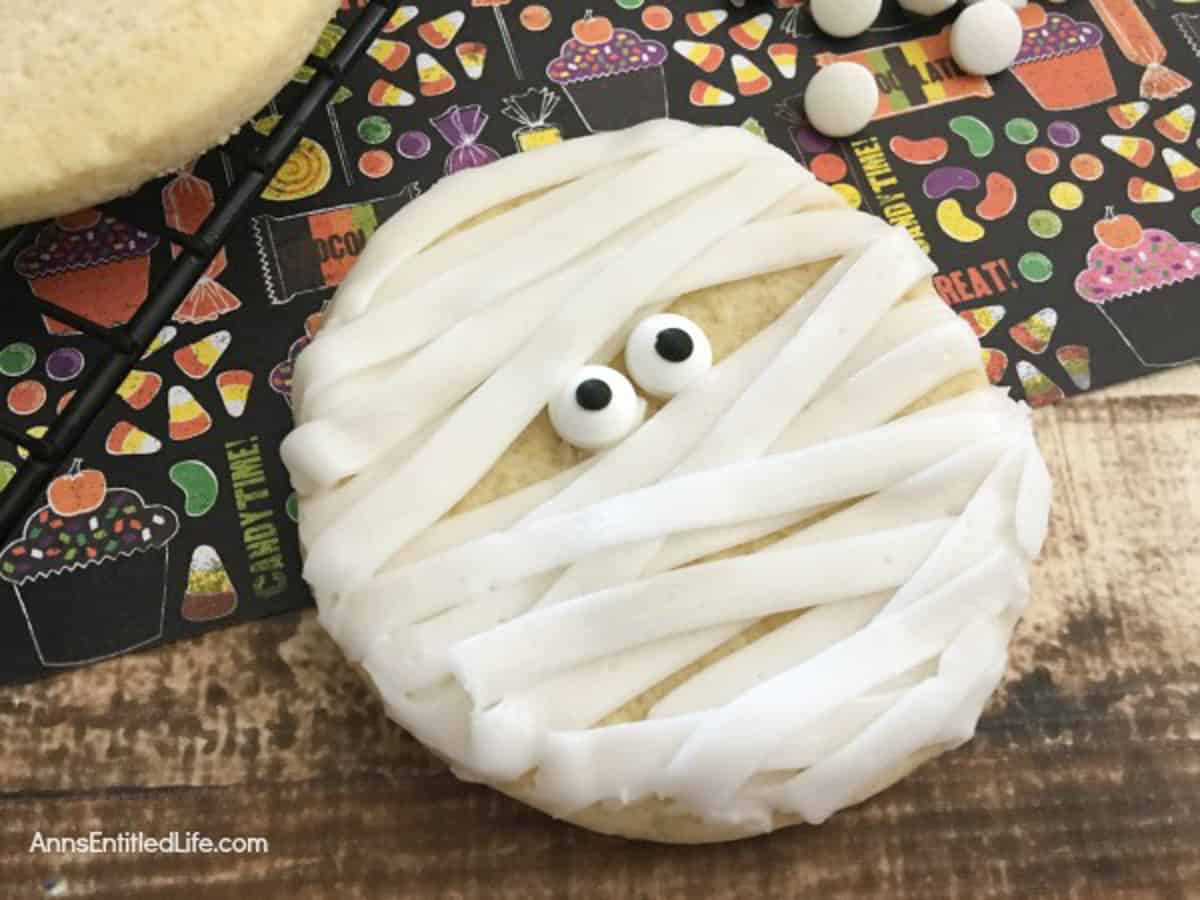 9. Have no Fear. These No-Bake Mummy Haystack Cookies are made with Chinese noodles, butterscotch, white chocolate, and optional peanut butter. Perfect Halloween treat.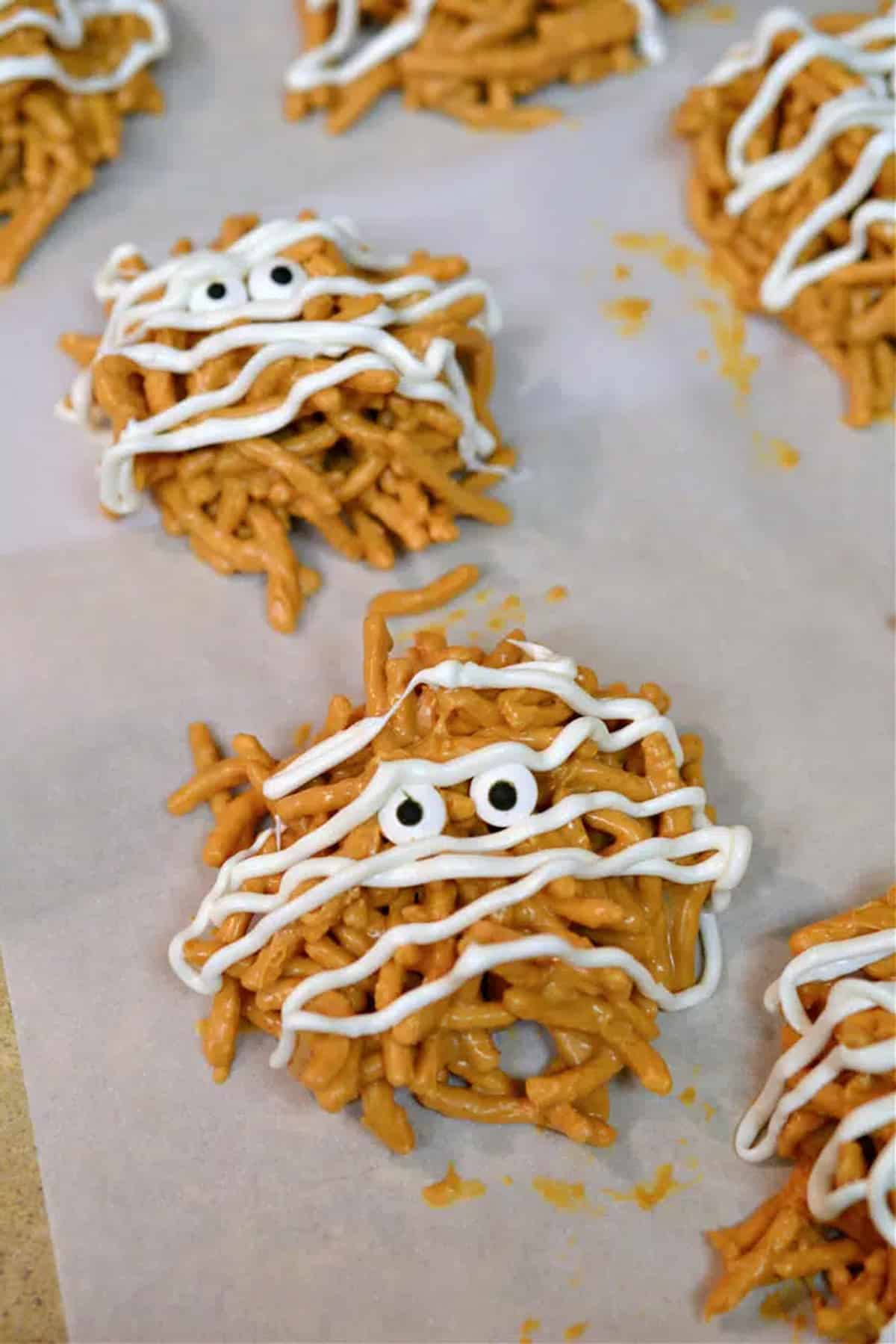 Skeleton Cookies
1. Skeleton Cookies- Use a gingerbread man cookie cutter to cut ghoulish shapes from chocolate cookie dough then decorate with royal icing and candy eyes to make these fun cookies!
2. These Skeleton Halloween cookies are sure to be a hit this year as you transform chocolate sugar cookies into Halloween masterpieces that everyone will love!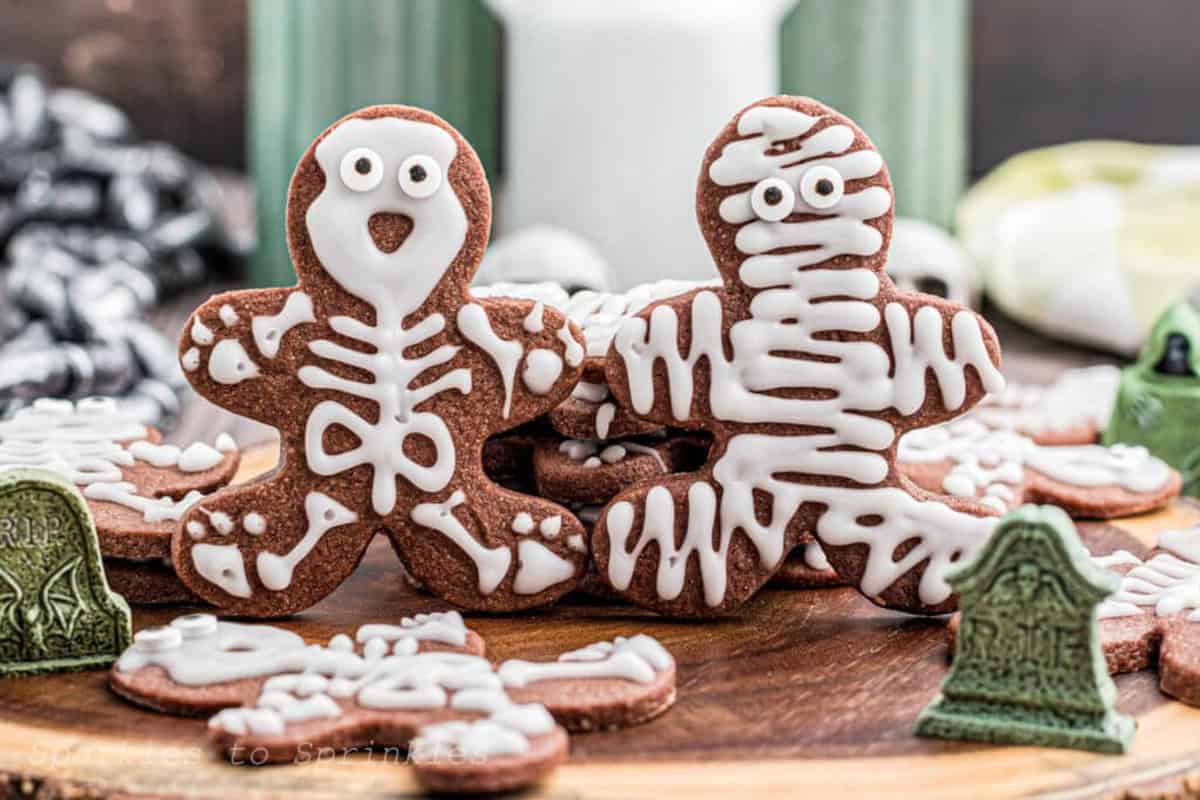 3. Cute Skull Cookies - Halloween Linzer cookies cut into skull shapes, baked, filled with raspberry jam!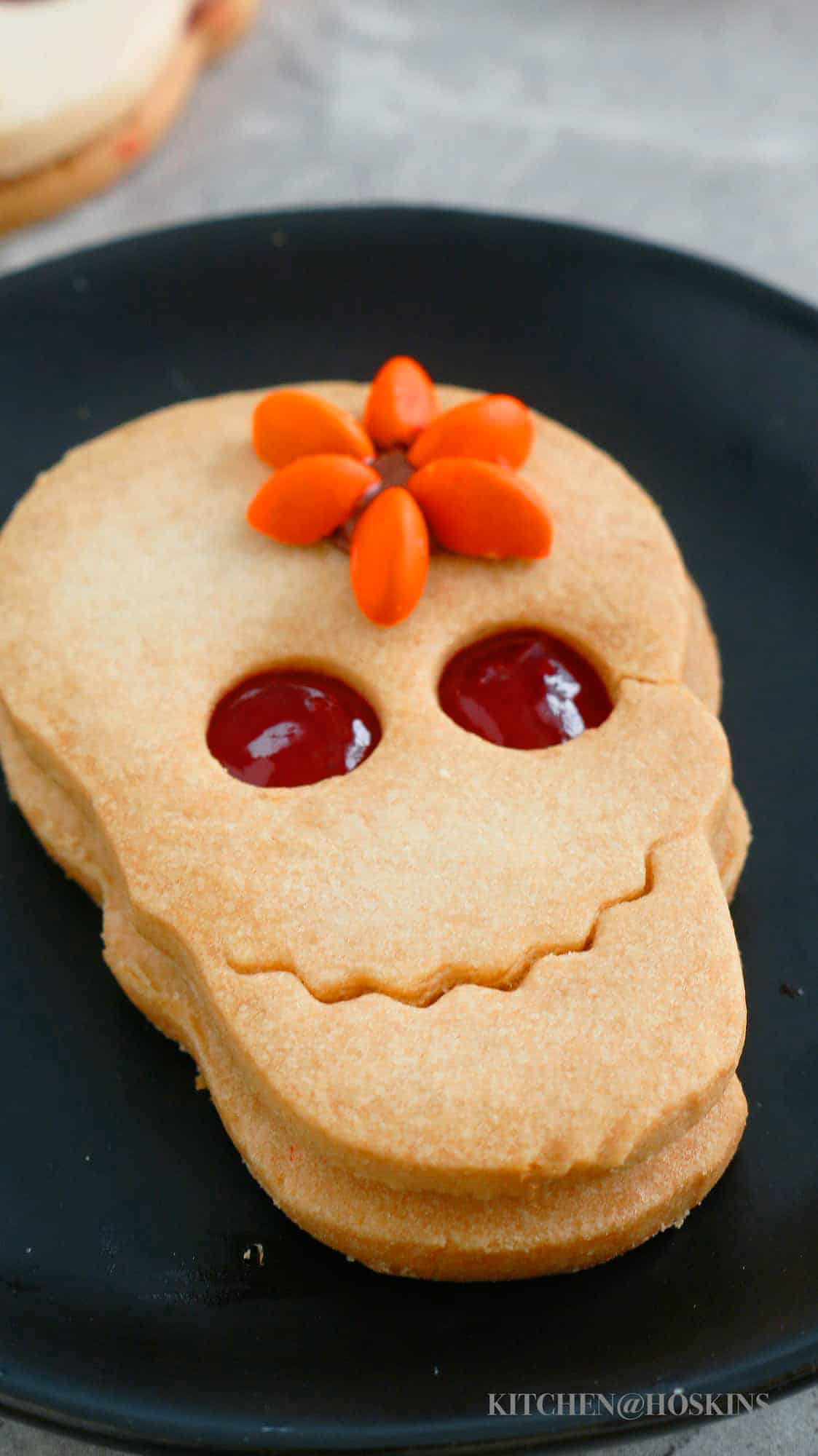 4. Sweet and delicious Jack Skellington Halloween Sugar Cookies are easy to make and even easier to eat! Everyone will devour these tasty cutouts decorated with simple black and white spooky designs.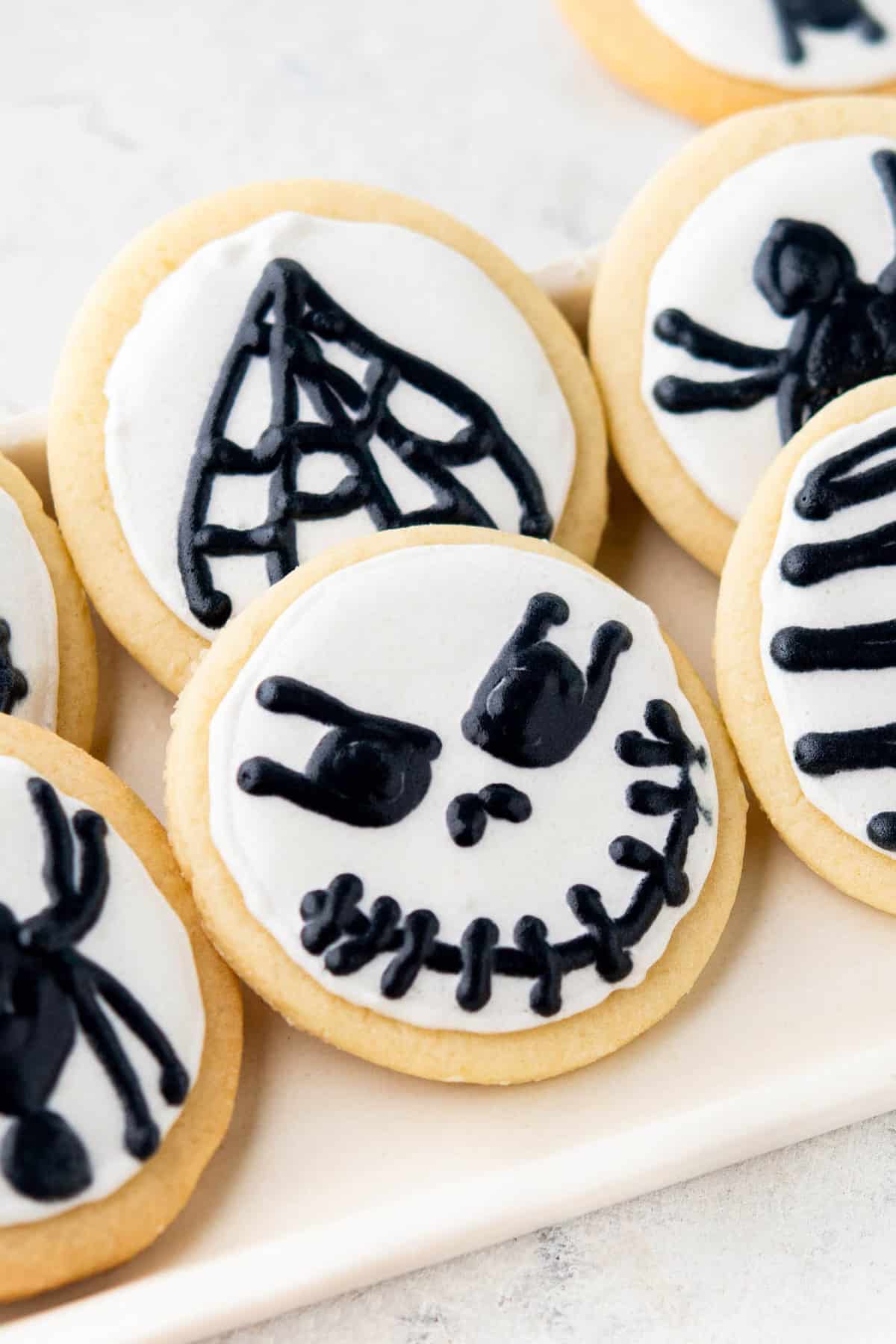 5. Halloween Bone Cookies Recipe is made without cookie cutters! It is fun, easy, unique to make from scratch at home!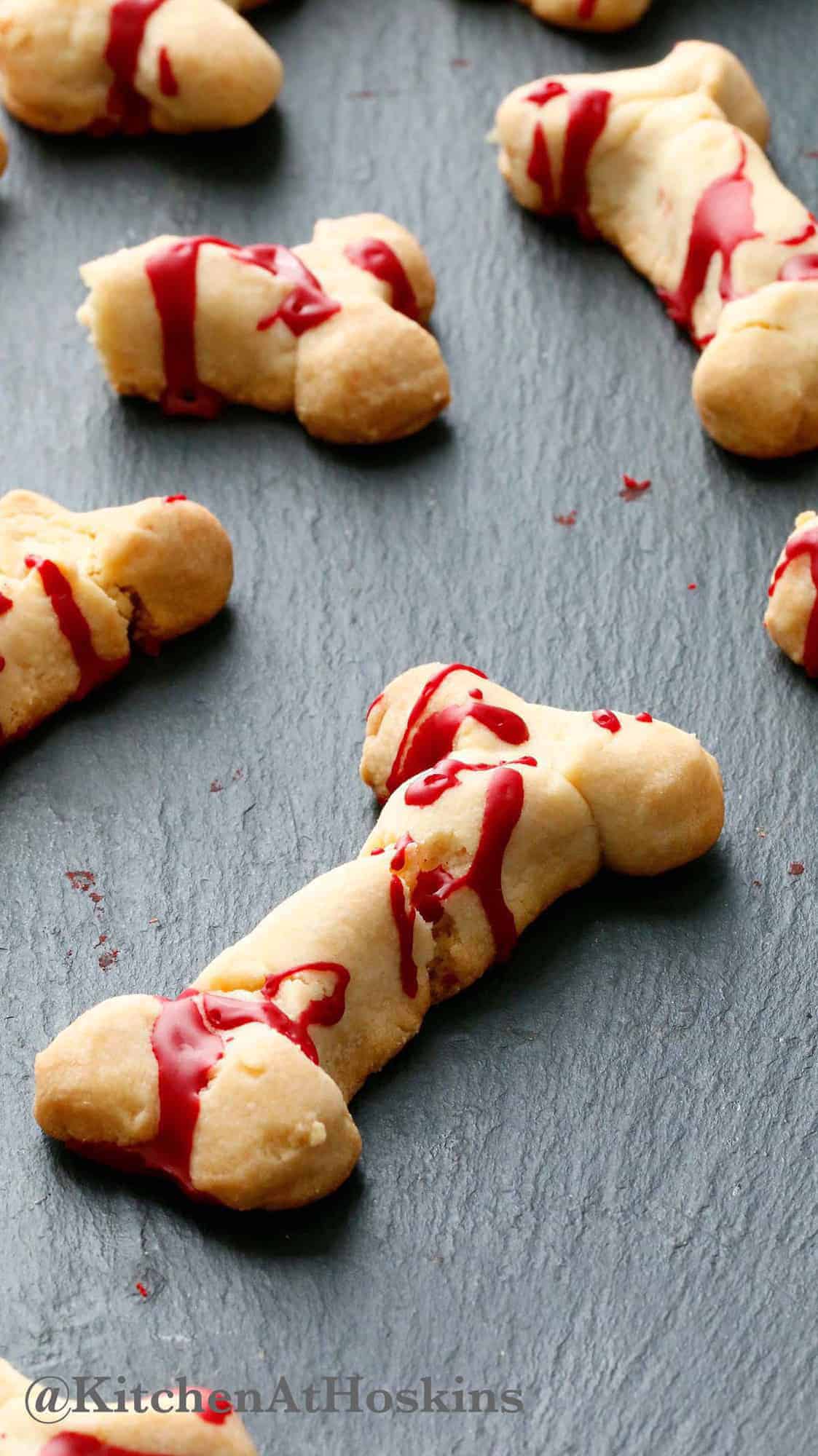 Eyeball Cookies
1. These Halloween Monster Eye Ball Cookies are an easy Halloween treat to make with only 3 ingredients and a few minutes. They are fun for the kiddoes to make unsupervised.
2. These easy Halloween Chocolate Chip Cookies have 10 minute prep time and use sprinkles and candy eyes for a deliciously fun and simple Halloween treat.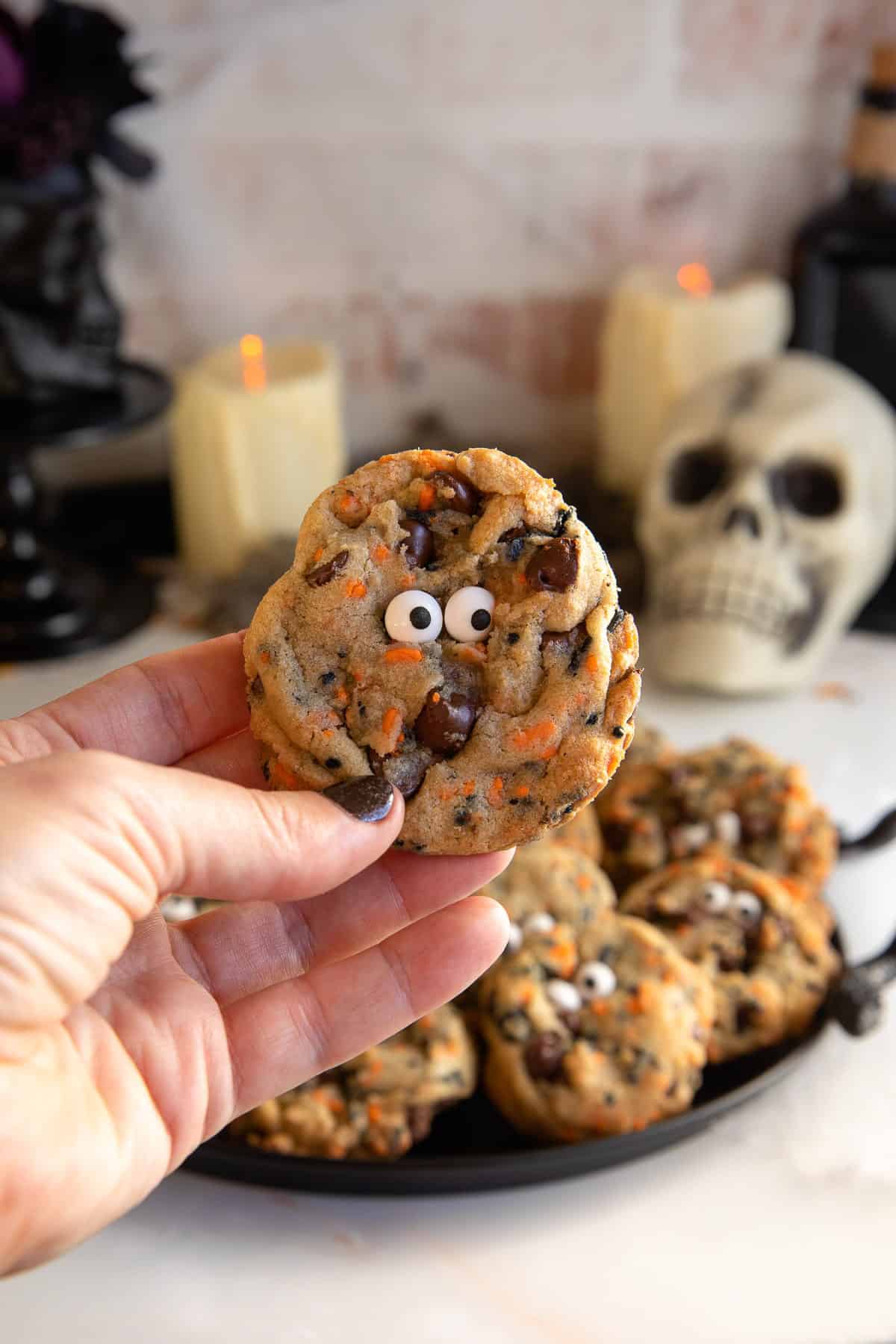 3. These Monster Eyeball Cookies are perfect for Halloween. So easy and fun to make and eat, they make a great snack or dessert recipe.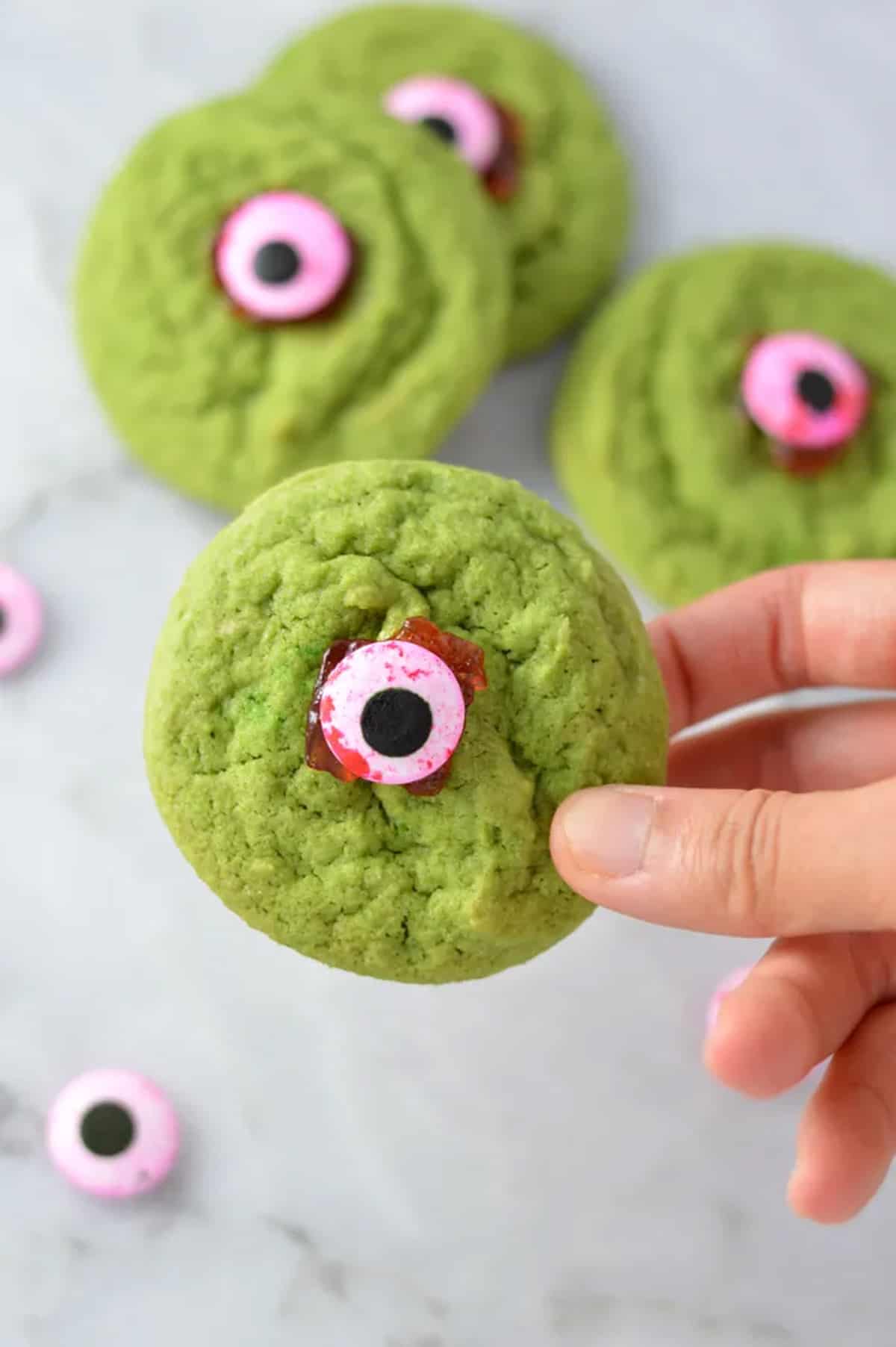 4. These terrific tasting crinkle cookies are easy to make and are perfect for Halloween parties, Monster parties, or an after school snack!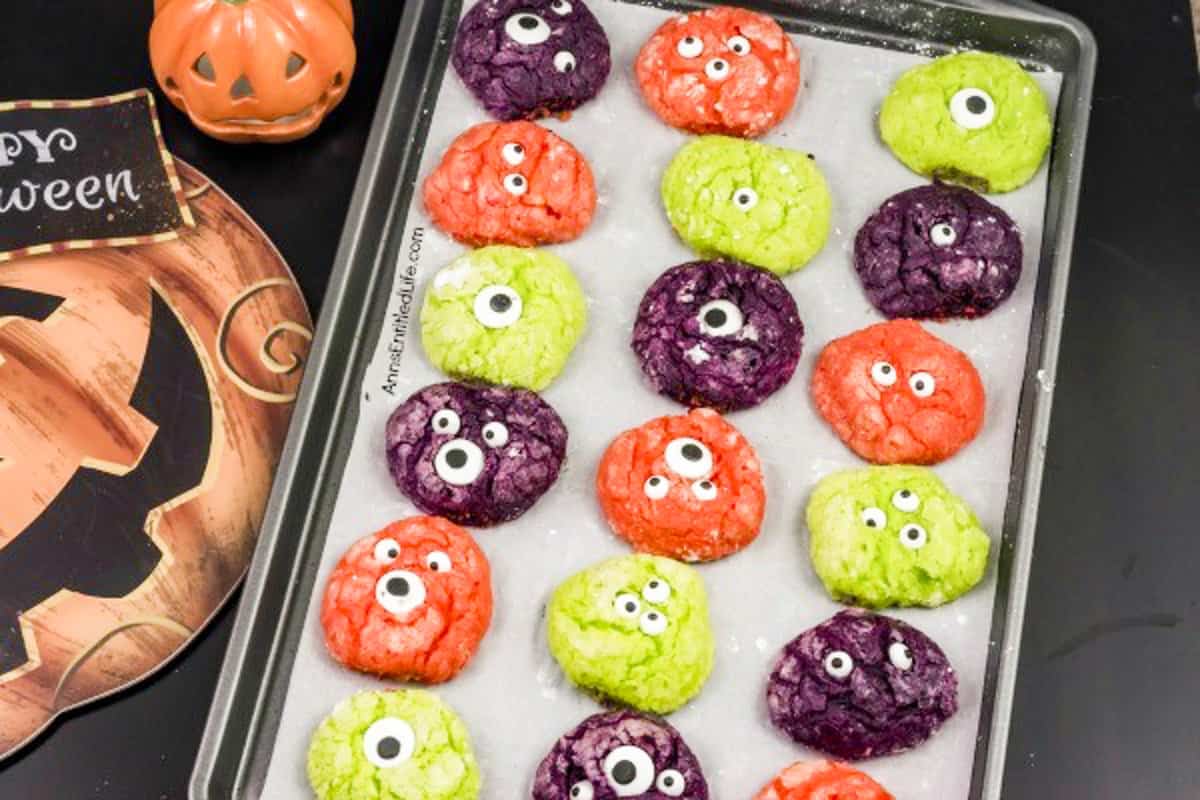 5. These gooey Oreo eyeballs feature the classic sandwich cookie, colorful candy pieces, and red icing gel. They're scarily sweet and the perfect spooky Halloween dessert for any party!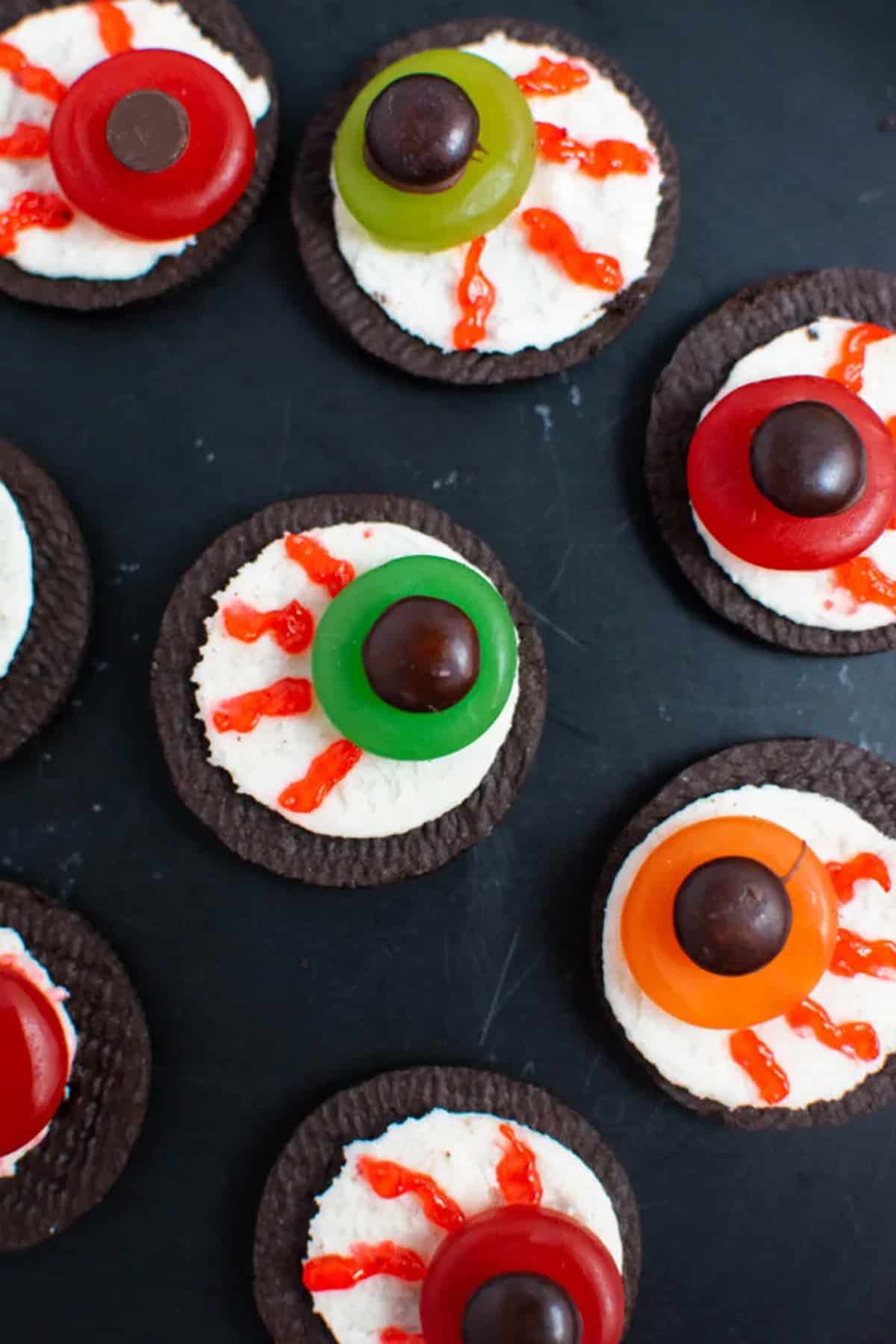 6. Ghoulish Cookies-Made with black cocoa, they taste a lot like OREOS and are decorated with Ghoul's Mix m&m's and candy eyeballs.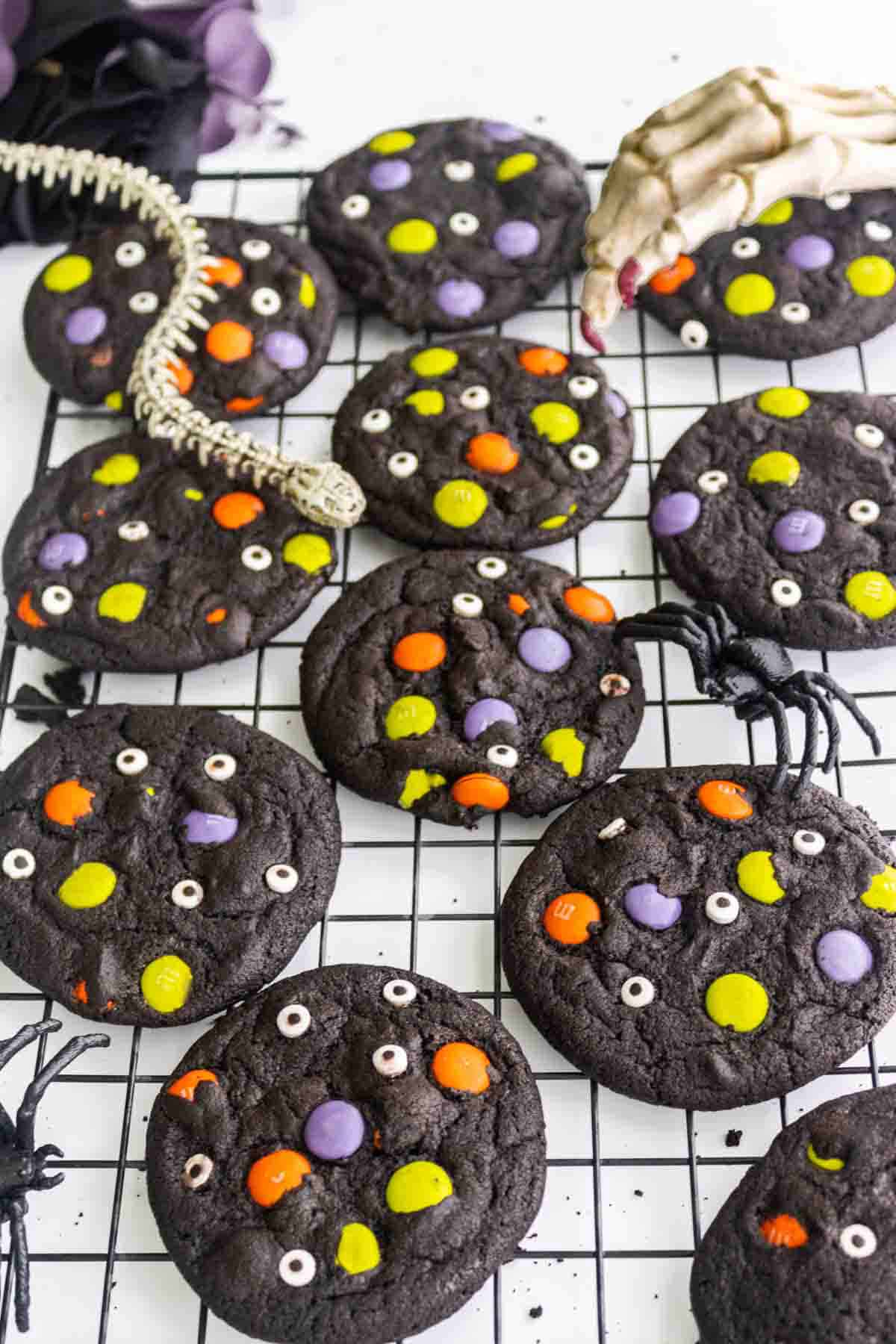 Witchy Cookies
1. Witches' Fingers, a super easy and fun Halloween treat for your next party!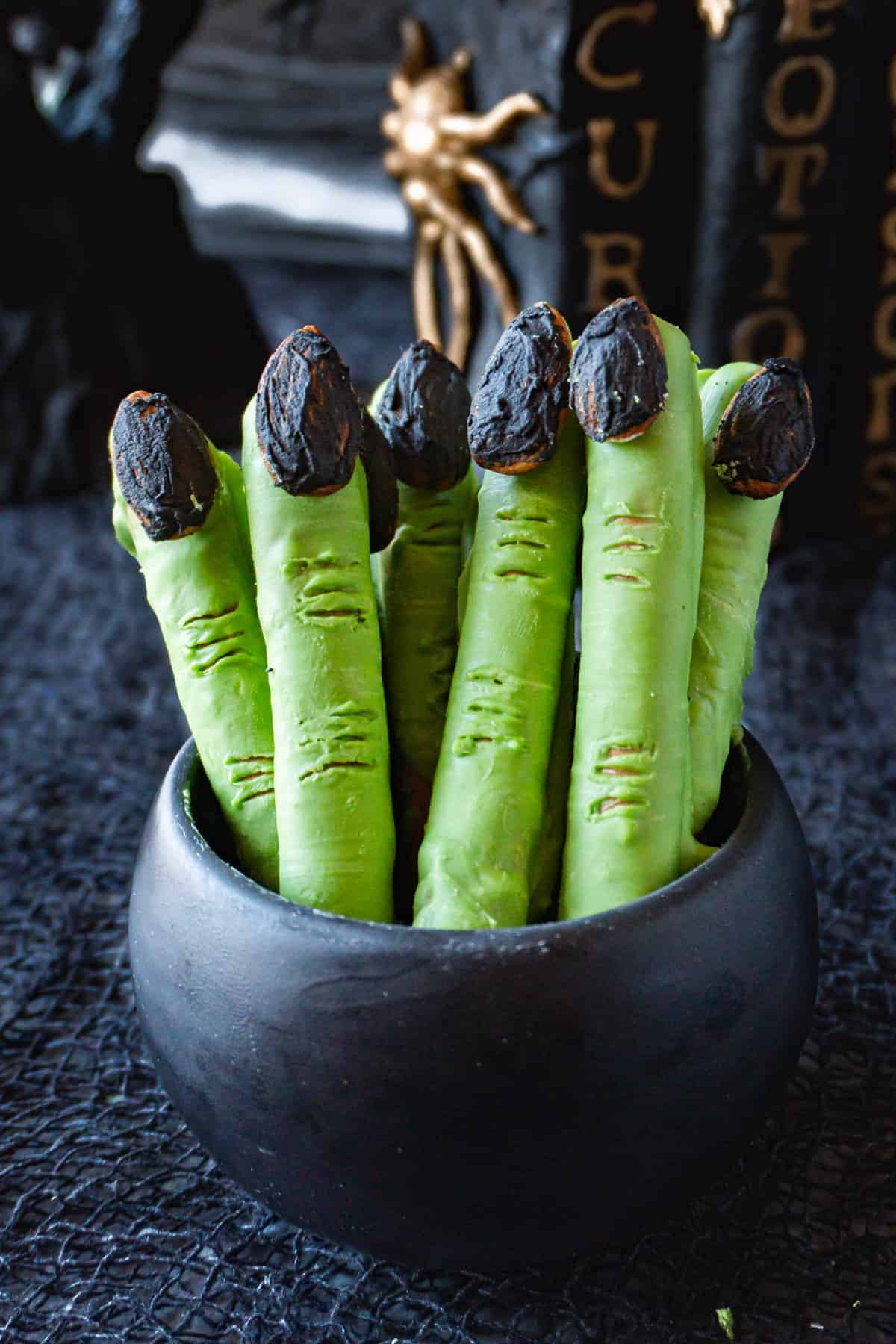 2. Witch Hat Cookies are an EASY Halloween cookie recipe that delivers on the fun factor! Perfect for a Halloween party and no baking is required!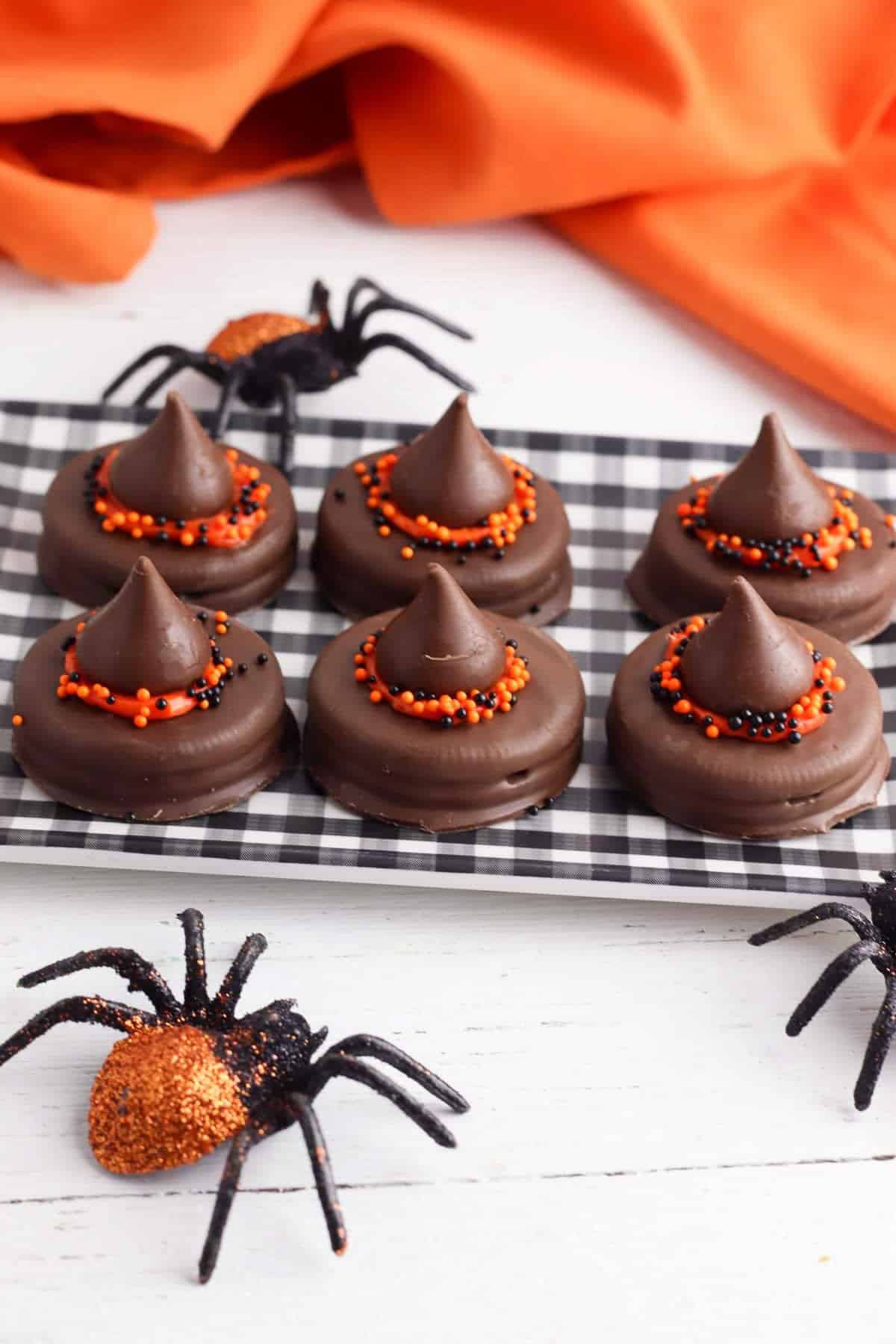 3. These no-bake Halloween witch hat cookies are so easy and fun to make and to eat! Get your kids to help you out with these festive treats!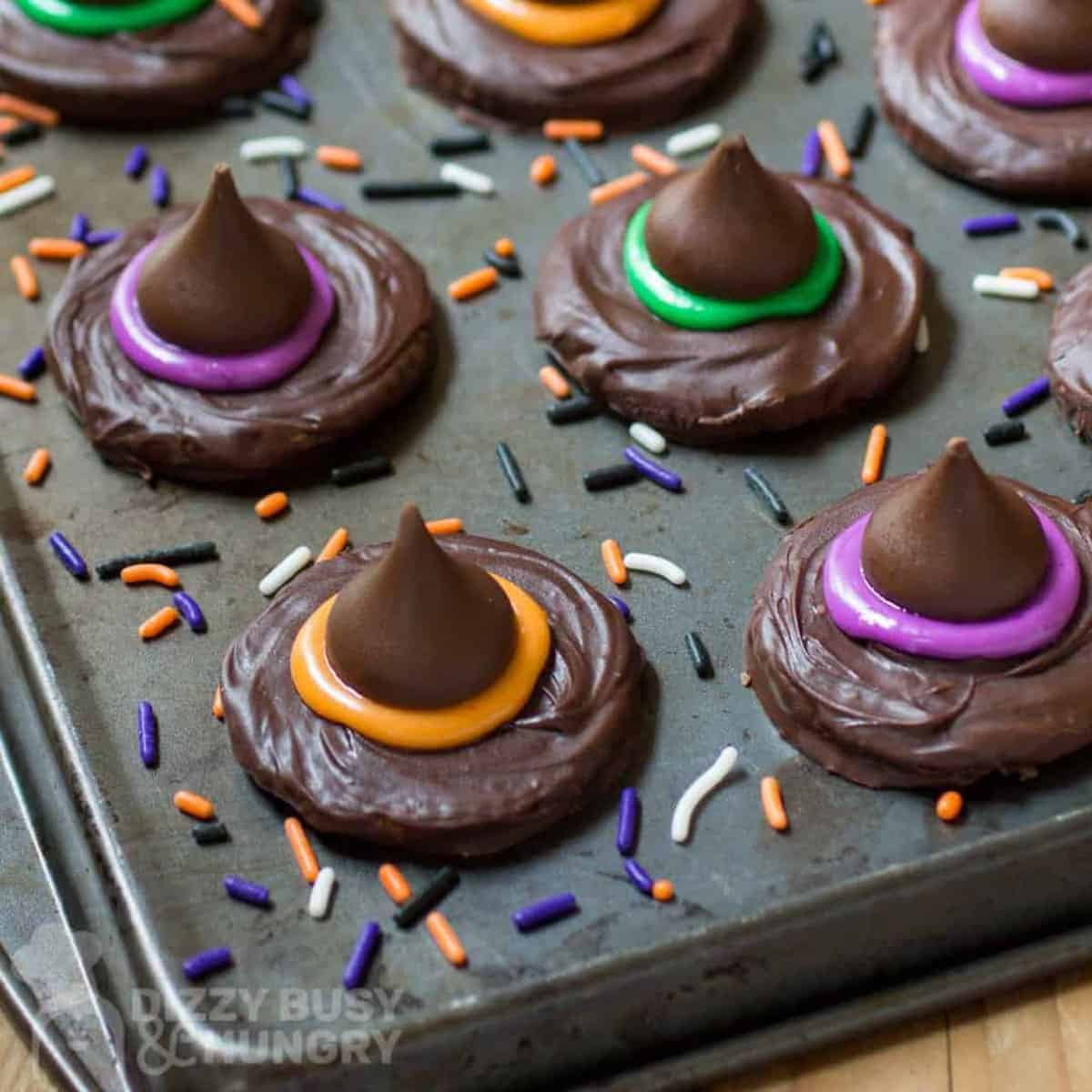 4. Super colorful and so fun, these Halloween Witch Hat Cookies are a twist on the traditional Peanut Butter Blossom Cookies.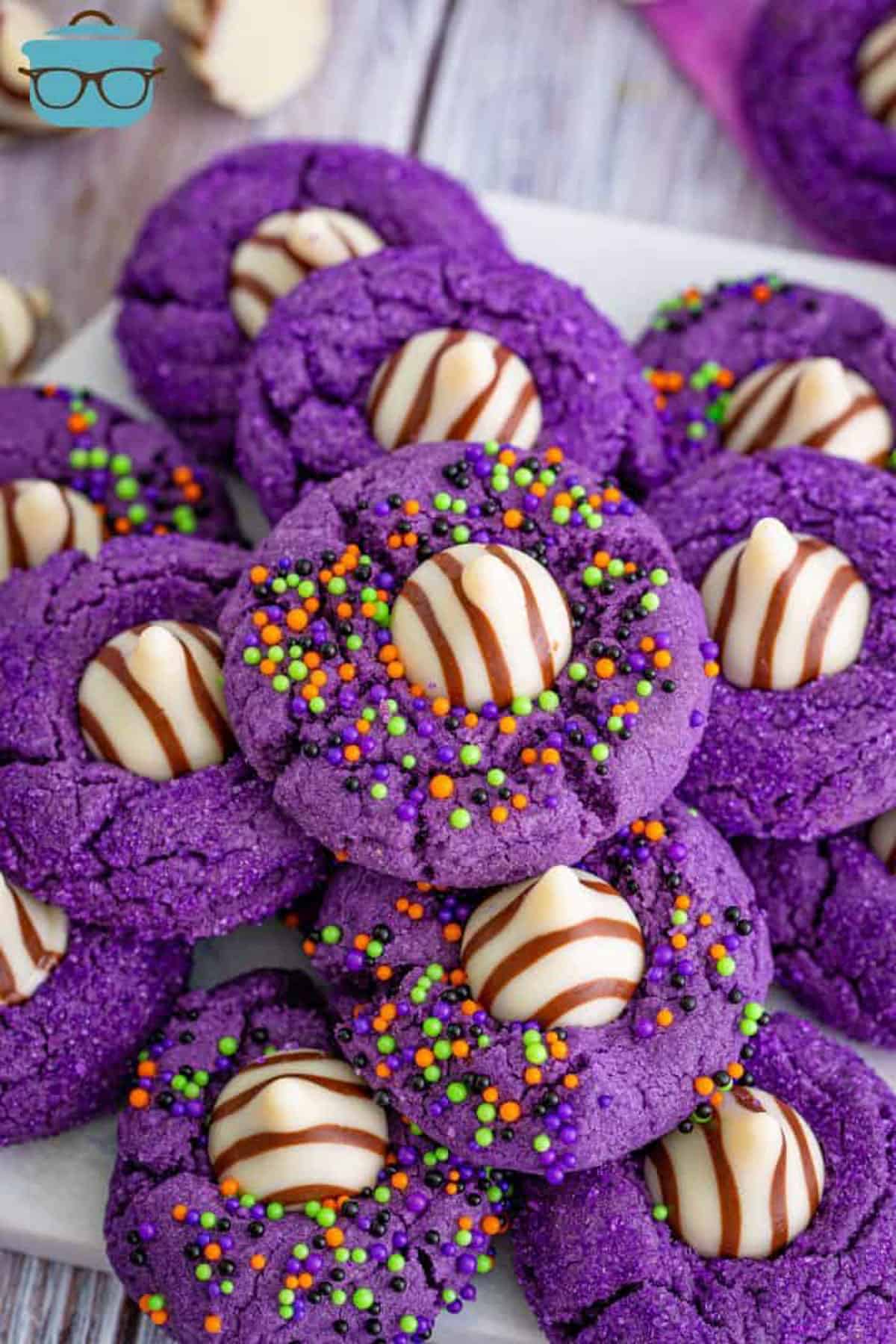 Cat Cookies
1. Black Cat Cookies are a fun and easy treat for Halloween! A chocolate sugar cookie with candy corn eyes is a delicious Halloween dessert- inspired by Hocus Pocus!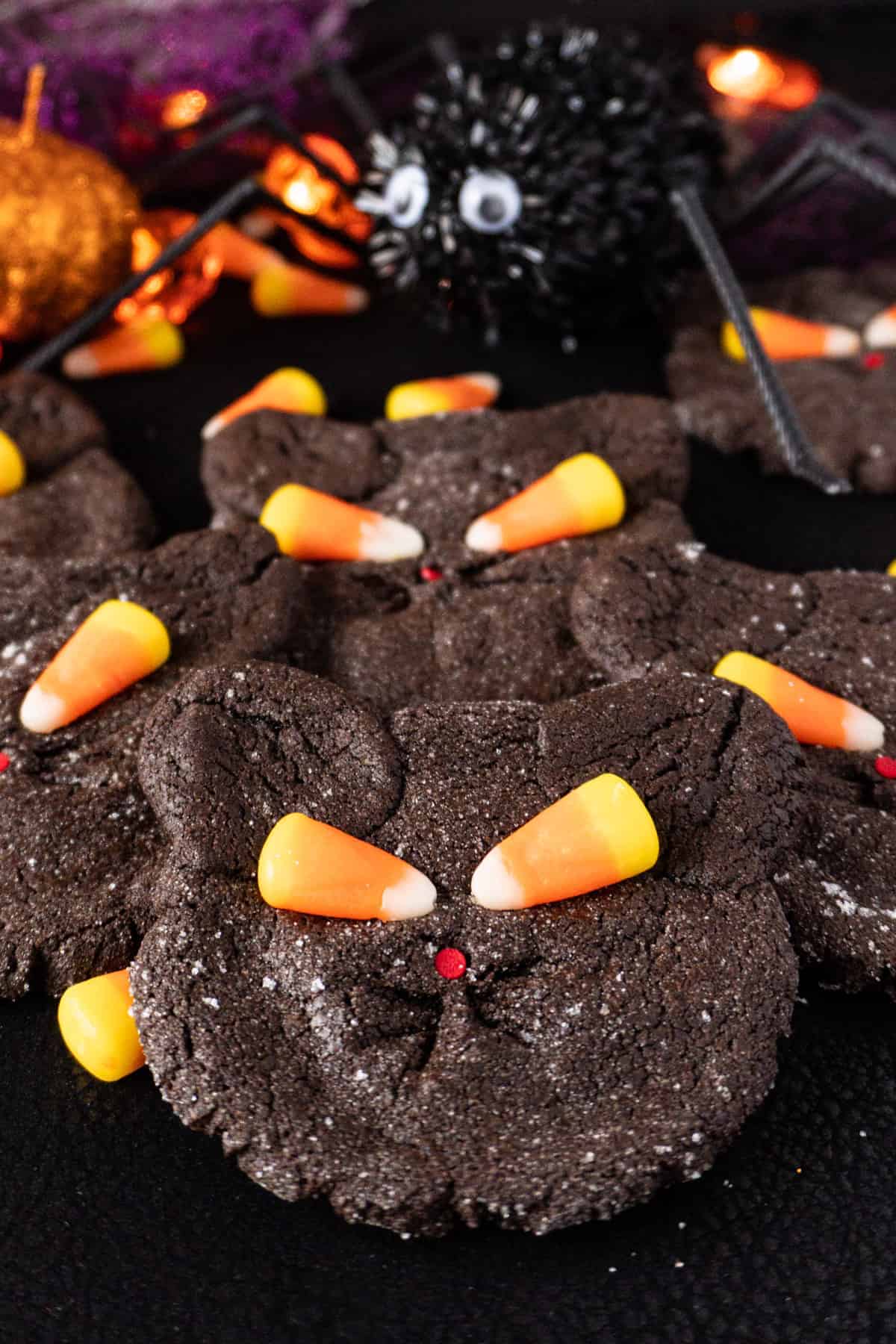 2. Cat Cookies- With their rich chocolate flavor and adorable feline shape, these cookies are a whimsical addition to any occasion, especially Halloween!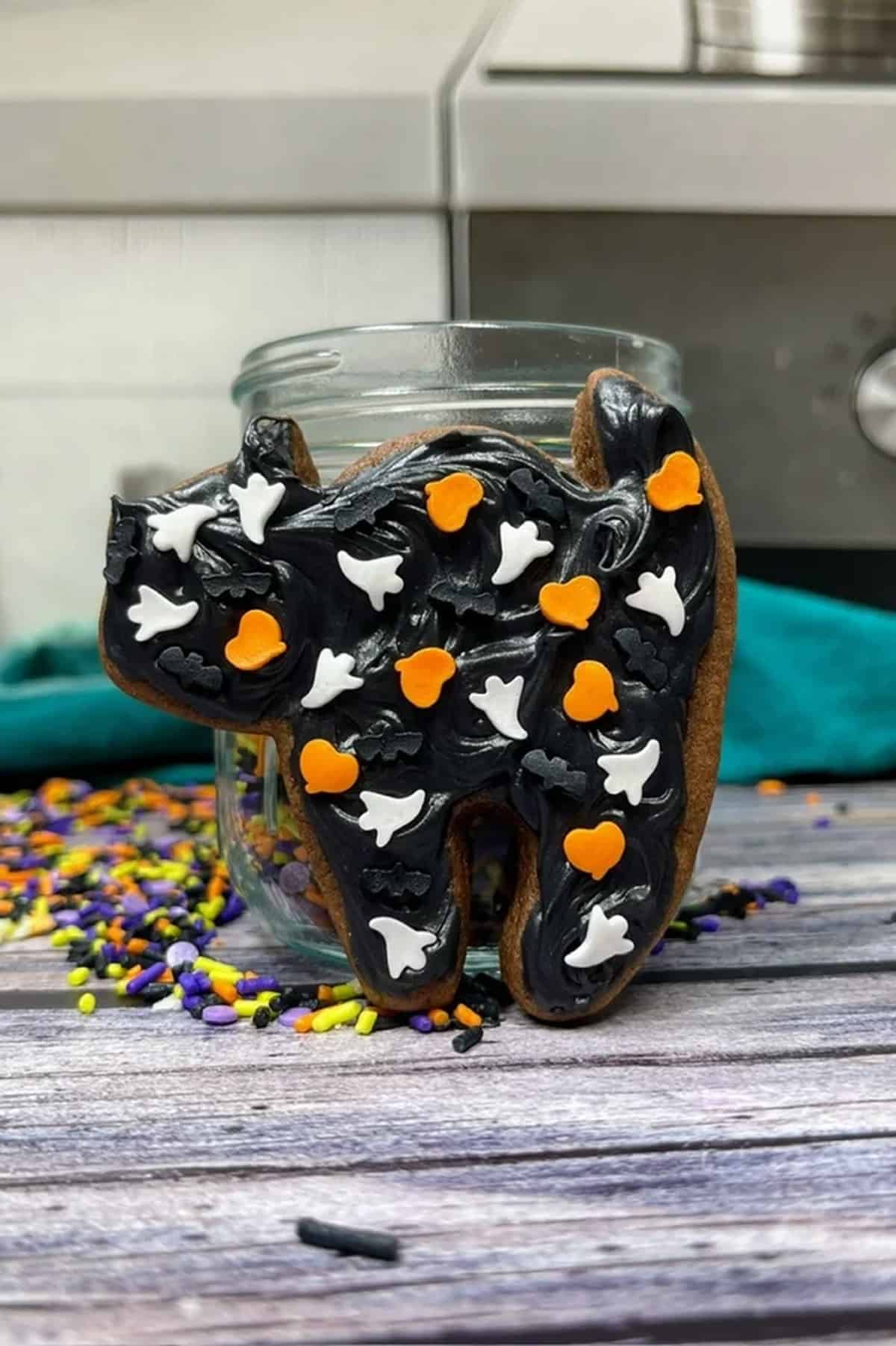 Zombie Cookies
1. These are not your average cake mix cookies. These Zombie Cookies are creepy and ghastly – just like the undead who want to eat your brains!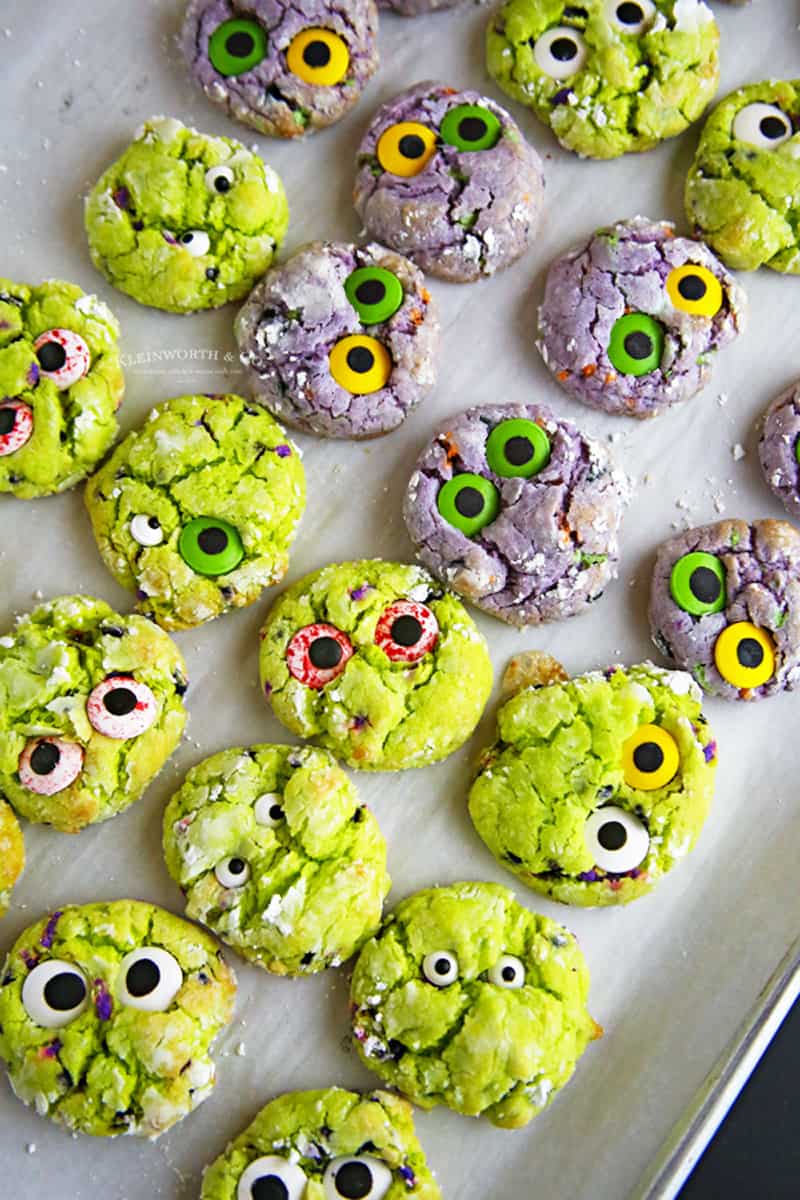 2. A fun and spooky twist on a cookie pizza! This zombie pumpkin patch is spooky and tasty!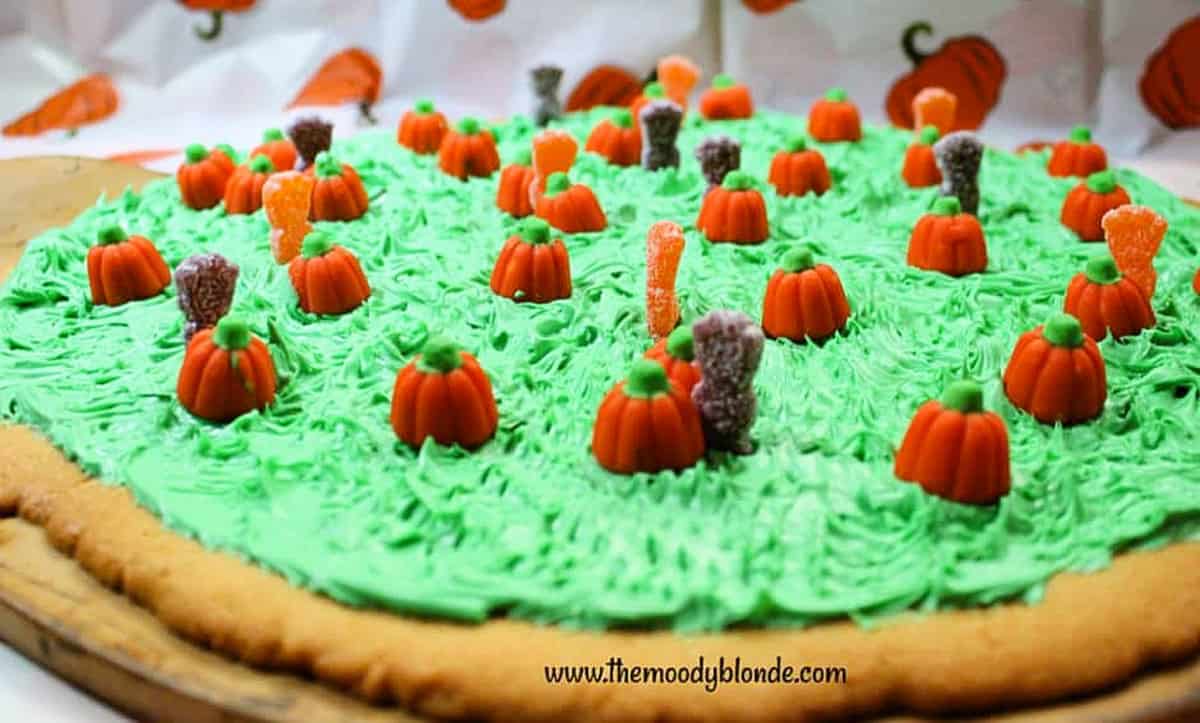 Bat Cookies
1. These No Bake Halloween Bat Cookies are an easy Halloween treat to make with only 4 ingredients and a few minutes. They are fun for the kiddoes to make unsupervised.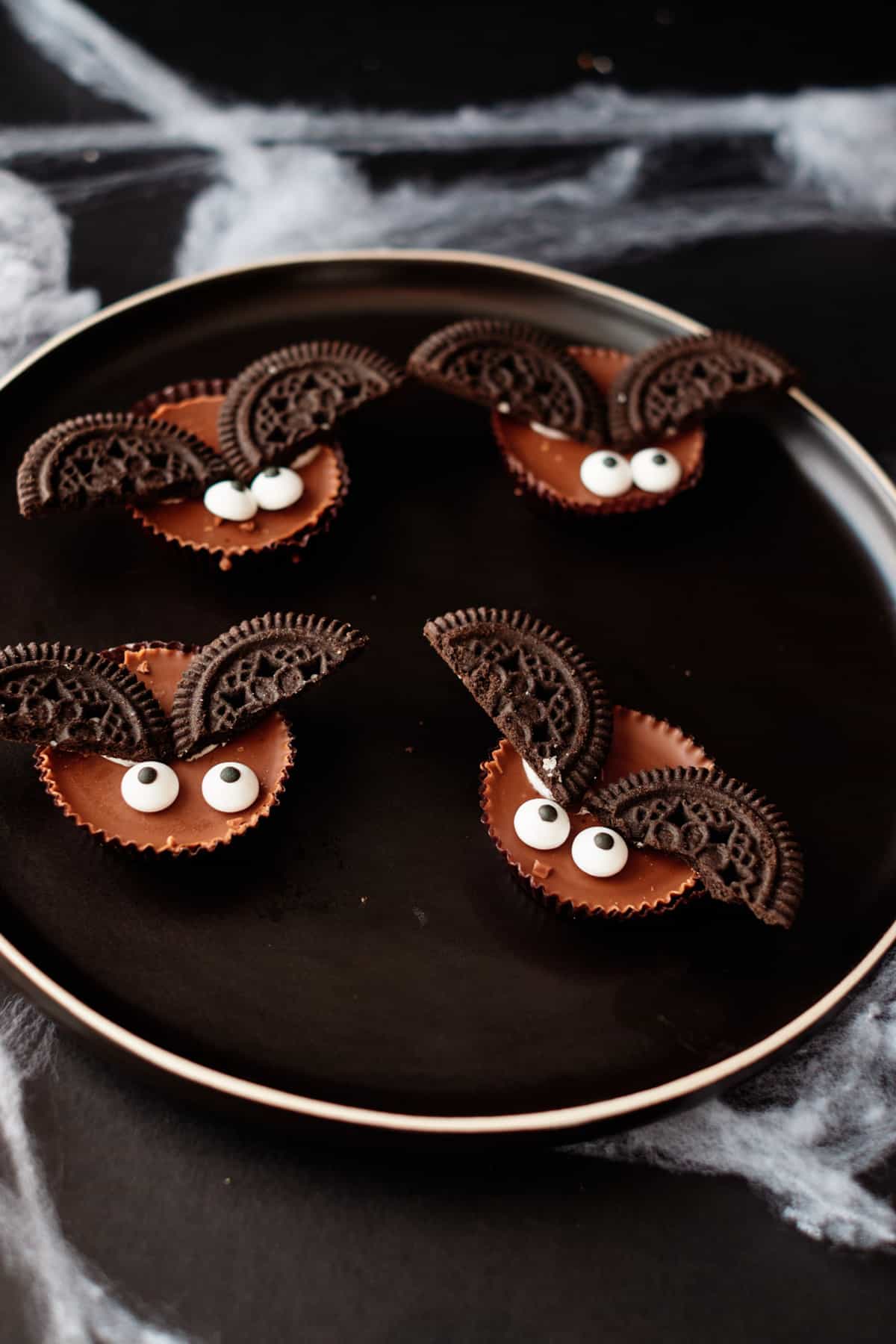 2. These Decorated Bat Sugar Cookies for Halloween are not to spooky and yummy to gobble up! All of your little ghosts and costumed kids of all ages will love these cookies.
Vampire Cookies
1. Bloodsucking vampire sandwich cookies are frightfully delicious and super easy to make. Mini marshmallows and slivered almonds are sandwiched between two halves of one chocolate chip cookie bound together with a smear of red frosting!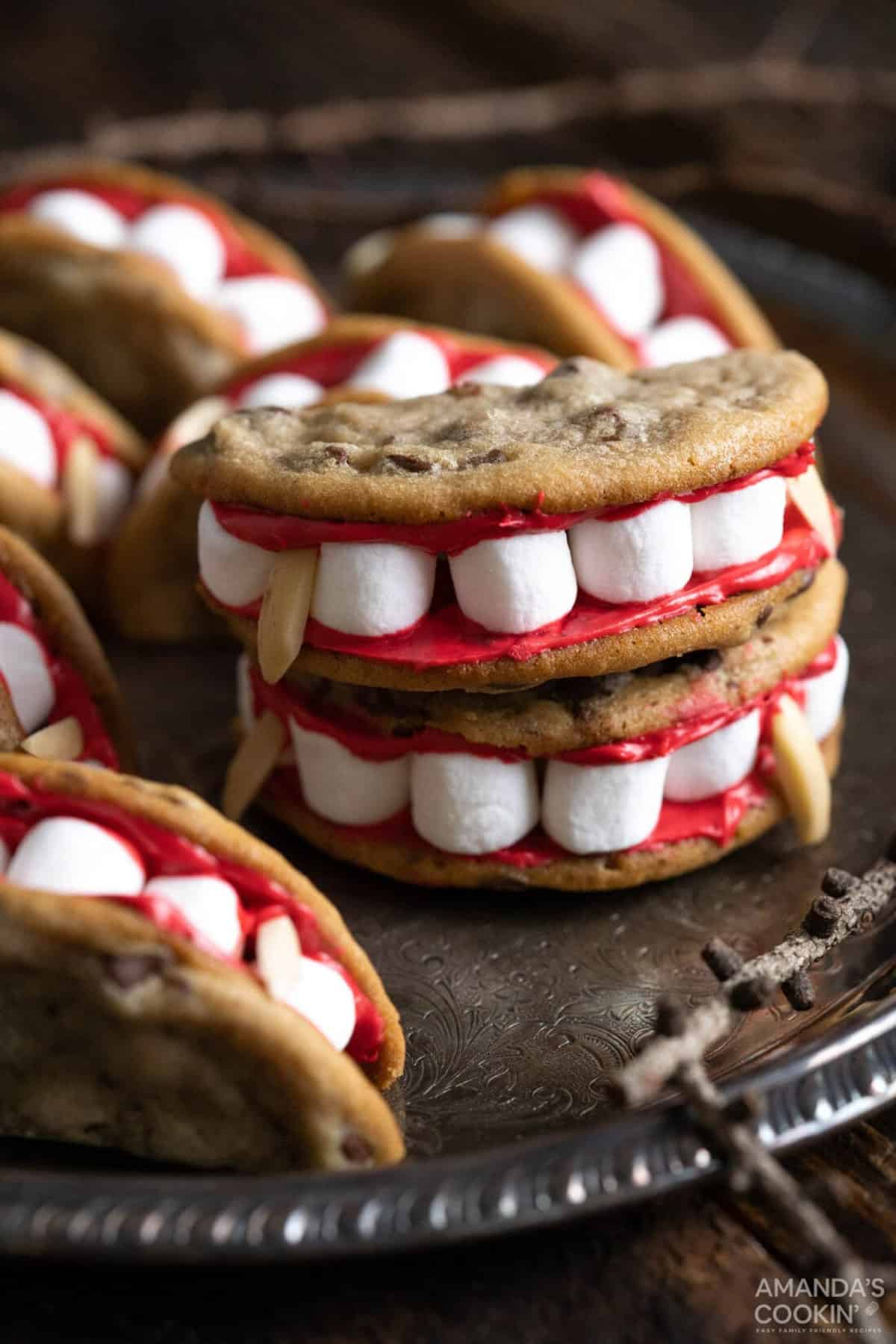 2. These easy Vampire Fang Cookies will have your guests scared and wanting more!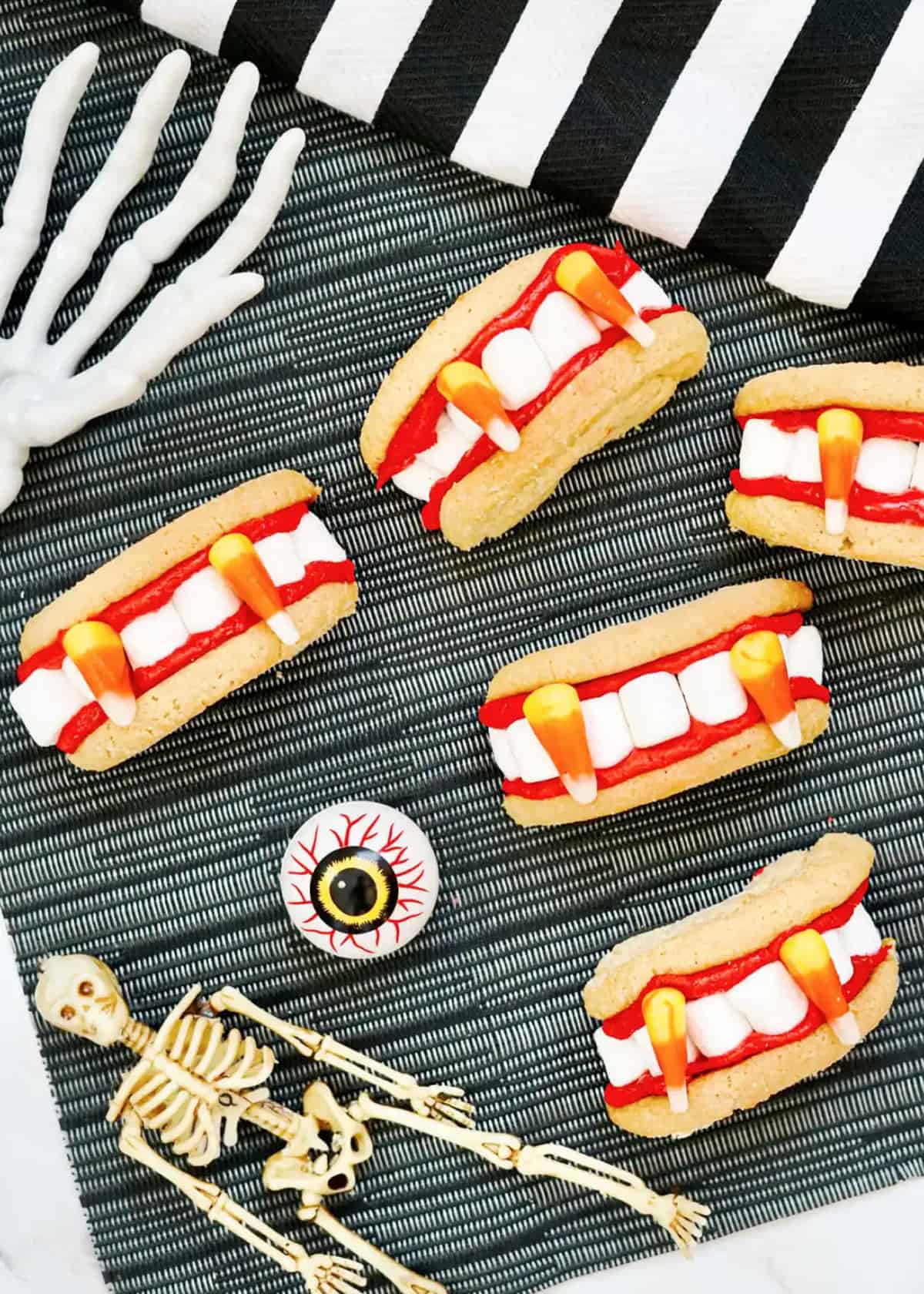 Not-So-Spooky Halloween Mickey Themed Cookies
1. If you're looking for a fun party idea, these Halloween Oreos with a Mickey Mouse theme are so fun to show your love of all things Disney for Halloween parties!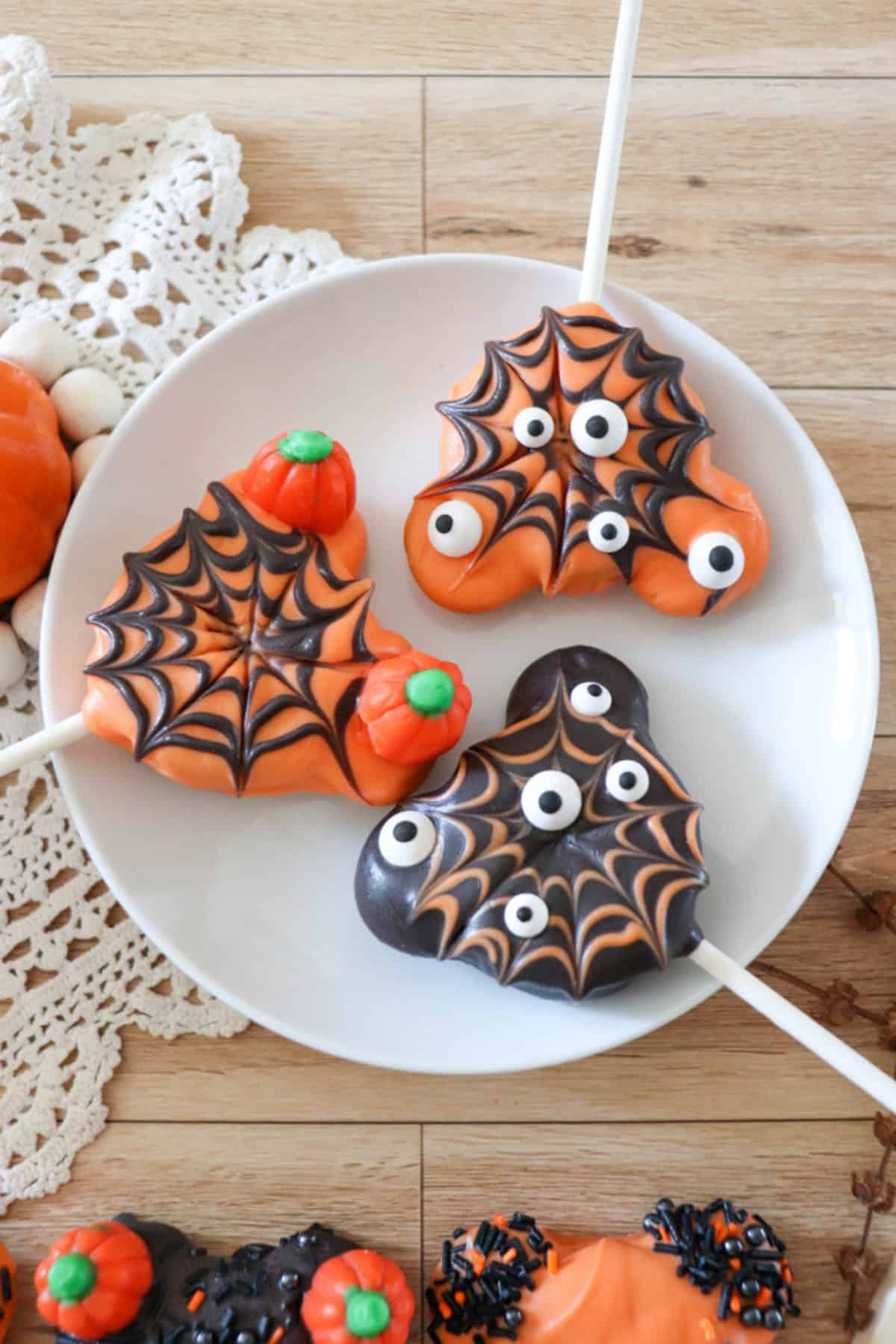 2. These Mickey Mouse Halloween sugar cookies are a huge hit at Halloween parties.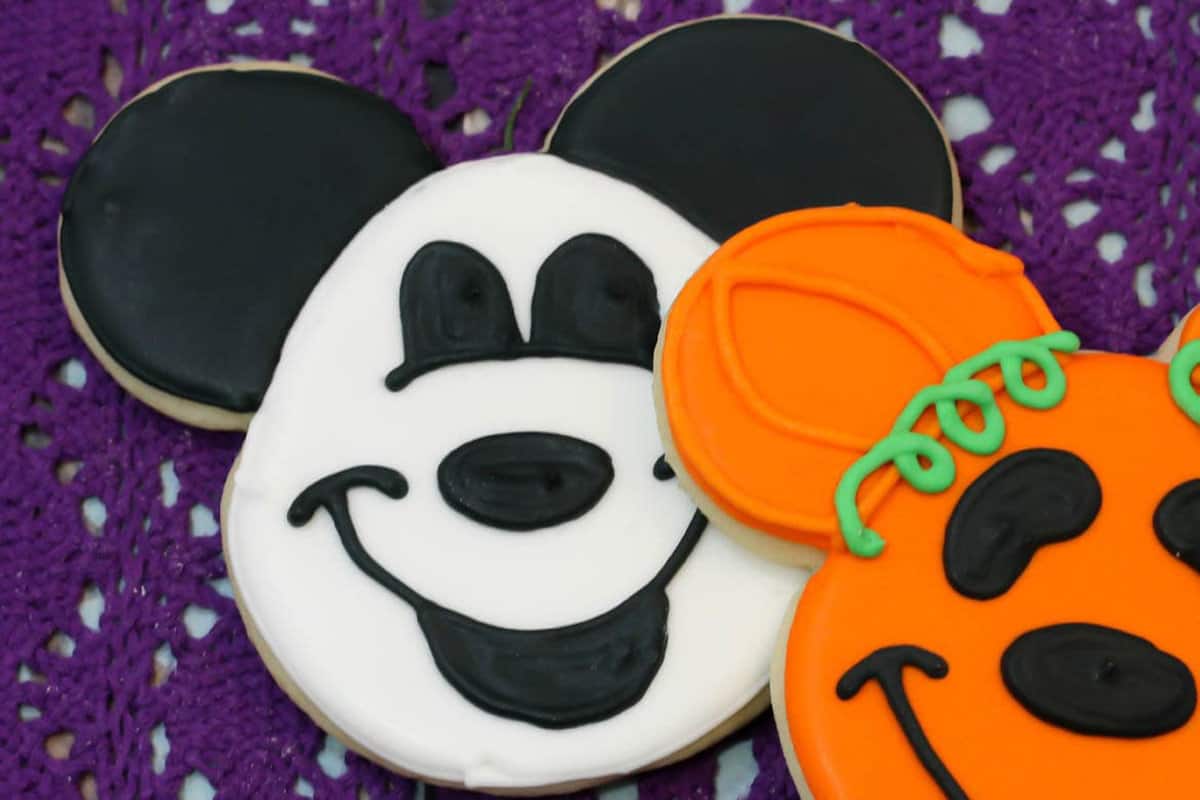 Candy Corn Themed Cookies
I know I've shared my love of candy corn with these candy corn on the cob treats but these cookies take it to another level!
1. If you love chocolate, these Candy Corn Cookies are triple chocolate heaven! These easy-to-make cookies are the perfect fall or Halloween treat.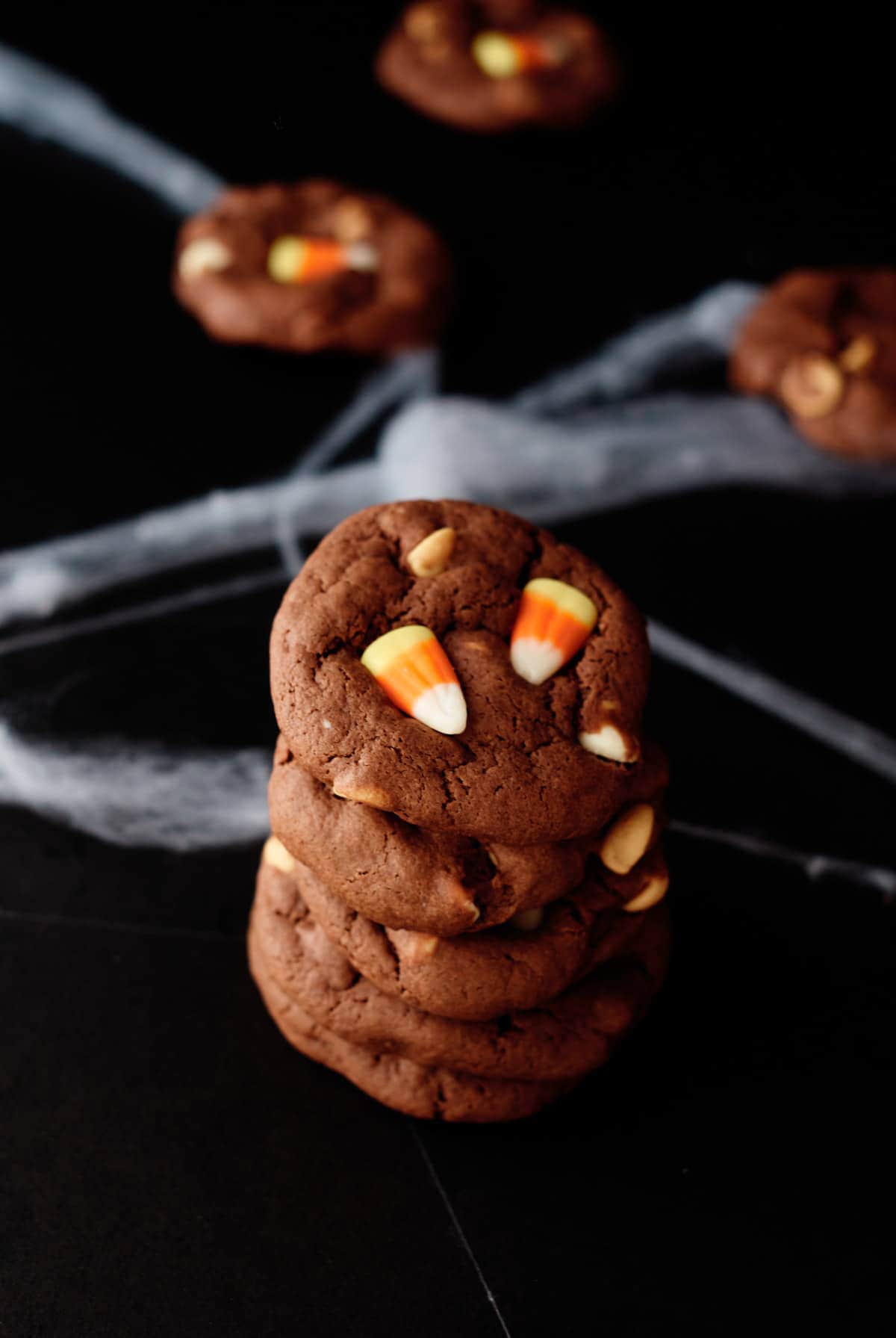 2. These 5-ingredient, candy corn cookies are decked out in true Halloween style! And best of all: they're every bit as tasty as they are easy to make!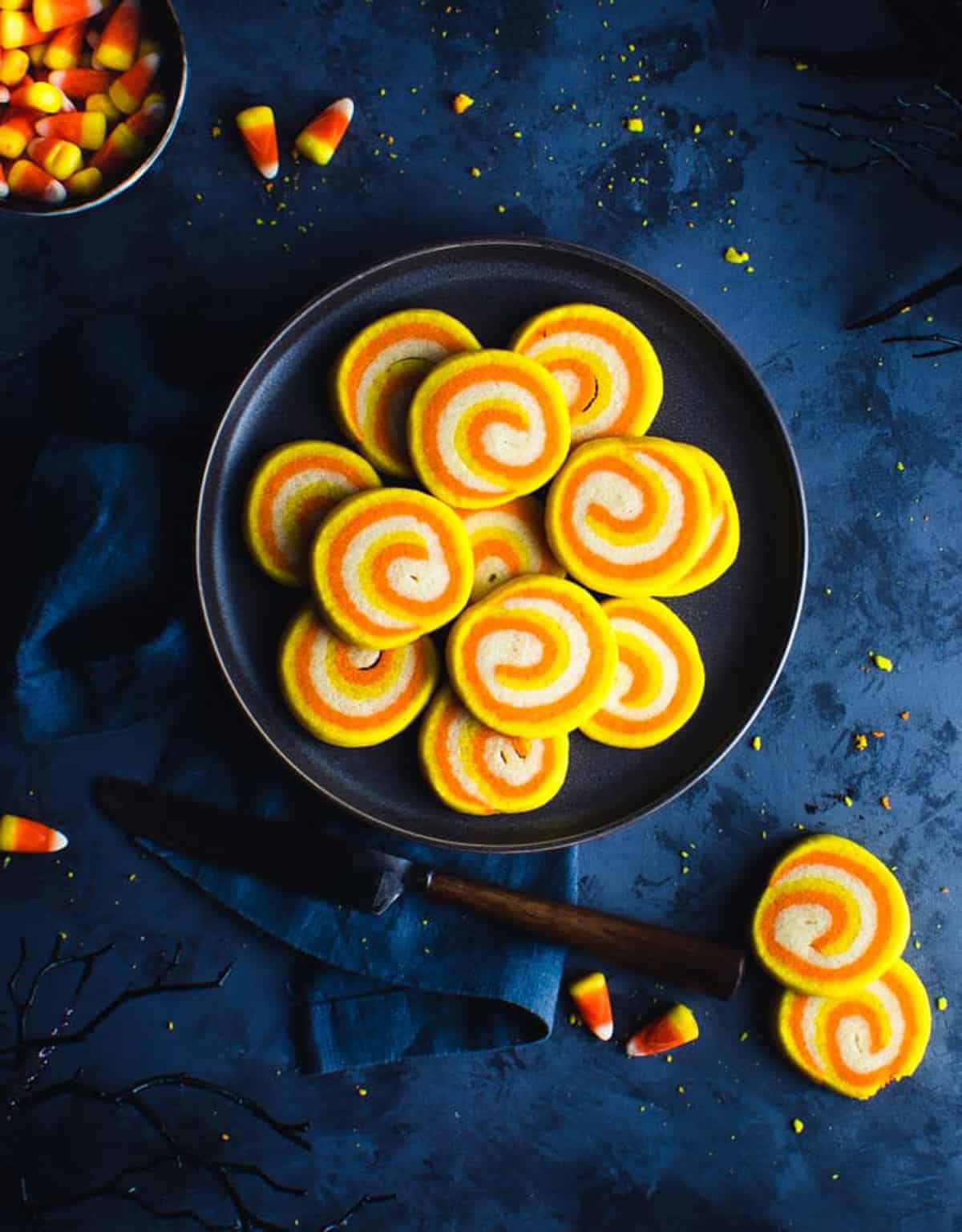 3. Need to use leftover Halloween candy? Bake a batch of soft and chewy candy corn chocolate chip oatmeal cookies!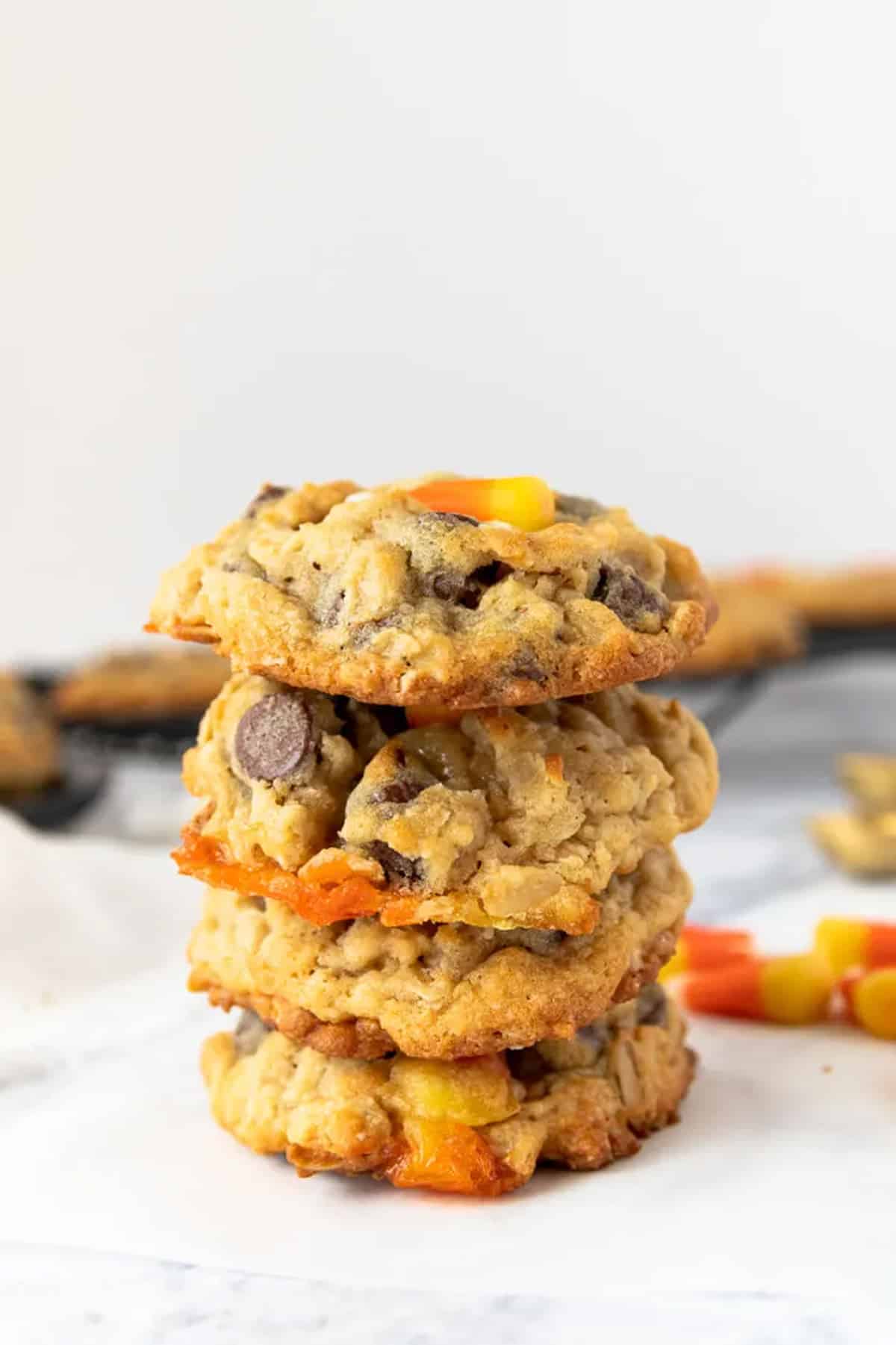 4. Candy Corn Cookies come together in a flash…. no rolling or cookie cutters involved! Using a basic butter cookie dough and a little food coloring, and you have the perfect recipe for candy corn shaped cookies!!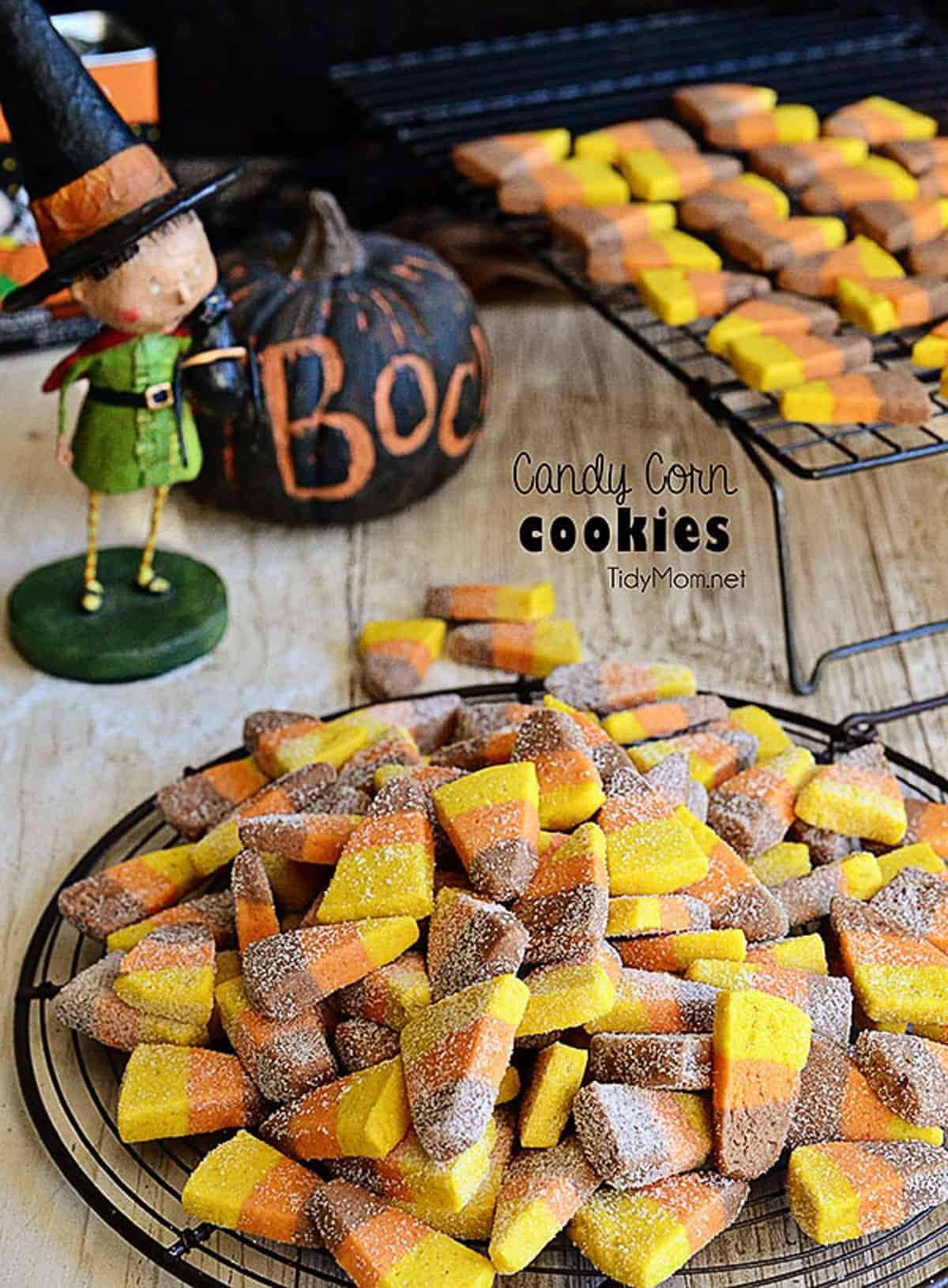 5. Anyone with a pizza cutter and Ziploc bag can make these Easy Candy Corn Sugar Cookie Bites.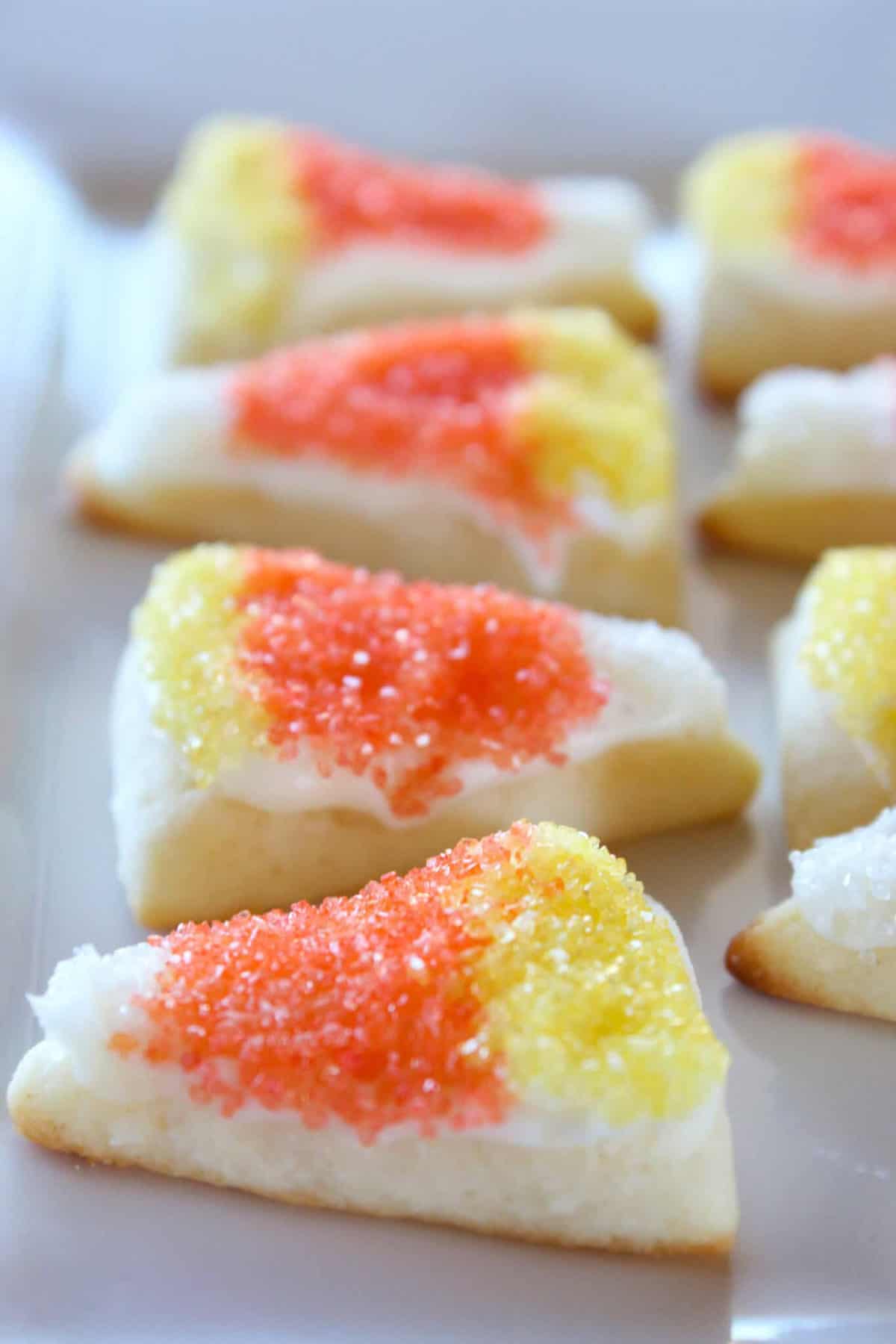 6. Try these easy Candy Corn Sugar Cookies made with my quick sugar cookie dough- no chilling required! Kids and adults will love these Halloween cookies.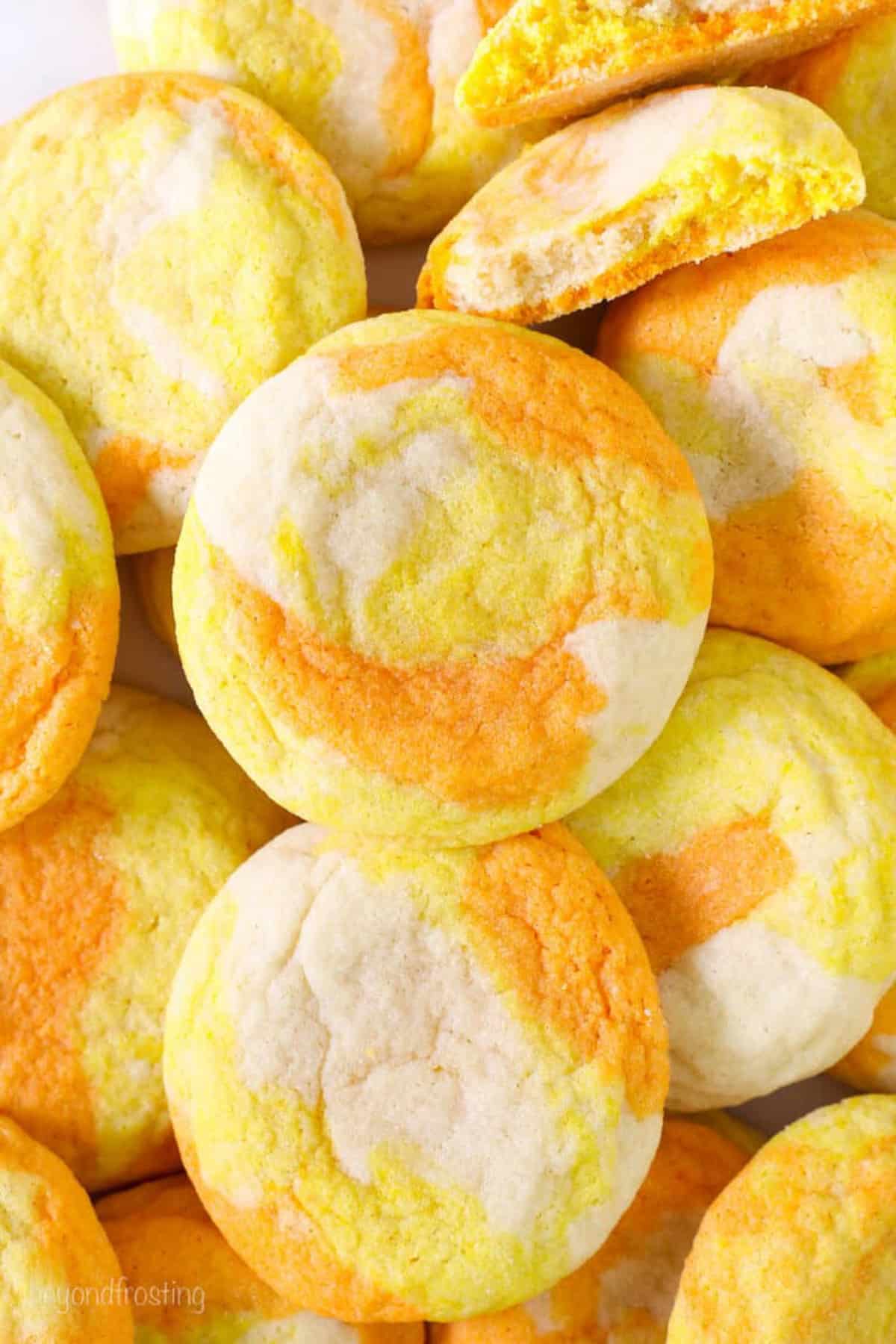 More Halloween Cookies!
1. Halloween Oreo Cookies are easy to make and a fun treat for your Halloween Parties! These are great to make with kids and easy to customize!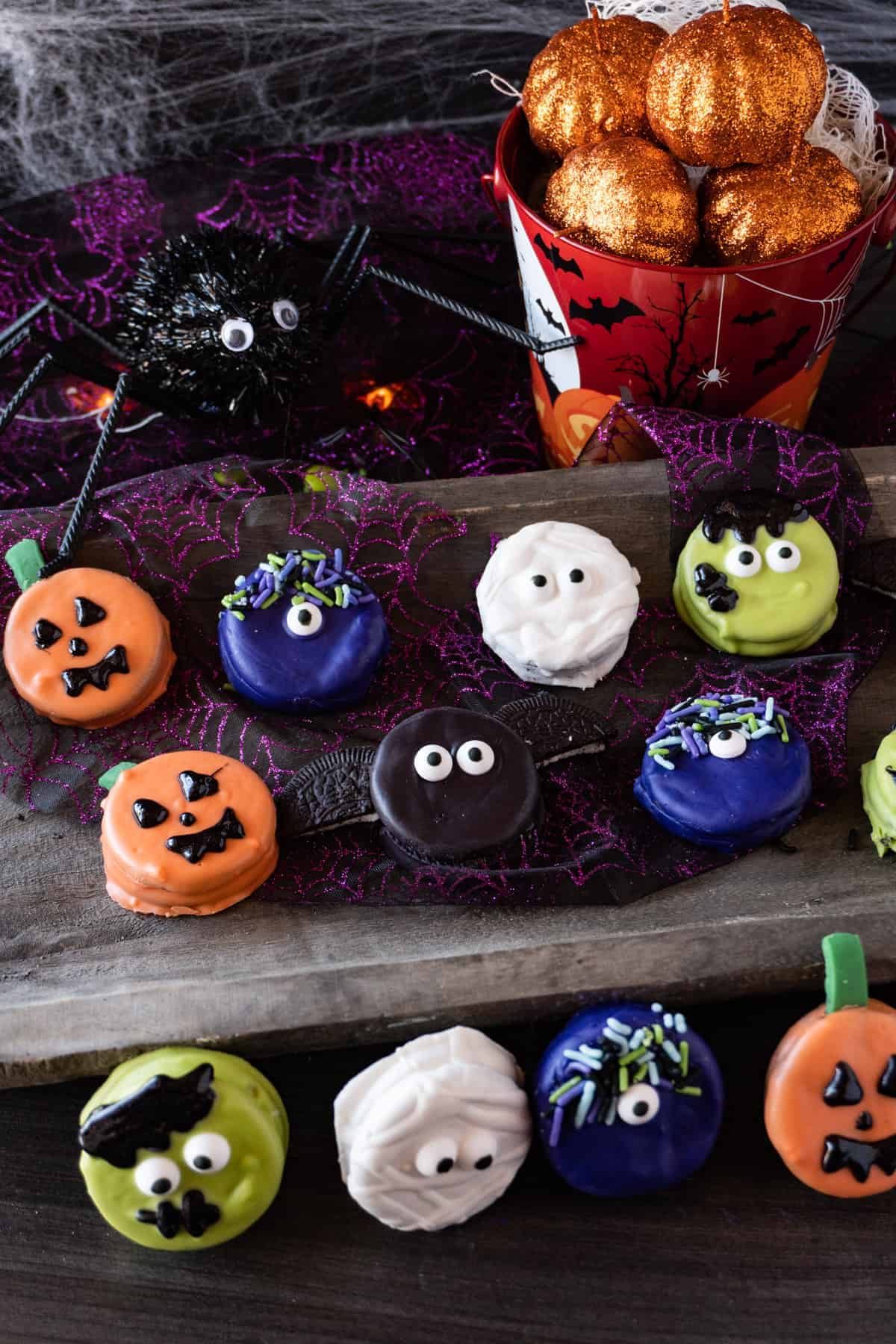 2. These Halloween Sugar Cookies are the perfect spooky treat! They are loaded with colorful sprinkles and make a frightfully fun dessert for your Halloween night.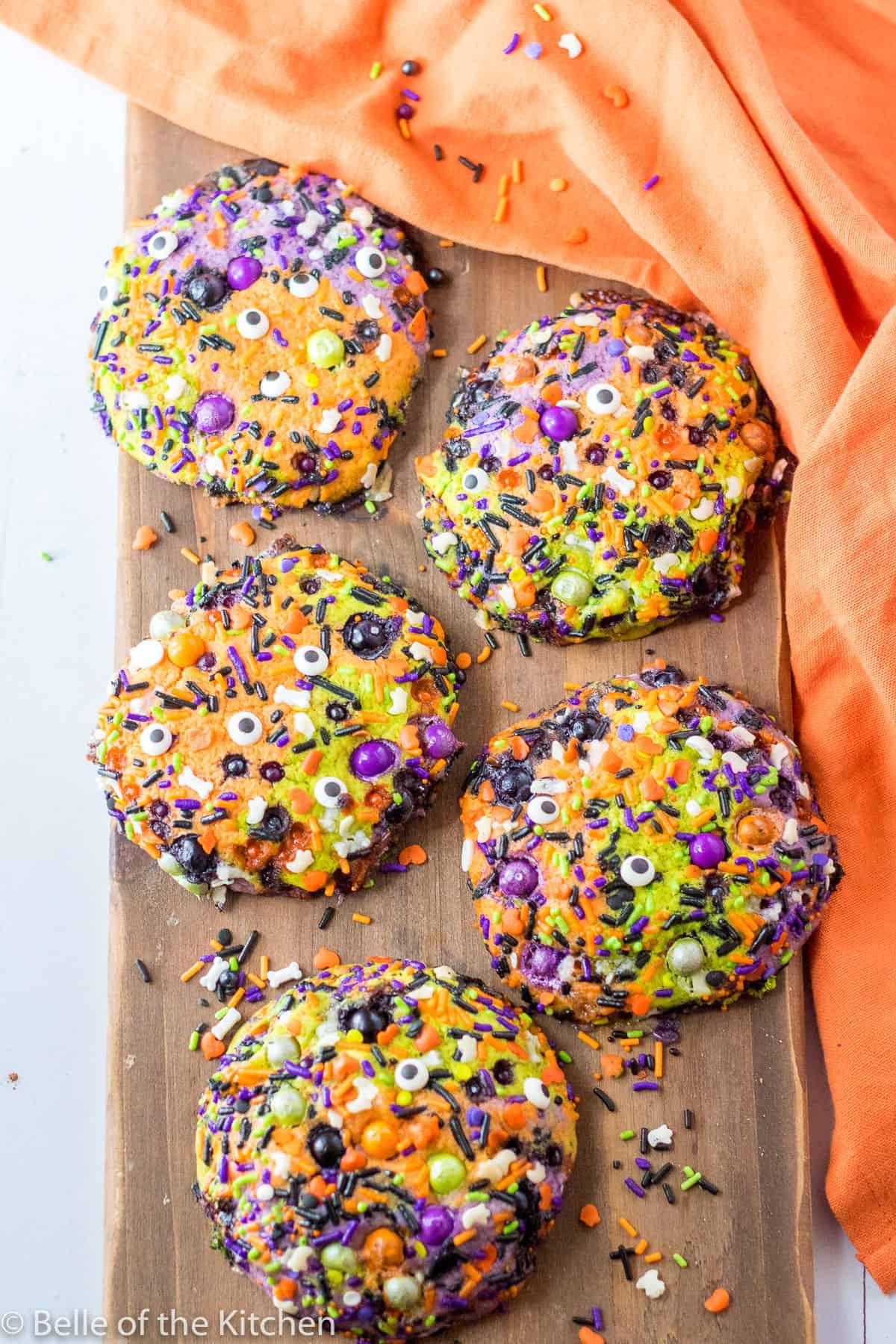 3. These super creepy Blood Splatter Cookies, will be the talk of your Halloween party! Not only are they fun to make but delicious too!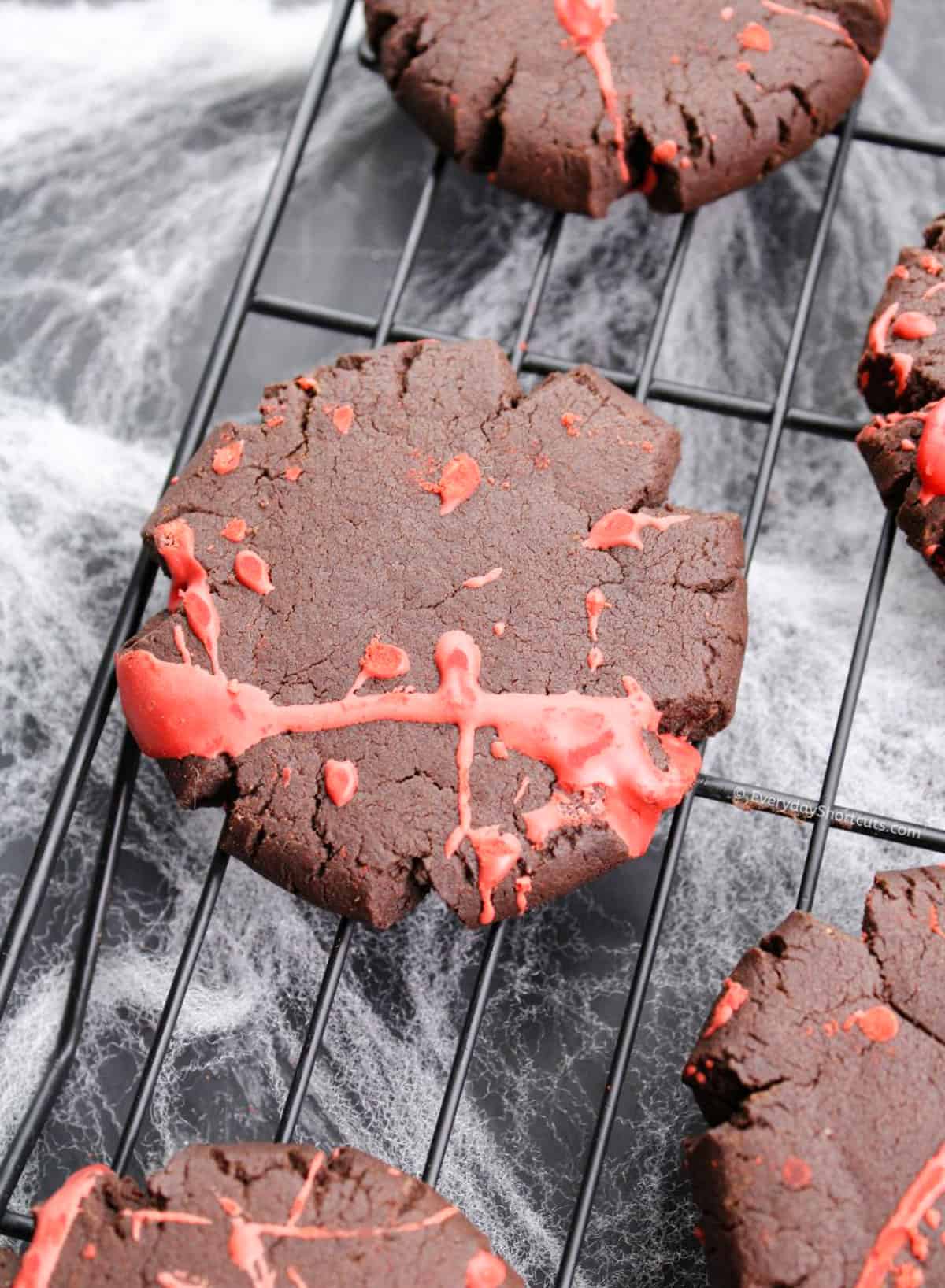 4. Chocolate Brownie Monster Cookies that are full of tasty candy- the perfect Halloween treat!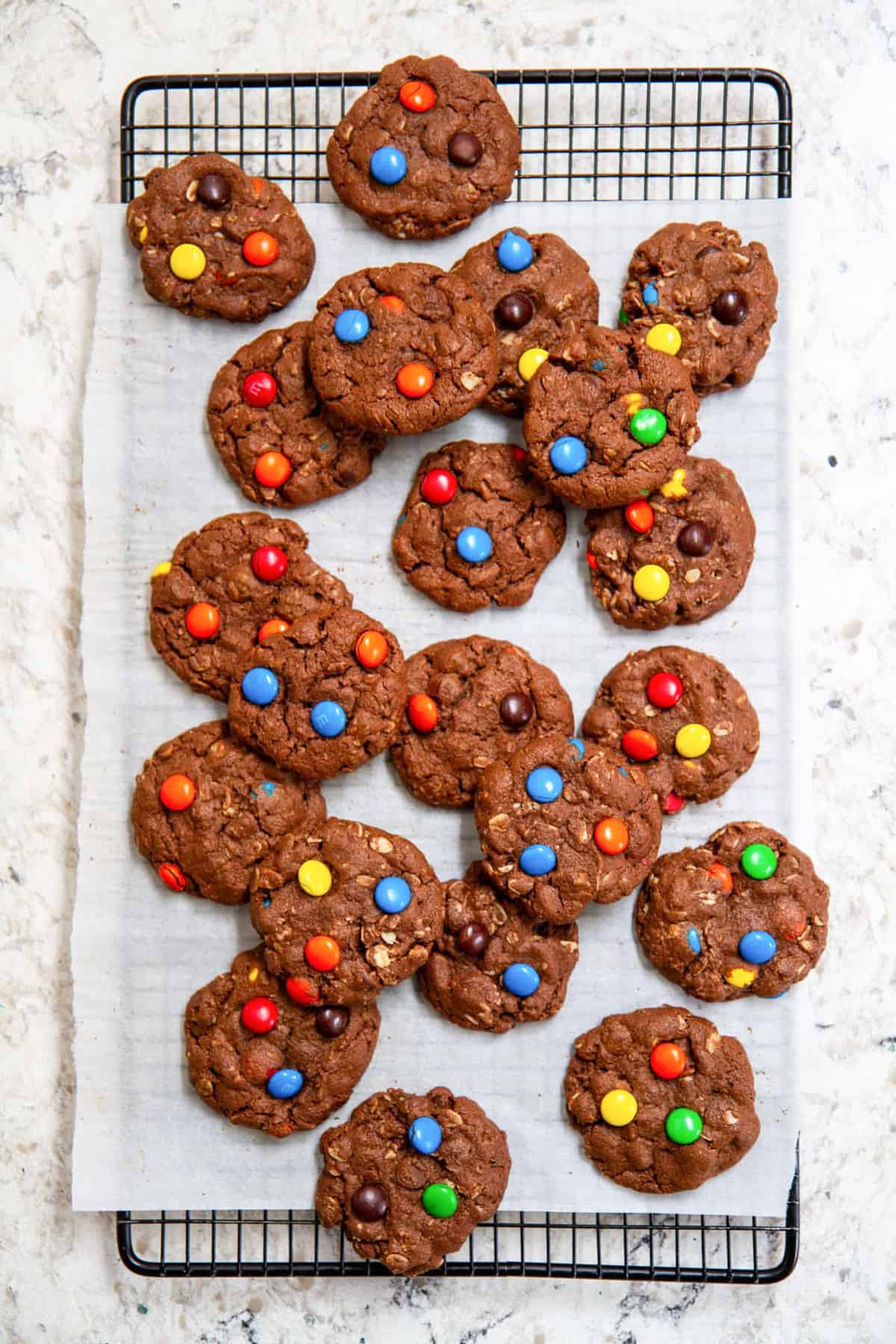 5. Loaded with Reese's peanut butter candy, these peanut butter cookies are perfect for a tasty Trick-or-Treat snack!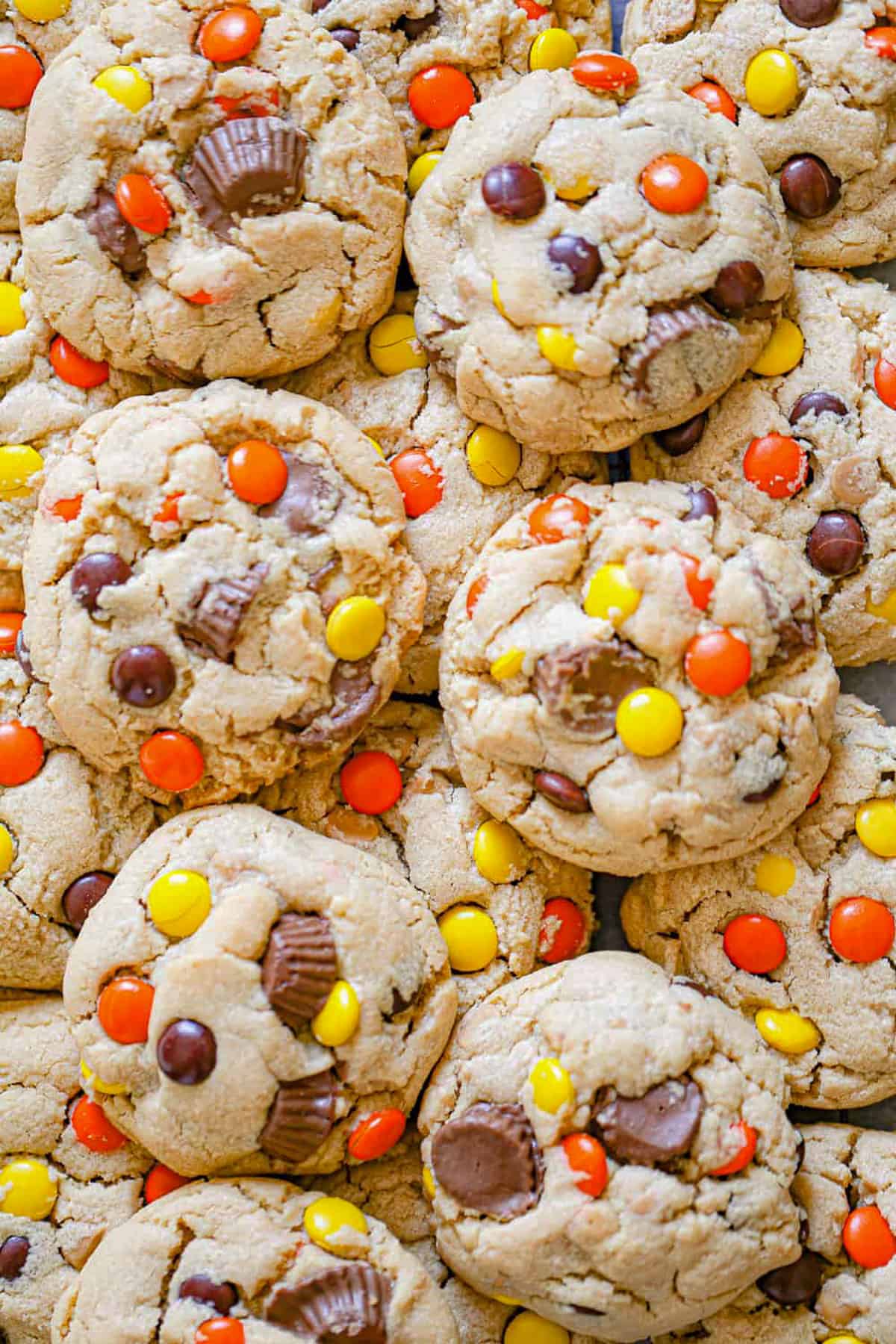 6. These Ultimate Reese's Pieces Cookies are top-notch peanut butter cookies deliciously loaded with Reese's Pieces candies, white chocolate chips and butterscotch chips with a little sea salt on top, if you dare!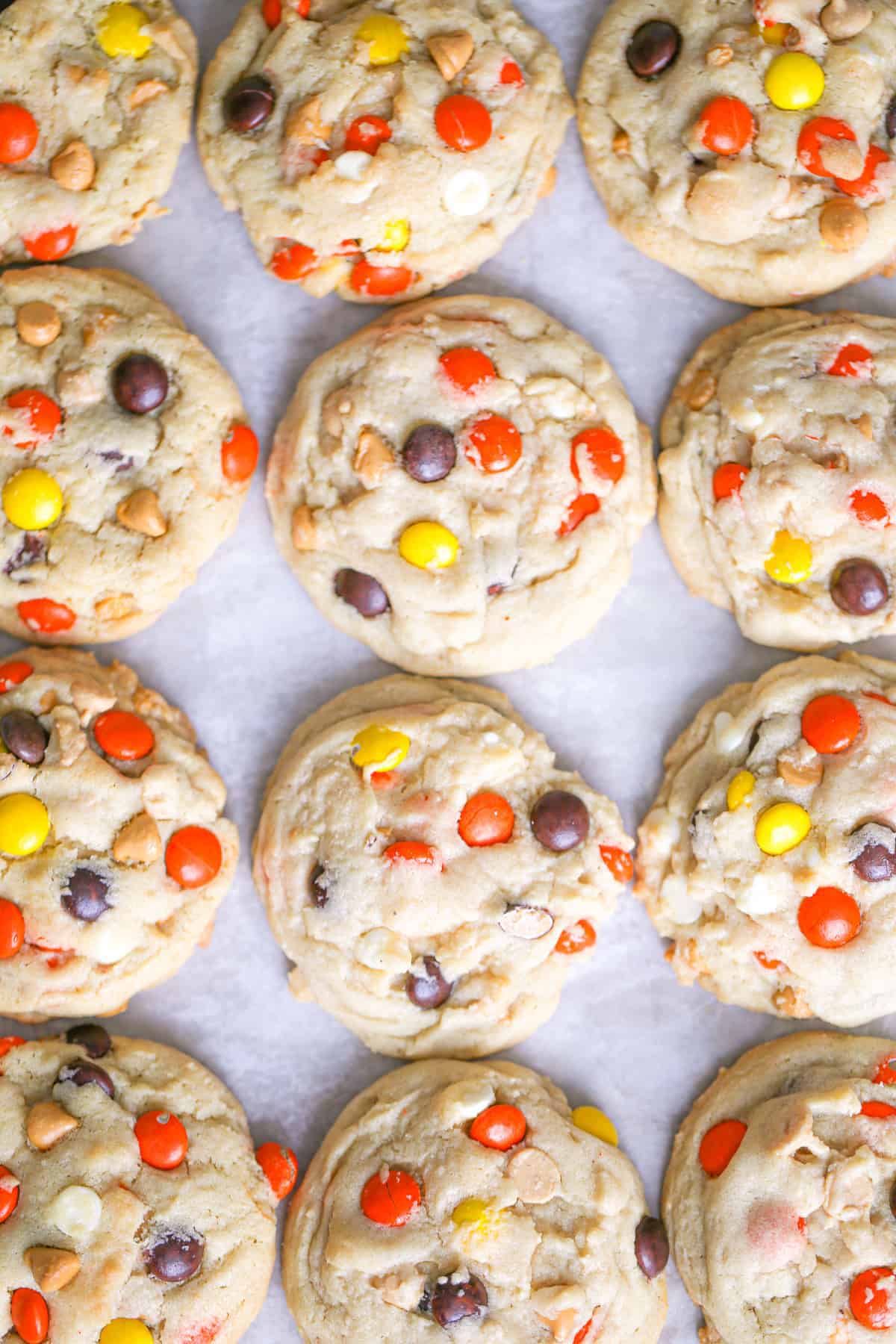 7. Leftover Candy Cookies-Thick, chewy brown sugar cookies are filled with pieces of your favorite candy bars. Mix the chopped candy into the batter, and add some to the tops for the ultimate kitchen sink cookies.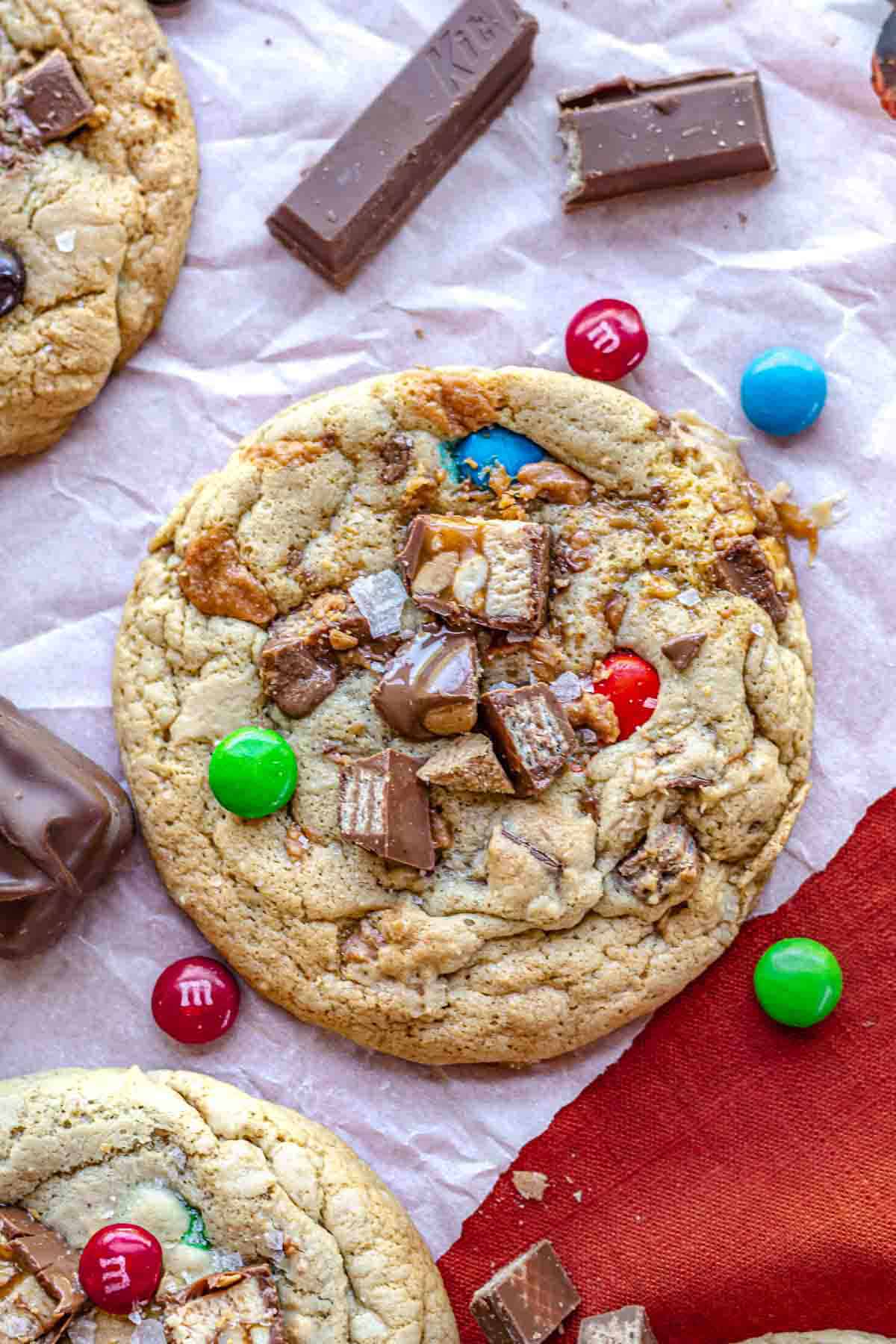 8. Easy Halloween Pinwheel Sugar Cookies are a soft, pinwheel sugar cookie recipe, made with fun holiday colors like green, orange, purple and black! Perfect for your Halloween celebrations.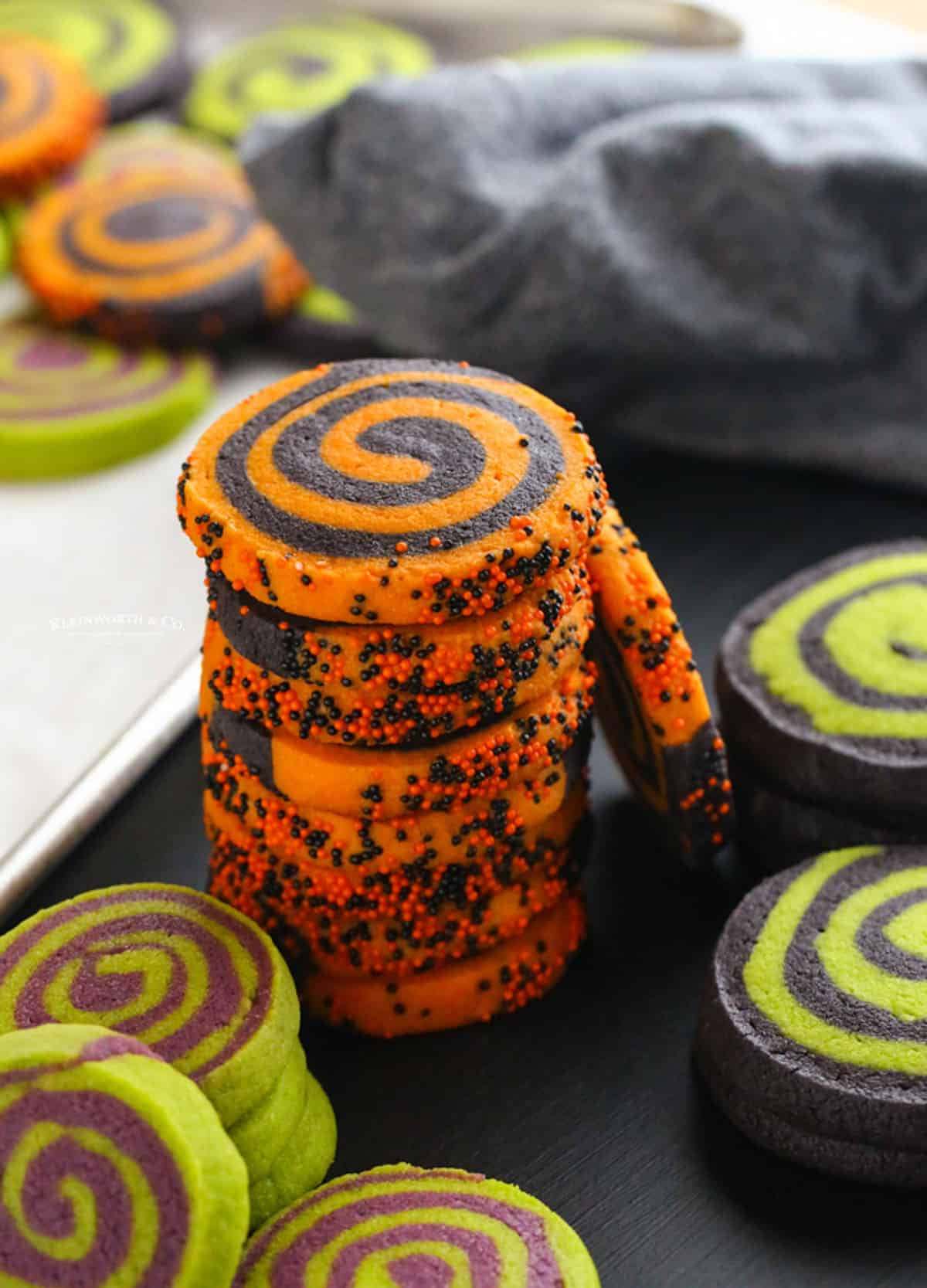 9. These magical chocolate Oozing Halloween Cookies are filled with a delicious green "witches brew" frosting!!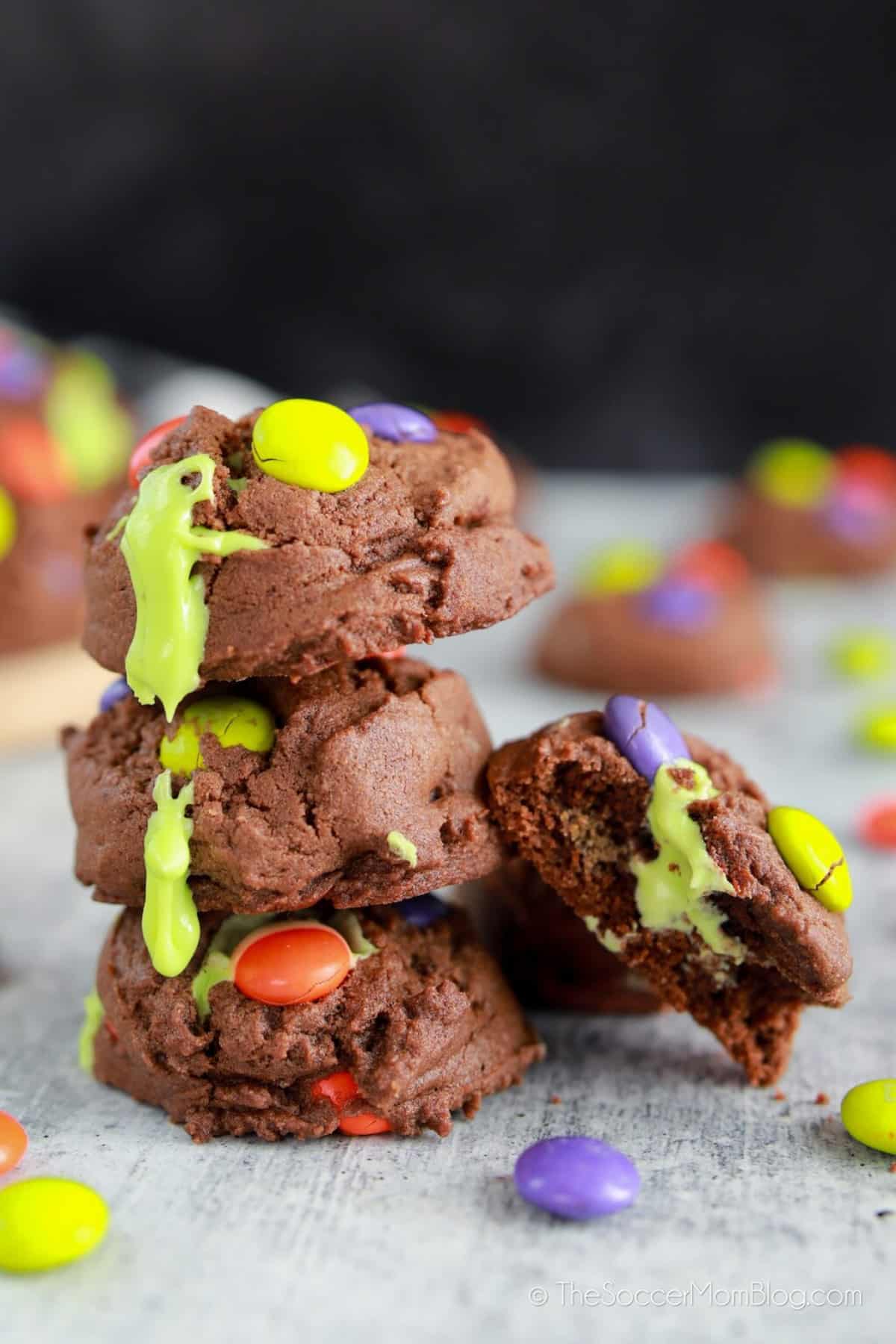 10. These Double Double Chocolate Peanut Butter Cookies are doubly good! Dark chocolate and peanut butter cookies with chocolate chips and peanut butter candies!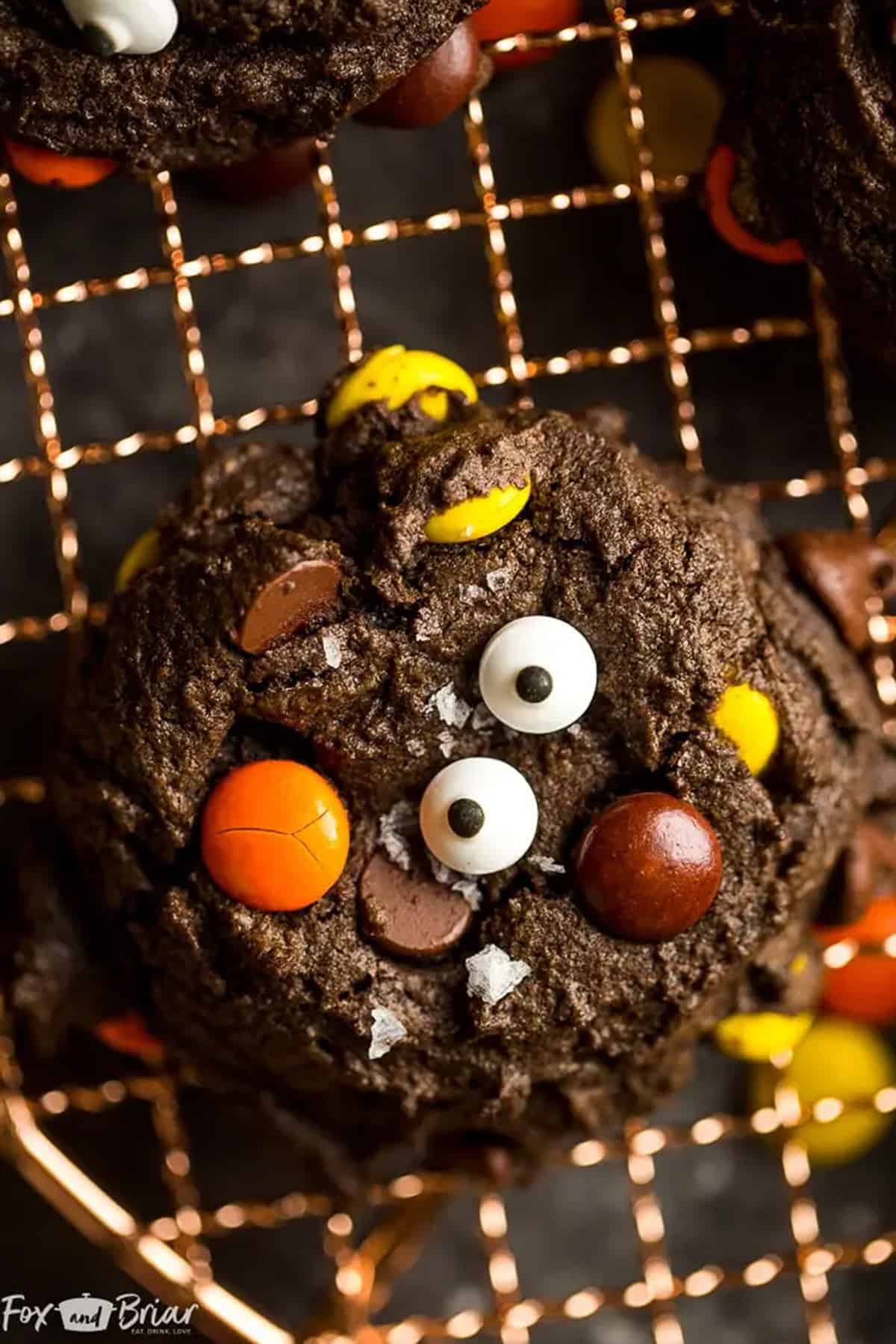 11. Get your friends and family excited about the upcoming spooky holiday with these tasty Halloween Sprinkle Cookies. They're the perfect treat to serve during Halloween parties or to hand out to trick or treaters.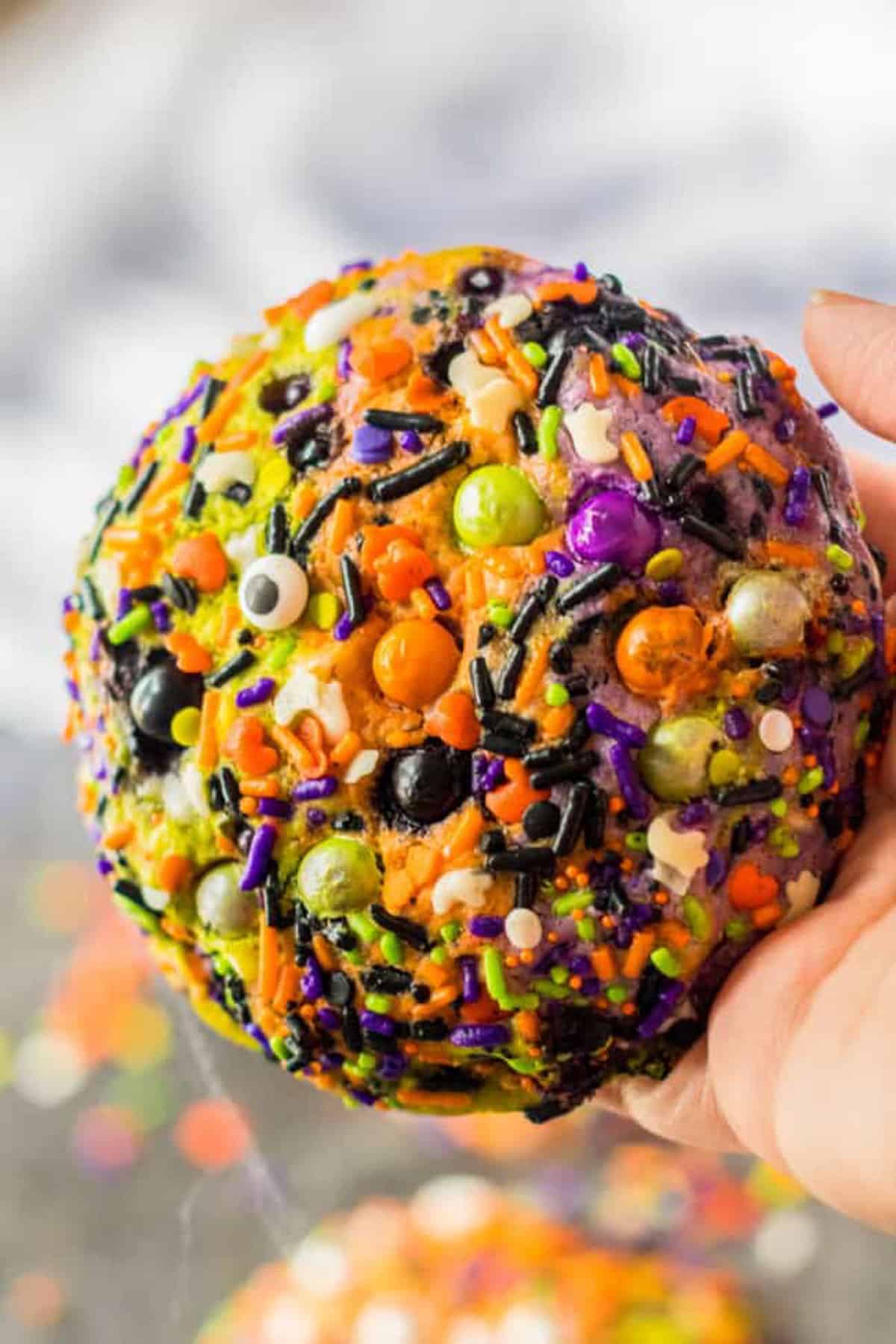 12. These not-so-scary Halloween M&M Cookies are soft, chewy, and sure to bring a smile to any little goblin's face!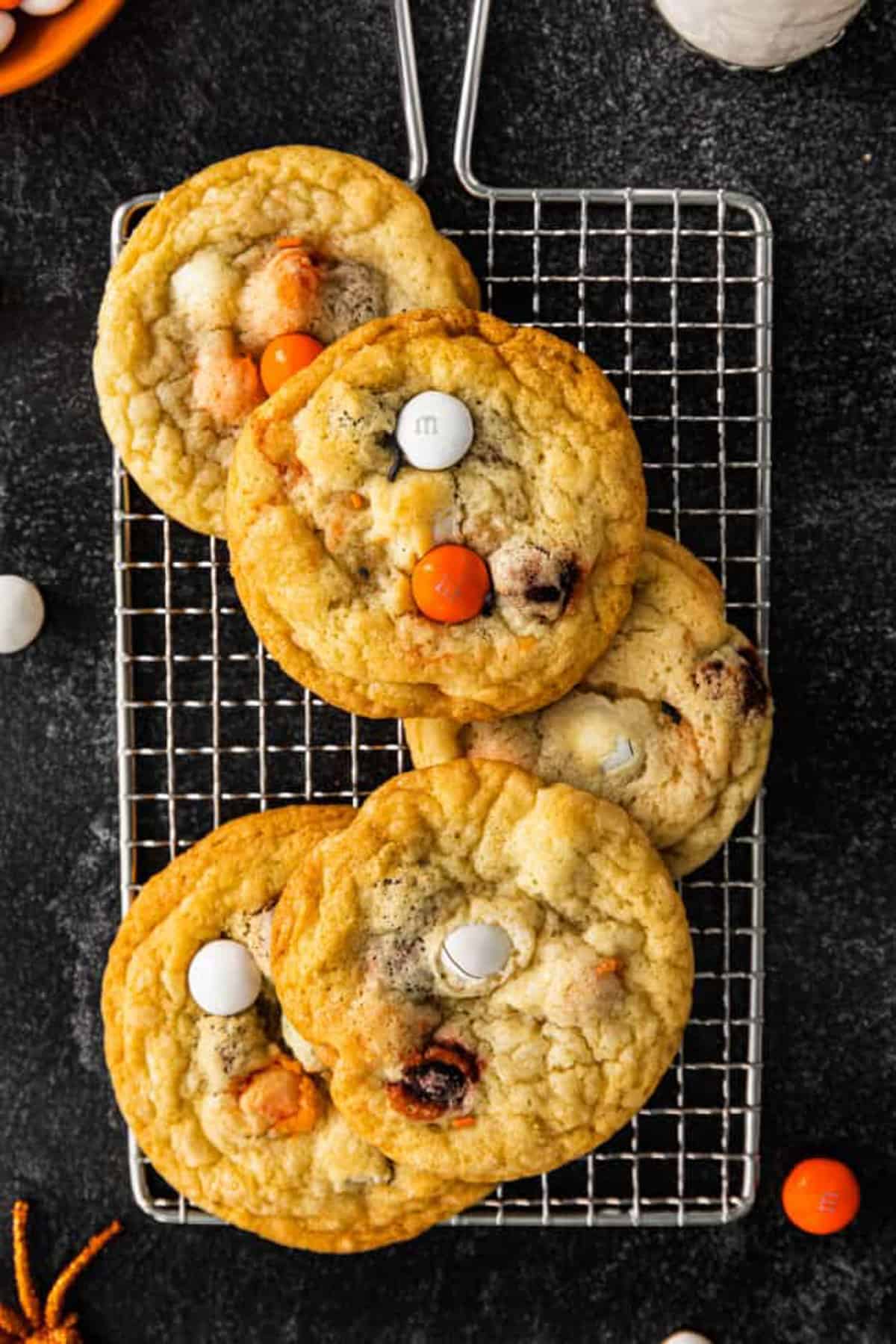 13. Halloween Funfetti Cookies are the perfect sweet treat to bake this October! These confetti cookies, made seasonal by the use of spooky sprinkles in place of traditional rainbow ones, are perfect for sharing.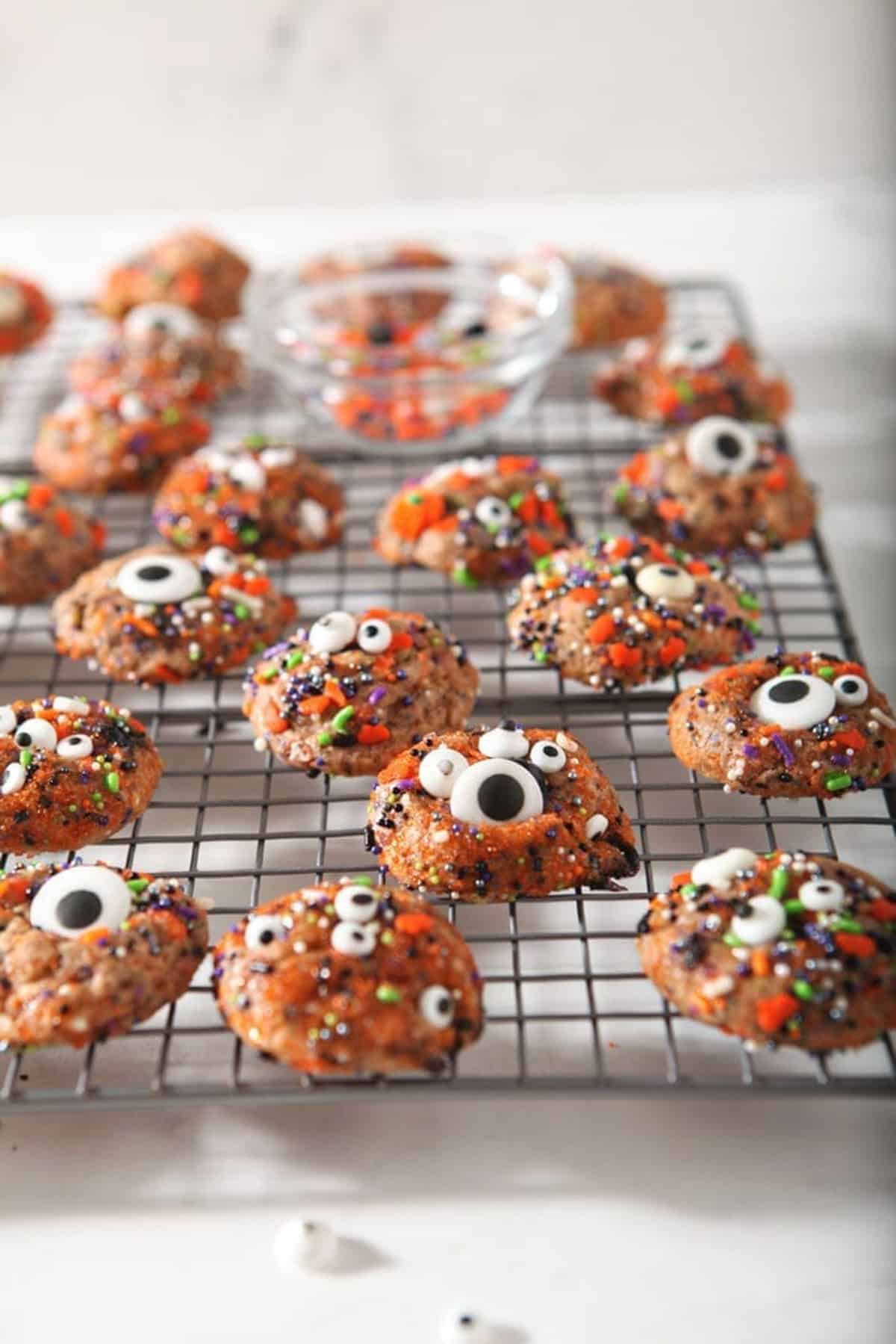 14. This Halloween Cookie Cake is so fun to make, and even more fun to eat! Cookie dough is decorated with Halloween sprinkles and candies, then pressed into a cookie pan and baked into a massive cookie, and decorated just like a cake!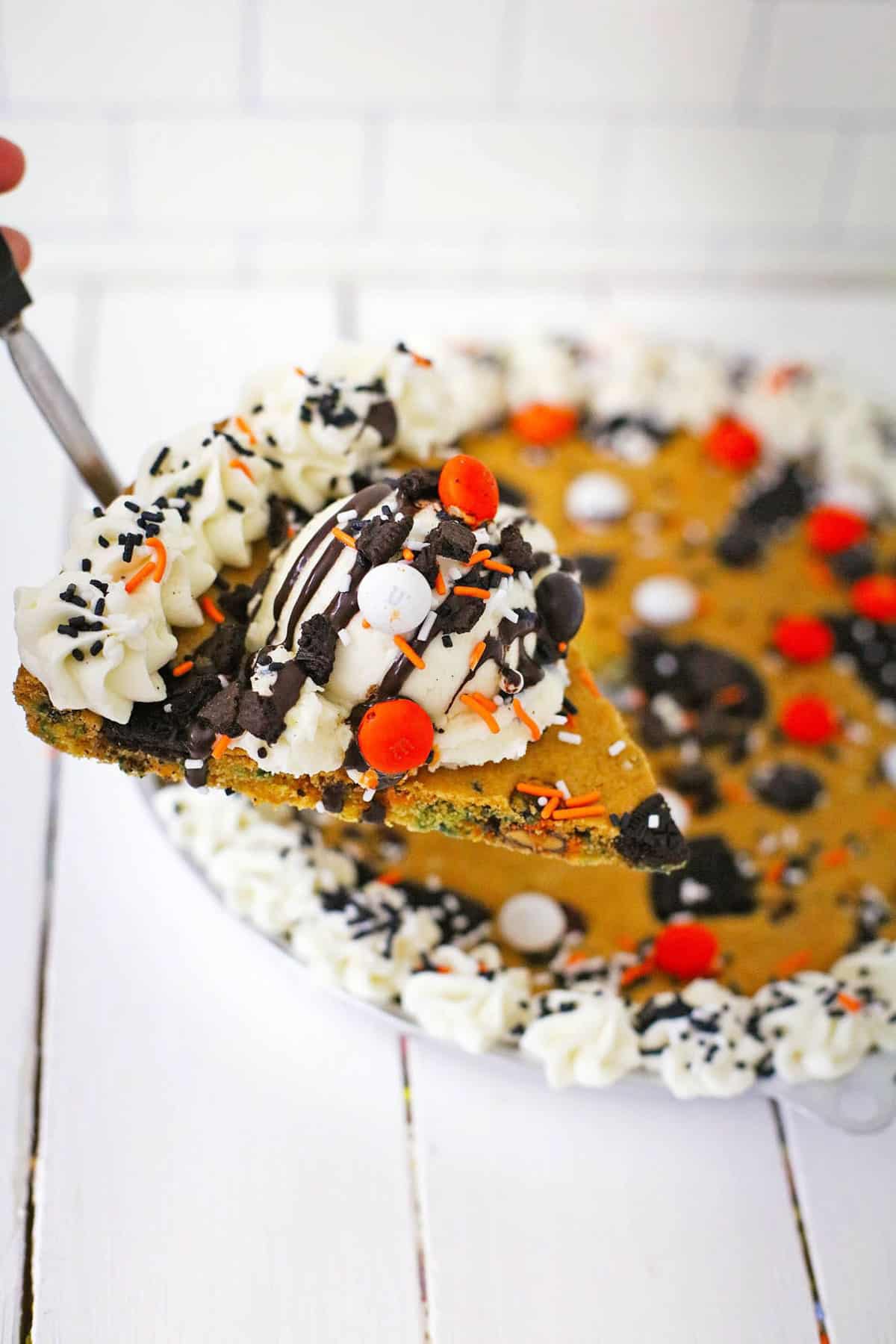 15. Beautiful Caramel Apple Cookies are fall-themed cut-out cookies decorated with royal icing in the easiest way! Make these cute cookies during the apple season, and take them to a gathering, a bake sale, or a fall festival.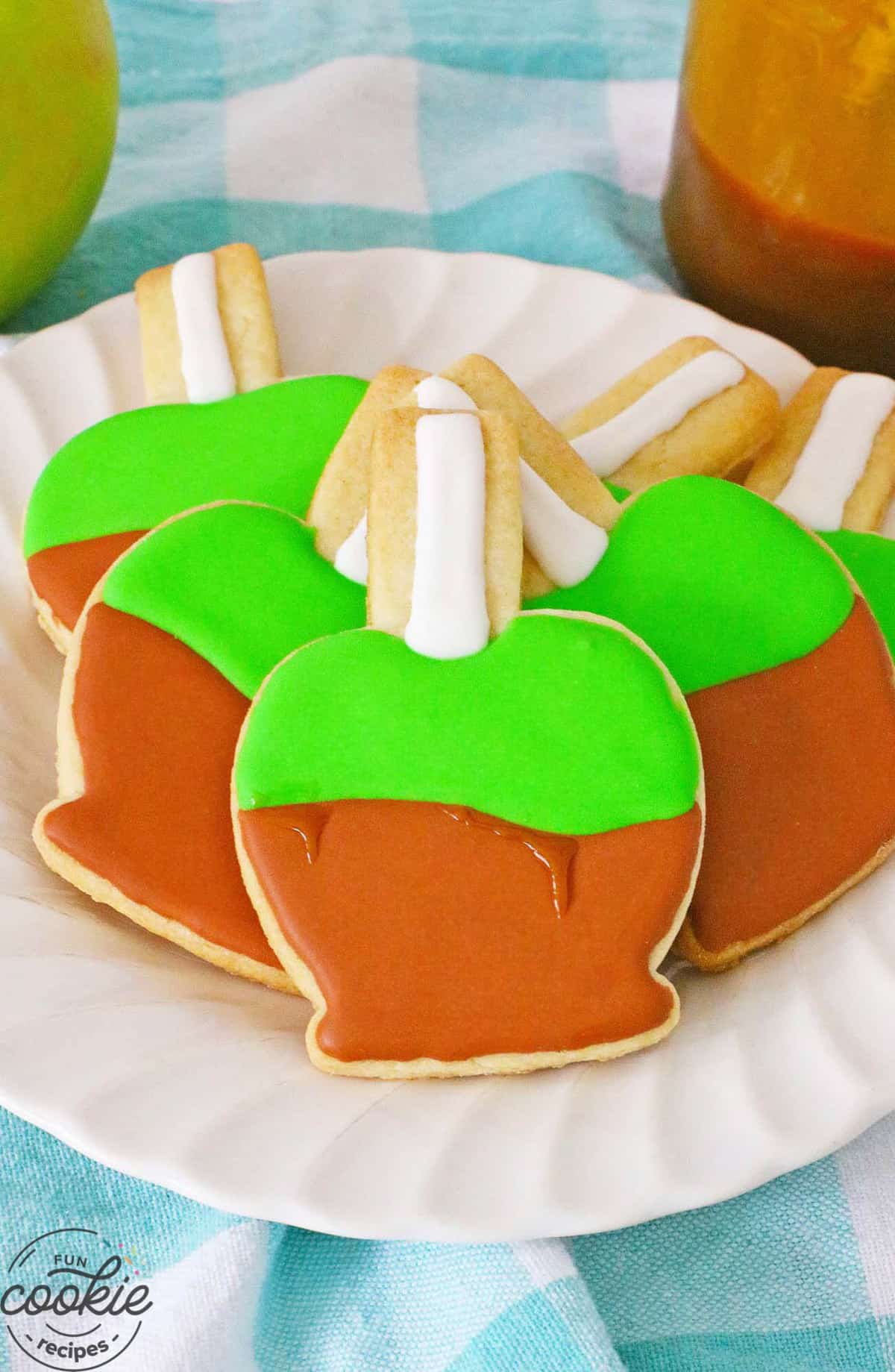 16. Black Coconut Macaroons with Chocolate for your Halloween party guests are fun and easy to make!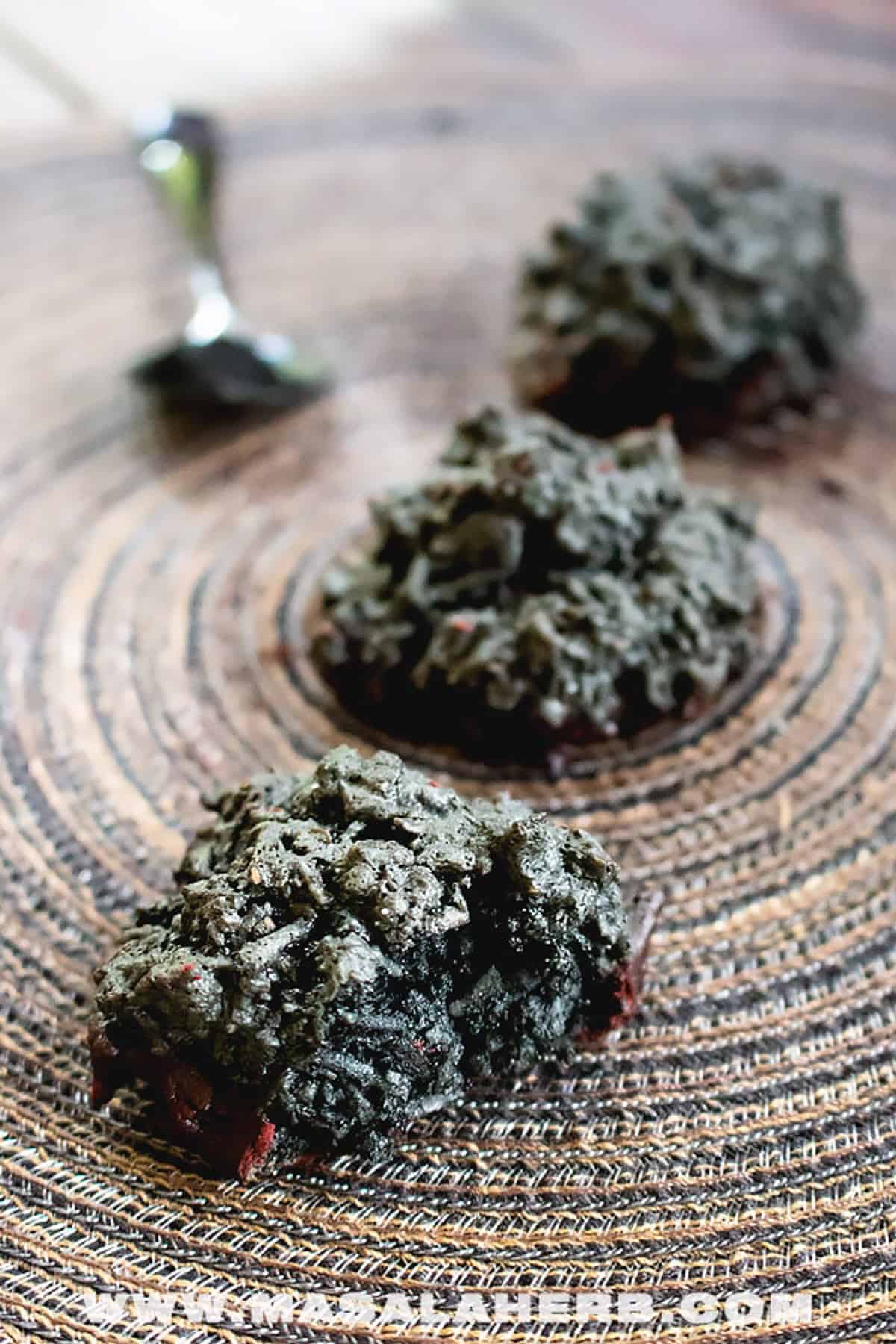 17. Orange and Black Halloween cookies are easy and party ready! Orange isn't the new black; it's only half the story of this fun recipe for Halloween cookies!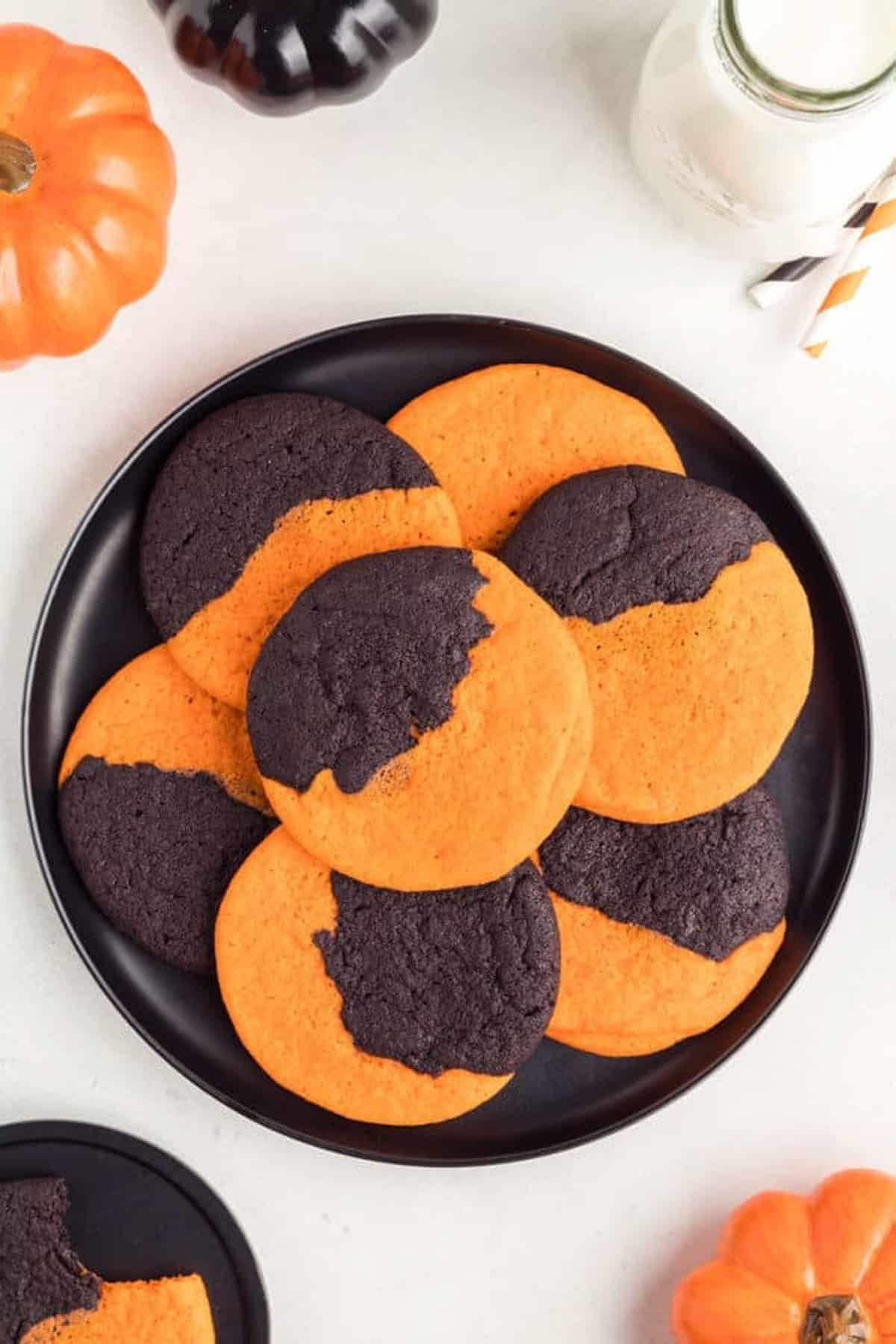 18. Halloween Candy Cookie Bars- Two layers of gooey chocolate chip cookie dough is stuffed with the candy of your choice. The perfect dessert recipe to use up that Halloween Candy or adapt them for any holiday.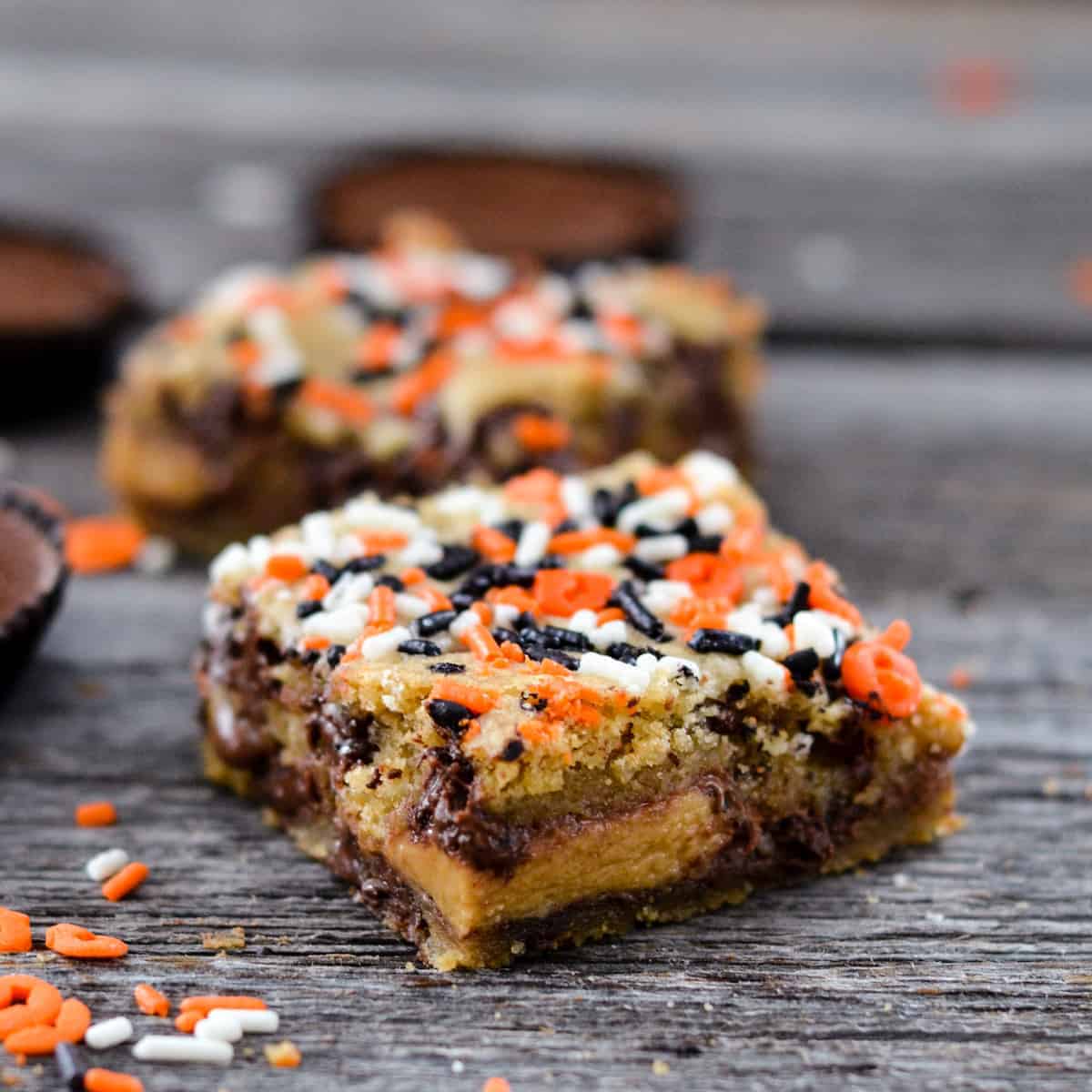 19. Goblin Skillet Cookie is a giant, warm chocolate chip cookie filled with Ghoul Mix M&M's. It's fun, yummy, and a favorite treat for kids of all ages!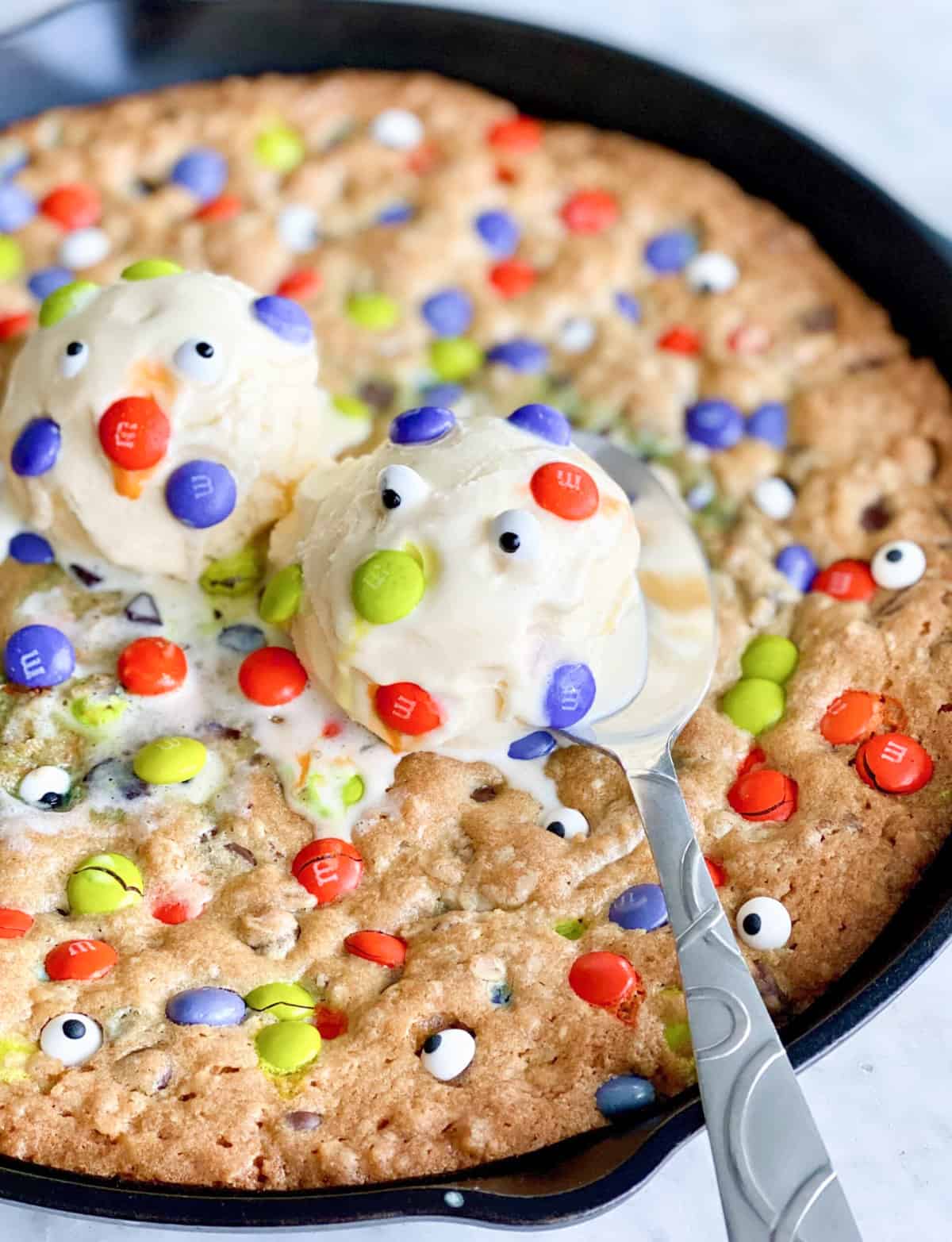 20. The dark as night chocolate cookies are the perfect backdrop for the pumpkin orange candies. Serve these chocolate Halloween cookies at your party, or give them to friends and neighbors to say Happy Halloween!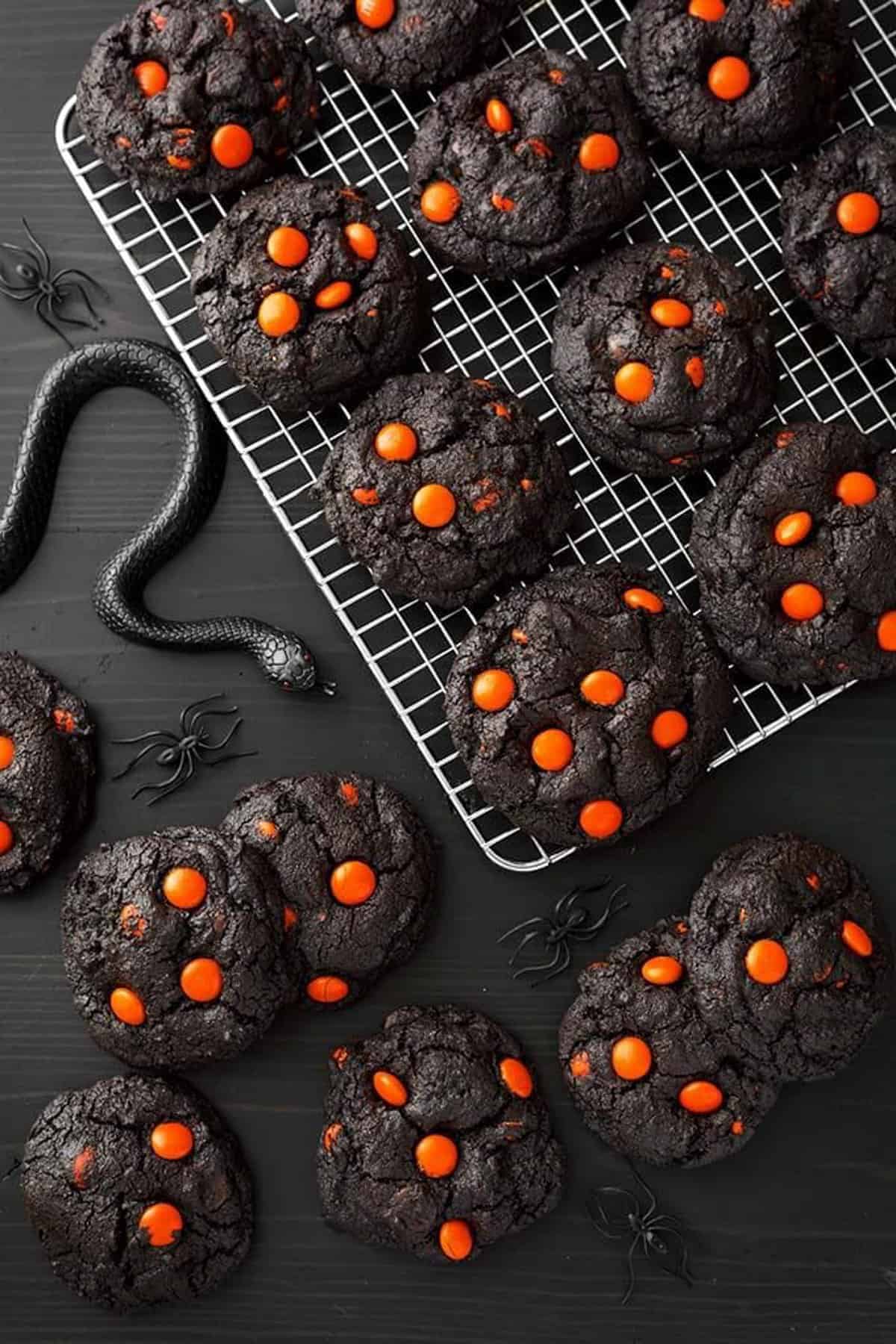 21. Conjure up some magical Halloween treats this year by filling chocolate cauldron cookies with a bewitching potion of candy bones, eyeballs, skulls, and more.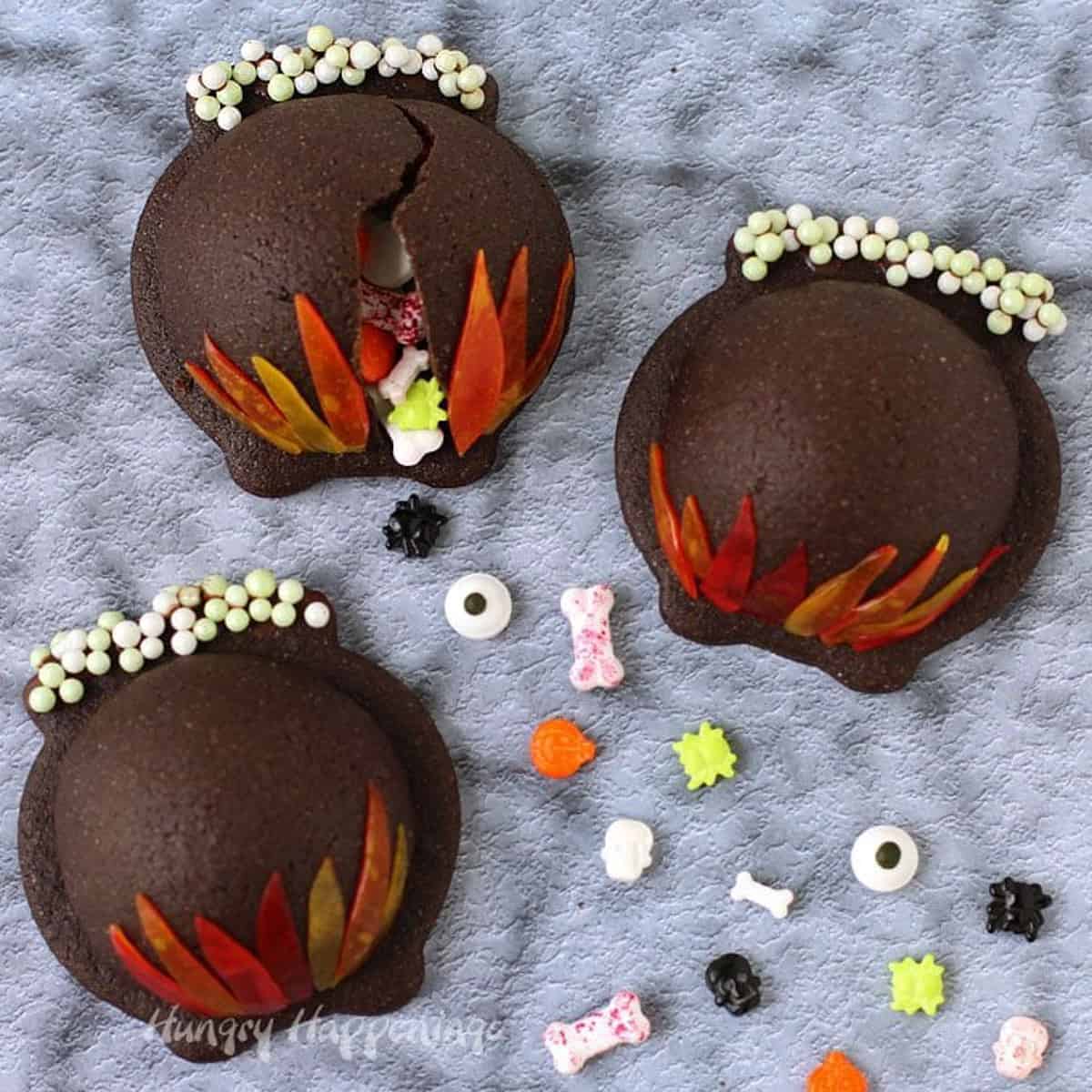 22. Frighteningly fun, these monster-size Chocolate Halloween Cookies are all treat and no trick. Rich and chewy, the Dutch chocolate cookies are chockful of M&M's and Halloween sprinkles for a scary good party snack.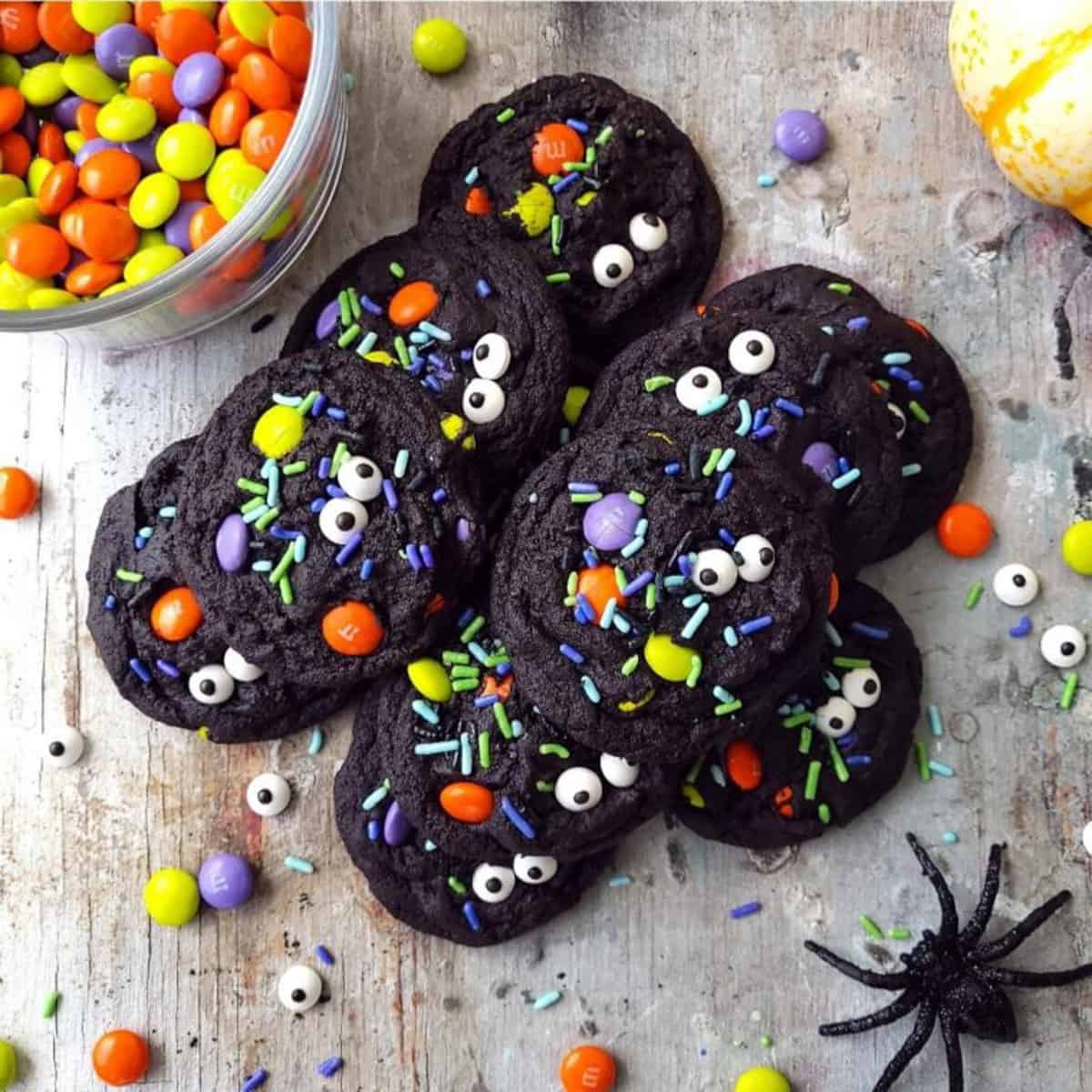 Pumpkin Cookies
To round out this tasty Halloween Cookie round-up I think I'll finish with some delicious pumpkin cookies!
1. Pumpkin Cheesecake Cookies are so easy to make and super delicious! Light, fluffy, and with a cheesecake center- these will be a hit every time you make them!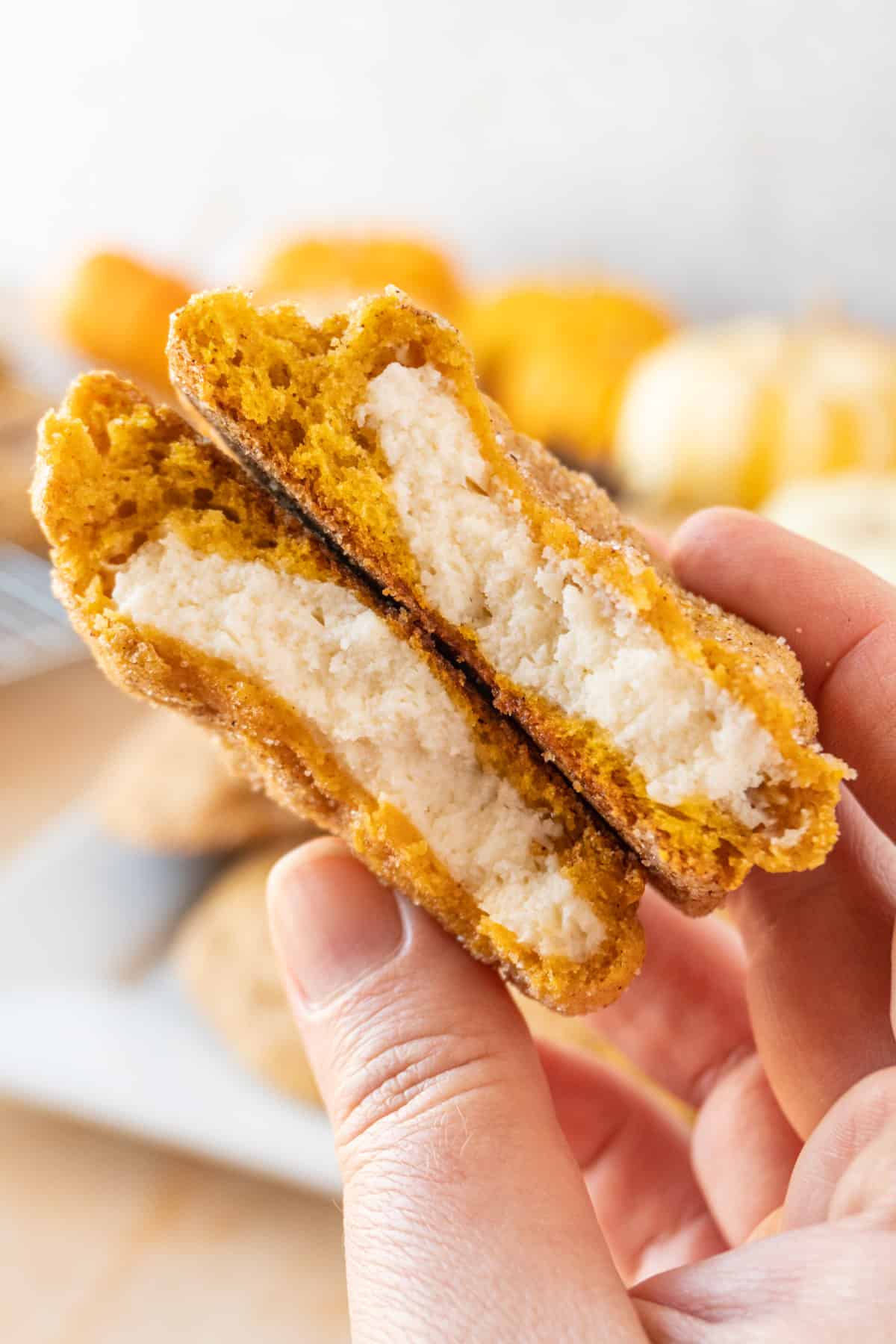 2. Pumpkin Pie Cookies are easy to bake and a fun twist on pumpkin pie! With a sugar cookie base and a delicious pie filling you will want these cookies year after year!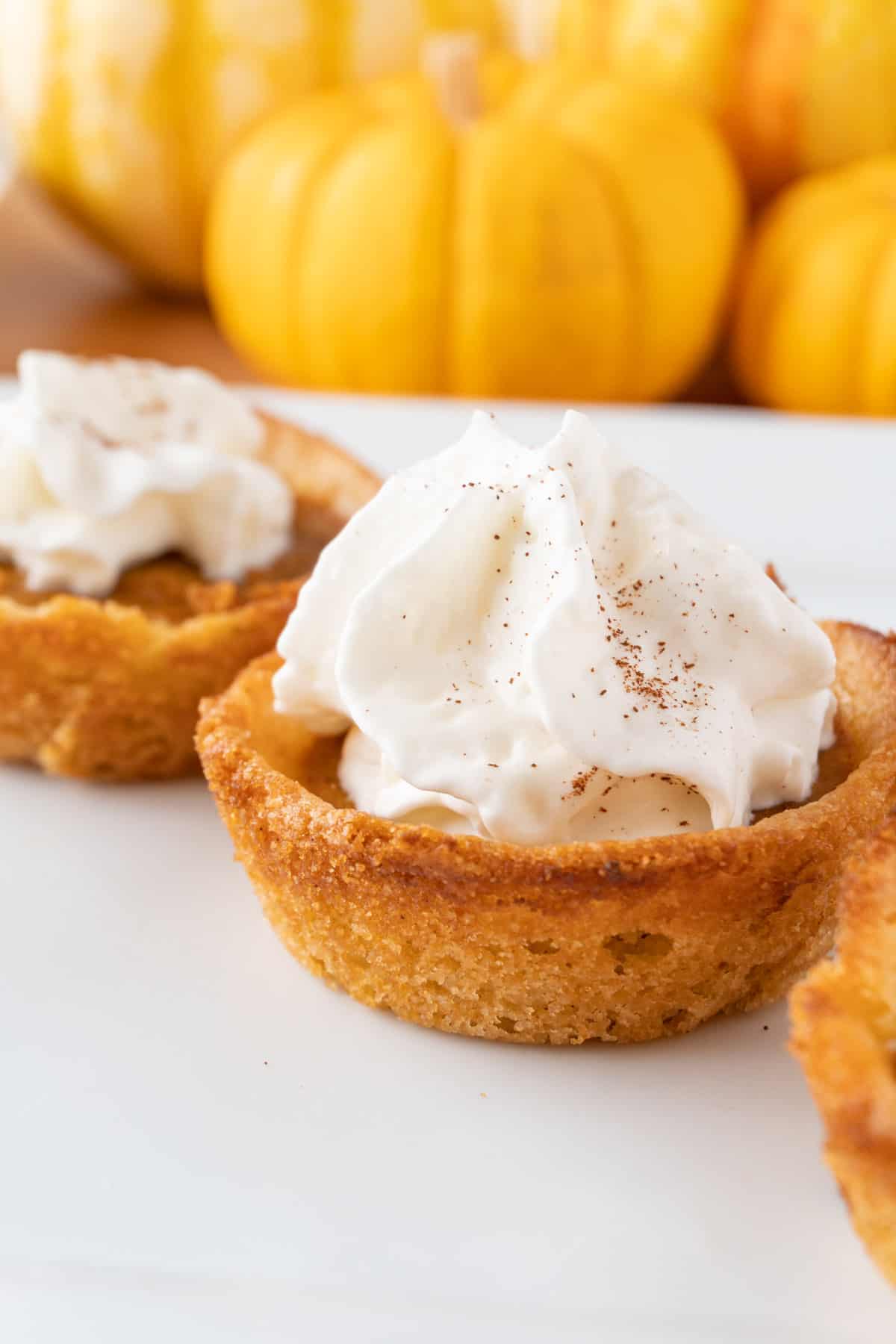 3. Pumpkin Sugar Cookies are the ultimate fall dessert recipe! Made with canned pumpkin puree, pumpkin pie spice, and a sweet & tangy cream cheese frosting … this easy cookie is soft, thick, dense, and delicious.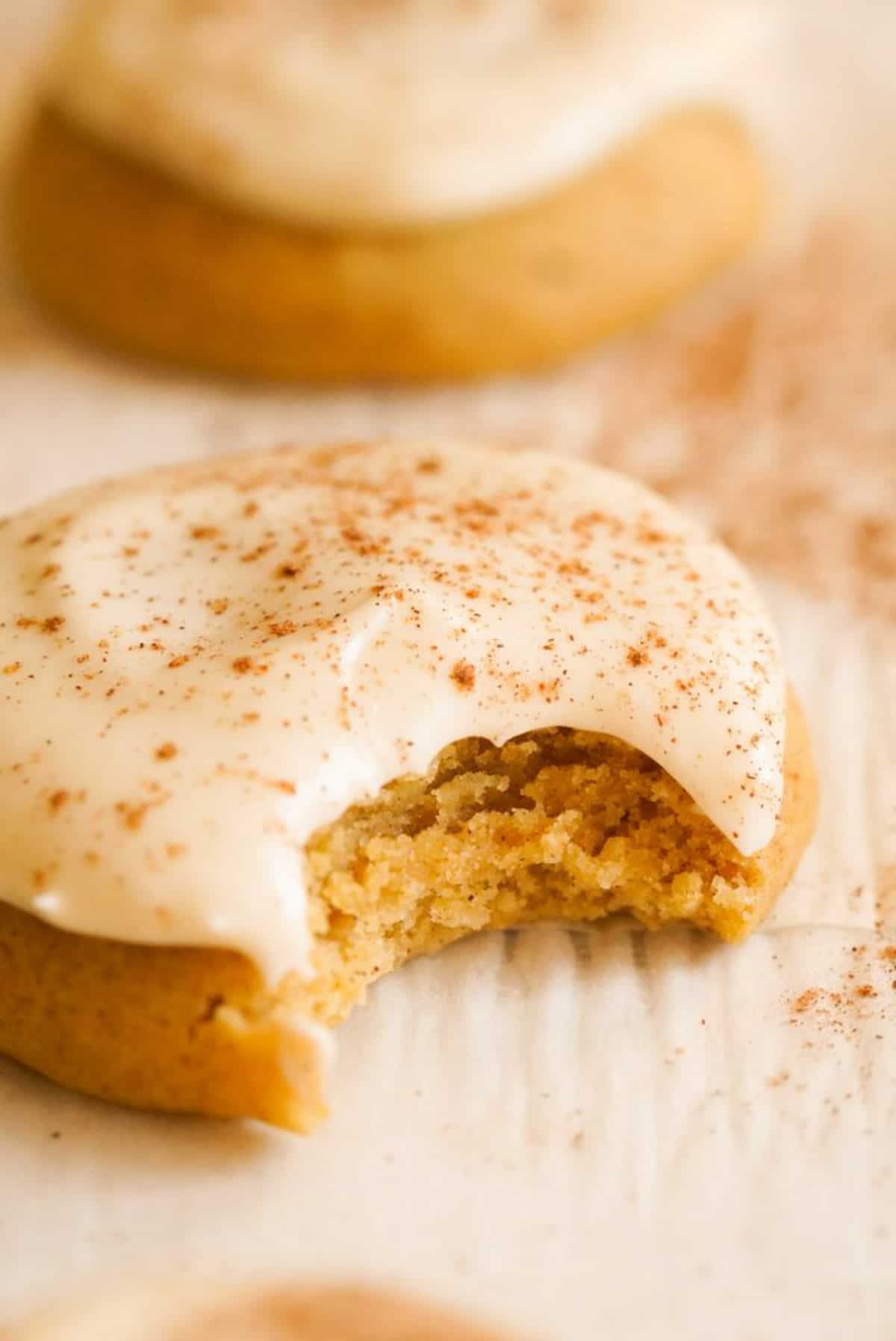 4. Satisfy your pumpkin cravings with these delicious Pumpkin Sugar Cookies iced with a simple sweet maple glaze.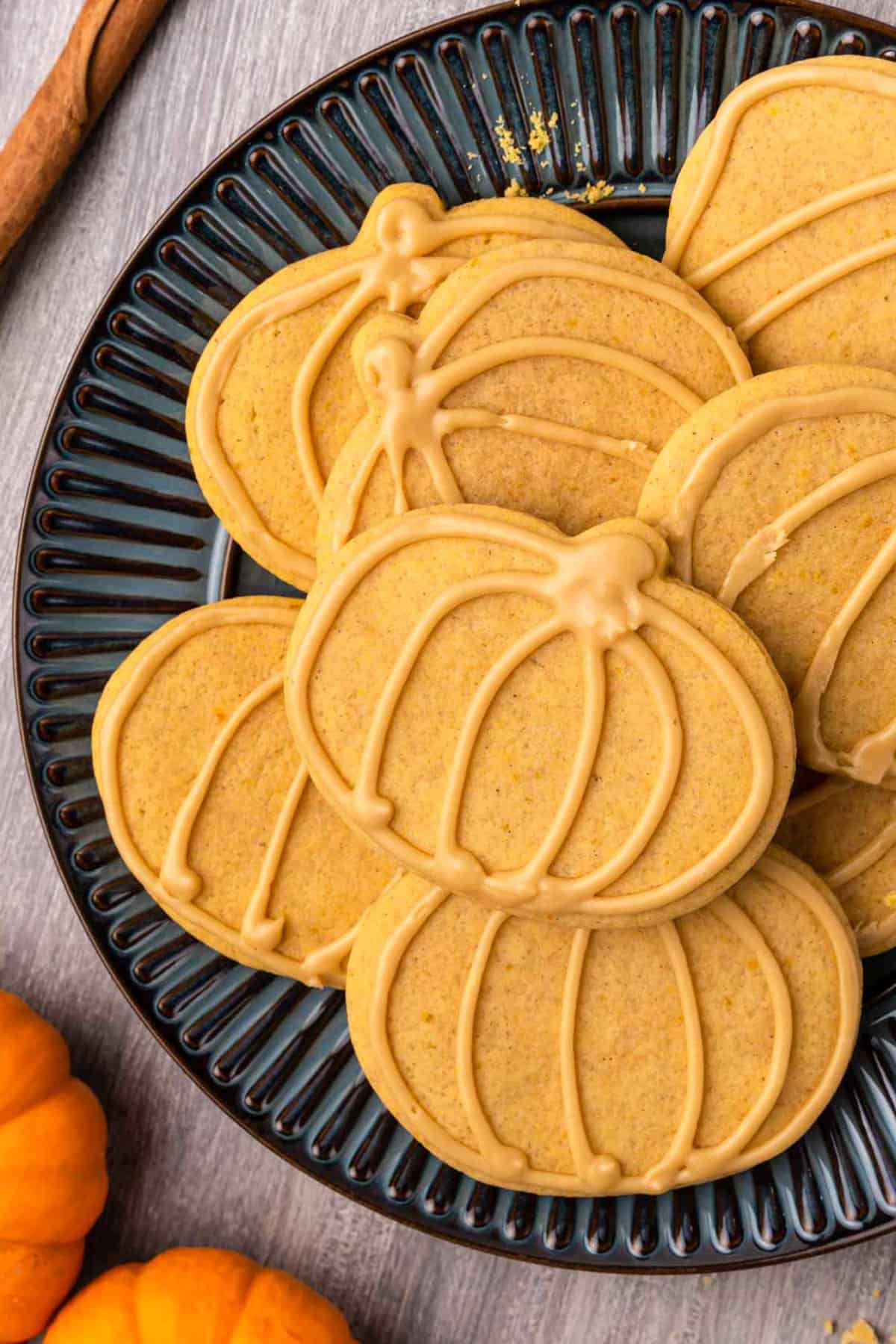 5. Melt in your mouth Sourdough Pumpkin Cookies are full of Fall spices! These cookies are a must make when the air starts to get crisp!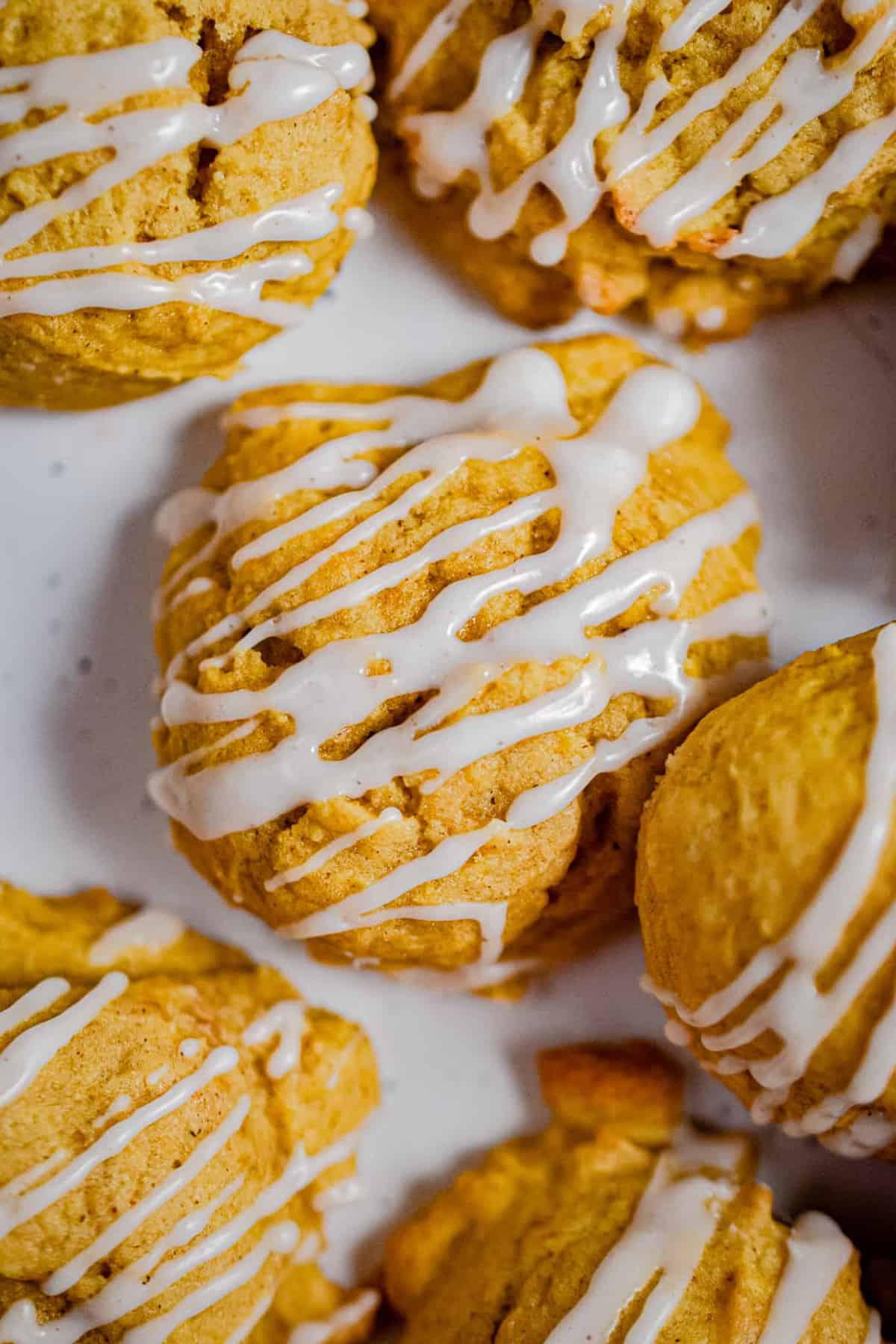 6. These Pumpkin Sugar Cookies are sweet, super soft and chewy eggless sugar cookies with a mild pumpkin flavor throughout. Topped with a maple glaze drizzle, they're also gluten free, nut free, easily vegan and only require 30 minutes of chilling!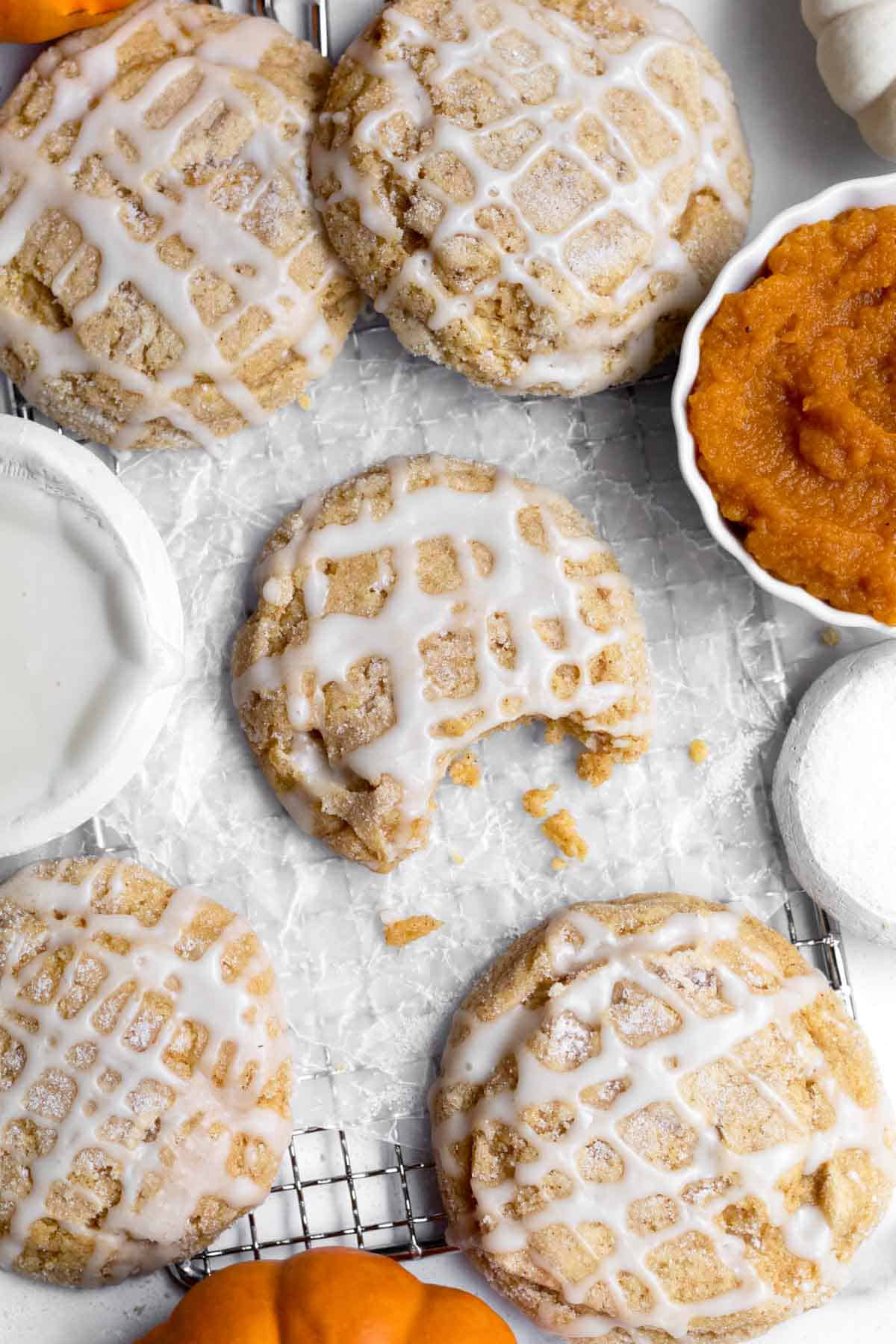 7. These pumpkin snickerdoodle cookies are chewy and soft with crispy edges, filled with fall spices and pumpkin, and coated with cinnamon sugar.