Lemon Meringue Pie with a Graham Cracker Crust is delicious, easy, and summer in every bite. With a toasted airy meringue topping and a filling that is bursting with lemon!
This recipe is one of my favorite pies ever. I love the sweet lemon filling and the toasted perfect meringue and even the simple graham cracker crust- everything about this is delicious!
This post may contain affiliate links. Please read my disclosure policy.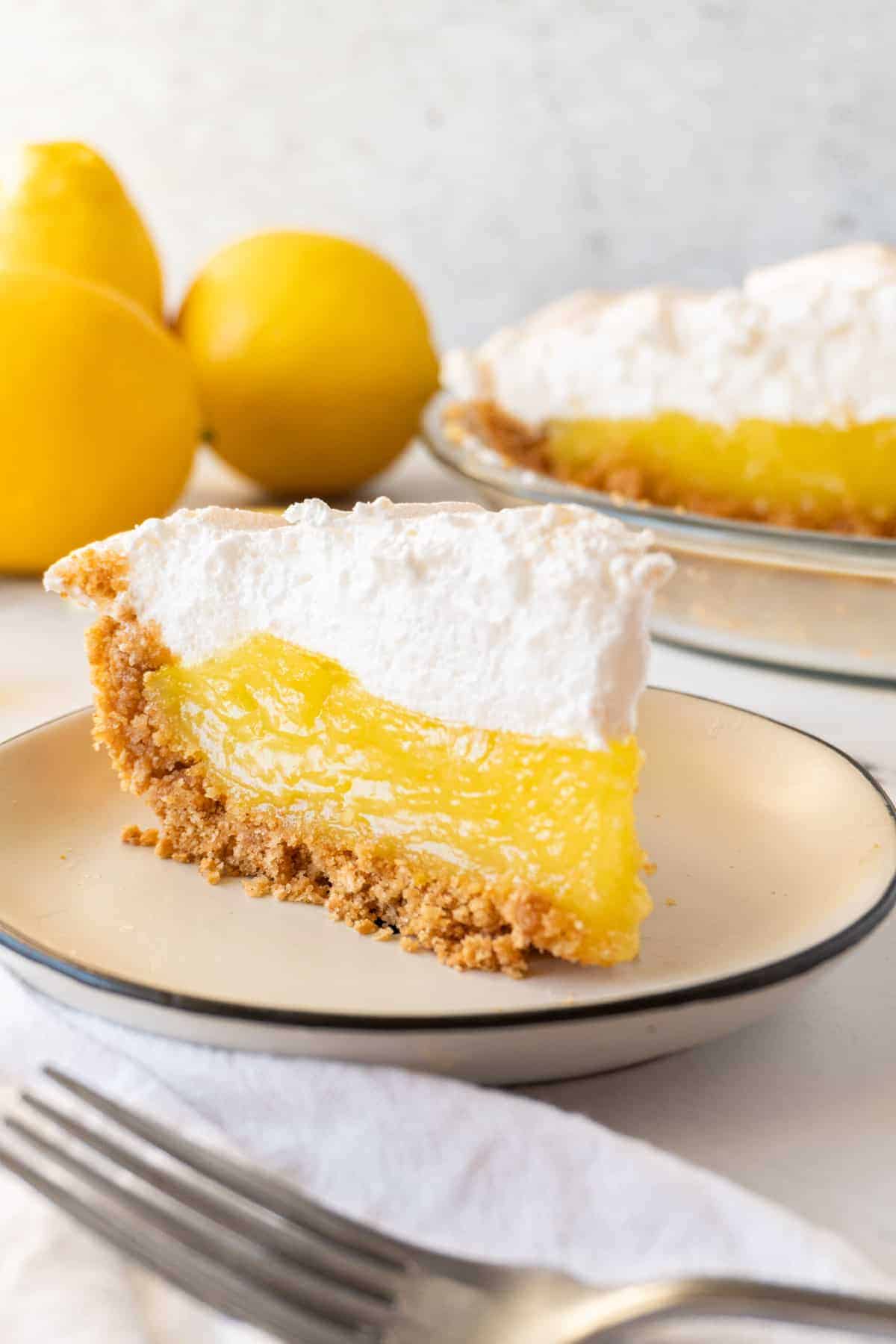 I am so excited to share this delicious and fresh pie as we welcome warmer weather into the year! This is my favorite Classic Lemon Meringue Pie!
Why I love this recipe:
My easy lemon meringue pie recipe has a sweet and tangy lemon filling, topped with a light and airy toasted meringue topping, all sitting on an easy and tasty graham cracker crust.
Now this isn't your grandma's lemon meringue pie where you would surely use a classic flakey traditional pie crust, I wanted to give this pie a little upgrade and use my go to tasty graham cracker crust.
This tried-and-true recipe is a delicious treat that will have everyone asking for seconds. I really hope you enjoy it as much as I do!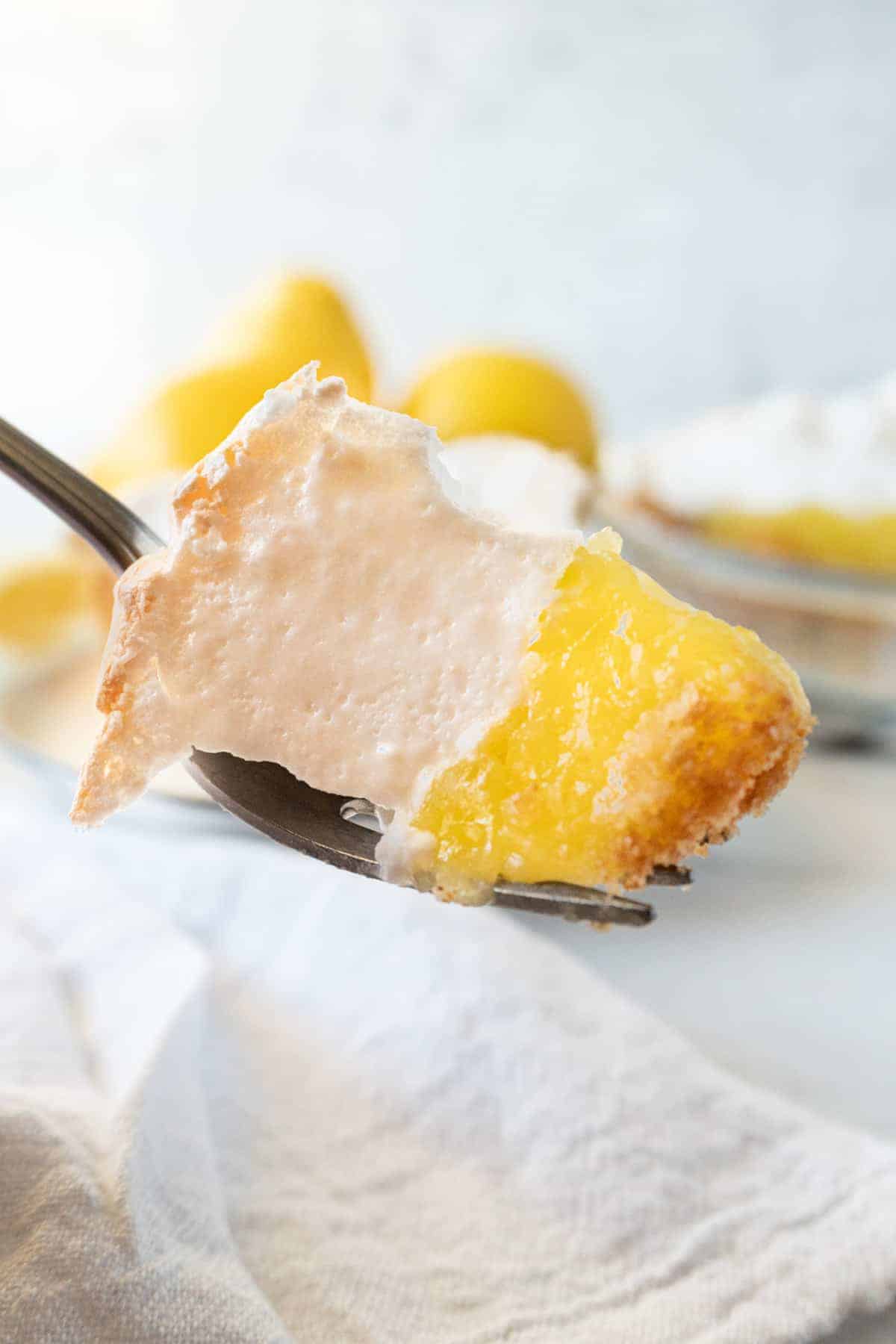 For more tasty pie recipes try:
What do you need to make this pie?
Graham Cracker Crust: graham crackers, butter, sugar, salt
Filling: egg yolks, water, corn starch, sugar, salt, lemon juice, lemon zest, butter
Meringue: egg whites, cream of tartar, sugar, vanilla, salt
Equipment: whisk, mixing bowl, hand mixer, pie dish, measuring spoons (amazon affiliate links)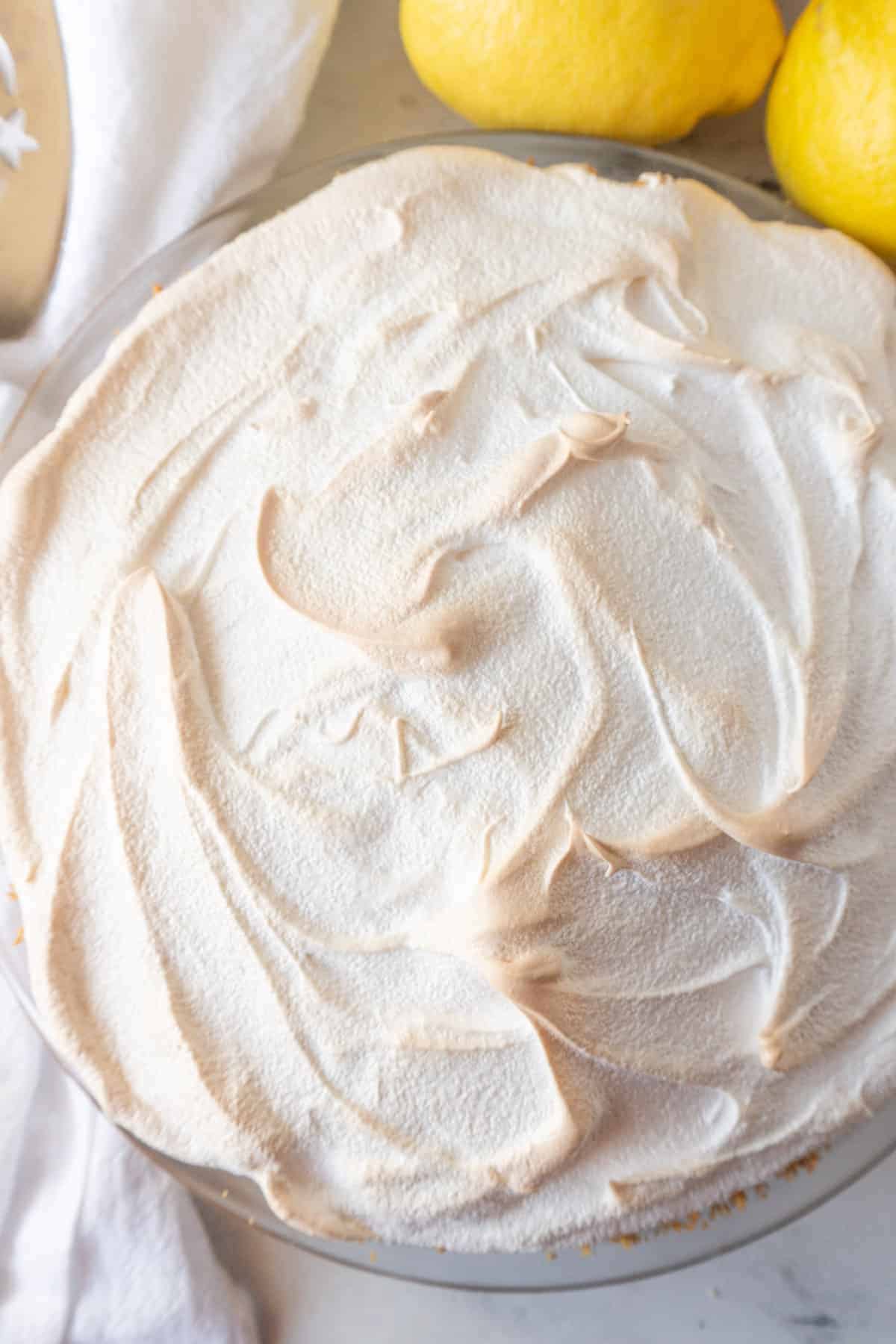 How to make Lemon Meringue pie from scratch?
I know what you are thinking- isn't Lemon Meringue Pie hard to make? I'm here to tell you it's not as hard as it seems. With my tips and tricks, I will help you make the best Lemon Meringue Pie ever!
Prepare and prebake a graham cracker crust
Make your lemon meringue filling
Whip your meringue topping
Spread meringue over the lemon filling
Bake until meringue is nice and toasty brown on top
That's the simple easy breakdown of the steps you will complete to make this delicious pie! Now let's move on to tried and true tips and tricks for success!
Don't miss these tips!
Some recipes call for broiling the meringue- I prefer to bake it with the rest of the pie so it allows the egg whites to bake through. That being said here are my best tips for meringue success:
#1: Use room temperature egg whites for meringue- cold egg whites take longer to whip and don't get as voluminous as room temperature egg whites.
#2: Make sure it's only egg whites you are whipping in the meringue- no yolk.
#3: Make sure the bowl and whisk you are using for the meringue are free of any oil.
#4: Mix the meringue on low speed for a minute after adding sugar to avoid a grainy meringue.
#5: Using cream of tartar helps stabilize the meringue (I use it to stabilize my whipped cream frosting too!).
#6: Make sure the pie filling is warm when you spread the meringue on top to prevent weeping and create a nice seal.
#7: Make sure to spread the meringue out so it touches the crust on all sides of the pie- this will help anchor it so it won't shrink when baking.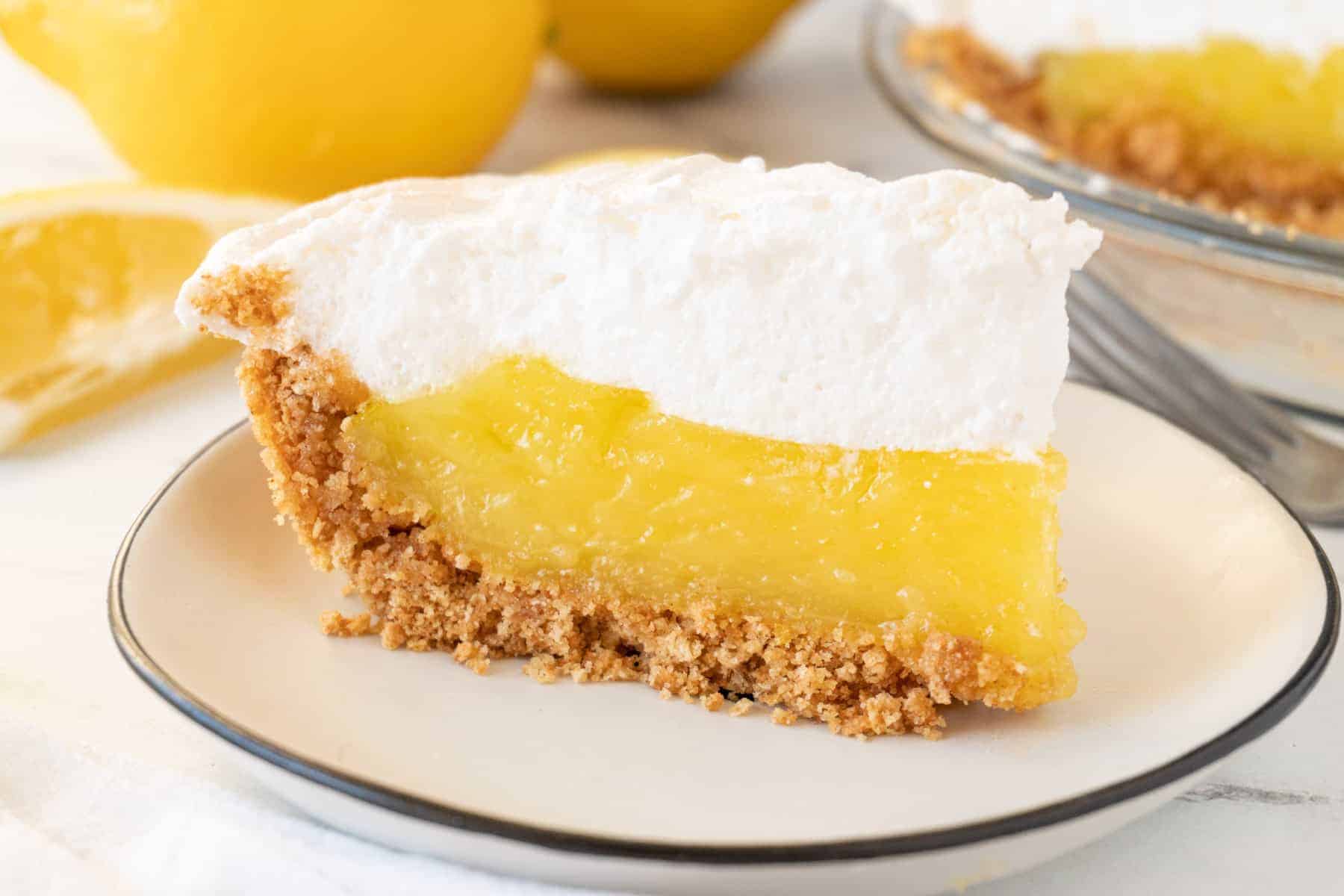 Common Lemon Meringue Problems and Solutions
How to avoid a soggy crust?
This is more of an issue if you were to use a traditional pie crust- but still holds true for a graham cracker crust. We partially prebake the crust so that it holds up to adding the filling and then finishes baking into a delicious crunchy crust with the rest of the pie.
How to have a creamy but firm enough lemon filling?
The lemon filling is very similar to a lemon curd, which is why we temper the eggs. It is thick, silky and delicious and I promise not as hard to make as it sounds. With both tempering and baking the pie you will have a delicious perfect slice of every time.
How do you keep lemon meringue pie from getting watery?
Also known as Meringue weeping- Weeping is when there is liquid in the pie and is typically from the meringue not sealing on top of the lemon filling and absorbing moisture. To avoid this, you will want the lemon filling nice and warm when you pour it into the pie crust and warm when you spread the meringue on top.
If you can store your pie in an airtight container without that will help the meringue not absorb moisture from the air.
Frequently Asked Questions
Should I refrigerate a lemon meringue pie?
Yes. It needs to be refrigerated to set the filling and any leftovers should be refrigerated to keep fresh and safe to eat.
How do you keep meringue from deflating?
Adding Cream of Tartar helps stabilize the meringue.
How to store lemon meringue pie overnight?
To store a lemon meringue pie overnight simply insert toothpicks into the meringue, then cover with plastic wrap.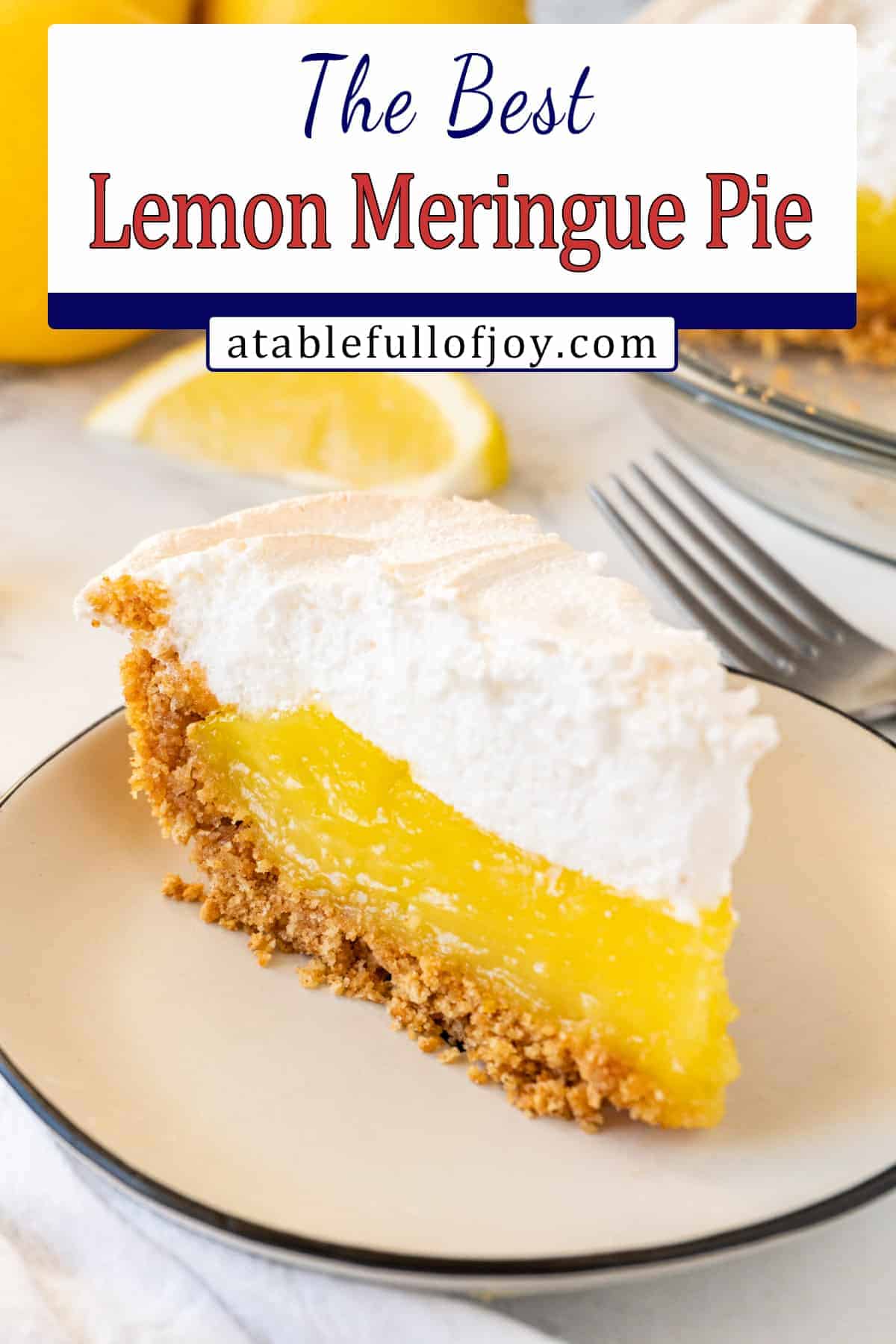 Check out my latest posts here:
Watch how to make this recipe!
Want more? Subscribe to my newsletter and follow along on Facebook, Pinterest and Instagram for all of the latest updates.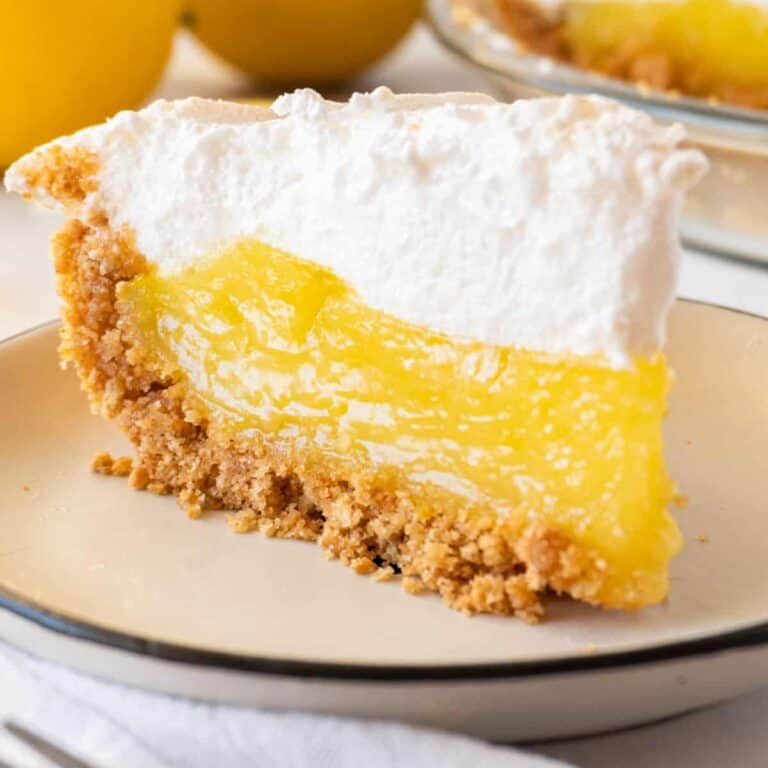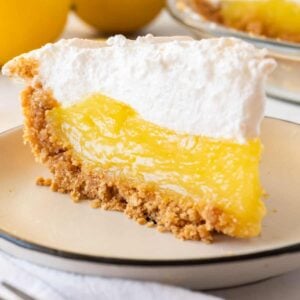 Lemon Meringue Pie with Graham Cracker Crust
Lemon Meringue Pie with a Graham Cracker Crust is delicious, easy, and summer in every bite. With a toasted airy meringue topping everyone will want this every get together!
Ingredients
Graham Cracker Crust
12

graham crackers

2 cups crushed

6

tbs

butter melted

2

tbs

sugar

Pinch

of salt
Lemon Filling
5

large egg yolks

use the whites in the meringue recipe below

1 ¼

cups

water

⅓

cup

cornstarch

1 ¼

cup

sugar

¼

teaspoon

salt

½

cup

lemon juice

1

tbs

lemon zest

2

tablespoons

butter

at room temperature
Meringue
5

large egg whites

best if at room temperature

½

teaspoon

cream of tartar

½

cup

plus 2 tbs granulated sugar

¼

teaspoon

vanilla

1

pinch

of salt
Instructions
Crust
Preheat the oven to 350°F.

Combine crushed graham crackers, melted butter, sugar, and salt. Mix thoroughly. (12 graham crackers crushed, 6 tbs unsalted butter, 2 tbs sugar, pinch of salt)

Press graham cracker mixture into a 9 in pie dish, packing it in firmly and coming up over the sides.

Bake crust in preheated oven for 8 minutes. Once crust is done baking remove from oven and turn heat down to 325°F.
Filling
Whisk egg yolks in a bowl and set aside. (5 egg yolks)

In a medium saucepan whisk together water, cornstarch, sugar, salt, lemon juice, and lemon zest. Over medium heat, bring the mixture to a simmer. Let the mixture simmer, whisking continuously, until thickened- 4-6 minutes then remove from heat. (1 ¼ cups water, ⅓ cup corn starch, 1 ¼ cups sugar, ¼ teaspoon salt, ½ cup lemon juice, 1 tbs lemon zest)

Slowly stream, while whisking, 4-5 large spoonfuls of the lemon mixture into the whisked egg yolks (1 spoonful at a time) until completely mixed together- this is tempering the eggs. Then slow pour, while whisking, that tempered egg mixture into the saucepan with the remaining lemon mixture.

Whisk in the butter. Set aside and make your meringue. (2 tbs butter)
Meringue
In a stand mixer (or with a hand-held mixer) with the whisk attachment whisk the egg whites and the cream of tartar until soft peaks form*- takes about 2 minutes. (5 egg whites, ½ teaspoon cream of tartar)

Add the sugar, vanilla, and salt, whisk on low for a minute (to dissolve sugar) and then whisk on high until stiff peaks form*- takes about 4 minutes. (½ cup plus 2 tbs sugar, ¼ teaspoon vanilla, pinch of salt)
Assembly and Baking
Pour warm lemon filling into the prebaked graham cracker crust. If the filling isn't warm make sure to reheat it on the stove before adding it to the crust.

Spread the meringue over the filling making sure to spread all the way to the crust (have the meringue touch the crust helps prevent it from shrinking while baking). You can make nice decorative peaks with a large spoon or spatula.

Bake pie in preheated oven (at 325°F) for 15-20 minutes. Meringue will be lightly browned on top. I recommend checking at the 15-minute mark and then every minute there after- the pie can brown quickly. Remove from oven and allow to cool to room temperature then once at room temperature refrigerate for 1-2 hours before serving.

Once cool slice and enjoy!
Notes
Tips and Tricks:
Best eaten the same day as making.
Store any leftovers in the refrigerator but be prepared for leftovers to have the meringue wilt and separate a little.
Soft Peaks mean when the whisk is removed from the egg whites, the egg whites on the whisk is just starting to hold their shape (easy to see if you turn whisk upside down), but the peak fold over on itself.
Stiff peaks mean when you remove the whisk from the egg whites, the mixture will stan strand up into a nice pointy peak without folding over. 
Nutrition
Calories:
301
kcal
Carbohydrates:
48
g
Protein:
4
g
Fat:
11
g
Saturated Fat:
6
g
Trans Fat:
1
g
Cholesterol:
101
mg
Sodium:
237
mg
Potassium:
88
mg
Fiber:
1
g
Sugar:
36
g
Vitamin A:
342
IU
Vitamin C:
5
mg
Calcium:
26
mg
Iron:
1
mg
Reader Interactions