These chicken tacos with a tomatillo salsa are AMAZING! They are amazingly delicious and amazingly easy. So what are you waiting for! Go make some!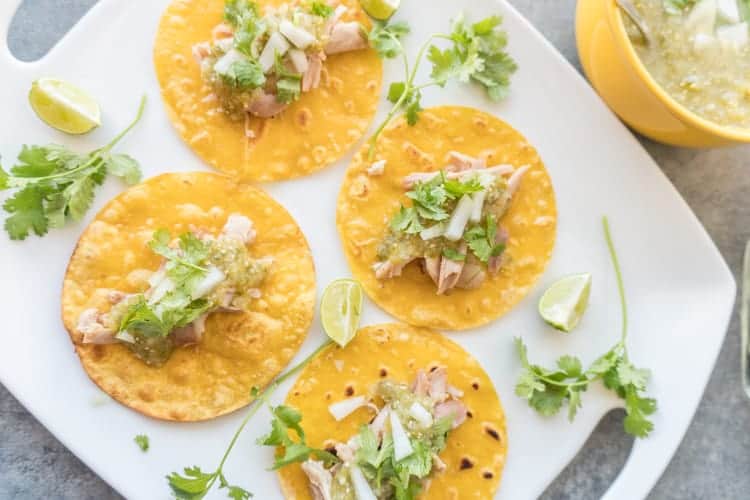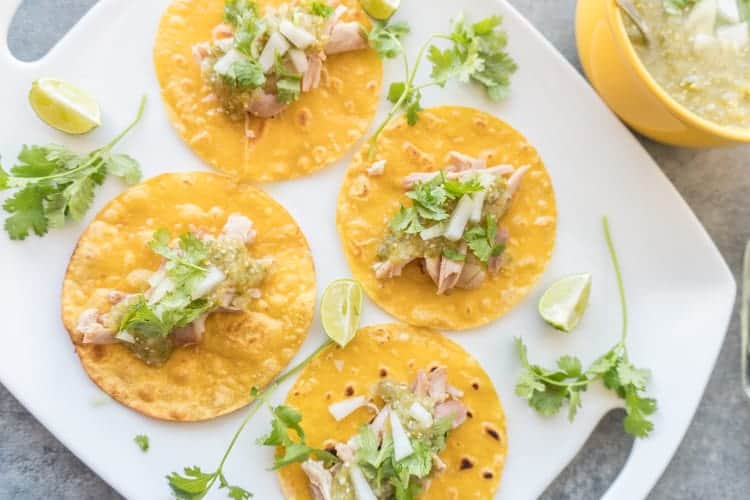 It's the beginning of May and you know what that means, warmer weather, schools starting to end and Cinco De Mayo! Cinco De Mayo is just another reason to eat tacos! And I love tacos!
Pretty much every time I go to a Mexican restaurant I order tacos.  I've had good ones and not so good ones, but overall it's a taco so I'm pretty happy. My favorite tacos EVER come from a little hole in the wall restaurant in Taos, NM, called Toribios.
When I was working as a geologist, I had to oversee work being done at the landfill in Taos. Living the life right? I've been to so many landfills in NM as a geologist- who knew that's what my work would entail! Anyways back to tacos…
One of the nearest places to the landfill (and it wasn't super close because who wants to have a restaurant near a landfill!)  to grab food was Toribios. Shown to me by a coworker, after my first visit I was hooked. Every day I would order their Tacos Al Pastor with some rice and calabacitas (green chile and squash). Oh my goodness those tacos!! AMAZING!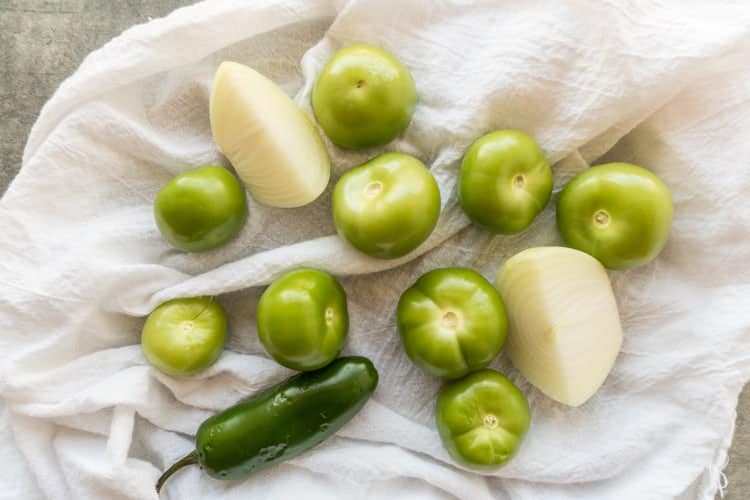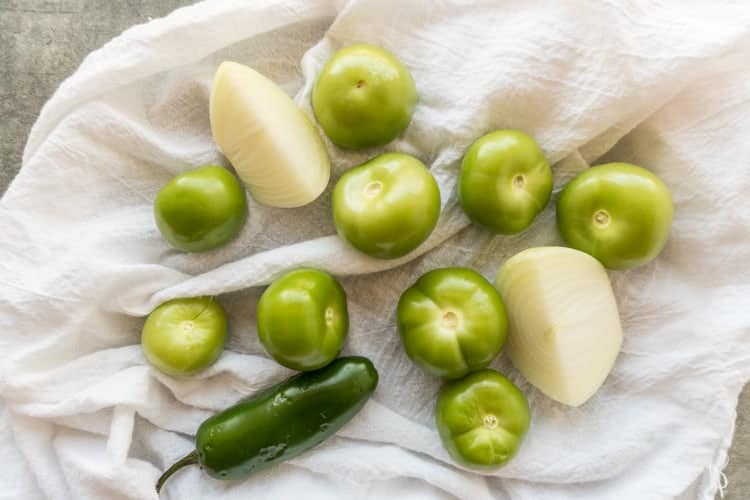 Even though I was working at a landfill all day for several weeks – which honestly isn't bad at all and not nearly as smelly as a waste water treatment plant (another story for another time…), I looked forward to those tacos every day!
Even last October, when my husband and I were driving up to a wedding in Colorado, I made sure we detoured to Taos (a couple hour detour), just to have those tacos. My husband had never had them before and even he said they were the best he's had too.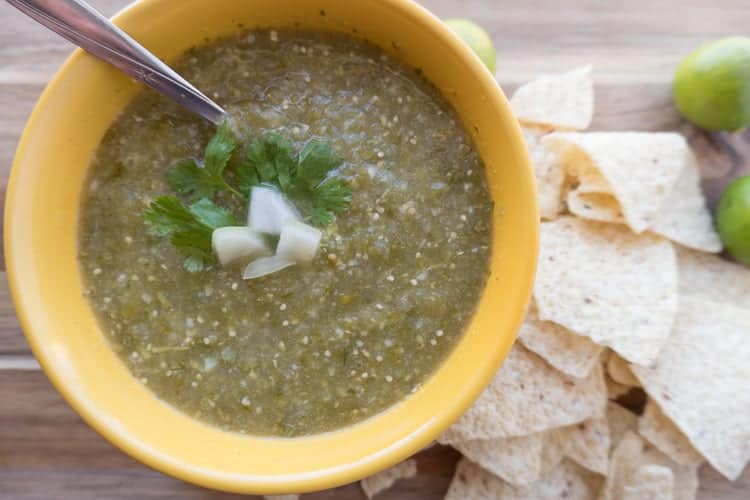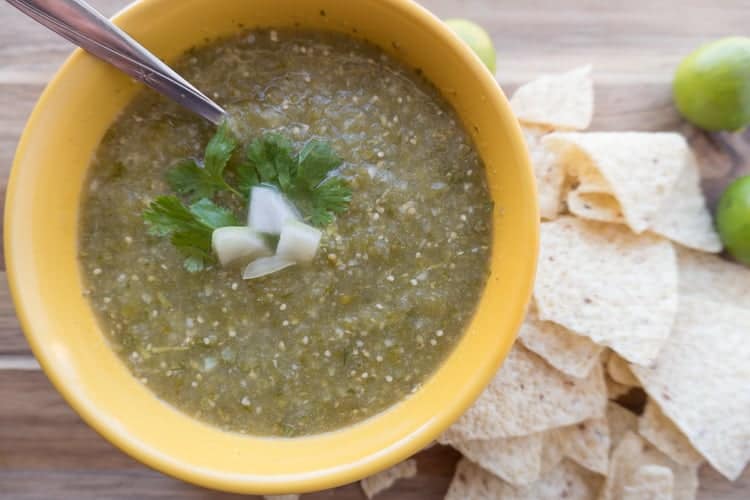 Now, whenever I go to a restaurant that advertises tacos al pastor I have to try them, but they are never anywhere near as good as Toribios. I once tried making my own al pastor and it tasted horrible. Ended up throwing it all out L, but that just means I have to visit Taos every now and then for some tacos. Which isn't bad at all J.
Taos is known for its beautiful surroundings, the great culture, shopping, and its food.  And now, definitely its tacos! If you are ever there the two things you must do are go get tacos from Toribos (obviously!) and then go visit the Rio Grande Gorge Bridge. Seriously an awesome sight and you will pass the landfill on the way… so you can think of me haha.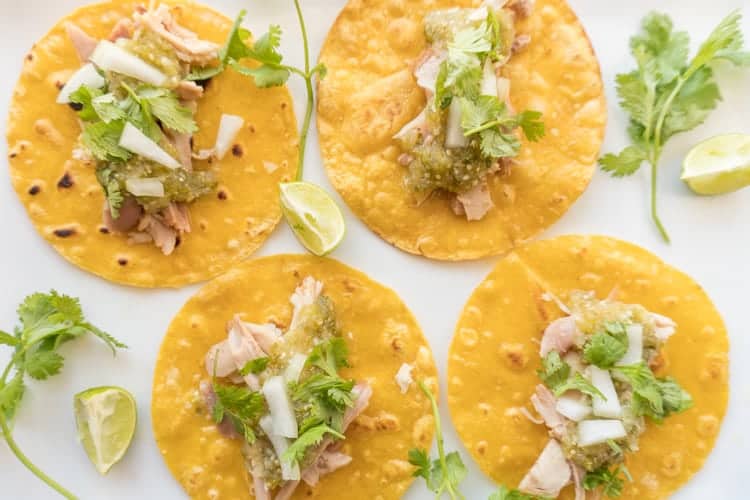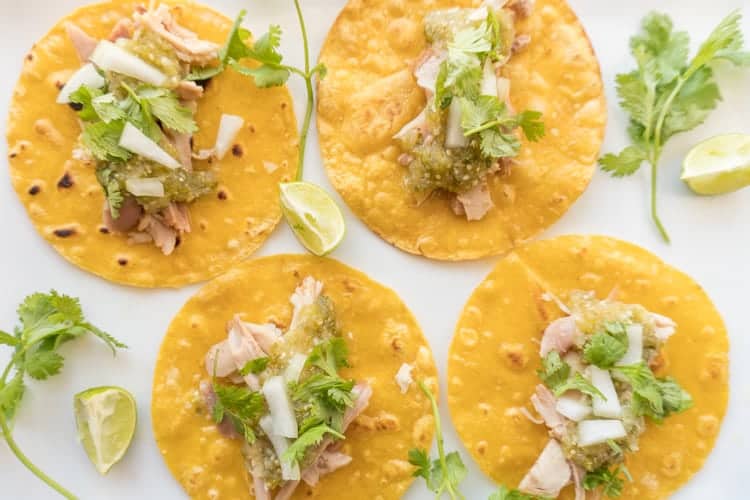 Okay, so now that you know how seriously I take my tacos, you need to try these delicious chicken tacos with a homemade salsa verde salsa! They may not be al pastor tacos, but they are still super good and something I make all the time for dinner!
They are super easy to make and delicious. PS I'm pretty sure this is my longest blog post- because I am so excited about tacos haha! I could talk about them all day! But I won't because you need to go make these!
How to make shredded chicken tacos:
I used some leftover smoked chicken that I shredded, but you can cook up some in the oven or on a stove or even use a rotisserie one from the store. Rotisserie chicken from the store is still tasty and much quicker than smoking chicken, although smoked chicken is amazing and you should use it if you have it!
Make your salsa. It's as simple as boiling some of the ingredients and then blending everything in a food processor or blender. Simple, fast and delicious! The salsa will be warm, which tastes fine, but you can always stick a bowl full in the freezer to cool it down quickly for your tacos.
Fry up some tacos shells and then assemble.
Then eat to your heart's content! Or at least your stomach's!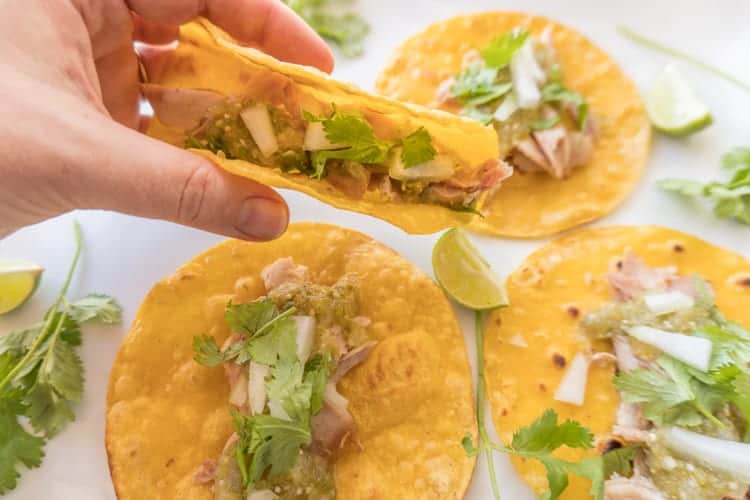 This easy chicken taco recipe with an even easier tomatillo salsa recipe is so good you'll be making it all the time!
What are your favorite types of tacos and salsas? Which type should I try next? Do you have a favorite taco place like me? Leave me a comment below because I'd love to know!
Enjoy this with a refreshing mint julep (nonalcoholic!) and some homemade brownies for dessert!  Also check out my easy steak tacos with mango salsa!
---
BE SURE TO FOLLOW ME ON FACEBOOK, INSTAGRAM, PINTEREST & TWITTER!
---
Want more? Subscribe to my newsletter and follow along on Facebook, Pinterest and Instagram for all of the latest updates.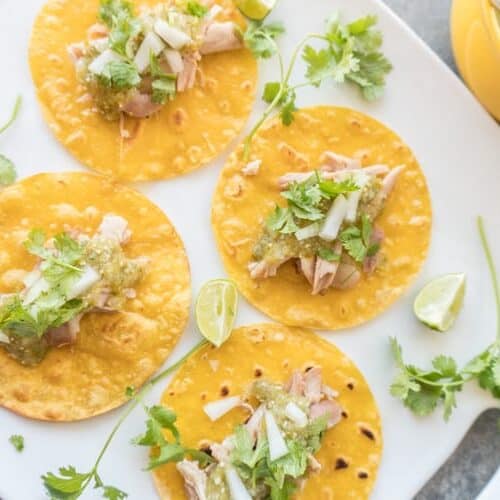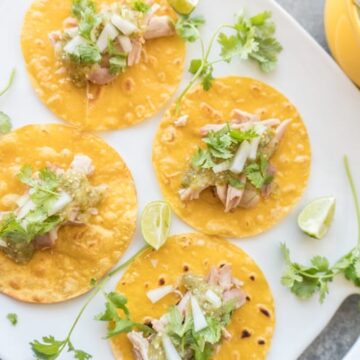 Chicken Tacos with an Easy Green Salsa Recipe
These easy chicken tacos with a simple salsa verde recipe are so good you won't be able to stop eating them! Use the easy salsa recipe on these tacos, enchiladas or to just dip chips in!
Ingredients
½

lb

chicken cooked and shredded*

rotisserie chicken works great!

6

corn tortilla

¼

oil

for frying tortillas (optional)

1

cup

yellow or white onion diced

for garnish

½

cup

cilantro rinsed and chopped

for garnish

Limes

for garnish
Salsa Verde Recipe
9

Tomatillos

husked and rinsed

½

large yellow onion

1

jalapeno

stem and seeds removed

4

garlic cloves

peeled

1

cup

cilantro

½

teaspoon

cumin

½

teaspoon

salt

½

teaspoon

garlic powder
Instructions
How to make taco shells:
If frying up the tortillas, which I recommended, heat oil over medium high heat in a large fry pan. After a minute or two dip a small part of a corn tortilla in the oil to test if the oil is hot enough. It will be hot enough if it starts bubbling and frying the tortilla right away!

Place your tortilla in the hot oil and after about 30 seconds flip it. Then after another 30-45 seconds fold your corn tortilla in half forming a taco shell.

Fry each side of the shell until it is browned to your desired level of doneness.
How to make salsa verde:
After you have peeled and rinsed your tomatillos, cut of the stems and then place them in a medium sized pot. Add in your onion half and jalapeno. Fill the pot with water until it covers the tomatillos and they start to float.

Bring water to boil over medium high heat and boil until the tomatillos turn from a bright green to an olive green. This takes from 5-10 minutes.

Once they've changed colors, transfer all the tomatillos, the onion, and the jalapeno to a food processor or blender. Do not add any of the water.

Add in the remaining garlic, cilantro and spices to the food processor and process for 30-60 seconds, or until it is to your desired level of chunkiness.
Assembling the chicken tacos:
If you are using leftover chicken or if it's cold for some reason, warm it up in the microwave or over the stove.

Take a taco shell and fill it with shredded chicken. Add salsa and top with extra diced onions and cilantro! Squeeze on some fresh lime juice and..

Enjoy!
Notes
*I used chicken leftover from when I smoked a bunch (it was amazing!), but you can use any type, even a store bought rotisserie for ease of use! Also, the amount of chicken varies depending on how stuffed you want your tacos and how many you are making. Keep that in mind!


Reader Interactions