Spatchcock Turkey is a delicious way to evenly cook your turkey. Learn all the ways to easily cut, prep, and bake your turkey!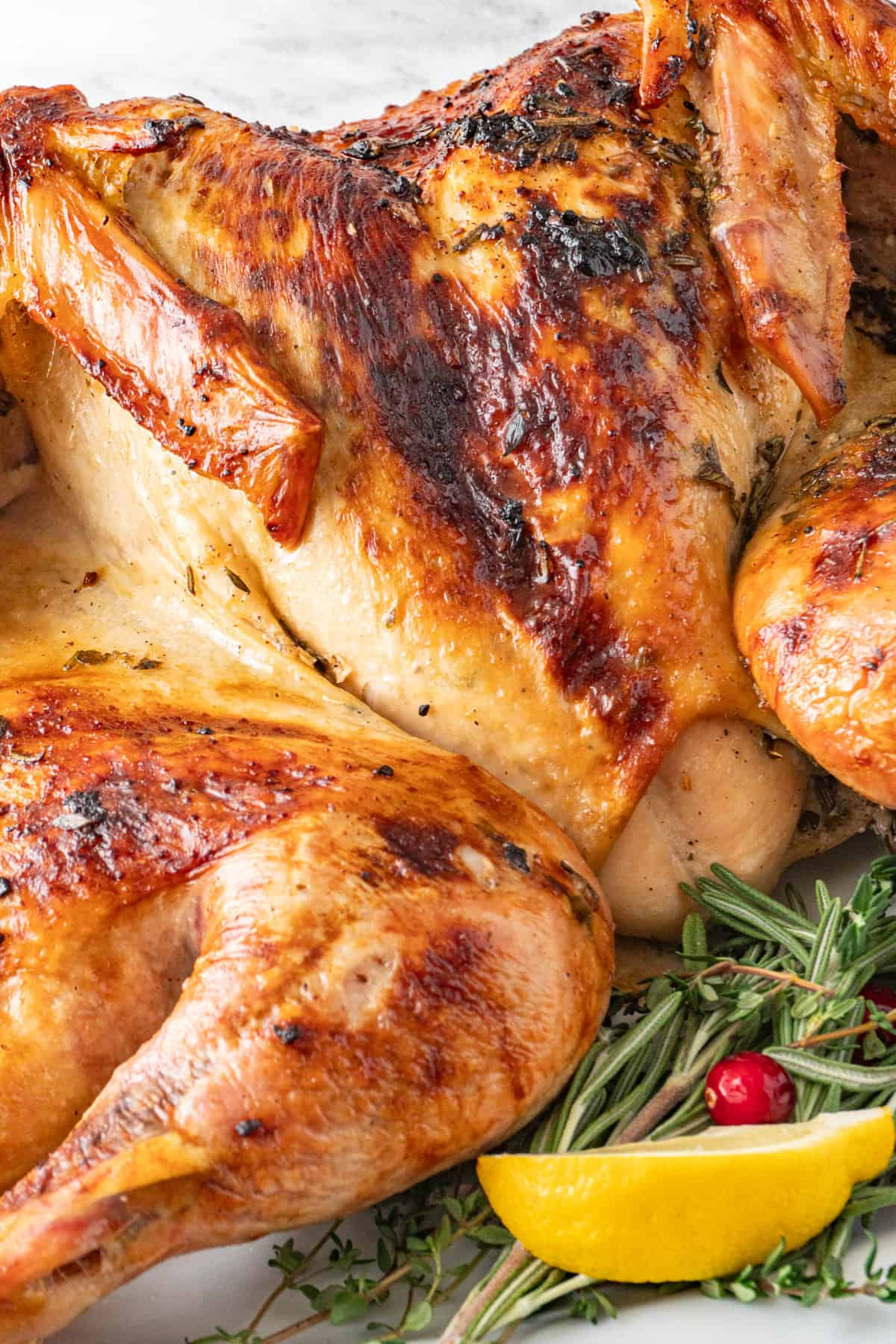 There is always a new way to cook turkey, bake, smoke, fry, whole, quartered, halved, and now spatchcock. If you've never tried to spatchcock a turkey then have no fear, I will walk you through all the steps so it comes out great!
Make sure to check out my other delicious Thanksgiving and Christmas recipes like homemade stuffing, cream cheese green bean casserole, and fluffy sweet potato biscuits!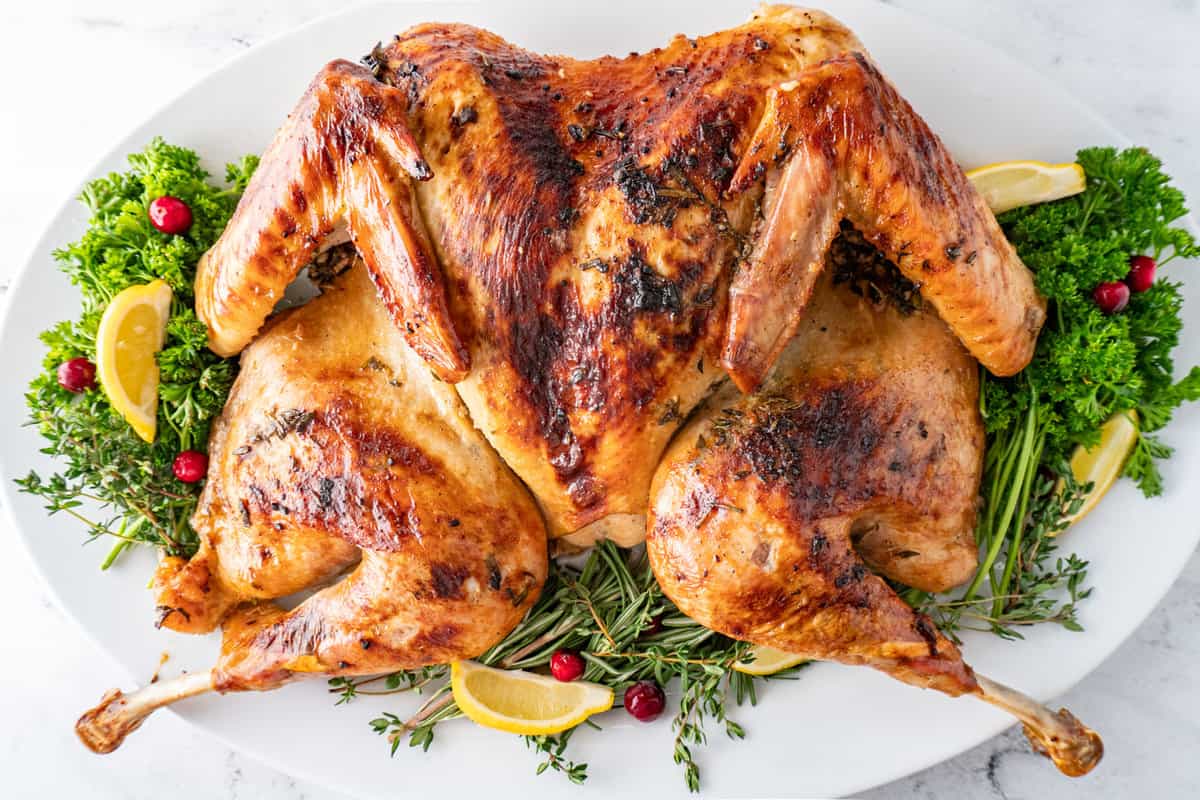 What is spatchcocking a turkey?
Spatchcocking a turkey is cutting the turkey in a way so it lays flat and cooks more evenly and often times quicker than traditional methods. Primarily to achieve this you remove the spine from the bird.
What you need to spatchcock a turkey:
Sharp Knife or Sharp Kitchen Scissors - I used these scissors they are amazing! (amazon affiliate link)
Cutting Board - I like to use an extra large cutting board (18"x12") that I can throw in the dishwasher (amazon affiliate link)
Thermometers: Instant Read Thermometer for spot checking and I recommend a Thermometer like this that you can stick in and monitor the temperature as it cooks. (Thermoworks Affiliate links)
Other Items Used: Turkey Baster, Roasting Pan, Cooling Rack
Ingredients: Turkey, Butter, Salt, Garlic, Rosemary, Thyme, Sage, Oregano, Pepper, Oil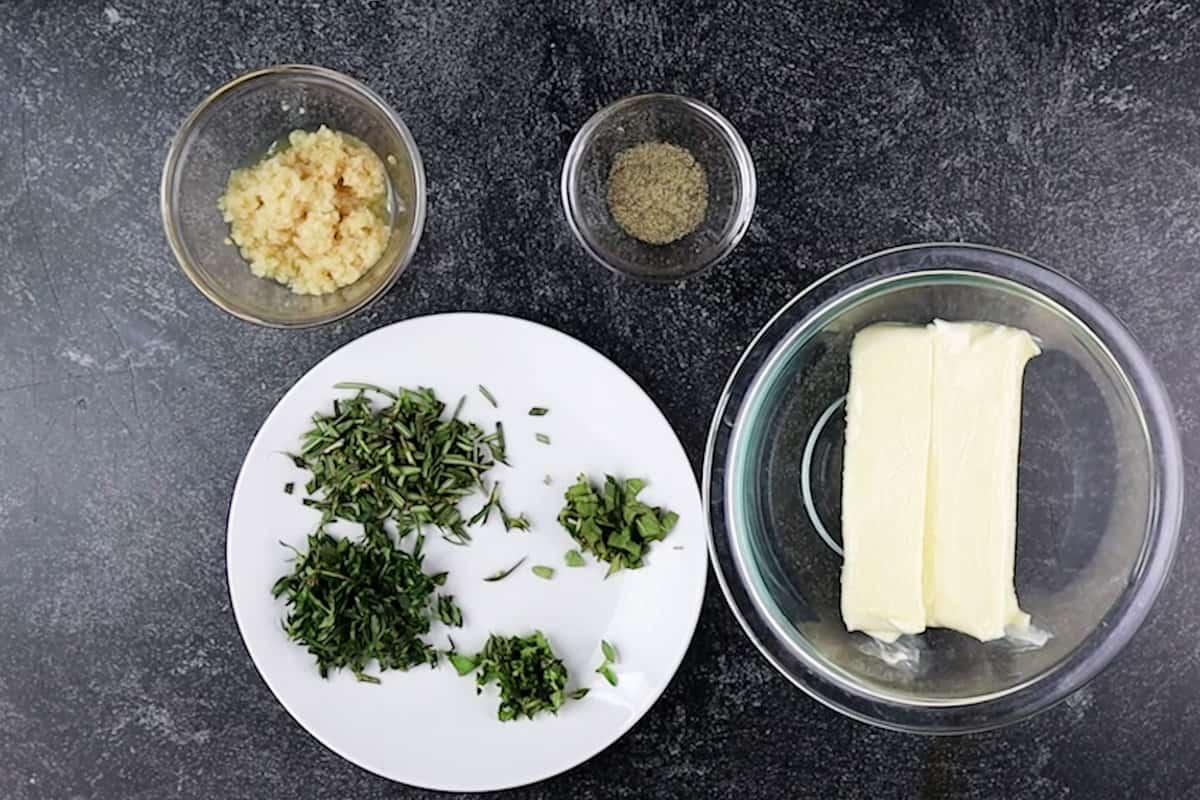 How big a turkey should you buy?
Plan for 1-1 ½ lbs. per person. Even though this may seem high this takes into account all the bones.
I recommend for 4 people a 6lb turkey, 8 people a 12 lb turkey, and 12 people an 18lb turkey. If you have a lot of people, you might consider cooking several small or medium sized turkeys so they cook faster.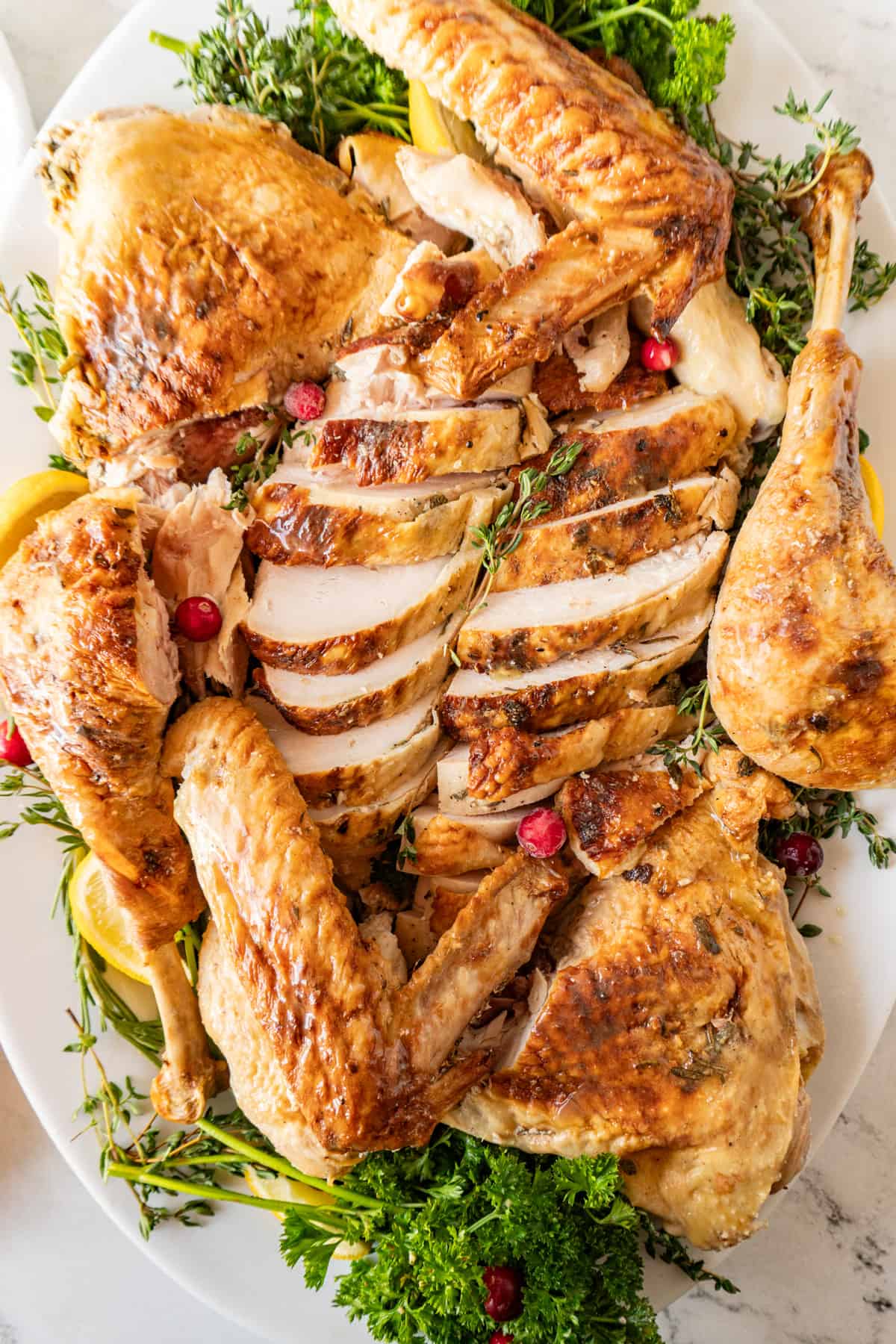 How long to thaw turkey?
Allow 1-1 ½ days per 4 lbs of turkey to thaw. So, if your turkey is 10 lbs, thaw for 2 ½ -3 days, and a 12 lb turkey 3-4 days.
According to the CDC a turkey thawed in the refrigerator can remain refrigerated for 1-2 days before cooking. For more info from the CDC on thawing and handling turkeys read more here.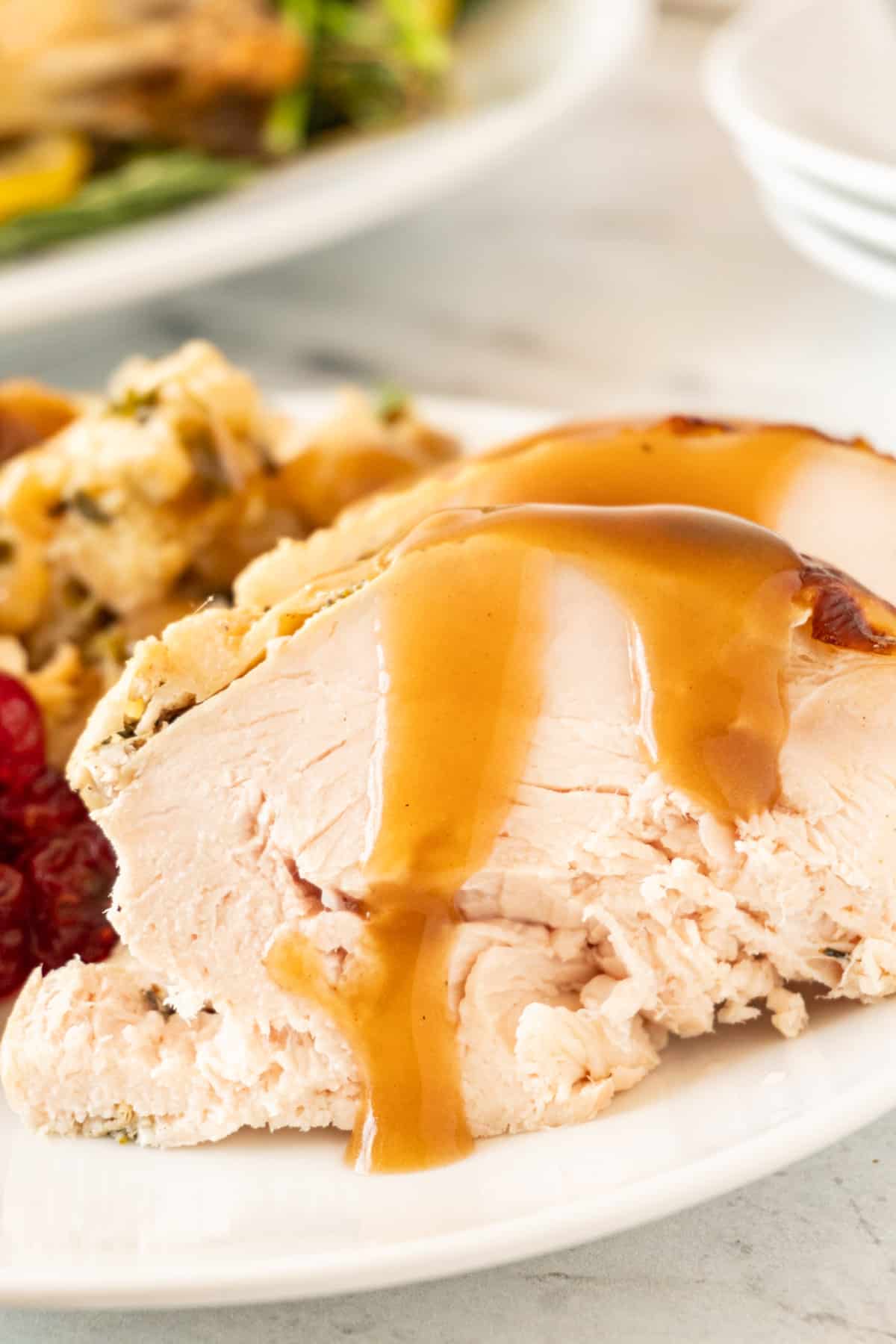 How to spatchcock a turkey?
Remove the neck and giblets from the turkey.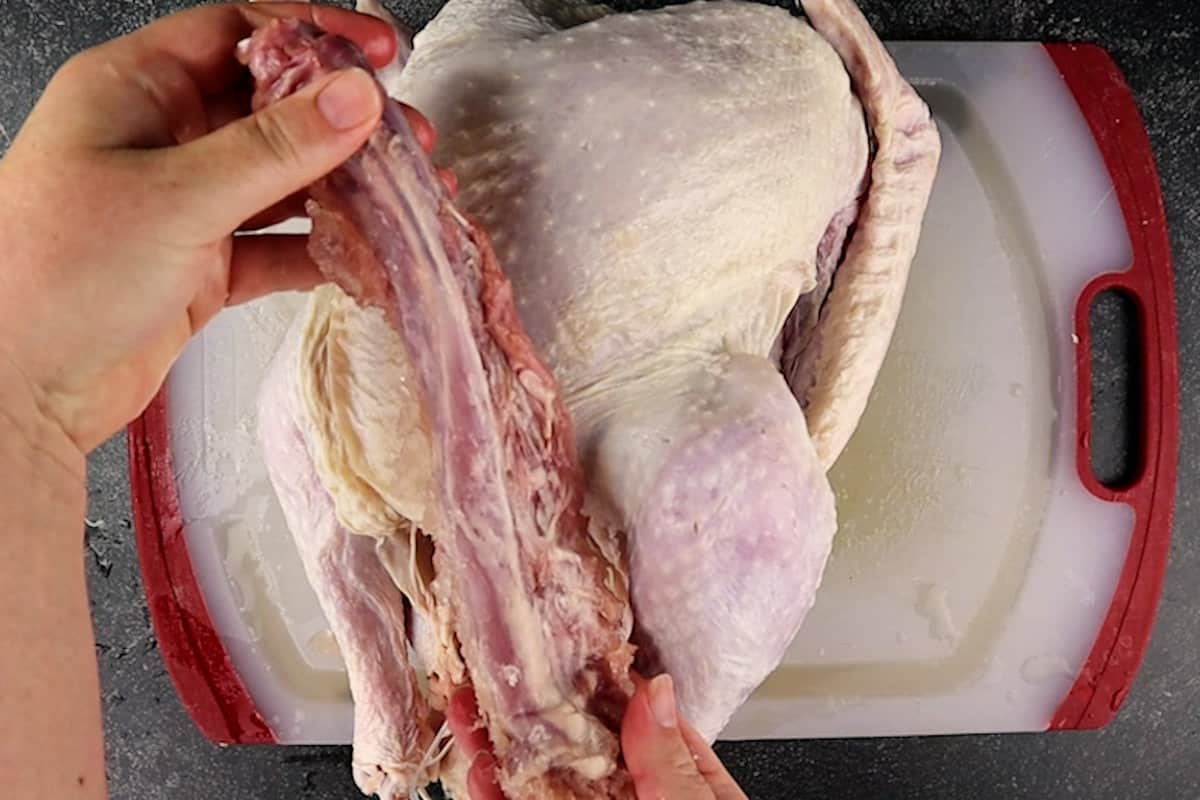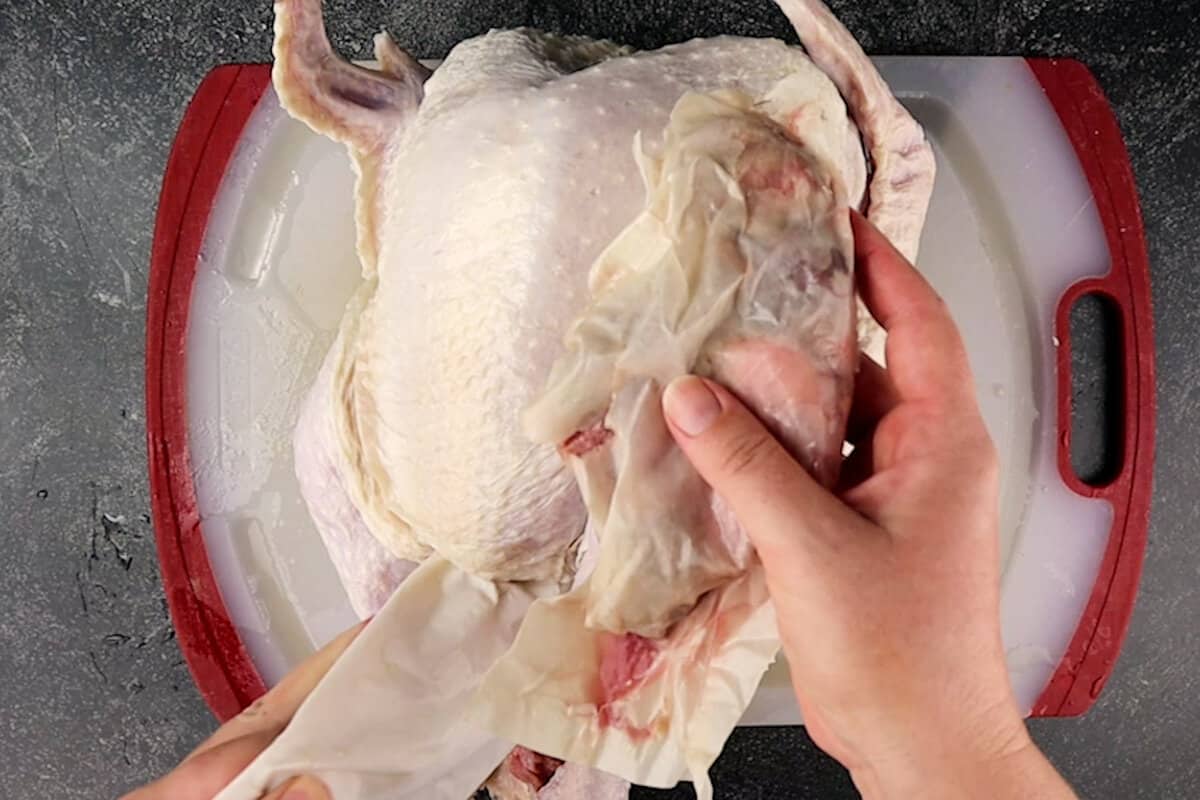 Using a sharp knife or kitchen shears (this is my preferred tool -amazon affiliate link) cut along the spine of the turkey from tail to neck.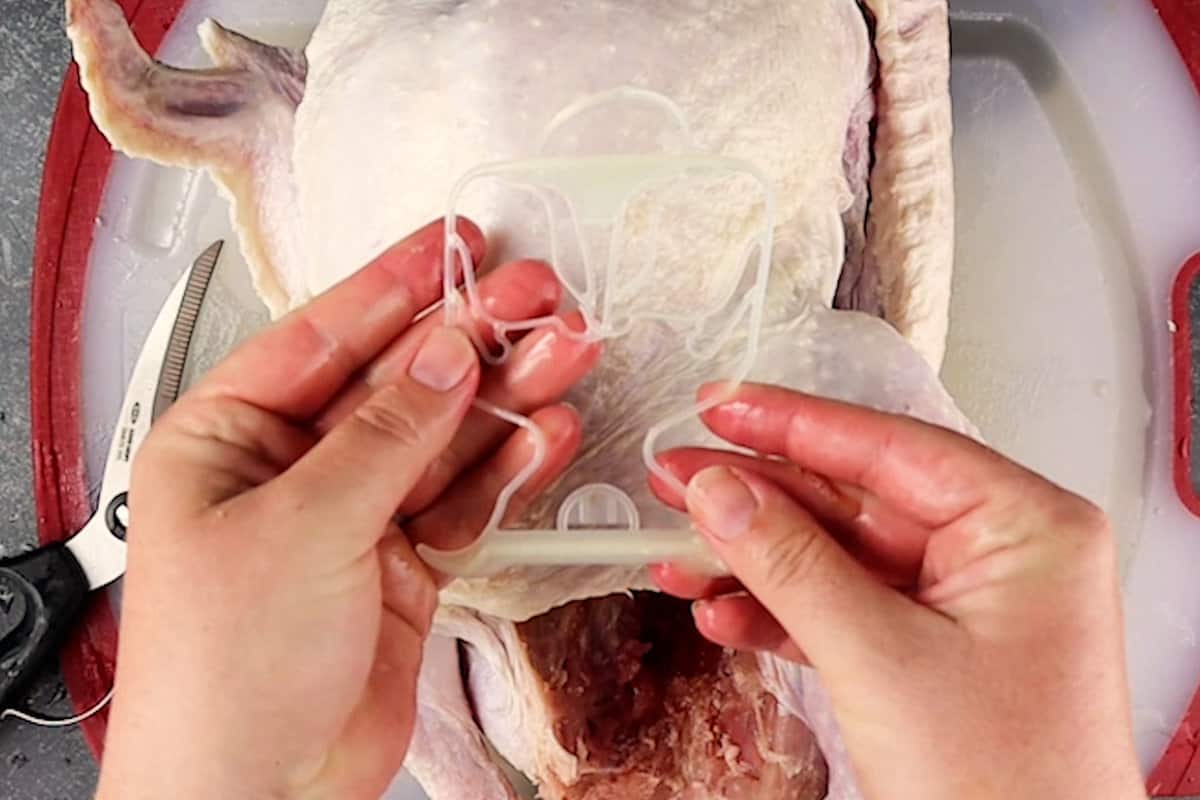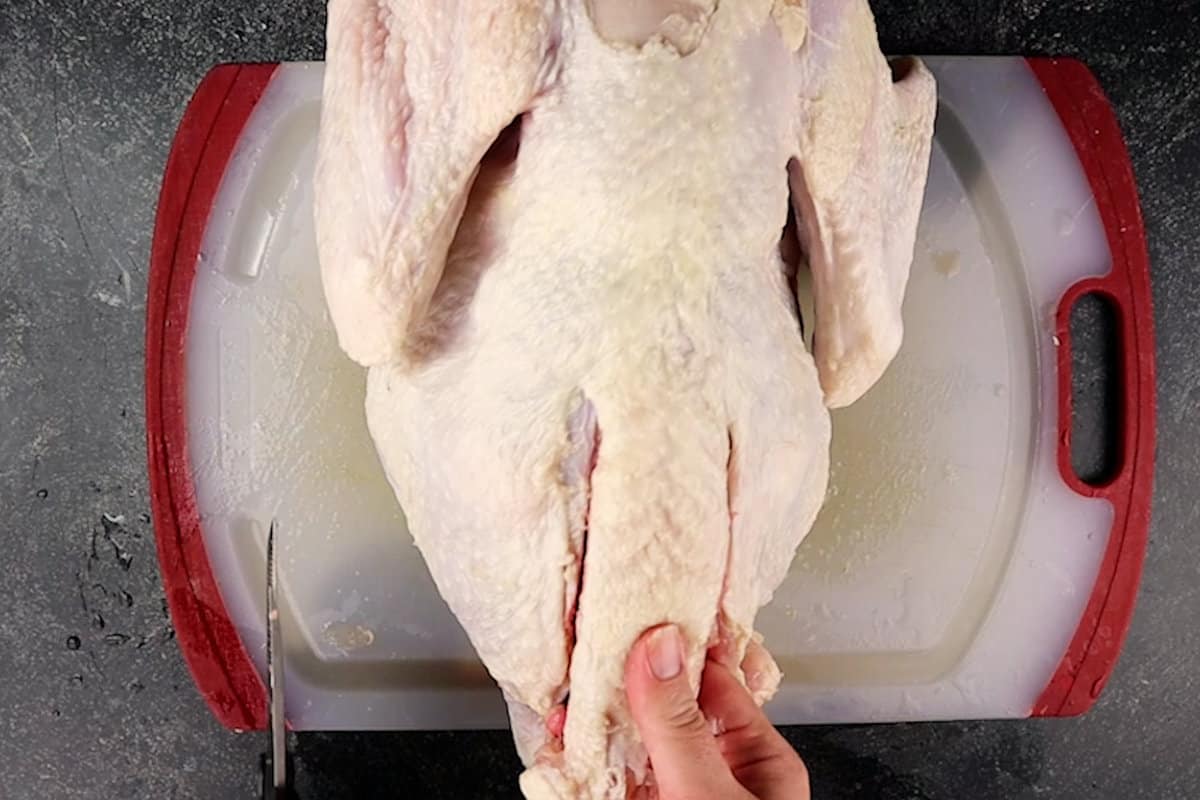 Remove spine and discard or freeze for make stock in the future.
Open the bird and locate the nob of bone/cartilage that is the where the breastbone meets in the middle.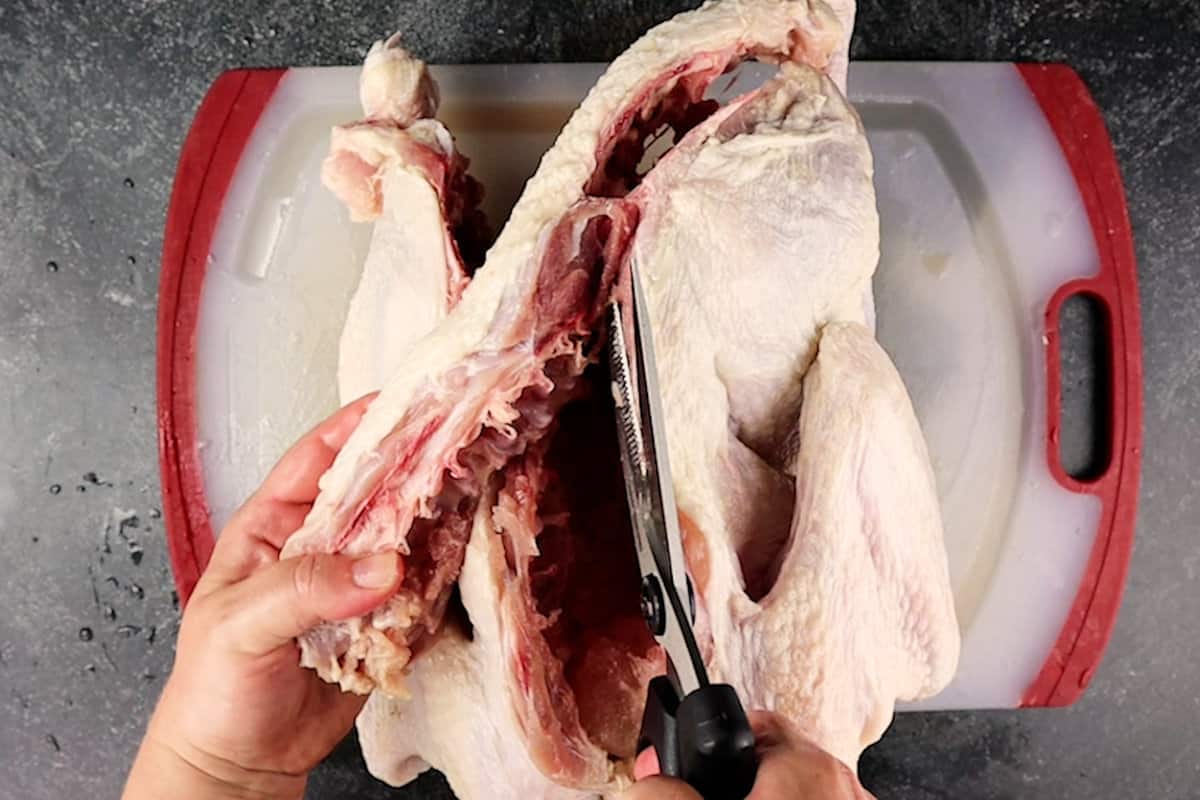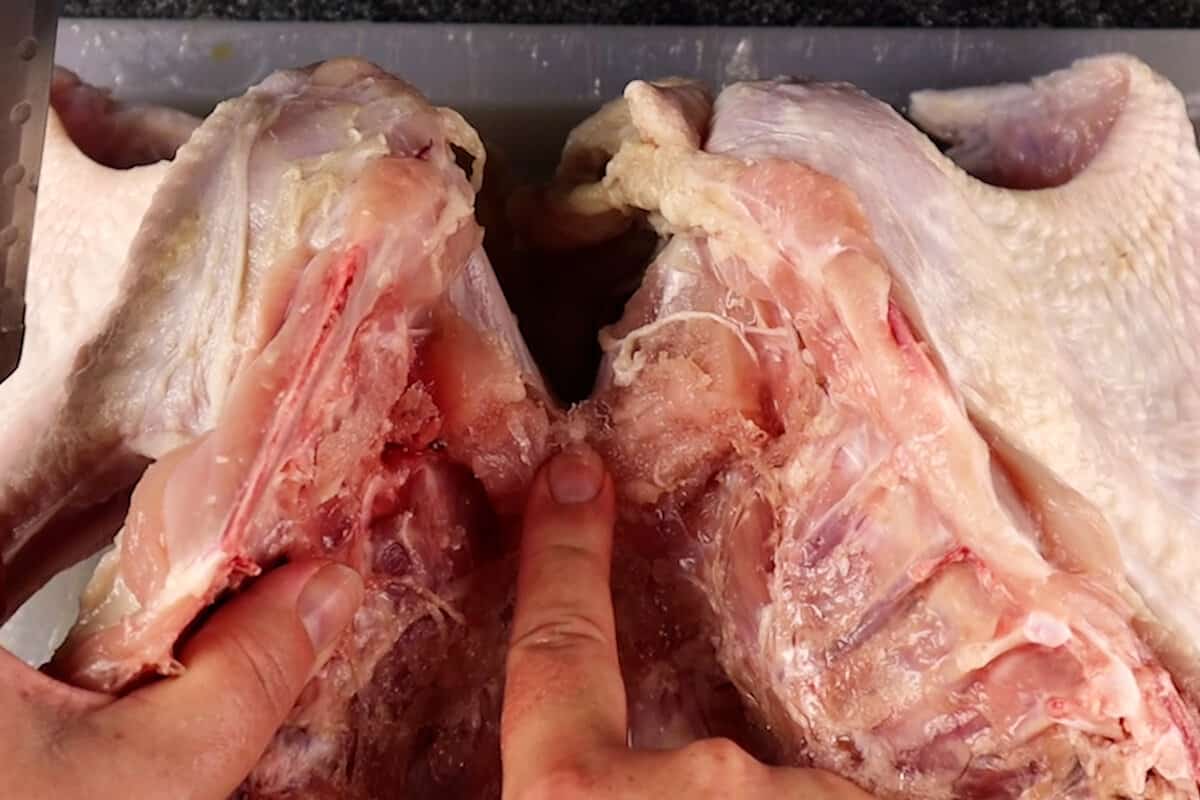 Using a knife, slice through this nob. It will be very easy to cut through. Alternatively, you can flip the bird over and press on this spot with your hands until you hear it break.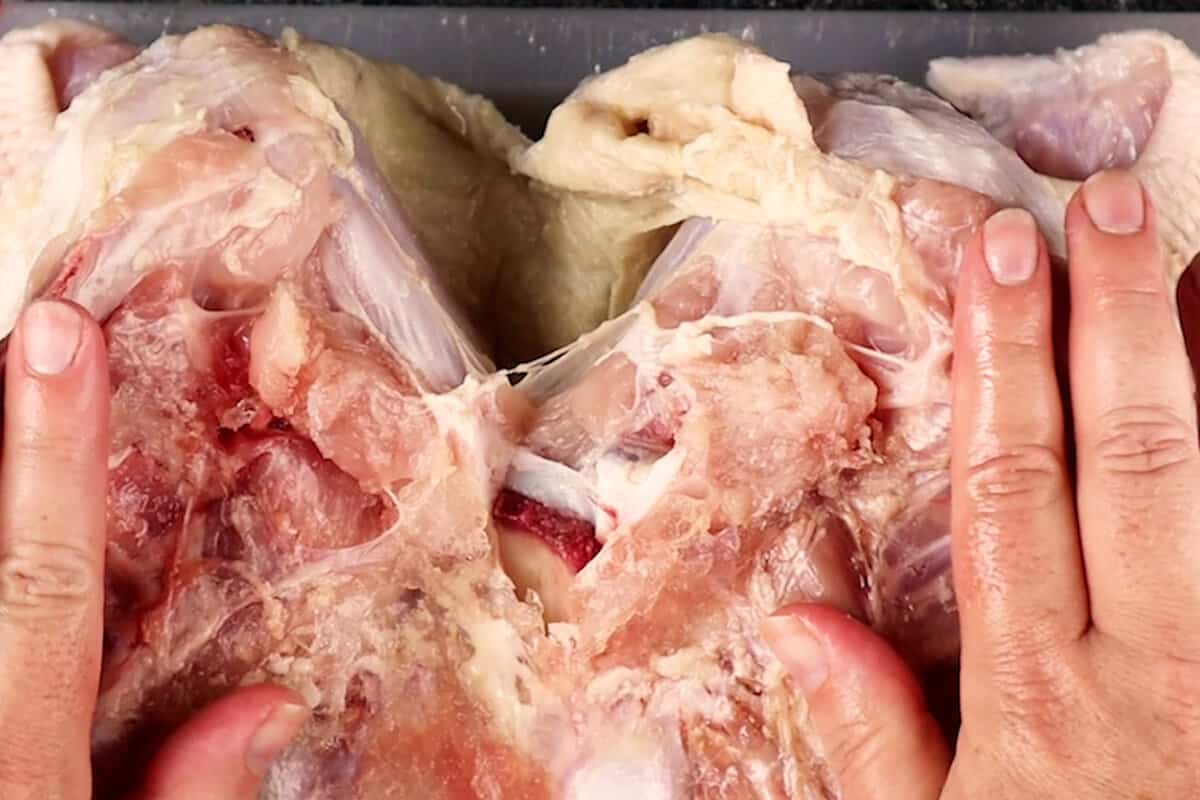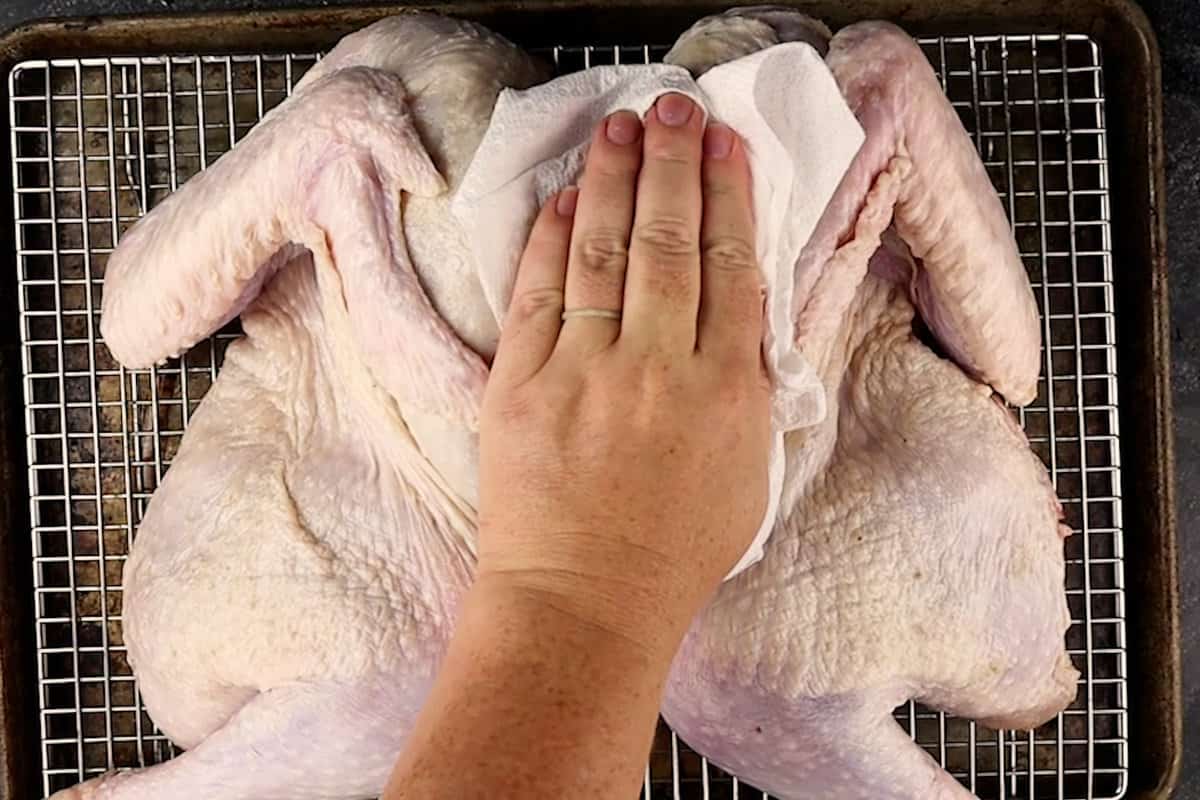 Once cut through, flip the bird and lay out flat. Pat dry, then rub with salt.
Place on a wire rack in a baking sheet and refrigerate overnight.
How to cook spatchcock turkey?
Preheat oven and get your roasting pan ready. Fill the bottom with cut celery, carrots, lemon, and onion.
Carefully separate the skin from the muscle.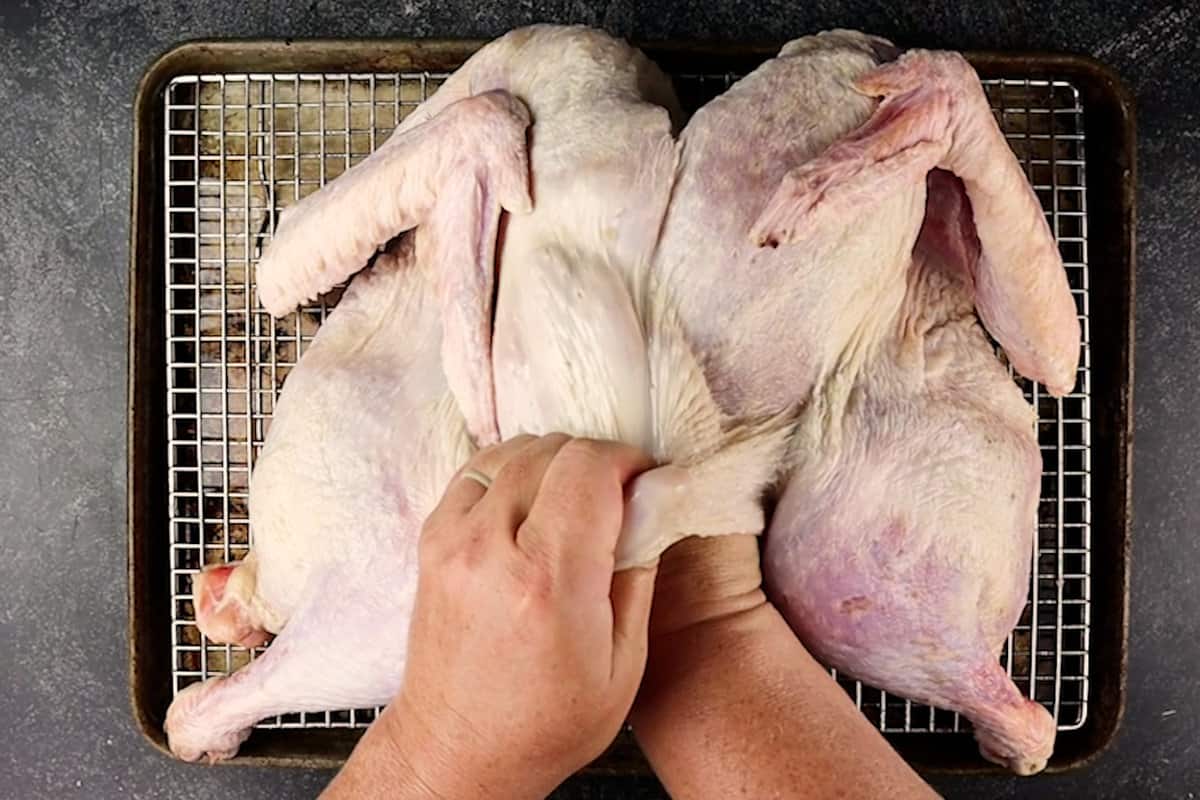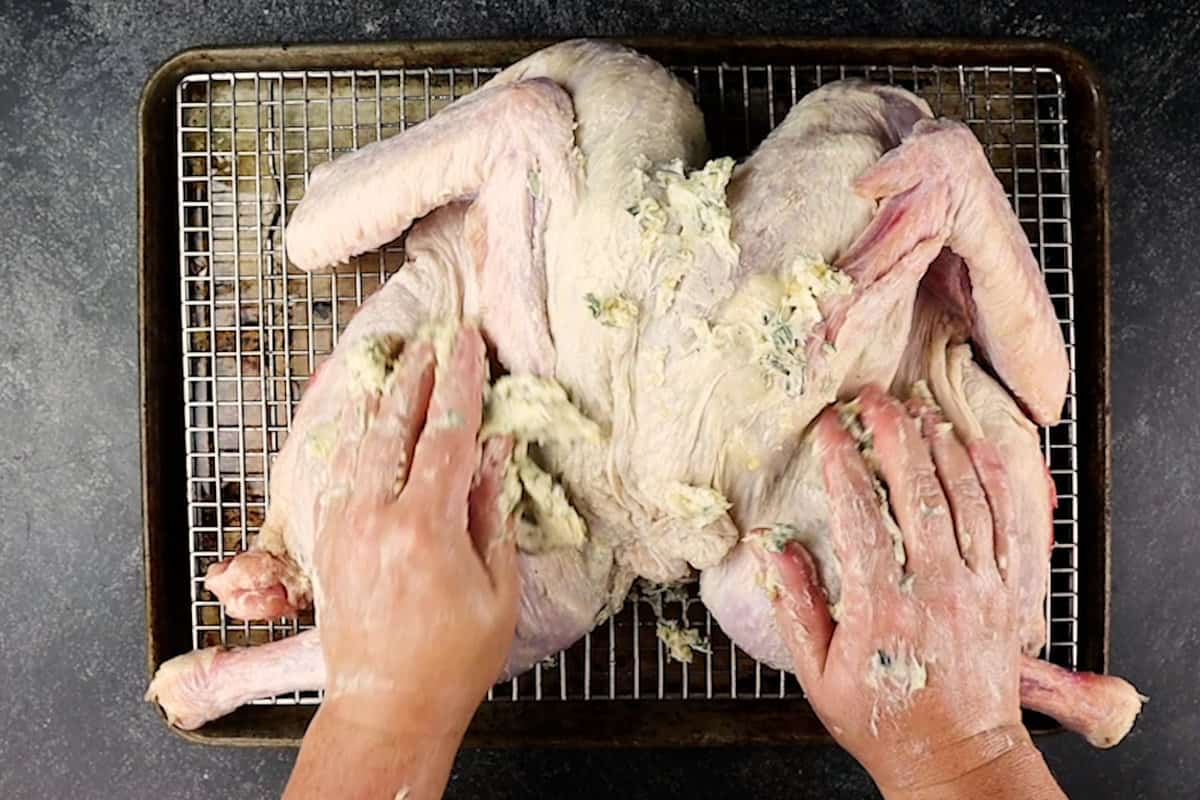 Mix up the herb butter and spread over the turkey and place some in-between he skin and muscle, then drizzle with olive oil.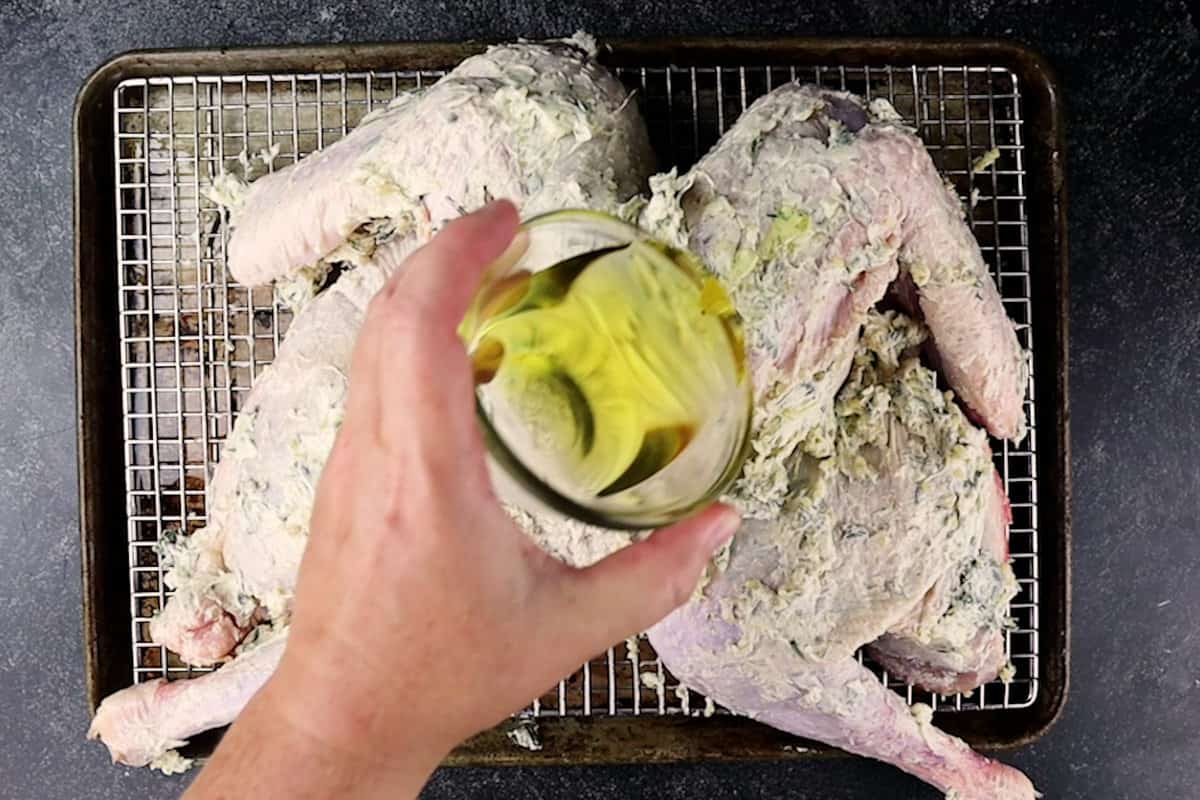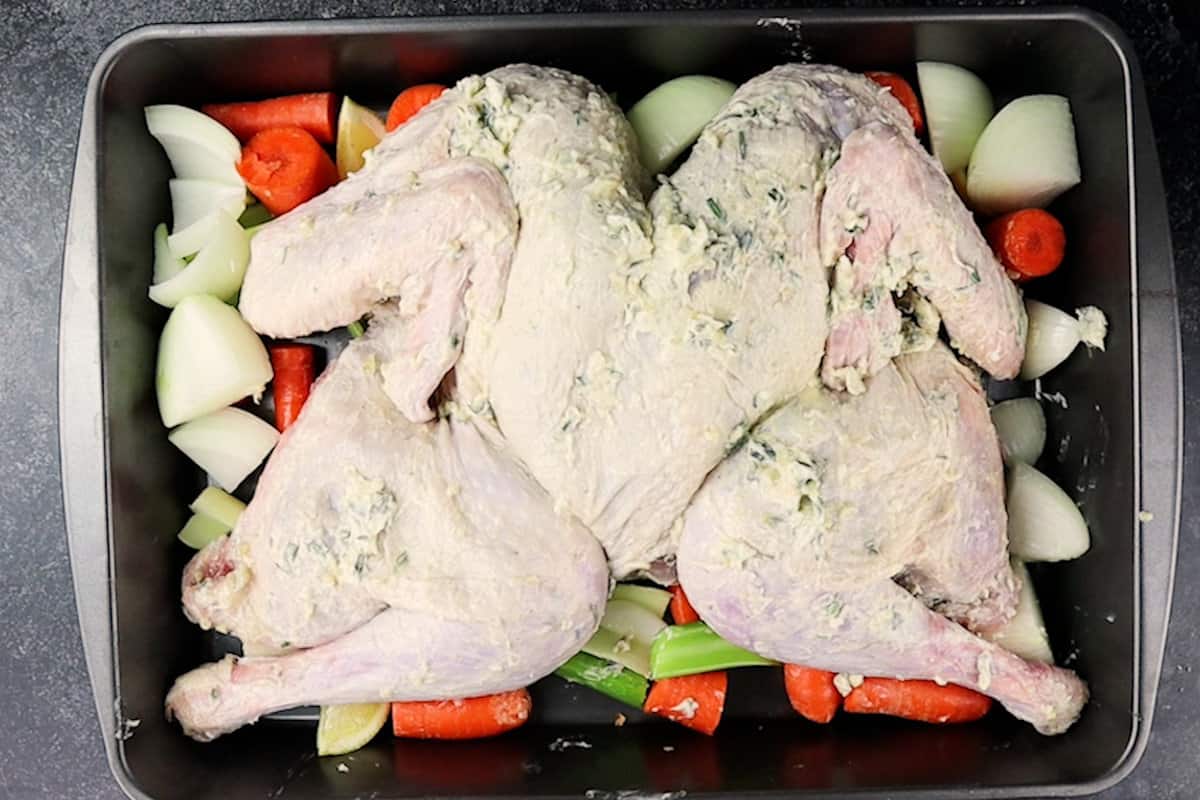 Place turkey in the roasting pan, tucking the wings under, then bake.
Baste the turkey in its own juices every 20-30 minutes until done.
If you want to smoke your spatchcocked turkey learn how here! (coming soon!)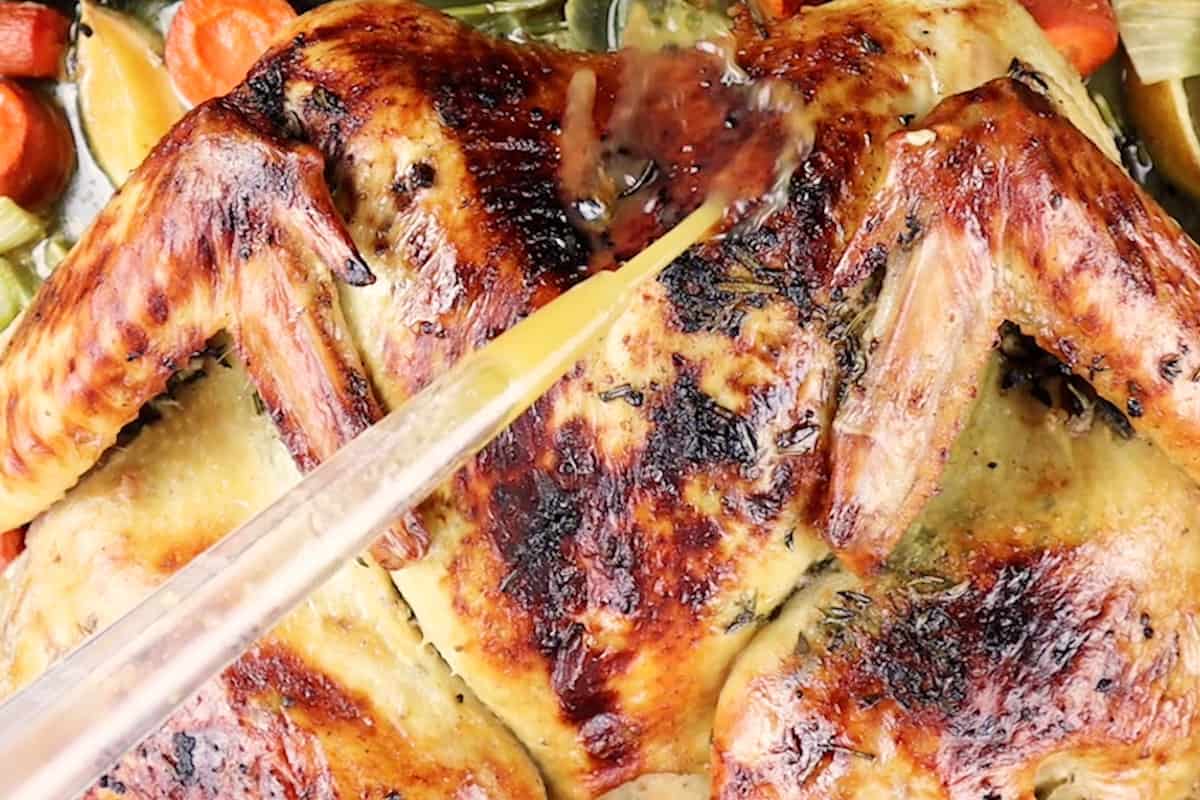 How many hours per pound for a spatchcock turkey?
The rule of thumb is 6 minutes per pound on average. This will change though based on the size of the turkey and the temperature it is cooked at.
Where to place the thermometer?
Place your thermometer probe in the breast horizontal, near the neck cavity, parallel to where the spine was and not touching any bone. It should be ½-1 inch from the internal cavity. You can ready more about this here.
Alternatively you can place the probe in the thigh, making sure it doesn't touch any bone. I like to spot check with a second thermometer so I can test different areas.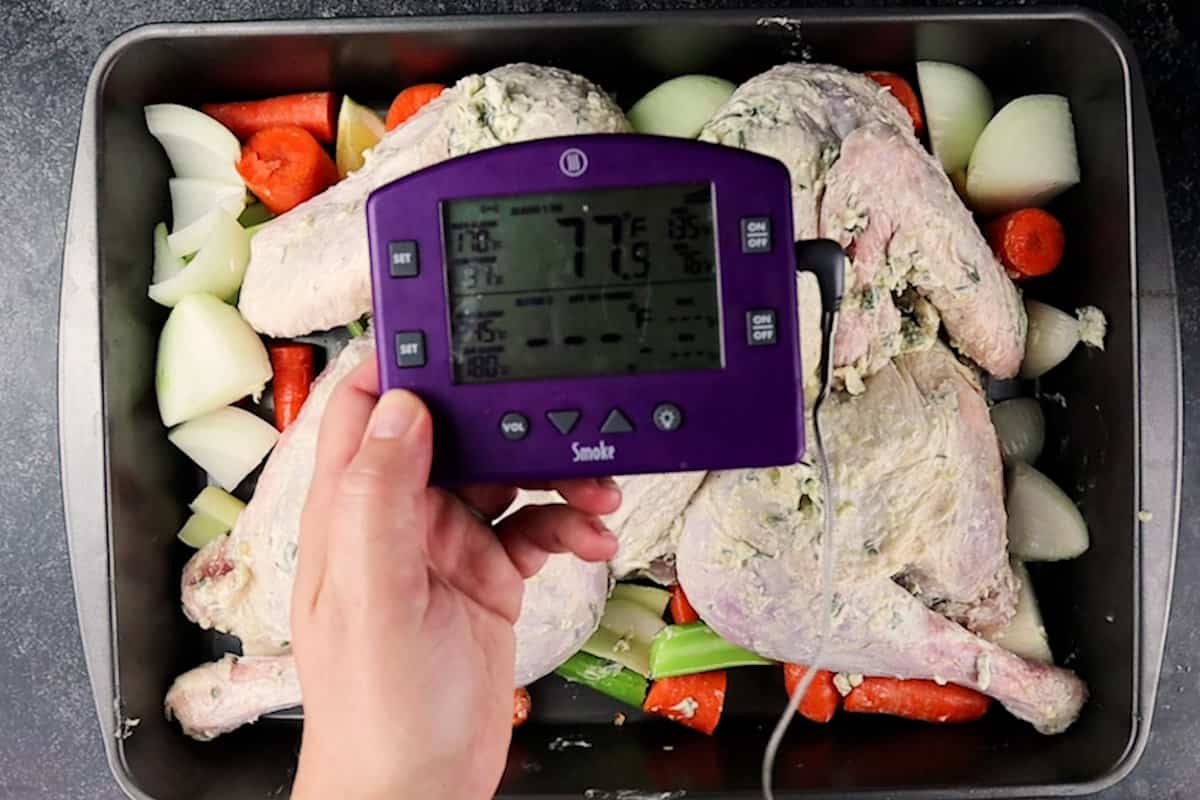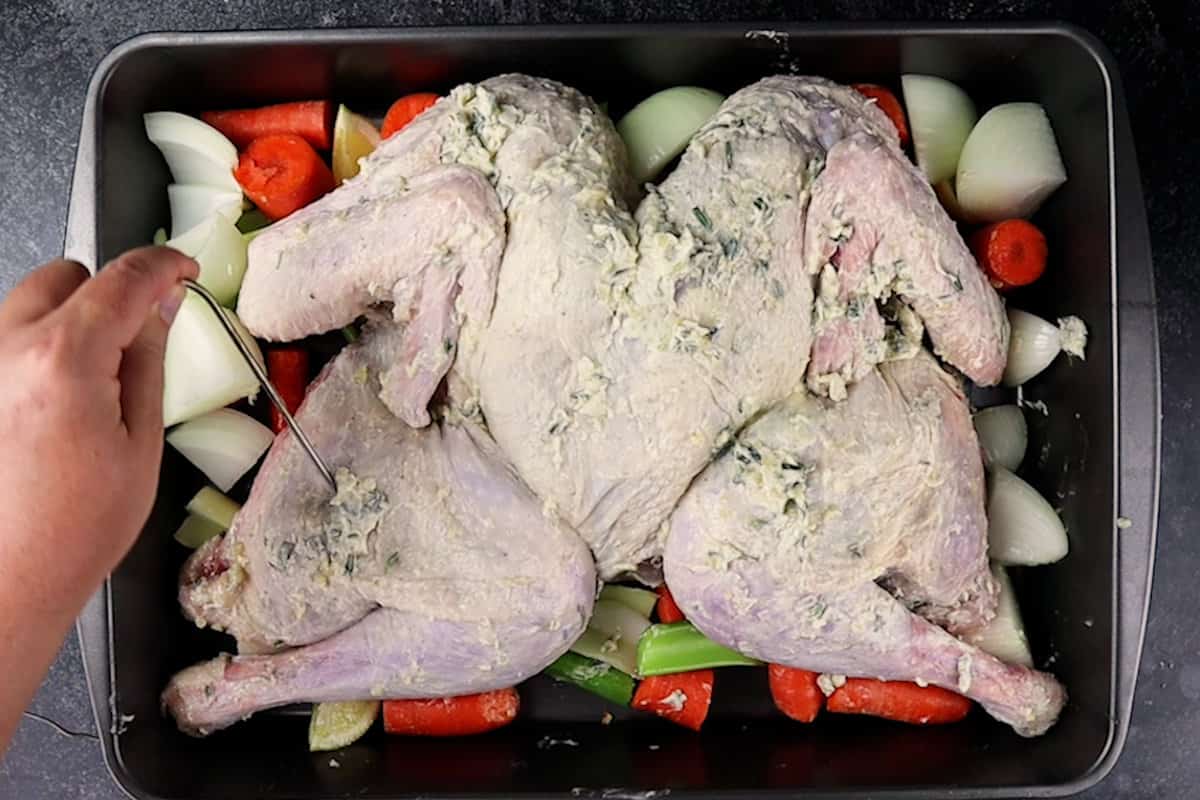 What temperature is turkey done?
You want to pull your turkey when the breast hits 160°F and then allow it to sit for 30 minutes. The carryover cooking will bring it to 165°F. You can read more about the perfect turkey cooking temperatures here.
How to season turkey?
If you don't want to use an herb butter then I highly recommend my chicken rub here, you may need to double the recipe though.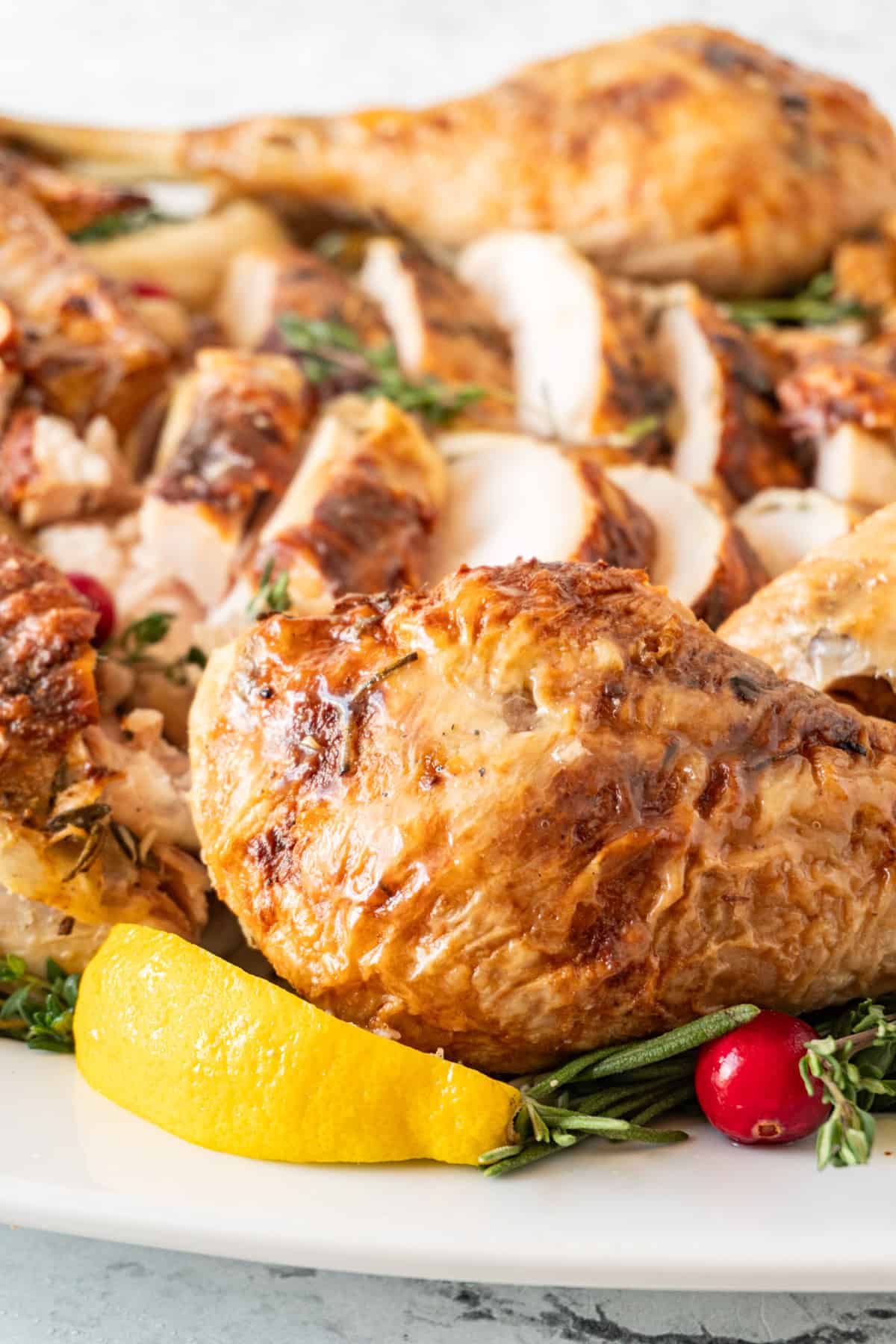 How to get a moist turkey?
I love dry brining turkey to keep it moist. By adding salt then refrigerating for 20 minutes to overnight, the turkey retains much more moisture.
Is it necessary to brine a turkey before smoking?
No but I recommend it. It really does help keep the moisture in the bird.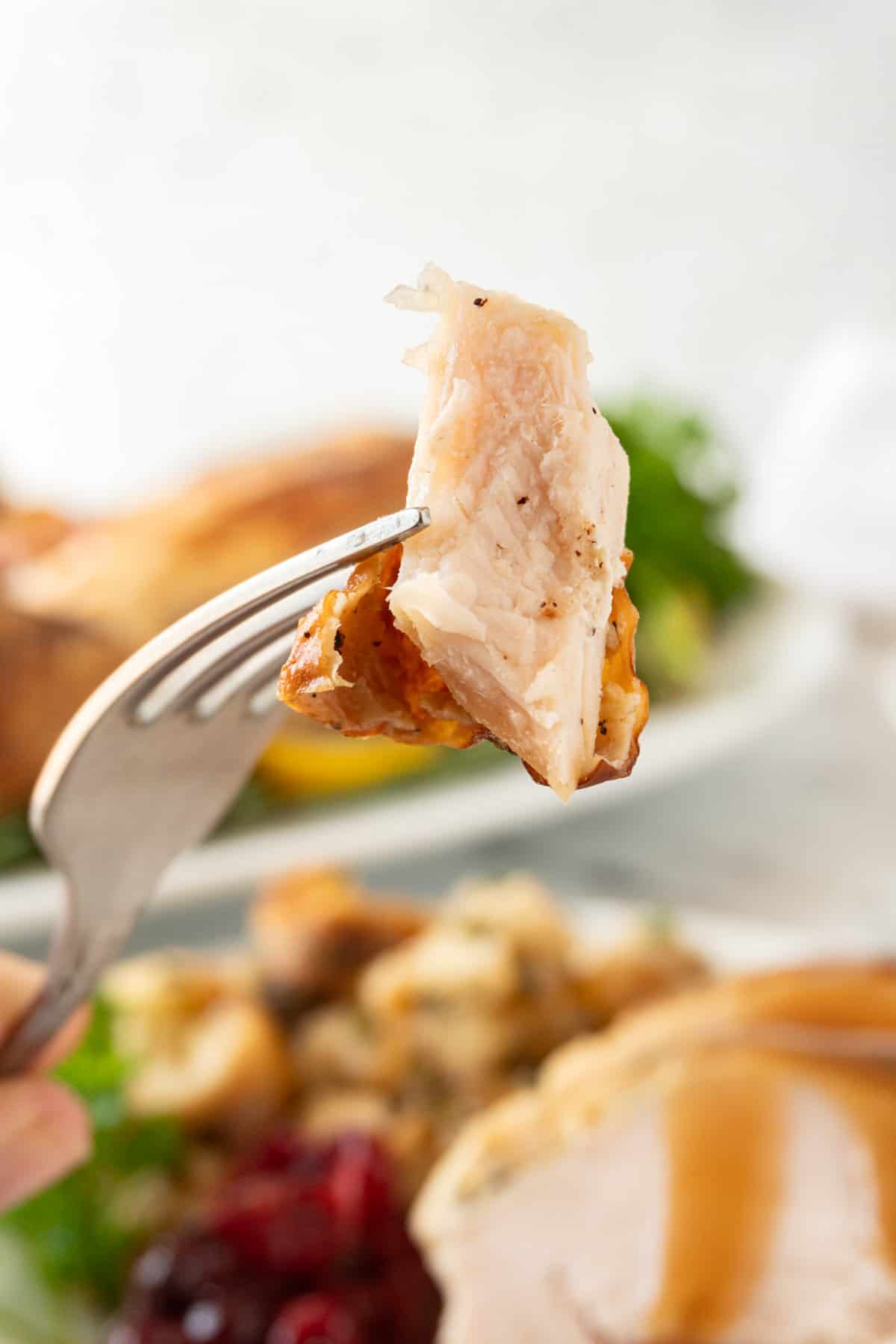 If you have leftover turkey, make sure to use it in my tasty leftover turkey recipes: Turkey Enchiladas, Turkey Cranberry Sandwich, Open Faced Hot Turkey Sandwich, and Turkey Tacos!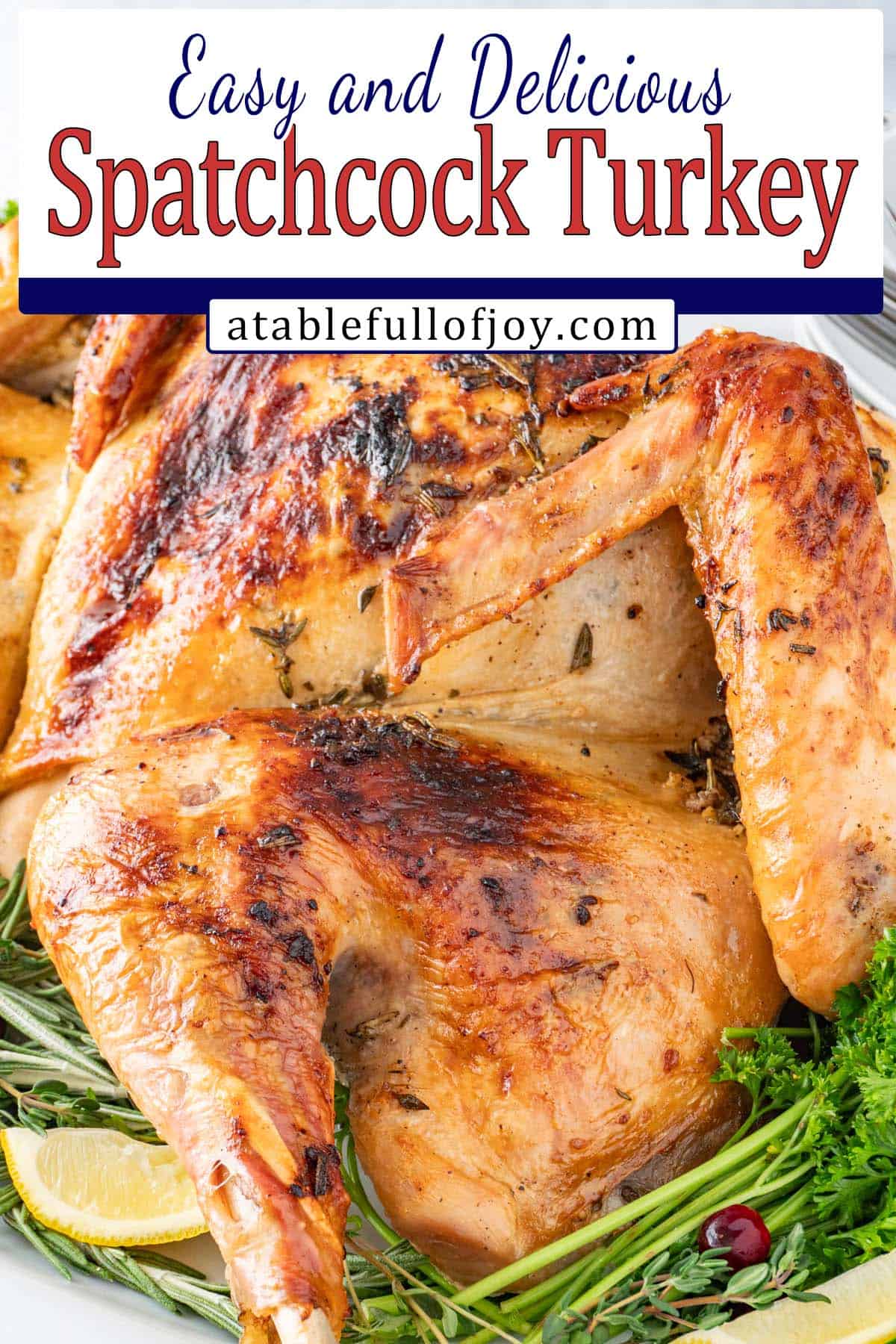 Watch how to make this recipe!
Want more? Subscribe to my newsletter and follow along on Facebook, Pinterest and Instagram for all of the latest updates.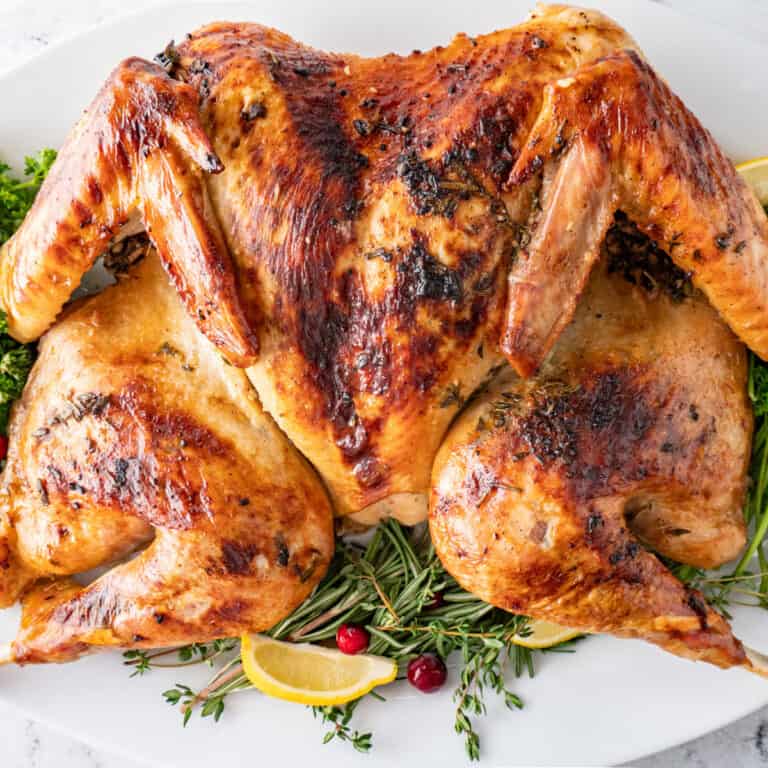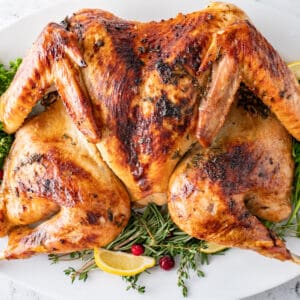 Spatchcock Turkey
Spatchcock Turkey is a delicious way to evenly cook your turkey. Learn all the ways to easily cut, prep, and cook your turkey!
Equipment
Kitchen Shears or Knife

Cooling Rack

Baking Sheet

Roasting Pan

Thermometer
Ingredients
8-15

lb

Turkey

thawed

4-6

tbs

coarse salt
Herb Butter
1

cup

butter

softened

3

tbs

garlic

minced

2

tbs

rosemary

fresh, or 2 teaspoon dried

2

tbs

thyme

fresh, or 2 teaspoon dried

1

teaspoon

sage

fresh, or ⅓ teaspoon dried

1

teaspoon

sage

fresh, or ⅓ teaspoon dried

1

teaspoon

pepper
Additional Ingredients
¼

cup

Olive oil

2

Lemons

2

Carrots

1

Onion
Instructions
How to Spatchcock a Turkey
Remove the neck, giblets, leg trusses, oven thermometer pop up and anything else inside or attached to the turkey. You can save the neck and giblets to make broth or gravy.

Locate the spine along the back of the turkey. Cut along the spine on both sides then remove it. You can save this for making broth or throw away.

Locate the nob or cartilage/bone that is at the top the breast on the inside of the bird. Using a sharp knife slice through this nob*- it should be pretty easy.

Flip the bird over and lay out flat. Pat turkey with a paper towel to remove any excess water. Sprinkle turkey with salt. Make sure to get all sides.

Place on a cooling rack, on a baking sheet, and refrigerate for at least 20 minutes or overnight.

Remove from refrigerator 30 minutes before cooking.
Herb Butter
Combine butter, garlic powder, rosemary, thyme, sage, and pepper in a small bowl.

1 cup butter,

3 tbs garlic,

2 tbs rosemary,

2 tbs thyme,

1 teaspoon sage,

1 teaspoon pepper,

1 teaspoon sage

Gently separate the skin and place ½ of the butter in between the skin and meat. Rub remaining herb butter all over turkey breast. Drizzle the turkey with olive oil.
Cooking the Turkey
Preheat oven to 450°F with the oven rack in the center of the oven.

Place turkey in roasting pan, breast side up. Tuck the wing tips behind the breast if possible. Place chopped carrots, onion, and lemons around turkey. You can also add the neck and spine too.

2 Lemons,

2 Carrots,

1 Onion

Roast turkey for 30 minutes at 450°F. Then remove from oven and baste turkey with the juices in the pan.

Return turkey to oven, lowering the temperature to 350°F. Bake for another hour, basting the turkey at 20-minute intervals. If the turkey is getting too dark cover with foil.

Turkey is done when the internal temperate taken at the thickest part of the thigh is 155°F, read on an instant read thermometer.

Once done baking, remove turkey from oven, cover with foil, and allow it to rest for 30 minutes. The turkey will continue to rise in temperature to 165°F while retaining all the moisture.

While resting you can make gravy. If you want to use the dripping from the pan (highly recommend) you can carefully move turkey to a cutting board and cover with foil to rest. Then remove the large pieces of vegetables, neck, and spine, and use the juices in the gravy. Follow this recipe for how to make the easy gravy!
Notes
Tips and Tricks
These are my favorite kitchen shears (amazon affiliate link).
Cooking Times: Average cooking times is 6 minutes per pound of turkey.
Refrigerate or freeze any leftover turkey.
Eat leftover turkey within 4-5 days.
Nutrition info averaged on a 12lb turkey serving 12 people.
Nutrition
Calories:
648
kcal
Carbohydrates:
5
g
Protein:
70
g
Fat:
38
g
Saturated Fat:
15
g
Polyunsaturated Fat:
6
g
Monounsaturated Fat:
13
g
Trans Fat:
1
g
Cholesterol:
273
mg
Sodium:
2816
mg
Potassium:
818
mg
Fiber:
1
g
Sugar:
2
g
Vitamin A:
2423
IU
Vitamin C:
14
mg
Calcium:
66
mg
Iron:
3
mg
Reader Interactions