If you read my last taco post, you know how much I LOVE tacos! This week I bring you one of my favorite easy taco recipes: Steak Tacos. Topped with an easy mango habanero salsa, these tacos are out of this world good!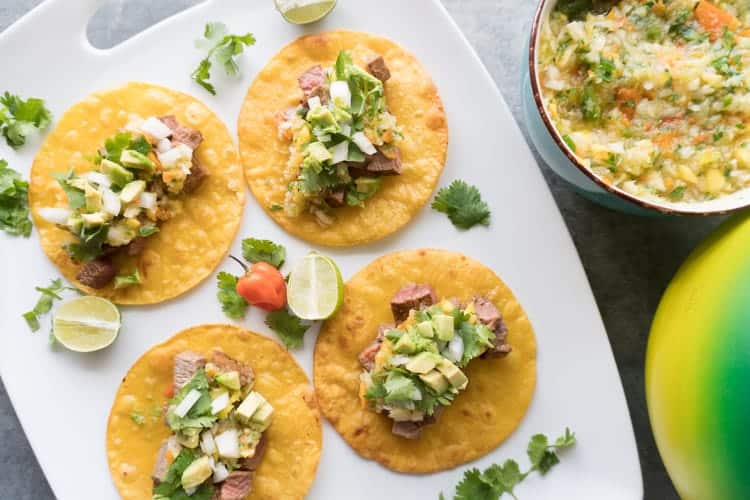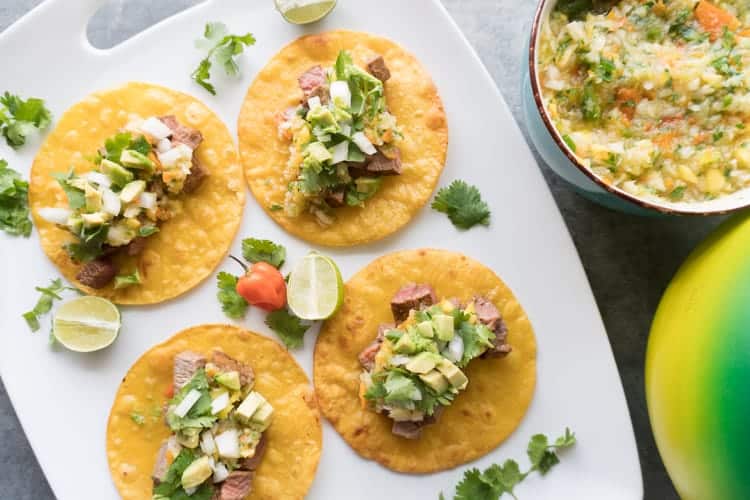 They are not only easy but probably my favorite tacos to make at home because they taste so good. And honestly, 9 times out of 10, I'd rather eat these than buy them from a restaurant or a taco truck. Seriously they are that good.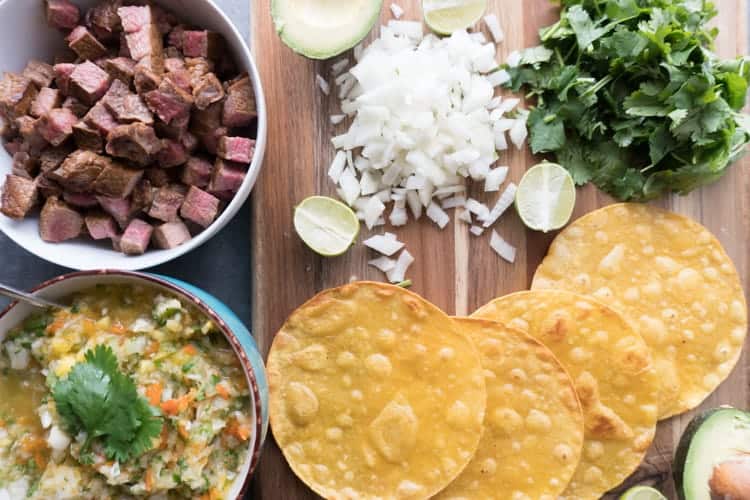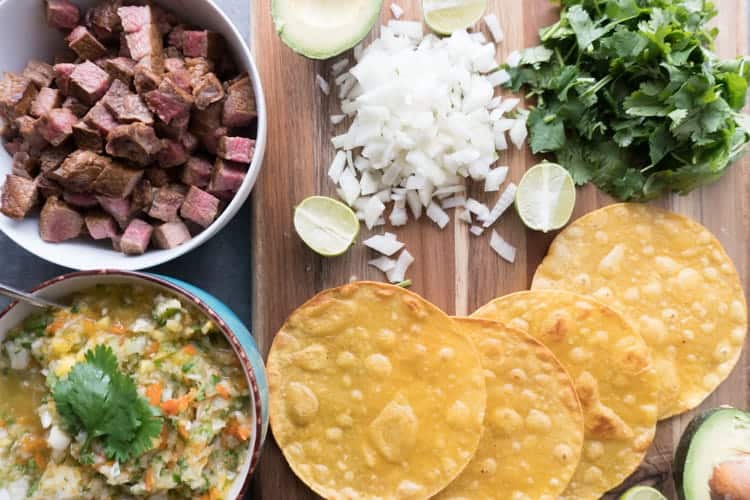 For this recipe I used Eye of Round Steak, because that was on sale at my grocery store. But you can use any steak. If you make my garlic butter steak, you could use leftovers from that to make these tacos! I usually buy whatever meat is on sale. So I've used this recipe on really thin cheap steaks as well as better thicker steaks.  Both taste amazing!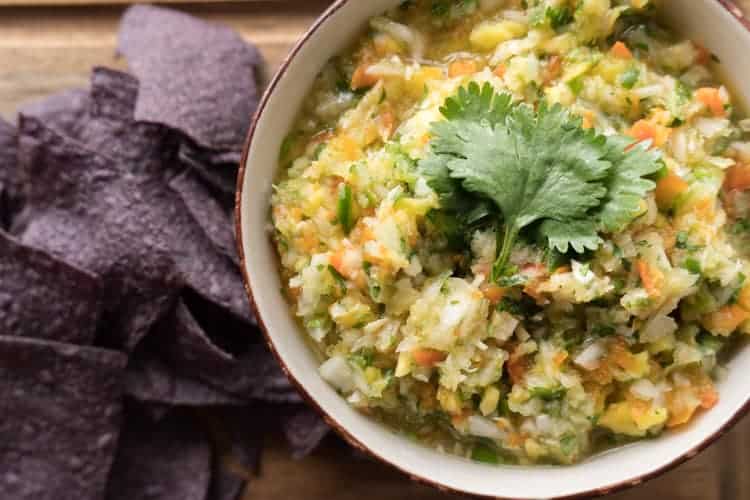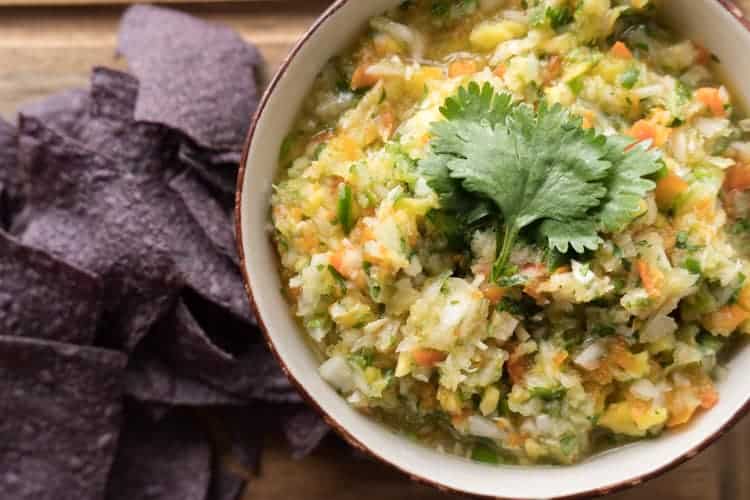 The salsa is amazing too. It is so easy and delicious. If you don't have mango, no worries, you can just leave it out and make a pineapple salsa- which tastes great too. It's delicious with chips and even better with these steak tacos. Seriously this is one of the best taco recipes ever!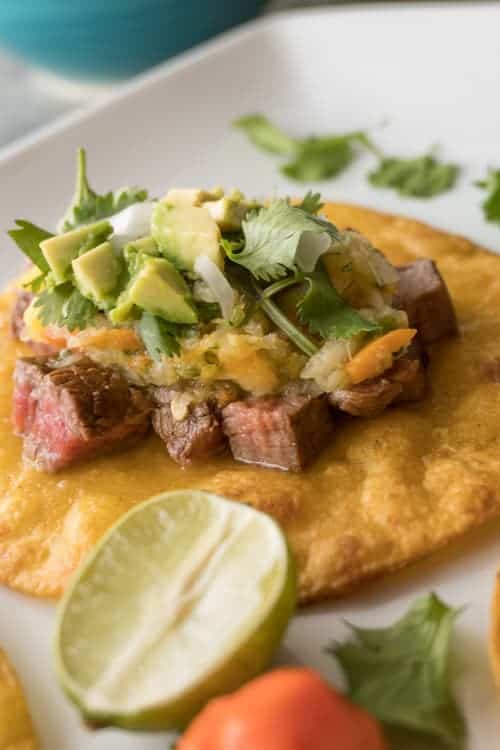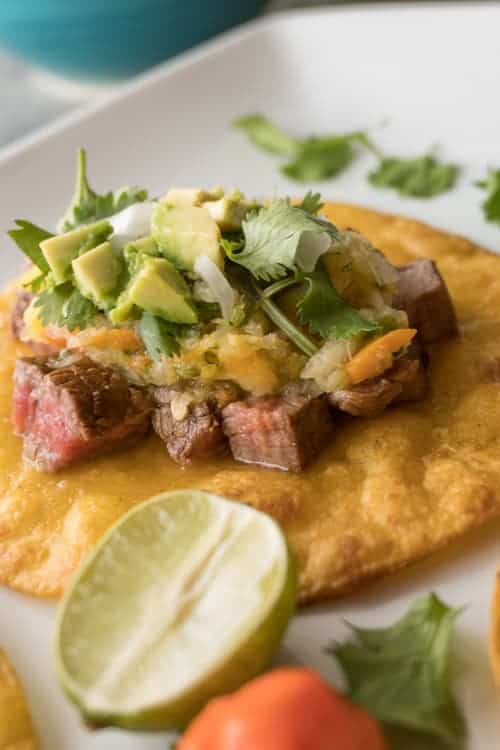 Make these and then let me know how much you love them! We make tacos probably once a week and these steak tacos are our go too. Seriously this is one of the best taco recipes ever!
If you like these tacos, check out my chicken taco recipe with an easy green salsa. Those are even easier to make than these tacos and taste super good too! Man, I really love tacos haha!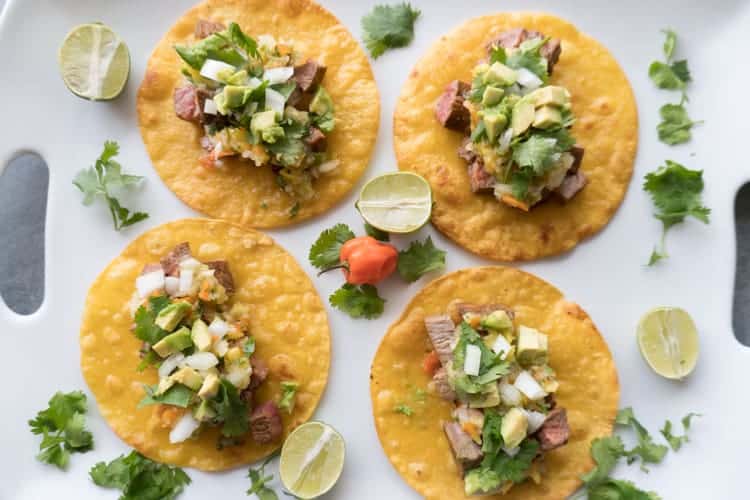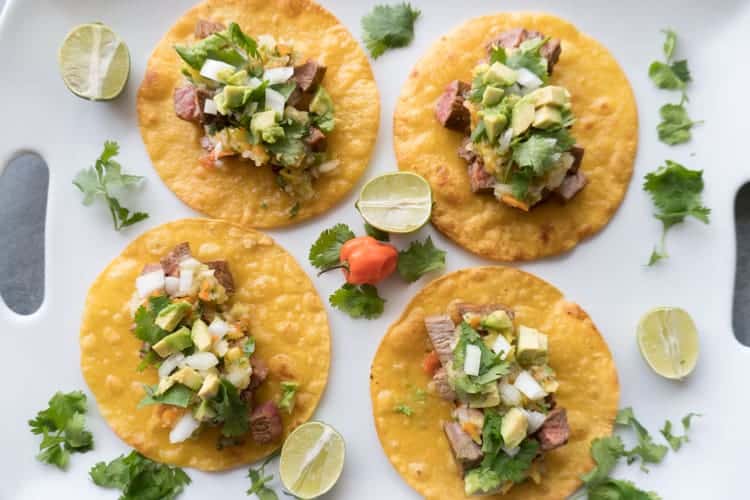 Serve these tacos with an ice cold mint julep and make some double chocolate butterscotch cookies for dessert!
---
BE SURE TO FOLLOW ME ON FACEBOOK, INSTAGRAM, PINTEREST & TWITTER!
---
Want more? Subscribe to my newsletter and follow along on Facebook, Pinterest and Instagram for all of the latest updates.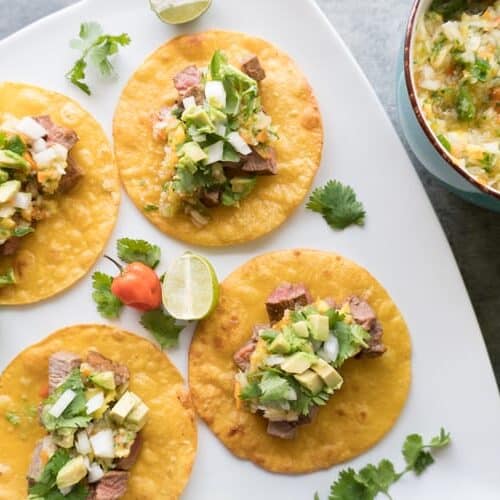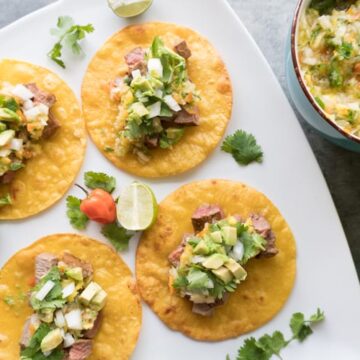 Steak Tacos with Mango Salsa
These steak tacos are so good you won't be able to stop eating them! Topped with an amazing mango salsa- they can't get much better than this!
Ingredients
Tacos
1

lb

steak

I used eye of round steak

Salt

1

tbs

Worcestershire sauce

1

tbs

liquid smoke

1

tbs

olive oil or butter

plus more for frying tortillas

8-10

corn tortillas

Diced onion for garnish

optional

Chopped cilantro for garnish

optional

Lime wedges for garnish

optional

1

avocado, cubed for garnish

optional
Mango Salsa
1

medium mango

1

can crushed pineapple

8 oz

½

medium yellow onions

2

habaneros

seeds and stems removed*

1

jalapeno*

½

orange bell pepper

seeds and stem removed

2

cloves

garlic

husk removed

½

cup

cilantro

1

teaspoon

garlic powder

½

teaspoon

cumin

½

teaspoon

salt

Zest from 1 lime

1

tbs

lime juice
Instructions
How to cook the steak:
If you can, let your steak sit at room temp for at least 10 minutes before cooking. While they are coming to room temperature, sprinkle both sides of the steak with salt.

In a medium/large skillet add your olive oil or butter and heat over medium/high heat. Place your steak in the heated pan. Add liquid smoke and Worcestershire sauce. Depending on your steaks thickness and how you like your steak cooked (rare, medium rare, well done) will vary how long your cook your steaks. I like to cook for 3-5 minutes. Flip and repeat until they are cooked to my liking!

Once done cooking, let the steak rest for 10 minutes.
How to make mango salsa:
Peel and chop mango, making sure not to chop up the pit.

Remove stems and seeds from habanero and jalapeno.

Put all ingredients in a food processor or blender.* Process until the salsa is chopped to the size you want! The more process time the more liquid the salsa will be. If you want chunky salsa, blend for only 10 seconds or so!
How to make taco shells:
If frying up the tortillas, which I recommended, heat oil over medium high heat in a large fry pan. You will want to start with about ~¼ cup oil for your fisrt batch and then add more oil throughout the frying process.

After a minute or two dip a small part of a corn tortilla in the oil to test if the oil is hot enough. It will be hot enough if it starts bubbling and frying the tortilla right away!

Place your tortilla in the hot oil and after about 30 seconds flip it. Then after another 30-45 seconds fold your corn tortilla in half forming a taco shell.

Fry each side of the shell until it is browned to your desired level of doneness.
To assemble your amazing steak tacos:
Chop your steak into small cubes.

Add a hearty amount of steak and salsa to a taco shell.

Garnish with extra chopped cilantro and onions if desired.

Add a little lime juice and Enjoy!
Notes
*The more habaneros and jalapeno you use the spicier this will be! If you don't want something too spicy go with 1 habanero and ½ a jalapeno. The habanero is really there for flavor. With the seeds removed you won't get a lot of heat. *If you don't have a blender or food processor you will need to chop everything up by hand.


Reader Interactions