This is the best breakfast tacos recipe! They are so easy to make and so delicious!
Filled with delicious and fresh ingredients along with the best scrambled eggs ever- you will want these tasty breakfast tacos every morning!
I've shared other delicious tacos recipes in the past (like my tri tip tacos, easy potato tacos, carnitas tacos etc), but I wanted to share one of the easiest taco recipes I make.
I usually find myself making these when I have nothing to make for dinner or want to have something extra tasty for breakfast. I mean I always have eggs and tortillas on hand – so why not!
How to make breakfast tacos:
If you are making any type of salsa or pico de gallo for these do that first.
Cook your bacon. You can bake it, or fry it!
Fry your tortillas: heat up a little oil in a fry pan, add a tortilla, flip after 30ish seconds and then let the new side cook until it starts to brown. I like to fold the tortilla over when it starts to harden up and fry it like that to get the classic taco shape!
Whisk eggs with seasoning then in a cold fry pan add butter and eggs. Turn heat to medium and continuously whisk until cooked.
Build your taco! Layer the taco shell with egg, salsa, bacon, and salsa!
If you are looking for a healthy breakfast taco recipe, I would probably use diced Canadian bacon instead of bacon, and just warm your tortillas up without frying them. Still delicious but a little lighter on the calories.
How to make the best scrambled eggs?
Whisk your eggs, salt, and garlic powder in a small bowl. Whisking the salt in before cooking helps break down the eggs a little making them creamy.
Add a little butter to a cold fry pan along with the whisked eggs. Heat the eggs over medium heat whisking continuously until fully cooked.
Whisking continuously makes small curds. Melting the butter while whisking and cooking the eggs make them custardy and delicious.
Bacon- fry or bake?
Either way is great it just depends on how much time you have and what is easiest for you! Learn how to bake bacon here!
Other Breakfast taco toppings?
Red Salsa
Hot Sauce
Salsa Verde
Pico
Cheese
Avocado
Onion and Cilantro
Sausage
Diced Canadian bacon or ham
Do you love breakfast tacos too? Let me know in the comments below!
For more delicious breakfast recipes checkout:
Delicious Breakfast Sandwich (coming soon!)
Quick Sticky Buns (less than 30 minutes!)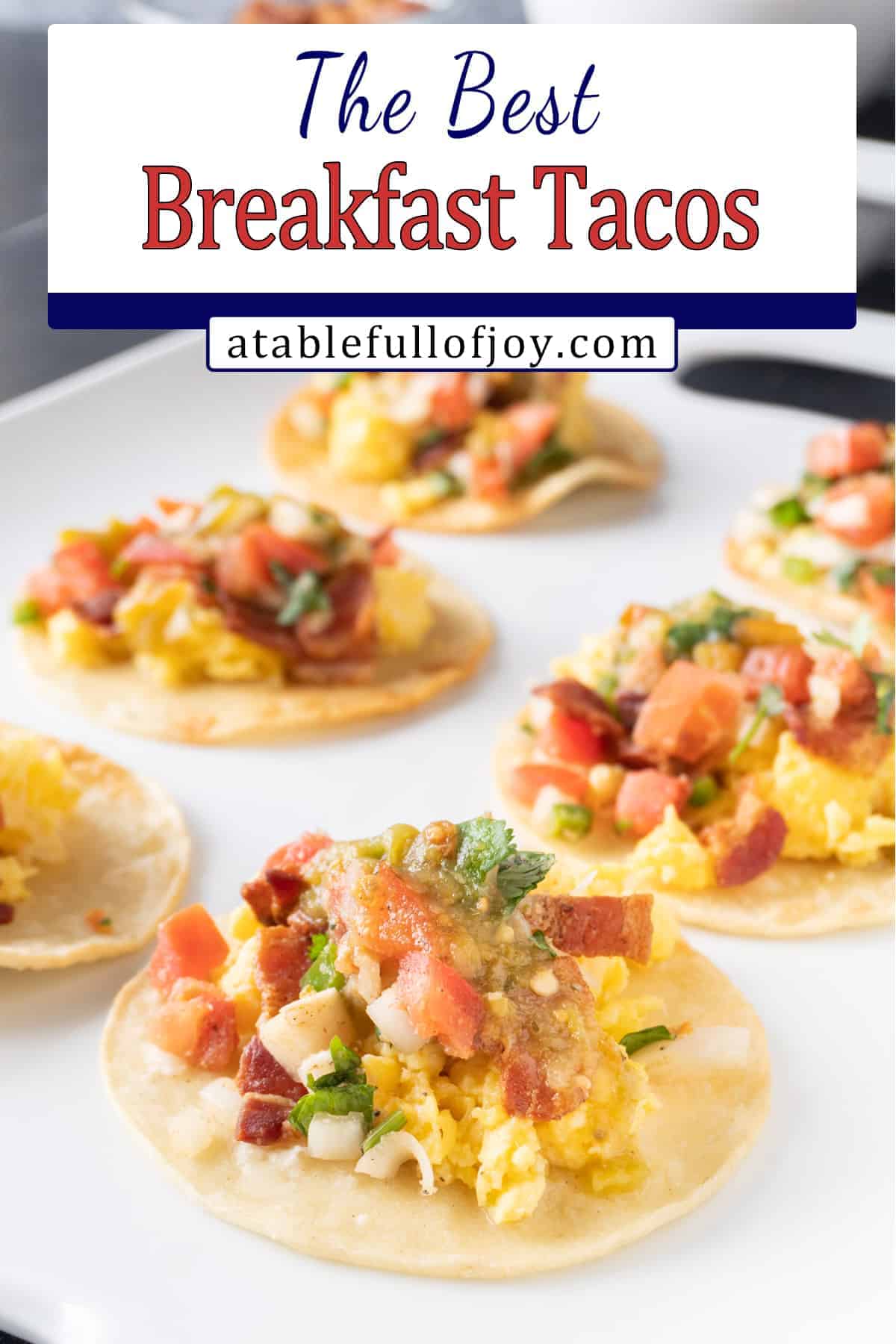 Watch how to make this recipe!
Want more? Subscribe to my newsletter and follow along on Facebook, Pinterest and Instagram for all of the latest updates.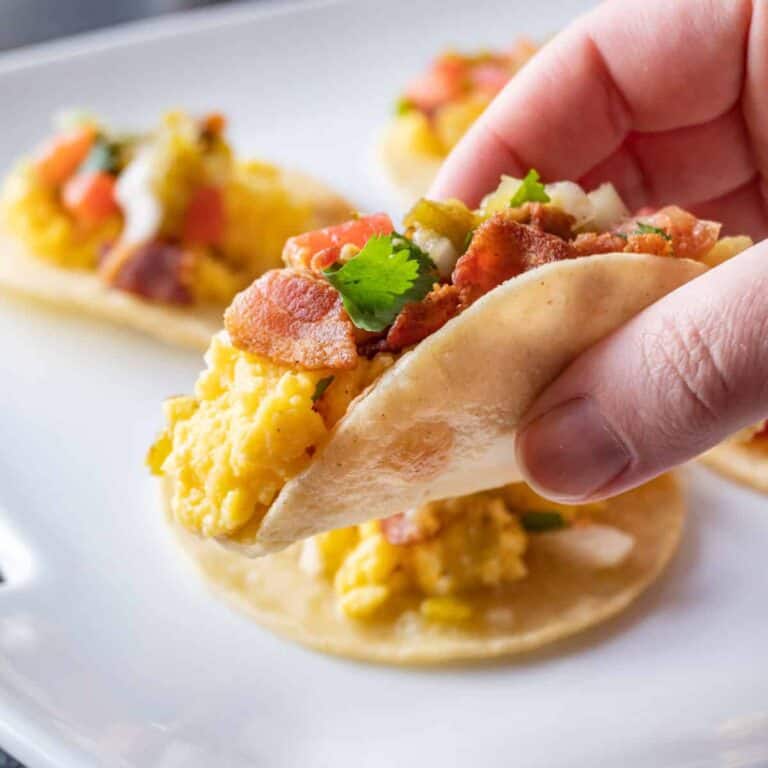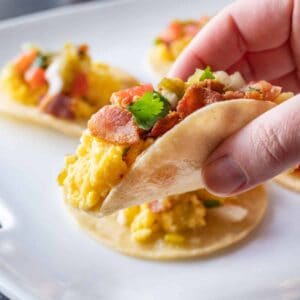 Best Breakfast Tacos Recipe
This is the best breakfast tacos recipe! They are so easy to make and so delicious!
Ingredients
4

oz

bacon

6

eggs

2

teaspoons

butter

¼

teaspoon

salt

¼

teaspoon

garlic powder

to taste

9

mini corn tortillas

or 6 regular corn tortillas

Oil for frying tortillas
Optional Toppings
Pico de Gallo

Salsa Verde

Hot Sauce

Avocado

Cilantro

Onion

Cheese
Instructions
If making pico or salsa verde make that first then set aside.

Cook bacon in oven or fry on top of the stove then crumble. Sometimes when I fry bacon, I will cut it into small pieces first. When finished cooking and cool enough to handle chop into pieces.

Heat 1-2 tbs of oil in fry pan then fry tortillas- I like to lightly brown on one side then flip and lightly brown the other side.

Whisk eggs, salt, and garlic powder. In a cold nonstick pan add the butter and the whisked eggs. Turn heat to medium and whisk continuously until eggs are cooked.*

Fill taco shells with egg, add crumbled bacon, and any other toppings. Enjoy!
Notes
Tips and Tricks
*Continuous whisking and bring the pan, butter and eggs all up to temperature at the same time produces small curds and delicious and creamy scrambled eggs.
Nutrition
Calories:
141
kcal
Carbohydrates:
8
g
Protein:
6
g
Fat:
9
g
Saturated Fat:
3
g
Trans Fat:
1
g
Cholesterol:
120
mg
Sodium:
205
mg
Potassium:
99
mg
Fiber:
1
g
Sugar:
1
g
Vitamin A:
191
IU
Vitamin C:
1
mg
Calcium:
31
mg
Iron:
1
mg
A long time ago I used this recipe for my Hearthstone inspired Menu. Hearthstone is an online card game you can read more about here.
I turned this recipe into devilsaur egg breakfast tacos.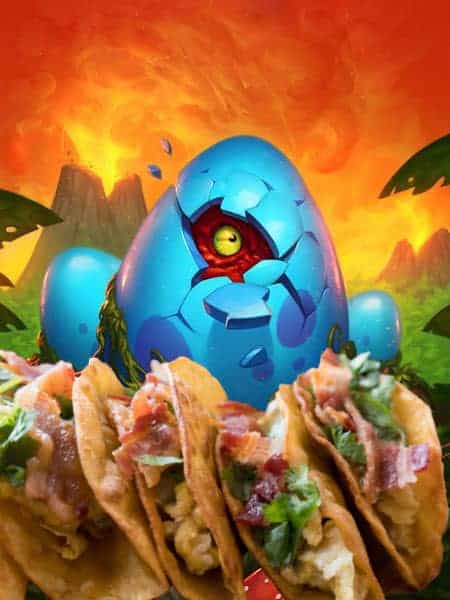 Hearthstone Card Image from Gamepedia
©2014 Blizzard Entertainment, Inc. All rights reserved. Heroes of Warcraft is a trademark, and Hearthstone is a registered trademark of Blizzard Entertainment, Inc. in the U.S. and/or other countries.
Blizzard Entertainment is a trademark or registered trademark of Blizzard Entertainment, Inc. in the U.S. and/or other countries. All rights reserved.
Reader Interactions