Who else loves a good breakfast taco?! I would eat these everyday if I could because I love tacos! (Remember my steak tacos and chicken tacos?!!) They are filled with easy delicious ingredients and are a quick yummy breakfast to start your day!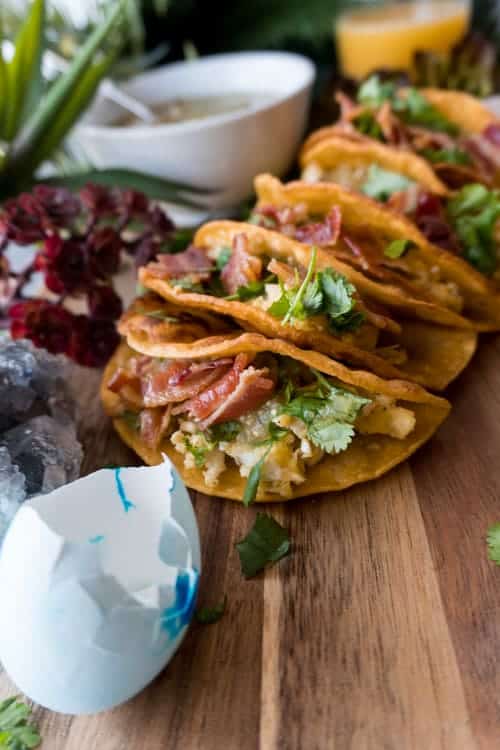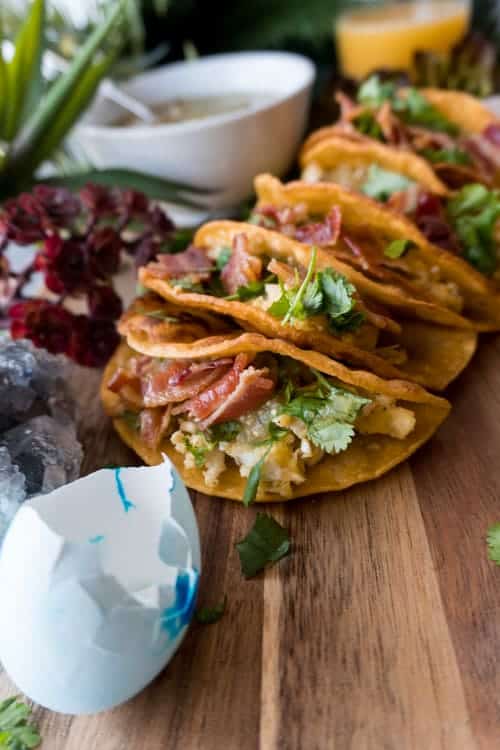 These Devilsaur Breakfast Tacos are part of my Hearthstone Menu! If you've been following along with the series, last week I posted my Shudderwock Salad, Smoked Angry Chicken, and Acidic Ooze Limeade! So good! Today's recipe is based off Journey to Un'Goro's expansion card Devilsaur Egg.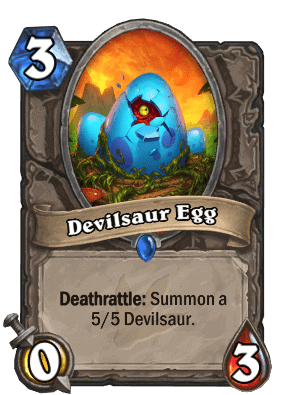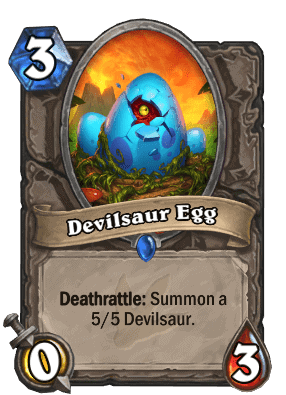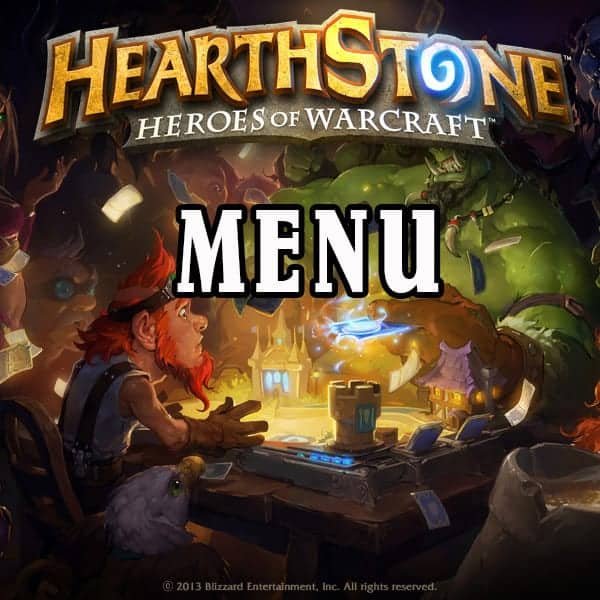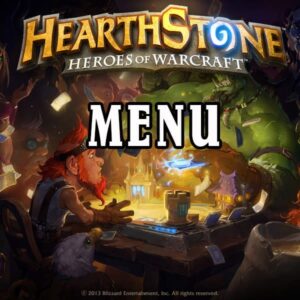 How to make breakfast tacos: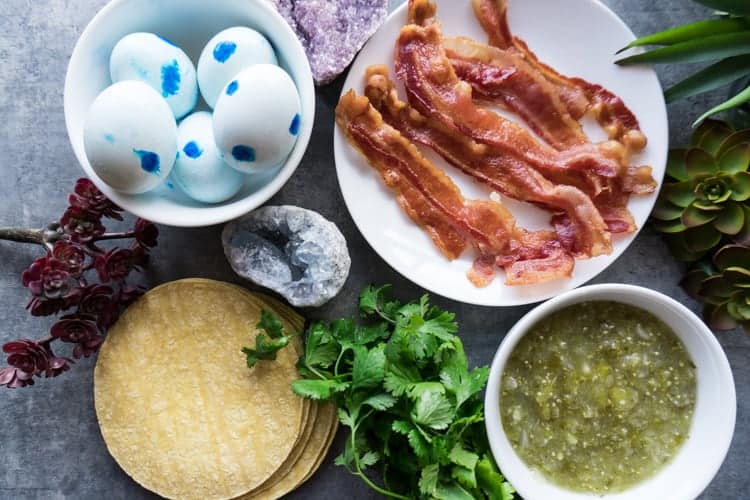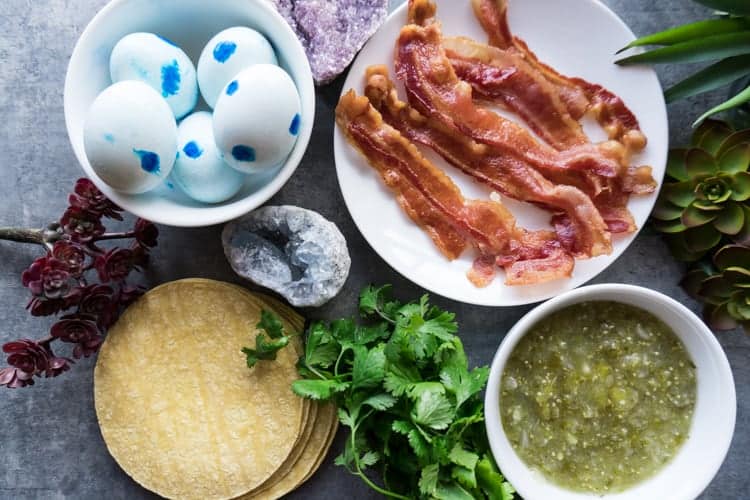 First get your bacon baking! Go here to see how to do this– just scroll down in the post a little ways and there is any easy to read section on how to bake bacon! It's super simple and you don't have to deal with any splatter!
I like to make ahead of time my green salsa verde– but you can make it real quick in the morning, and cool it down in the freezer if you don't want it warm from the making of it! Go here to get the super easy recipe! Or you can use any salsa you like- but I recommend a green salsa for sure!
Fry your tortillas! Heat up a little oil in a fry pan, add a tortilla, flip after 30ish seconds and then let the new side cook until it starts to brown. I like to fold the tortilla over when it starts to harden up and fry it like that to get the classic taco shell shape!
Scramble your eggs adding the salt, pepper, and garlic powder- as much or as little as you like.
Build your taco! Layer the taco shell with egg, salsa, bacon, and cilantro!
Eat up!
What is your favorite Hearthstone expansion? Why?
The Un'goro expansion has been my favorite, if for nothing else than I am geologist and love the theme! I mean volcanoes, dinosaurs, gastropods, obsidian- that's right up my alley! I took classes on these things people!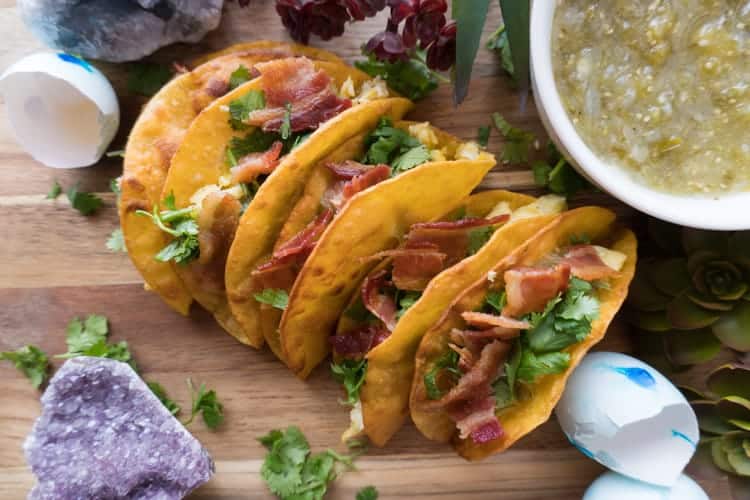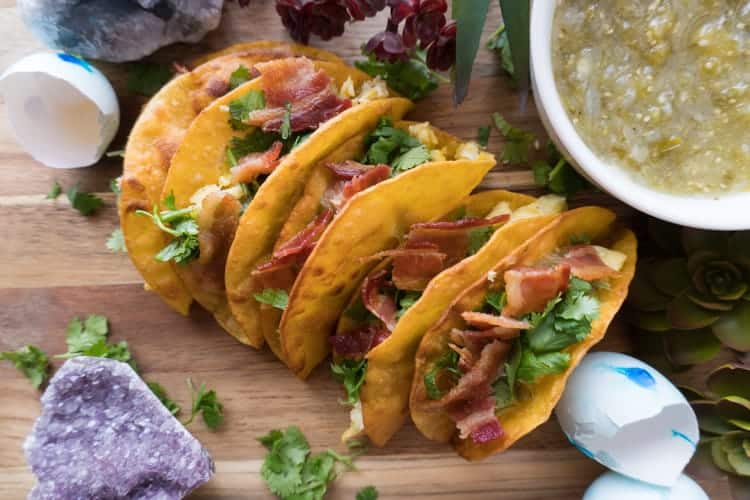 As you can see in the pictures I was able to use some of my pretty rocks. You guys I have so many rocks/fossils from field trips. Being a geologist is pretty fun, just saying! You get to hike lots, camp, find really cool rocks and fossils, and work up a big appetite for things like tacos!
Ok now back to the tacos…
This breakfast taco recipe is simple and delicious!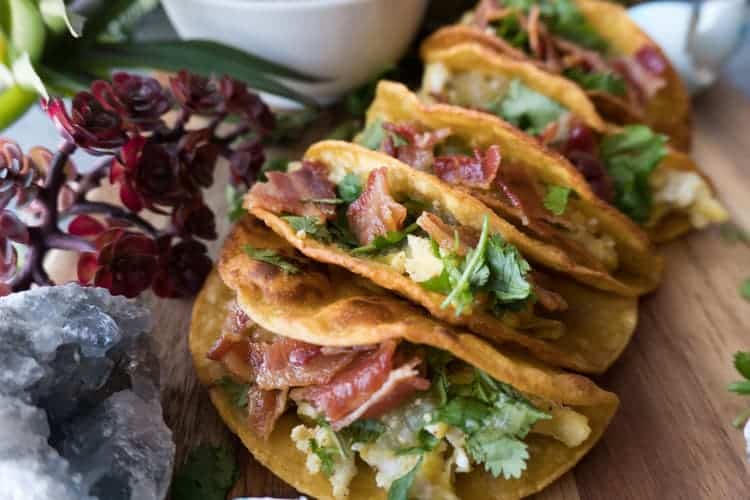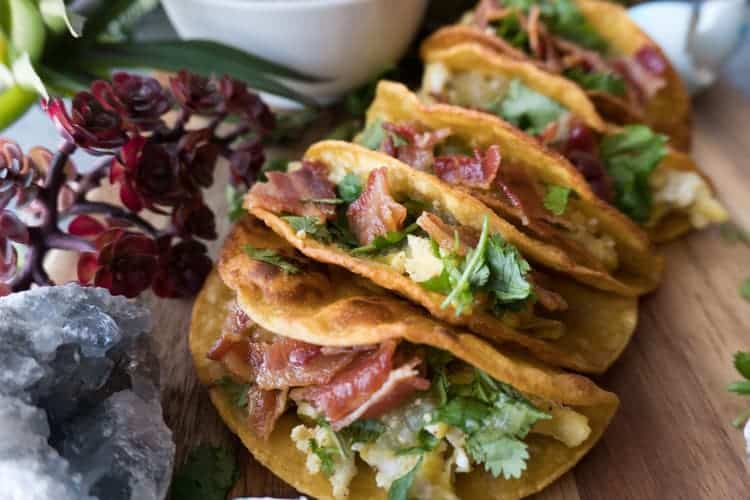 What's your favorite taco recipe? What's your favorite Un'goro card? Do you collect rocks like me? I want to know! Leave me a comment below!
If you like this recipe check out my easy chicken tacos (you can totally use my Smoked Angry Chicken to make them!), my steak tacos, and my breakfast burritos!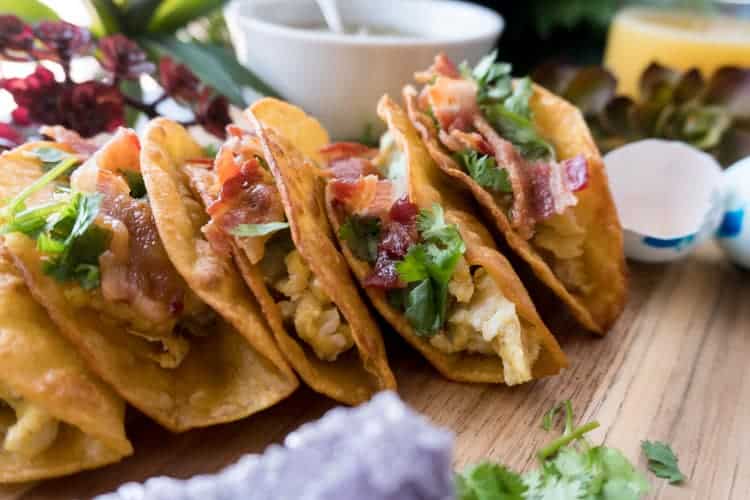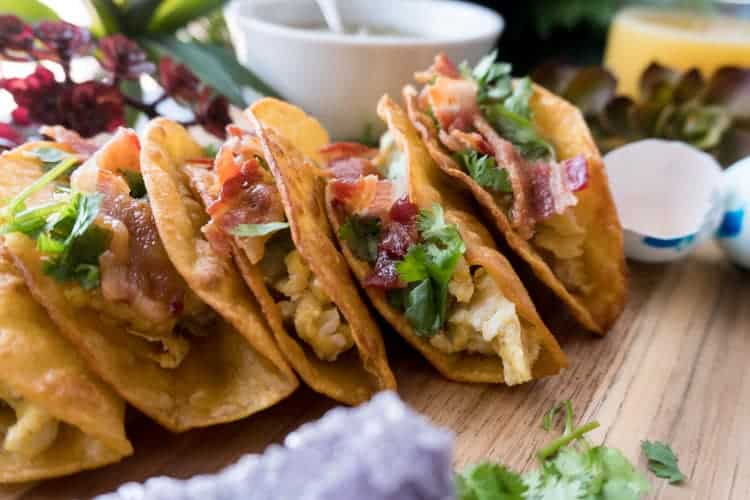 For other Hearthstone Recipes check out my full menu! I particulary like the Chameleos Cinnamon Roll French Toast, Mini Witchwood Apple Pies, and my Stuffed Evolving Spores!!
To read more about Hearthstone, check out my Hearthstone page, or the official Hearthstone Forums!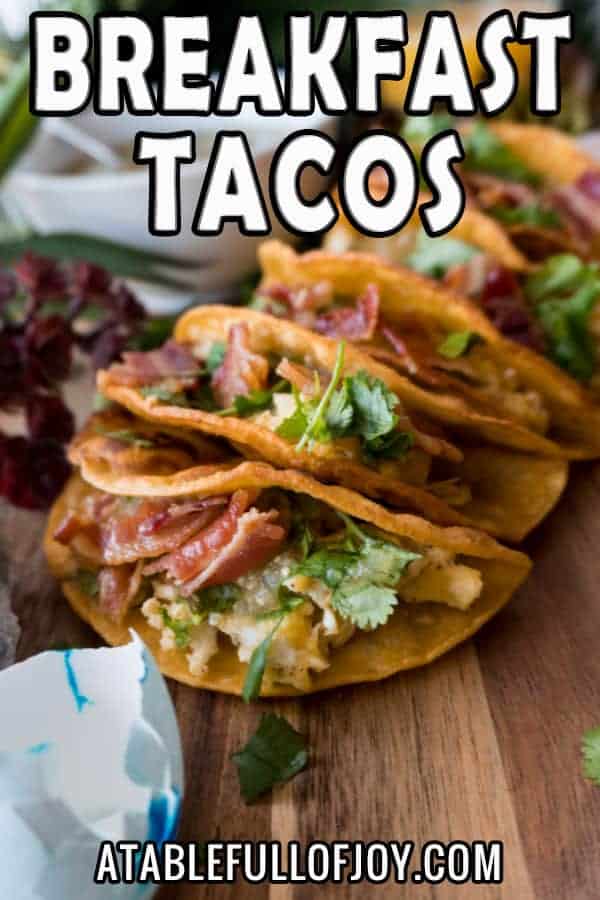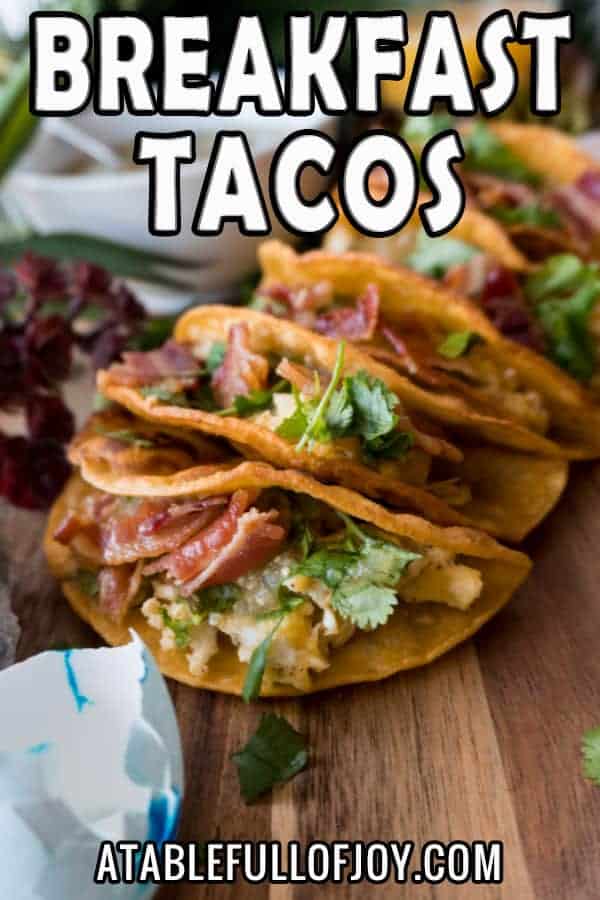 ---
BE SURE TO FOLLOW ME ON FACEBOOK, INSTAGRAM, PINTEREST & TWITTER!
---
Want more? Subscribe to my newsletter and follow along on Facebook, Pinterest and Instagram for all of the latest updates.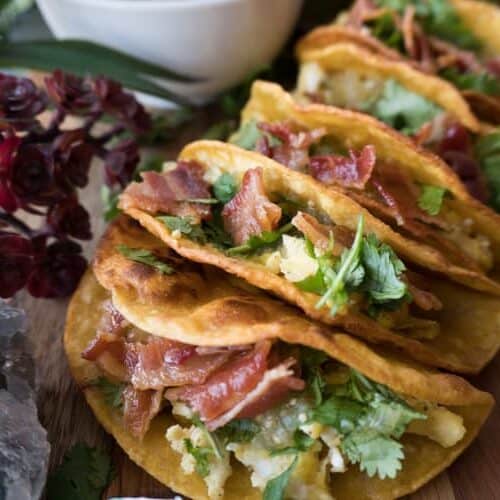 Scrambled Devilsaur Egg Breakfast Tacos
These breakfast tacos are so easy and delicious! Filled with egg and bacon and topped with a delicious easy salsa you can't go wrong!
Ingredients
4

oz

bacon

1

batch of easy salsa verde or your favorite salsa- see salsa recipe link in instructions!

3

eggs

Salt

to taste

Pepper

to taste

Garlic powder

to taste

6

corn tortillas

Oil for frying tortillas

Cilantro

for garnish
Instructions
Bake bacon in oven or fry on stove- for instructions on how to bake in oven go here (which I recommend!). When done baking and cool enough to handle chop into pieces.

Fry tortillas in a little oil in a sauce pan over medium heat.

Whisk together eggs, salt, pepper and garlic powder. Cook over medium heat constantly stirring until done.

Chop up cilantro.

Fill taco shells with egg, add crumbled bacon, salsa verde, and cilantro.

Enjoy!
Hearthstone Card Image from Gamepedia
All mention of Hearthstone is copy right protected by: ©2014 Blizzard Entertainment, Inc. All rights reserved. Hearthstone is a registered trademark of Blizzard Entertainment, Inc. in the U.S. and/or other countries.
Blizzard Entertainment is a trademark or registered trademark of Blizzard Entertainment, Inc. in the U.S. and/or other countries. All rights reserved.
Reader Interactions