Here in New Mexico we take our breakfast burritos seriously…or at least I do! These breakfast burritos are everything I look for and love in a delicious breakfast and they will not disappoint!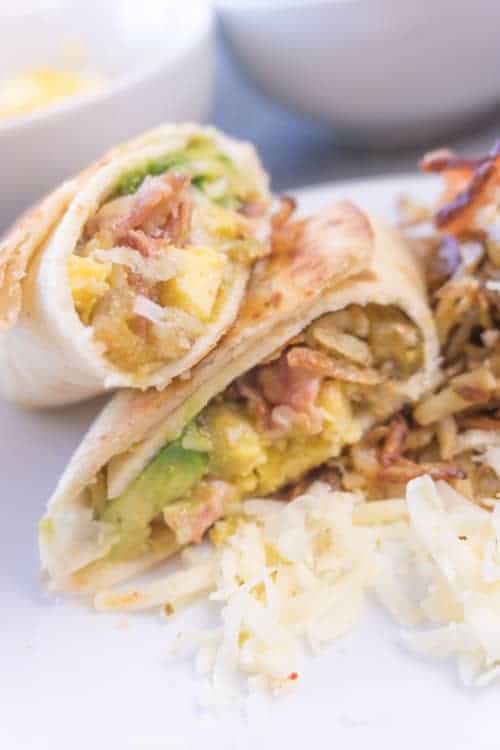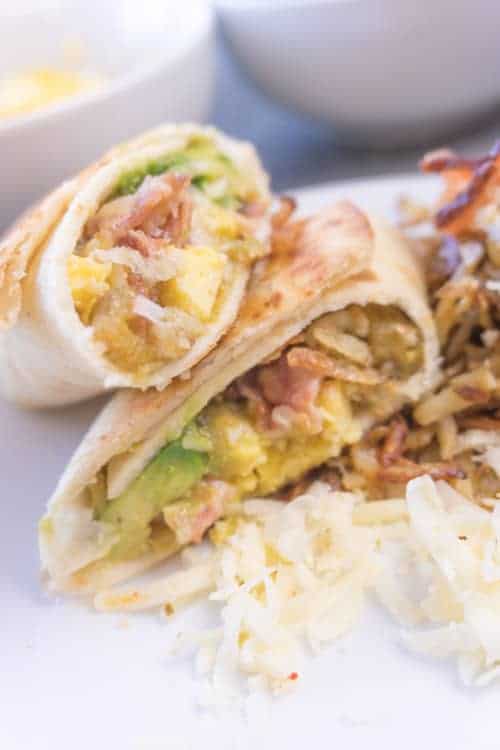 When I went to grad school in a little town called Socorro, here in New Mexico, I was delighted at how many amazing restaurants there were. Good pizza, great burgers, delicious Mexican food and the best breakfast burritos I've ever had. For a town with a population of 2,000 plus another 2,000 students- the food was top notch there.
The breakfast burritos were from a little hole in the wall called Burrito Time. They were cheap and extremely satisfying, perfect for students! My husband's go to burrito is their enchilada burrito. He still talks about them to this day.  If you are ever in Socorro you need to go try them out!  Although they make all kinds of burritos, my favorite is their breakfast burrito with bacon, cheese, hash browns and green chile sauce. It is amazing and the inspiration behind this burrito!
Anyways, enough about them, let's get down to this breakfast burrito meal prep! First you will want to cook up your bacon in a fry pan or bake it.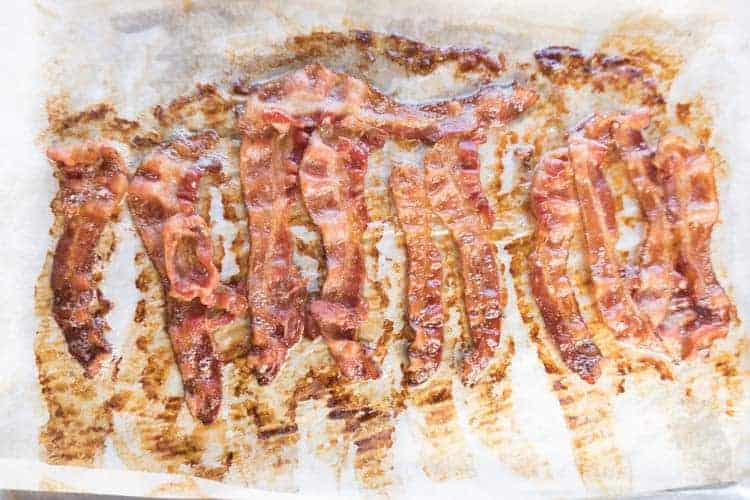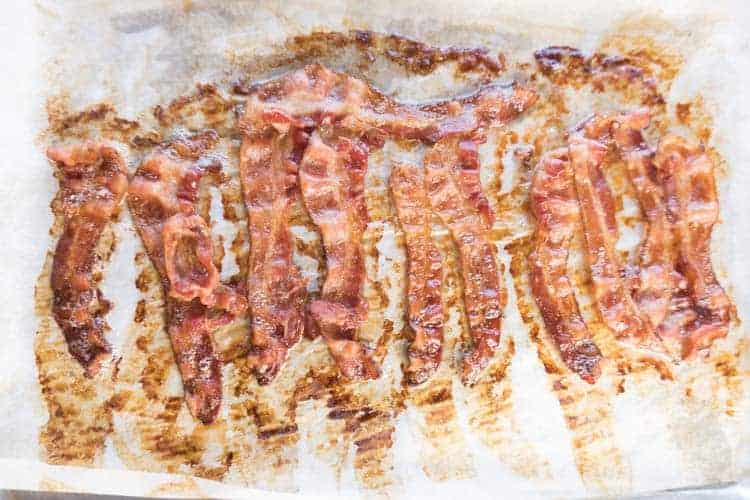 How do you cook bacon in the oven?
I love to bake bacon! It saves stove space and doesn't get grease everywhere.
To bake the bacon, lay uncooked bacon strips on a parchment lined baking sheet that had edges.
Place the bacon in a cold oven and then turn the oven to 400°F. The bacon will heat up with the oven and this will allow the fat to render perfectly.
I bake the bacon for a total 25-30 minutes, but you will need to adjust this time based on how crispy you want your bacon. When it's done you can then pour off the bacon grease and save it for future cooking!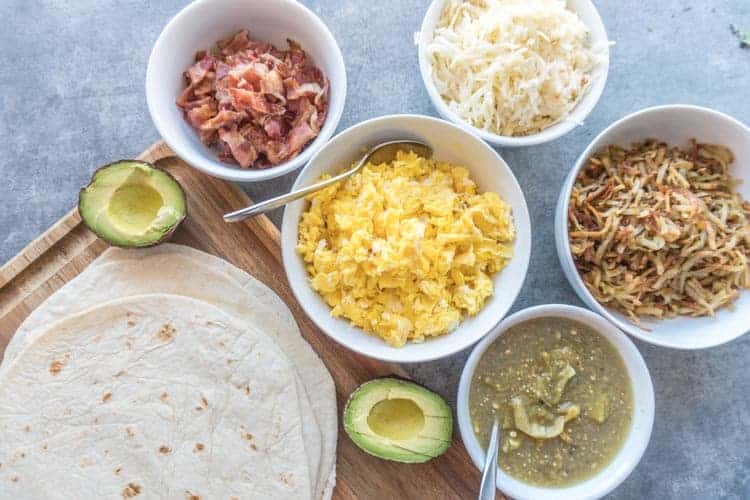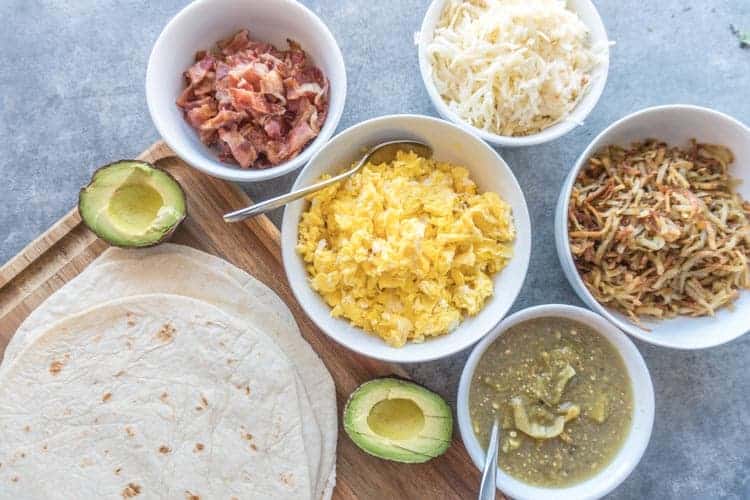 While the bacon is cooking, shred your potatoes. I like to add an egg to act as a binder and help them clump together a little. Cook up your hash browns then set them aside.
Whisk your eggs together and then scramble them in a skillet until done. While the eggs are cooking, pour your salsa and green chile (if you have green chile!) into a small pot and heat on medium low. This is my easy way to make green chile sauce. Shred your cheese and slice your avocado.
When everything is done, assemble the burrito with as much or as little fillings as you want! I always add too much and then have trouble rolling up the burrito! Anyone else with me?!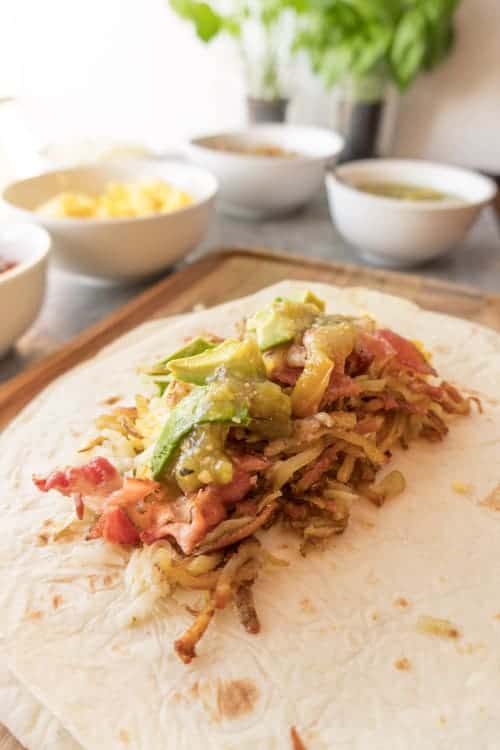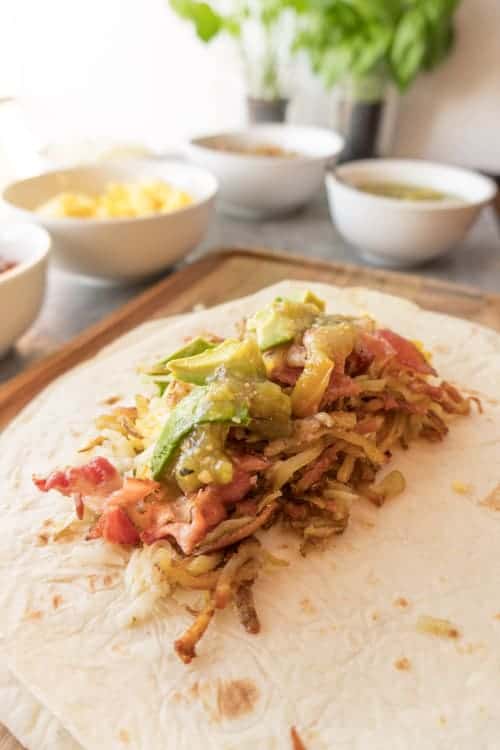 I usually use mission tortillas but for photographing these burritos I thought I'd be fancy and go for the more authentic type tortillas at the store. My mistake. Of course they didn't roll the same and started to crack… even warming them up didn't work too well. But whatever, they are still amazing, delicious and some of the best breakfast burritos ever!
Oh and a neat little trick I started doing with all my burritos is lightly grilling/browning the out sides when I am done rolling them. This gives the burrito a nice crunch and little more flavor (especially if you use a little butter when you put it in the pan!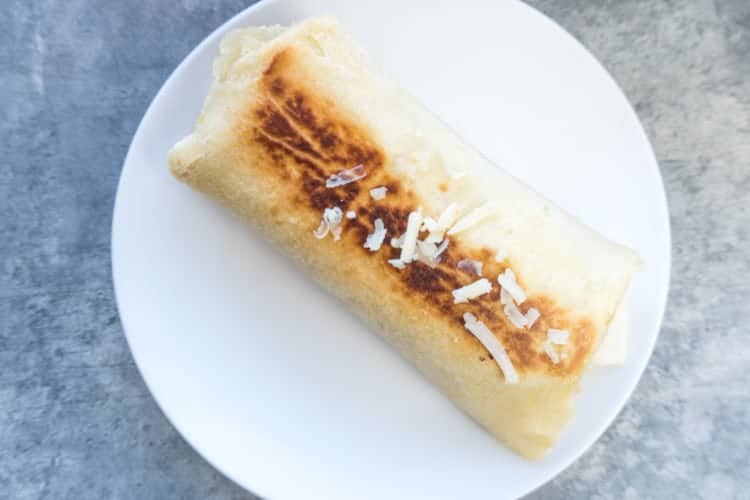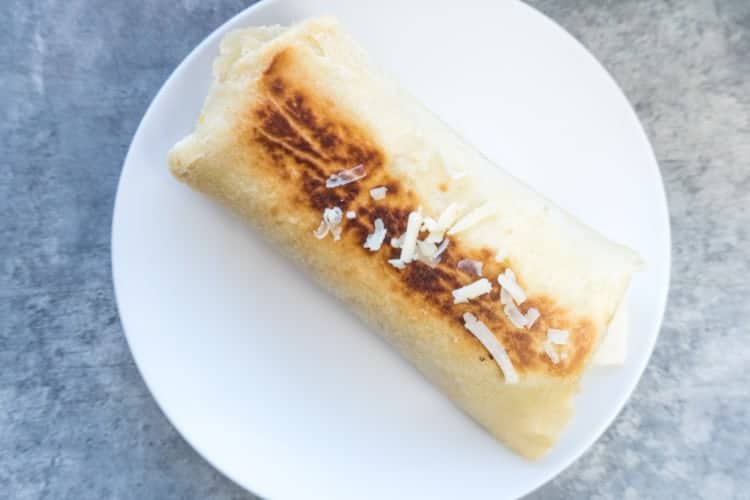 Go make these breakfast burritos and let me know how you like (love!) them! Do you put other things in your breakfast burritos? Do you have a favorite burrito place? I'd love to know! Leave me a comment below!
If you like this breakfast recipe check out my breakfast casserole and my sweet potato breakfast skillet!
Want more? Subscribe to my newsletter and follow along on Facebook, Pinterest and Instagram for all of the latest updates.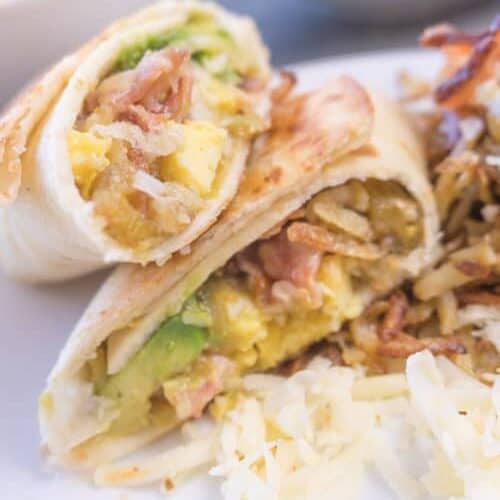 Breakfast Burritos
This breakfast burrito recipe is so delicious and will quickly become a favorite of yours!
Ingredients
6

Flour Tortillas

1 ½

russet potatoes shredded

1

tsp

garlic powder

½

tsp

salt

5

tbs

olive oil divided*

10

oz

bacon

9

eggs divided

1

cup

green chile

12

cups

pepper jack cheese shredded

2

avocados sliced

1

jar green salsa*
Instructions
In a medium large fry pan cook bacon until done to your desired crispiness. When cool enough cut into small pieces. Set aside.

Rinse potatoes. Using a food processor or cheese grater, shred potatoes. In a medium bowl, combine 1 egg, salt, garlic powder, and shredded potato. Mix well.

In a medium-large fry pan heat 2 tbs oil over medium high heat. Once hot, add enough potatoes to cover the pan in an even layer. Let cook for several minutes before flipping. Brown all the shredded potatoes, cooking completely. Add more oil if needed. When done set aside.

In a medium sized bowl, whisk 8 eggs. Using a little butter or oil (this can be the same pan with left over grease from the potatoes or bacon) grease a medium sized fry pan. Scramble the eggs, cooking until done.

In a small sauce pan combine the jar of green salsa and the green chile. Heat until warm.
To make burritos
Lay a flour tortilla on a flat surface.

Add green chile sauce, hash browns, cheese, scrambled egg, bacon, and sliced avocado.

Roll up tucking the ends of the tortilla in as you roll.

After rolling, heat 1 tbs of olive oil in a medium fry pan. Once hot brown the burrito until golden brown on all sides.*

Enjoy!
Notes
*The amount of oil really depends on how much you need to fry. It isn't an easy thing to measure since I just add a little at a time when I think I need more.*I like to use the Herdez Green Salsa for this.* You don't have to fry the outside of the burritos but it definitely takes your burrito to the next level.
Nutrition
Calories:
1481
kcal
Carbohydrates:
34
g
Protein:
74
g
Fat:
117
g
Saturated Fat:
54
g
Cholesterol:
477
mg
Sodium:
2057
mg
Potassium:
966
mg
Fiber:
6
g
Sugar:
3
g
Vitamin A:
2210
IU
Vitamin C:
10.9
mg
Calcium:
1772
mg
Iron:
4.9
mg


Reader Interactions