Smoked Queso is a simple and delicious dip that is perfect for any party or get together. With just a few ingredients you will have an incredible smoky cheesy dip everyone will love!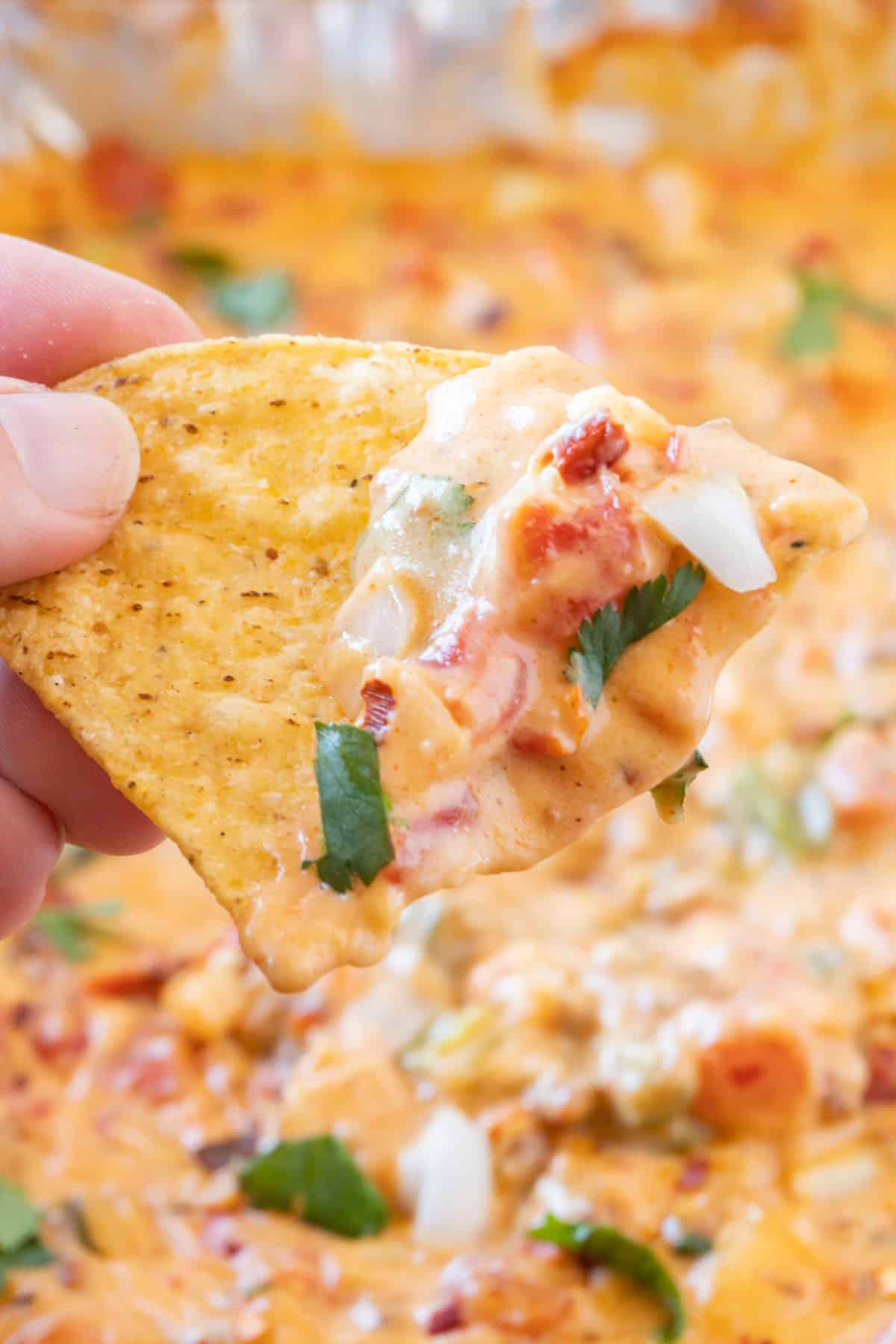 Queso is one of those foods that is so easy to make and so delicious with very little effort involved. It's 100% my kind of recipe!
A friend recently shared their smoked queso recipe with me and I knew it was going to be on repeat this summer! It's so easy to throw this on the smoker along with some chicken or steak and have an incredible meal!
What is smoked queso?
Smoked queso dip is a combination of cheese, spicy pork, peppers, onion, tomato, and spices that is heated until melted. The addition of smoking this dip bring a delicious depth of smokey flavor.
What you need for smoked queso?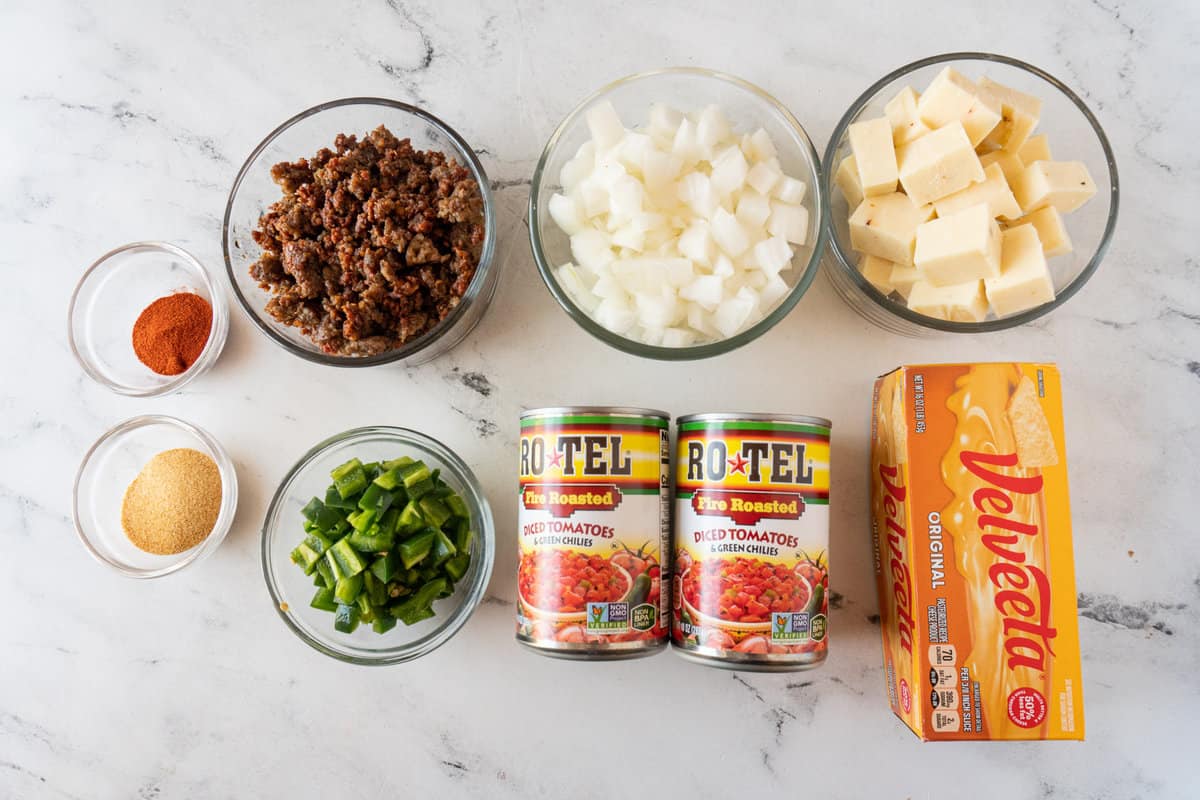 Chorizo or Spicy Pork Sausage
Cheese: Pepper Jack and Velveeta
Jalapenos
Onion
Canned Tomatoes with Peppers: I like to use Rotel with green Chile or Habaneros.
Spices: Garlic Powder and Paprika.
Milk: I use this to thin the dip after smoking.
If you are making this queso might also recommend making some smoked cream cheese and smoked deviled eggs too. They are great sides for a BBQ or party!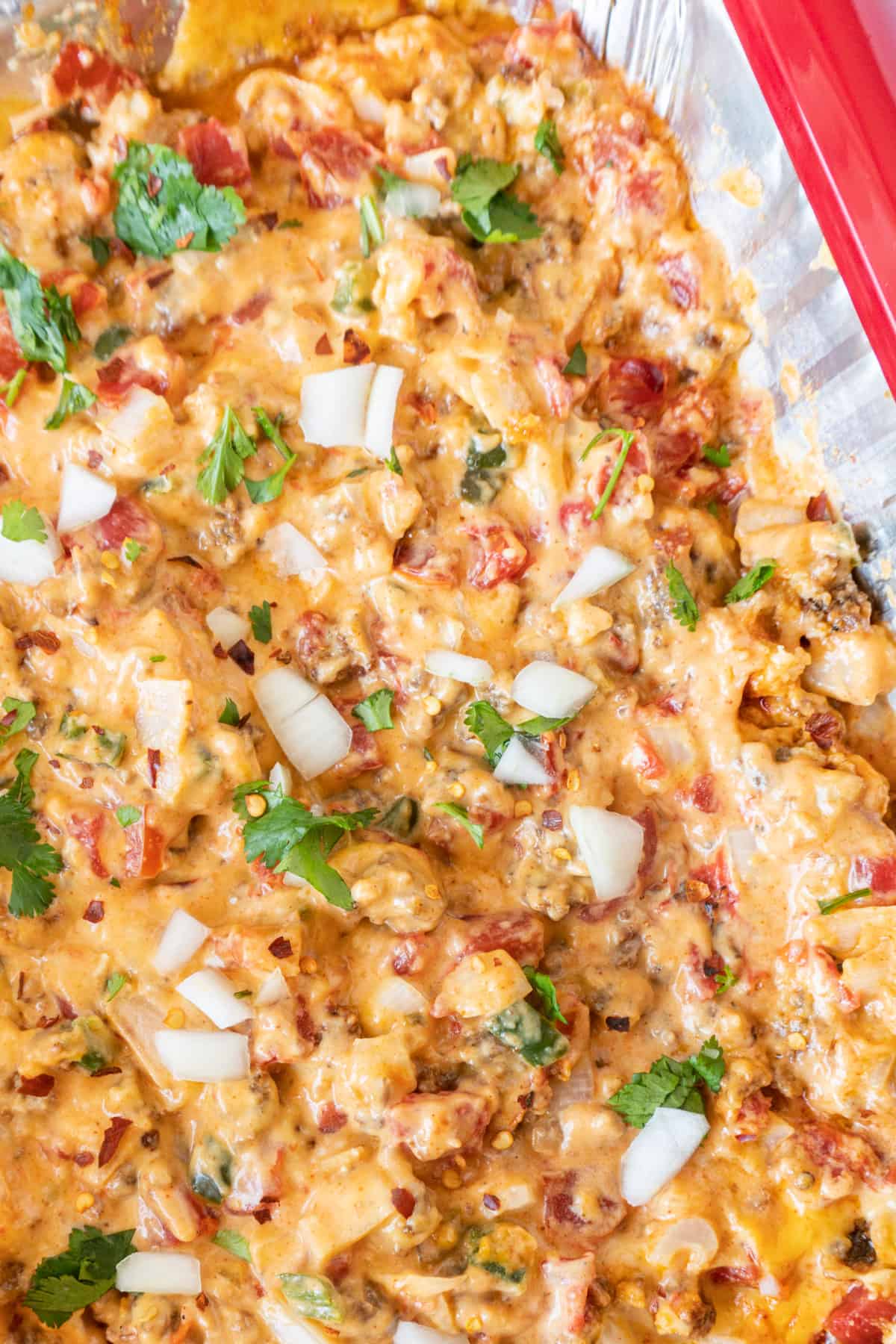 Equipment needed:
Smoker- electric pellet smoker or a wood fire propane smoker (the smokers I use from camp chef- affiliate links)
Pellets or wood chips- Any that you prefer. I typically throw this queso on while I'm smoking other things so I use whatever pellets/chips are already in use.
Aluminum Pan- This makes smoking the dip and clean up really easy. Otherwise, I recommend a large cast iron skillet or dutch oven.
If you want to dress up your aluminum pan I love using Fancy Panz- I used this one! (amazon affiliate link)
How to make smoked queso?
In a fry pan cook chorizo over medium heat.
Dice jalapenos and chop onion.
Preheat your smoker to 225°F-250°F. If you have a smoker with smoke levels, turn it to high smoke.
In your aluminum pan add your Velveeta, pepper jack, cooked chorizo, jalapenos, onion, canned diced tomatoes with peppers, garlic powder, and paprika.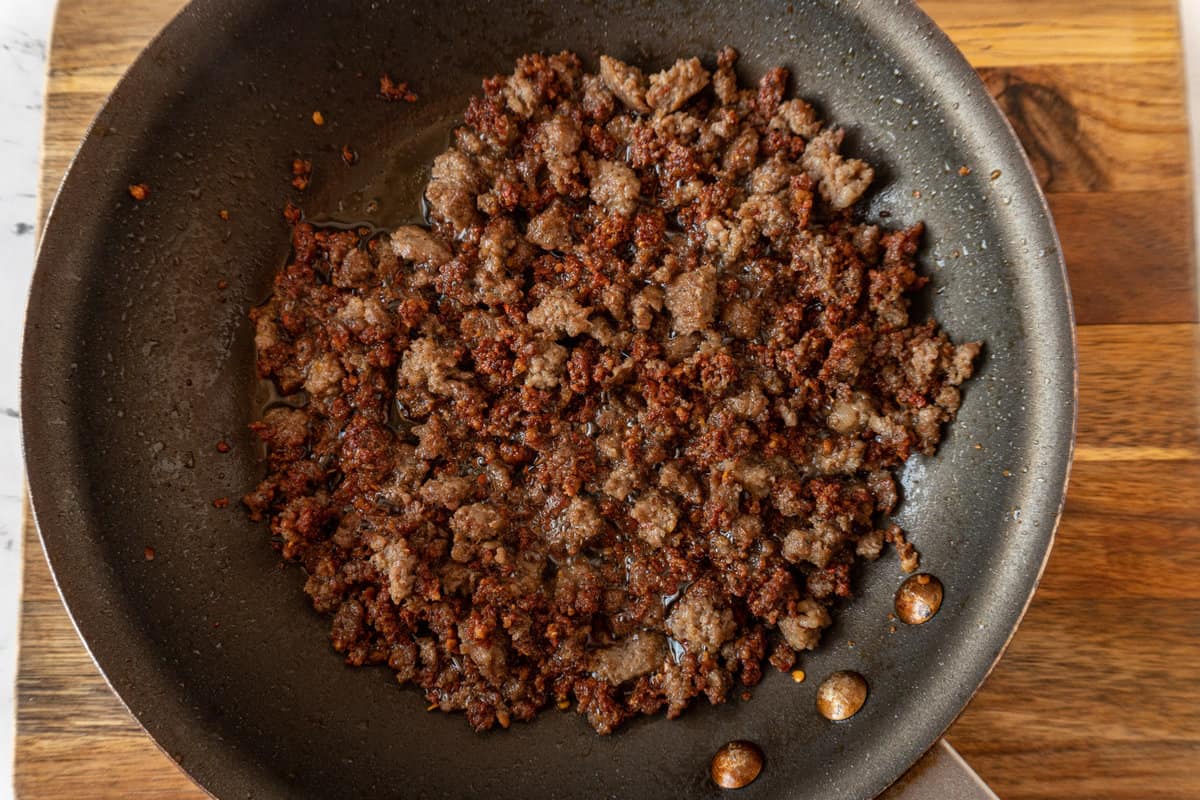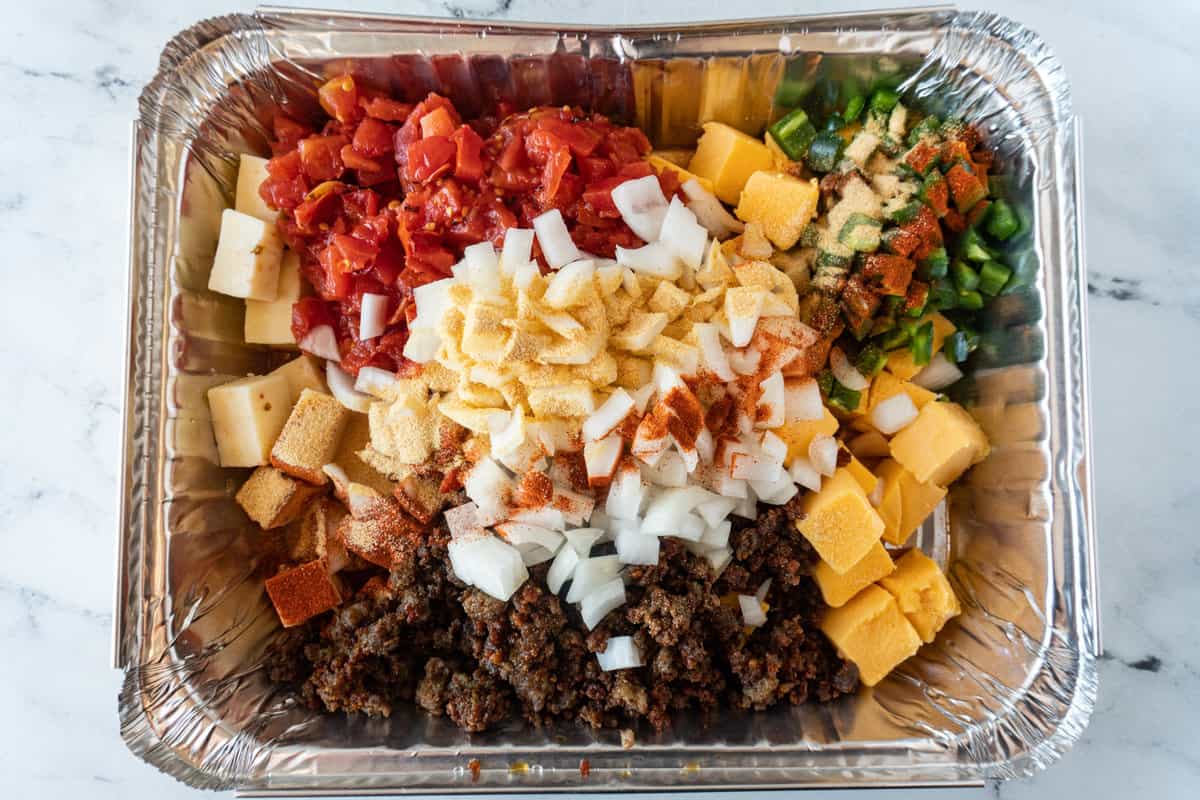 How long to smoke queso?
Smoke until all cheese is completely melted, approximately 1.5-2 hrs. at 225°F.
Stir dip to combine then serve!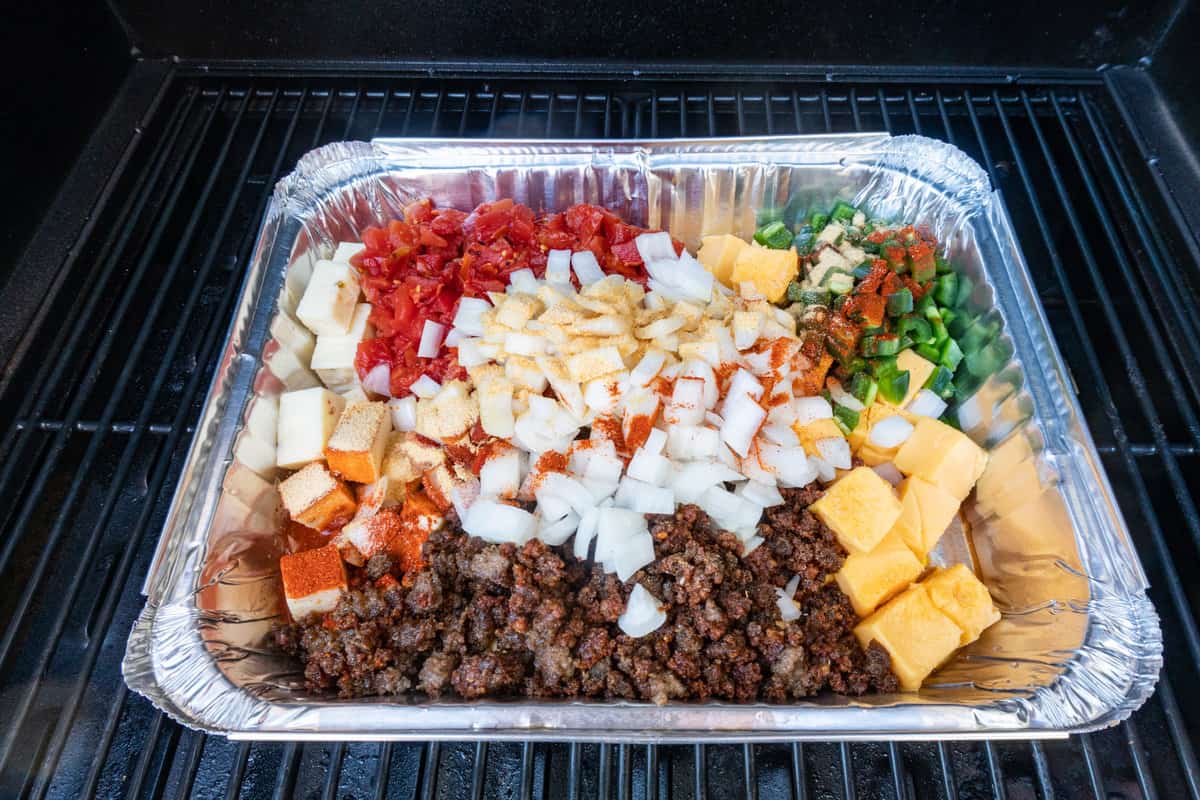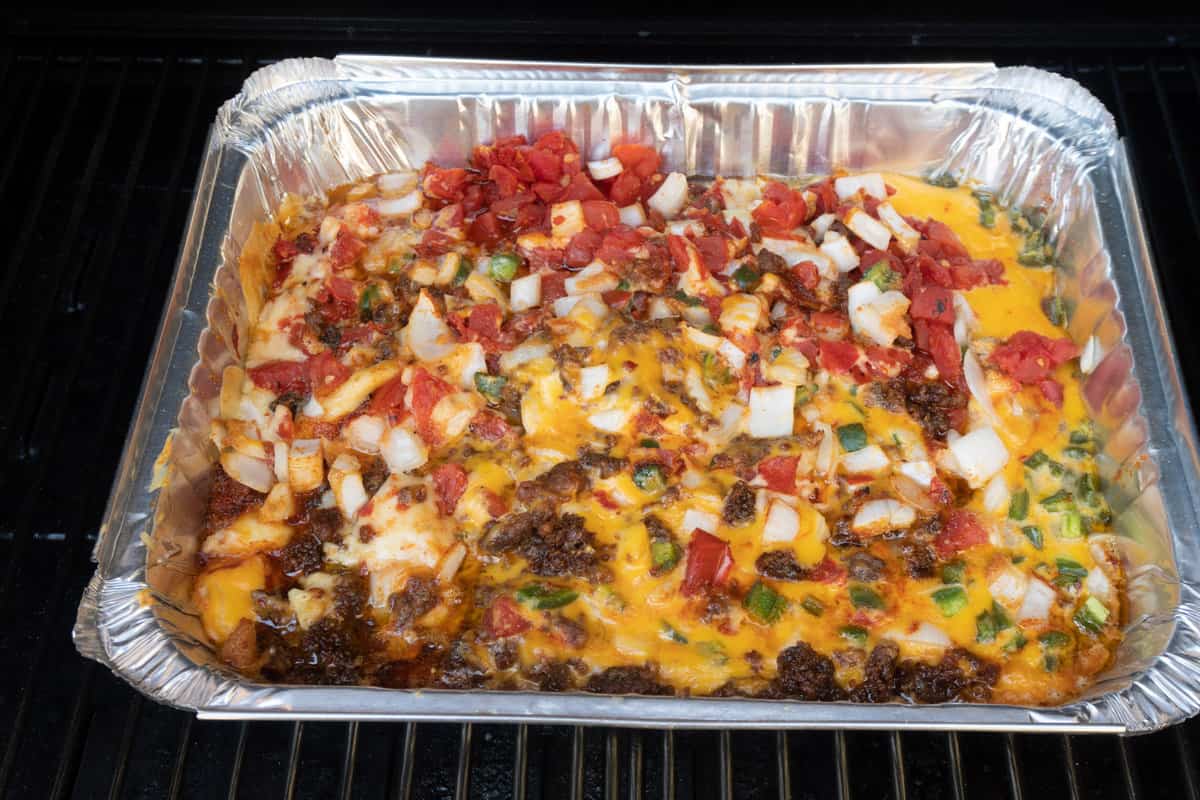 What if queso is too thick?
The dip can get thick just from evaporation during smoking, not to mention adding a lot of meat or veggies can bulk it up. I like to stir in ¼ -½ cup of milk (or more) after smoking until I get the perfect consistency.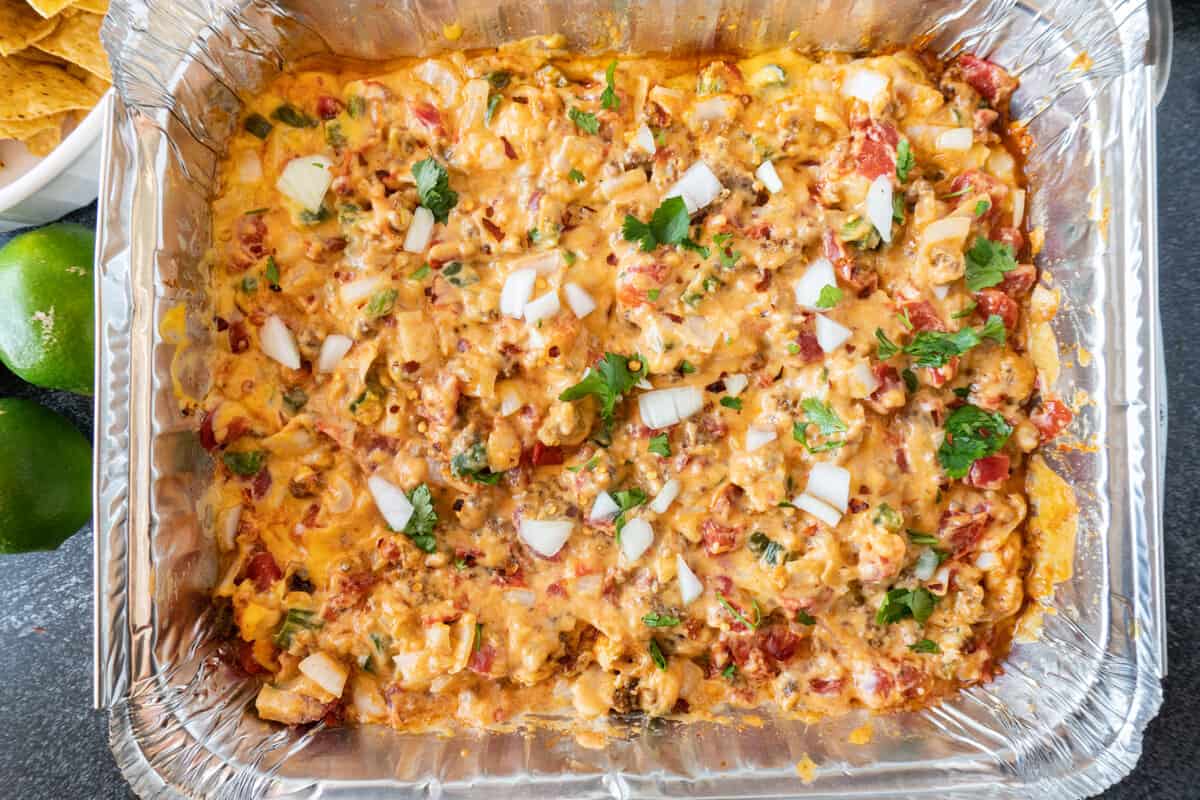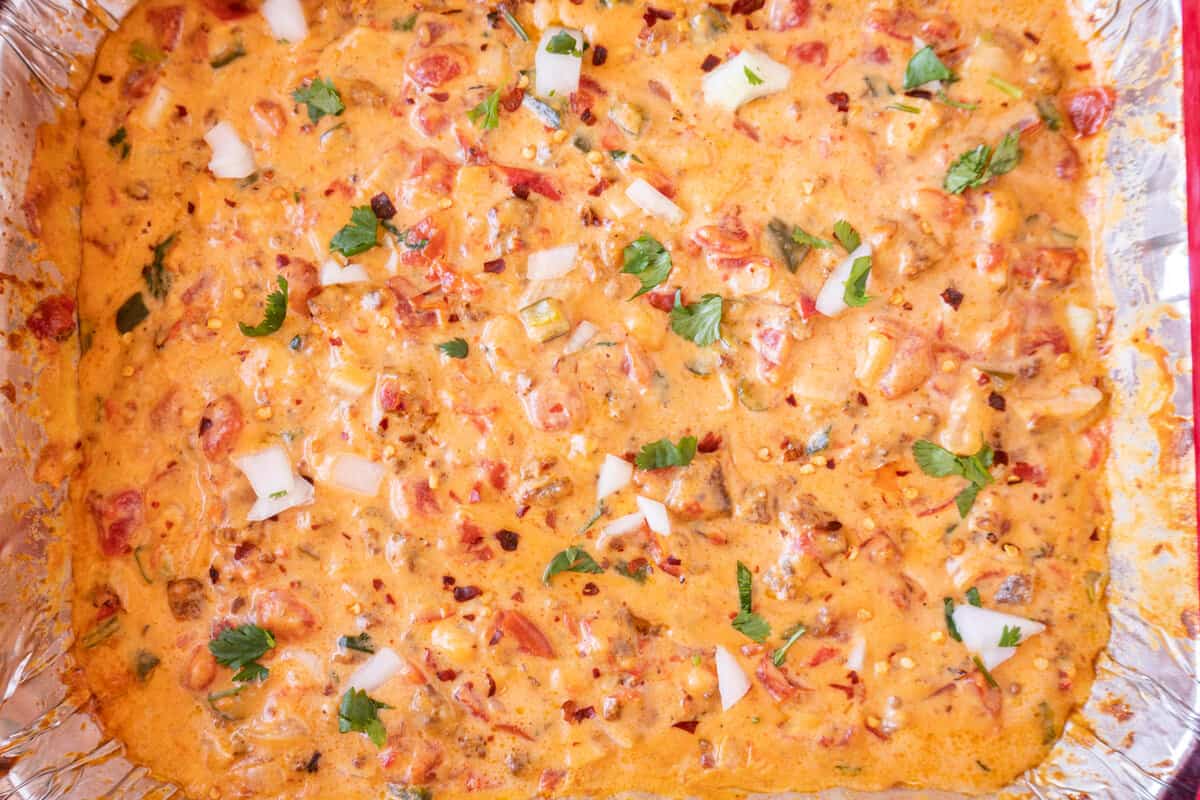 Queso Variations
Sautee: Sautee your peppers and onions in the fry pan for a few minutes before adding to the aluminum pan for a more tender veggie.
Heat: Add in extra jalapenos, habaneros, green chile, or serranoes.
Pickled: Pickled Jalapenos, Onions, or Garlic are always welcome additions to a dip.
Beans: Can of Pinto or Black Beans.
Meat: Shredded Chicken, Leftover Tri Tip, or Crumbled Cooked Bacon.
Cheese: Try cheddar, asadero, or cream cheese.
Veggies: Mix in roasted bell peppers for a little sweetness.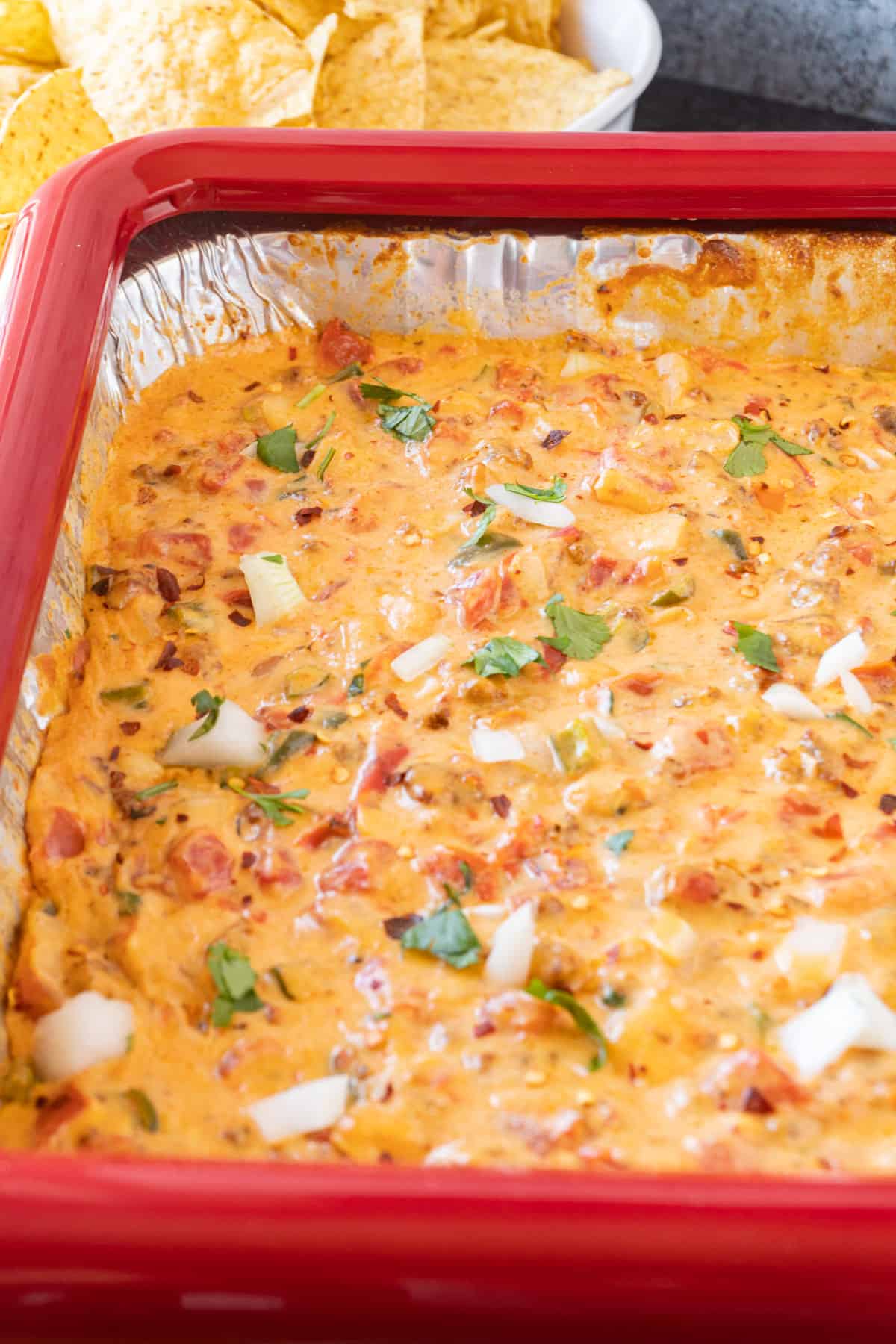 What to serve with smoked queso?
Use tortilla chips or crackers to dip into this queso. Serve the queso alongside fresh Pico de Gallo, steak quesadillas, chicken enchiladas or chicken lollipops!
How to serve queso?
Queso is best when eaten warm, so as soon as it's done cooking on the smoker it's ready to eat. You can always keep the queso warm by sticking it in a crockpot on low heat or in the oven on the lowest temperature until you are ready to eat.
Can you make queso in a slow cooker or the oven?
Yes, brown the meat, then throw everything in the slow cooker or an oven safe dish and heat until melted. You just won't get the smoky flavor but it will still be amazing!
How to store smoked queso?
Store leftover queso in the refrigerator and eat within 3 days. It's best when stored in an air tight container.
Can you freeze queso?
Yes, but the texture might be a little grainy once thawed.

To freeze place smoked queso in a freezer safe container (like these cups with lids), zip loc baggies, or freeze in cubes for easy use later. Queso will stay good for up to 6 months in the freezer.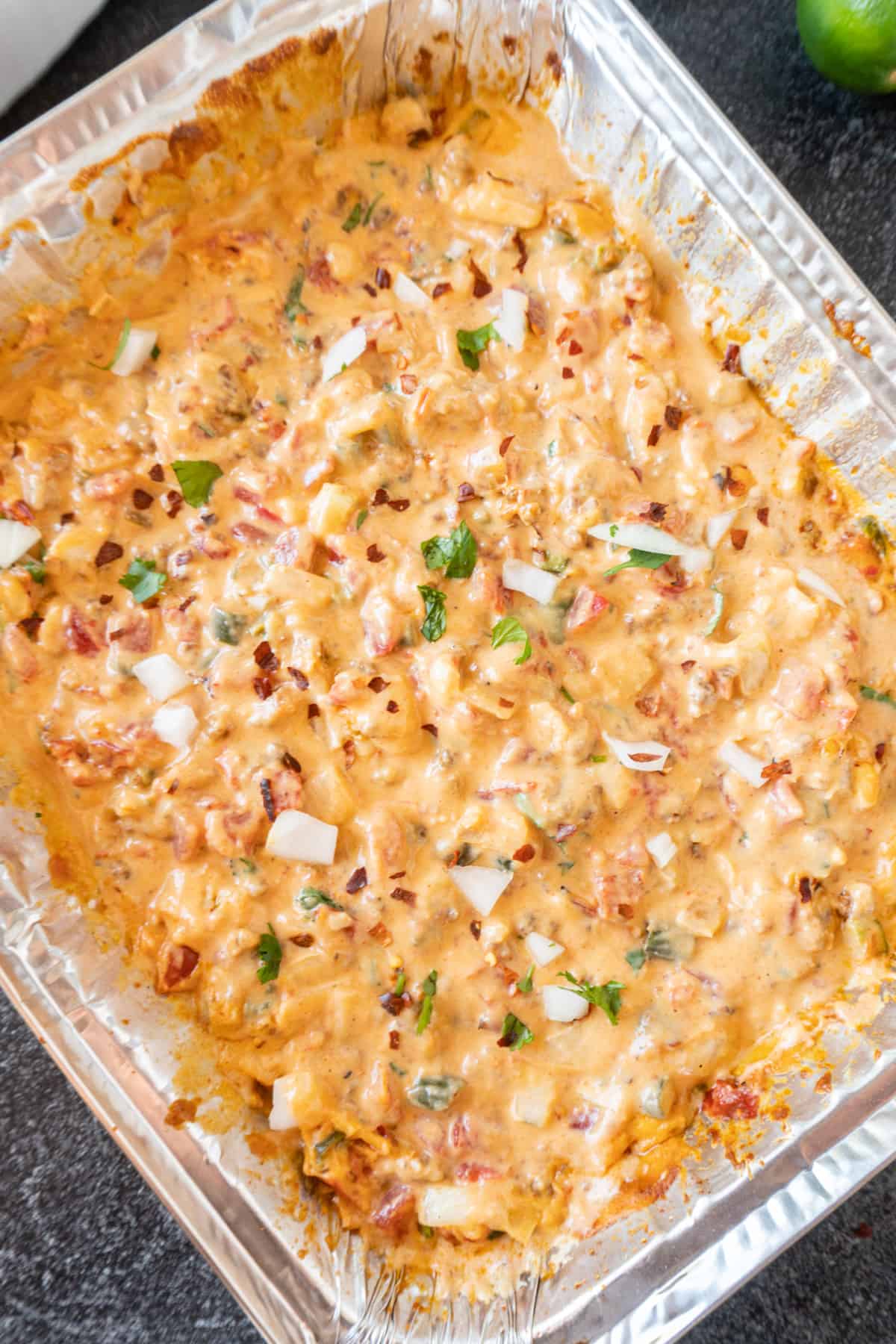 How to reheat smoked queso?
Microwave: Place dip in a microwave safe dish and heat for 30 second increments, stir, and repeat until heat through. Add a little milk to thin if needed.
Oven: Place foil pan in oven at 350°F and heat until melted through, stirring in milk to thin if needed.
Reheating Frozen Queso
To reheat frozen queso, place queso in a pot on the stove over medium low heat, covered. Stir occasional until completely melted and heated through.
Add milk to thin if needed.
Alternatively, you can thaw in the refrigerate overnight and heat on the stove top over medium low heat the following day.
If you like this recipe, check out all my other smoked recipes! You'll find tasty treats like smoked chicken thighs, ribeye, tri tip, beer can chicken, and even smoked turkey!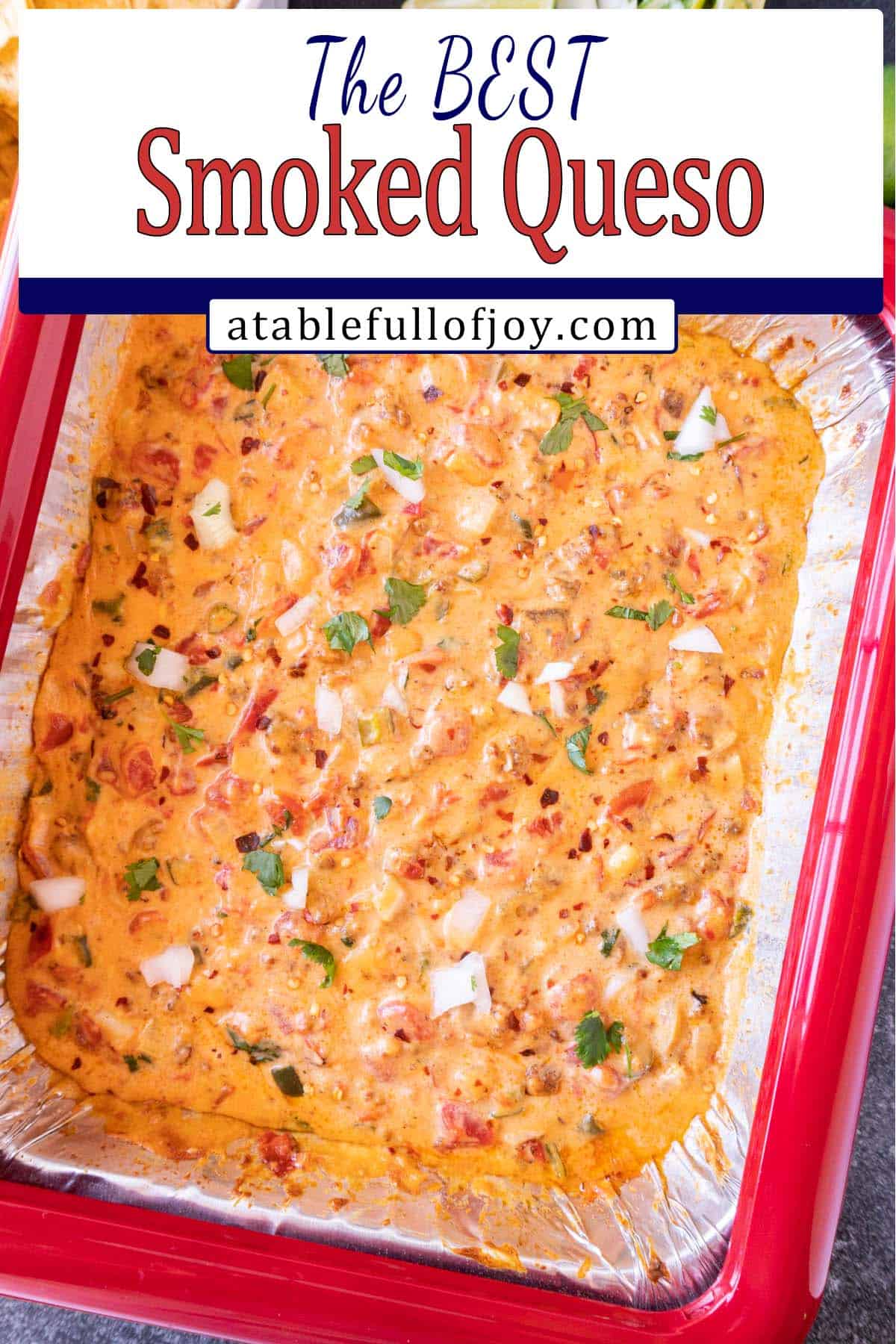 Want more? Subscribe to my newsletter and follow along on Facebook, Pinterest and Instagram for all of the latest updates.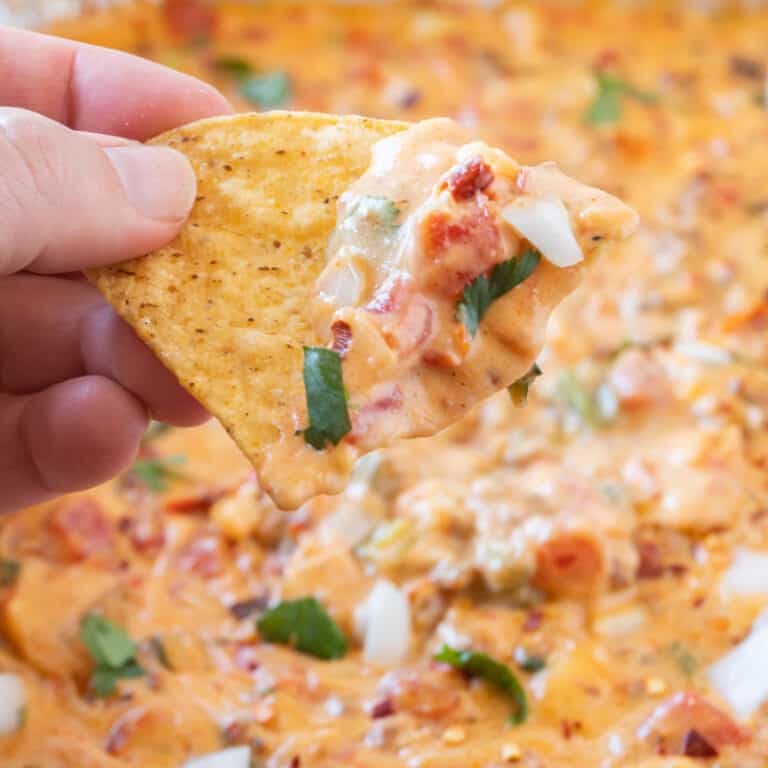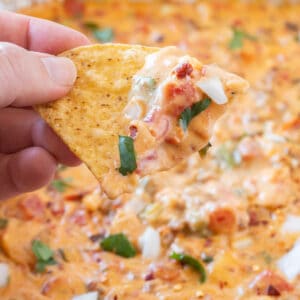 Smoked Queso
Smoked Queso is a simple and delicious dip that is perfect for any party or get together. With just a few ingredients you will have an incredible smoky cheesy dip everyone will love!
Ingredients
1

lb

Chorizo or spicy Pork Sausage

½

lb

pepper jack cheese

cubed or shredded

1

lb

Velveeta Cheese

cubed

2

jalapenos

diced

½

onion diced

2

cans

(10 oz) Diced Tomatoes and Green Chilies or Habaneros

I like using Rotel

1

tbs

garlic powder

2

teaspoon

paprika

¼- ½

cup

milk- optional for thinning
Instructions
In a medium sized fry pan over medium heat, cook chorizo.*

1 lb Chorizo or spicy Pork Sausage

Preheat smoker to 225°F-250°F, high smoke if available.

In a smoker safe dish, or a large aluminum pan, add the Velveeta cheese, pepper jack cheese, cooked chorizo, diced jalapenos, diced onion, contents of the cans of Rotel, garlic powder, and paprika.

½ lb pepper jack cheese,

1 lb Velveeta Cheese,

2 jalapenos,

½ onion diced,

2 cans (10 oz) Diced Tomatoes and Green Chilies or Habaneros,

1 tbs garlic powder,

2 teaspoon paprika

Smoke dip for 1.5-2hrs or until all the cheese is melted, stirring to combine.

Once melted and combined, if the dip is too thick stir in ¼ cup to ½ cup of milk- until you get the prefect queso consistency that you want.

¼- ½ cup milk- optional for thinning

Eat with your favorite chips or crackers!
Notes
Tips and Tricks
*If you would prefer to smoke the chorizo or sausage instead of pan frying it, shape into 4-6 balls and smoke for 45 minutes at 275°F or until cooked through.
Nutrition
Calories:
174
kcal
Carbohydrates:
5
g
Protein:
11
g
Fat:
12
g
Saturated Fat:
6
g
Polyunsaturated Fat:
1
g
Monounsaturated Fat:
4
g
Trans Fat:
0.05
g
Cholesterol:
36
mg
Sodium:
578
mg
Potassium:
242
mg
Fiber:
1
g
Sugar:
3
g
Vitamin A:
494
IU
Vitamin C:
6
mg
Calcium:
235
mg
Iron:
1
mg
Reader Interactions