This easy breakfast egg sandwich recipe is delicious, simple, and customizable! Make and freeze a bunch or make for a delicious same day breakfast!
Whether you want a tasty breakfast right now or you want to meal prep so you have tasty breakfast for months to come this is the perfect recipe!
For more delicious breakfast recipes:
Egg Sandwiches have been a staple in American breakfasts for years and versions are found at every fast-food chain and breakfast diner.
They are my go-to breakfast of choice. Something about a toasted buttery English muffin with a perfect egg, bacon, and melted cheese is amazing.
I'll even add some hot sauce every now and then to spice things up.
One of the many things I love about breakfast sandwiches is that they are freezer friendly. So, if I have some time, I love to prep a double batch of these to have on hand throughout the week.
How to make a breakfast sandwich:
Halve, butter, and toast your English muffins in a fry pan
Cook up your protein if using bacon or sausage
Fry or scramble eggs
Assemble sandwich
Components of a breakfast sandwich:
Bread: I love a classic English muffin, but a bagel or a small ciabatta roll is also tasty.
Protein: Bacon, Sausage Patties, Canadian Bacon are my go-to meats for sandwiches. Leftover ham from the holidays is also tasty in these too!
Cheese: I like to have a tasty cheddar for my sandwiches but pepper jack is also great!
Other toppings: A few slices of onion, some tasty pico de gallo, or my favorite green pepper Cholula hot sauce are all great on top of a breakfast sandwich. What other things do you like to add?
 How to get perfect round fried eggs:
You don't have to have round fried eggs but they sure do look nice and are easy to assemble. The secret to round fried eggs is using a mason jar lid ring.
Add butter to your fry pan and heat until melted and covers the pan.
Spray a mason jar lid ring with nonstick cooking spray and place top down into your pan.
Crack your egg into the ring, sprinkle with spices, cover with a lid, and cook for 1-2 minutes- until egg white is mostly opaque.
Remove the lid, and flip the ring with the egg in it.
Remove the ring by pressing around the edges of the egg to unstick any areas that are attached and fry for another 1-2 minutes or until the yolk is cooked to your preferred level of doneness.
Perfect Scrambled Eggs
This is the same way I make scrambled eggs for my breakfast burritos and breakfast tacos.
Whisk eggs with seasoning then in a cold fry pan add butter and eggs. Turn heat to medium and continuously whisk until cooked.
Continuous whisking produces small curds and the best scrambled eggs.
Freezer Breakfast Sandwiches
Simply assemble your breakfast sandwiches
Wrap in parchment paper and label if needed
Place in a ziploc bag and freeze up to 3 months!
Microwave in the parchment paper from frozen or thaw the sandwich in the refrigerate the night before and microwave or use a toaster oven to reheat.
Some people bake whisked eggs in a 9x11 dish, then cut into squares and use that in their egg sandwich meal prep, but I find it like my scrambled eggs the way I cook them better.
For more tasty recipes don't miss:
Watch how to make this recipe!
Want more? Subscribe to my newsletter and follow along on Facebook, Pinterest and Instagram for all of the latest updates.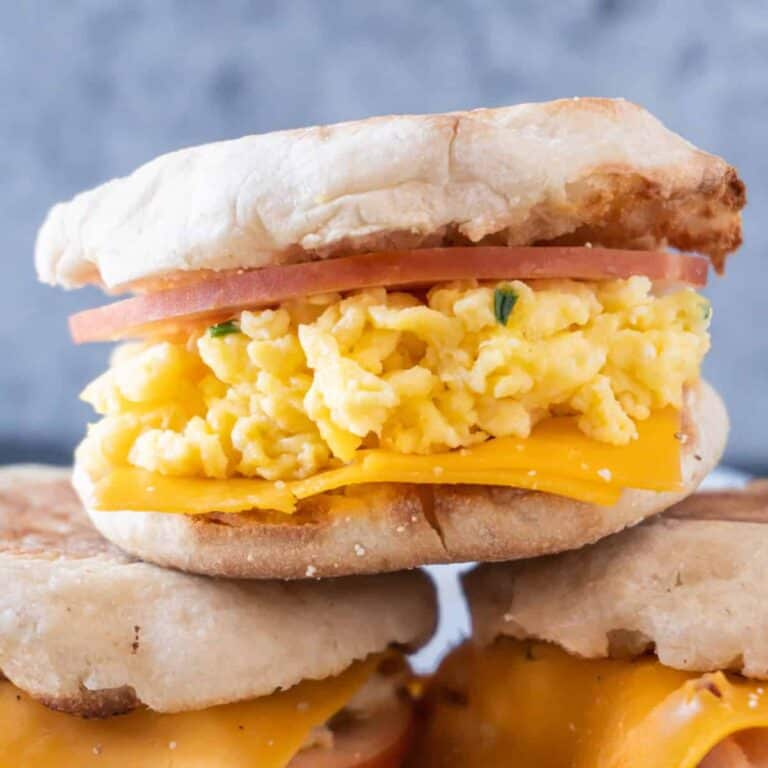 Easy Breakfast Egg Sandwich Recipe- Fried or Scrambled with Bacon, Sausage or Ham!
This easy breakfast egg sandwich recipe is delicious, simple, and customizable! Make and freeze a bunch or make for a delicious same day breakfast!
Ingredients
4

English Muffins

halved

Butter
Meat of choice:
4

slices

Bacon

or

4

Sausage Patties

or

8

Canadian Bacon slices

or 4 pieces of ham
Fried Egg Sandwich
4

eggs

2

teaspoon

butter

Salt

Pepper

Garlic Powder

Chopped Chives optional
Scrambled Egg Sandwich
8

eggs

two scrambled per sandwich

¼

teaspoon

salt

¼

teaspoon

garlic powder

2

teaspoon

butter

Chopped Chives optional
Instructions
If making a bunch of breakfast sandwiches to freeze see instructions below.
Meat
If you are making bacon or sausage patties cook those first. For instructions on baking bacon go here. If pan fry either follow package instructions. Once cooked set aside.
Toast Bread
Preheat a fry pan over medium heat. Generously butter each half of the English muffins, then lay butter side down onto the hot fry pan. Toast the bread until golden. Alternatively, you can slice the bread, toast in a toaster and then butter if you want.
Fried Egg Sandwich
In a medium nonstick pan add 2 tsps butter and heat until melted. Crack your egg into the melted butter and sprinkle with salt, pepper, garlic powder, and chives if using. Cook until the edges start to crisp and the egg white becomes mostly opaque (you can't see through it).

Using a spatula, gently flip the egg and cook for another 1-2 minutes. If you want your egg yolk runny you will need to cook for ~1 minute. If you want the yolk hard cook for ~2 minutes. I like to gently press on the yolk to test for firmness to get the perfect soft fried egg. When egg is fried to your liking remove from pan and assemble your sandwich.
Scrambled Egg Sandwich
Whisk together eggs*, salt, and garlic powder. In a cold nonstick pan add the butter and the whisked eggs. Turn heat to medium and whisk continuously until eggs are cooked then remove from heat. *
Sandwich assembly:
I like to assemble my sandwich from bottom to top as so: toasted bottom half of English muffin, fried or scrambled egg, bacon or Canadian bacon, or sausage Pattie, slice of cheese, top piece of toasted English muffin.
Freezer breakfast sandwiches:
Make and assemble your sandwiches according to instructions above. Wrap each sandwich in parchment paper and place in a gallon zip loc bag. Freeze up to 3 months.

When ready to eat thaw in the fridge the night before then microwave for 30 seconds- 1 minute. If you have a toaster oven you can toast until crispy in that. You can also microwave from frozen but it will take a little longer in the microwave.
Notes
Tips and Tricks
*I will scramble all the eggs at once and then divide into 4 sandwiches.
*Continuous whisking and bring the pan, butter and eggs all up to temperature at the same time produces small curds and delicious and creamy scrambled eggs.
Nutrition info is based off of 4 scrambled egg breakfast sandwiches with bacon.
Nutrition
Calories:
347
kcal
Carbohydrates:
27
g
Protein:
20
g
Fat:
17
g
Saturated Fat:
8
g
Trans Fat:
1
g
Cholesterol:
351
mg
Sodium:
658
mg
Potassium:
216
mg
Fiber:
2
g
Sugar:
1
g
Vitamin A:
708
IU
Vitamin C:
1
mg
Calcium:
202
mg
Iron:
2
mg
Reader Interactions