I love a delicious healthy smoothie and this one just might be my favorite! I mean, chocolate and strawberries are perfect together and I make this chocolate strawberry smoothie all the time!  It's great for breakfast, dessert or even a midday snack!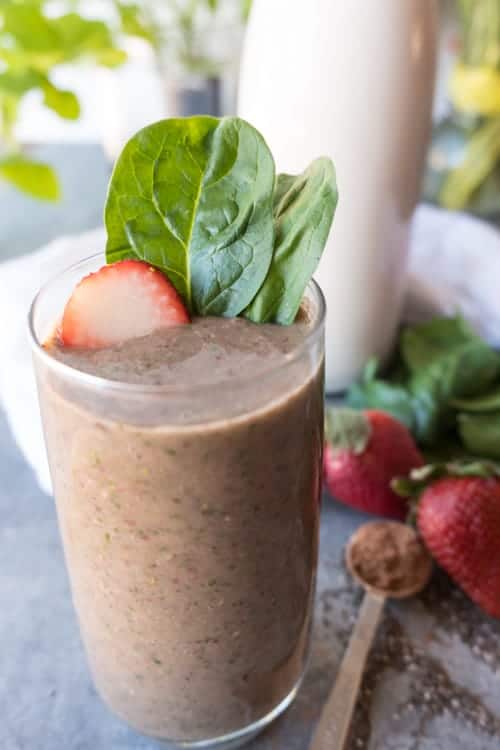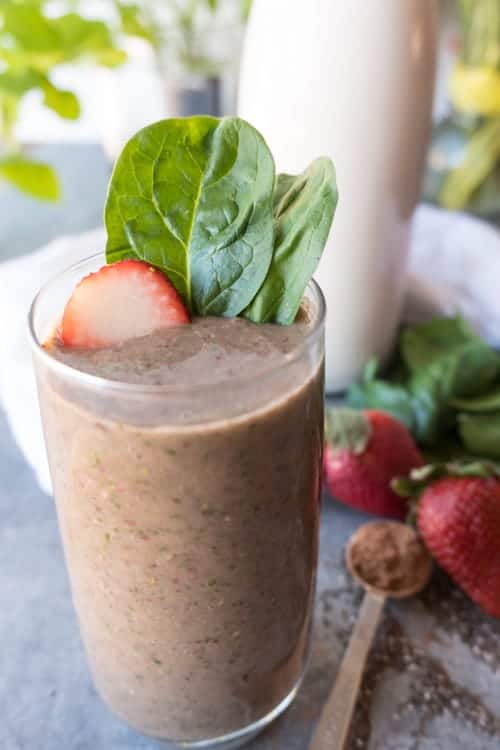 What's perfect about this strawberry smoothie recipe is that it's guilt free! It loaded with so many healthy things and tastes super good! It has spinach, chia seeds, and of course strawberries in it! I love chocolate, so of course I always add a couple teaspoons of cocoa powder to everything I can! This smoothie is dairy free and has no refined sugar! This really is an easy and delicious drink!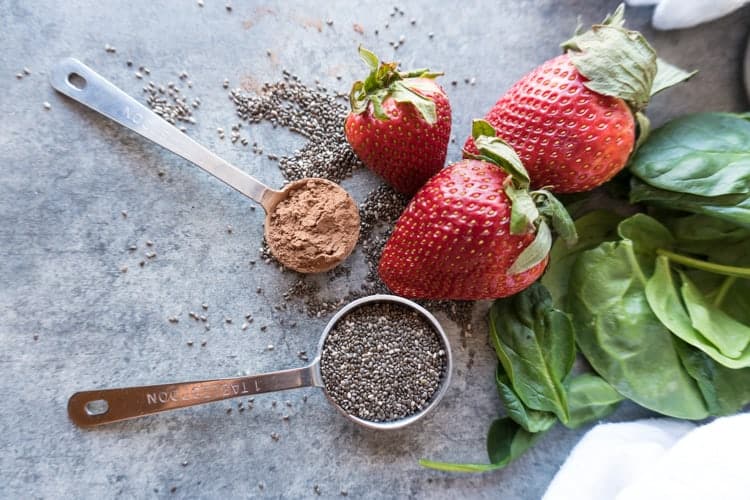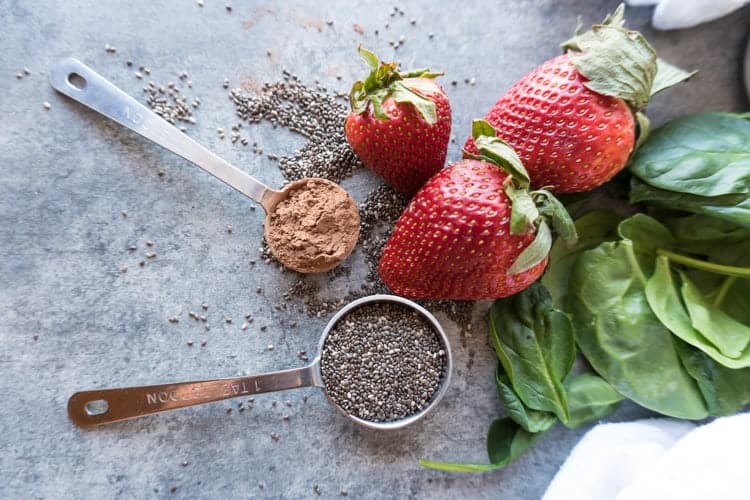 Oh and just a tip from someone who has lots of experience making smoothies- when you are done pouring your smoothie from the blender, rinse your blender (and blender lid!) right away. Blenders are so much easier to clean if you give them a quick rinse right after use. If not, everything dries up and can be daunting to clean.
I use both fresh and frozen strawberries in this smoothie recipe. I love the fresh flavor from fresh strawberries and how the frozen strawberries add thickness without competing in flavor with the rest of the smoothie. The spinach disappears into little pieces when blended and the chia seeds are a fun and healthy addition!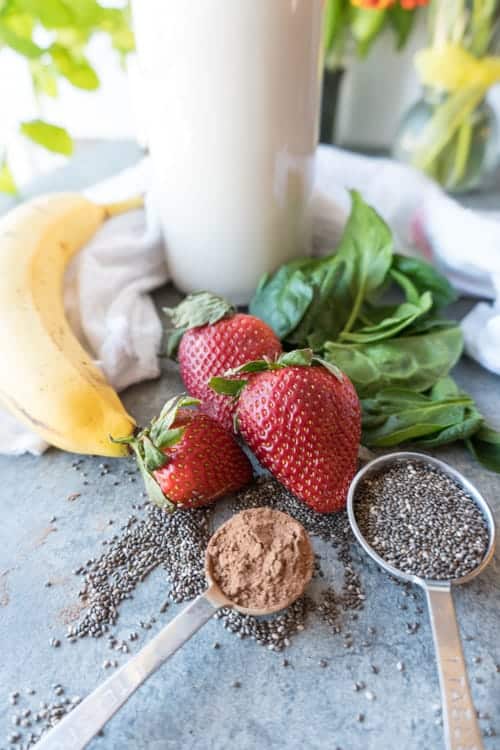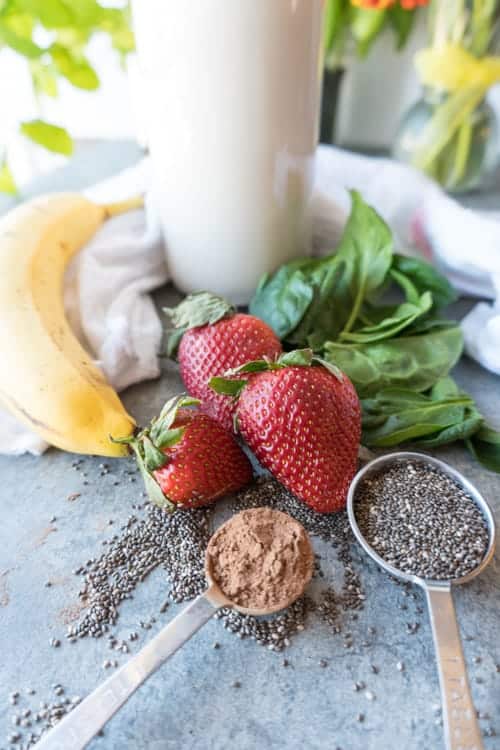 To sweeten the smoothie I like to add liquid stevia. Not a lot, only about ⅛ tsp, stevia is super sweet naturally and it doesn't take much to sweeten things, but if you don't have any stevia use maple syrup or honey. I would recommend starting with 1 tablespoon of maple syrup or honey, blending, tasting and then add more depending on your preferred level of sweetness.  This healthy fruit smoothie is full of delicious flavor, has lots of fiber and is dairy and refined sugar free! Could it get any better!?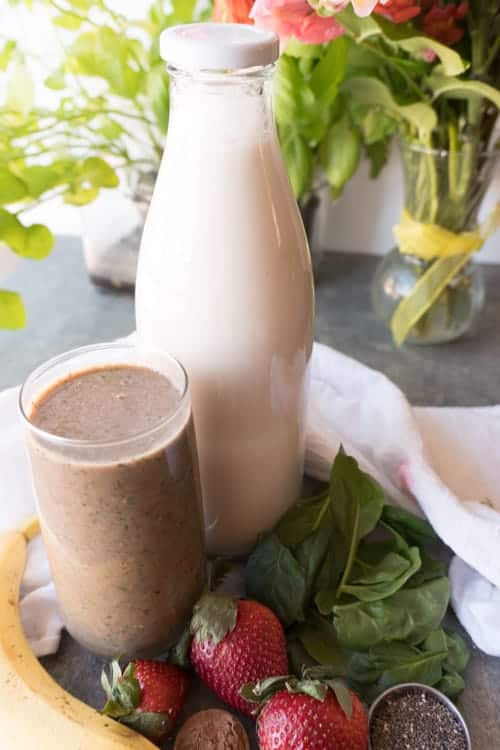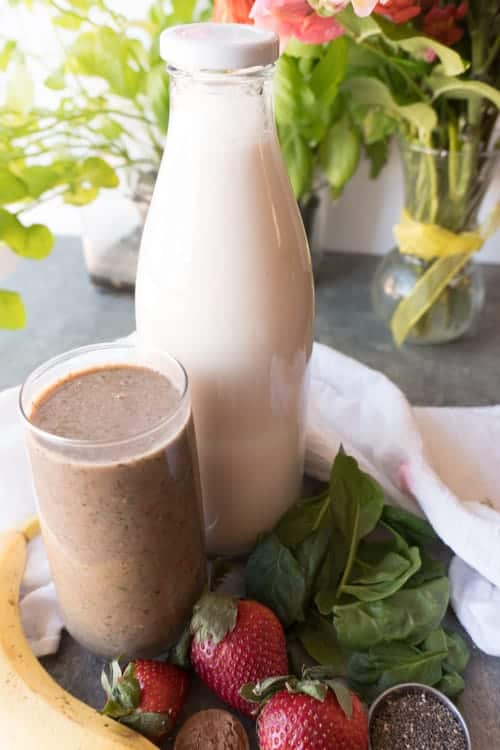 Healthy fruit smoothies are one of my favorite ways to get veggies and fruits! What are some of your favorite healthy smoothie recipes? Let me know in a comment below!
Check out my breakfast casserole, breakfast burrito and sweet potato skillet for other yummy breakfast ideas!
Want more? Subscribe to my newsletter and follow along on Facebook, Pinterest and Instagram for all of the latest updates.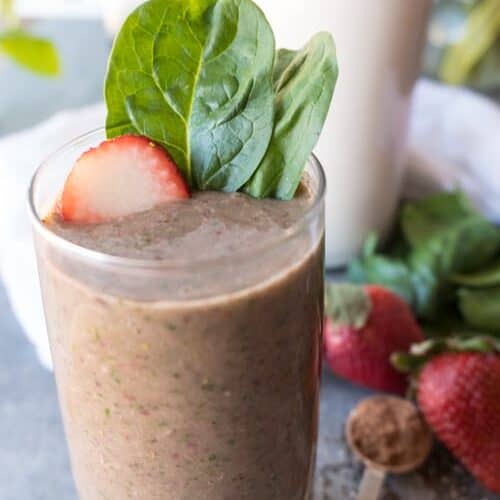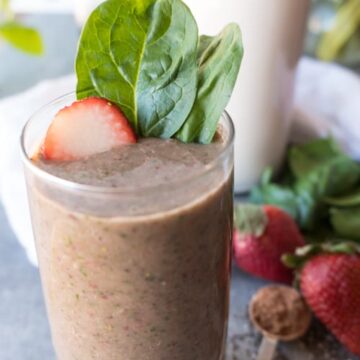 Chocolate Strawberry Smoothie
This healthy chocolate strawberry smoothie is everything you are looking for in a smoothie! Packed full of nutrients, tastes amazing, is dairy and refined sugar free! Give it a try!
Ingredients
1

cup

Almond Milk

3

Fresh Strawberries

4

Frozen Strawberries

1

cup

Spinach

1

tbsp.

Chia Seeds

1-2

teaspoon

cocoa powder

Sweetener of choice*

1 tbs maple syrup, a ⅛ teaspoon liquid stevia, etc.
Instructions
Combine all ingredients in a blender and blend until smooth. The spinach will be chopped up into really tiny pieces and although you will be able to see them, you won't be able to taste them!

Enjoy!


Reader Interactions