Fried Scallops are such a tasty and delicious treat! With a crispy breading and a tender scallop inside, these will get eat up in no time!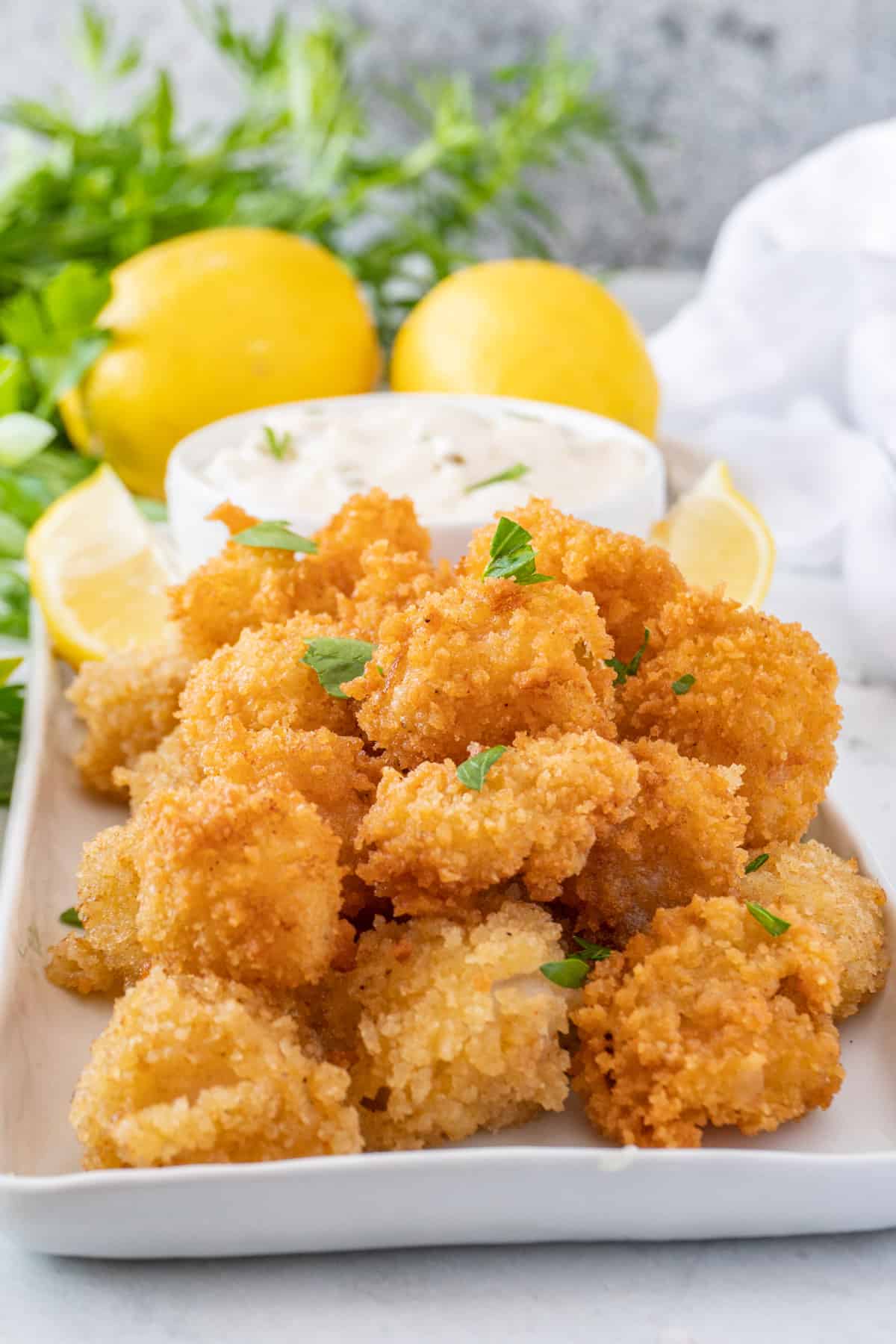 I recently shared my baked scallops recipe and had to share these tasty treats too. Just like french fries, I like to have a baked and fried version!
What are scallops?
Scallops are a mollusk. It is the muscle interior surrounded by two shells, similar to a clam or oyster.
They are rich on omega three fatty acids and lowering cholesterol. They are tender and delicious!
When I was sent a seafood box from Good Rancher's I was so excited to try the scallops that came in it. They were pretrimmed and ready to be cooked!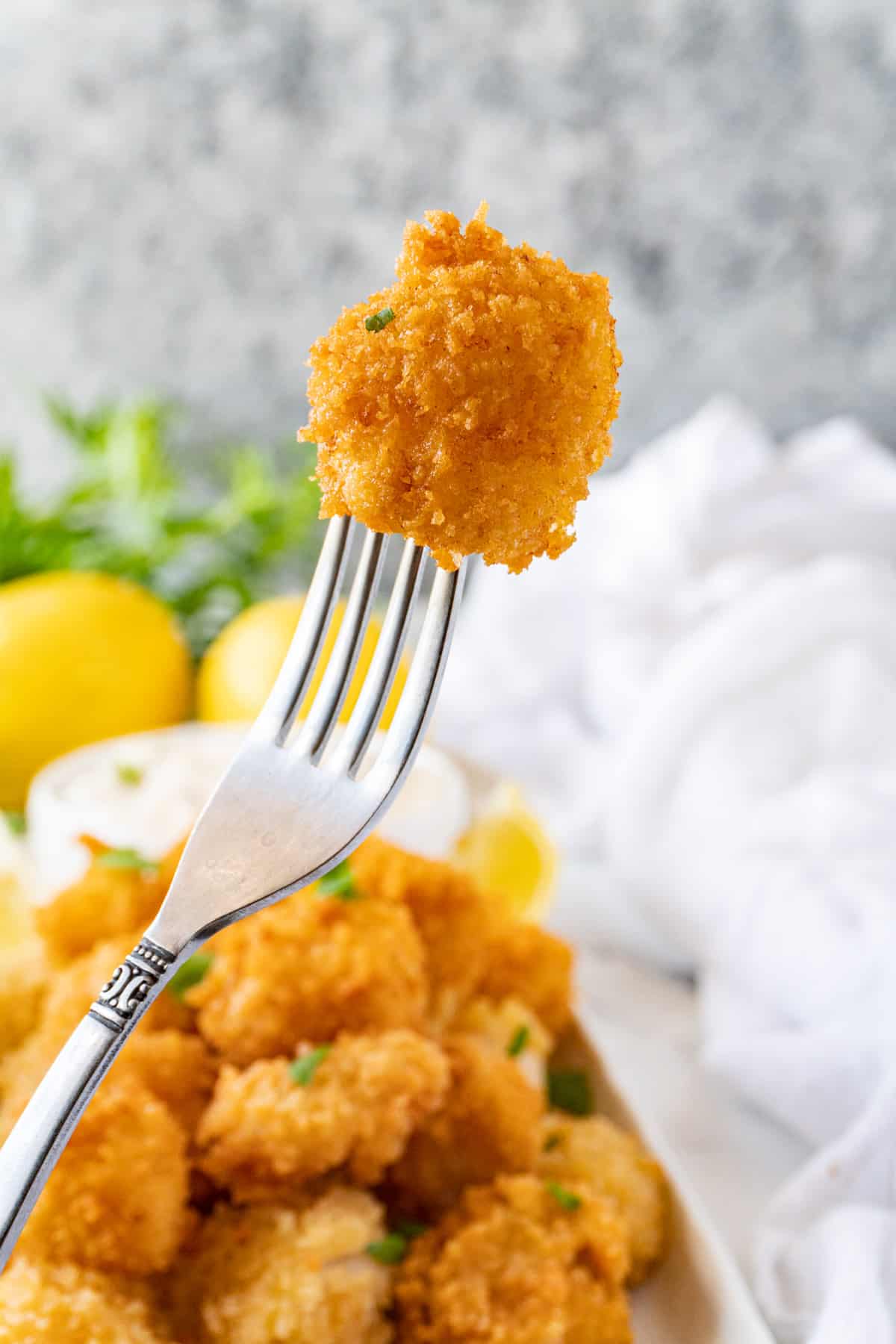 Can you fry scallops?
Yes! These tender treats only take a few minutes to fry and make a great dinner or snack!
What you need for fried scallops?
Scallops
Flour
Cornstarch
Seasoning: Salt, Garlic Powder, Paprika, Pepper
Eggs
Water
Bread Crumbs
Vegetable Oil for frying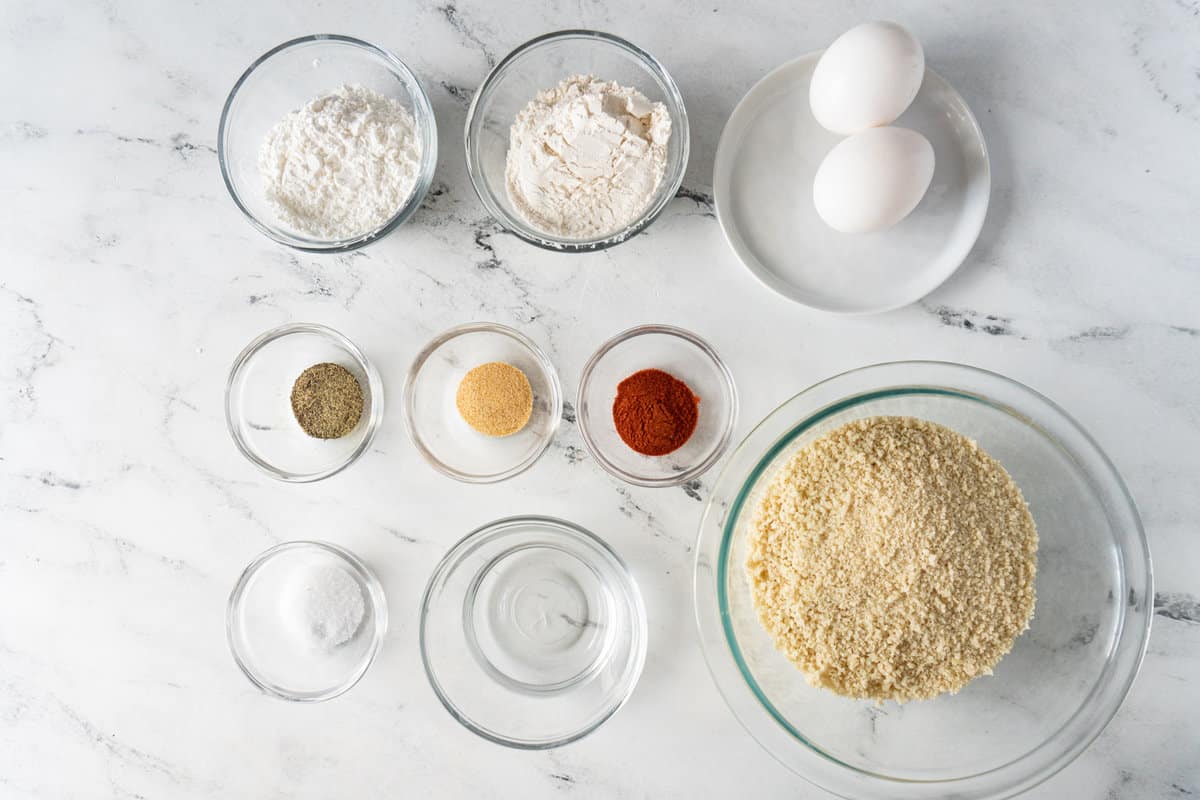 Equipment need:
Mixing Bowls: You will need three separate bowls, one for the flour, one for the eggs, and one for the bread crumbs. (amazon affiliate links)
Cast Iron Pan or Wok: de Buyer sent me this Wok and it is so handy. Not only for dishes like pad thai, beef with garlic sauce, or fried rice, but it works great to fry things in it (like fries or chicken tenders). You can also use a deep fryer or a deep cast iron pan.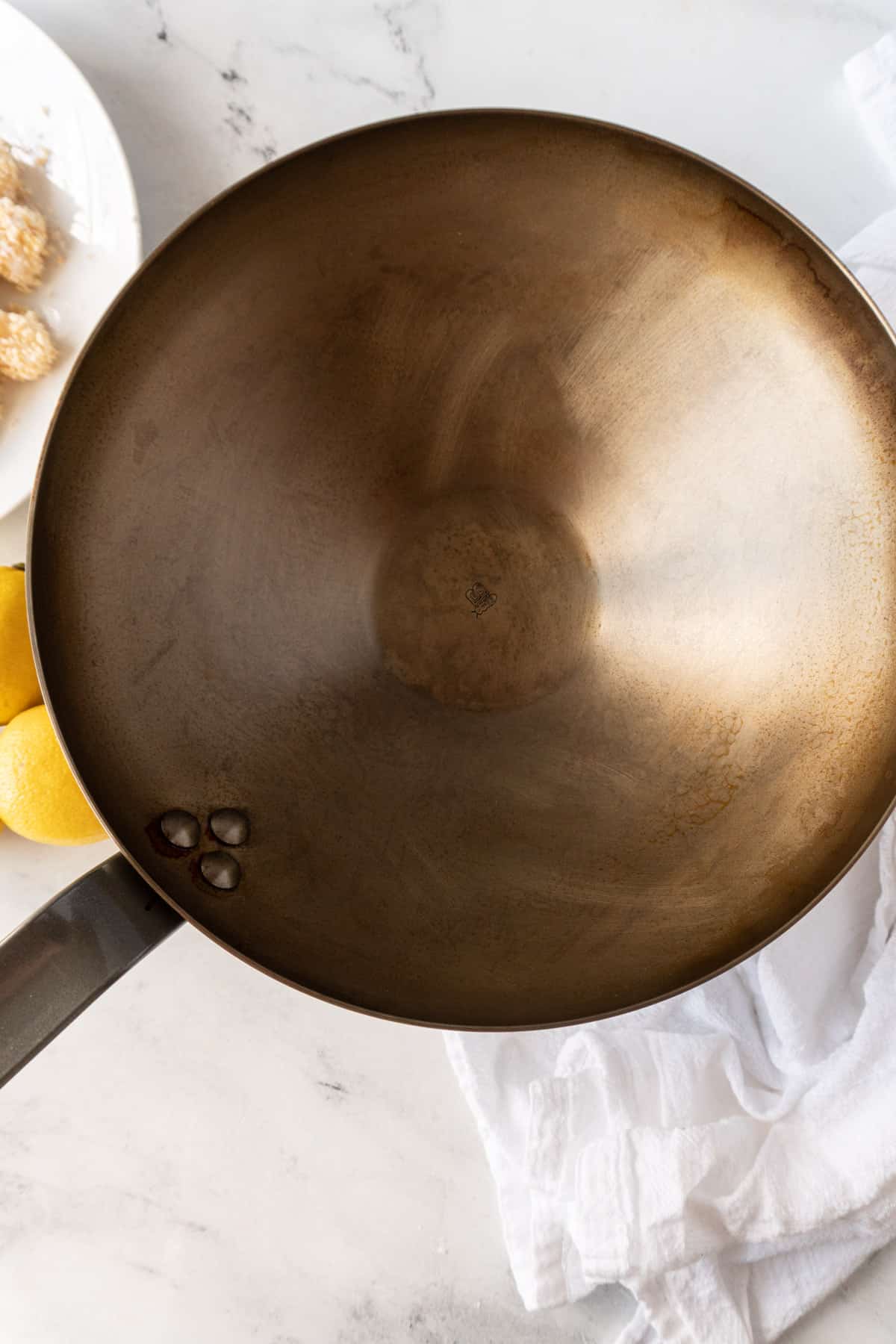 This Wok is made of carbon steel that is incredible at retaining heat. It has become one of my favorite pans to use!
de Buyer is quickly becoming one of my favorite brands for high quality pans! I've used their sauce pans and roasting pans in addition to this wonderful wok!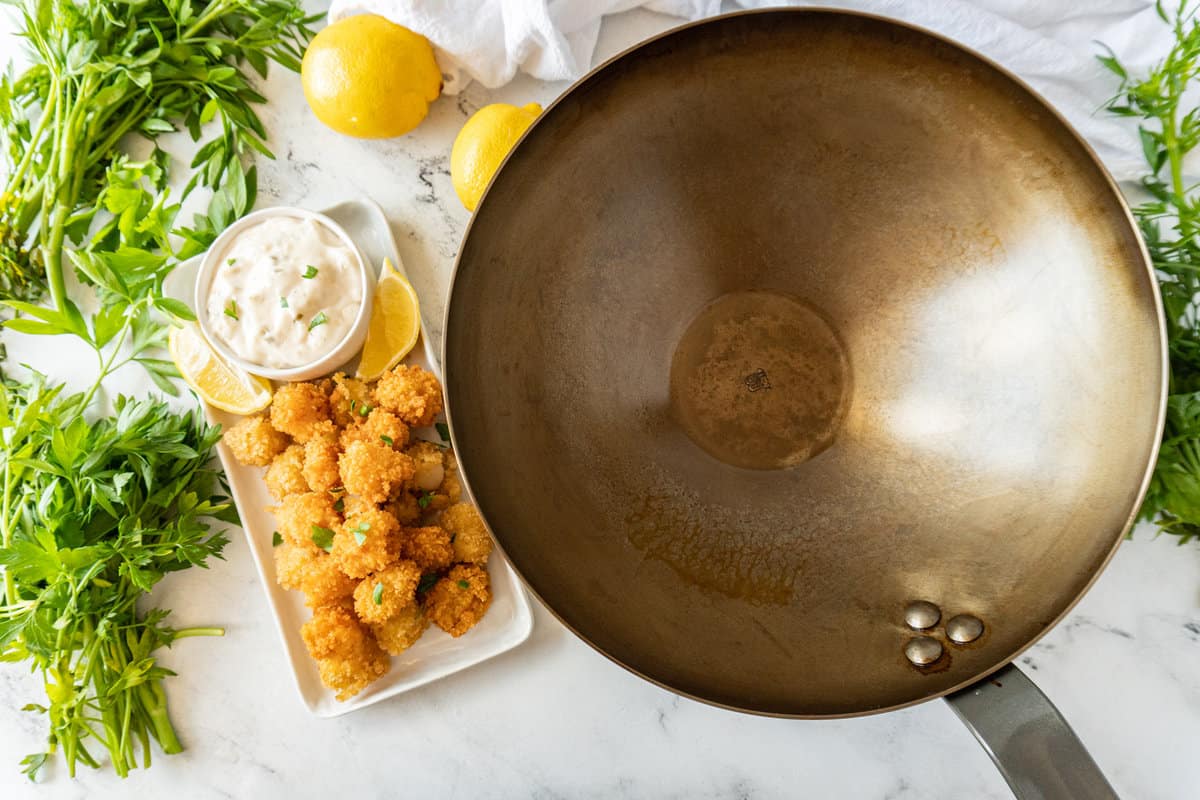 Thermometer: I always use my thermopen to check oil temps! The correct temp is key to frying the scallops fast and getting the nice and browned!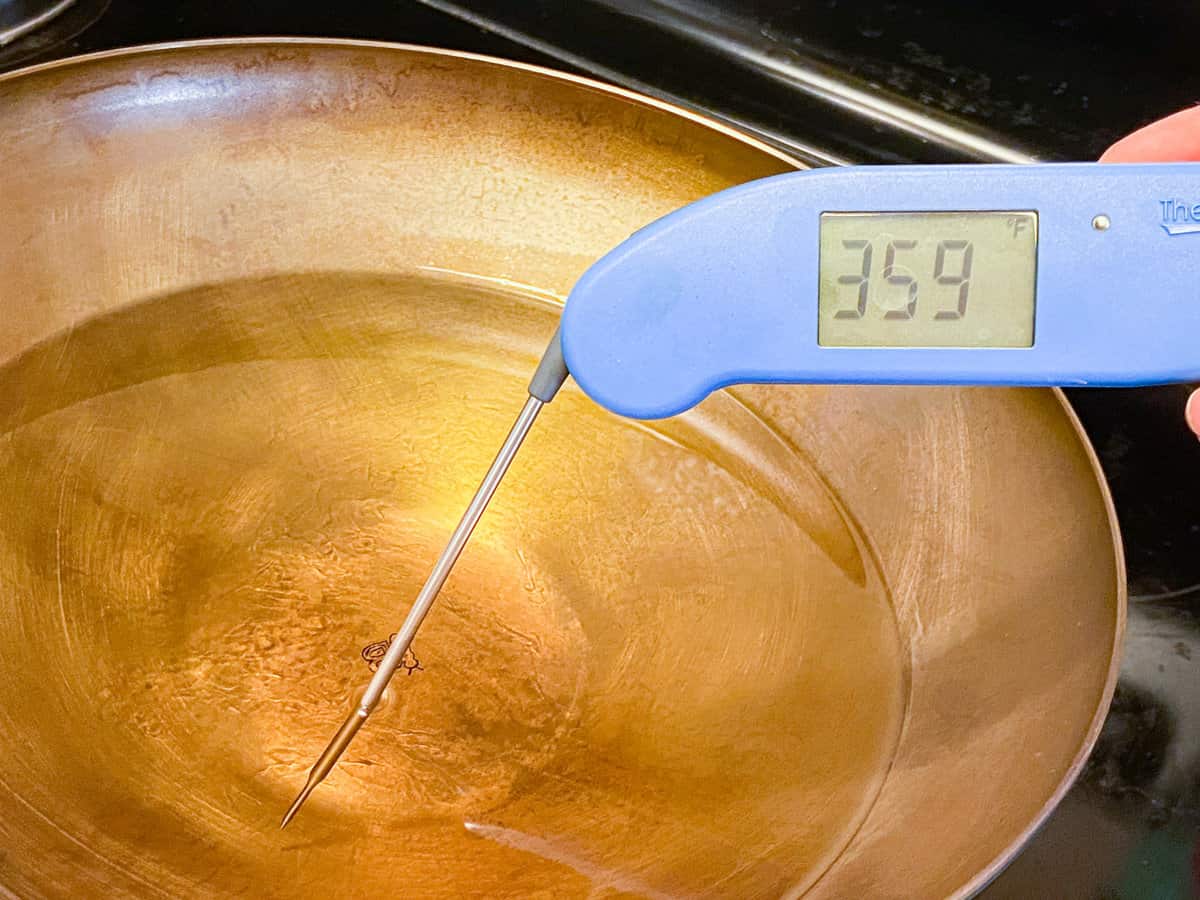 Slotted Spoon: Use this for adding and removing the fried scallops. (amazon affiliate link)
How to make fried scallops?
Rinse and pat scallops dry.
In one bowl combine flour, cornstarch, and seasoning. In a second bowl whisk eggs and water, and in a third bowl place the bread crumbs.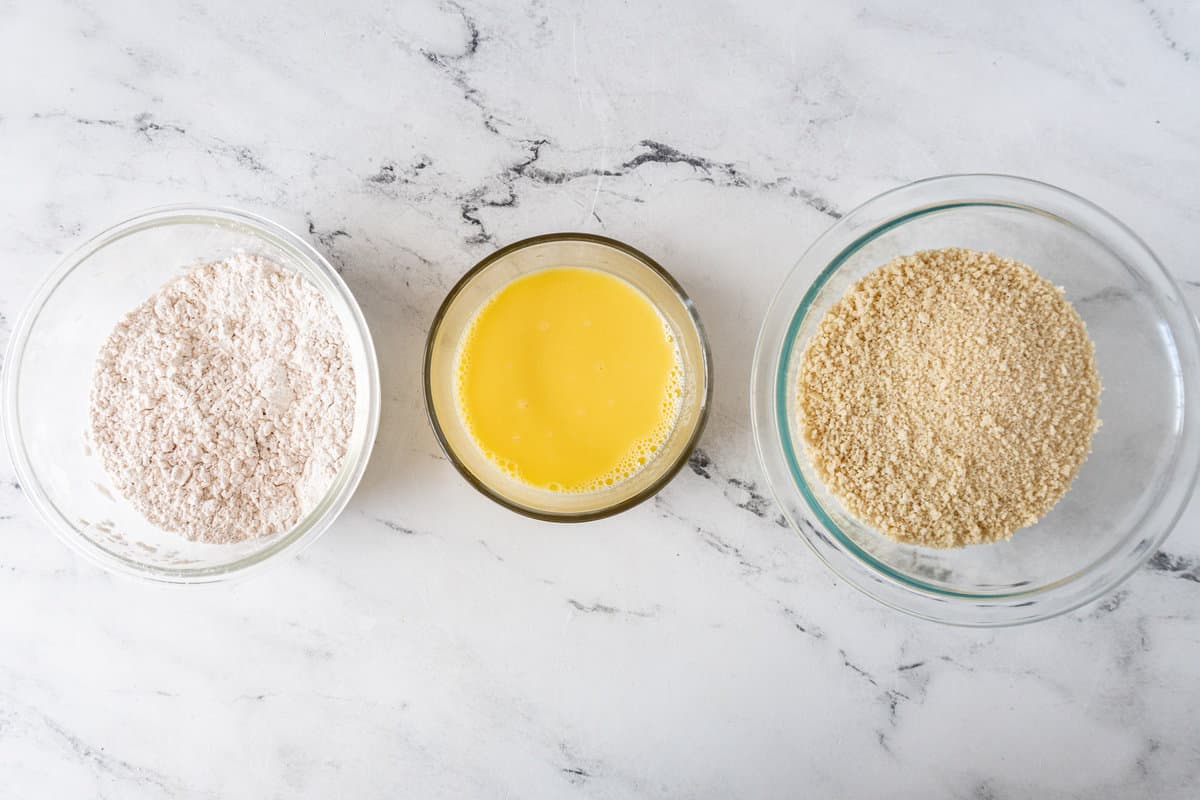 Dip scallops in the flour mixture, then the eggs, then the bread crumbs.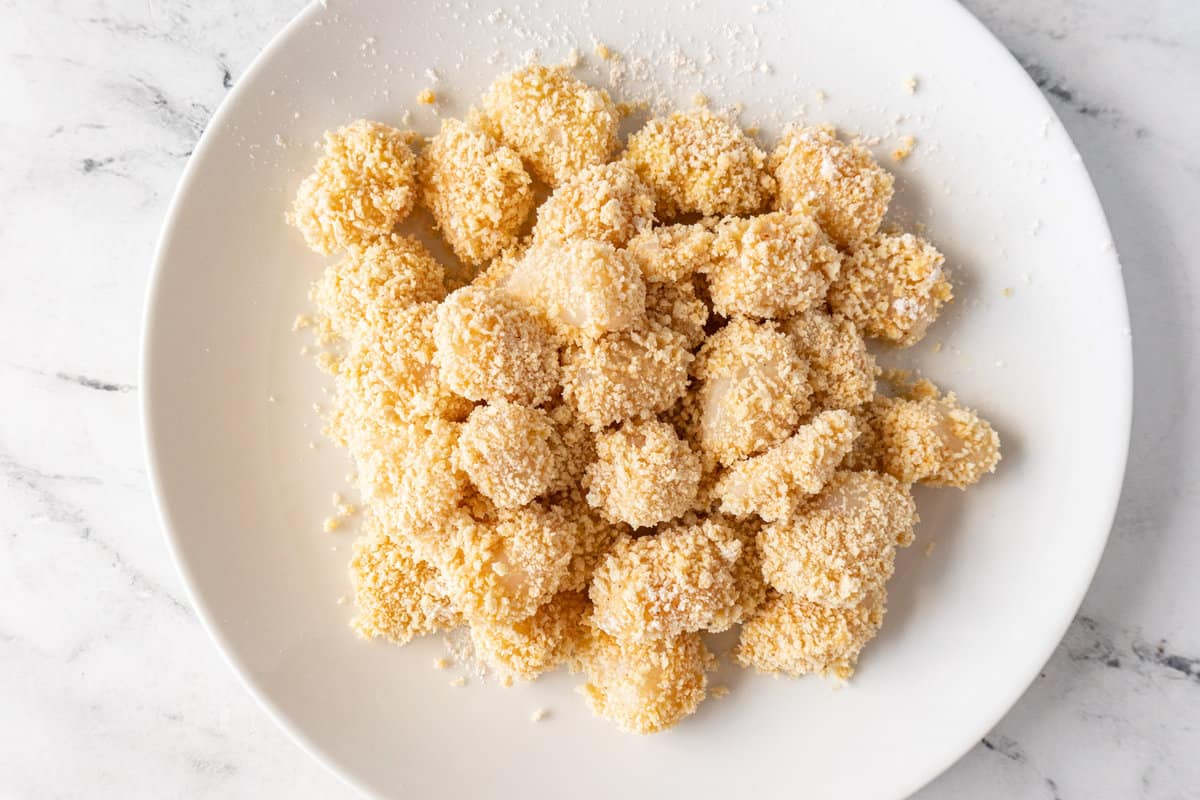 Heat oil then fry the scallops. Depending on how big of a pot/wok you have you will probably want to work in batches to fry the scallops.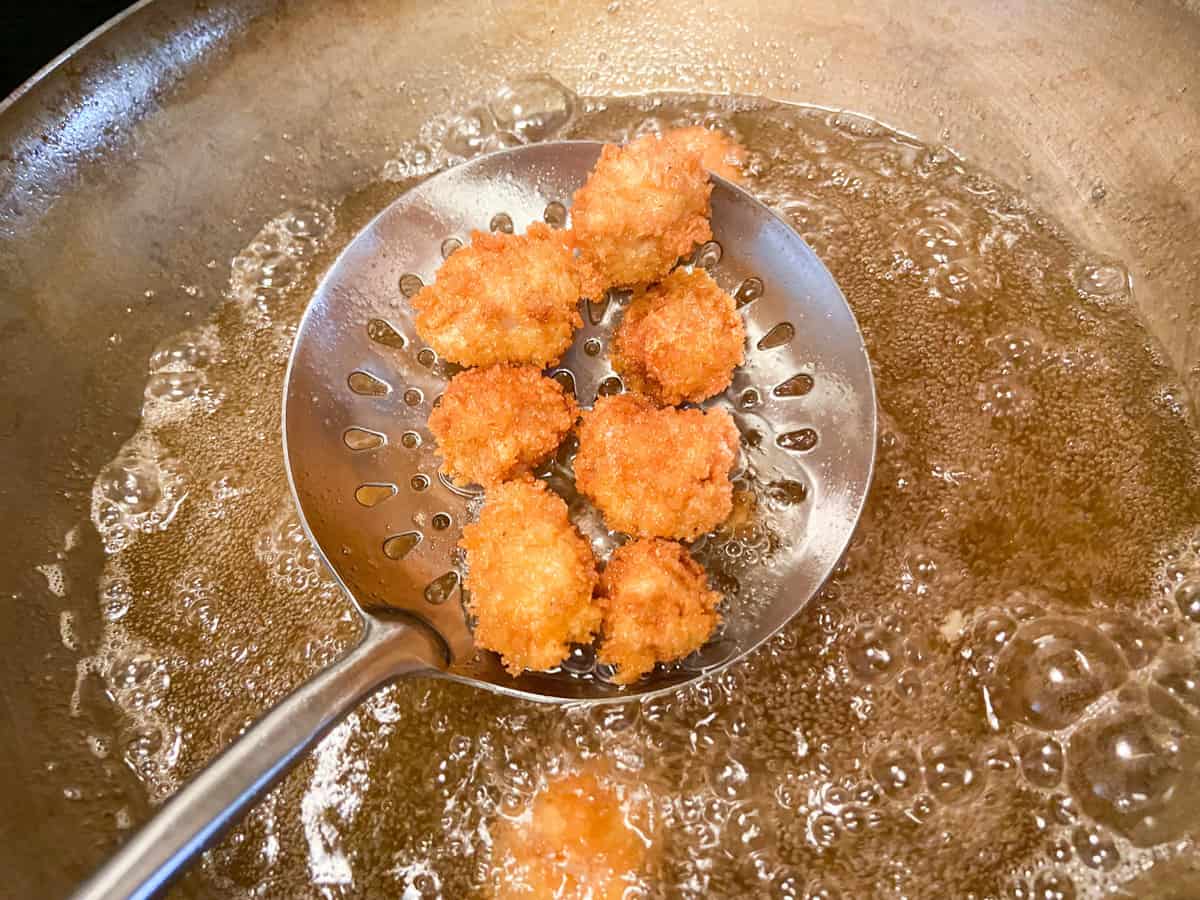 Once cooked and browned remove scallops from hot oil and place on a paper towel lined plate.
Enjoy with tartar sauce and a squeeze of fresh lemon!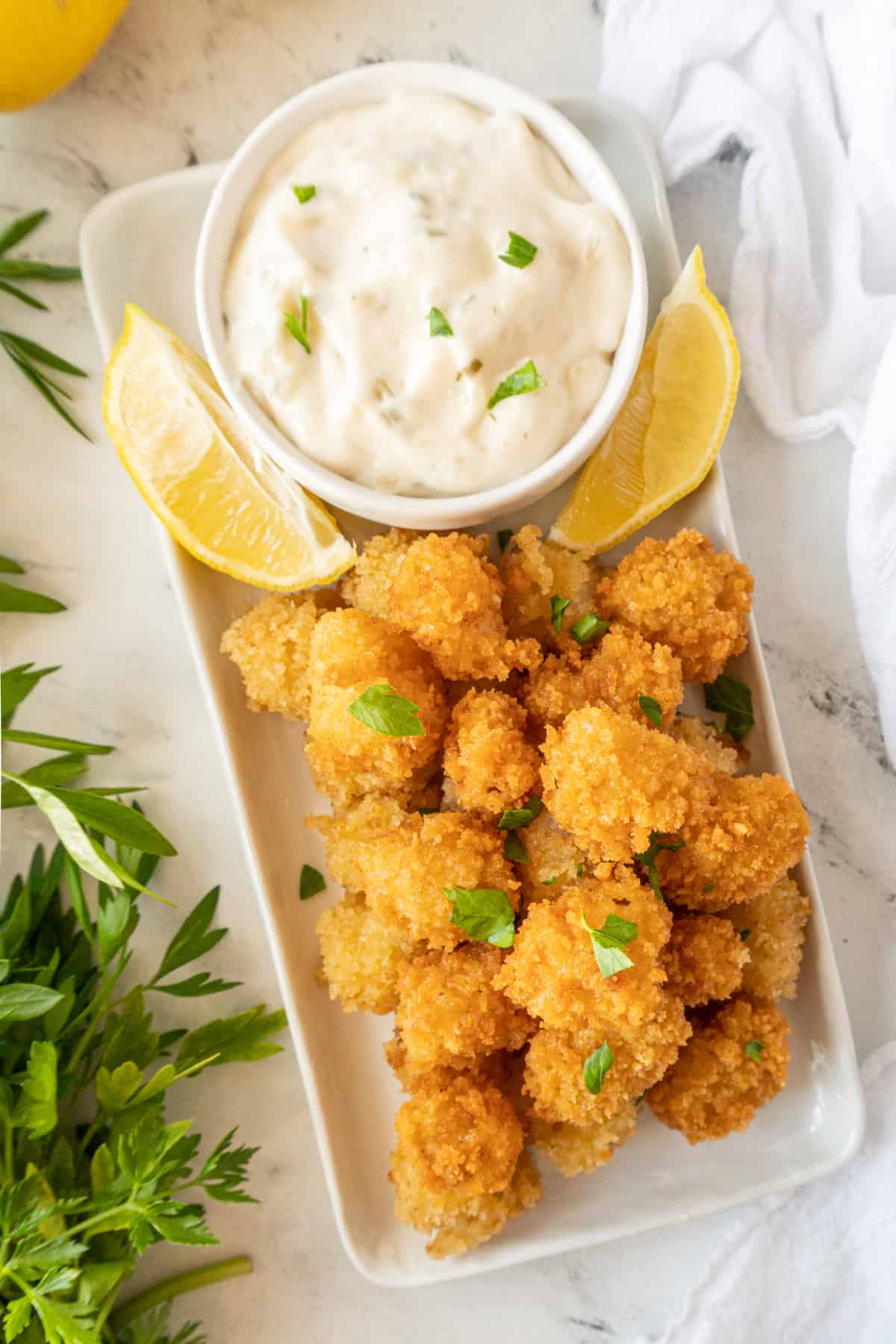 What temperature should the oil be for frying scallops?
Heat the oil to 340°F. The temperature will after the first fry but try to keep the temp in the range of 250-300°F.
How to store fried scallops?
Like most fried food these are best eaten fresh. However, store leftovers in an air tight container in the fridge and eat within 2-3 days.
How long are scallops good for?
Fresh/raw scallops are good for two days when stored in the fridge. Ideally fresh scallops should be eaten the same day you buy them.

However, frozen scallops last much longer and freezing them doesn't affect the texture of the scallops.
If you like this recipe make sure to check out my salmon patties recipe, smoked ribeye, and my favorite chuck roast recipe!
Want more? Subscribe to my newsletter and follow along on Facebook, Pinterest and Instagram for all of the latest updates.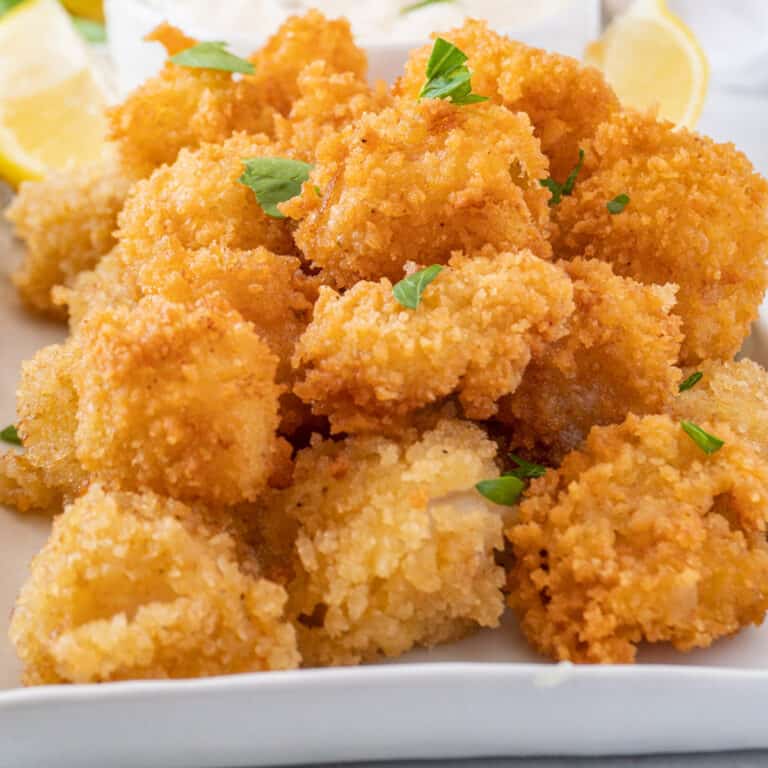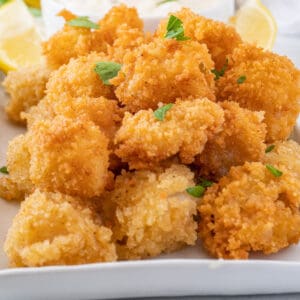 Fried Scallops
Fried Scallops are such a tasty and delicious treat! With a crispy breading and a tender scallop inside, these will get eat up in no time!
Ingredients
4

cups

vegetable oil

1

lb

scallops

½

cup

flour

½

cup

cornstarch

1

teaspoon

salt

1

teaspoon

garlic powder

1

teaspoon

paprika

½

teaspoon

pepper

2

large eggs

¼

cup

water

1 ½

cup

bread crumbs
Instructions
Rinse scallops under cold water then pat dry. Remove any tough white side muscle if present.

Mix together flour, cornstarch, salt, garlic powder, paprika, and pepper.

½ cup flour,

½ cup cornstarch,

1 teaspoon salt,

1 teaspoon paprika,

½ teaspoon pepper,

1 teaspoon garlic powder

Whisk eggs and water in a separate bowl.

2 large eggs,

¼ cup water

In a third bowl add the breadcrumbs.

Add oil to a wok or cast-iron pan and heat to 340°F.

While oil is heating dip scallops into flour, then eggs, then bread crumbs.

Fry scallops working in batches to not overcrowd your pan (6-10 at a time), fry until golden brown, 1 ½ -2 minutes.

Remove from oil and place on a paper-towel lined plate.

Repeat with remaining scallops. Try to keep oil temperature around 250-300°F.

Serve right away with cocktail sauce, tartar sauce, and fresh lemons!
Notes
Nutrition Info does not include oil for frying.
Nutrition
Calories:
392
kcal
Carbohydrates:
60
g
Protein:
24
g
Fat:
5
g
Saturated Fat:
1
g
Polyunsaturated Fat:
2
g
Monounsaturated Fat:
1
g
Trans Fat:
0.01
g
Cholesterol:
109
mg
Sodium:
1357
mg
Potassium:
383
mg
Fiber:
3
g
Sugar:
3
g
Vitamin A:
370
IU
Vitamin C:
0.01
mg
Calcium:
100
mg
Iron:
4
mg
Reader Interactions