If you are looking for your next favorite Halloween Shots recipe, look no further! From jello, to syringe, to spooky brains, and even glow in the dark, here is a list of every Halloween shot you could want!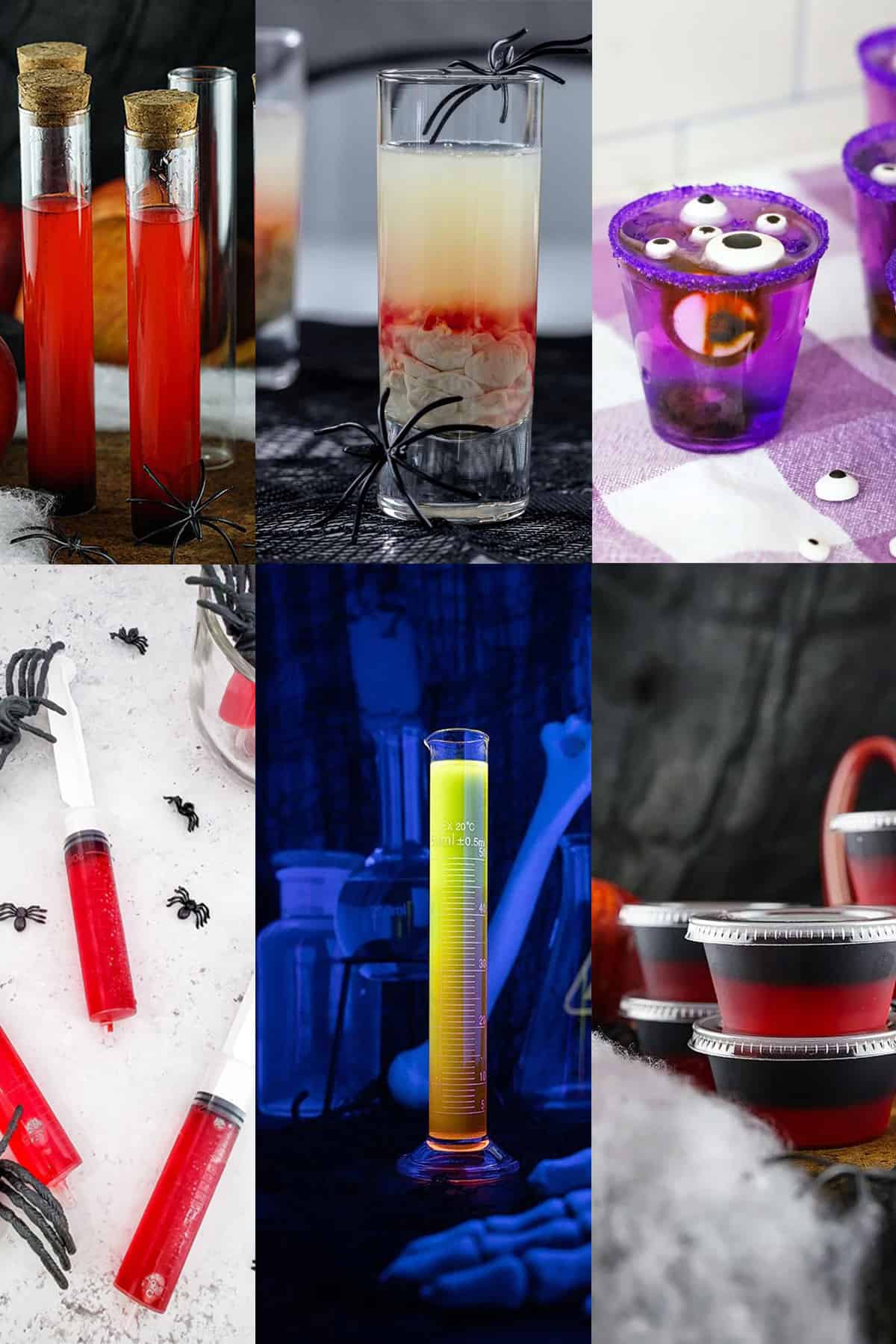 What types of Halloween Shots are popular?
By far the most popular Halloween shots are jello shots and syringe shots, but I have a number of unique shots on this list that you won't want to wait to try!
Halloween Jello Shots
These Halloween fireball shooters are always a party favorite. They will become a staple of the celebrations!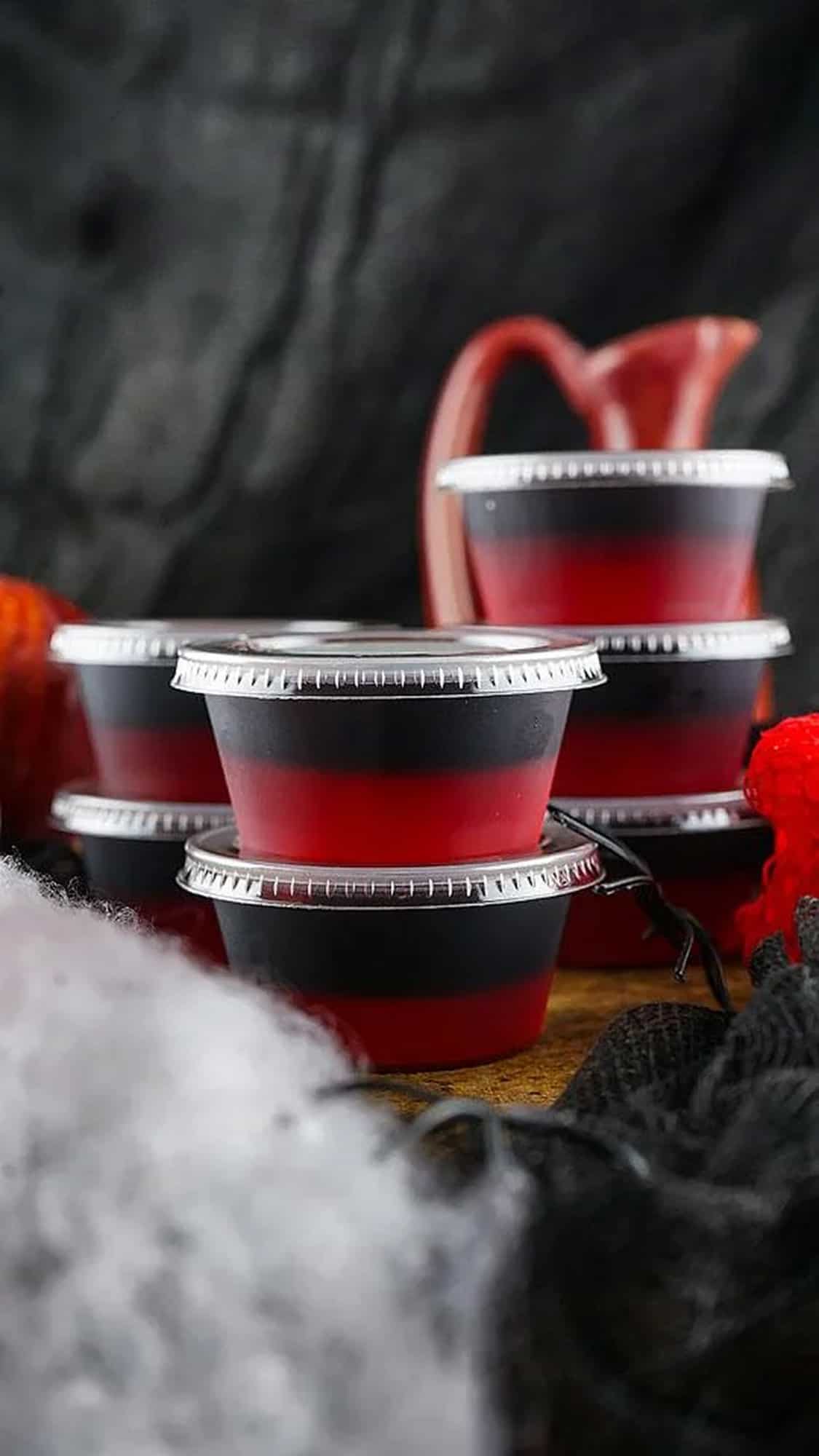 Monster Eye Jello Shots are the Halloween Jello Shots you need to make! They are easy to make and will surely creep your guests out at your next Halloween party!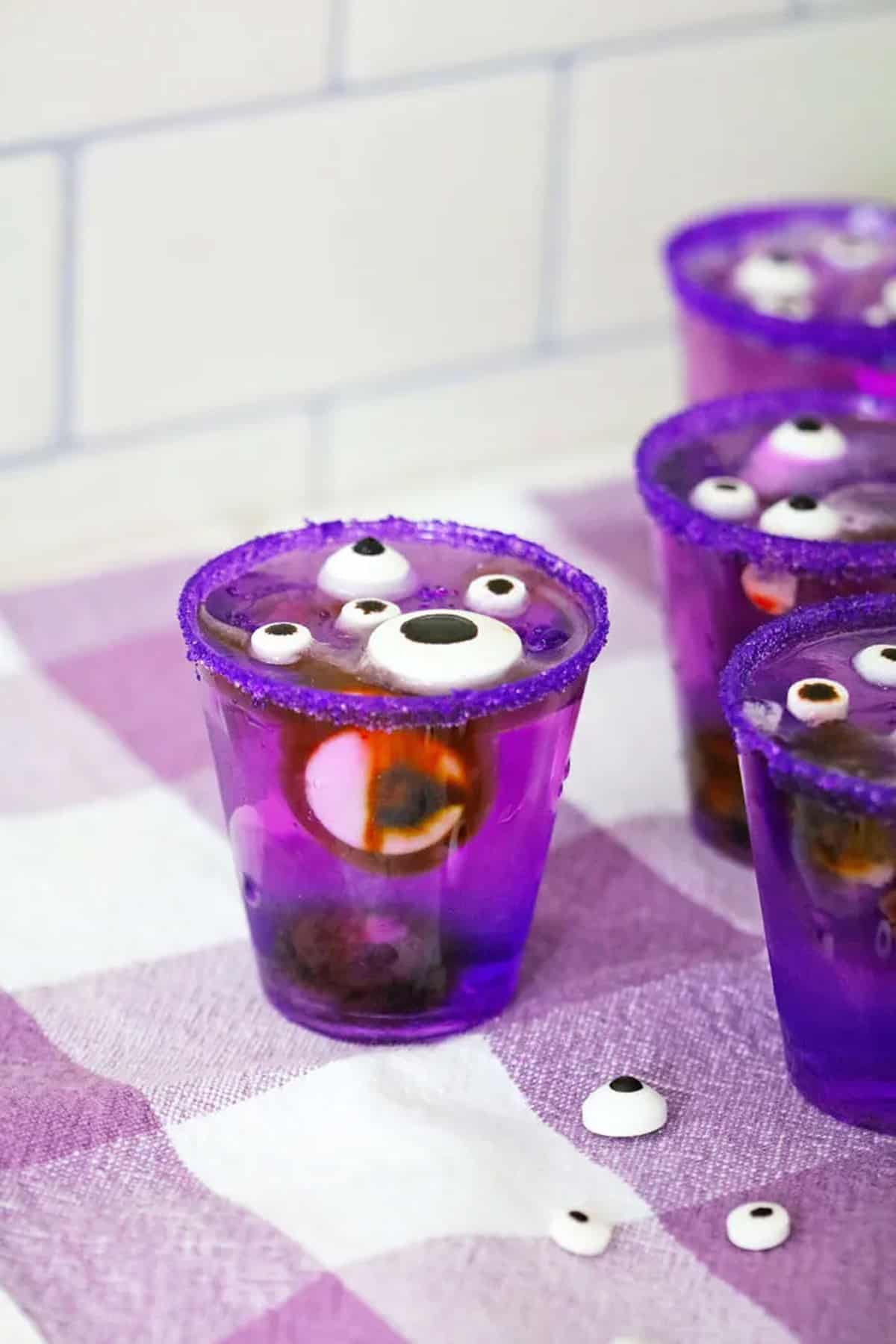 Check out my monster donuts to go with these shots!
Layers of candy corn-colored jello - cups for the kiddos, and shots for the adults (just add your favorite booze)!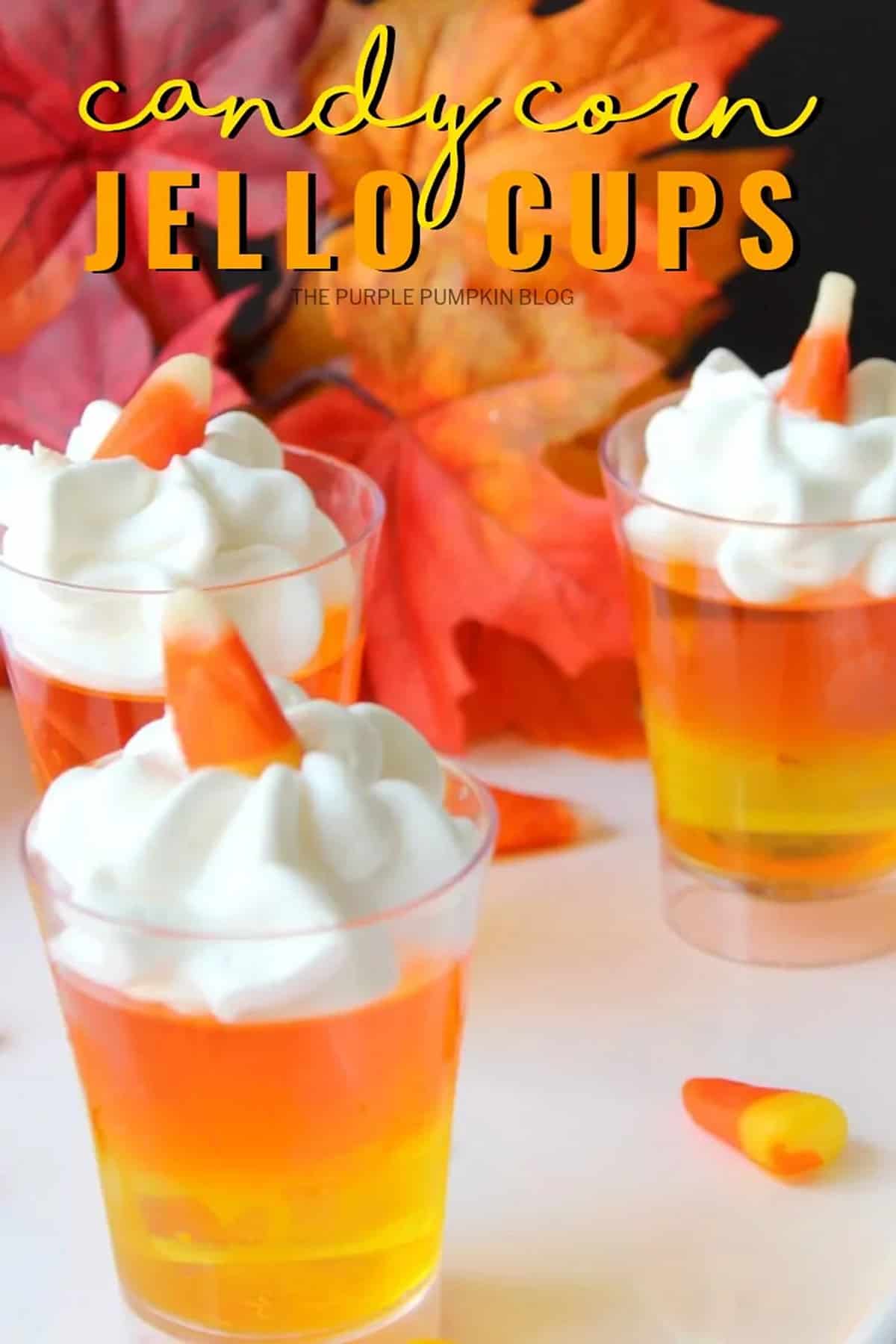 This Glow in the Dark jello shots recipe is a really cool addition to your Halloween party!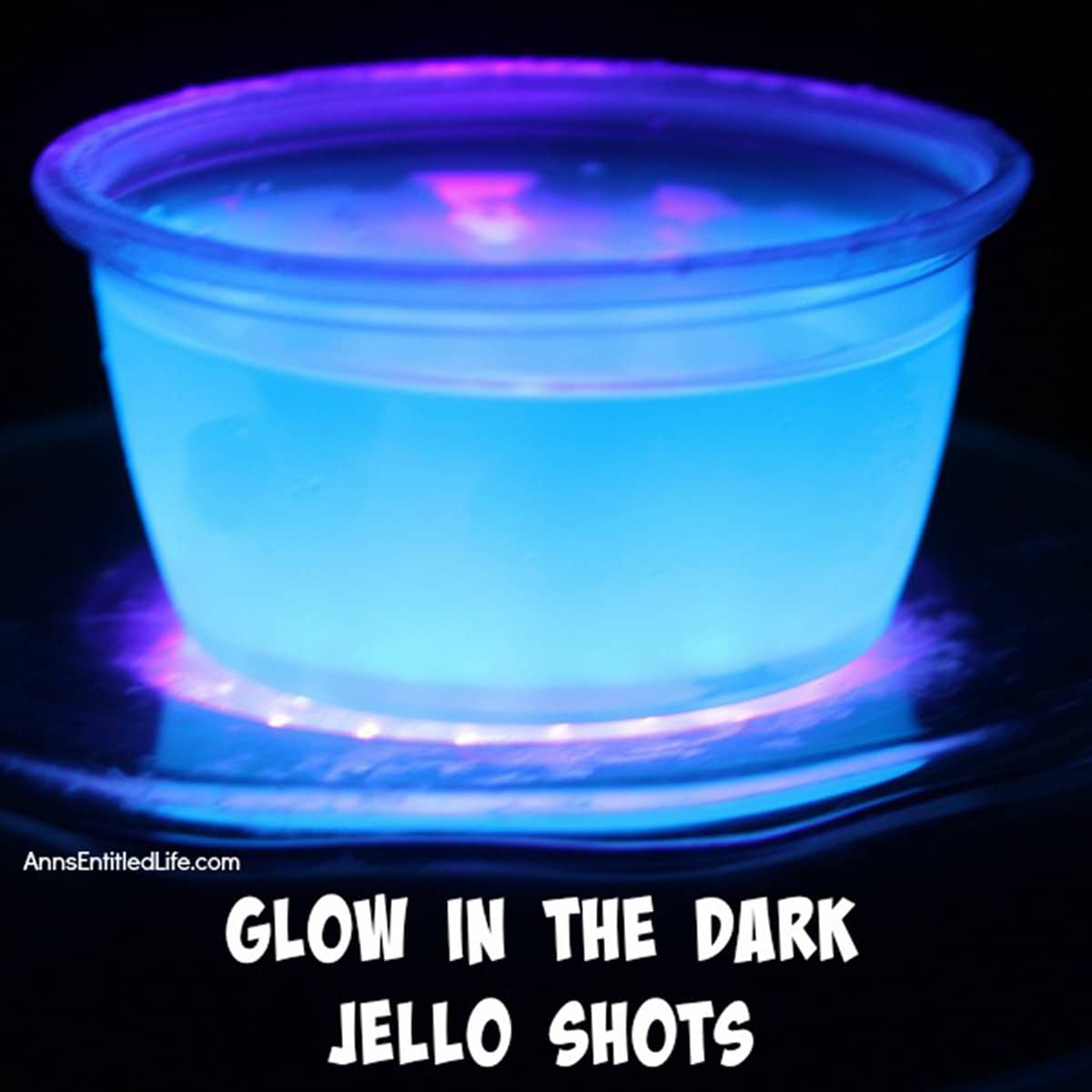 Pumpkin Jello Shots combine gelatin, vodka, and pumpkin for a Halloween jello shot full of pumpkin pie flavor.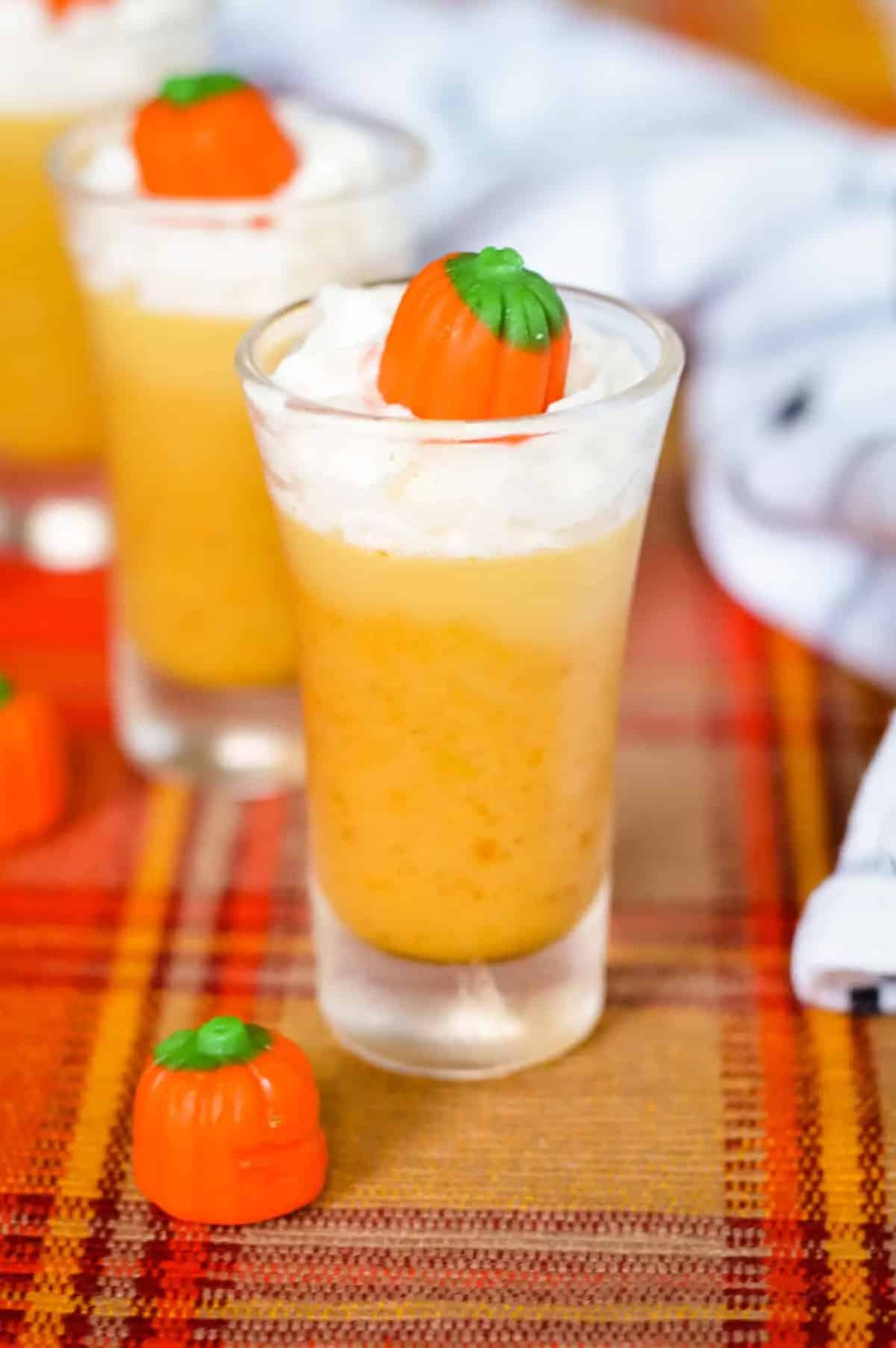 Check out my fan favorite pumpkin pie with graham cracker crust recipe here!
Smooth, rich, and full of apple flavor, these caramel apple jello shots are so delicious that they could double as dessert.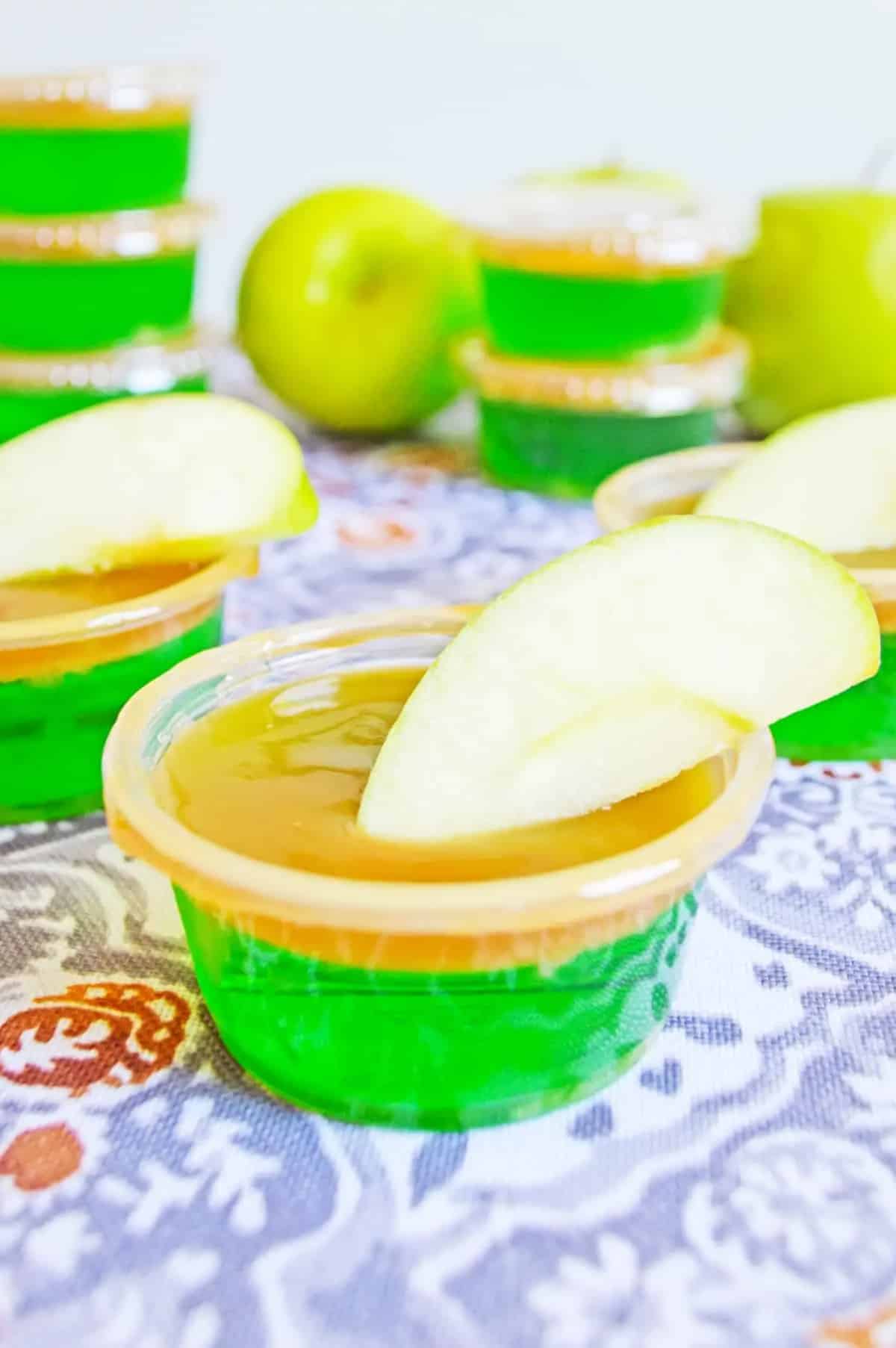 Check out this caramel corn to serve with this fun shot!
It's spooky in the swamp and these Swamp Water jello shots with gummy worms are spooky, and yummy, too!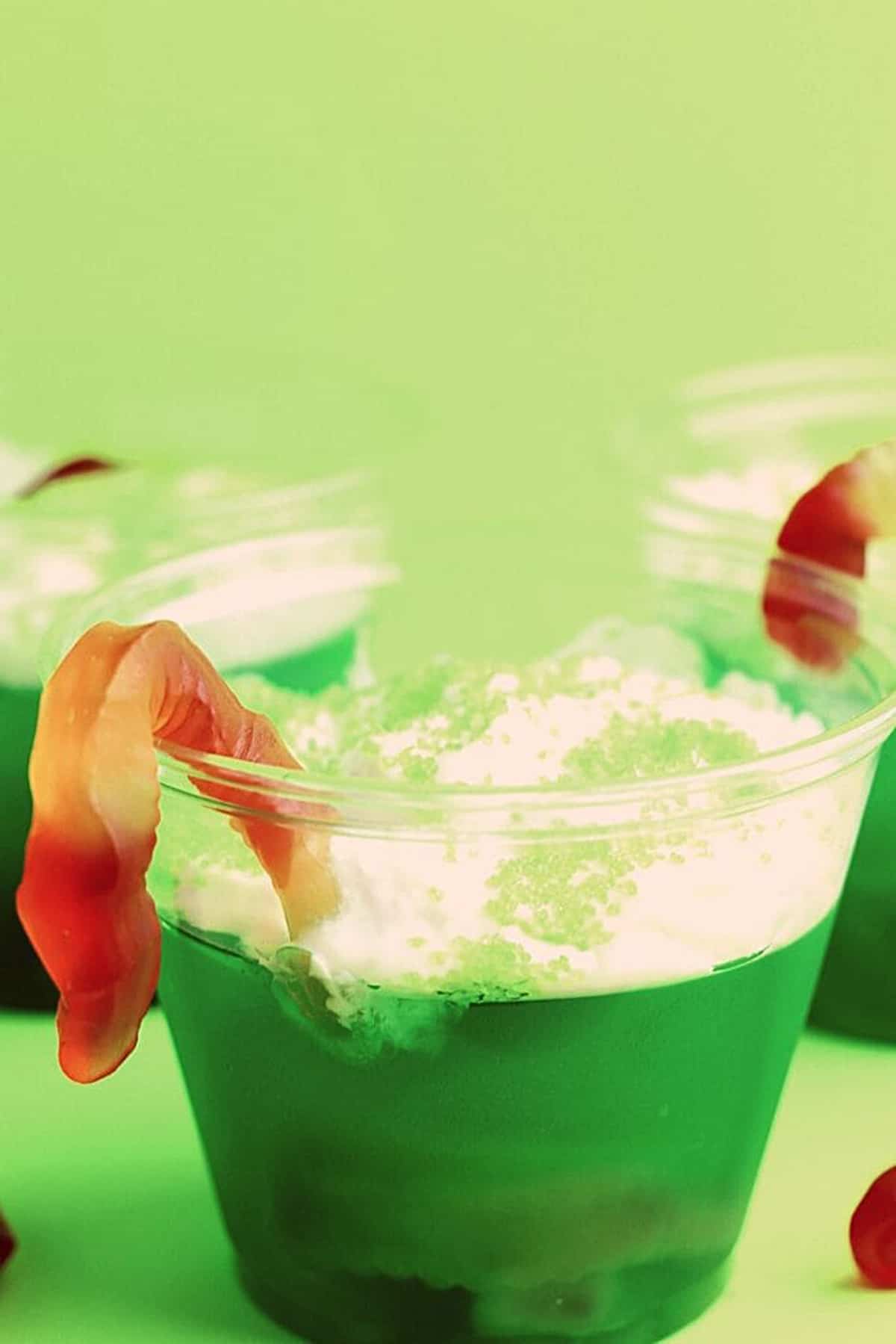 Check out this graveyard cake to serve with this fun shot!
Check out these tie dye Halloween jello shots. A multi-colored tie dye jello shot that screams Halloween. Full of flavor and will be a hit!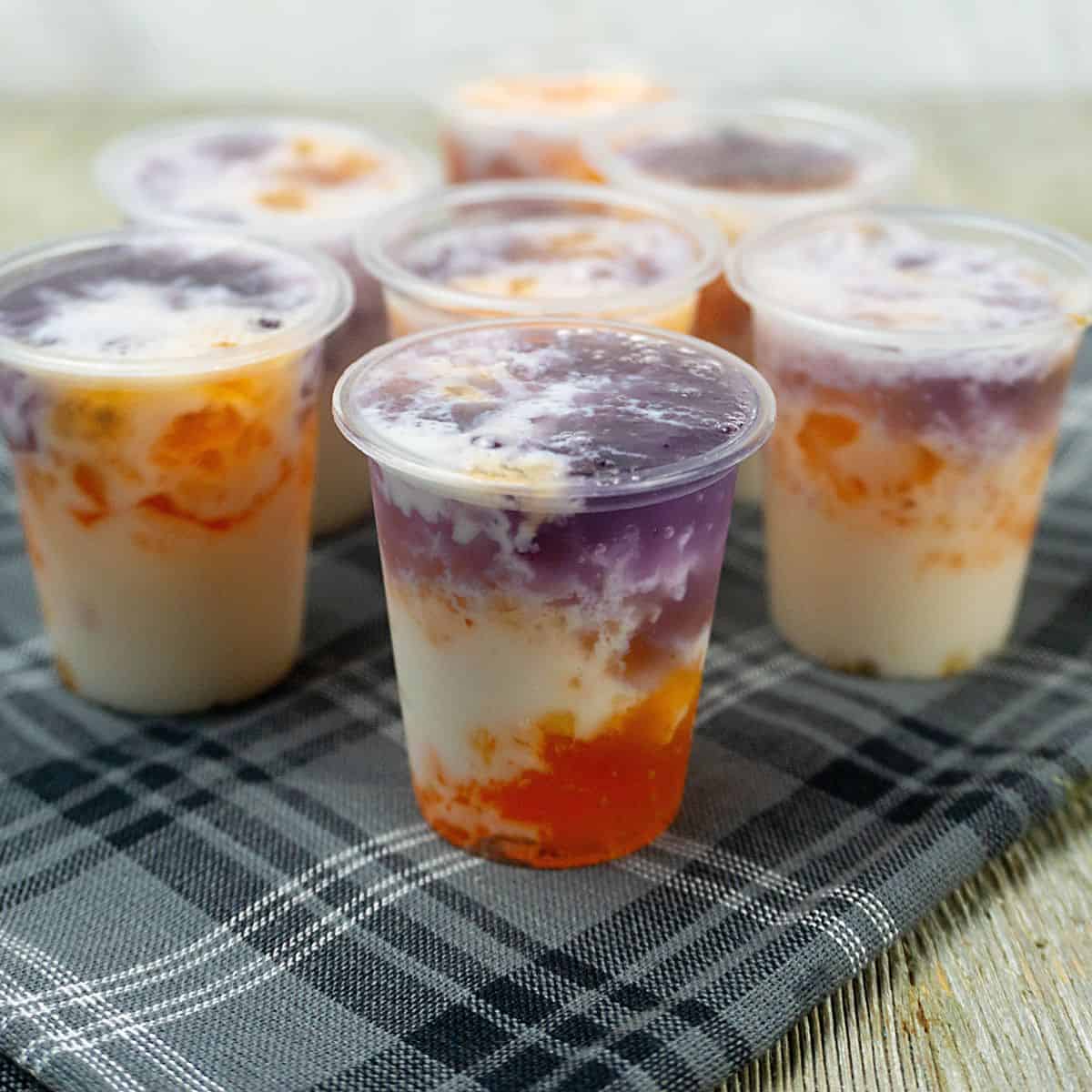 Halloween Syringe Shots
Creepy cool! These Halloween Jello Shots Syringes look like they're filled with blood, but they're actually delicious cherry jello shots!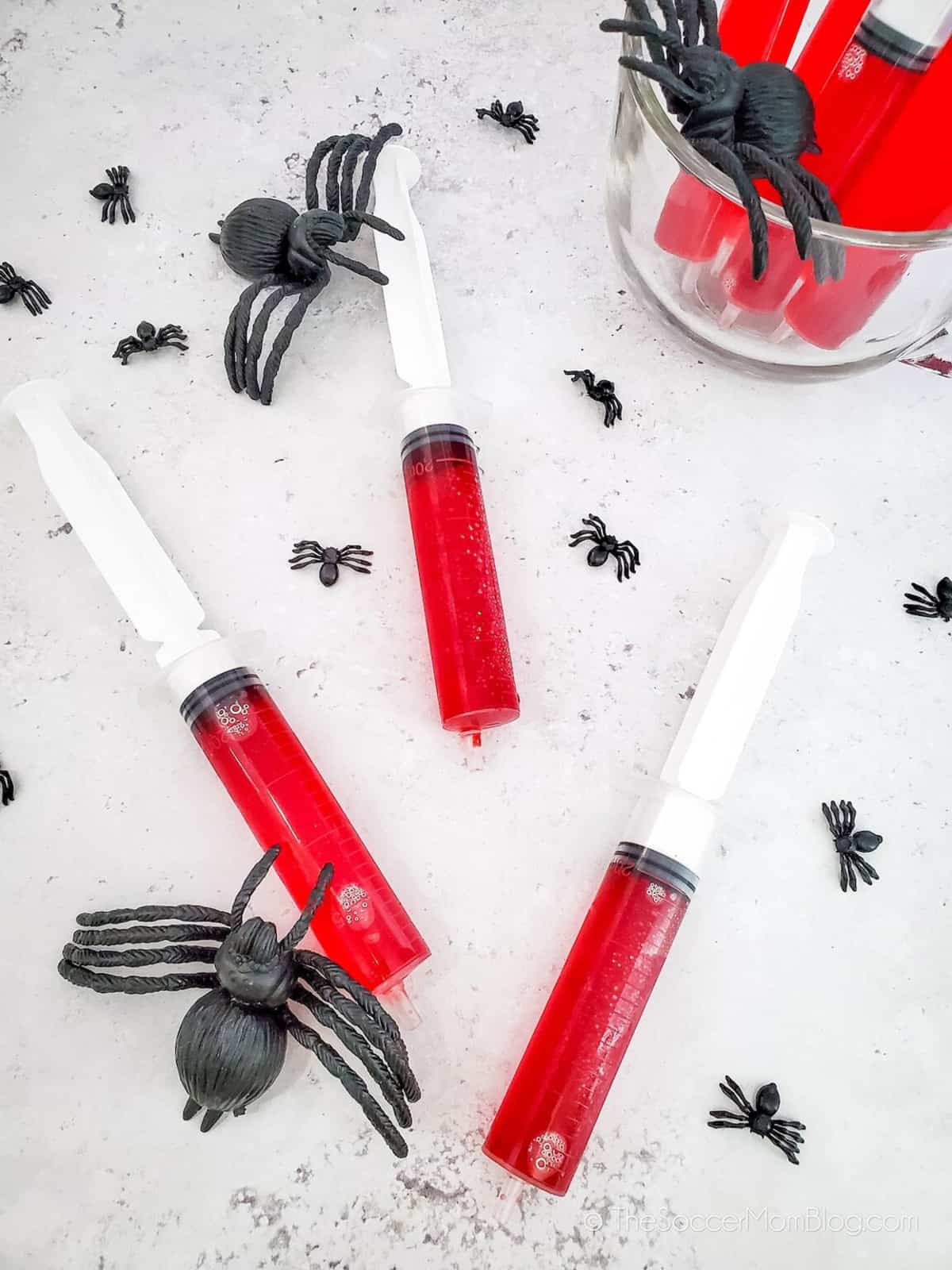 Other Fun Halloween Shots
Radioactive Glow in the Dark Shots
This glow in the dark coconut rum shot is perfectly safe and also easy to prepare. A fluorescent neon cocktail is a glow in the dark drink that is always a party hit!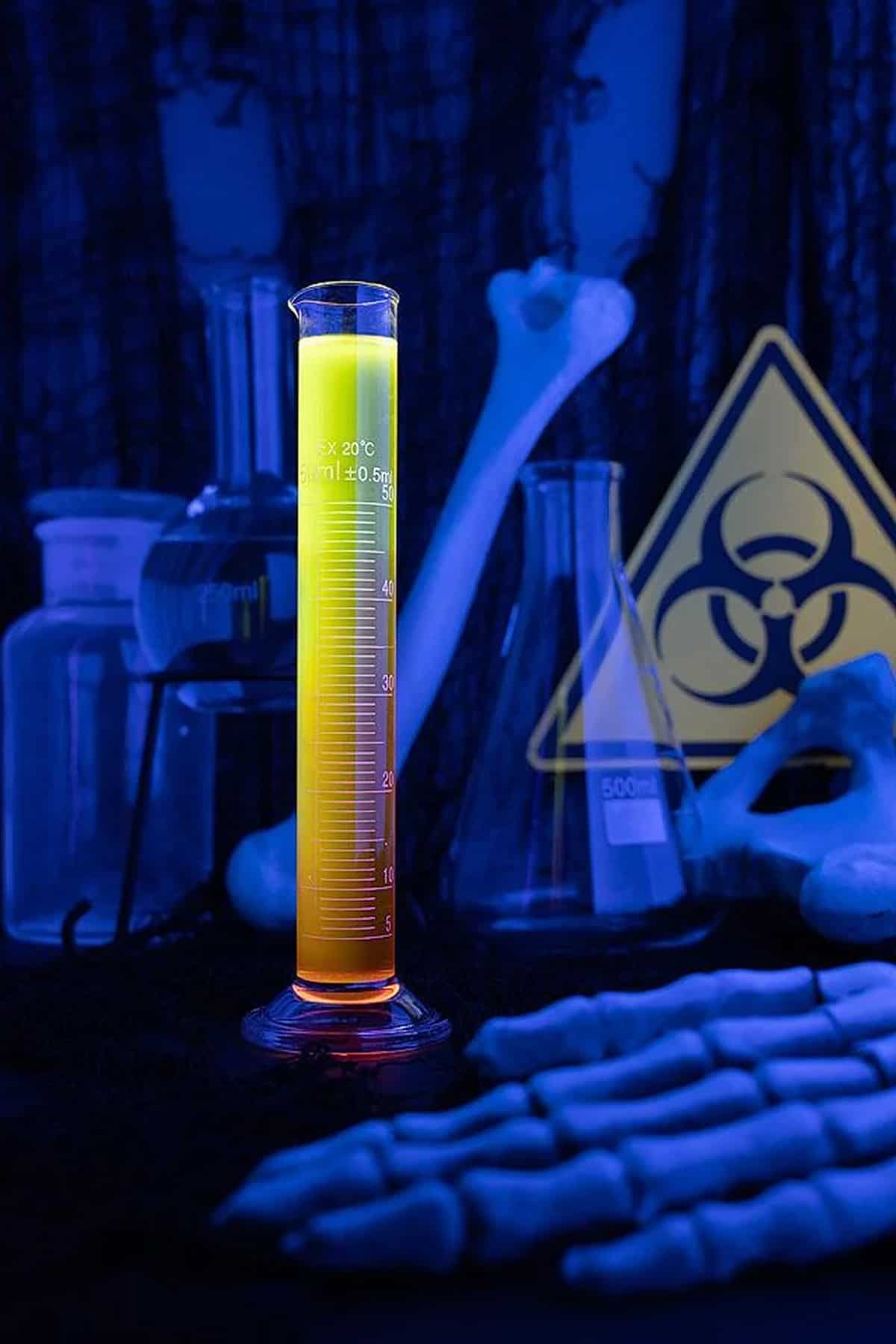 This Halloween vial shooter only requires 4 ingredients to make it, along with a few easy-to-find pieces of equipment. These alcoholic shots for Halloween are so easy to make ahead in a vial or a syringe.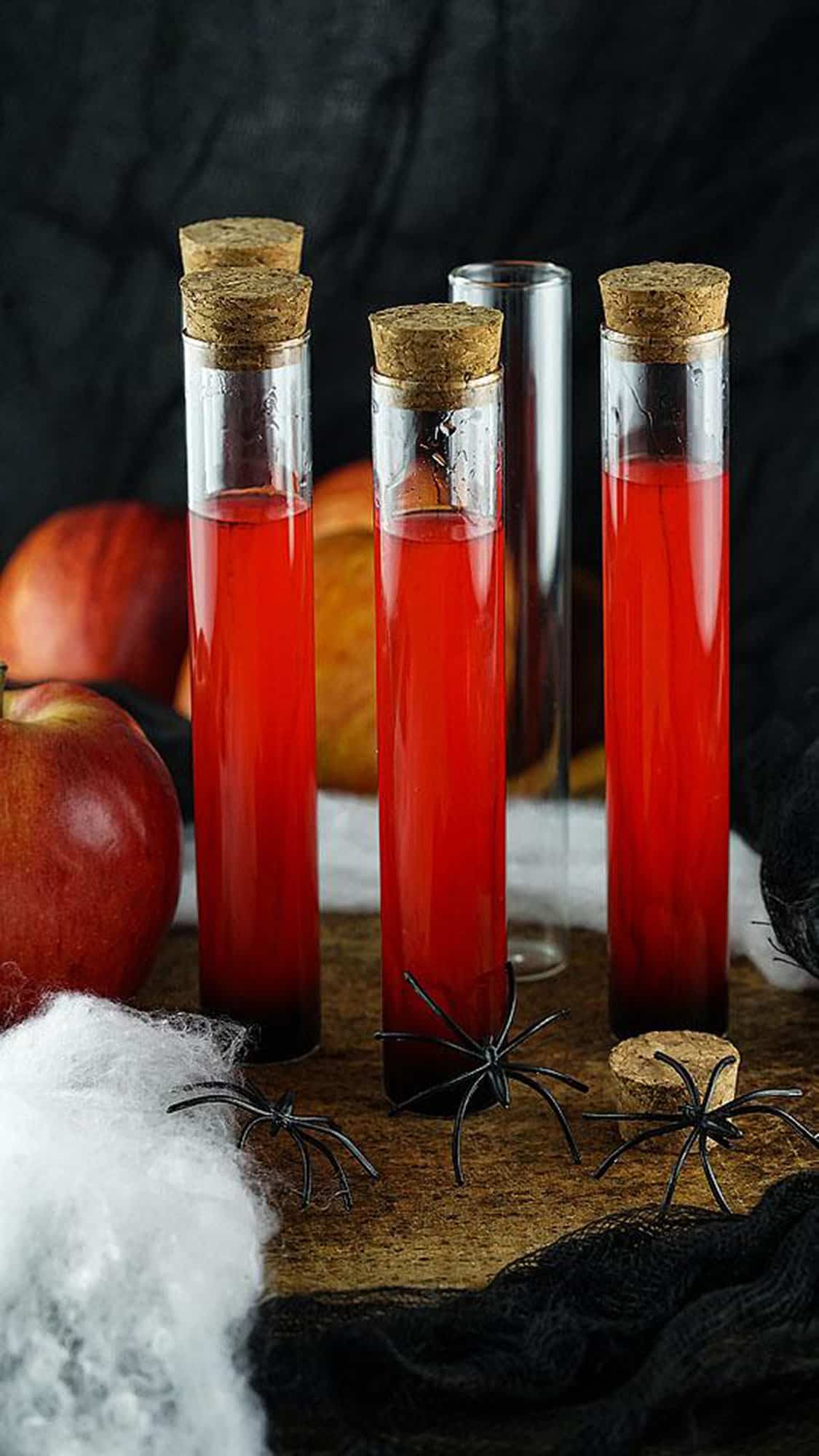 Monkey Brain Shots are gross in the best kind of way! If you love spooky, gruesome or anything Halloween these shots are for you! Best of all, they can be made in advance and chilled until ready to serve!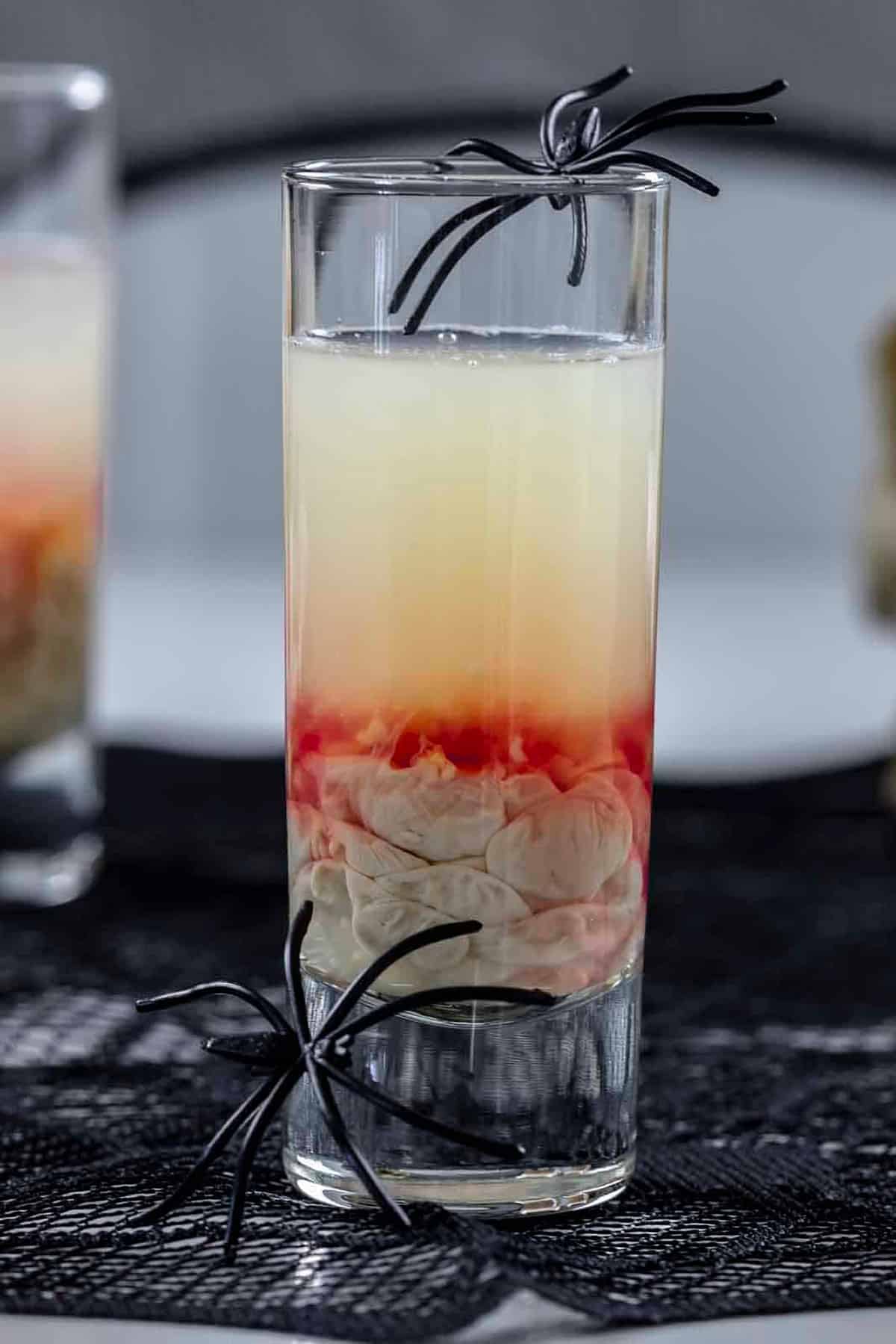 This Alien Brain Hemorrhage is the perfect creepy looking Halloween shot. Although it may look complicated this drink is easy to make using only 4 ingredients.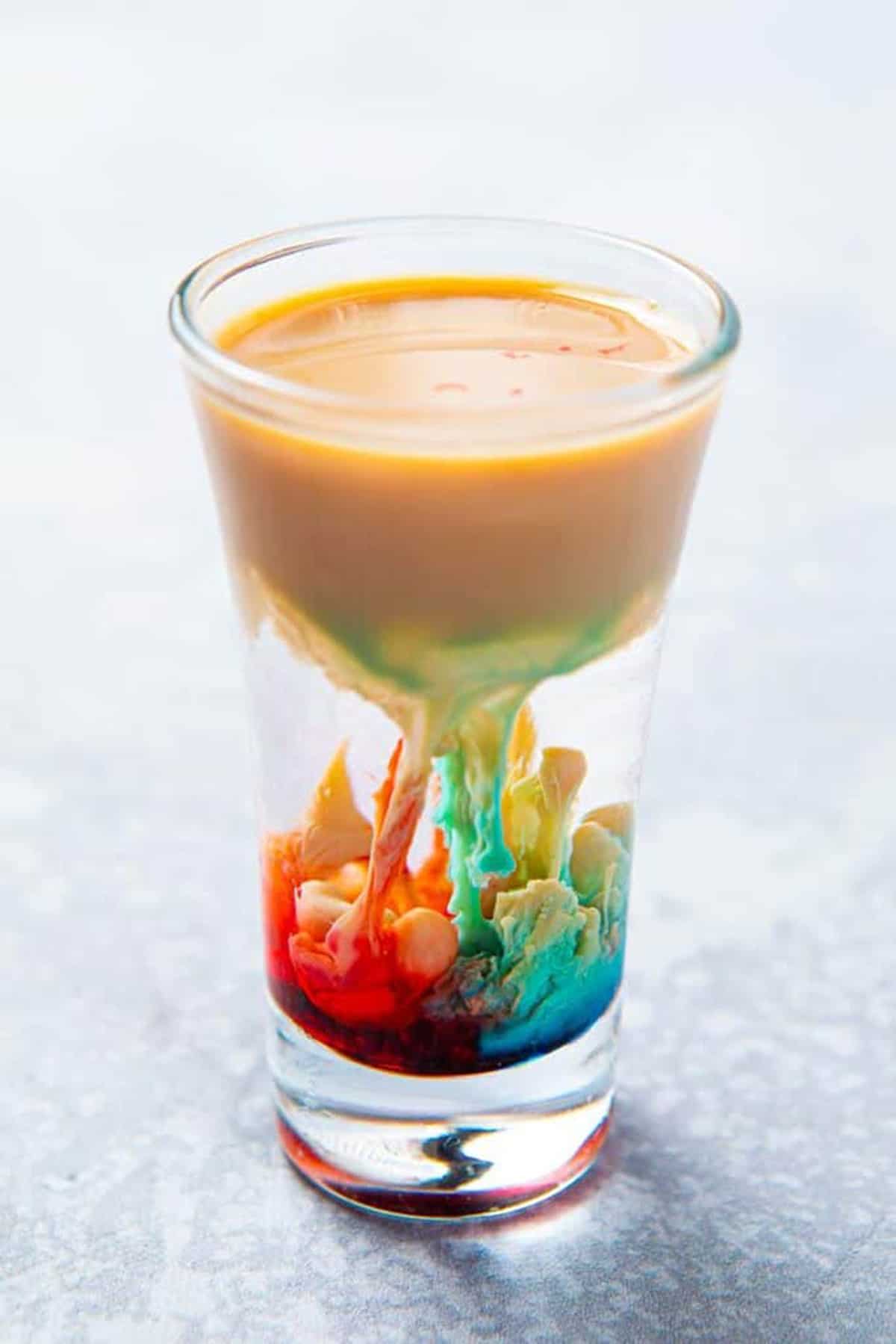 Perfect for Halloween or a Harry Potter movie night, you're sure to enjoy Sorting Hat shots. Simple, flavorful, and colorful, these shots are a lot of fun.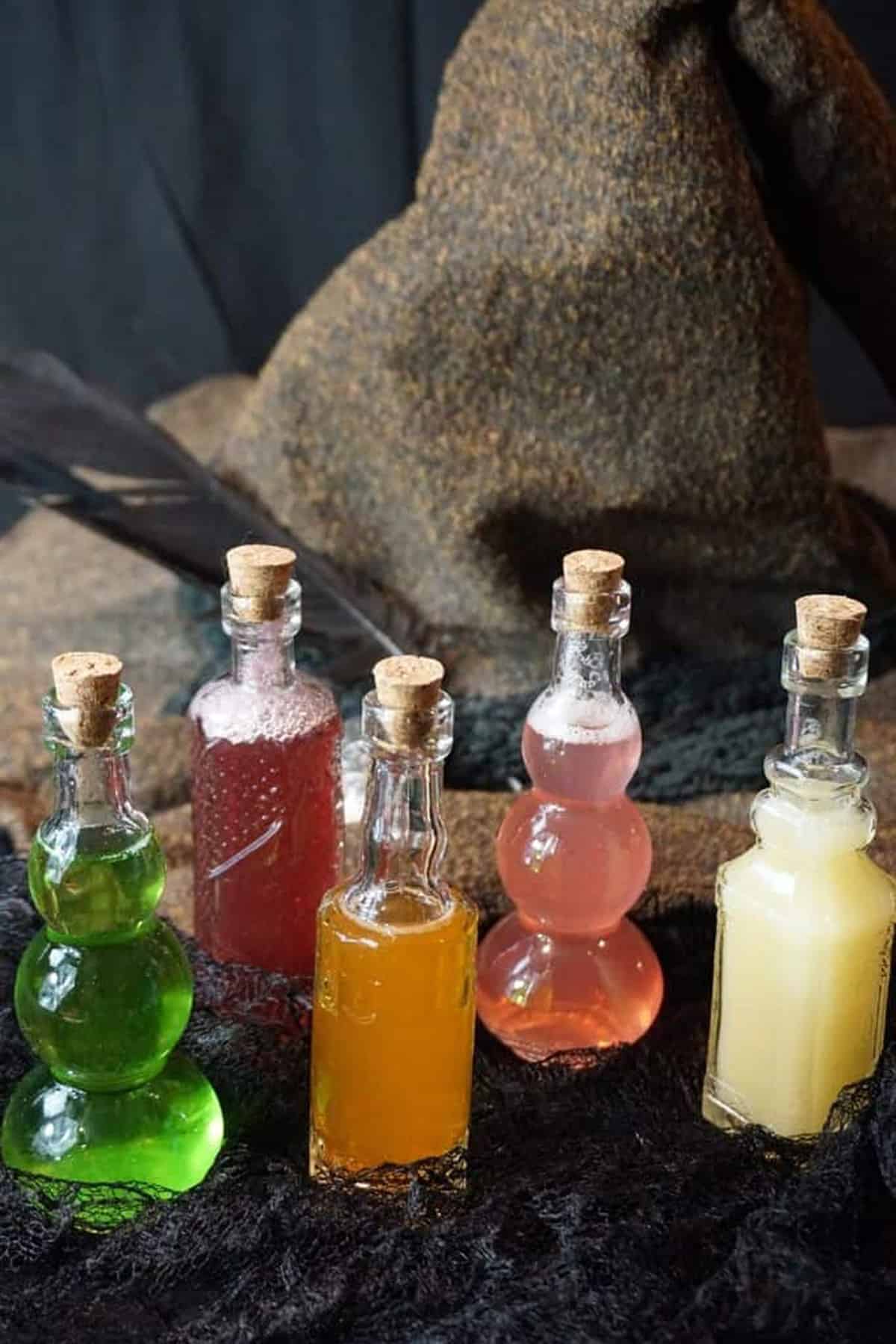 Fun and creative, these Harry Potter shots are perfect for your next Harry Potter marathon! They're great for Halloween parties too!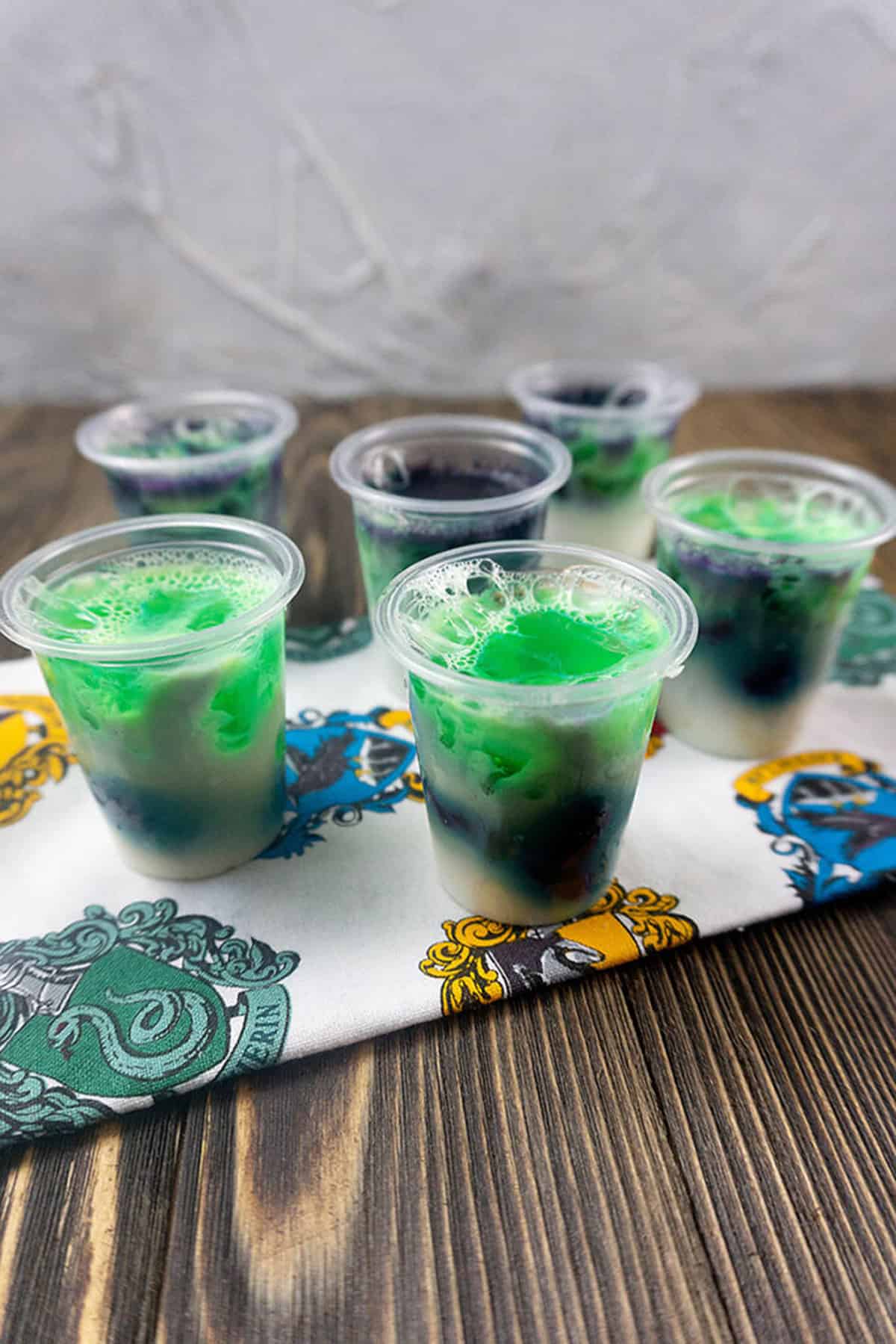 Check out my Harry Potter cake here!
This Scooby Snack drink recipe is perfect for any occasion! This party drink is easy to make and will be a hit with your friends.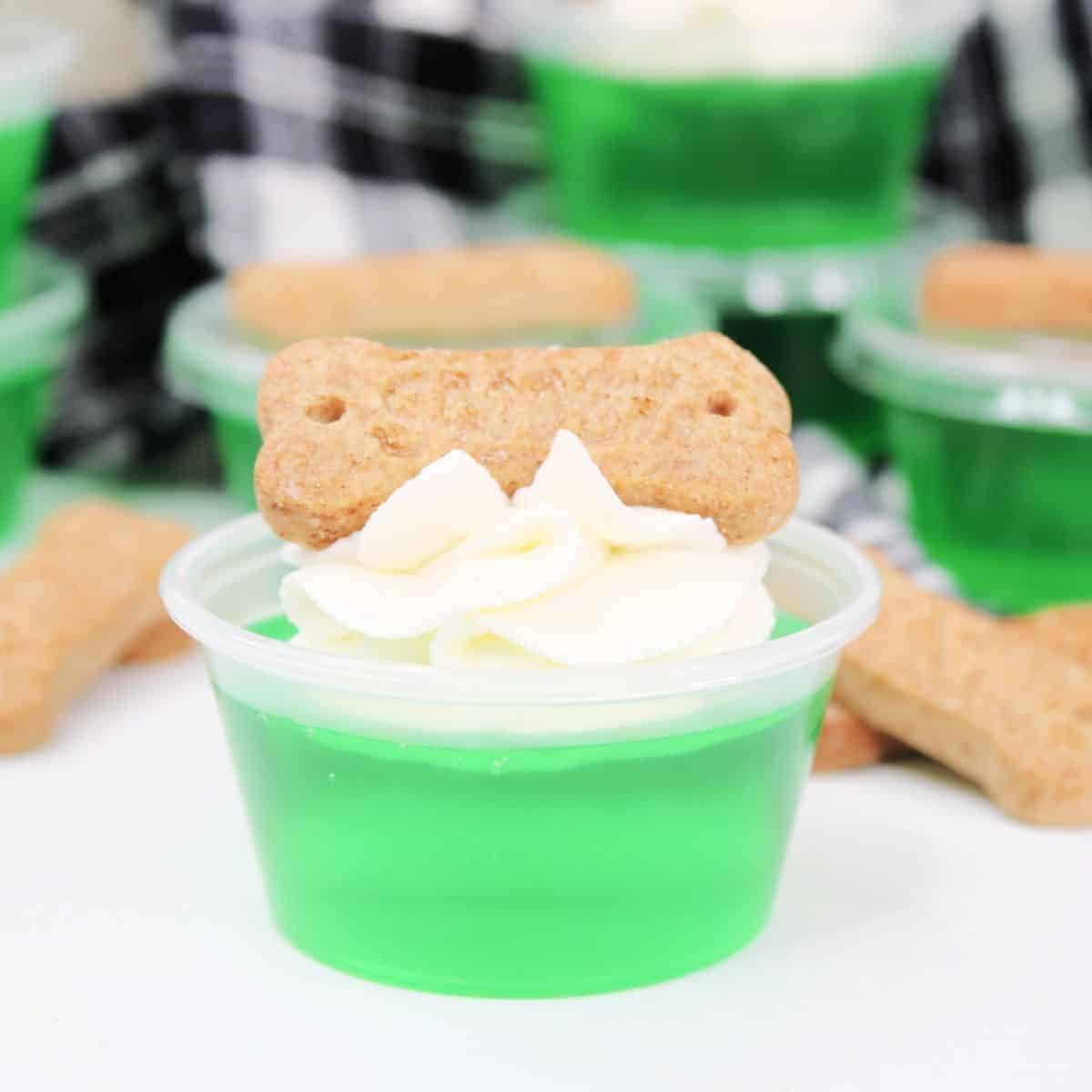 Enjoy the classic Halloween candy an adult version- a Tootsie Roll Shot. It tastes just like the yummy chewy chocolatey candy & only takes 2 ingredients.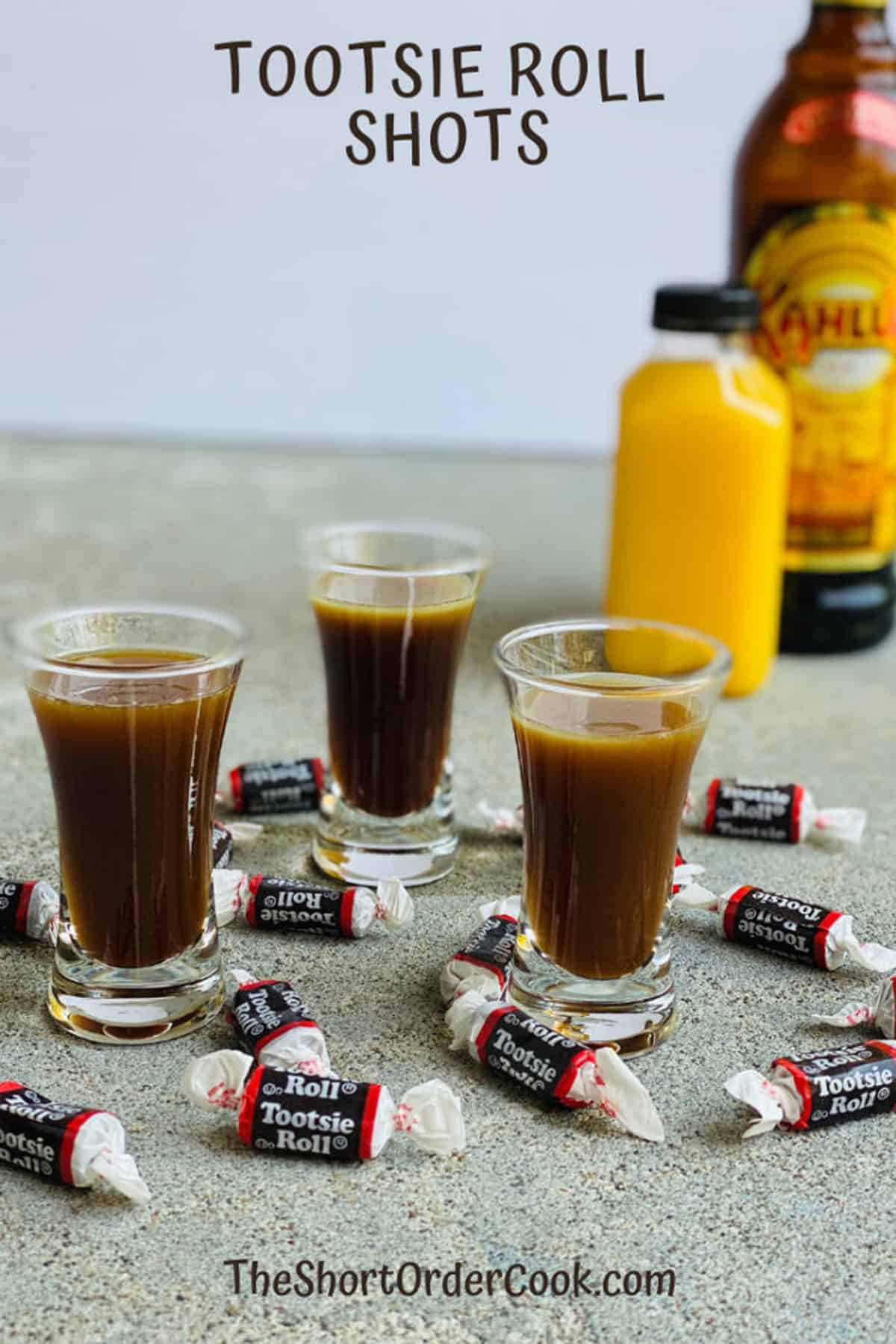 If you love eating a PayDay candy bar, this is the perfect alcoholic shot for you! With the help of peanut butter whiskey, butterscotch liqueur, and caramel vodka, you'll be throwing back this delicious shot recipe.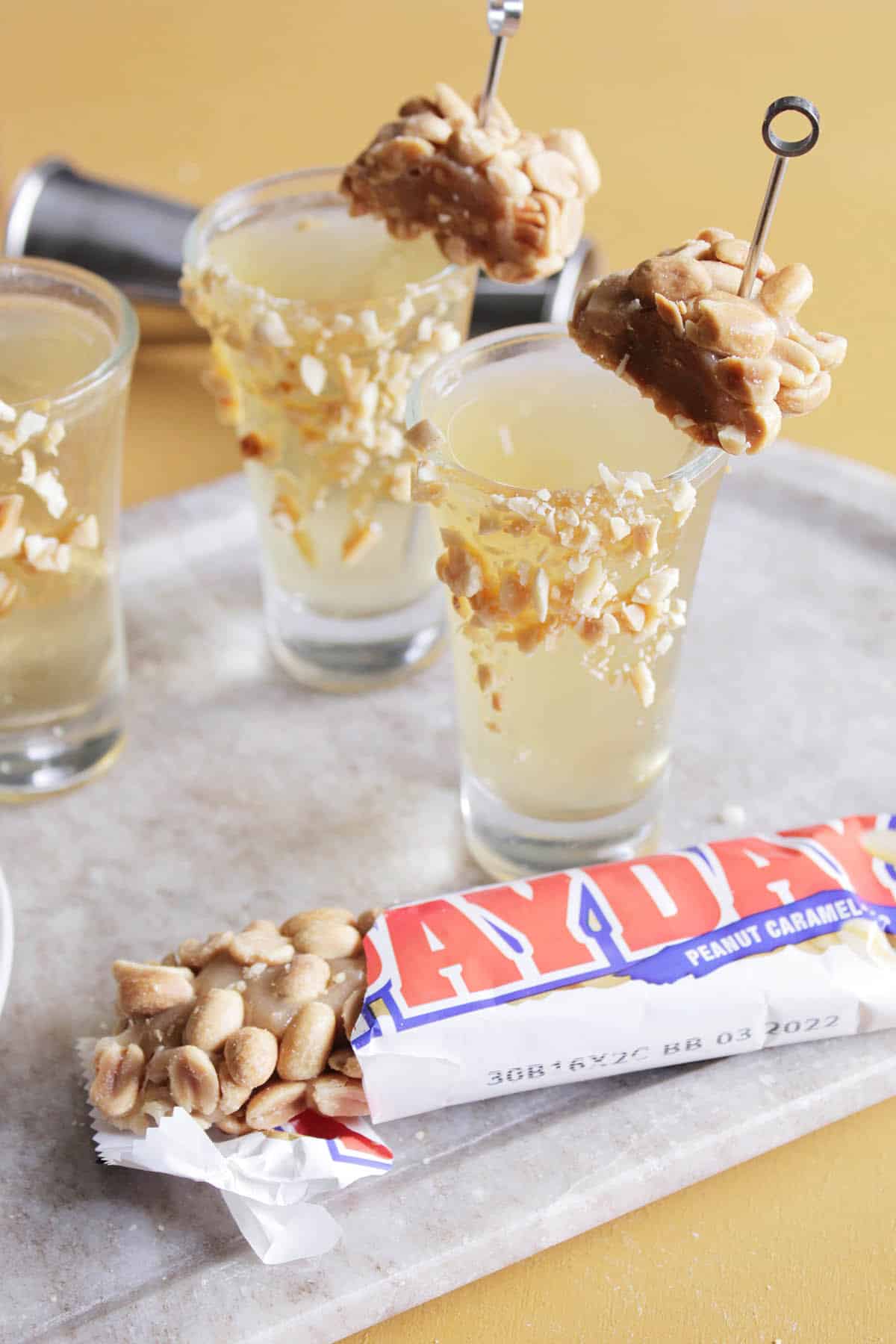 The harvest colors of these B-52 shots makes them perfect for Halloween -- and you won't believe how yummy they are!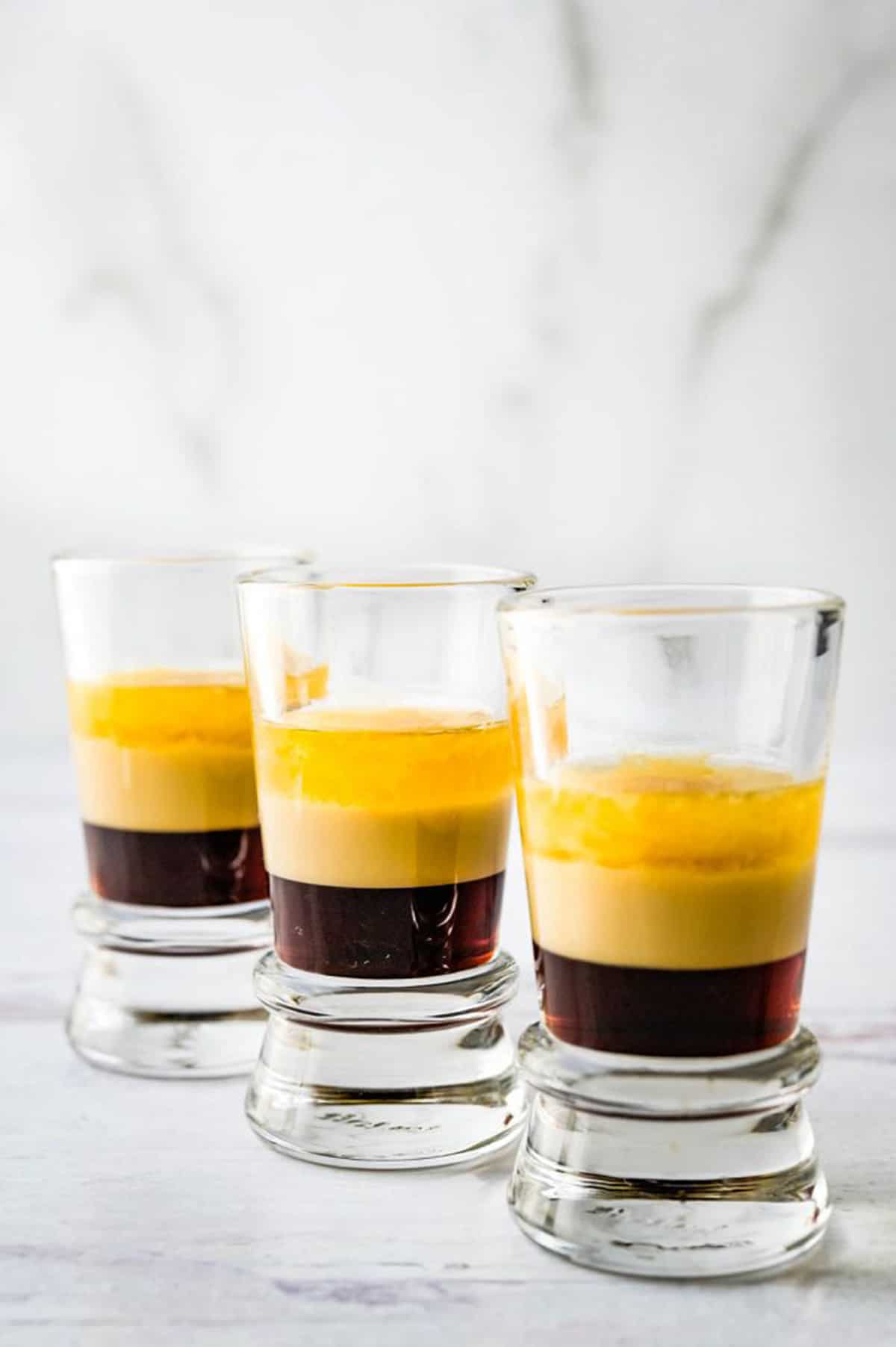 This Halloween Spiked Toxic Tonic Recipe is a delightfully creepy concoction that is the ultimate drink for your Halloween party. It is served in beakers and colored the perfect shade of green for Halloween.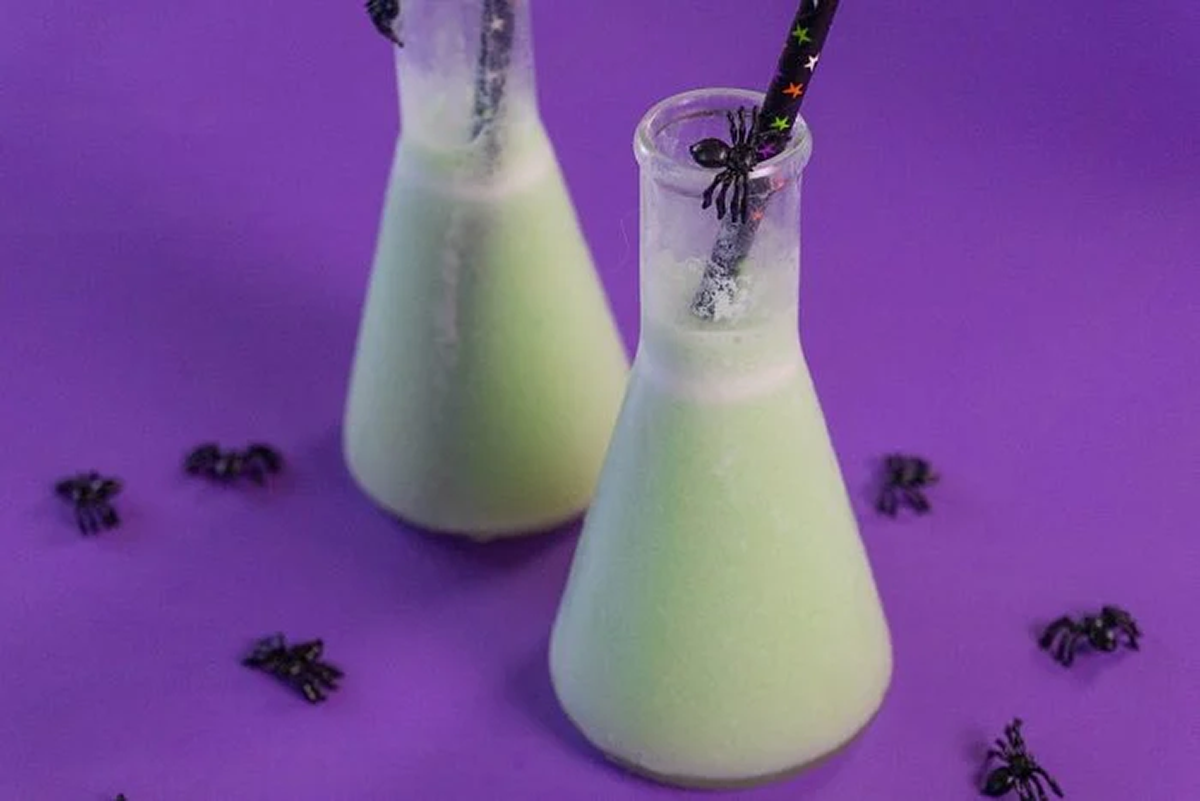 What makes a good shot?
A good shot really comes down to personal preference. Sometimes its one alcohol but other times is a whole concoction of it's own.
Shots come in many variety's- from flavor, to texture, and even to colors.
How many ounces in a shot glass?
A typical shot glass holds 1.5 ounces of liquid, but they can range in size and hold less than 1.5 ounces to over 3 ounces! However, as you will see below, these Halloween Shots are served in a variety of different glasses!
If you want a fun Halloween Cocktail make sure to check out my Witches Brew and my Cauldron Cocktail!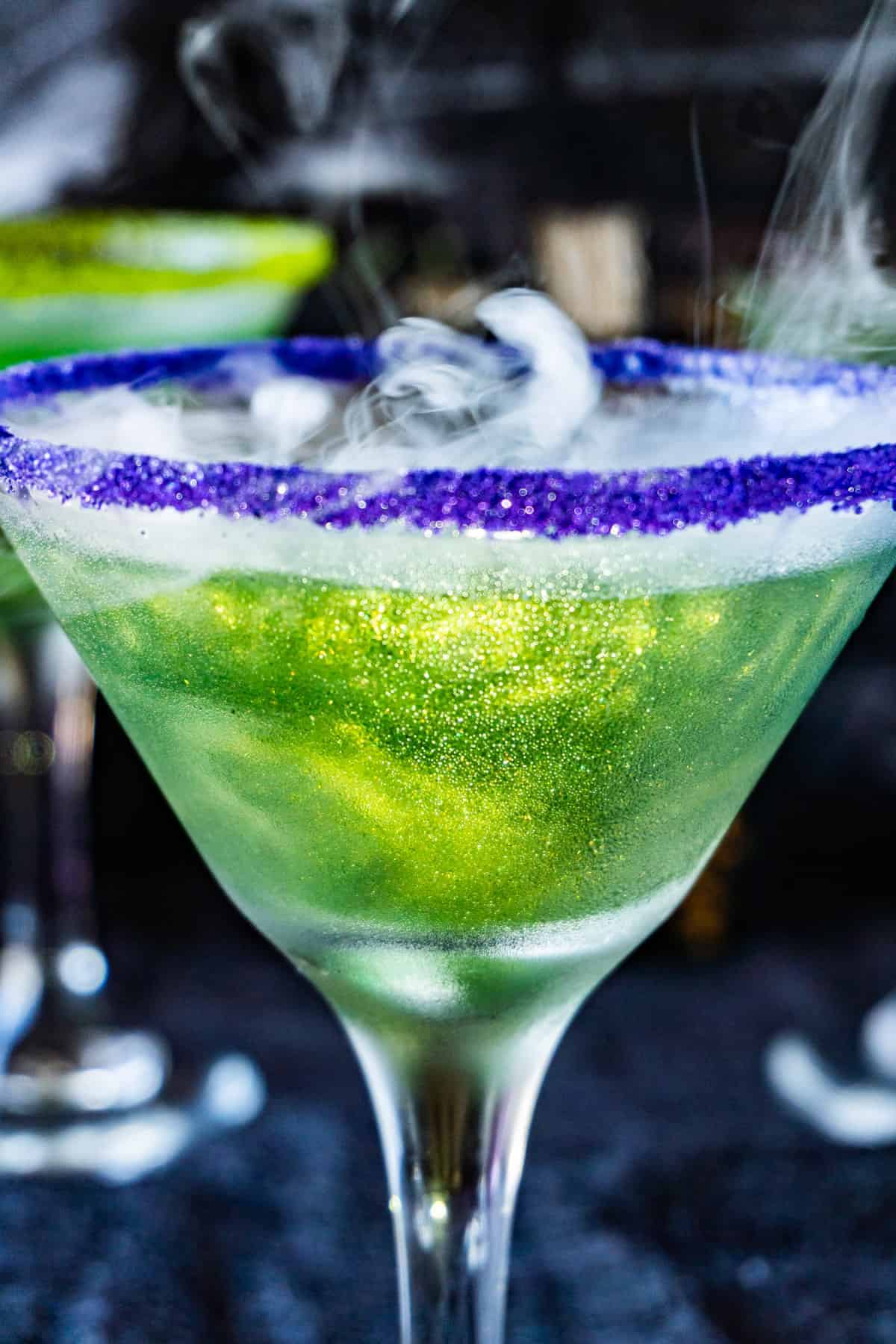 For more Halloween party Ideas check out these witches fingers, spider cookies, hocus pocus party ideas, and my favorite monster crispy treats, donuts, and popcorn balls!