Candy Corn on the Cob is such a cute and fun Thanksgiving decoration- that is pretty tasty too! These are easy to make and you only need two ingredients!!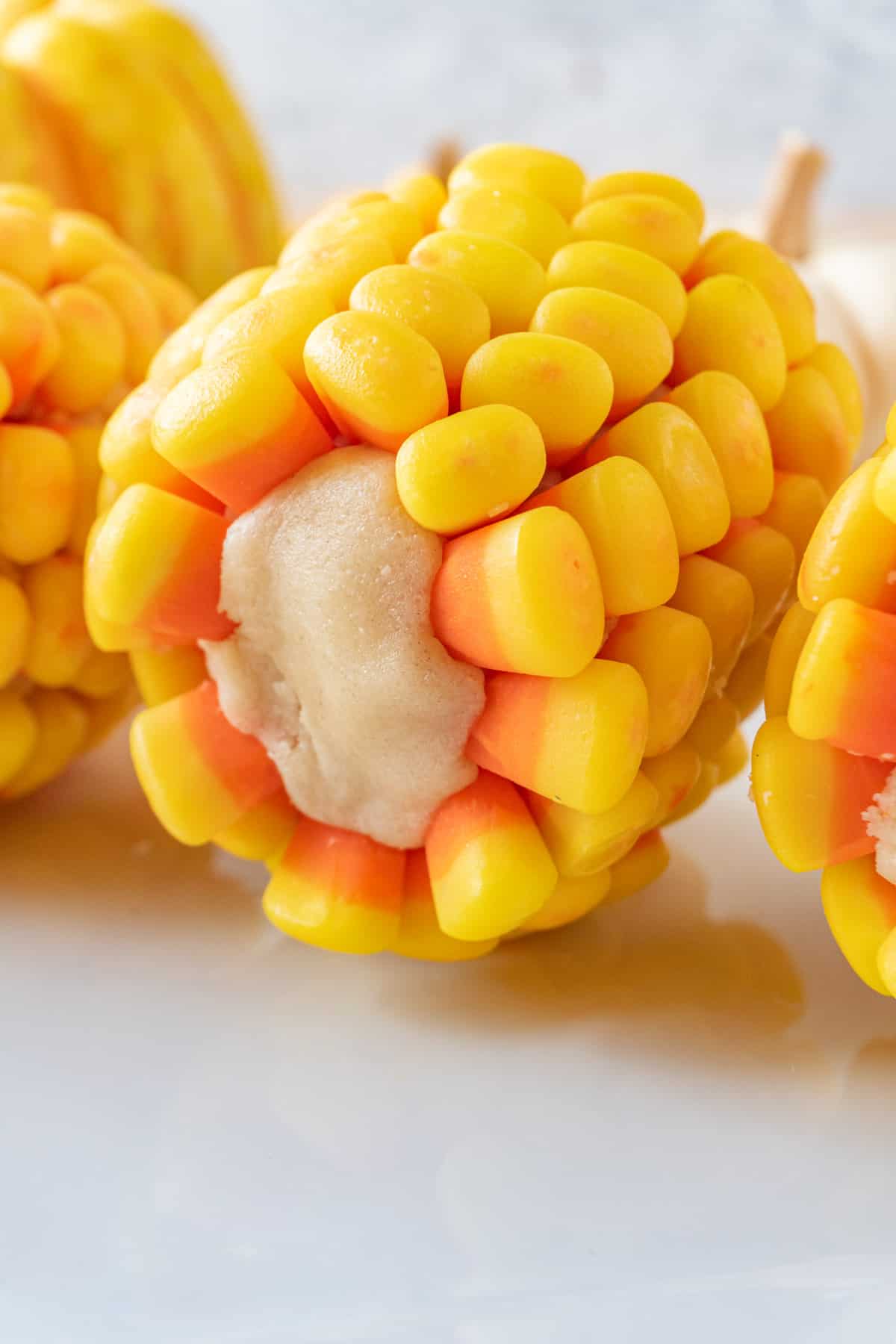 Recently I shared my fun Thanksgiving Turkey Cheese Ball and I knew I had to share this fun Thanksgiving idea too!
With a little patience and lots of candy corn, you can have these cute table decorations that are edible too!
What you need for Candy Corn on the Cob?
Candy Corn- I used about 3 bags for 6 cobs!
Edible Sugar Cookie Dough- I like the Pillsbury brand!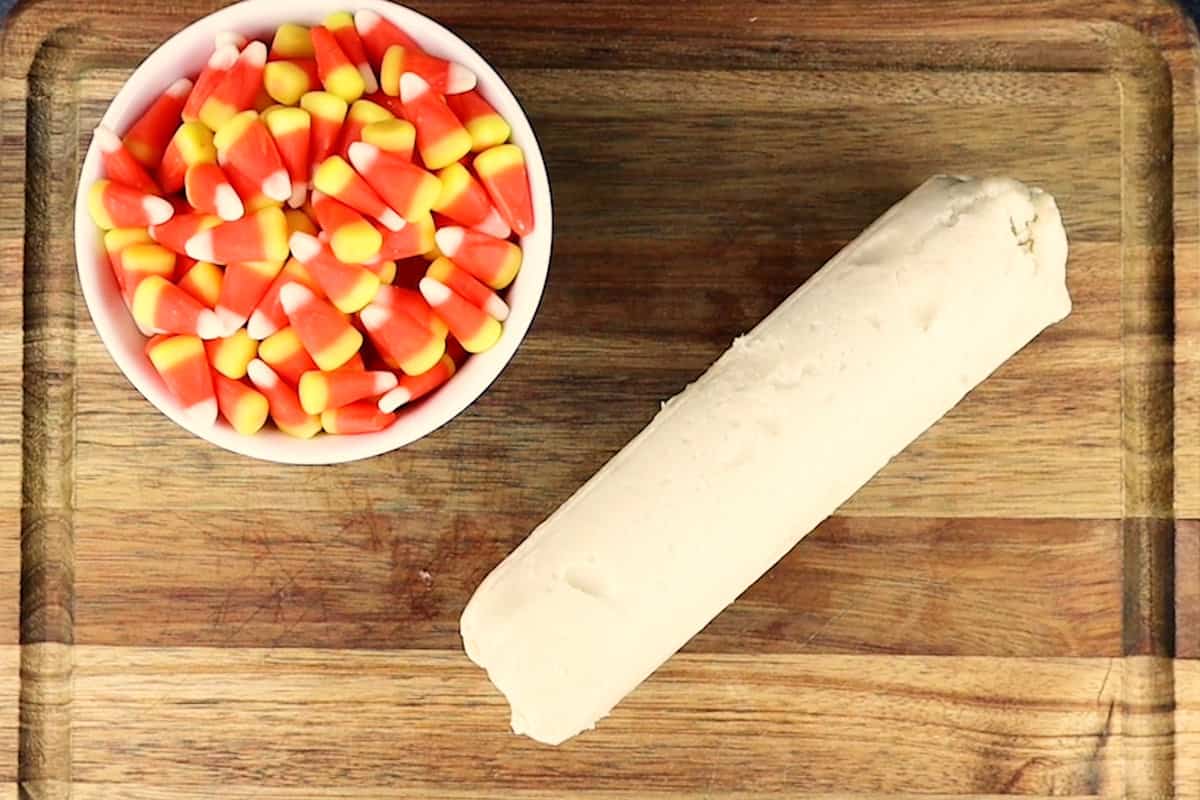 When I first saw these on the internet, I knew I had to give them a try. What I came to find out is that most tutorials and pictures aren't very well done, so after a bit of trial and error I wanted to share how to really make these tasty treats.
Make sure to check out my other thanksgiving appetizers here! You don't want to miss my cranberry sauce, pumpkin fluff, or caramel corn!
How to make Candy Corn on the Cob?
Divide your cookie dough into 6 portions
Roll dough into short and thick tube shapes
Place the narrow pointy end of the candy corn into the do and then continue with the next forming a row down the side.
Add the next row and repeat until you have it all filled in!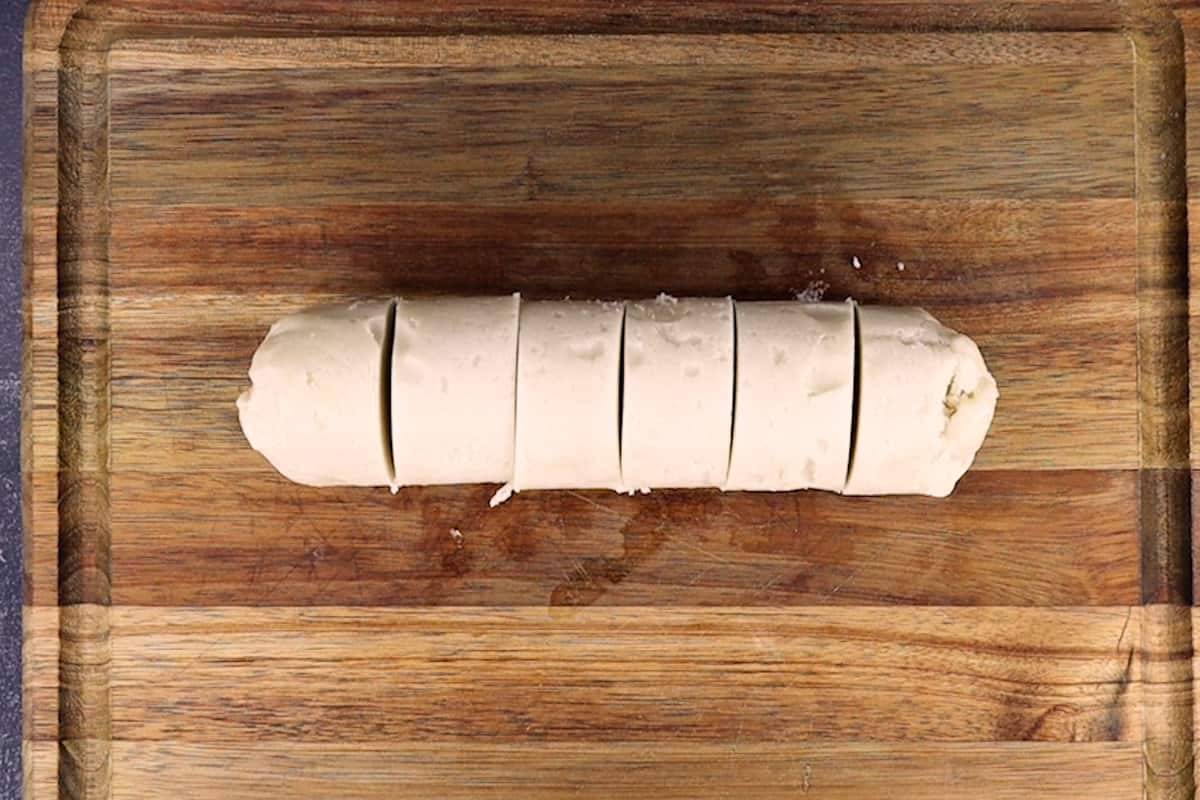 Problems and Solutions
---
You might be thinking.....problems? This is the easiest thing in the world! After a bit of trial and error here are my key takeaways!
Time: Since you have to add each candy corn piece you will need a little time to make these. Just be patient and have fun!
Ends Falling Off: When you get almost done with adding all the candy corn pieces, the ends will be most vulnerable to detach since you've nearly cut the dough through with all the candy corn, carefully press the dough back together.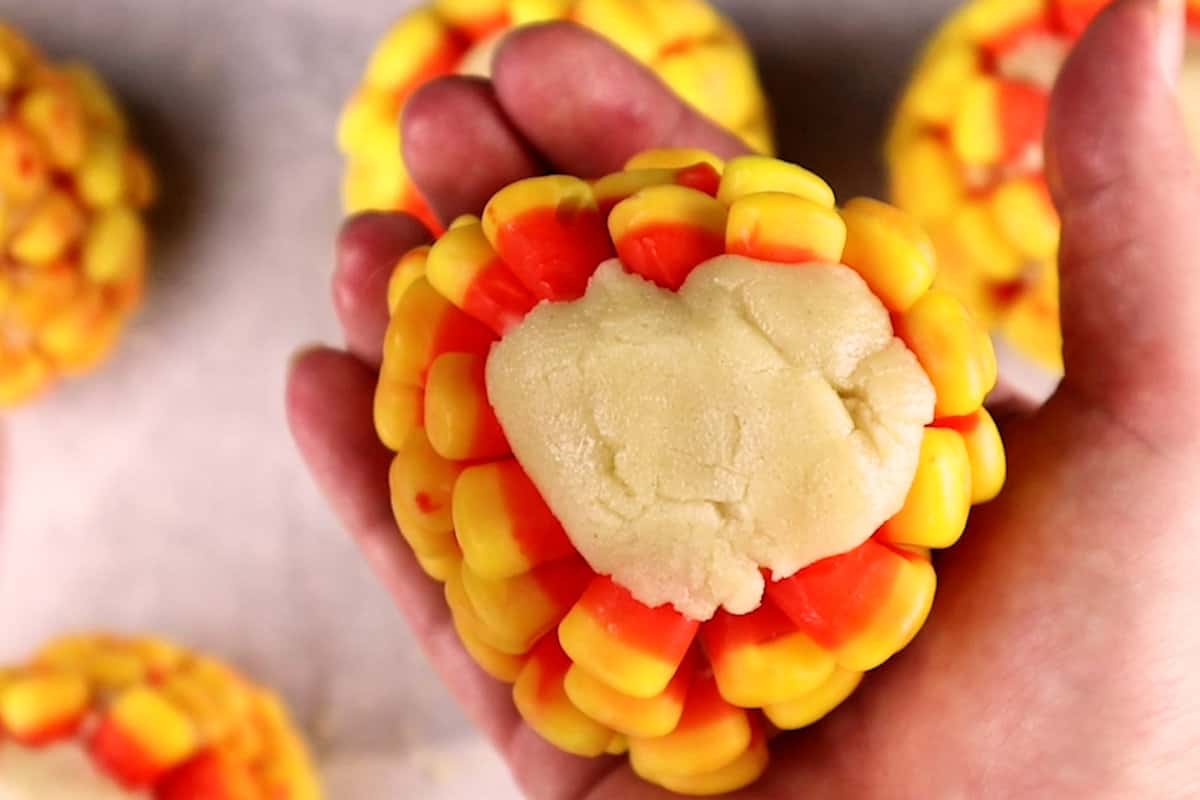 Misshapen: I found if I pressed the candy corn in too far it would look misshapen and there would be dough showing between each piece of candy. To solve this just place the tip of the candy corn in and if they wiggle loose just press them in again a little further.
Overall, I loved how these came out and wanted to share that I really don't know how some of these other Candy Corn on the Cob recipes look as small and as perfect as they do.
I tried to make them longer and narrower but they fell apart. I even tried to reduce the volume by cutting each piece of candy corn so I only had to press the top piece into the dough and they just fell out.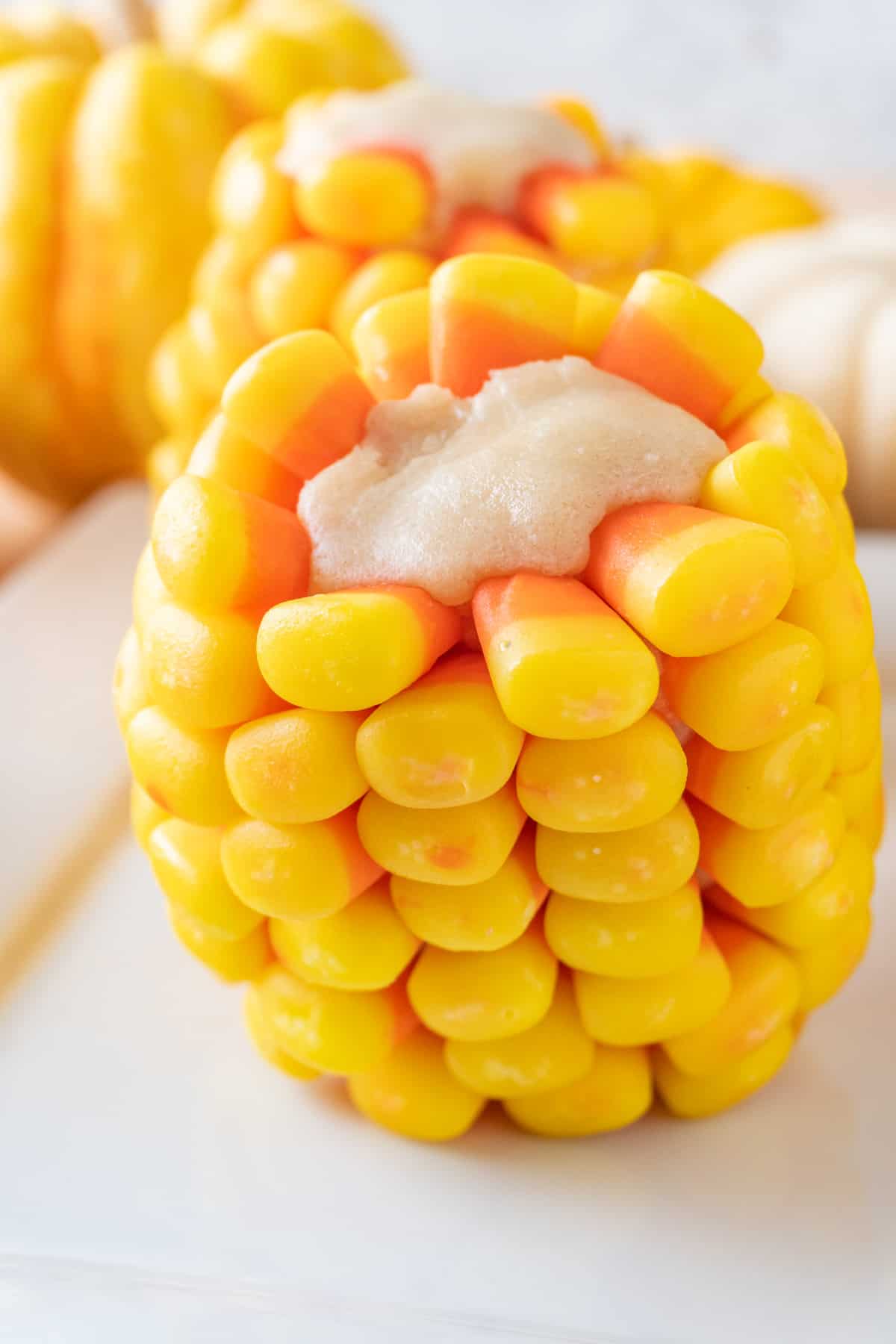 Top Takeaways
---
If the dough is too soft and stick you can refrigerate it until it's chilled again.
Start with a short and squat piece of cookie dough. It will get bigger in volume and length just by adding the candy corn.
Due to the size of candy corn, they are going to be pretty large corn on the cobs.
Work in rows from one end to the other.
Don't be afraid to reshape and press the cookie dough back together (especially at the ends!) if it starts to come apart.
When you are done pressing all the candy corn in, clean up the ends a bit by removing some of the extra cookie that's smooshed out.
When done making the cobs place in the refrigerator standing up. If you place on their side, gravity will flatten one side of them.
How to store candy corn on the cob?
Place in an air tight container in the refrigerator until ready to use. Store standing upright for the best results.
Can you make ahead of time?
I recommend making these several days ahead of time and storing in a Ziploc baggie or Tupperware container in the fridge. If you are able to store them standing up that is best.
Can you eat candy corn on the cob?
Yep! Since you are using edible cookie dough go for it! Just remember each cob has the equivalent to 4 cookies and lots of candy corn in it!
Pro Tip: Use different edible cookie doughs for different flavors! Chocolate chip anyone?!
Make sure to check out my other favorite holiday desserts like these pumpkin cupcakes, pecan pie brownies, and this amazing chocolate silk pie!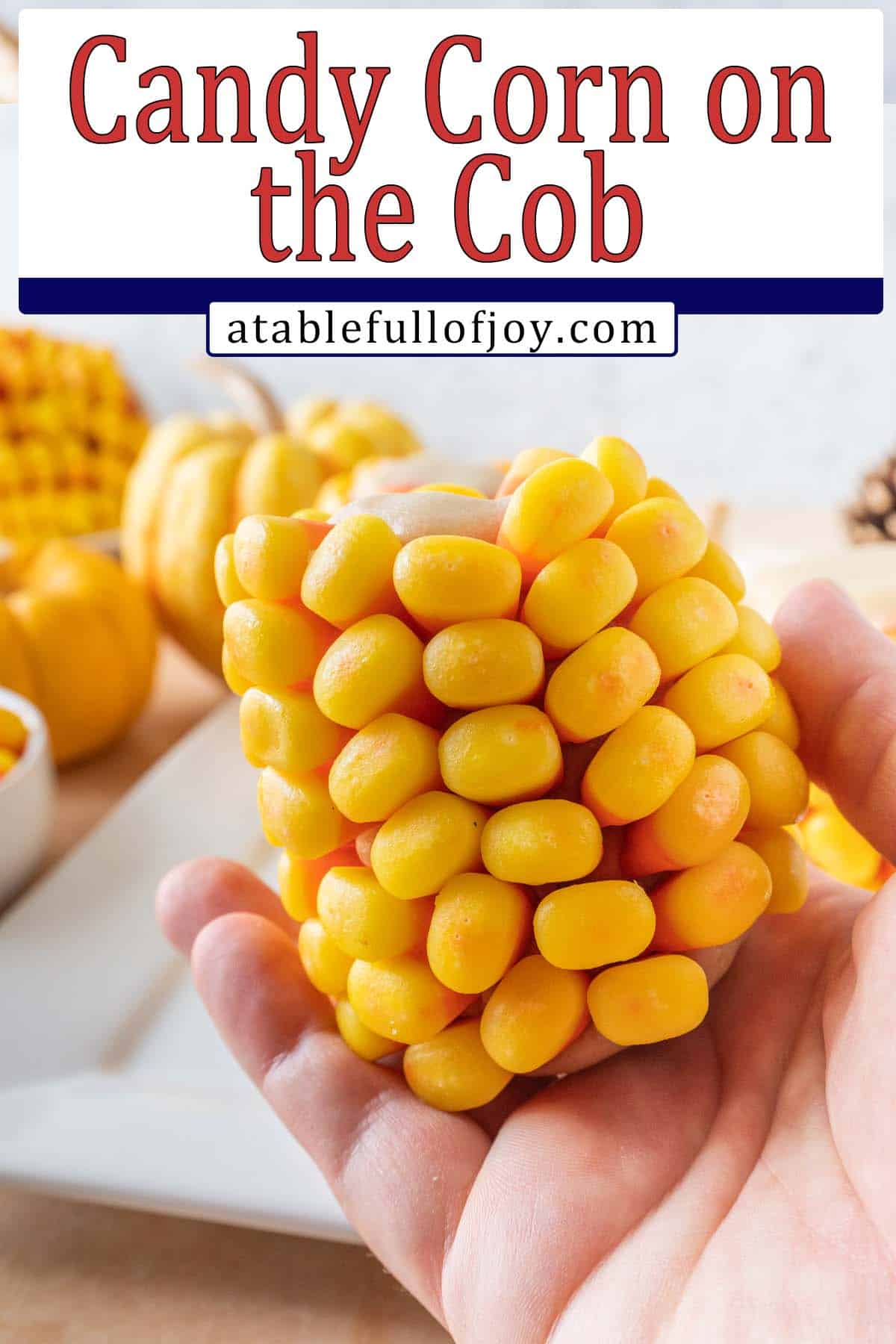 Watch how to make this recipe!
Want more? Subscribe to my newsletter and follow along on Facebook, Pinterest and Instagram for all of the latest updates.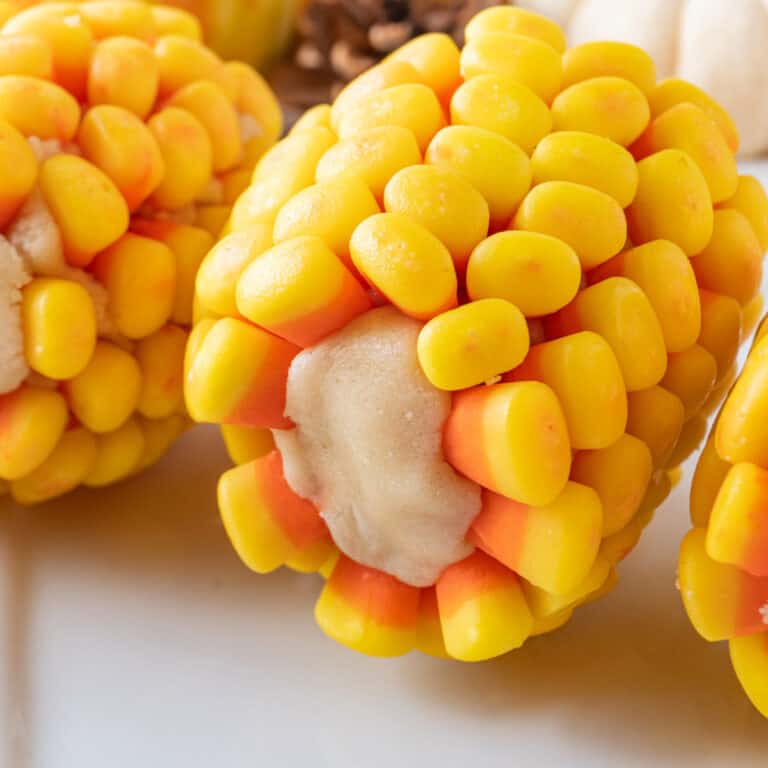 Candy Corn on the Cob
Candy Corn on the Cob is such a cute and fun Thanksgiving decoration- that is pretty tasty too! These are easy to make and you only need two ingredients!
Ingredients
16

oz

premade sugar cookie dough

- I recommend the Safe to Eat Pillsbury Dough

48

oz

candy corn

3, 16 oz bags
Instructions
Divide sugar cookie dough into 6 equal portions. Roll each piece into thick logs.

16 oz premade sugar cookie dough

Place each log onto a parchment lined baking sheet and refrigerate for 2 hours. You want the dough to be firm. *

After the dough is chilled, working on one log at a time- keeping the other logs in the freezer or in the refrigerator- place candy corn directly into the log. I recommend placing the smaller tip into the log, gently pressing it in, and continuing to place candy corn into the cookie dough all the way down the length of the log. Work one row at a time, then rotate slightly and add the next row, repeat until you have a corn on the cob look.

Return completed cob to the refrigerator or freezer and repeat with remaining logs.

Cover or place cobs in an air tight container and keep corn on the cobs refrigerated or frozen until ready to serve!
Notes
Tips and Tricks
*If the dough is ever too soft while working with it, just place it back in the refrigerator and wait 10 minutes then try again.
After adding all the candy corn fix up the ends if the cookie dough is bulging a bit.
*Use different types of edible cookie dough for fun flavor combos!
Nutrition
Calories:
1160
kcal
Carbohydrates:
251
g
Protein:
3
g
Fat:
15
g
Saturated Fat:
4
g
Polyunsaturated Fat:
2
g
Monounsaturated Fat:
8
g
Cholesterol:
8
mg
Sodium:
828
mg
Potassium:
111
mg
Fiber:
1
g
Sugar:
216
g
Vitamin A:
28
IU
Calcium:
6
mg
Iron:
1
mg
More Thanksgiving
Reader Interactions