This Blue Cheese Bacon Burger topped with delicious apple chutney is the perfect fall burger! Tender meat and delicious toppings make this Blue Cheese Bacon Burger the best!
Bacon Blue Cheese Burger with Apple Chutney
I'm in full fall mode and although that typical means all things pumpkin- I have to eat some other food! So, I decided to make this delicious beauty.
Looking for more fall recipes? Check these out:
My husband and I were up in Colorado for a bit this year and we happened upon a cute town with some awesome breweries. At one of them they were serving a burger with blue cheese, bacon, and apple chutney.
Being the curious person I am- and thinking that sounded delicious- I placed my order. It was one of the best burgers I have ever had.
The sweetness from the apples, the flavor from the spices, and the tanginess from the blue cheese, was one of the best combos ever. I knew I had to make them at home.
Now, the apple chutney, blue cheese, and bacon aren't really challenging when adding them to a burger. The real challenge was figuring out how to make a brewery style burger- where it's thick, medium rare (my preference!), and not burned or under cooked.
So I did what I always do when starting to figure out a new process- looked it up in my favorite cookbook The Food Lab, and then searched for it on the companion website on Serious Eats. These people have a very scientific approach when it comes to figuring out the best way to make something.
I've used their advice for lots of recipes from my Crispy Chicken Tenders to my Pumpkin Bread Pudding- and now it was time to figure out how to make the best, juiciest burger ever.
How to make the best burger:
Start with 8 oz of ground beef and form a patty that is 4-5 inches wide. Salt and pepper both sides.
Place patties on a cooling rack on top of a baking sheet.
Bake burgers in an oven preheated to 200°F until the internal temperatures of the burgers reach 120-125°F for medium rare (or longer if you prefer a less red center).
Remove from oven and fry in vegetable oil that is just starting to smoke for 45 secs on each side.
Top with all sorts of delicious things and enjoy!
How to make apple chutney:
Peal, core, and dice your apples.
Chip your onion
Add everything, including spices, into a medium size sauce pan and heat over medium heat until boiling.
Reduce heat to low and simmer for 45 minutes.
Enjoy!
How to tell when your burger reaches the right temperature?
I highly recommend using an instant read digital thermometer. Mine is a wireless meat thermometer that I use all the time for smoking meat but also come in handy when baking things in the oven. I love it! (affiliate link)
It takes burgers about 40-50 minutes to reach 120-125°F in my oven, but I usually don't even set a timer I just watch my thermometer screen and take them out when they reach the temperature I desire.
Why bake the burgers first? And why at such a low temperature?
Baking the burgers helps cook the meat evenly. Low and slow always produces the juiciest meats wither when smoking or baking.
As a matter of fact, the only way I could see the burgers being even better is if I smoked them. I'll let you know how they taste when I do!
Why fry them if they are fully cooked?
Well first off even though they are fully cooked they look weird and kind of gross when you pull them out of the oven. Plus, you want a burger to have nice brown crust on it- it just looks more tasty!
That's where frying them comes in handy. But you only need about 45 secs on each side.
Frying them is the hardest part because you have hot oil and lots of splatter. Just be careful and only do one or two burgers at a time.
Can I cook my burger any other way? Grilling? Or stove top?
Yep! I have a full post on how to get the best burger for any method 🙂 Check it out here!
When you are done with the burgers simply top them with all the delicious ingredients!
For these burgers I used my homemade mayo, made with some coarse ground mustard- and it was delicious!
You can also make homemade hamburger buns for these or find some tasty pretzel buns for more of a brewery vibe.
When you are done making these apple chutney burgers give my fully loaded green chile burgers a try.
What are some delicious burger combos that I should try next? Let me know in the comments below!
For more tasty recipes that go great with these burgers try:
Watch how to make this recipe!
Want more? Subscribe to my newsletter and follow along on Facebook, Pinterest and Instagram for all of the latest updates.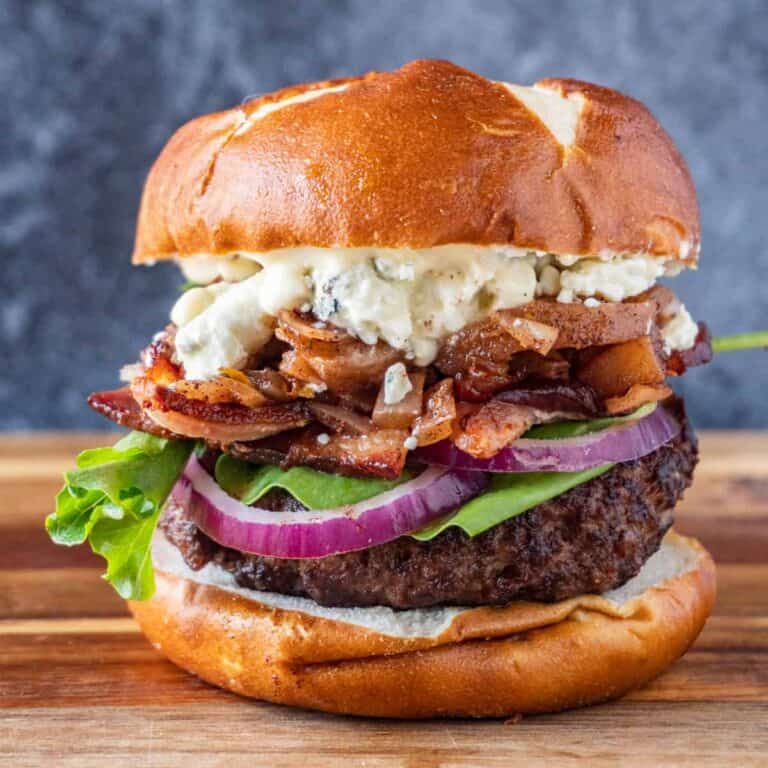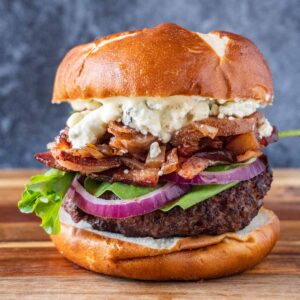 Blue Cheese Bacon Burger with Apple Chutney
This Blue Cheese Bacon Burger topped with delicious bacon and apple chutney is the perfect fall burger! Tender meat and delicious toppings make this Blue Cheese Burger the best!
Ingredients
Apple Chutney
2

Apples

gala or fuji

1

small yellow onion

¼

cup

apple cider vinegar

2

tbs

brown sugar

2

tbs

orange juice

Zest from orange

1

teaspoon

cinnamon

¼

teaspoon

nutmeg
Burgers
32

oz

ground beef*

salt

pepper

1-2

cups

Vegetable Oil

blue cheese

4

pieces

thick bacon

Red Onion

4

Hamburger Buns
Instructions
Apple Chutney
Peel and chop apples, removing the core.

Dice onion, zest orange, and squeeze juice from the orange.

In a medium sized sauce pan combine all ingredients and bring mixture to a boil over medium heat.

Once boiling reduce heat and allow to simmer for 45 minutes or until the apples are nice and tender.

While apple chutney is cooking make the burgers.
Burgers
Adjust your oven rack to the mid lower section of your oven. Spray a cooling rack with non-stick cooking spray and place in a baking sheet. It's also helpful for cleanup if you line the baking sheet with foil- but this isn't necessary. Preheat oven to 200°F.

Divide ground beef into 4 patties that are about 4-5inch in diameter. Salt and pepper both sides. Place on cooling rack.

Bake for approximately ~40 minutes. For medium rare burgers you want the internal temperature to me 120-125°F. I stick a thermometer in the center of the burger and wait till it reaches that temperature.

Once desired temperature is reached remove burgers from oven.

In a heavy bottomed fry pan or cast iron pan heat vegetable oil until it is staring to smoke.* You want enough oil to cover the entire bottom of the pan and fill it to about of a ¼ inch- so depending on the size you will need 1-2 cups. Once oil is hot place the burgers in the oil and allow to fry for 45 seconds to 1 minute on each side. No need to flip the burgers more than once. The burgers should have a nice brown crust while keeping the center perfectly cooked.

Remove from oil and place on a paper towel.

Fry up your bacon if you haven't done so already.

Toast your hamburger buns by adding a little butter to a fry pan and letting them toast over medium high heat.

Assembly your burger by adding lots of blue cheese, bacon, red onion, apple chutney, and lettuce to the burger.

10. Enjoy!
Notes
Recipe Tips
I recommend a quality beef for these burgers that isn't lean. The more fat the more flavor (I love using Wagyu beef!). That being said I have made these burgers with all types of ground beef from extra lean-to cheap store bought, and even bison, and they always turn out delicious. 
The oil will be very hot and will splatter some. Be careful not to burn yourself!
I highly recommend using an instant read digital thermometer.  Mine is a wireless meat thermometer  that I use all the time for smoking meat but also come in handy when baking things in the oven. I love it! (affiliate link)
Recommended sides: Homemade Mayo, Oven Baked French Fries, Pepperoni Pasta Salad, Non-Alcoholic Mint Julep!
Nutrition
Calories:
936
kcal
Carbohydrates:
45
g
Protein:
48
g
Fat:
62
g
Saturated Fat:
23
g
Cholesterol:
185
mg
Sodium:
610
mg
Potassium:
904
mg
Fiber:
4
g
Sugar:
20
g
Vitamin A:
79
IU
Vitamin C:
11
mg
Calcium:
138
mg
Iron:
6
mg
I am an affiliate for Thermoworks thermometers and make a small percentage off of any purchase but at no expense to you. I just love their product so much!
Post updated on 11/15/2020
Reader Interactions