Green Chile Cheeseburger- one of the best and simplest burgers ever. Full of flavor, a little heat, and cheesy goodness- you will want this every time you have a burger!
You all know I love burgers. I've shared my all my tips and tricks on how to make the best homemade burgers, my favorite fall burger (the apple chutney burger), and now I want to share one of my favorite burgers of all time- the green chile burger.
Living in New Mexico green chile is on everything. From desserts (yes really!), to appetizers, in soups, pizza, breakfast burritos, and burgers. Even fast food chains like Subway and McDonald's have it on their menu.
My favorite stew is Green Chile Stew and I've even shared how to roast, prep, and freeze green chile. But now I want to share my favorite green chile burger!
What is a Green Chile Burger?
A green chile burger is typically a cheeseburger with American Cheese, and roasted chopped green chile. It's that simple and that delicious.
Many restaurants will add typical condiments like mustard, mayo, onions, and lettuce- but whether you want to or not is up to you! If you are feeling a little adventurous try a fried egg on your burger- it's a very Southwest thing to do!
Isn't it called a green chilli burger? Chilli with and i?
Nope. Chilli with an i is a meat and sometimes bean mixture. Chile with and e is a popular pepper grown in New Mexico and some parts of Colorado.
How to make green chile sauce for the burger?
Some people add lots of stuff to make green chile sauce and that works more for enchiladas- but for burgers I like to keep it simple.
Add roasted, chopped, green chile into a saucepan. Add a little salt and a little garlic powder. Stir and heat.
That's it!
How to make a green chile cheeseburger?
Best burger basics:
Use ground beef with between 20% and 30% fat
Don't overwork the ground beef
Don't over season (there's no need too!)
Make the patties at least 4 inches in diameter
Most importantly cook the burgers to your perfect internal temperature of doneness- cooking times will vary based on cooking method and cooking appliance (different ovens, grills, and pans will all affect how the burger cooks)
Where to find the best green chile burger in New Mexico?
If you ever do come to New Mexico, three of the best and most highly debated green chile burgers are here for you to taste.
The Owl Bar in San Antonio (mine and my husbands favorite)
The Buckhorn in San Antonio
Sparky's in Hatch
There is also an Owl Bar in Albuquerque but we prefer the one in San Antonio.
Now everyone says their restaurants serve the best green chile burger but these are my top favorites.
I went to grad school in a little town named Socorro that was only 10 miles from San Antonio so I got my fill of tasty green chile cheeseburgers.
Anyways, there is no need to travel all the way to NM for your green chile burger fix. Now you can make it in the comfort of your own home wherever that may be!
Where to find green chile?
Of course, fresh is best, but I totally understand green chile's aren't available everywhere.
I typically will get 20lbs roasted every harvest season, chop, and freeze it for use throughout the year.  When I do run out of my own , green chile is readily available in the freezer section at every grocery store.
If your grocery store doesn't have green chile in the freezer section they will likely have chopped green chile in the canned vegetable aisle.
If you are able to get some fresh green chile during harvest season (August-September) and the store won't roast it for you check out how to roast, and freeze it here.
Sides to have with a green chile burger:
Favorite Drinks with Burgers (besides a delicious ice-cold soda):
After Burger Desserts:
Watch how to make this recipe!
Want more? Subscribe to my newsletter and follow along on Facebook, Pinterest and Instagram for all of the latest updates.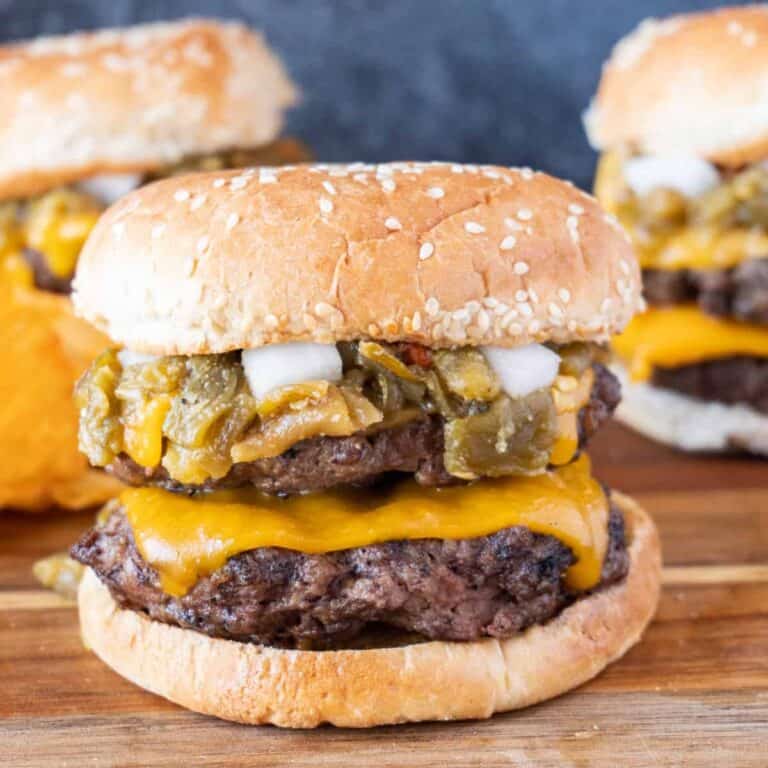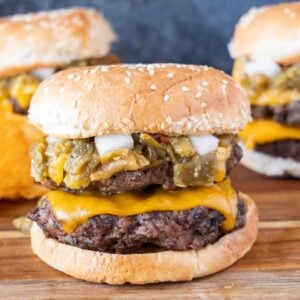 Green Chile Cheeseburger
Green Chile Cheeseburger- one of the best and simplest burgers ever. Full of flavor, a little heat, and cheesy goodness- you will want this every time you have a burger!
Ingredients
1

lb

ground beef

Salt

Pepper

4

slices

American Cheese
Green Chile Sauce
1

cup

roasted

chopped, green chile

1

teaspoon

salt

2

teaspoon

garlic powder
Optional Condiments
chopped onion

lettuce

tomato

mustard

hamburger buns
Instructions
Once patties are done cooking, add cheese to melt.

In a small saucepan combine green chile, salt, and garlic powder. Add more garlic powder and salt to taste.

Once green chile is warmed, add to burger along with any other condiments and enjoy!
Notes
Tips and Tricks
*This recipe is for two, double patty cheeseburgers. You can also make two ½ lb burgers if you prefer, or four single ¼ lb burgers.
*Toasting your hamburger buns is a delicious addition to any burger!
Use Wagyu Beef for extra flavor!
Nutrition
Calories:
449
kcal
Carbohydrates:
2
g
Protein:
37
g
Fat:
32
g
Saturated Fat:
13
g
Cholesterol:
139
mg
Sodium:
1038
mg
Potassium:
574
mg
Fiber:
1
g
Sugar:
1
g
Vitamin A:
198
IU
Calcium:
243
mg
Iron:
3
mg
Post was updated on 7/6/2020
Reader Interactions