This easy watermelon drink is perfectly sweet, and super refreshing! It great on a hot summer day or when you just need a cold pick me up!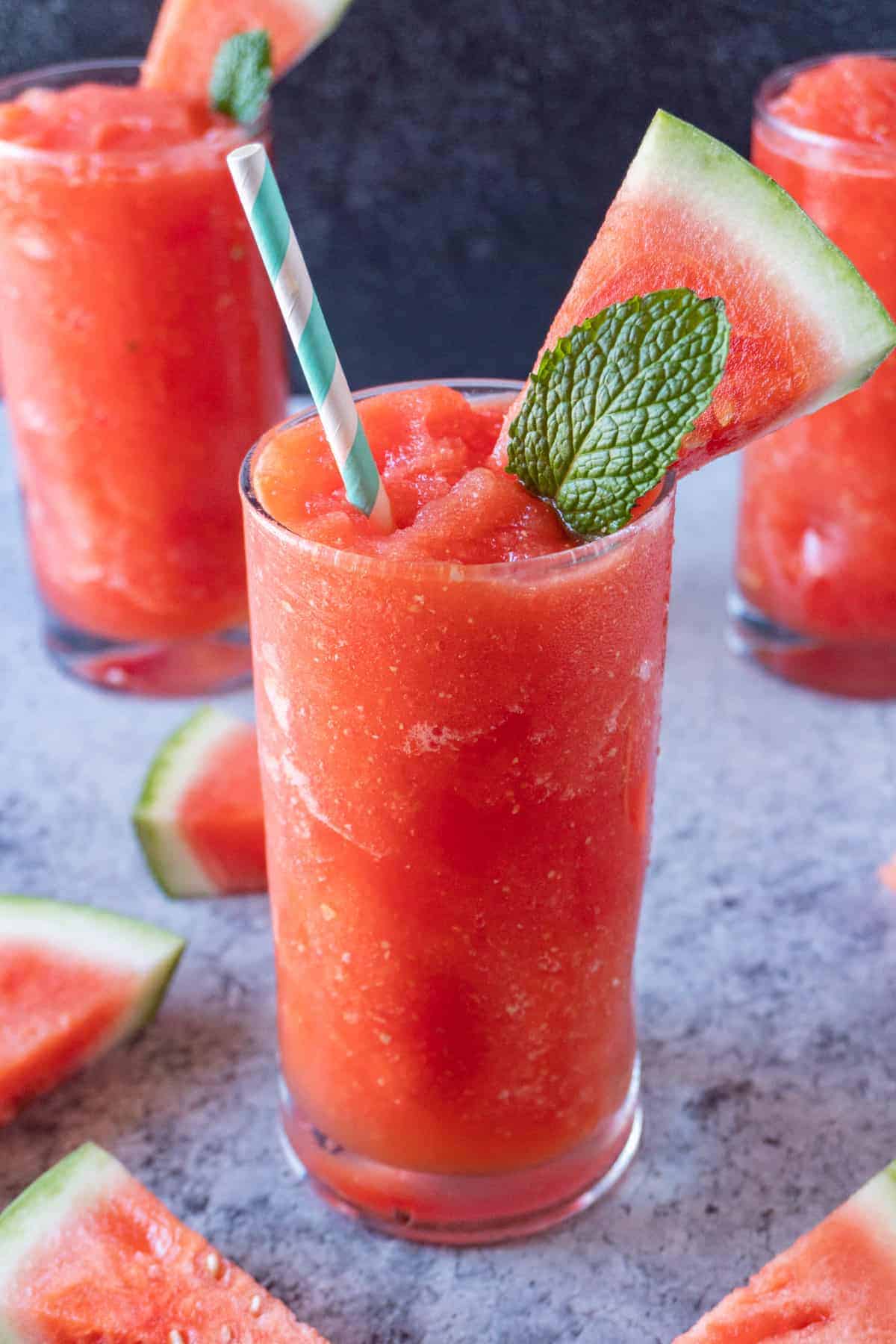 Do you love slushies and watermelon like I do? I figured I'd make a tasty combo of both with this Watermelon Slush!
Watermelon makes a great base for slushies because they have so much water in them. You don't need ice- just freeze the water melon!
Make sure to check out these other tasty drinks too:
How to make watermelon slushies?
Cube and freeze your watermelon
Once frozen place watermelon chunks in a high powered blender or food processor
Add lime juice and sugar and blend
Enjoy!
How to cut and freeze watermelon cubes?
Start by cutting a thin slice off one side of the watermelon to create a nice flat base
Slice the watermelon then remove the rind
Cut the watermelon flesh into chunks- depending on your blender/processor you might want to cut smaller or larger chunks
Place chunks in a parchment lined baking sheet or pan making sure they don't touch, then add another piece of parchment paper over them, add more watermelon, and repeat
Wrap with plastic wrap and freeze until solid- 2-4 hrs
It's important that the cubes don't touch or else they will freeze together!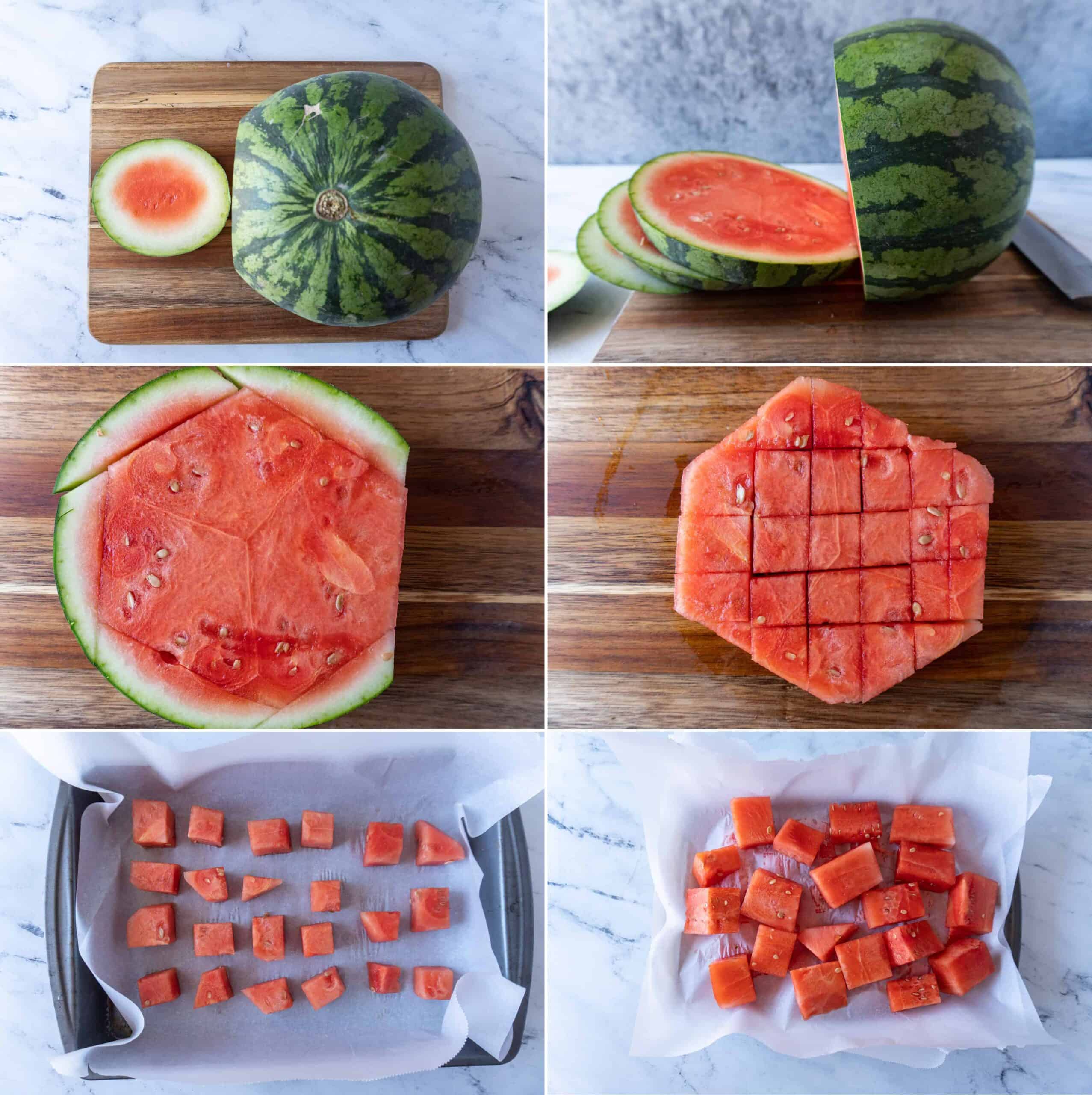 What type of blender should I use to make these?
I recommend a high powered blender (like a Breville SuperQ or Vitamix) with a tamper. If you don't have one of those use a food processor and scrape down the sides every now and then.
Help! My slushie is too thick or not blending!
To prevent this I recommend allowing your watermelon to partially thaw for 10 minutes or so.
Use the tamper on your blender to push the watermelon chunks down '
Lastly add ¼-1/2 cup of water to get things moving in your blender- I promise it won't make it watery!
What size of watermelon should I use?
I use a medium sized watermelon for this recipe and can get 6 large cupfulls (pictured) or 12 smaller servings.
Can I use lemon juice instead of lime juice?
Yep! It will taste a little different but will still be tasty!
Add a few mint leaves when blending for a minty twist to this easy watermelon drink recipe!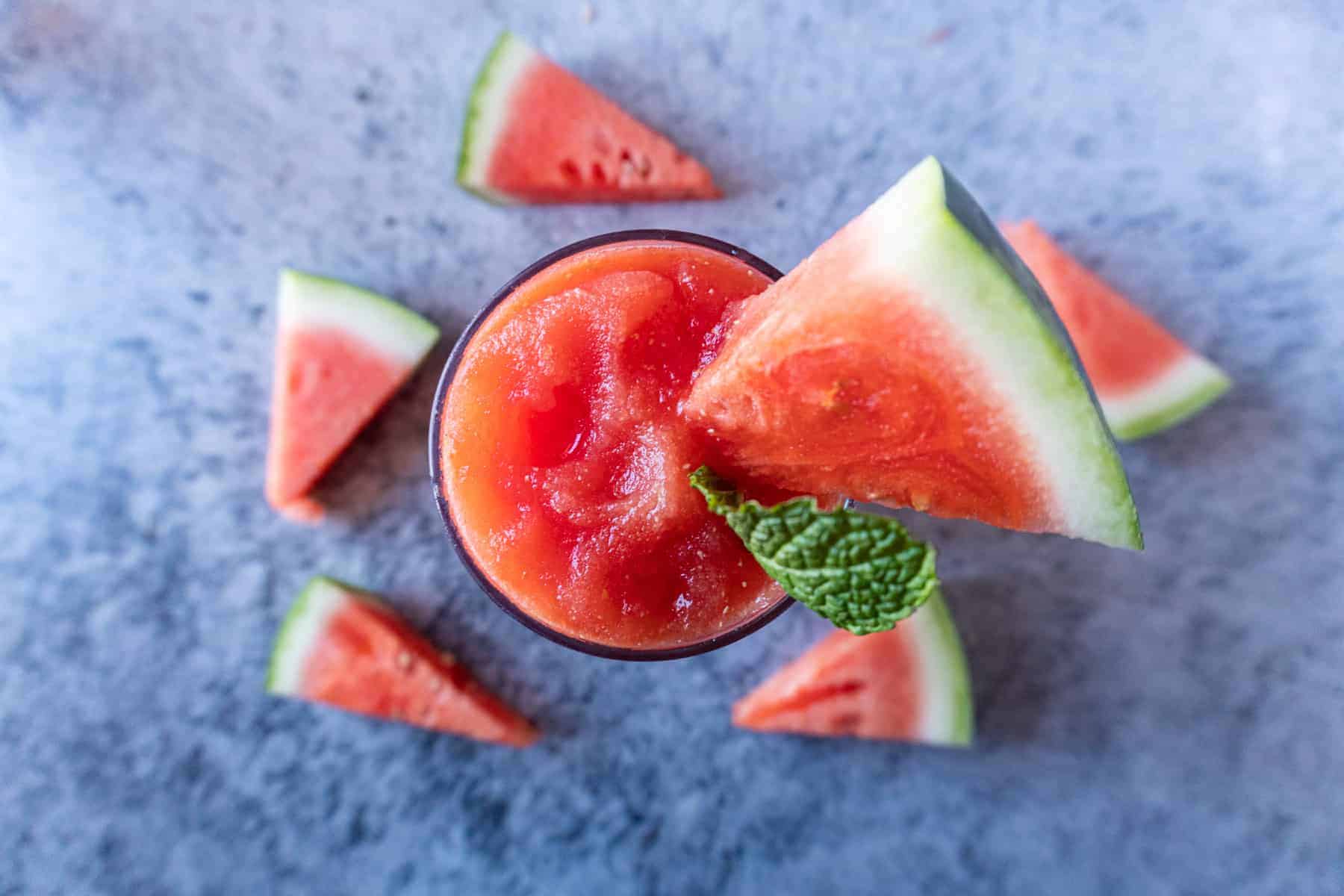 For more tasty recipes check out: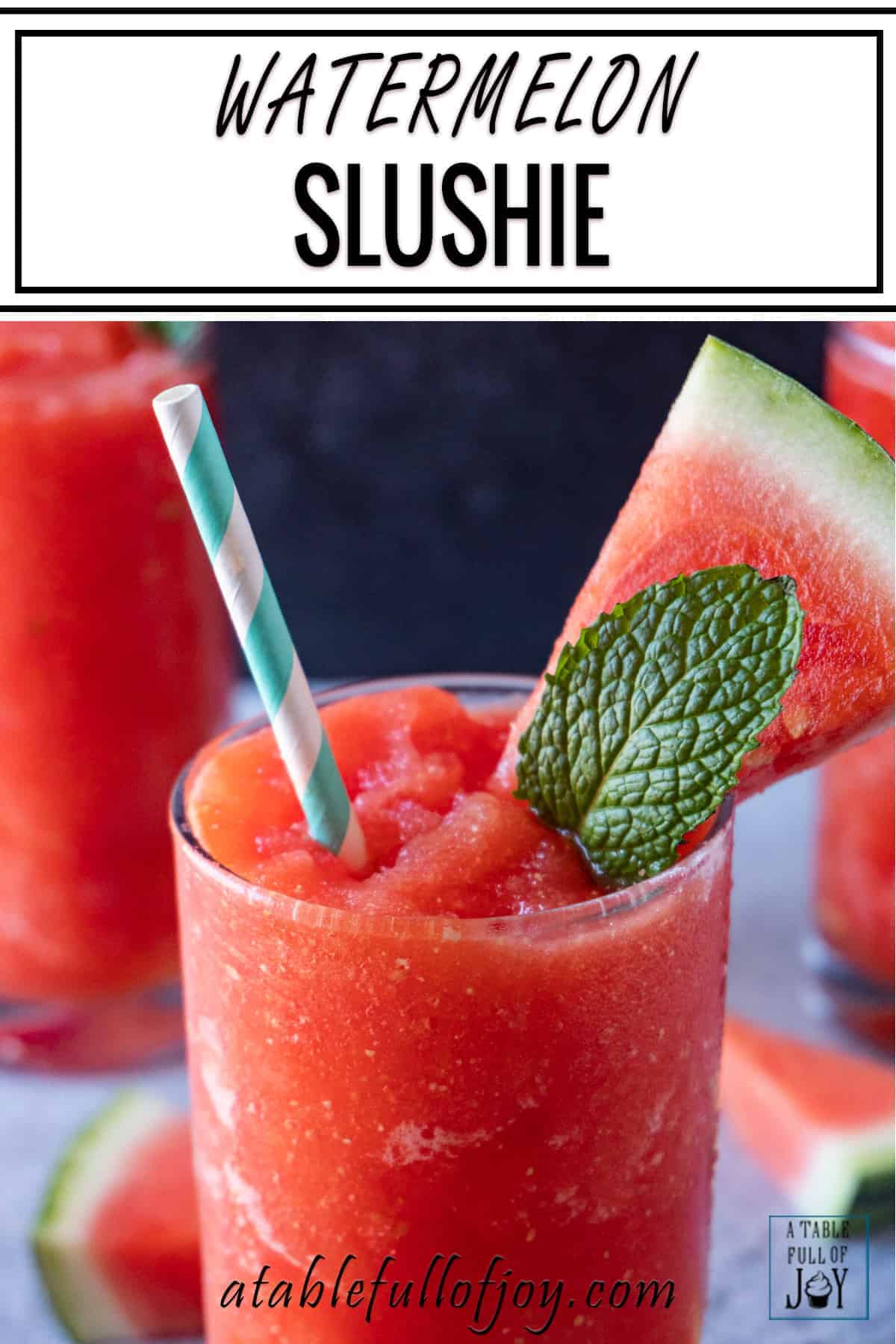 ---
BE SURE TO FOLLOW ME ON FACEBOOK, INSTAGRAM, PINTEREST & TWITTER!
---
Want more? Subscribe to my newsletter and follow along on Facebook, Pinterest and Instagram for all of the latest updates.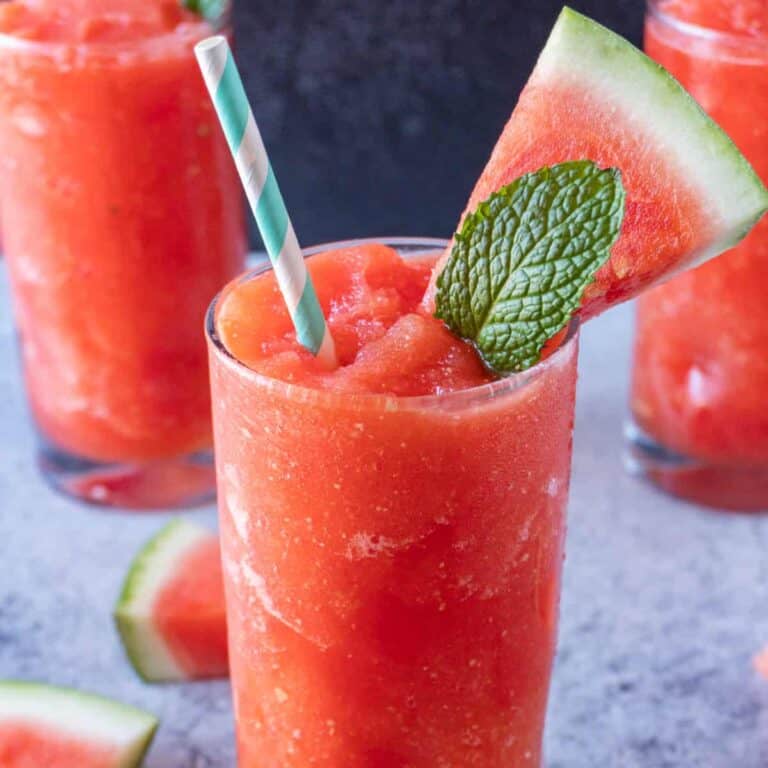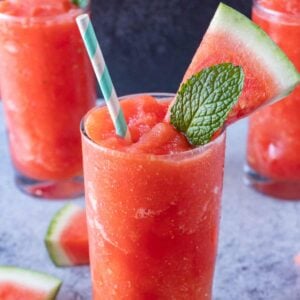 Watermelon Drink
This fun watermelon drink is perfect for a hot day! The perfect slushie for summer!
Ingredients
10

cups

watermelon

cubed and frozen

1

cup

sugar

½

cup

lime juice
Instructions
Cube and freeze your watermelon for at least 4 hours. I recommend cubing or cutting the watermelon into chunks, removing the rind, and lying flat on a parchment lined baking sheet and then freezing. This will take up more space in your freezer, but it will make it a lot easier to work with when making the slushie.

Once frozen work in batches to make the drink depending on the size of your blender/food processor. I like to work in two batches. Add half the cubed watermelon, ½ cup sugar, ¼ cup lime juice to a food processor or high powered blender.

Blend for 20-40 seconds, using a tamper if your blender has one- until it is the consistency you want. If the consistency is too thick add ¼ cup water and try blending again.

Enjoy!
Nutrition
Calories:
210
kcal
Carbohydrates:
54
g
Protein:
2
g
Fat:
1
g
Saturated Fat:
1
g
Sodium:
3
mg
Potassium:
307
mg
Fiber:
1
g
Sugar:
49
g
Vitamin A:
1452
IU
Vitamin C:
27
mg
Calcium:
21
mg
Iron:
1
mg
I used this recipe to make Psychomelon Slushies for my Hearthstone inspired recipes! I just colored some of the slushie green and layered it in the cup for a neat effect!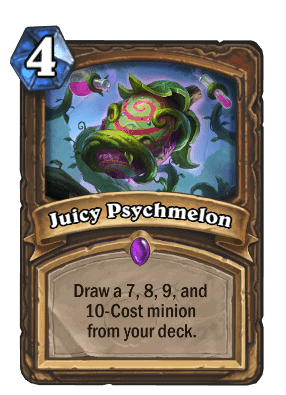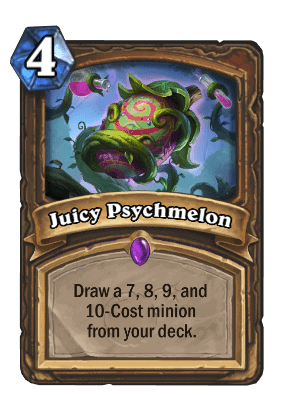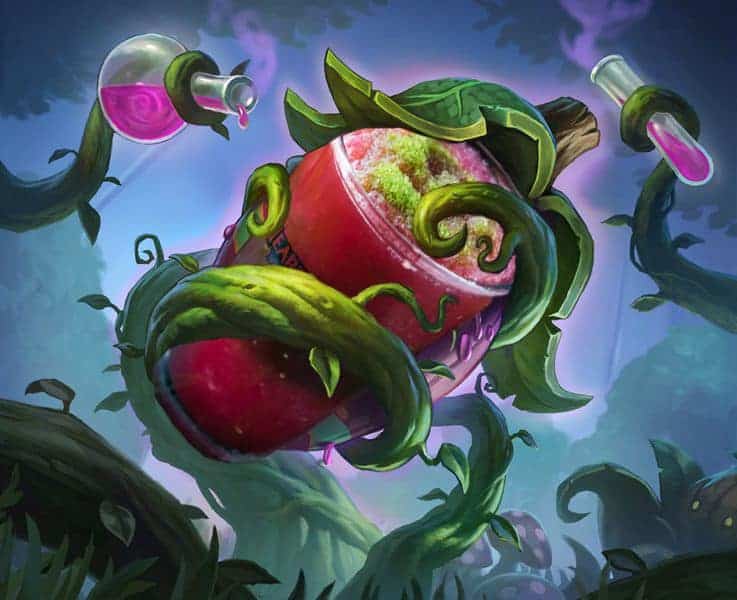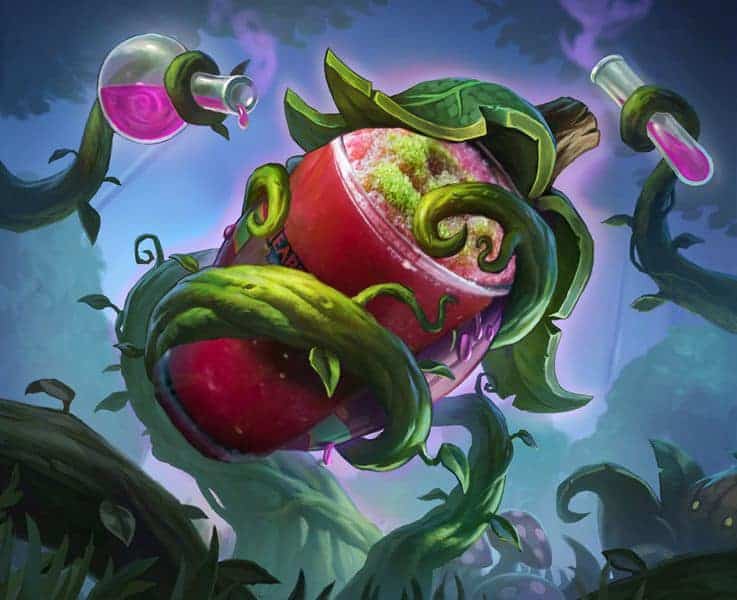 Hearthstone Card Image from Gamepedia
©2014 Blizzard Entertainment, Inc. All rights reserved. Hearthstone is a registered trademark of Blizzard Entertainment, Inc. in the U.S. and/or other countries.
Blizzard Entertainment is a trademark or registered trademark of Blizzard Entertainment, Inc. in the U.S. and/or other countries. All rights reserved.
Thank you Hearthstone for some of the fun items given to me for my pictures!
Recipe updated on 4/10/2020
Reader Interactions