This salmon with mango salsa is delicious, fresh, and perfect for lunch or dinner! Coated in a flavorful spice mixture and topped with mango salsa, this salmon is not only healthy but incredibly tasty!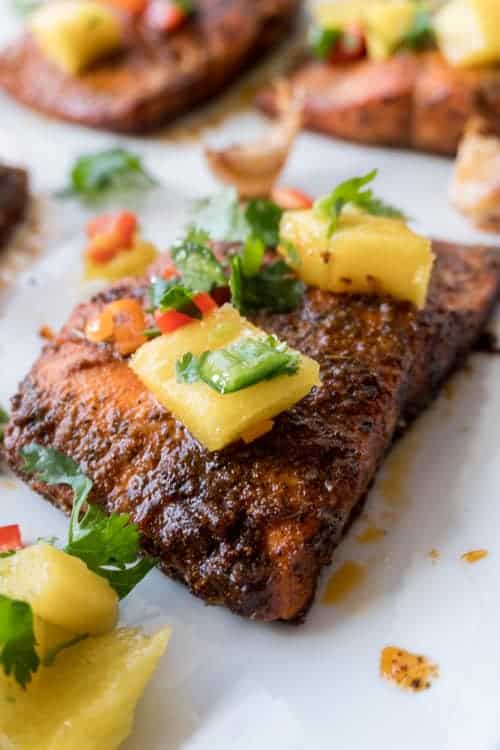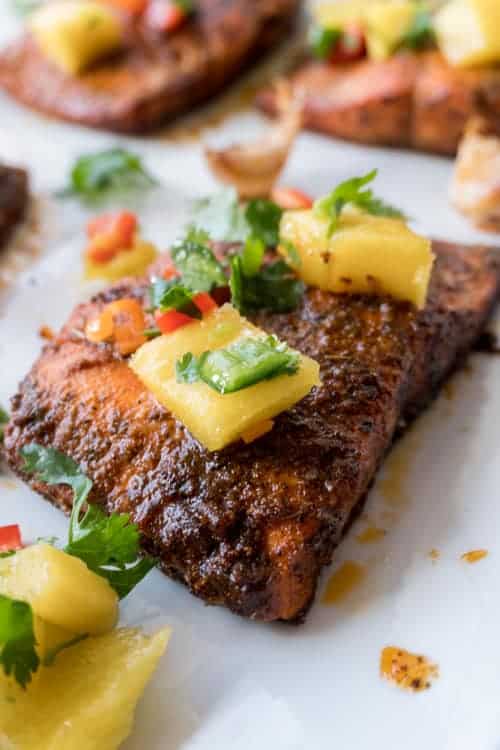 This recipe is based off of Hearthstone's card Nat Pagle! He is a fisherman so I thought what would be better than having Nat Pagle's Fresh Catch of the Day! And today that fresh catch is salmon with mango salsa on top!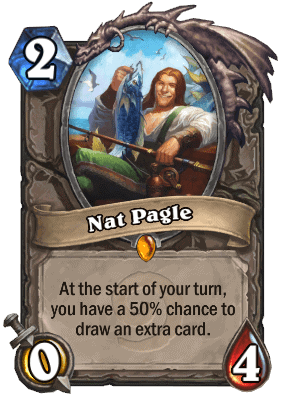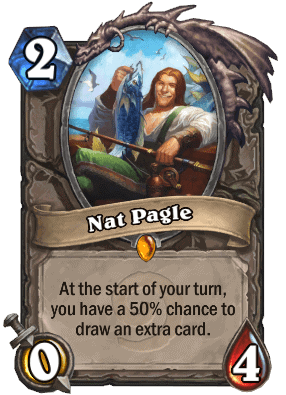 If you are wondering what Hearthstone is all about you can read about it here! I am also doing an entire Hearthstone Menu, with recipes including Stuffed Evolving Spores (stuffed mushrooms), Card Pack Cakes (mini lemon cakes), Acidic Oooze Limeade, and Shudderwock Salad (cucumber avocado salad)! It's super fun and you should check it out!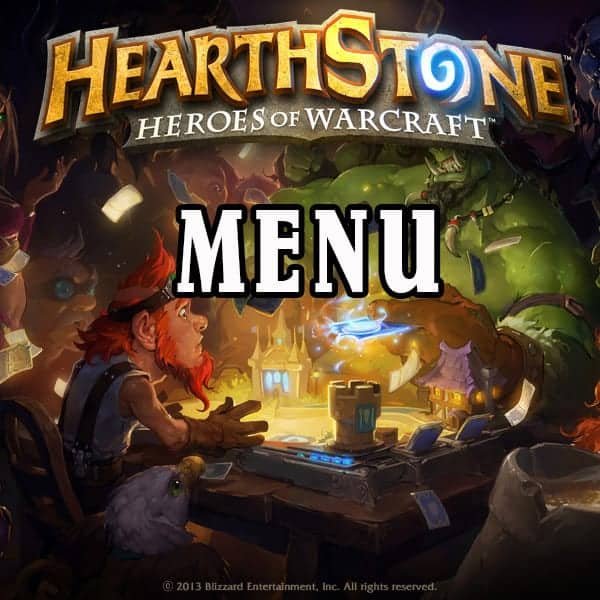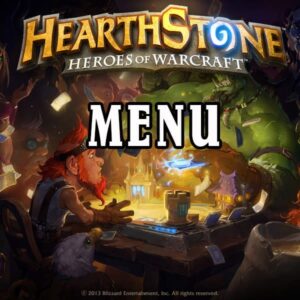 To make this salmon recipe I did so much recipe testing. I mean I love salmon, but I made a ton to get this recipe perfect and I was kind okay to give salmon a break after this!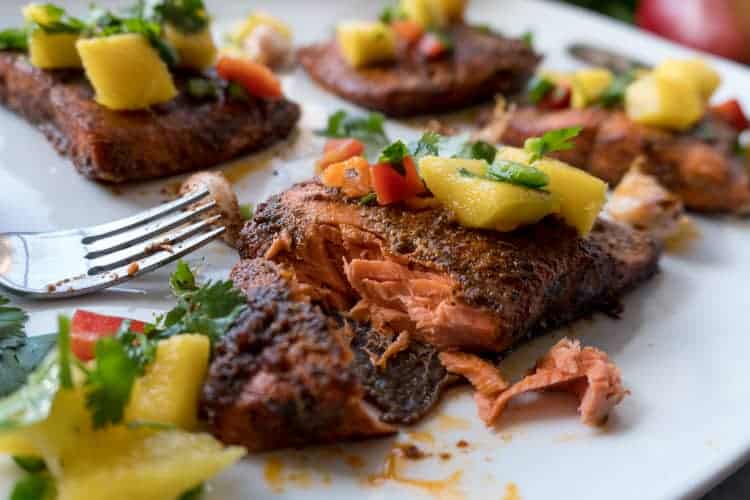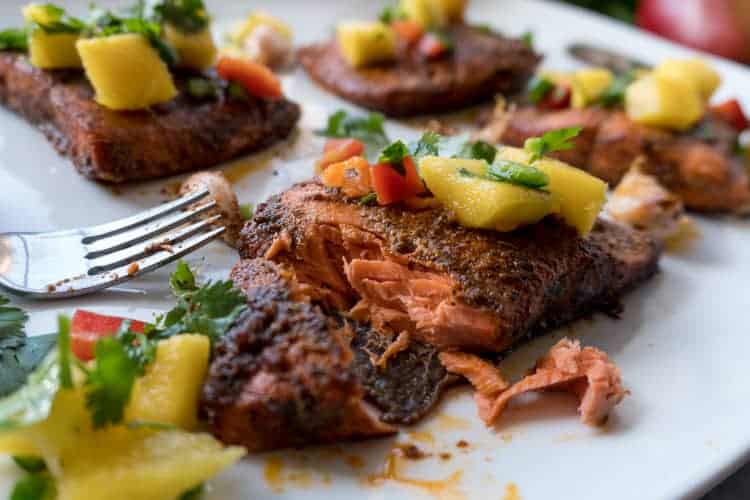 The biggest issue I kept coming up against wasn't the flavoring- because this salmon tastes amazing! It was finding fresh enough salmon! You guys, I live in southwestern NM, not exactly oceanside property.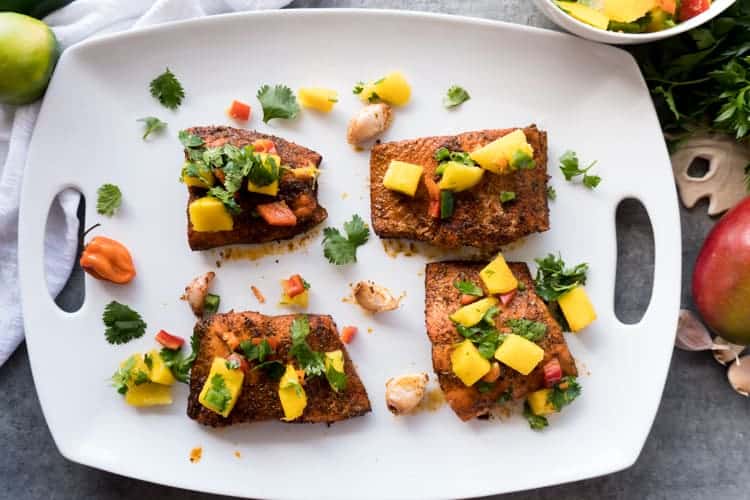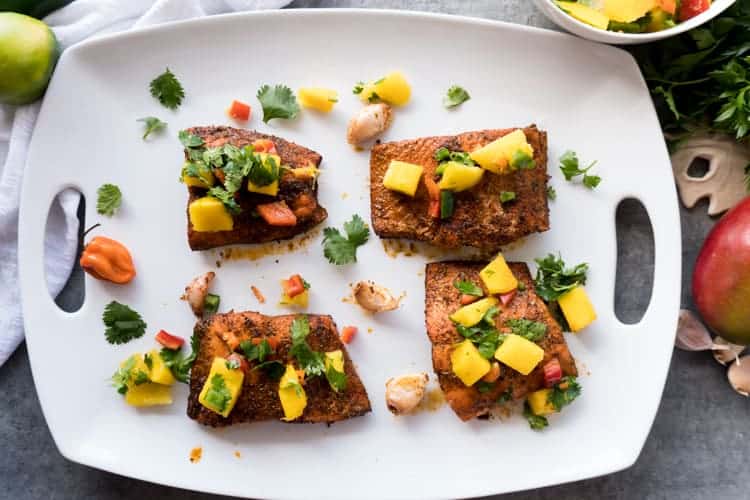 Where to buy salmon?
I first bought the frozen salmon filets from Walmart. They tasted fine but when cooked in perfect conditions they still released albumin. Albumin is the white stuff that comes out of the salmon if it's cooked too hot, too fast, or it isn't fresh enough.  It is harmless and edible, but you can always scrape it off if you don't want to eat it.
But I wanted those pretty pink salmons that look beautiful in pictures- so I thought I would try fresh salmon. I went my local Sprouts grocery store, where they sell a lot of healthy types of food knowing if anyone in my small New Mexican town had fresh salmon it would be them.  I ended up buying 1lb of "fresh" salmon (as in never frozen)  and 1 lb of fresh from frozen salmon that was on display in their meat case.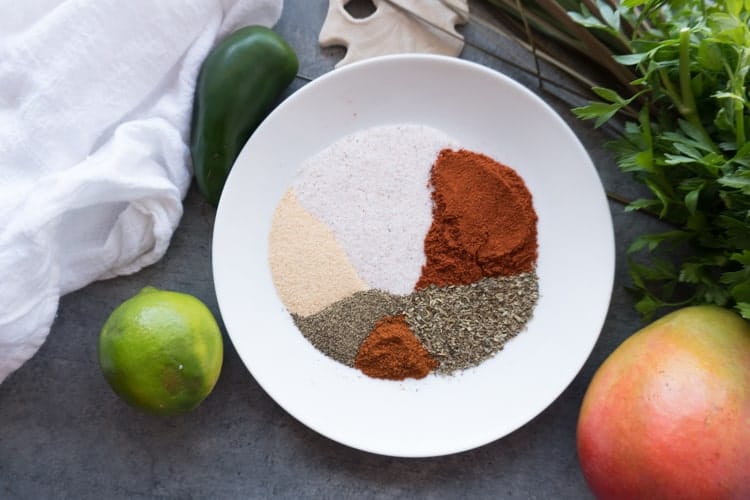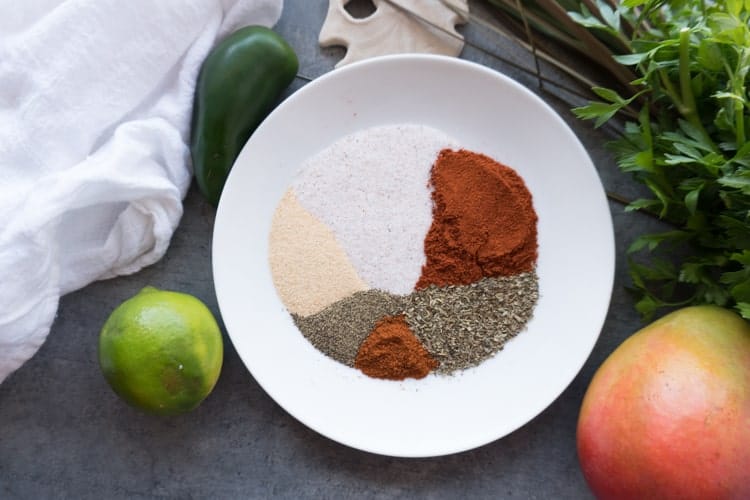 Which salmon was better?
The "fresh" salmon was super expensive (like $24/lb!), but I was committed to finding the best salmon for this recipe, one that didn't ooze albumin and tasted amazing. I put fresh in quotes because as soon as I got home and unwrapped the fish, it smelled super fishy and was slightly mushy. Both signs of not the freshest salmon, but I knew living in NM I couldn't be too picky.
The "fresh" salmon oozed albumin when I cooked it and I was so disappointed. An expensive lesson was learned. Unless I live next to the ocean, I won't be buying "fresh super expensive" salmon again.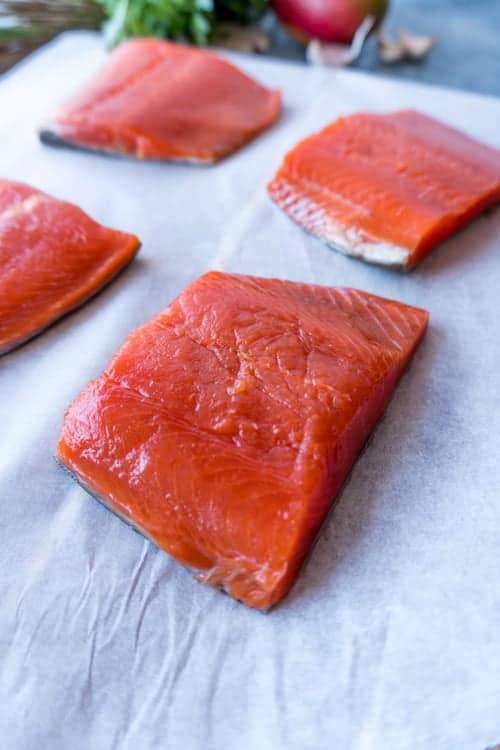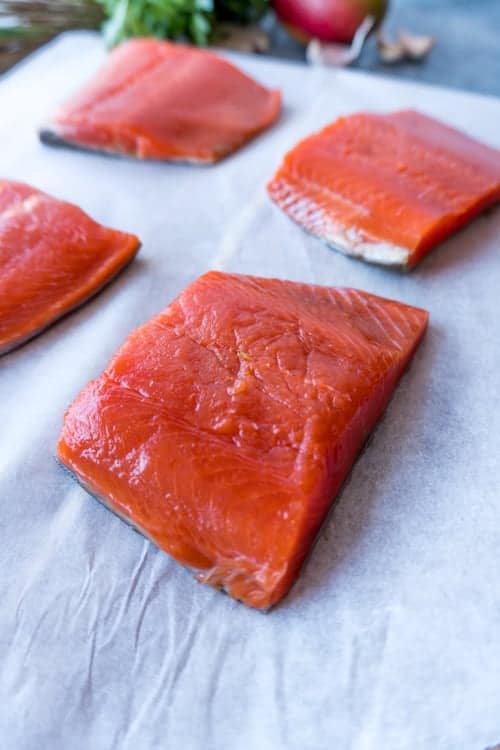 The fresh from frozen salmon was a different story! It was firm and not super smelly and it didn't leak white stuff! WIN! Plus it was half the cost of the "fresh" stuff!
I think it was fresher because they froze it right away and it was a good type of salmon, not whatever cheap thin filets they sell at Walmart.
What about the different types of salmon? Atlantic, Coho, King, Sockeye?
Atlantic salmon is by far the cheapest, but apparently full of toxins and pollutants. So that's no good.
Coho and Sockeye are mid-range in price and probably what I recommended the most. The fresh from frozen salmon that cooked up so beautifully was Sockeye salmon.
King Salmon is amazing and also very expensive. So if you can afford it then why not!? But for the rest of us Coho or Sockeye will taste amazing too.
Alaskan salmon is also good and possibly pricey- I'm not sure since we don't have it here.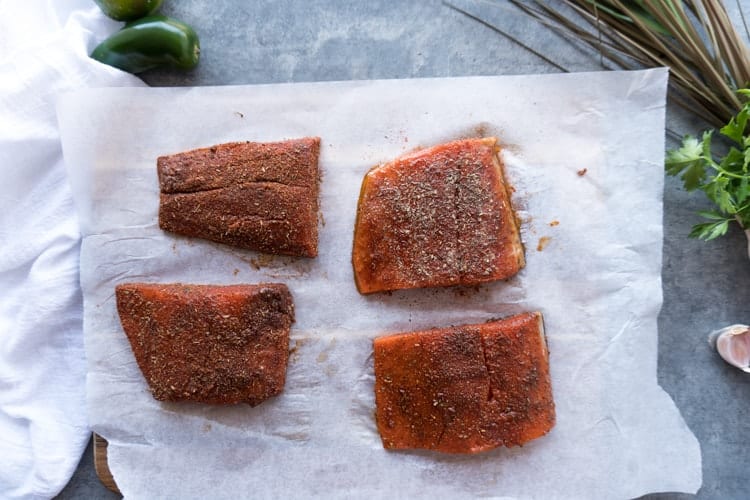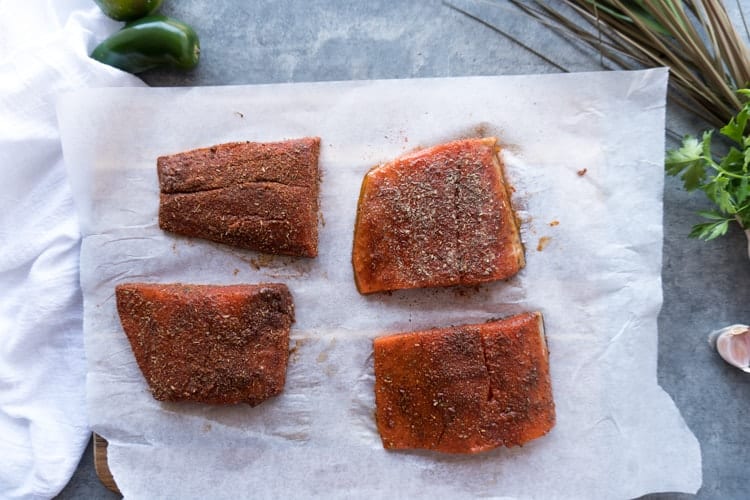 Okay, but just tell me what to buy! (This is always how I feel when reading a long informational packed blog post!)
Buy fresh if you live near the ocean, buy fresh from frozen if you don't.
Frozen fish (from the frozen section) is still out for trial- but the stuff at Walmart is a no go if you want to avoid the white stuff (albumin).
Coho, Sockeye, Alaskan, or King (King is super expensive!) are all good choices
Avoid Atlantic Salmon
Fish bought from a meat counter at a grocery store should not be slimy, really smelly, or mushy
Be prepared to pay around $12/lb for a fresh from frozen salmon
ALSO the butcher at the grocery store should be able to cut the salmon into filets for you! Just ask!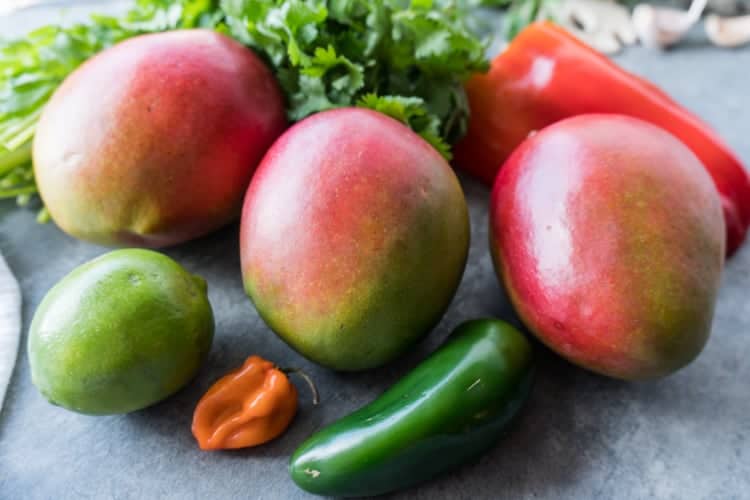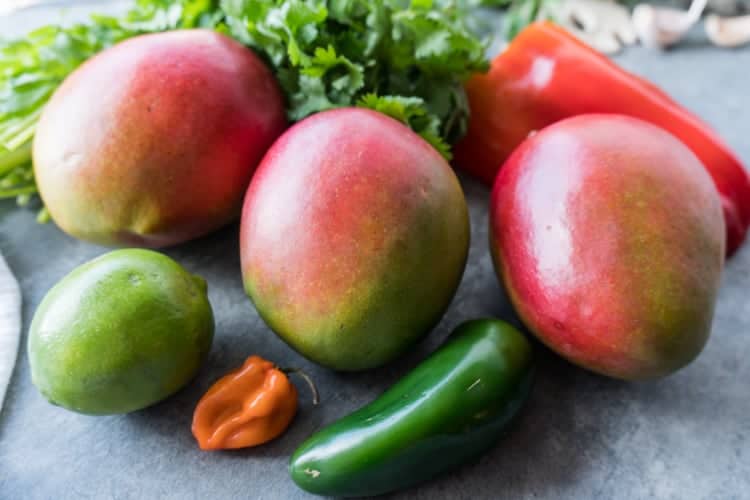 Recipe for Salmon with Mango Salsa
This recipe is as simple as mixing the seasoning together, covering the filets in oil and then dredging them in the seasoning and then baking it! The seasoning, when cooking, blackens it a bit giving the salmon a yummy layer of deliciousness and I guess you could even it call it blackened salmon!
The mango salsa is super easy to make too and really delicious! I made this mango salsa super chunky but you can always chop everything up smaller if you want. Check out my steak tacos with a mango salsa for other mango ideas!

What about leftovers? How long does salmon keep in the fridge?
Try to eat leftovers within 3 days of cooking it.
Also when you buy salmon if it's fresh or fresh from frozen, you should cook it that same day! Or if you thaw the salmon cook it the same day you thaw it.
The salsa makes a lot! So make sure to use leftover salsa on things like tacos and eat it up within 3-5 days of making it!

What about a grilled salmon with mango salsa?
If you want to cook these on the grill just oil the grill before putting the salmon on it and keep the heat on medium and cook until done.
If you have any other salmon questions let me know! With any leftovers I recommend putting the salmon in a taco with the mango salsa! I know I did that a lot after all the recipe testing!
And if your salmon does have some (or a lot!) of the white stuff come out of it, it's still edible I promise.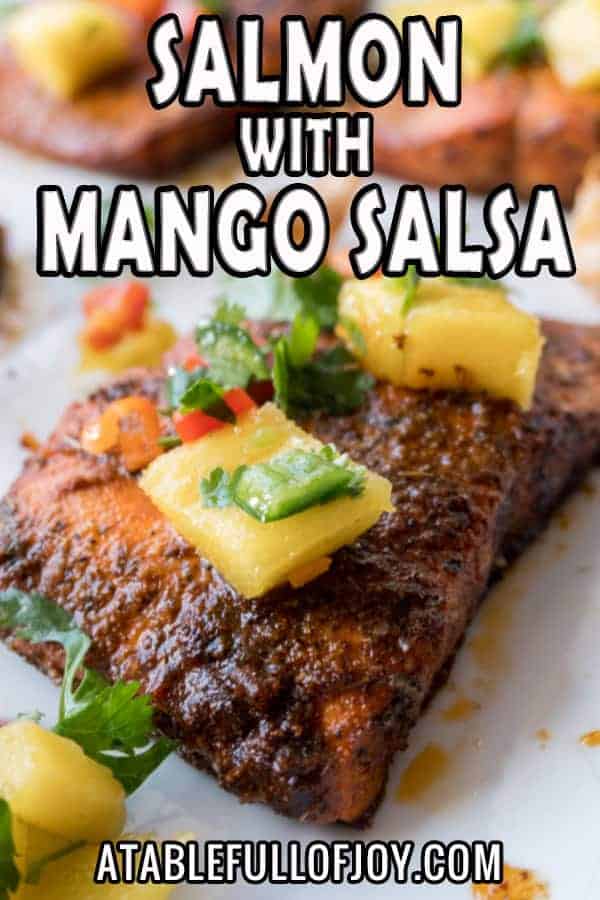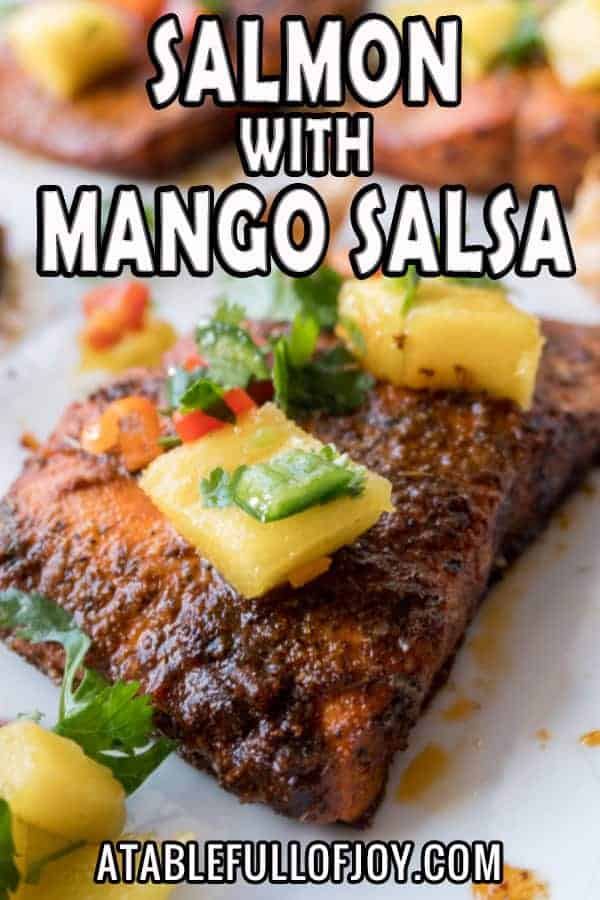 Don't miss these other delicious recipes: Easy Pepperoni Pasta Salad, Portal Chocolate Cake, Chicken Tacos with an easy Salsa Verde, Wookie Chocolate Cookies, and my Non-Alcoholic Mint Julep!
---
BE SURE TO FOLLOW ME ON FACEBOOK, INSTAGRAM, PINTEREST & TWITTER!
---
Want more? Subscribe to my newsletter and follow along on Facebook, Pinterest and Instagram for all of the latest updates.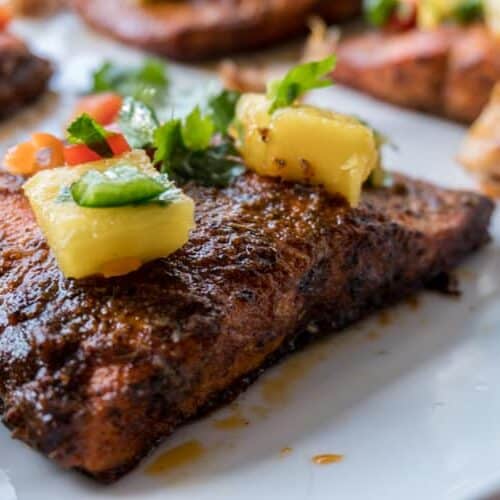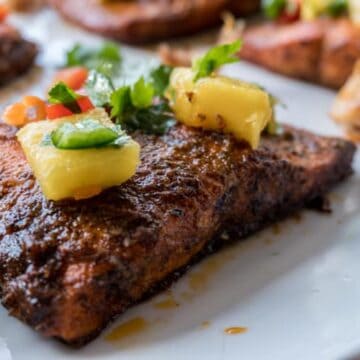 Nat Pagle's Catch of the Day Salmon with Mango Salsa
Salmon with Mango Salsa, an easy and super flavorful pan cooked salmon with a delicious chunky mango salsa!
Ingredients
For the Salmon
4 4

oz

salmon fillets

patted dry with paper towel

1

tbs

paprika

2

teaspoon

salt

1

teaspoon

garlic powder

¾

teaspoon

pepper

½

teaspoon

cayenne powder

1

teaspoon

Italian seasoning

¼

cup

olive oil plus 1 tbs for cooking

2

tbs

butter

4

garlic cloves

2

limes
For the Chunky Mango Salsa*
3

Mangos

cubed

½

red bell pepper

chopped

2

habaneros

seeded and diced

1

jalapeno

seeded and diced

½

cup

cilantro

chopped

½

teaspoon

cumin

½

teaspoon

salt

1

lime
Instructions
How to cook salmon
In a small bowl mix together paprika, salt, garlic powder, pepper, cayenne powder, and Italian seasoning.

Coat the salmon filets in ¼ cup of olive oil and then coat them in the seasoning mixture. Use your hands!

In a non-stick skillet or cast iron pan over medium heat melt your butter and add in your extra 1tbs of oil. Adding the oil helps keep the butter from burning.

As the butter and oil are heating up throw in your garlic cloves- you don't need to take the husk off of them, it will come off easily after it's nice and cooked.

Place your filets in the heated skillets skin side down.

Cook for 6 minutes and then flip and cook for an additional 1-2 minutes.

The salmon should flake easily with the use of a fork.

Squeeze ½ a lime over each filet, top with mango salsa and enjoy!
How to make mango salsa
Combine cubed mango, chopped bell pepper and cilantro, diced habaneros and jalapenos, and cumin and salt in a bowl.

Squeeze the lime over the mango salsa and stir! For extra lime you can zest the lime peel into the salsa.

Pour over the salmon and enjoy!
Notes
*The mango salsa will make a lot, so use the leftovers for chicken or steak tacos! It is best when eaten within 3-5 days!
Recipe inspired by Vodka and Biscuits Blackened Salmon
Hearthstone Card Image from Gamepedia
©2014 Blizzard Entertainment, Inc.  Hearthstone is a registered trademark of Blizzard Entertainment, Inc. in the U.S. and/or other countries.
Blizzard Entertainment is a trademark or registered trademark of Blizzard Entertainment, Inc. in the U.S. and/or other countries. All rights reserved.
Reader Interactions