Wagyu Burgers are delicious and easy way to step up your burger game. Known for the extra fat marbled in the meat, wagyu burgers are incredibly tender and flavorful!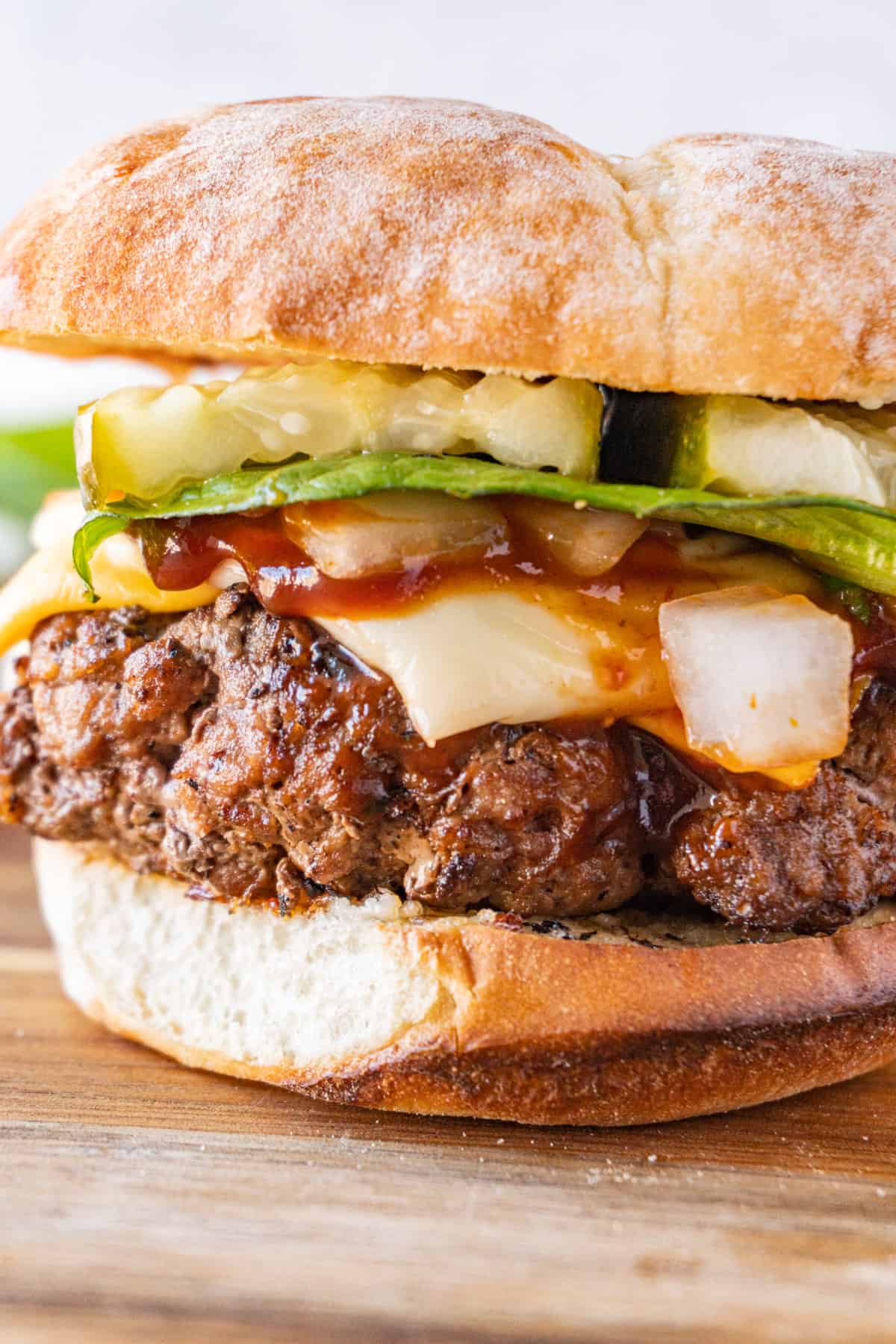 If you are anything like me you might be wondering if you need to cook wagyu ground beef any differently than regular ground beef.
The simple answer is not really, but there are some key differences to the beef itself.
What is Wagyu beef?
Wagyu is a Japanese beef cattle breed. This breed was originally used as draft animals and this meant they had more intra-muscular fat cells.
The more fat cells leads to more marbling and the incredibly fat rich meat we have today.1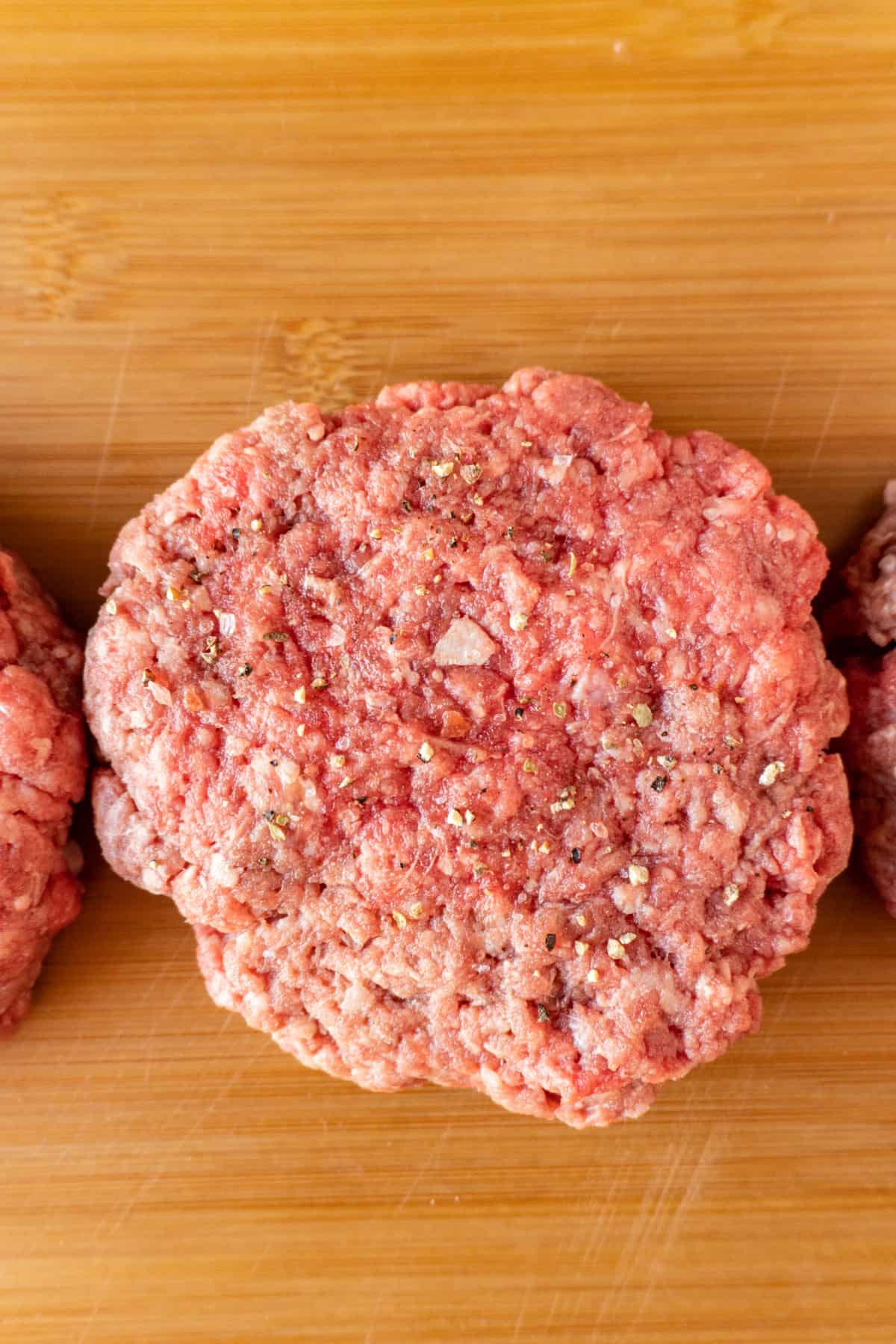 Is Wagyu better for your health?
Wagyu beef is considered to be healthier than other ground beef due to the higher percentage of monounsaturated fatty acids. Monounsaturated fatty acids can lower LDL cholesterol (the "bad" cholesterol) while increasing HDL-cholesterol (the "good" cholesterol).2
Wagyu beef has also been shown to have high omega 3 and omega 6 values, which we know are great for you!3
What is the fat percentage of Wagyu beef?
Top quality wagyu beef can have between 45-60% marbled fat, as compared to regular Top Grade USDA Prime which is between 8-12% fat.
Wagyu ground beef typically has a medium to high percentage of fat of 20-25%.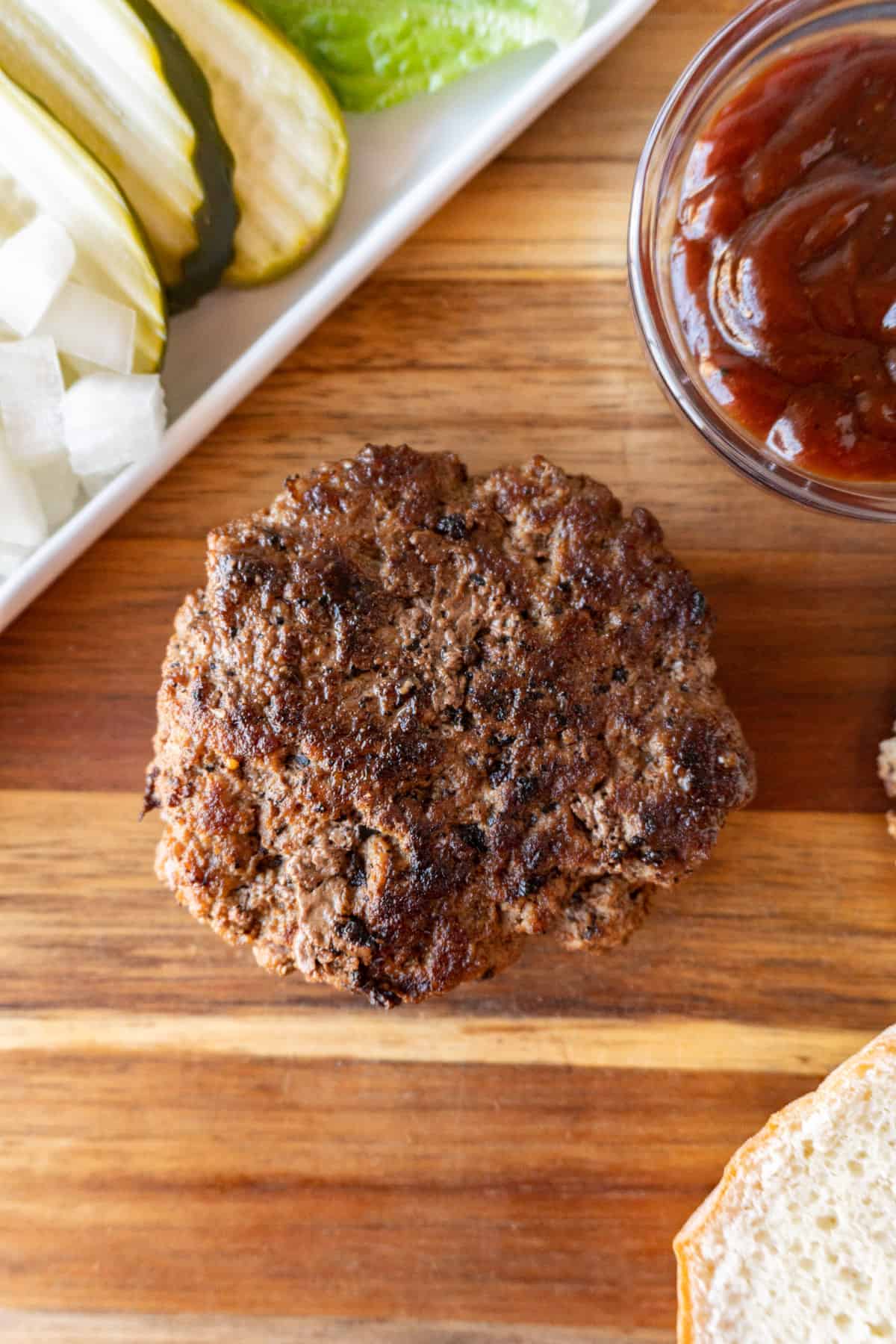 What is a wagyu beef burger?
A wagyu beef burger is a flavorful, ground beef burger with a higher fat percentage. It is tender, juicy and had incredible health benefits.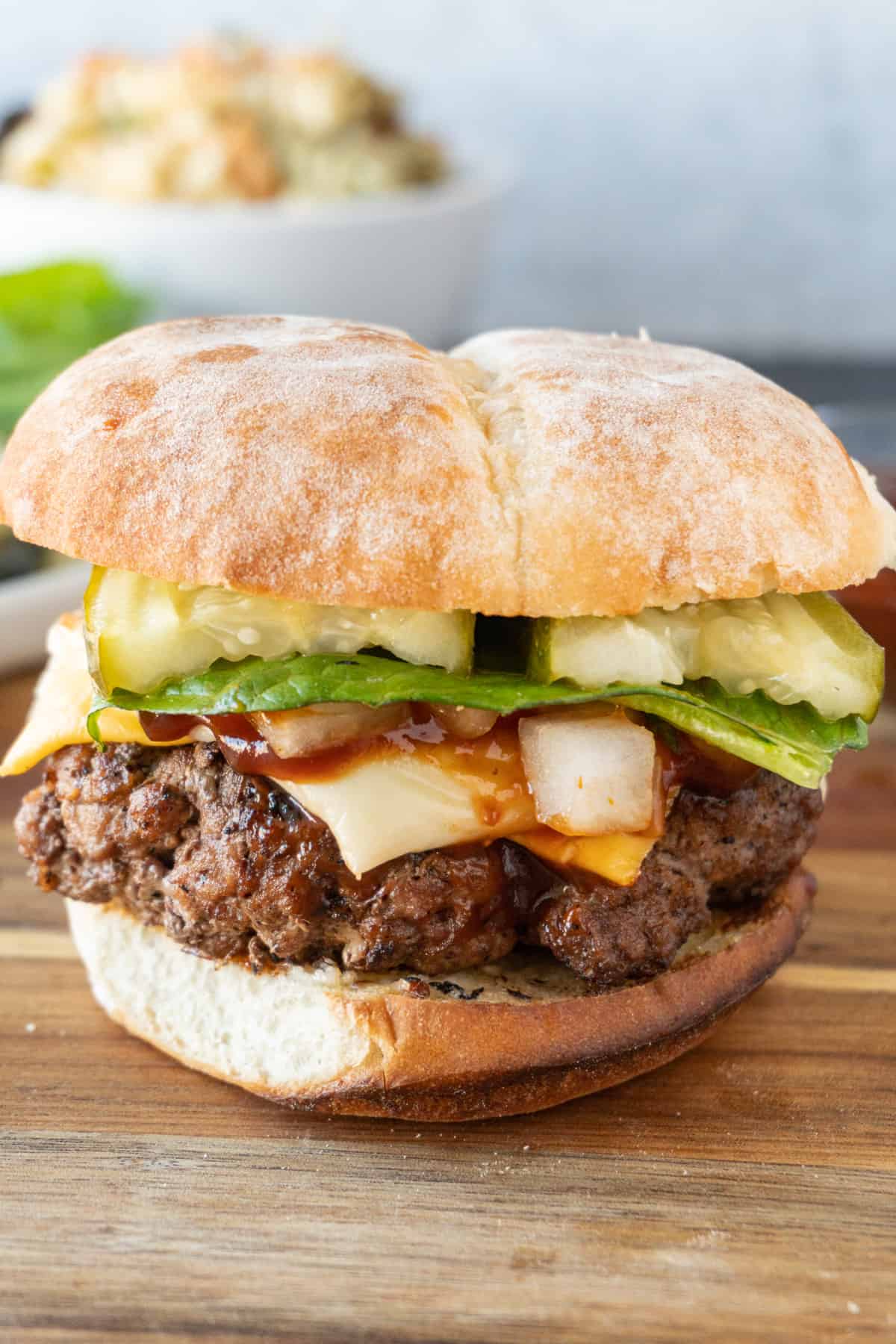 What is the best way to cook Wagyu hamburger?
Since Wagyu beef has such a high fat content it is best to cook at high temperatures for a short amount of time.
You want a seared crunchy outside and juicy tender inside. Since this is such high quality beef, it is recommended to eat it medium rare (so cook it to an internal temperature of 130-140°F).
Although I've gone over several methods of cooking burgers in this article, I recommend cooking Wagyu burgers either on the grill or in a cast iron pan.
Both methods can be cooked at high temperatures and only a few minutes are need.
What you need for Wagyu Burgers:
Wagyu Beef- I recommend making 3 patties to a pound of ground beef
Toppings- For these burgers I topped them with American Cheese, Diced Onion, Pickles, BBQ Sauce, and a little Romain Lettuce. You can top yours however you most enjoy your burgers!
Bun- I love a good brioche or potato bun, but any type works great.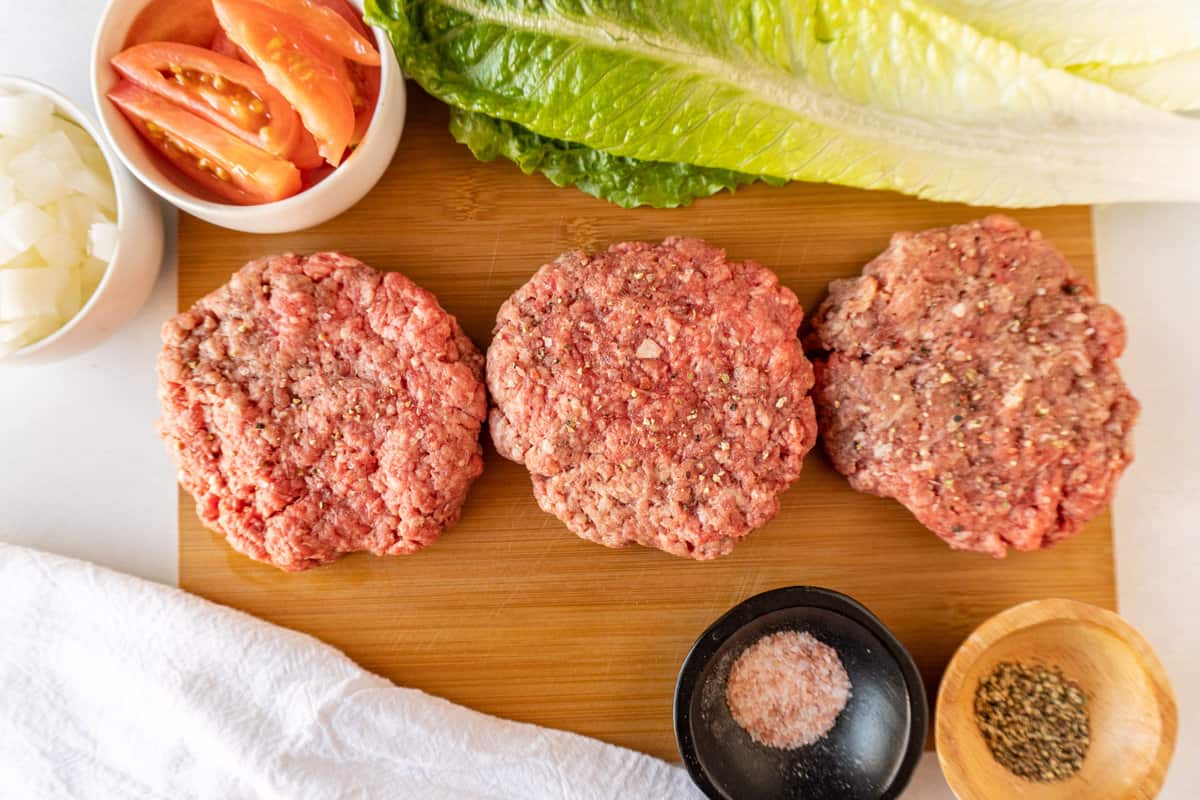 How to make Wagyu Burgers?
Shape the ground Wagyu beef into patties then sprinkle with salt and pepper.
Heat your skillet or grill on high. If using a skillet add a little oil to the pan.
Place the patties in the pan and sear both sides, then flip the patties every 30 seconds or so, until you get an internal temperature of 130°F. (I like to use this meat thermometer- affiliate link).
If grilling, place patties on grill and cook for two minutes, then flip and cook another two minutes. Then finish cooking the burgers until they reach your desired internal temperature.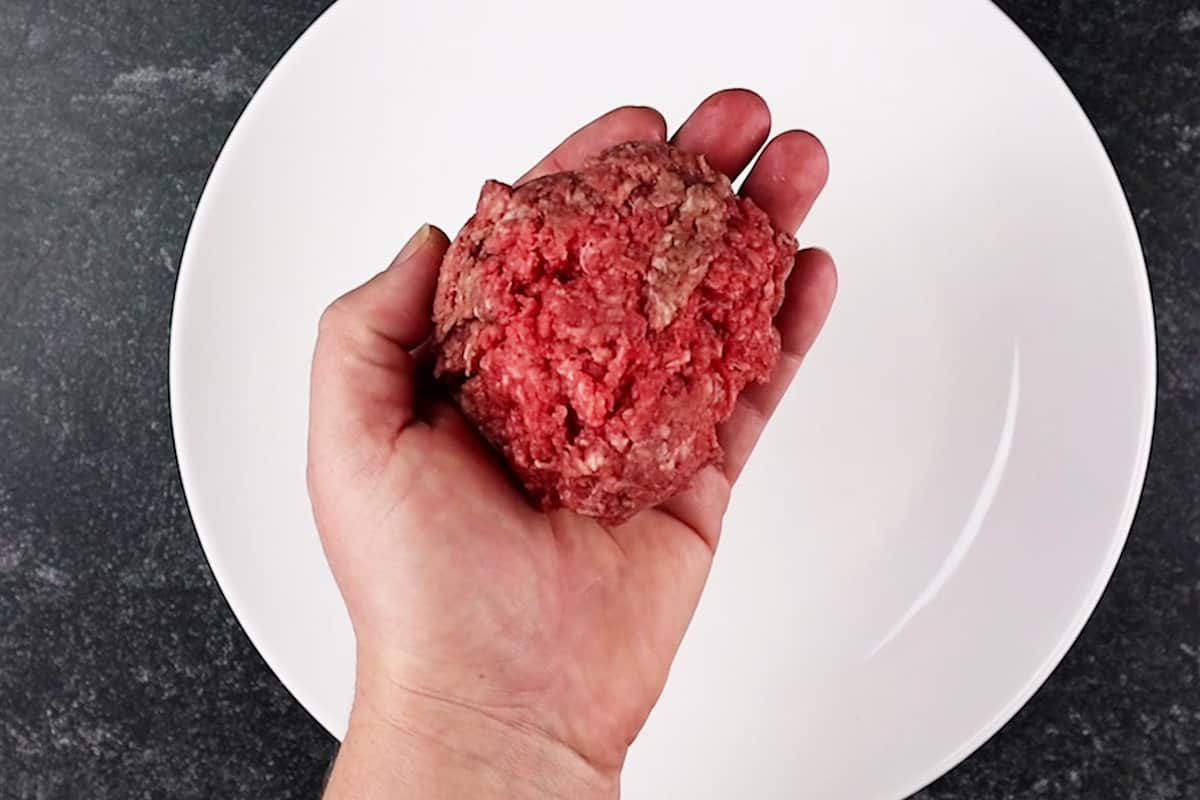 Pro Tip: Add a little mayo to your buns then toast them for the perfect crunch and some extra flavor. You can see how I do this in my Tri Tip Sandwich recipe!
Where to buy wagyu beef?
Wagyu beef is starting to show up at grocery stores in the US. From Walmart to Costco's and everything in between, you can find Wagyu beef. You can even get Wagyu burgers from fast food restaurants like Arby's.
However, not all meat, and not all Wagyu is equal. I love getting Wagyu beef (and all my meat really) from Good Ranchers. Good Ranchers sources their meat from American Ranchers and it is always top quality.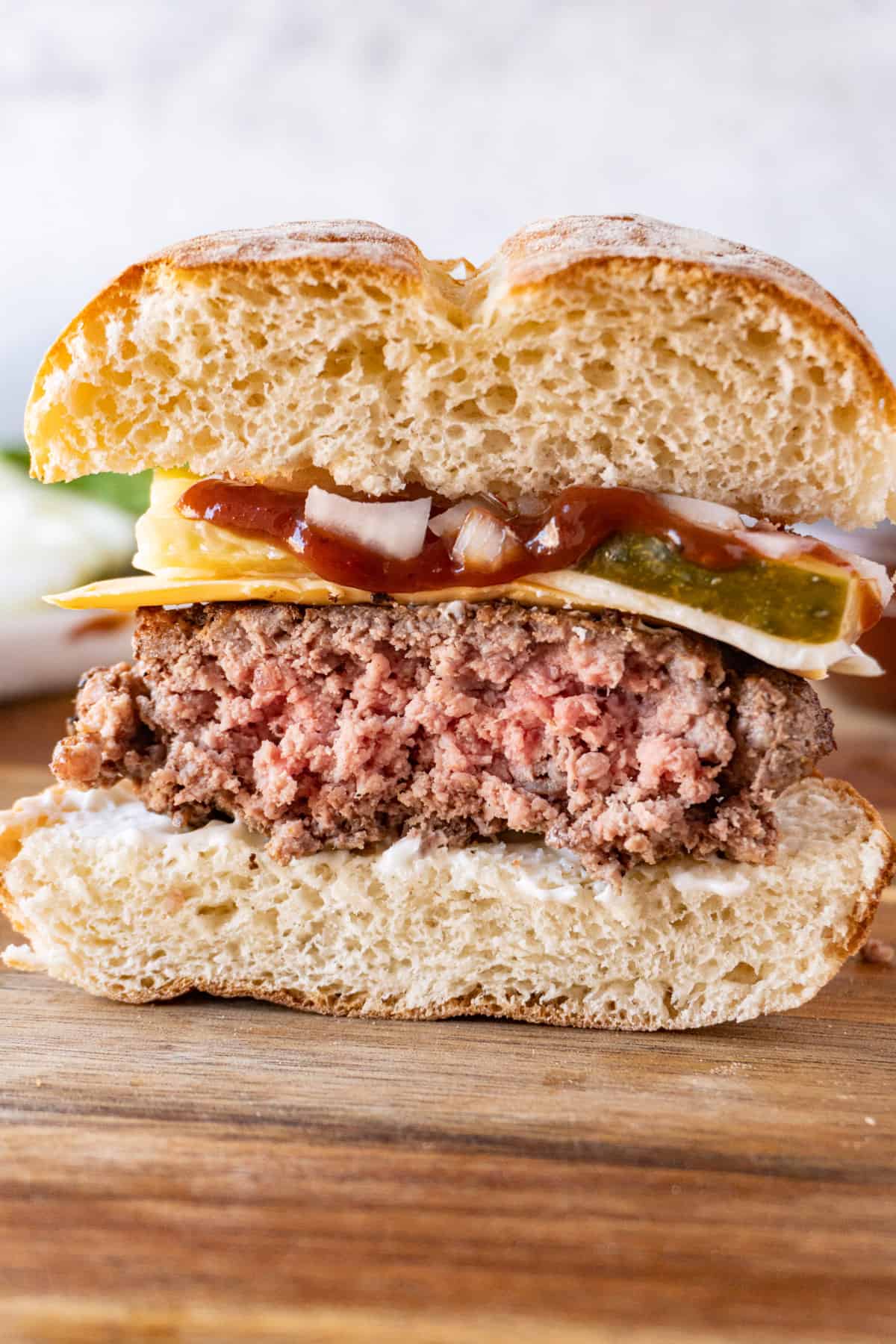 I've shared a few recipes using their meat before (this delicious Steak Pasta and these delicious Grilled Chicken Nuggets) and am always blown away by the flavor and quality.
Good Ranchers Wagyu is no different! If you want to try their Wagyu ground beef you can get $30 off by using my code JOY at checkout!
Although Good Ranchers sent me some of their beef to sample this post is not sponsored. I seriously am just that impressed with the beef and everyone needs to try it!
Frequently Asked Questions
What is a wagyu burger made of?
Wagyu Burgers are beef that tend to have a higher fat percentage. The fat is typically a healthier type (monounsaturated) that can help lower cholesterol.
What does wagyu taste like?
Wagyu beef is tender and rich.
How long do I cook a wagyu burger?
This will depend on the thickness of your patties, but typically between 3-5 minutes each side. I recommend cooking until the internal temperature is 130°F for a medium rare burger.
How to top your wagyu burger?
You can top your burger anyway you'd like but I love adding green chile and a fried egg for a classic New Mexican Burger, or Apple Chutney, blue cheese, and bacon like my favorite Fall Burger.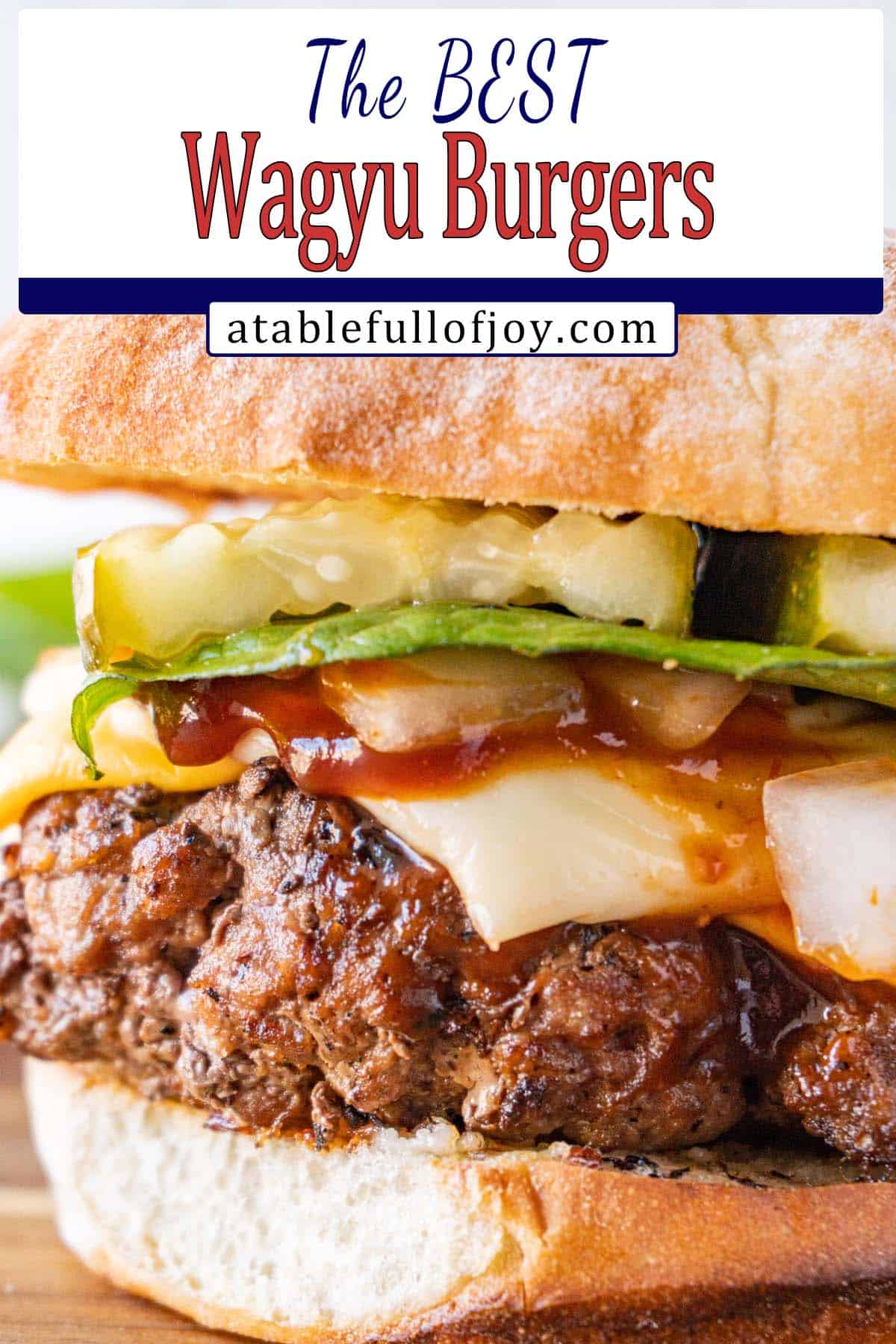 Watch how to make this recipe!
Want more? Subscribe to my newsletter and follow along on Facebook, Pinterest and Instagram for all of the latest updates.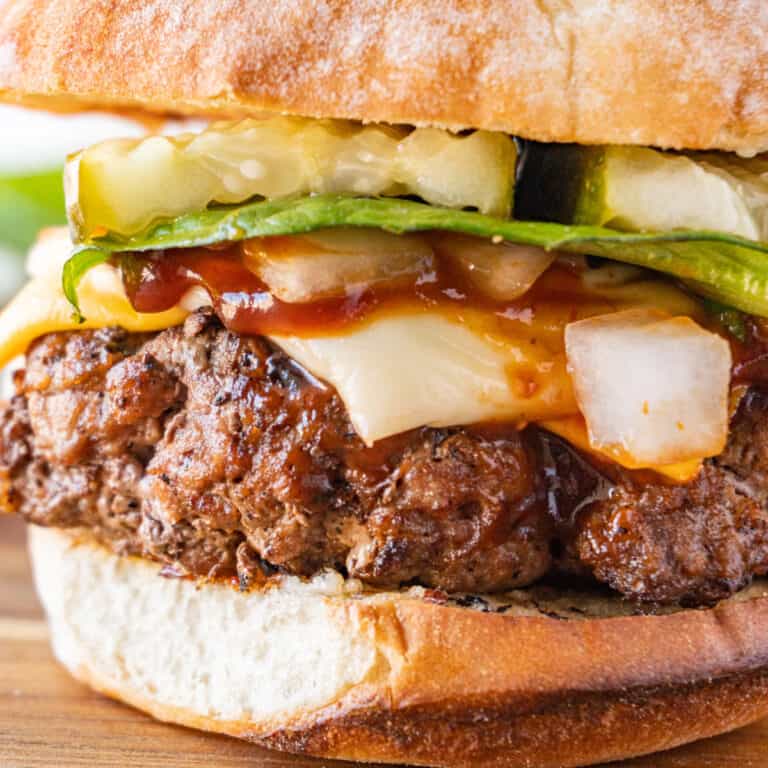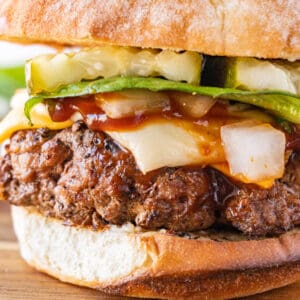 Wagyu Burger
Wagyu Burgers are delicious and easy way to step up your burger game. Known for the extra fat marbled in the meat, wagyu burgers are incredibly tender and flavorful!
Ingredients
1

lb

Wagyu Ground Beef

Salt

Pepper

1

teaspoon

Vegetable oil

3

Hamburger Buns
Toppings
6

slices

American Cheese

Pickles

Lettuce

Onion

BBQ Sauce
Instructions
Divide ground beef into equal portions and flatten into patties. I recommend making three patties for every pound of ground beef. Sprinkle both sides of the patties with salt and pepper.

1 lb Wagyu Ground Beef,

Salt,

Pepper
To cook on the stove:
Preheat a heavy bottomed fry pan/skillet (like a cast iron) with 1 teaspoon of oil. (Use an oil with a high smoke point like vegetable oil).

Place patties on the pan and sear both sides, then flip the patties every 30 seconds or so until an internal temperature of 130°F is reached for medium rare.

Assemble your burger with your favorite toppings!

3 Hamburger Buns,

6 slices American Cheese,

Pickles,

Lettuce,

Onion,

BBQ Sauce
To grill:
Preheat your grill for at least 5 minutes then clean and oil the grilling grate. (I use a gas grill so if you have a charcoal one adjust accordingly.)

Place patties on grill on, cover and cook for about 2 minutes- you want nice grill marks. Flip and grill for another 2 minutes. Then and allow to continue to cook until the internal temperature reads 130°F is reached for medium rare.
Notes
Tips and Tricks
*The oil will be very hot and will splatter some if you cook the burgers on the stove. Be careful not to burn yourself!
Spread some mayo on your burns then toast them under the broiler until golden for added flavor.
Nutrition
Calories:
623
kcal
Carbohydrates:
23
g
Protein:
38
g
Fat:
47
g
Saturated Fat:
20
g
Polyunsaturated Fat:
3
g
Monounsaturated Fat:
17
g
Trans Fat:
2
g
Cholesterol:
149
mg
Sodium:
1016
mg
Potassium:
516
mg
Fiber:
1
g
Sugar:
4
g
Vitamin A:
397
IU
Vitamin C:
1
mg
Calcium:
528
mg
Iron:
5
mg
Reader Interactions