The Best Tri Tip Oven Recipe, it's flavorful, easy, and some of the best meat you will ever eat.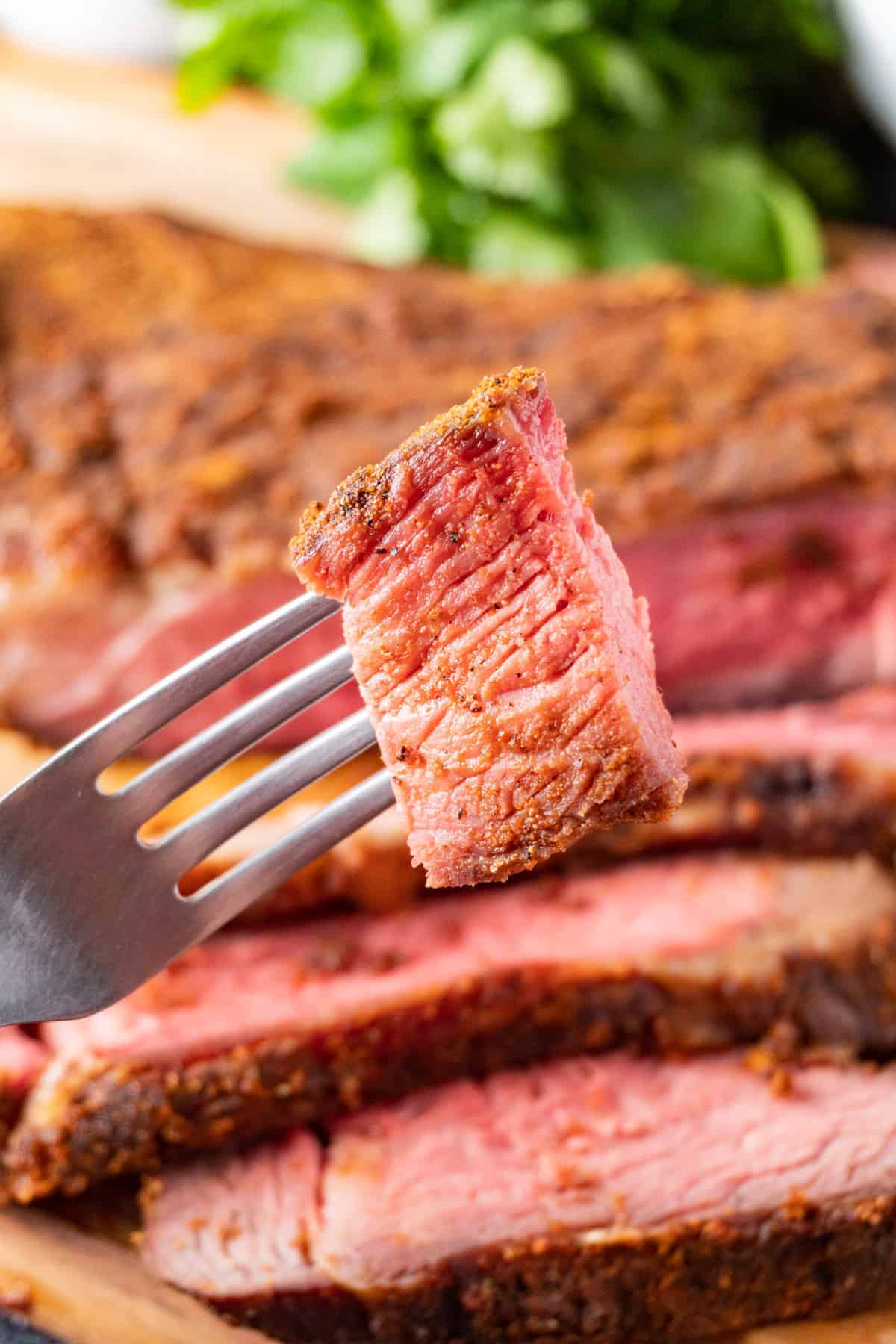 For this recipe I want to share a classic tri tip rub recipe- the Santa Maria Rub. It's easy to make and super flavorful.
Make sure to check out my other delicious entrées: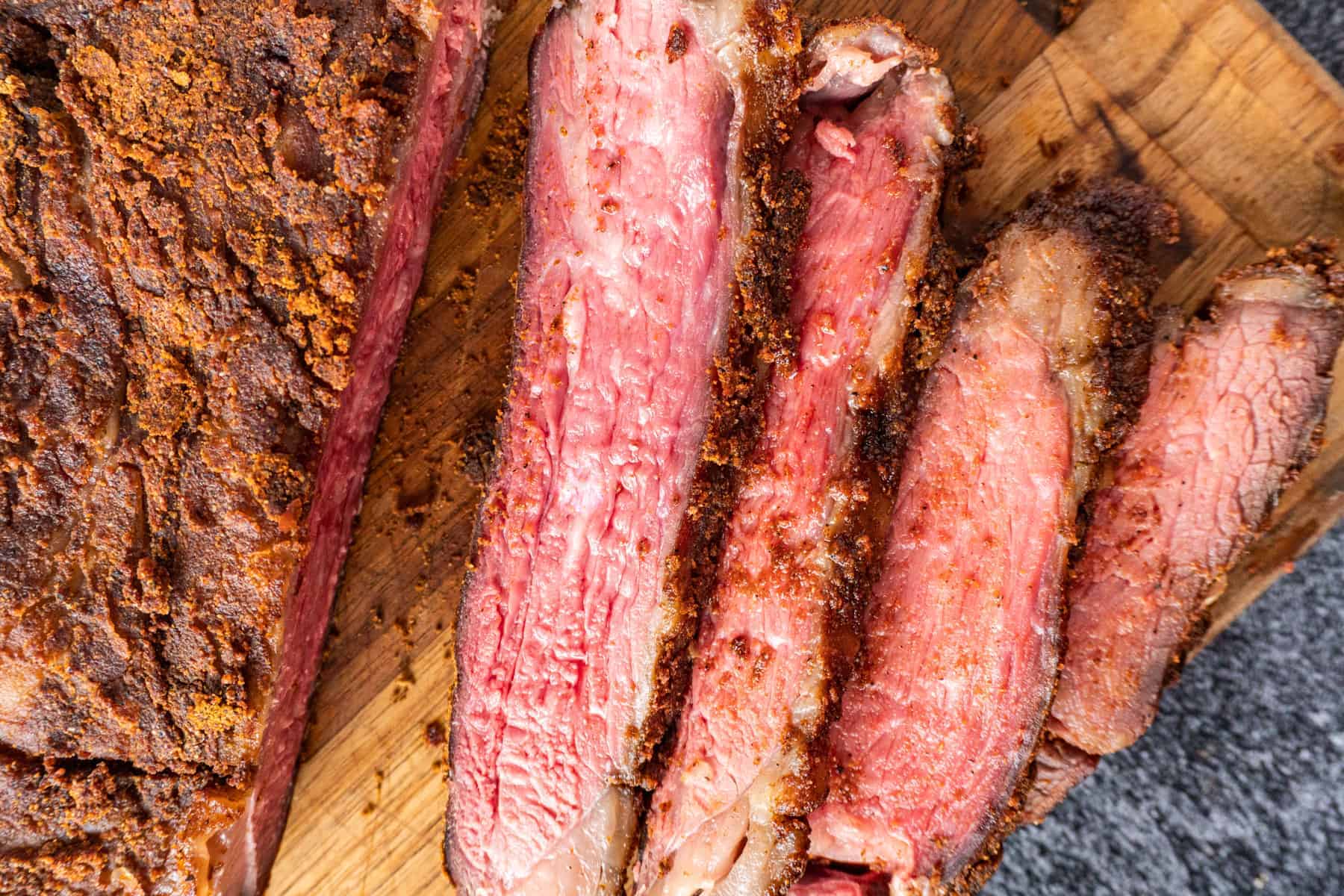 However, I've been known to just salt and pepper a tri tip and enjoy it that way too. The meat, when cooked properly is the tastiest thing about this dish- so tasty rub or no- you will love it!
What is tri tip?
Tri tip also known as a Bottom Sirloin Tip or a Santa Maria Cut. Tri Tip is considered a California cut and up until recently was hard to find anywhere but California.
Thankfully its popularity is growing and can now be found at most supermarkets across the US.
I grew up in CA and had tri tip baked, smoked, grilled, or even barrel cooked for almost every birthday or graduation party.
When I first came to NM none of friends had heard of Tri Tip but everyone raved about brisket (which I was not very family with!) Funny how different cuts of meat can be so regional!
How is tri tip supposed to be cooked?
You can bake, bbq, smoke, or even cook tri tip in a crock pot. When cooked to the right temperature any your tri tip will be delicious regardless of the method you cooked it!

Why is Santa Maria the classic tri tip rub?
The tri tip cut originated in Santa Maria, CA in the 1950's. So cool!
How to make tri tip in the oven:
Mix together rub and then massage into the tri tip
Allow tri tip to sit with the rub on it at room temperature 1 hour before cooking
Bake tri tip until internal temperature is 135-140°F
Allow tri tip to rest for 10-15 minutes before cutting
Enjoy!
Tips for making the best tri tip:
Cut against the grain of the tri tip for the juiciest meat- but if the tri tip is cooked properly it will be juicy regardless of how you cut it.
If you don't have a good thermometer you can estimate ~10 minutes per pound baking @ 350°F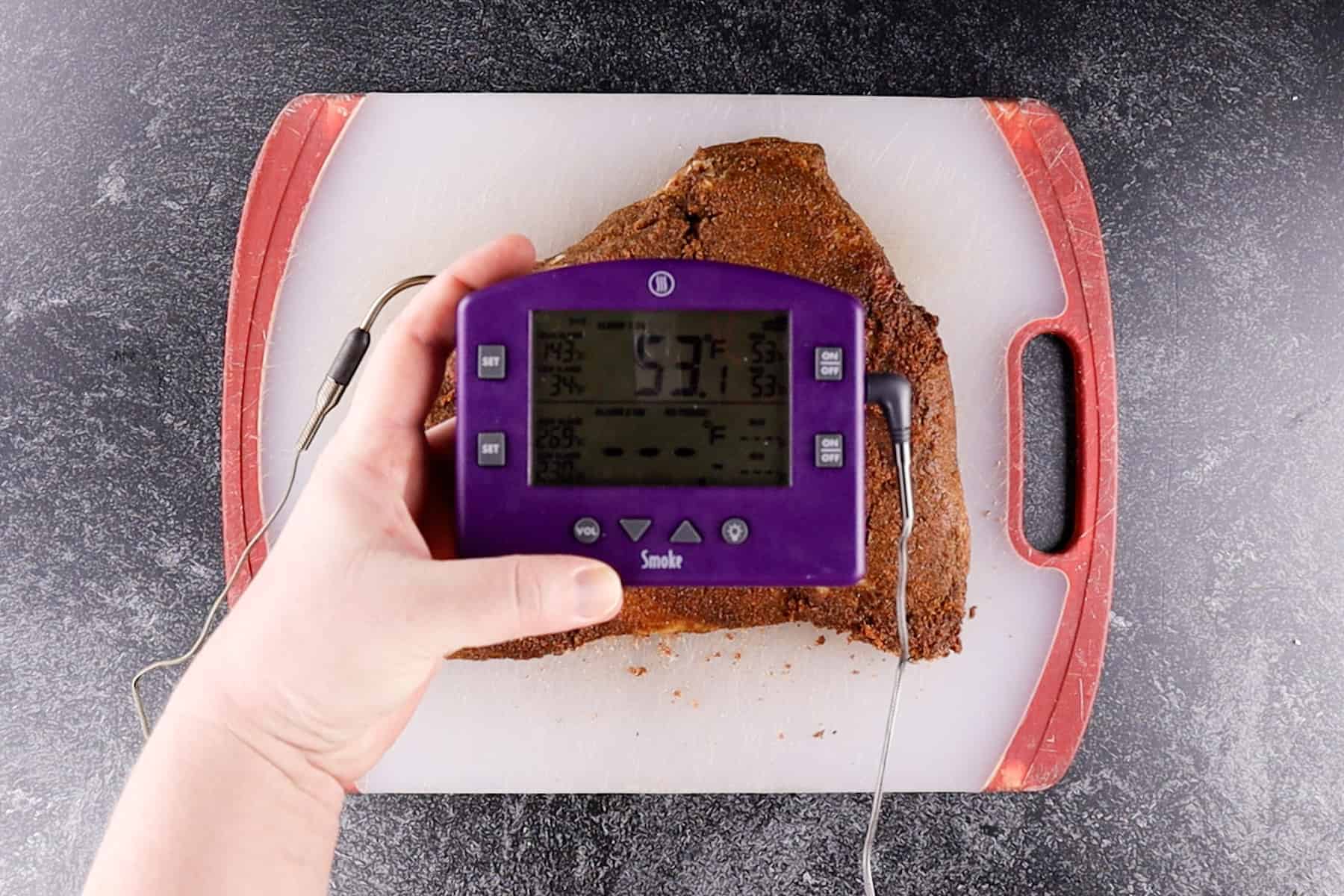 What makes tri tip so good?
Tri tip has a good amount of fat marbled throughout and is typically less expensive piece of meat the is so full of flavor. It is also very tender and juicy when properly cooked.
Other ways to season a tri tip:
Salt, pepper, and garlic powder
Marinate the tri tip in some Worcestershire sauce, Lime Juice, Onion and Garlic Powder
Use a premade rub like Kinder's or something similar.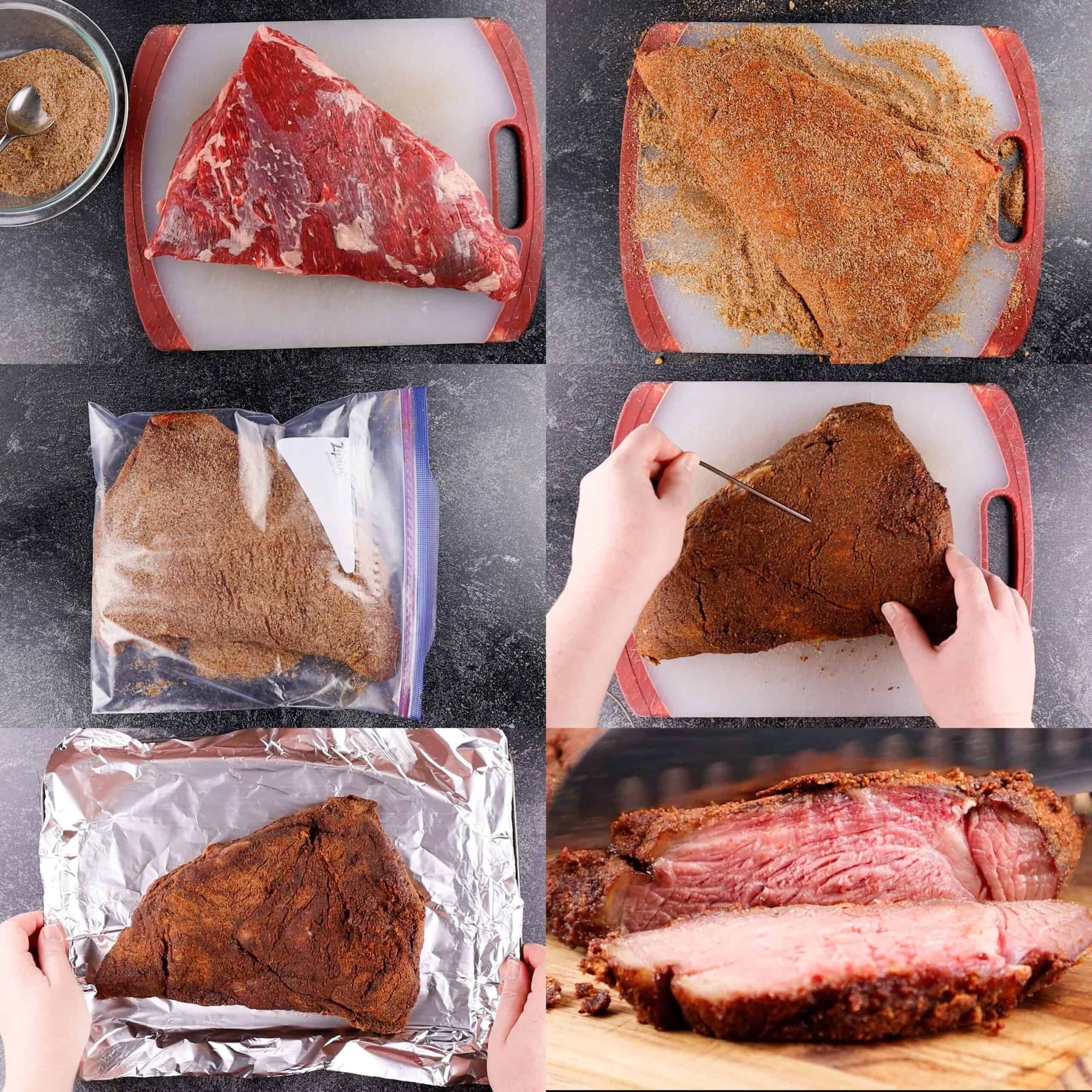 What to serve tri tip with?
Homemade French Fries, Hot Artichoke Dip, Stuffed Mushrooms, Crispy Brussel Sprouts, Homemade Limeade, and tasty salad all work well!
What to do with tri tip leftovers?
I love to make leftover tri tip sandwiches, making them into tacos, loaded nachos, and burritos.
Don't miss these other tasty recipes: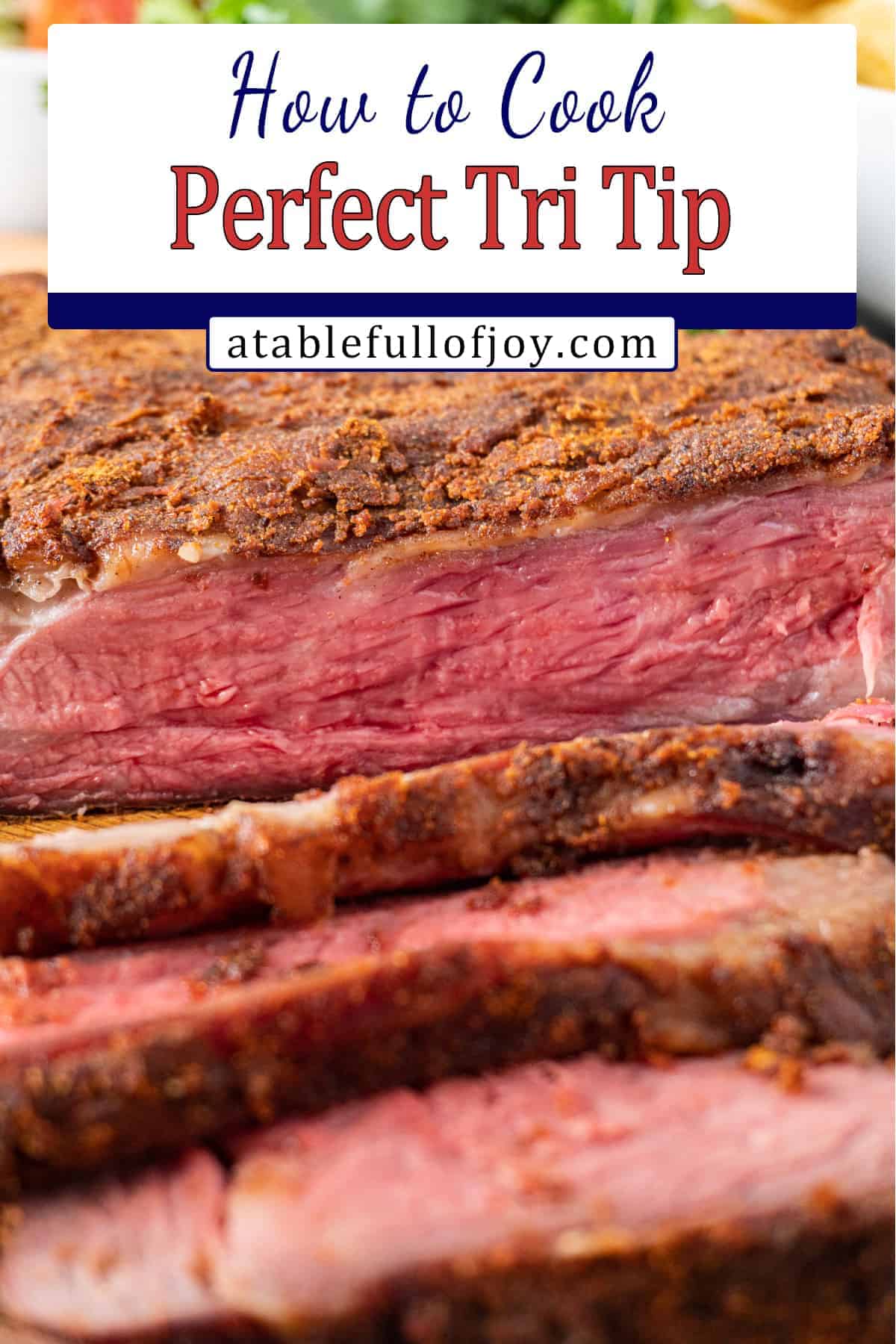 Don't miss my latest recipes!
Watch how to make this recipe!
Want more? Subscribe to my newsletter and follow along on Facebook, Pinterest and Instagram for all of the latest updates.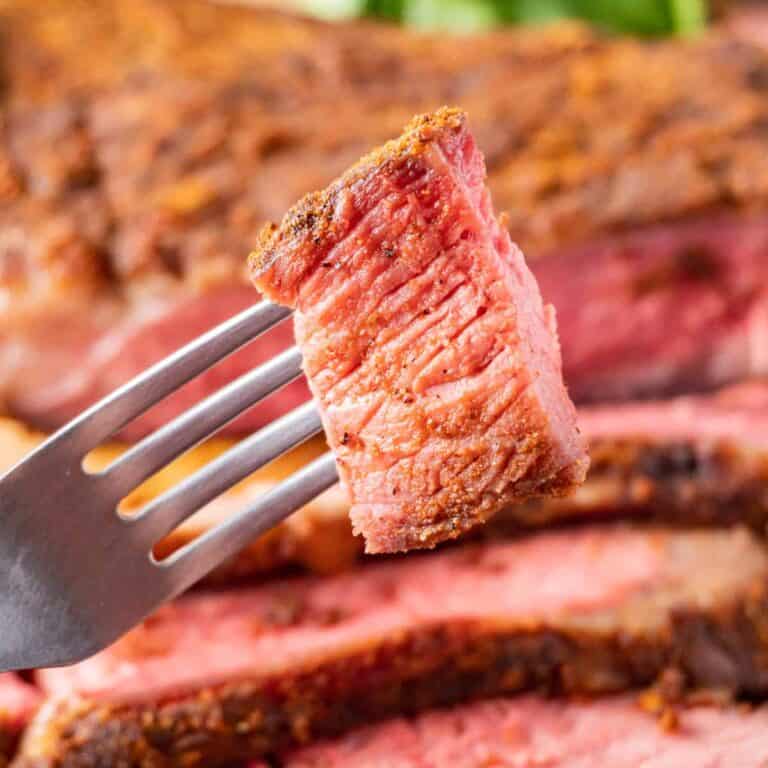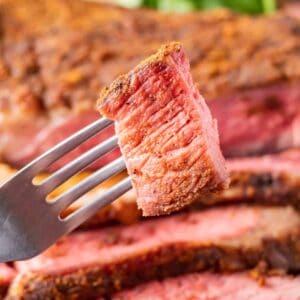 Best Tri Tip Oven Recipe
The Best Tri Tip Oven Recipe, it's flavorful, easy, and some of the best meat you will ever eat.
Ingredients
Santa Maria Seasoning
2

Tbs

paprika

1

tbs

chile powder

1

teaspoon

cayenne pepper

1

tbs

brown sugar

1

tbs

sugar

1

tbs

garlic powder

1

tbs

onion powder

1

tbs

salt

2

teaspoon

pepper
Instructions
Mix all the seasoning in a small bowl. (2 Tbs paprika, 1 tbs chile powder, 1 teaspoon cayenne pepper, 1 tbs brown sugar, 1 tbs sugar, 1 tbs garlic powder, 1 bs onion powder, 1 tbs salt, 2 teaspoon pepper)

Rub seasoning all over the tri tip. Allow tri tip to rest at room temperature for an hour. *

Preheat oven to 350°F and bake tri tip in an oven safe baking dish for ~25-40 minutes. I prefer to go off internal temperature so I remove the tri tip from the oven when it reaches 135-140°F.
Notes
Tips and Tricks
*You can mix and add the rub to the tri tip the day before, refrigerate overnight and then pull out the tri tip an hour before cooking.
If smoking the tri tip heat smoker to 200-220°F. Smoke tri tip until the internal temp reaches 135-140°F (1.5-2 hrs approximately) then remove from smoker and allow to rest for 15 minutes.
If grilling the tri tip preheat the grill on medium heat then grill for 10 minutes on one side and flip and grill until the internal temp is 135-140°F- about 15 more minutes.
My favorite smoker thermometer that I use for baking too: Thermoworks Smoker Thermometer (affiliate link)
Different size tri tips will cook at different speeds because of their size and how hot the grill/smoker is.
If your tri tip has a layer of fat you can trim it off but you don't need to. The extra fat can help baste the meat when cookie- simply place in the oven with the fat end up.
Everyone says cut against the grain of the meat for the juiciest meat- and I usually try to. However, if cooked correctly the meat will be delicious, tender, and juicy regardless how you cut it.
Nutrition
Calories:
274
kcal
Carbohydrates:
8
g
Protein:
32
g
Fat:
12
g
Saturated Fat:
4
g
Cholesterol:
98
mg
Sodium:
1269
mg
Potassium:
610
mg
Fiber:
2
g
Sugar:
4
g
Vitamin A:
1687
IU
Vitamin C:
1
mg
Calcium:
57
mg
Iron:
3
mg
As a Thermoworks affiliate I earn from qualifying purchases.
Post updated 12/20/21
Reader Interactions