Smoked chicken is my favorite way to eat chicken! It is full of flavor, both from the seasoning and the smoking, it's cooked to juicy perfection, and it has a nice crisp skin, with the fat rendered perfectly- so good!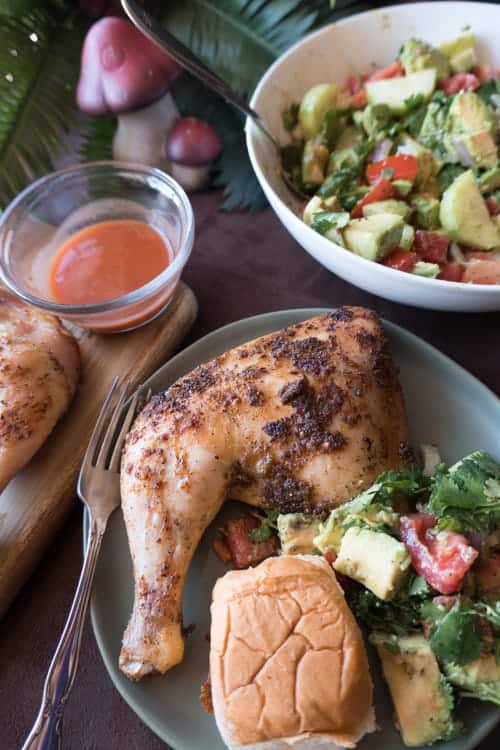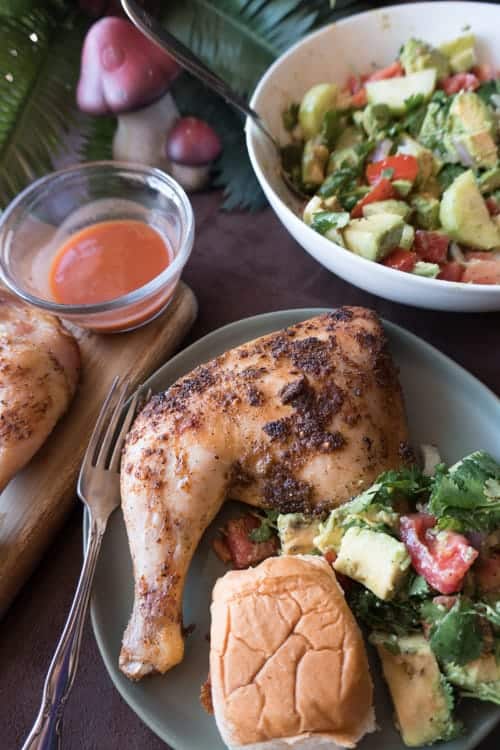 There are few things that smell as good as a smoker cooking away some delicious meat! If you've never had smoked meat before, find your nearest buddy who has a smoker and make this smoked chicken recipe right away!

Since I love this chicken recipe and I am currently doing a Hearthstone Menu I knew I had to find a way to fit this recipe into the series! Look no further than this Smoked Angry Chicken! If you have no idea what Hearthstone is you can find out more about this fun card game here!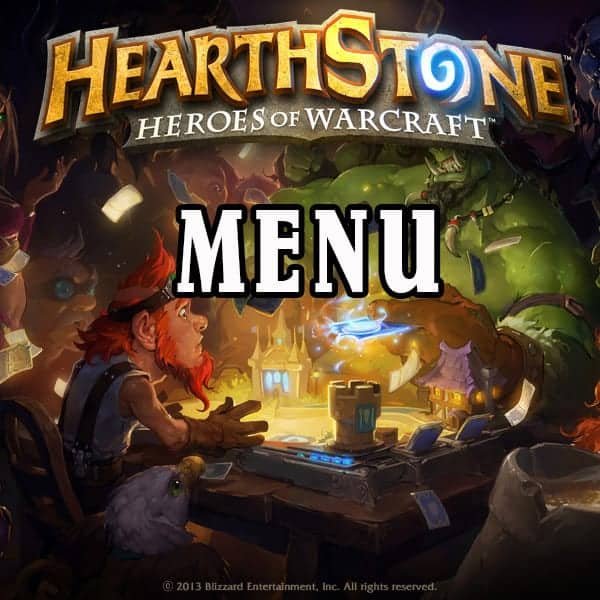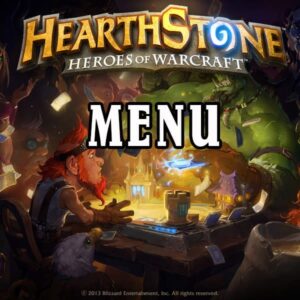 The Angry Chicken card is pretty cool if you can increase its health so it can sustain damage and utilize its +5 enrage effect. Let's just say this recipe's Angry Chicken didn't get its health increased… so it became dinner.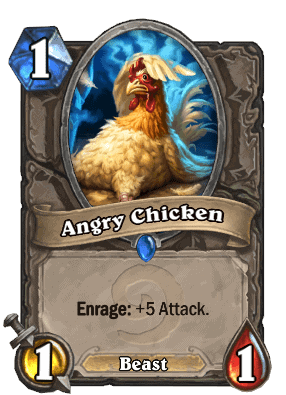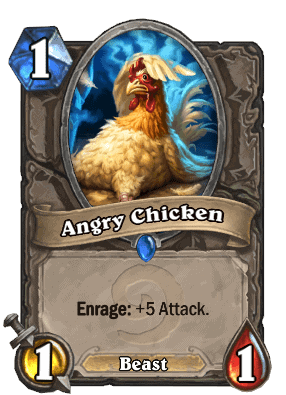 This recipe is great for any part of the chicken you want to smoke- legs, thighs, quarters (like I did!) or even a whole chicken!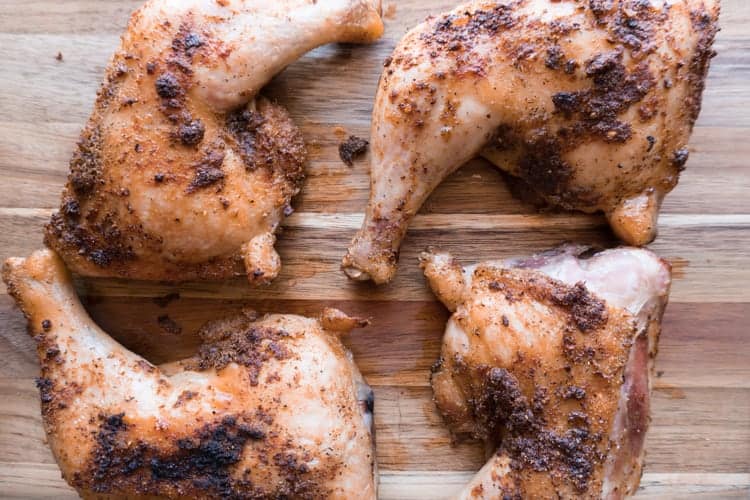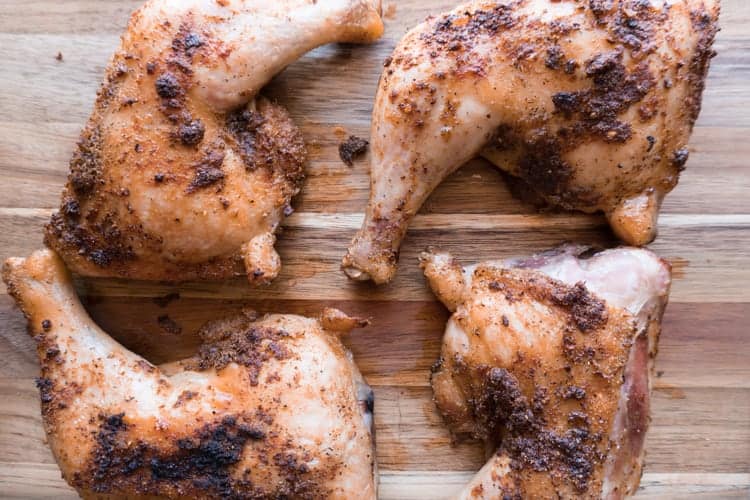 My smoker was given to me when my dad got a new smoker. I am so glad we got it! It has been so much fun learning how to use it and the results have been delicious! Also, my parents have been super helpful and patient in answering all my meat smoking questions! So this recipe is for you Mom and Dad!


Smoked Chicken Recipe
This recipe really is super simple!
Mix the salt, sugar, and water and then submerge your chicken pieces in the brine. Let it stay in this solution for at least 2 hours.
Make the dry rub by mixing all the spices.
Rub olive oil and then the dry rub over the chicken pieces once they've been removed from the brine.
Smoke the chicken until it reaches an internal temperature of 165°F or pop it in the a 400°F oven when the chicken is at 155°F to bring it up to the final temperature while crisping the skin. Some smokers will crisp the skin nicely so you may not even need to put them in the oven. I like to use a wireless meat thermometer that has two probes so I can keep track of the chicken temperature and the smoker temperature.
Enjoy!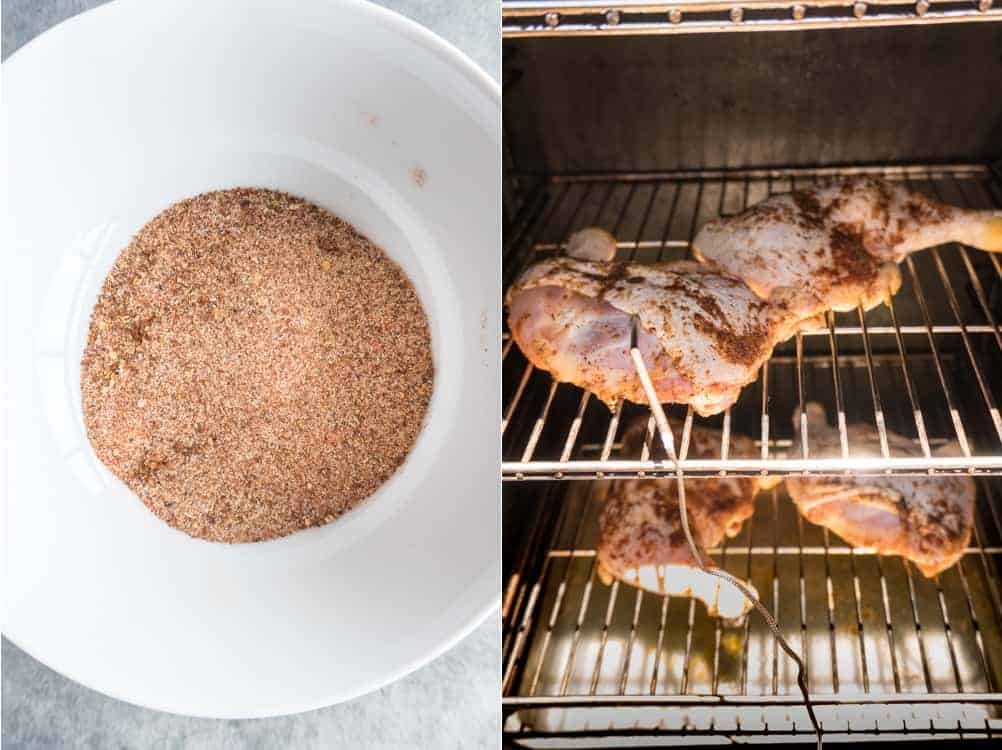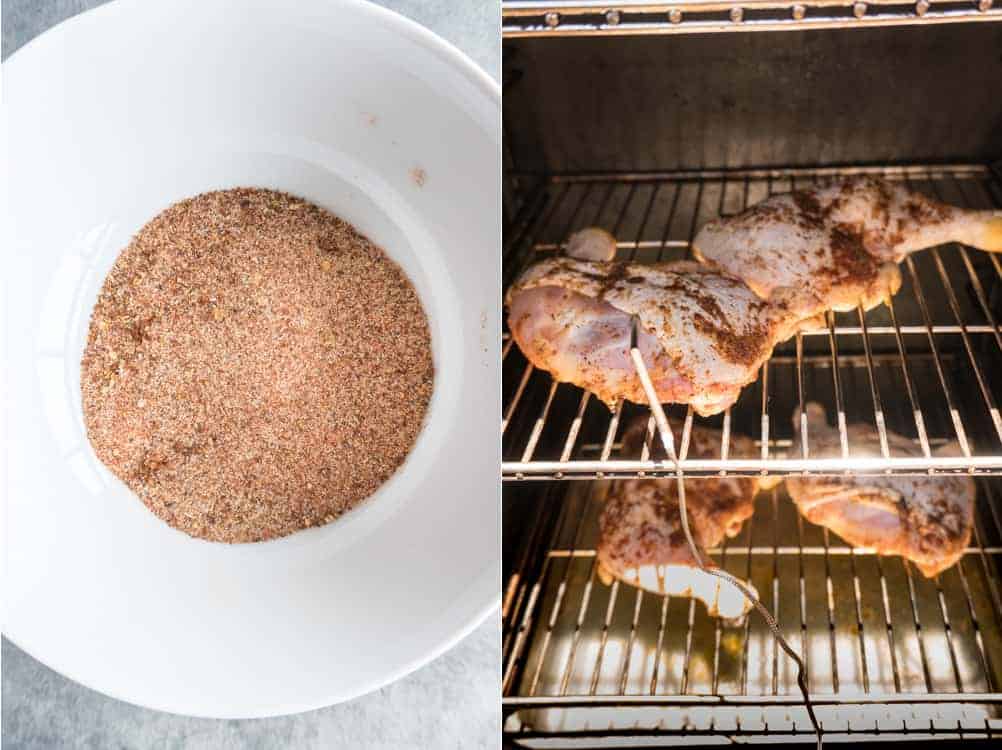 How long to smoke a whole chicken? What about thighs or wings?
A whole chicken will probably take between 2-5 hours depending on how hot your smoker is and wings and thighs probably no more than 2 hours. The internal temperature of the chicken needs to be at 165°F, so smoke your chicken (pieces or whole) as long as it takes to reach that.
To smoke leg quarters it usually takes me about 3.5 hours. I keep my smoker temperature between 210°F and 245°F and once the chicken reaches 155°F I put the chicken pieces in the oven to crisp up the skin and raise the chicken to its final temperature of 165.°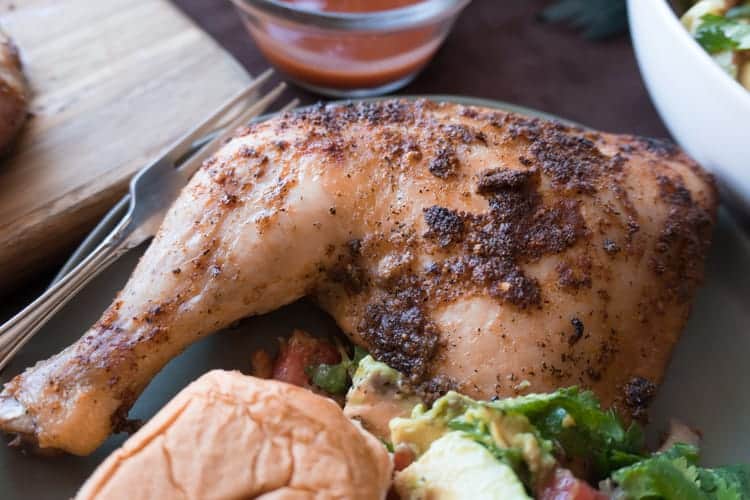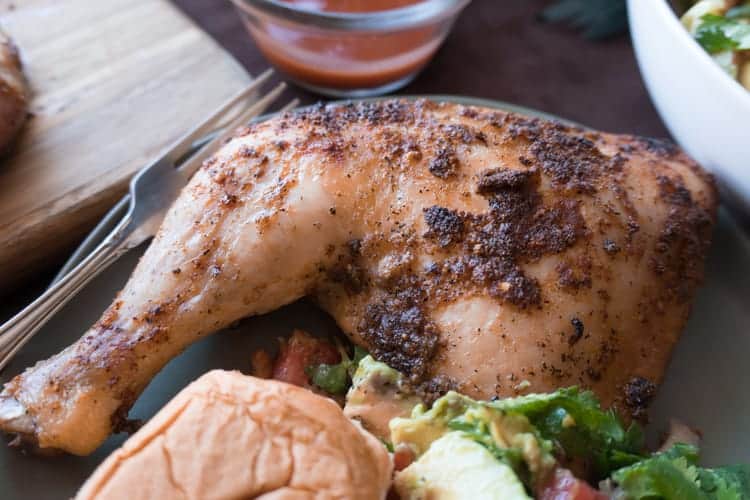 For this recipe I usually cook up a 10lb bag of leg quarters because the 10lb bags are cheap to buy at the grocery store, but that means I will usually have leftovers, unless I'm cooking for a crowd.
With the leftovers I love to make my chicken tacos! They are so good- covered with an easy green salsa… you have to try them after you make this recipe!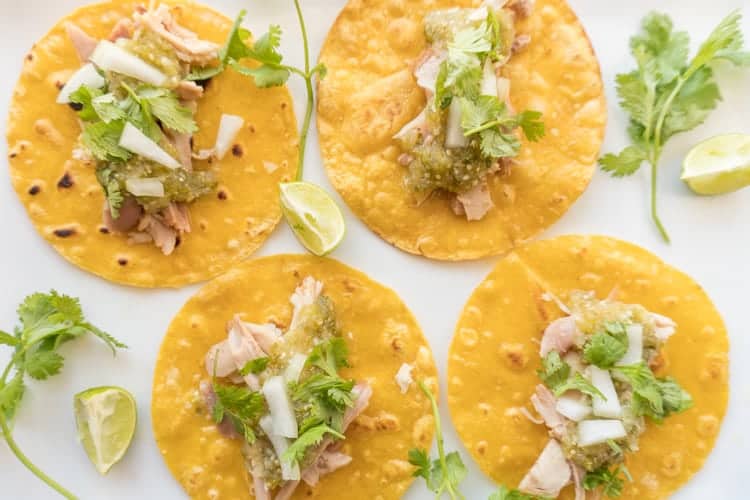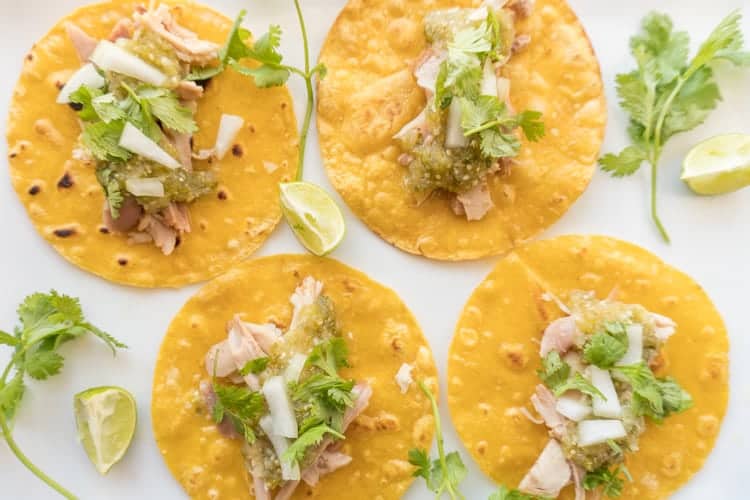 Pair this delicious smoked chicken with my cucumber avocado salad (aka Shudderwock Salad for all my Hearthstone peeps!), dip it in some Ragnaros  Firesauce, and sip some refreshing cold Limeade (Acidic Ooze Limeade!) Then end the evening with a yummy Mini Witchwood Apple Pie!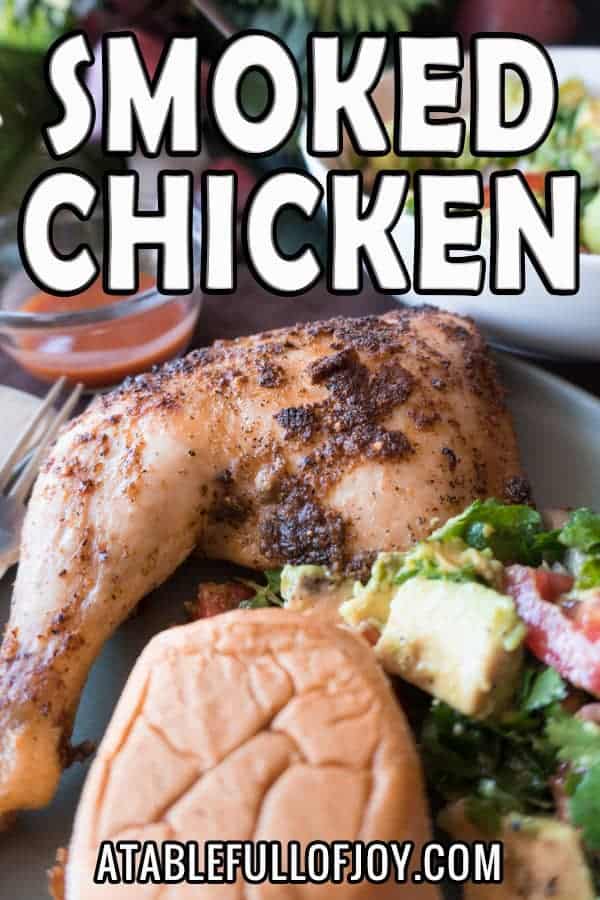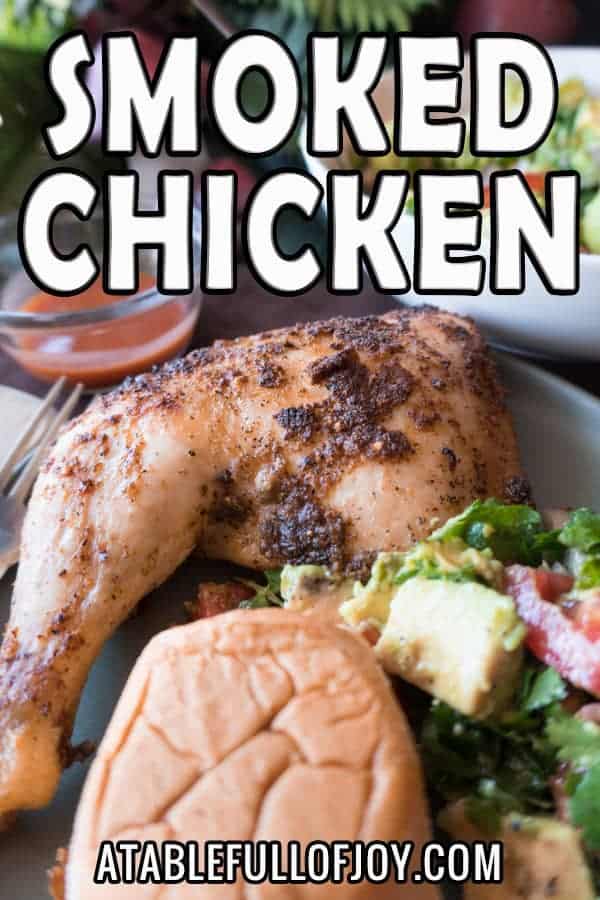 Let me know what you think of this recipe and if you have any questions! Also, tell me about an awesome time you successfully used Angry Chicken's enrage ability! I'd love to hear about it!
For more information on Hearthstone and my other Hearthstone recipes, check out my What is Hearthstone? page, the full Hearthstone Menu, or the official Hearthstone Forums!
---
BE SURE TO FOLLOW ME ON FACEBOOK, INSTAGRAM, PINTEREST & TWITTER!
---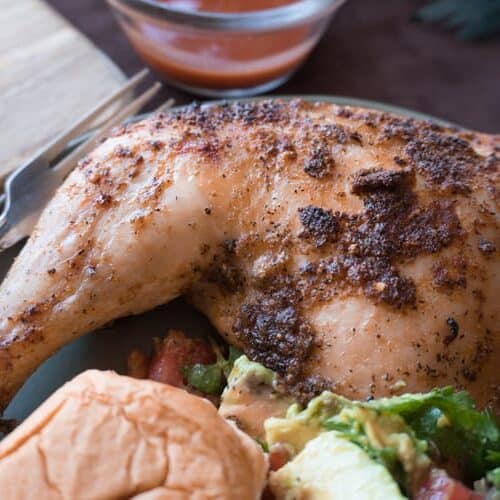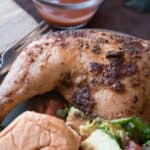 Smoked Angry Chicken- Smoked Chicken with a Chipotle Paprika Dry Rub
Smoked chicken is my favorite way to eat chicken! It is full of flavor, both from the seasoning and the smoking, it's cooked to juicy perfection, and it has a nice crisp skin, with the fat rendered perfectly- so good!
Prep Time
2
hours
10
minutes
Cook Time
3
hours
30
minutes
Total Time
5
hours
40
minutes
Ingredients
Brine
1

cup

brown sugar

1

cup

salt

Water- enough to cover the chicken
Dry Rub
3

tbs

garlic powder

1

tbs

chipotle powder

1

tbs

paprika

1

tbs

onion powder

1

tbs

pepper

1

tsp

red pepper flakes
Additional Ingredients
10

lbs

chicken quarters*

1

cup

olive oil
Instructions
Brine the chicken
Combine sugar, salt, and 6 cups water in a bowl. Stir until sugar and salt are dissolved.

In a large resealable bag (or several) or a large bowl (or several), add your raw chicken quarters and then divide the brine between the containers. Add additional water to the bowls or bags until the chicken is mostly covered by water.

Allow the chicken to sit in the brine for at least 2 hours or up to 12 hours.
Prepare the dry rub
Combine all the dry rub ingredients in a small bowl.
Prepare the chicken and your smoker
Once the chicken has sat in the brine for 2 hours, remove it from the liquid.

Pour the olive oil over the chicken and then rub with your dry rub mixture. I like to separate the skin from the meat just a little and get oil and seasoning in-between the two, as well as over every side.

Get your smoker started smoking/heating up. I tend to use a mix soaked and dry hickory wood chips, but you use whatever wood chips you like.

Once your smoker is hot, place the chicken on the racks and allow them to cook for 3-4 hours.

The chicken needs to get to an internal temperature of 165°F to be safe to eat. Once the chicken reaches 155°F I usually will remove them from the smoker and put them in a preheated 400°F oven for 5-10 minutes- or until it reaches 165-170°F. This allows the chicken skin to crisp up nicely wile reaching the final temperature.

Enjoy!
Recipe Notes
*You can use this on any type of chicken not just leg quarters! Cooking time might vary depending on the size of the chicken pieces (i.e. smoking a whole chicken vs a drum stick), just make sure the chicken gets to the correct internal temperature.
Hearthstone Card Image from Gamepedia
All mention of Hearthstone is copy right protected by: ©2014 Blizzard Entertainment, Inc. All rights reserved.  Hearthstone is a registered trademark of Blizzard Entertainment, Inc. in the U.S. and/or other countries.
Blizzard Entertainment is a trademark or registered trademark of Blizzard Entertainment, Inc. in the U.S. and/or other countries. All rights reserved.