Smoked chicken leg quarters are easy to make and extra tasty! It is full of flavor, both from the seasoning and the smoking, it's cooked to juicy perfection, and it has a nice crisp skin!
There are few things that smell as good as a smoker cooking away some delicious meat! If you've never had smoked meat before, find your nearest buddy who has a smoker and make this smoked chicken recipe right away!
This recipe is great for any part of the chicken you want to smoke- legs, thighs, quarters (like I did!) or even a whole chicken!
My smoker was passed on to me when my dad got a new smoker. I am so glad we got it! It has been so much fun learning how to use it and the results have been delicious!
Check out my latest recipe on how to cook burgers! Including this tasty green chile burger and this apple chutney bacon burger!
How to smoke chicken quarters:
Mix the salt, sugar, and water over medium heat until dissolved. Refrigerate brine until cool then submerge your chicken pieces in the brine. Let it stay in this solution for at least 2 hours. Add more water to dilute the brine and cover all the chicken as necessary.
Make the dry rub by mixing all the spices.
Remove chicken from brine and pat dry.
Rub chicken with olive oil and then the dry rub.
Smoke the chicken until it reaches an internal temperature of 165°F or pop it in a 400°F oven when the chicken is at 155°F to bring it up to the final temperature while crisping the skin. Some smokers will crisp the skin nicely so you may not even need to put them in the oven.
Enjoy!
My smoked chicken quarters brine is really simple and really helps the meat stay moist!
How long to smoke a whole chicken? What about thighs or wings?
I love all types of smoked chicken pieces.
A whole chicken will probably take between 2-5 hours depending on how hot your smoker is and wings and thighs probably no more than 2 hours.
The internal temperature of the chicken needs to be at 165°F, so smoke your chicken (pieces or whole) as long as it takes to reach that.
How long to smoke chicken leg quarters?
To smoke leg quarters, it usually takes me between 2.5 and 3.5 hours. I keep my smoker temperature between 210°F and 245°F and once the chicken reaches 155°F I put the chicken pieces in the oven to crisp up the skin and raise the chicken to its final temperature of 165
How to get crispy skin on chicken?
Some smokers will crisp the skin, but many don't.  To crisp the skin, when the chicken reaches and internal temperature of 155°F, remove from smoker, place on baking sheets, and cook in a 400°F oven for about 5-10 minutes.
The oven will crisp the skin while the internal temperature finishes reaching 165°F.
What type of thermometer do I recommend?
I've used cheap amazon smoking thermometers and they got the job done for a month or two before breaking. However, I recently decided to get a good smoking thermometer from Thermoworks and I love it. (And yes that's an affiliate link so if you use it I earn a little bit at no extra cost to you 🙂 )
Regardless of what brand, I definitely recommend a wireless meat thermometer that has two probes so you can keep track of the chicken temperature and the ambient temperature of inside the smoker. And I really like a wireless because then I can be inside the house getting other stuff done and check the temperature of what I am smoking easily.
How much chicken does this recipe make?
This recipe is for 10lbs of smoked chicken leg quarters. The 10lb bags of raw chicken quarters are cheap to buy at the grocery store and that's what I typically go for. You can easily cut all the ingredients in half too.
When I am not cooking for a crowd, I typically have leftovers which I turn into chicken tacos, shredded chicken enchiladas, or a tasty chicken sandwich with secret sauce or my copycat Chick-Fil-A sauce. Super delicious!
Can you freeze leftover smoked chicken quarters?
Yep! I like to remove the chicken from the bone and the freeze in a freezer safe Ziploc baggie. Keeps well for a few months.
What type of wood chips do I use for smoking chicken? What about pellet smokers?
I tend to use hickory wood chips, apple chips, or mesquite, but a competition blend would be tasty too. I will tell you right now I am not super picky on what flavor of chips I use. They all give a delicious flavor.
For a pellet smoker I would go with similar flavors.
Should a smoker produce smoke the entire time it's cooking the meat?
Nope.
My smoker tends to smoke the most when I am heating up my smoker, and then when I reduce the heat to keep the temperature stable the huge amounts of smoke go away.
Keep in mind that just because you don't see the smoke doesn't mean it's not there. Your food will still get plenty of smoky flavor!
Let me know what you think of this recipe and if you have any questions! Smoking chicken leg quarters is super easy and I can't wait for you to try it!
Make sure to check out these other tasty recipes:
Watch how to make this recipe!
Want more? Subscribe to my newsletter and follow along on Facebook, Pinterest and Instagram for all of the latest updates.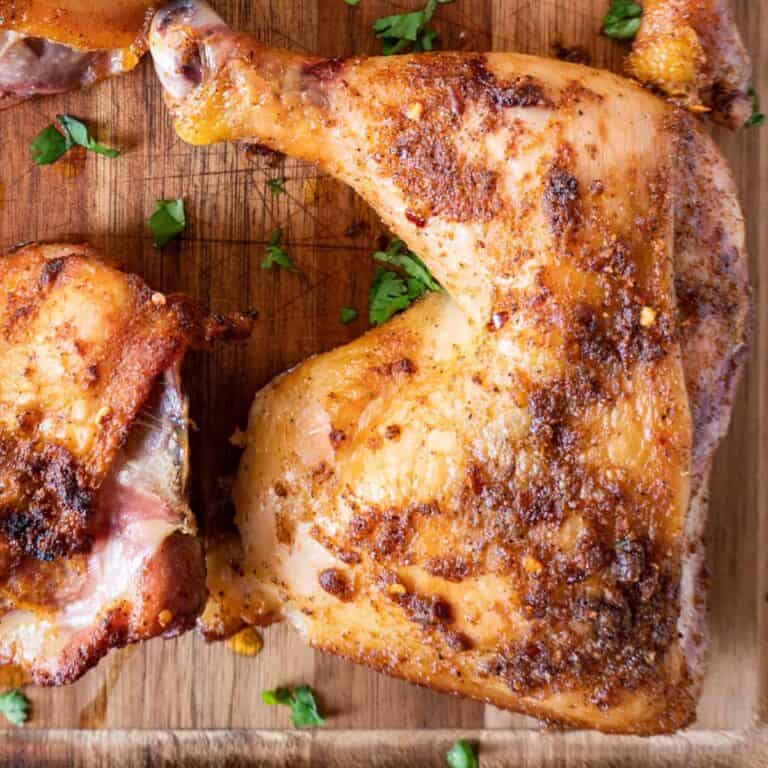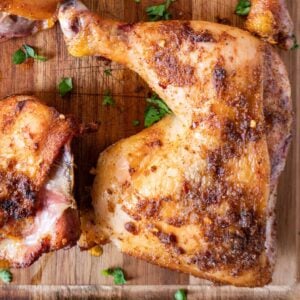 Smoked Chicken Leg Quarters
Smoked chicken leg quarters are easy to make and extra tasty! It is full of flavor, both from the seasoning and the smoking, it's cooked to juicy perfection, and it has a nice crisp skin!
Ingredients
Brine
1

cup

brown sugar

1

cup

salt

Water- enough to cover the chicken
Dry Rub
3

tbs

garlic powder

1

tbs

chipotle powder

1

tbs

paprika

1

tbs

onion powder

1

tbs

pepper

1

teaspoon

red pepper flakes
Additional Ingredients
10

lbs

chicken quarters*

1

cup

olive oil
Instructions
Brine the chicken
Combine sugar, salt, and 4 cups water in small saucepan, stir over medium heat until sugar and salt are dissolved. Once dissolved refrigerate until cool.

In a large resealable bag (or several) or a large bowl (or several), add your raw chicken quarters and then divide the brine between the containers. Add additional water to the bowls or bags until the chicken is mostly covered by water.

Allow the chicken to sit in the brine for at least 2 hours or up to 12 hours.
Prepare the dry rub
Mix together all the dry rub ingredients in a small bowl.
Prepare the chicken and your smoker
Once the chicken has sat in the brine for 2 hours, remove it from the liquid and pat dry.

Pour the olive oil over the chicken and then rub with your dry rub mixture. I like to separate the skin from the meat just a little and get oil and seasoning in-between the two, as well as over every side.

Get your smoker started smoking/heating up.

Once your smoker is hot (~250°F), place the chicken on the racks and allow them to cook for 3-4 hours. I like to stabilize my smoker temperature between 225°F and 265°F

The chicken needs to get to an internal temperature of 165°F to be safe to eat. Once the chicken reaches 155°F I usually will remove them from the smoker and put them in a preheated 400°F oven for 5-10 minutes- or until it reaches 165-170°F. This allows the chicken skin to crisp up nicely wile reaching the final temperature.

Enjoy!
Notes
Tips and Tricks
You can use this on any type of chicken not just leg quarters!
Cooking time might vary depending on the size of the chicken pieces (i.e. smoking a whole chicken vs a drumstick), just make sure the chicken gets to the correct internal temperature.
Nutrition
Calories:
878
kcal
Carbohydrates:
4
g
Protein:
53
g
Fat:
72
g
Saturated Fat:
17
g
Cholesterol:
315
mg
Sodium:
264
mg
Potassium:
730
mg
Fiber:
1
g
Sugar:
1
g
Vitamin A:
785
IU
Vitamin C:
1
mg
Calcium:
36
mg
Iron:
3
mg
Post updated on 7/16/2020
Reader Interactions