Learning how to bake brussel sprouts is one of the easiest and tastiest ways to eat your veggies!
All it takes is a little seasoning, a little oil, and you have yourself a delicious side dish that's healthy too!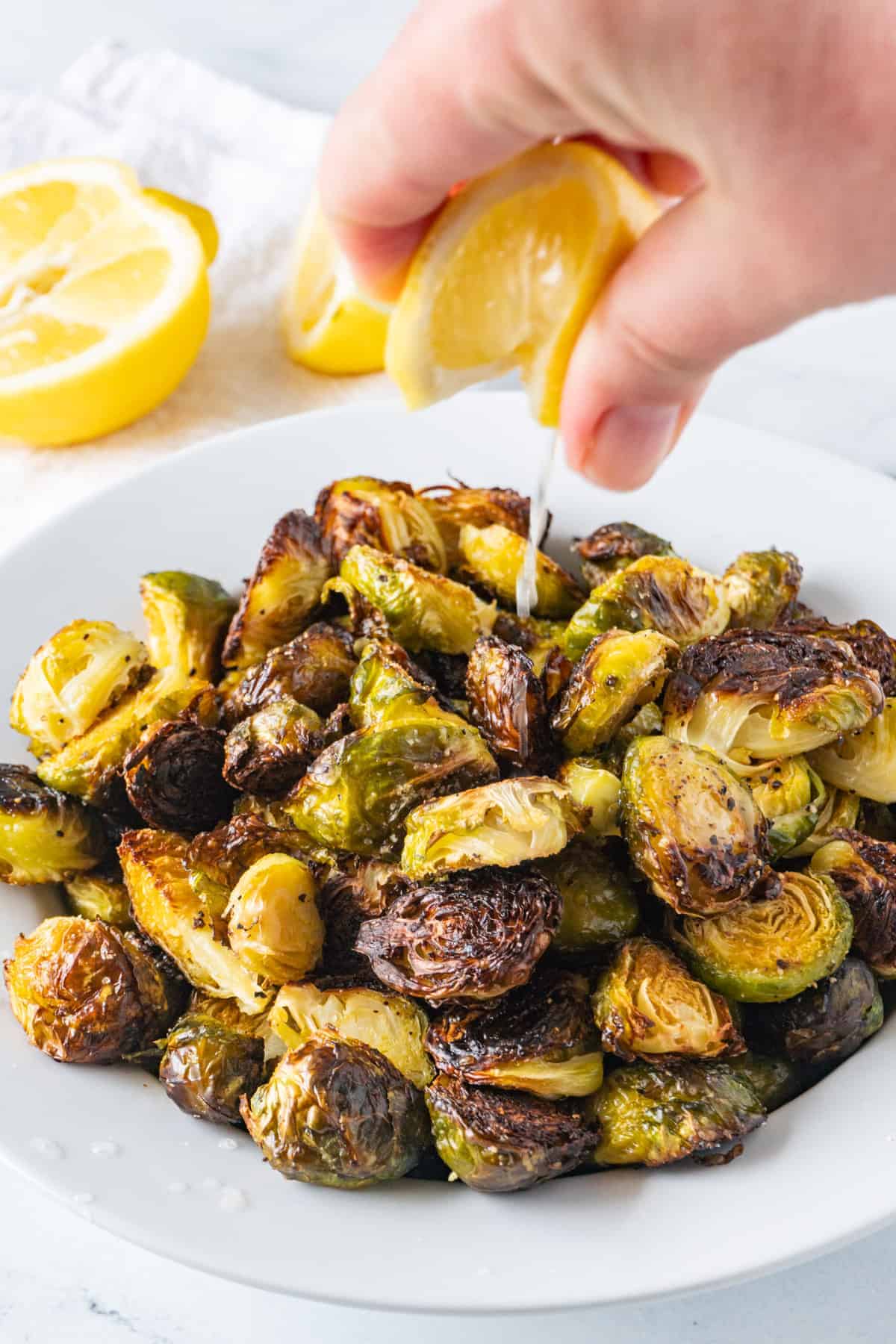 Growing up I didn't enjoy veggies- and brussel sprouts were a hard pass. But now- they are one of my favorite veggies ever.
For more tasty recipe check out:
Brussel sprouts get a bad rap because for some reason the method of choice for cooking them 20 or so years ago was to boil them. Boiling them typically heats them so much that it brings out a certain chemical (sulphur) that makes them smell horrible- and no one wants to eat something that smells bad!
Why doesn't baking bring out the smell?
Because we aren't bringing them to too high of temp for long enough for the Sulphur to release.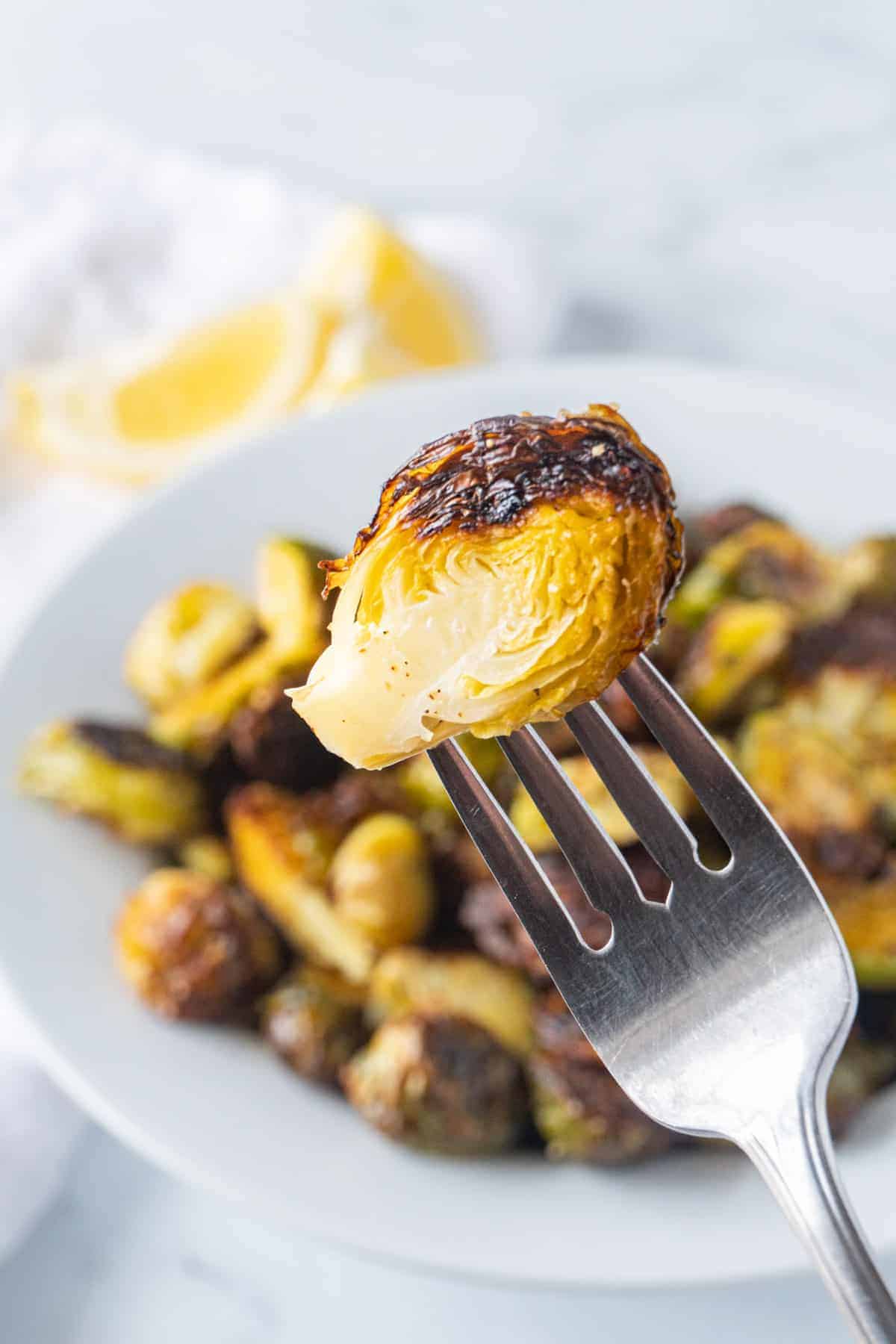 I realize that isn't the most thorough- but it's the best I can do.
Anyways, these oven baked brussel sprouts are not only a favorite of mine, but my husband loves them too.
How to make brussel sprouts in the oven?
Preheat your oven and get your baking tray ready
Trim the ends off the brussel sprouts and remove any loose or yellowed leaves
Toss in oil and then place on a baking sheet
Sprinkle with seasonings and bake until brussel sprouts are golden and crisp on the edges and tender on the inside
Toss in lemon juice and enjoy!
How to trim brussel sprouts?
Trim the bottom nub off- about ¼ of an inch
Remove any loose leaves or yellow leaves
Bake as is or cut in half (my preference) or quarters

Why do I add lemon juice after baking? Do I have to?
Lemon juice is an acid that helps cut the olive oil and brings a nice balance to the flavors! It isn't absolutely necessary (I would still eat these brussel sprouts without it) but it is my preference to use it.
Go ahead and try them without and with the lemon juice and let me know which you prefer more!
How to make brussel sprouts crispy?
2 factors will control crispiness- heat and oil.
If you want your brussel sprouts extra crispy you can either increase the baking time by 10 minutes or so- but make sure to keep an eye on them- you don't want them to burn!
Or you can increase the oven temperature. Bake your brussel sprouts at 450°F for ~20 minutes- or until they are to your desired level of crispness.
Cutting the brussel sprouts in half allows for more surface area for the oil to cover. You can quarter the brussel sprouts for even more surface area but adjust the baking times accordingly. At 400°F you will want to start checking the brussel sprouts around ~20-25 minutes.
Why do brussel sprouts turn mushy (and smelly?)?
This happens when you cook or bake the brussel sprouts for too long at too high of a heat. So if you do decide to bake the brussel sprouts at a higher temperature for more crispiness- don't bake longer than 40 minutes.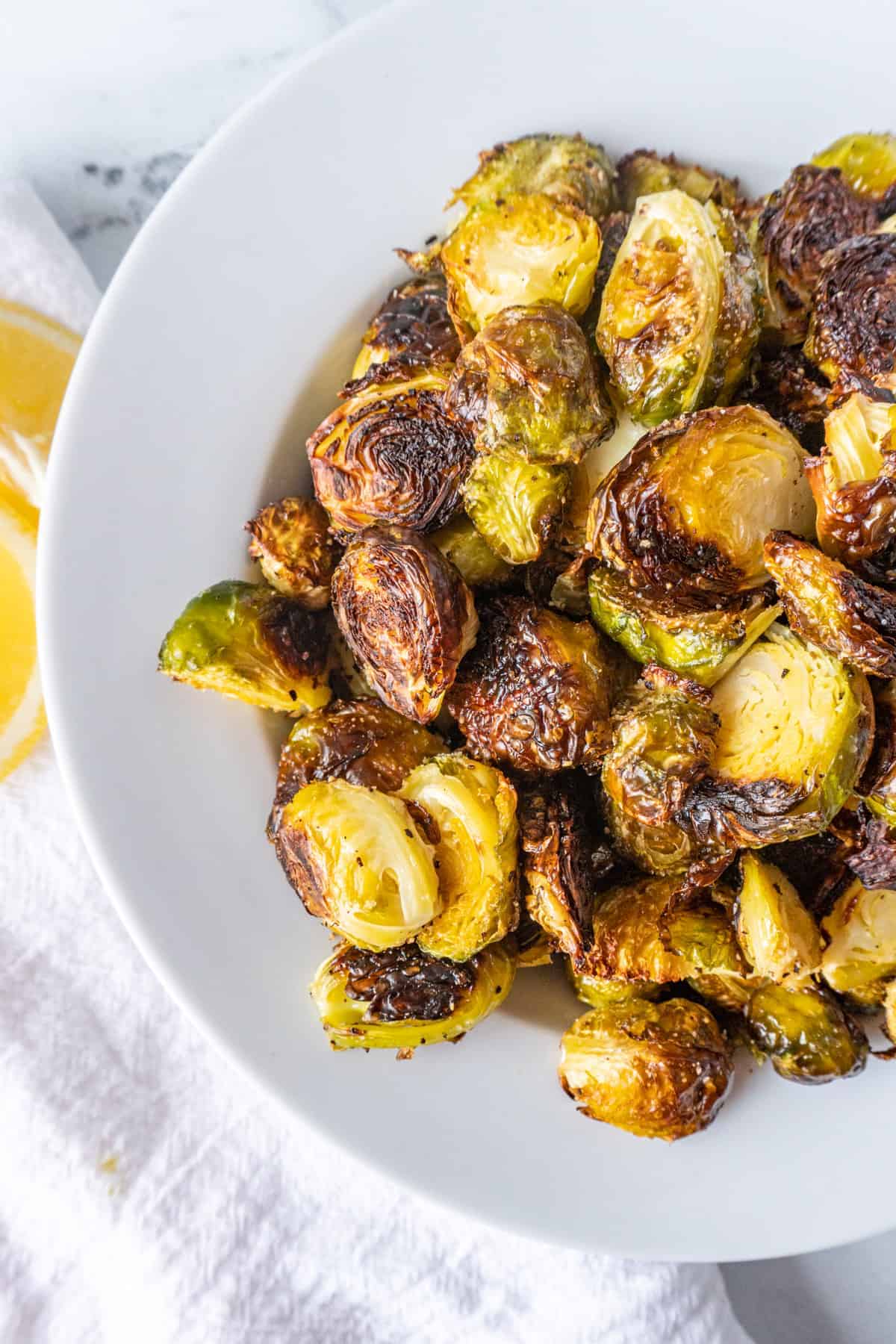 Brussel Sprout Variations
Maple Brussel Sprouts- Drizzle Brussel Sprouts with Maple Syrup during the last 5 minutes of baking, toss to coat and finish baking
Brown Sugar Brussel Sprouts- mix together 1 tbs melted butter or olive oil with 1 tbs brown sugar, then once your brussel sprouts are done baking toss them in the sugar mixture.
Roasted Brussel Sprouts with Bacon- cook up some bacon while the brussel sprouts are baking and crumble over your baked brussel sprouts (some people bake the bacon with the brussel sprouts but I find the bacon doesn't bake up crispy enough when I do this- or it isn't consistent! If you do want to bake bacon though check out how to do it right here!
Balsamic Brussel Sprouts- Drizzle Brussel Sprouts with Balsamic Vinegar during the last 5 minutes of baking, toss to coat and finish baking
Parmesan Brussel Sprouts- When there are 10 minutes left in baking, sprinkle brussel sprouts with parmesan cheese- it will be perfect cheesy goodness when they are finished baking!
Maple/Balsamic Brussel Sprouts with Bacon (everything delicious in one dish!)- check out my recipe here! It's my absolute favorite way to make brussel sprouts!
There are so many other ways to season these brussel sprouts (add onion, herbs, or other seasonings!)- let me know your favorite way to make them in a comment below!
Tasty dishes to eat with brussel sprouts: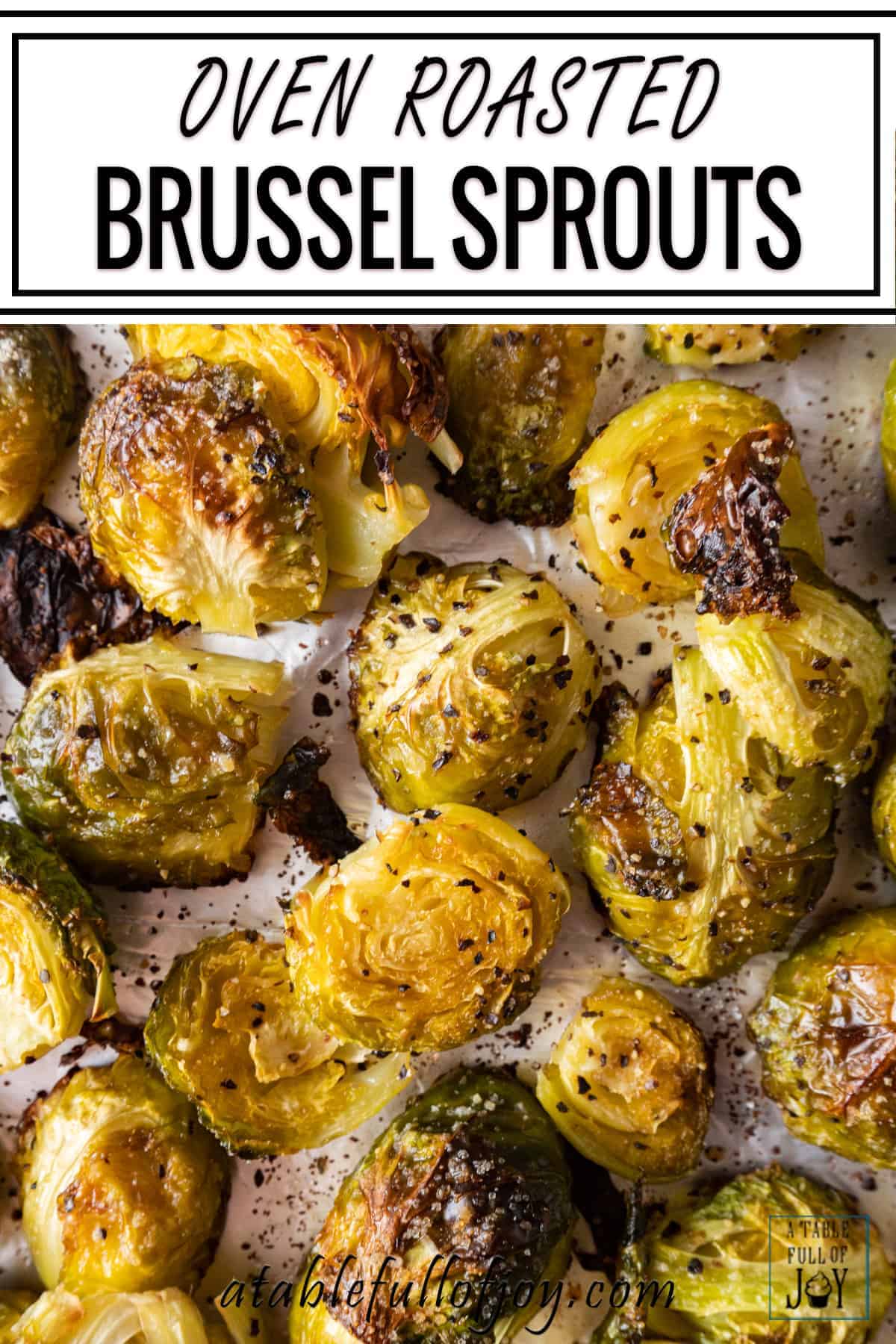 Want more? Subscribe to my newsletter and follow along on Facebook, Pinterest and Instagram for all of the latest updates.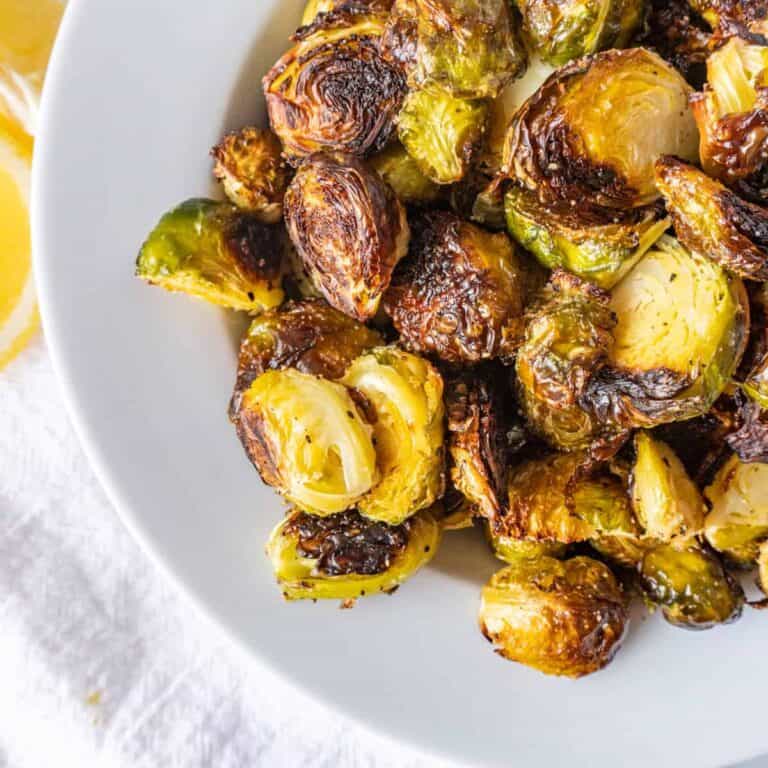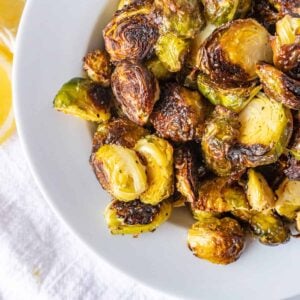 How to Bake Brussel Sprouts
Oven baked brussel sprouts are easy and delicious! Learn how to bake brussel sprouts ASAP!
Ingredients
1 ½ -2

lbs

brussel sprouts

2-3

tbs

olive oil

Salt

Pepper

Garlic Powder – optional

Juice from 1 lemon
Instructions
Preheat oven to 400 °F and line a rimmed baking sheet with parchment paper or foil.

While oven is preheating cut off the ends of the Brussel sprouts and remove any loose or yellow leaves.

Slice each sprout in half, toss in olive oil and place on prepared baking sheet.

Sprinkle with salt, pepper, and garlic powder (if using) and bake for 35-40 minutes. You want the edges to be crisp and the inside tender.

When done squeeze a lemon* over them, gently stir to coat and serve!
Notes
Lisa's Tips
• Adding lemon juice isn't a must but it definitely enhances the flavor! Give it a try!
• You can always add more seasoning! Try adding paprika or onion powder!
• Bake these for as long as you want- until you get your desired crispiness!
• Store any leftovers in an air tight container for a few days. They won't be as crispy when you reheat them but they will still be tasty!
Nutrition
Calories:
90
kcal
Carbohydrates:
10
g
Protein:
4
g
Fat:
5
g
Saturated Fat:
1
g
Sodium:
28
mg
Potassium:
441
mg
Fiber:
4
g
Sugar:
2
g
Vitamin A:
855
IU
Vitamin C:
96
mg
Calcium:
48
mg
Iron:
2
mg
More Side Dish
Reader Interactions