Cowboy Candy is the perfect sweet and spicy treat! These candied Jalapenos are so easy to make and taste amazing!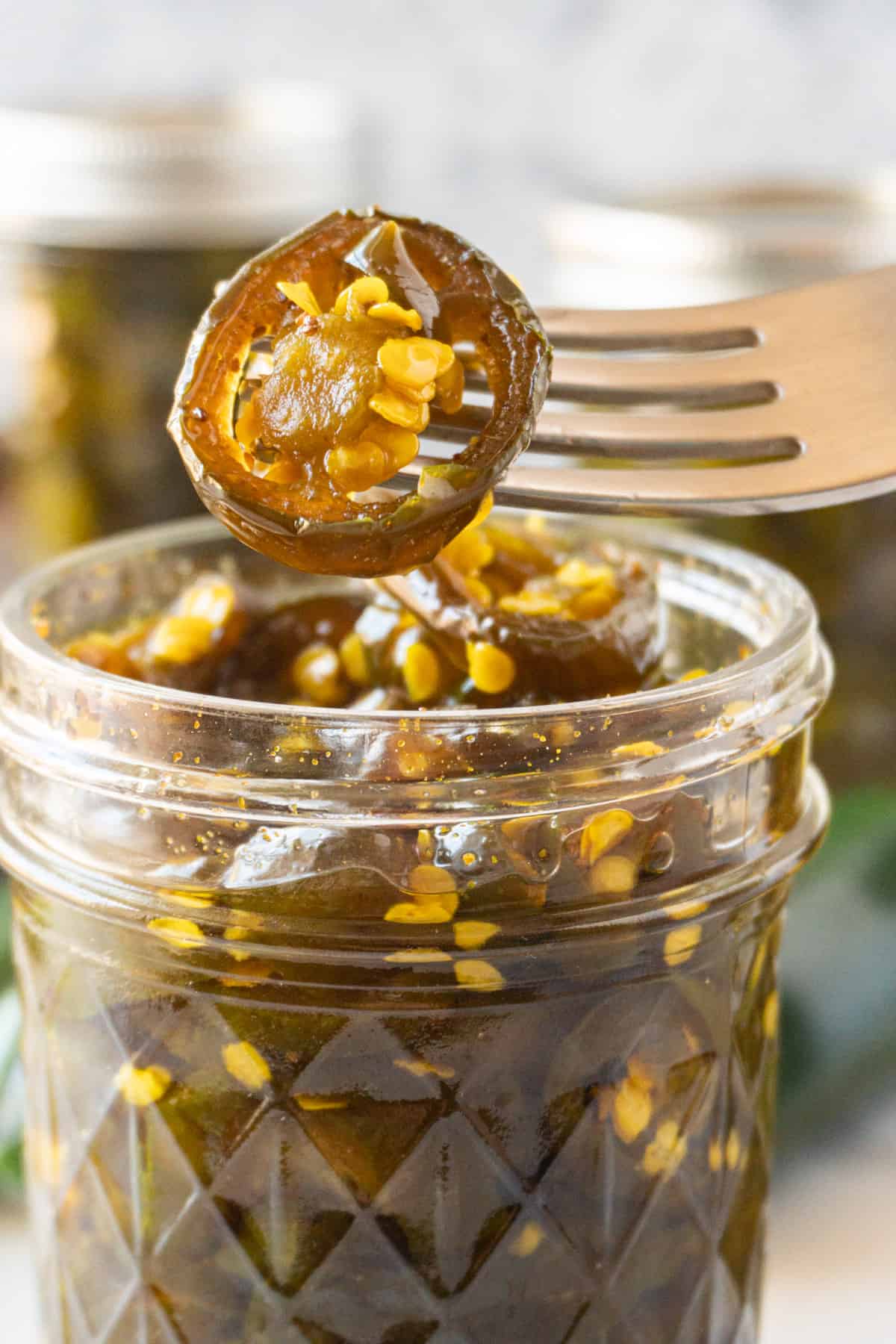 I am a big fan of sweet and spicy (check out my buffalo wing caramel corn and brown sugar bacon!) and these jalapenos are a new favorite for me!
What is cowboy candy?
Cowboy Candy is candied jalapenos. Originating in 1922 at WHH Ranch, a young Mindie Heironomous started pickling her abundance of jalapenos in a similar fashion to her bread and butter pickles.
Her and her family sold these to their neighbors and the local cowboys! They've been a tasty treat ever since!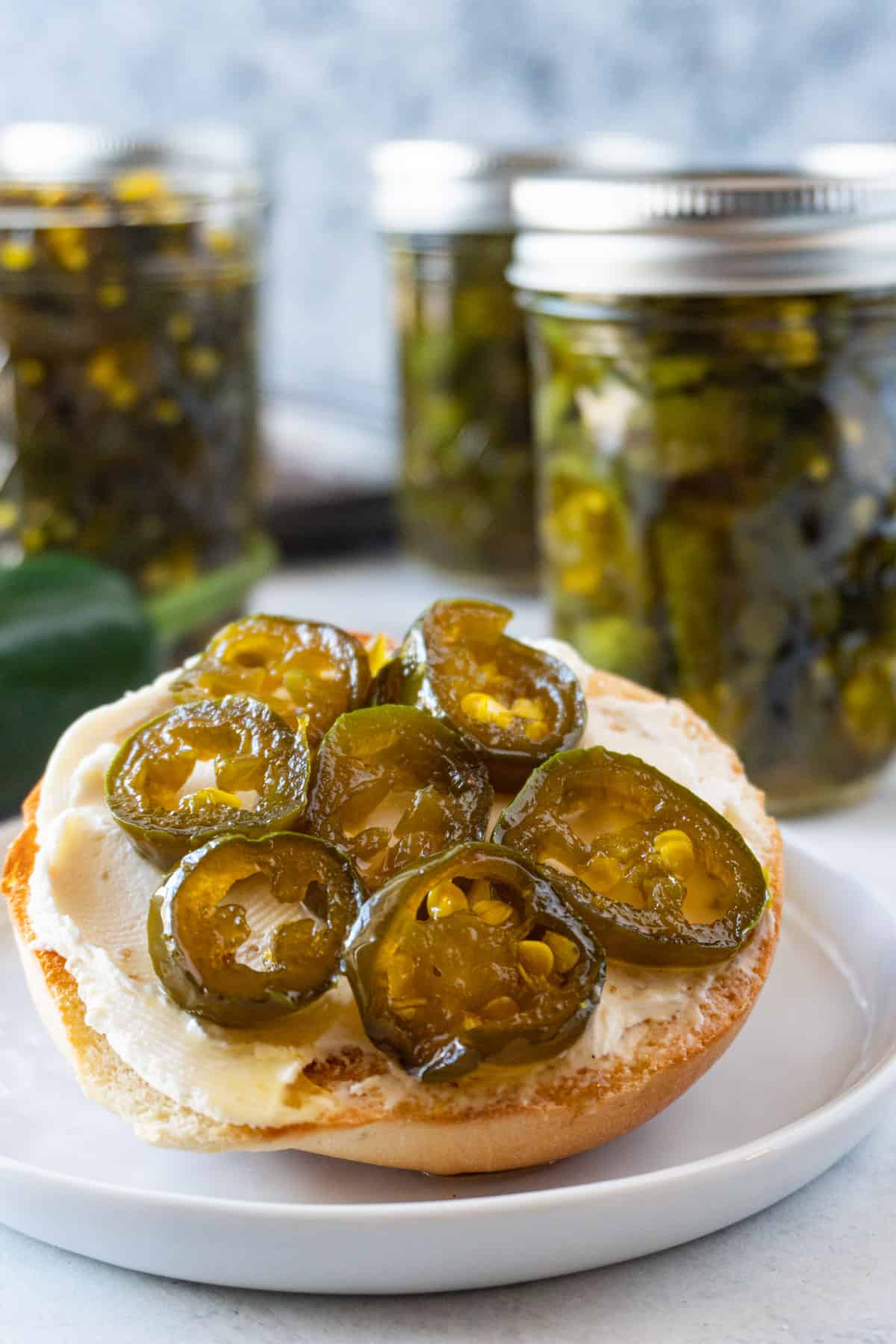 This cowboy candy can be made and refrigerated or water bath canned. I have instructions on both to help you make them the way you prefer!
This recipe is best when made ahead of time. Letting this sit for 4 weeks (or even at least 2 weeks) really lets the flavors combine and the jalapenos to mellow.
What you need for cowboy candy?
Jalapenos- fresh and firm
Apple Cider Vinegar
White Granulated Sugar
Seasoning: Turmeric (optional but recommended), Celery Seed, Garlic Powder, Cayenne Pepper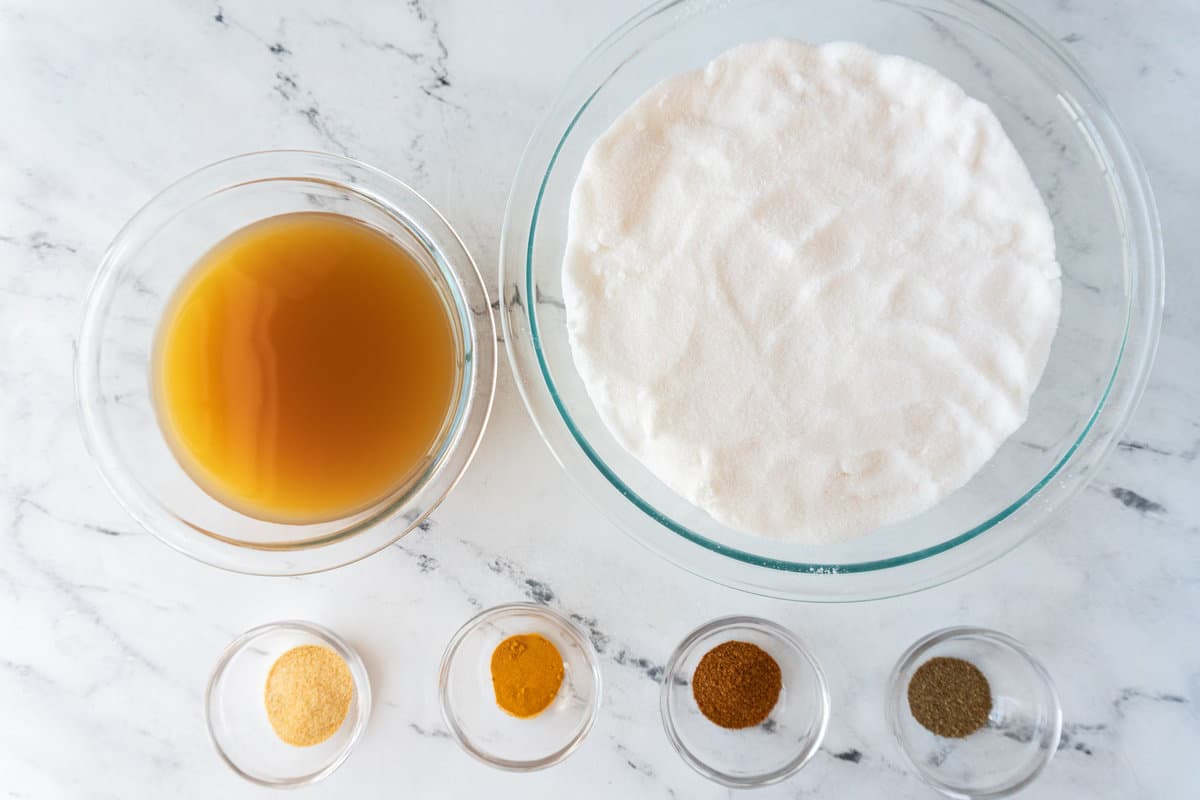 Equipment for Refrigerating
4-6 sterile half pint jars with lids (or any container with an airtight lid)
Equipment for canning
6 sterile half pint jars with lids and rings
Water bath canner
Canning Jar Lifter
Can you use other peppers?
Yes! This recipe works great for any pepper that you want to candy. For more heat try habaneros or serranoes!
How to make cowboy candy?
Cut jalapenos into rounds.
In a large pot combine apple cider vinegar, sugar, and spices. Bring to a boil then simmer for 5 minutes to reduce the liquid.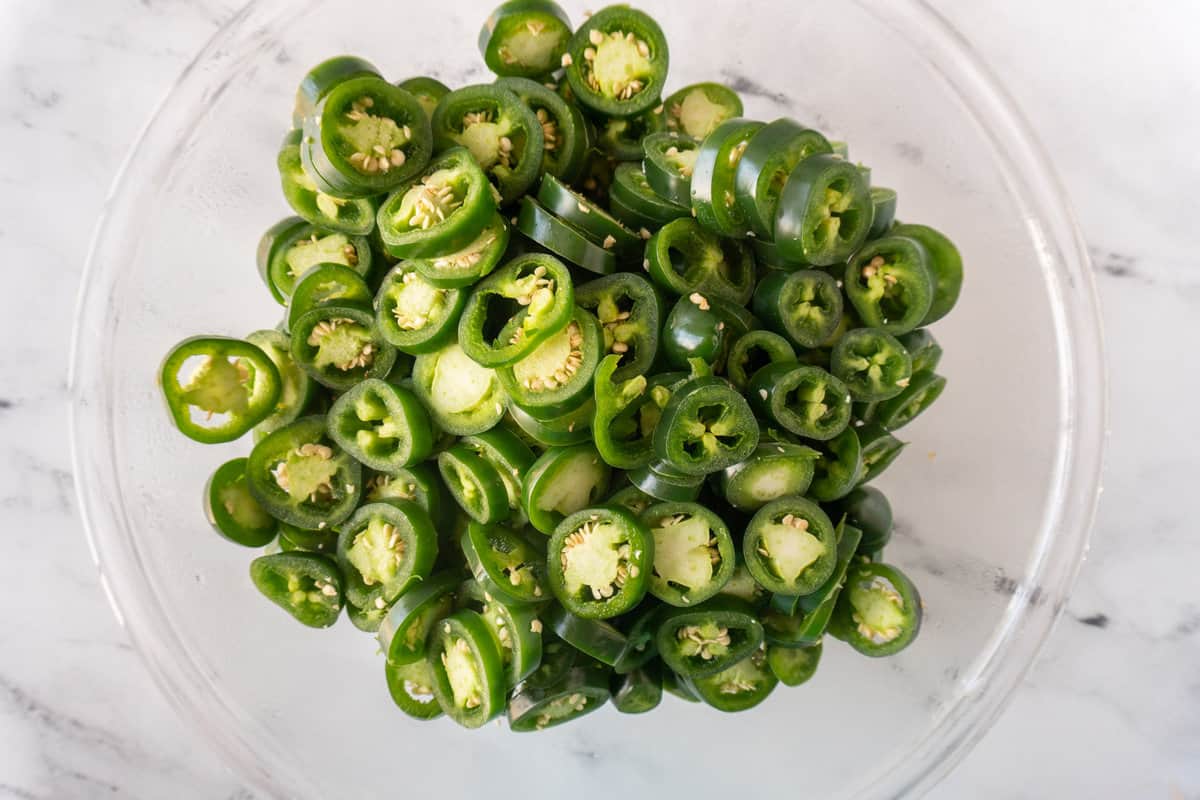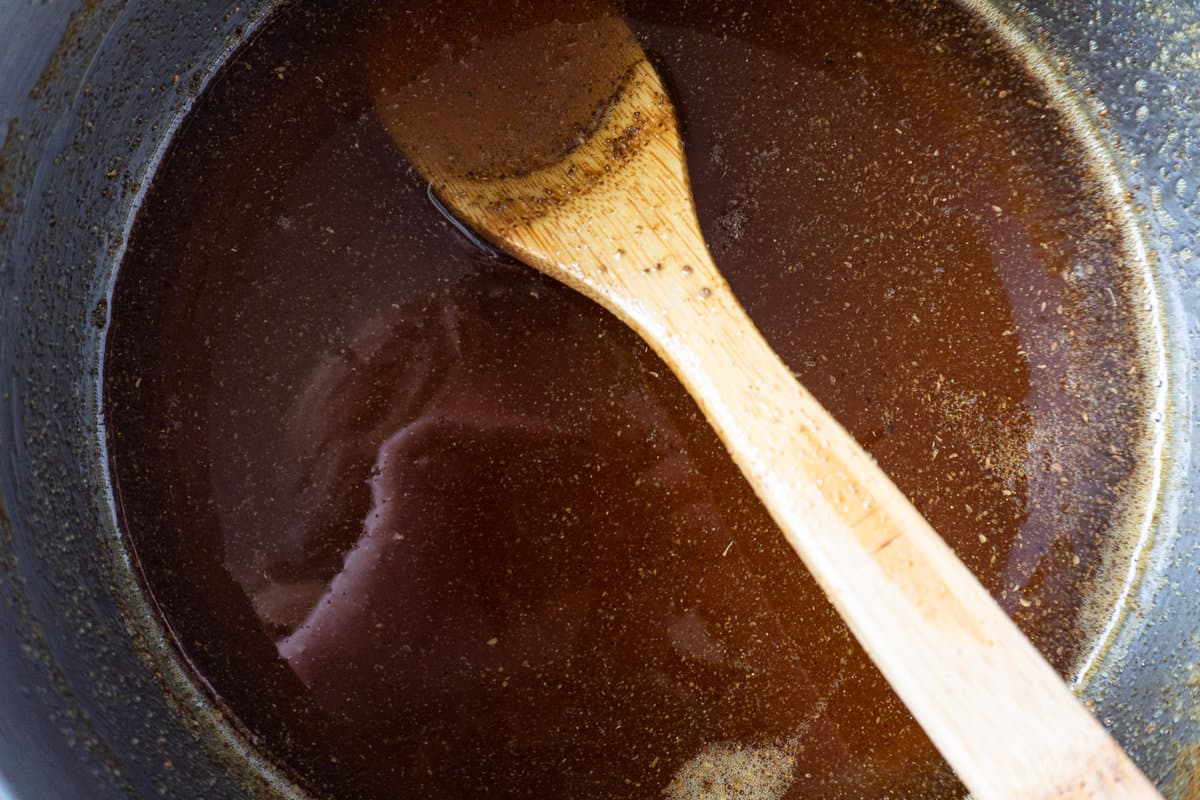 Once reduced, return liquid to a boil then add in the jalapenos. Reduce heat so that the liquid is simmering and simmer for 4 minutes.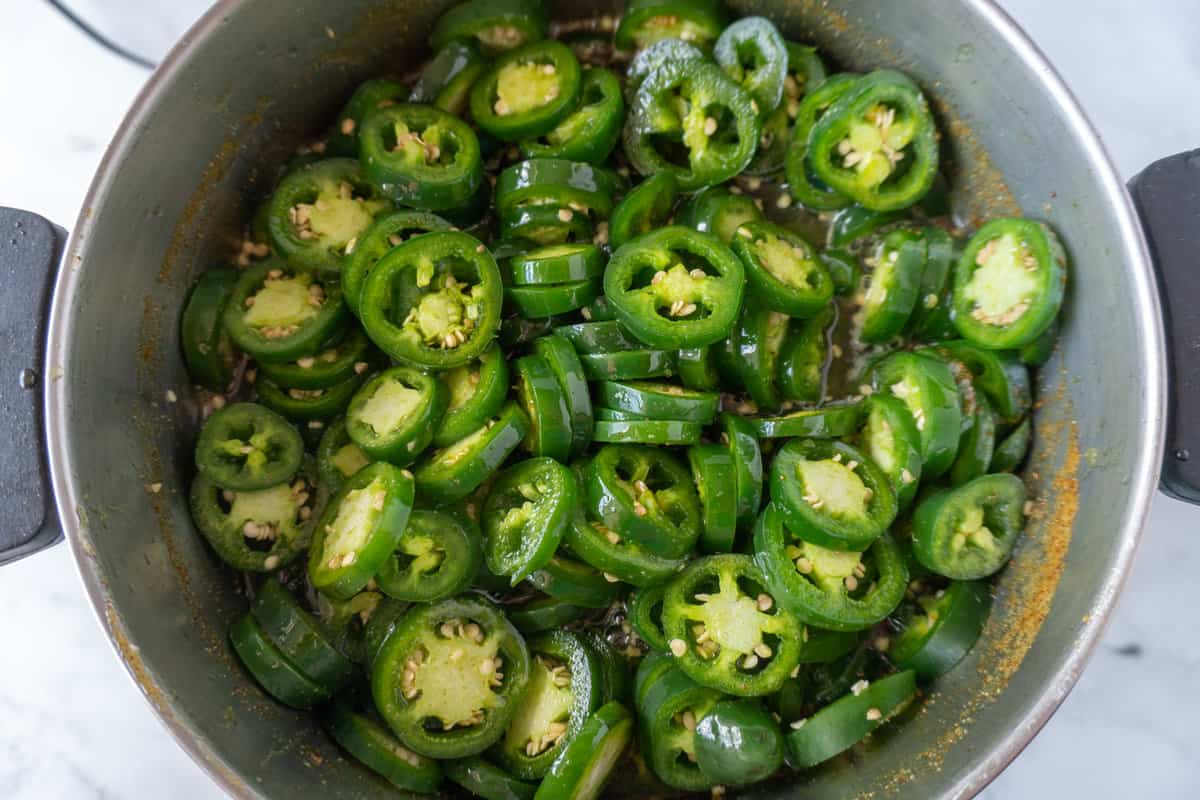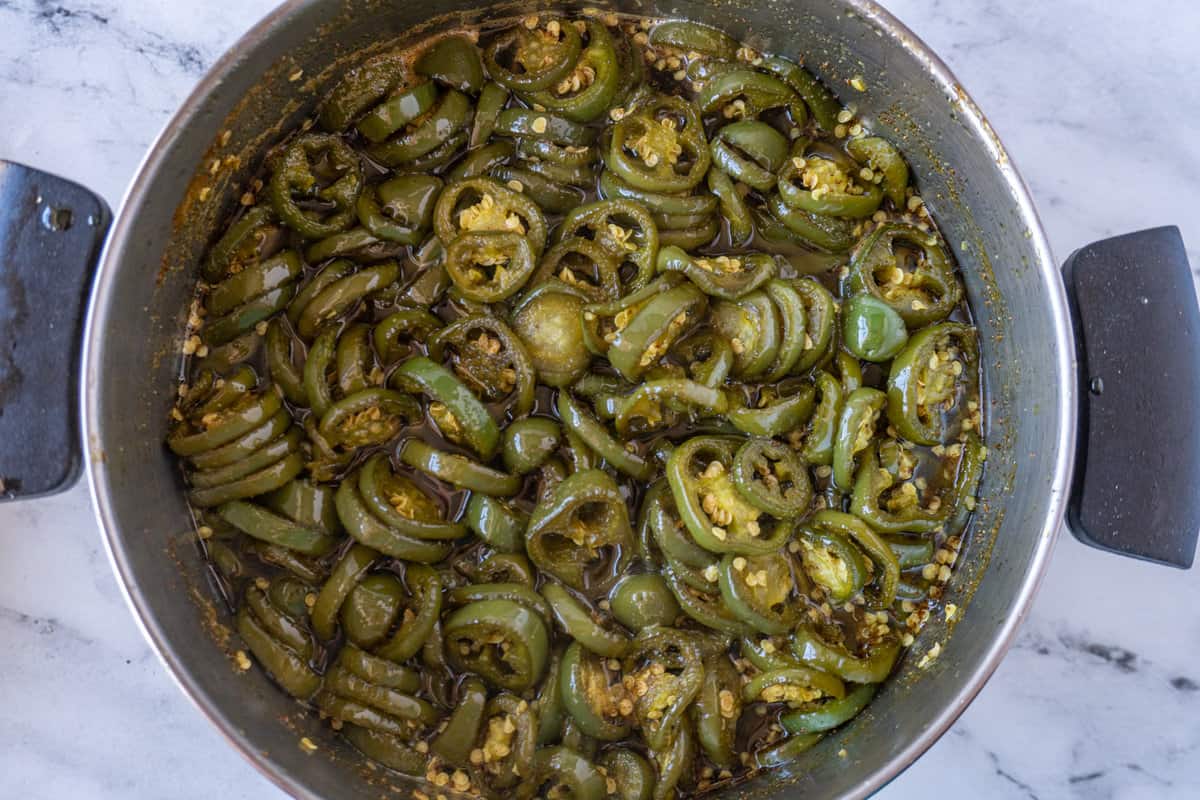 Spoon out the jalapenos into your jars. Then return the liquid to a boil and boil for another 6 minutes.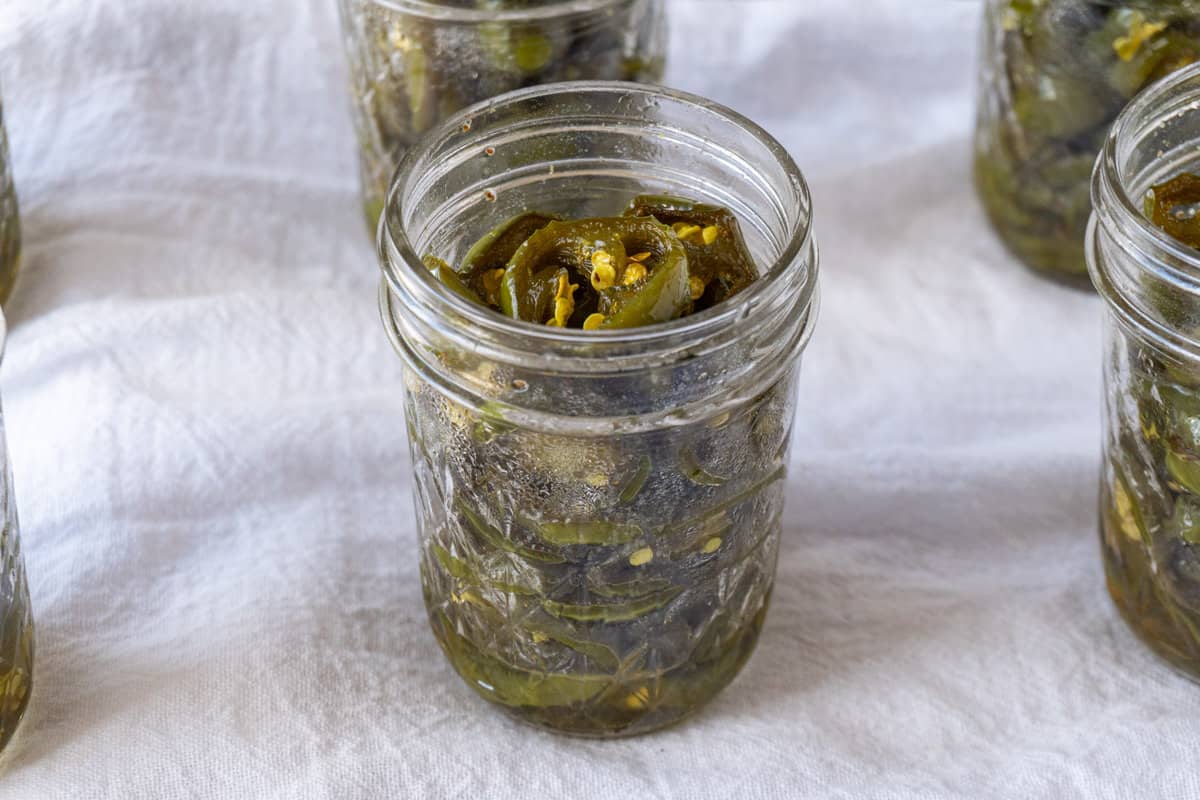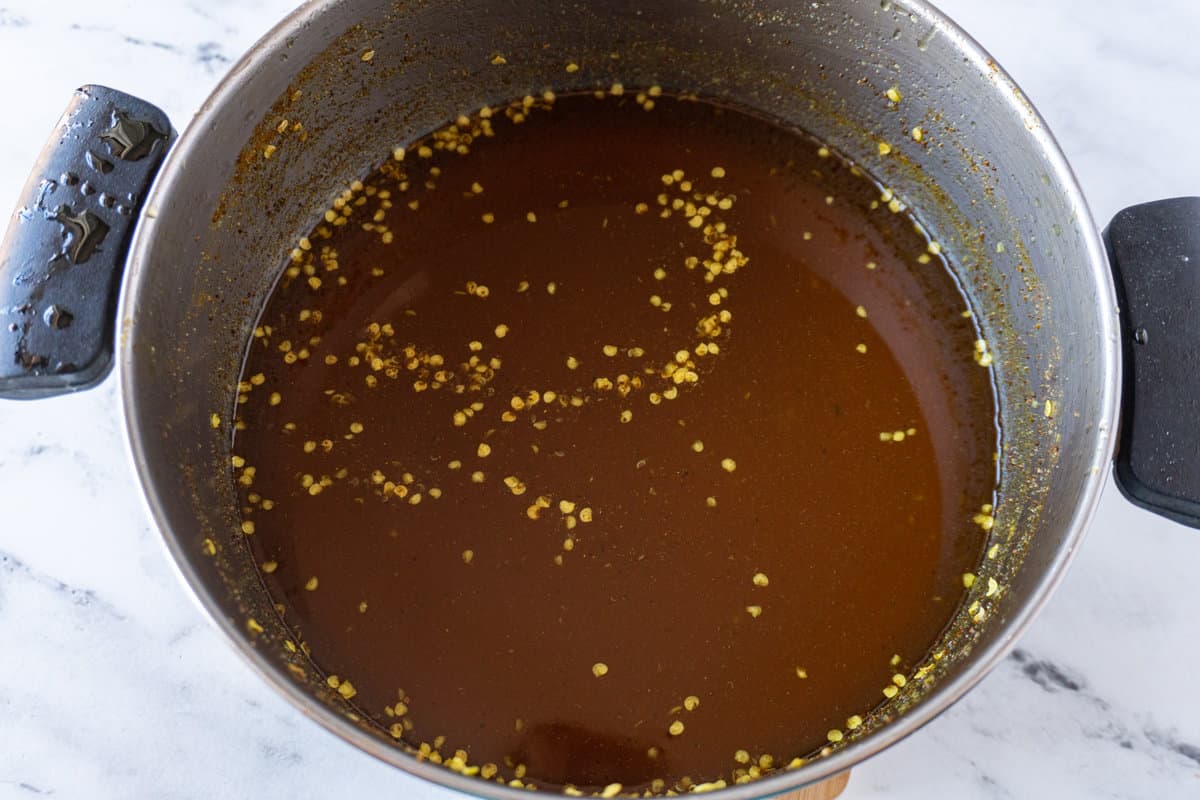 Then spoon the syrup over the jalapenos, leaving ½ inch head space in the jars. Use a butter knife to dislodge any air bubbles.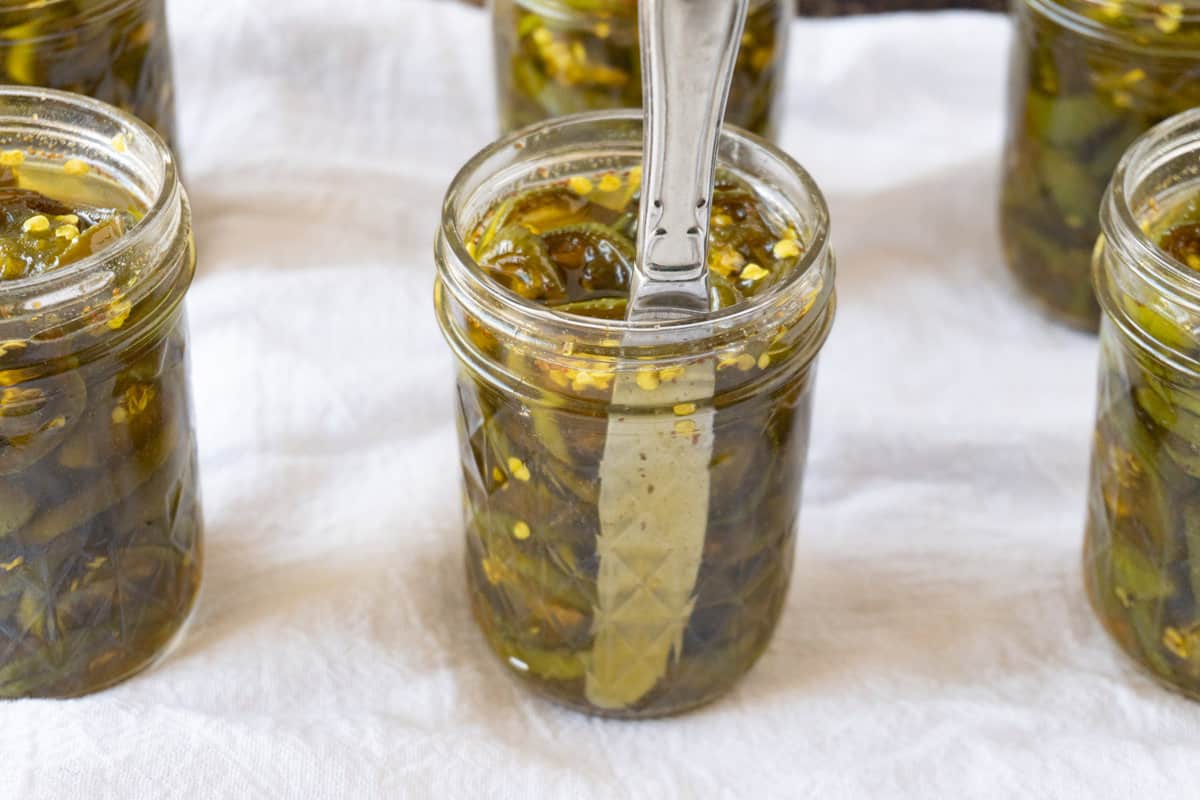 Wipe the rims and then seal with lids.
At this point if you are not water bath canning simply refrigerate the candied jalapenos, ideally for 4 weeks, but I understand if you have to sneak a few sooner!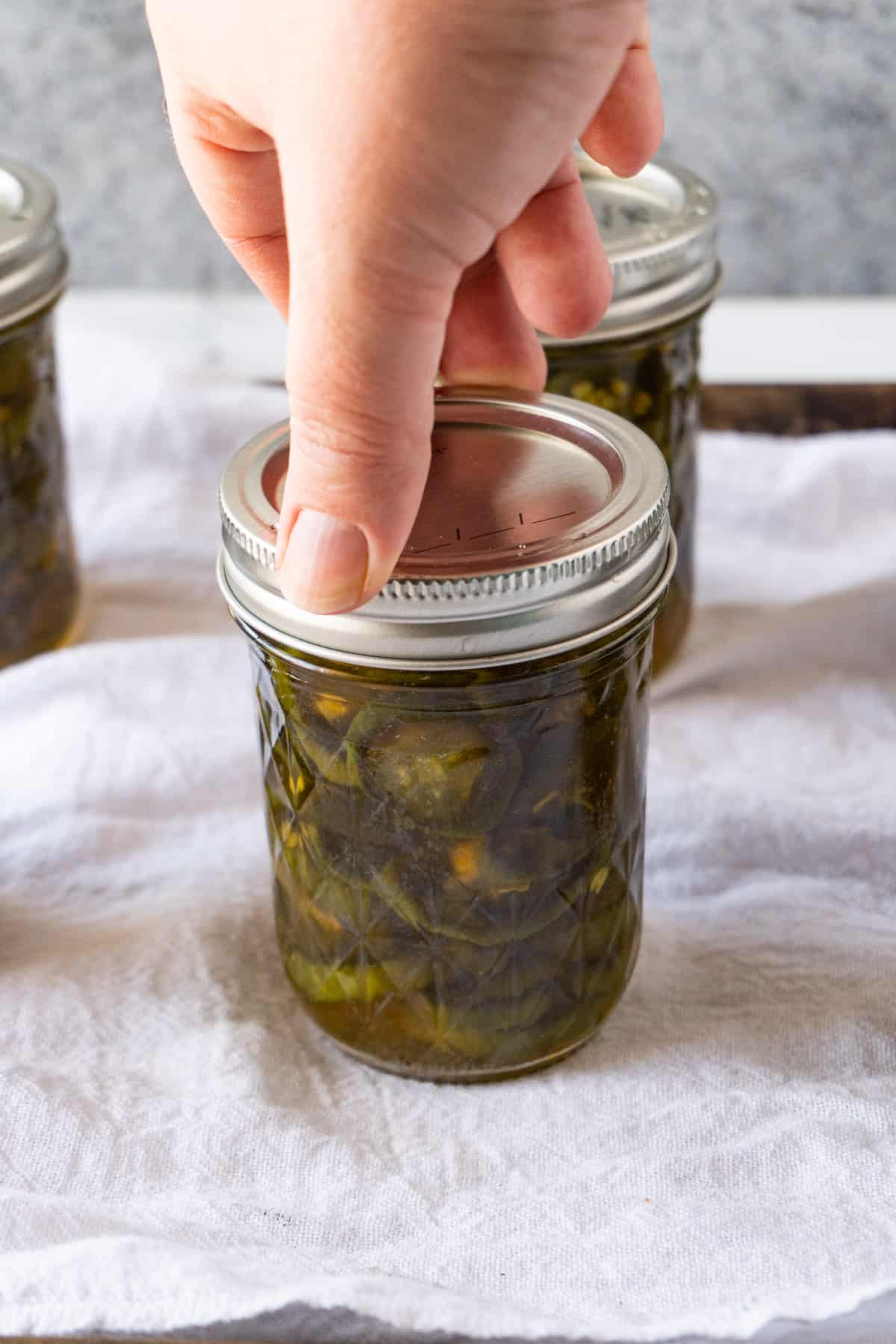 Syrup
If your syrup ever starts to get to hot it will start to get foamy. Simple reduce heat until the foam disappears.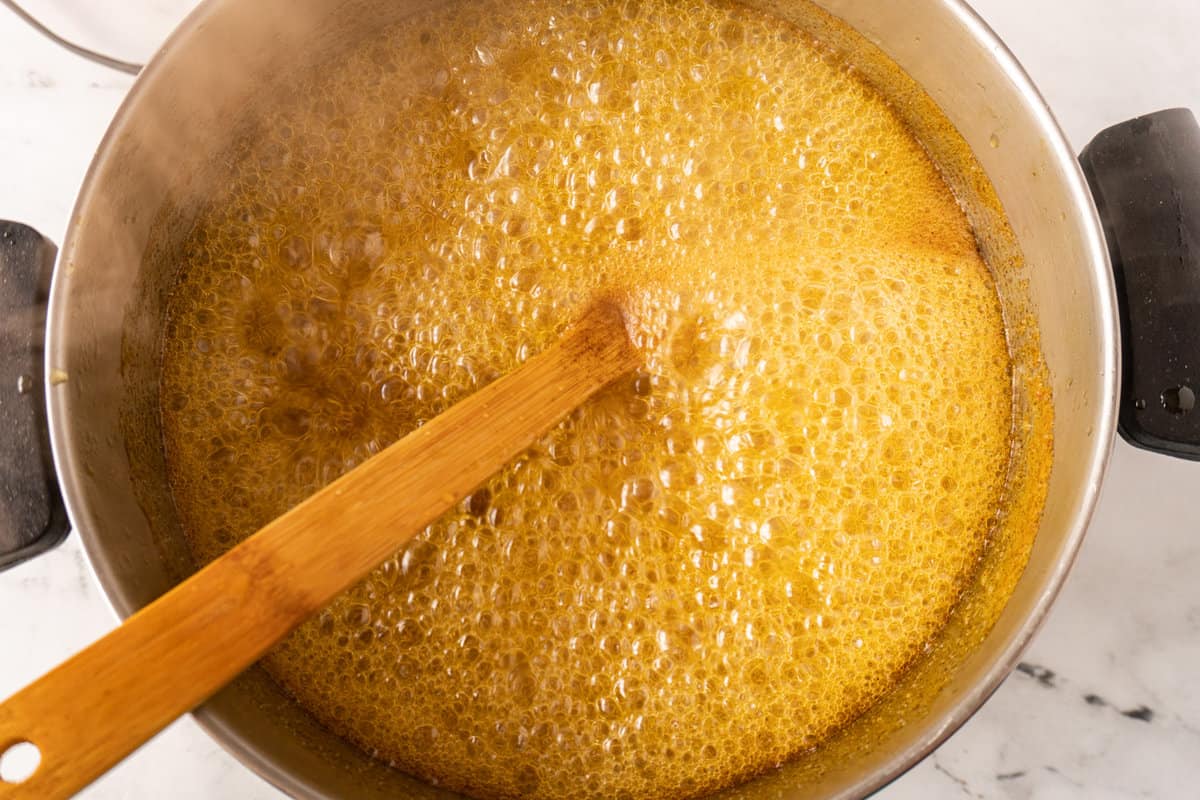 How to can cowboy candy?
Make sure pint jar lids are finger tight.
Using a water bath canner with the canning rack, place your jars in the canner.
Fill with water until the jars are covered by two inches.
Bring water to boil, then boil for 10 minutes. Make sure to adjust time if you live at altitude. See chart below.
After 10 minutes remove jars from boiling water and allow to sit for 24 hours.
In that time they should seal as they cool down.
Store canned cowboy candy in a cool, dry, dark place until ready to eat. I recommend letting these sit unopened for 4 weeks.
Canned cowboy jalapenos can stay in the pantry for up to a year.
Pro Tip: If you want to use Pint Jars add 10 minutes to the processing time (boil for 10 more minutes).
How to store cowboy candy?
Opened jars of cowboy candy should be refrigerated. They will stay good in the refrigerator for up to 3 months!
What to do with leftover syrup?
You can add it to egg or potato salad for a little kick! Store in the refrigerator or can it along with the jalapenos (if you are canning them).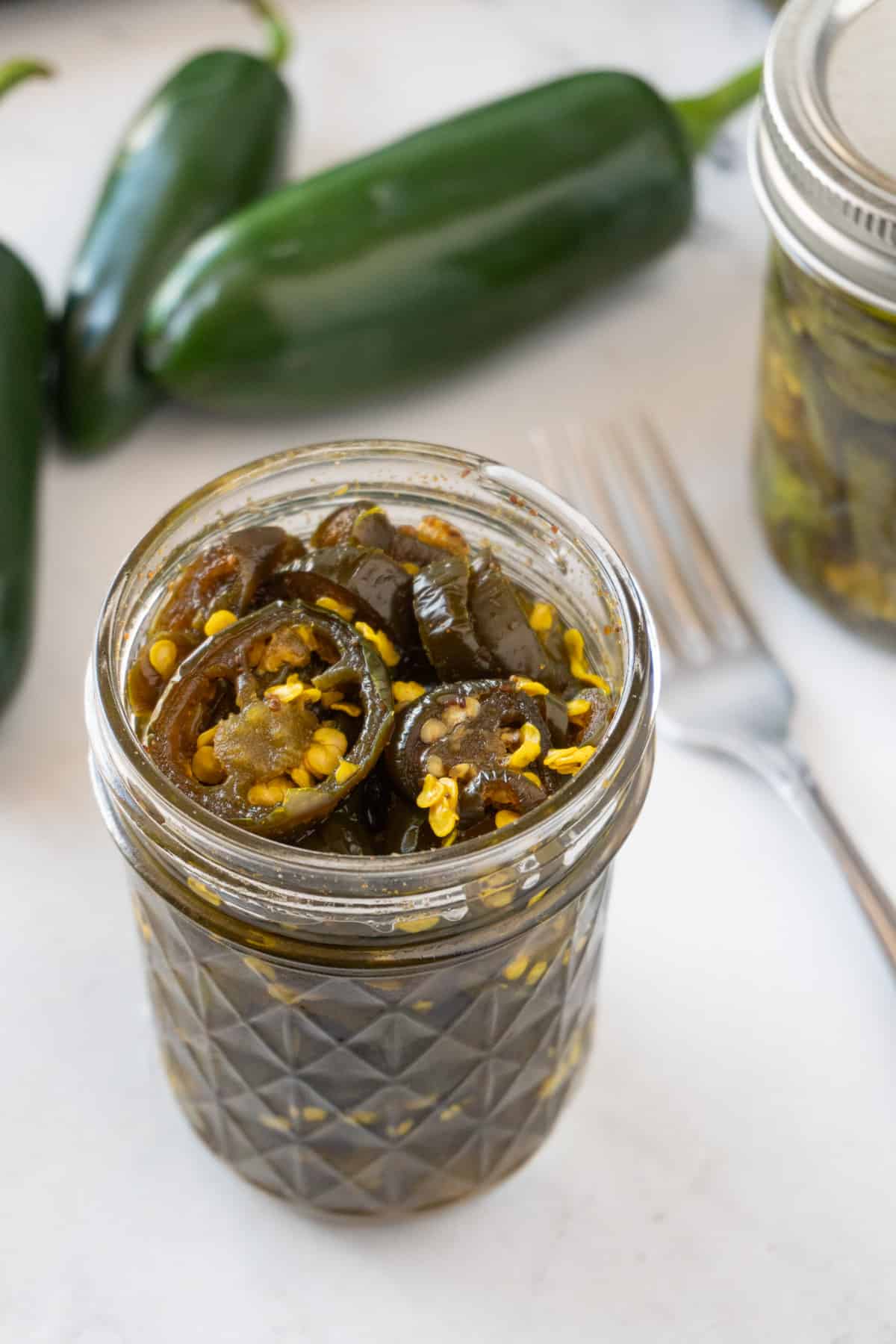 How many jars does this fill?
Typically it fills 6 half pint jars or 2-4 pint jars.
What is cowboy candy used for?
These are great eaten on burgers, hot dogs, on toast with cream cheese!
How hot are candied jalapenos?
Jalapenos vary in heat based off of their growing conditions, however, the process of boiling and storing in the sugar syrup helps to mellow out the heat. From my experience the heat is mild with lots of flavor, as opposed to making your mouth feel on fire.
Helpful Tips
Wear food safety gloves when cutting the jalapenos! They can leave your hands stinging and anything your hands touch (trust me on this!)
You can leave the seeds in the peppers since the heat is actually in the membrane on the inside of the pepper.
Less Heat: If don't want it quite as hot you can core to remove the membrane the jalapenos before cutting or use a less hot pepper.
Vinegar: Apple Cinder Vinegar is preferred but in white vinegar can be used instead, although it won't have quite the same flavor.
Turmeric: This is optional but adds a great depth of flavor that is earthy and delicious.
Pro Tip: Serve this alongside some smoked cream cheese for a dangerously delicious combo!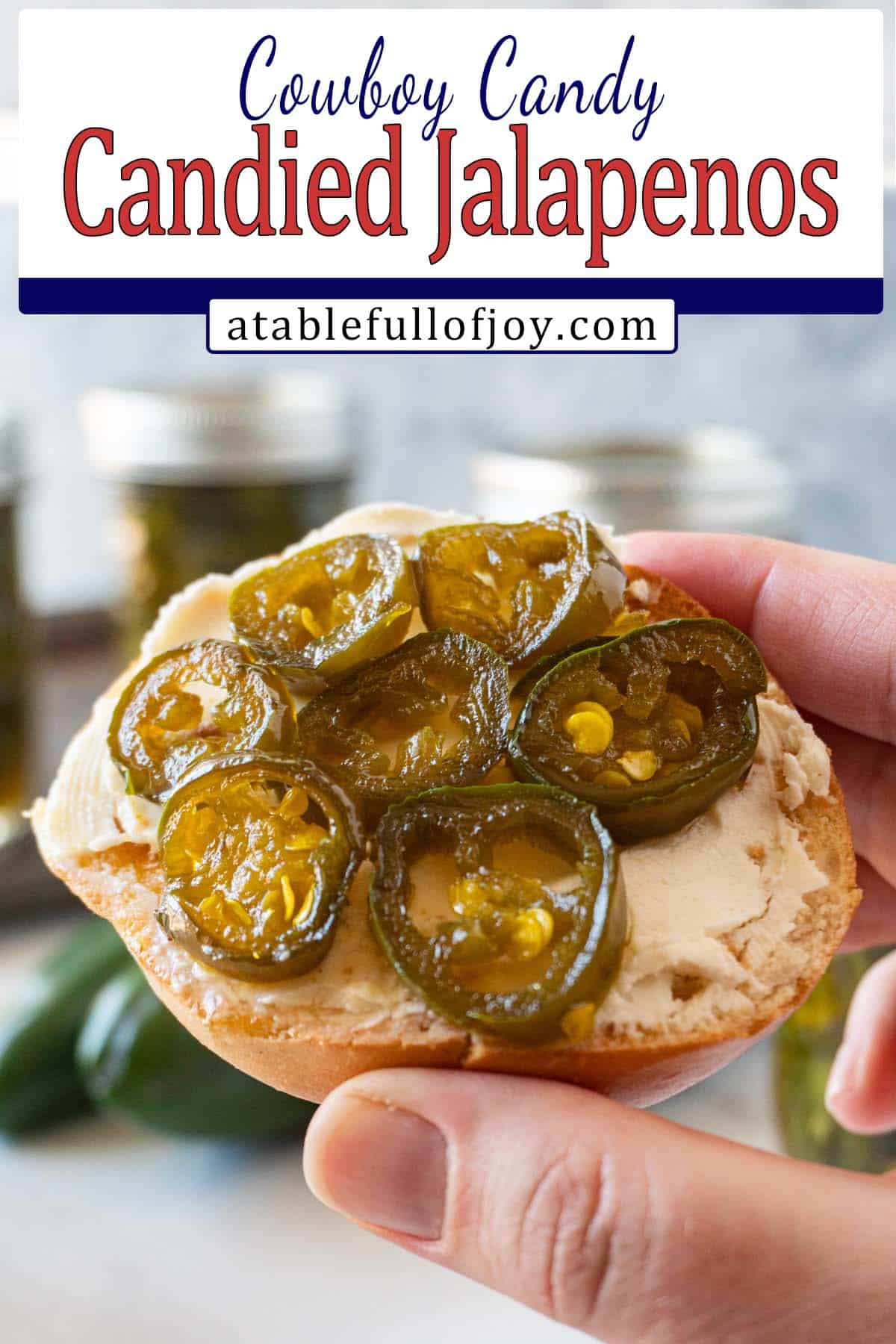 Want more? Subscribe to my newsletter and follow along on Facebook, Pinterest and Instagram for all of the latest updates.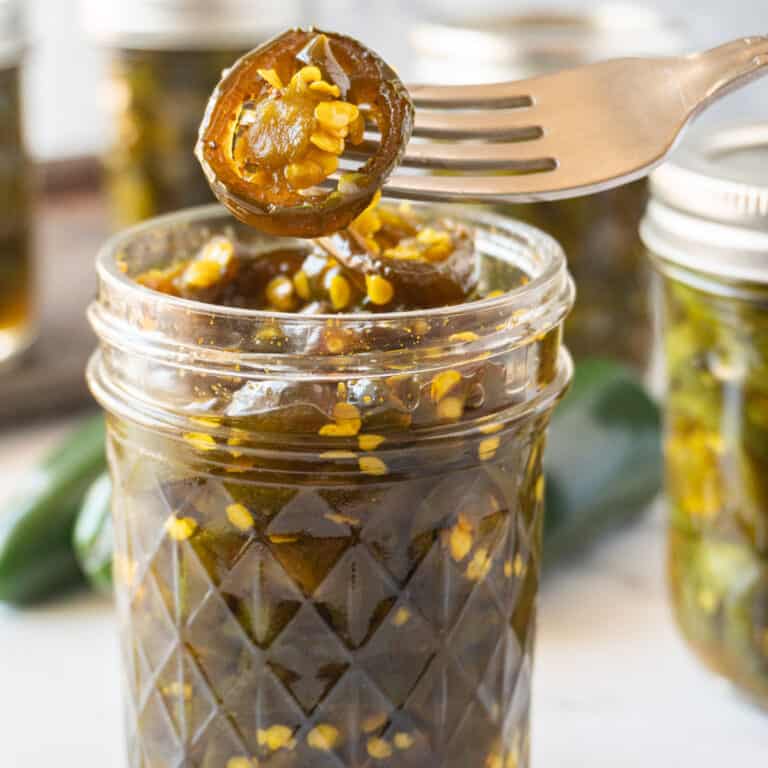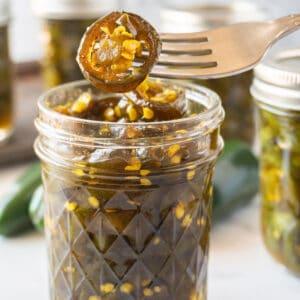 Cowboy Candy (Candied Jalapenos)
Cowboy Candy is the perfect sweet and spicy treat! These candied Jalapenos are so easy to make and taste amazing!
Equipment
Equipment for refrigerating

4-6 sterile half pint jars with lids

Equipment for canning

4-6 sterile half pint jars with lids and rings

Water bath canner with canning rack

Canning Jar Lifter
Ingredients
3

lbs

jalapenos

fresh and firm

2

cups

apple cider vinegar

6

cups

white granulated sugar

½

teaspoon

turmeric

optional but recommended

½

teaspoon

celery seed

1 ½

teaspoon

garlic powder

1

teaspoon

cayenne pepper
Instructions
Rinse jalapenos then remove the stem. Cut jalapeno into uniform rounds, ¼ inch thick. You can leave the seeds in. I highly recommend wearing gloves when cutting the peppers.

In a large pot, over medium high heat, bring apple cider vinegar, sugar, turmeric, celery seed, garlic powder, and cayenne pepper to a boil. Once boiling, reduce heat to medium-low and simmer for 5 minutes to reduce the liquid.

2 cups apple cider vinegar,

6 cups white granulated sugar,

½ teaspoon turmeric,

½ teaspoon celery seed,

1 ½ teaspoon garlic powder,

1 teaspoon cayenne pepper

After 5 minutes, return pot to a boil over medium high heat and once at a hard boil (meaning it doesn't stop boiling if you stir the liquid) add the jalapeno slices. Reduce heat to medium low and simmer for 4 minutes. If your syrup starts to get foamy it's too hot and you need to reduce heat a little more.

Using a slotted spoon transfer the jalapenos to the jars, leaving a half inch headspace in each jar*. You can pack the jars as tightly as you'd like while remembering to keep the headspace.

Return the syrup to a hard boil for 6 minutes. Then carefully spoon or ladle the syrup into each jar filled with jalapenos, retaining the ½ inch head space. Any remaining liquid can be stored in the refrigerator or canned as a syrup for later use as a marinade.

Using a sterile butter knife, stick the knife into the jar all the way to the bottom two or three times to help release any trapped air bubbles. Wipe the rims of the jars with a damp paper towel to remove any syrup.

At this point you can put the lids on an refrigerate for 2-4 weeks or you can water bath can them.
How to water bath can candied jalapenos?
With the jar rims wiped clean, add your lids and the rings. Tighten the rings until they are only finger tight.

Place your jars in the water bath canner on top of the canning rack. Fill canner with water making sure jars are covered with 2 inches of water. Bring water to a full rolling boil, then set a timer for 10 minutes. For high altitude or pint jars timing see notes below.

Once time is up, using your canning jar lifter carefully remove the jars and place on a cool rack. Let them cool untouched for 24 hours. As they cool you might hear a popping sound- this is completely normal as each jar is sealing itself.

After 24 hours test each lid to make sure it is sealed by pressing on the top. If there is a flex in the lid then it didn't seal and should be refrigerated. If it is sealed (meaning there is no flex in the lid) store the jars in a cool, dark place like your pantry. If you have hard water you might notice a gritty cloudiness on the outside of your jars. Simply wipe the jars with a little vinegar water until clean.

Allow the jalapenos to sit for at least 2 weeks but ideally 4 weeks before opening. Once opened refrigerate until they are eaten up!
Notes
Tips and Tricks
*A half inch head space means there is a half inch between the top of the jar and the contents within.
*If using pint jars boil for 15 minutes.
*High Altitude Adjustments- if you live above 1000ft then you will need to increase the time you use water bath can the jalapenos. (Altitude Adjustments)
Altitude in Feet                      Increase Processing Time
1,001- 3,000                                          5 minutes
3,001- 6,000                                         10 minutes
6,001- 8,000                                         15 minutes
8,001-10,000                                        20 minutes
Nutrition
Calories:
86
kcal
Carbohydrates:
22
g
Protein:
0.2
g
Fat:
0.2
g
Saturated Fat:
0.02
g
Polyunsaturated Fat:
0.03
g
Monounsaturated Fat:
0.01
g
Sodium:
1
mg
Potassium:
65
mg
Fiber:
1
g
Sugar:
21
g
Vitamin A:
258
IU
Vitamin C:
27
mg
Calcium:
4
mg
Iron:
0.1
mg
Reader Interactions