My Better Than Ocean Spray Cranberry Sauce Recipe only needs 4 ingredients. With a hint of orange, you will love this sweet and tasty side cranberry dish!
Simple ingredients that come together in no time at all that will transform your meal! This cranberry sauce recipe will be a new favorite for Thanksgiving and Christmas.
This post may contain affiliate links. Please read my disclosure policy.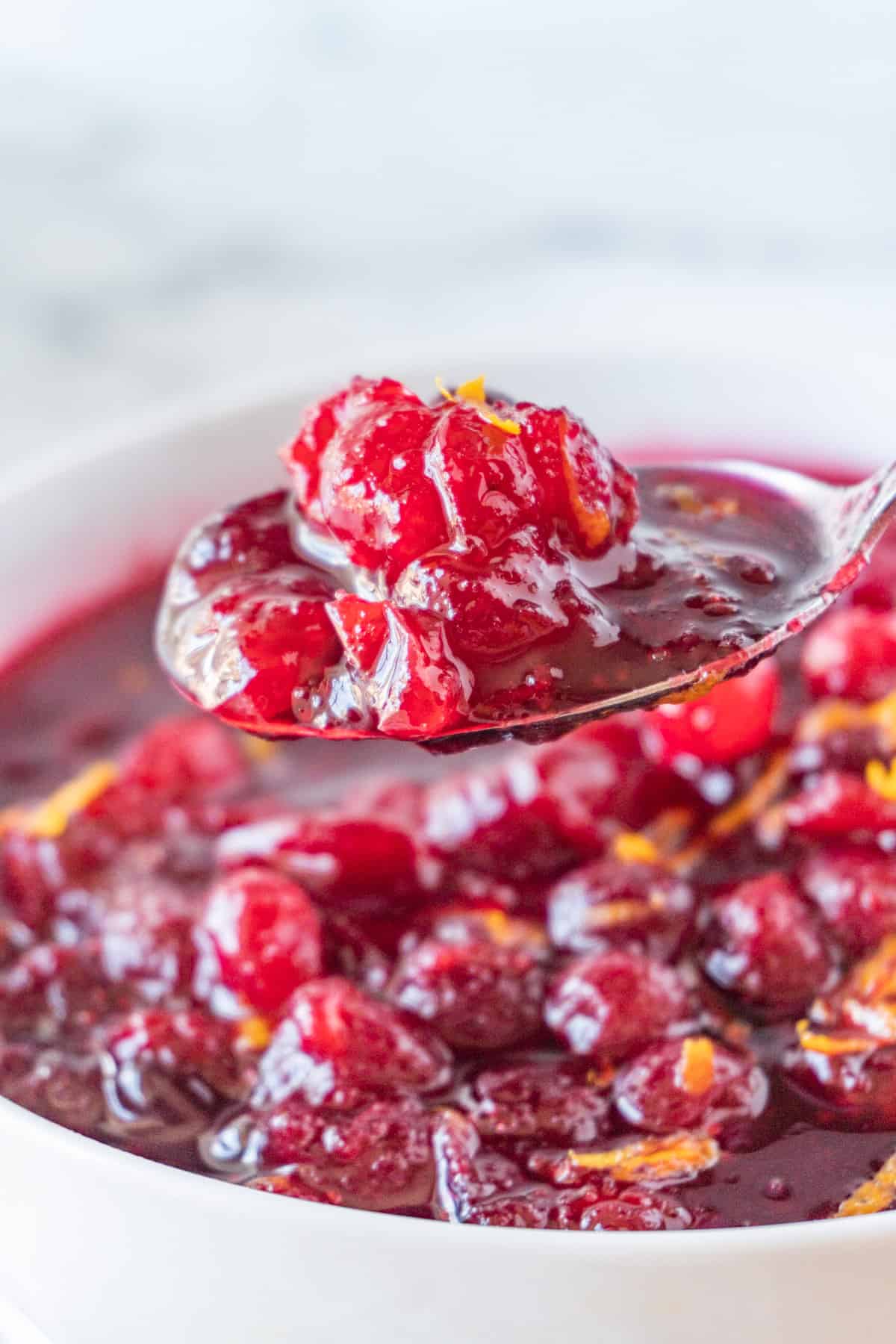 Cranberry Sauce is a staple during the holidays. What's funny is I actually grew up with cranberry relish and my husband's family always had canned cranberry.
However, cranberry sauce is a loved and cherished holiday recipe that I am excited to share with you. Once I realized just how easy and delicious homemade cranberry sauce was, I was amazed.
What did you grow up with? Let me know in the comments below!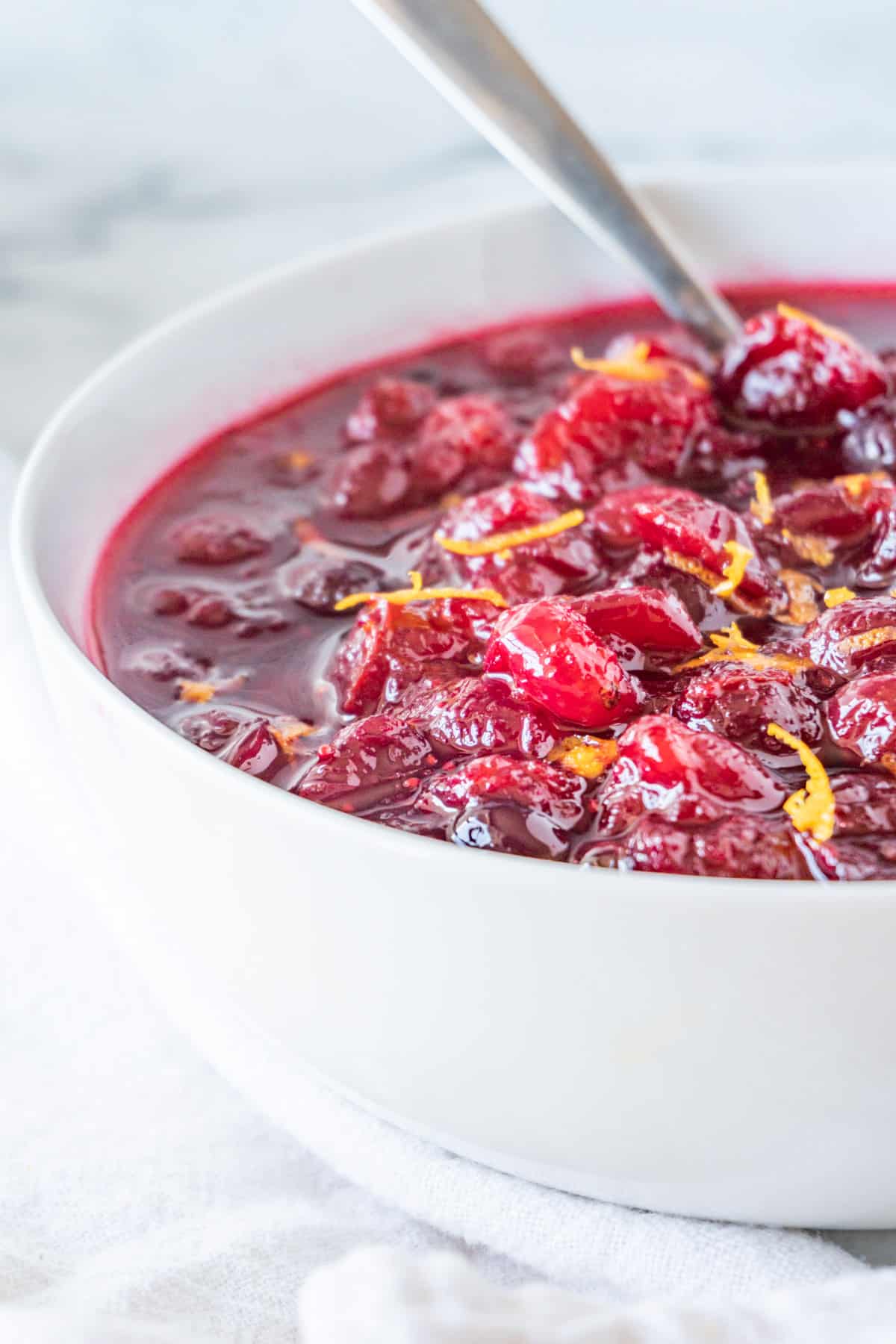 For more tasty cranberry treats check out:
Why we love this recipe
It's simple
Requires only a handful of ingredients
Can be made several days before the big holiday meal
It's better than ocean spray cranberry sauce because it has orange in it!
What ingredients do you need?
Cranberries- fresh or frozen
Sugar
Water
Orange- you will use the zest and the juice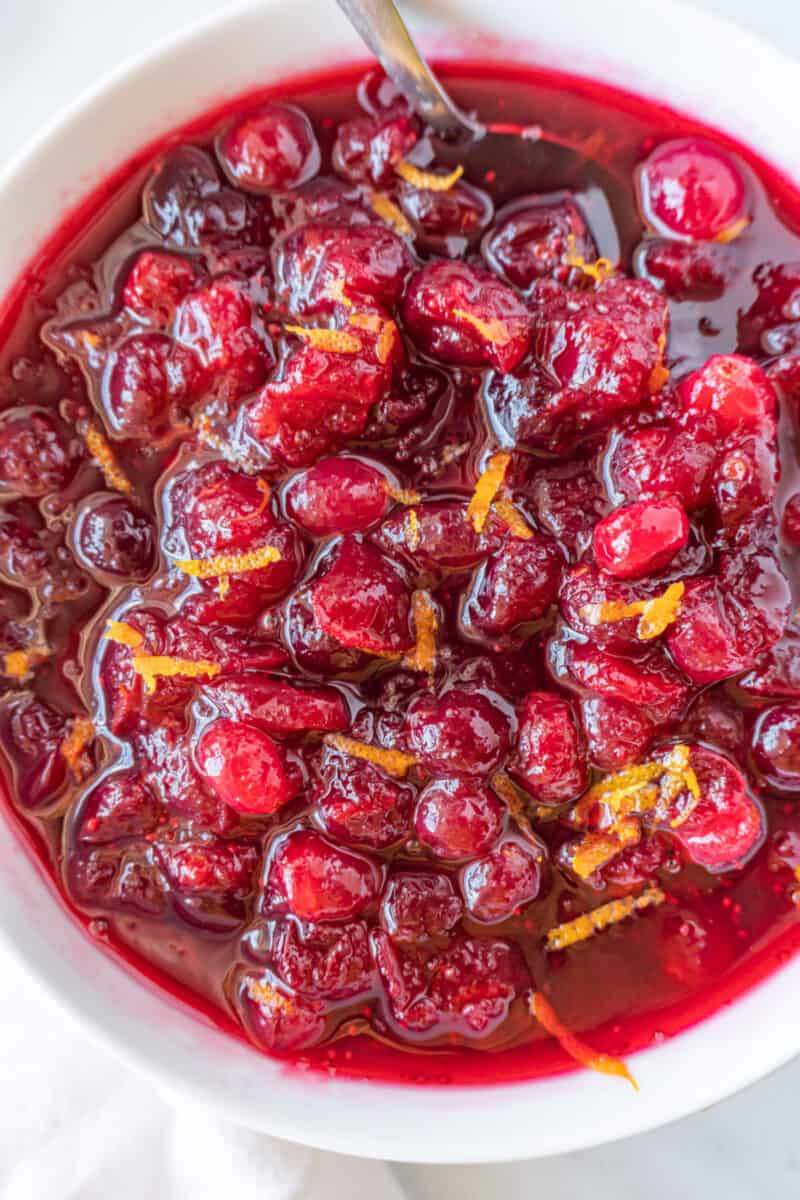 A traditional cranberry sauce recipe doesn't include orange. However, orange and cranberry go together so well.
The flavors are very complimentary and I love this cranberry sauce with a little orange in it.
How to make upgraded ocean spray cranberry sauce?
Rinse cranberries and remove and bad ones or pieces of sticks (it happens sometimes!)
Zest your orange.
In a medium saucepan combine your water, sugar, and juice from your orange. Stir and bring to a boil over medium heat.
Once sugar is dissolved add cranberries and return to a boil. Then lower heat and simmer for 10 minutes.
Remove from heat and stir in orange zest. Allow sauce to come to room temperature then refrigerate until cold.
Don't miss these tips!
#1: Orange: Zest the orange before squeezing the juice out. It makes life so much easier.
I highly recommend this zester and this juicer.
#2: Fresh vs Frozen: You can use either. If you use frozen, do NOT thaw before cooking.
#3: Storage: Store cranberry sauce in an airtight container in the refrigerator for up to a week.
#4: Freeze: You can freeze cranberry sauce in a freezer safe container for up to 3 months. Just allow it to thaw for a day or two before serving.
#5: If you want thicker cranberry sauce you will need to simmer the cranberries for a total of 15-20 minutes. The sauce will naturally continue to thicken as it cools.
Cranberry sauce is one of the recipes that is perfect to make several days before you want to serve it. This definitely helps with all the hecticness of holiday meal prep.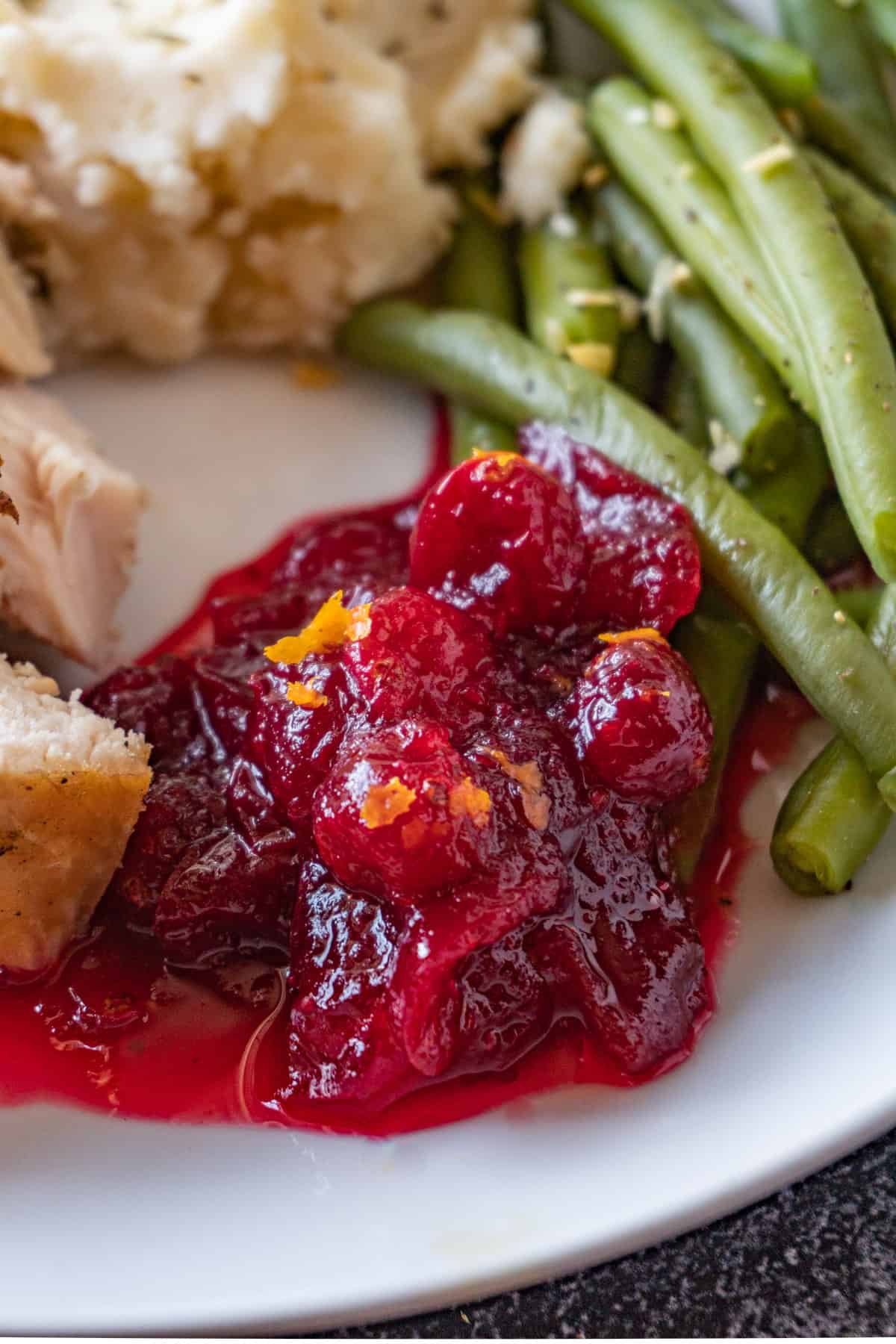 Frequently Asked Questions:
How do you make cranberry sauce from scratch?
All you need is cranberries, sugar, and water and boil. Add some orange juice for extra flavor.
Why is my cranberry sauce not thickening?
It probably needs to boil longer or you didn't add enough sugar. Add a little more, stir, and boil a few more minutes.
How do you make cranberry sauce taste better?
You can and orange juice and orange zest. Or add a little maple syrup.
Is cranberry sauce warm or cold?
It is typically served chilled or at room temperature. Allowing it to cool will help it thicken.
What to do with leftover cranberry sauce?
I love to add it to leftover tacos or open faced sandwiches!
Holiday Menu Tips
---
Holiday Menu Tips- when to make everything!
Trying to get all the dishes made during the Holidays can be a bit hectic. However, planning out what you will make, what ingredients you need, and when everything should be in the oven or on the stove helps a lot.
If you can make some dishes things ahead of time that is even better. Here are a few of my favorite holiday recipes that can be made a day or two or three in advance and either reheated or just set out on the table when ready to eat!
Don't miss my latest posts: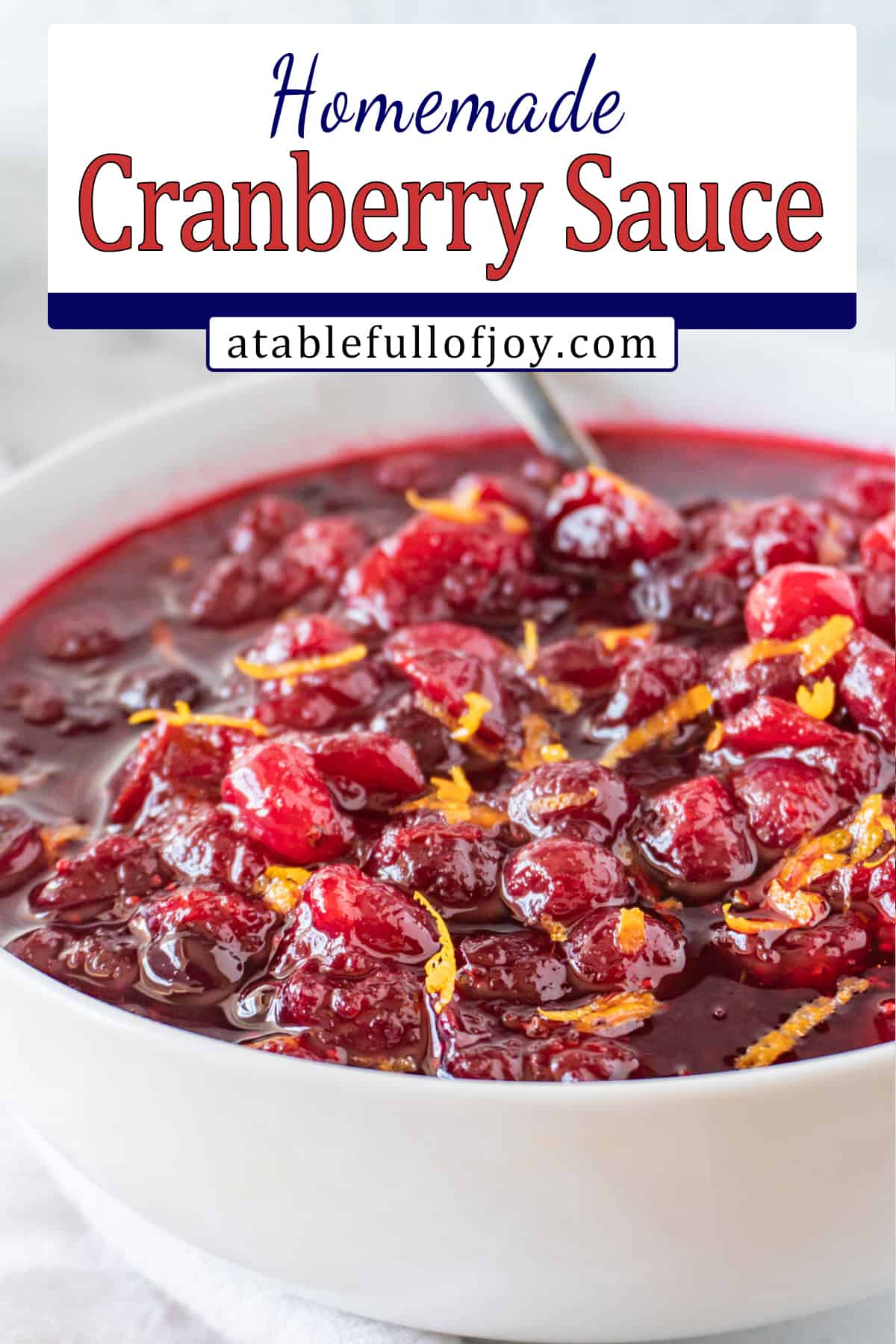 Watch how to make this recipe!
Want more? Subscribe to my newsletter and follow along on Facebook, Pinterest and Instagram for all of the latest updates.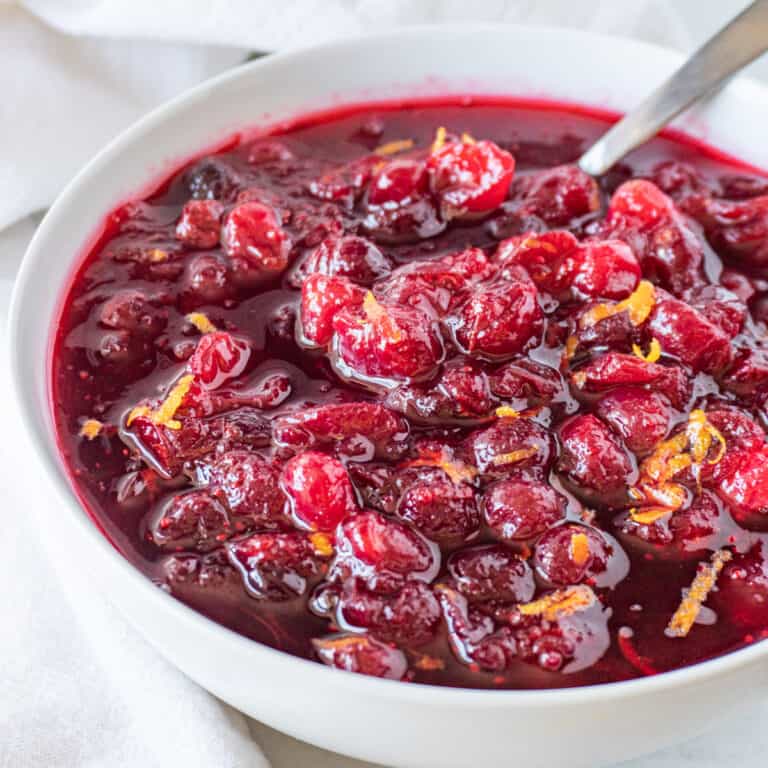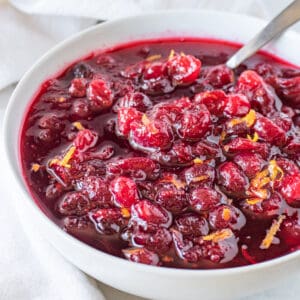 *Better than* Ocean Spray Cranberry Sauce Recipe
This easy Cranberry Sauce Recipe, all you need 4 ingredients for delicious homemade cranberry sauce. With a hint of orange, you will love this sweet and tasty side cranberry dish!
Ingredients
1

cup

sugar

1

cup

water

Juice from 1 orange*

3

cups

fresh or frozen cranberries

12 oz package

Orange zest
Instructions
Rinse cranberries and remove any bad ones.

Zest orange then squeeze out the juice into the saucepan you will be using. (1 orange)

In the medium sized saucepan bring the sugar, water, and orange juice to a boil. Stir until sugar is dissolved. (1 cup sugar, 1 cup water, juice from 1 orange)

Add cranberries to pot and return to a boil. Then lower heat to a simmer and cook for 10 minutes or until most of the cranberries have burst. (3 cups cranberries) For thicker sauce simmer for another 5-10 minutes.

Remove from heat and stir in the orange zest. Allow cranberry sauce to come to room temperature and then refrigerate until chilled. It will thicken as it cools.
Notes
Nutrition
Calories:
94
kcal
Carbohydrates:
24
g
Protein:
1
g
Fat:
1
g
Saturated Fat:
1
g
Sodium:
2
mg
Potassium:
38
mg
Fiber:
1
g
Sugar:
22
g
Vitamin A:
30
IU
Vitamin C:
7
mg
Calcium:
4
mg
Iron:
1
mg
Post updated 12/20/21
Reader Interactions