French Silk Pie, a classic chocolate cream pie that is delicious year-round! Who doesn't love a creamy chocolate pie topped with delicious whipped cream- this French Silk Pie is amazing!!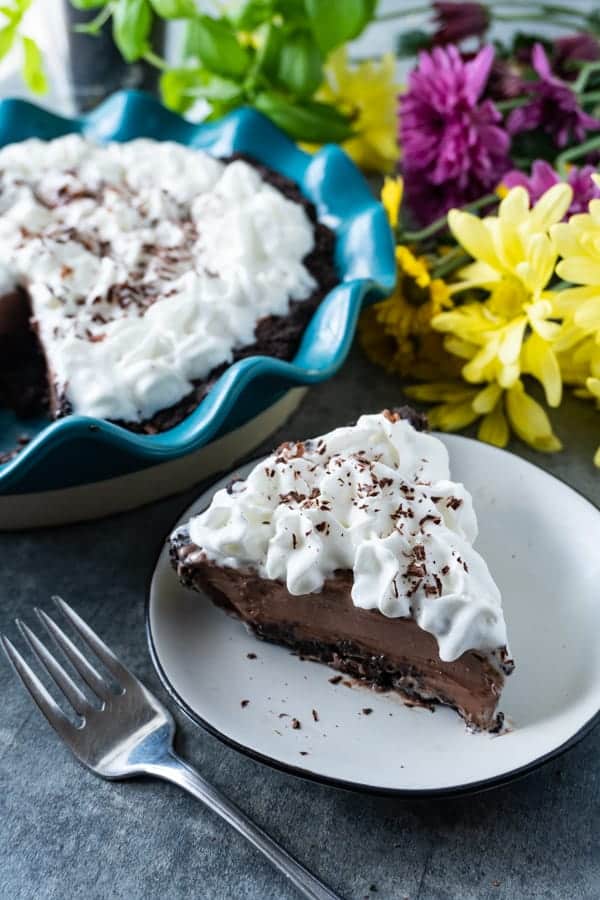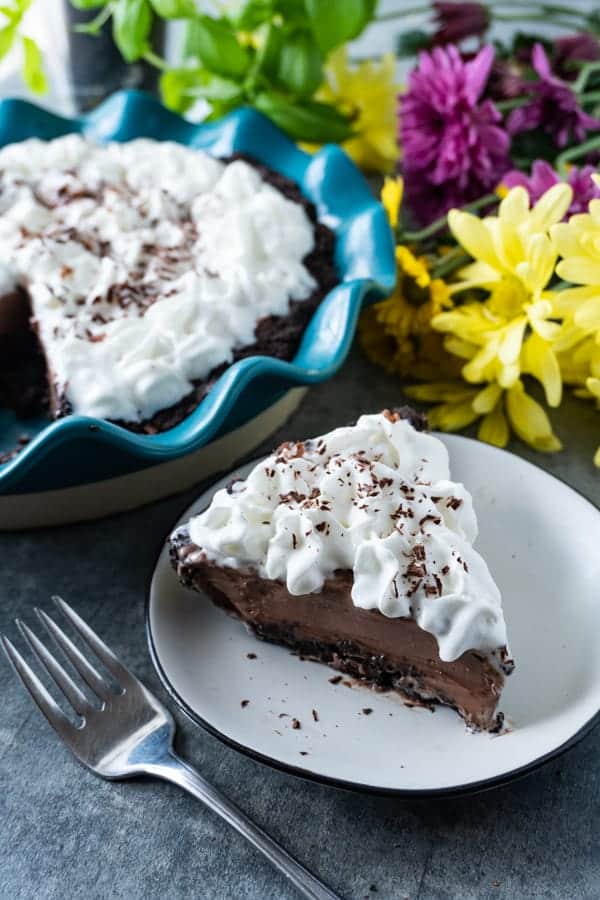 I grew up having French Silk Pie at every holiday dinner! Chocolate mousse and whipped cream all in an Oreo crust- yes please!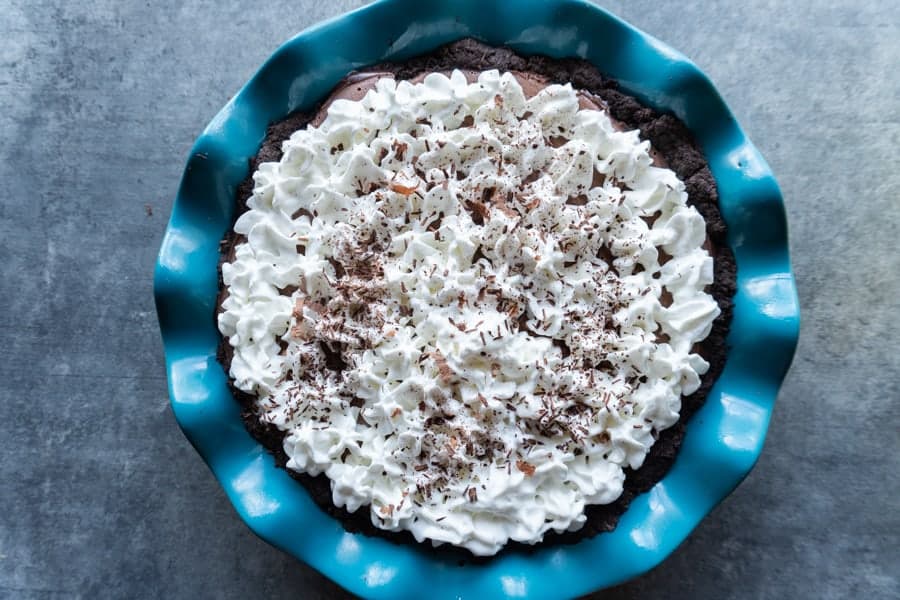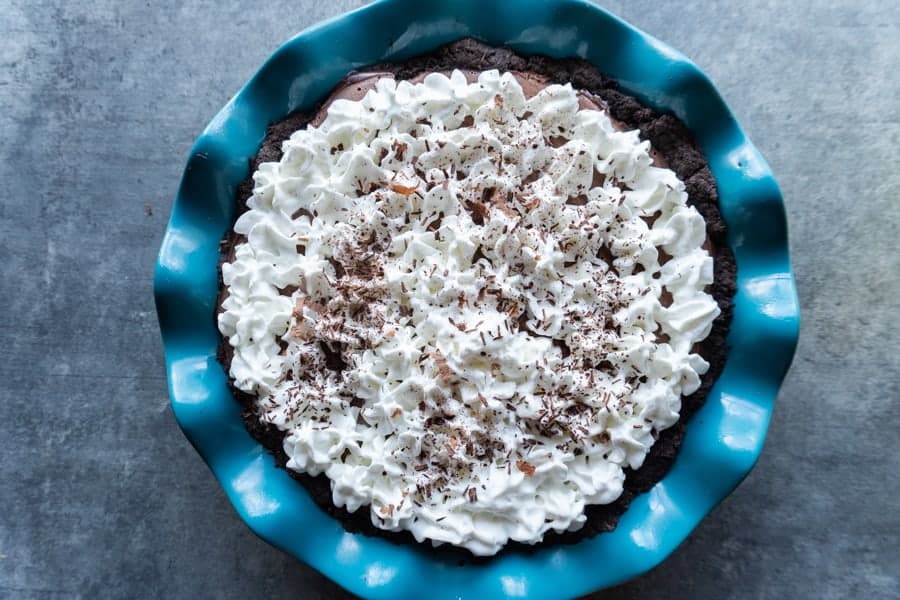 We all know pumpkin pie gets all the love for Thanksgiving but I grew up not really liking pumpkin pie- it was always too dense and well… not chocolate. Although I now have a delicious creamy pumpkin pie recipe that I love- Chocolate Cream Pie will always be a favorite!
This French Silk Pie recipe makes a decadent, smooth, and incredibly chocolaty pie that you need to try right away!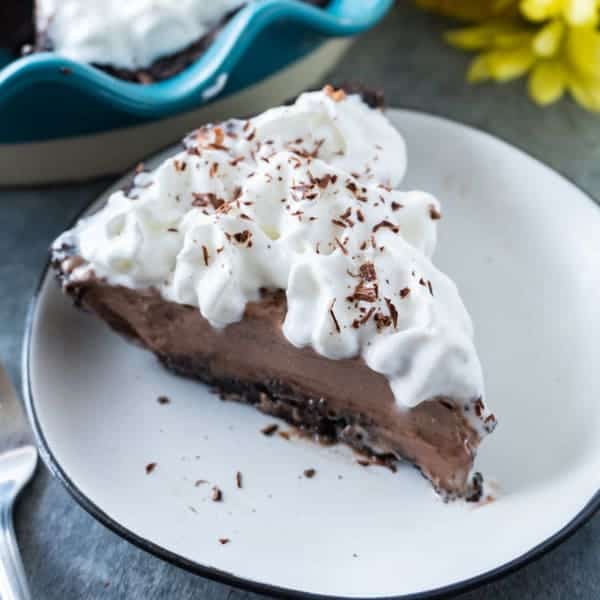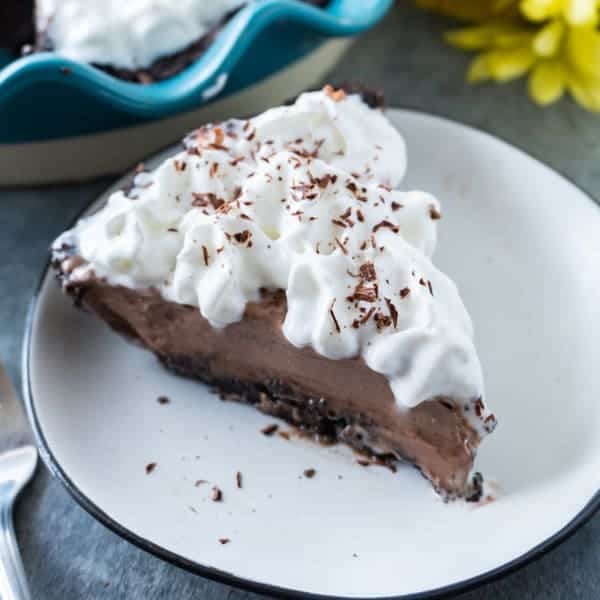 How do you make French Silk Pie?
Make your crust, bake, and set aside
Combine sugar, cornstarch, and salt in a sauce pan
In a different bowl combine heavy cream and egg yolks
Slowly whisk the cream mixture into the sugar mixture
Heat mixture over medium low heat while whisking continually until it starts to thicken, the reduce the heat and simmer (while whisking) for another minute
Pour the filling into the crust in a nice smooth layer. Lay a piece of plastic wrap on top of the pie (touching the filling!) to prevent a film from forming.
Refrigerate for 4-6 hors
Top with whipped cream and chocolate shavings
What is the difference between Chocolate Cream Pie and French Silk Pie?
French Silk Pie is a more of a mousse whereas some refer to Chocolate Cream Pie as the chocolate pudding pie. French Silk Pie is usually richer.
I use Chocolate Cream Pie and French Silk Pie interchangeably because that's what I grew up with, but I have learned that what I have always loved since a kid is in fact French Silk Pie.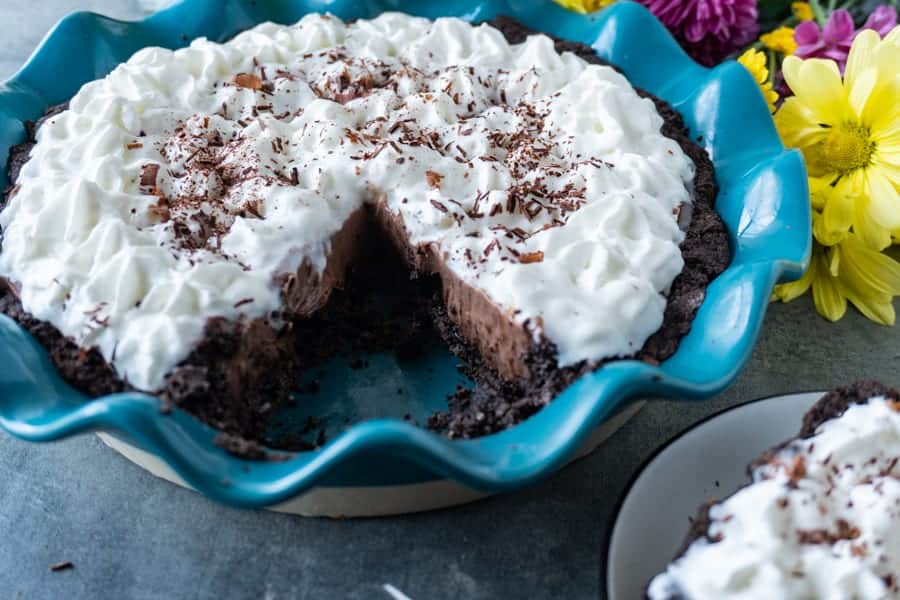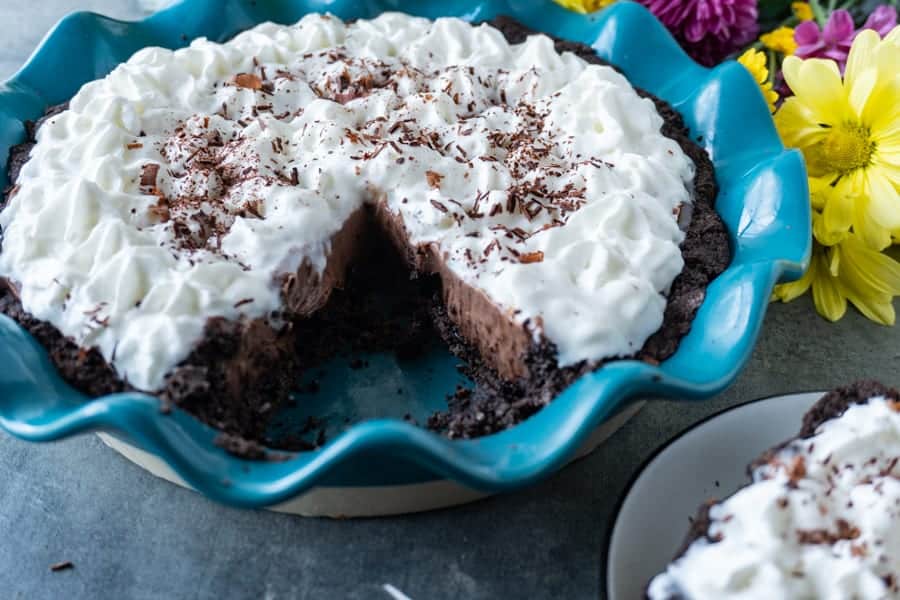 Can I freeze French Silk Pie?
Yes- it stored in an airtight container it will last up to 3 months in the freezer and defrost wonderfully! Just allow it to thaw in the fridge for a few hours before serving.
How long does French Silk Pie last?
Usually 3-4 days in the refrigerator.
Why are there white stringy things in my pie filling?
That's from the eggs cooking because you didn't whisk continually or the heat was too high. No worries- I've done that before too and there is no need to start over (plus who has the time or money to do that anyways?).
Simply strain the chocolate filling before pouring it into your pie crust.  You won't be able to tell and it will still taste AMAZING!


I should tell you- most French Silk Pies have a normal pastry crust- I love Oreos and decided to make an Oreo crust instead. 10/10 highly recommend it!
Overall, this is a pretty easy chocolate cream pie that you need to make ASAP!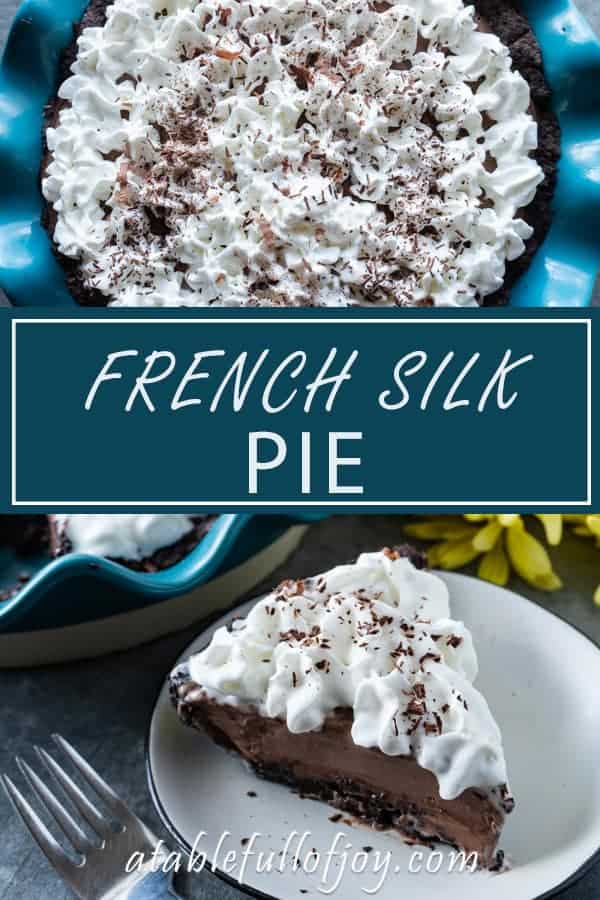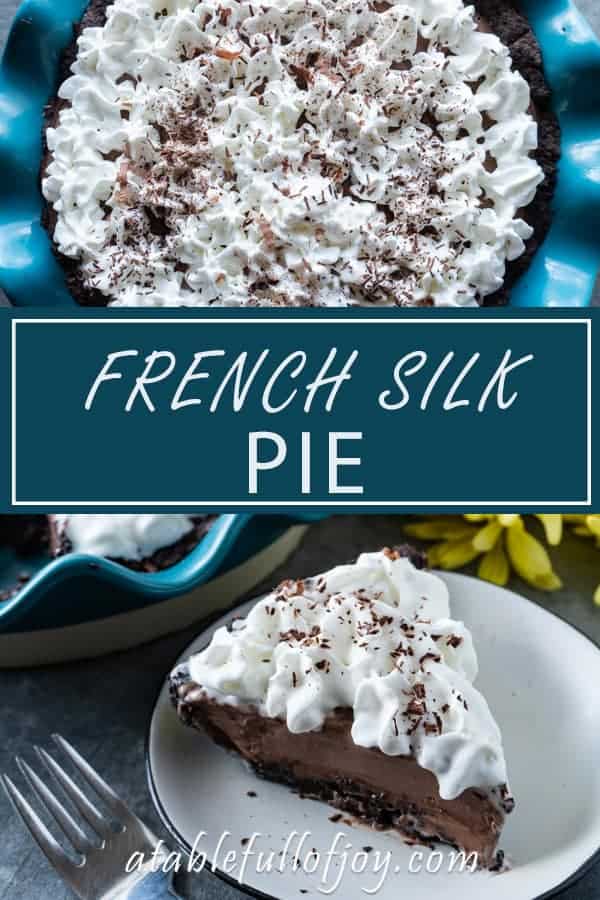 If you like this French Silk Pie make sure to check out my Caramel Pear Pie, Mini Apple Pies and my delicious Pumpkin Pie!
---
BE SURE TO FOLLOW ME ON FACEBOOK, INSTAGRAM, PINTEREST, & SIGN UP FOR MY EMAIL NEWSLETTER!
---
French Silk Pie
French Silk Pie, a classic chocolate cream pie that is delicious year-round!
Ingredients
For the Chocolate Filling
3

cups

heavy cream

1/3

cup

sugar

5

large egg yolks

2

tbs

corn starch

4

tbs

unsalted butter

8

oz

semi-sweet chocolate

1

tsp

salt

1

tsp

vanilla extract.
Whipped Cream Topping
1

cup

cold heavy whipping cream

1/3

cup

powdered sugar

Chocolate shavings

for garnish
Instructions
For the crust:
Preheat oven to 375°F

In a food processor process Oreos and butter until it becomes fine grained/sandy texter.

Press Oreos into a 9 inch pie dish and then bake for 10 minutes. Remove and let cool.
For the chocolate filling:
In a medium saucepan combine the sugar, corn starch, and salt.

In a separate bowl combine the heavy cream, and egg yolks. Then slowly whisk in the cream/egg mixture into the saucepan.

Heat the cream/egg mixture while continually whisking over medium low heat for 8-10 minutes. As soon as the mixture starts to thicken reduce heat and simmer an additional minute while continuing to whisk. Constant whisking keeps the eggs from scrambling.

After a minute remove from heat and whisk in the chocolate, butter and vanilla until smooth.

If you find you have white stringy bits in the filling that means the eggs cooked a little too much- not a big deal (I promise!). Simply strain your chocolate filling through a medium sized strainer. *

Pour the filing into the cookie crust in a nice smooth layer. Gently lay a piece of plastic wrap on top (making sure it is toughing the pie filling) to prevent a film from forming and refrigerate until set- about 4-6 hours.

For the whipped cream topping simply add the heavy cream to the bowl of an electric mixer. Whip on medium high until trails appear in the cream. Then add powdered sugar and whip again until soft peaks form.

Layer on the whipped cream and garnish with chocolate shavings.

Enjoy!