This Old Fashioned Pecan Pie Recipe, easy, delicious, and simply the BEST pecan pie you will ever have. With a hint of maple, toasted pecans, and the perfectly cooked filling you will never want another pie again!
I've tasted and recipe tested so many pecan pies and I am so excited to finally share my recipe with you. With just a handful of ingredients and a little bit of baking, you will have one of the best pecan pies ever.
This post may contain affiliate links. Please read my disclosure policy.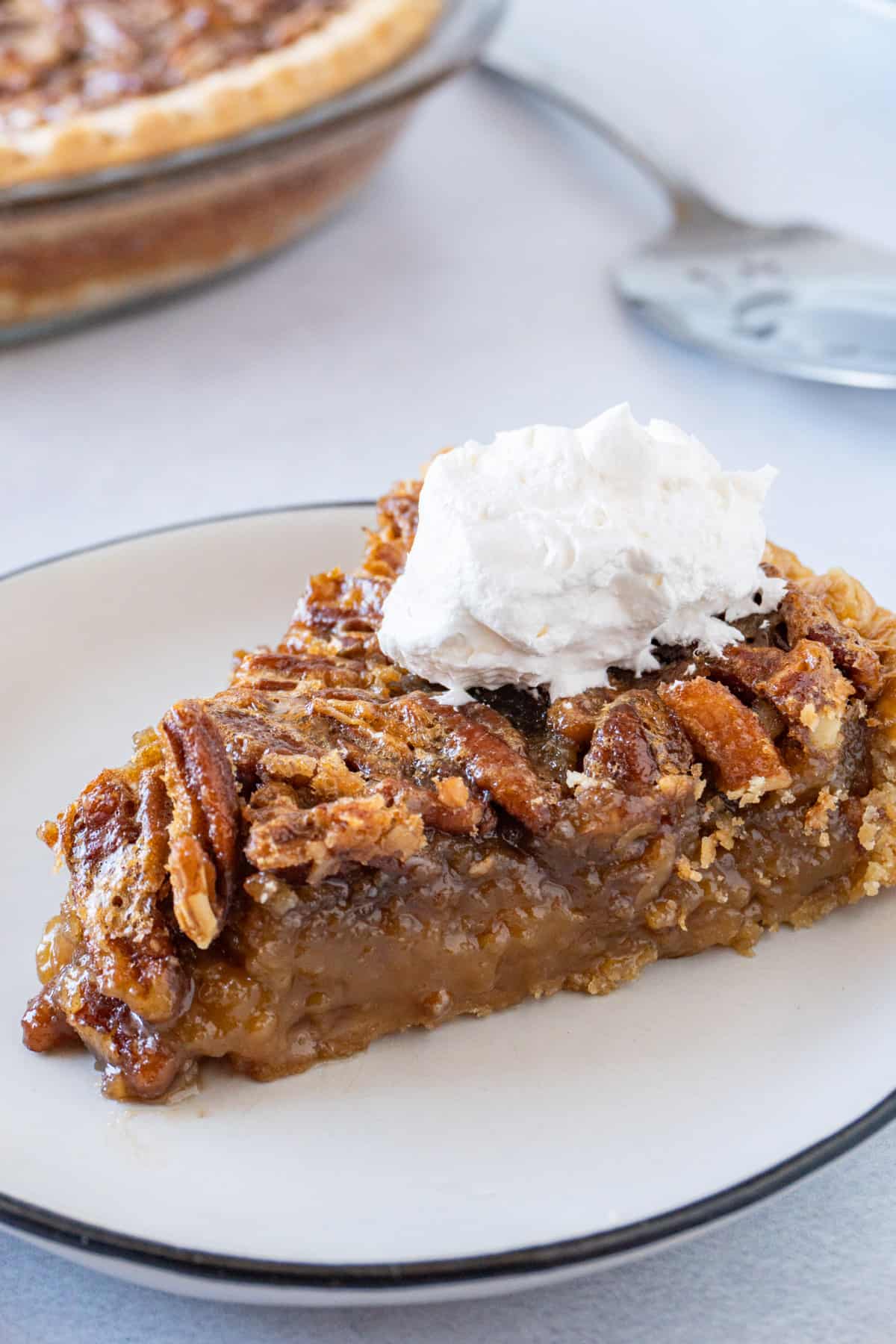 Growing up Pecan Pie was at every holiday meal. I was always too focused on the chocolate pies to ever give the pecan pie a fair shot, but now that I am all grown up, I realize I was missing out!
I see why it's my dad's favorite. With the sweet filling, and delicious pecans- this deceiving simple combo is amazing!
Topped with some ice cream or whipped cream and hold onto your hats because this pie may just win some awards!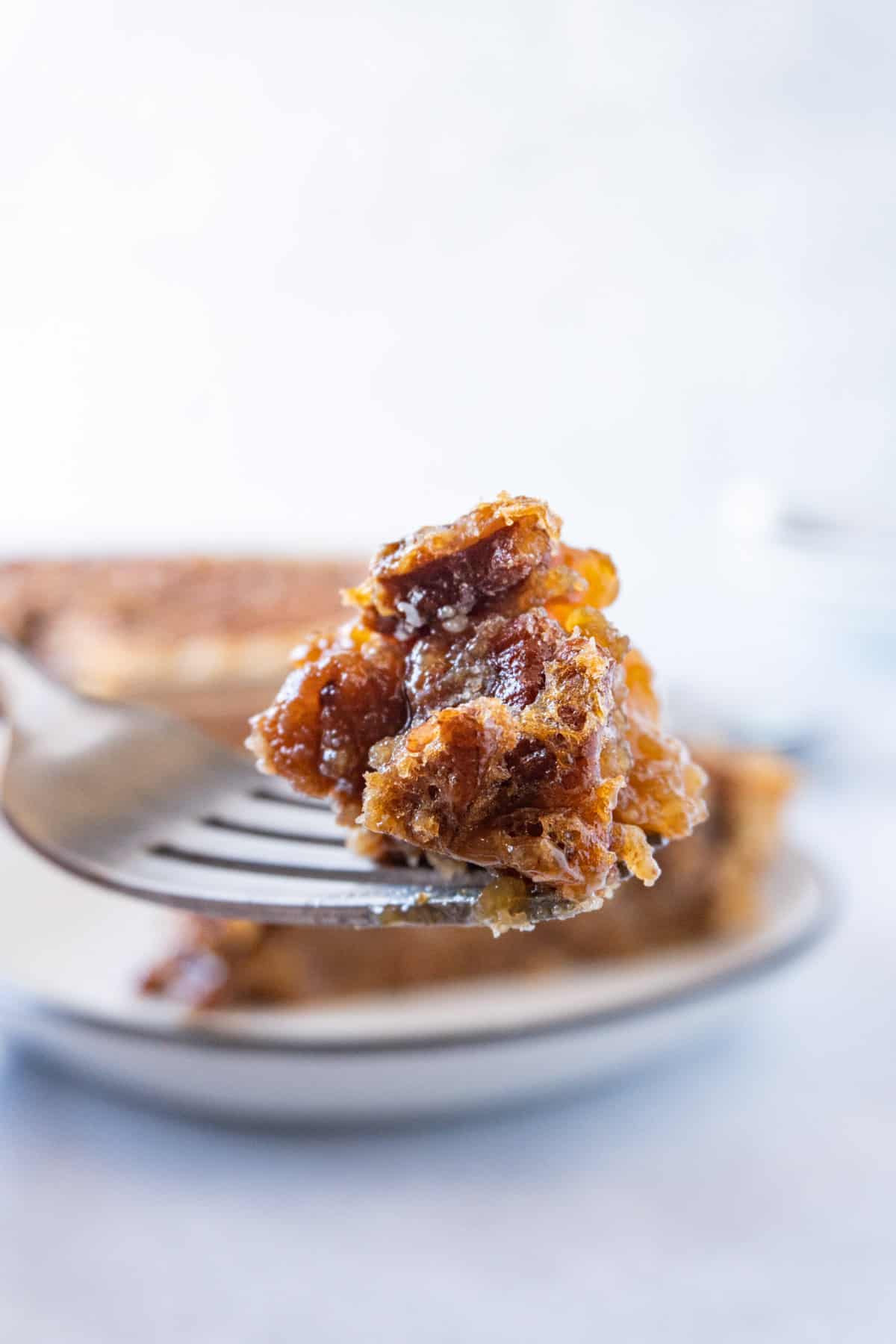 For more tasty pie recipes checkout:
Why we love this old fashioned pecan pie recipe:
It requires only a handful of ingredients
It cooks perfectly every time
The maple syrup and toasted pecans really make this pie stand out
What are the ingredients for a pecan pie?
Corn Syrup – light or dark
Eggs
Brown Sugar
Maple Syrup – definitely recommend using the real deal
Butter
Vanilla Extract
Salt
Pecans- toasted to perfection
Pie Crust- I like to just use a store bought frozen one but if you want to make your own check out my recipe here.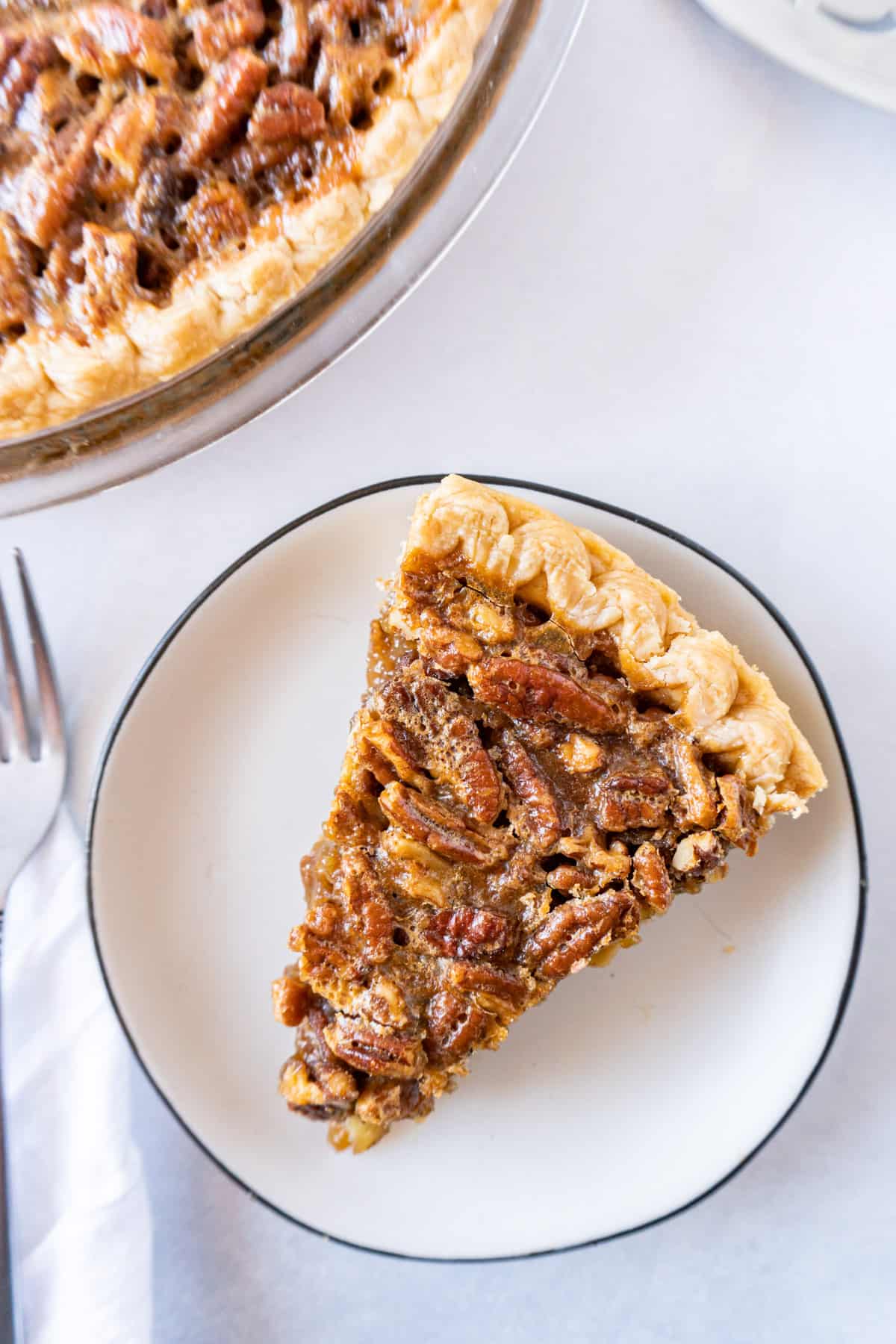 Let's just chat about pecans for a minute. Pecans are one of my favorite nuts.
They are a good source of fiber, healthy fat, and even have protein. They are incredibly tasty and I use them in many of my recipes!
They've been the star of the show in my German Chocolate Cake, used in my German Chocolate Cookies, are a great addition to my brie and prosciutto salad, and a I love them so much I added them to my grilled pear salad. They are a great snack or a if you want to make them candied- a nice sweet treat. So versatile.

But the great debate is do you say pe-CAN or pu-CAHN?
How to make Old Fashioned Pecan Pie?
Coarsely chop and roast your pecans in the oven. Then lower your oven temp and keep it preheated for the pie.
Combine all the filling ingredients- whisking until smooth. Then stir in your toasted pecans.
Pour filling into unbaked pie crust and bake for 60-70 minutes.
Remove from oven and allow to cool for 2 hrs.
High Altitude Adjustments
---
How to adjust for high altitude when making this homemade pecan pie recipe:
I live at 4000 ft above sea level and find my pie reached the correct internal temperature around 60 minutes. Whereas at sea level pecan pies probably will take closer to 70 minutes.

Baking the pie at 300°F also helped reduce any boiling and spillover of the pie filling. I originally tried baking at 350°F but the filling boiled over and never set.
Best Tips for Pecan Pie Success:
#1: Chop your pecans. Whole pecans may look really pretty but they aren't as easy to eat.
#2: Toast your pecans- this enhances the pecan flavor.
#3: If you have a thermometer, I highly recommend checking the internal temperature of the pie after 60 minutes. I find this pie will set perfectly when it reaches between 207-212°F. (If you need a good thermometer, I highly recommend this one!)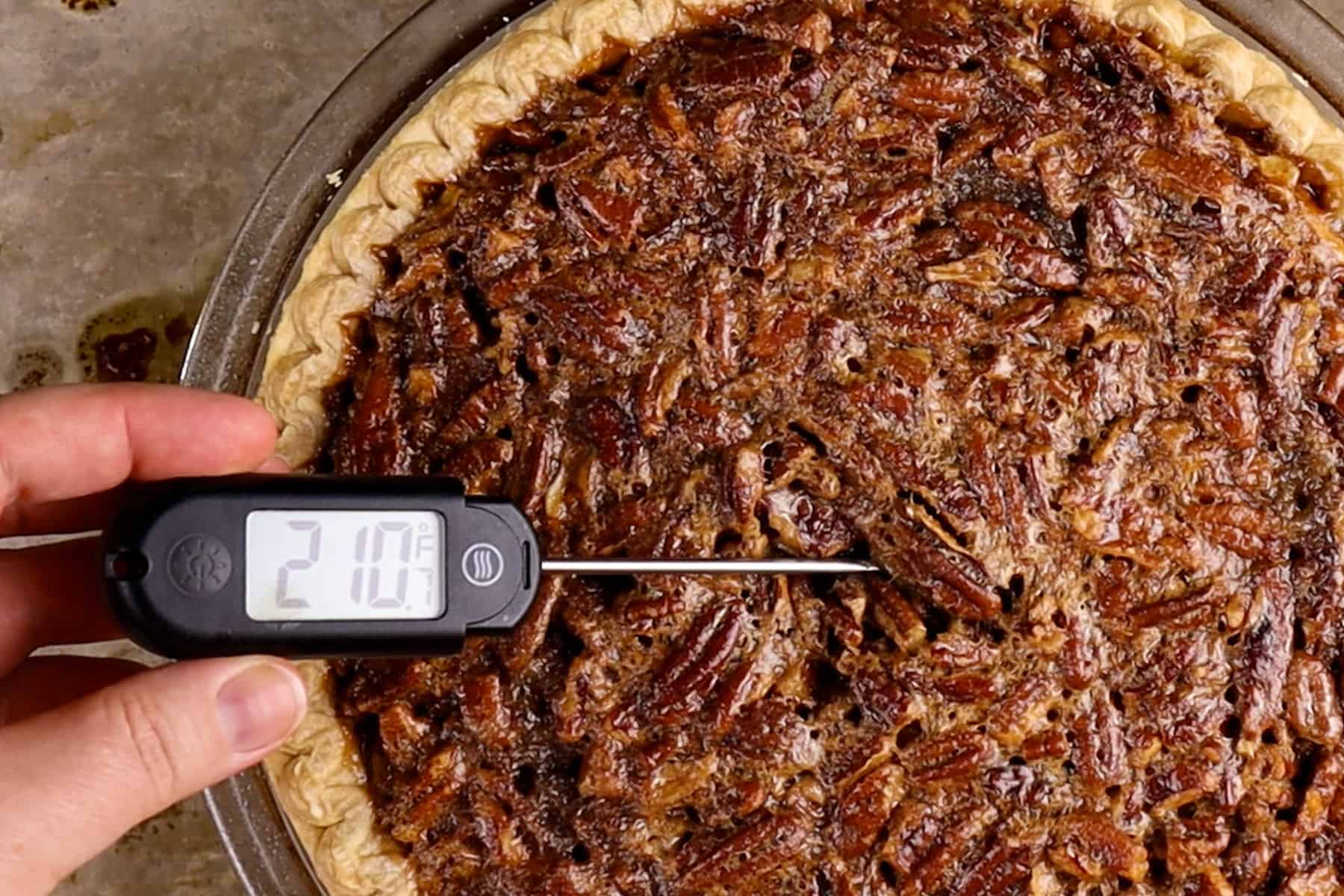 #4: You can use a store bought frozen pie crust or make your own pie crust! Either will be delicious.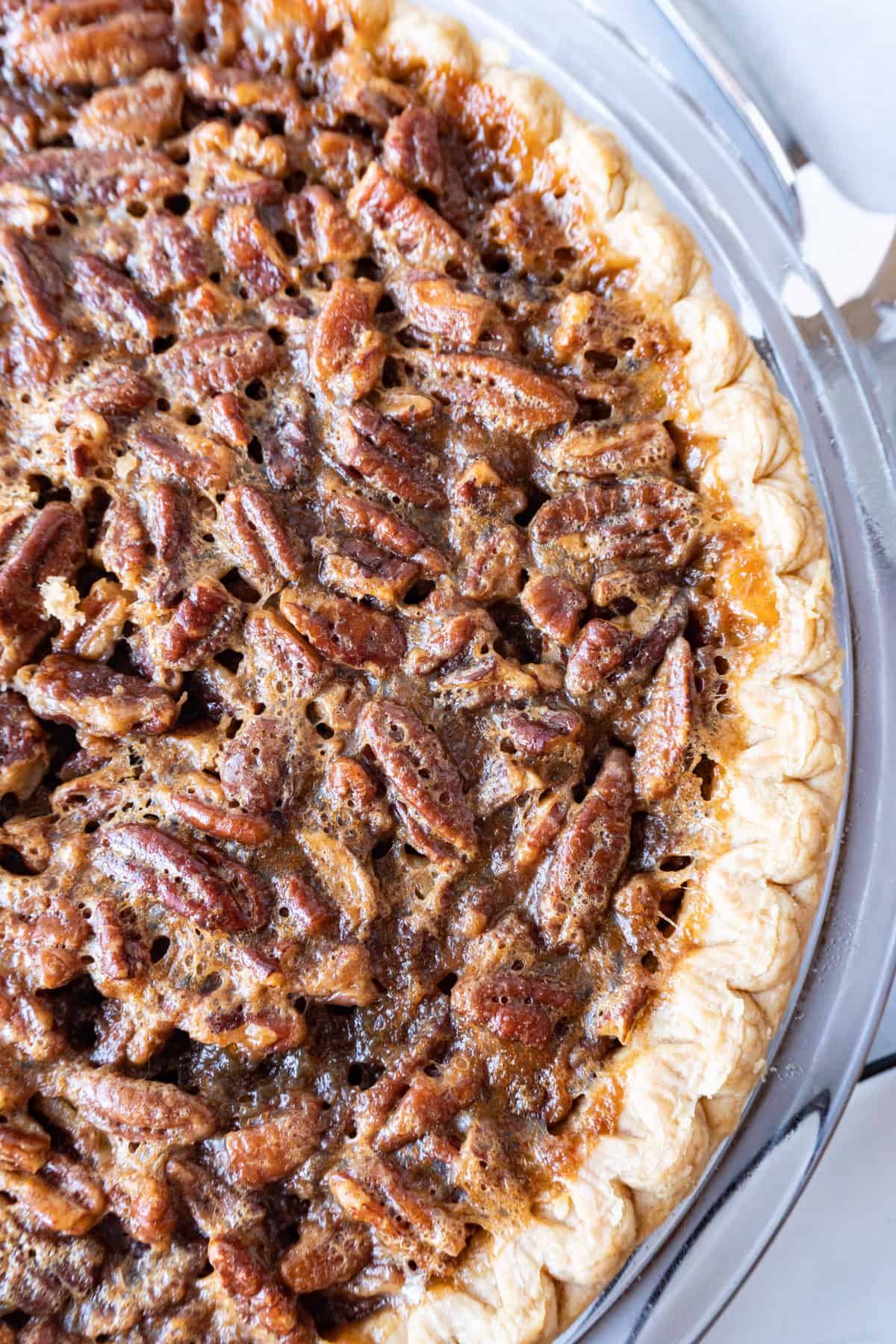 Frequent Questions Answered about baking Pecan Pie
Why are my pecan pies runny?
A runny pecan pie means it didn't cook long enough. Pecan Pie needs to reach at least 200°F (I recommend 210°F for this pie) because of the high sugar concentration. Other pies, like pumpkin pie, only need to reach 175°F to set because they have less sugar.
Will pecan pie thicken as it cools?
Yes and no. If it has reached at least 200-210°F it should set and thicken as it cools. If it hasn't reached the correct temperature it will stay runny.
Why does my pecan pie boil over?
This is usually due to living at high altitude. Water boils/evaporates at a lower temperature at high altitude meaning it will boil faster. This causes all the bubbles and boiling over. If you aren't at high altitude then your pie is just being baked at too high a temperature.
Is light or dark corn syrup better for pecan pie?
It is really up to your preference. Light gives more of a vanilla flavor whereas dark is more robust because of added molasses.
Is it okay to leave pecan pie out overnight?
No. Since pecan pie has eggs in it, it needs to be refrigerated. You can leave it out after baking for up to 2hrs, then I recommend refrigerating it until it is ready to be eaten.
I hope you love this recipe as much as I do! Let me know of any questions in the comments below!
Holiday Menu Tips
---
Holiday Menu Tips- when to make everything!
Trying to get all the dishes made during the Holidays can be a bit hectic. However, planning out what you will make, what ingredients you need, and when everything should be in the oven or on the stove helps a lot.
If you can make some dishes things ahead of time that is even better. Here are a few of my favorite holiday recipes that can be made a day or two or three in advance and either reheated or just set out on the table when ready to eat!
Checkout my latest posts here: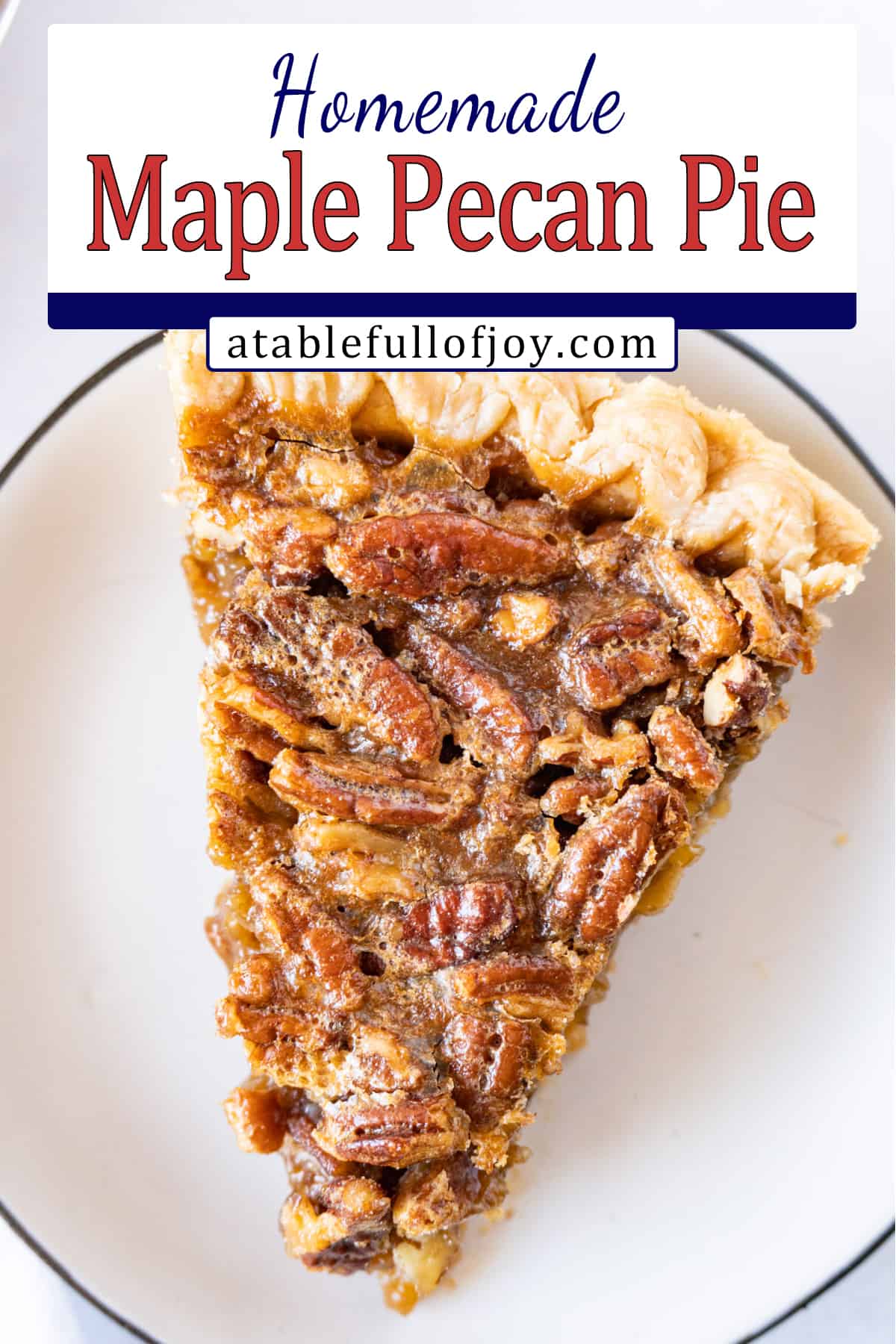 Watch how to make this recipe!
Want more? Subscribe to my newsletter and follow along on Facebook, Pinterest and Instagram for all of the latest updates.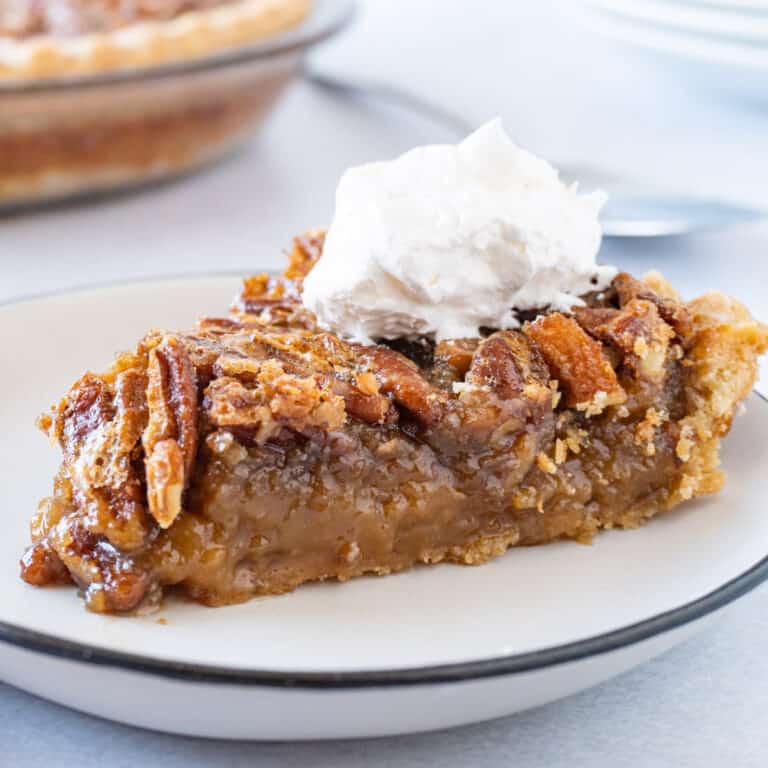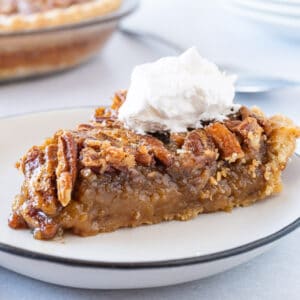 Old Fashioned Pecan Pie Recipe
Old Fashioned Pecan Pie Recipe, easy, delicious, and simply the BEST pecan pie you will ever have. With a hint of maple, toasted pecans, and the perfectly cooked filling you will never want another pie again!
Ingredients
¾

cup

corn syrup

3

large eggs

1

cup

brown sugar

¼

cup

maple syrup

3

tbs

butter

2

teaspoon

vanilla extract

Pinch

of salt

1 ½

cup

pecans

coarsely chopped

1

unbaked or frozen deep-dish pie crust

9 inch
Instructions
Preheat oven to 350°F. Line a baking sheet with parchment paper.

Coarsely chop your pecans and place on the prepared baking sheet. Toast the pecans in the preheated oven for 5 minutes. They should be fragrant but not burned. Once toasted set aside. Reduce oven temperature to 300°F. (1 ½ cups pecans)

In a bowl combine corn syrup, eggs, brown sugar, maple syrup, butter, vanilla, and salt. Whisk until smooth. (¾ cup corn syrup, 3 eggs, 1 cup brown sugar, ¼ cup maple syrup, 3 tbs butter, 2 teaspoon vanilla extract, pinch of salt)

Stir in the toasted pecans.

Pour filling into pie crust. * Then bake for 60-70 minutes. The pie is done when the center is mostly set. If you have a thermometer, check the temperature of the pie- it should be around 205-210°F. *

Remove from oven and allow to cool for 2 hours. You can move the pie to the refrigerator once it comes to room
Notes
Tips and Tricks
I like to take a frozen pie crust and place it in one of my nicer pie dishes.
Bake your pie on top of a rimmed baking sheet. This will help with moving the pie in and out of the oven and if there are any spills it will catch them.
The pie has to reach at least 200°F (but I find around 210°F best) for the filling to set. This is because of the high sugar content of the filling.
Nutrition
Calories:
273
kcal
Carbohydrates:
37
g
Protein:
3
g
Fat:
14
g
Saturated Fat:
3
g
Trans Fat:
1
g
Cholesterol:
36
mg
Sodium:
95
mg
Potassium:
93
mg
Fiber:
1
g
Sugar:
29
g
Vitamin A:
115
IU
Vitamin C:
1
mg
Calcium:
34
mg
Iron:
1
mg
I am an affiliate for Thermoworks and make a small percentage off any purchases using my link at no extra cost to you.

Post updated 12/20/21
Reader Interactions