Best Deviled Eggs Recipe- these deviled eggs are full of flavor, quick to make and perfect every time! A crowd pleaser at every holiday and the perfect snack!
Every holiday my mom would make the best deviled eggs, never with any measured-out ingredients, but by taste. Well she taught me and I finally wrote it out to share with you guys!
There are certain foods that show up at every holiday meal and deviled eggs are one of them. A classic deviled eggs recipe is something everyone should have in their cooking arsenal!
For more holiday recipes check out:
I've tried many other versions of homemade deviled eggs and this simple recipe is still my favorite. No vinegar, no relish, just simple ingredients and seasonings.
What are deviled eggs?
Deviled eggs are a creamy masked yolk, mixed with spices and place in the hard-boiled white of an egg.
According to sources (like history.com) the deviled egg in one form or another can be traced all the way back to Ancient Rome! Crazy!
What are the ingredients for deviled eggs?
Eggs
Mayo
Mustard
Seasoning
Lemon Juice
How to hard boil eggs?
Place eggs in a medium-large pot, then cover eggs with a half inch of water. Bring water to a boil and then boil the eggs for 15 minutes.
Remove eggs from boiling water and then place in an ice bath until cold.
How to make the best deviled eggs?
Hard boil your eggs and allow to cool
Peel the eggs, then slice each egg in half lengthwise (from top to bottom)
Place the yolk in a separate bowl, and each half of the egg whites in a serving dish
Mash your yolks, then stir in the mayo, mustard, seasonings and lemon juice.
Refrigerate the filling for 20 minutes then place a spoonful into each egg white half.
Sprinkle with paprika and enjoy!
Deviled Eggs in the Instant Pot?
Instant Pot deviled eggs, in my opinion, are just Instant Pot hard boiled eggs (which are great!), used in a recipe similar to this. The Instant Pot just comes in handy for cooking the eggs.
How to hard boil eggs in an instant pot?
Using the commonly referred to 5-5-5 method produces easily peeled hard boiled eggs every time.
Place eggs on top of the trivet inside the Instant Pot. Pour a cup of water over the eggs, then cook on high pressure for 5 minutes.
Allow the Instant Pot to naturally release for 5 more minutes, then remove the eggs and place in an ice bath for another 5 minutes. That easy!
What is the green/grey ring around the cooked yolks?
The color is a natural reaction between sulfur in the egg white and iron in the yolk. It is fine to eat and won't affect the flavor of the eggs.
Other additions to deviled eggs?
Diced sweet pickles
Sour Dough Bread pieces
Garnish with chopped parsley or green onions
Can I make deviled eggs ahead of time?
Absolutely! Sometimes for the holidays we would hard boil, peel, and make the egg yolk mixture the day before, then right before eating the big meal assemble the deviled eggs.
How long to leftover deviled eggs last?
I recommend eating within 3-4 days and always keep leftovers in an airtight container in the refrigerator.
Helpful Deviled Egg Tips
Hard-boil 14 eggs. There are always a few eggs that don't like to peel nicely (unless you use an Instant Pot) and it's nice to know that you don't have to use those.
The use of lemon juice adds a little tang but more importantly helps keep the the yolk mixture from browning
You can halve this recipe for less hard boiled eggs
If you want a fancy look- pipe the egg yolk mixture into the egg whites- using a Wilton #14 piping tip
What goes in the center of the deviled egg platter?
I am not entirely sure! We've always either put extra deviled eggs, some sweet pickles, or just a nice garnish like basil or radishes. Let me know what you put in the center in the comments below!
There you have it! I hope you enjoyed learning out to make the best deviled eggs recipe!
For more tasty recipes check out:
Watch how to make this recipe!
Want more? Subscribe to my newsletter and follow along on Facebook, Pinterest and Instagram for all of the latest updates.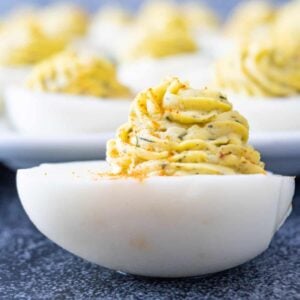 Best Deviled Eggs Recipe
 The best deviled egg recipe-creamy, light, and perfect every time.
Ingredients
12

eggs*

½

cup

mayonnaise

2

tbs

mustard*

½

teaspoon

lemon juice

2

teaspoon

Italian seasoning

1

teaspoon

garlic powder

1

teaspoon

dill

Pinch

of salt

Pinch

of pepper

Paprika for garnish
Instructions
How to hard boil eggs?
Place eggs in a medium-large pot. Fill the pot with water so that the eggs are covered by about an inch of water. Bring water to a boil and let the eggs boil for 15 minutes.

Remove from heat and place eggs in cold water adding ice if you have it. Let the eggs cool completely and then peel.
How to make the best deviled eggs?
Once peeled, cut the hardboiled eggs in half, separating the white from the yolk. In a medium sized bowl mash all the yolks.

Add the mayonnaise, mustard, lemon juice, Italian seasoning, garlic powder, dill, salt, and pepper to the yolks and stir until creamy. If the mixture doesn't look fluffy enough you may need to add more mayo or a little mustard. Taste it and add more of what it needs. I usually start with adding a little more mayo if I need more volume.

Then refrigerate for at least 20 minutes.

Put a dollop of the yolk mixture into each egg white and sprinkle with paprika.

Enjoy!
Notes
Tips and Tricks
I usually like to hard-boil 14 eggs, that way if some don't peel nicely I don't have to use them.

*You can use yellow or Dijon mustard- both work great!

Instant Pot hard boiling eggs method: If using an instant pot to hard boil the eggs, place the eggs on top of the trivet, add 1 cup of water, then set the instant pot to cook on High Pressure for 5 minutes, allow it to naturally release for 5 minutes, and then cool in an ice bath for 5 minutes.
Nutrition
Calories:
65
kcal
Carbohydrates:
1
g
Protein:
3
g
Fat:
6
g
Saturated Fat:
1
g
Cholesterol:
84
mg
Sodium:
75
mg
Potassium:
36
mg
Fiber:
1
g
Sugar:
1
g
Vitamin A:
125
IU
Vitamin C:
1
mg
Calcium:
16
mg
Iron:
1
mg
Post updated on 10/22/2020
Reader Interactions