Chocolate Pudding Cookies- easy to make, filled with white chocolate and butterscotch chips, chewy and delicious! You need these ASAP!

A family favorite- these cookies always get eaten up as soon as they are cool enough to eat! I can't wait for you to try them!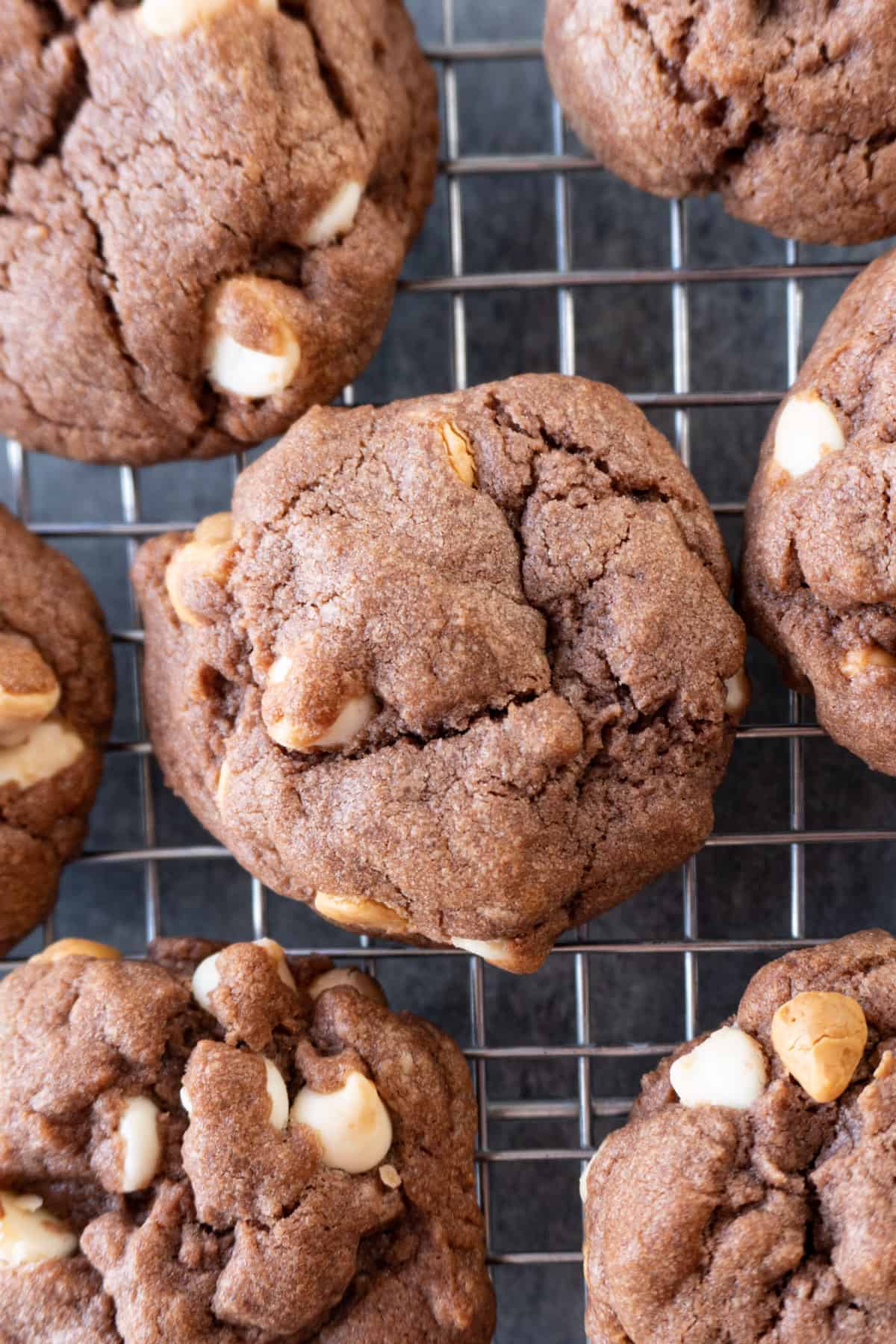 I loooove cookies- that is not a surprise. These cookies go back to my college days when I learned about adding instant pudding mix to cookie dough and now it's my favorite cookie "trick."
Adding instant pudding mix to cookies is not only a simple way to give your cookies a tender chewy texture BUT you can add any flavor you want and get delicious results.
I love adding instant vanilla or white chocolate pudding mix to my Chewy Chocolate Chip Cookies and I love adding instant chocolate pudding mix to these cookies.
For more of my favorite and fun cookies check out: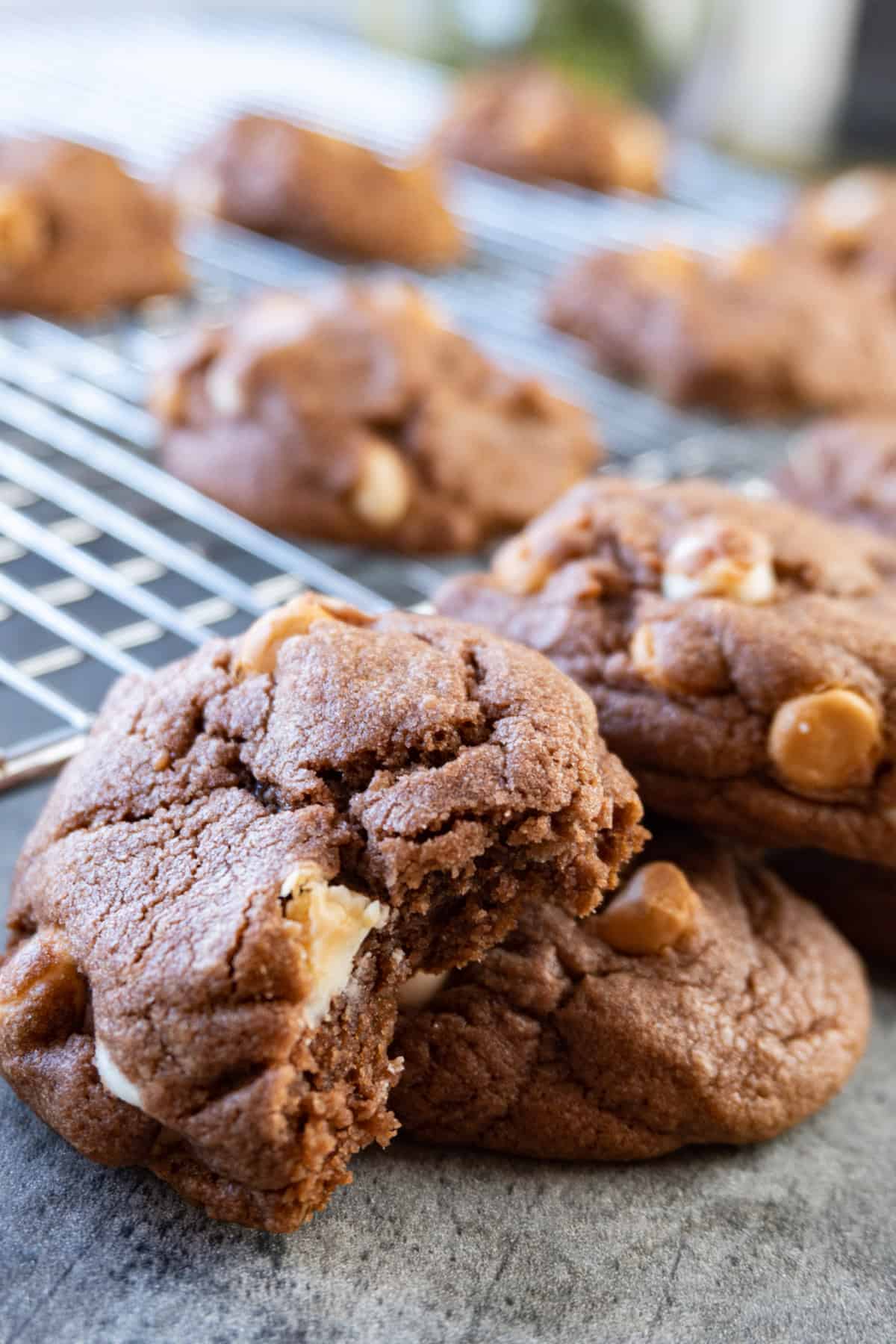 What is instant pudding mix?
Instant pudding mix is a mixture of ingredients (primarily sugar) that when you add milk to creates a delicious pudding that doesn't need to be cooked.
How to find instant pudding mix?
Instant pudding mix is usually found in the baking isle.
Now for those who are in Europe and other countries (I am US based)- you probably won't have access to instant pudding mix. No worries.
I've been told- and feel free to correct me if I am wrong! - but you can find instant custard mix.
Pudding and custard are different BUT I think in the case of making these cookies it should work- let me know if you try it!
If you are trying an instant custard mix you'll need it to be chocolate flavored.
Can I make my own instant pudding?
Absolutely- it's relatively easy and only requires a few ingredients but one of them is Instant Clear Jel that you might have to order online. Anyway, I found this great recipe from a fellow blogger that explains how to make it!
What does instant pudding mix do to the cookies?
It adds chewiness and softness to the cookies, along with whatever flavor of pudding mix you choose.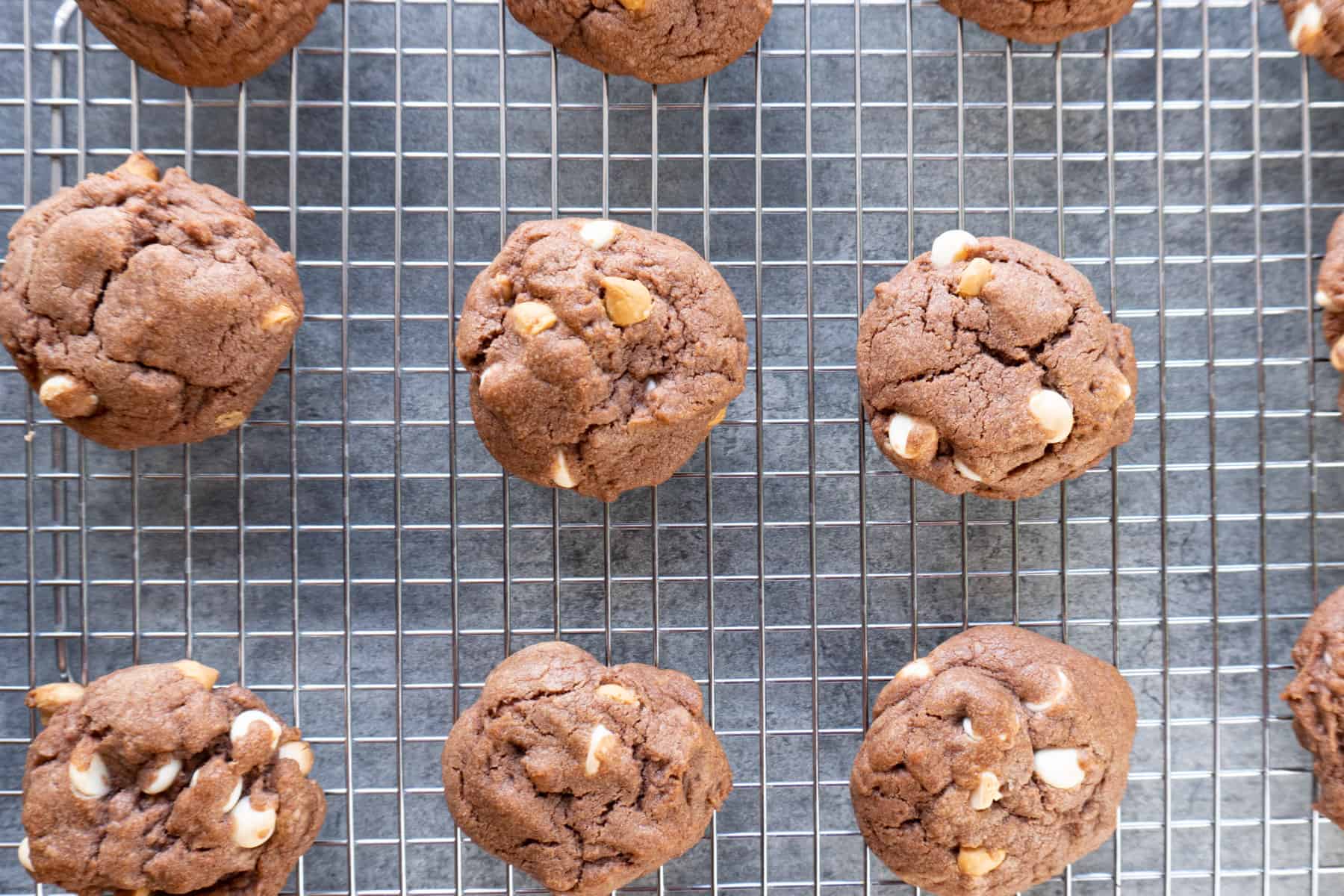 What size of instant pudding mix should I use?
There are typically two sizes available at stores- a large one (ranges in sizes from 5 to 6 oz and a small one (ranges in size from 3 oz to 4 oz).
Sizes/weights vary depending on the brand, but I've found regardless of the brand if I use a small box the cookies taste great and can handle the few ounces of variability.
When do you add the instant pudding to the mix? Do you need to make the pudding first?
You will add the instant pudding mix in with the flour- as a dry ingredient. Do not make it into pudding and then add it to the recipe. It will not work.
Now that I've talked your ear off about instant pudding let's move on to the actual cookies!
How to make Chocolate Pudding Cookies?
Cream the butter, sugars and vanilla
Add in the eggs one at a time
Add in the flour, salt, baking soda, and chocolate instant pudding mix
Fold in the chocolate- I like to use a mixture of both white chocolate and butterscotch chips
Bake at 375°F for 8-11 minutes
My husband's favorite cookies are my classic chocolate chip cookies, but give me some chocolate pudding, butterscotch and white chocolate chips and I'll make these in no time.
They are chocolatey in all the good ways and have that amazing butterscotch/white chocolate combo that makes my mouth water for more! I can never just eat one of these cookies….
Tips for making these Chocolate Pudding Cookies
Use unsalted butter- that way you can control the amount of salt you put in
If you live at high altitude make sure to adjust the recipe: decrease both sugars to only ⅔ cups and increase flour to 2 ½ cups plus two 2 teaspoon water. That simple!
Bake until just done and then remove from the oven and allow to cool/set up. Overbaking will make hard.
Use butterscotch and white chocolate chips- it's a delicious combo!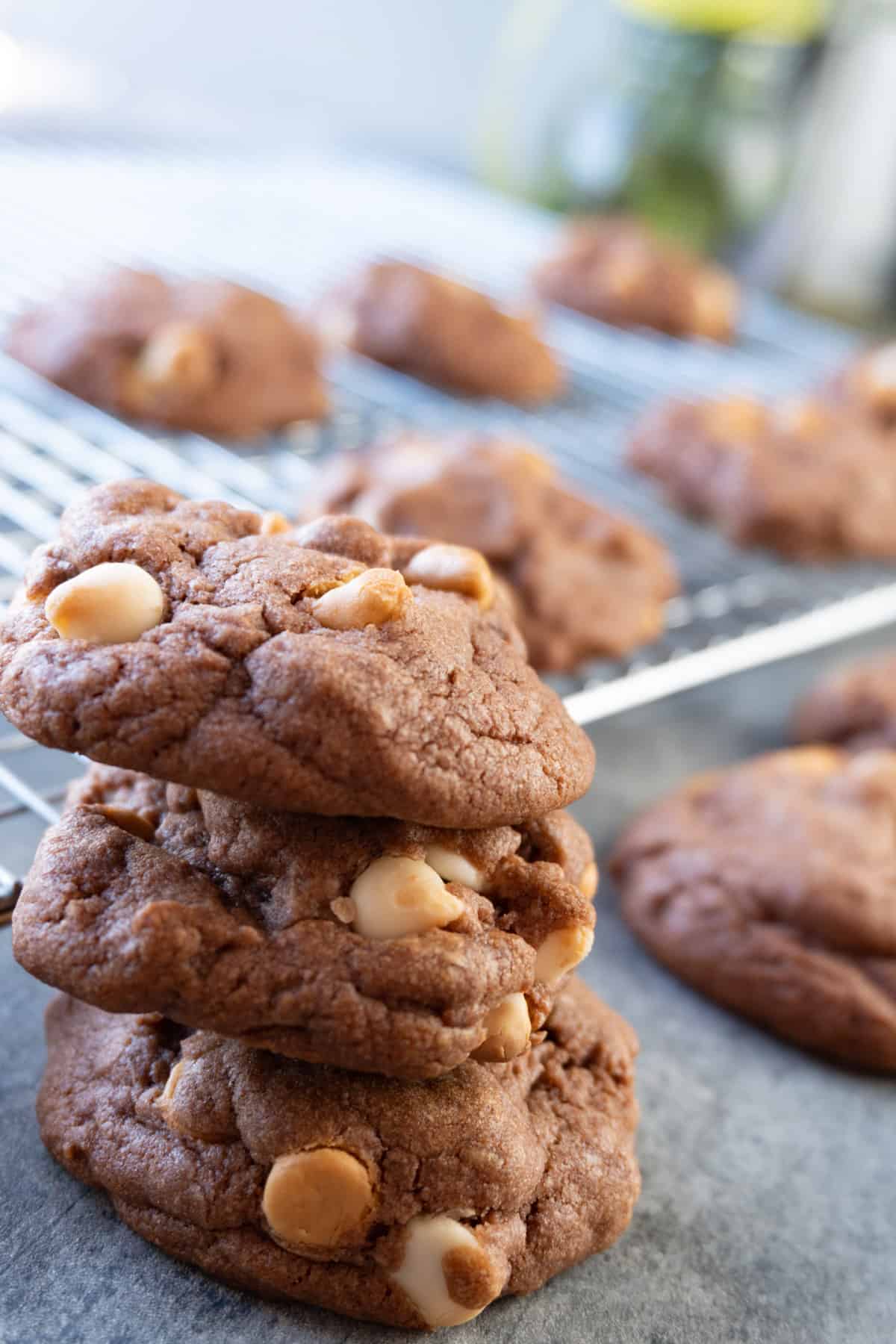 How to freeze cookie dough?
A neat trick I learned years ago was to roll the dough into individual balls and then freeze them. Then you can pull out a few and bake them as needed.
The cookie dough will stay good in your freezer for a few months! This makes it easy to have fresh baked cookies at any moment.
To bake from frozen:
Bake as normal (same temp) but you will need to add a few minutes to the baking time. Set your timer for 10 minutes, check the cookies and then adjust from there. You will probably need ~4 more minutes of baking.
How to store cookies?
Store any leftover cookies in an airtight container or baggie and eat within a week (which won't be hard to do!).
Chewy chocolate cookies are hands down one of the best cookies ever. And pudding cookies of any flavor are amazing. Let me know what you think in the comments below!
Make sure to check out my other tasty desserts: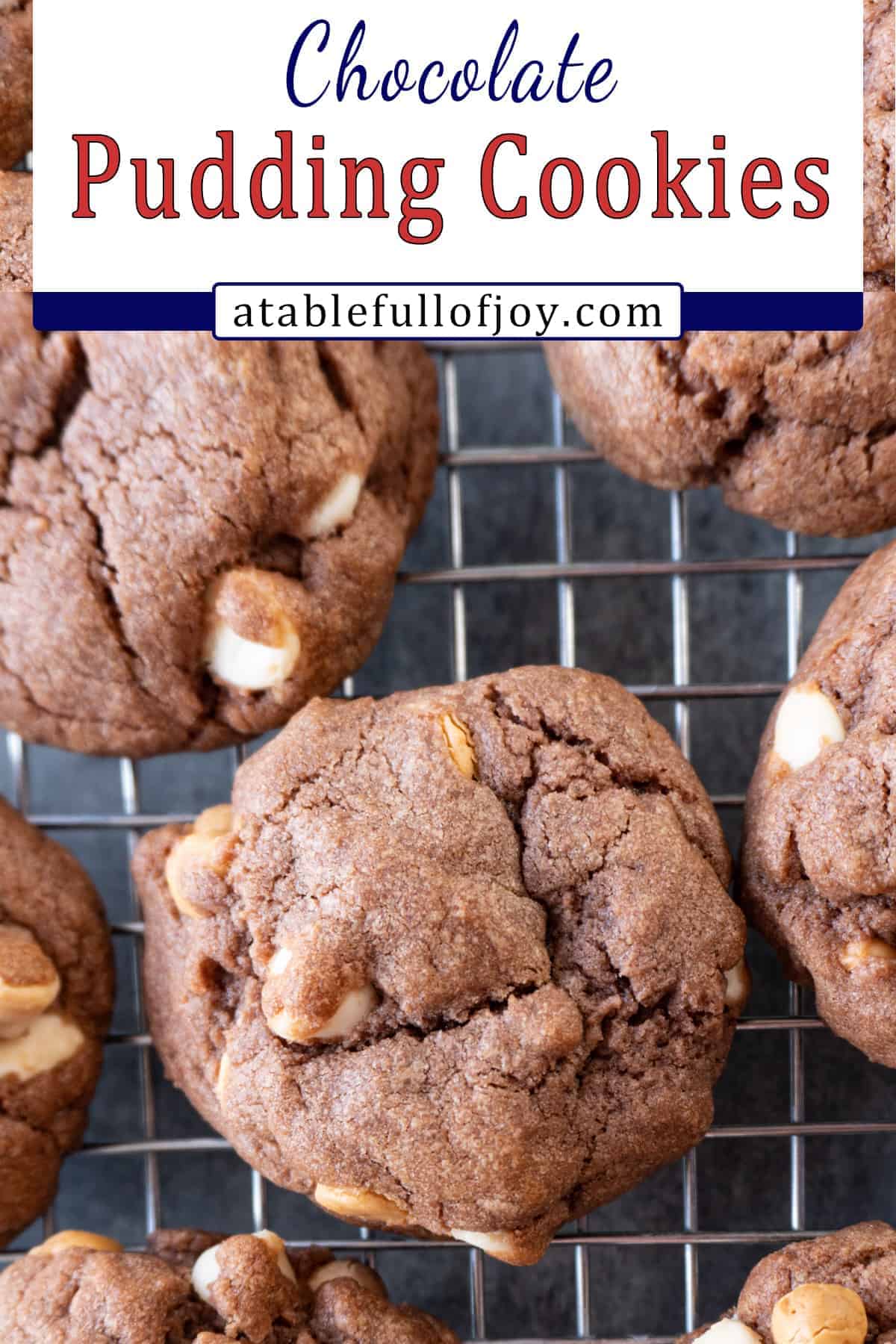 Watch how to make this recipe!
Want more? Subscribe to my newsletter and follow along on Facebook, Pinterest and Instagram for all of the latest updates.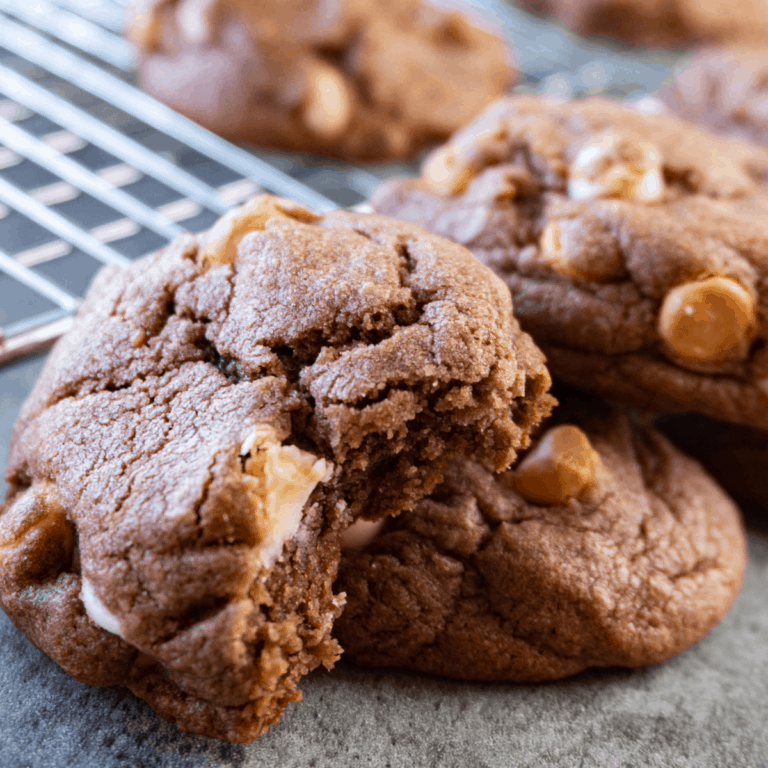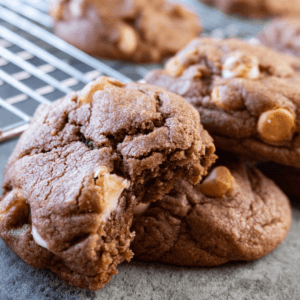 Chocolate Pudding Cookies
Chocolate Pudding Cookies- easy to make, filled with white chocolate and butterscotch chips, chewy and delicious! You need these ASAP!
Ingredients
1

cup

butter softened

¾

cup

granulated white sugar

¾

cup

brown sugar

light or dark

1

teaspoon

vanilla

2

eggs

2 ¼

cups

flour

1

teaspoon

baking soda

1

teaspoon

salt

1

package instant chocolate pudding

small package between 3 and 4 oz

1

cup

butterscotch chips

1

cup

white chocolate chips
Instructions
For high altitude adjustments see notes.
Preheat oven to 375°F and line a baking sheet with parchment paper.

In a stand mixer bowl cream butter, sugar and vanilla. (1 cup butter, ¾ cup white sugar, ¾ cup brown sugar, 1 teaspoon vanilla)

Add in eggs one at a time. Letting the first egg incorporate fully into the batter before adding the next. (2 eggs)

Add in the flour, baking soda, salt, and dry pudding mix. Mix until fully combined. (2 ¼ cups flour, 1 teaspoon baking soda, 1 teaspoon salt, 1 package instant chocolate pudding mix- ~3.4 oz)

Fold in butterscotch and white chocolate chips to cookie dough. (1 cup butterscotch chip, 1 cup white chocolate chips)

Drop rounded spoonfuls onto prepared baking sheet and bake for 8-11 minutes. I like to take these out earlier rather than later so they stay soft.

Let cookies cool for a few minutes and then enjoy!
Notes
Tips and Tricks: • For high altitude decrease both sugars to only ⅔ cups and increase flour to 2 ½ cups plus two 2 teaspoon water.
• Freeze the dough in cookie balls, then bake when every you want a fresh cookie (more details in post)
• Store baked cookies in an airtight container up to a week
Nutrition
Calories:
120
kcal
Carbohydrates:
17
g
Protein:
1
g
Fat:
5
g
Saturated Fat:
3
g
Cholesterol:
18
mg
Sodium:
130
mg
Potassium:
25
mg
Fiber:
1
g
Sugar:
12
g
Vitamin A:
133
IU
Vitamin C:
1
mg
Calcium:
13
mg
Iron:
1
mg
Post updated on 6/23/2020
Reader Interactions