Shredded Chicken Enchiladas, a delicious and easy dinner that can be made in no time!
These shredded chicken enchiladas are full of flavor and you'll want to make them again and again!

Shredded Chicken Enchiladas
I've been making these easy chicken enchiladas for years now. My husband loves them and I love them plus they are so easy to make!
They might not be the prettiest meal but this shredded chicken enchilada is the real deal!
My secret to making these chicken enchiladas easy is using a rotisserie chicken! Yes, bought precooked from the store!






How to make shredded chicken enchiladas?
Make the easy tomatillo sauce (sometimes I double this to have extra for when eat it!)
Remove all the chicken from the rotisserie chicken and shred it.
Lightly fry your tortillas
Layer sauce, tortillas, chicken, cheese and repeat a few times
Finish the dish with a layer of tortillas, a nice layer of sour cream, the remaining cheese, and some more sauce!
Bake for 30 minutes
Enjoy!
This recipe is so easy and it makes a lot! This is perfect for eating throughout the week!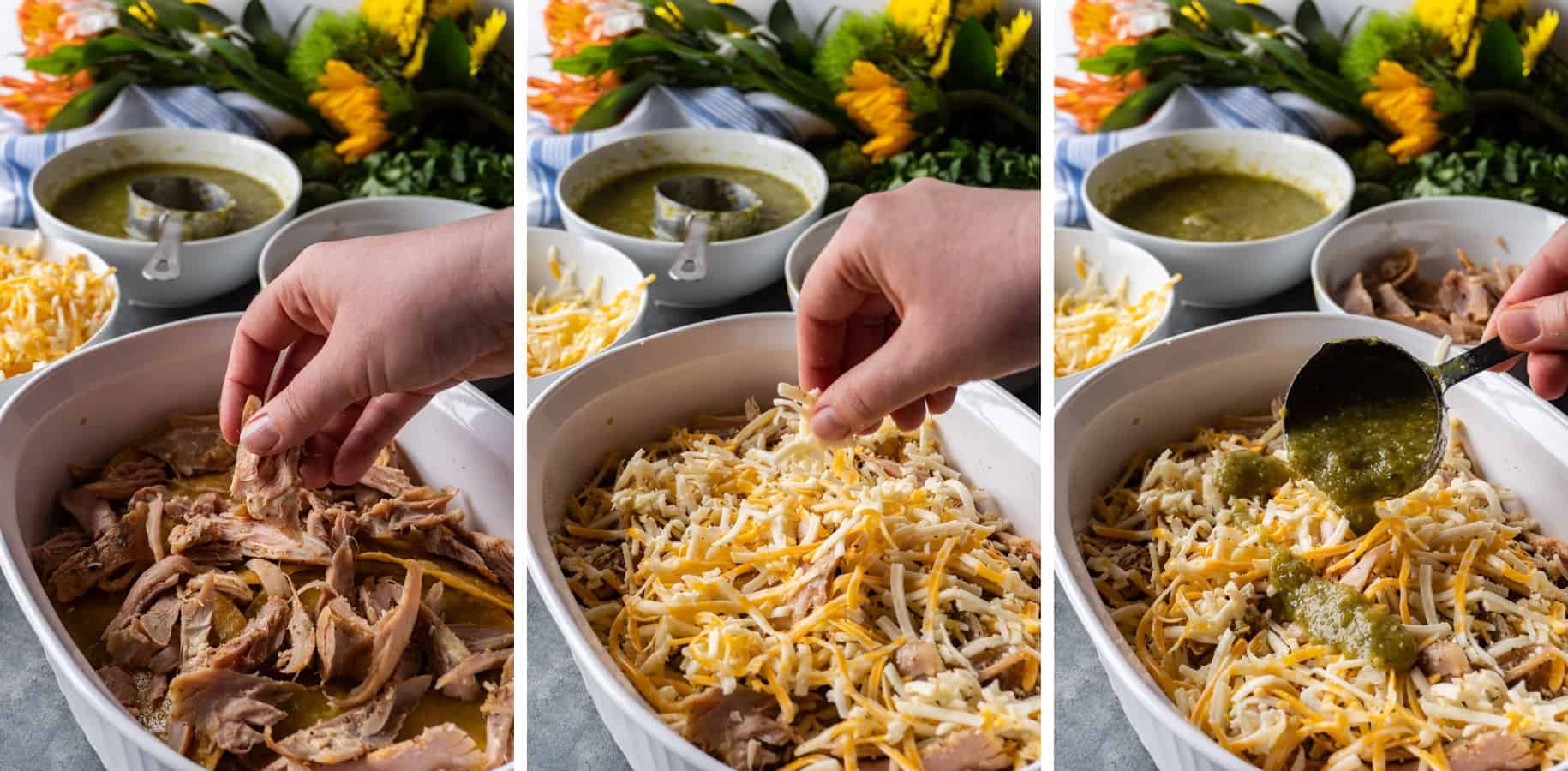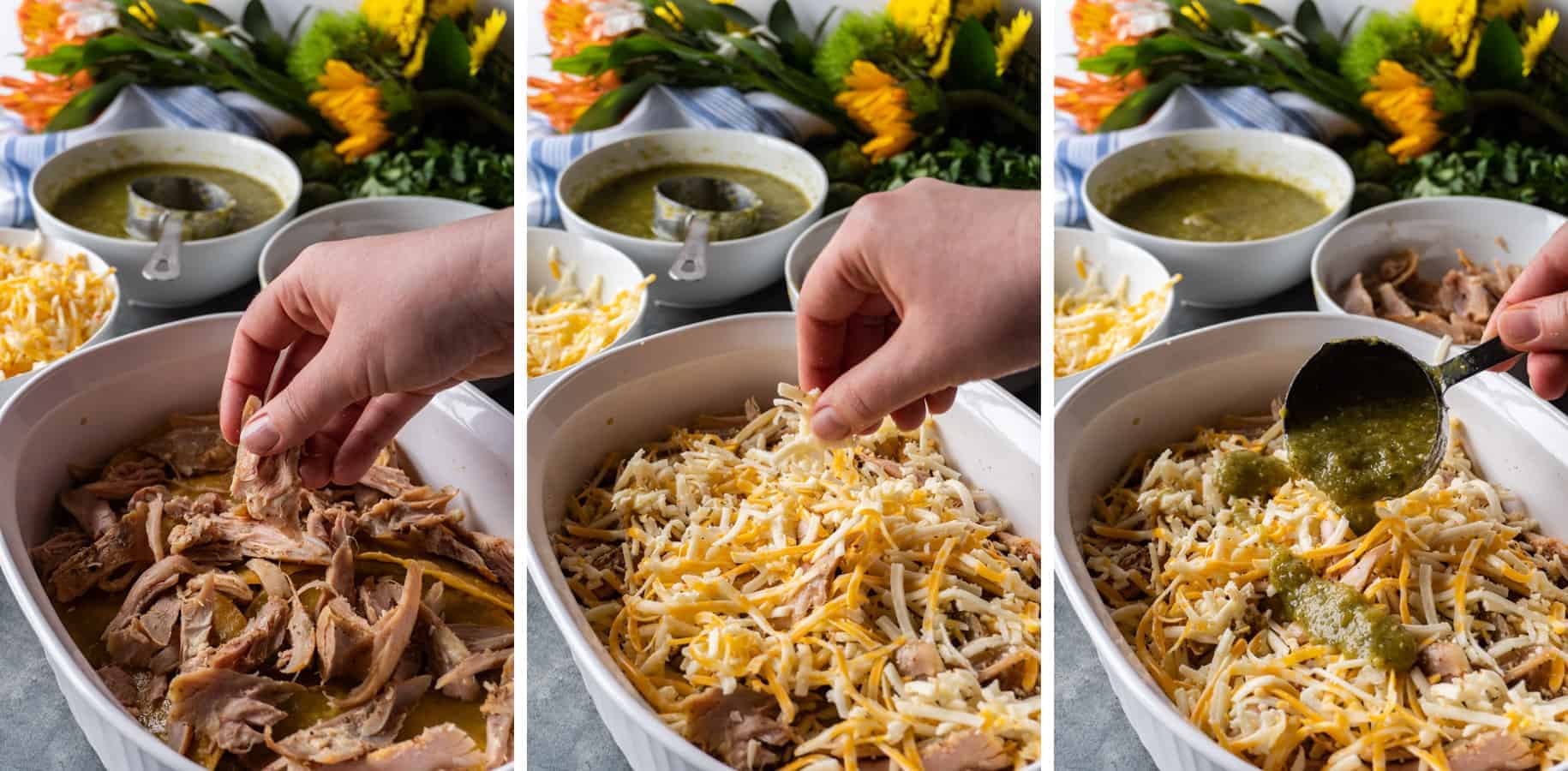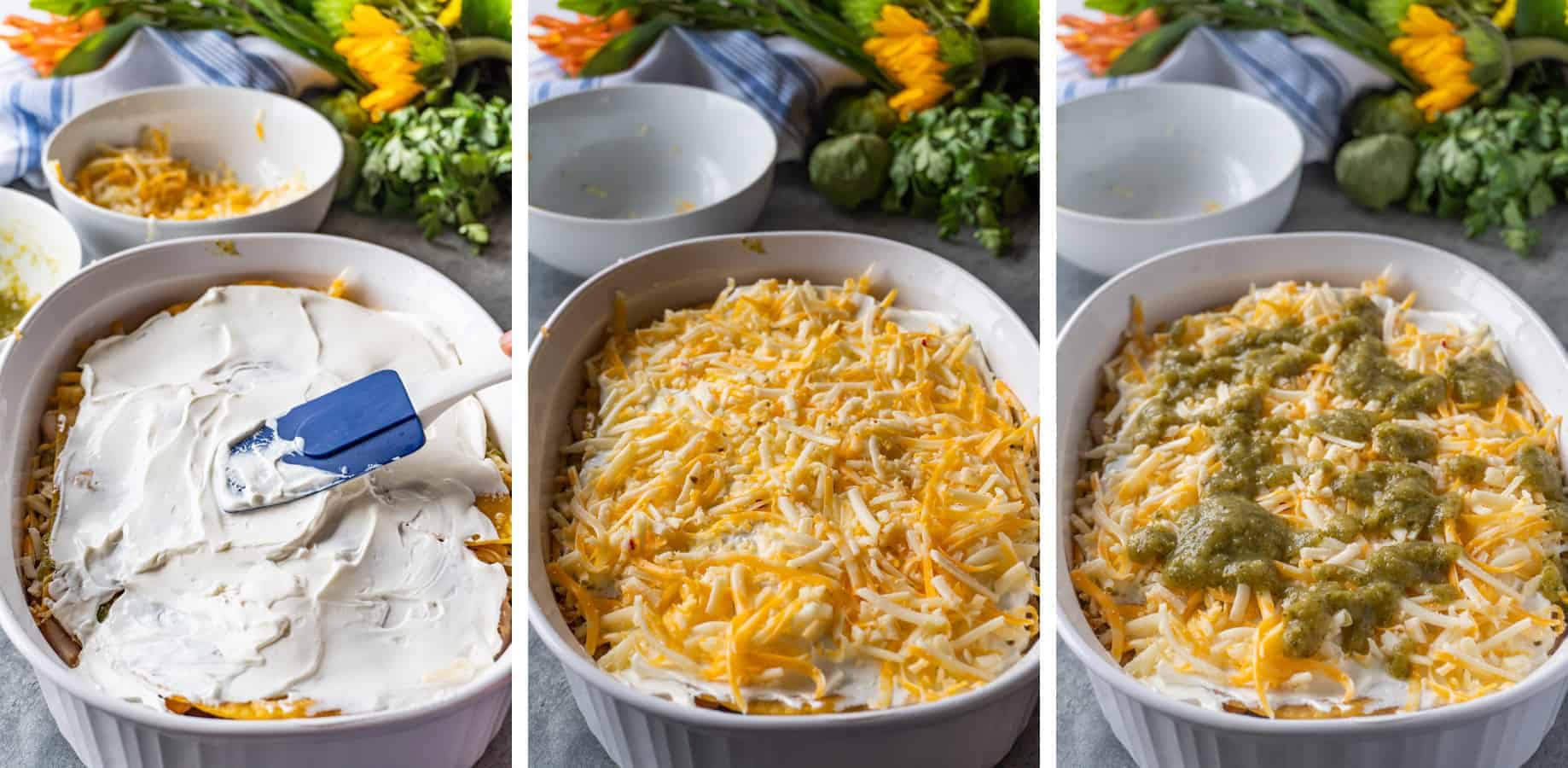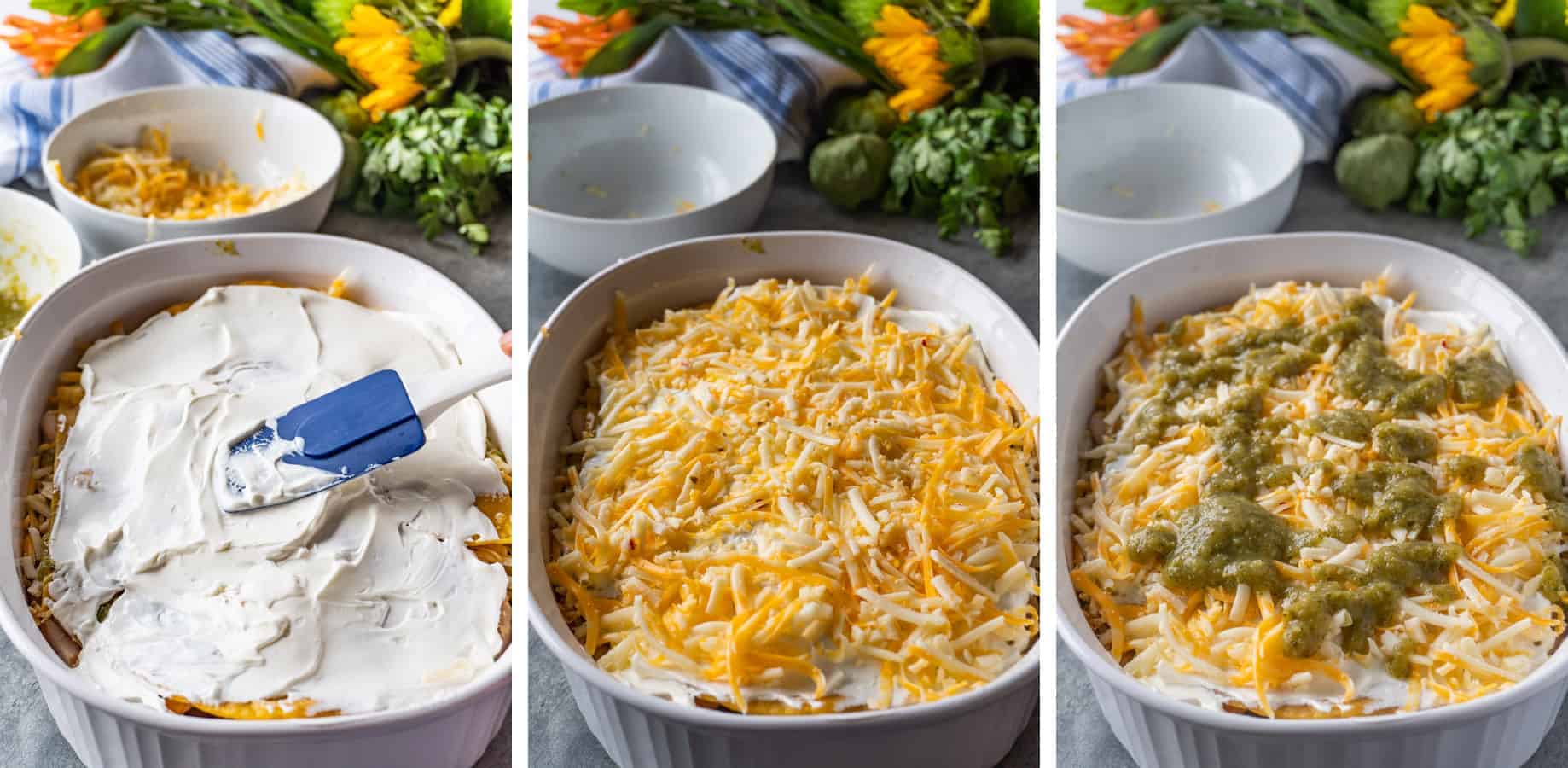 The tomatillo sauce is actually really similar to my tomatillo salsa- yum! I use my high powered blender  or my food processor to make it and totally recommend them!
How to shred chicken for the enchilada:
I find the chicken comes off the rotisserie fairly easily and already shredded. I do use my hands for this step so it can be a little messy.
If you just have leftover chicken from chicken tacos, or smoked chicken, you can use that too! A less messy way is to use two forks to pull the meat apart- but I don't have the time or patience for that!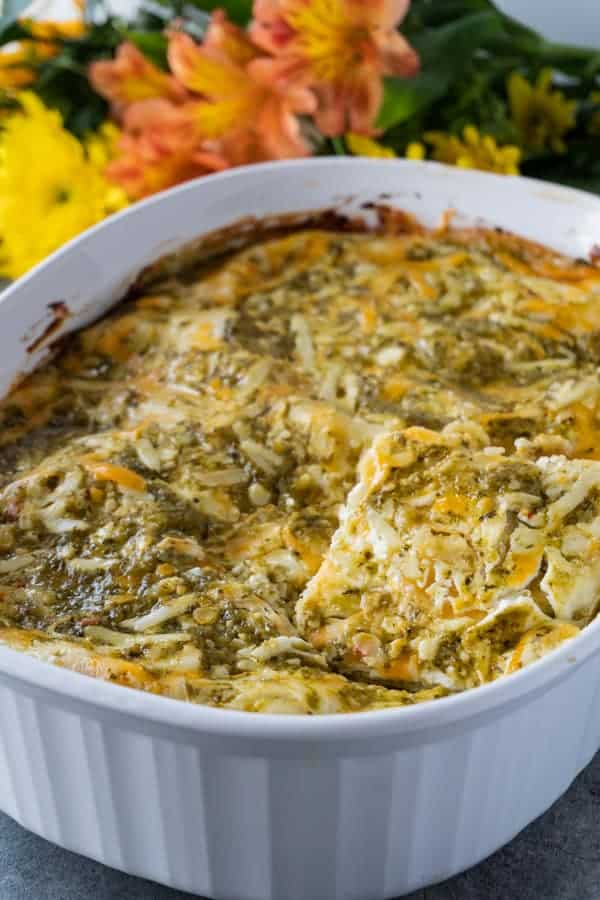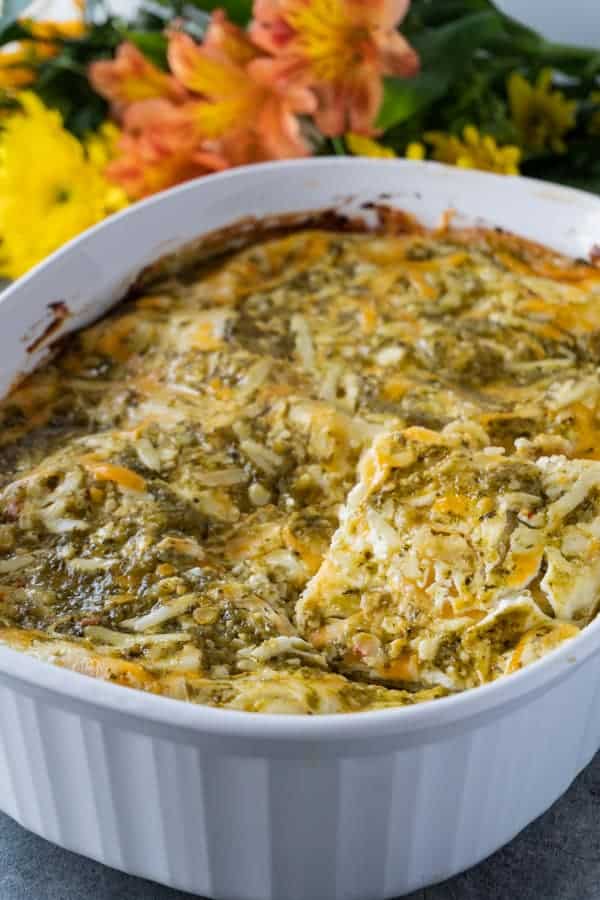 The three stages of a tomatillo: raw with husk, raw husked and rinsed, boiled.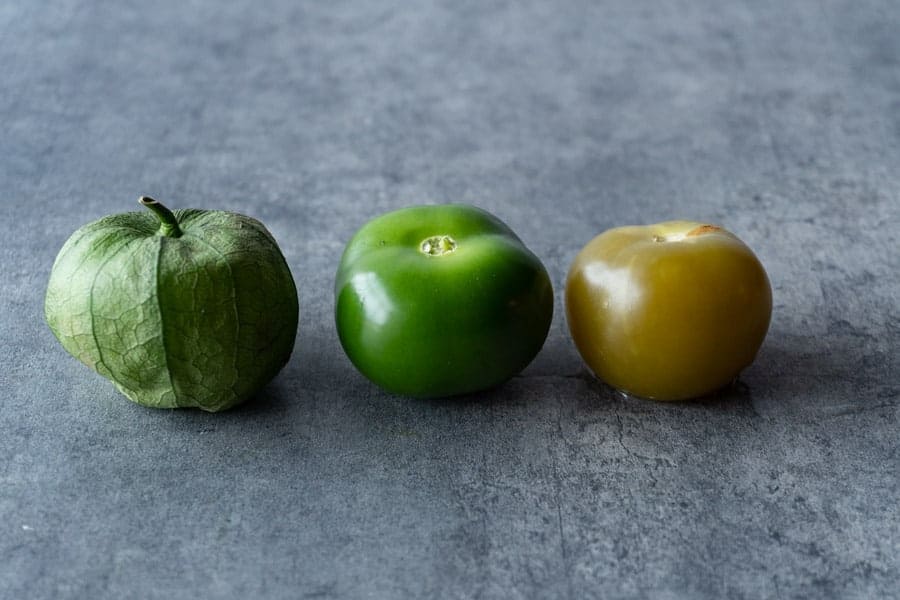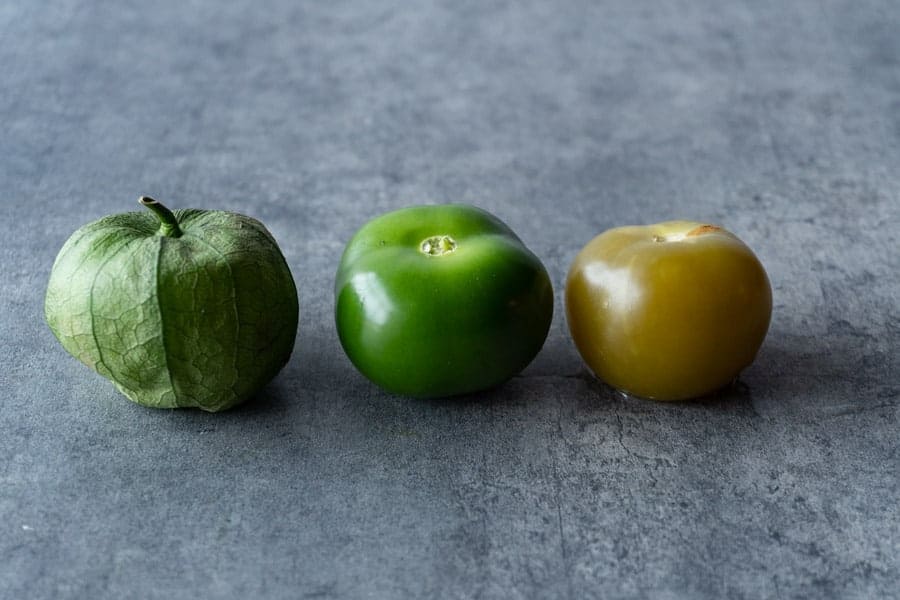 This rotisserie chicken enchilada is something my husband loves to eat! And you can always double the tomatillo sauce for chips or for extra sauce on the enchilada!
Leftover Rotisserie Chicken Recipes are a favorite of mine- especially these shredded chicken enchiladas!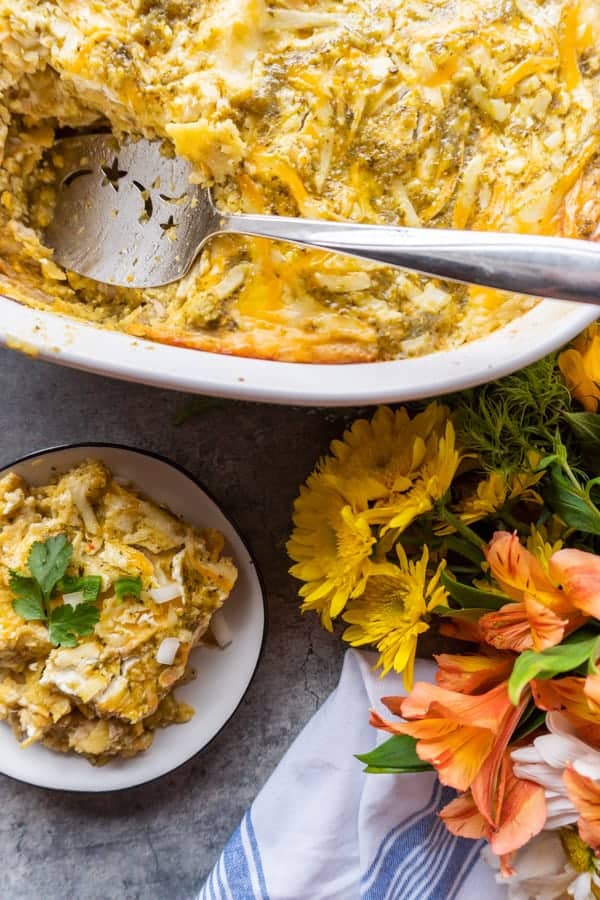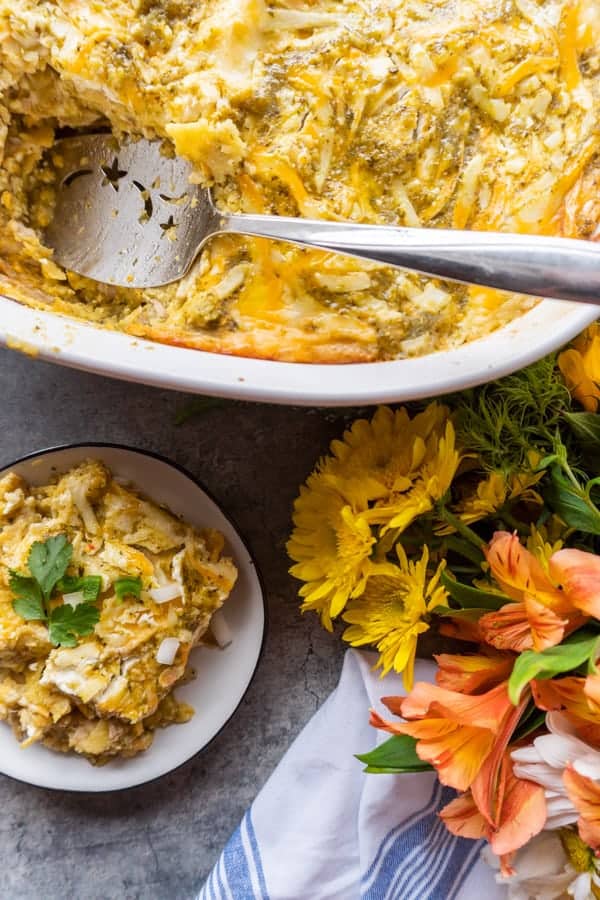 Also this makes a great leftover turkey enchilada! Use leftover turkey from your holiday meals instead of chicken- trust me!
If you like this recipe make sure to check out my green chile breakfast burritos, carnitas tacos, street tacos, and my easy mint julep!
---
BE SURE TO FOLLOW ME ON FACEBOOK, INSTAGRAM, PINTEREST, TWITTER & SIGN UP FOR MY EMAIL  NEWSLETTER!
---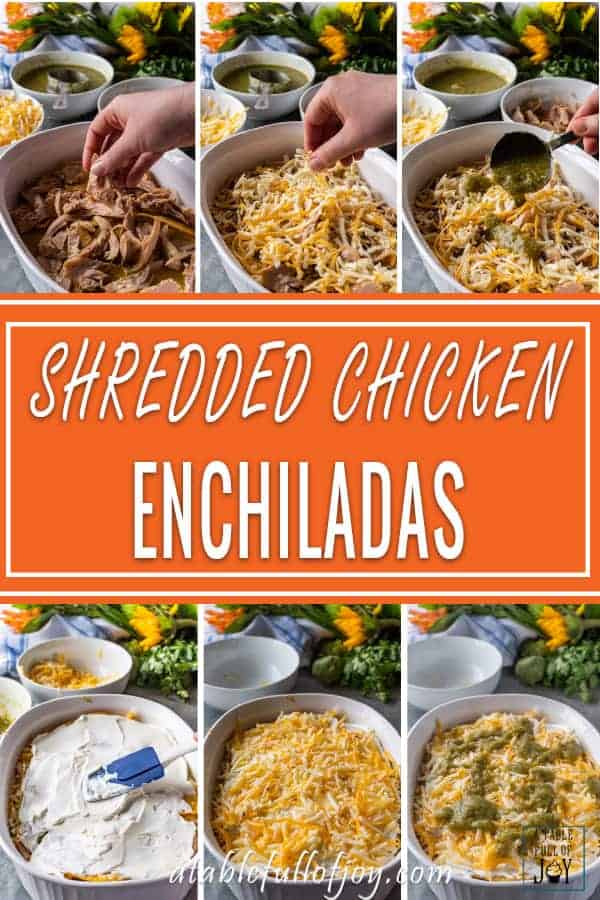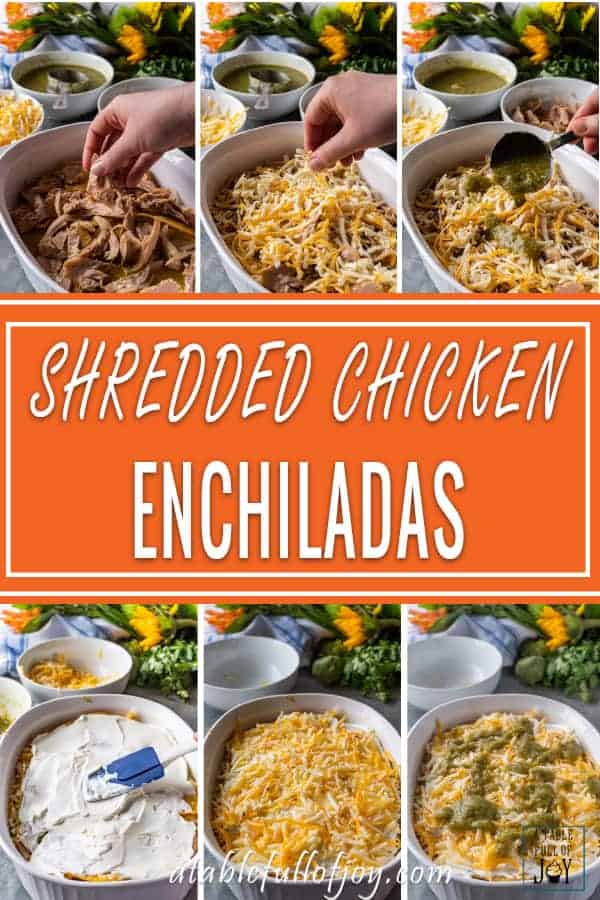 Want more? Subscribe to my newsletter and follow along on Facebook, Pinterest and Instagram for all of the latest updates.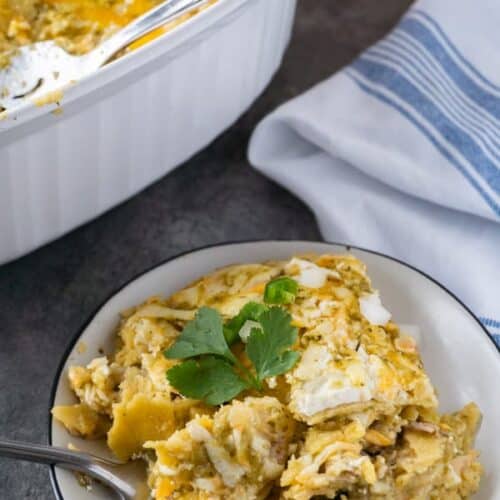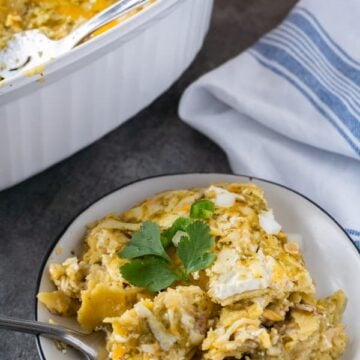 Shredded Chicken Enchiladas
Shredded Chicken Enchiladas, a delicious and easy dinner that can be made in no time!
Ingredients
13

tomatillos husk removed and rinsed

½

large white onion

2

serrano peppers

1

jalapeno

4

large cloves of garlic

1

cup

cilantro

Salt and pepper to taste

2

teaspoon

cumin

vegetable oil for frying

12-16

corn tortillas

may need more or less depending on size of dish*

1

rotisserie chicken

½

cup

sour cream

2.5

cup

shredded cheese
Instructions
Preheat oven to 350°F

Add tomatillos, onion, serrano and jalapeno (seeds removed) to a medium sized cooking pot. Cover with ~6 cups of water. Bring water to boil over med-high high and boil until tomatillos are no longer bright green, about 10 minutes. (13 tomatillos husk removed and rinsed, ½ large white onion, 2 serrano peppers, 1 jalapeno)

Transfer tomatillos, onion, and peppers to a blender or food processor. You do not need the water you boiled them in.

Add garlic, cilantro, and cumin to blender and blend until fully combined. Add salt and pepper to taste. Set aside. (4 large cloves of garlic, 1 cup cilantro, salt and pepper to taste, 2 teaspoon cumin)

Heat up oil in a fry pan and fry each tortilla on both sides until they are slightly browned but still pliable. About 10-20 seconds each side if the oil is nice and hot. Place fried tortillas on a paper towel to soak up extra oil. Fry 12 tortillas and if you need more as you assemble your enchiladas you can fry them up if needed!

When done frying the tortillas shred your chicken/ remove chicken from the bones of the rotisserie chicken.

Assemble the enchilada. Begin with putting ⅔ cup of tomatillo sauce in the bottom of your casserole dish*. Lay four tortillas, followed by 1 cup of chicken, ½ cup cheese and ⅔ cups tomatillo sauce. Then lay three tortillas over it followed by the same amount of chicken, cheese and sauce. Repeat with three more tortillas, chicken, cheese and sauce. Place 4 tortillas on top, followed by ½ cup sour cream (spread out), 1 cup cheese and the remaining sauce.

Bake for 30 minutes, or until the cheese is fully melted and slightly browned.
Notes
* I used a 7 ½ x 4 ½ inch casserole dish that is about 4 inches deep. If you use a 9 x 13 inch dish you will probably want to use 6 tortillas per layer since it is a larger surface area. Also if you use a 9x13 dish the layers will be thinner. To fix this simply use more chicken and cheese! Yum!
Nutrition
Calories:
309
kcal
Carbohydrates:
15
g
Protein:
29
g
Fat:
14
g
Saturated Fat:
6
g
Cholesterol:
100
mg
Sodium:
445
mg
Potassium:
436
mg
Fiber:
2
g
Sugar:
2
g
Vitamin A:
410
IU
Vitamin C:
7.3
mg
Calcium:
171
mg
Iron:
1.4
mg
I am an affiliate for Breville which means if you purchase any of their products using my links, I will earn a small percentage of the sale at no extra cost to you. Thanks!
Reader Interactions