The BEST Buttermilk Chocolate Cake! Moist, rich, and super chocolatey! You won't want anything else!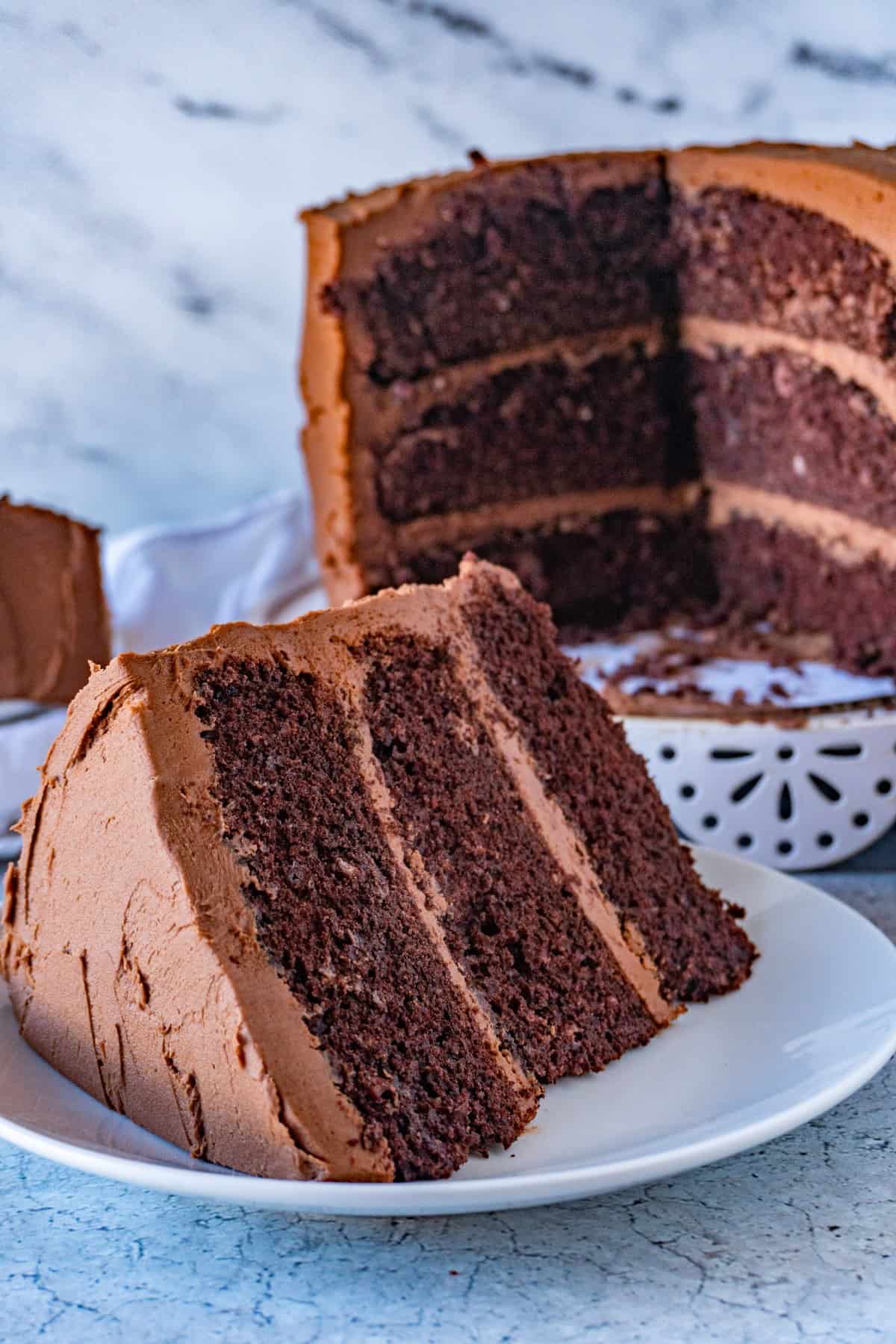 Most days when I make a cake, I will go the easy and fast route and doctor a box cake mix. They always turn out delicious and let's be real they are pretty tasty.
Sometimes though I want the real deal. Homemade, from scratch chocolate cake. Yes, it takes longer, yes, there are more ingredients and a few more dishes, but oh man is it worth it!
For more tasty cake recipes check out:
So, let's make a cake!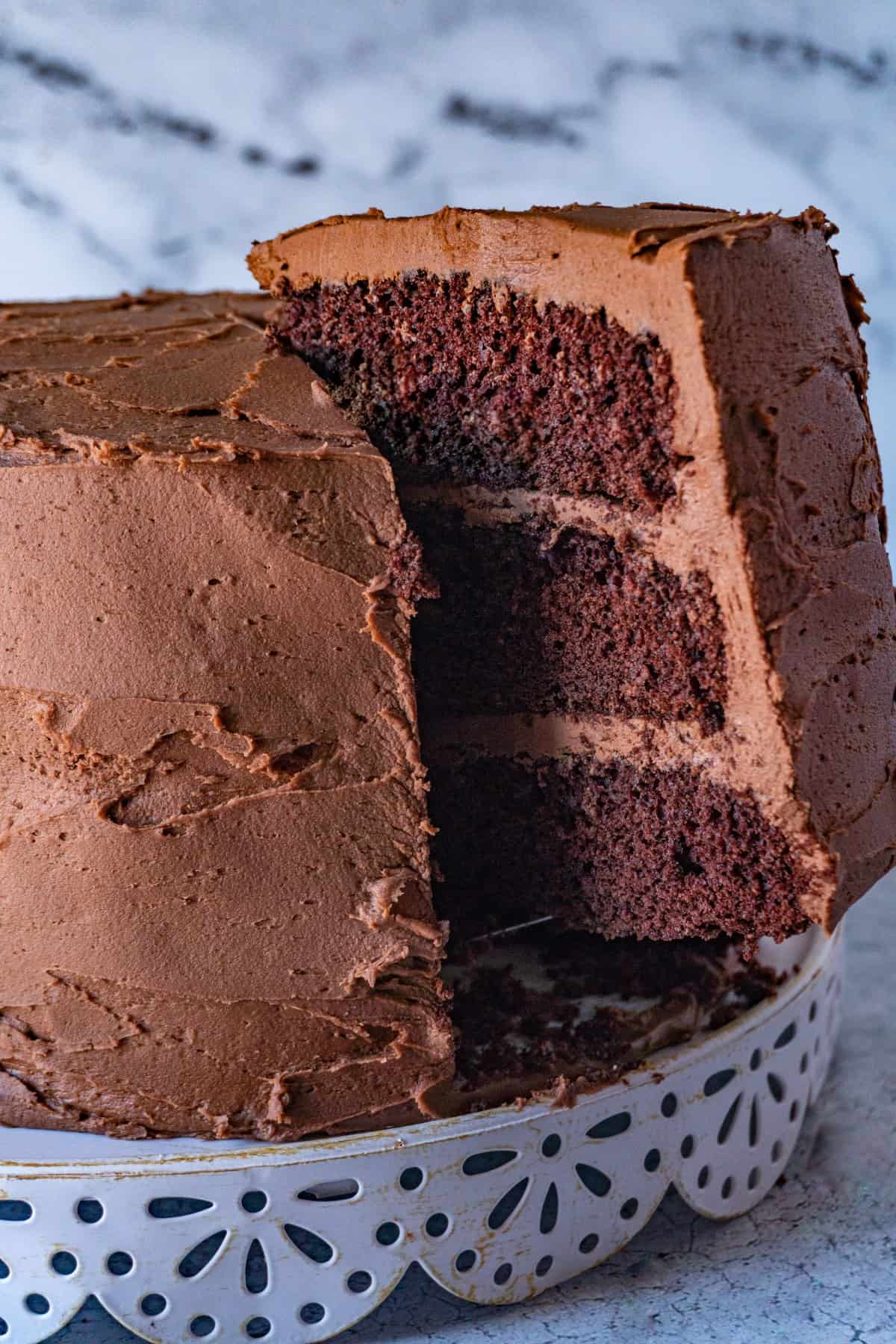 How to make buttermilk chocolate cake?
Combine boiling water and instant espresso. Then mix in the cocoa powder, buttermilk, and vanilla.
In a separate bowl sift together the cake flour, baking soda, and salt.
In the bowl of a standup mixer beat your butter and sugar together until light and fluffy.
Then add in your eggs and yolks one at a time- mixing in between each egg.
Mix in your oil then beat on high until batter is light and airy.
Fold in half the flour mixture, the fold in half the buttermilk mixture. Then repeat until everything is incorporated.
Pour into three 9-inch greased baking pans then bake until done!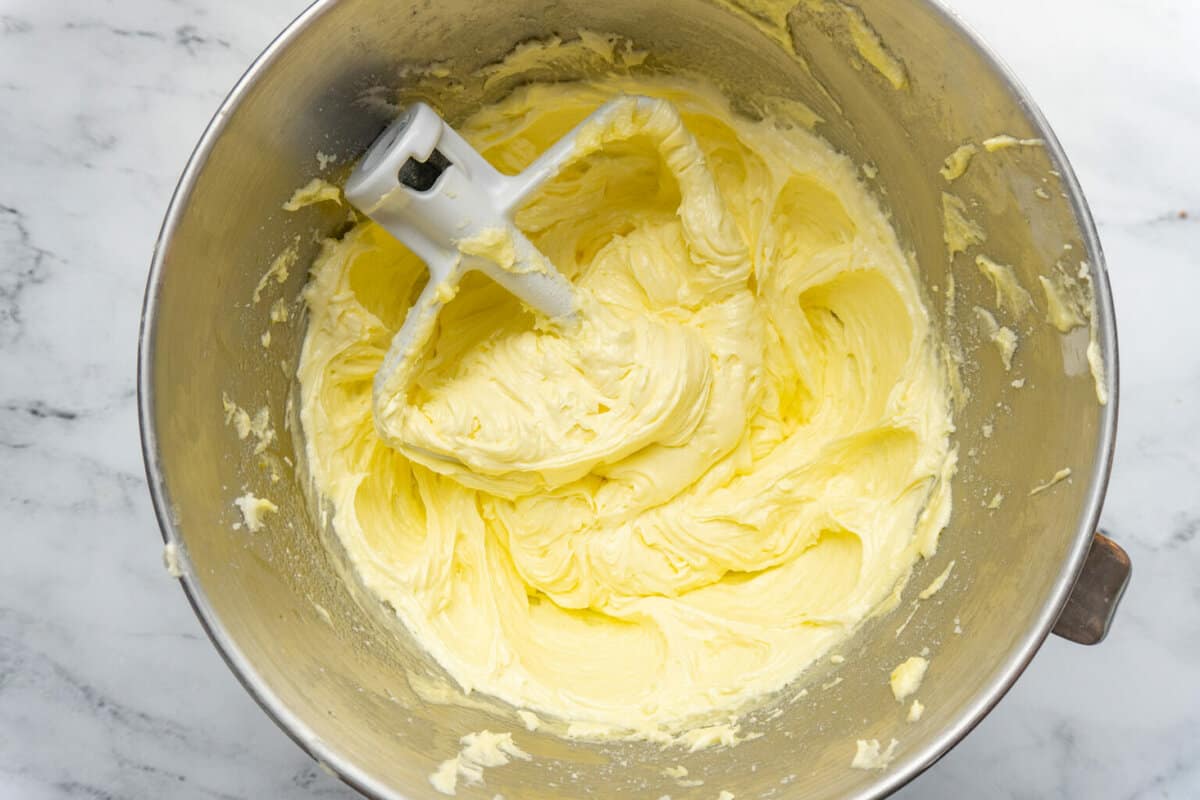 How to fold in flour and buttermilk mixture?
Folding in ingredients allow the batter to retain the air you whipped into it- resulting in a lighter cake.
To fold in an ingredient, use a rubber spatula and gently scrape from the inside bottom of the bowl towards the center of the bowl. You want to bring the spatula around the bowl while lifting and folding the mixture in on itself.
You don't want to just stir the mixture because that will remove all the air from the batter.
Do I have to use espresso powder?
No, but I like how it adds richness and brings out the chocolate flavor more.
Can I use regular cocoa powder instead of dark cocoa powder?
Sure! It will still be delicious, just not quite as dark and rich.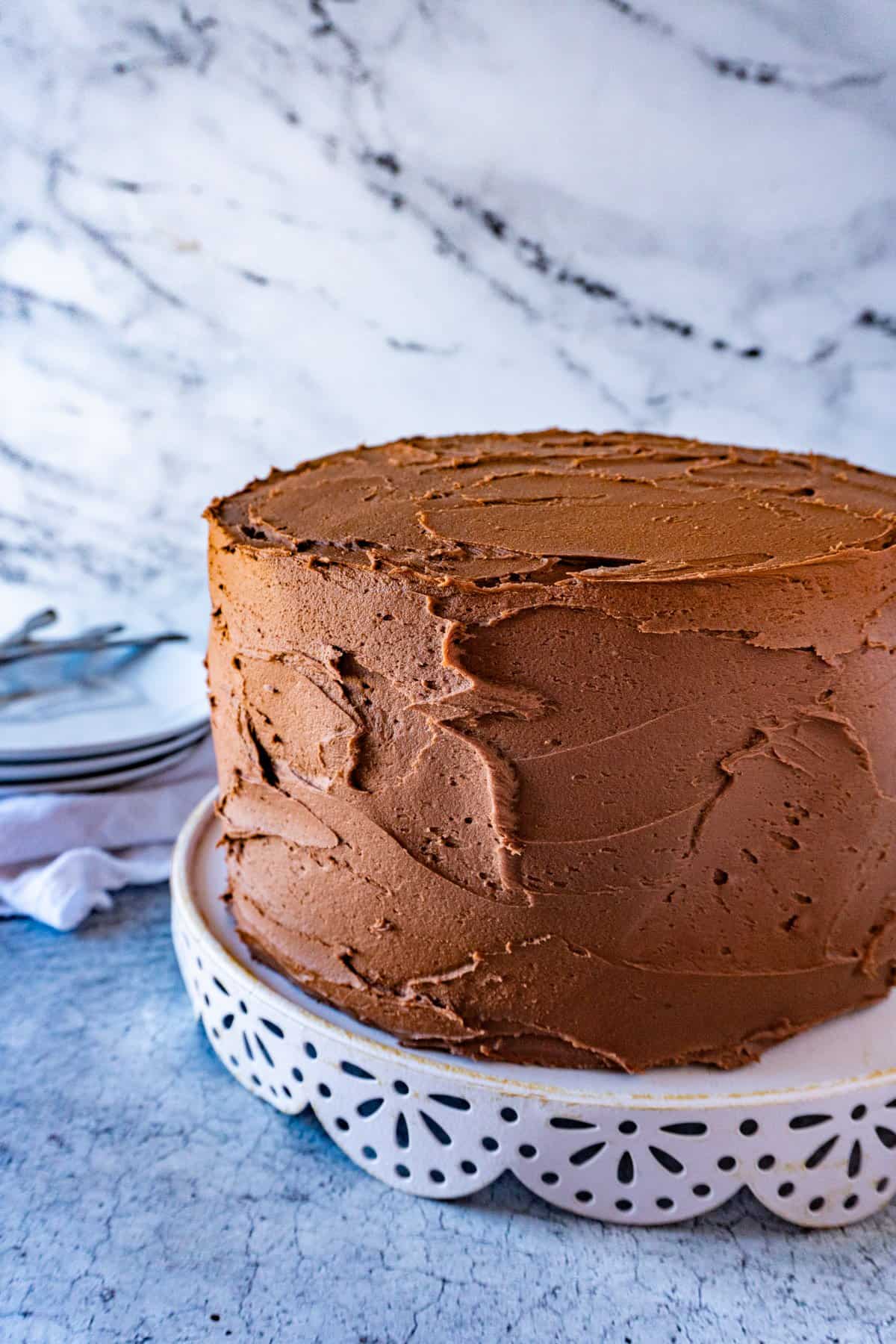 What if I want to make a smaller cake? How do I adjust this recipe?
To make a 2-layer 9-inch cake or a 3-layer 6-inch cake just divide the recipe in half. That's what did for my German Chocolate Cake and it turned out amazing!
What does buttermilk do to cake?
Buttermilk makes the cake more tender, helps it rise, and helps balance too much sweetness.
Read all about buttermilk, how to make a substitute, and how to tell if it's bad here!
I use buttermilk for so many recipes- like scones and fried chicken strips!
Other frosting recommendations?
Do I need to add a crumb coat to the cake?
It depends. If you are just wanting to frost it with wavy/ kind of messy designs (like the majority of the pictures)- then no.
If you want a very smooth finish to your frosting and want to add a drip/ piping to the cake (like the picture below) then I would recommend crumb coating the cake, refrigerate for 10 minutes, then add your final coat and smooth it out.
I used this recipe in my German Chocolate Cake Recipe and it is perfect!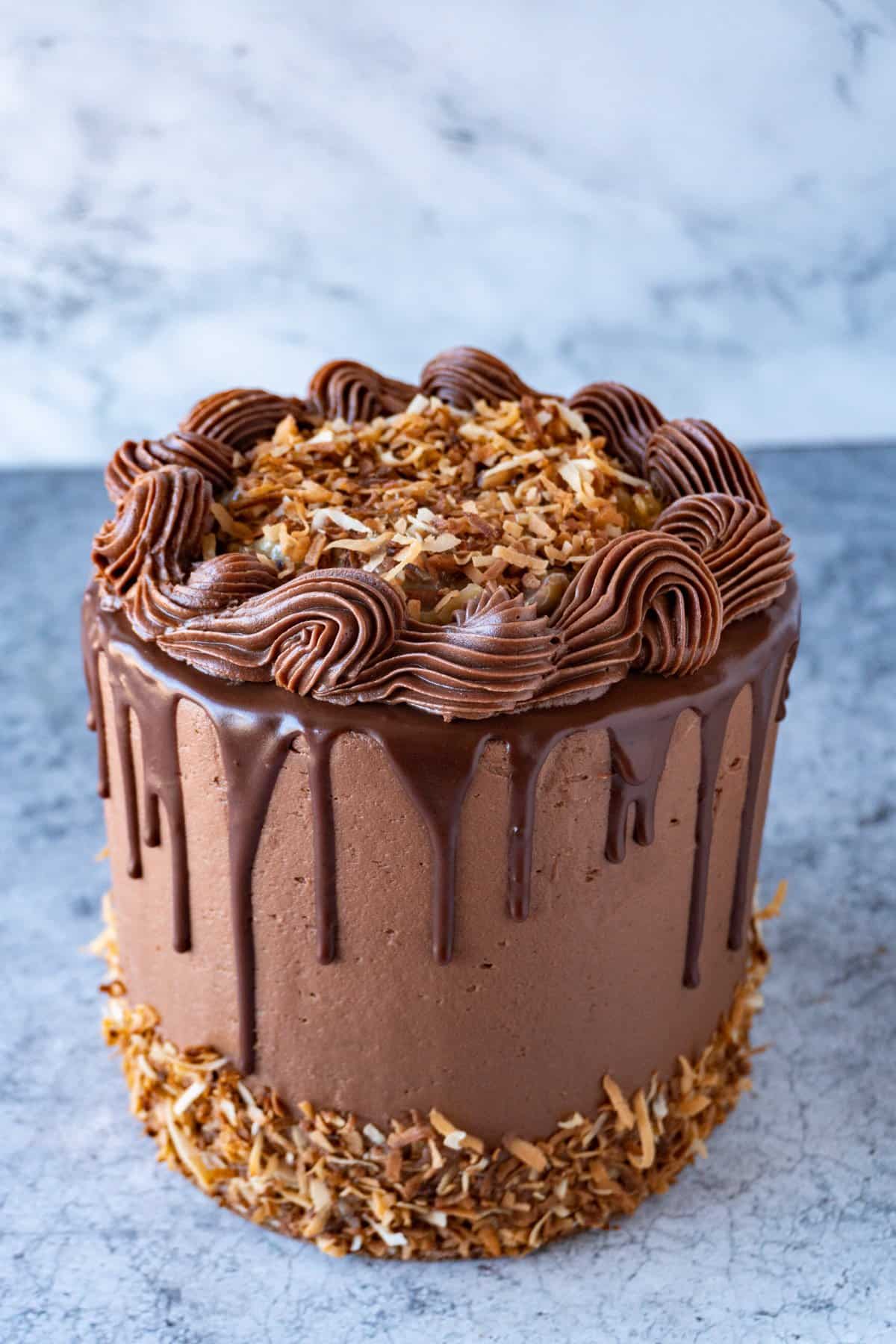 Should I use white vinegar or lemon juice when making buttermilk substitute for chocolate cake?
You can use either and it won't taste any different in the baked cake!
Why does chocolate cake have buttermilk in it?
Buttermilk helps the cake rise, gives a softer texture, and helps balance the sweetness sin the cake.
Can I use a buttermilk substitute?
Yep! 1tbs lemon juice or vinegar plus 1 cup of milk, let sit for 5 minutes. Use this instead of buttermilk!
Is buttermilk better than milk for chocolate cake?
Yes! It makes the cake so much softer!
Hope you enjoy this cake as much as I do!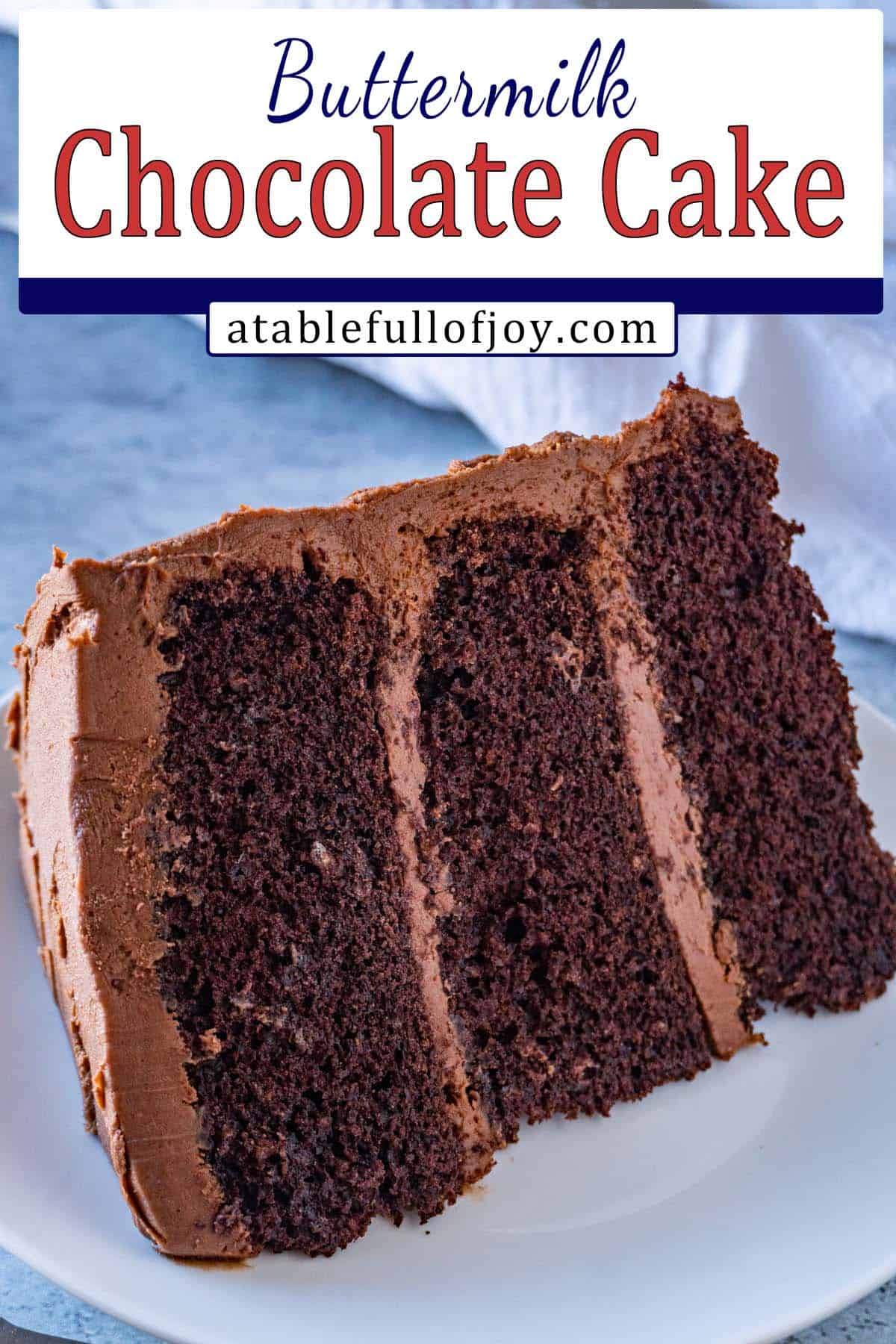 Want more? Subscribe to my newsletter and follow along on Facebook, Pinterest and Instagram for all of the latest updates.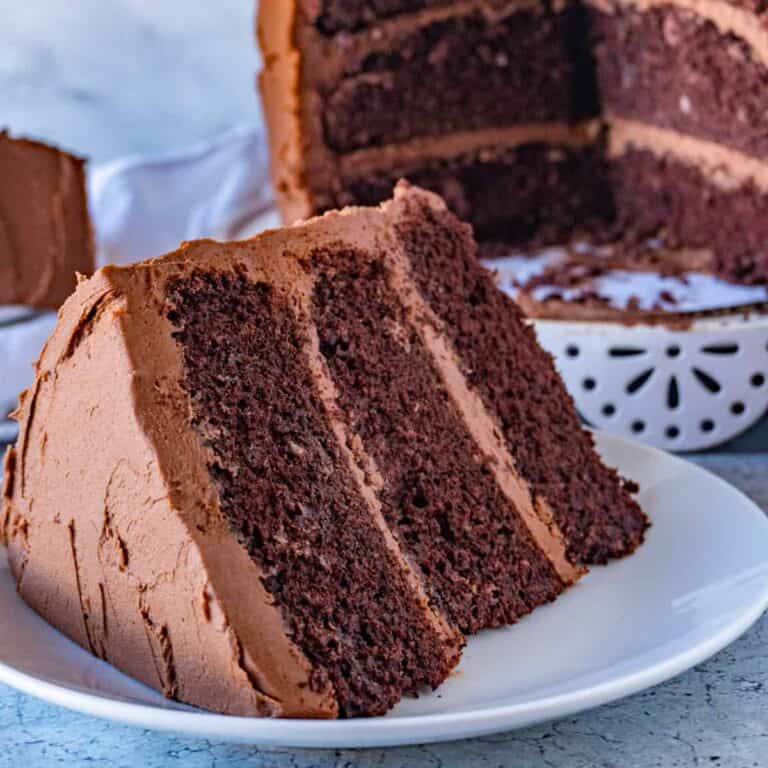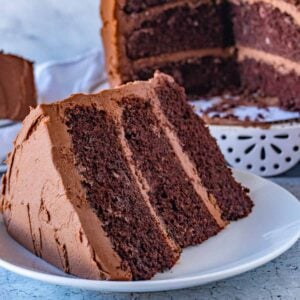 Buttermilk Chocolate Cake
The BEST Homemade Buttermilk Chocolate Cake! Moist, rich, and super chocolatey! You won't want anything else!
Ingredients
1

teaspoon

instant espresso

⅔

cup

boiling water

⅔

cup

special dark cocoa powder*

1

cup

buttermilk

2

teaspoon

vanilla extract

2 ⅔

cup

cake flour

1 ½

teaspoon

baking soda

½

teaspoon

salt

2 ½

cup

sugar

1

cup

unsalted butter

4

extra-large eggs at room temperature

2

extra-large yolk at room temperature

½

cup

vegetable oil
Instructions
Preheat oven to Preheat oven to 350°F. Butter three 9 inch round cake pans, bottoms and sides, then sprinkle the pans with flour, then cut out parchment in circles to fit the bottom of the cake pans and place those in the pan.

Boil water and add espresso to it, stirring until dissolved.

1 teaspoon instant espresso,

⅔ cup boiling water

Whisk cocoa powder, then buttermilk and vanilla into water/espresso mixture.

⅔ cup special dark cocoa powder*,

1 cup buttermilk,

2 teaspoon vanilla extract

Sift flour, baking soda and salt into a separate bowl.

2 ⅔ cup cake flour,

1 ½ teaspoon baking soda,

½ teaspoon salt

Using a stand mixer, whisk sugar and butter until fluffy. About 10 minutes.

2 ½ cup sugar,

1 cup unsalted butter

Add each egg and the yolk, one at a time, into the butter mixture, letting each one fully mix into the batter before adding the next. Add in oil and mix until fully combined. The beat mixture on medium high speed for a minute- the mixture will be light and fluffy.

4 extra-large eggs at room temperature,

2 extra-large yolk at room temperature,

½ cup vegetable oil

Fold in ½ of the flour and then fold in ½ of the buttermilk mixture to the batter. Then fold in remaining flour and then remaining buttermilk mixture.

Bake for 20-25 minutes or until a toothpick inserted comes out clean. Try baking the cakes on the same rack, or baking them one at a time. This will ensure even baking.

Best Chocolate Frosting- make 2 batches of this!
Notes
Tips and Tricks
*I used Hershey's special dark cocoa powder for the cake to make it a dark chocolate cake, but you can use any cocoa powder you have.
*A double batch of frosting is perfect if you are not doing a crumb coat. If you are doing a crumb coat and a final coat, plus piping on decorations you will need at least a 3rd batch of frosting.
*If you want to make a smaller cake see notes in post above.
*For a buttermilk substitute mix 1 cup milk with 1 tbs vinegar, let sit 5 minutes, then use in place of buttermilk in recipe. 
Nutrition
Calories:
399
kcal
Carbohydrates:
49
g
Protein:
6
g
Fat:
21
g
Saturated Fat:
14
g
Cholesterol:
97
mg
Sodium:
211
mg
Potassium:
119
mg
Fiber:
2
g
Sugar:
32
g
Vitamin A:
471
IU
Calcium:
37
mg
Iron:
1
mg
Post updated on 6/29/2022
Reader Interactions