This easy no knead bread without dutch oven recipe is one I've used over and over again! It makes the most perfectly chewy bread with a light crust and simple but delicious flavor.
It's rustic, delicious, and only takes 4 ingredients.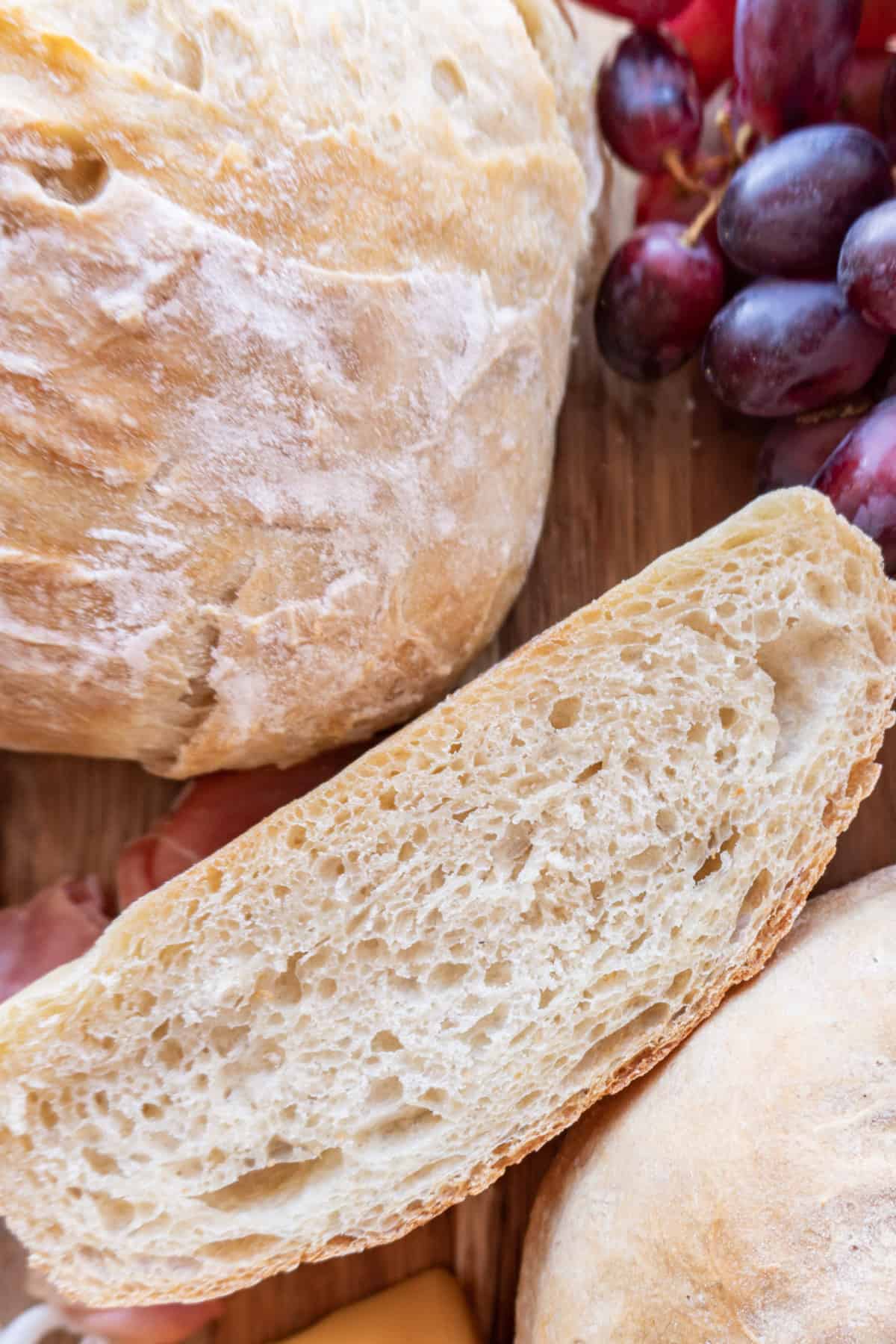 I used to think homemade bread was a tricky thing to make- but not anymore. This bread recipe is really simple and I am happy with how it turns out every time.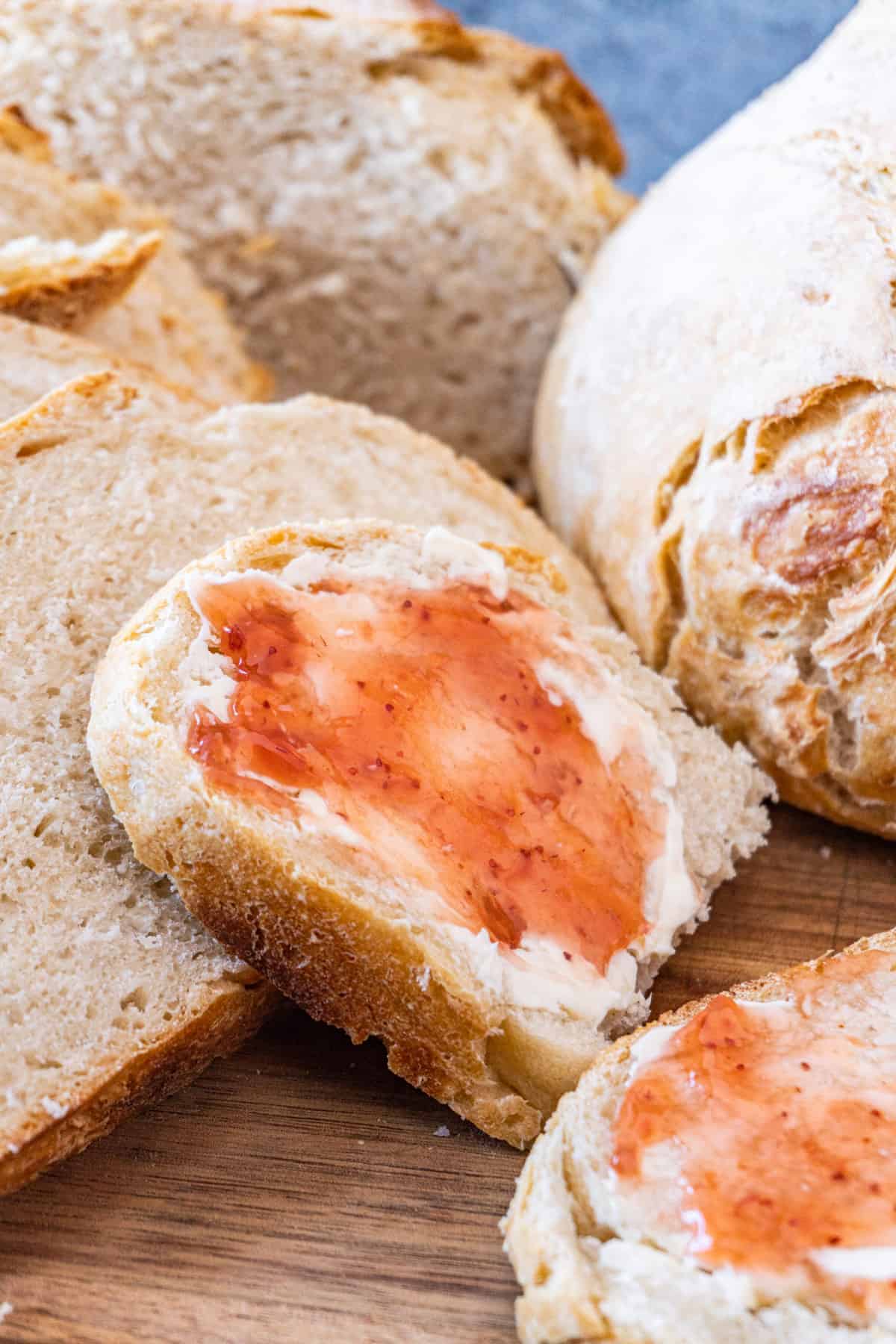 How to make no knead bread without a dutch oven :
Add yeast and sugar to warm water and allow to get foamy.
Stir in flour until just combined. Allow to rest for 15 minutes
Add in salt and stir until completely combined. Cover and let rise for 2.5 hours.
Split dough in half and shape into loaves. Allow to rise for 40 minutes.
Bake at 450°F until done!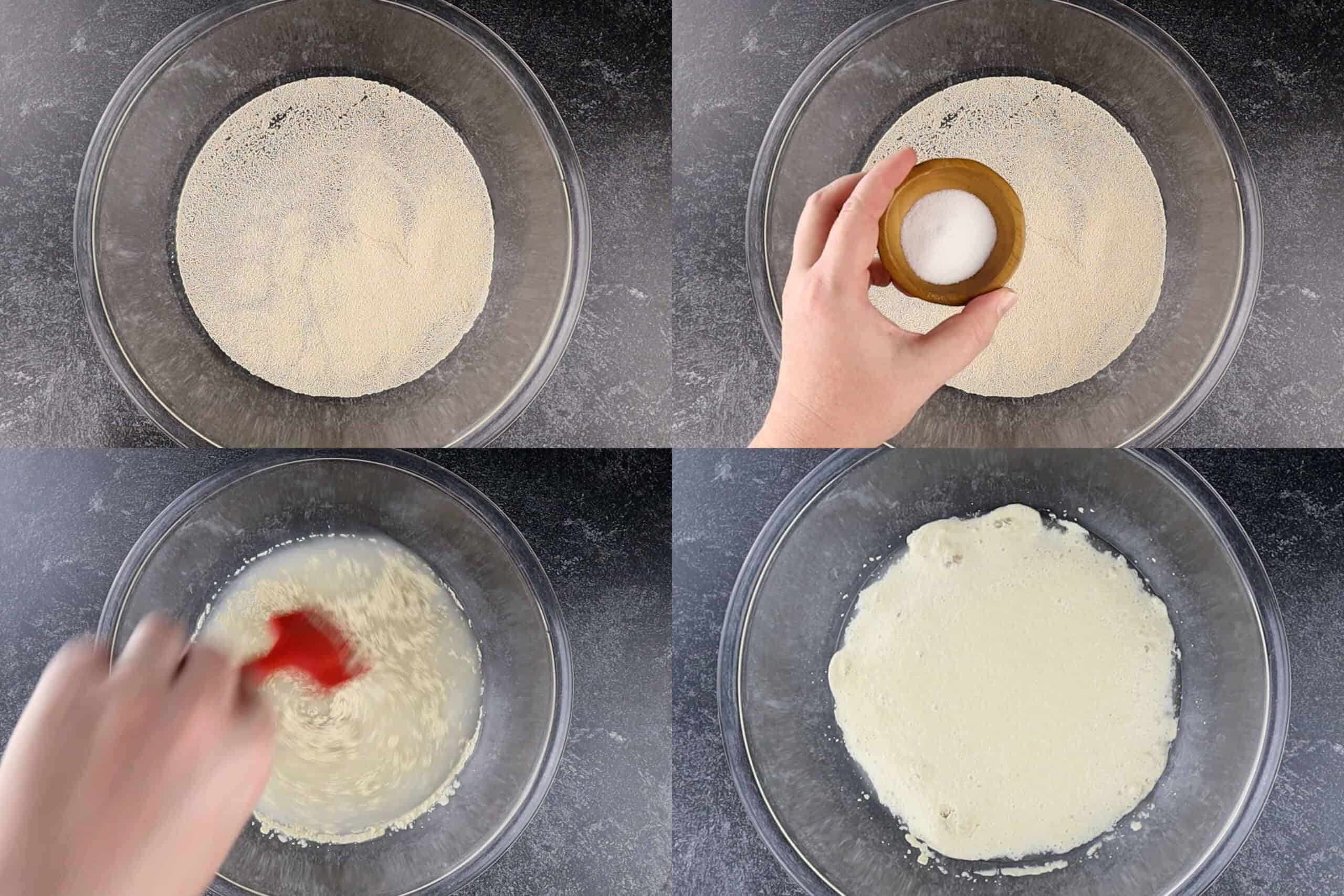 How do you know if yeast is good?
Yeast will get foamy and bubbly after mixing with warm water and a little sugar. If it doesn't then either the water was too hot and killed it, or it was too old.
Water temperature should only be between 100°F and 110°F. I like to use my Dash thermometer to make sure I am at the right temperature! (affiliate link)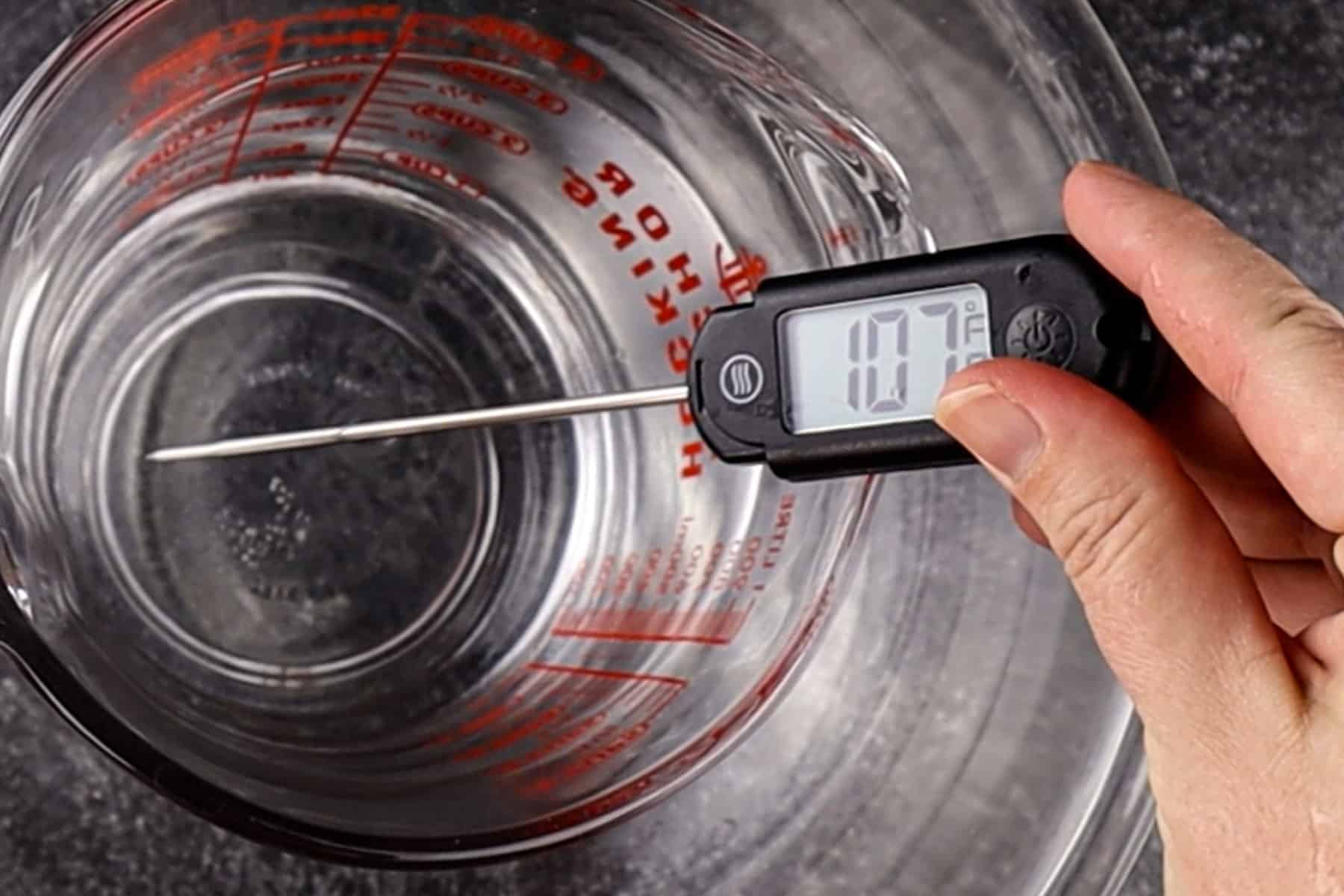 What type of flour should I use?
You can use all purpose, bread flour for extra chewyness (bread flour has more gluten in it which helps it be more chewy), or a mix of all purpose flour and rye!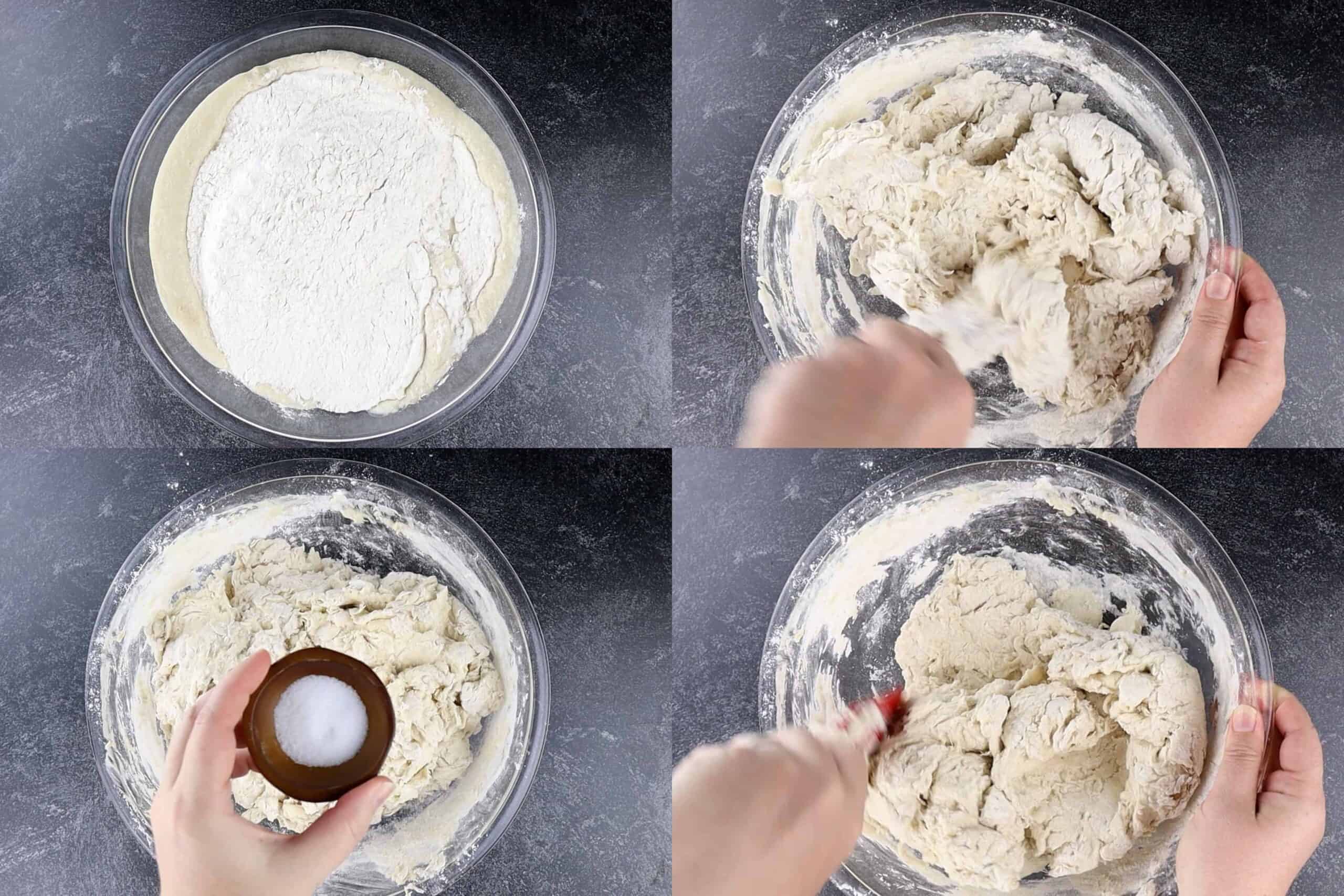 Why add salt partway into the mixing process?
Adding salt 10-15 minutes after mixing in the flour helps the yeast really get going. If you add the salt right away it stunts the yeast a bit, but isn't a huge deal- so you decide!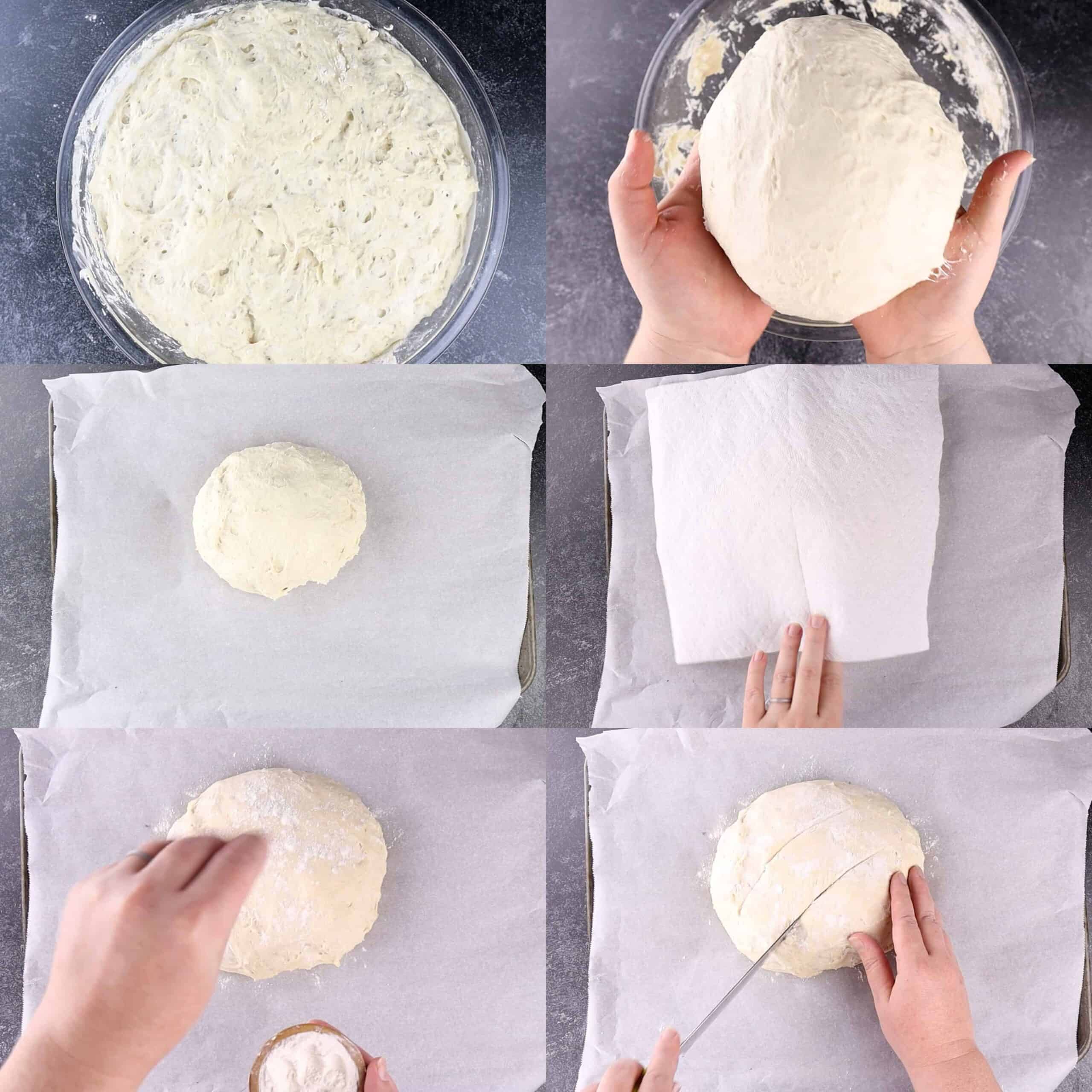 Can I eat the bread warm from the oven?
Let the bread cool all the way before cutting into it.
This will be hard since it smells so good, but sometimes if you cut into the bread too soon it will appear undercooked. But leave it alone for a little while and your bread will be perfect.
How do you know when the bread is fully baked?
You can either tap the bottom of the loaf and listen for a hollow sound -which can be tricky when it's hot from the oven- or stick a thermometer into the center (usually from the side so the hole won't be noticed) and if the bread is at 190°F, it is fully cooked! I like to use my Dash Thermometer to check the temperature of the bread! (affiliate link)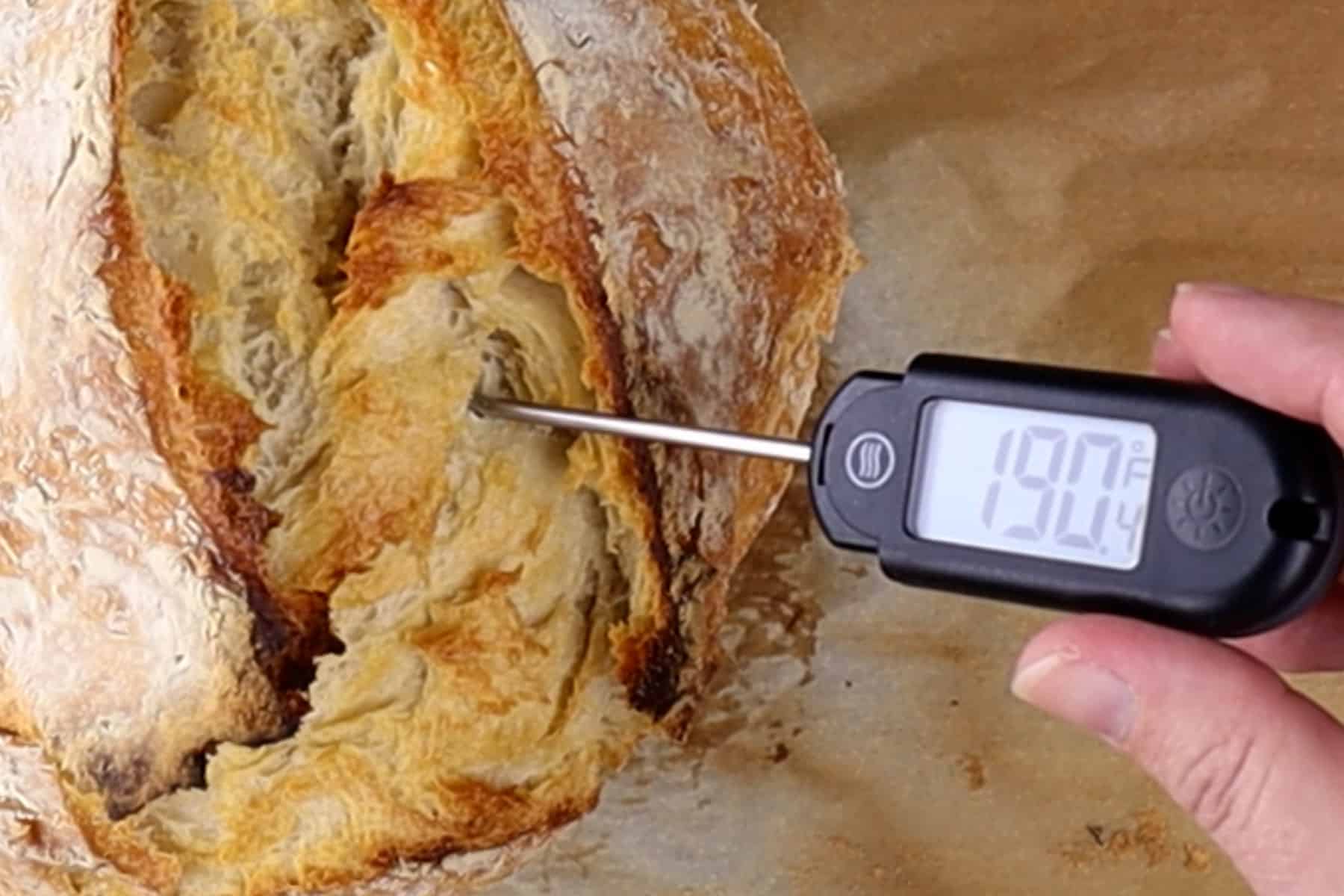 How much bread does this homemade bread recipe make?
You can use the dough to make two large loaves or several rolls. This recipe is also perfect for making a sturdy bread bowl for any dips (like my spinach dips) or soups (green chile stew anyone?) you may want to serve out of it.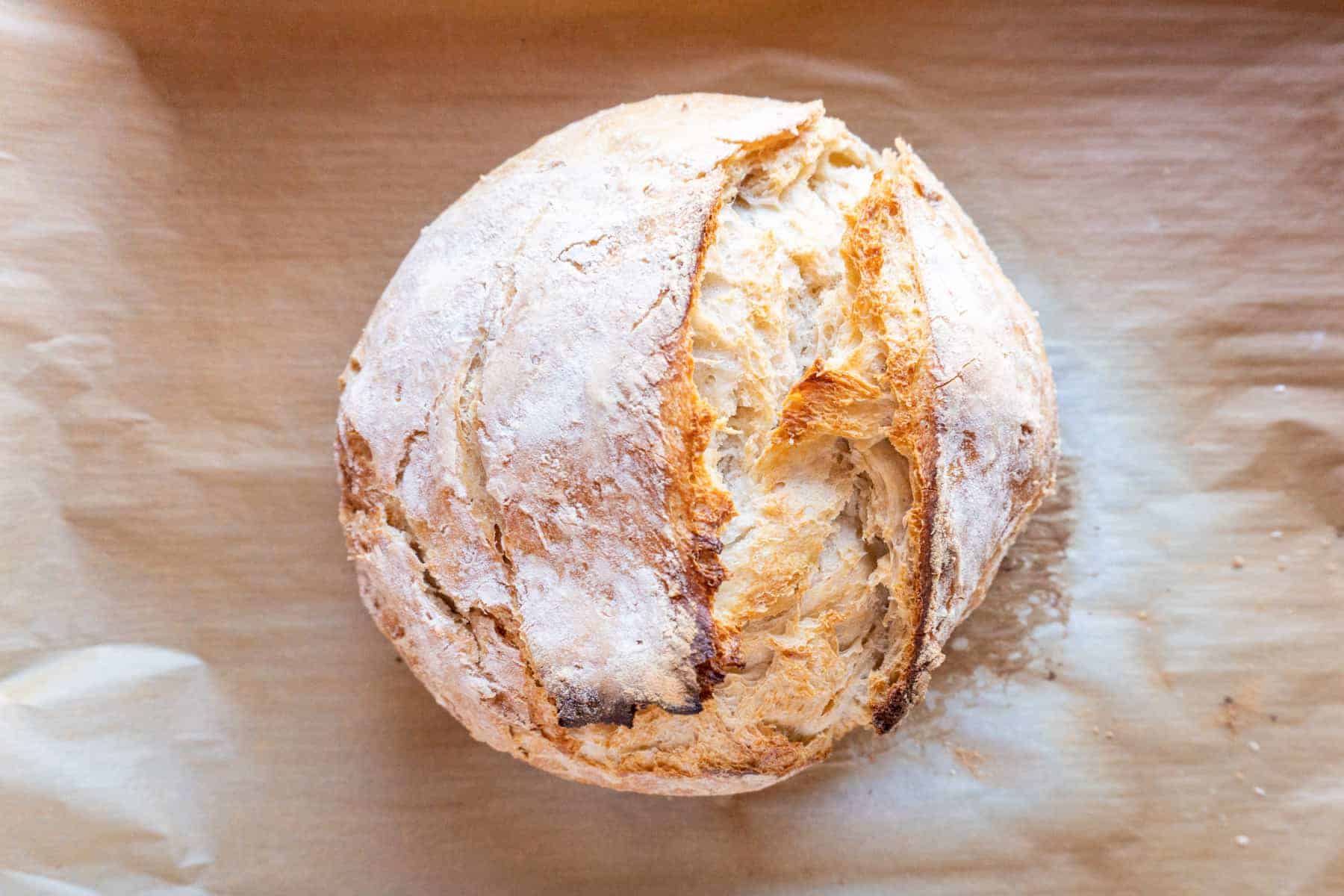 Why add water to a baking dish in the oven?
The water will create steam and will form a delicious crust!
There is something about a fresh rustic loaf of bread that reminds me of all the books I read where someone is visiting a tavern- and I just love that! This recipe is simple, hearty, and delicious!
Enjoy this bread with butter, cheese, or dip it in soup. It is so good and easy to make you'll want to make it all the time.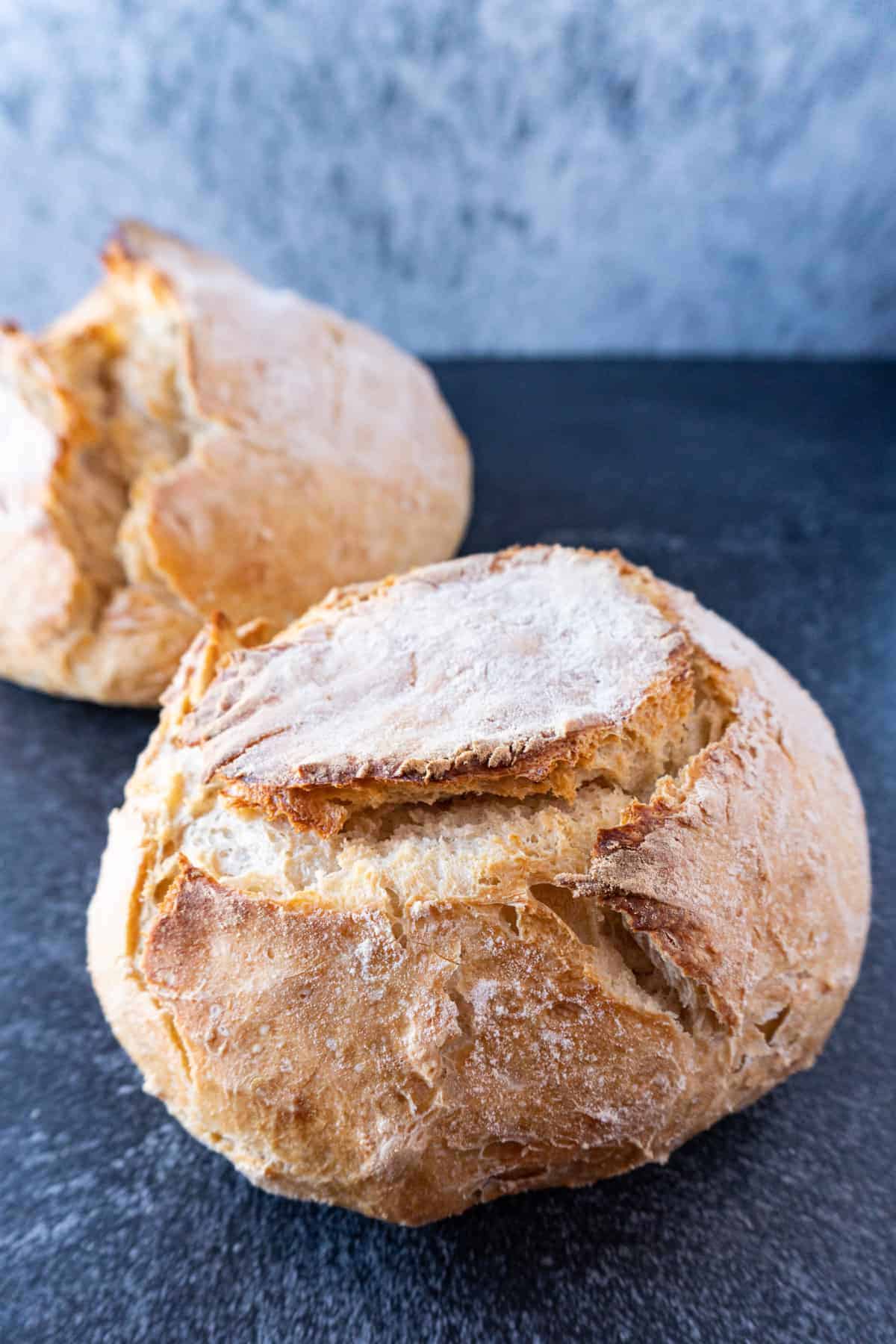 Not to mention the amazing smell that fills your house when it's baking! Give this bread a try! It won't disappoint!
For more tasty easy recipes check out: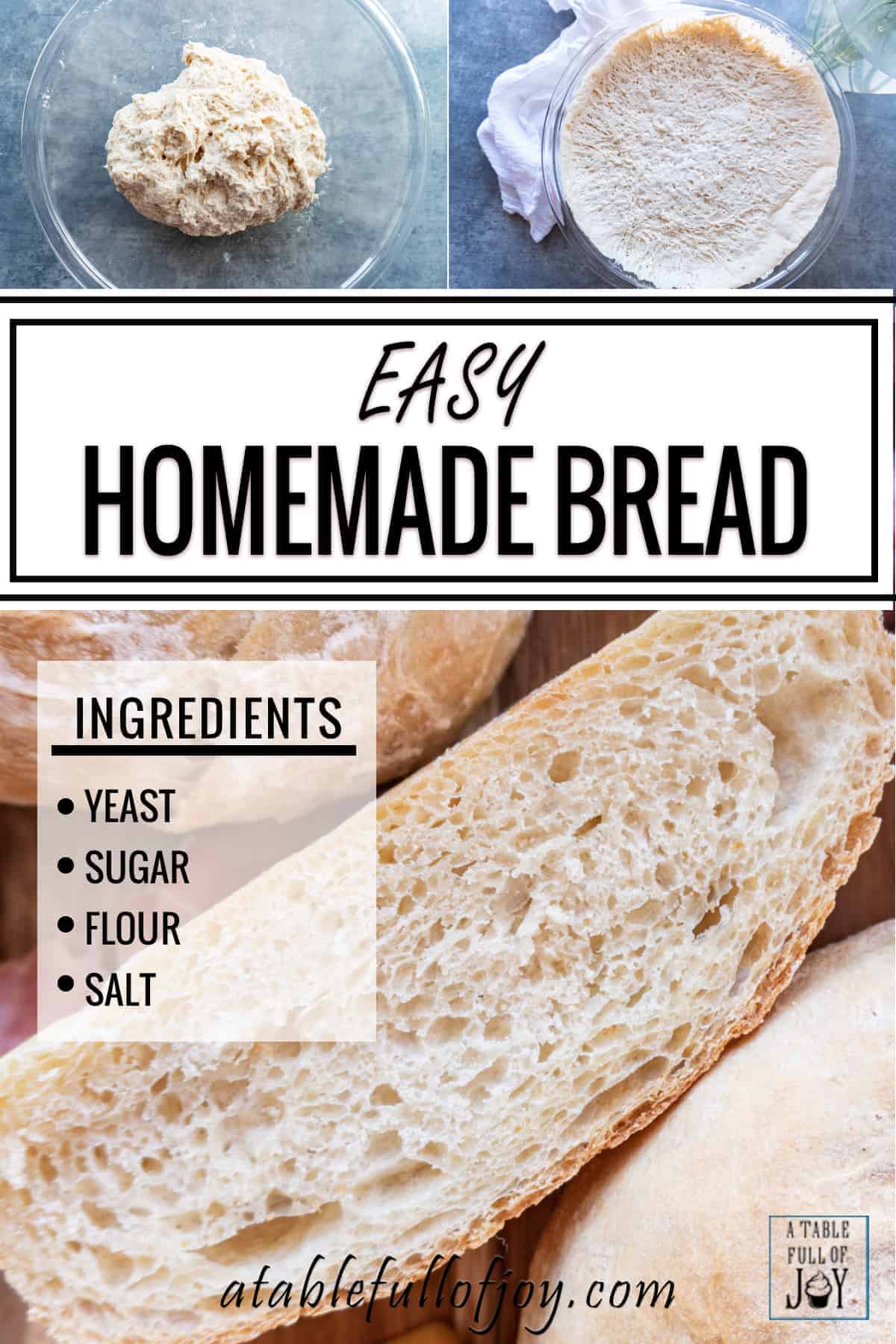 Watch how to make this recipe!
Want more? Subscribe to my newsletter and follow along on Facebook, Pinterest and Instagram for all of the latest updates.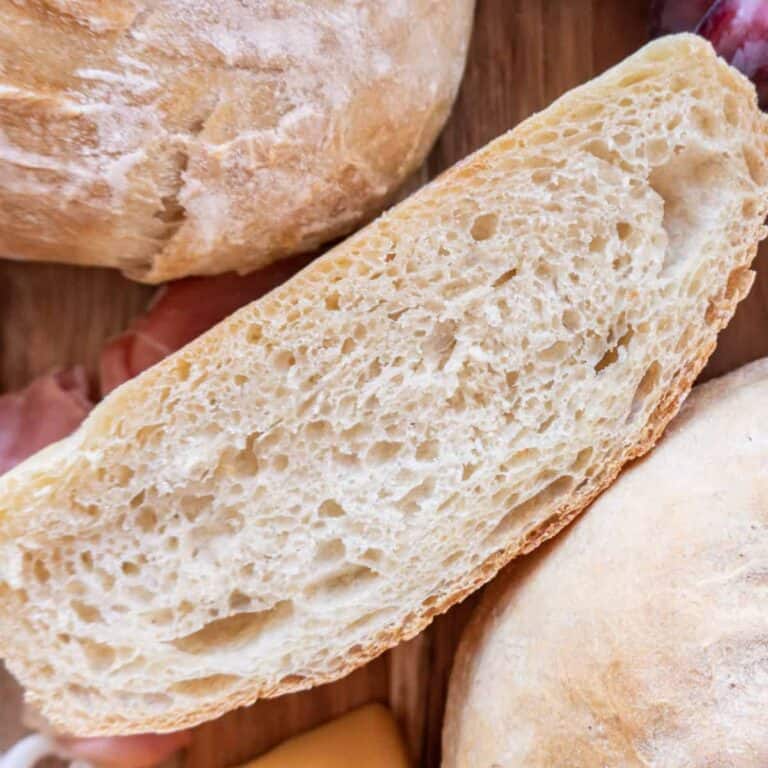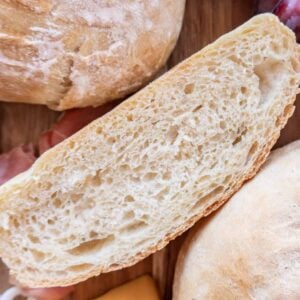 No Knead Bread without Dutch Oven
This easy no knead bread without a dutch oven tastes delicious and will make your house smell amazing! You won't regret making it!
Ingredients
3

cups

warm water

1 ½

tbs

active dry yeast

(can also use rapid rise/instant yeast) ~2 packages yeast

2

teaspoon

sugar

6 ½

cups

all purpose or bread flour

2

teaspoon

salt
Instructions
In a large bowl combine yeast with warm water and sugar. Make sure the water is no hotter than 110°F or else you will kill the yeast. Let the mixture sit for ~5 minutes, the mixture should get bubbly and foam will appear- this is a sign the yeast is working!

3 cups warm water,

1 ½ tbs active dry yeast,

2 teaspoon sugar

Add the flour to the yeast and mix until just combined. The dough will be sticky. Let it sit for 15 minutes then mix in the salt. Waiting to add the salt allows the yeast to work more efficiently in those first 15 minutes.

6 ½ cups all purpose or bread flour,

2 teaspoon salt

Once the salt is mixed in well, cover with a light towel and let rise for ~2.5 hours at room temperature.

Divide the dough in half. Shape the dough into two rounded loaves, folding the dough under itself to create a smooth top. If you don't plan to bake both loaves at once, place one dough loaf in an airtight container or ziploc bag and place in the refrigerator to bake later.

Place the loaf onto a parchment lined baking sheet. Let the dough rise again for another 40 minutes. If you are baking your second refrigerated half that you pulled from the refrigerator let the dough rise the for 1.5 hours.

Place a rimmed baking sheet on the bottom rack of your oven. Preheat the oven to 450°F.

Once the dough is done with its second rise, sprinkle with flour and slice the top in several places then place in oven. Pour 1 cup of water into the bottom baking sheet. This will create steam and allow the bread to get a nice crust.

Bake the bread for 25-30 minutes. It should sound hollow and have an internal temperature of 190°F when it's done. Try to let the bread cool completely before slicing into it or else it can seem undercooked.

Enjoy!
Notes
Tips and Tricks
Store baked bread in a ziploc bag or another airtight container for several days. This bread is best when eaten within a few days of baking it. You can keep extra unbaked dough in the fridge for up to a week and then bake it!
Check the temperature of your water and the bread when done baking with my favorite thermometer! (affiliate link)
Nutrition
Calories:
75
kcal
Carbohydrates:
16
g
Protein:
2
g
Fat:
1
g
Saturated Fat:
1
g
Sodium:
117
mg
Potassium:
23
mg
Fiber:
1
g
Sugar:
1
g
Calcium:
3
mg
Iron:
1
mg
I'm an affiliate for Thermoworks thermometers. I make a small percentage off of any purchase but at no expense to you. I just love their product so much!
Post updated 12/20/2021
More Baking Recipes
Reader Interactions