Candied walnuts are delicious and simple to make! They are a combination of sweet, crunchy, and that delicious walnut flavor that everyone loves! The cinnamon flavor reminds me of fall, but these are a treat perfect all throughout the year!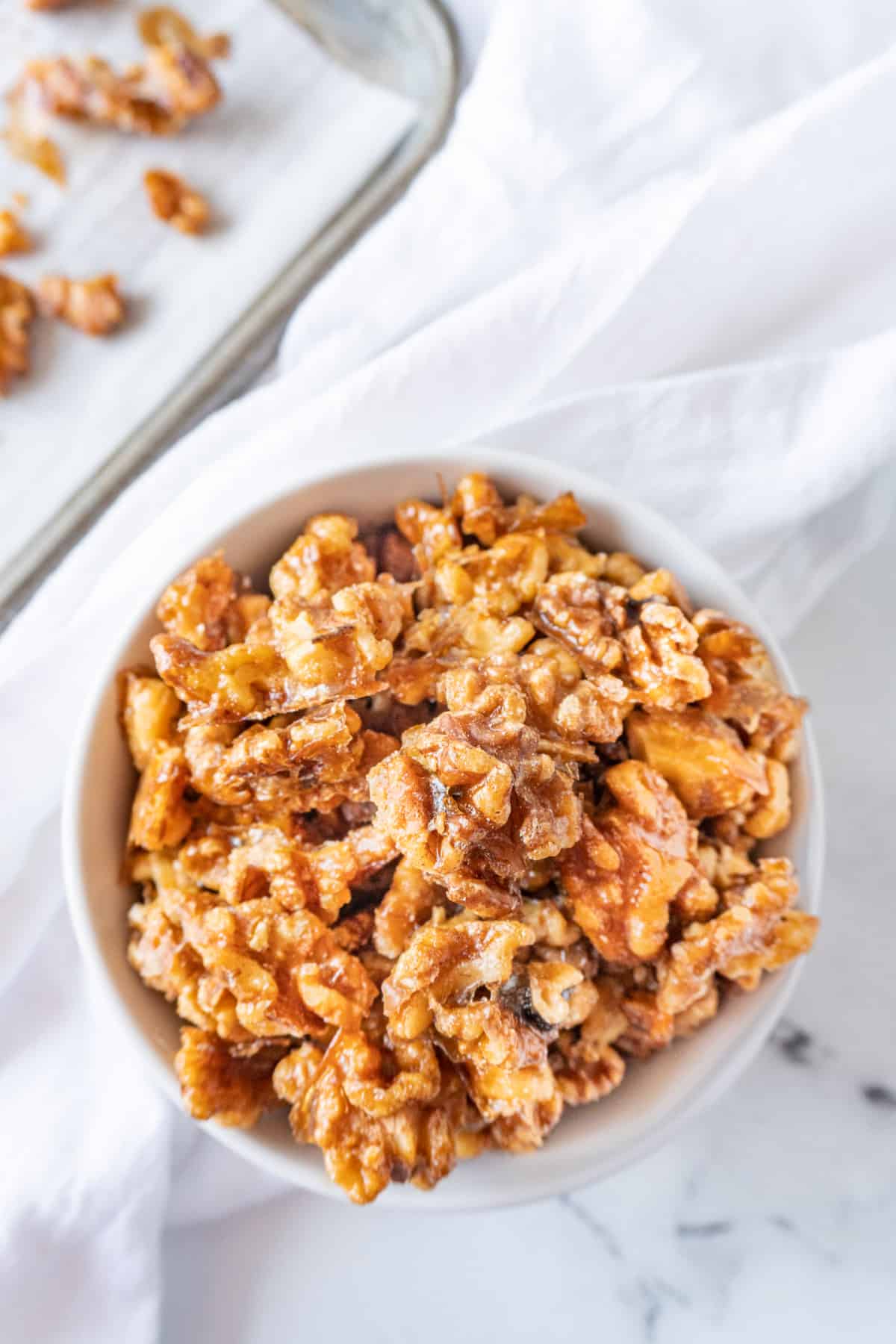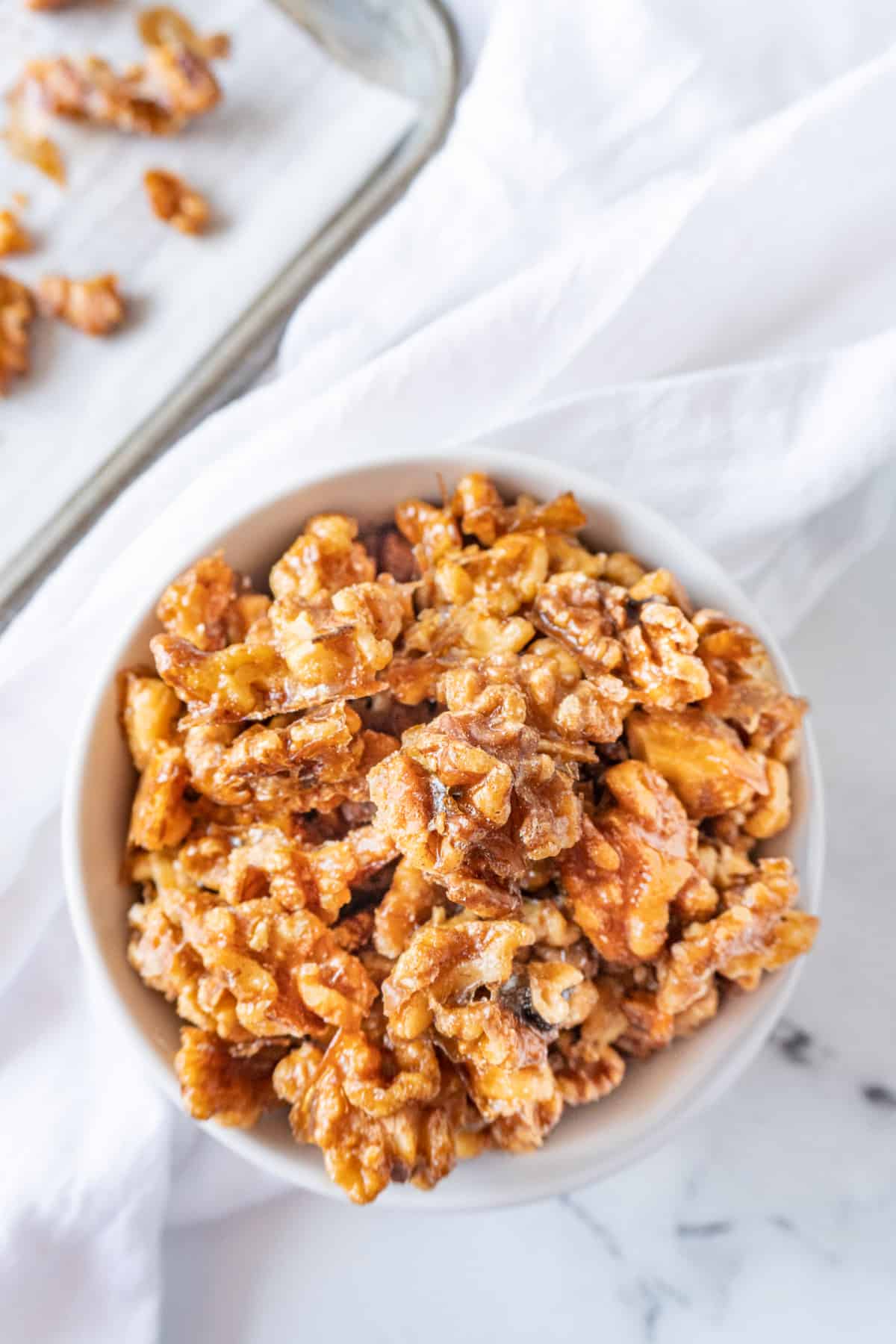 This Hearthstone recipe is inspired by the fun card Walnut Sprite.  This might be one of my favorite cards from the Witchwood expansion if for no other reason than I love the card graphic. It is awesome!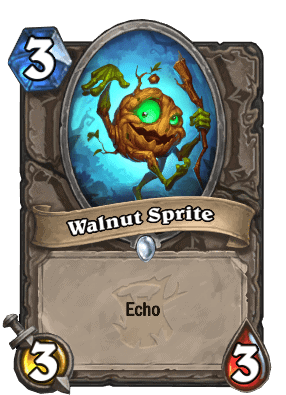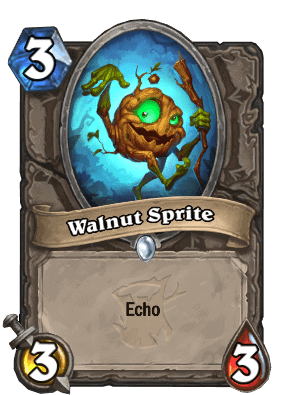 If you aren't familiar with Hearthstone, you can read all about it here! In general though, it's a fun and free online card game! I'm even doing a full Hearthstone Menu that you definitely don't want to miss! It has delicious recipes like Baku Moon Pies, Hidden Cache Cupcakes, Nat Pagel's Fresh Catch of the Day (Salmon with a Mango Salsa), Scrambled Devilsaur Egg Breakfast Tacos and Acidic Ooze Limeade!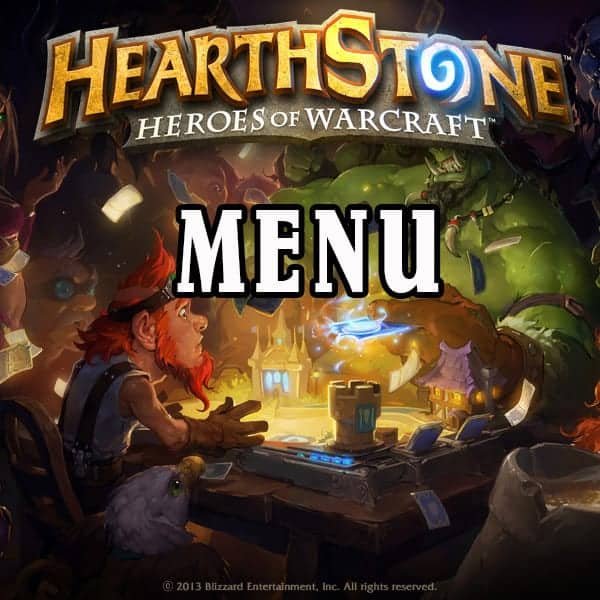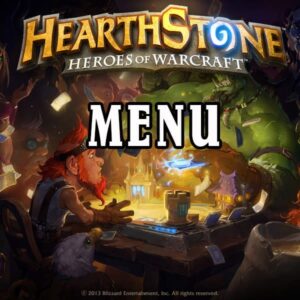 This recipe for candied walnuts is easy, quick, and there is no standing over a stove worrying about burning the sugar! I tried many different ways to make candied walnuts and most were unsuccessful. Either the sugar would burn or not coat the walnuts very well and I wasn't going to stop until I had a winning recipe! So here you go!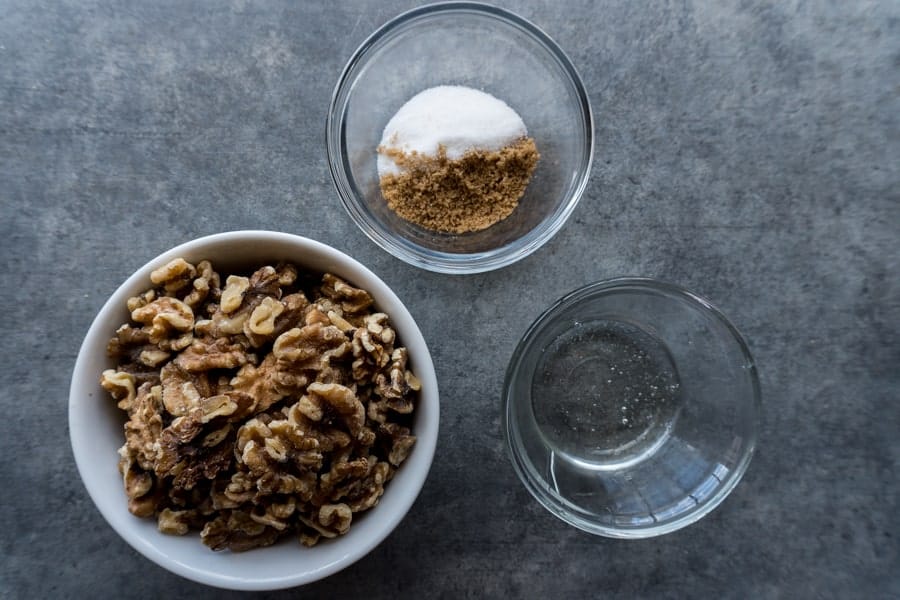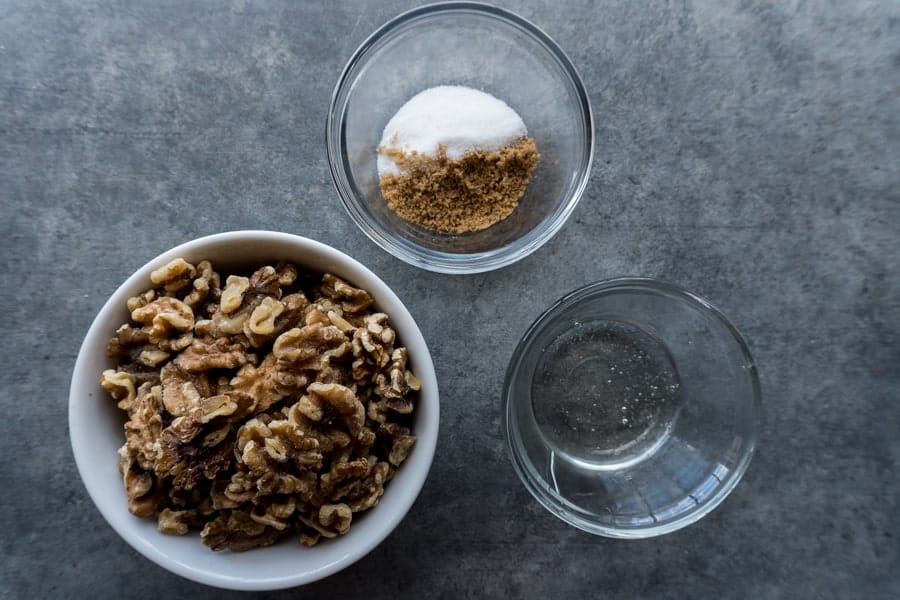 How to make candied walnuts:
Mix together white sugar, brown sugar, cinnamon (if using) and corn syrup.
Add in walnuts and coat them thoroughly with the sugar mixture.
Place on a parchment lined baking sheet in a single layer and bake for 15 minutes at 325F. Make sure to stir them halfway through baking.
Once done baking, allow to cool and then eat up!
These candied walnuts are perfect for salads, as a quick snack, or to take to a get together!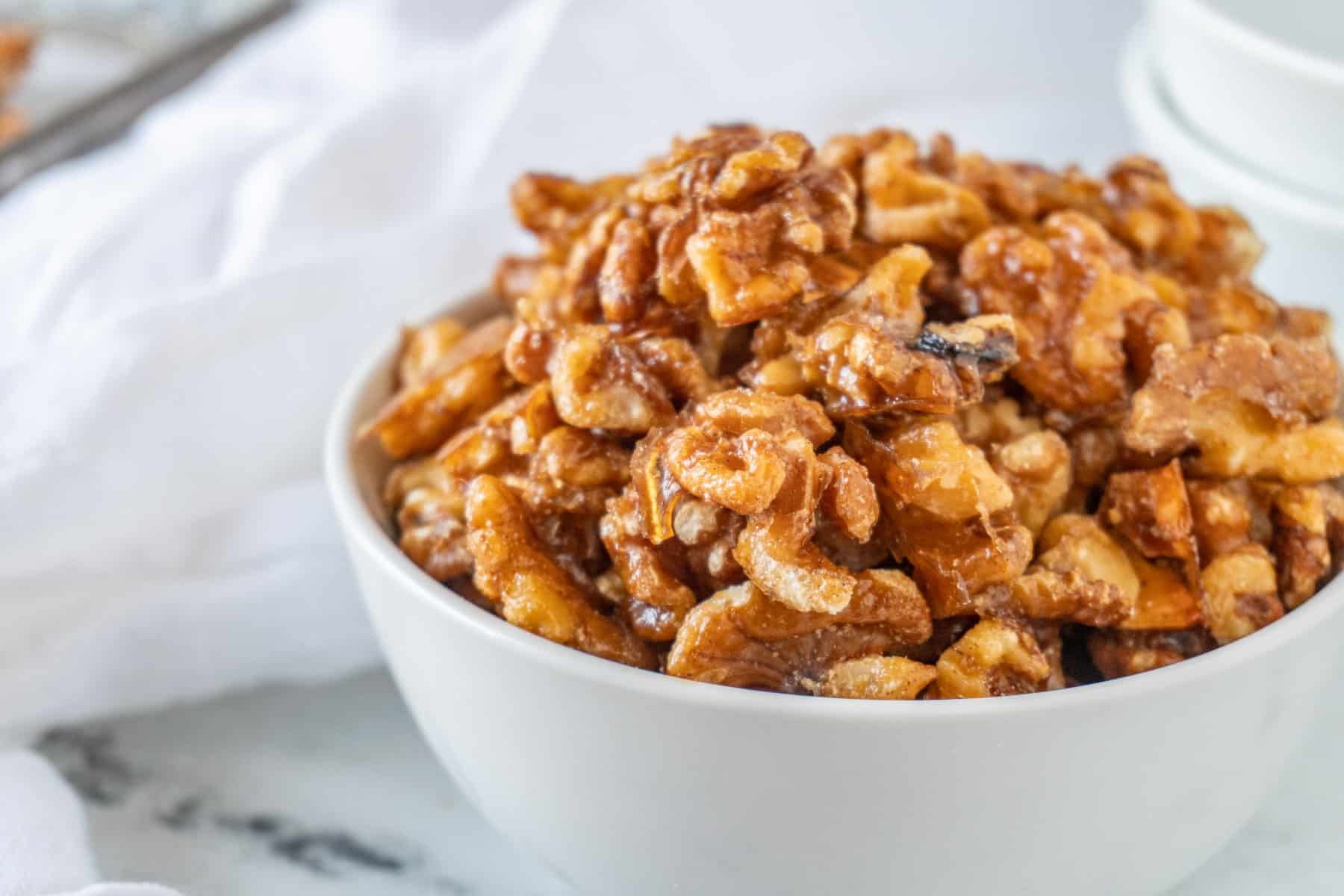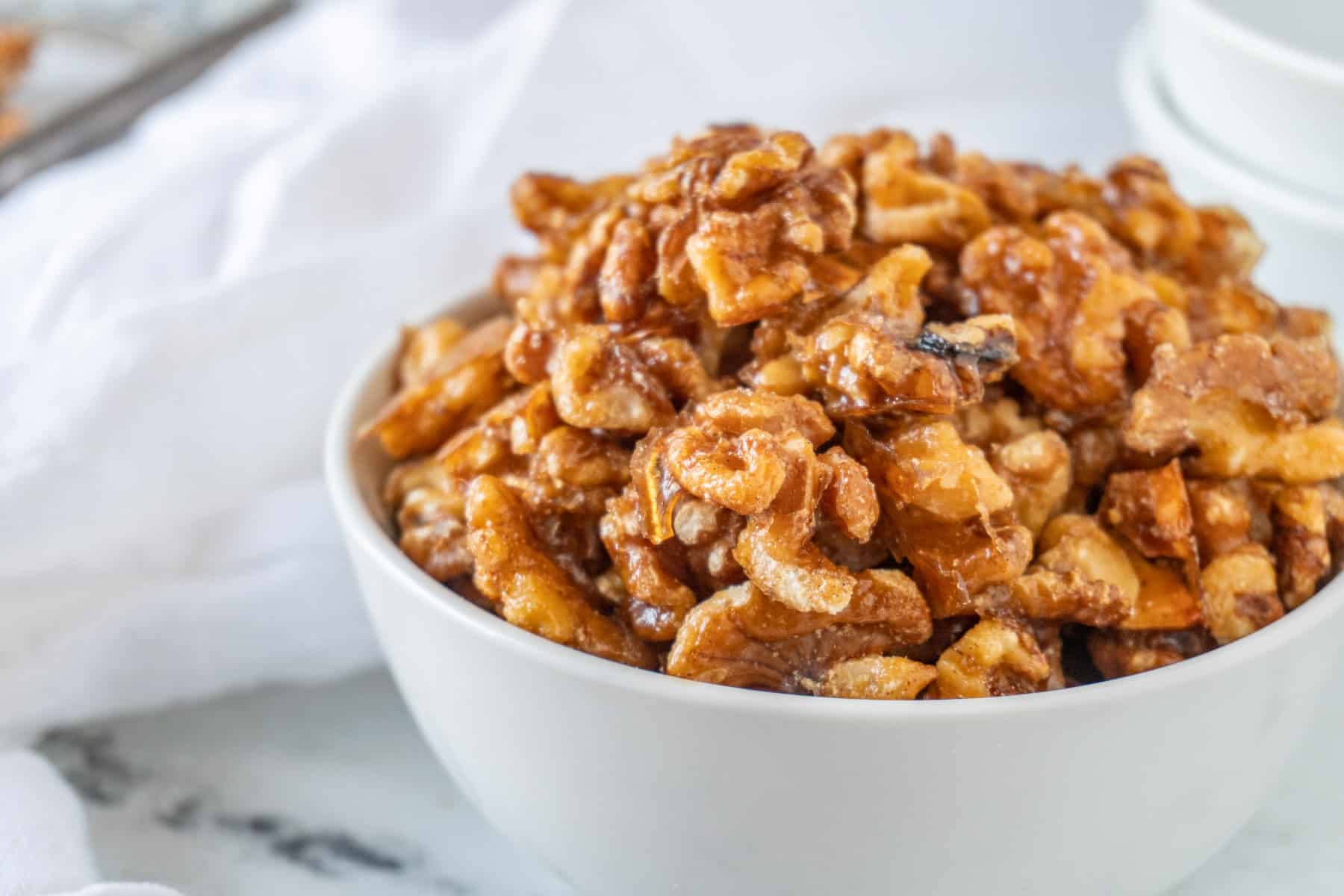 Want a healthy recipe for candied walnuts?
It's super easy to make these a little healthier!
Just add 2 tbs maple syrup to 1 tb coconut sugar.
Toss in 1 cup of walnuts.
Bake for 10 minutes at 325F, stirring at the 5 minute mark.
Let cool and enjoy!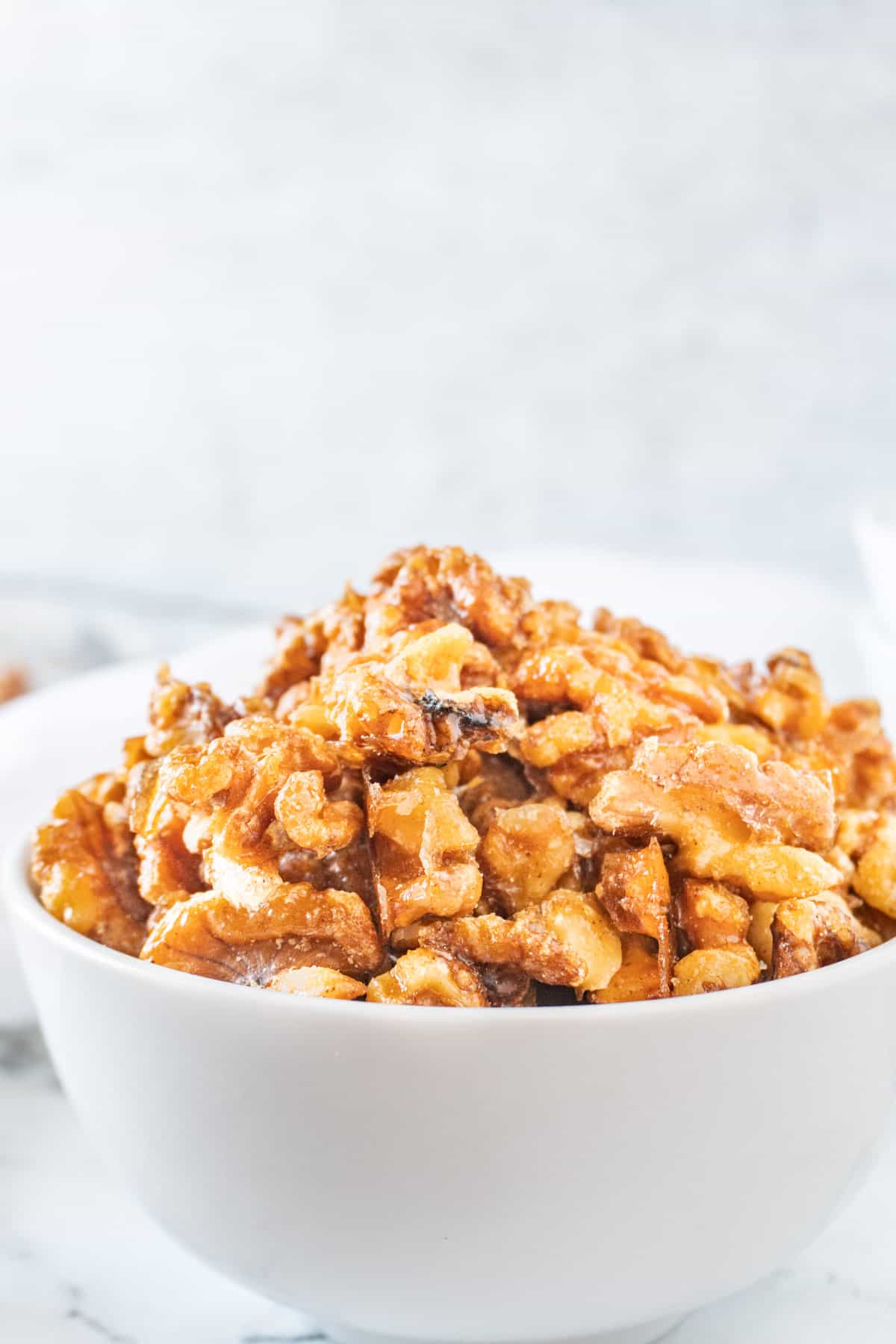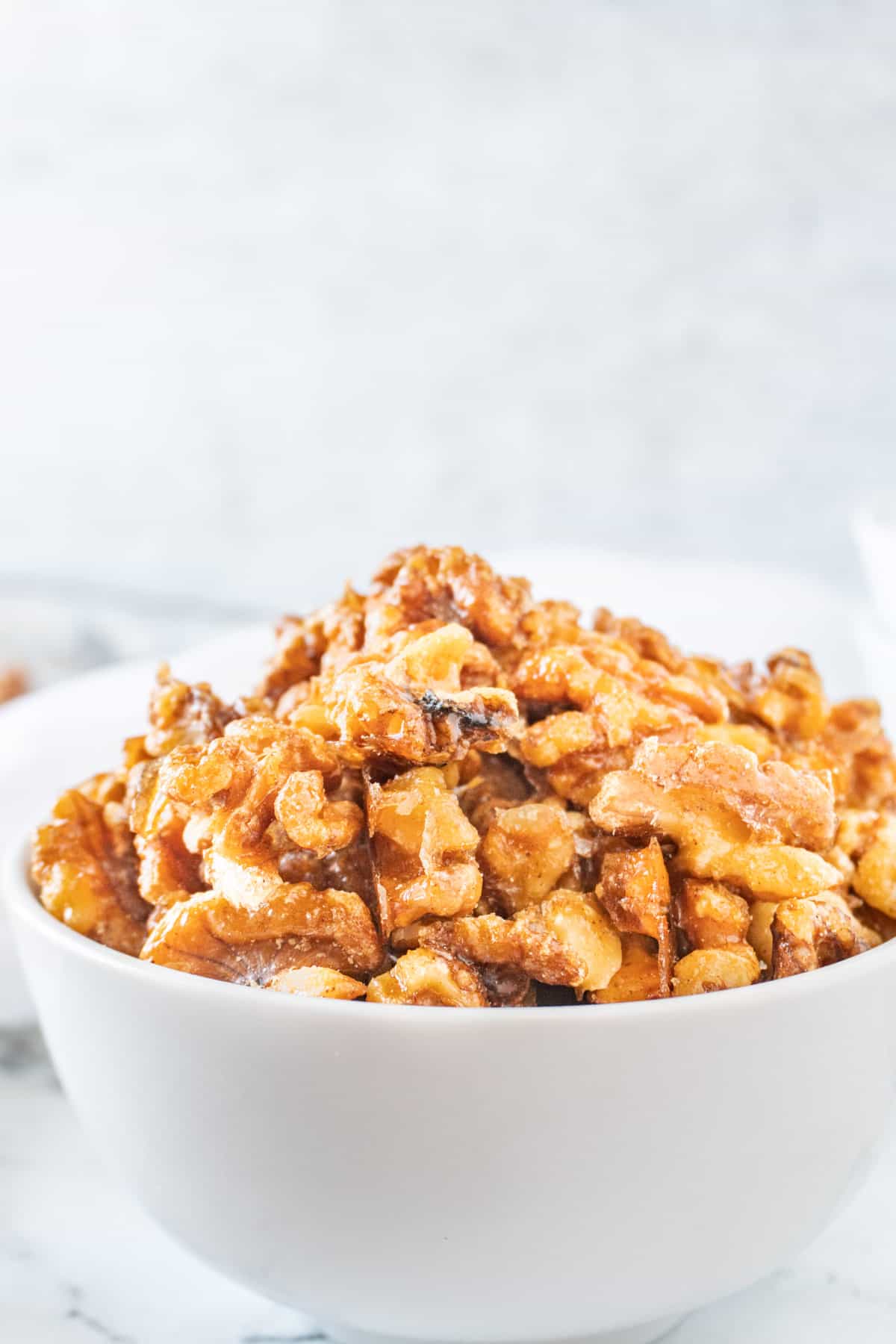 Make sure to check out my entire Hearthstone Menu! You'll find other awesome recipes like Smoked Angry Chicken, King Mukla's Banana Ice Cream, and Sir Finley's Peach Ice Tea!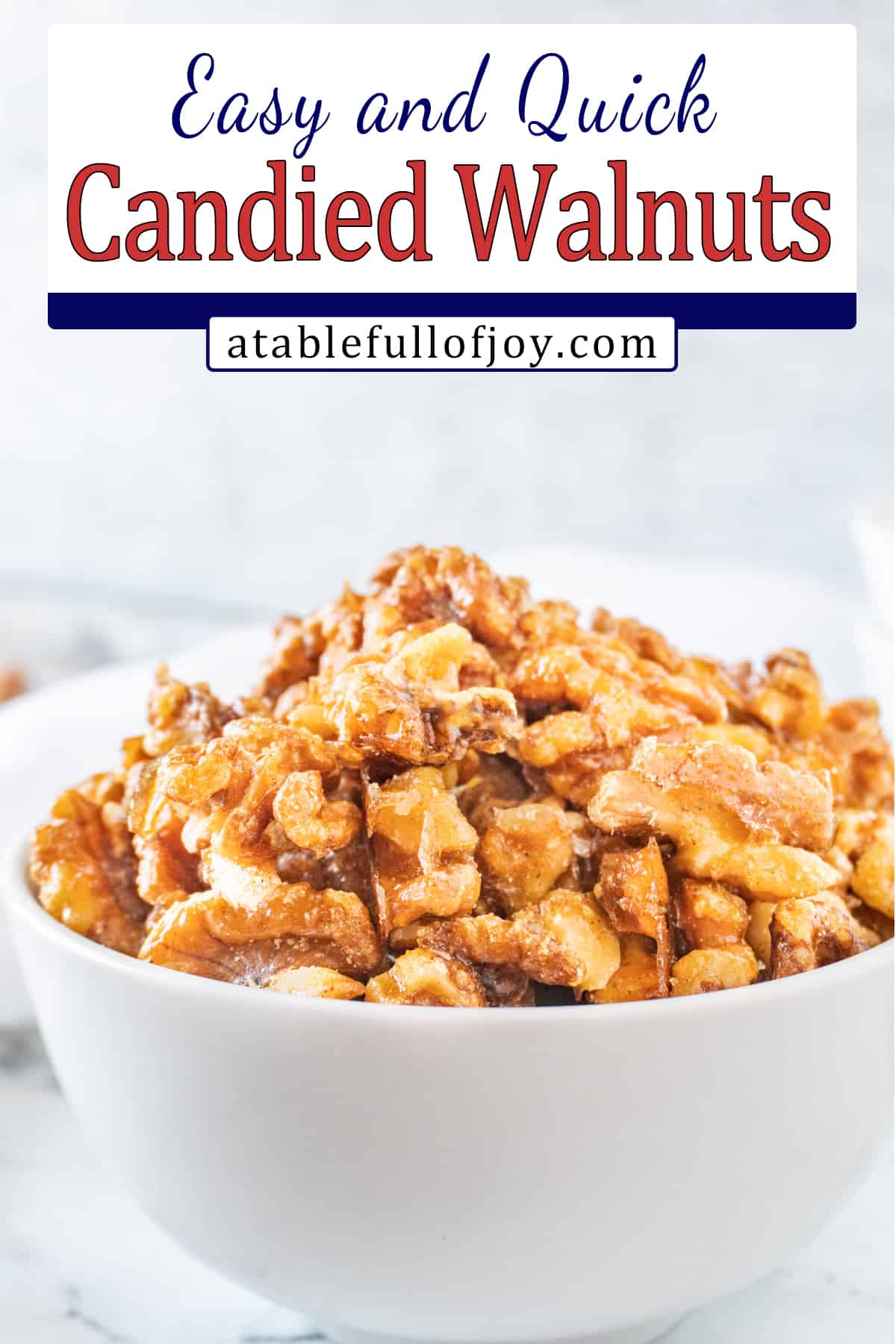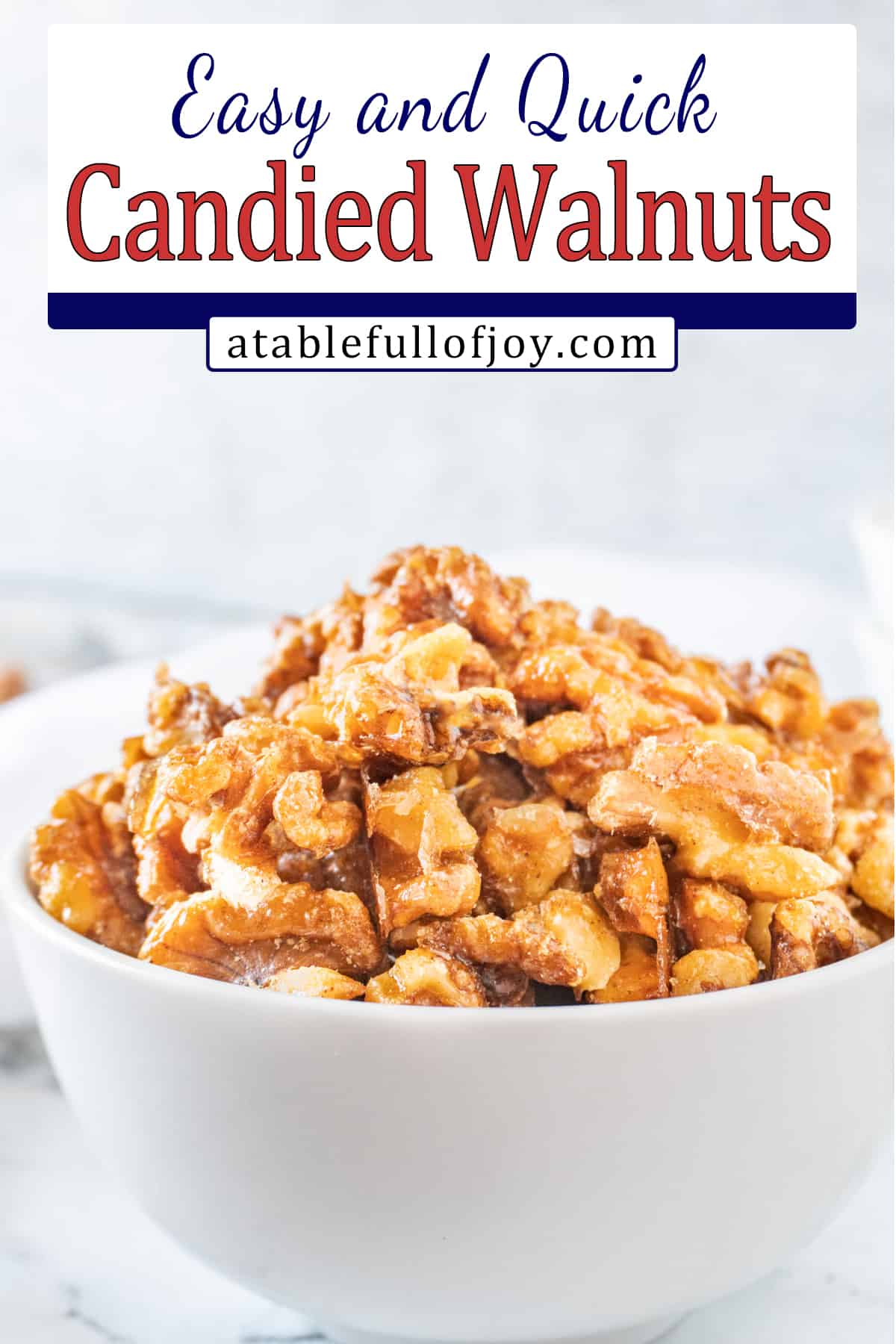 What's your favorite way to eat these candied walnuts? As a topping for ice cream, in a salad, or just as is? Let me know in the comments below!
---
BE SURE TO FOLLOW ME ON FACEBOOK, INSTAGRAM, PINTEREST & TWITTER!
---
Want more? Subscribe to my newsletter and follow along on Facebook, Pinterest and Instagram for all of the latest updates.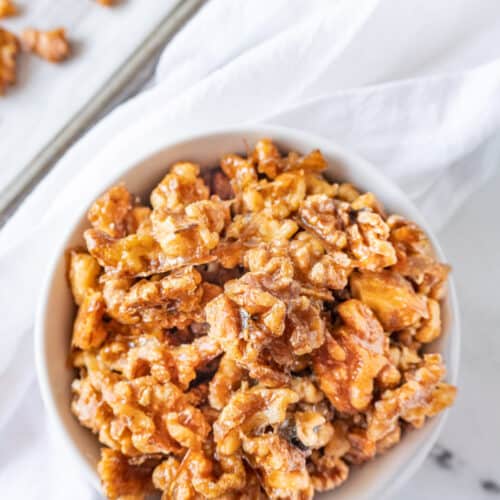 Candied Walnut Sprites
This candied walnut recipe is delicious and easy to make! In 15 minutes you'll have this tasty treat ready for any get together, dinner, or snack!
Ingredients
2

cups

walnuts*

4

tbs

corn syrup

2

tbs

brown sugar

2

tbs

white sugar

¼

tsp

cinnamon

optional
Instructions
Preheat oven to 325F and line a baking sheet with parchment paper.

In a medium sized bowl combine corn syrup, sugar, and cinnamon if using. Then add in the walnuts and stir until the walnuts are coated well.

Spread the walnuts on the parchment lined baking sheet, making sure they aren't clumped together, but rather in a nice even layer.

Bake for 8 minutes, stir and then continue baking for another 7 minutes.

Let walnuts cool before eating, then enjoy!
Notes
*You can use pecans instead of walnuts!
For a healthier version using maple syrup and coconut sugar see the instructions in the post above!
Hearthstone Card Image from Gamepedia
©2014 Blizzard Entertainment, Inc. All rights reserved. Hearthstone is a registered trademark of Blizzard Entertainment, Inc. in the U.S. and/or other countries.
Blizzard Entertainment is a trademark or registered trademark of Blizzard Entertainment, Inc. in the U.S. and/or other countries. All rights reserved.
Reader Interactions