Smoked Ribeye, for the tastiest, most tender ribeyes you will ever have! Easy to do and extra delicious!
This post may contain affiliate links. Please read my disclosure policy.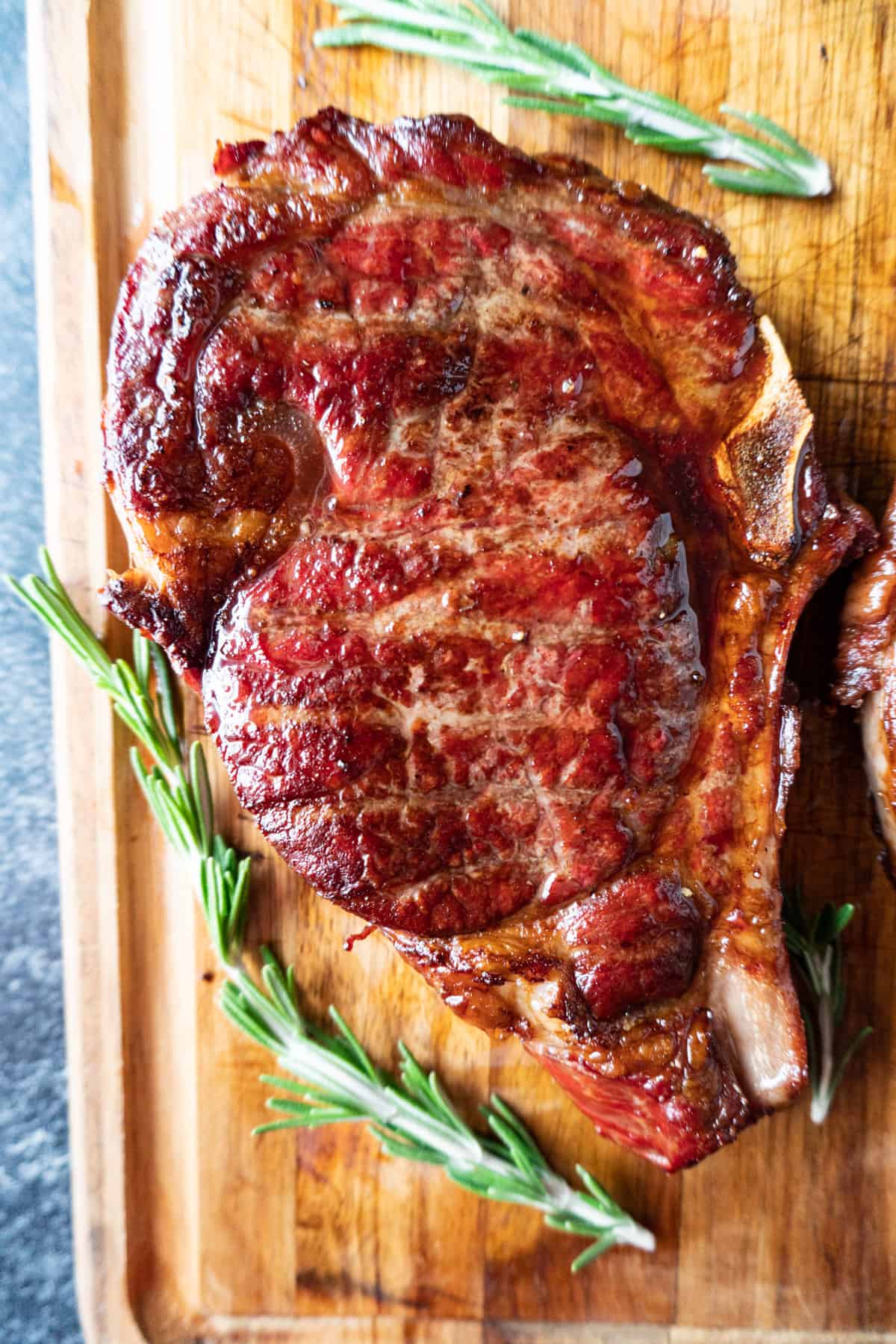 I am so excited to share this recipe with you! I love smoking things- whether its chicken quarters, drumsticks, or even deviled eggs- and now I bring you this tasty Ribeye Recipe!
Whether you are using a pellet smoker or a smoker with wood chips- you can get the perfect smoked ribeye every time!
Ingredients Needed
Ribeye- I like to get 1-1 ½ inch thick ribeyes but you can smoke thinner ones too- just get to the right internal temp and you are good to go
Salt- I used coarse kosher salt but if you only have table salt then I won't tell! Just use a little less if you only have table salt.
Butter- optional but highly recommend
There are two main points when smoking meat
Cooking the meat to the right temperature
Cooking at a lowish temperature for a longer amount of time compared to grilling/baking
Control these two things and you will have delicious juice steak/chicken/fish etc. every time.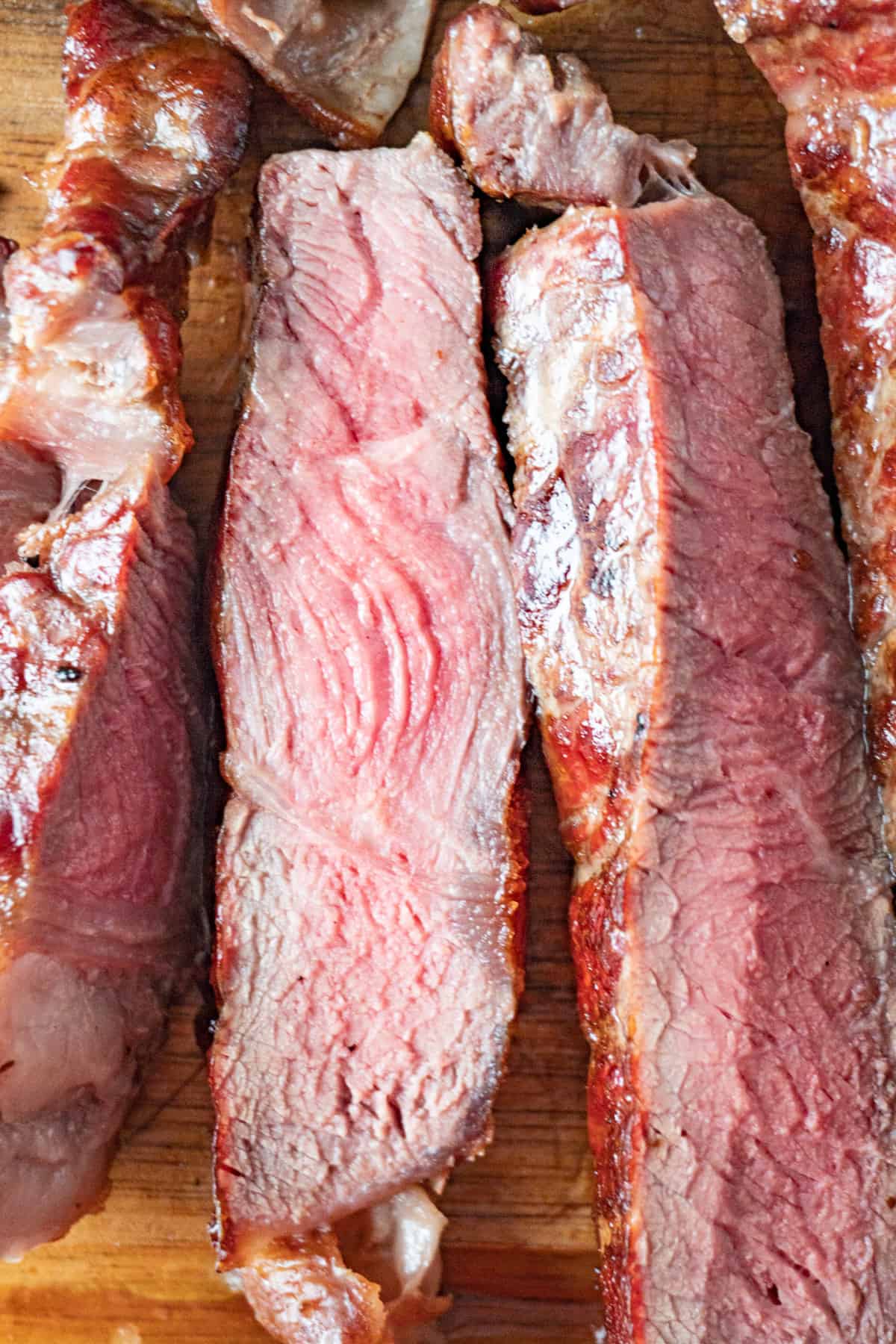 Equipment Needed
---
Smoker- I use either my vault with wood chips or my pellet smoker- both are great
Thermometer- I can't say enough great things about my Smoke Thermoworks Thermometer
Pellets or Wood Chips- I used hickory because that's what I had on hand but whatever your favorite for smoking meat is perfect!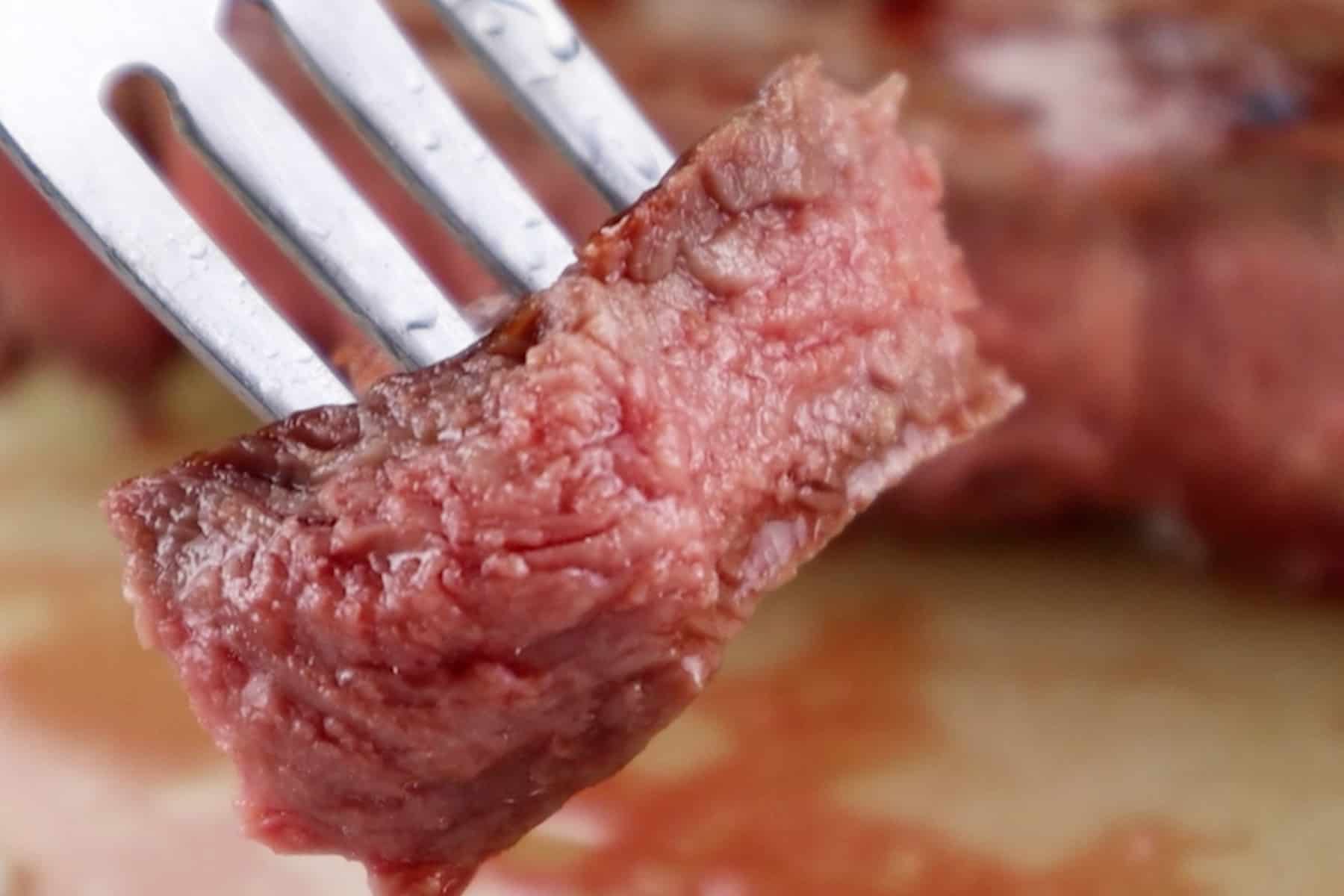 How to smoke ribeye?
60 minutes before you are ready to start cooking, bring your steaks out of the refrigerator and sprinkle with salt- allow the steaks to come to room temp
Preheat your smoker- get it smoking well and stabilize the temp around 225-235°F
Smoke your ribeye until 10-15°F from your preferred finished temperature. So for medium rare I would take the steak off at 115°.
Preheat your grill or a cast iron pan with a little oil, the sear the ribeye on each side until a nice crust forms. Sear each side for about 2 minutes and remove when your internal temp reaches your desired eating temp.
I like to add a little bit of butter after I flip the ribeye.
Beef Steak and Roast Temperatures
---
Rare: 120-130°F
Medium Rare: 130-135°
Medium: 135-145°F
Medium Well: 145-155°F
Well: 155°+
When cooking steaks and roasts, the meat will typically continue cooking and raise by a 5-10° degrees once you take it off the grill/smoker/oven. Carry over cooking is more likely to occur when meat is cooked at higher temperatures.
Tips for Smoked Ribeye
---
Why reverse sear the ribeye?
This will give your steak a beautiful delicious crust. Otherwise, your steak will be greyish- albeit super tender. Feel free to let the ribeye sit in its fatty side a minutes or so to help finish rendering any fat there.
If you don't reverse sear make sure to smoke the steak to your desired eating temperature.
How is ribeye best cooked?
For a ribeye you want a nice tender steak- I like to do a medium rare most of the time. It's still a nice pink and really tender because it lest most of the fat render.
How do I make my ribeye tender?
Sprinkle the ribeye with salt an hour before cooking it. This allows the water to be drawn out then reabsorbed and produces a tender steak.
Should you marinate ribeye steak?
Nope. Due to the higher fat content of the marbled meat the steak will be tender and flavorful without marinating.
Why is my ribeye steak so tough?
It is either undercooked or overcooked. This is why temperature is so important. Undercooked won't breakdown the fat resulting in chewiness, overcooked will cause the steak to be tough and dry.
Should you put butter on steak?
Yes. Butter can soften any charred parts from searing making it more tender and adds extra flavor. You can use plain butter or a delicious herb butter.
What to serve with ribeye?
I love serving this with mashed potatoes and gravy, coleslaw, deviled eggs and a tender roll. Add in a glass of limeade and you have a fantastic meal!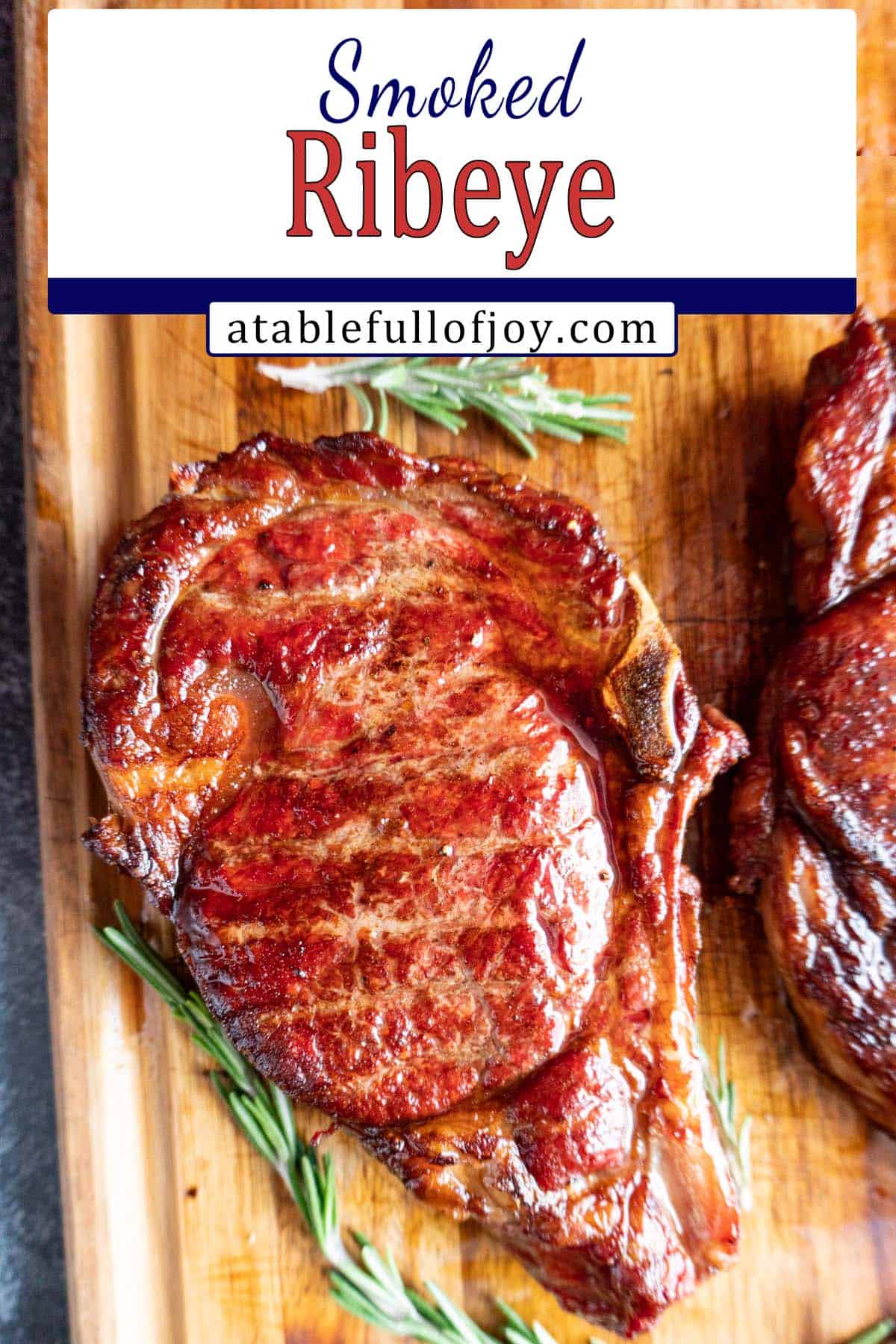 Watch how to make this recipe!
Want more? Subscribe to my newsletter and follow along on Facebook, Pinterest and Instagram for all of the latest updates.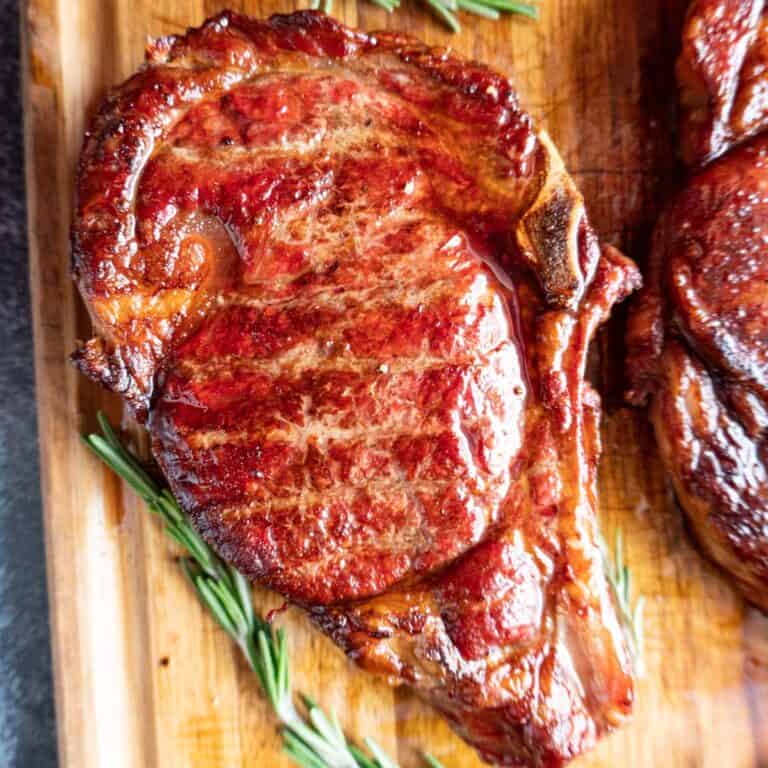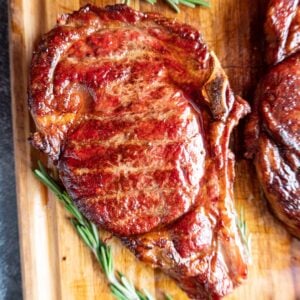 Smoked Ribeye
Smoked Ribeye, for the tastiest, most tender ribeyes you will ever have! Easy to do and extra delicious!
Ingredients
1

Ribeye

1 – 1 ½ inch thick

Coarse Salt

1

teaspoon

butter

per steak
Instructions
60 minutes before smoking, salt your ribeye on both sides. I like to add a nice light covering of salt.

Preheat smoker to 220-225°F using your favorite wood chips, I like to use cherry, oak, or hickory. Place thermometer in steak.

Once your smoker is at temperature, place ribeyes in smoker. Cook steaks until they reach an internal temperature of 110-115°F, remove from smoker*. About 25-30 minutes.

Heat bbq grill to 400°F, or a pan on the stove top with 1 tbs of oil until oil shimmers and just starts to smoke. Place the ribeye on the pan or grill and sear for 2-3 minutes, it will be nicely seared, then flip and cook for another 2-3 minutes. Add a teaspoon of butter to the steak after you flip it for extra flavor. Pull the steak off the heat when it reaches your desired temperature of doneness- it will cook pretty fast. Pull off at 120°F for rare, and 130° for medium rare.*
Notes
Tips and Tricks
*You are going to pull the steak off the smoker before it is done cooking because you will reverse sear to finish cooking and get a nice crust. If you don't want a nice crust then simply continue cooking steak until it reaches your desired temperature, but just be warned it will probably be grey in color.
*Pull the steak off the grill/pan 5°F before your ideal temp- it will continue to raise in temp by 5° after it is removed from heat.
*Hold your steak on it's side for a minute in the pan or on the grill to help render any fat that still needs to be broken down.
Nutrition
Calories:
253
kcal
Protein:
23
g
Fat:
18
g
Saturated Fat:
8
g
Polyunsaturated Fat:
1
g
Monounsaturated Fat:
8
g
Trans Fat:
1
g
Cholesterol:
74
mg
Sodium:
77
mg
Potassium:
303
mg
Vitamin A:
79
IU
Calcium:
9
mg
Iron:
2
mg
Reader Interactions