These mini apple pies are so fun to make- not to mention eat! The apple pie filling is sweet and delicious and the pie crust is a quick and simple crust that comes together in no time!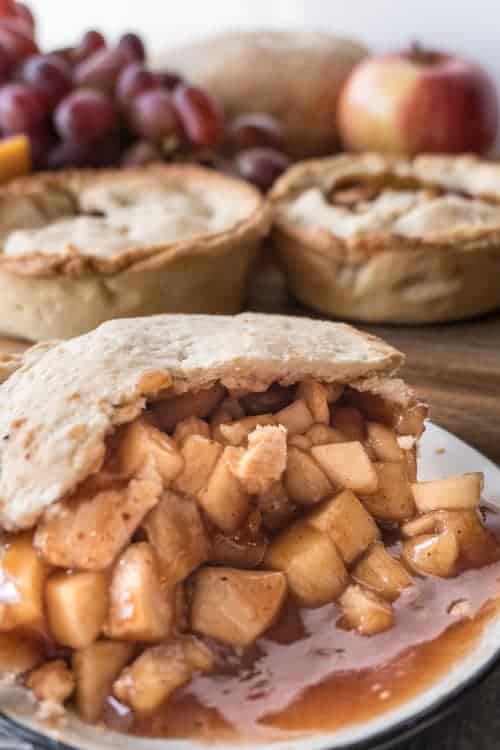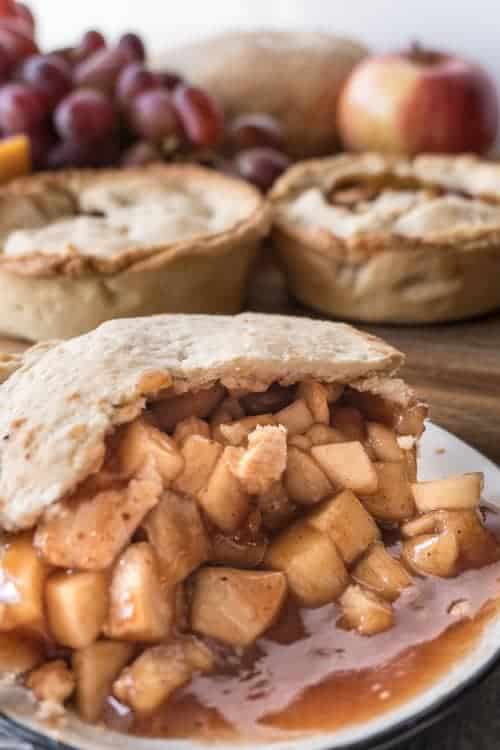 I'll be honest- I'm still working on learning the art of making a beautiful pie as you can probably tell! I had fun practicing different designs for the top crust, but that meant they look a bit more … well let's call it rustic! Regardless of how they look, they taste amazing! And instead of making sure they look absolutely perfect, I wanted to share this recipe with you all right away! They are so fun to make and taste so good!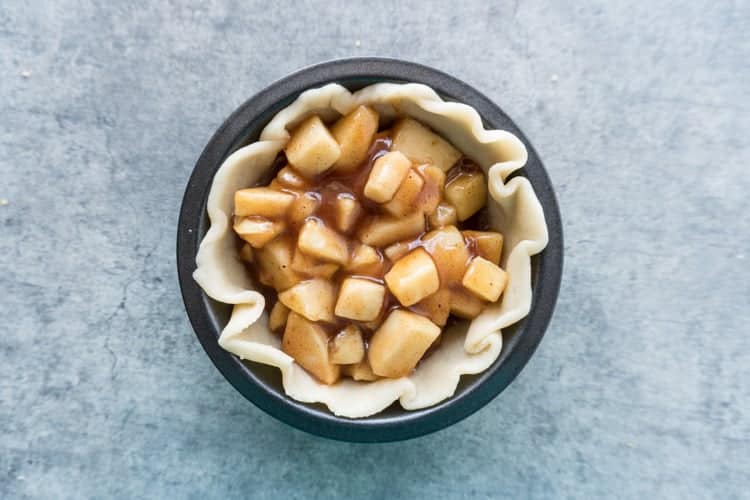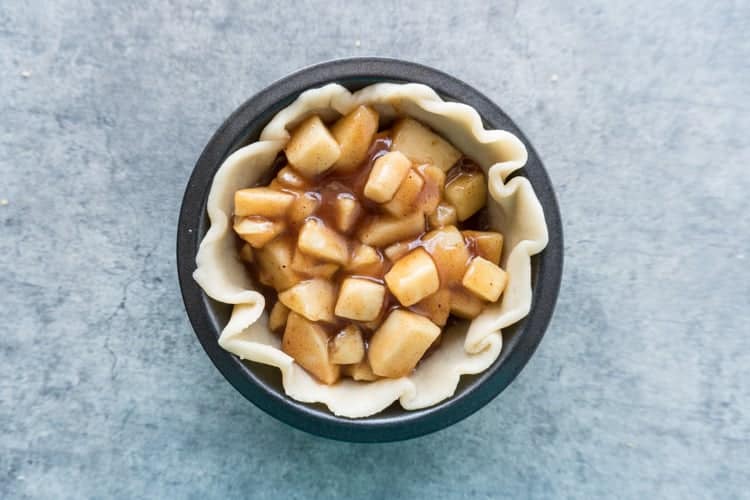 Hearthstone Mini Apple Pies!
These mini pies are to celebrate the new Hearthstone expansion that came out yesterday! The expansion is called Witchwood and specifically features a new card called Witchwood Apples- so what better way to celebrate than making  Mini Witchwood Apple Pies! The mini pies are perfect for any tavern goers who are looking for a sweet treat that will be easily tucked away for their travels or to be enjoyed as they play a friendly game of Hearthstone against a dwarf, orc or any other interesting creature! Check out my full Hearthstone Menu here!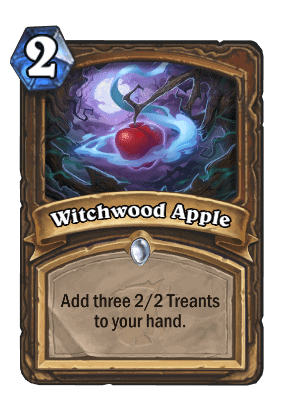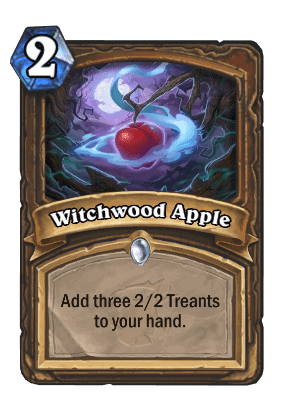 Some of you might be wondering what Hearthstone is let alone what the new expansion is. Well, you can read all about it on my What is Hearthstone? page!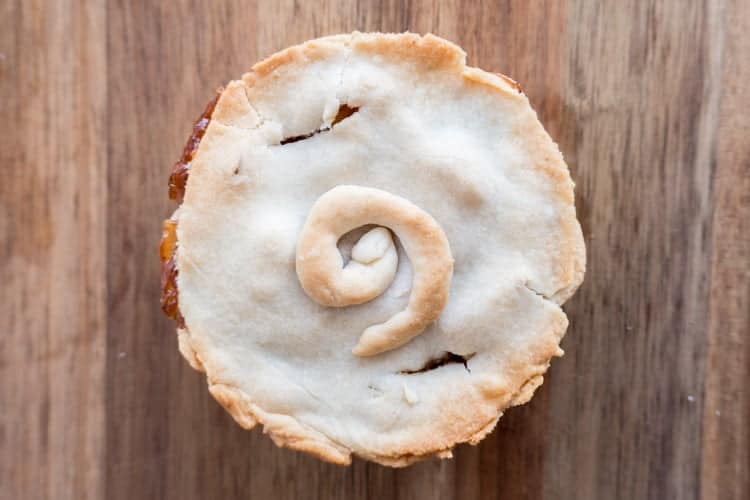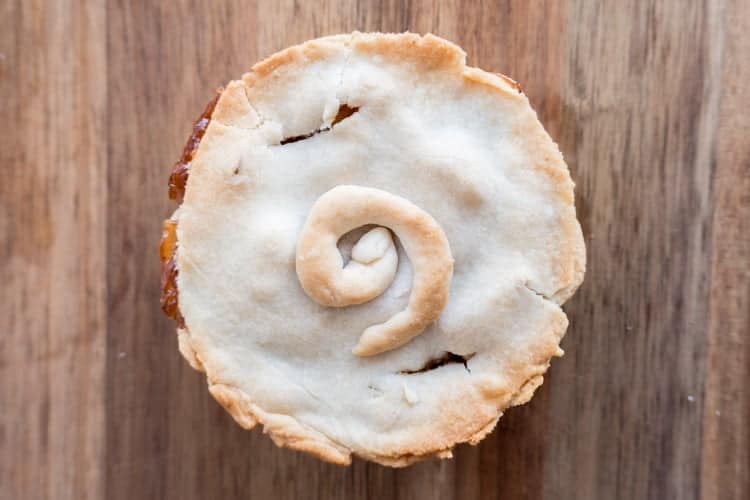 Mini Pies? Yes Please!
Regardless of whether you are a Hearthstone fan or not, you will be a fan of these delicious mini apple pies! They are perfect for a yummy dessert or to take traveling on your many adventures!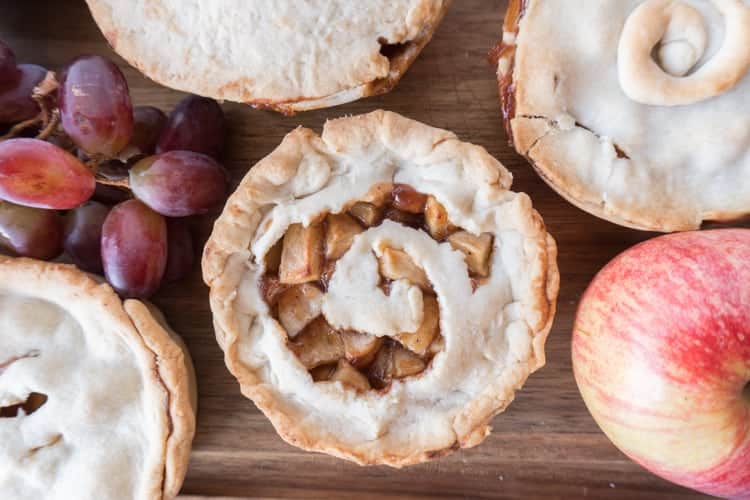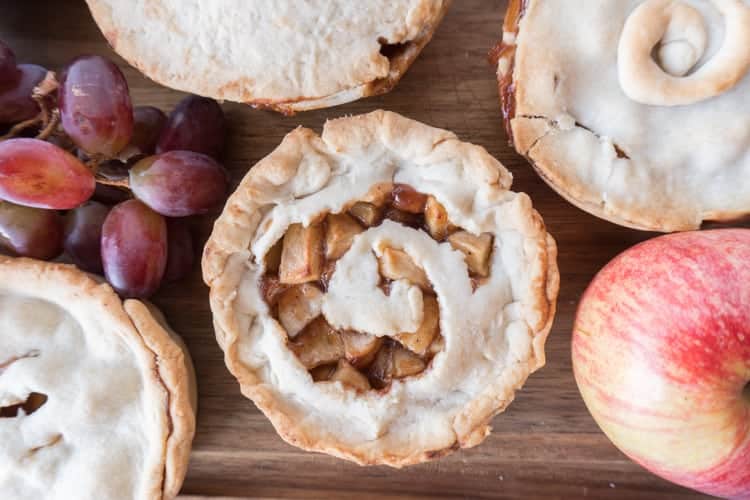 Make sure to check out my entire Hearthstone Menu where you can find recipe like Stuffed Evolving Spores (stuffed mushrooms), and Acidic Ooze Limeade!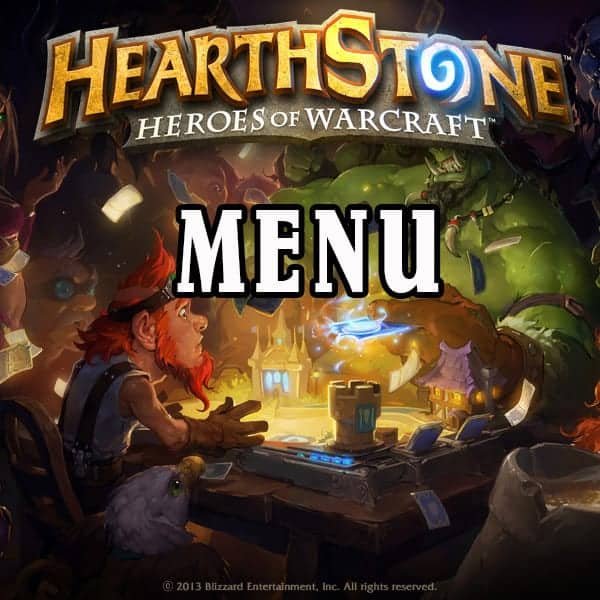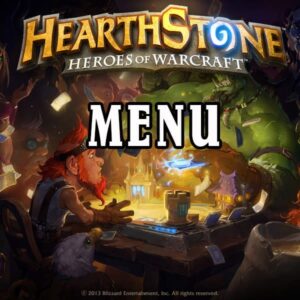 If you like this recipe check out my Apple Crisp Pie or my Disney Inspired Sugar Cookies!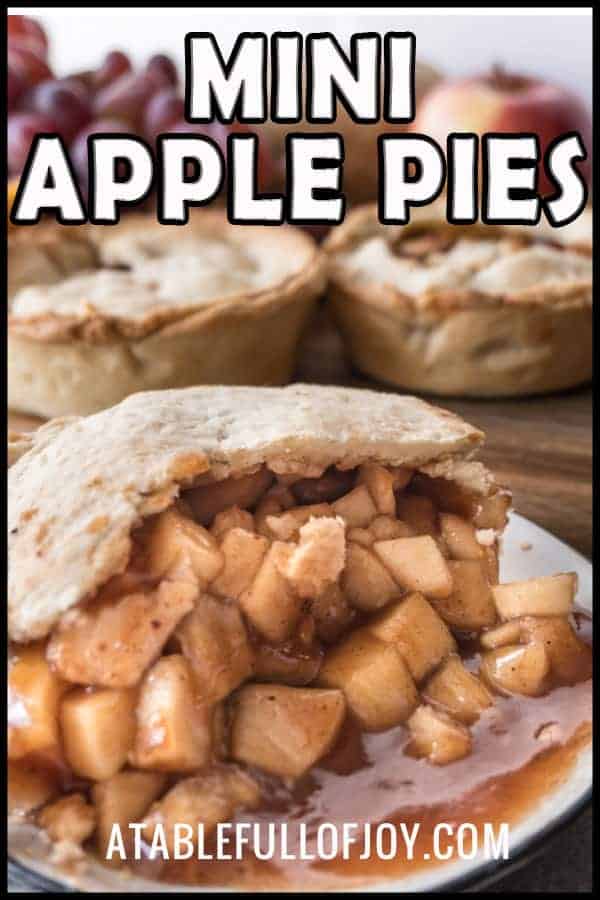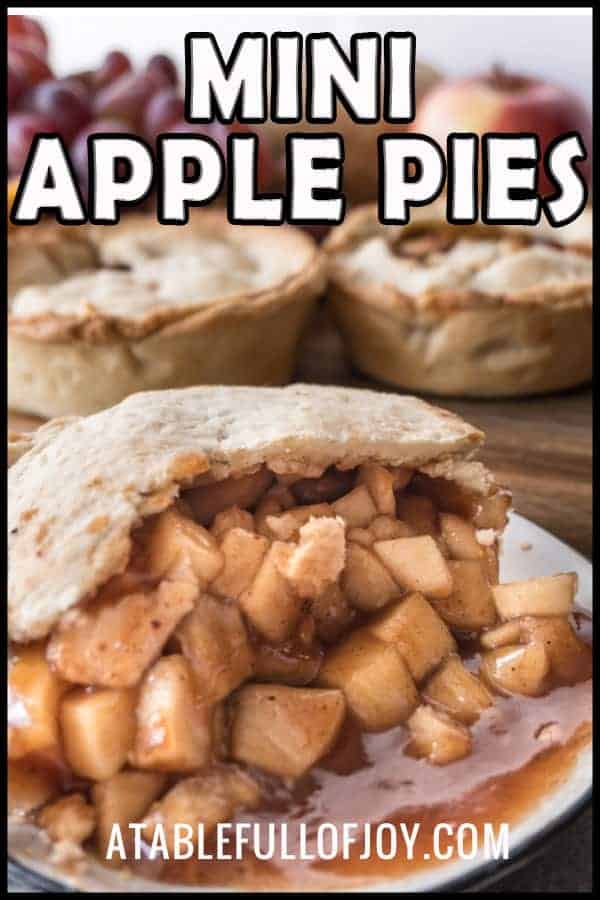 Want more? Subscribe to my newsletter and follow along on Facebook, Pinterest and Instagram for all of the latest updates.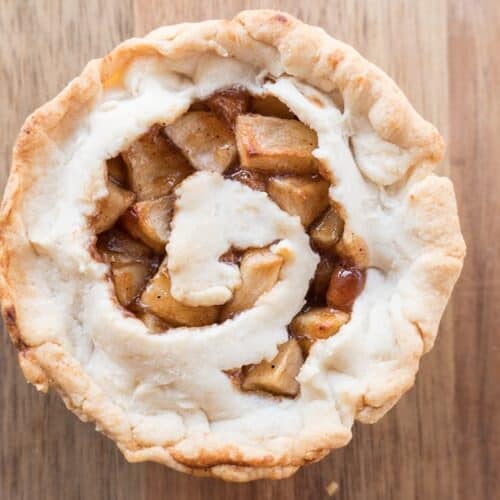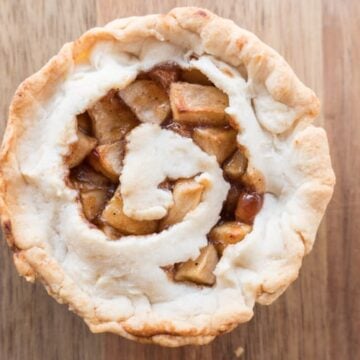 Mini Apple Pies
These mini apple pies are fun to make and fun to eat! Delicious and homemade- couldn't get much better than that!
Ingredients
Basic Pie Crust Recipe*
2

cups

flour

1

teaspoon

salt

⅔

cup

butter

cold

6-7

tbs

water

cold
Apple Pie Filling Recipe
4

Apples

peeled, cored, and diced

2

tbs

lemon juice

2

tbs

butter

½

teaspoon

nutmeg

1

teaspoon

cinnamon

¼

cup

brown sugar

½

cup

white sugar

2

tbs

corn starch

2

tbs

water
Instructions
How to make homemade pie crust
In a food processor combine flour and salt. If you don't have a food processor see notes below.*

Cut butter into large chunks and process with flour and salt. The mixture should look very dry with little round clumps.

Add in water 1 tbs at a time, processing for a few seconds after each tablespoon is added, until a dough forms.
How to make apple pie filling
Coat apple pieces in lemon juice.

In a medium pot melt butter with the nutmeg and cinnamon over medium heat.

Combine corn starch and water in a separate bowl, then add to melted butter.

Add sugar to the butter mixture as well.

Bring butter sugar mixture to a boil then reduce heat to med-low. Add apples and cook for 8-10 minutes or until apples are cooked to your preferred level of doneness. They won't cook much in the oven so we are precooking them now.

Set mixture aside.
How to assemble the mini pies
Roll out your pie crust on a lightly floured surface until it is ⅛th of an inch thick or as thin as you can get it without it tearing and still being able to get it off the floured surface.

Using a bowl, cup or some other circular object cut out a circle bigger than your mini pie pans. If you don't have mini pie pans a cupcake tin will work- just make sure to adjust baking times.

Lay the cut out pie crust on the bottom of your pie tin, add filling and then top with a slightly smaller cut out circle of pie crust. You can get creative here and make fun designs with the pie crust to put on top.

Bake the mini pies at 450°F for 20-25 minutes or until the tops are browned.

Enjoy!
Notes
*This pie crust makes 2 large crusts or enough pie crust for 4 mini pies with pie tops. * If you don't have a food processor no worries! Mix together salt and flour in a large bowl. Cut in the cold butter with your hands or a pastry knife until the mixture is lumpy and dry. Then mix in the water one tablespoon at a time.
The pie crust recipe is one I learned from a culinary class in high school- it's my go to for a simple easy pie crust!
All mention of the Hearthstone game are copy write protected by: Hearthstone®: Heroes of Warcraft™ ©2014 Blizzard Entertainment, Inc. All rights reserved. Heroes of Warcraft is a trademark, and Hearthstone is a registered trademark of Blizzard Entertainment, Inc. in the U.S. and/or other countries. Card Image from Hearthstone Gamepedia.
Reader Interactions