Marshmallow Stuffed Cookies with a S'mores twist. Chewy Chocolate Chip Cookies filled with melted marshmallow and chocolate!
These S'mores Stuffed Cookies are so good you'll never want a regular cookie again!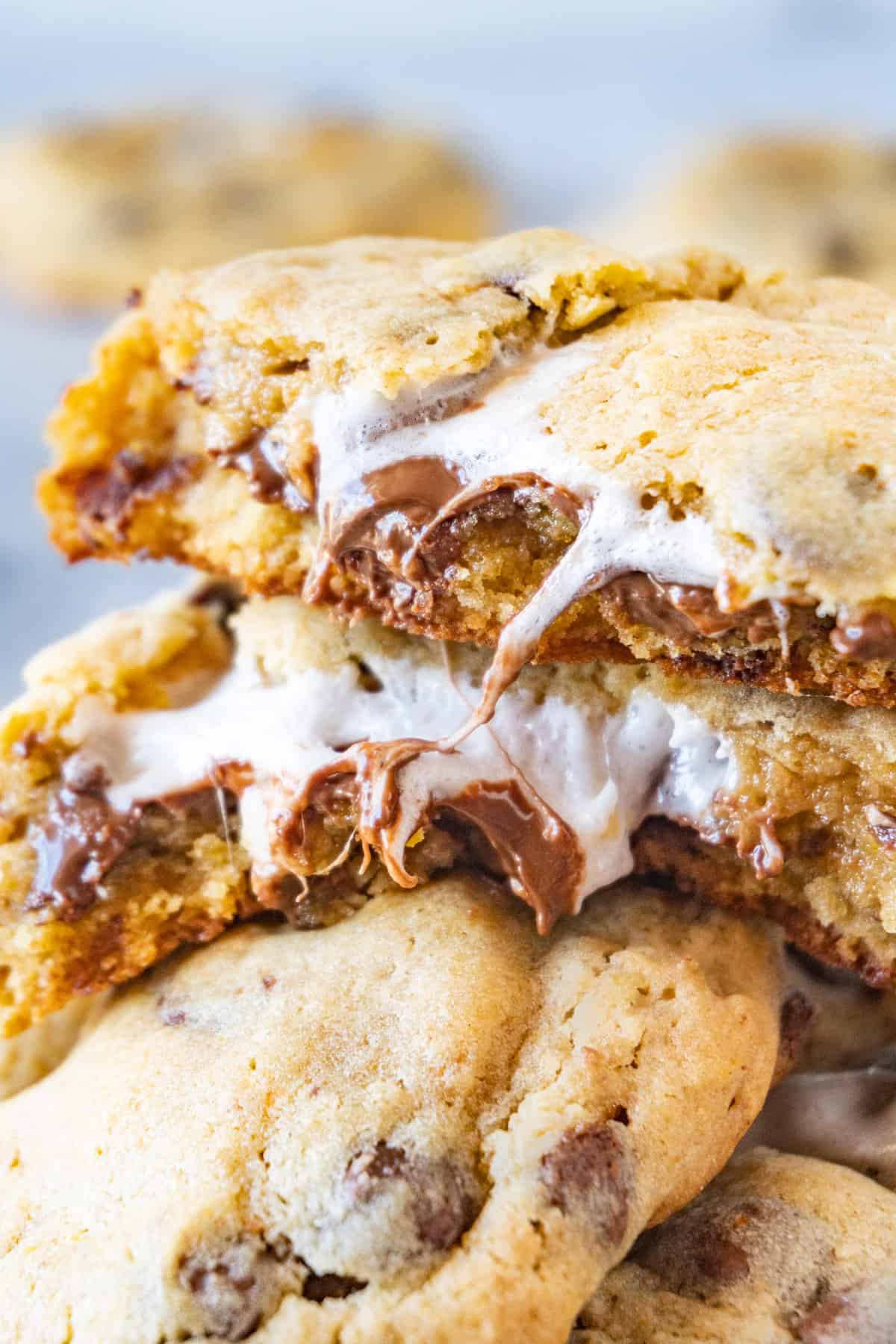 For more fun S'mores recipes check out:
I just can't get over s'mores- they are the perfect dessert. Combine that with a chewy cookie and you have me wanting these ALL THE TIME!
A little while ago I made S'mores Cookies where I added all the S'mores ingredients to my classic chocolate chip cookie dough and they turned out delicious. But I wanted S'more… haha see what I did there?
I thought- what if I stuffed a S'more inside a cookie? And you know what- I'm so glad I did.
Now I have these delicious marshmallow stuffed cookies!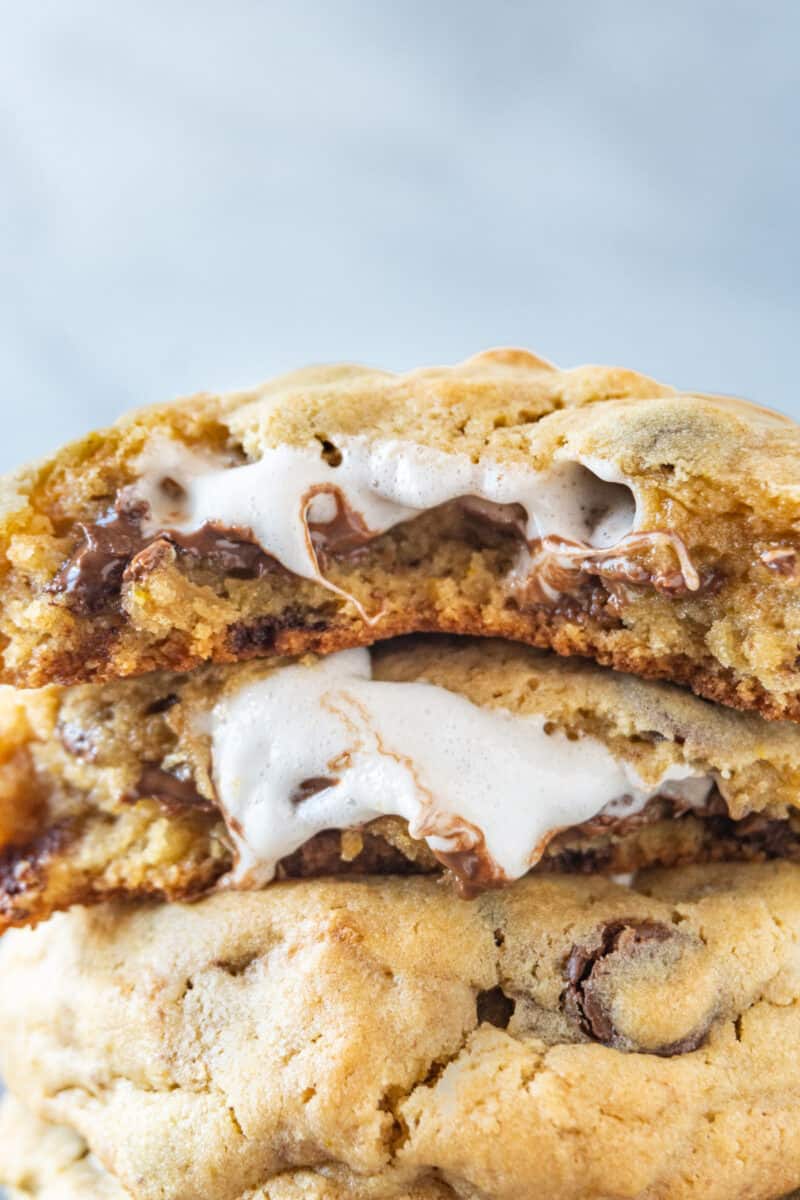 What ingredients do you need?
Butter
Corn Syrup
Brown Sugar
Vanilla
Large Eggs
Flour
Baking Soda
Salt
Instant Pudding- I recommend Vanilla or White Chocolate
Graham Crackers
Marshmallows
Chocolate Chips
Chocolate Chunks/Bars
How to make Marshmallow Stuffed Cookies:
Preheat oven and line a rimmed baking sheet with parchment paper
Mix together the wet ingredients, set aside
Mix together the dry ingredients including the crushed graham crackers but not the marshmallows or chocolate yet
Combine the wet and dry mixtures then stir in the chocolate chips
Surround half a large marshmallow and some chocolate with cookie dough and place prepared baking sheet.
Refrigerate baking sheet with dough on it for 20 minutes.
Bake for 13-15 minutes or until just golden brown.
Remove from oven and allow to cool for 5-10 minutes.
Enjoy!
How to stuff Marshmallows in Cookies?
Scoop out two balls of cookie dough and place half a large marshmallow and 2 pieces of chocolate in between them.
Form a large cookie dough ball around the marshmallow and chocolate and place on the baking sheet. Repeat.
Frequently Asked Questions
---
Do I have to refrigerate the dough?
I highly recommend it. It helps the cookies cookie a little slower and the marshmallow to melt slower- allowing for the marshmallow to stay gooey and inside the cookie.
Why did my marshmallow leak out? It's not gooey anymore.
Either you didn't refrigerate the dough on the baking sheets or the marshmallow wasn't encased in the cookie dough well enough- like there was a hole it melted out of.
I've noticed if there is too thin of a layer cookie dough over the marshmallow before baking they cookie will crack as it bakes and the marshmallow will leak out that way.
How many cookies does this recipe for S'mores Stuffed Cookies make?
These cookies are huge! I can get 14 out of a single batch.
Remember these are essentially two cookies smashed together with a delicious filling!
What is the benefit of using corn syrup in cookies?
Corn Syrup helps the cookies be amazingly chewy. The way the sugar crystallizes as it's being baking gives the cookies a softer and chewier texture than if you were to go without.
Can I use white sugar instead of corn syrup?
If you don't have corn syrup just use ¾ cup white sugar instead.
Can I use corn syrup in other cookie recipes?
Absolutely! If you want to make regular chocolate chip cookies, or my double chocolate butterscotch cookies simply replace the white sugar with ½ cup of light corn syrup. That simple!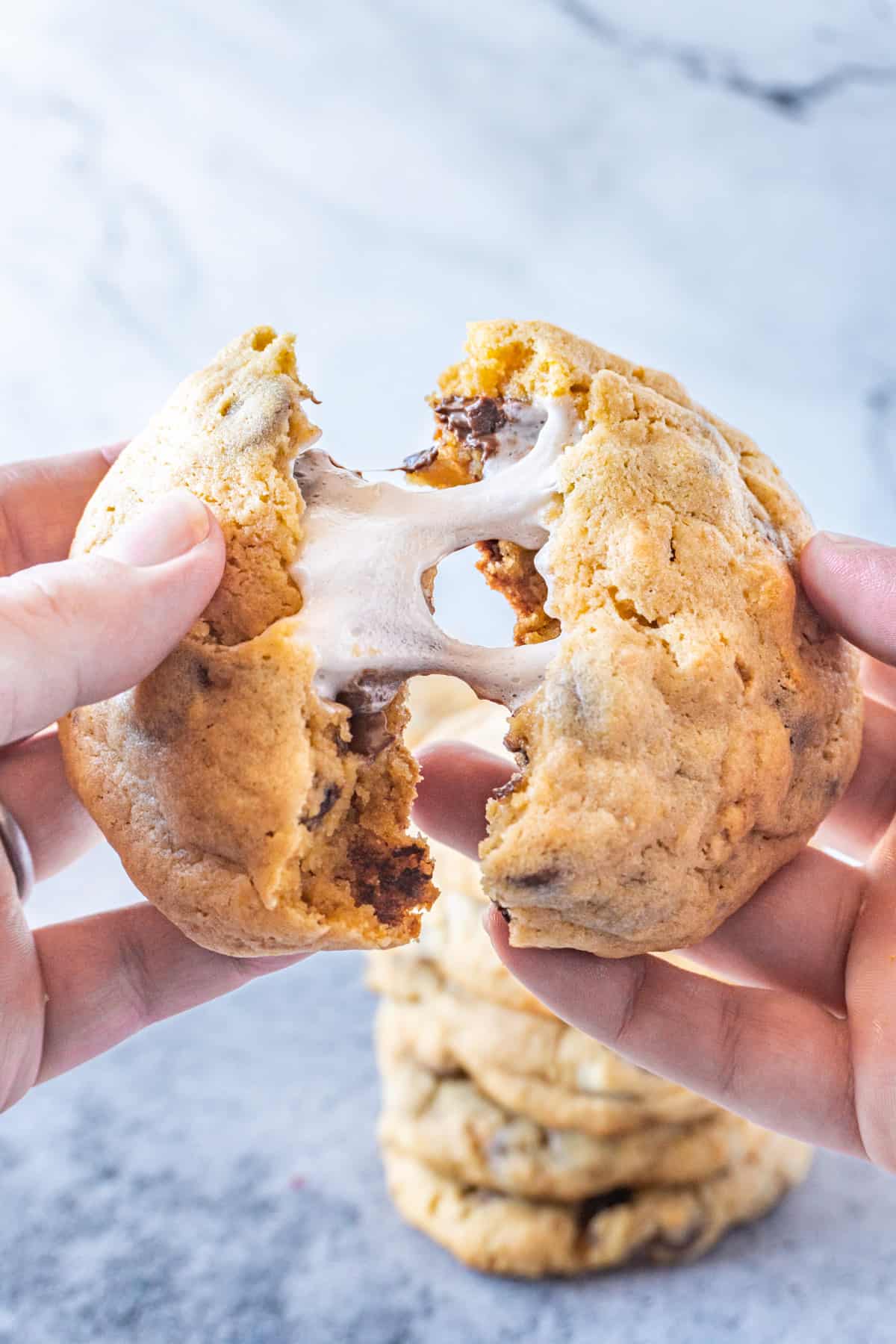 High Altitude Adjustments
---
What are the high-altitude adjustments for Chewy S'mores Cookies?
Decrease the brown sugar to ⅔ cup and increase the flour to 2 ½ cups.
Once you give these cookies a try you will never want anything else! They are bakery quality but made at home- perfect!
If you like this recipe make sure to check out these tasty recipes: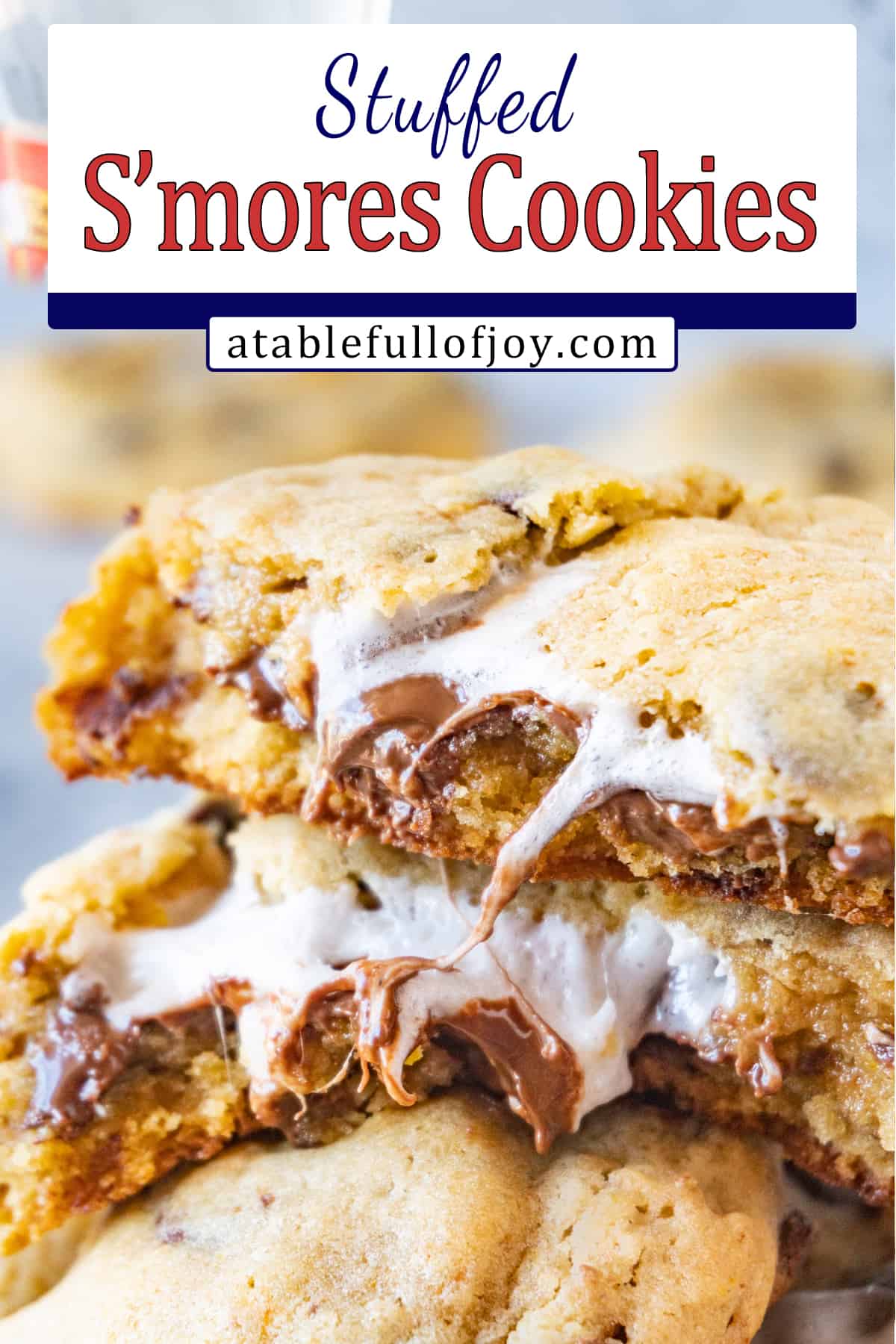 Check out my most recent recipes here:
Want more? Subscribe to my newsletter and follow along on Facebook, Pinterest and Instagram for all of the latest updates.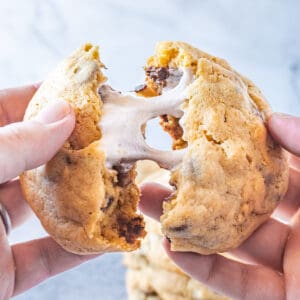 Marshmallow Stuffed Cookies
Marshmallow Stuffed Cookies with a S'mores twist. Chewy Chocolate Chip Cookies filled with melted marshmallow and chocolate!
Ingredients
1

cup

butter

slightly softened

½

cup

corn syrup

¾

cups

brown sugar*

1

teaspoon

vanilla

2

large eggs

2 ¼

cups

flour*

1

teaspoon

baking soda

1

teaspoon

salt

1

box vanilla instant pudding mix

~3.4 oz*

1 ½

cups

crushed graham crackers

about 8 full graham crackers or 1 sleeve

2

cups

milk chocolate chips

7

large marshmallows cut in half

2 ½

chocolate bars*
Instructions
If you live at high altitude see baking notes below for adjustments! *

Preheat oven to 375°F and line a baking sheet with parchment paper.

In a mixer or with a hand mixer and the paddle attachment mix together the butter, corn syrup, brown sugar, and vanilla. (1 cup butter, ½ cup corn syrup, ¾ cup brown sugar, 1 teaspoon vanilla)

Add in each egg, on at a time. Mix in each egg completely before adding the next. The mixture should get lighter in color and thicker. You may need to beat on high for a minute or so to get everything well mixed. (2 eggs)

In a small bowl mix together the flour, salt, baking soda, instant pudding, graham crackers. (2 ¼ cups flour, 1 teaspoon salt, 1 teaspoon baking soda, 1 box instant pudding mix, 1 sleeve of crushed graham crackers)

Add flour mixture to the butter mixture and mix on medium high until fully incorporated.

Stir in the chocolate chips. (2 cups milk chocolate chips)

Roll out the cookie dough into balls. Then take ½ of a large marshmallow and a piece of chocolate bar and place in between two cookies. Mash the two cookie dough balls together to form one large cohesive cookie.

Place cookies on parchment. Since they are so large, I only put 5 on each baking sheet.

Refrigerate baking sheet with cookies on it for 20 minutes before baking.

Bake for 13-15 minutes or until just starting to turn golden brown.

Allow to cool for 5-10 minutes then enjoy!
Notes
Tips and Tricks
*For high altitude adjustments: decrease brown sugar to ⅔ cup, increase flour to 2 ½ cups
*Use the small box of instant pudding mix- they sometimes vary in sizes depending on the brand but you want a box that is between 3-4 oz.
*I use Hershey Bars because they break into nice little pieces so I can use two rectangles per cookie.
If you want to use white sugar instead of corn syrup use ¾ cup of white sugar.
Nutrition
Serving:
1
cookie
Calories:
490
kcal
Carbohydrates:
66
g
Protein:
5
g
Fat:
23
g
Saturated Fat:
14
g
Cholesterol:
62
mg
Sodium:
477
mg
Potassium:
103
mg
Fiber:
2
g
Sugar:
42
g
Vitamin A:
497
IU
Vitamin C:
1
mg
Calcium:
63
mg
Iron:
2
mg
This post was originally compensated by Collective Bias, Inc. and its advertiser Karo® Corn Syrup. Post has been updated on 6/3/21
Reader Interactions