Smoked Turkey Breast is so easy and so delicious you will want to make it time and again! Juicy, flavorful meat with the delicious smokey taste everyone loves!
If you are looking for a tasty weeknight dinner or an easier version of a holiday turkey then look no further! All you need is a few simple ingredients for one of the best cooked turkey breasts ever!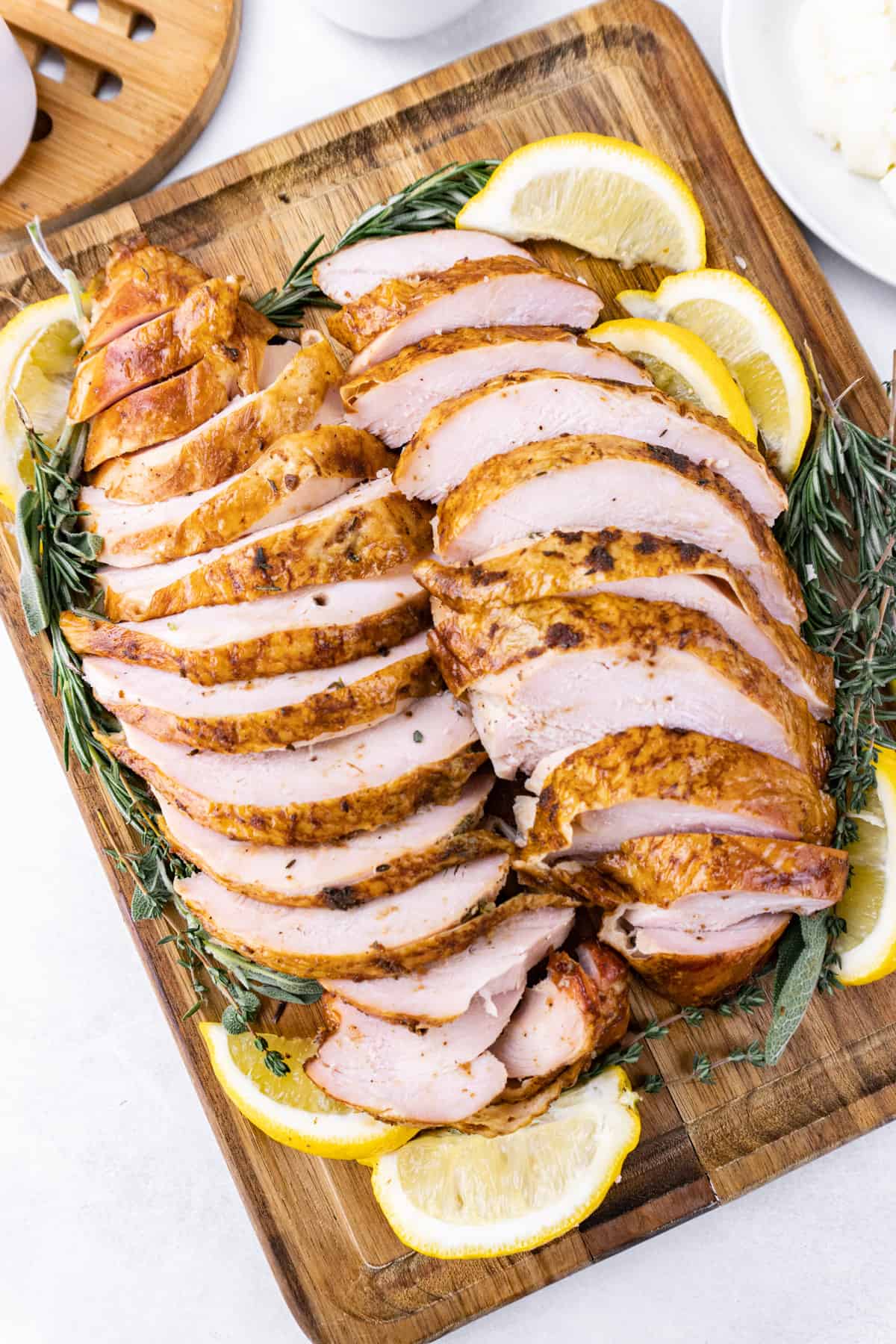 When I think of turkey, it's usually in associated with Thanksgiving or Christmas and usually seems like such a huge deal to make. By cooking just a turkey breast, this tasty meat becomes more accessible for meals year-round.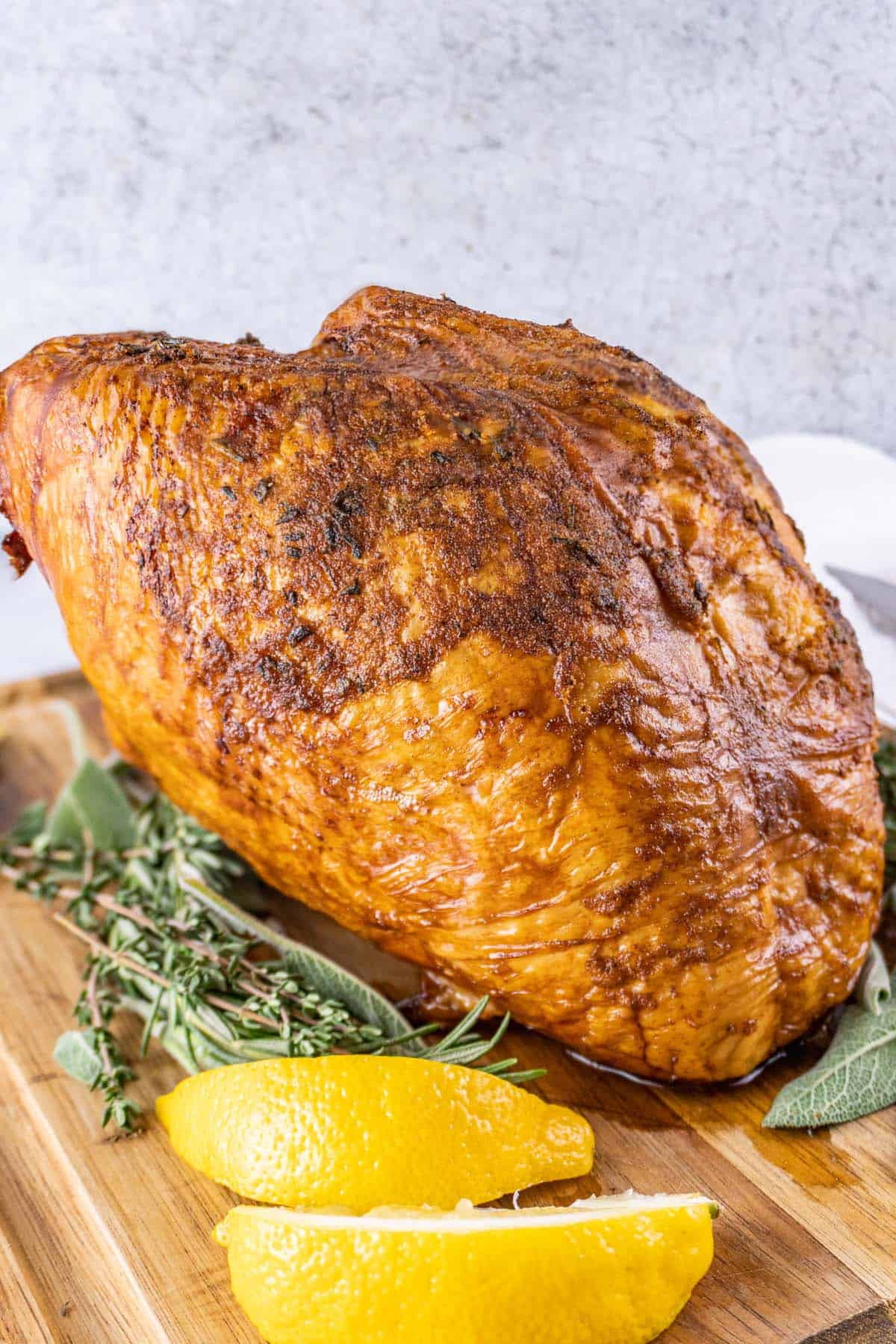 And this isn't your dried out turkey of old- it's so juicy, tender, and fall apart perfect. I can't wait for you try it.
For this recipe I used a similar rub and method to my thanksgiving turkey, however, you can use whatever rub you want. It goes really well with mashed potatoes and green bean casserole, but is also perfect in a sandwich!
What you need for this recipe:
Turkey Breast- I used a bone in turkey breast, but a boneless breast works too. Try finding a turkey breast that hasn't been injected with a saline solution. If you can't then go a little lighter on the salt.
Coase Salt- for dry brining
Unsalted Butter- dry brining provides enough salt so no need for it in the butter.
Seasoning- Rosemary, Thyme, Sage, Pepper – I used fresh chopped herbs but you can use dried. If you use dried, I recommend chopping them up otherwise they can become hard during cooking.
You can also just use your favorite rub instead!
What is dry brining?
Also known as salting, dry brining, means to rub the turkey wit salt and then letting it rest in the refrigerator for 12-72 hours.
The salt causes the turkey to release the water and then reabsorb, while making the meat extra tender and moist.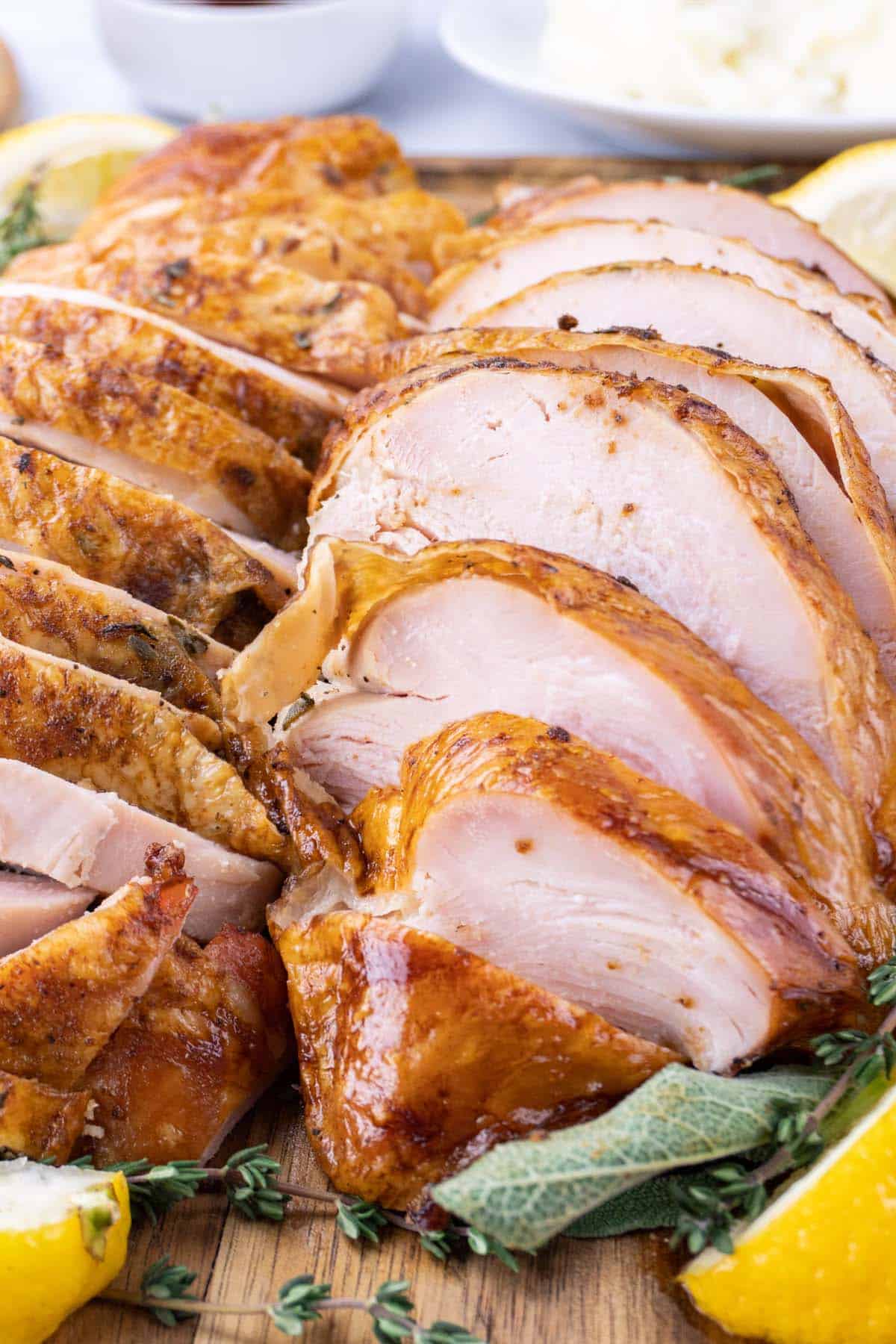 How to make smoked turkey breast?
Remove the turkey neck and giblets from inside the cavity.
Also remove the pop up thermometer. Often relying on this thermometer will result in over baking and drying out your turkey.
Pat your turkey dry, then sprinkle with salt and dry brine over night in the refrigerator.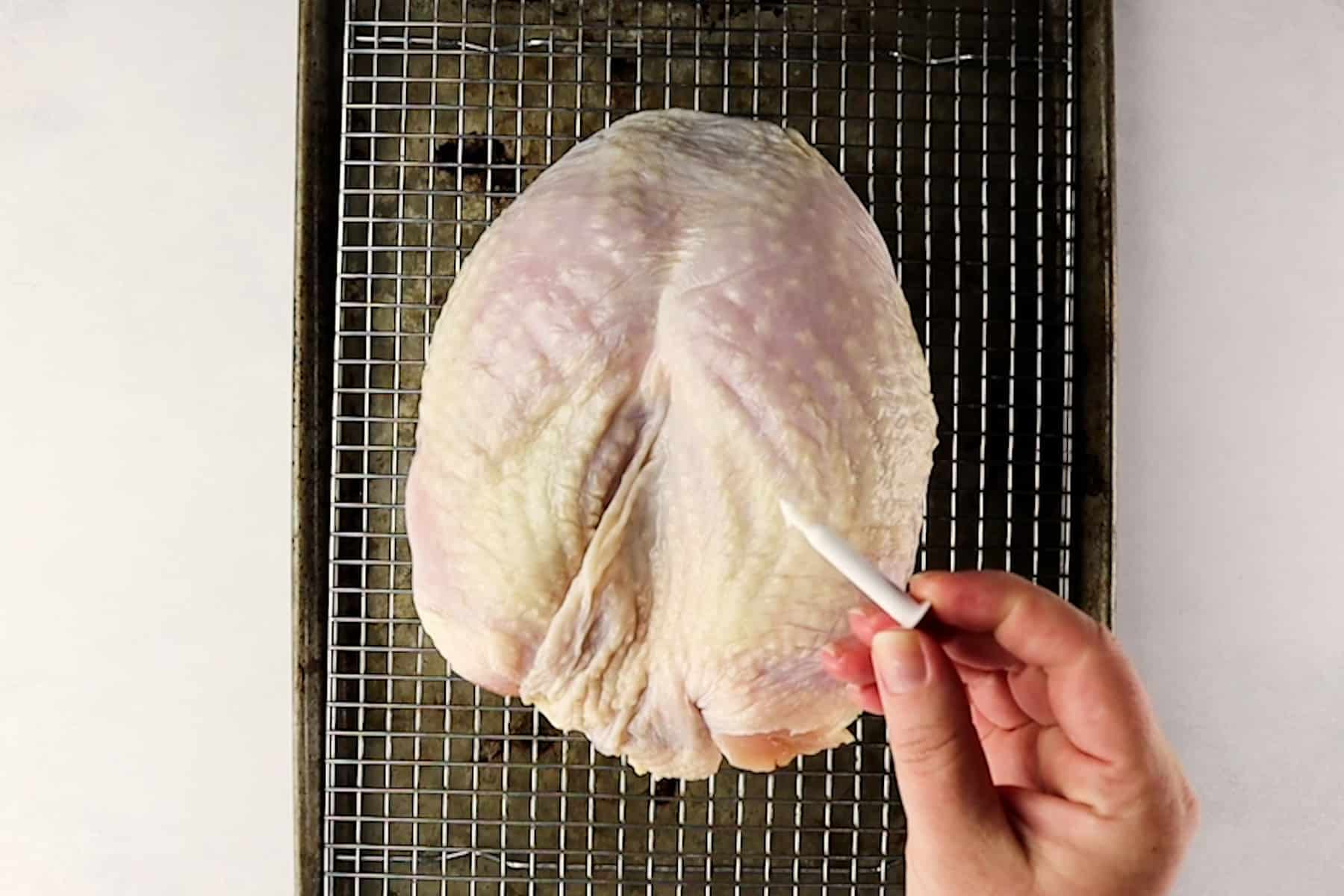 Remove turkey ½ hr before smoking.
Mix together softened butter with herbs and pepper. Spread all over the turkey breast, even between the muscle and skin.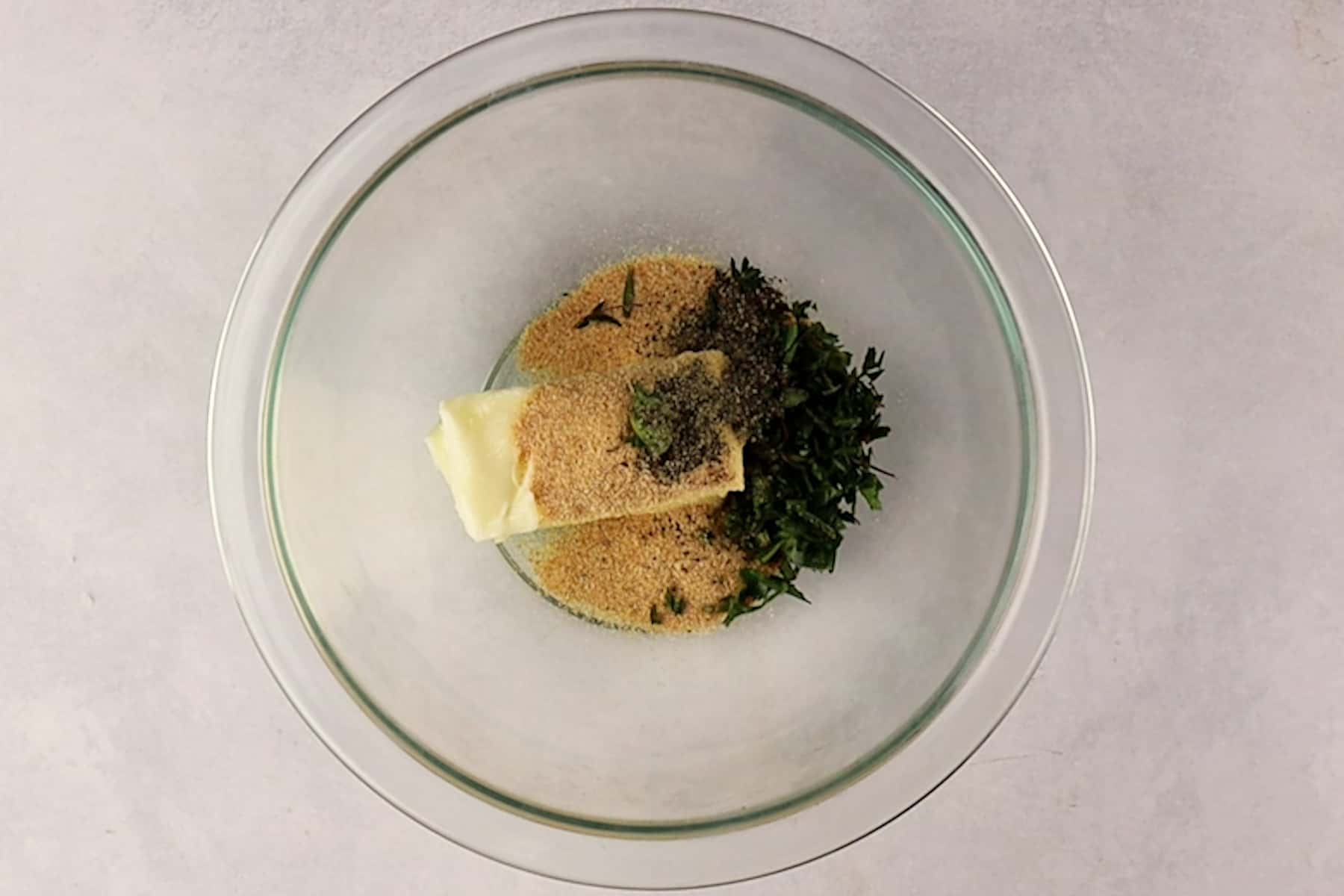 Smoke turkey breast until it reaches 160°F then remove from smoker and let rest for 30 minutes- it will continue to rise to 165°F.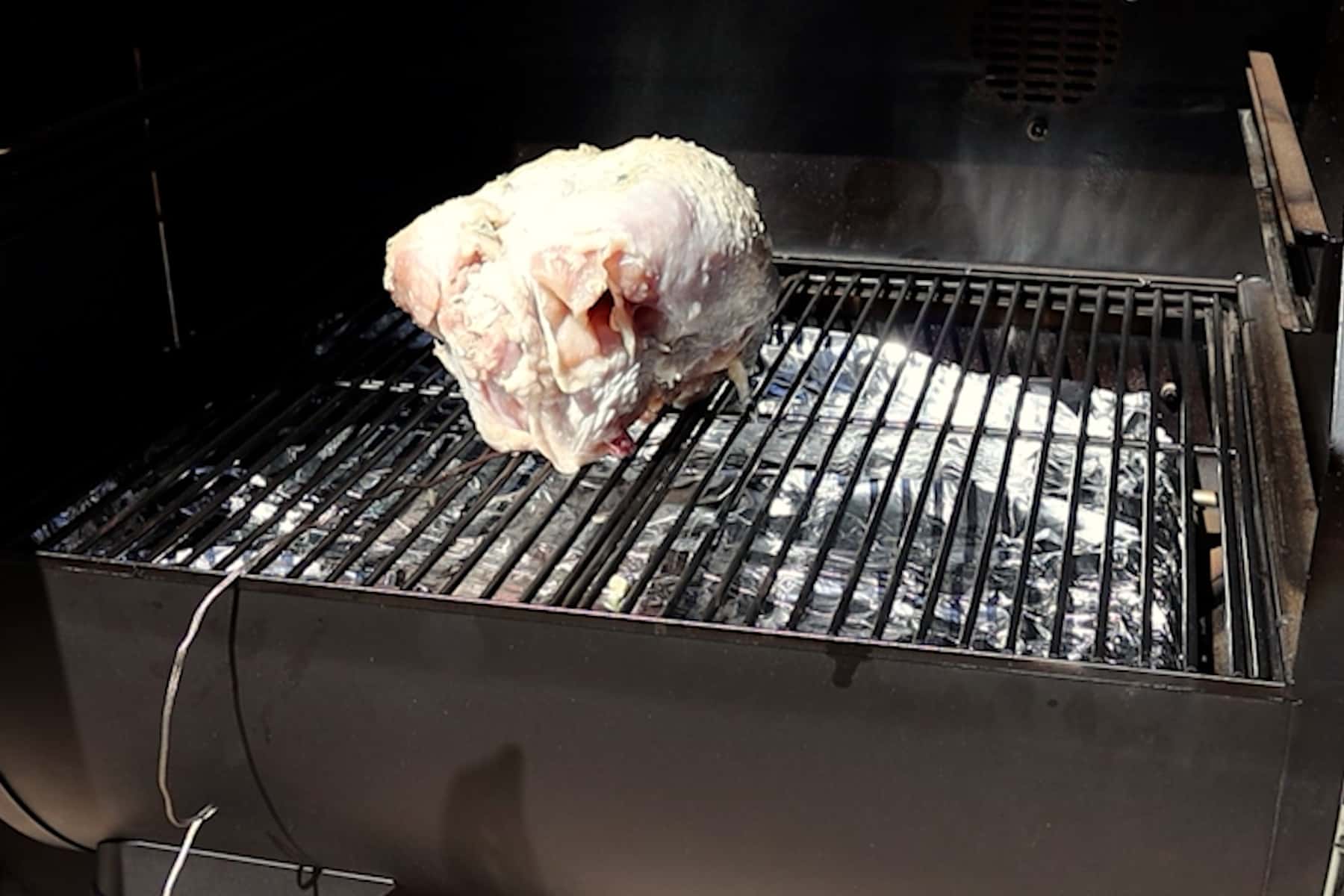 What temperature should you smoke turkey breast at?
225°F- This temperate provides smokier flavor and takes longer. Plan for the turkey breast to cook for 30-45 minutes per pound.
300°F- This temperature provides a crisper skin and cooks faster. Plan for the turkey breast to cook for 15-30 minutes per pound.
Hint: I love using a competition blend pellet for smoking turkey but a cherry would be great too! (affiliate links)
How to cut turkey breast?
Using a sharp knife, carefully slice along the spine.
Then work your way around the breast and it should come off in a nice big piece.
Slice the breast into slices and enjoy.
Make sure to pull any extra meat off the bone. There is a lot there and you don't want it to go to waste!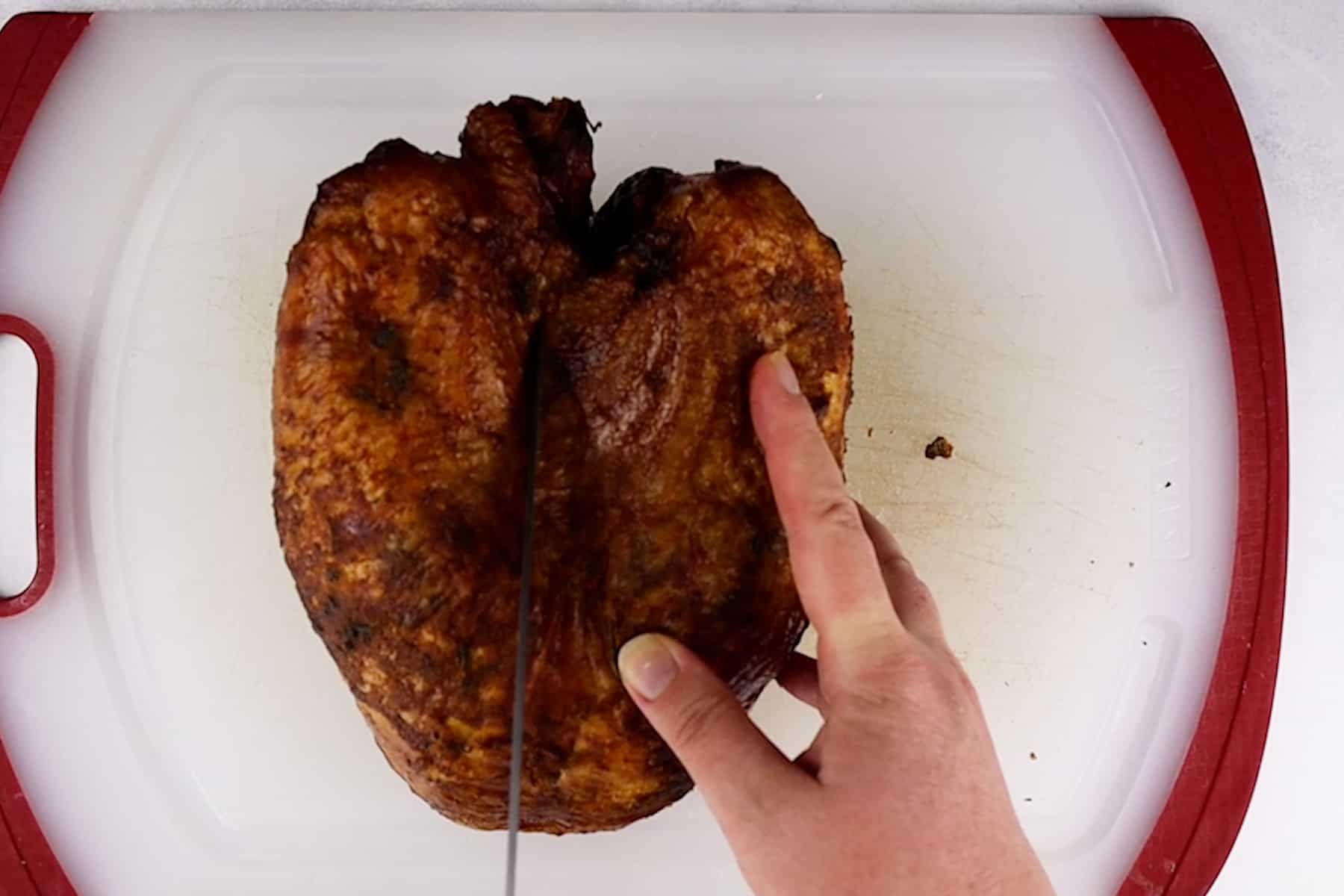 Frequently Asked Questions:
What temp to pull smoked turkey breast?
Turkey breast is fully cooked when it reaches an internal temperature of 165°F. Pull the turkey at 160°F and let rest for 20-30 minutes, temperature will rise to 165°F.
Should smoked turkey be pink?
Smoked turkey will be pink even when cooked to 165°F. It has to due with a chemical reaction during cooking.
How to store leftover turkey?
Refrigerate any leftovers in an airtight container for up to 5 days.  
It's best to cut only as much turkey as you need, and then let the remaining cool down in a large chunk. This will let the turkey retain even more moisture when reheated or eaten cold.
Can you freeze leftover turkey?
Yes. Freeze cooked turkey in a freezer safe container for up to 3 months.
How do you keep turkey breast from drying out?
A combinations of dry brining, cooking at a low temp for a longer time, and removing the turkey when it reaches the right temperature will prevent it from drying out.
How to reheat a smoked turkey breast?
Microwave: Heat turkey in 30 second increments. It's best if you are able to add gravy or some stock over the turkey and cover with a microwave safe lid.

Oven: Preheat oven to 325°F, place turkey in a shallow dish with a little gravy, water, or stock, cover with foil and heat for 10-30 minutes- time depends on how much turkey you are heating up.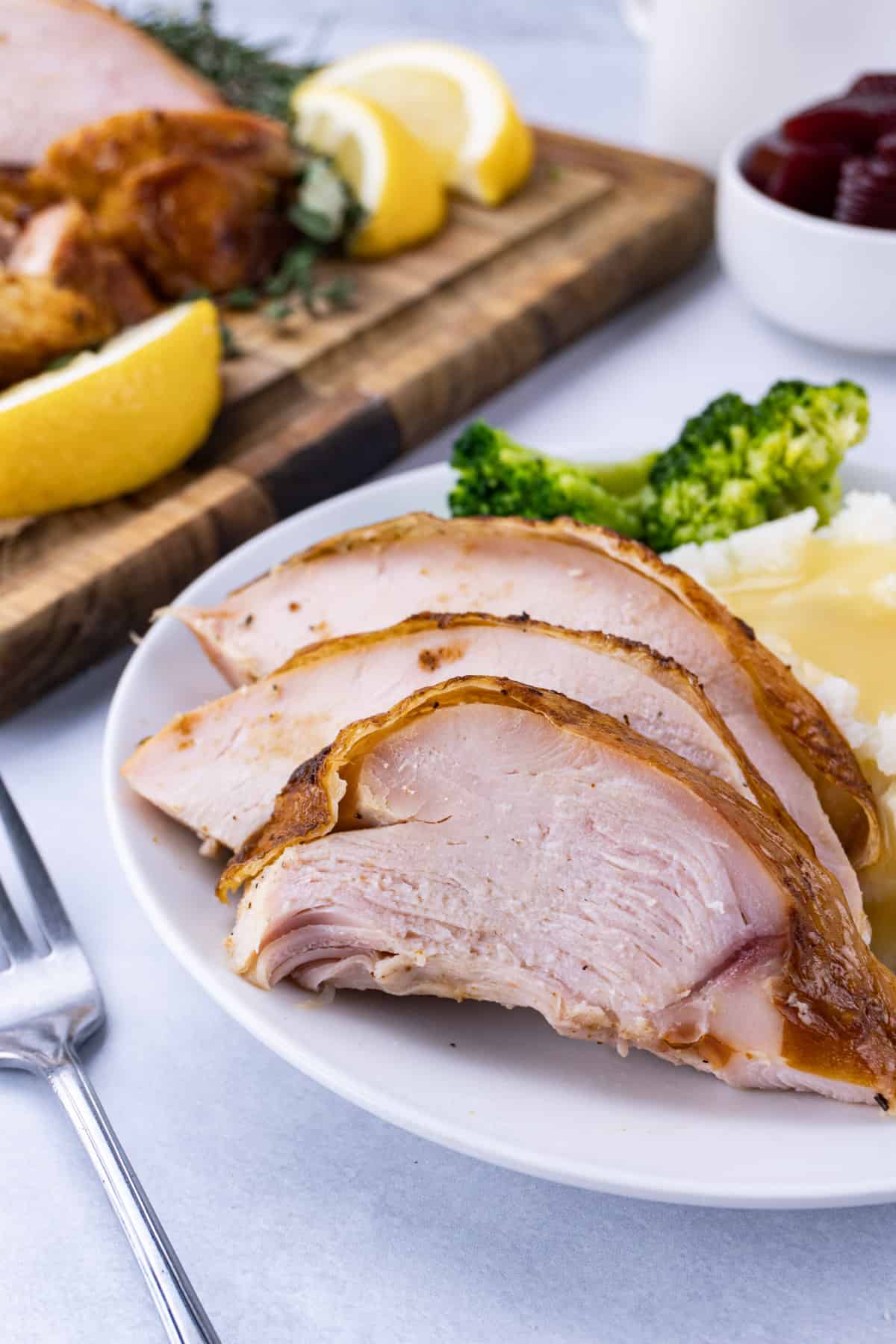 This is such an easy smoked turkey breast recipe. I hope you love it as much as I do!
Food Safety
Pull the turkey at 160°F and let it rest and rise to 165°F
Do not use the same utensils on cooked food, that previously touched raw meat.
Wash hands after touching raw meat
Don't leave food sitting out at room temperature for extended periods
Never leave cooking food unattended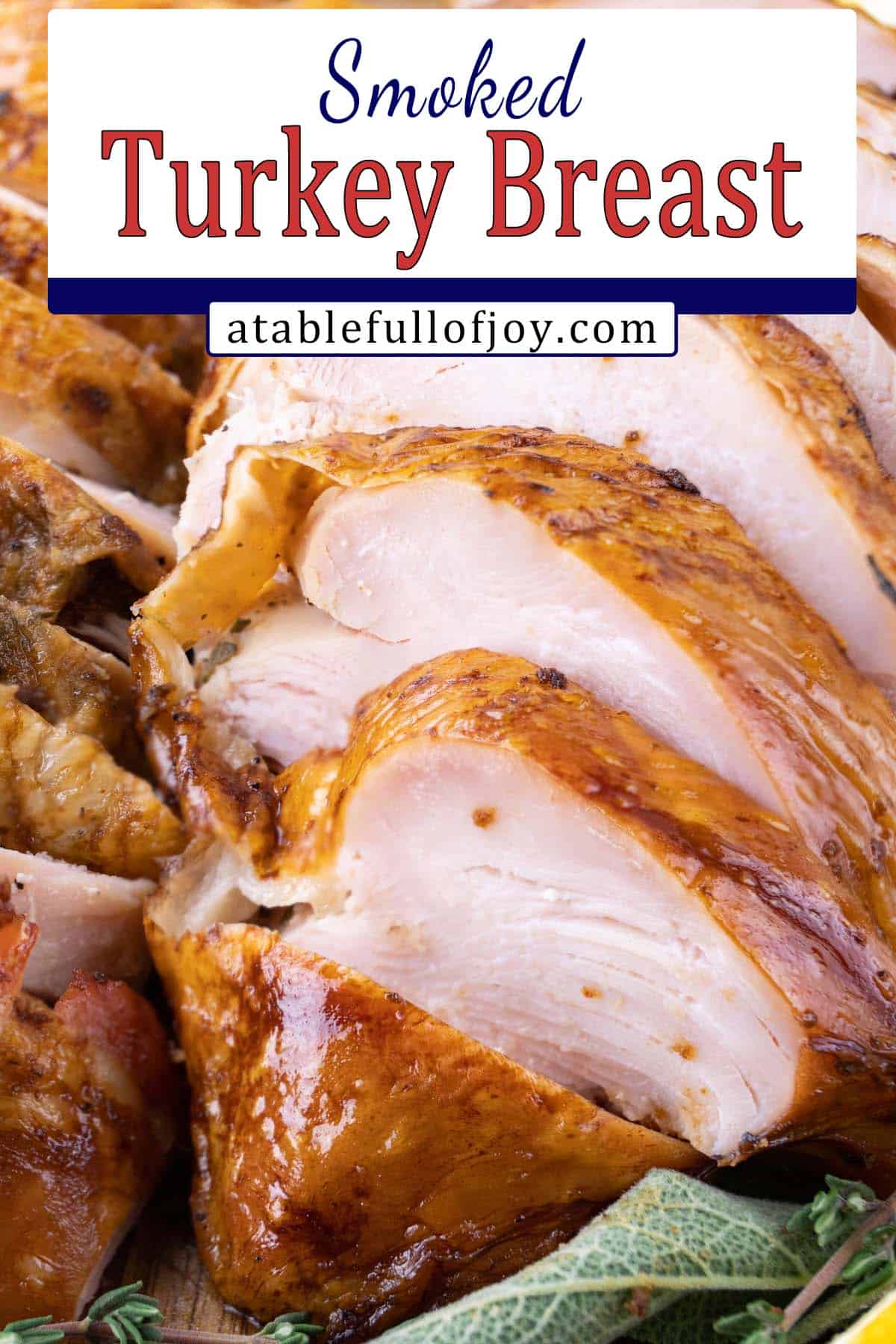 Watch how to make this recipe!
Want more? Subscribe to my newsletter and follow along on Facebook, Pinterest and Instagram for all of the latest updates.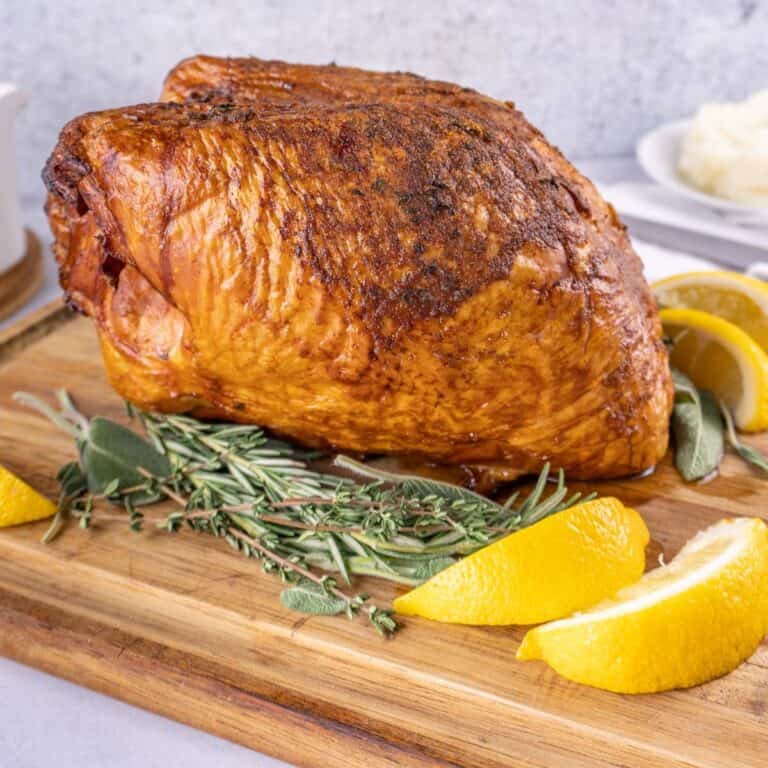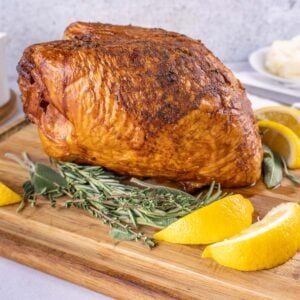 Smoked Turkey Breast
Smoked Turkey Breast is so easy and so delicious you will want to make it time and again! Juicy, flavorful meat with the delicious smoky taste everyone loves!
Ingredients
4

lb

turkey*

thawed

2-4

tbs

coarse salt

¾

cup

unsalted butter

softened

1 ½

tbs

garlic powder

1

teaspoon

rosemary

chopped

1

teaspoon

thyme

chopped

½

teaspoon

sage

chopped

½

teaspoon

black pepper
Instructions
Remove turkey neck and giblets from turkey breast cavity. Also remove any popping thermometers ( relying on these tend to lead to an over cooked turkey).

Pat turkey with a paper towel to remove any excess water. Sprinkle turkey breast with salt. Make sure to get all sides and inside the cavity.

4 lb turkey*,

2-4 tbs coarse salt

Place on a cooling rack, on a making sheet, and refrigerate overnight or up to 72 hours.

Remove from refrigerator 30 minutes before smoking.

Combine butter, garlic powder, rosemary, thyme, sage, and pepper in a small bowl.

¾ cup unsalted butter,

1 teaspoon rosemary,

1 teaspoon thyme,

½ teaspoon sage,

½ teaspoon black pepper,

1 ½ tbs garlic powder

Rub butter all over turkey breast. Gently separate the skin and place butter in between the skin and meat.

Place your thermometer probe in the breast horizontal, near the neck cavity, parallel to the spine, and not touching any bone. It should be ½-1 inch from the internal cavity.

Preheat your smoker to 225°F or 300°F. 225°F will take longer but be more smokey, 300°F will have crispier skin and less smokey flavor but will cook faster. If you are using a pellet smoker set your smoke to high.

Smoke the turkey breast until 160°F then remove from smoker and let sit for 20-30 minutes. During this time the temperature will rise to 165°F and be fully cooked.

Once the turkey breast has rested, slice and enjoy!
Notes
Tips and Tricks
*Try finding a turkey breast that isn't injected with salt/saline, otherwise use just enough salt to lightly cover the turkey. Saline injected breasts can easily become too salty with dry brining, so I like to go light on the salt I add if that's what I use.  
I like to use a bone in breast but you can use a boneless breast as well. 
*The rule of thumb is 30-45 minutes of cooking per pound of meat at 225°F, so a 6lb turkey breast should take about 3-4.5 hrs. At 300°F it's between 15-30 minutes, so 1.5-3hrs. If you want the turkey breast to cook even faster, I recommend to spatchcock it.
*You can start the turkey out at 225°F, and smoke for a few hours, then crank the temperature up to 300°F for a crisper skin and a little faster cook time.
Nutrition
Calories:
385
kcal
Carbohydrates:
1
g
Protein:
35
g
Fat:
26
g
Saturated Fat:
13
g
Polyunsaturated Fat:
3
g
Monounsaturated Fat:
7
g
Trans Fat:
1
g
Cholesterol:
162
mg
Sodium:
1928
mg
Potassium:
388
mg
Fiber:
1
g
Sugar:
1
g
Vitamin A:
635
IU
Vitamin C:
1
mg
Calcium:
28
mg
Iron:
2
mg
I am an affiliate for Thermoworks and Champ Chef. I earn a small percentage when you use my links.
Reader Interactions