Pink and Gold Cake – perfect for a fun girl's night celebration or a baby girl's baby shower! And that is what this sweet cake was for- my friend's baby shower!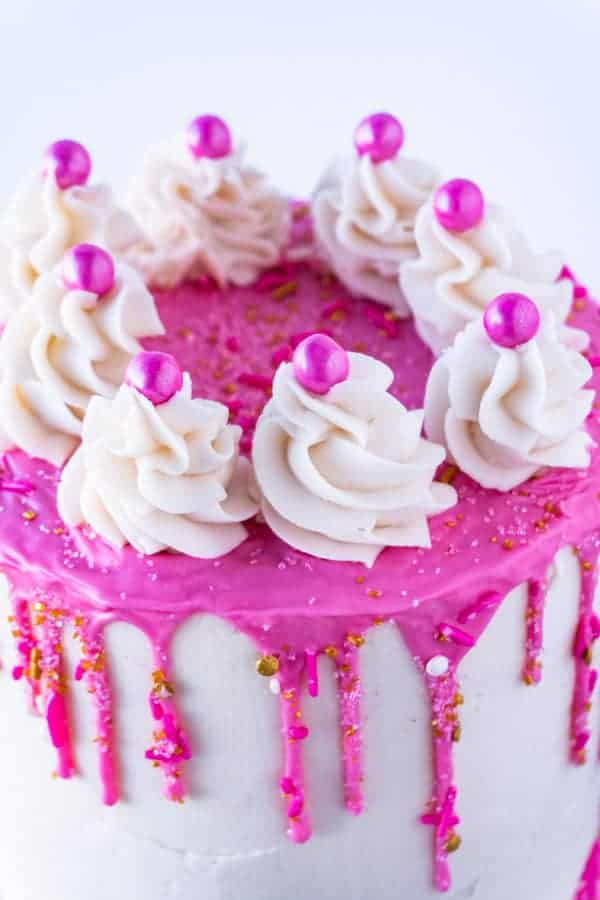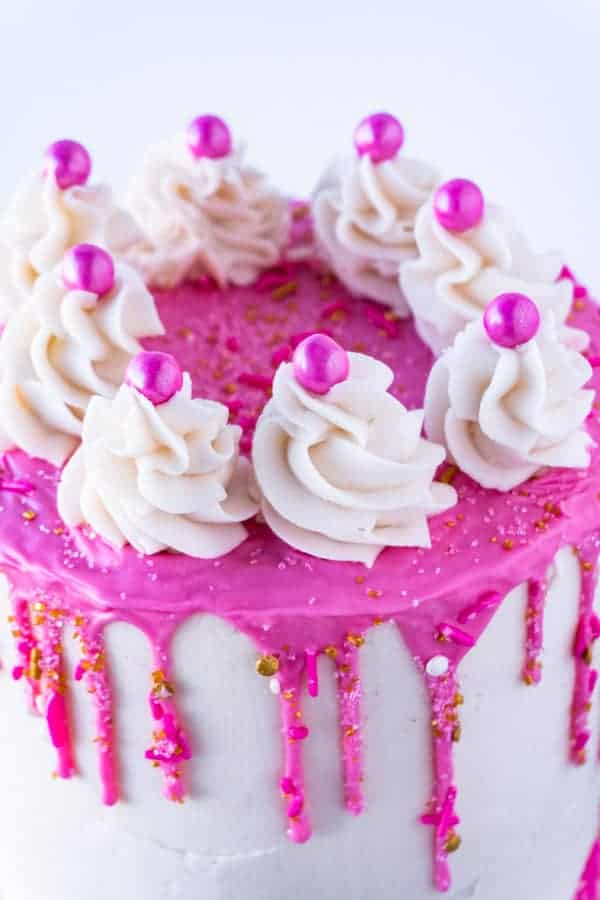 Pink and Gold Cake
I had so much fun making this pink and gold cake. The inside is a strawberry vanilla swirl with a strawberry buttercream frosting.
Topped with a super easy drip and fun sprinkles everyone loved this girls baby shower cake!
How to a make pink and gold cake:
Whip up the batter for my easy vanilla cake but use 1tbs vanilla paste instead of the vanilla extract and divide the batter in half.
To half of the batter add a little pink food coloring gel and ½-1tsp strawberry oil.
Prep your cake pans and then scoop and swirl the batters into each cake pan.
Bake, let cool, frost and enjoy!
I love using Lorann's Oils as flavorings. You can find them in the cake decorating isle of your local grocery store. They come in tiny bottles- but you only need a little!
This made a great girl's baby shower cake but would work for any party!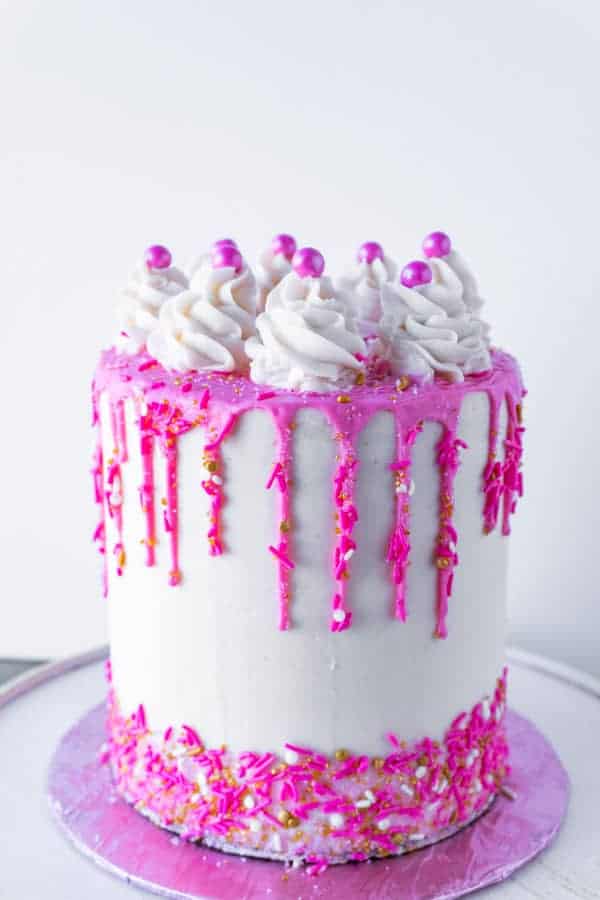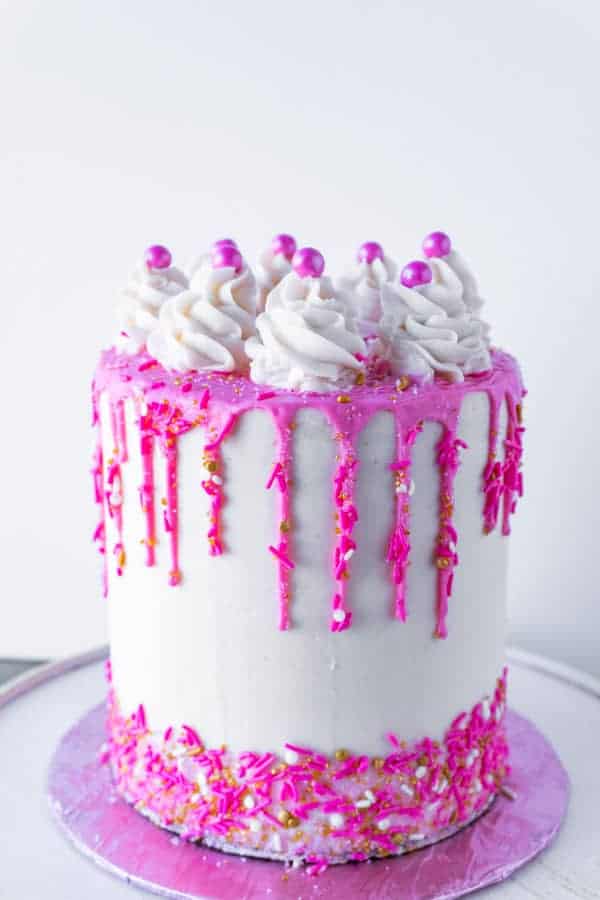 How to create a drip cake:
Combine ½ candy melts and heavy cream.
Melt in microwave for 30 seconds and then stir until smooth.
Allow to cool until it is liquid still but not warm (about 10 minutes).
Test a drip on the side of a bowl to see if it the drip sets up the way you want it and then add drip to cake.
Finish with adding the candy melt ganache to the top of the cake. It should smooth out on its own.
Add sprinkles to the drip and then place cake in the fridge until the drip has set up completely before adding any piped decorations to the top.
I did just throw the sprinkles at the side of the cake at the drip and they stuck well. You can try to gently press them on but I didn't have the patience for that.
How to make strawberry vanilla frosting:
Whip up a double batch of my easy vanilla buttercream adding a ¼ teaspoon strawberry oil and a small toothpick abmount of purple food coloring- this will help it get bright white. Weird but it works!
Enjoy!
Now I did opt to make just one batch of my vanilla frosting into strawberry vanilla frosting because I wanted a good balance of strawberry and vanilla.
I used the strawberry vanilla buttercream for the layers, crumb coat, and piped decorations on top of the cake. The vanilla buttercream was used for the final coat.
Overall though it didn't really make a difference so I suggest just making all the frosting strawberry flavored.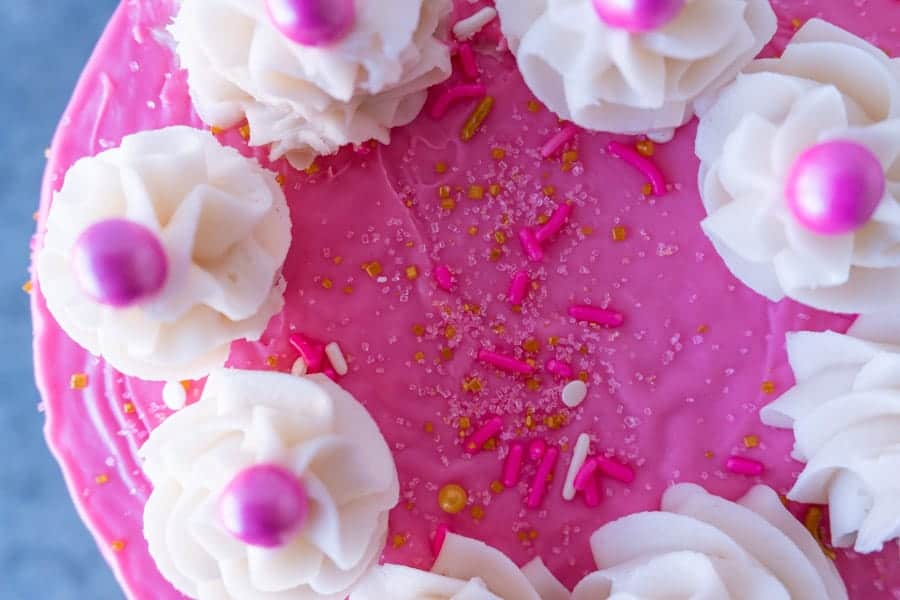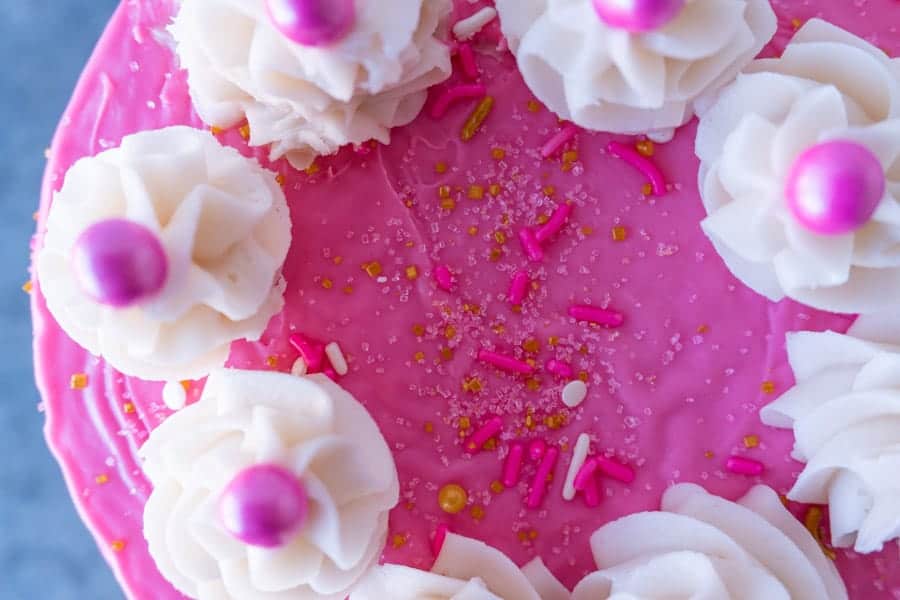 How to get a smooth final coat for your cake?
Besides practice and a cake scraper, I've noticed if I place a 6 in cake board on top of the cake after it's been crumb coated and refrigerated a bit and then do a final coat using the cake board as a guide for my cake scraper the final coat comes out so nice.
To remove the cake board from the top of the cake after you have the sides nice and smooth simply take a long knife and slide it in between the top of the cake and the board and gently take it off.
I finished off the cake with some pipped on swirls (using a 1M tip)  and more sprinkles!
The baby shower was so much fun and I was so glad I got to make a cake for it! In addition the cake I also made cupcakes that were the same flavors and decorated with sprinkles pressed onto the side like my Valentines cupcakes.  Easy and beautiful!
If you like this recipe make sure to check out my easy chocolate striped popcorn, french silk pie, and my homemade no churn blue ice cream!
The pink and gold cake was a huge hit!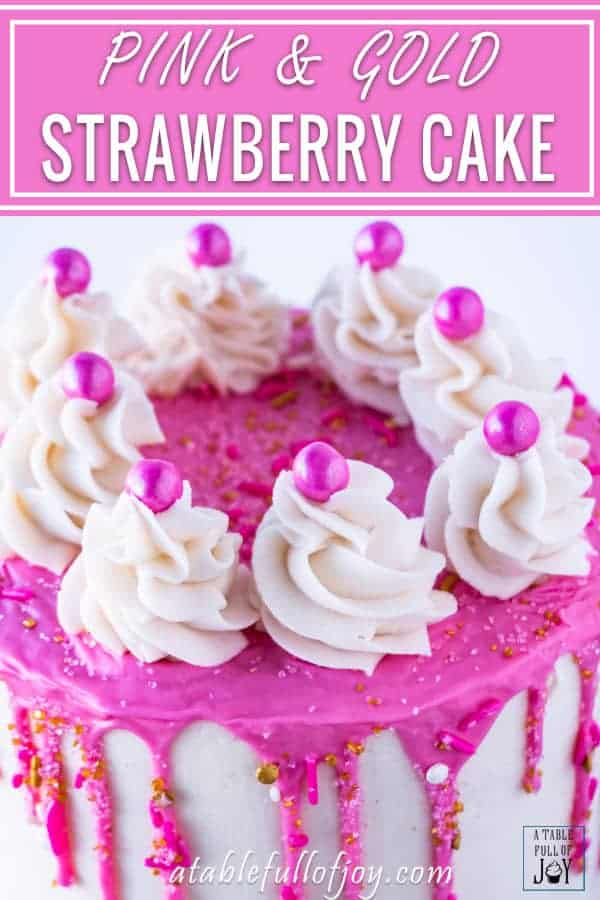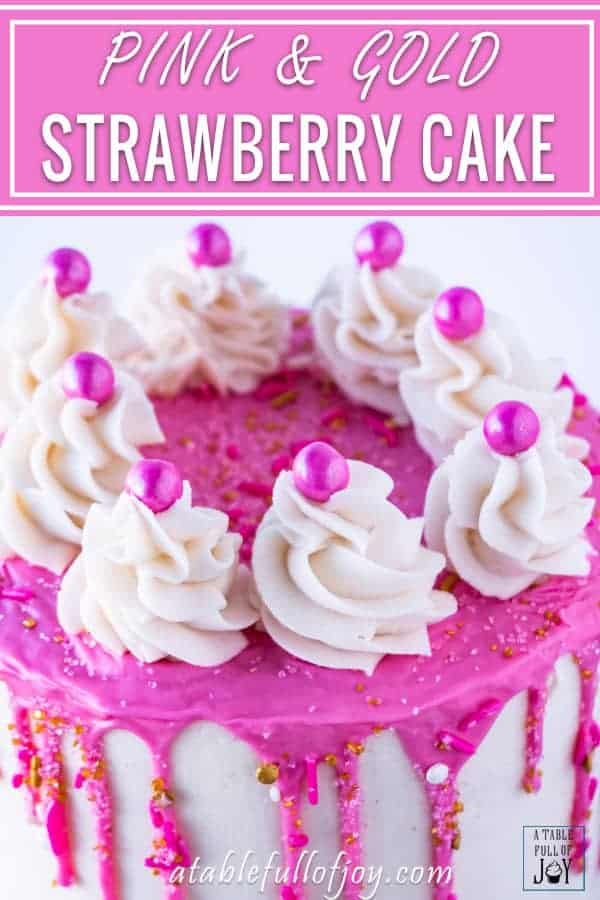 Want more? Subscribe to my newsletter and follow along on Facebook, Pinterest and Instagram for all of the latest updates.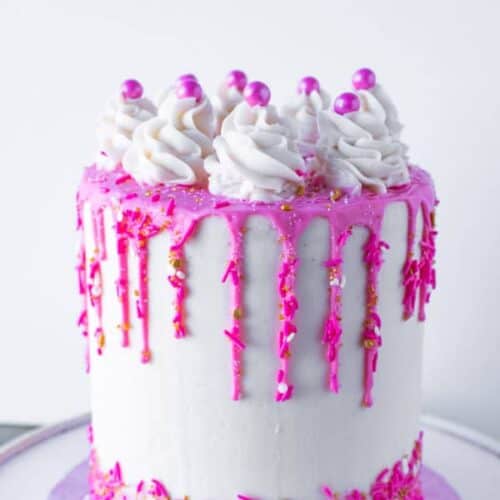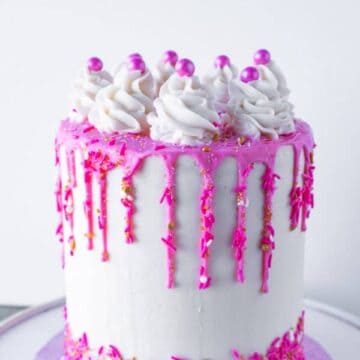 Pink and Gold Cake
Pink and gold cake, great for parties, baby showers, or any fun get together. Strawberry flavored and not hard to make!
Ingredients
For the cake:
1

tbs

vanilla bean paste

Pink food coloring

gel or liquid

½

teaspoon

-1 teaspoon Strawberry oil

I used Loran's Strawberry Oil
For the strawberry vanilla buttercream:
¼- ½

teaspoon

Strawberry oil

I used Loran's Strawberry Oil

Small amount of purple/eggplant food gel

optional
For the ganache drip:
½

cup

pink candy melts

5-10

bright white candy melts

2

tbs

heavy whipping cream
Other items
Pink and gold sprinkles*

Medium sized pink candy balls

6

inch

cake pans

6

inch

cake boards

1

M

piping tip

Piping Bag

Squeeze bottle

for the drip

Cake scraper

smoother
Instructions
Preheat the oven to 325°F and prep you cake rounds with butter and a dusting of flour.

Whip up a batch of my easy

vanilla cake mix

BUT use the 1 tbs vanilla bean paste instead of extract. Extract will work but I wanted to see the pretty vanilla flakes in the cake for this.

Divide the batter in half and add ½-1 teaspoon of strawberry oil and pink food coloring to one half. Although everyone says not to taste the raw batter I do and that's how I determine how much strawberry taste I want. Strawberry oil is super potent so you don't need a ton. Also, use as much pink food coloring until you get the color you want.

To make the cake have a strawberry swirl when you cut into it use a use a cookie scoop or spoon to add a ⅓ of the vanilla and ⅓ of the strawberry cake batter into each 6 in cake round. Alternate adding a scoop of each batter and then use a knife to swirl the batter together.

Bake the cake on the second to lowest cake rack for 25 minutes or until cakes are cooked through.

While the cakes cool whip up a double batch of my easy

vanilla buttercream

.* Add in the ¼ teaspoon strawberry oil, taste and if it needs more add in another ¼ tsp. Dip a toothpick into some dark purple food gel and wipe it off into frosting. Mix it in completely- this will help make the white buttercream even whiter.

Once cooled, level the cakes if needed (most likely you won't need to). I do like to frost the cakes while they are frozen so if you have time pop them in the freezer for 20-40 minutes. If not don't worry.

Place a dab of frosting on the cardboard cake round and then place the bottom cake layer on the round. Add a nice layer of frosting onto the cake, then repeat with the next two layers.

Crumb coat the cake and then stick in the freezer for 10 minutes.

Final coat the cake and if you need tips on how to get a smooth coat see my notes in the post above. Stick back in the freezer and make your ganache.

For the ganache combine the ½ cup pink candy melts, 5 white candy melts, and 2 tbs whipping cream. Microwave for 30 seconds and then stir until the mixture is smooth. If the ganache is too hot pink add a few more white candy melts and stir until they are melted and you get the color of pink you desire.

Allow the ganache to cool until it isn't hot but still liquid, place in your squeeze bottle and test a drip on the edge of a bowl. If the drip runs all the way to the bottom it is still too hot. If it is too cold it won't drip well at all.

Add the drip around the top edge of the cake and then fill in the top of the cake.

Add sprinkles to the drip right after you add it to the cake. Then stick the cake in the fridge until the drip sets up (about 10 minutes). This will prevent sliding of the ganache when you add decorations on top.

Using the 1M tip and piping bag pipe on top swirl. Add more sprinkles and the pink candies.

Enjoy!
Notes
*I bought pink and gold sprinkles of different shapes and sizes and then mixed them. You can also by premixed sprinkles. *I made one batch of vanilla buttercream and one batch of strawberry buttercream but in the end it wasn't necessary.
Also note that the nutrition facts are probably not correct since it is trying to calculate using generic frosting and cake mix as ingredients instead of my personal recipes.
Nutrition
Calories:
156
kcal
Carbohydrates:
30
g
Protein:
1
g
Fat:
2
g
Saturated Fat:
1
g
Cholesterol:
2
mg
Sodium:
243
mg
Potassium:
21
mg
Sugar:
17
g
Vitamin A:
30
IU
Calcium:
77
mg
Iron:
0.7
mg
Reader Interactions