This homemade vanilla ice cream recipe is simple and delicious! With only 3 main ingredients, no eggs, and no churning, you couldn't ask for a better summer treat! Add in the food coloring to make this ice cream extra fun and dip your waffle cones in chocolate for that extra something! Oh and don't forget the sprinkles- I love sprinkles!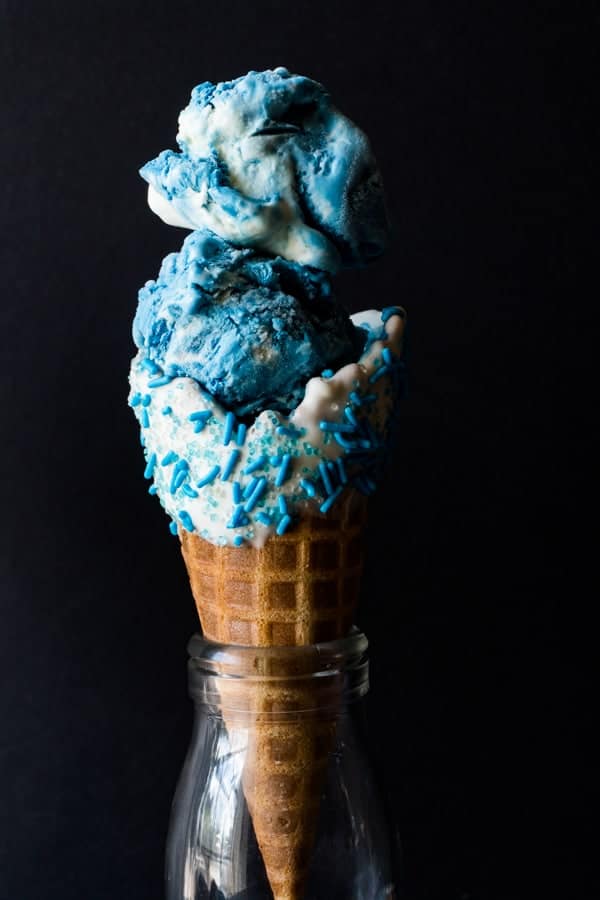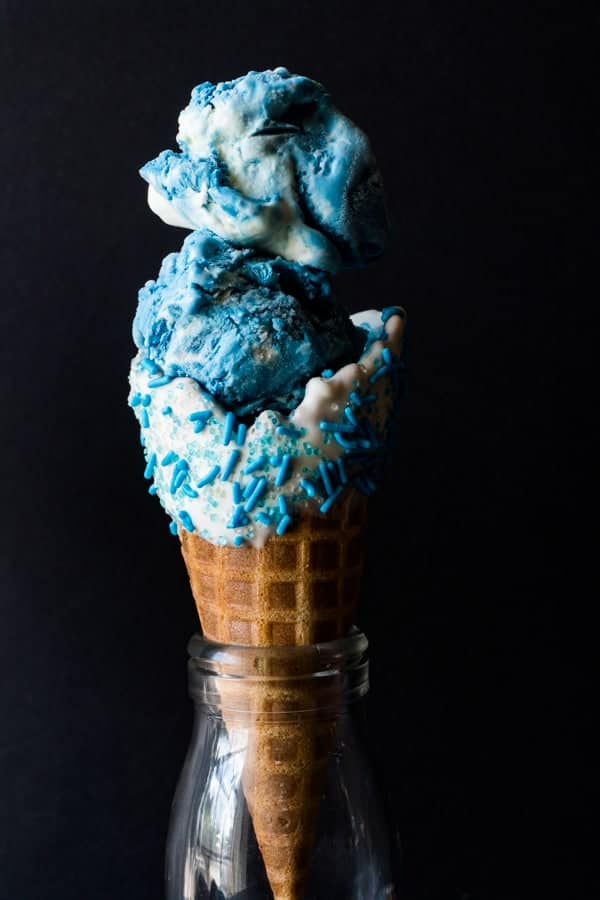 Today's Hearthstone recipe is inspired by the card Cone of Cold! This four cost spell card freezes a minion and the minions next to it and does one damage to all of the frozen minions! Awesome! This ice cream won't do damage to you but it just might give you a brain freeze! Plus it's blue and white and you put it in an awesome dipped cone…. You get it? Cone of cold…. I'll be here all week!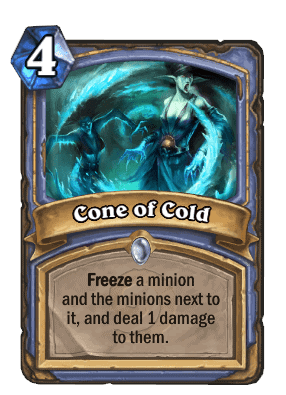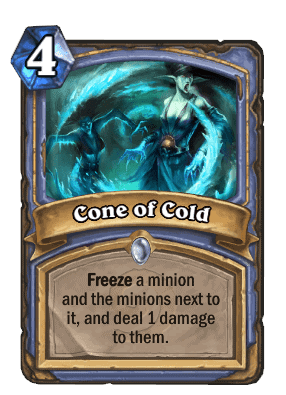 If you are wondering what Hearthstone is you can read all about it on my What is Hearthstone? page. This recipe is part of my full Hearthstone Menu, where you can find other delicious recipes like Card Pack Cakes, Shudderwock Salad, Stuffed Evolving Spores, and Tuskarr Fisherman's Shrimp Kabobs! I've also done another easy ice cream recipe called King Mukla's Banana Ice Cream with Salted Caramel- super easy and so good!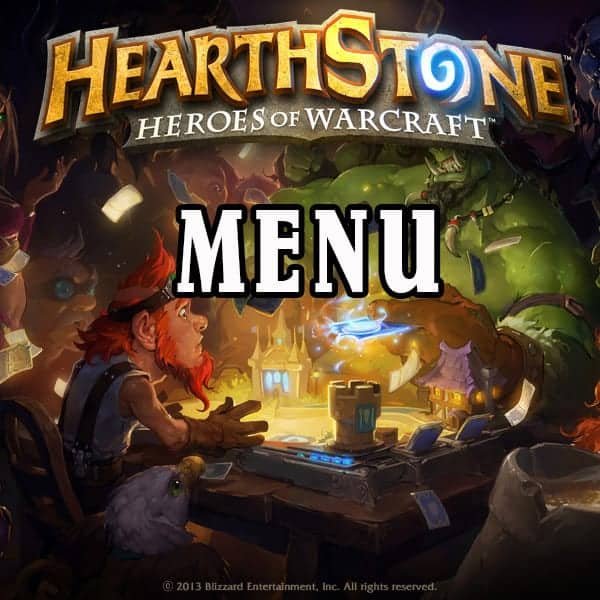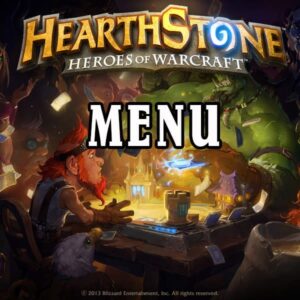 Homemade Vanilla Ice Cream Recipe, easy and delicious!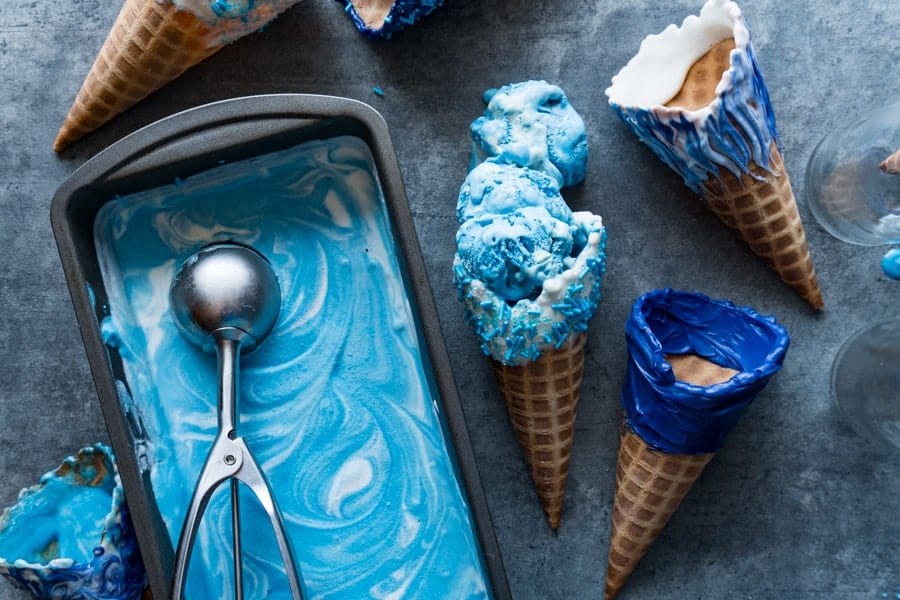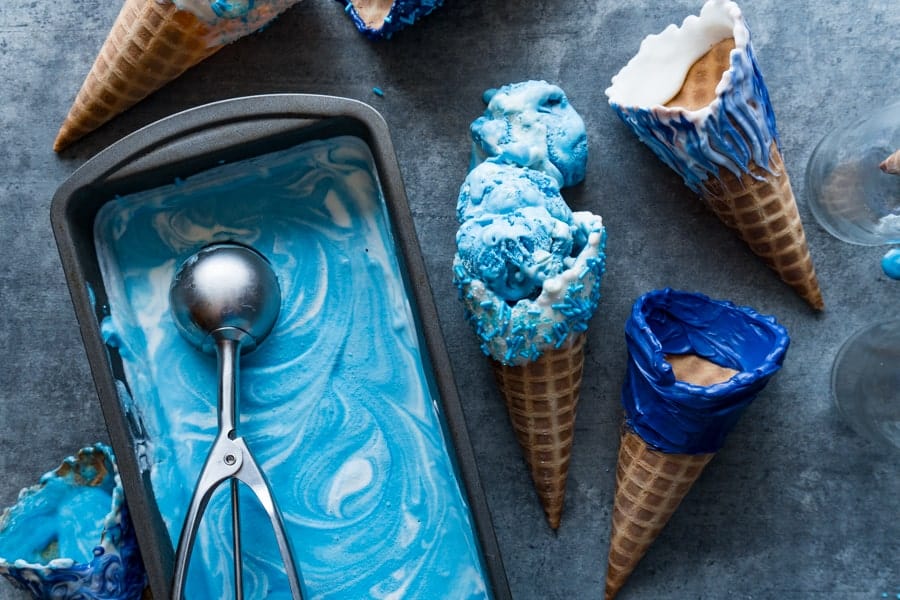 How to make no churn vanilla ice cream
Place the container you are going to freeze the ice cream in, in your freezer to get it nice and cold!
Whisk together heavy cream and vanilla extracts until stiff peaks form! Here is where you'd add other extracts as well if you wanted to. Using a stand mixer or hand held mixer will make this task much easier.
Once you have stiff peaks (2-5 minutes), using a rubber spatula, fold in the sweetened condensed milk.
If adding food coloring, divide mixture in half and fold in food coloring to one half.
Alternating between colors, add spoonfuls (I like to use a ¼ cup) to your dish that has been in the freezer. Then swirl the mixture with a knife.
Cover and freeze for at least 5 hours.
Dip your waffle cones in chocolate, decorate, fill with ice cream and enjoy!


How to make ice cream cone stands:
Using a cardboard box (the one your cones came in works nicely) and a sharp knife, cut Xs in the box several inches apart. My box could only fit 6.
Then place your cone, pointy end first, into the X and it should stand up! This is great for getting the chocolate on the cones to dry without laying them down!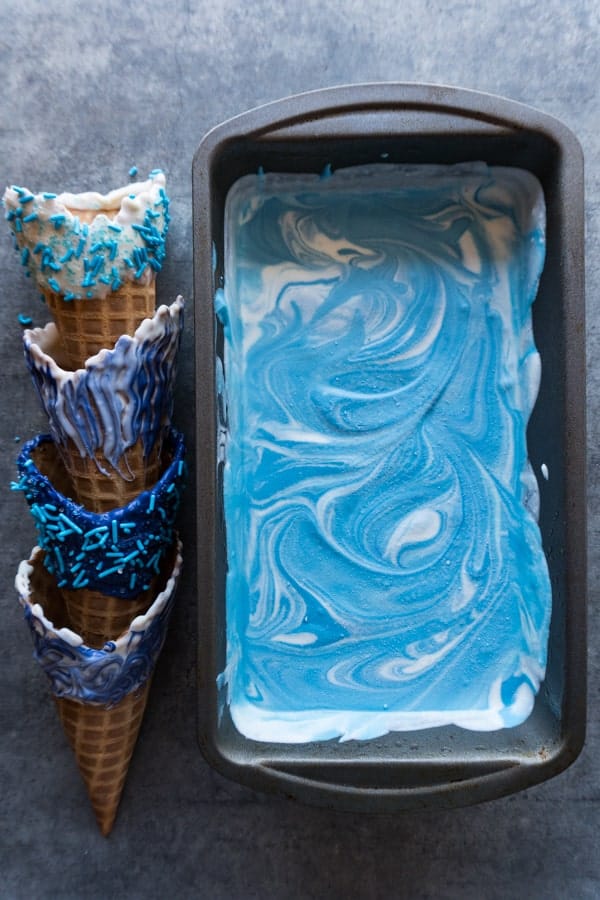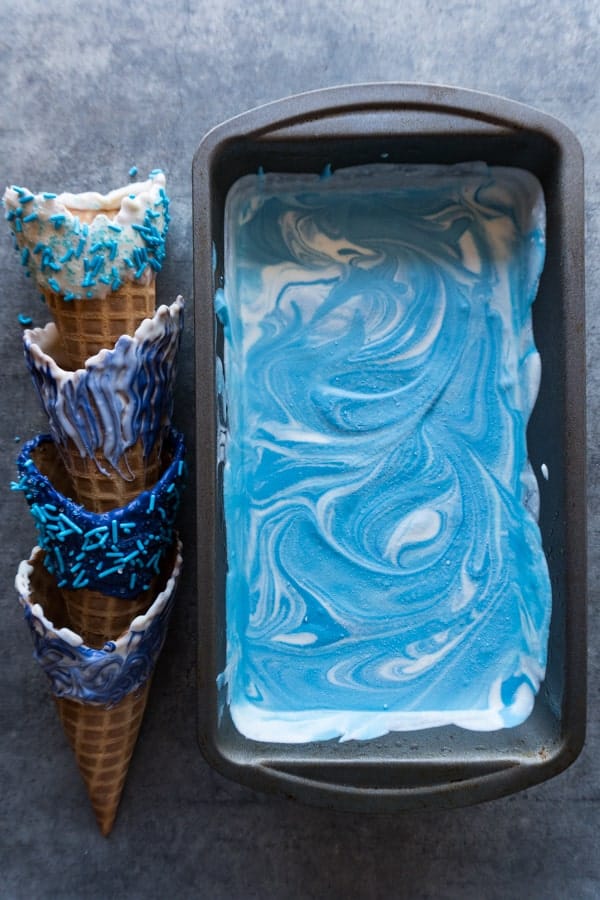 Homemade Ice Cream Vanilla Flavored perfect for summer!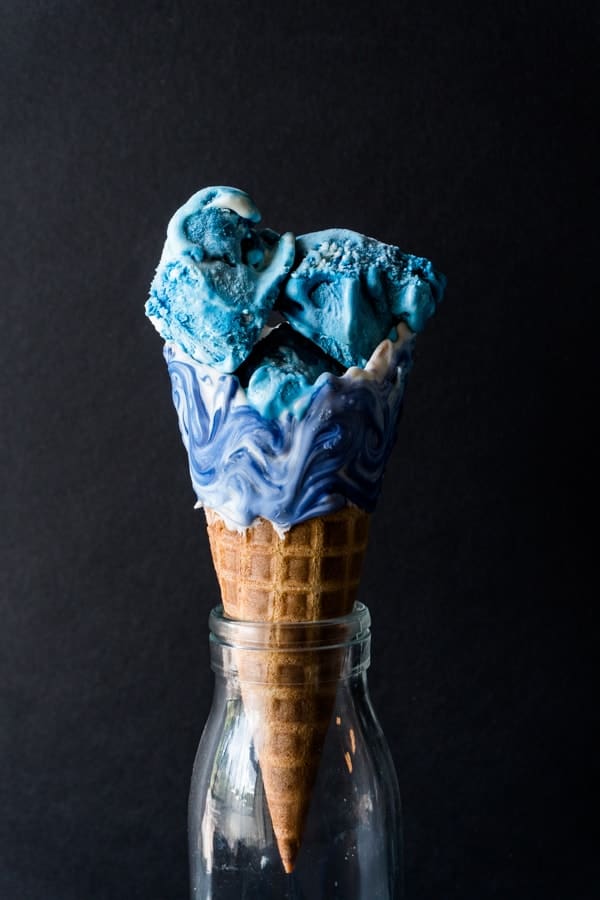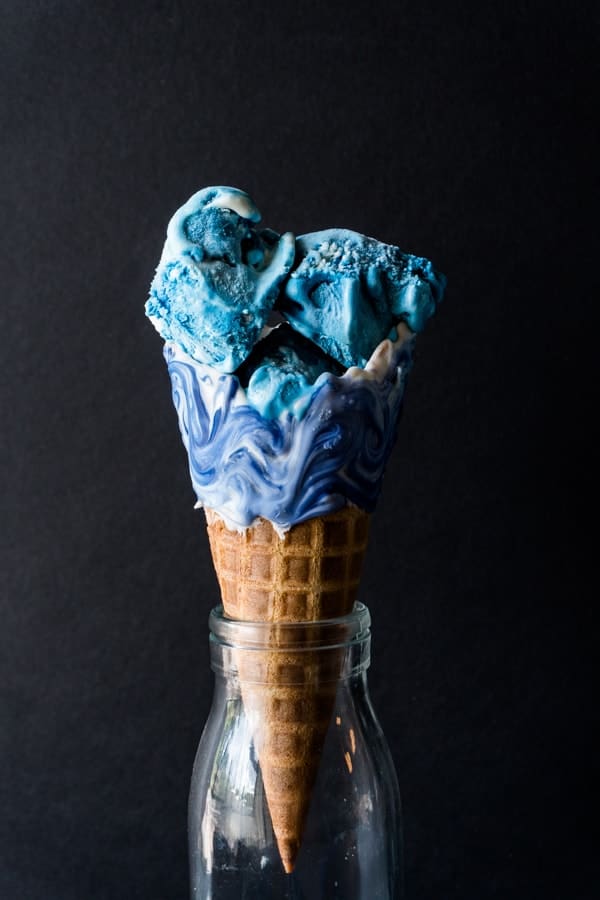 So sit back, play some Hearthstone, add cone of cold to your decks, all the while enjoying this delicious cone of cold ice cream!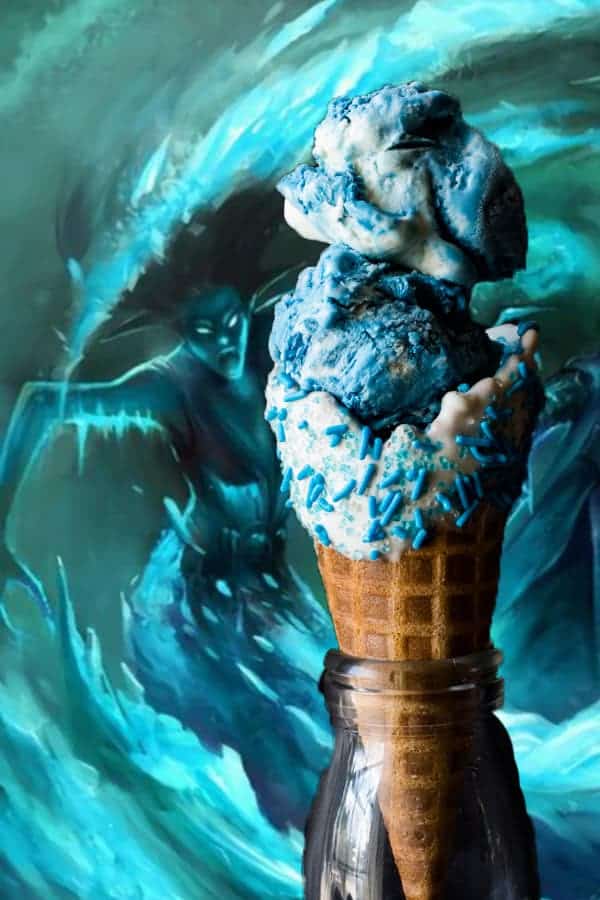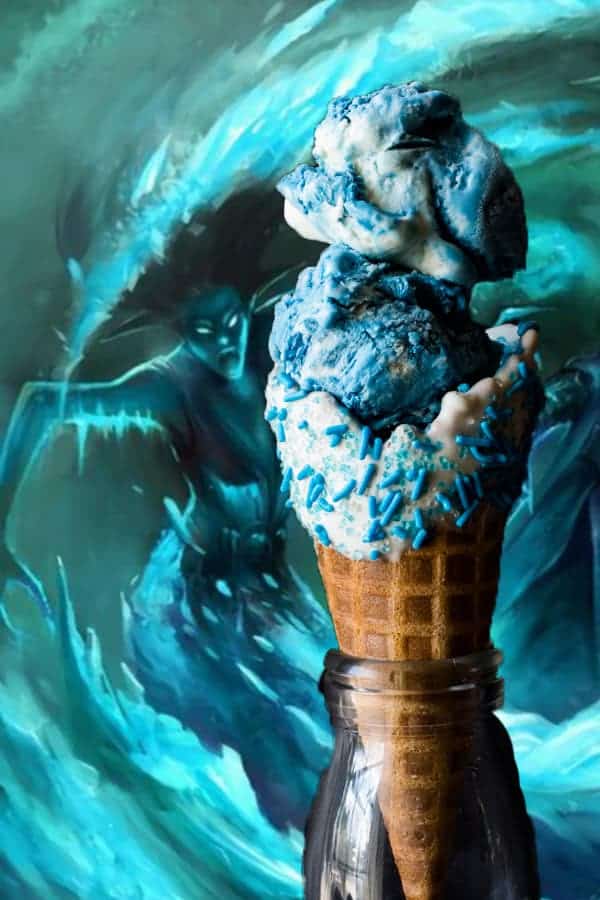 If you enjoyed this recipe check out Witchwood Apple Pies, Easy Innkeeper's Bread, and my Acidic Ooze Limeade- all from my Hearthstone Menu!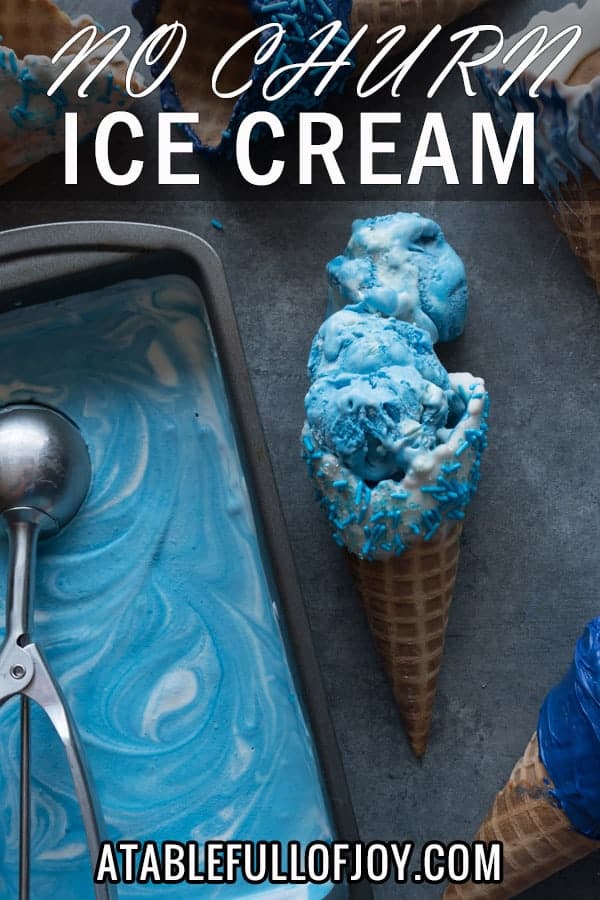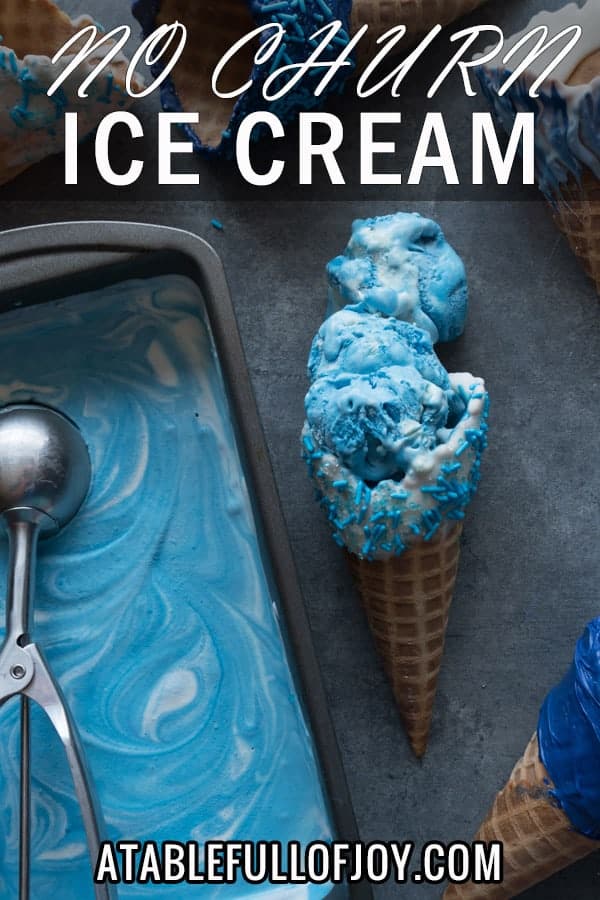 ---
BE SURE TO FOLLOW ME ON FACEBOOK, INSTAGRAM, PINTEREST & TWITTER!
---
Want more? Subscribe to my newsletter and follow along on Facebook, Pinterest and Instagram for all of the latest updates.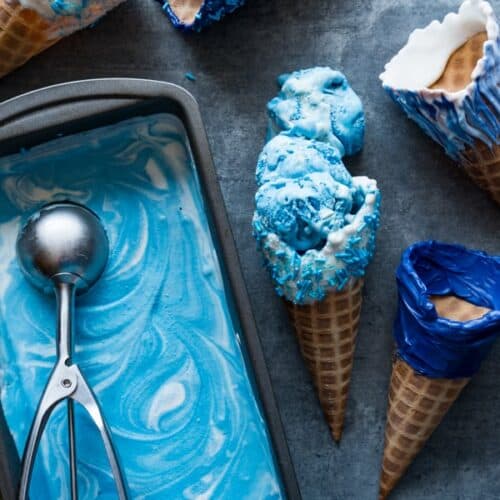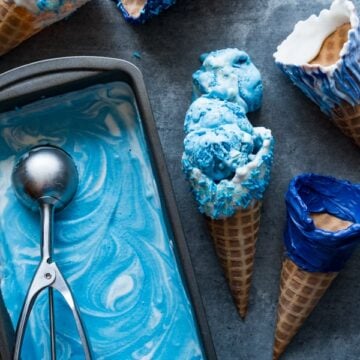 No Churn Homemade Vanilla Ice Cream Recipe
This homemade vanilla ice cream recipe is so easy and super delicious! Add in some food coloring, and dip your own cones in chocolate to make this extra fun!
Ingredients
2

cups

heavy cream

14

oz

sweetened condensed milk

1

teaspoon

vanilla extract*

Blue food coloring

Waffle Cones

1

cup

White Candy Melts

1

cup

Blue Candy Melts

Sprinkles
Instructions
For the ice cream
Place metal or freezer safe glass loaf dish in the freezer.

In a medium sized bowl (you can use a stand mixer), using a whisk or the whisk attachments for your mixer, whisk the heavy cream and vanilla. Continue whipping until stiff peaks forms, about 2-5 minutes.

Using a rubber spatula, fold in the sweetened condensed milk.

Separate mixture into two bowls. Add blue food coloring to one.

Remove the loaf pan from the freezer and add in the white and blue ice cream mixture. I like to alternate adding each ¼ cup at a time to get a good color layering system going.

Take a knife and drag it through your mixture a few times, swirling it about, then cover with plastic wrap and freeze for 5-6 hours.
For the dipped cones
Make your ice cream cone stand! See instructions in the post above!

Melt the white and blue candy melts in their own microwave safe bowls. I like to microwave the chocolate for 30 seconds, stir and then repeat until the chocolate is melted.

Dip your Waffle Cone in the white chocolate, then using in a fork scoop some blue melted chocolate and swirl it into the white. Alternatively you can just add sprinkles to the white chocolate or do any combos of chocolate and sprinkles as you like!

Fill with ice cream and enjoy!
Notes
You can add other extracts too! Adding 1 teaspoon raspberry extract and 1 teaspoon lemon extract will give this ice cream some exciting flavor! You can also add more vanilla if you want a stronger vanilla taste start with 1 teaspoon taste and the mixture then add more if you desire! Recipe adapted from Homemade Interest, box instructions from She Wears Many Hats.
Hearthstone Card Image from Gamepedia
©2014 Blizzard Entertainment, Inc. All rights reserved. Hearthstone is a registered trademark of Blizzard Entertainment, Inc. in the U.S. and/or other countries.
Blizzard Entertainment is a trademark or registered trademark of Blizzard Entertainment, Inc. in the U.S. and/or other countries. All rights reserved.
Reader Interactions