This iced tea is perfectly peachy and has just the right amount of sweetness. Great with a delicious meal or to cool off on a hot afternoon!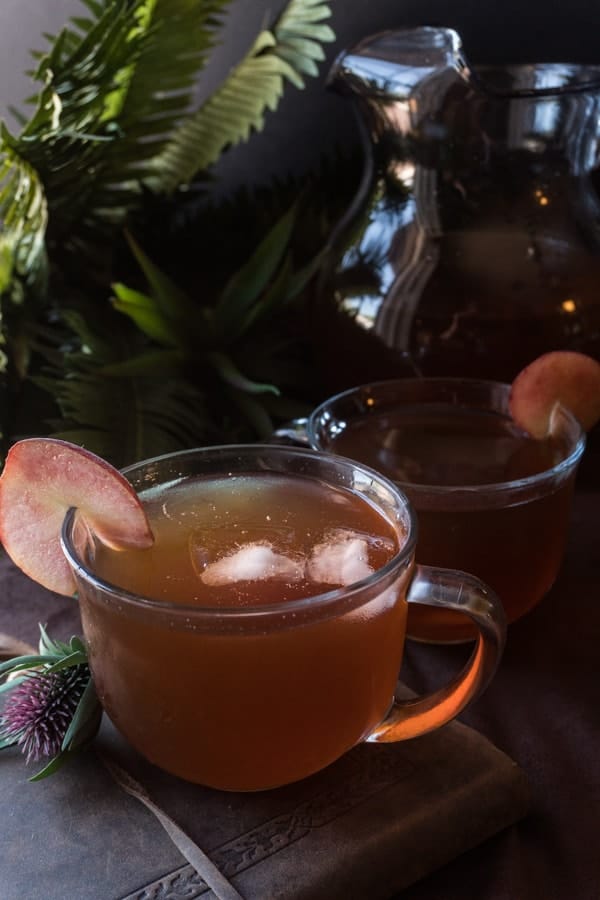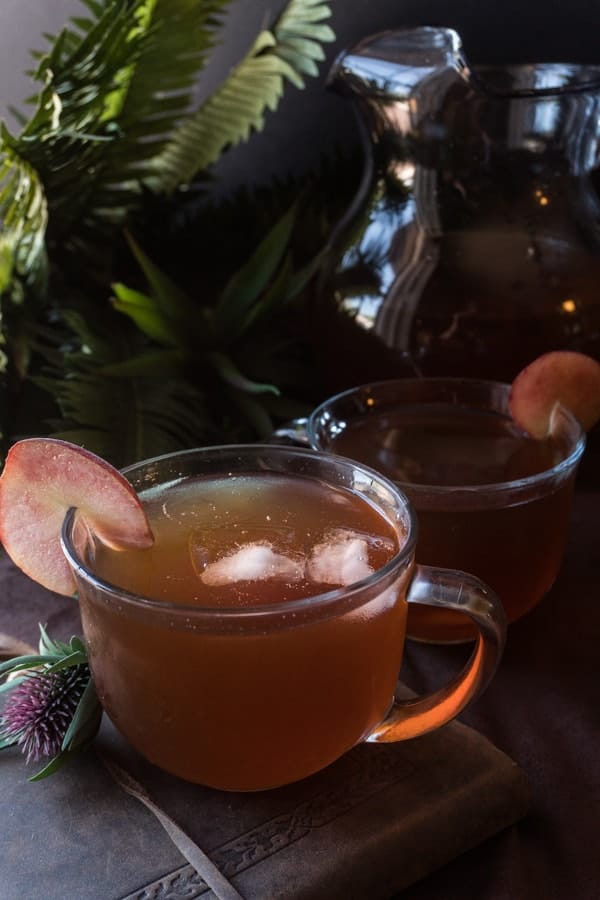 This peach iced tea is easy to make and based off of Hearthstone's card Sir Finley Mrrgglton! Sir Finley Mrrgglton is a murloc that allows the player to discover a new hero power when played. Pretty cool!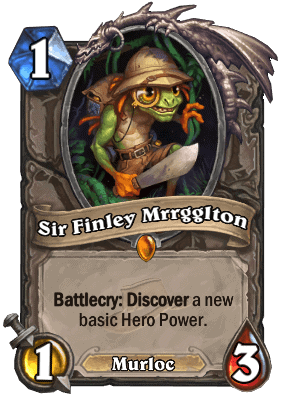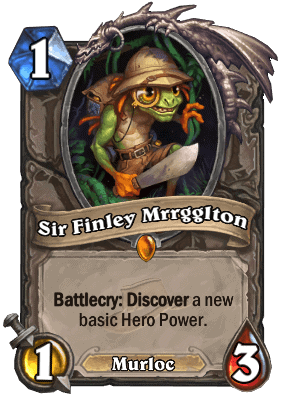 Sir Finley Mrrgglton is from an expansion way back in 2015 called the League of Explorers. To get this card you need to play the single player adventure game called Ruined City, but remember this card has been phased out and can only be played in Wild mode!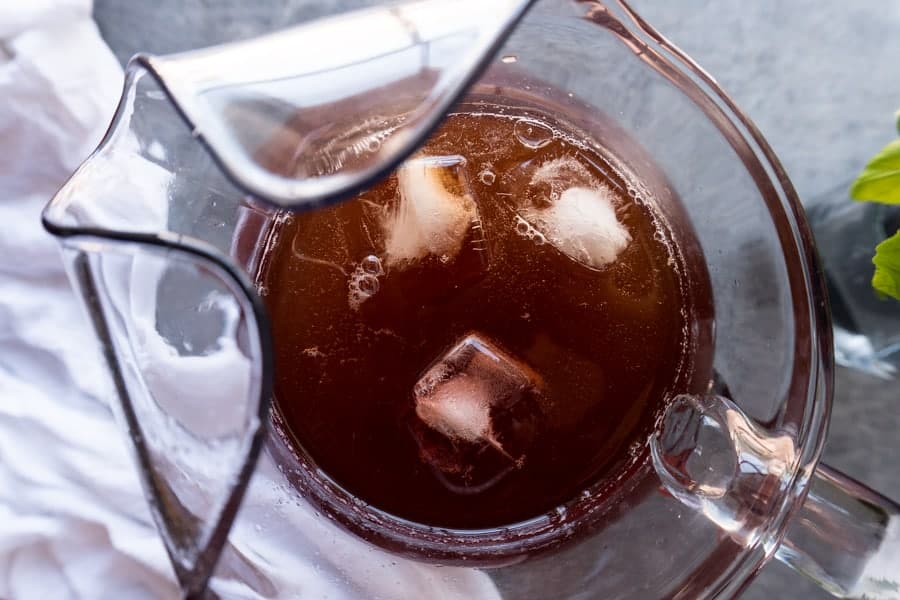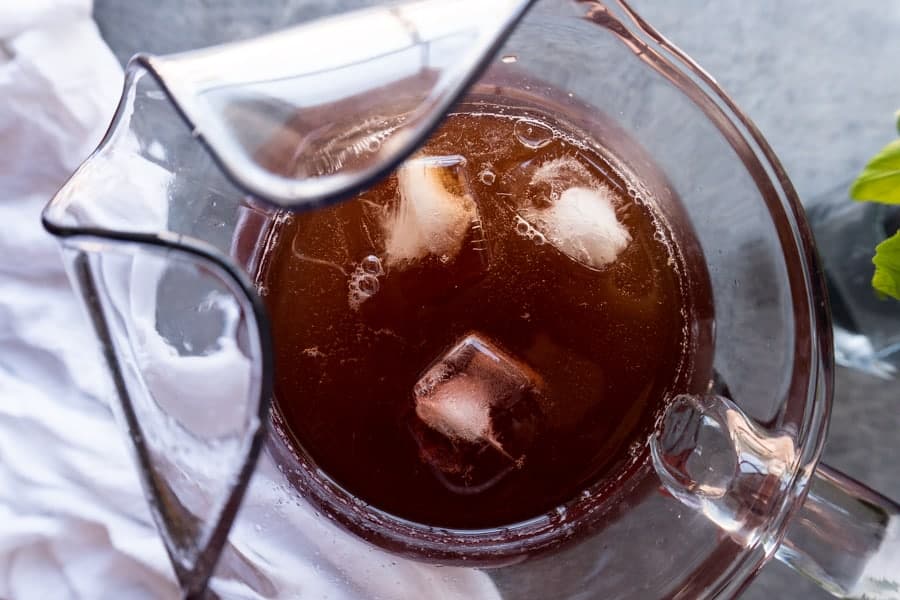 Why is this called Sir Finley's Peach Iced Tea?
Well, when this card is summoned in the game, if your opponent is playing as Morgl the Oracle, instead of saying his normal phrase "Who's up for an adventure," Sir Finley says, "Hello, old friend! Let's meet for tea after the match, shall we?"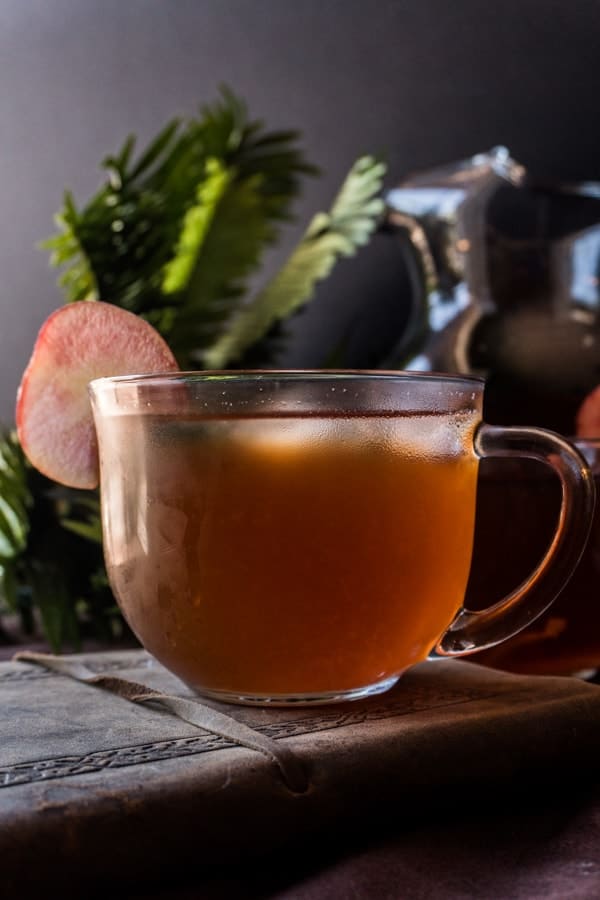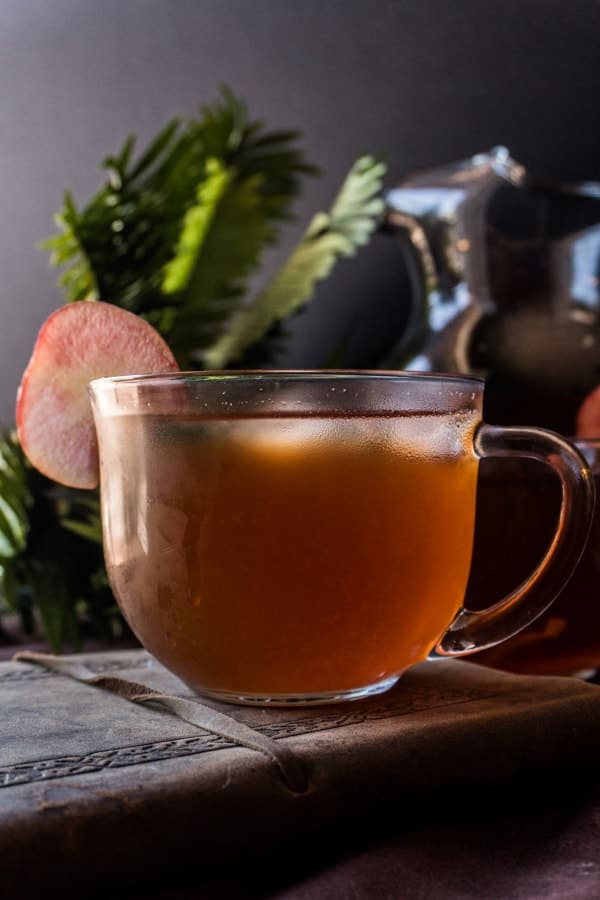 If you have no idea what I am talking about check out my What is Hearthstone? page! It's a great overview of this fun free online card game! Also make sure to check out my entire Hearthstone Menu, where you'll find other fun and tasty treats like Card Pack Cakes, Angry Smoked Chicken, Stuffed Evolving Spores, and more!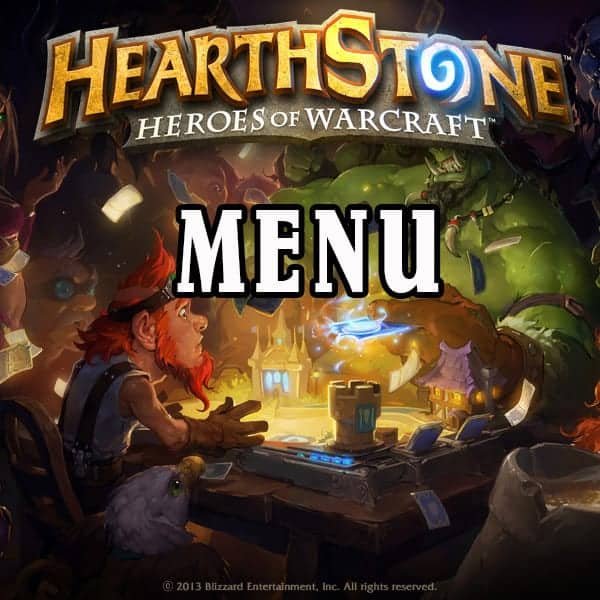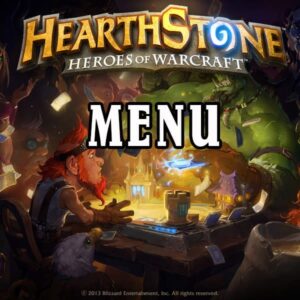 Homemade peach iced tea is easy to make and so refreshing!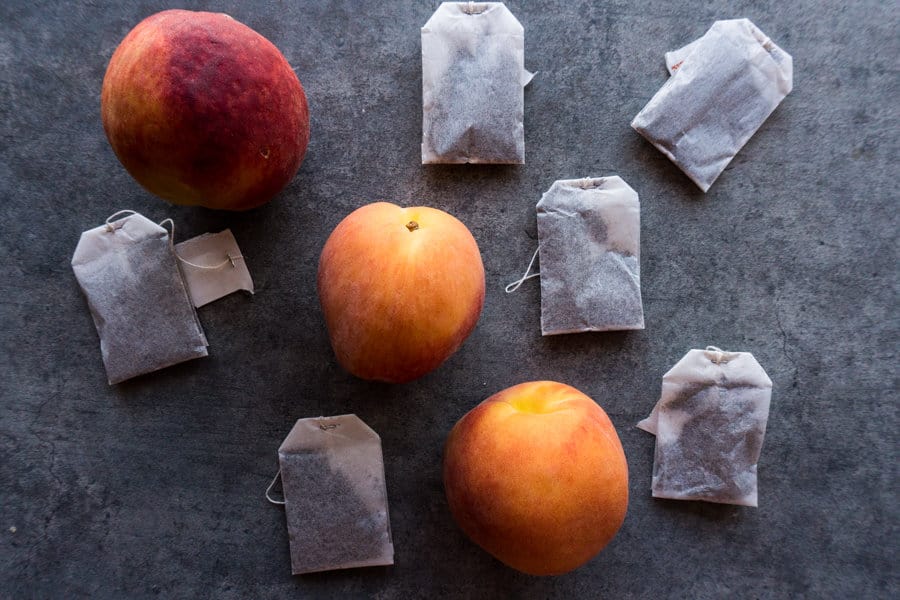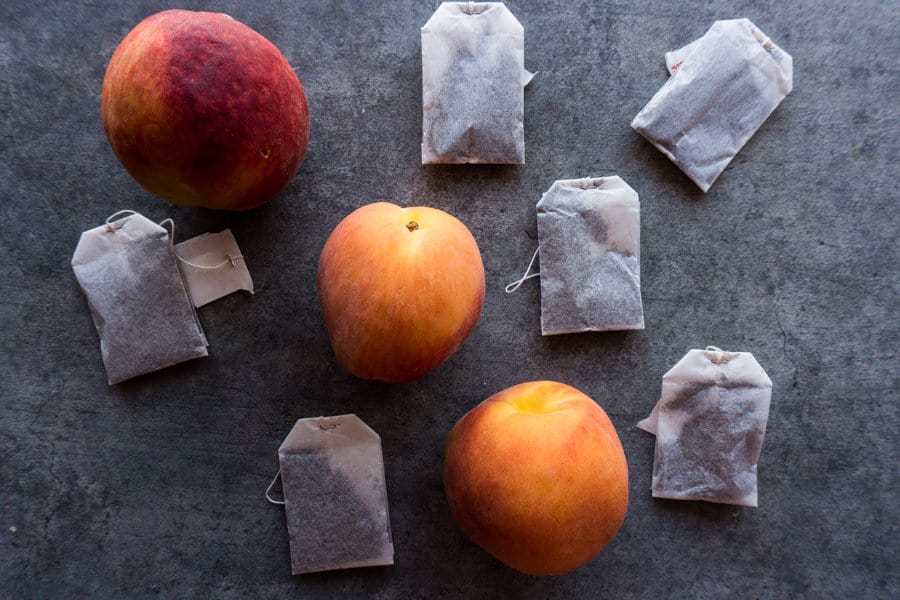 How to make iced tea:
In a medium sauce pan add your sugar and sliced peaches
Heat over medium heat until the sugar melts and starts to boil
Boil 3 minutes stirring constantly, then remove from the heat and let it cool completely (I like to stick it in the fridge to speed up the cooling!)
While the sugar mixture is cooling, boil 4 cups of water and then add in your tea bags
Allow tea to steep for 5-10 minutes
Combine tea with sugar/peach mixture in a large pitcher, add in the remaining water and then refrigerate until chilled.
Pour yourself a glass, add some ice and enjoy!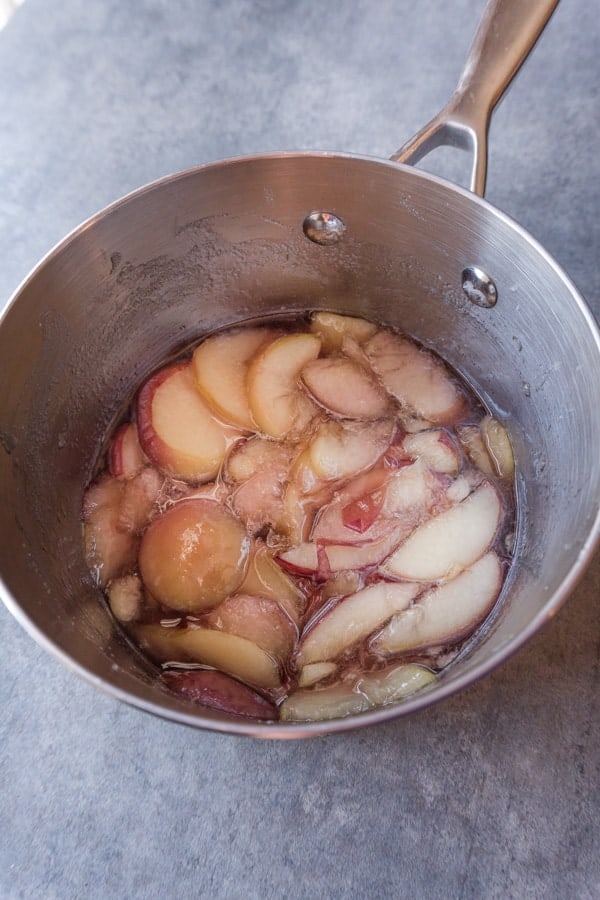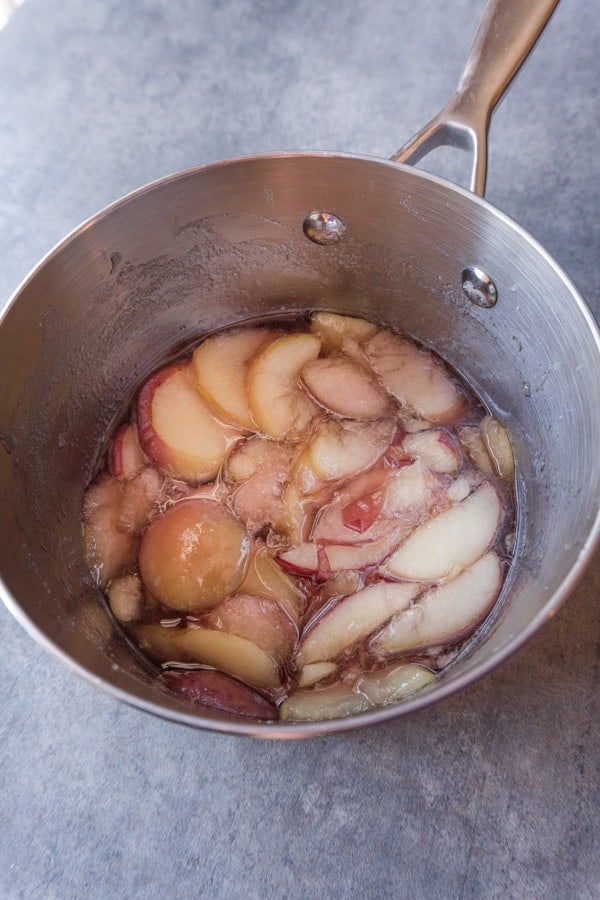 I grew up drinking unsweetened ice tea, so when I make this I usually use ¼ cup of sugar and I find that's plenty sweet for me, but if you love your iced tea really sweet then add as much sugar as you want! I've made this with up to 1 cup of sugar before, and it was super sweet but really tasty!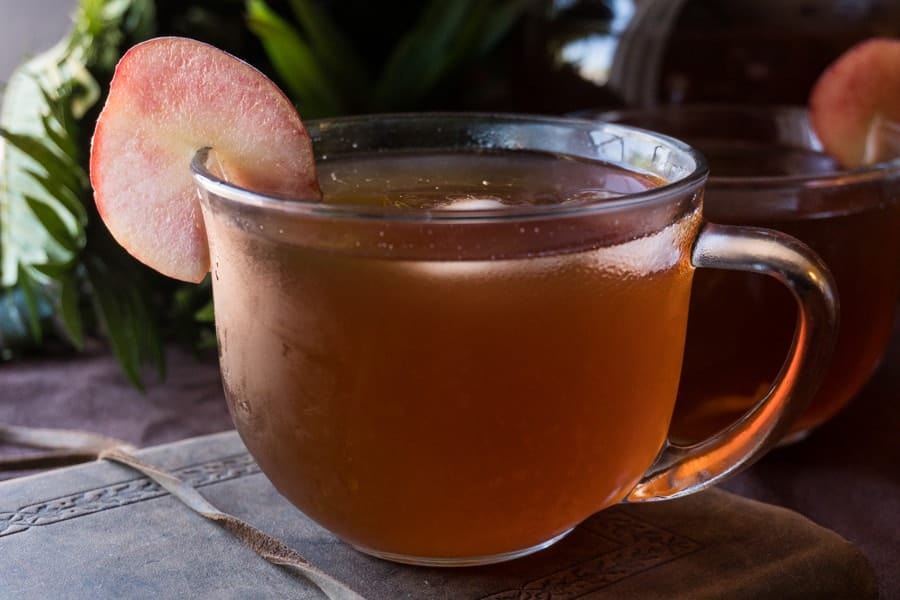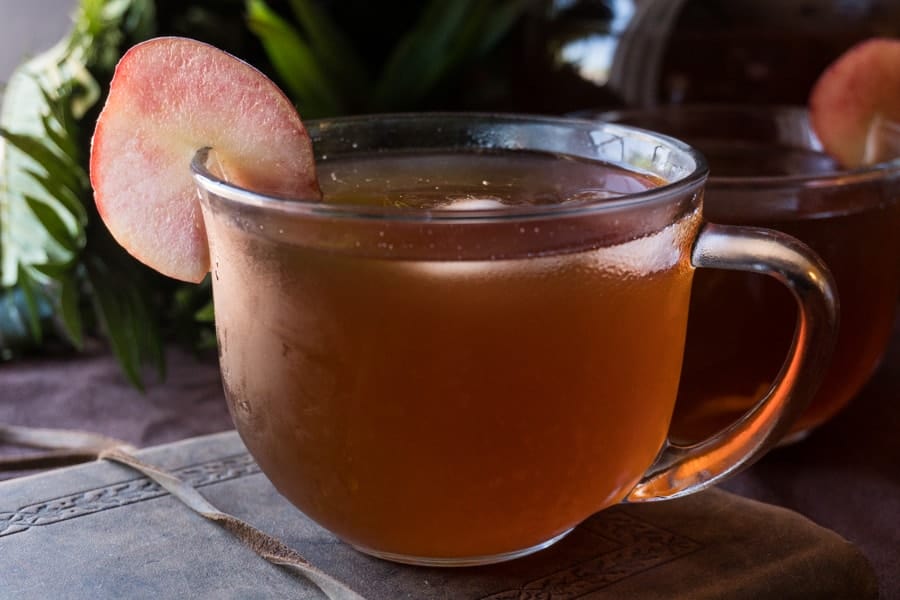 This peach iced tea recipe is simple, easy to make, and full of delicious flavor! Give it a try and let me know what you think!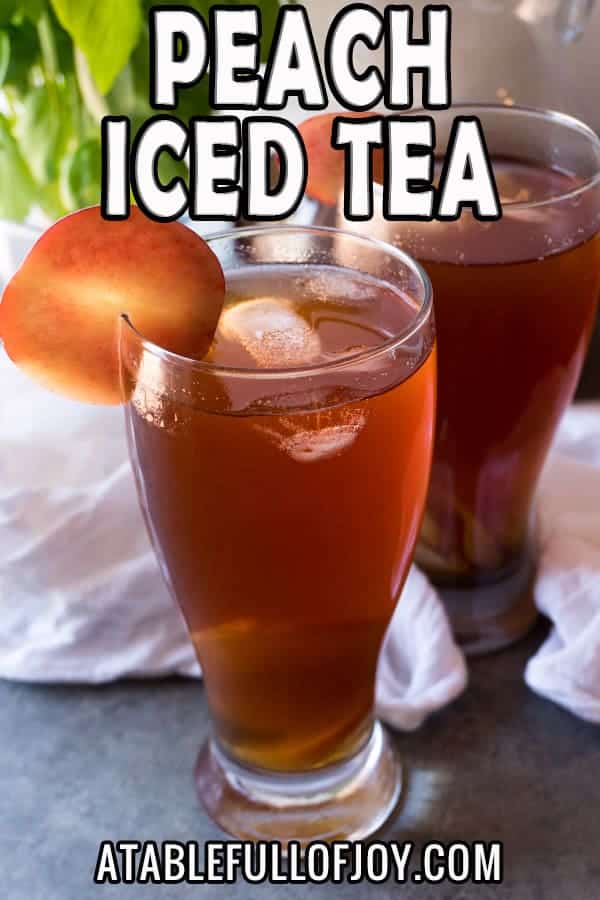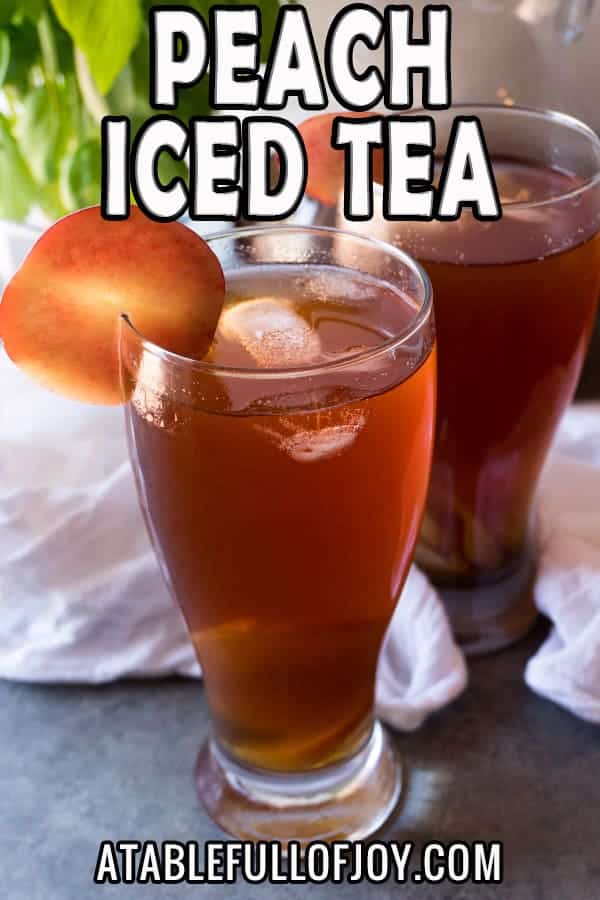 Make sure to check out my full Hearthstone inspired menu to find other fun recipes like Acidic Ooze Limeade, Baku Moon Pies, and Chameleos Cinnamon Roll French Toast!
---
BE SURE TO FOLLOW ME ON FACEBOOK, INSTAGRAM, PINTEREST & TWITTER!
---
Want more? Subscribe to my newsletter and follow along on Facebook, Pinterest and Instagram for all of the latest updates.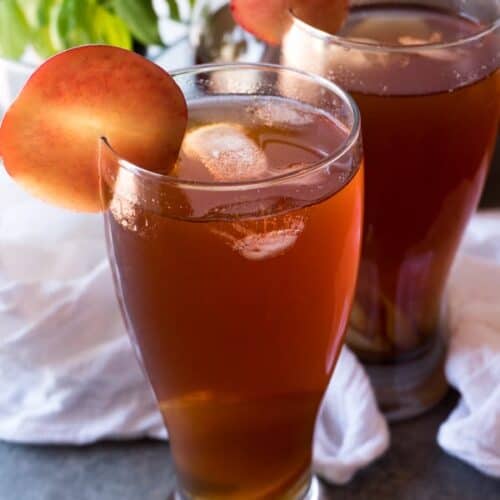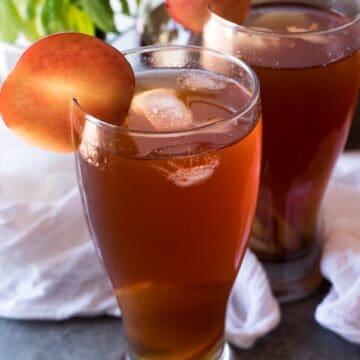 Sir Finley's Peach Iced Tea
This peach iced tea is sweet, has a lovely peach flavor, and perfect for a hot summer day!
Ingredients
3

large peaches

white or yellow

¼- ½

cup

of sugar*

6-8

black tea bags*

10

cups

of water
Instructions
Wash, slice the peaches (removing the pit!) and place in a sauce pan.

Add the sugar to the peaches and heat up over medium-low heat, stirring frequently.

Once the sugar is melted, let it come to a boil and boil for 3 minutes, stirring constantly.

Remove from heat and allow to cool completely. To speed this process up you can stick it in the refrigerator.

While the sugar/peach mixture is cooling, bring 4 cups of water to a boil, then steep your tea bags.

After the sugar mixture is cooled, combine it with the concentrated tea and add the remaining water.

Refrigerate tea until it is completely cold, add ice and enjoy!
Notes
Depending on how sweet you like your tea you may want to add more or less sugar. You can start out with ¼ cup, melt that with peaches, and add it to the tea, taste it and then add more sugar if it needs to be sweeter.*You can also add more tea bags to get a richer and stronger tea flavor.
Hearthstone Card Image from Gamepedia
©2014 Blizzard Entertainment, Inc. All rights reserved. Hearthstone is a registered trademark of Blizzard Entertainment, Inc. in the U.S. and/or other countries.
Blizzard Entertainment is a trademark or registered trademark of Blizzard Entertainment, Inc. in the U.S. and/or other countries. All rights reserved.
Reader Interactions