This is the best sugar cookie recipe I have ever made and you know what?! It's also extremely easy to make! A win in my book!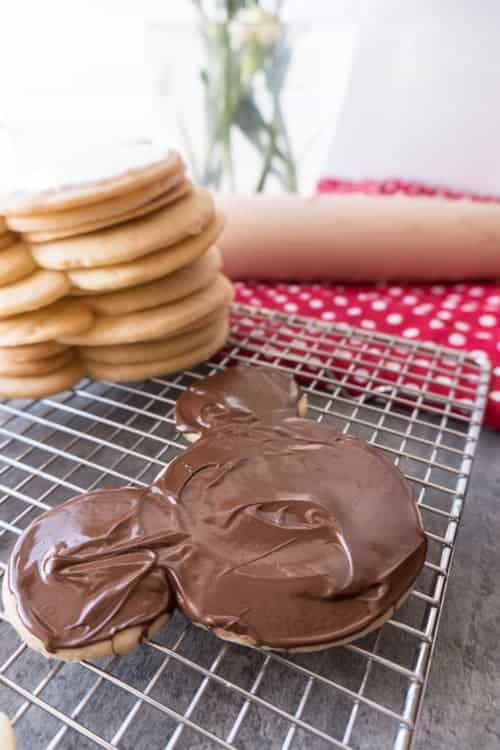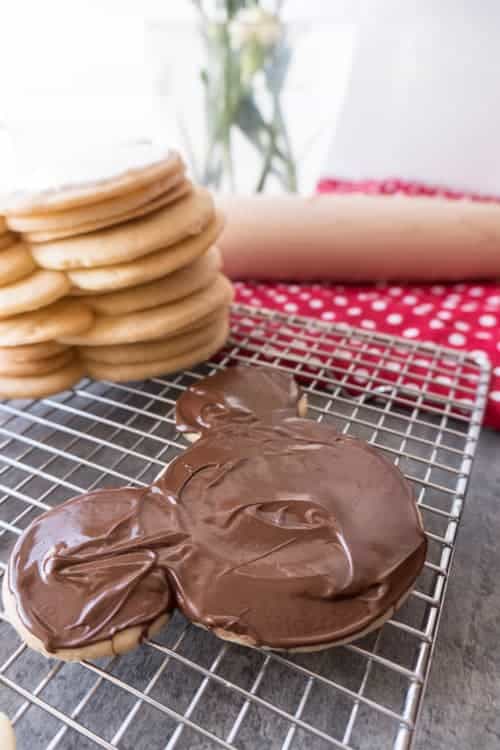 Every time I've ever made sugar cookies in the past they would always come out kind of bleh. The flavor would be okay which meant they were just kind of used as something to put the icing on. The real downer was after a day they'd get super hard and be good for nothing but the trash. In all reality I would always wonder why I even wasted time on making them when I could've made chocolate chip cookies!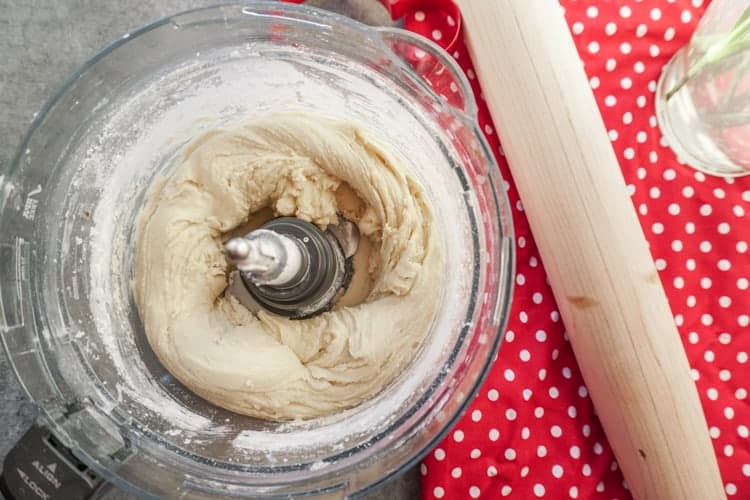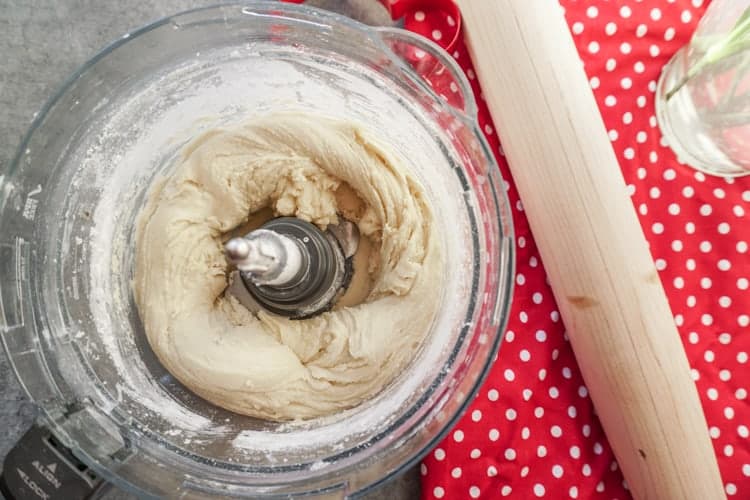 Well now that's changed. This recipe is so good and besides tasting amazing, they don't get hard after a day! I've even left them out on the counter overnight and they tasted just as good the next day. They are light and buttery and pretty much the best sugar cookie ever.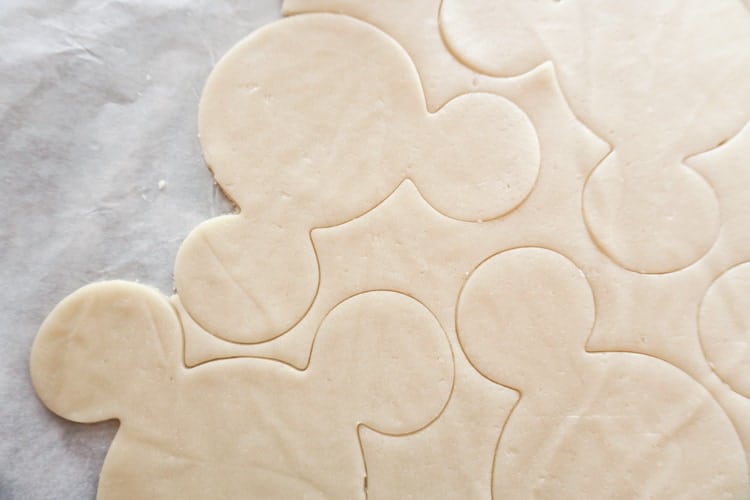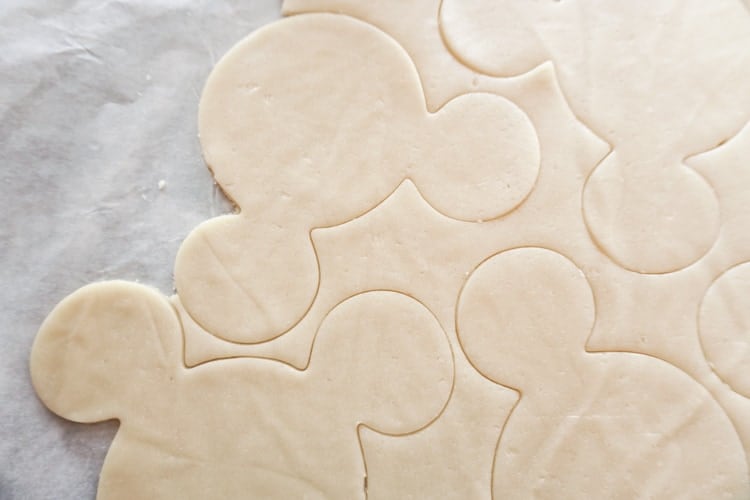 This recipe is kind of from Cook's Illustrated. What I mean by kind of is that when I researched how to make the best sugar cookie their article laid out very scientific reasons on how and why to make a sugar cookie via their method. They said they took a simple recipe and adjusted it. They state all the ingredients throughout the article but don't have an actual recipe with instructions laid out like what you see below. They do have a sugar cookie recipe on their website but you have to pay for membership to have access to it and I'm not a member. So this very well could be the same recipe, I don't know. What I do know is that this recipe is amazing and I now love homemade sugar cookies!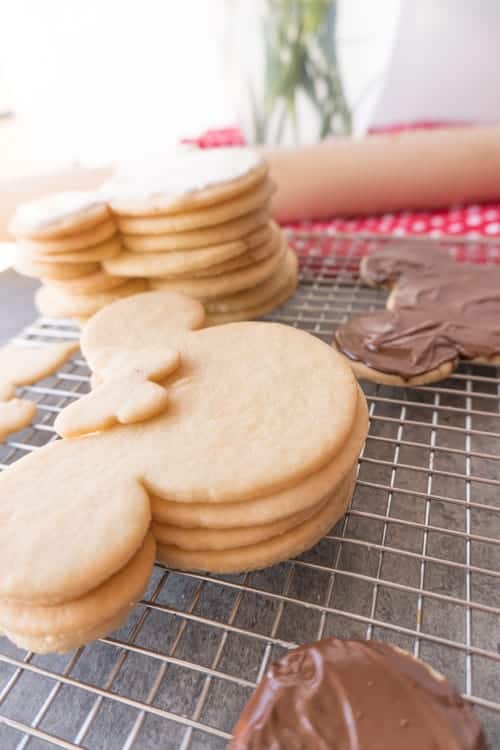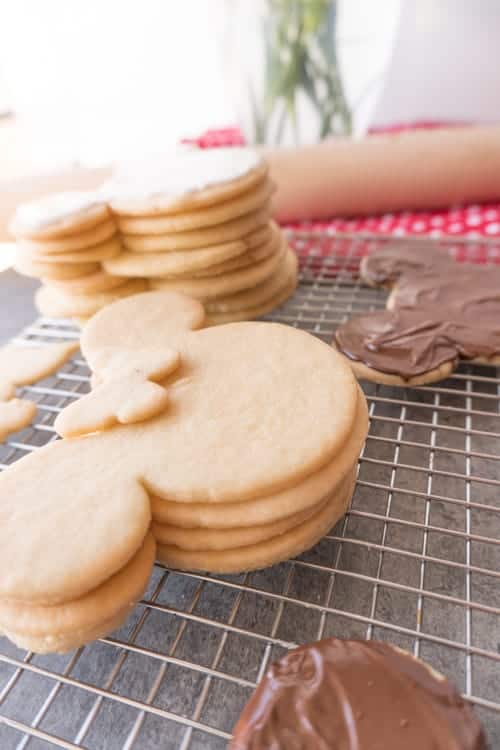 You can cut these into any shape, but the baking time will vary based on the size of the cookies. If you are making small cookies, try baking for 10-15 minutes. These large Mickey Mouse cookies took 20 minutes to bake. I also topped some of these with a ganache and some with icing! Both ways were delicious!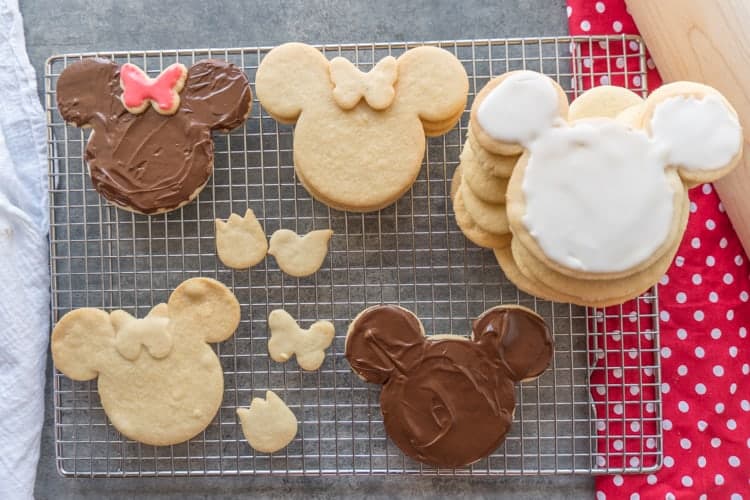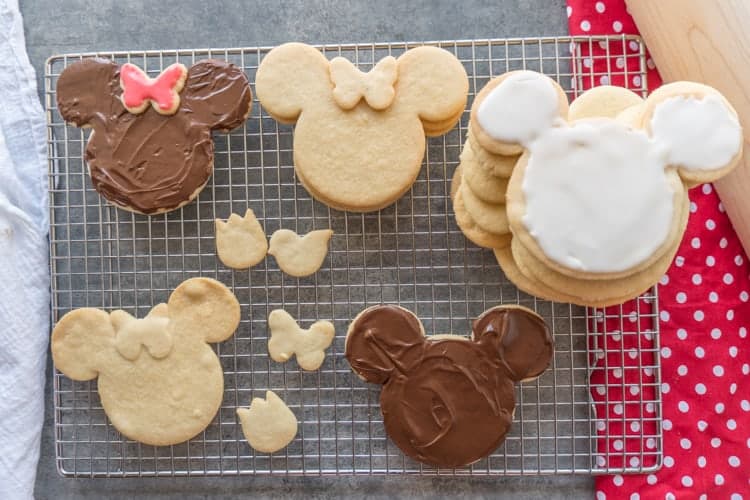 You may be wondering why they are shaped like Mickey Mouse. Well, I like so many people love Disneyland and these sugar cookies are inspired by a fun cookie you can get from there!
A few years ago, my sister had me and my dad watch her son (my nephew) so she could go on a ride in the park. So while we were hanging out on Main Street my dad decided to get us some treats from the Candy Palace. It's a shop filled with all the most amazing goodies, and I think I gain a few pounds just by walking in the door! Anyways, we picked out an innocent Mickey Mouse cookie for my nephew and a few other things for us, paid and went to find a nice place to eat our treats and wait for my sister to return.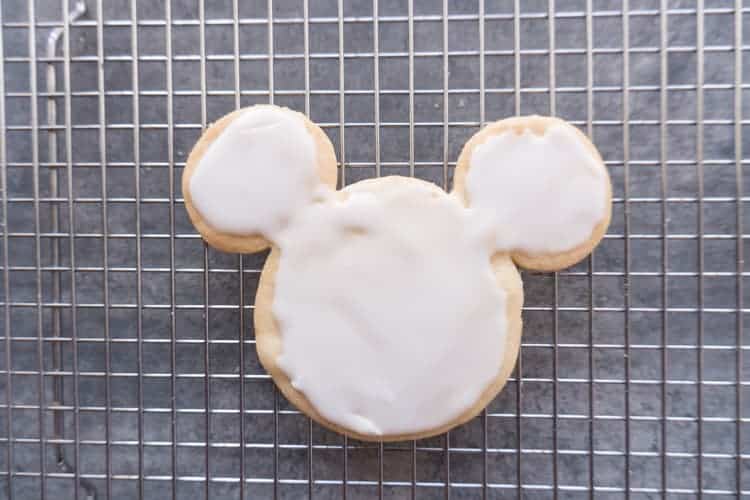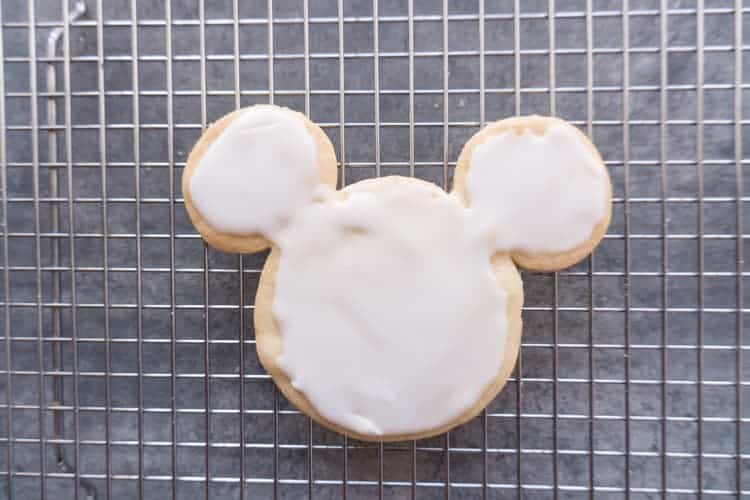 Well, the Mickey Mouse cookie was not only shaped like the mouse but had his face printed on it in some type of edible frosting. You guys know what color Mickey is right? Black. So as we look down at my nephew, happily munching away on his cookie, we notice his whole mouth, lips and tongue were black. It was pretty funny, especially after my sister came back and saw what we (accidently) did to her son. Oops! It sure made for a good laugh and a great memory! What's one of your favorite Disneyland memories? I'd love to know!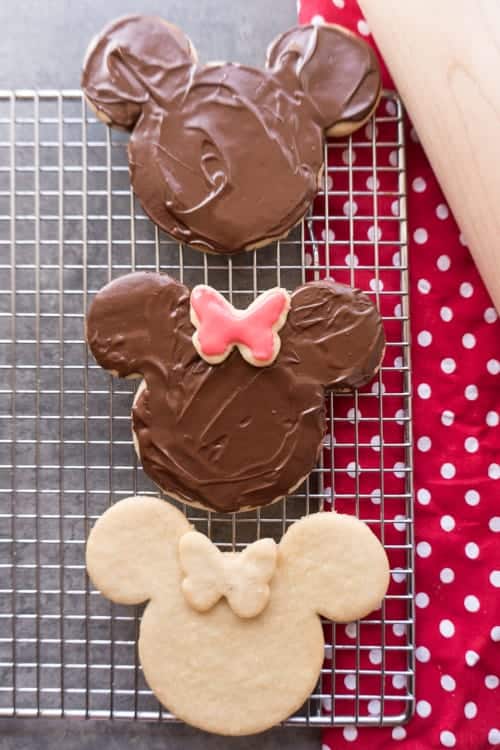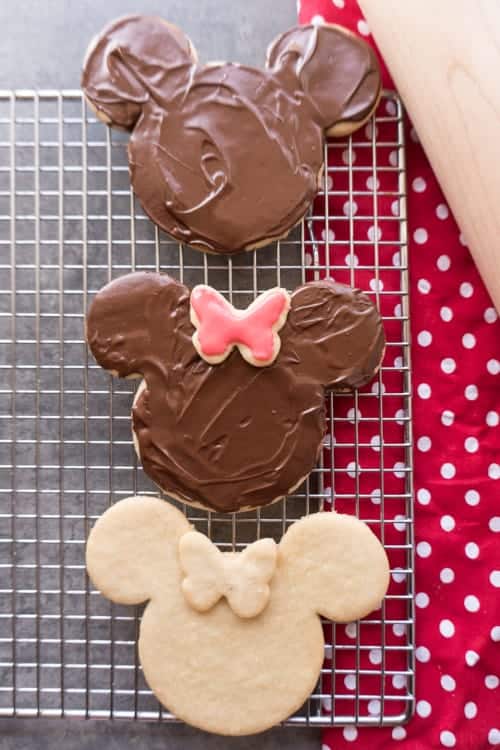 I can't remember if the cookie was a sugar cookie, but I decided to make these sugar cookies inspired by the ones we got that day. Instead of black frosting I opted for an easy ganache. I also had a butterfly cookie cutter which made for a perfect cookie bow to make a Minnie Mouse sugar cookie!
Oh and if you love all things Disney follow my sister's  Instagram @heartofdisney33 ! She is my go to for all Disney questions. I mean, I even woke her up when writing this to ask her the name of the candy shop where we bought the cookie. She wasn't mad that I woke her up- she was happy to help me! She's the best big sister!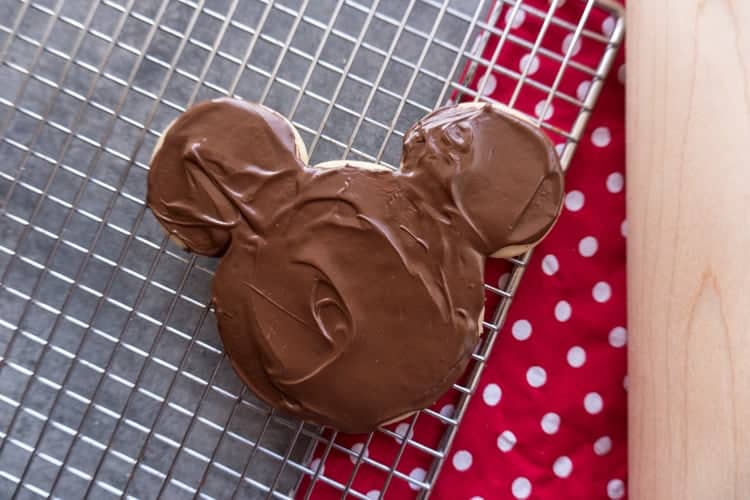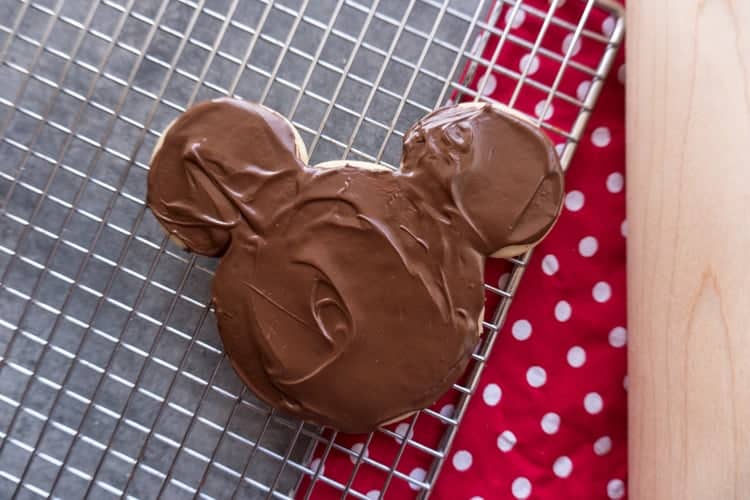 If you like this recipe you won't want to miss my chocolate cupcakes with a marshmallow frosting, or my double chocolate pudding cookies!
Also check out my Disneyland inspired Mint Juleps! Nice and refreshing for a hot day!
Want more? Subscribe to my newsletter and follow along on Facebook, Pinterest and Instagram for all of the latest updates.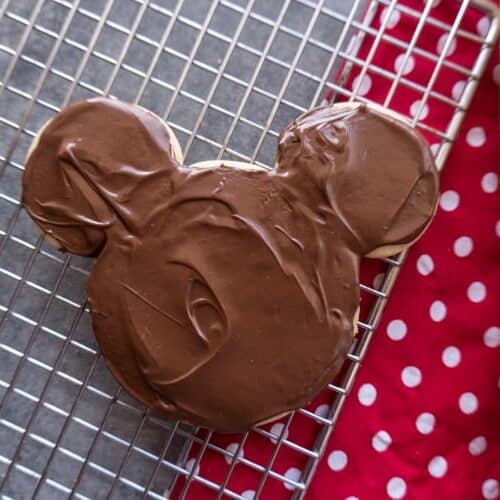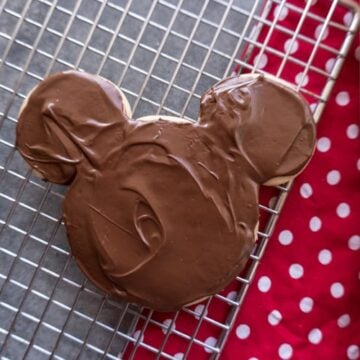 Best Sugar Cookie Recipe
These easy sugar cookies are the best around! They are light and flavorful, crunchy, and perfect for icing!
Ingredients
Sugar Cookie
1

cup

sugar

1

cup

cold butter

cut into pieces

1

egg

¼

teaspoon

vanilla extract

or any other extract you want!*

2 ½

cups

all-purpose flour

¼

teaspoon

baking soda

¼

teaspoon

baking powder
Chocolate Ganache
1

cup

chocolate chips

1

teaspoon

refined coconut oil*
Simple Sugar Cookie Icing
1

cup

powdered sugar

2

tbs

milk

1

teaspoon

light corn syrup

¼

teaspoon

vanilla extract*

Food coloring

optional
Instructions
How to make sugar cookies:
In a food processor, process sugar for 30-45 seconds to make superfine sugar (not powdered!)

Add in cold butter pieces and process for another 30-45 seconds. Until the butter and sugar are just combined.

Add in egg and vanilla extract. Process until just combined. You may need to scrape down the sides at least once.

Add in flour, baking soda and baking powder. Process until combined.

Divide dough in half. Take half of dough and place in-between two large pieces of parchment paper. Roll dough into a flat layer about an ⅛th inch think. Do the same with the other half. Refrigerate the flattened dough for at least 1.5 hours.

Cut out desired cookie shape* and place on a parchment lined cookie sheet*.

Bake for 20 minutes, on the second to lowest rack, at 300°F, or until edges just start to turn golden. Any scraps of dough leftover can be rerolled and refrigerated while the other cookies are baking. Try to use a cold baking sheet for every new batch.

Frost or eat plain! Both ways are delicious!
Ganache recipe:
Combine chocolate chips and coconut oil in a microwave safe bowl. Heat for 30 seconds, stir, and repeat until chocolate is fully melted.
How to make sugar cookie icing:
Combine powdered sugar and milk fully. The mixture will be stiff.

Stir in corn syrup and extract.

Add food coloring if desired.
Notes
*Vanilla is the typical extract of choice, but almond, lemon and orange extract are also great options! Try them sometime! *You can use unrefined coconut oil but I prefer not to taste the coconut so I use refined. *Depending on how cold the dough is, it might be hard to lift it off the parchment paper. If that's the case just use scissors to cut parchment paper around the cookie and place cookie and parchment directly on baking sheet. *If you have a baking sheet without edges use it! It will allow the air to circulate better.
Sugar Cookie Recipe Inspired by Cook's Illustrated Better Holiday Sugar Cookies
Sugar Cookie Icing from Genius Kitchen


Reader Interactions